With the incredible amount of attention-grabbing vehicles spread across the Vegas Convention Center this week, you could easily spend an entire month doing nothing but Car Spotlights from the SEMA show. With so many different styles of machines on the floor, selecting favorites is never an easy task – but I've gone ahead and gathered up five machines which have left an impression on me so far. Let's begin, shall we?
Pictured above is the latest creation from the team at ICON, the D200 Reformer. While the body looks much like a standard 1965 Dodge D200 Crew Cab, there's a lot more to it than that.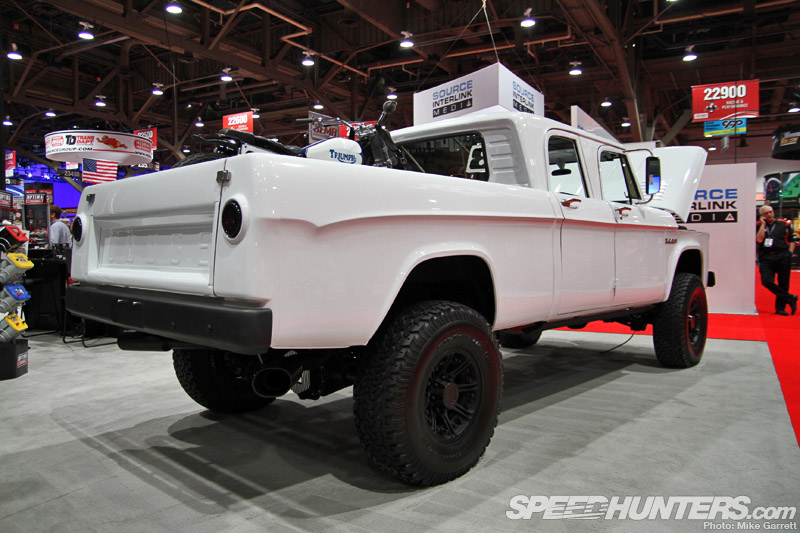 The vintage body is actually sitting on a 2006 Dodge Ram 3500 chassis, and in typical ICON fashion it's the perfect combination of classic styling with modern capability.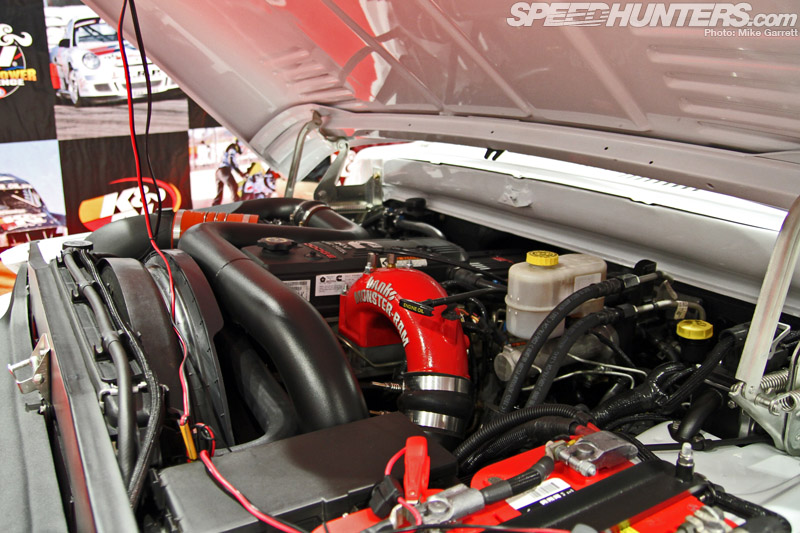 The big Dodge gets its power from a Gale Banks-tuned Cummins turbo-diesel producing just under 1,000 foot pounds of torque. Underneath, the chassis has also been beefed up with heavy duty KORE Baja suspension among other things.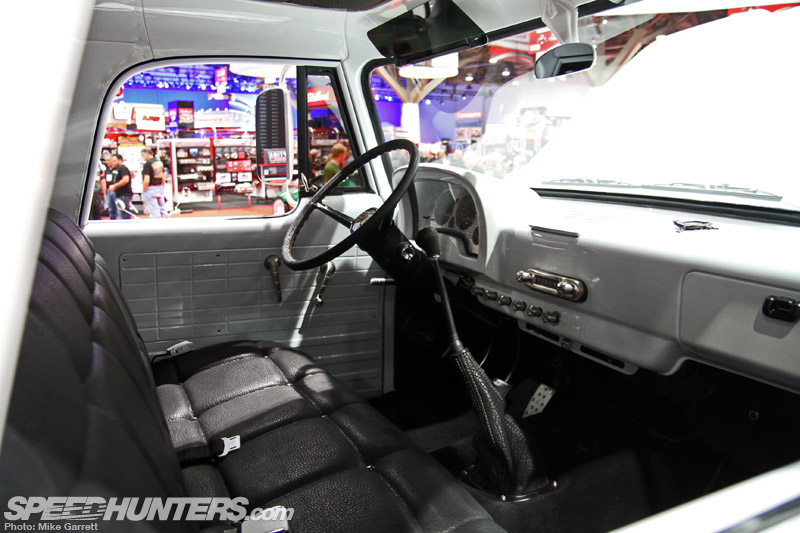 At a glance the interior looks original, but when you look closer you can spot the bison hide upholstery, Rolls Royce carpet, and modern sound system disguised by a vintage face.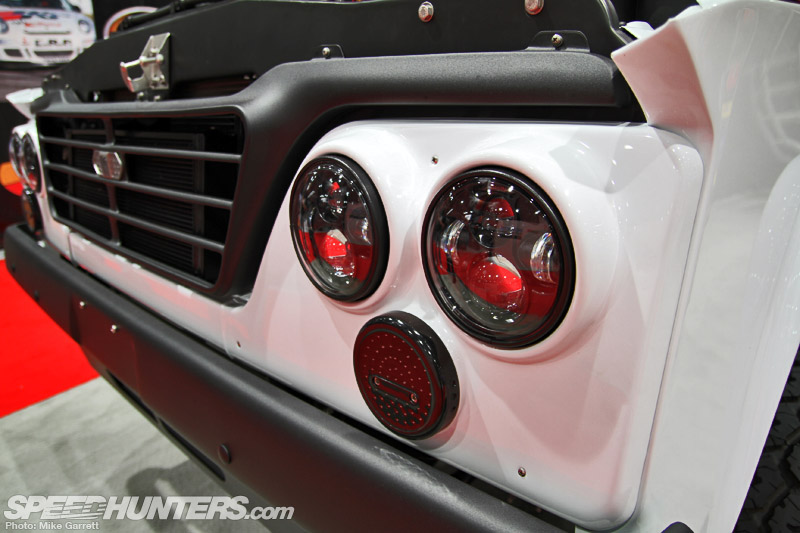 ICON is a master of the details. Check out the LED projector lights mounted in the original holes for example. All around the truck are little things that don't jump out at you, but required an immense amount of work and creativity. That's why this is one of my favorites of the year.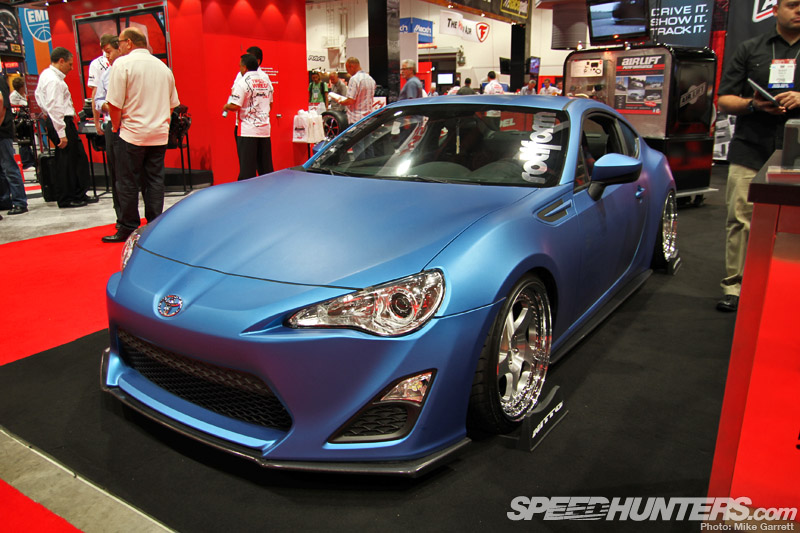 Moving in a completely different direction now, we have the Scion FR-S displayed by Air Lift and Rotiform. Naturally, it's equipped with air suspension that lends the car a pretty sweet look when it's in full slam mode.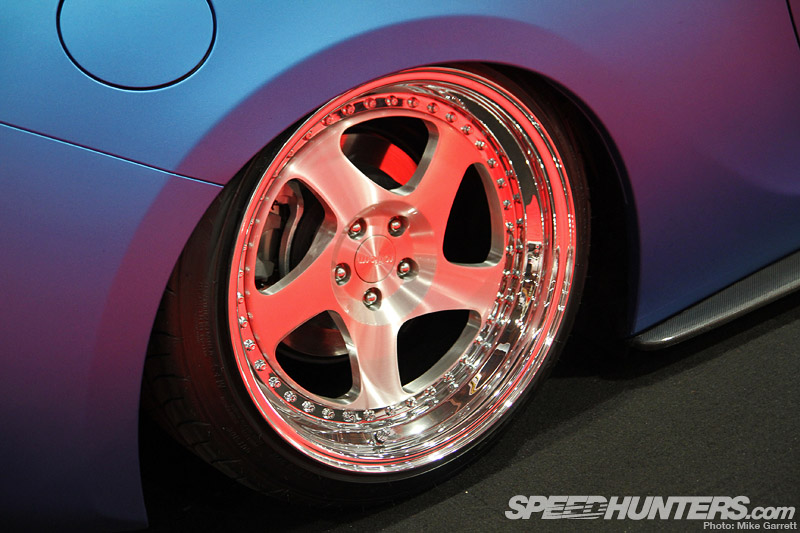 The squatted stance is aided by a set of three-piece Rotiform TMB wheels which tuck perfectly into the fenders when the car is fully dropped.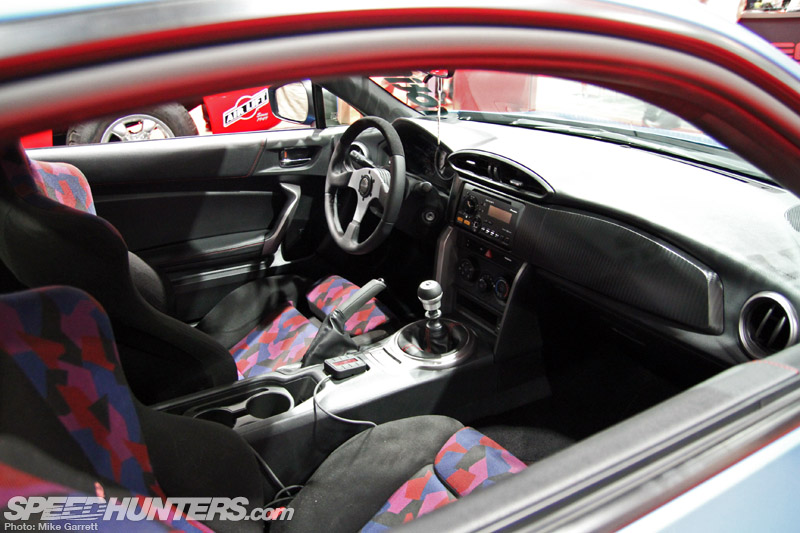 The interior is pretty standard, but a Momo steering wheel and a pair of '90s style Recaros add some color to the cockpit – literally and figuratively.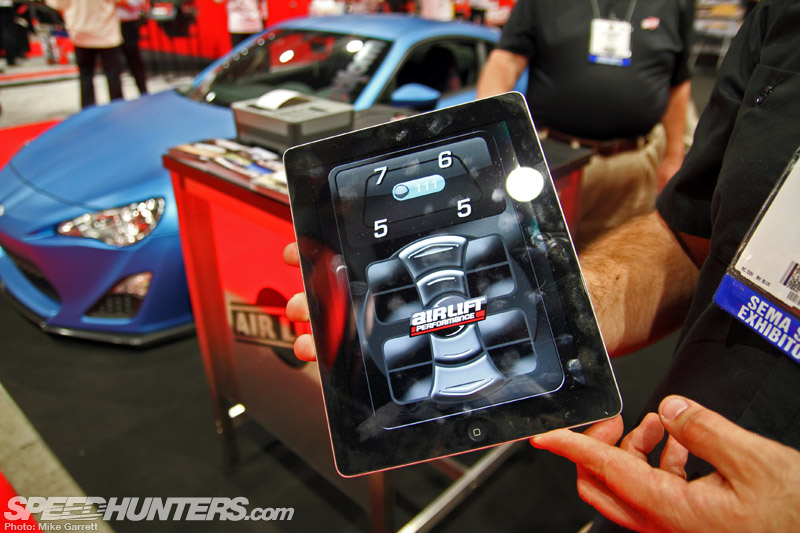 The car was moving up and down the whole time I was looking at it, thanks to Air Lift's suspension adjustment app for the iPad. Oh the beauty of technology.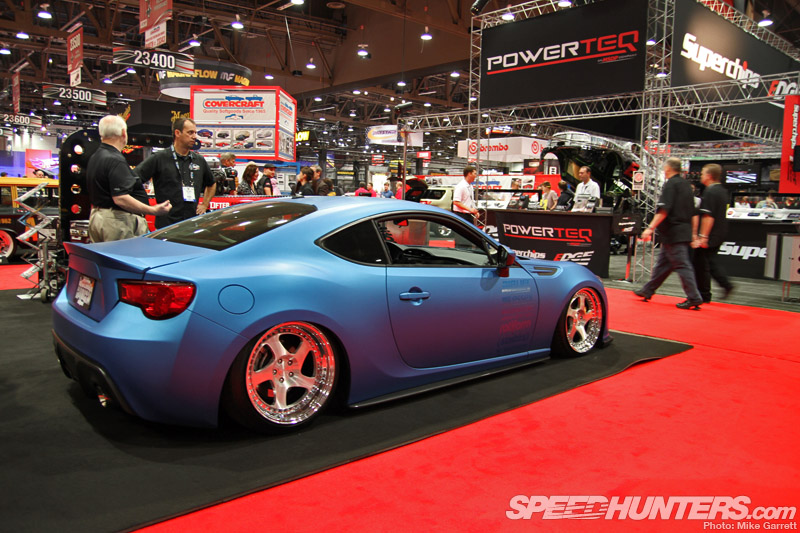 With such a big FR-S showing at SEMA this year it takes something special to stand out from the crowd, and this simple but unique take on the car did just that.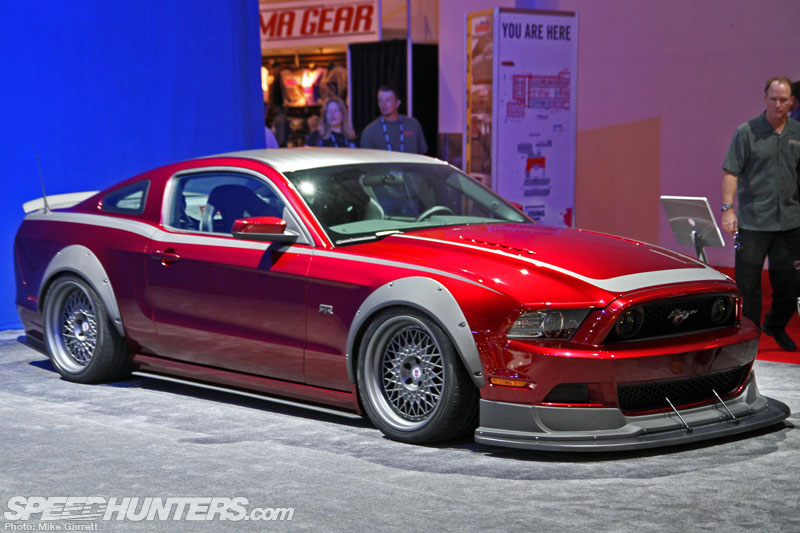 Meet the latest addition to Vaughn Gittin Jr.'s RTR lineup, the 2013 Mustang GT RTR Spec 3 which was done in collaboration with Mothers car care products.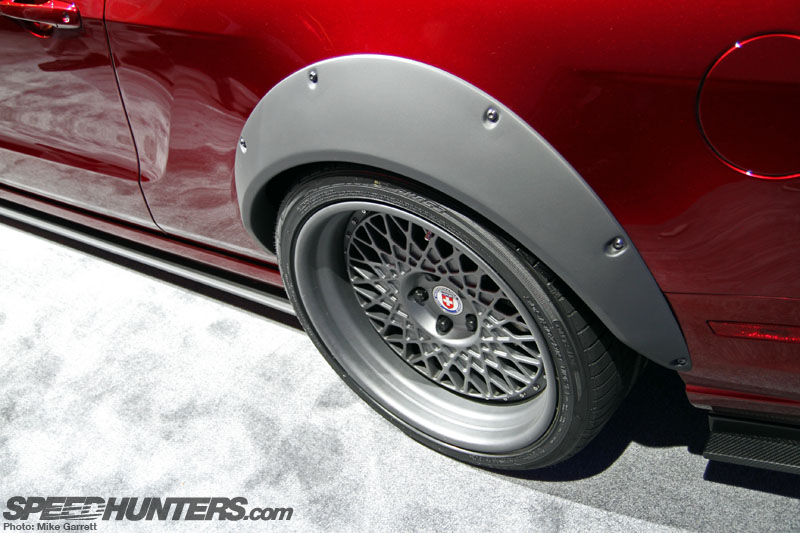 Like the RTR-X, the Spec 3 features modifications you might not expect on a Mustang. The carbon fiber bolt-on style fender flares for example…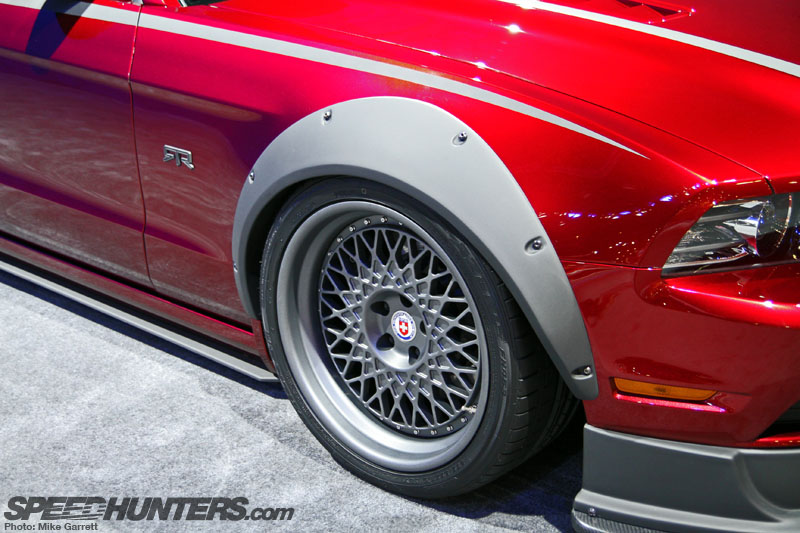 …which mate very well with the 19″ three-piece wheels from HRE's Vintage series.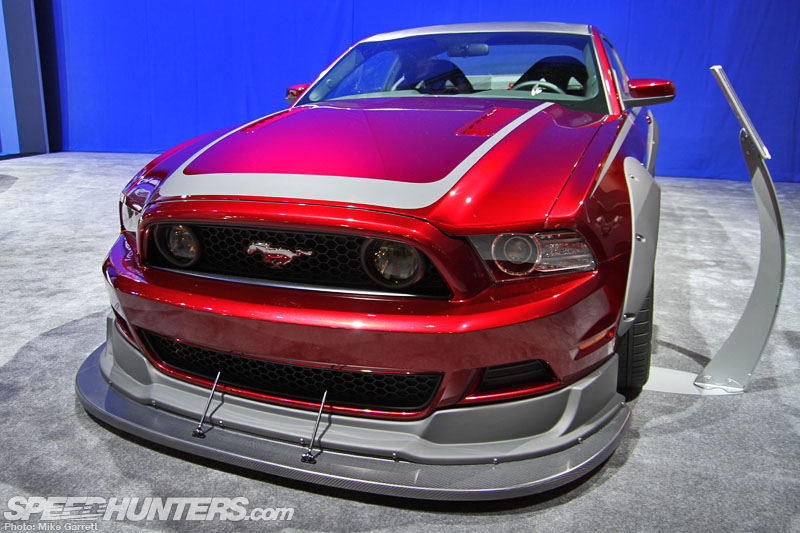 Elsewhere, the body is wearing a number of RTR Spec 3 parts including a chin spoiler with a very aggressive front splitter mounted beneath it.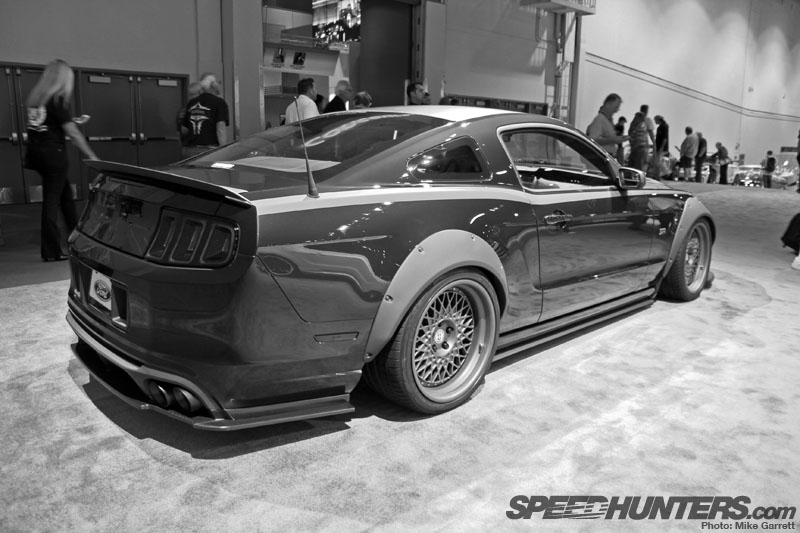 It's not all for looks though. The five-oh is equipped with a Ford Racing supercharger good for 650 horses and the chassis is track-ready with JRI coilovers, an RTR Watts Link in the rear, adjustable sway bars, and more.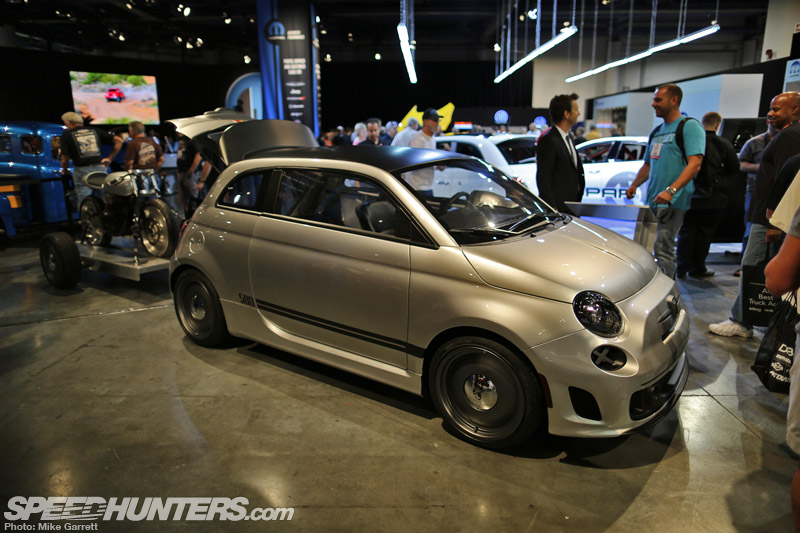 Over in the Mopar display I came across the Fiat 500 Abarth Cafe Racer which was designed to capture the stripped down look of Hot Rods and vintage race cars.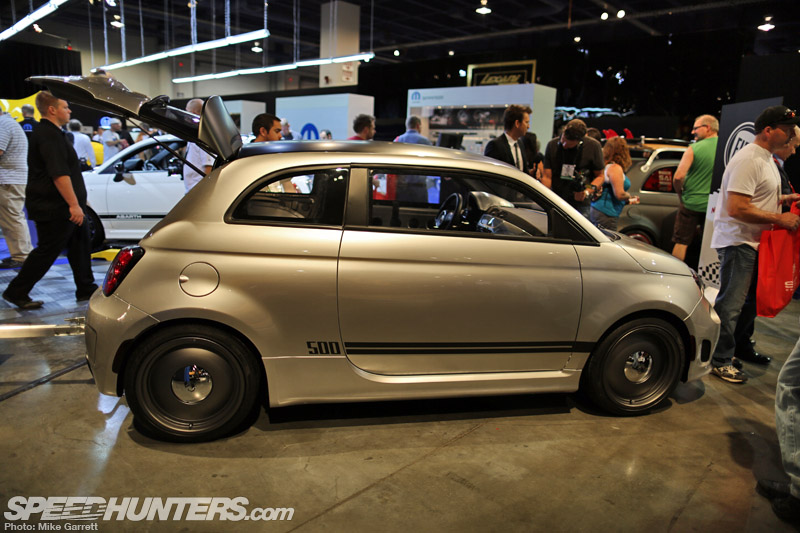 Doing a modern car in vintage style can be a challenge, but I think the concept is pretty well executed here. The roof chop makes for a pretty dramatic look…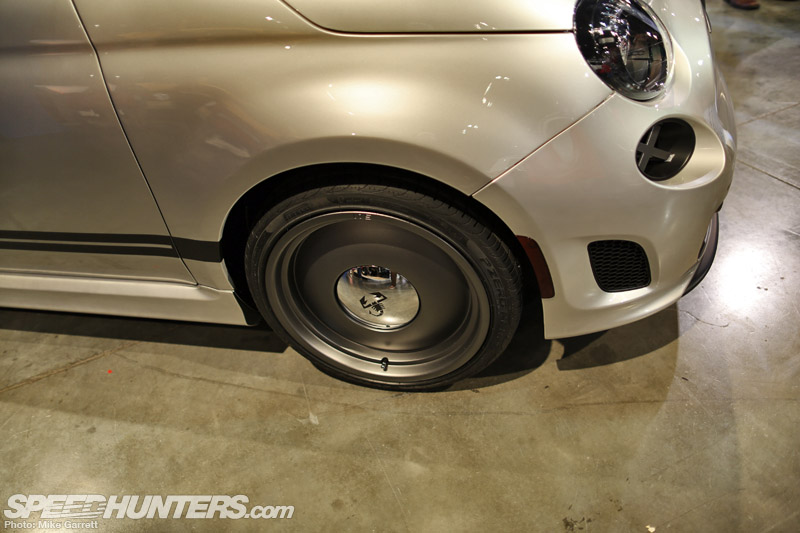 …as do the custom wheels designed to look like steelies with dog dish hubcaps. The Abarth logo on the caps is another cool little touch.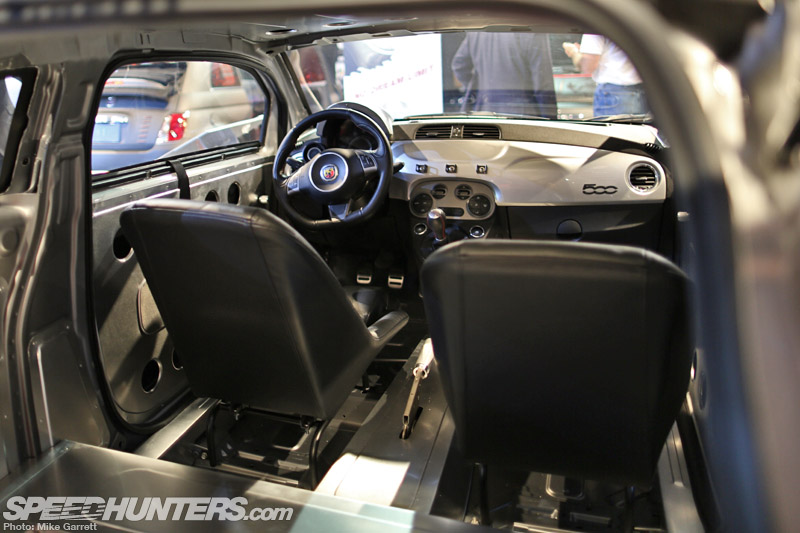 The interior might be my favorite part of this car. All the stock parts have been removed in favor of raw metal surfaces and a pair of low back bucket seats.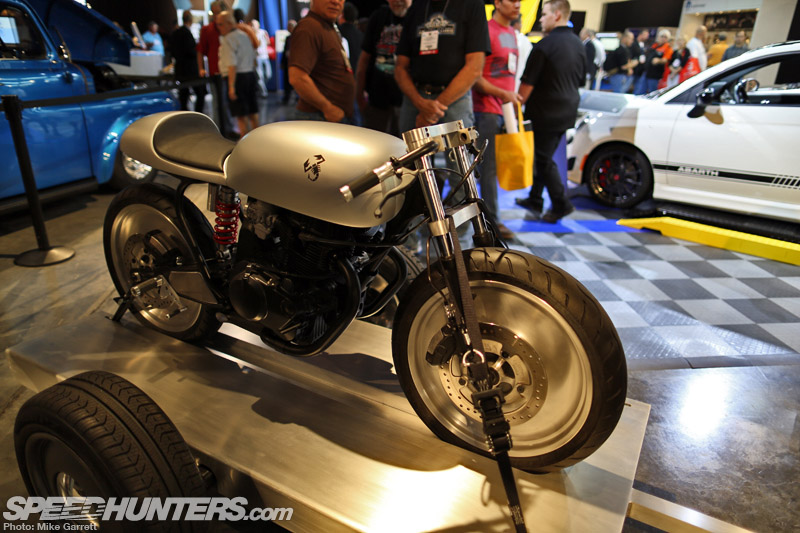 The car was also pulling a trailer loaded with a legit Cafe Racer bike. Cool.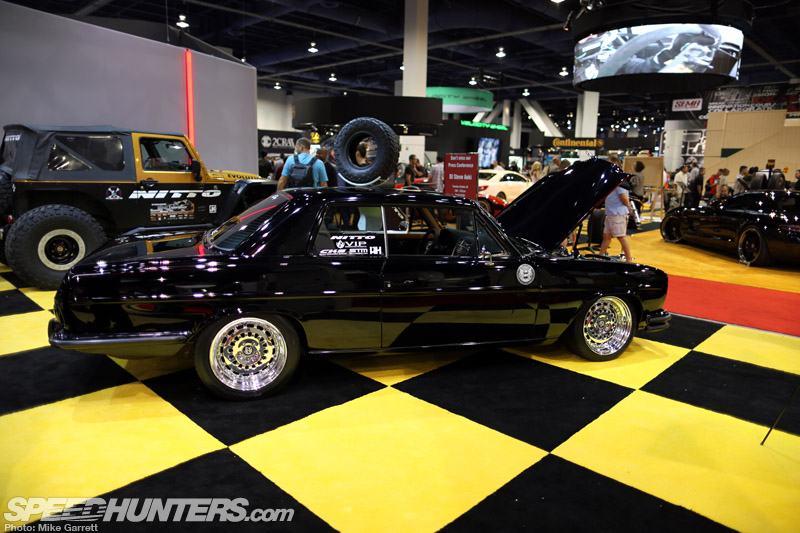 Being shown in the Nitto Tire booth was this 1972 Mercedes Benz 280SE built by Ranz Motorsports. You don't see too many Mercedes from this era at SEMA, so I went in for a closer look.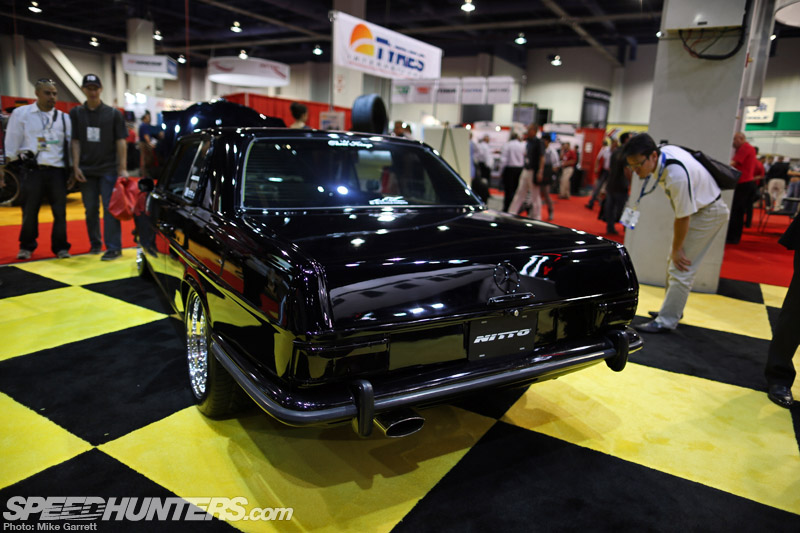 The concept here is one that combines equal parts vintage European character and modern Japanese VIP style.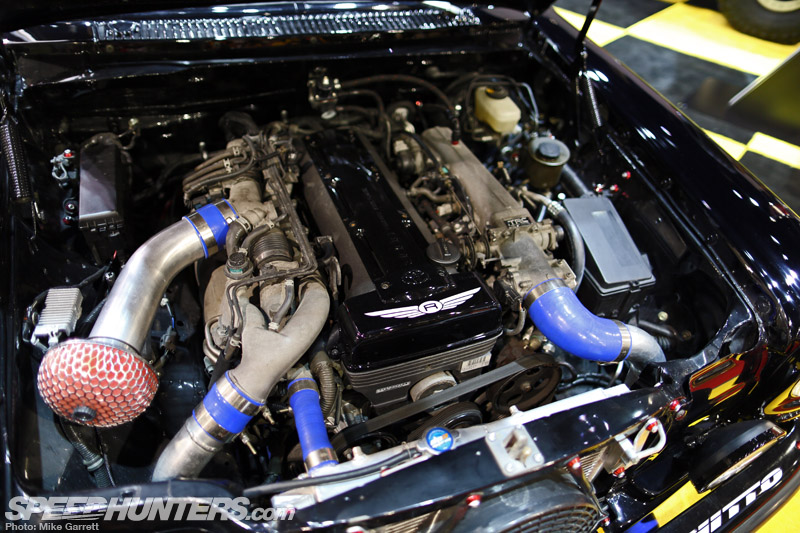 Powering the Benz is JDM-spec 2JZGTE with a selection of bolt-on upgrades. In keeping with the luxury theme, the 2J is mated to an automatic transmission.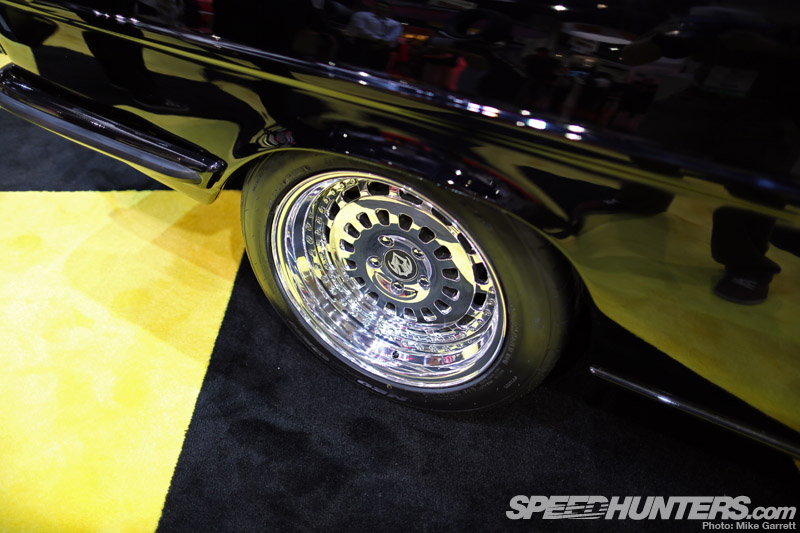 I liked the wheel combo, which featured moderate diameters and thicker sidewalls rather than huge wheels with rubber band tires.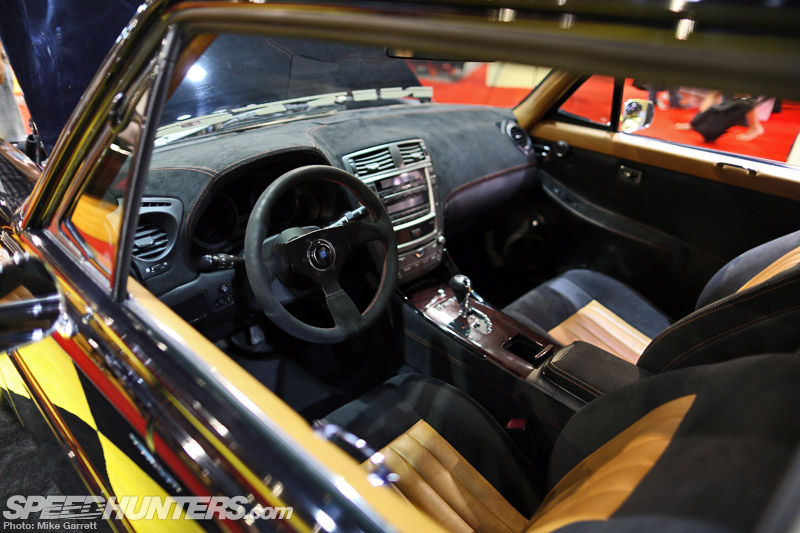 Inside, the car looks much more like a Lexus IS250 than a 280SE as that's where its dashboard, center console and seats originated. It's definitely one of the more outside the box builds at this year's show.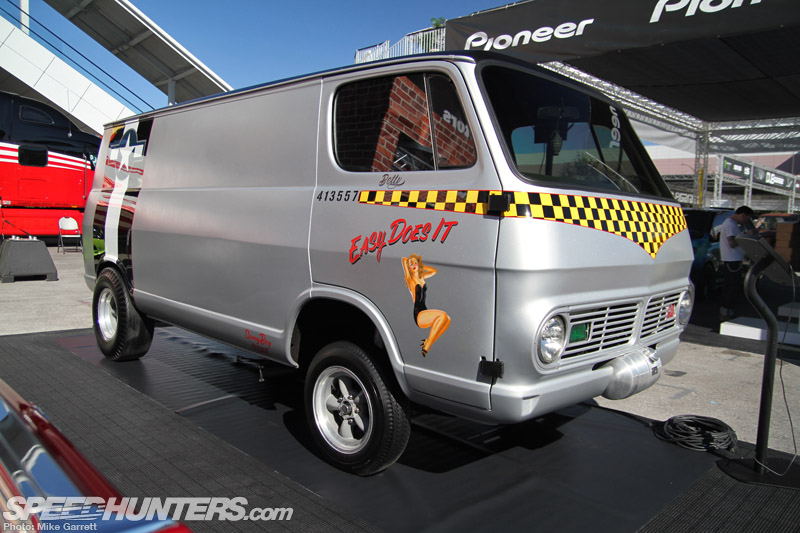 Finally, we have a very strange and very cool 1968 Chevy Van which combines World War Two aircraft style with that of a 1960s Gasser.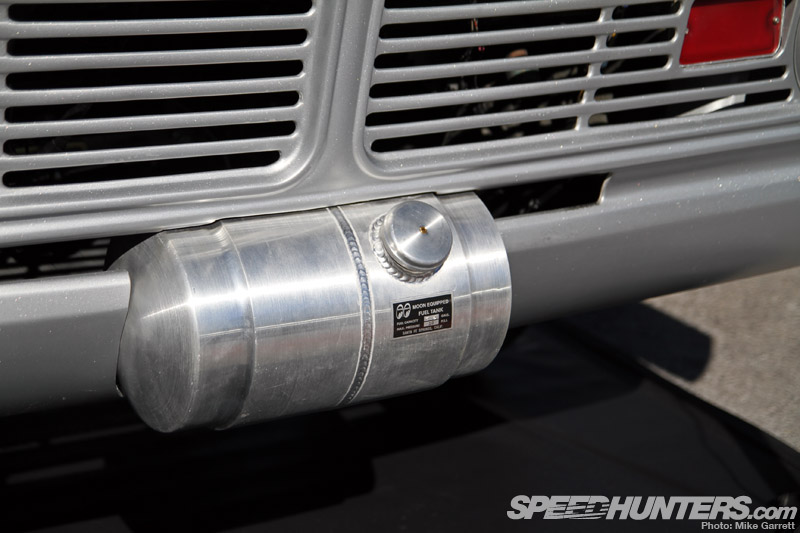 The van was built by Hot Rod Magazine and Mackey's Hot Rod Shop in Huntington Beach as part of a charity competition organized by Ebay Motors. It was one of four magazine projects built for the competition and appearing at SEMA.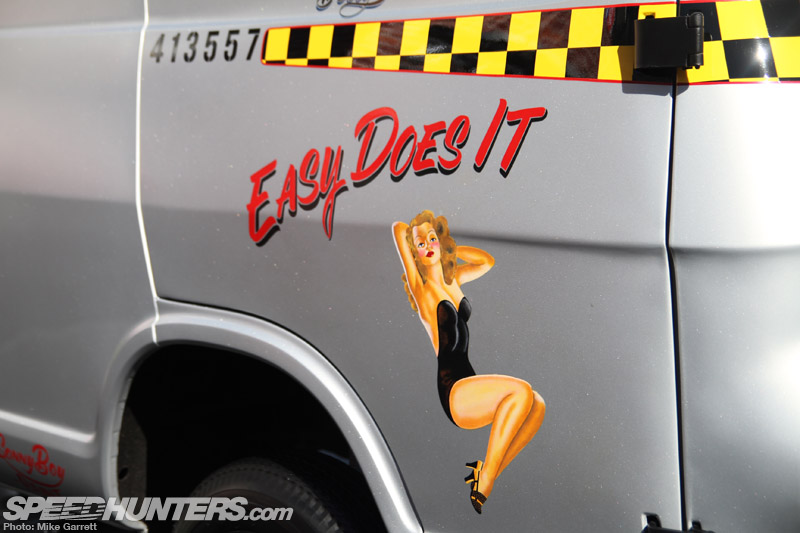 They really nailed the Warbird look on this thing with D-Day stripes, a checker pattern on the front and nose art on the front doors.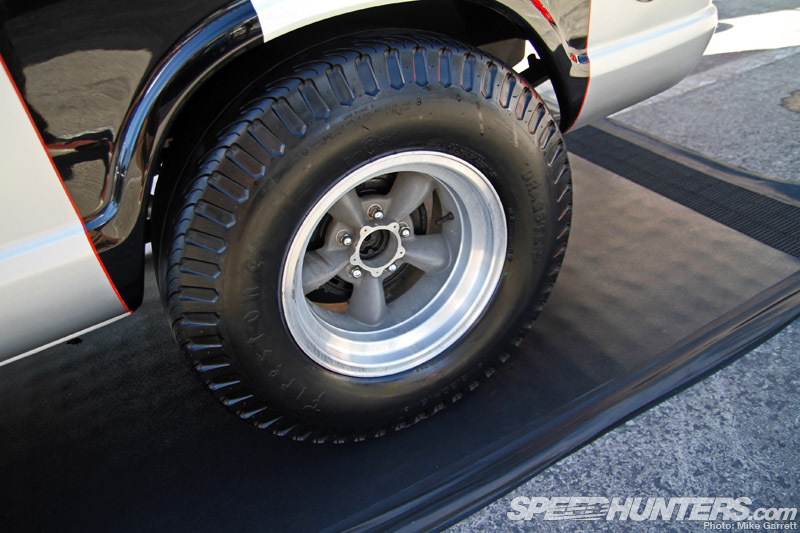 American Racing mags and Firestone slicks make for the perfect Gasser wheel and tire combination.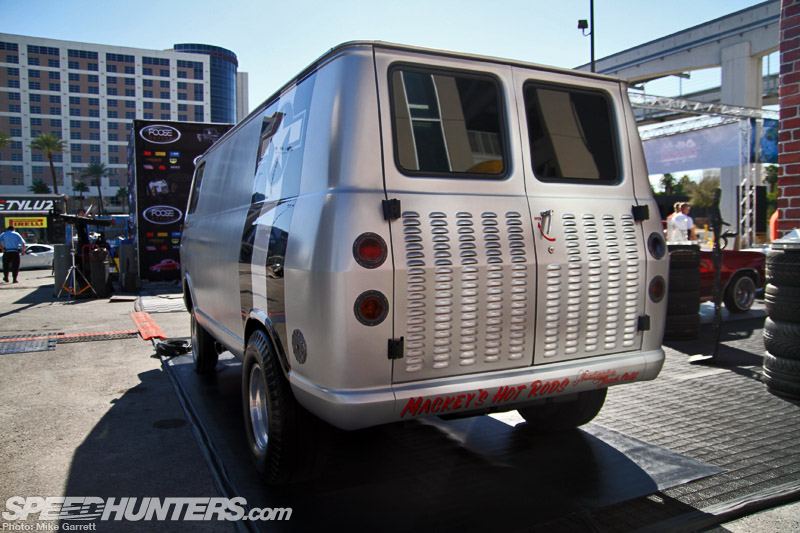 It's unique, it's fast, and it was done for charity. That's a big thumbs up in my book. You can read more on the build over at the Hot Rod site.
Speaking of Hot Rods, I'll be back next time to share some of the Rods, Customs, and Muscle Cars found at SEMA 2012.
-Mike