I was aimlessly walking the SEMA show looking at all the crazy builds on offer when I stumbled upon this long, beautiful machine. It didn't quite click in my head straight away, but then something hit me: why not look at a few of the more left-field cars at the event?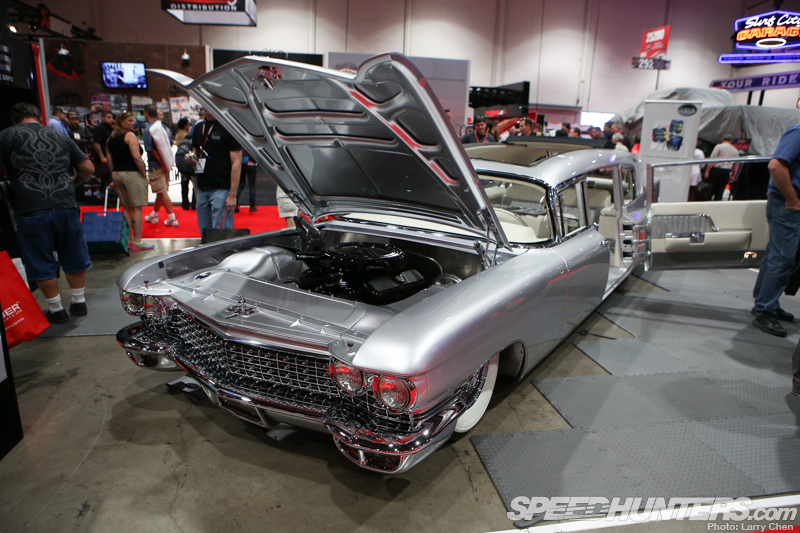 I was still in my mother's womb when Ghostbusters was first was released in theaters, but just like ever other '80s kid I grew up with the familiar siren of Ecto-1.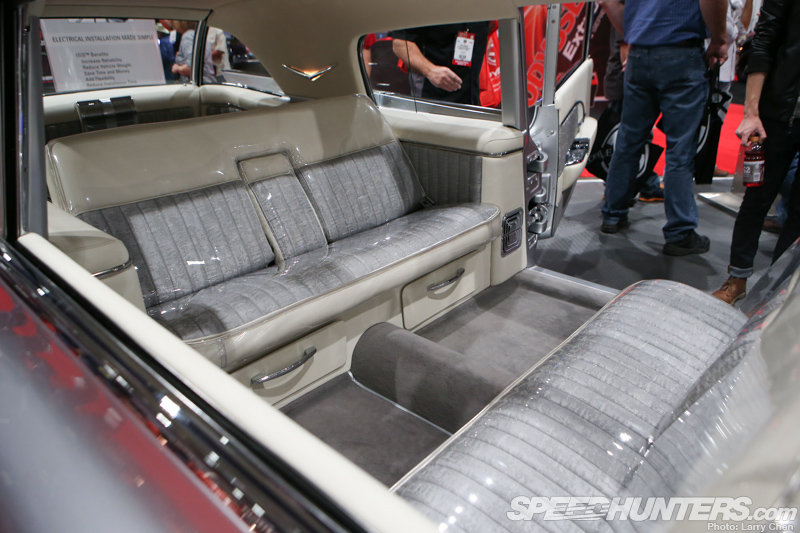 This is a 1960 Cadillac hearse / ambulance, although the model used in Ghostbusters was a '59.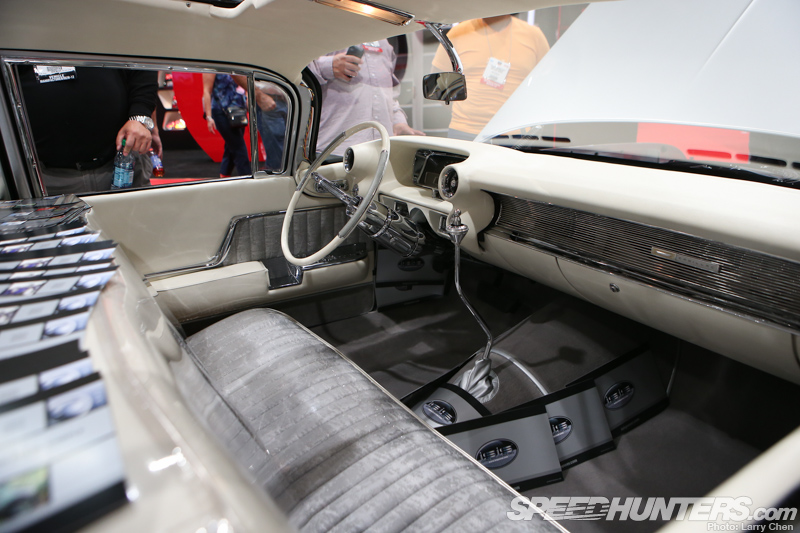 The interior was absolutely amazing. No detail had been overlooked. Just look at that awesome shifter.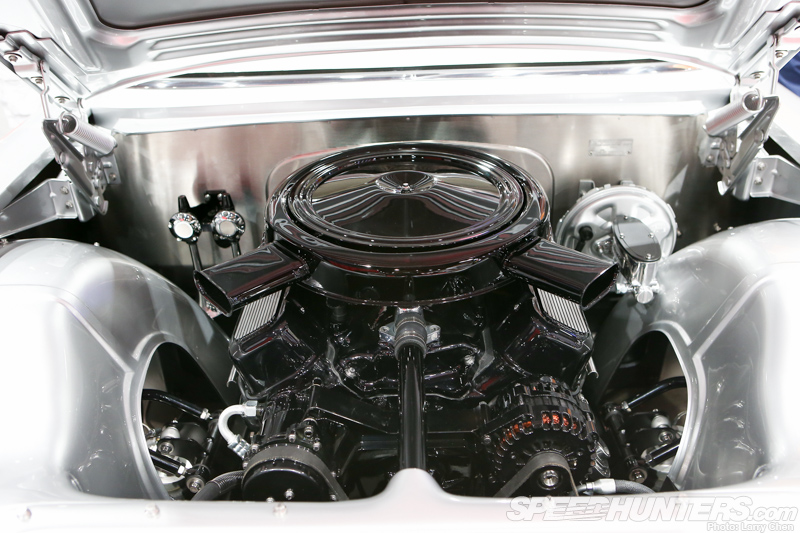 This hot rod hearse was built for a private client by Bryan Fuller and his crew at Fuller Hot Rods.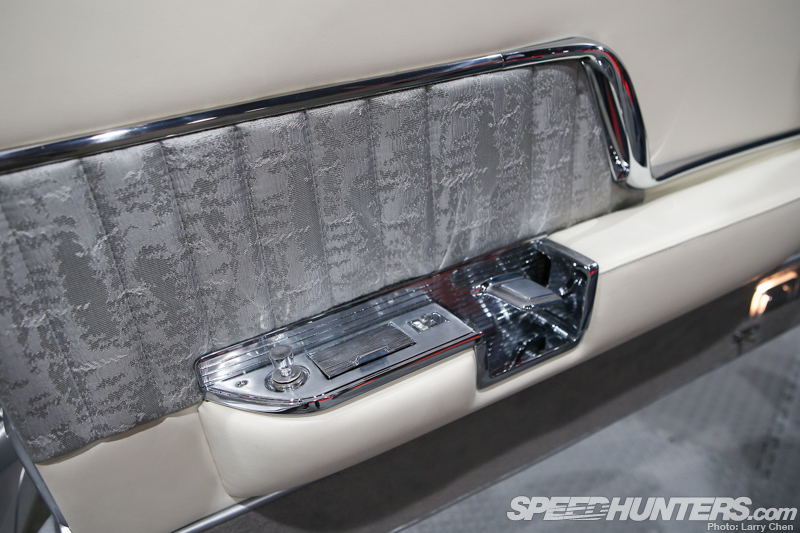 Things like the ashtray are original, and they were fully restored for this build.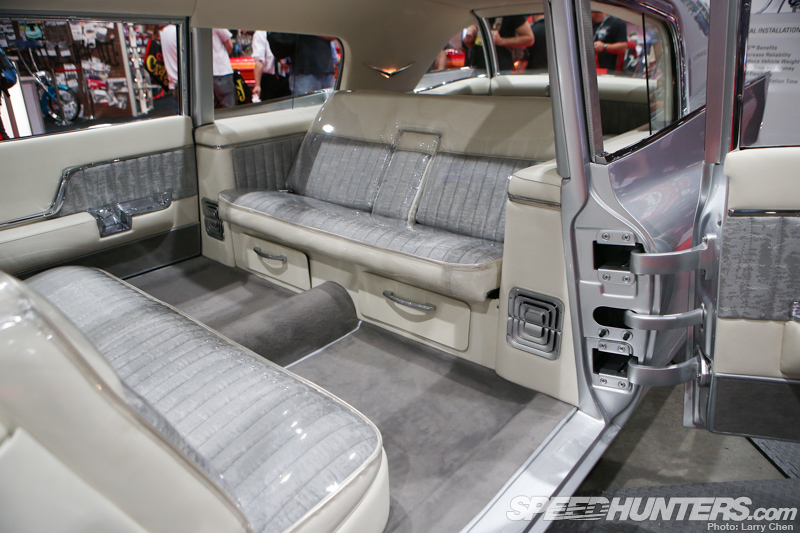 Talk about leg room. This boat is all metal and it has been given the nickname 'Thunder Taker'. Sounds appropriate to me.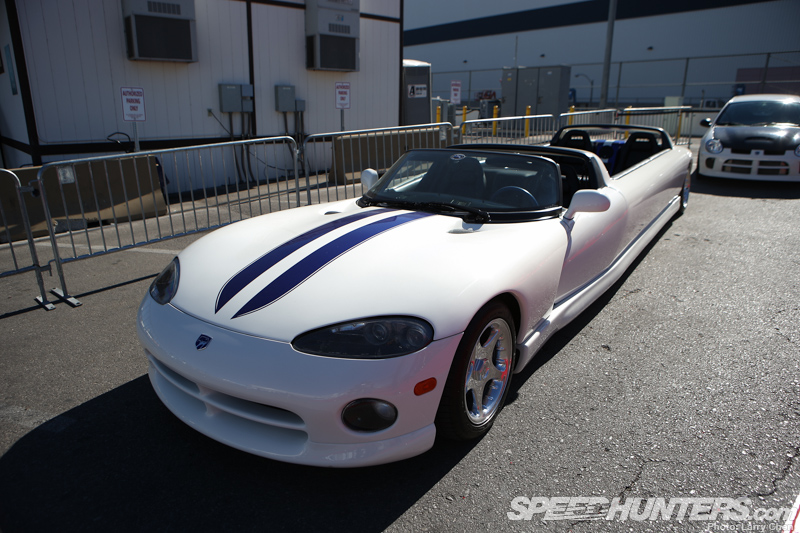 If the Cadillac hearse does not have enough leg room for you, then you will need this convertible Dodge Viper.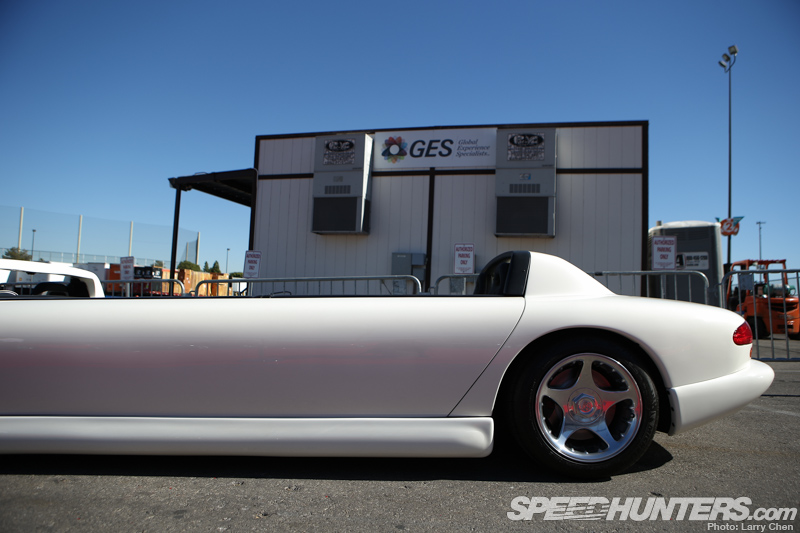 This was stretched just a tad so you could take you and your 15 closest friends on the ride of their life down the Las Vegas Strip.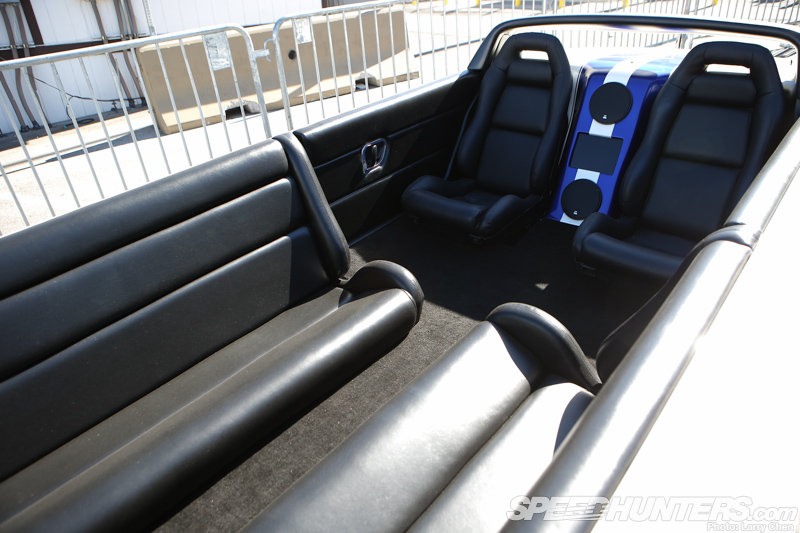 It even has bucket seats. This would be great for a prom night.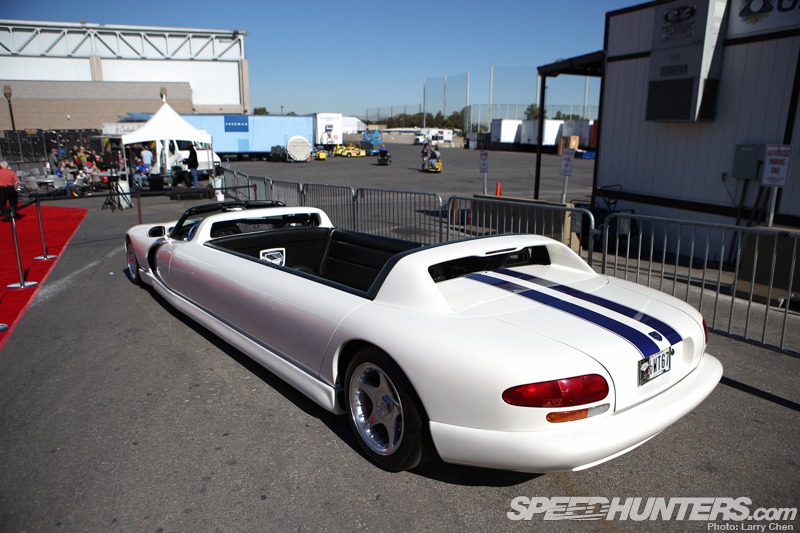 I would be thoroughly impressed if this thing could drift.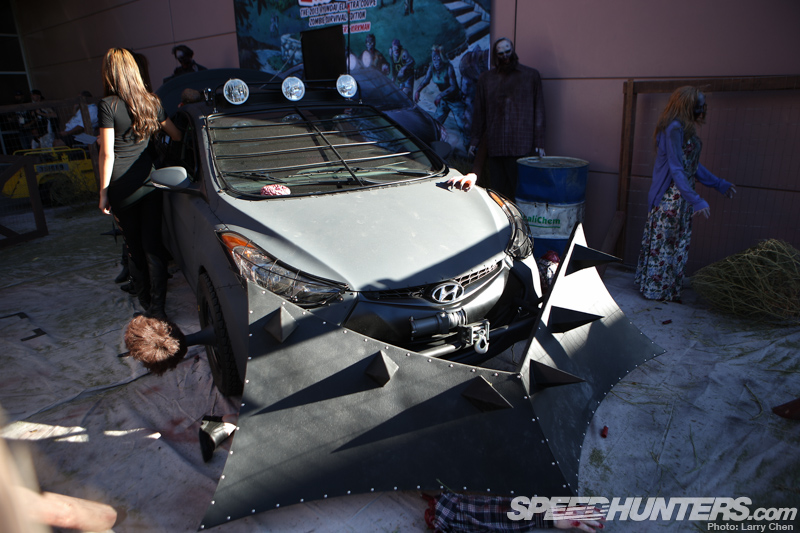 I thought this was interesting: Hyundai decided to come out with a 2013 Elantra coupé Zombie Edition.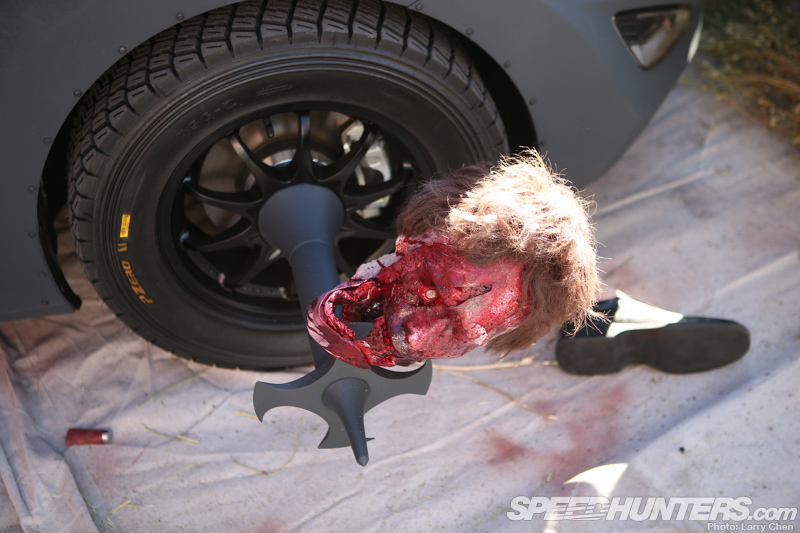 It seems like it has had some use already. I could see this wheel modification being useful during a zombie apocalypse.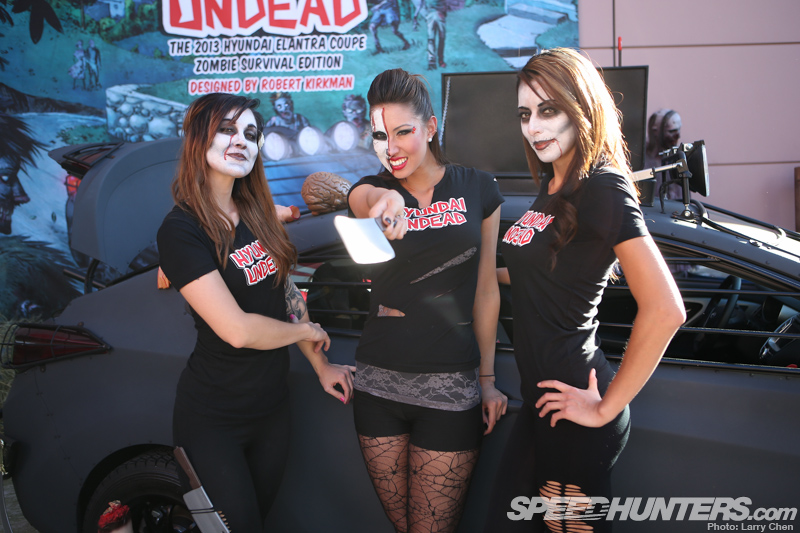 These three were the happiest zombies I have ever met.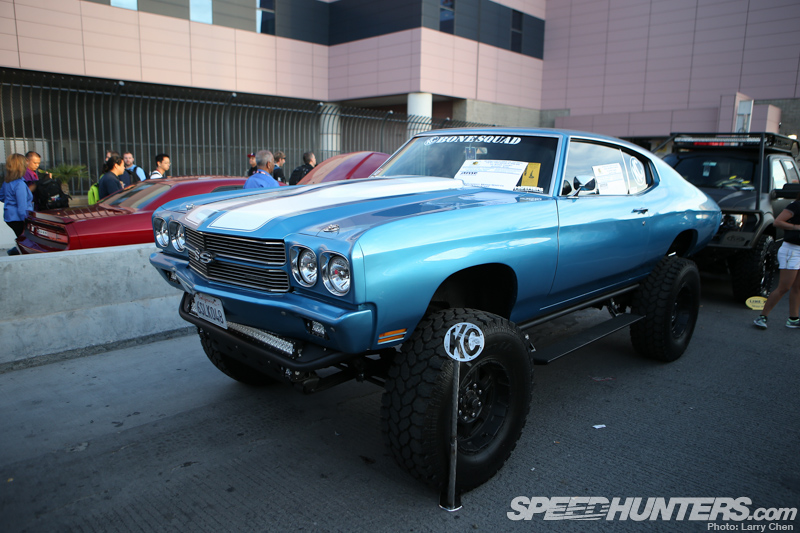 I was not so sure about the off-road capabilities of this Chevelle when I saw it from far away.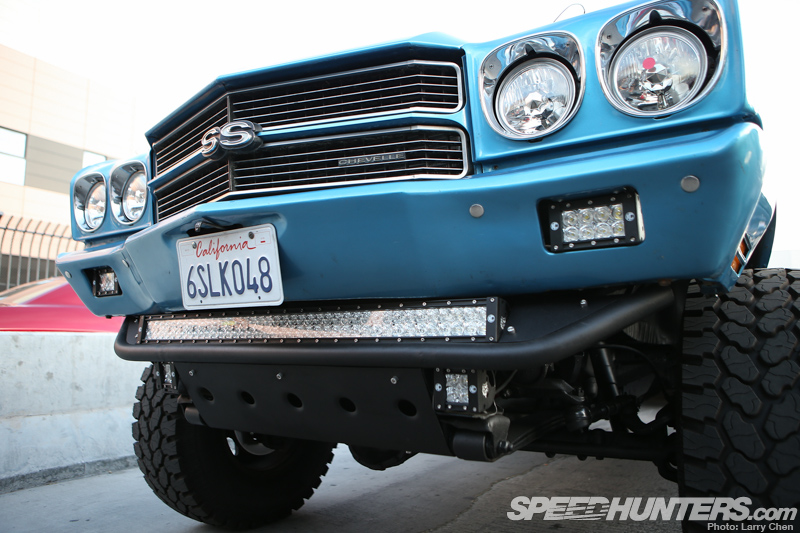 But when I got closer it was evident that this was the real deal. Just check out the crazy flood lamps.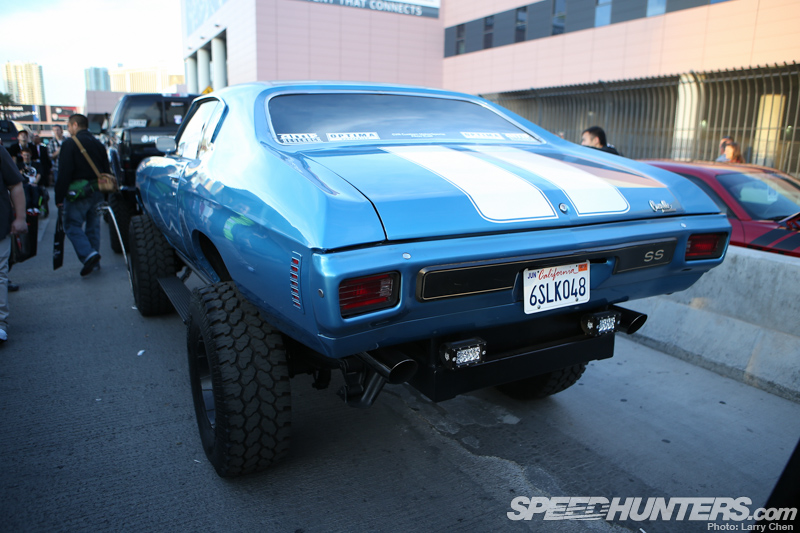 And look at those massive tires. Next stop, Baja 1000!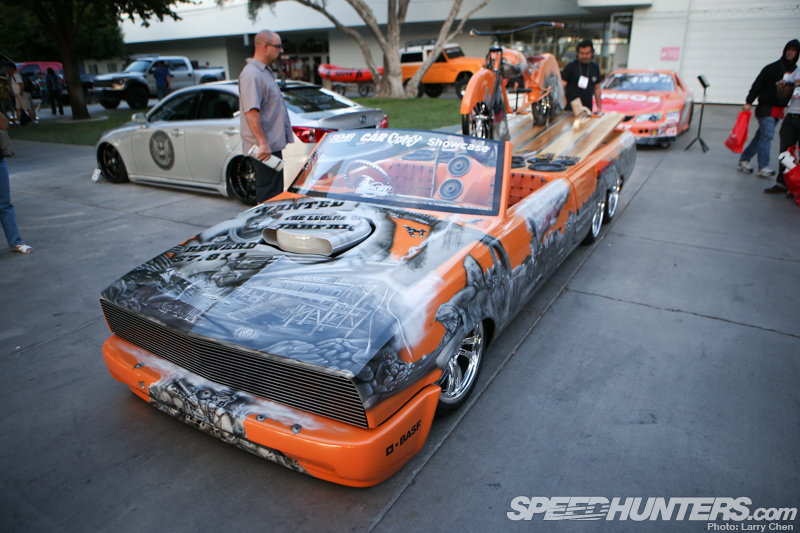 This was the perfect example of a quintessential SEMA car, although I would not be surprised to see this drive down Las Vegas boulevard.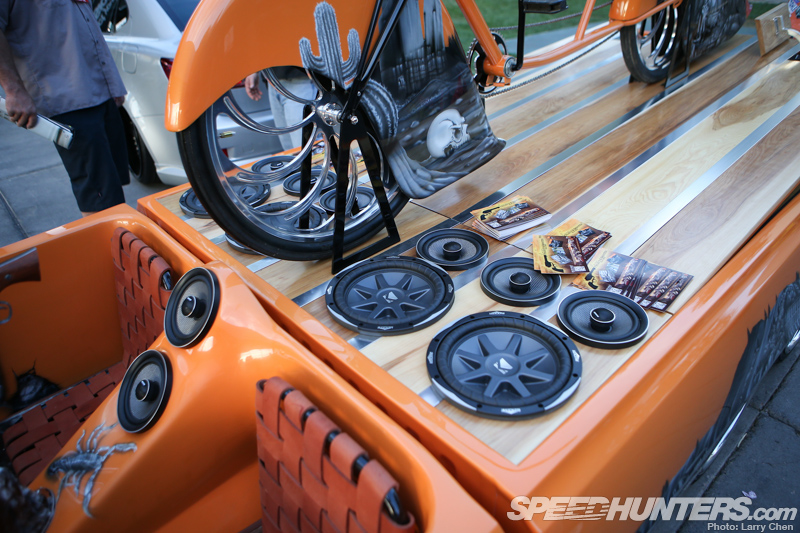 And why not? You could supply a square block with the latest hits.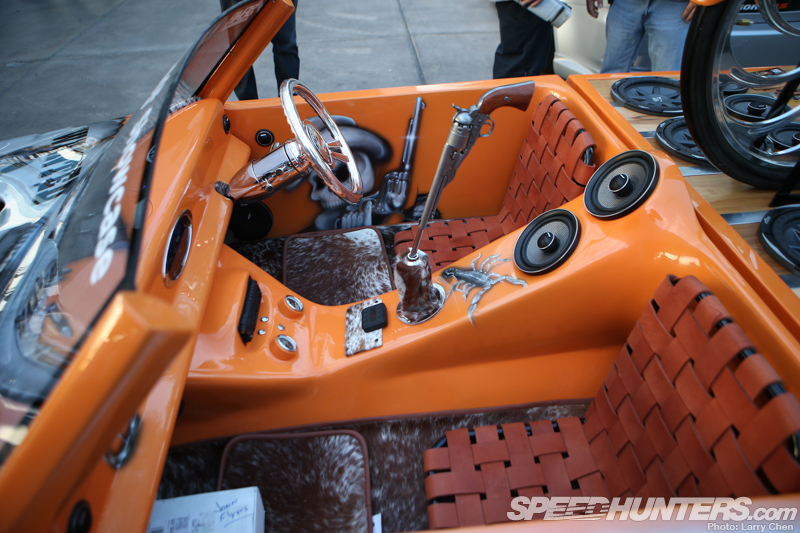 I am guessing that would be called a revolver-grip shifter?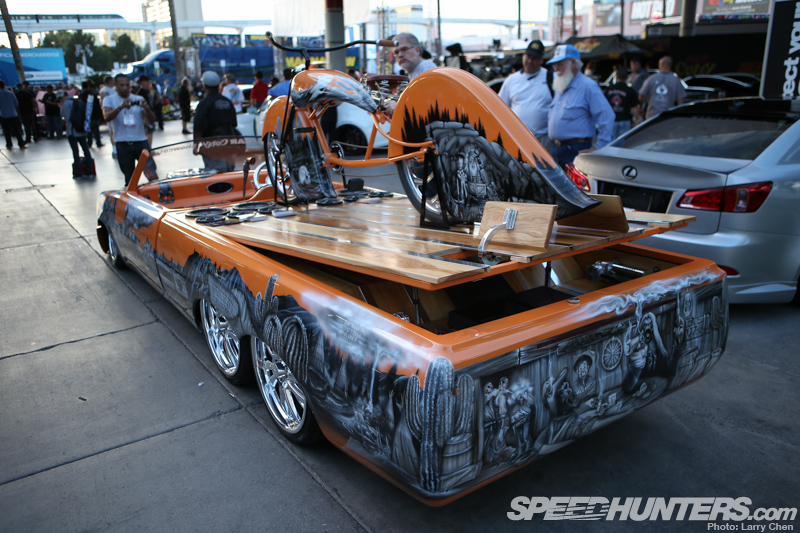 This also has four wheels at the back. I could not tell if it was two-, four- or six-wheel drive. On top of all the crazy stuff going on with this truck there was a matching bicycle on top.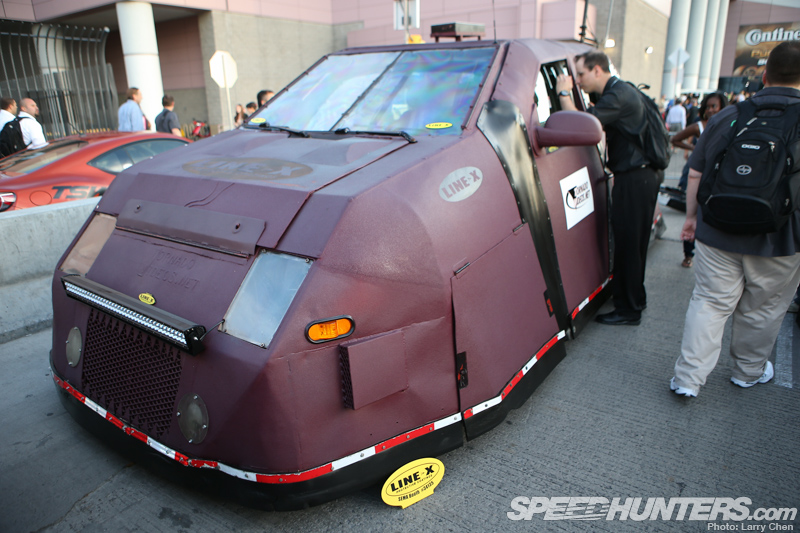 Unlike the six-wheeled beast, this armadillo is actually used for some serious work.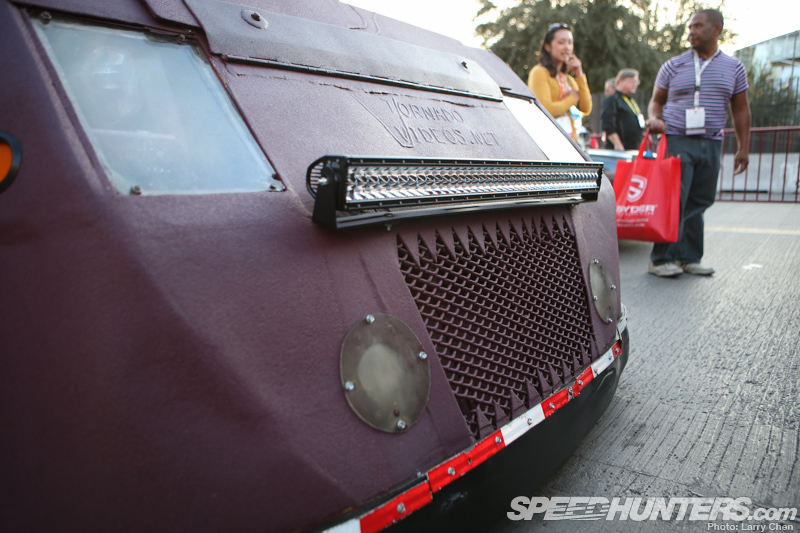 It's called the Dominator and it is for chasing tornadoes.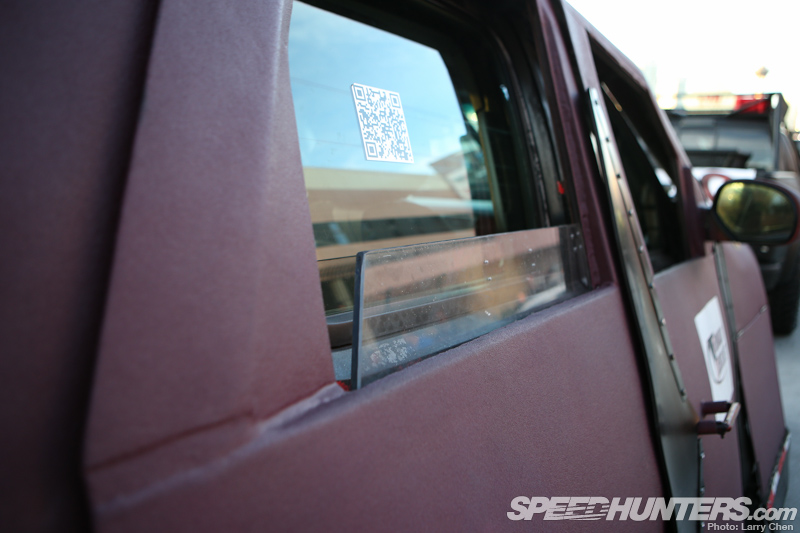 It has Lexan outer windows to protect the glass windows.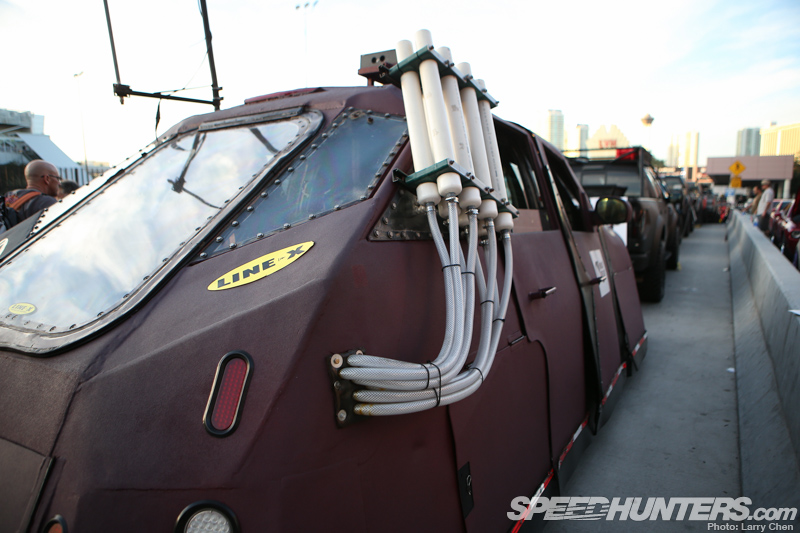 It has air cannons to shoot data-collecting probes directly into the funnel of an active tornado.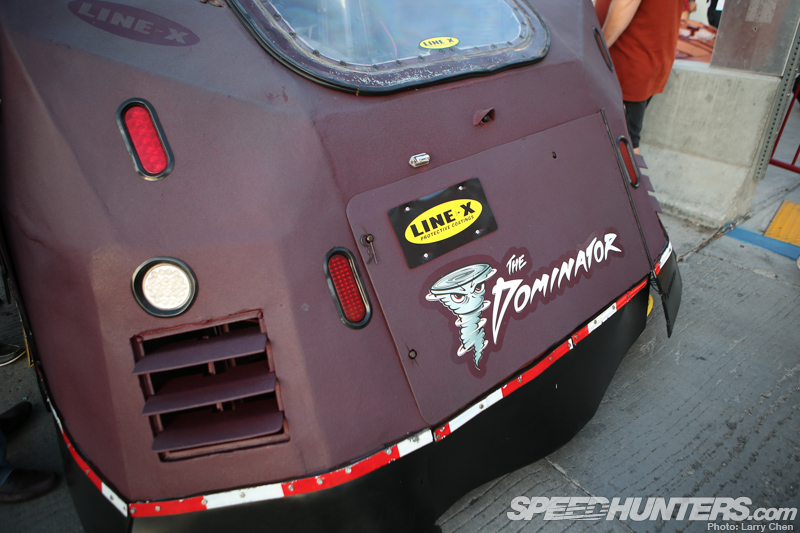 I guess if I ever have to drive into a tornado I would use this modified Chevy Tahoe.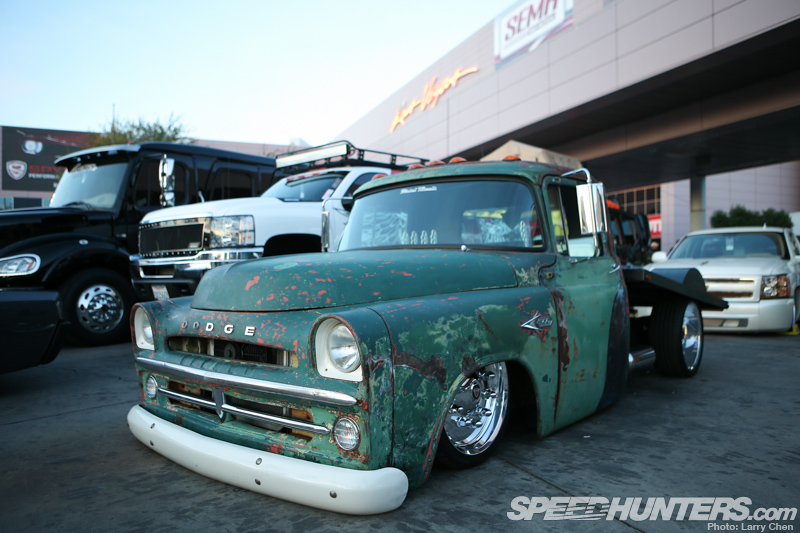 This old-school Dodge pickup has a very interesting look. It seems like the color trend for this show is greenish tones. This one has some serious patina that is preserved just enough to give it that rough look.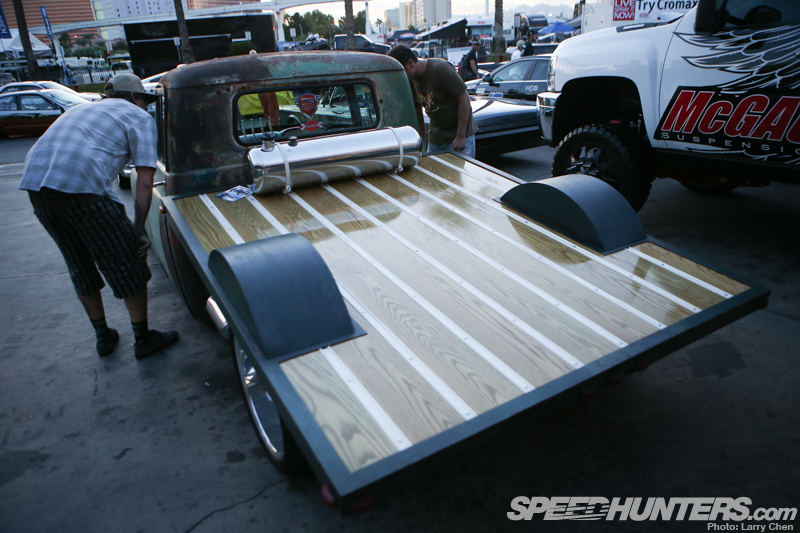 The fact that it is a flat-bed tow truck makes it just that much cooler.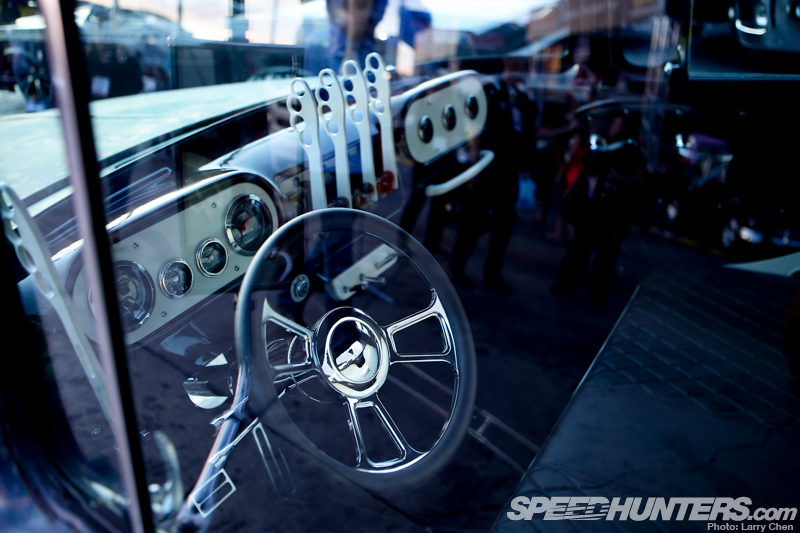 The interior was absolutely mint. And it has some interesting controls for its flat-bed.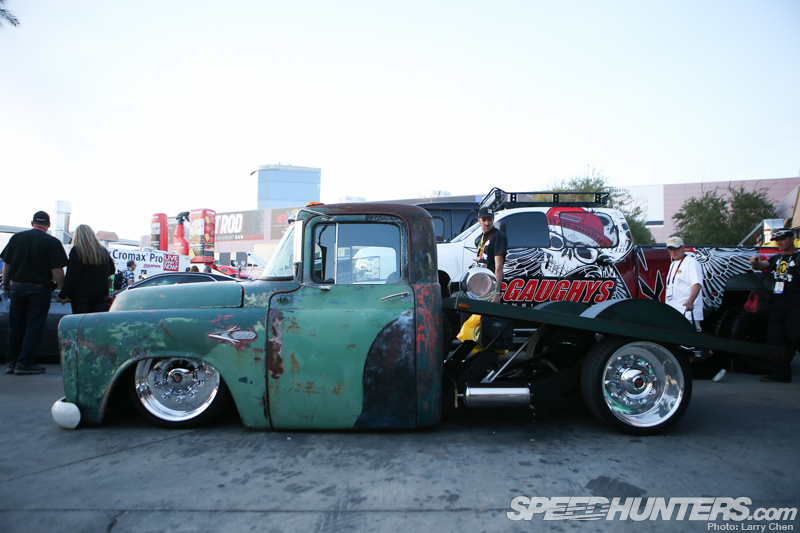 I can't imagine this can carry much, but it just looks so right and this car is definitely bonkers.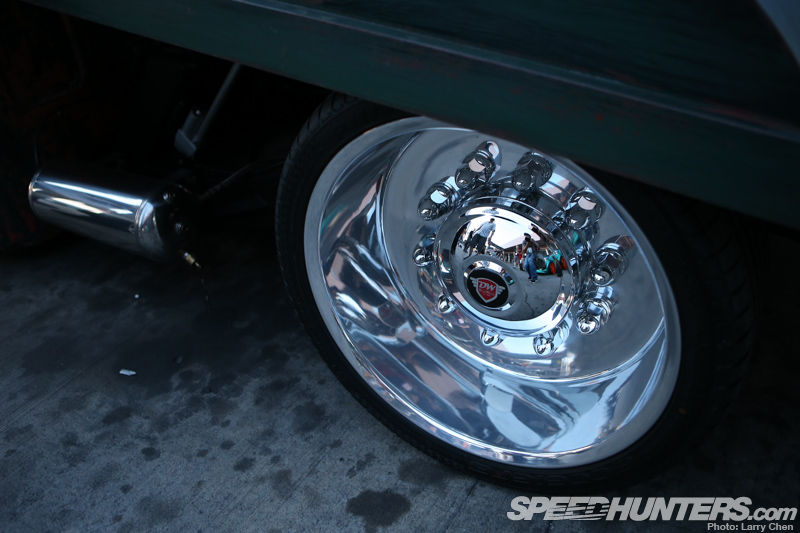 The sweet wheel choice sets the truck off perfectly. I know for a fact this would turn heads going down the street anywhere.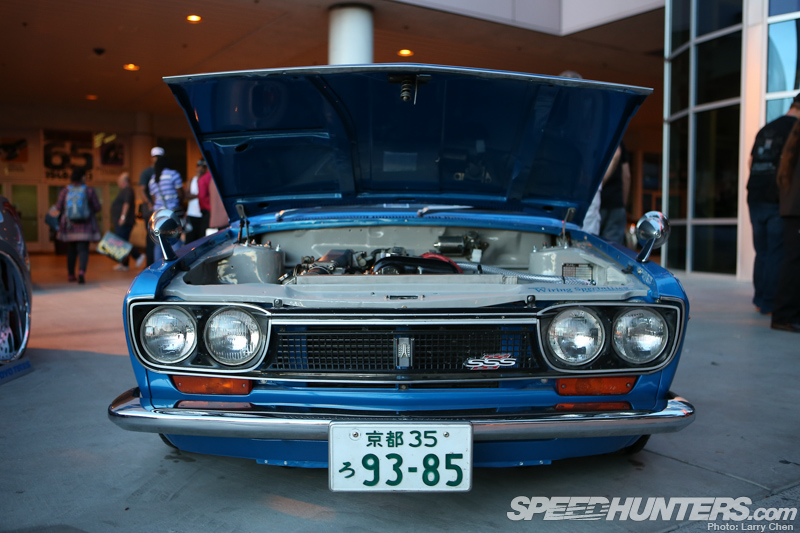 I figured I'd end this post with one of my favorite cars of this year's show.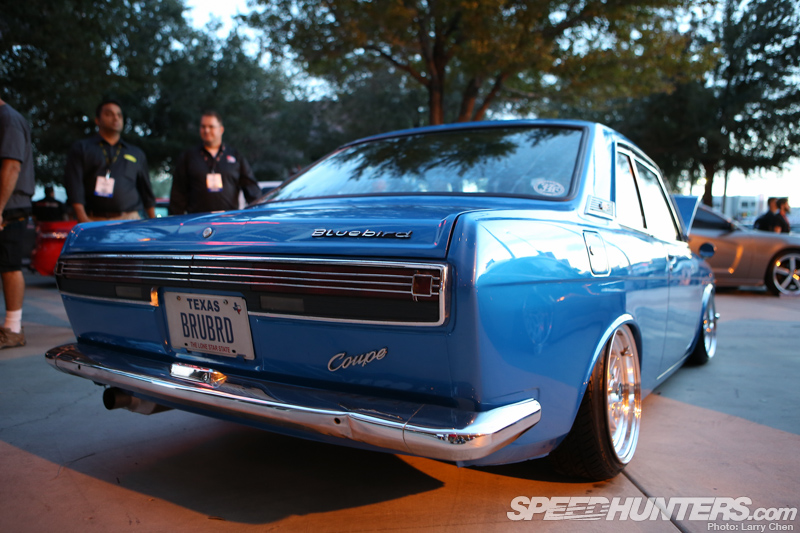 I've owned seven Nissan/Datsun cars over the years, so I feel like I've seen a fair share of them. This right-hand drive Bluebird really was a show stopper.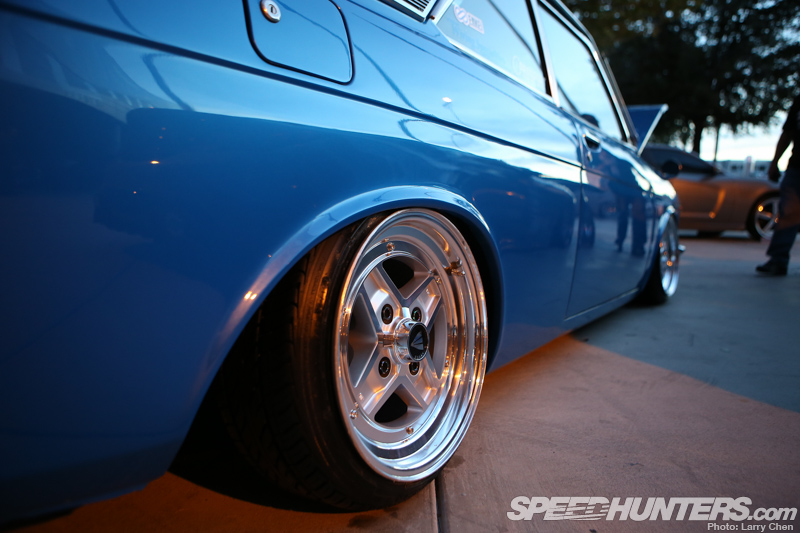 I love the fitment of the Enkei Apache II wheels. They have such a classic look, yet the way they fit is very modern.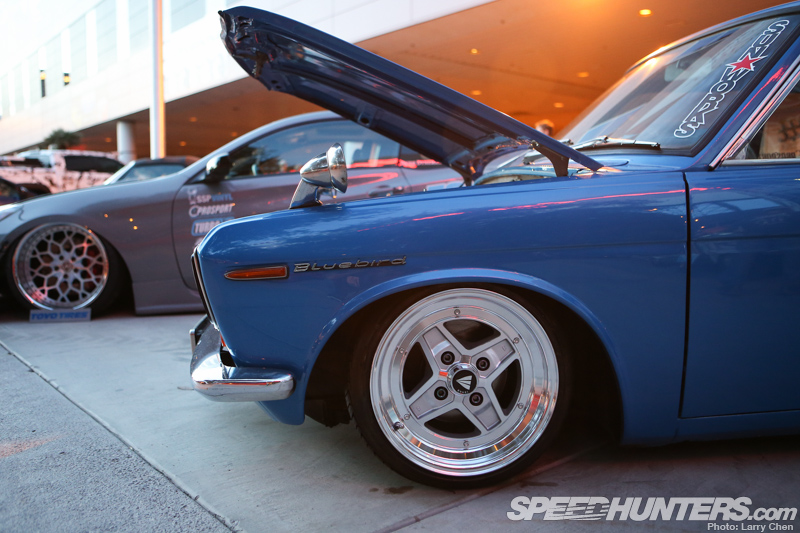 Sometimes fender-mounted mirrors just don't look right, but on this car they fit just perfectly.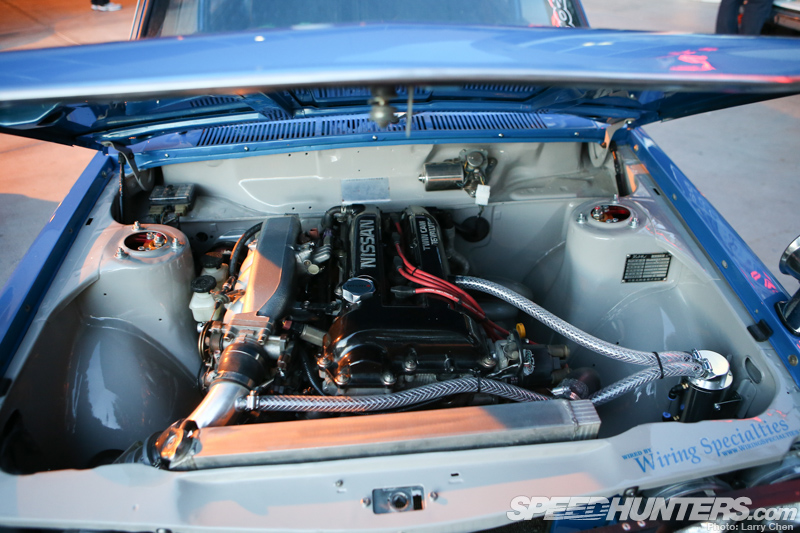 What I love about this car is that the builder chose to go with a naturally-aspirated SR20 versus going with a turbo. I am sure the 140+ horsepower is more than enough to get this thing going, as it has to only weigh something like 2,000lbs.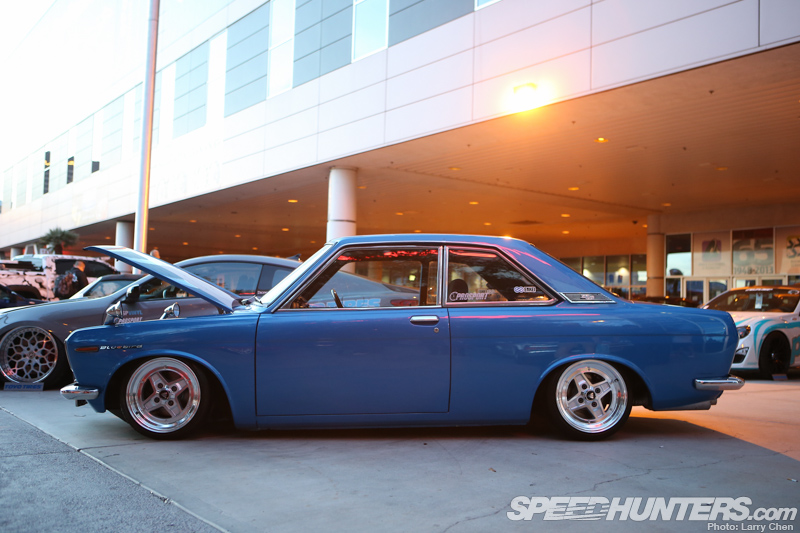 I feel like this is what a modern 510 should be. It is naturally lightweight, the look is very clean and the motor is very simple. I would buy this car without a doubt if it came from the factory in a similar fashion.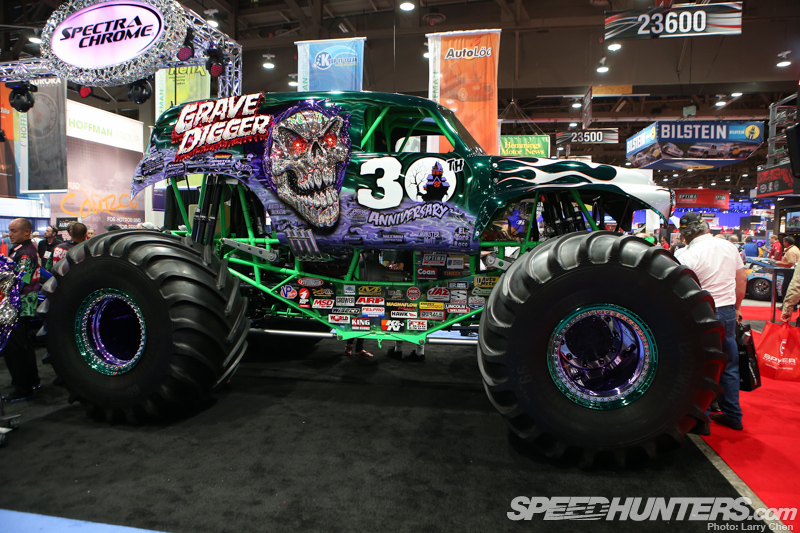 Well that is it for Spotlight-O-Bonkers. Stay tuned for more behind the scenes coverage of the SEMA show. I will leave you with a few desktops including one of the famous Grave Digger in chrome.
Larry
More SEMA 2012 stories on Speedhunters