Back at the ninth round of the 2012 FIA World Touring Car Championship at Sonoma in the USA I hooked up with professional race driver Charles Ng: I knew him from his involvement in Formula Drift, and figured he could be my guide for my first touring car race.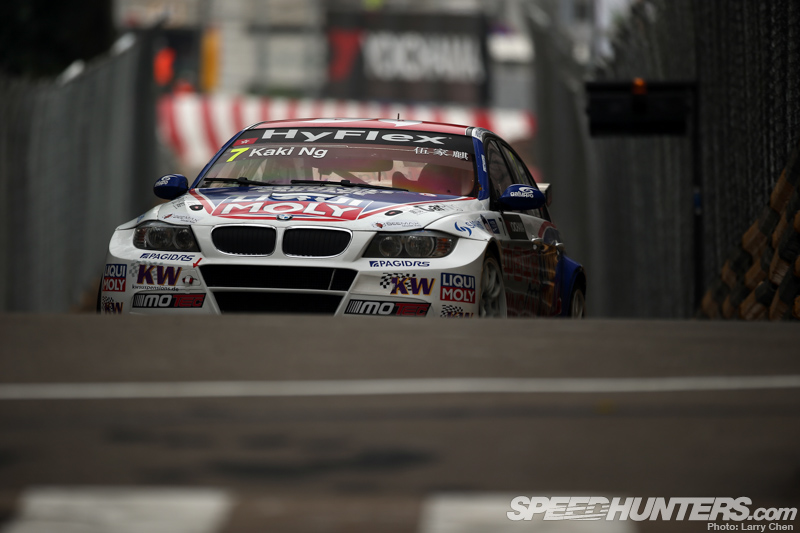 I immediately became a fan of the series and wanted to follow the WTCC a little more, so he invited me out to his neck of the woods for the final race of the season. Macau was just a 30-minute ferry ride from Charles' home in Hong Kong. After the race I sat down with him in his home, located on the hills of Hong Kong island, to review the eventful weekend.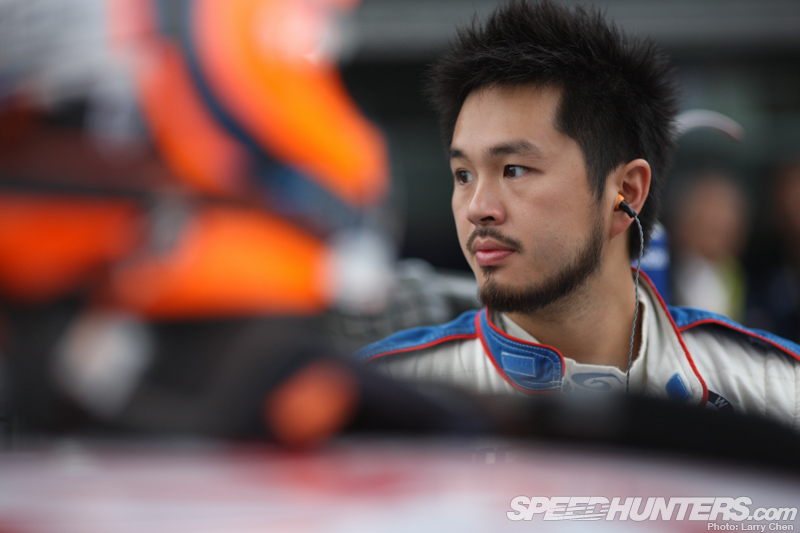 Larry: This race has been running for 59 years and it has such a rich history, but why does this race mean so much to you in particular?
Charles: As a kid I had always heard about the Macau Grand Prix. Whenever November rolled around we heard about it non-stop and I always watched it on TV. So I saw all these top drivers from around the world compete in the Grand Prix from a very young age.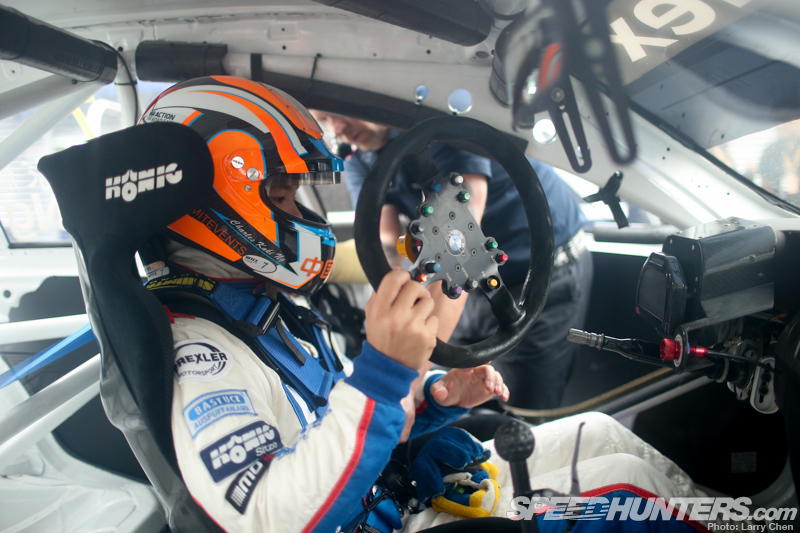 I thought to myself as I grew older that it really is the pinnacle of motorsport. For example, drivers like Michael Schumacher and Ayrton Senna came here among many others to make their name. Their careers got a huge jump start after they won the Macau Grand Prix. I thought to myself that I really wanted to compete in this race one day.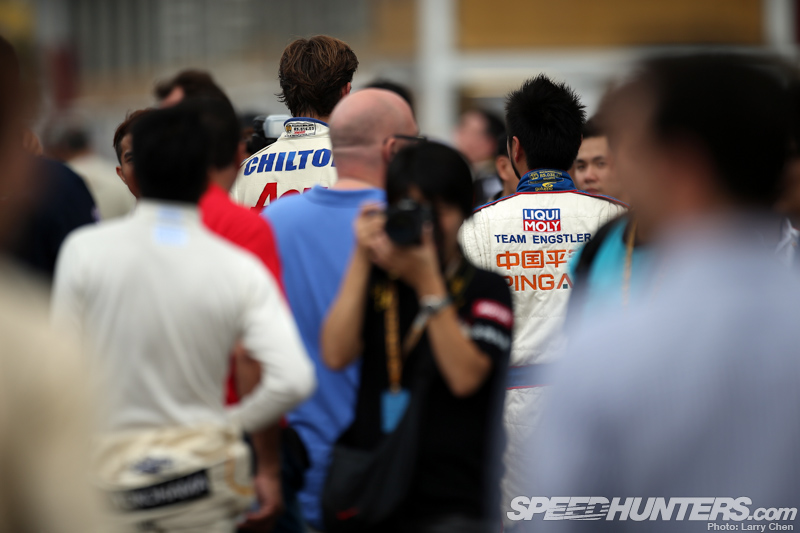 Larry: This track is just brutal, there is barely enough room for your relatively large touring cars. What did you think when you first drove it a few years back?
Charles: Only the top drivers from each Asian touring car series get an invite to the Macau Grand Prix, and I was one of those lucky few that were invited to compete in the CTM Touring Car Cup race, which runs on Saturday before the main event.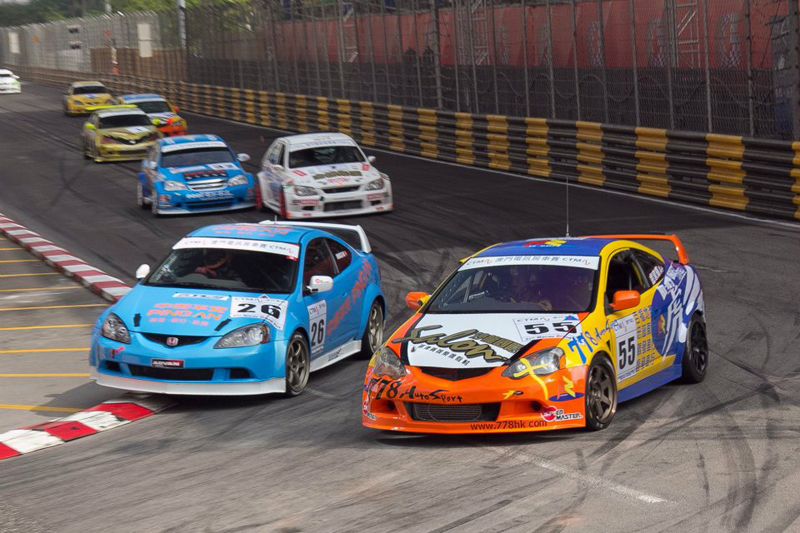 When I first drove it I was already the Asian Touring Car champion for 2010. At that time I was driving a close-to-stock DC5 and I was thinking I would just drive it for the experience. I wasn't expecting to do that well considering it was my first time, but I actually qualified in fourth place out of 36 cars.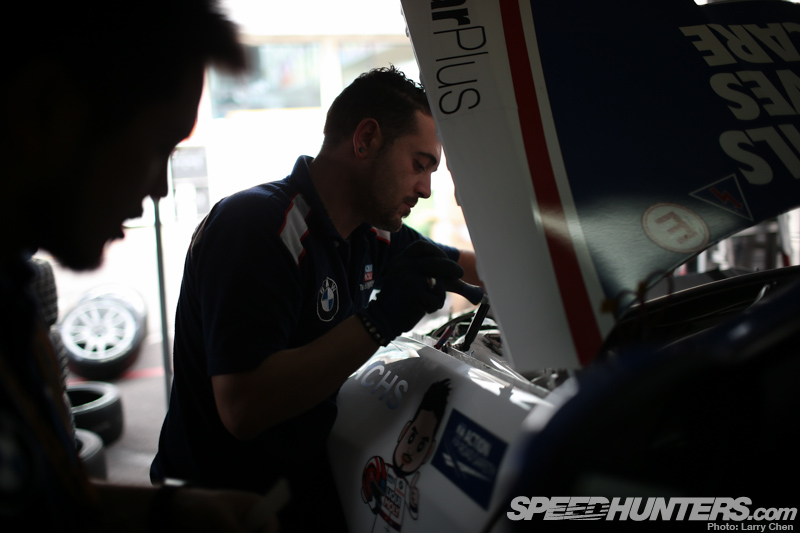 I was only behind the ex-factory Chevy team cars and a few fully-tuned DC5s with sequential transmissions, compared to my stock machine. I really liked the fact that we were racing on the streets and I knew Macau was special because every driver in the world wanted to compete here.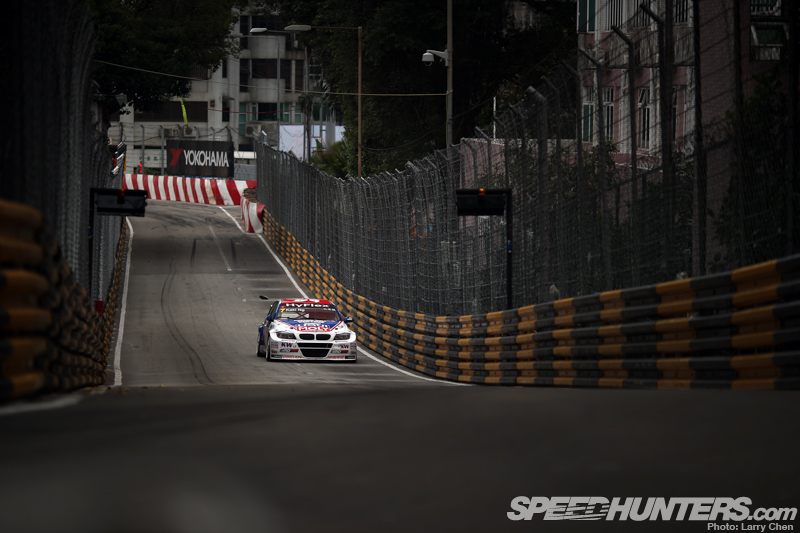 Larry: I remember you mentioned to me that this is not only the most difficult course on the WTCC tour, but it is the most difficult track you have ever driven. That is interesting to me because you have driven very hard tracks like the Nurburgring Nordschleife as well as Spa Francorchamps. What makes it so difficult?
Charles: Macau is difficult because of the walls. On top of that you just have such little time to find the limit of the cars. Each year, no, each session the track condition changes.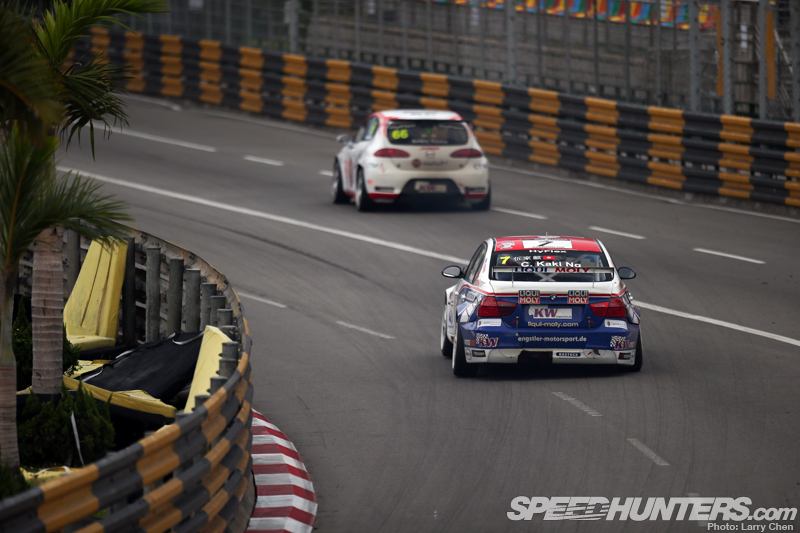 The grip level changes very easily. For example, it could rain the night before and it washes the debris everywhere. Maybe the day before you could have gone flat out in a certain section and but when you try it again the next morning it will send you straight into the wall.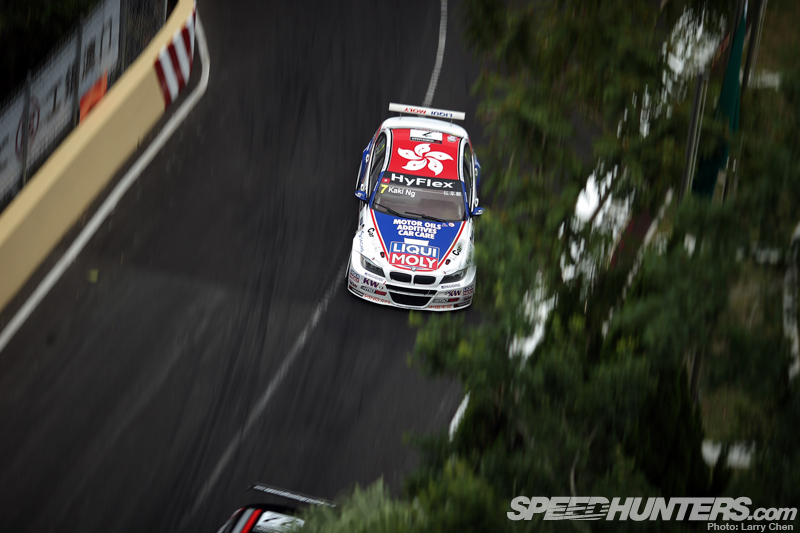 So every time you go out the track is different. That is why it's so hard to find the limit: if you just go slightly over then you are done for the day, or maybe or the whole weekend if you crash bad enough.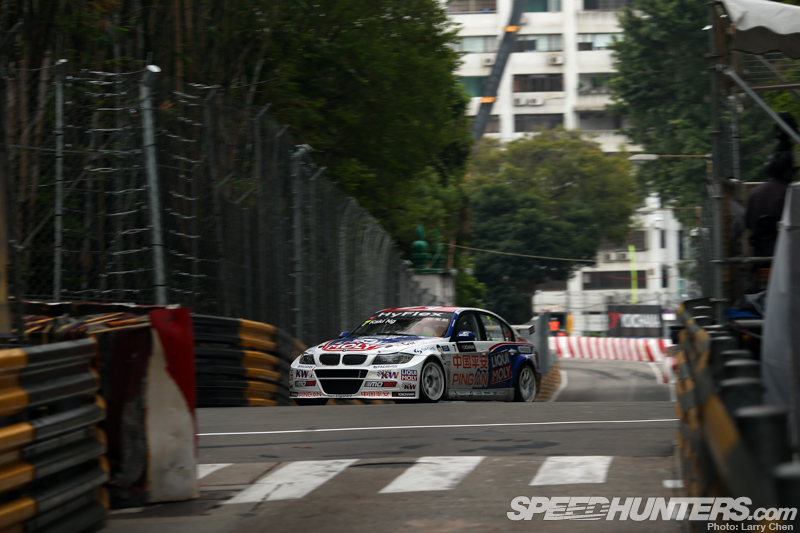 Everyone wants to get into the race event, but some don't even make it through qualifying. That is always the battle we are fighting: we try to keep the car in one piece, but then again we are pushing it and getting as close to the limit as we can.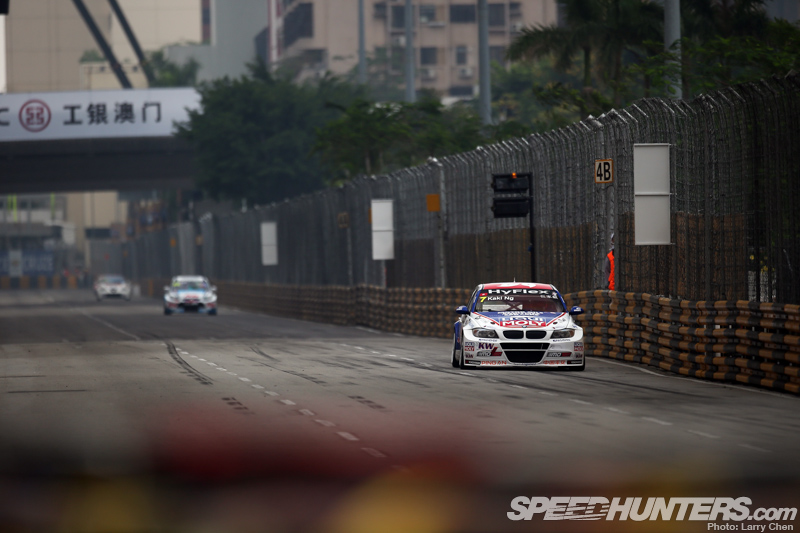 Larry: Out of all the corners on the 3.8 mile course, which one do you think is the hardest. I know you were telling me that the Melco hairpin is one of the tightest corners in motorsport if not the tightest.
Charles: I think compared to any track in the world Mandarin corner is one of the most difficult. For me it's the scariest, because in my BMW I am entering the corner blind at over 230kph with a mid corner speed of about 225kph. It's a really tight corner when you are traveling at that speed.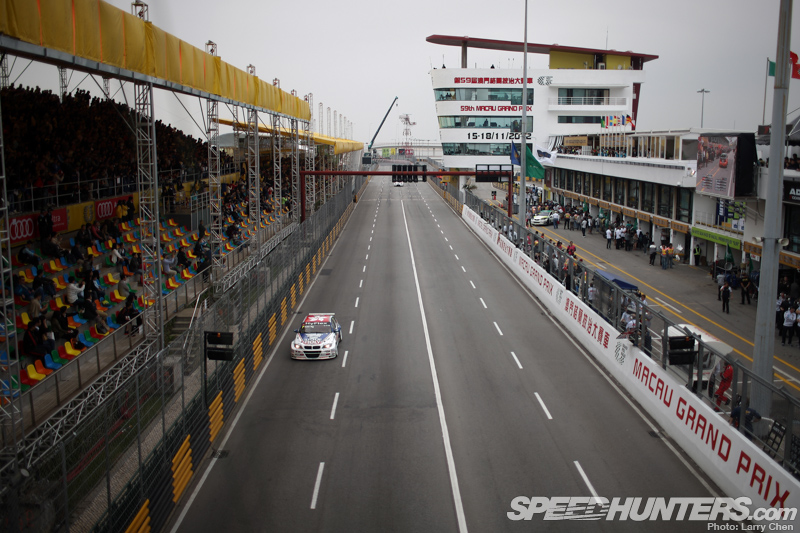 Once you enter the corner you are completely committed and you can't change anything. If you lift then your rear-end will get light, and if you brake you might understeer. Also if you add more power you can easily oversteer too, so basically you have to let the car drift to the outside wall. Every time you are just at the limit, and sometimes it just takes a bit of luck to just get a little more speed out of that corner.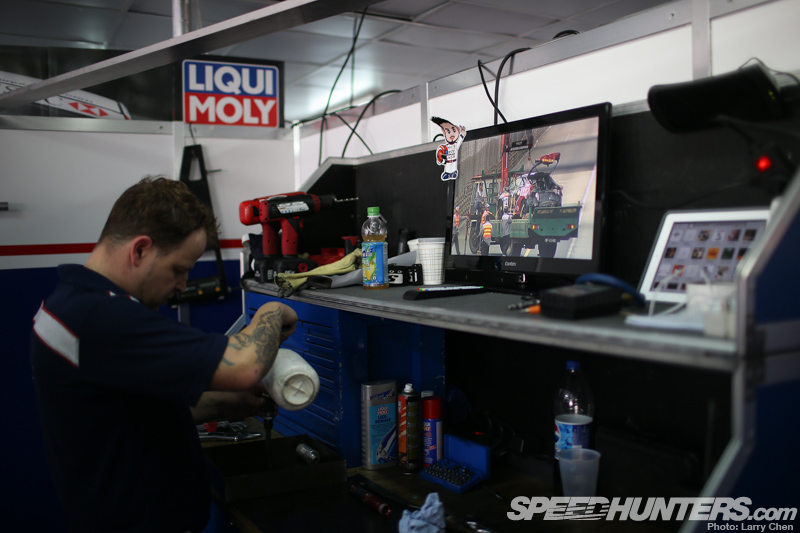 Some people push their luck too much and end their weekend immediately. It's mainly because of how blind it is at corner entry and how little control you have while you are in mid-corner.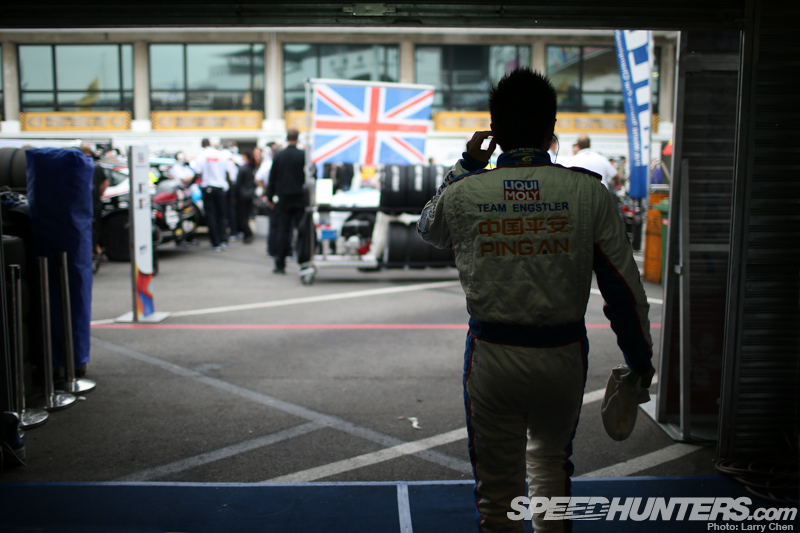 Larry: During practice I noticed you were having some oversteer issues at Mandarin.
Charles: The thing about going into that corner sideways at that speed is you don't actually know where you are going to end up, because there is a bump right at the exit and it has a tendency upset the car.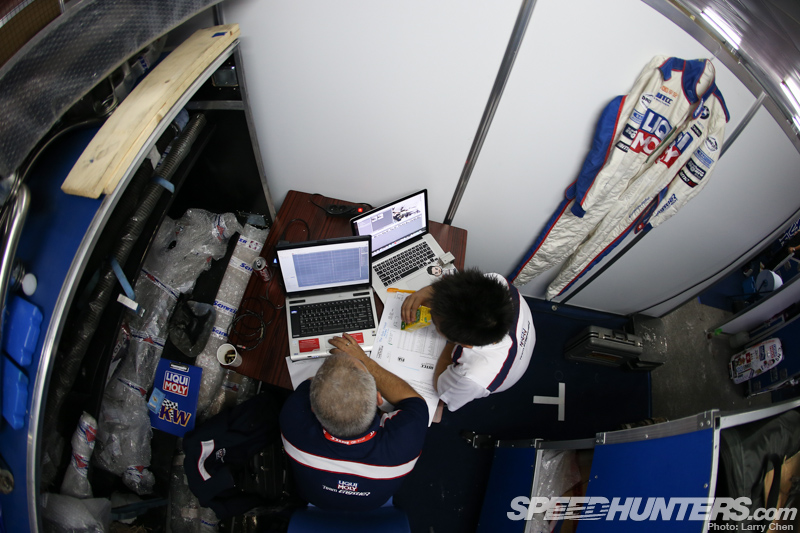 I guess for me I am not thinking too much if I am sideways, I just try to stay calm and try to recover as smoothly as possible without lifting too much, because you don't want to cause too much weight transfer to upset the car even more.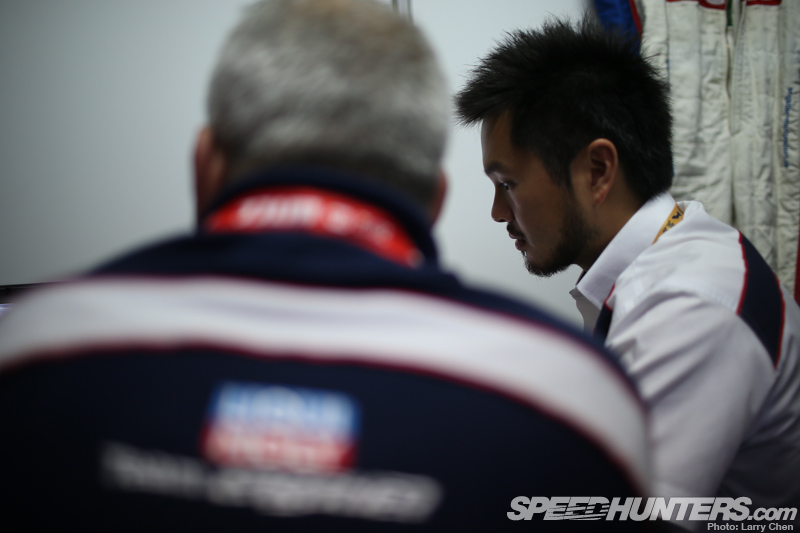 When I came back to the pits I talked to my engineer and we made some changes that made the car much easier to drive.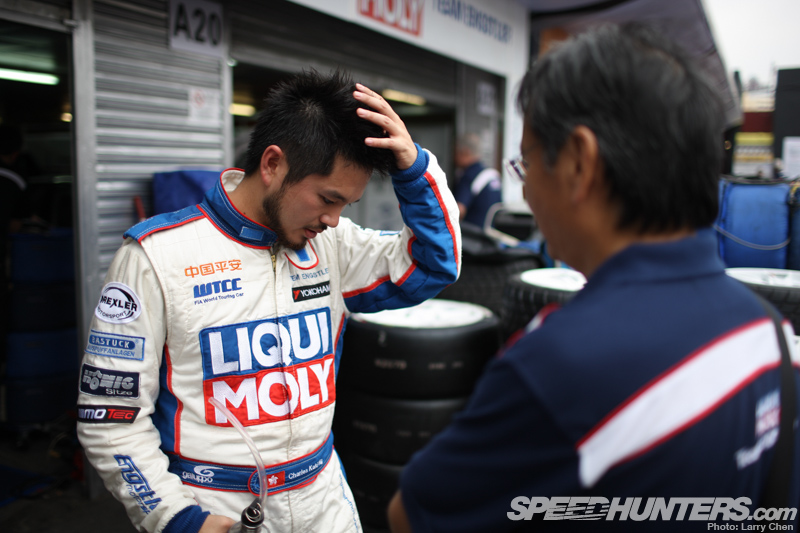 Larry: This is a touchy subject, and I don't like it one bit, but I said it before and I will say it again. Motorsport is very dangerous. Two competitors died this weekend. What was going through your mind as you were going out for qualifying?
Charles: I felt terrible for the rider, and as for Philip Yau, I actually knew him because we had a lot of common friends. About 10 years ago we used to go out at night in Hong Kong and go on cruises in our cars with friends. What a terrible tragedy.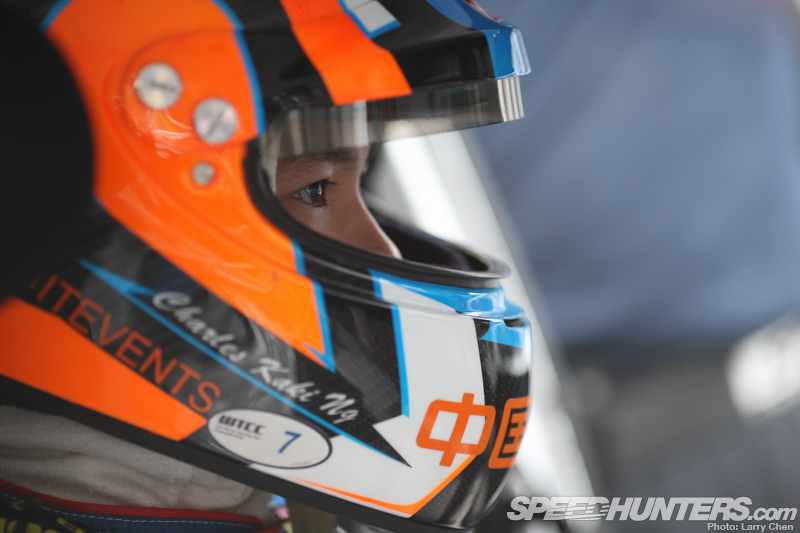 Now I can honestly say that death is much closer than I ever thought. It reminds us all that no matter what kind of racing you are into it is always dangerous. I think everyone should always be aware of safety and make sure your seat-belts are tight. At the end of the day you still have to overcome that fear, as bad as that sounds.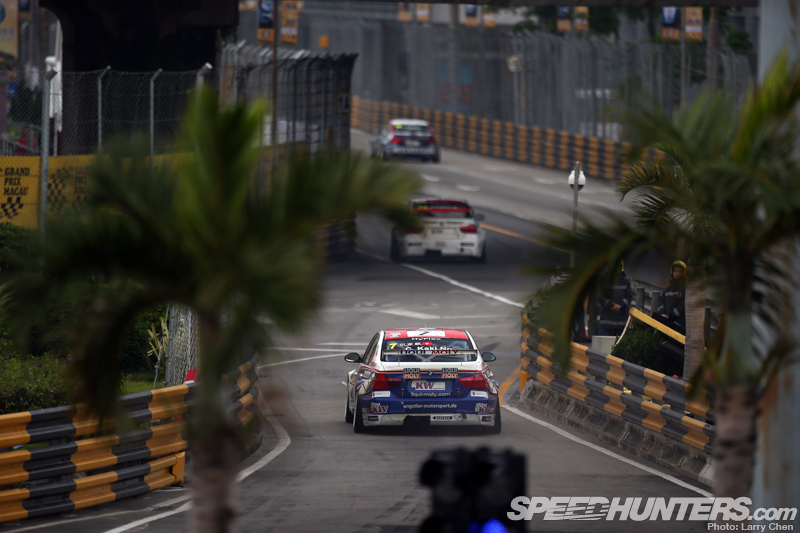 If you are scared to push the car then you are no longer competitive, especially at the level that we are racing in WTCC.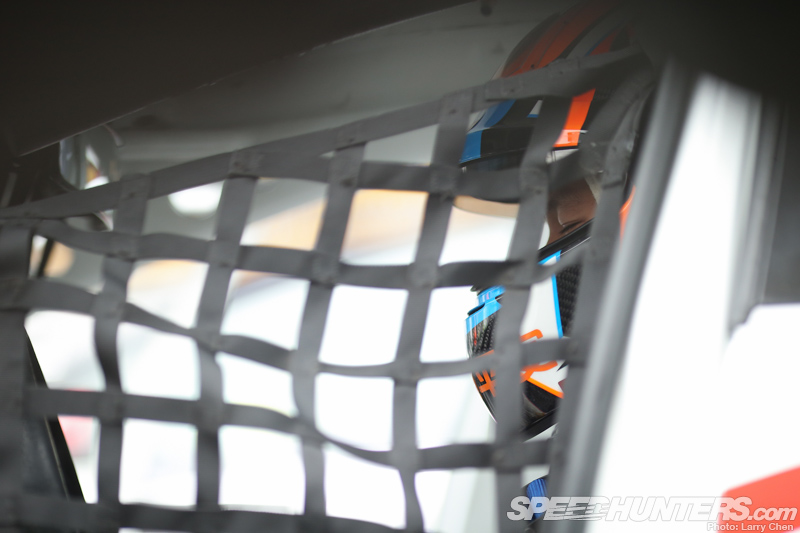 Larry: Philip Yau had a freak accident going into Mandarin Corner. Who knows what happened – maybe his throttle stuck. Did you change the way you were driving mandarin during qualifying?
Charles: One minute before qualifying I heard the news that he passed away from his injuries. At that moment I asked myself if I should slow down or if I should do something different, but I told myself not to think about it too much because if I do something different, it may cause more trouble.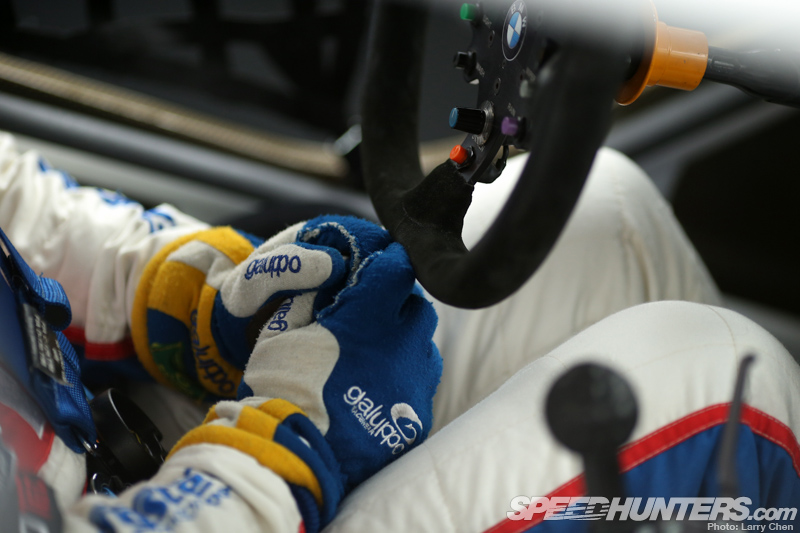 I had been driving the same way all weekend, so there was no point for me to change anything. If I tried to lift a little more or something the result may be even worst than if I just kept on doing what I was doing. So I put it on the back of my mind and went for it during qualifying.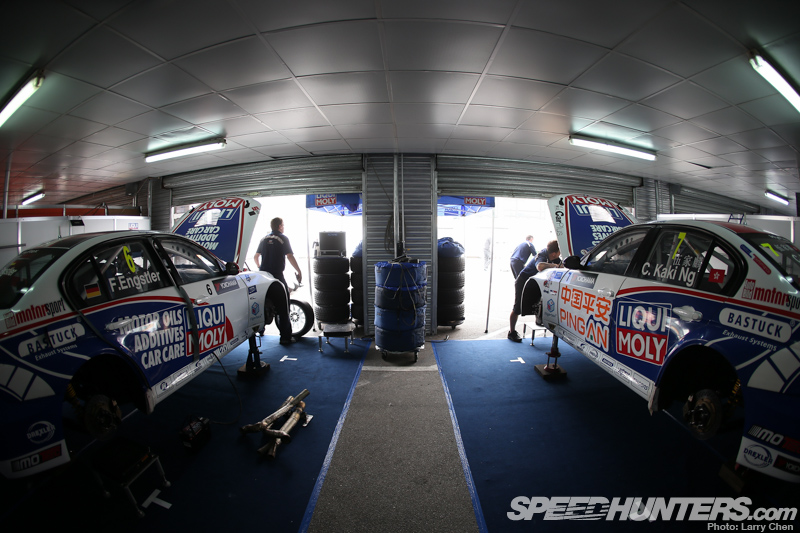 Larry: You drove as a guest driver last year in Macau for the same team. Have you improved over the year?
Charles: Last year I drove WTCC in Macau in the same car. I only did two rounds last year so the team could kind of test me out. Last year I was doing 2:39s and this year I was doing 2:34s. So over the course of the year I have improved over five seconds because I had gained the confidence to push it.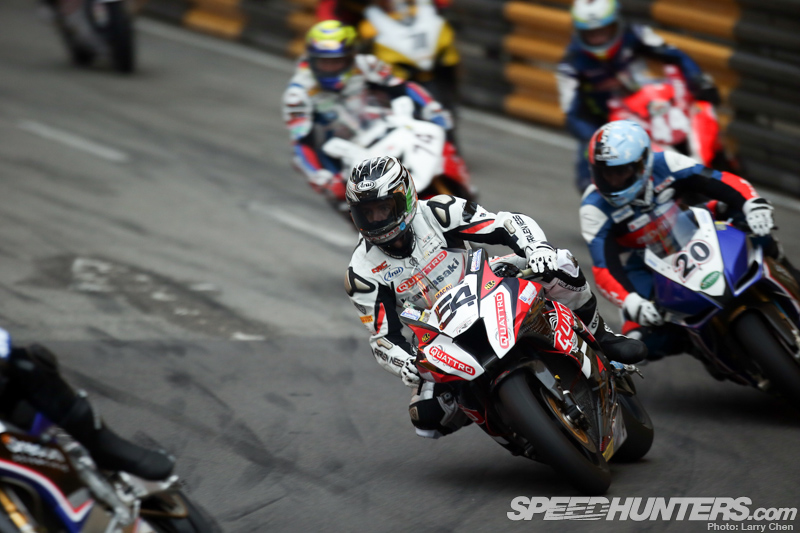 Like some of the best motorcycle riders from all over the world, whether they be from Australia, the USA or the UK, they come to Macau and can find themselves about 10 seconds off pace until they find the confidence to push. They just can't use up the whole track until you find the limit, and the only way you find the limit is if you are really close to the walls. It is quite difficult.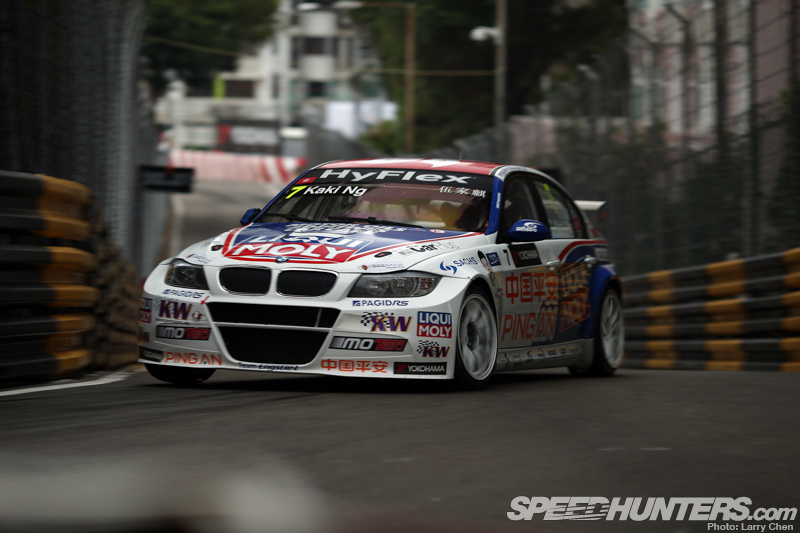 Larry: Did you clip your side mirrors a few times this weekend?
Charles: Yeah, the mirrors are 800 Euros each, and last year we destroyed a whole load of them. So this year we attached a bungie cord to them so they would just hang there when they got knocked off.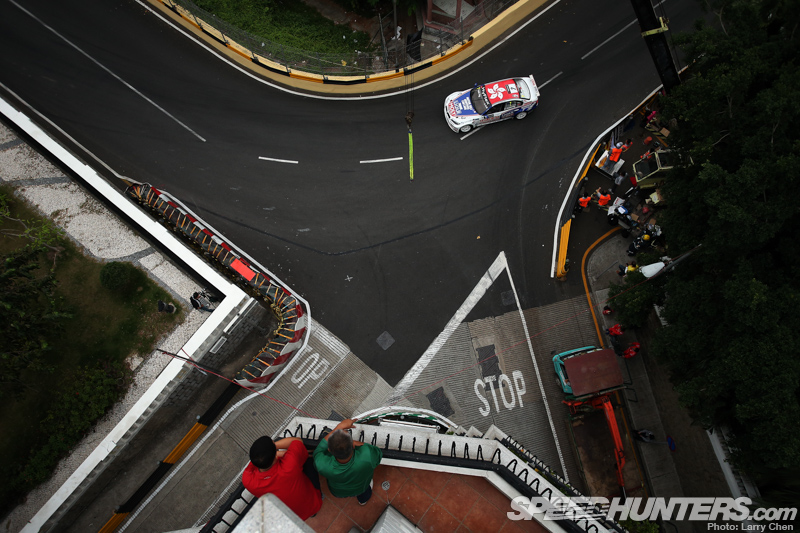 Actually I did not hit the mirrors at all most of the weekend and my team asked me to get closer to the walls – and then I knocked my mirrors the next session out! (You can check out the video here.)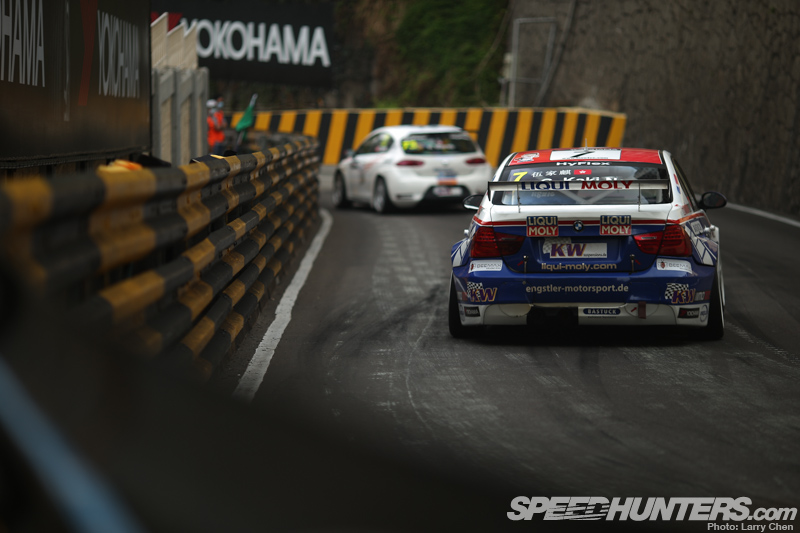 It was good: I had a really good pace and I just got really close to the wall. I felt very comfortable in the car, so I was getting much closer every lap.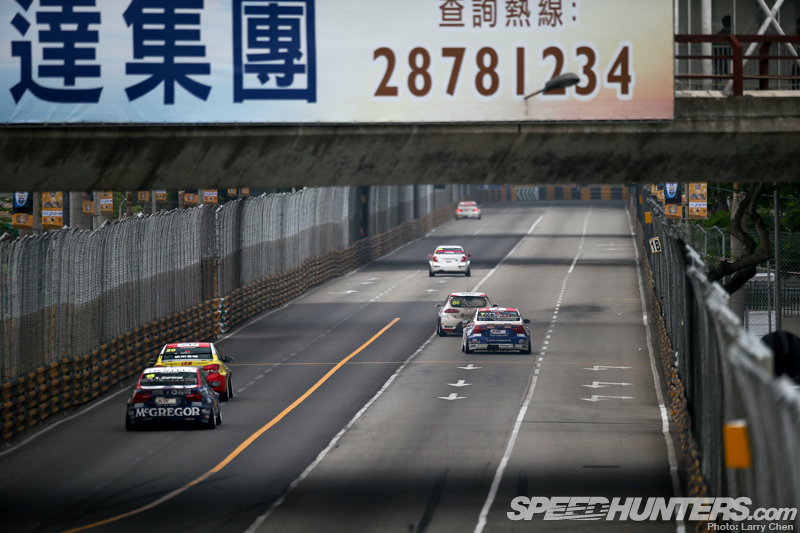 Larry: One of the biggest battles for any of the BMW drivers is qualifying, as you guys are lacking in power versus the rest of the field. What sort of things do you have to do to overcome that?
Charles: In qualifying everyone is much quicker because we are all drafting, just like in NASCAR. The cars are all together and everyone goes faster. The difference with touring cars is it is hard to find a good slipstream from someone who has a very big difference in speed.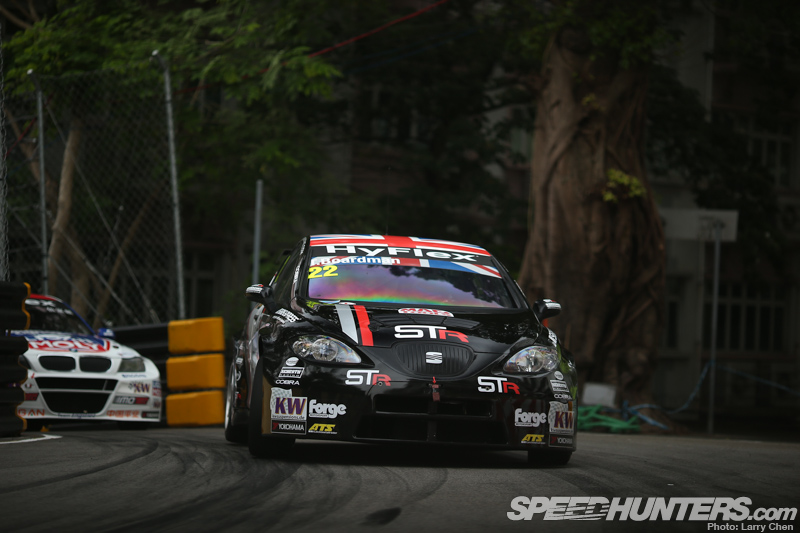 For example, I can brake deeper than the front-wheel drive cars due to the better weight distribution and they will be slower at the entry of the corner, but they are much faster at the exit of a corner. So when you stick your nose too close to the back bumper of a front-wheel drive car while following, you actually have to brake earlier than you normal and then you lose time on that lap.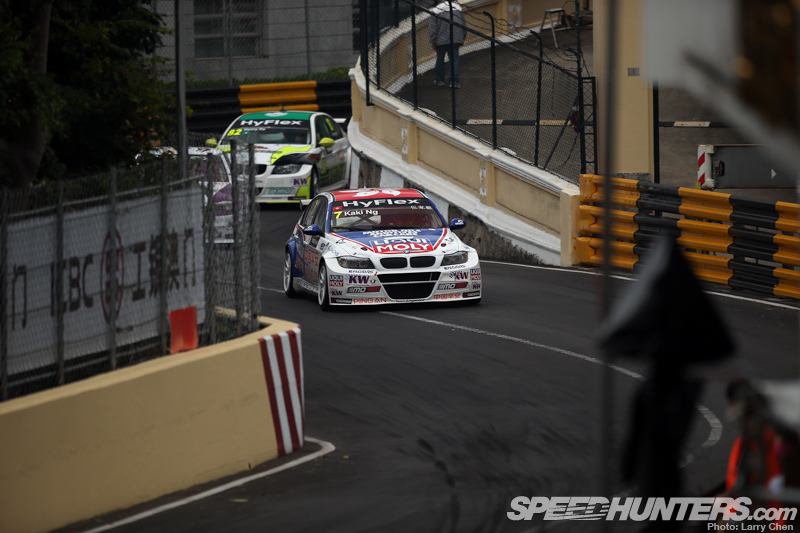 At the same time if you don't follow close enough you lose the slip stream and you won't be faster. So the best-case scenario is you follow a car that is slightly faster than you on the straightaway, about six to eight car lengths behind him, and you close the gap to about two car lengths over the course of one lap.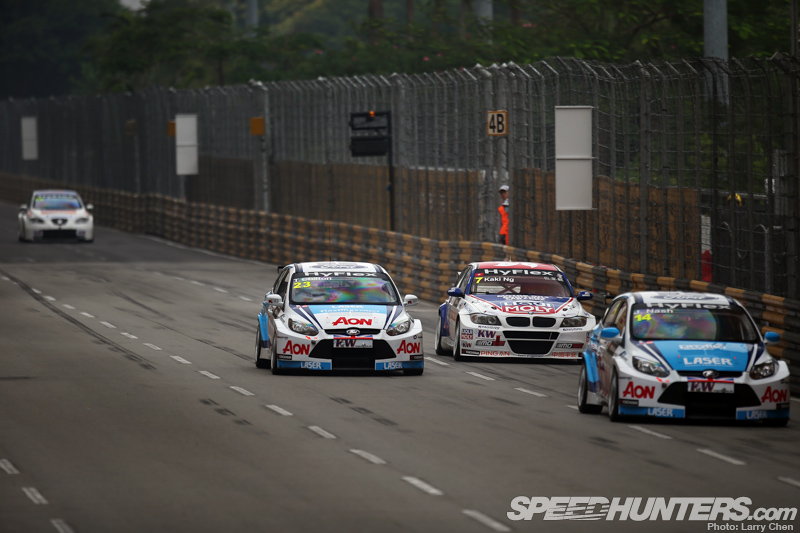 You are guaranteed to be faster than the guy you are following. But there are many outside factors, like for example he may not let you follow him and also he may be slower on a certain part of the course or he might block you either because he is slower or even sometimes on purpose. That is exactly what happened to me in qualifying. When I first started my qualifying session I was following the Fords and they are quicker on the straightaway, so I got a great Sector One time. I was getting top seven Sector One times, but when I was in Sector Two the red flag came out and everyone had to pit. We had to wait over 10 minutes for the marshals to clear the track, then we came back out and I found another group of cars where I took advantage of their slipstream.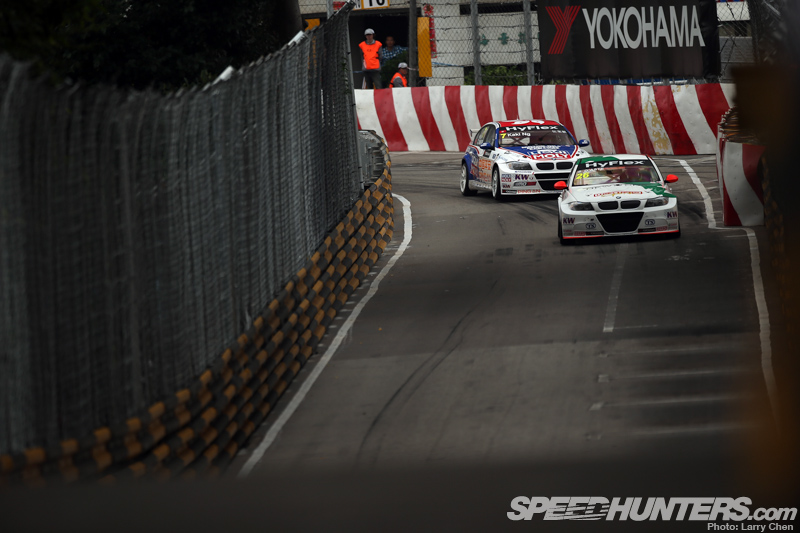 Again, I got a great Sector One time, but one of the BMWs that was leading the train decided to park his car at the Melco hairpin, so we lost the lap. There was no way I could have passed him. So another qualifying lap was scratched.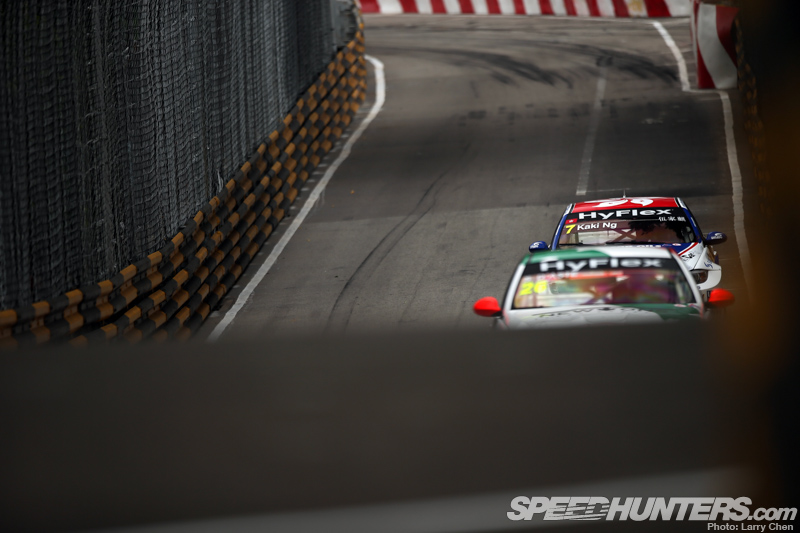 Larry: So was the BMW you guys were following slowing down intentionally?
Charles: I honestly don't know. But the lap was almost over. For that particular lap I was eight-tenths of a second faster than my best Sector One time from the entire weekend, so that would have put me in a much better qualifying position. (check out the video here, Charles was behind this train of cars)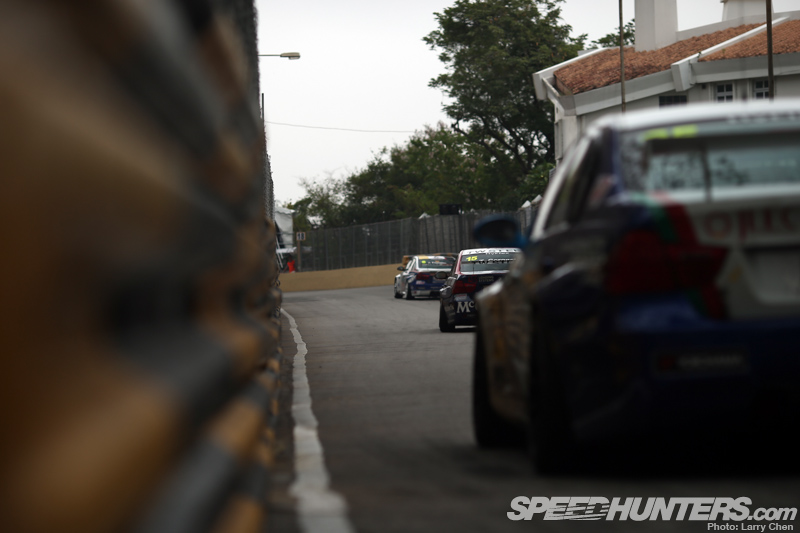 It would have definitely put me in the top 12, which would have allowed me to get another session to try to get another fast lap. I also heard one of the leading cars had an axle failure, but then again I am not sure why they parked. So I ended up with a 2:35s which wasn't good enough to get me into the second qualifying session.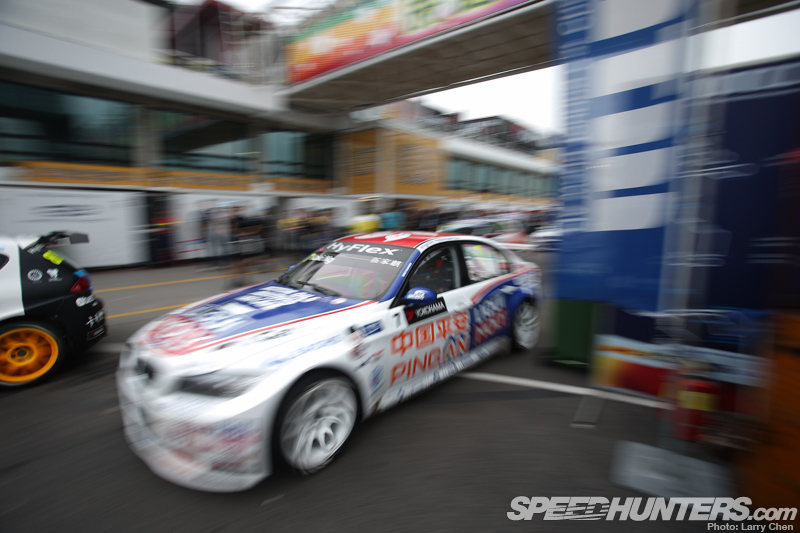 Larry: You had a top 10 finish in Shanghai. I know that meant a lot to you as you were driving against the world's best touring car drivers. Did you have some sort of plan going into the races this weekend? What were you feeling?
Charles: I was actually feeling very confident, especially after the first lap, because there was a huge accident at Lisboa corner and it was completely blocked. All the cars were bunched up and some BMW's were pushed into the wall there, so there was a jam for a couple of minutes before they could clear a path for us to continue the race. After that I caught up with the pack and I was driving at race pace, which was about 2:34s – faster than the four or five cars in front of me.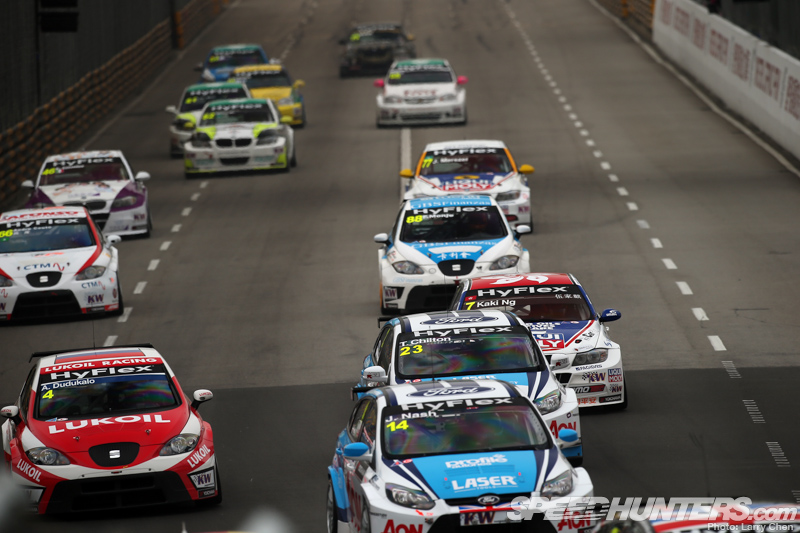 I got a little ambitious and I tried to pass two cars in one corner at Lisboa. I passed a SEAT no problem, but when I tried to pass a Ford, I drove through the oil that was spilled from the first lap incident. The spill hadn't been completely cleared up and it was still covered in brick dust. When I ran over the oil it caused my car to immediately oversteer and I tapped the wall and bounced off of it.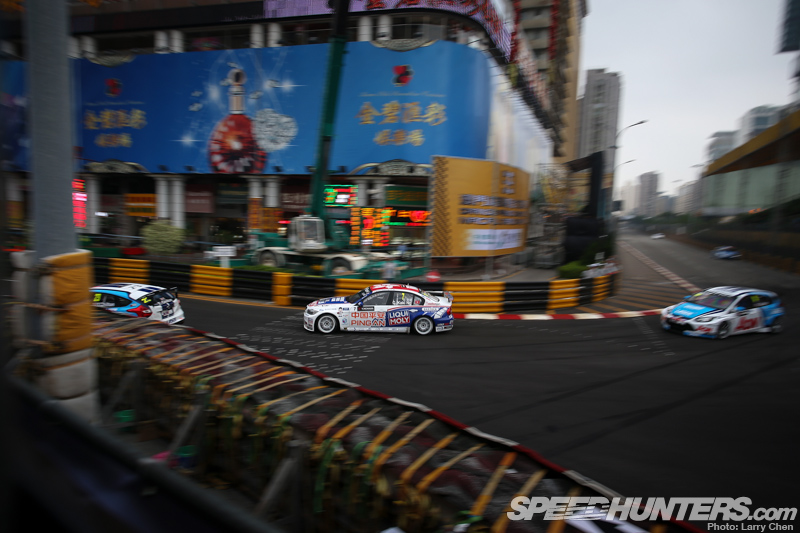 At that moment my car was still a little unsettled, and who ever was behind me may or may not have given me a love tap, but either way I went back into the wall. It was not a really bad accident, but it ended my first race and I could not make the second race because the subframe was twisted.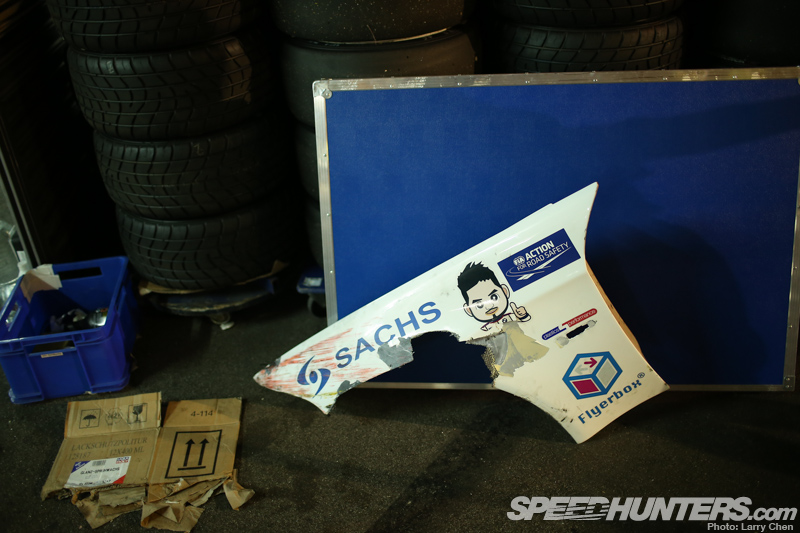 We just didn't have enough time to repair the car, because we only had 15 minutes allowed between the two races. I was really frustrated because I had a great pace to finish pretty well.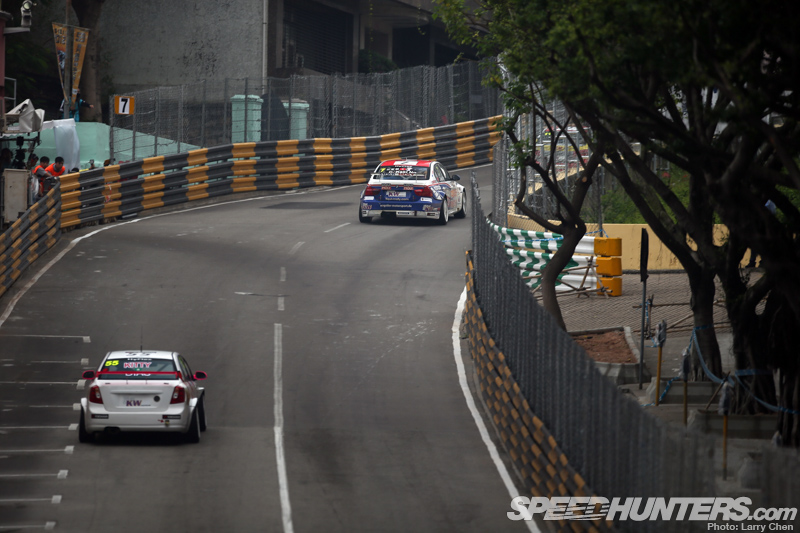 Larry: So how many cars did you pass before this incident?
Charles: I passed 3 in one lap right after the crash at the start. I first passed two slow cars and of course I passed that SEAT, but when I was about to pass the 4th car I crashed out. It was a shame. Macau is the biggest gambling city in Asia, so just like anything in Macau I took a gamble.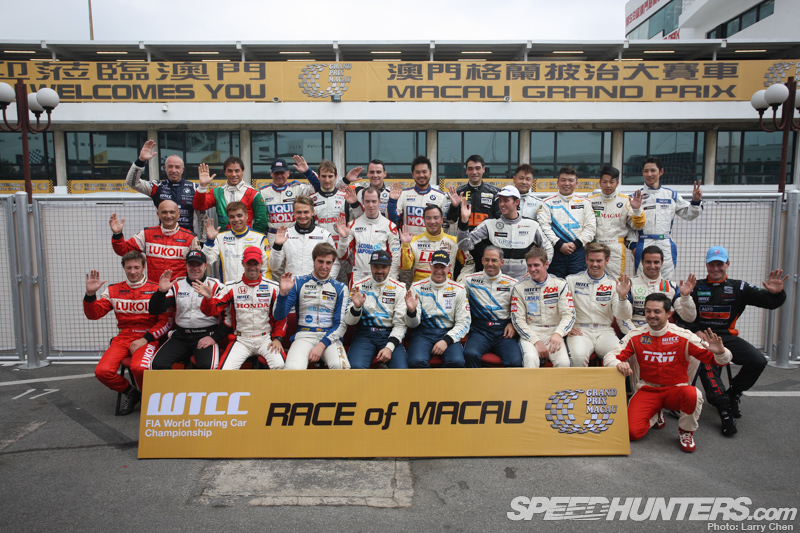 Larry: Your rookie year in WTCC is over. How do you think you did?
Charles: WTCC is tougher than anything I have ever competed in. These guys have so much experience under their belts. Quite a few of them are heroes in their respective countries, like the top Chevy guys and the ex-Formula 1 drivers. On top of that there are ex-DTM drivers that will be joining us next year, as well as Sebastien Loeb from the World Rally Championship. He will be joining us in 2014 with Citroën.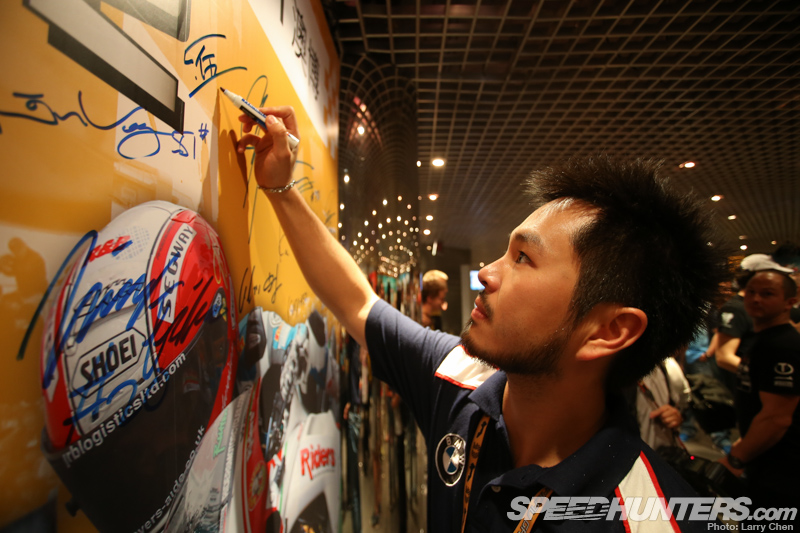 As for my rookie season in WTCC, I was just happy that I could hang with these guys. It may sound silly to everyone that I am happy being in the mid-pack and passing a few cars here and there, but to me just passing one car in a WTCC race was much harder for me than winning the entire Asian Touring Car Championship. It shows you how competitive the teams are at this level.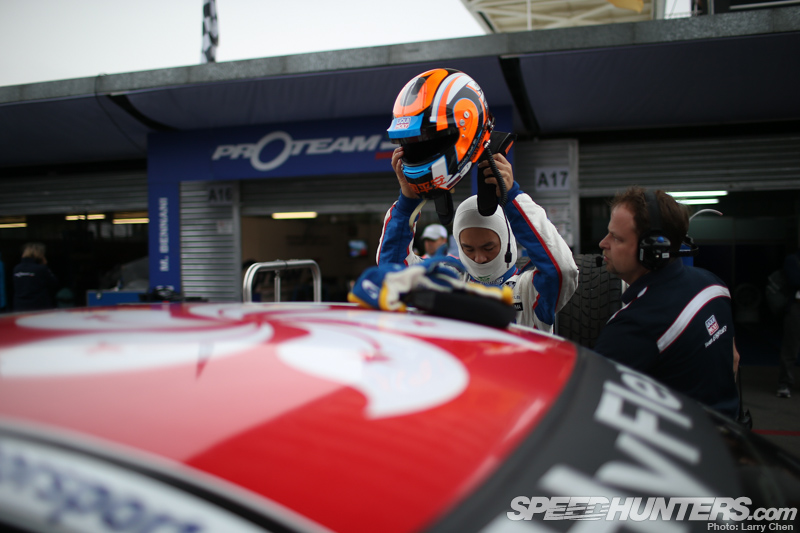 As you know, there are four high-level world championships run by the FIA: Formula 1 for open wheel, WEC for sportscars, WRC for rally and WTCC for touring cars. I am so glad to be a part of this series, and my partners and sponsors are glad to see my results are satisfactory for my rookie season.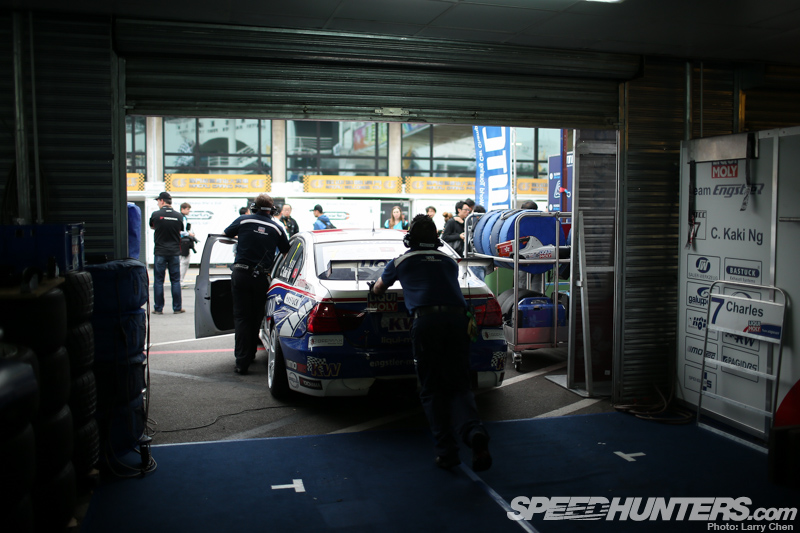 For next year I will definitely be fighting for top 10 finishes. It will help immensely that I have driven all the tracks now and I have also learned how my opponents drive: I know what to do when they come close or if a certain driver likes to close the door on me.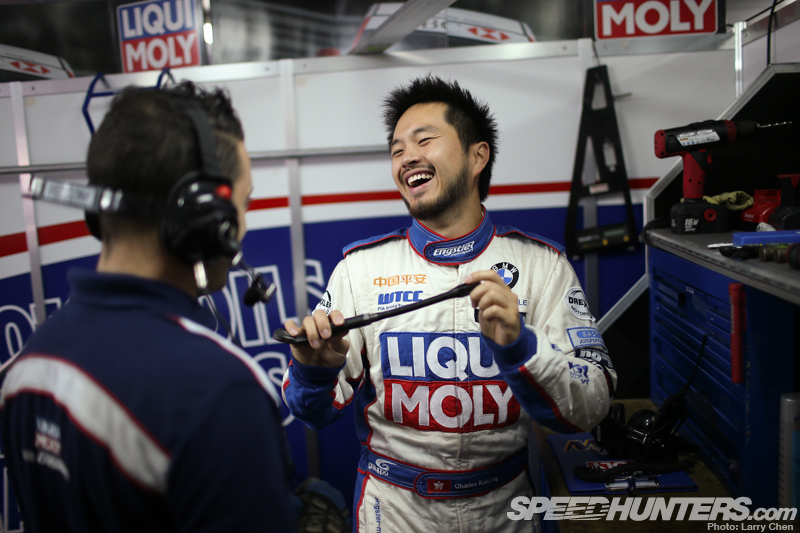 Just knowing everyone's driving styles helps a lot, because I can adapt to them during race conditions for the next season.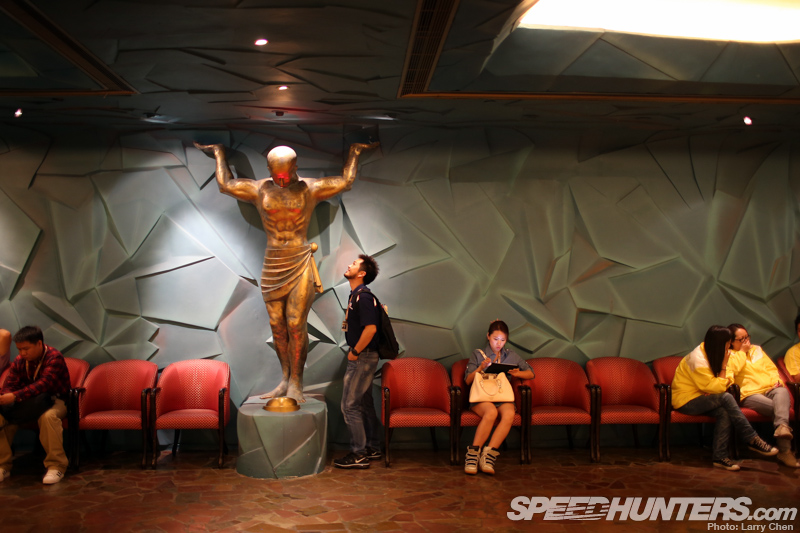 It's been a very steep learning curve this year, but I have learned quite a bit and these are the tools that I will carry on to the next season to do well.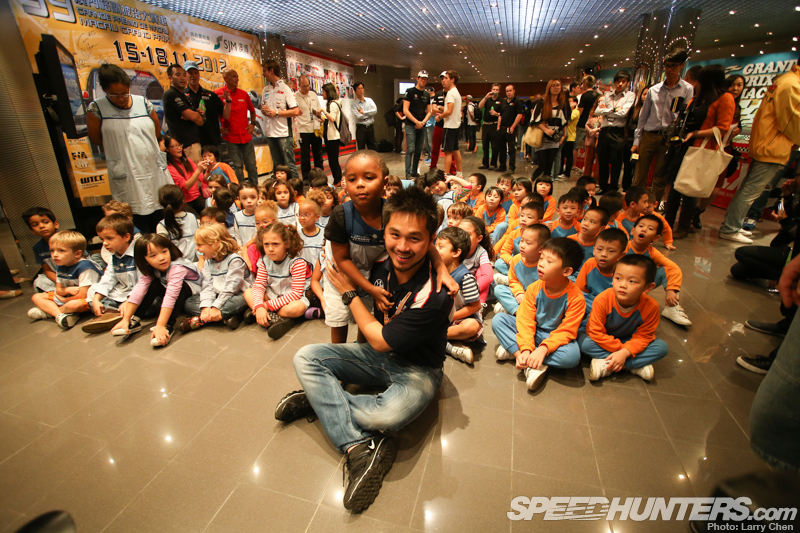 Charles would like to thank his family, his friends and fans from all over the world as well as his team and sponsors.
Larry and Charles
larry@dev.speedhunters.com
More stories from the Macau Grand Prix on Speedhunters
More stories from Larry Chen on Speedhunters