Super Taikyu is Japan's second largest endurance racing series after Super GT. However, where Super GT only has two classes, Super Taikyu has six classes: from ST5, which is mostly comprised of Toyota Yaris', to GT3, which this year has been dominated by the twin Petronas Syntium Mercedes SLS machines.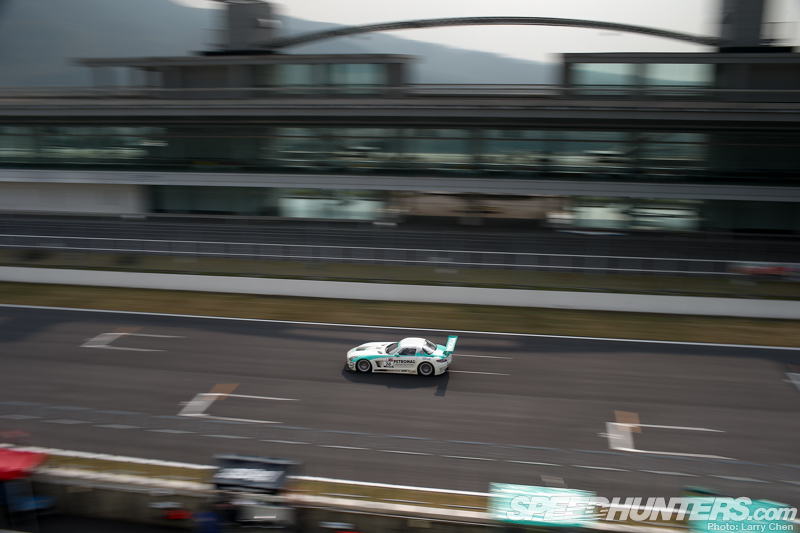 Lucky for me the Petronas team are big fans of Speedhunters, and they wanted my take on their efforts in this popular Japanese racing series. So a few days ago, they flew me out to Super Taikyu Round Six at Autopolis International Raceway and let me roam free.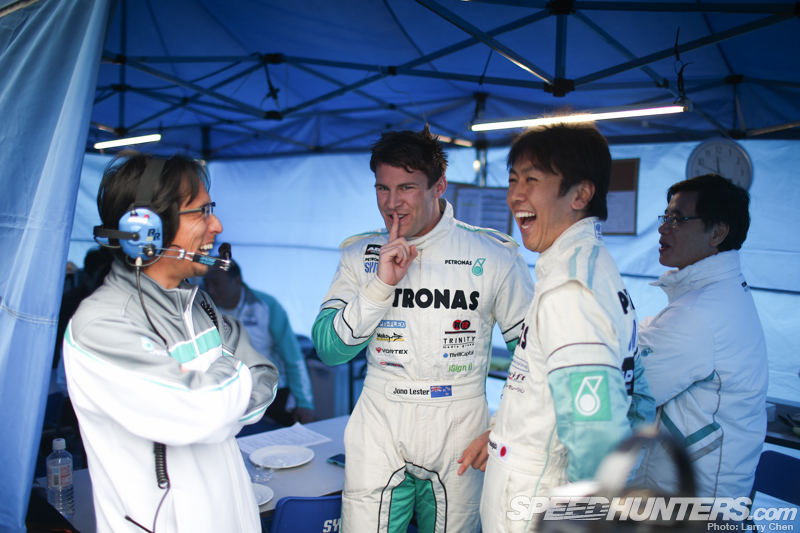 The Petronas Syntium Team is known for its young, up-and-coming race car drivers as well as experienced hands. They have eight drivers in total, three per car and one backup driver for each team.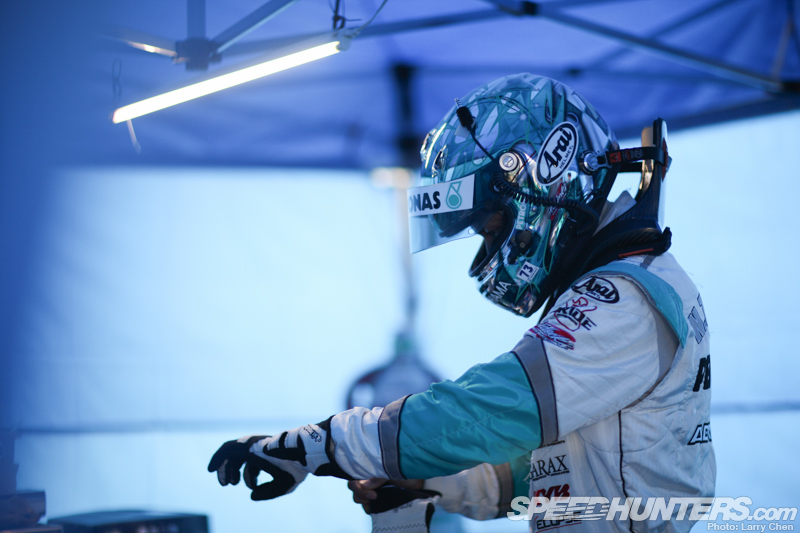 Also on the team is D1GP legend Nobuteru Taniguchi, the 2012 Super GT300 Champion.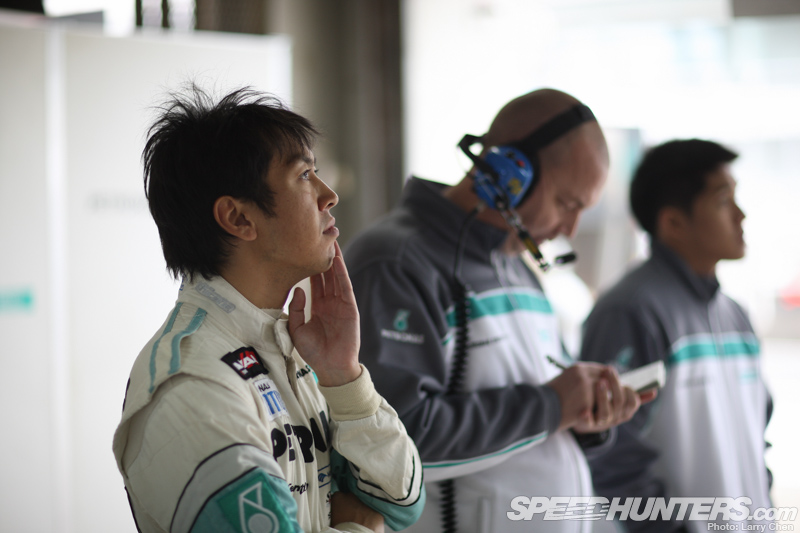 The roster for car 28 includes established GT driver Masataka Yanagida, the new 2012 Super GT GT500 class champion.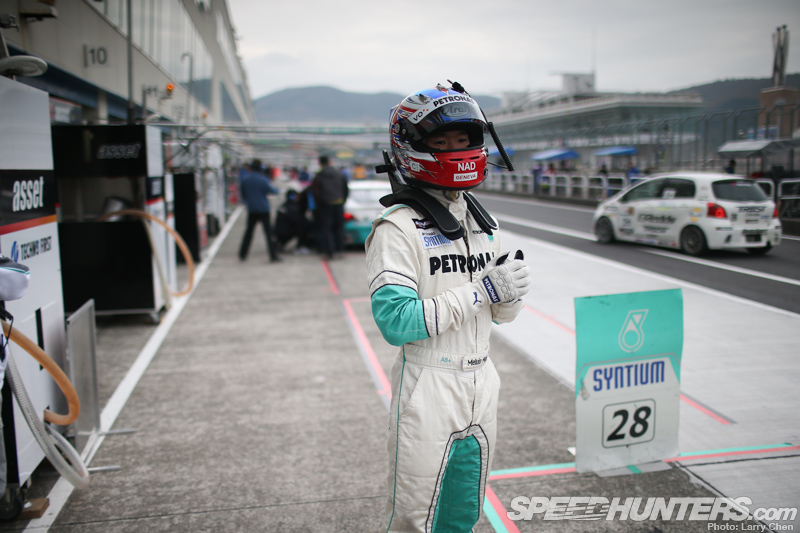 The second driver, is Melvin Moh from Malaysia, 24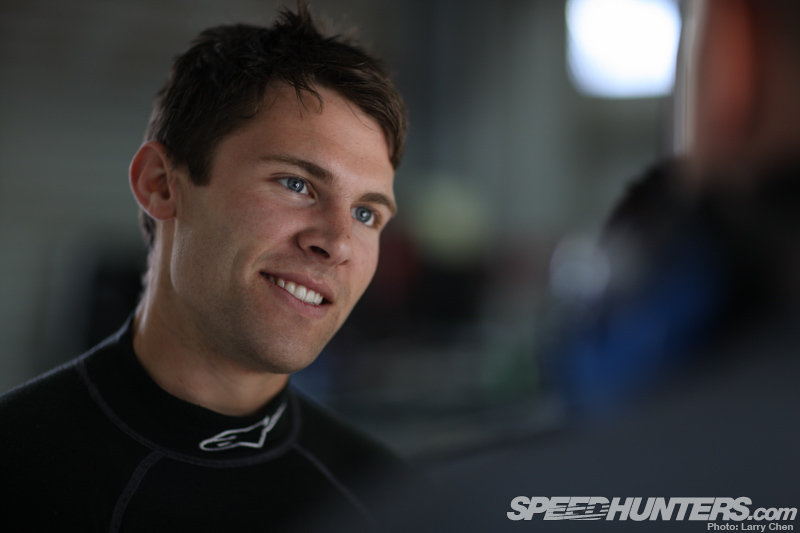 The third, young Kiwi Jono Lester, is just 22 years old.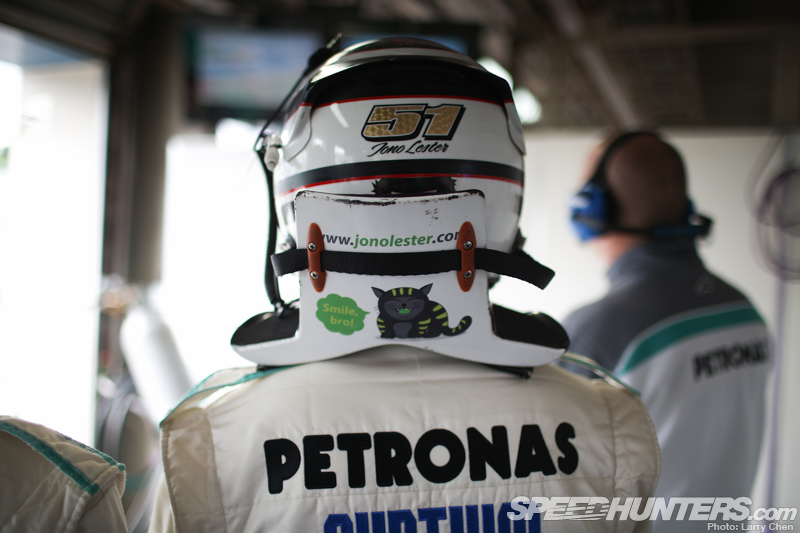 Jono is a Super Taikyu rookie, but as qualifying finished, he was less than a tenth of a second behind his more experienced teammate. I sat down with him, to see where he fits into this winning team.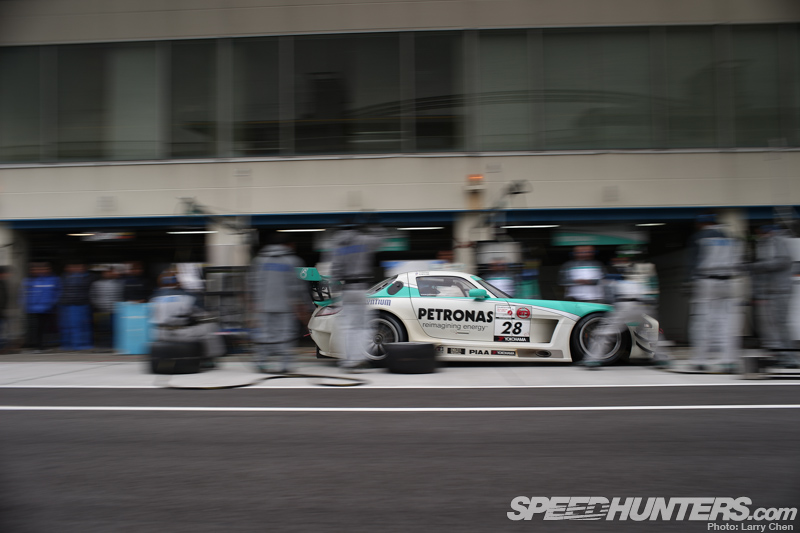 Larry: I know this was the first time you have ever driven Autopolis, so how many laps did you have in the car before you laid down that fast qualifying lap?
Jono: Probably about 20 laps, which isn't a lot. Even though we have quite a bit of time to test the track, the session is always split up and it comes out to a small amount for each of us because we have three drivers.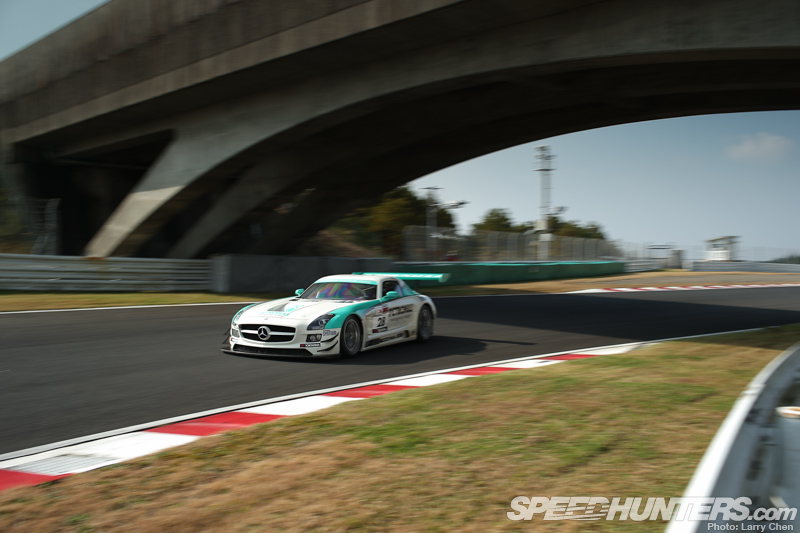 The thing is, every track in Japan is new to me because this is my first season racing in this country. I really had to adapt quickly.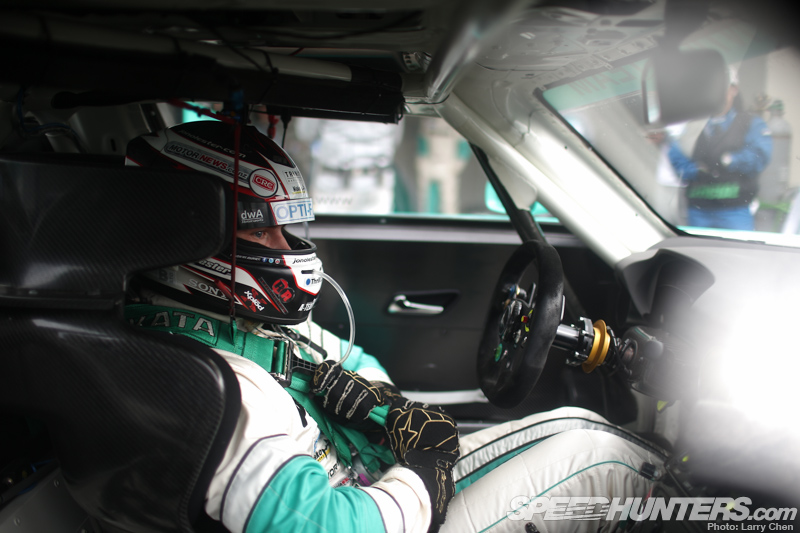 Sugo and Suzuka were even worse: we had even less time before qualifying, but still managed to snatch pole. I guess a lot of it is driving a circuit that suits your style.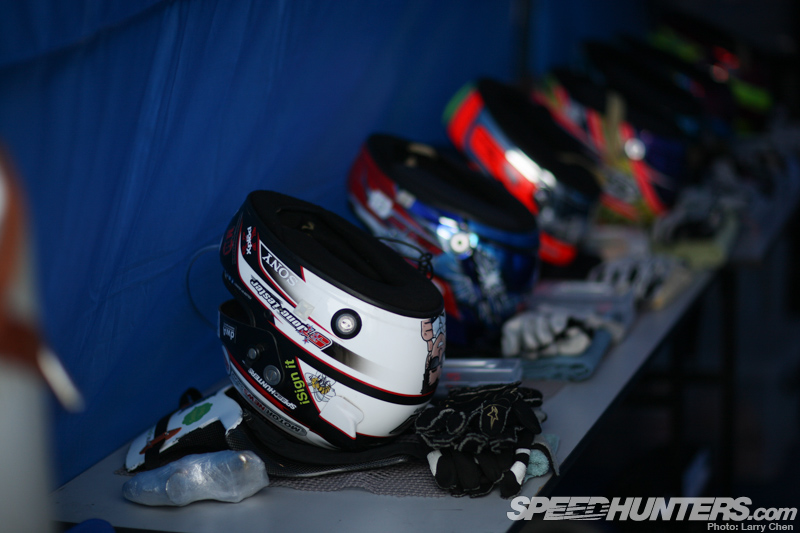 It also has to do with my upbringing. I was always encouraged to be the best by my father, who is a racing-driver coach. That is how I got tied up with the Petronas team: most of the Malaysian drivers go through his training.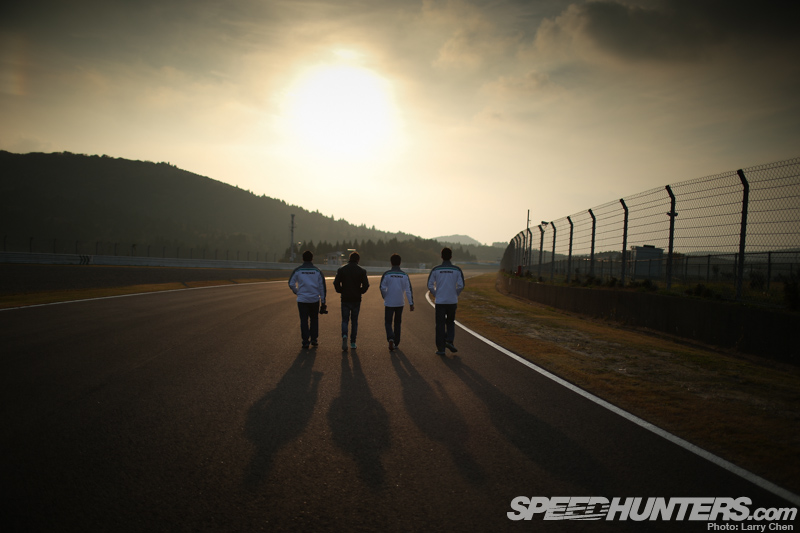 So a lot of what I learned when I was young was how to adapt to circuits and cars quickly. The best way to do that is to create a clear plan and be very meticulous with our track walks as we attack new circuits. I always try to remember as much detail as possible, so that way I can have a clear mental picture of what the track looks like.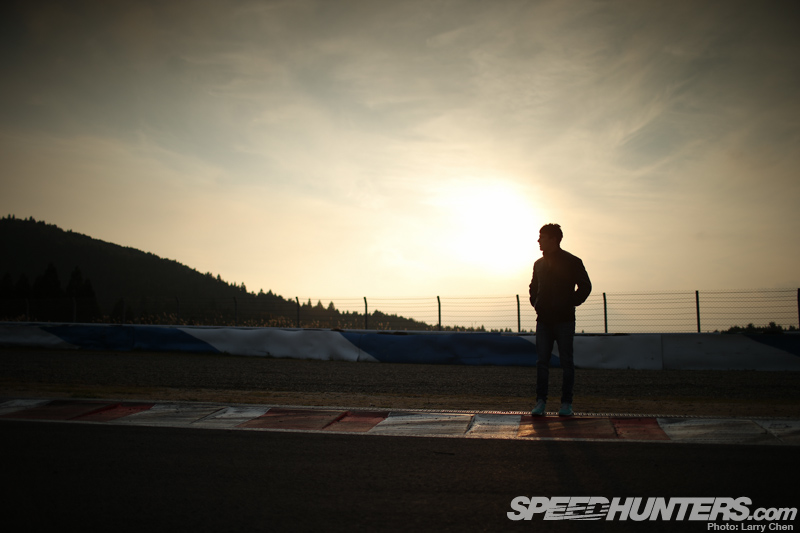 Larry: So just from walking the track once you can already tell how the car will drive on this new track?
Jono: Yeah, on Thursday when we walked the track I realized that it would not be suited to the Mercedes compared to a track like Suzuka.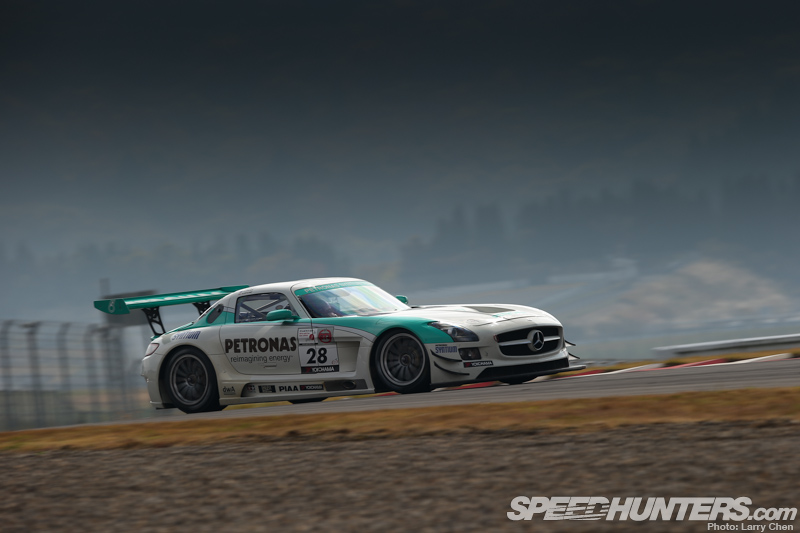 It's just because the Merc is such a long car, and it really likes circuits that are high speed with a good flow to them. When you have a start and stop track with tighter corners the SLS really tends to start struggling.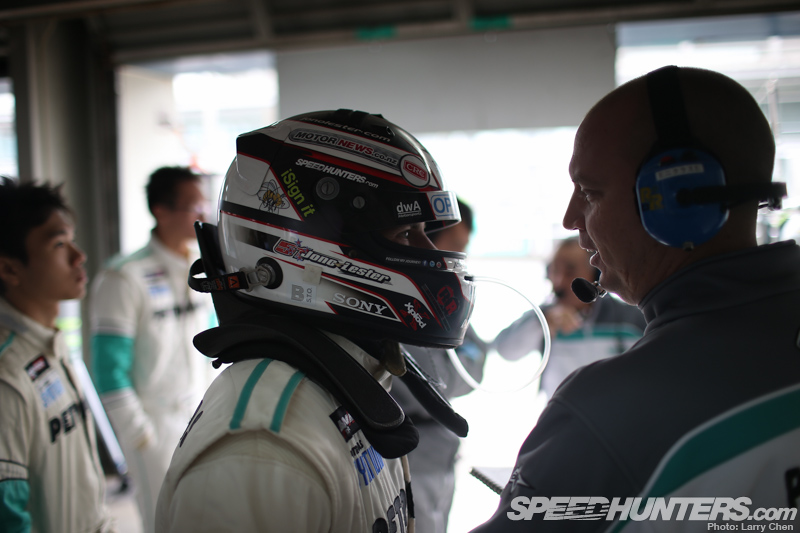 Yesterday during practice we did struggle. The other competitors in our class were a lot quicker…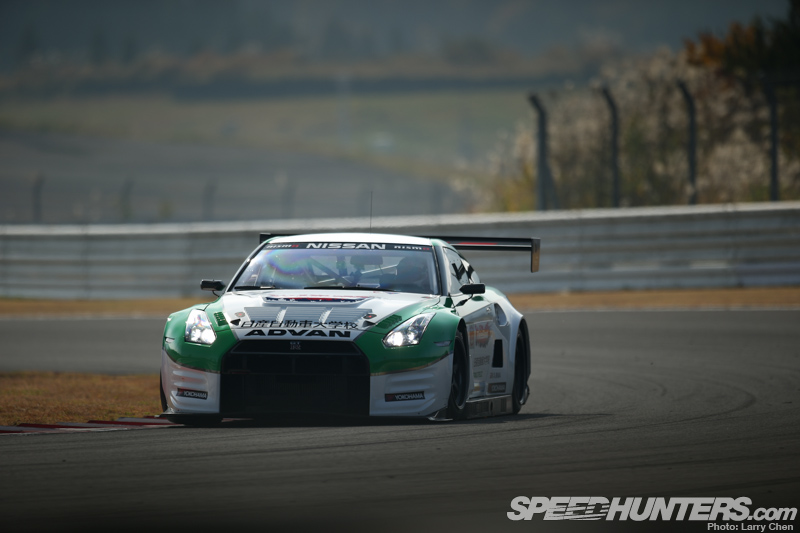 …specifically the GT-R. And realistically I was not really happy with the car until the morning warm-up before qualifying. We really picked a good time to get it right.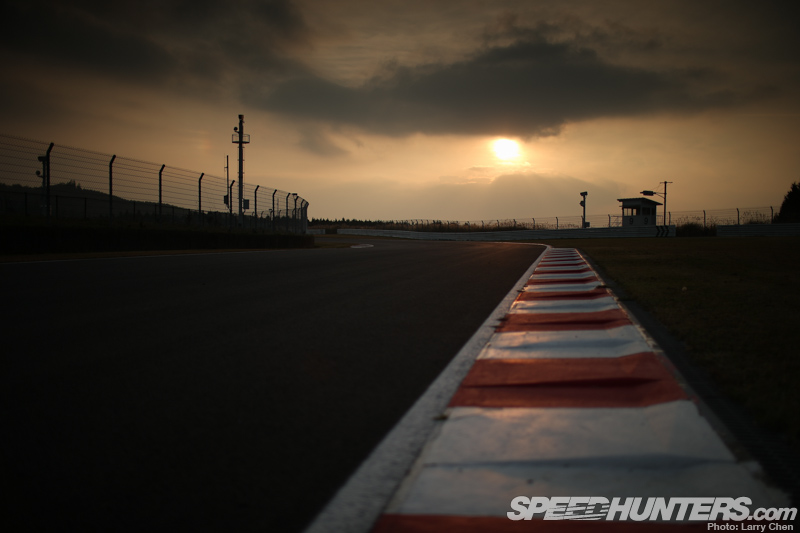 So yeah, the track walk is a really integral part of learning a new track. It helps us with little things like how aggressive the curbs are and what surrounds the curbs or what kind of run-off there is. It's good to know in case you drop one tire off.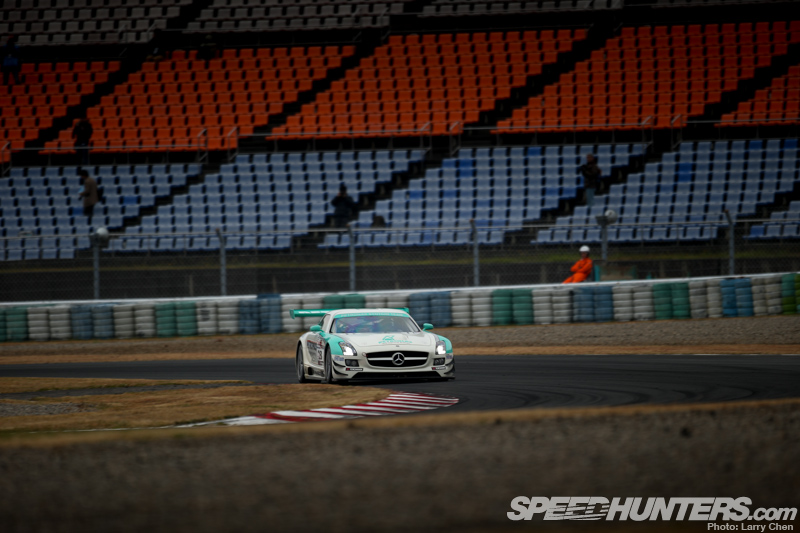 For example, some run-off right outside the curb will have Astroturf and some will have a shallow gap which would easily pop a tire if you do drop a wheel off.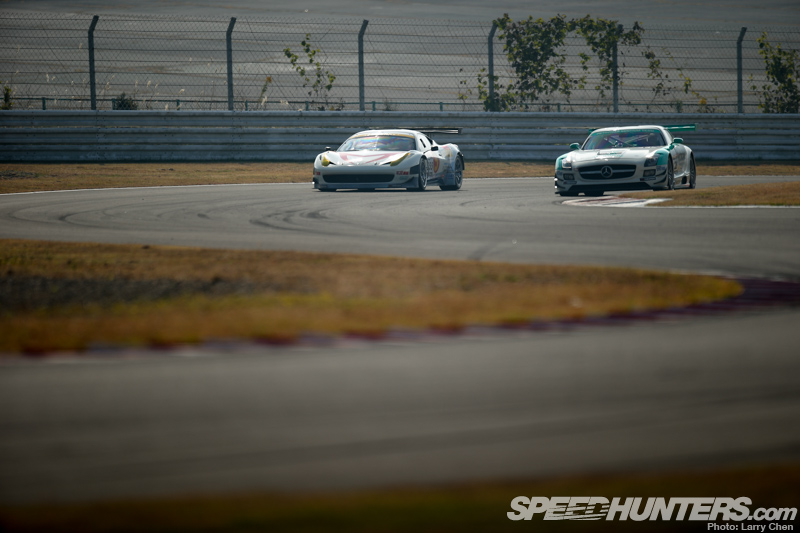 Other surfaces are more usable than others; there are curbs that you can't use at all. Of course it is different at every circuit. It does help considering how little time we have to test.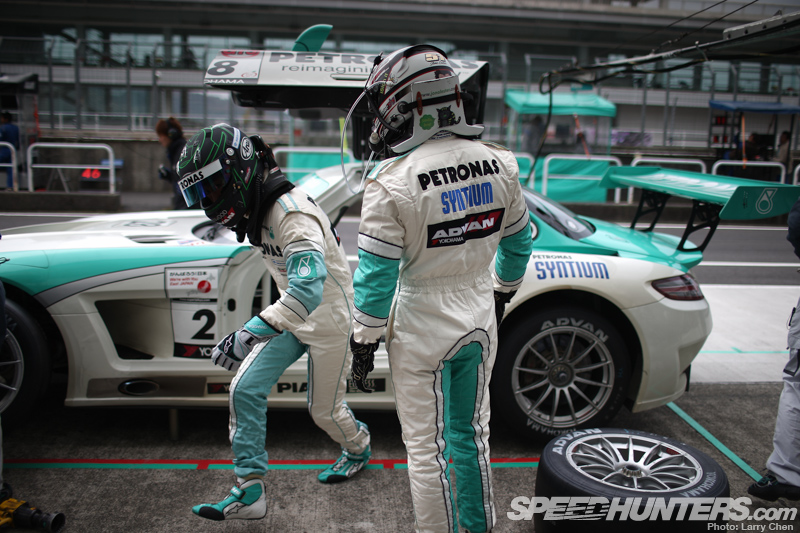 Larry: Did you practice driver changes this weekend?
Jono: Earlier in the season we did a lot more than we do now, because we have it locked down pretty good. We will do some driver-change practice tomorrow before the race.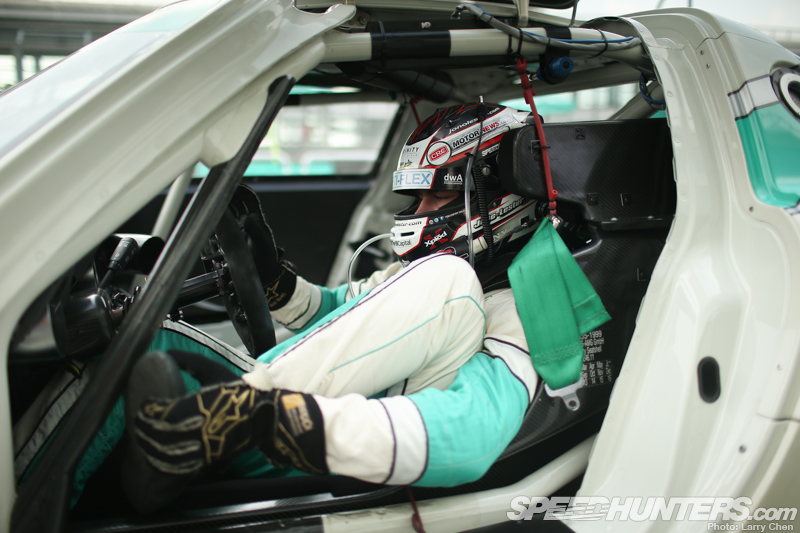 But because we are going to be racing for a longer period of time it does not matter as much, since the time that it takes to fuel the car far outweighs the time it takes to change drivers.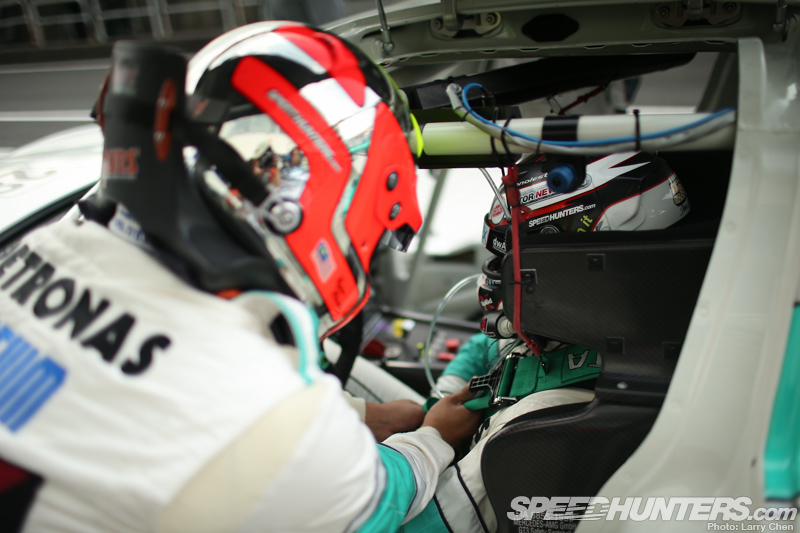 For the previous round at Suzuka it was much more important because we weren't fueling: we had to be as quick as possible and we were able to get down our change to 14 seconds, which was much faster than we were able to do during practice. For example, on car number 1 we gained eight seconds in that race. It gave us a nice buffer to go on and win the race.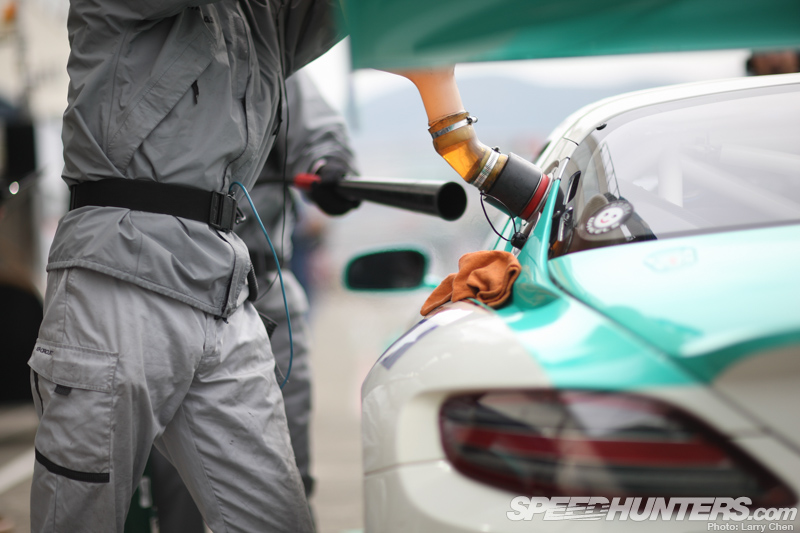 So the pit stop is certainly much more important in the shorter races. However, tomorrow our second driver change will be just as important because we are running a strategy that requires us to skip fueling. It will be the most important change.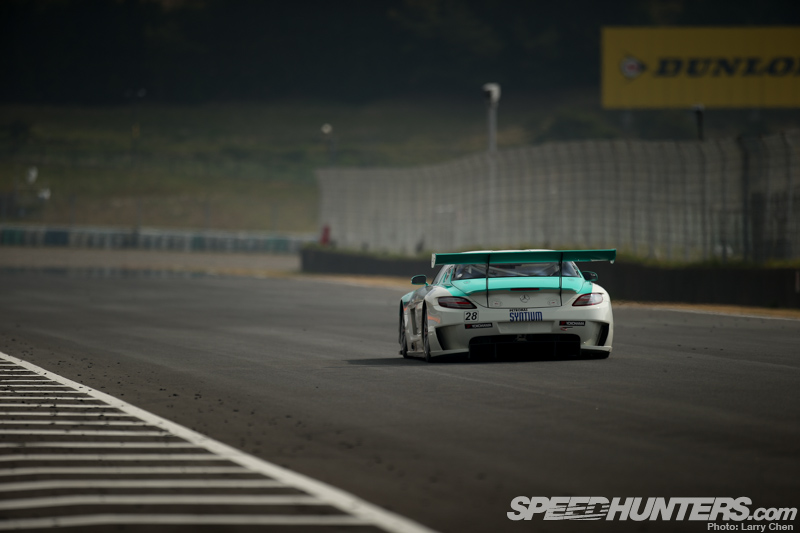 Larry: So what sort of things do you have to do to get ready for a driver change?
Jono: On the lap before we pit we go through a set of steps, like making sure our drinks bottle and radio are disconnected. We lift up the steering wheel which makes it easier for the next driver to get in. There are things we have to reset, like the fuel gauge, and we have to turn off the traction control.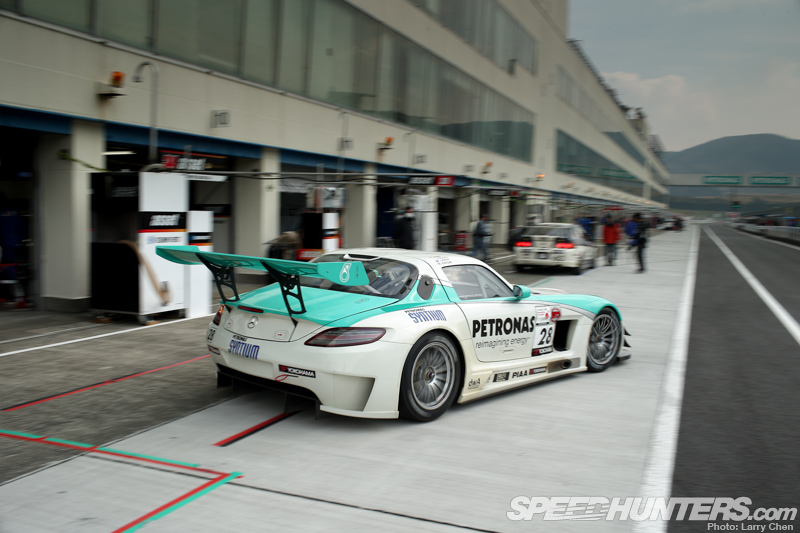 Larry: Why do you have to turn off traction control?
Jono: If we don't turn it off then it is very easy to stall the car when we leave the pits. So once it's off we can just peel out with ease and then we just turn it on the moment we leave pit lane.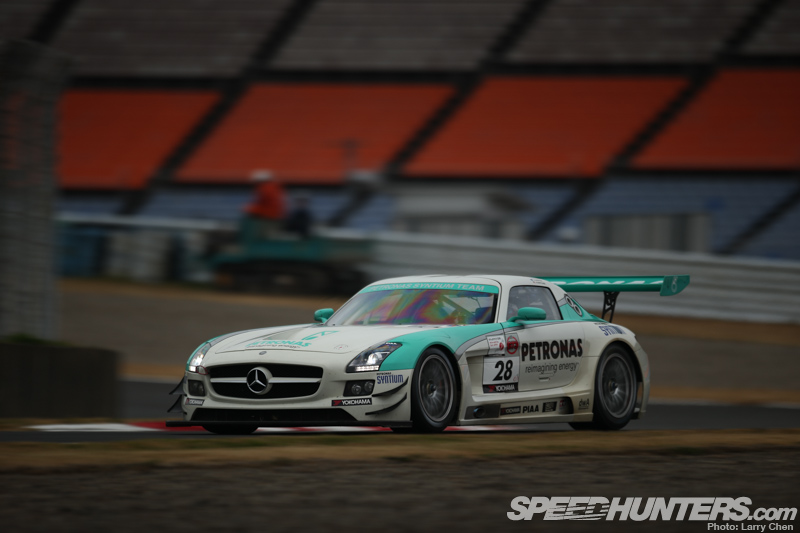 Larry: Is the traction control pretty intrusive when you are driving? Is there some slip to it?
Jono: During the dry it's great, but it gets pretty violent in the wet. There are four levels, and we can dial it in based on how much the tires are worn.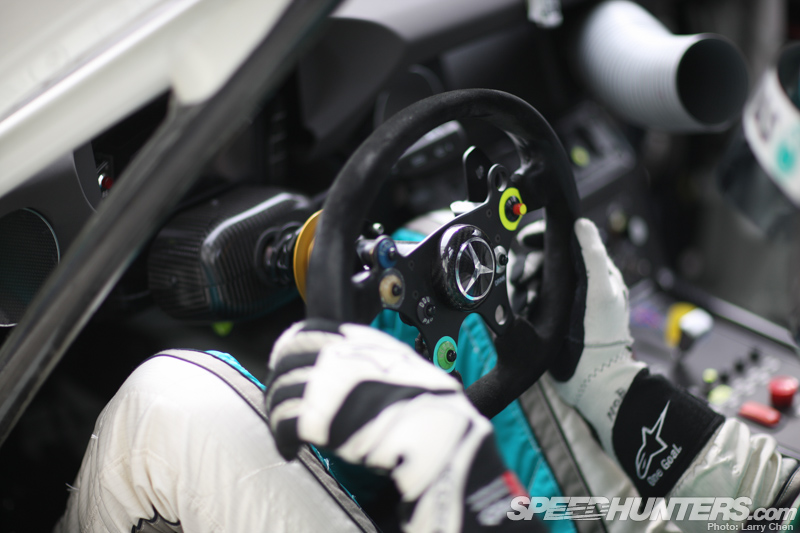 Larry: What else can you change while you are in the driver seat?
Jono: We can change the ABS strength – there are 14 levels – and we can also change the brake bias. So going back to the driver changes, the last thing that we do is unbuckle our belts and make sure that they are loose enough so there is no drama with getting them on for the next guy.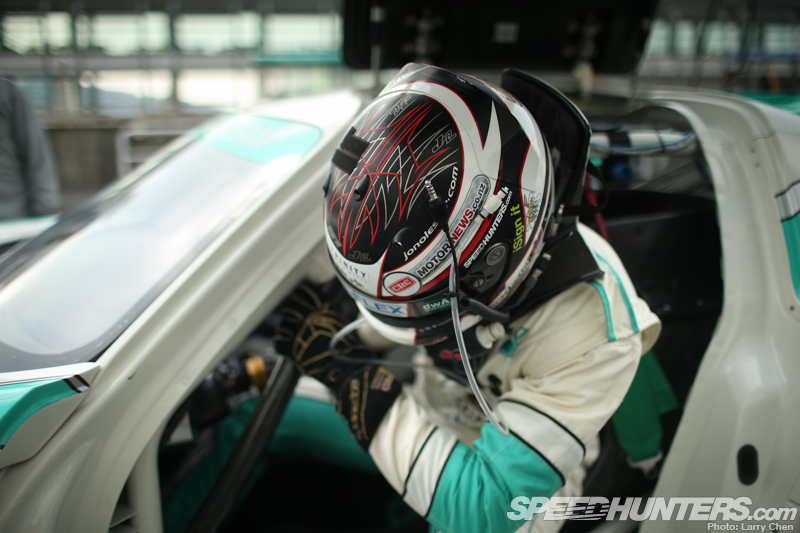 The guys on the radio walk us through everything step by step, so we go through everything in an orderly fashion. We also unhook the radio last just in case there is some sort of emergency.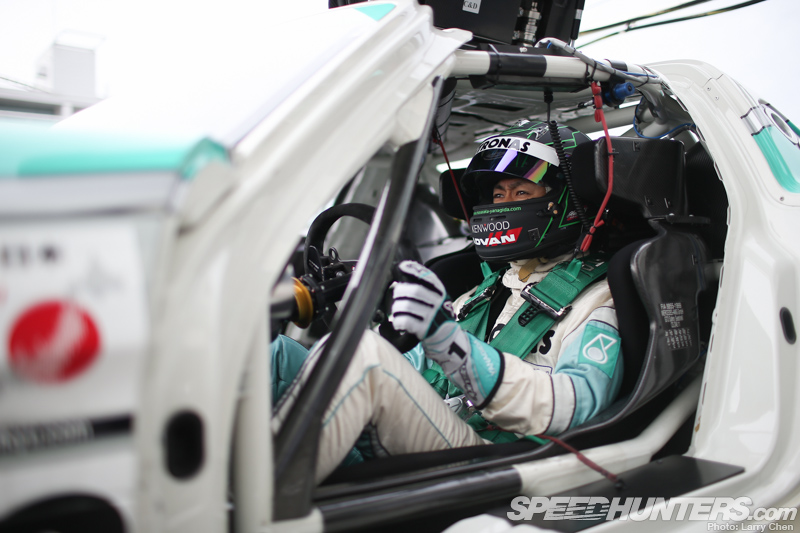 Larry: Tell me about qualifying today. You were the second driver, so you watched Ma drive. I mean, it must be a little intimidating. What was going through your mind?
Jono: It's interesting, because Ma won here only a few weeks ago driving in Super GT. So if there was anyone I'd like to gauge my lines and my time against it would be him.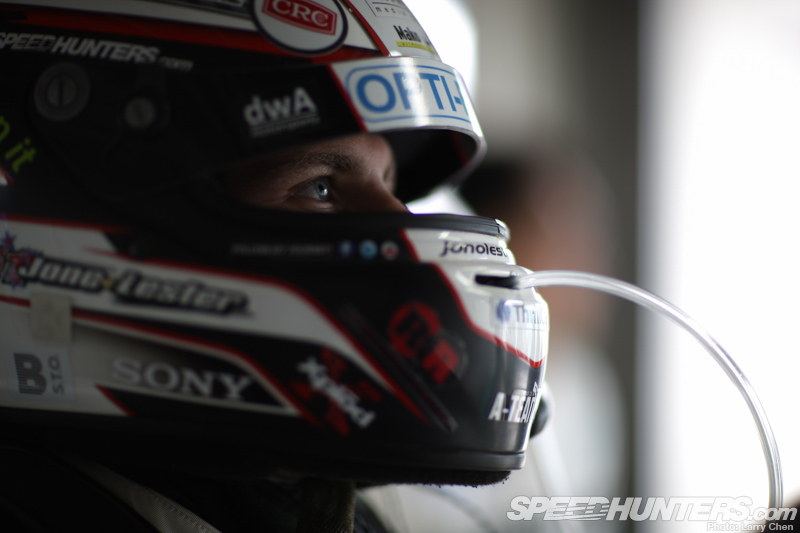 We were all watching the monitor constantly, and we noticed he was running a little narrower and running a different kind of line.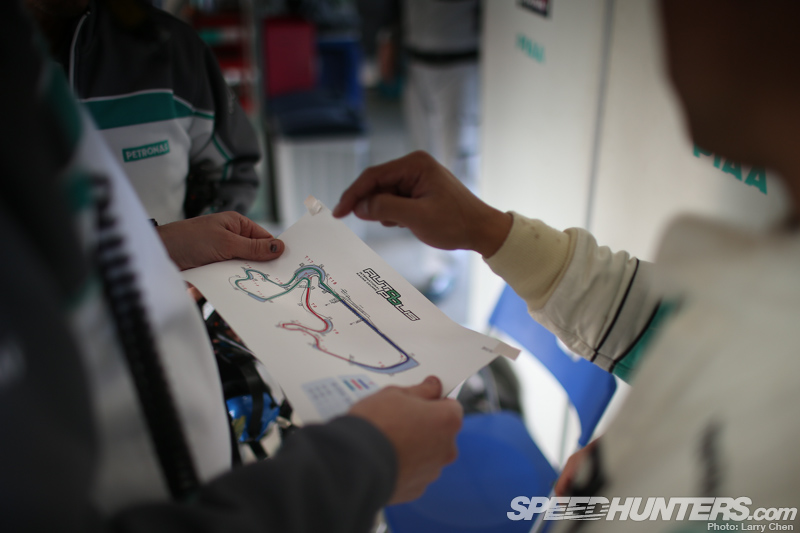 He had a different way of approaching certain corners from having so much knowledge of this track. So, I tried to remember those instances during practice and incorporate them into my own line. And as for as braking he found some areas where he could extend his braking zones a few more meters than I was able to do before.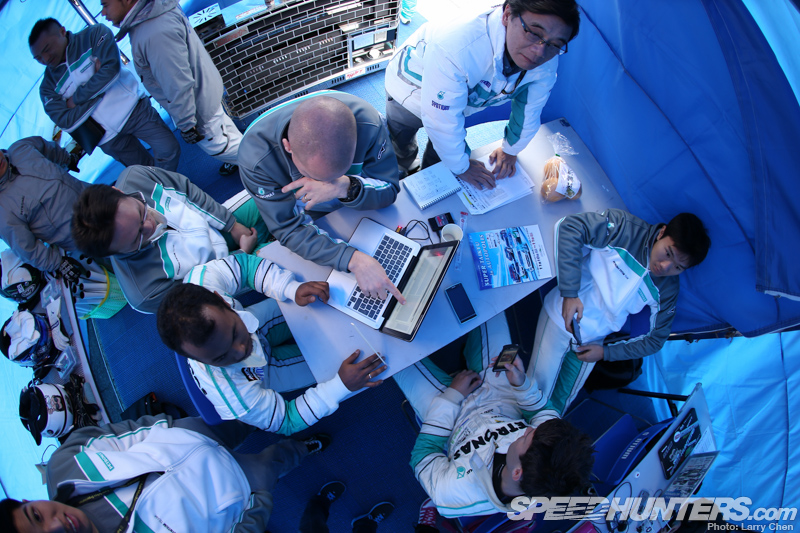 And the way I see it, as long as the data and telemetry is correct it shows you what is possible and what is not. So let's say it shows that Ma is braking at 90 meters into turn one: that means I should be able to brake just as late. Of course, the risk is overshooting the corner and going off…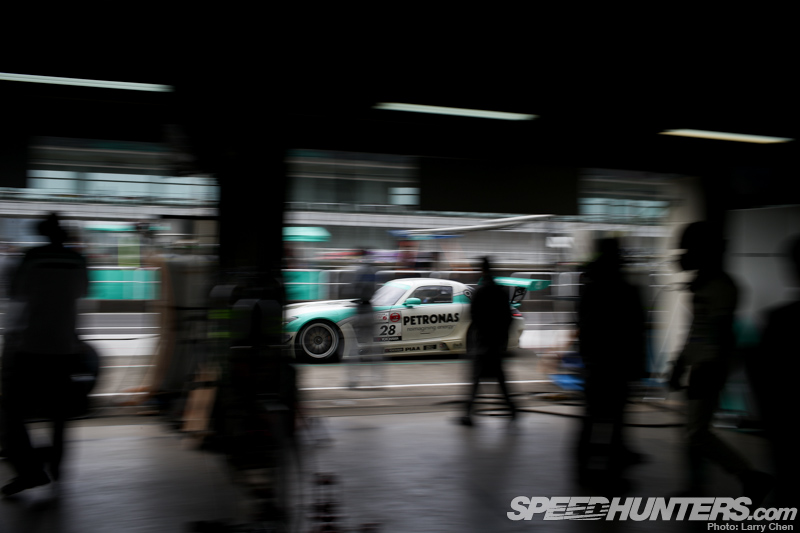 Larry: How much time do you get to qualify?
Jono: It's 15 minutes, but we only really have a two- to three-lap window on new tires before they get worn.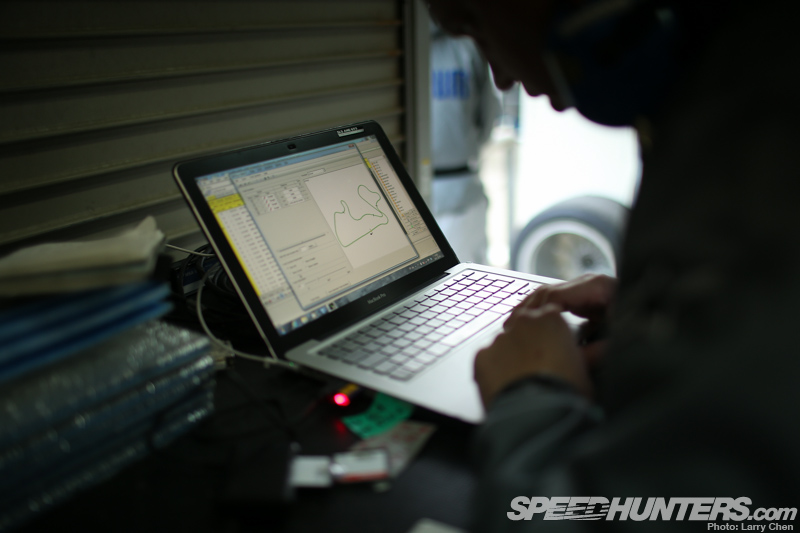 Larry: So you pretty much went into qualifying with that telemetry data in mind, and you did not mimic what Ma was doing but were trying to improve upon it.
Jono: Correct. I was actually surprised to see the time that I got. It could have been better, because I made a mistake on the second lap – which was the quicker of the two.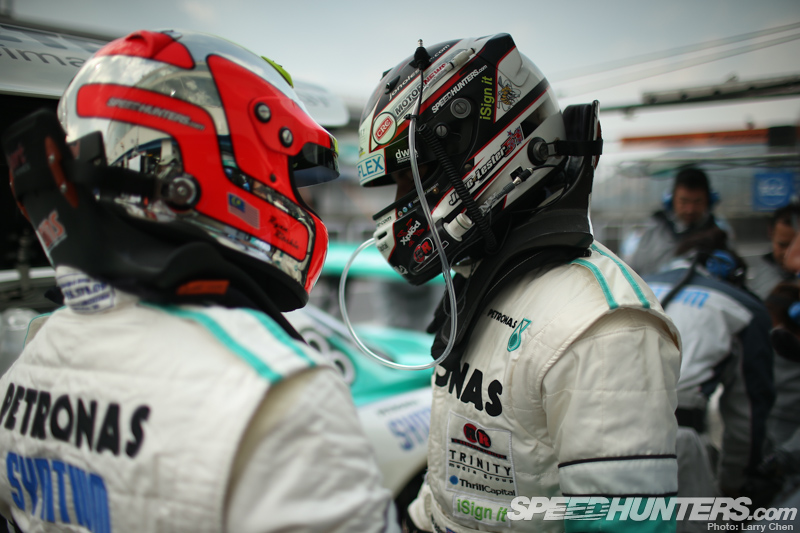 I was not very happy with my performance yesterday and it was not really how I was taking the corners – it was more a confidence issue, because I did not feel comfortable pushing it to a certain point.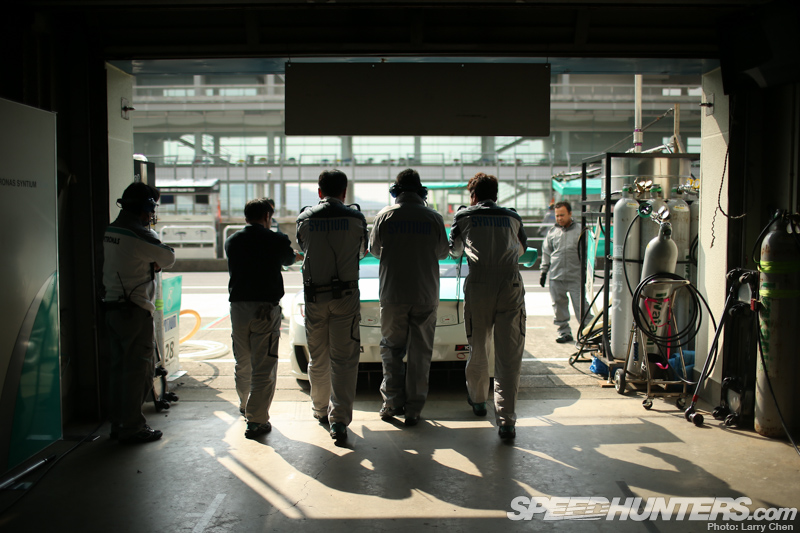 We made drastic improvements overnight with the set-up, so I found that in the warm-up I could do things that I could not do yesterday. That put me in a much better head-space for qualifying. If we did not get the set-up right, I would have gone in pretty nervous. When you don't have a car that is 99 to 100 percent it is always very difficult to push to the limit.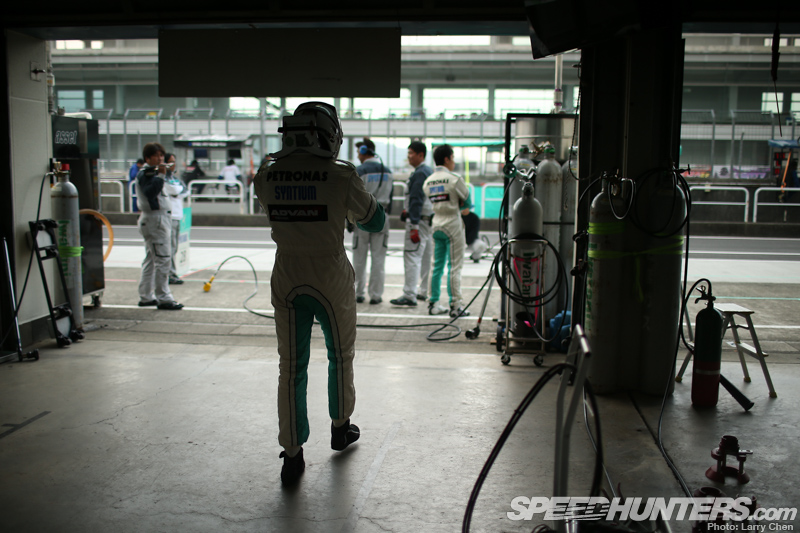 Larry: How does it make you feel that you were less than a tenth of a second behind Ma?
Jono: It's pretty cool! These guys are the absolute pick of the crop. From where I come from they would be like the Jamie Whincups and Mark Winterbottoms, who are huge stars in the V8 Supercar Series. And of course in that part of the world it is the king of motorsports. These guys are in the same league and probably even higher, but I've always followed Japanese motorsports because I've always loved Super GT.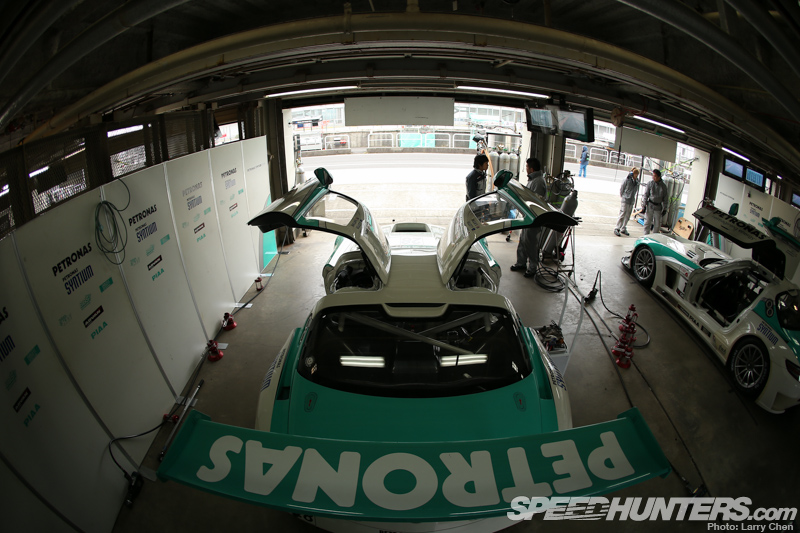 Most people from my part of the world don't follow Japanese racing: it is a V8-head nation. It is such an honor for me to not only race with these guys, like Nob and Ma and TK, but to actually be on par with them and some instances quicker is awesome for me because I am a young guy trying to make a career in this sport.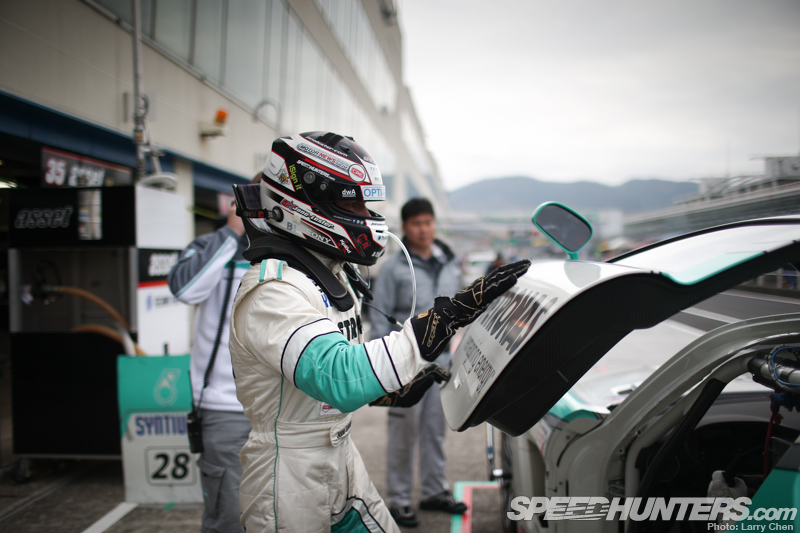 Every single session I drive, whether it be during practice, qualifying or racing, I need to be constantly improving myself and thus proving that I am worthy of one day maybe going to Super GT or whatever path is laid out for me.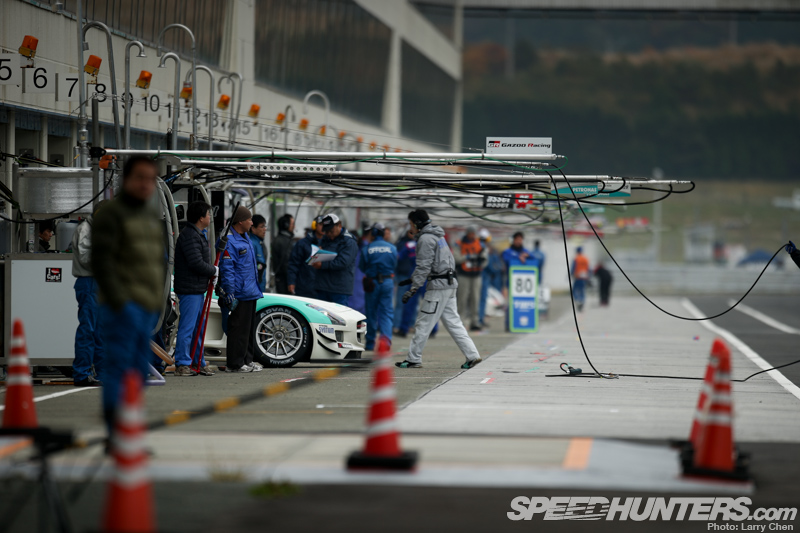 Larry: What about the race? Your teammates in the number 1 car qualified second. Will they pose a threat?
Jono: We have to make a good start, because if it rains tomorrow – which it looks like it will – we will need all the clear vision we can get. If we can create a gap, the big rooster tail that we will give off to Nobuteru Taniguchi behind us should create a buffer. Nob did run a race here a few weeks ago in the wet, so he will be very sharp. Again, it will be new territory for me.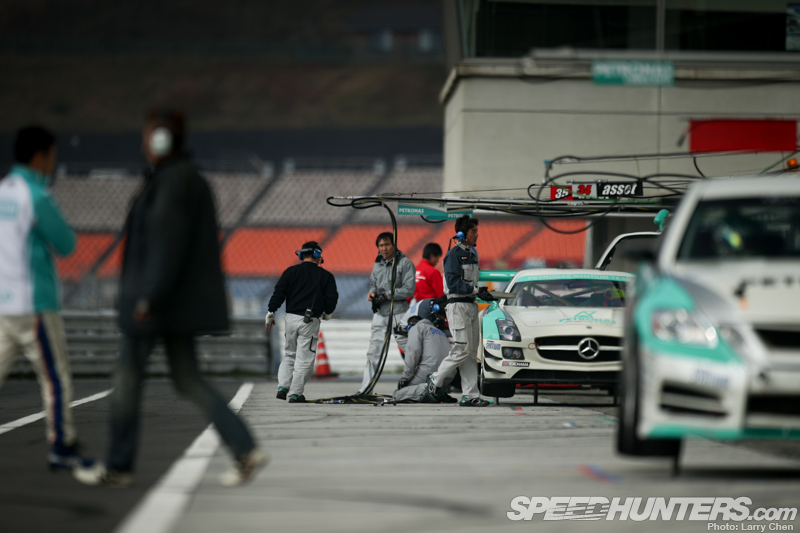 Really, taking pole was the imperative today.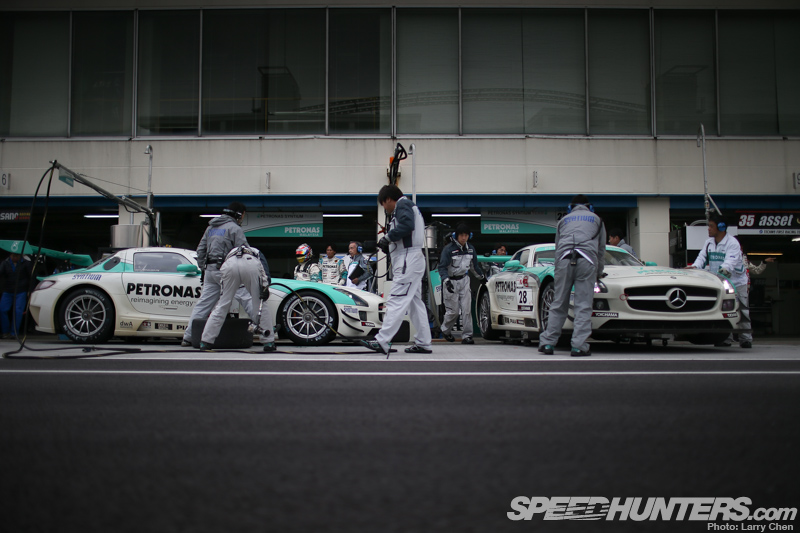 And being on the same team we always have orders not to get too frisky with each other.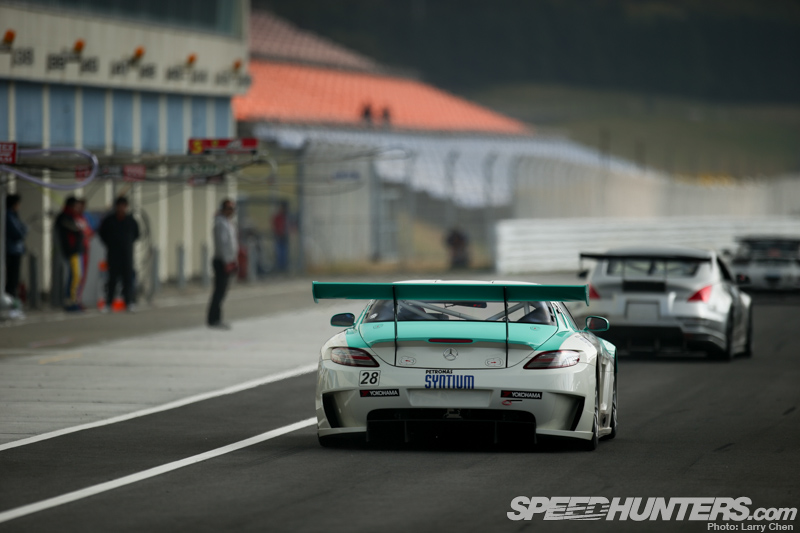 So we are in quite a good position and I will do my best to lead for as long as possible before I have to pit.
Jono and Larry
larry@dev.speedhunters.com
More stories from Super Taikyu on Speedhunters
More stories from Larry Chen on Speedhunters
---
---
---