SEMA first and foremost is about the aftermarket. It's about company demo vehicles, new products, networking, and all the craziness that comes with the world of vehicle customization. More and more though, SEMA is becoming a place where the automobile manufacturers themselves connect with the enthusiast market, and that's what I'd like to touch on in this part of my SEMA coverage.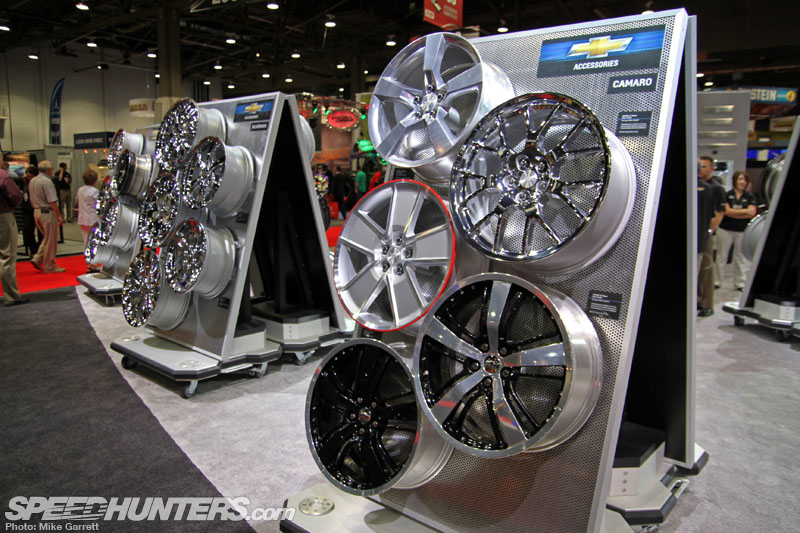 Unlike normal auto shows, you won't find automakers talking up their latest green technologies or the family carrying capacity of their newest minivan at SEMA. Nope, this is the place where the OEMs let it all loose and fully embrace the "fun" side of the automotive industry. It's quite enjoyable to see.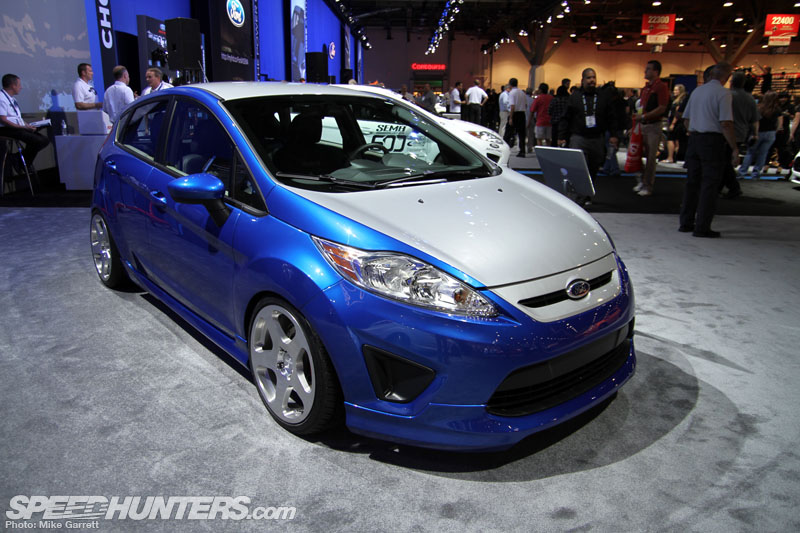 Year in and year out, Ford is hands down the company with the biggest presence at SEMA. With the rapid pace at which the brand's been debuting new vehicles, they have a lot to show this year.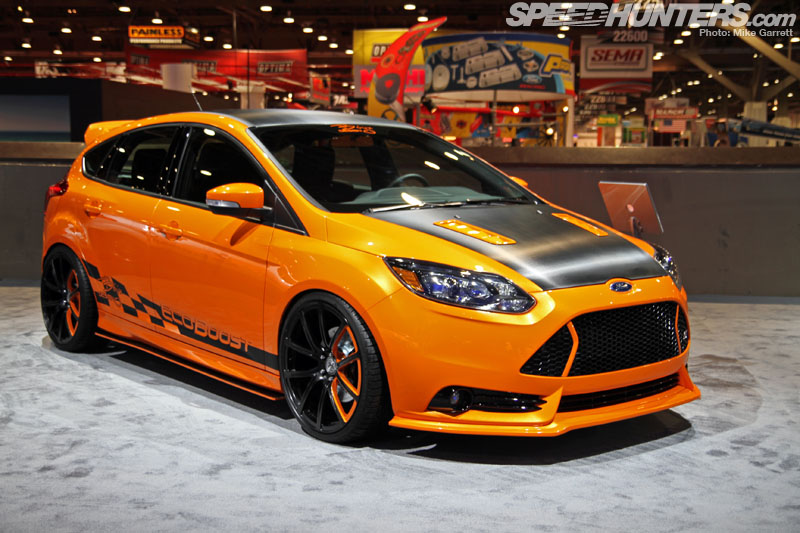 The new Focus ST is a big part of Ford's 2012 SEMA effort, and there are several of customized examples of the Euro transplant Hot Hatch in their booth. This example was built by Bodix Design fully embraces the ST's European lineage with Lamborghini Orange paint and black accents.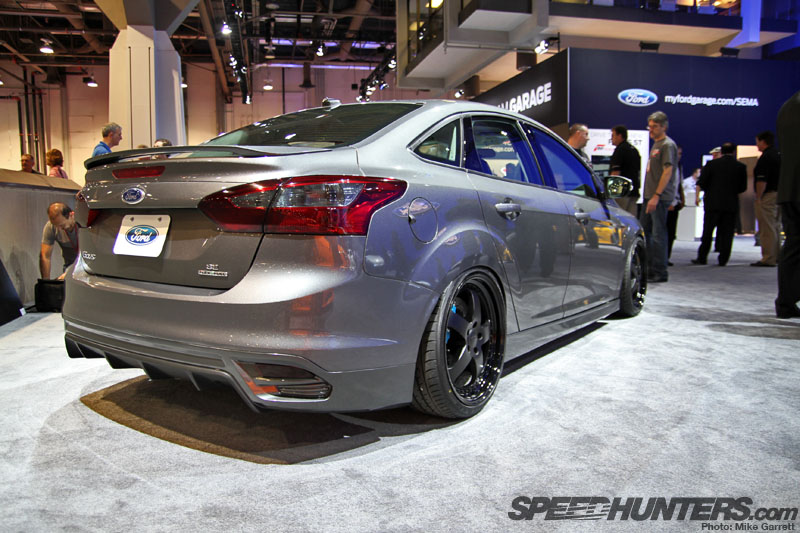 The four-door sedan version of the Focus also gets some love here from VACCAR.  This one's equipped with a bolt-on turbo kit to back up its aggressive stance.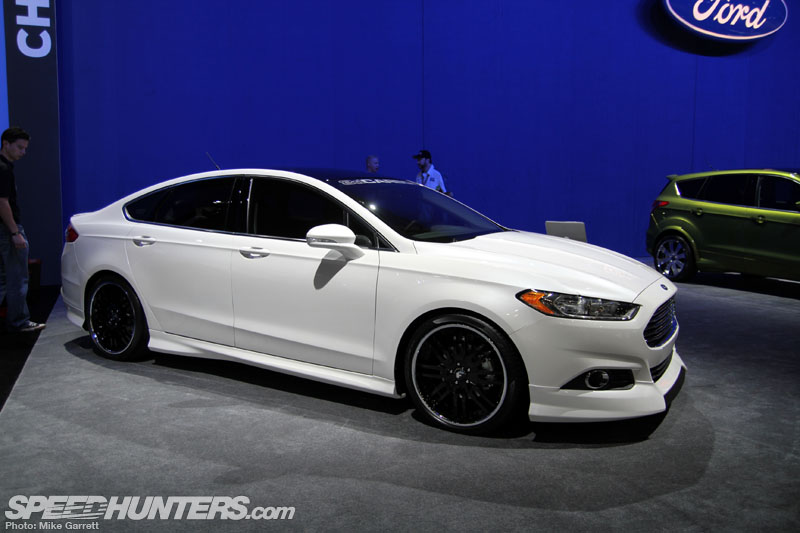 Another new Ford model which just hit the market is the 2013 Fusion. Naturally, there are a few hotted up examples to show the aftermarket potential of the new sedan, which is essentially the US market version of the Ford Mondeo.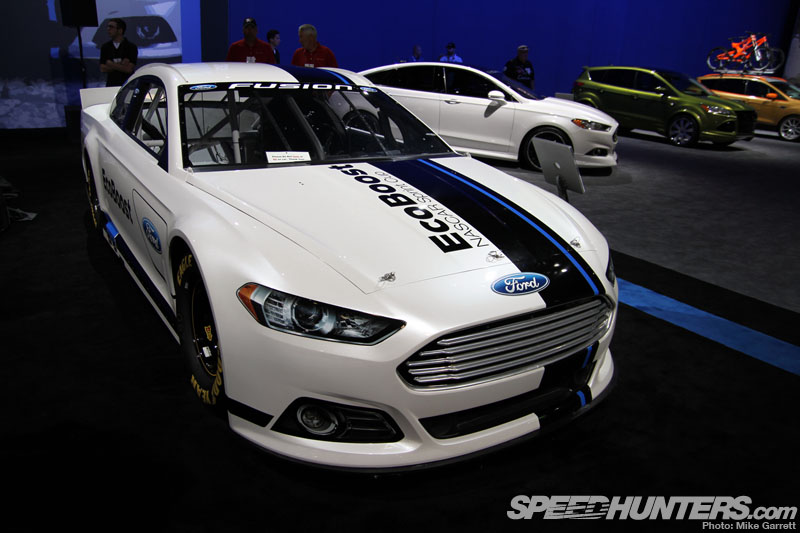 The 2013 NASCAR version of the Fusion is also on display, and I was excited to see it for myself after following the car's development online over the last several months.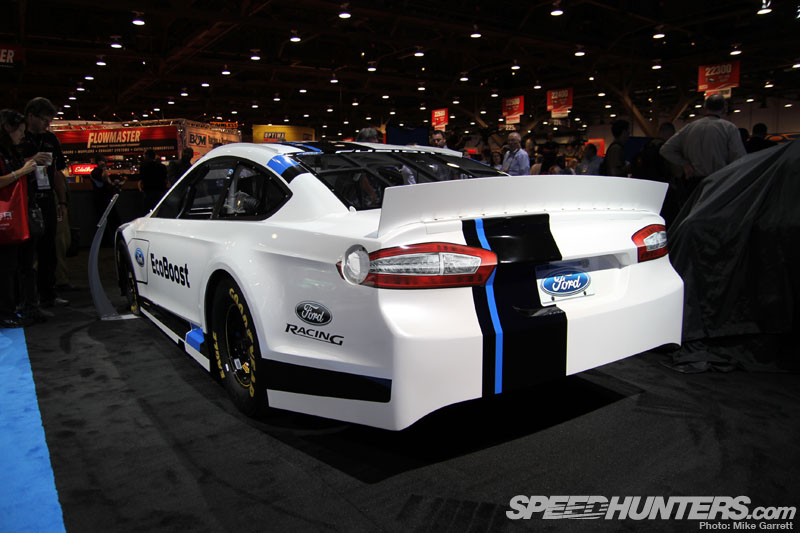 It looks great in person, and I can't wait to see these things on track come next year. I'm also thinking that we really need to get out and shoot one of the West Coast Sprint Cup events next year.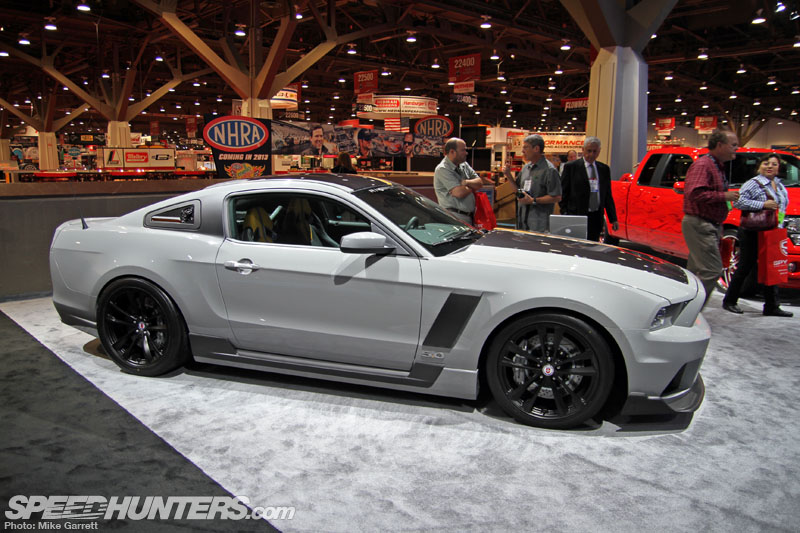 Of course the Mustang is still Ford's bread and butter car when it comes to the enthusiast market, and there was the usual array of customized Stangs featured in booth this year.  There's also a rather cool looking RTR Mustang being shown, which I'll share in my upcoming SEMA Spotlight-O-Rama.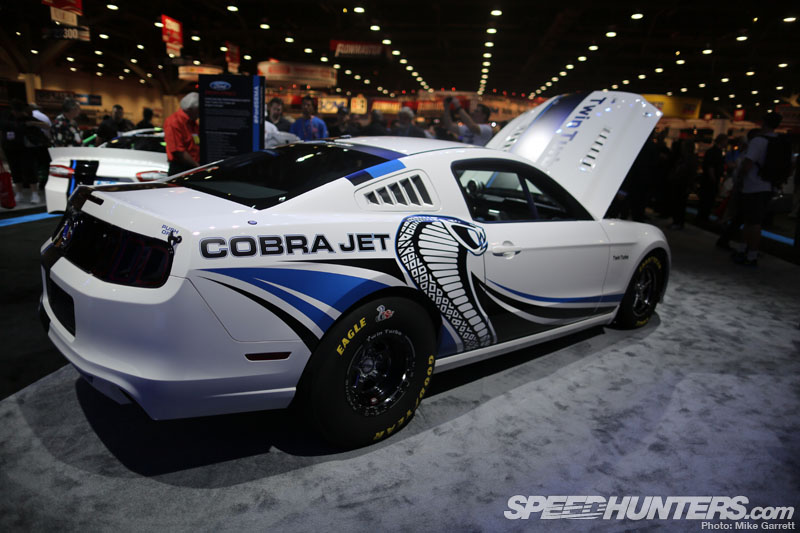 Perhaps the most talked about machine from Ford at SEMA 2012 is this – the Mustang Cobra Jet Twin Turbo Concept. This is the latest in their line of factory Mustang drag specials.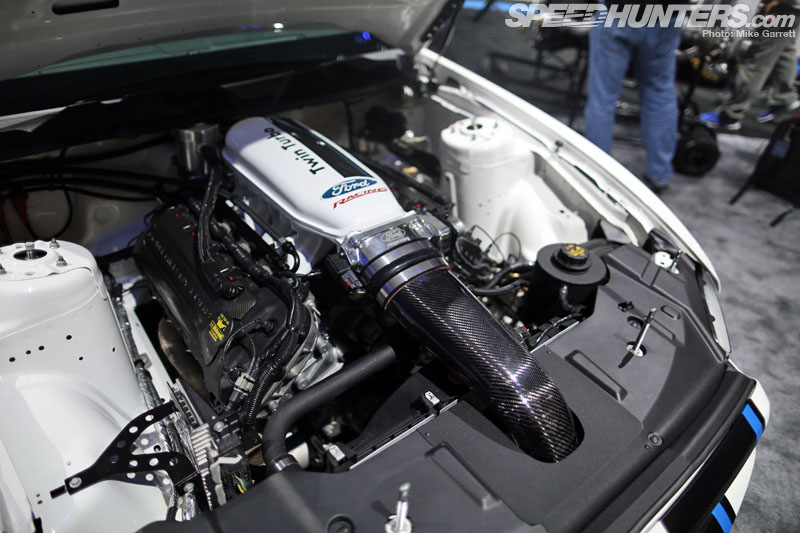 Although Ford is calling it a concept at this point, I don't think anybody would be surprised if this beast goes into production. Eight second ETs right out of the box shouldn't be problem…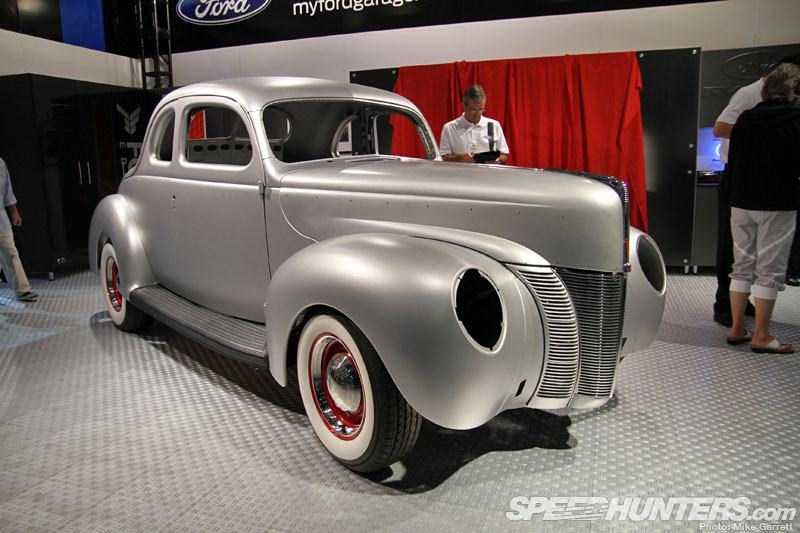 Besides its new models, the restoration and Hot Rod market also makes up a big part of Ford's push at SEMA. Here we see a '40 Ford Coupe which is part of the growing line of officially licensed reproduction bodies becoming available.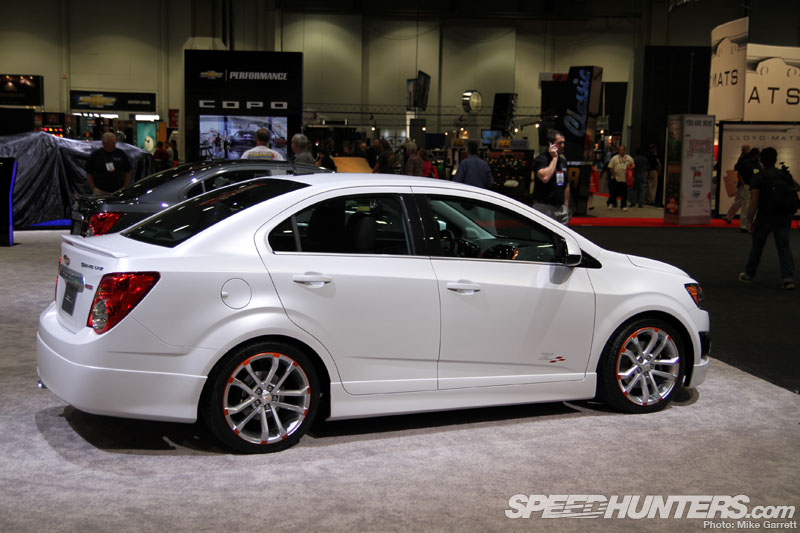 Across the way in the GM booth, the subcompact Chevy Sonic has a big presence once again this year. When you think of GM at SEMA you probably imagine the Camaro and Corvette, and those were present of course – but fuel efficient compacts will only become more crucial as mileage standards get tighter and tighter.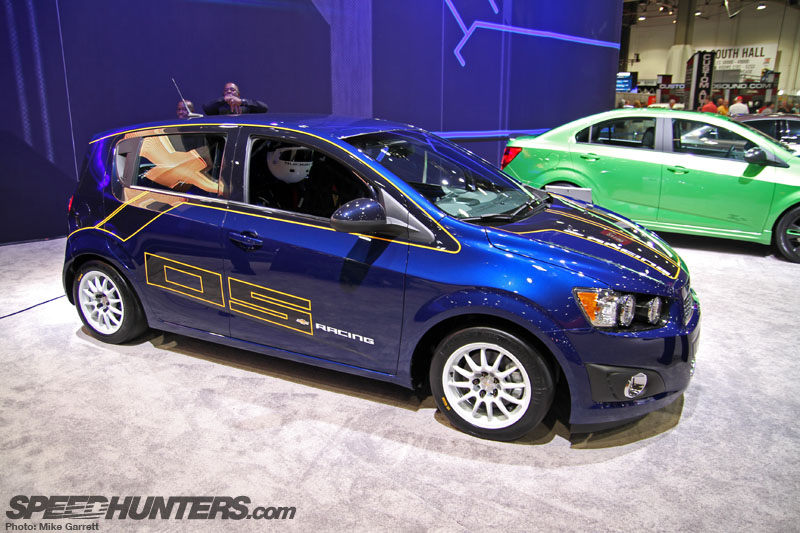 The B-Spec Sonic Concept was designed to to show to potential the little car could have as a dedicated competition machine.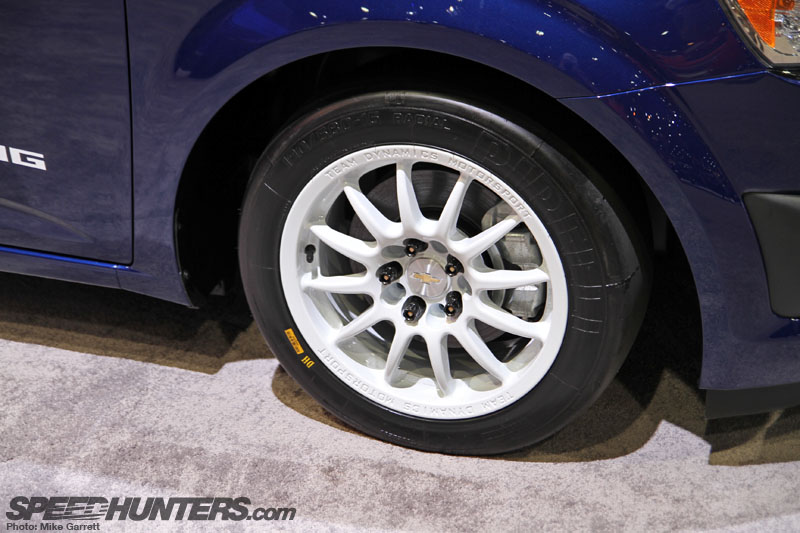 As the B-Spec name suggest, the car is designed to meet regulations for the subcompact race class which also features entries from Honda, Mazda, MINI, and a number of other carmakers.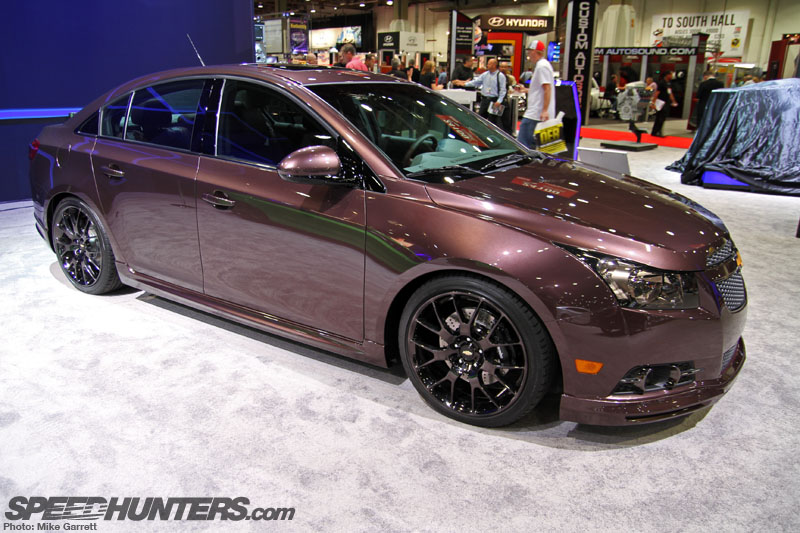 As it's name suggests, the Chevy Cruze "Upscale" Concept trying to inject some class into GM's popular compact. Not sure if it would fit in on the streets of Monte Carlo, but it doesn't look too bad.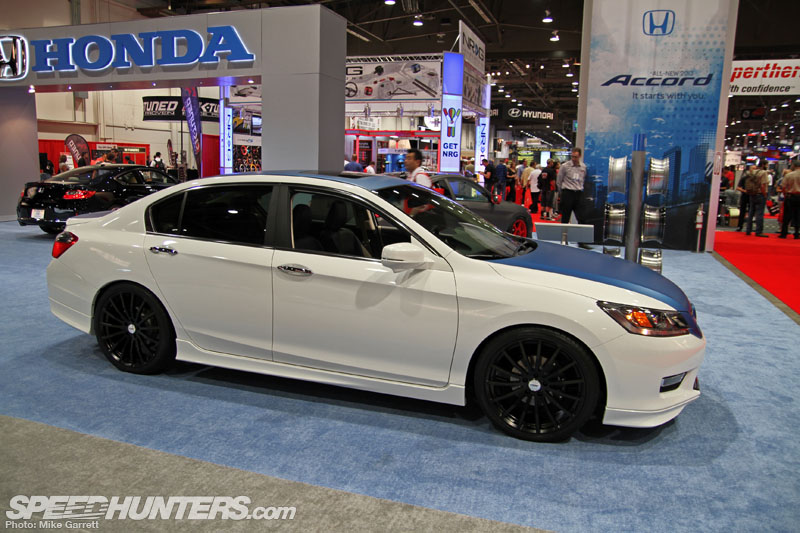 Honda's presence seems a bit more low key this year than it's been in the past. Occupying most of the space in the booth are modified examples of the new Accord.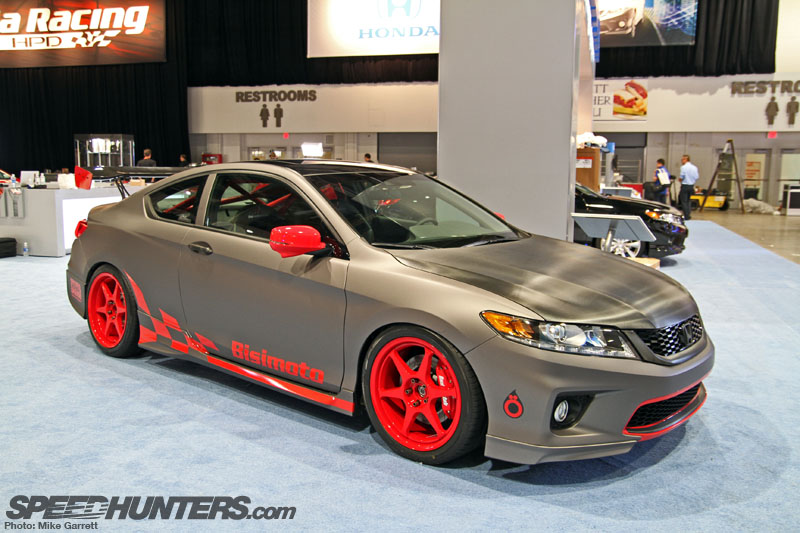 Bisimoto Engineering has developed a pretty strong relationship with Honda over the years and they've gone to work on a new project for 2012. With a healthy shot of nitrous, the Bisimoto-built Accord V6 Coupe is said to make 400 horsepower.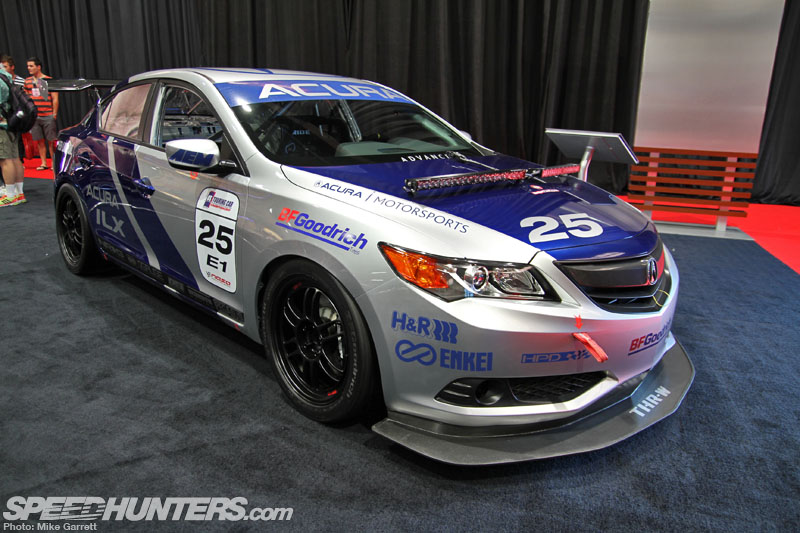 Next door in the Acura area, I found this ILX race car. In case you aren't familiar, the ILX is the new entry level car in Acura's lineup which shares much of its underpinnings with the Honda Civic.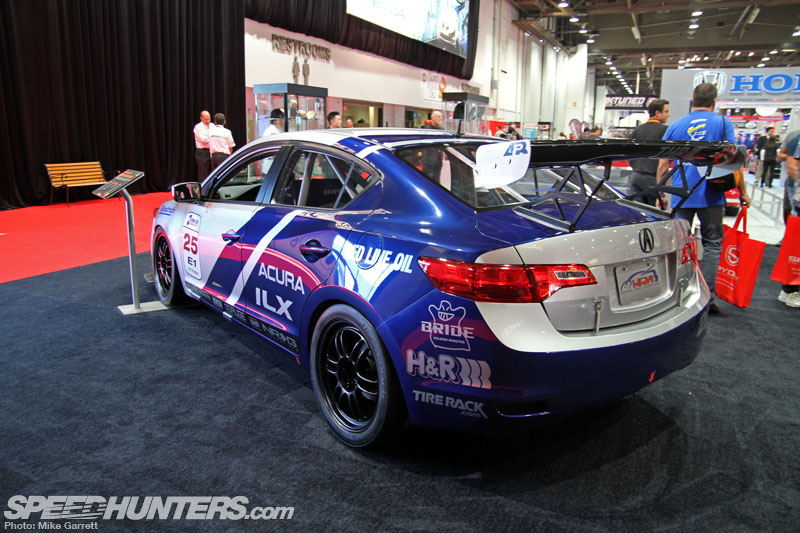 The stripped out ILX has been built by Honda's R&D team for endurance races like the 25 Hours of Thunderhill.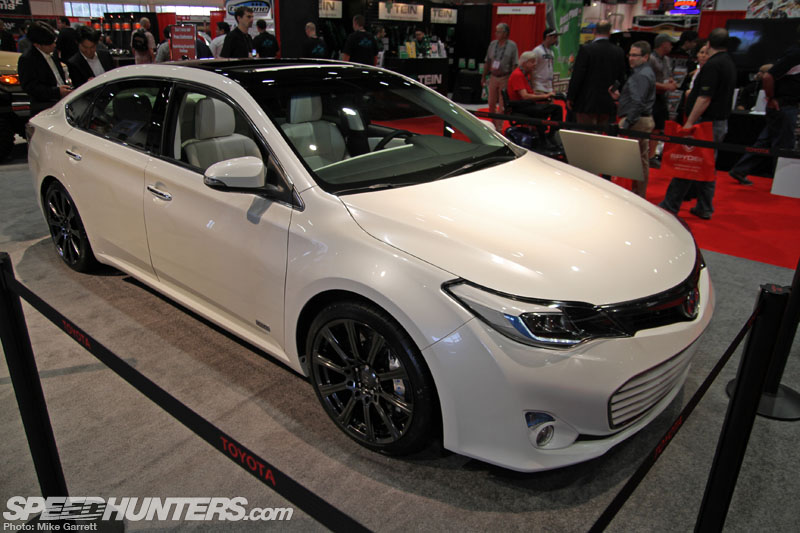 Toyota's booth at SEMA includes a couple customized versions of the new Avalon. Now I can't imagine the Avalon's target market is big on aftermarket modifications, but it's interesting to see nonetheless.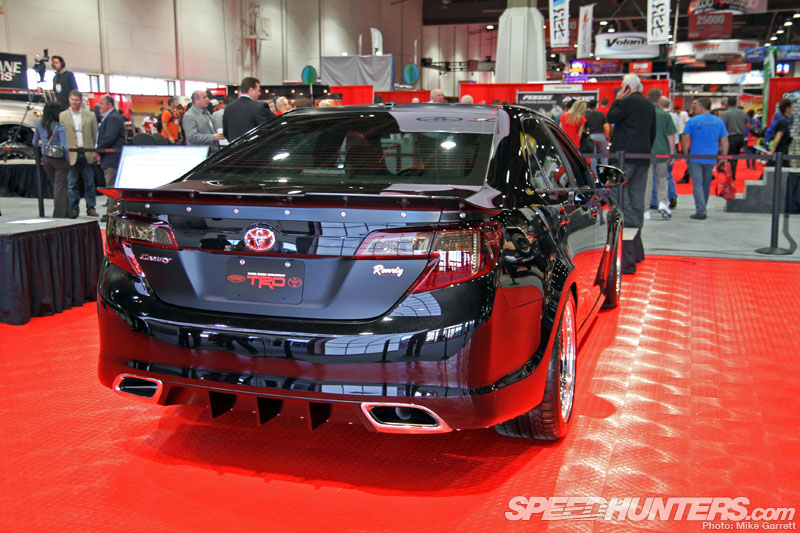 Also found in the Toyota booth, this aggressive looking Camry (yes I just wrote that) was designed by none other than NASCAR driver Kyle Busch.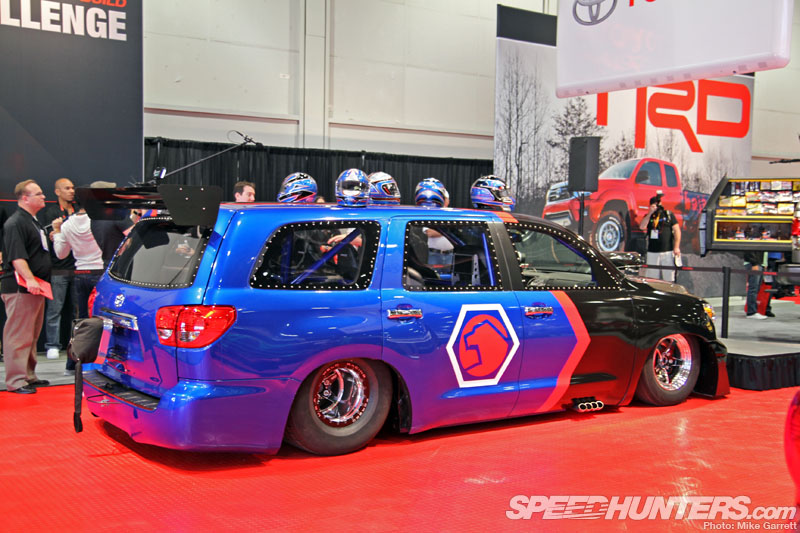 I think my favorite vehicle Toyota brought out to the show is this Sequoia that's been converted into a family-hauling drag machine. Under the hood is a supercharged V8 making a stout 650 horsepower.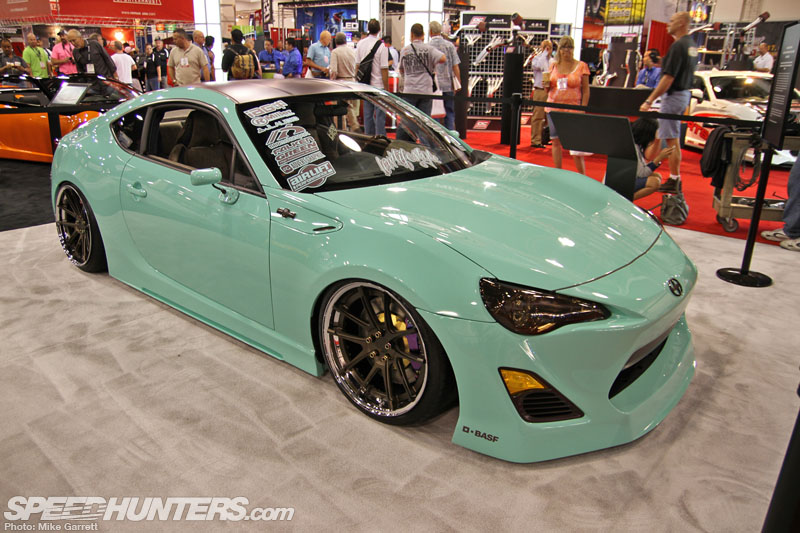 As you've guessed, Scion's presence at SEMA is all about the FR-S. It's really interesting sometimes just to sit back and observe how people react to certain cars at the show. The customized FR-S lineup at SEMA looked to be getting some very positive responses – even from the Hot Rod and Muscle Car crowd.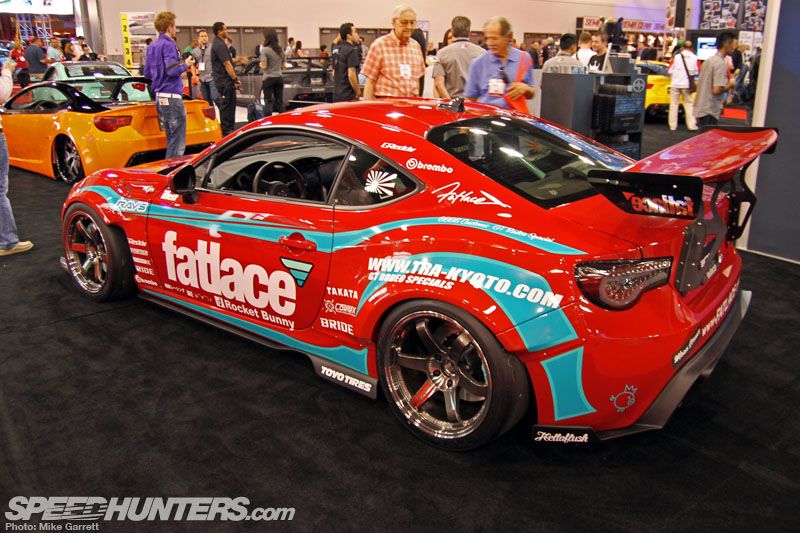 There's the Fatlace FR-S. Looks quite a bit different from the stock machine I saw when I visited The Paddock last month, doesn't it? I'm not sure if there's one single person that's has a bigger presence at this year's show than Miura-san from TRA Kyoto. His work is everywhere at SEMA…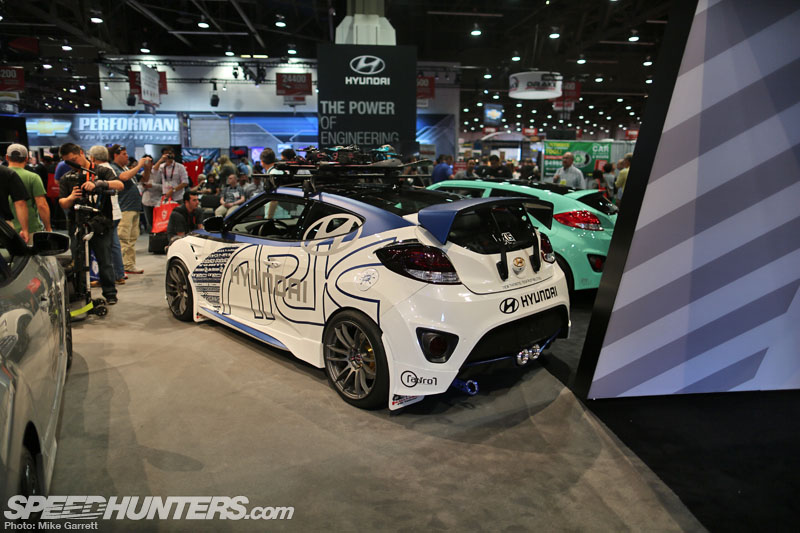 Hyundai meanwhile continues its push into the enthusiast market with a strong showing of both the Genesis Coupe and Veloster Turbo in its SEMA display.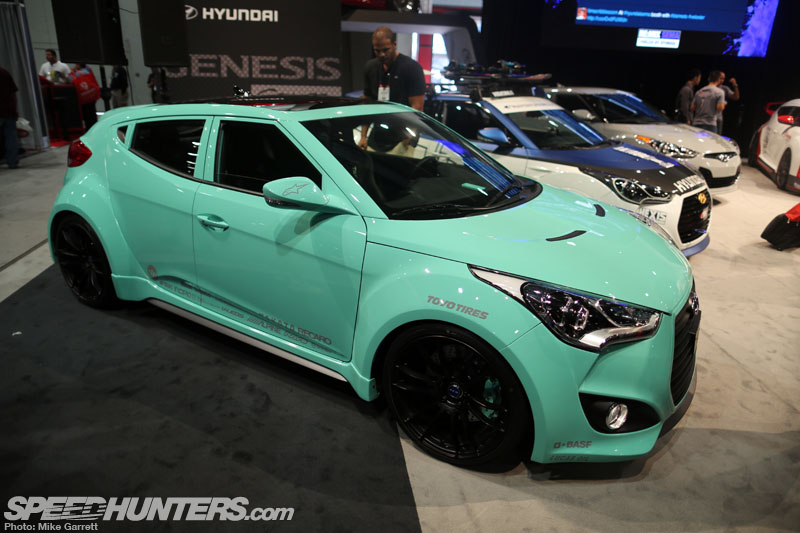 Our friend John Pangilinan from Id Agency is a busy man. When he's not handling PR and media duties for Formula Drift or a number of other companies, he's putting together cars like this wide body Veloster Turbo.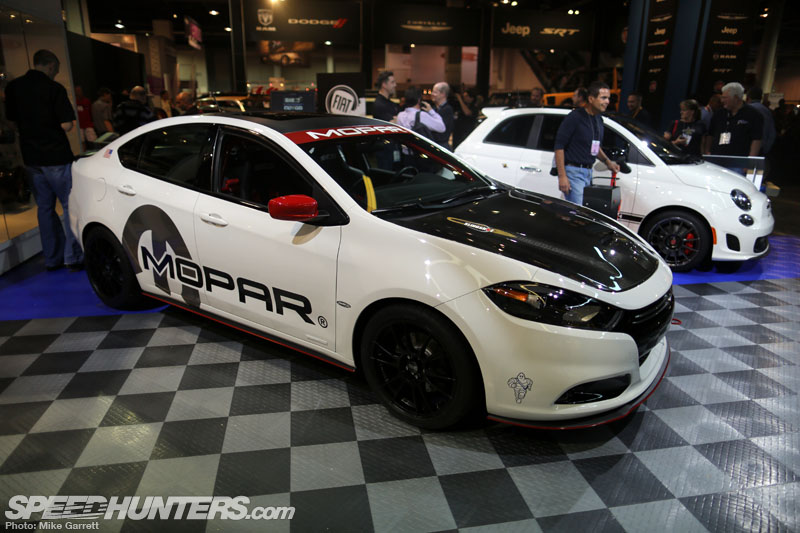 Over in the Mopar booth in the South Hall, the new Dodge Dart was getting a lot of attention. These cars are just beginning to appear on the road now, so I'm interested to see what kind of aftermarket following the Dart will get.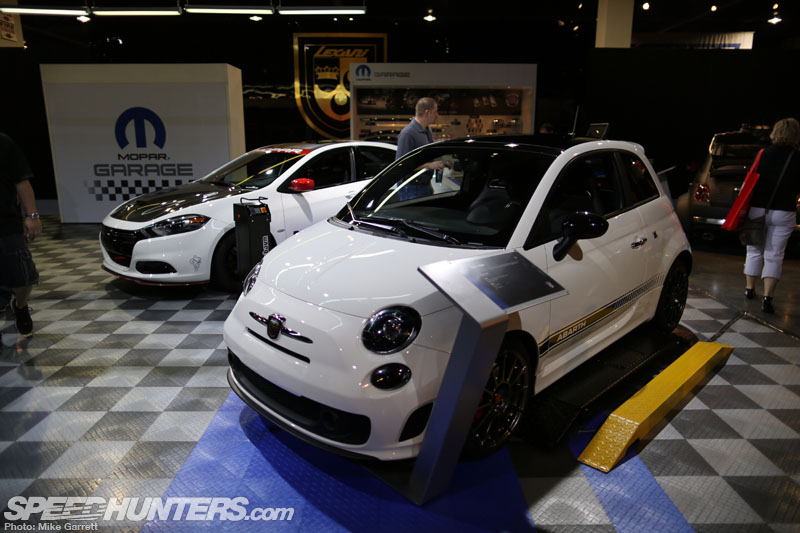 The Darts are sharing space on the show floor with other products from the Chrysler/Fiat family including the 500 Abarth.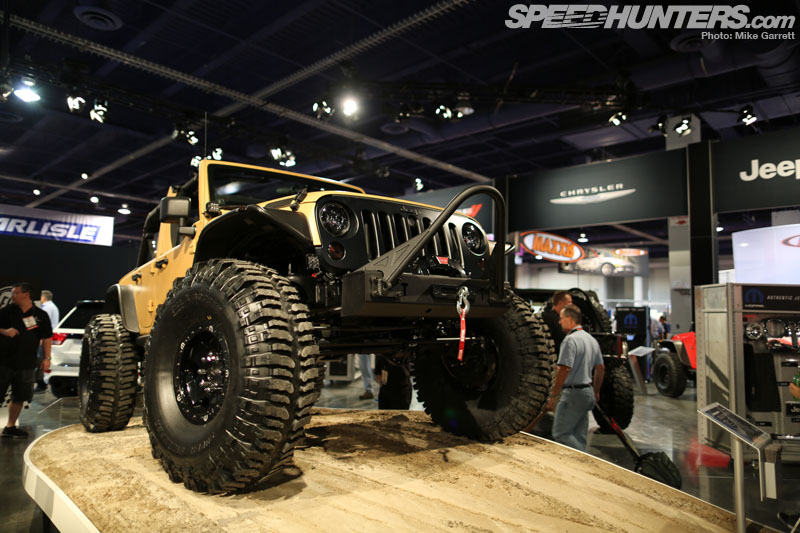 I can't say that I know a whole lot about the off road scene, but this Jeep looks pretty gnarly.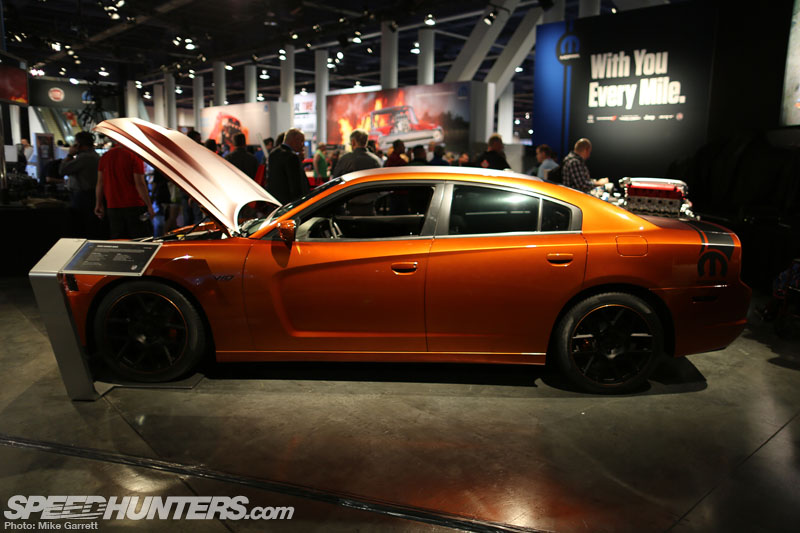 One of my personal favorites from the Mopar area was the "Juiced" Dodge Charger concept. It doesn't look all too special from the outside…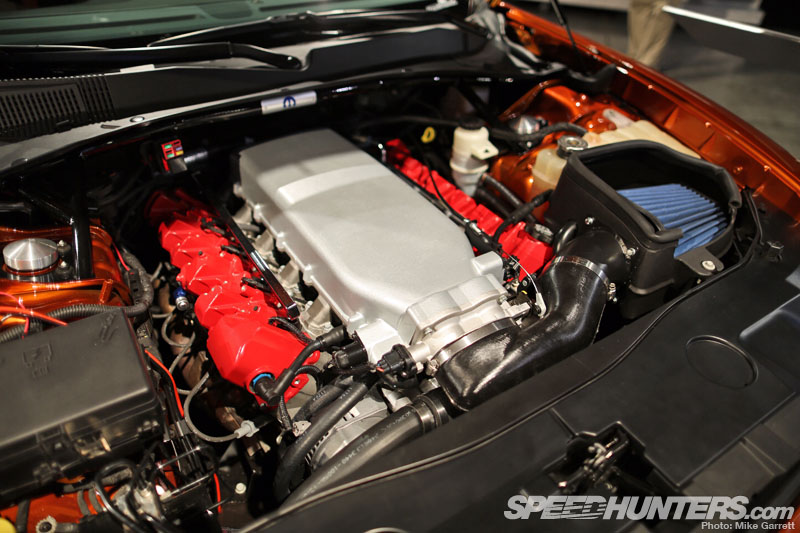 …but under the hood is a 650 horsepower V10 crate engine. Think of it as a Viper that you can enjoy with a bunch of your friends.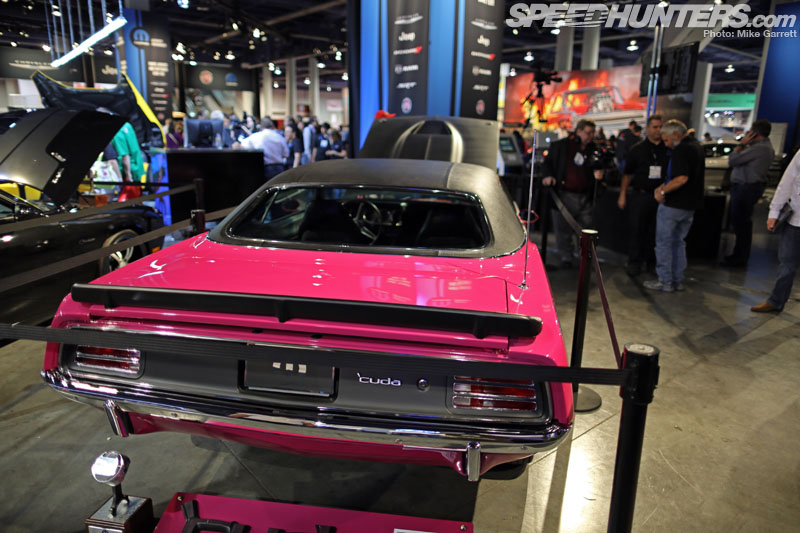 In addition to the ones shown outdoors, Mopar also brings out a couple vintage Muscle Cars to display in its main booth. Know your roots!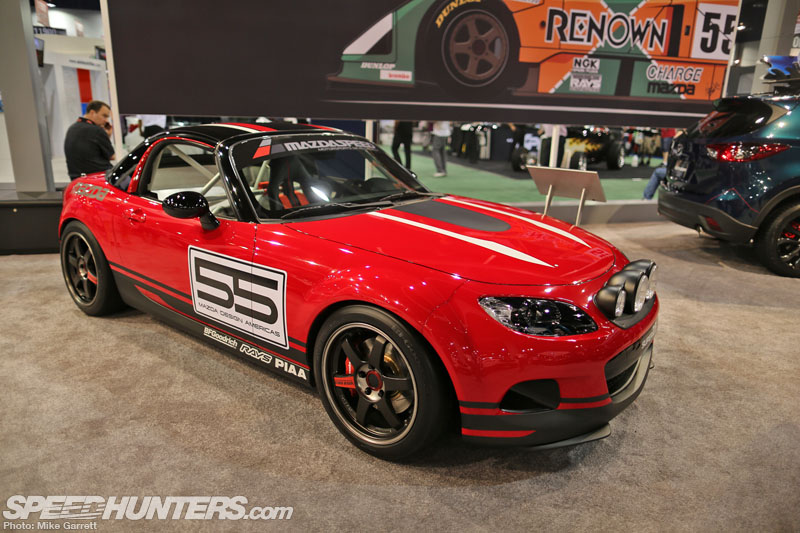 Mazda's booth at SEMA is a little off the beaten path, tucked away in the North Hall. Most of the vehicles in the Mazda booth this year are SUVs, but this MX-5 caught my eye.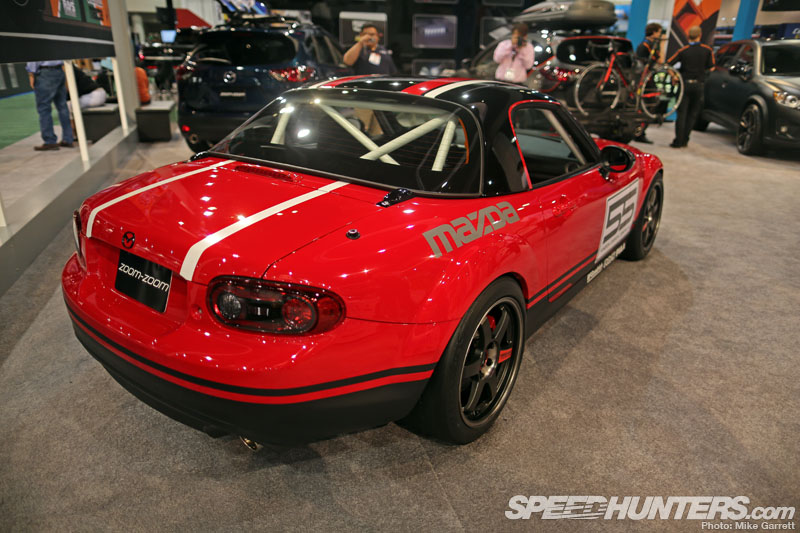 Known as the "Super25″, the car was built by Mazda's design studio as an example of an affordable endurance racer that could be constructed and raced without a lot of effort.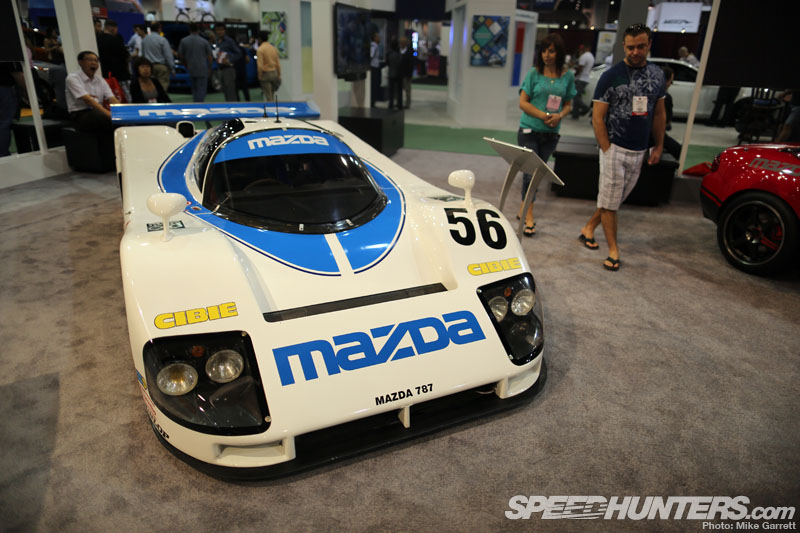 I've got more SEMA stories to work on, so I'll leave you here with this view of the 787 that Mazda brought out as a nod to its motorsport history. Unfortunately I was unable to convince them to fire it up for everybody…
Back soon!
-Mike