I always like to go to the track early on race weekends to get some nice shots of teams setting up. It was the morning of qualifying day at the Formula Drift finals. I heard the unmistakable sound of a turbo Ford Fiesta and being the nosy journalist that I truly am, I decided to investigate.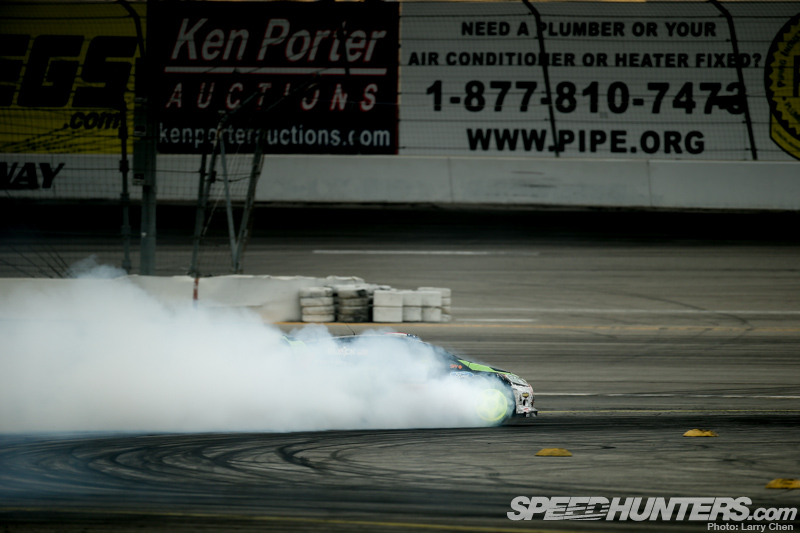 This is what I saw. Smoke was billowing from the front tires of Ken's AWD Ford Fiesta rally slash Rallycross slash Gymkhana car. I thought to myself, is this guy nuts or what? He is really trying to drift the Iriwndale bank?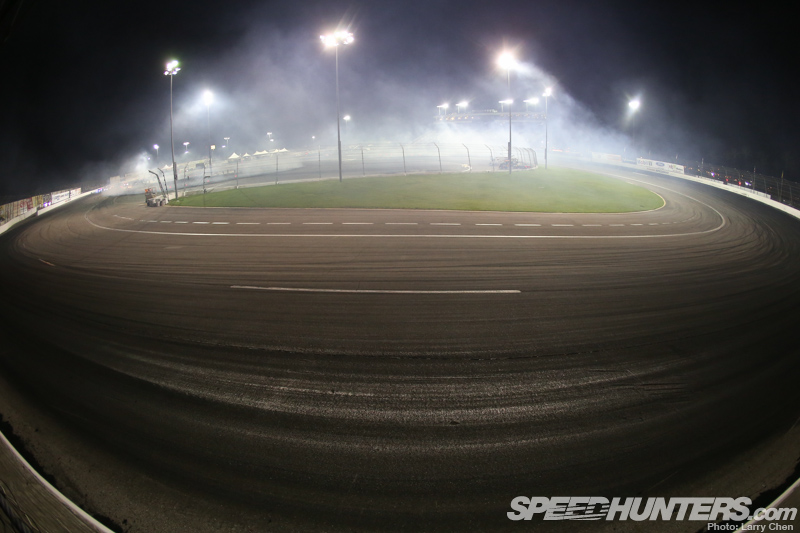 This track has eaten more drift cars than any other Formula Drift track ever. I was thinking it would eat Ken's HFHV (High Function Hoon Vehicle) too.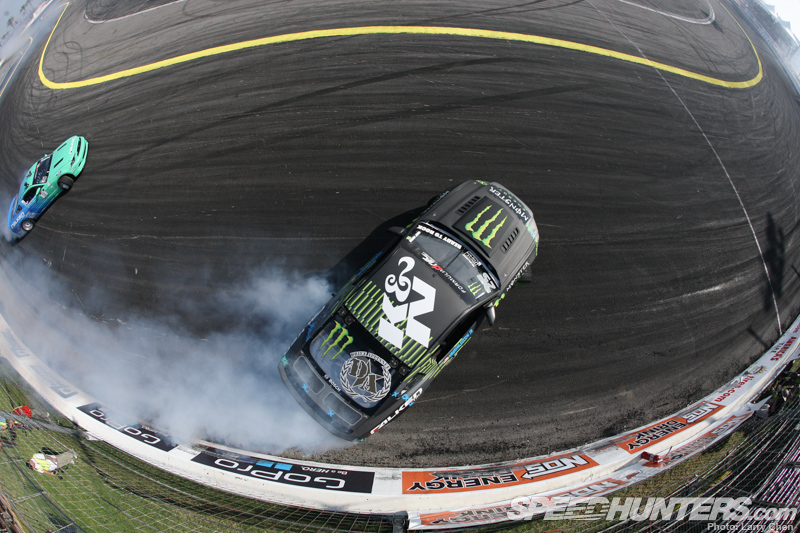 Drifting this course with a rear wheel drive car has its challenges already…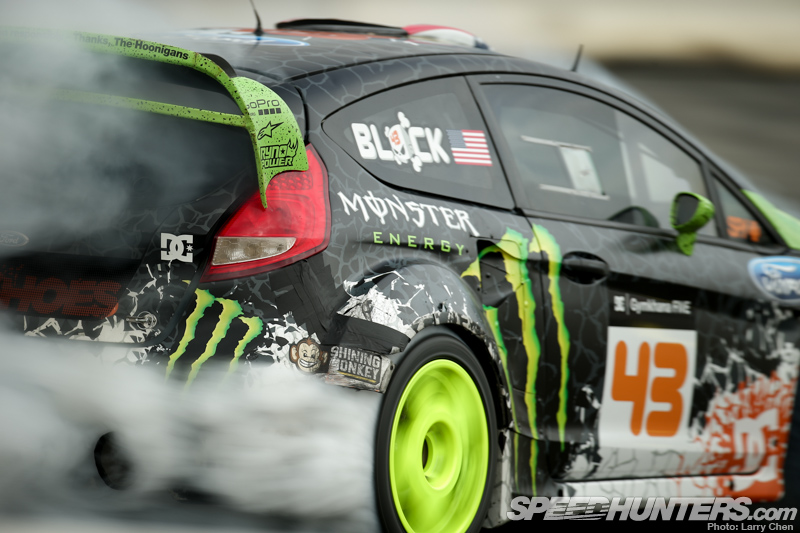 …but an AWD car is a whole different animal. According to Ken, many people associate Gymkhana with drifting, so he figured he might as well give the 'House of Drift' a shot. Never mind that it is the most brutal course out of all seven stops of the FD series.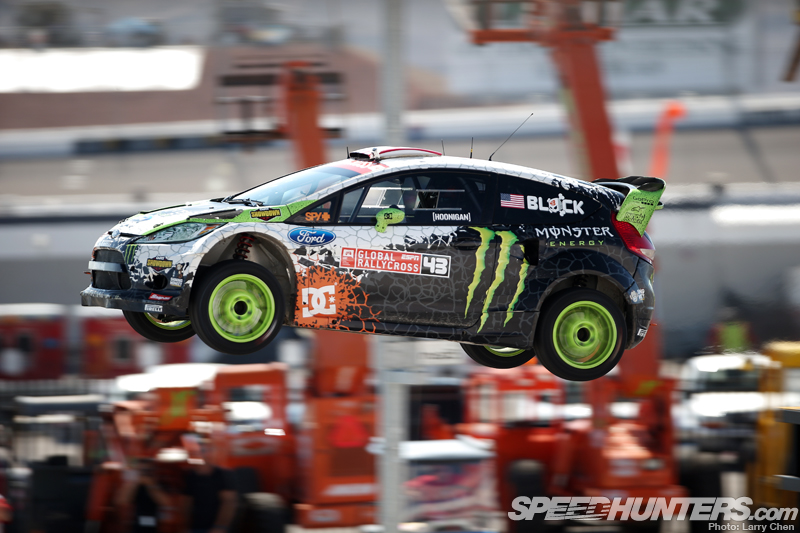 Yes, it jumps too. I followed this exact car this year at the Global RallyCross series as well as at X-games where he ended up in 2nd.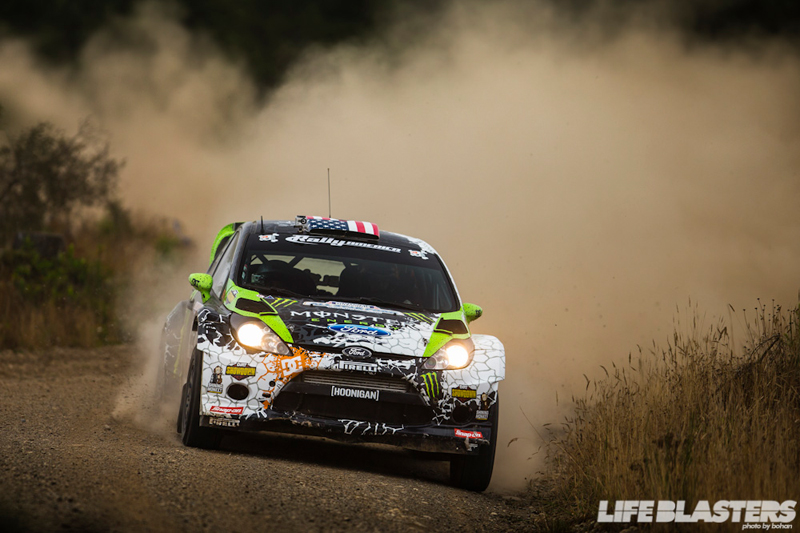 More recently he was up at Washington for round 6 of Rally America also known as the Olympus Rally. He placed 1st at the rally and 4th in the national championship. He only competed two rounds this season.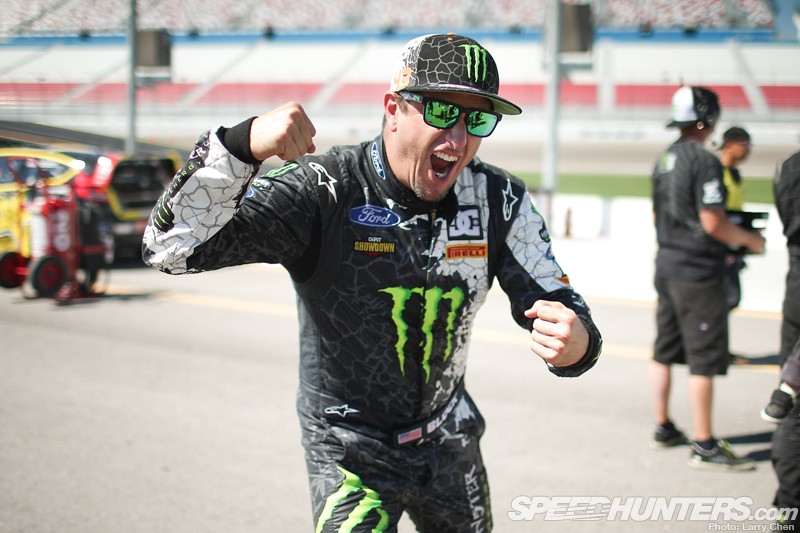 The hoon has always been a big fan of Formula Drift and he has many friends in the series. So he figured this would be the perfect time to see if he could illegitimately drift the AWD car and hit clipping points, NOT just connect the course.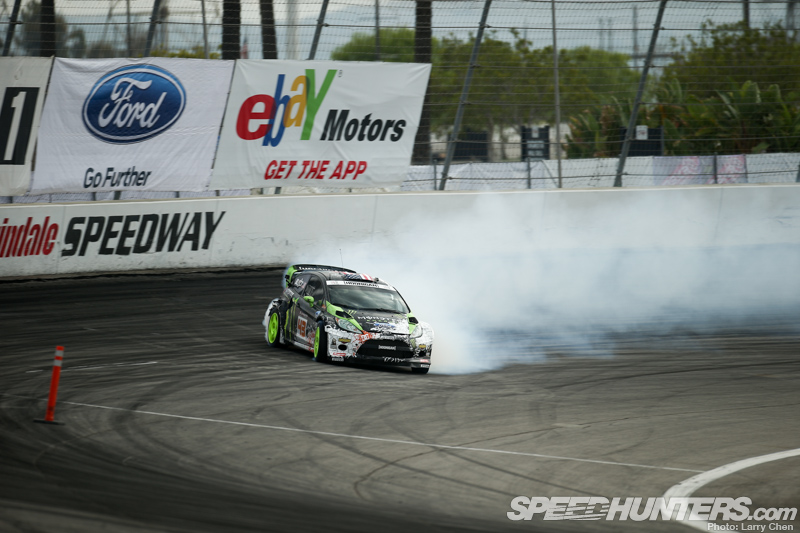 He started at the official Formula Drift starting line, but he was full throttle all the way up to the initiation, because the real challenge was drifting the big bank.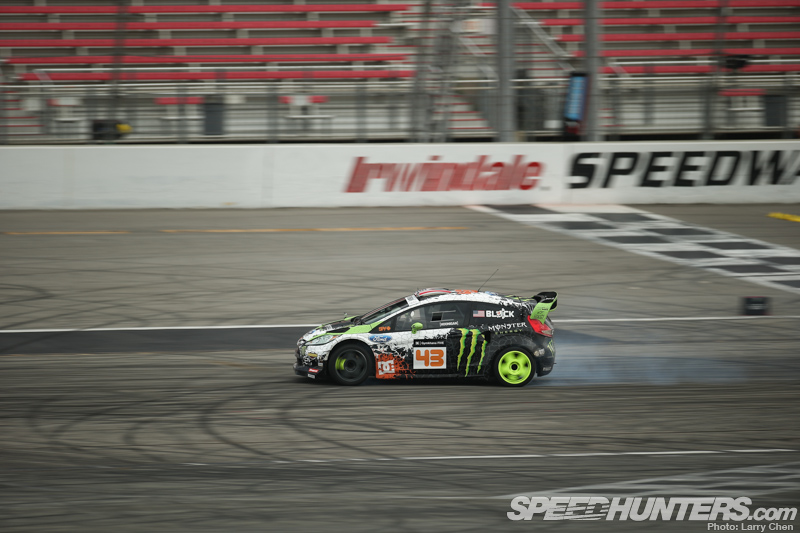 So he drifted the big bank in 5th gear and his entry speed was 91mph.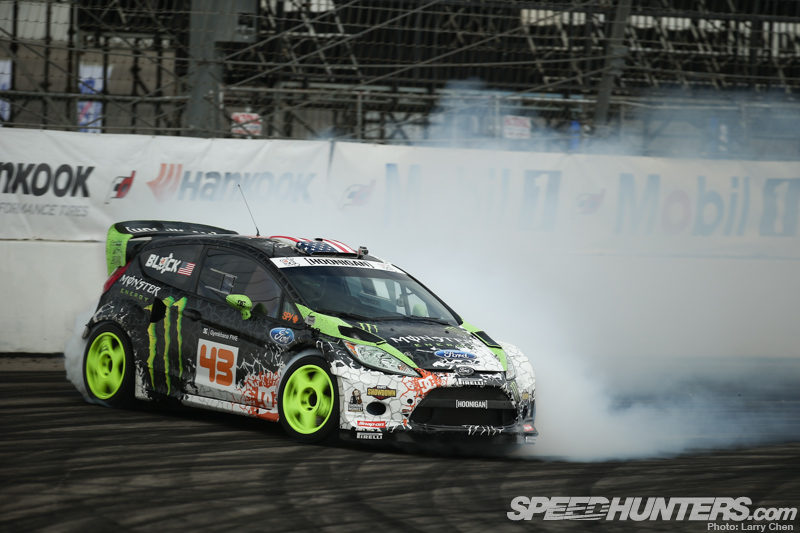 He was constantly at zero counter, while it looks like he is under-steering, I can assure you he is very much sideways.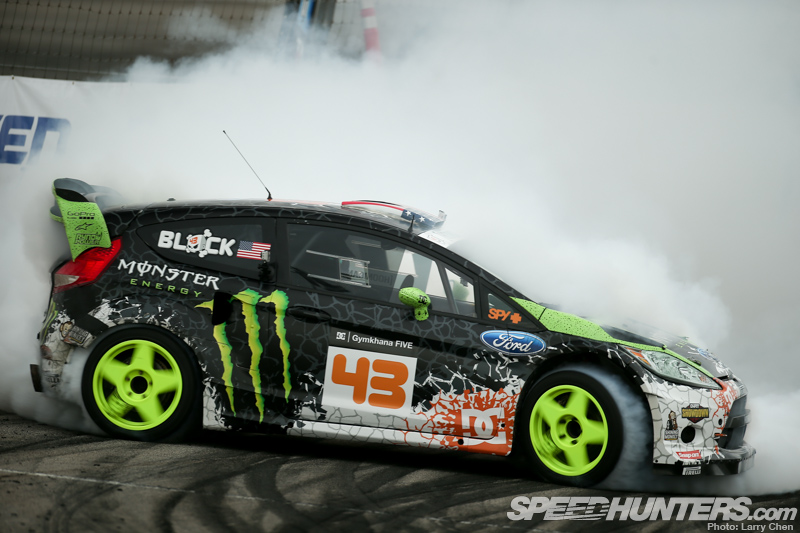 The thing with drifting the bank with an AWD car is you really have to enter the corner fast enough to carry your momentum all the way to the next corner. The more you floor it the more the car wants to come off the bank.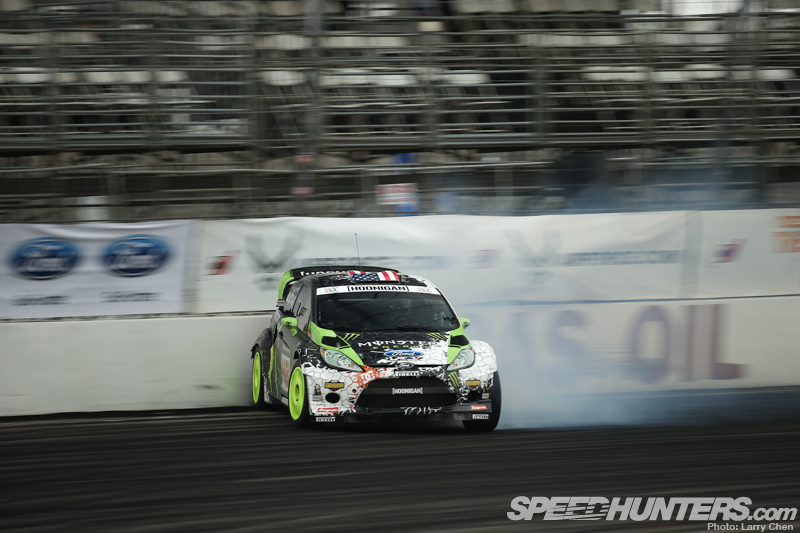 In true Ken Block fashion he was not happy with his runs. So he wanted to get closer to the wall, Vaughn Gittin Jr. style.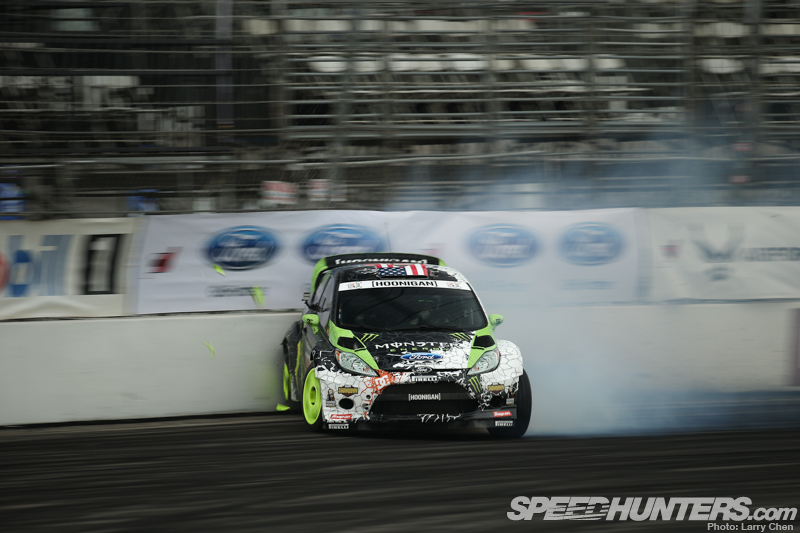 Well he got as close as you can possibly get. He shattered two wheels getting up-close and personal with the wall.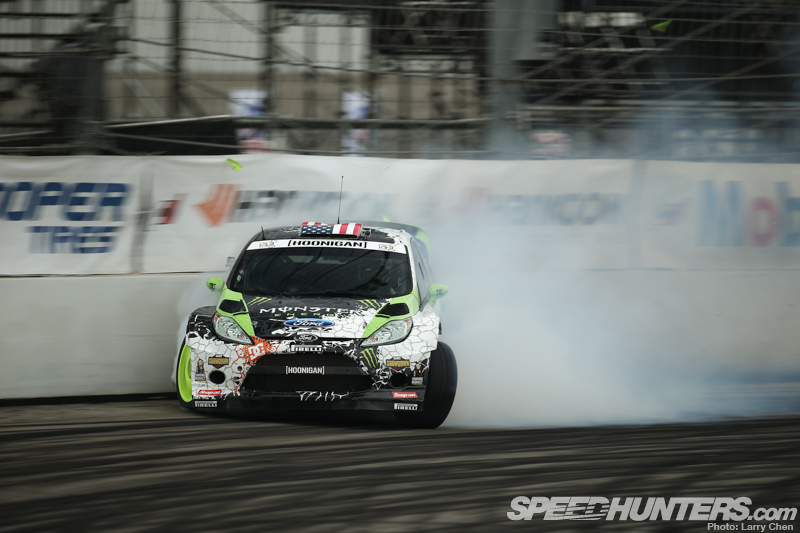 The great part about it is he actually continues to drift with just three wheels.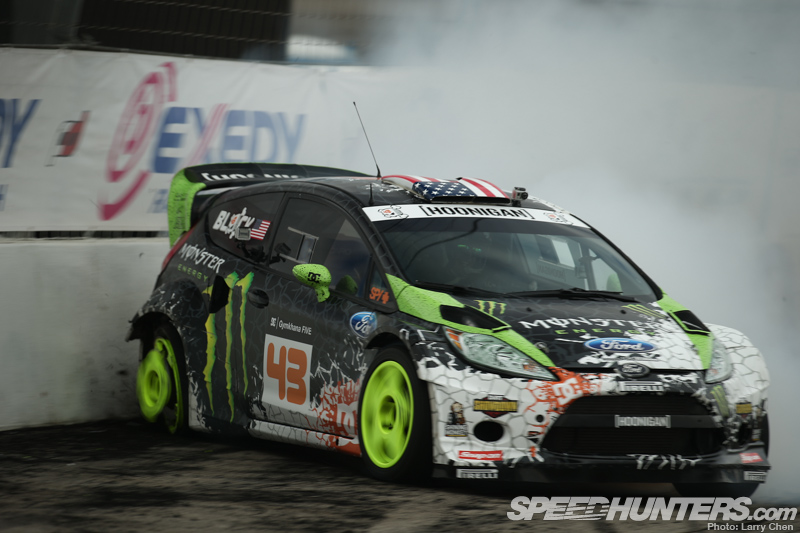 It's funny because he was still making smoke like a boss.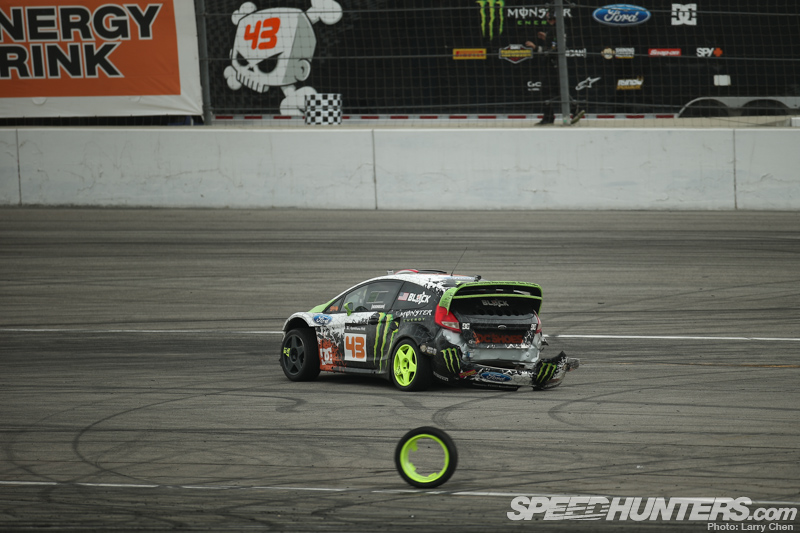 These wheels are actually designed by Fifteen52 to break on impact with a very hard object, like a concrete K-rail.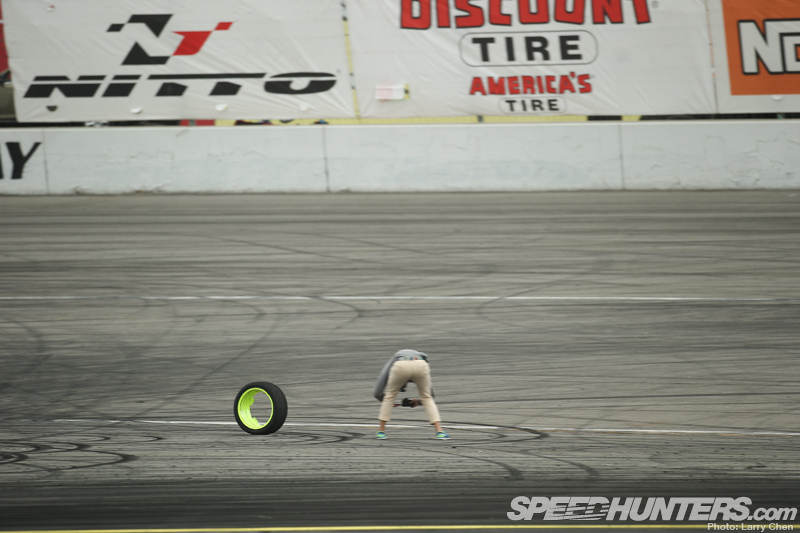 It is so they can save the critical suspension and chassis components. And considering how little over hang there is on the rear of the car I am surprised how little damage there was. Literally the thing that is sticking out the most on the rear of the fiesta are the wheels.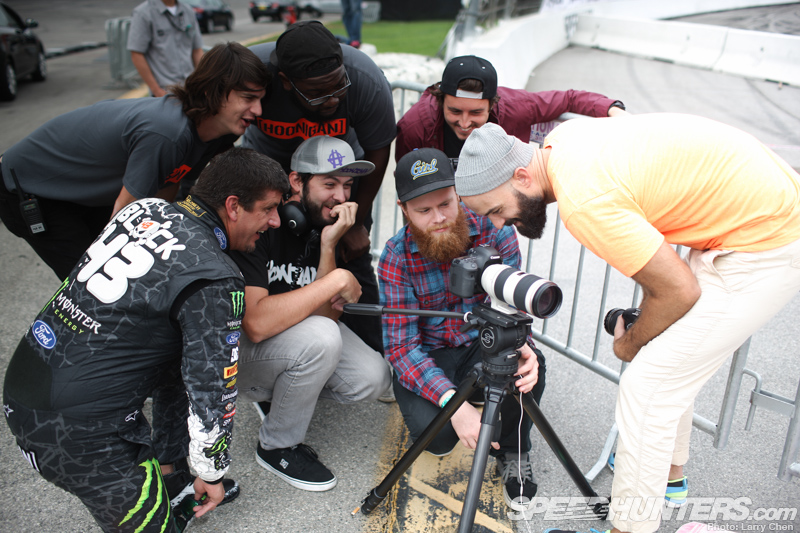 Everyone had a good laugh at Ken's misfortune.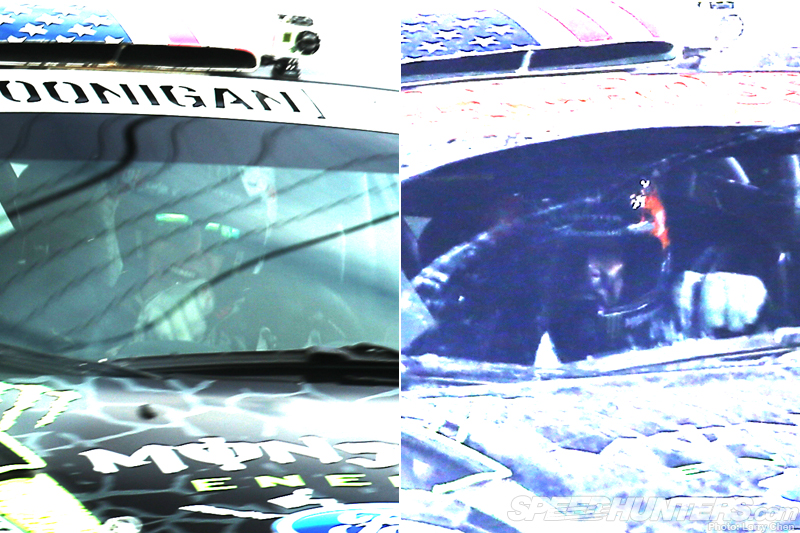 I looked at my pictures and I noticed something interesting. It looks as if Ken has some sort of war face going on. Like he is going into battle or something. Maybe he is just laughing hysterically. The photo on the left is when he tapped the wall and broke his wheel. The photo on his right…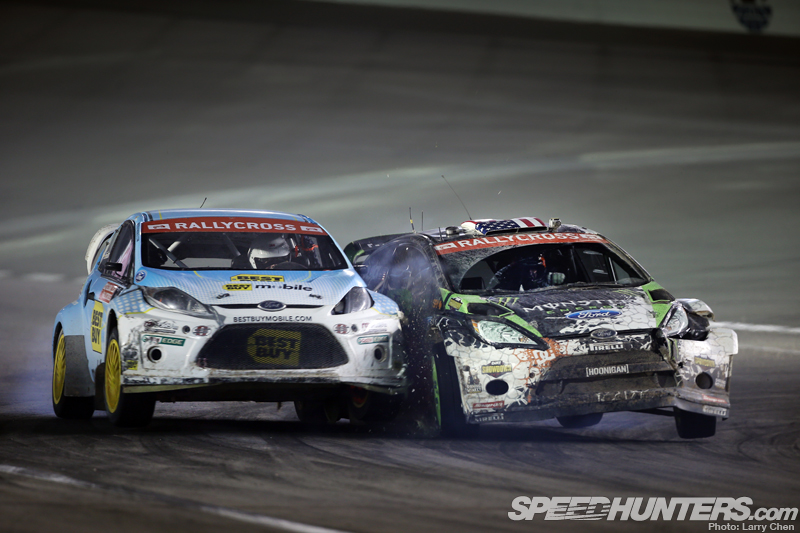 …was from Global Rally Cross Las Vegas when Andreas Eriksson had contact with Block.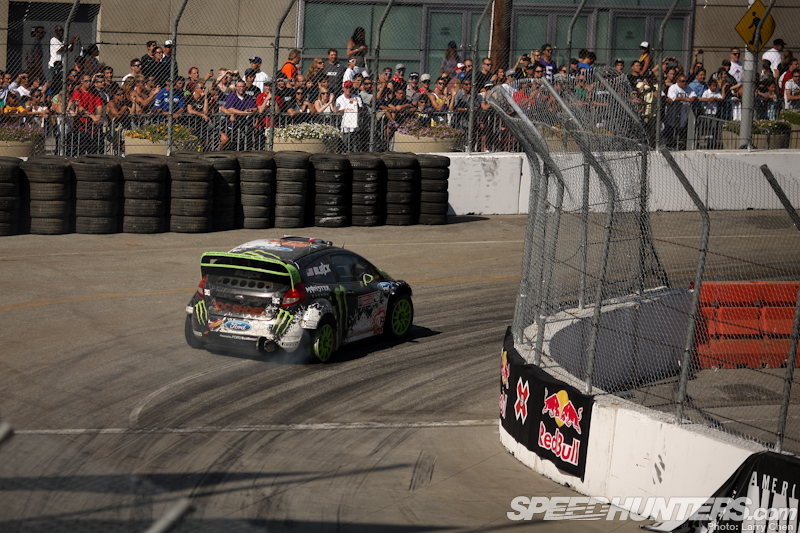 Kenny and the rest of his block are known for doing well even with three wheels.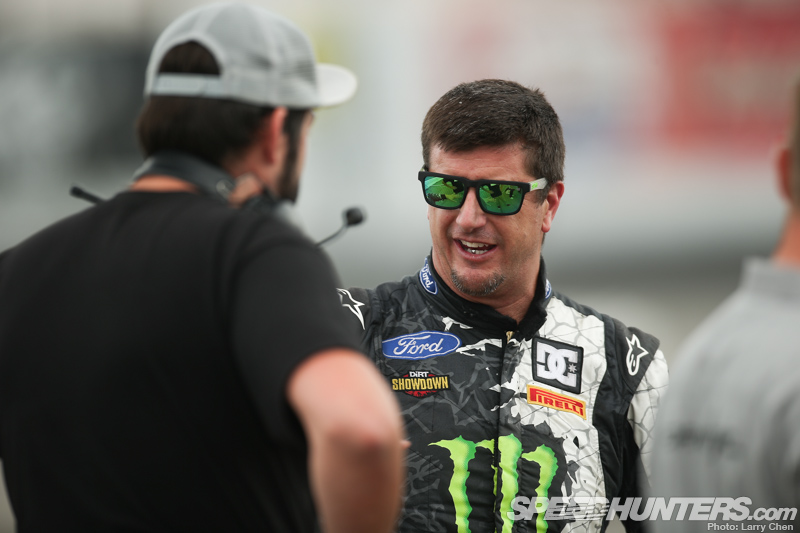 The crew just slapped on a new set of wheels and continued their quest for the ultimate AWD run on the Formula Drift course.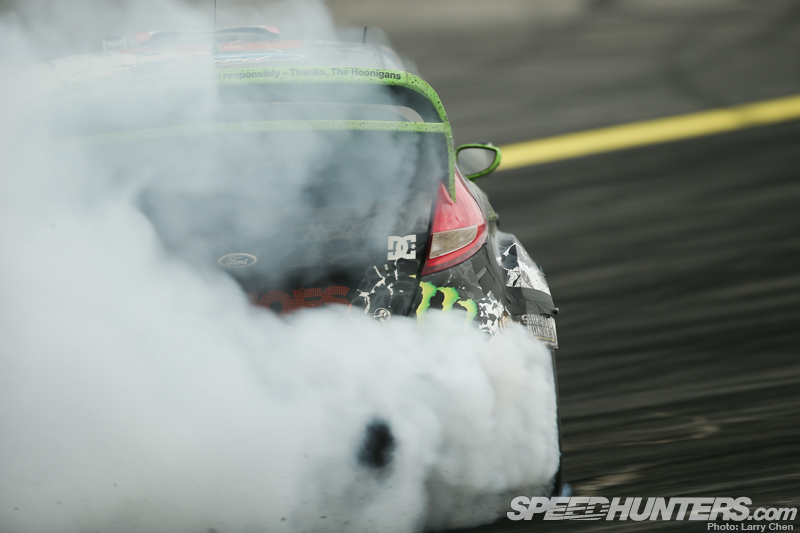 After absolutely destroying two sets of tires he was able to put down the run he was happy with.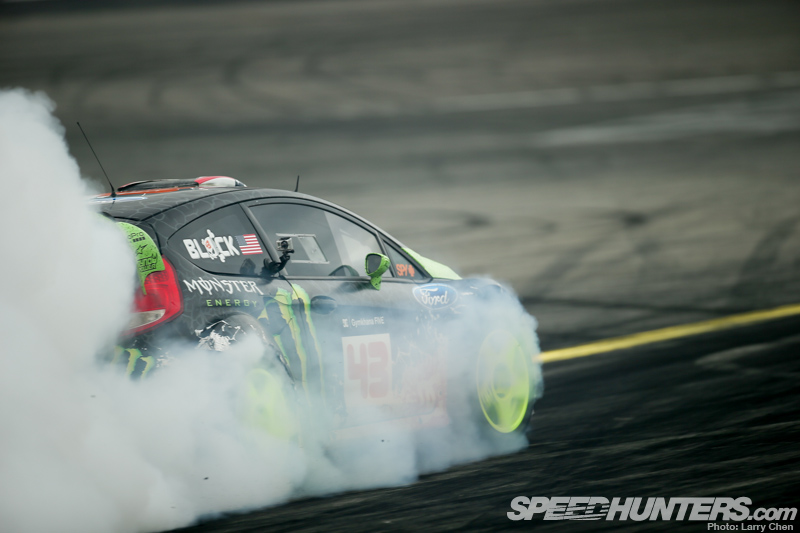 He finished the rest of the course in 4th gear. Most Gymkhana courses have much tighter corners so that was definitely something to get used to.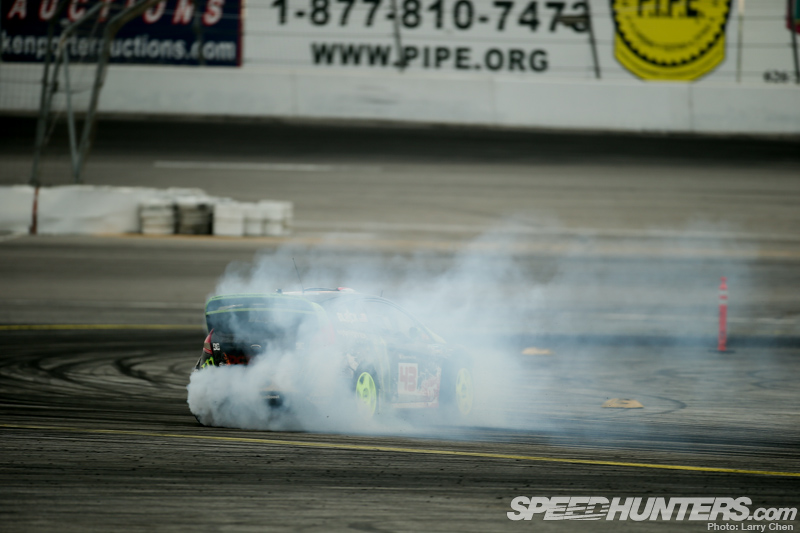 It is interesting because the team knew that the car was making enough power to spin all four tires at a high enough speed, but they were not sure if it could actually transition between corners.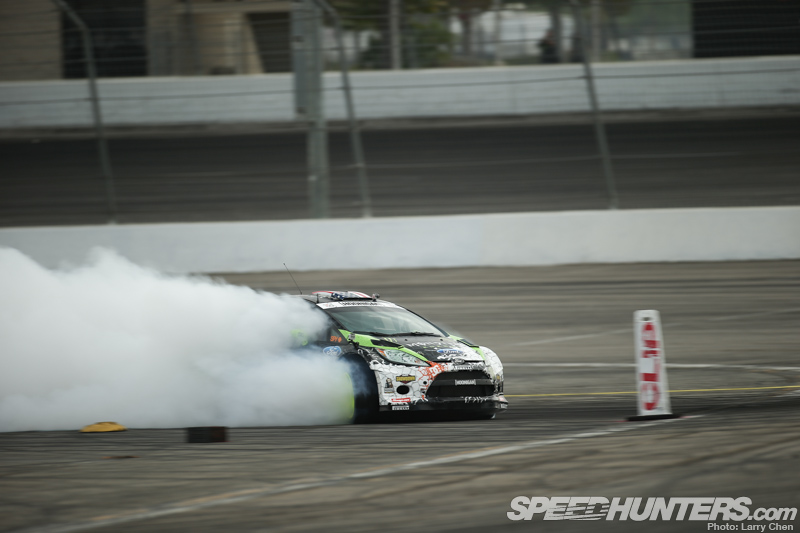 This was the home stretch, just one more clipping point and he is done. Nice A-pillar smoke eh?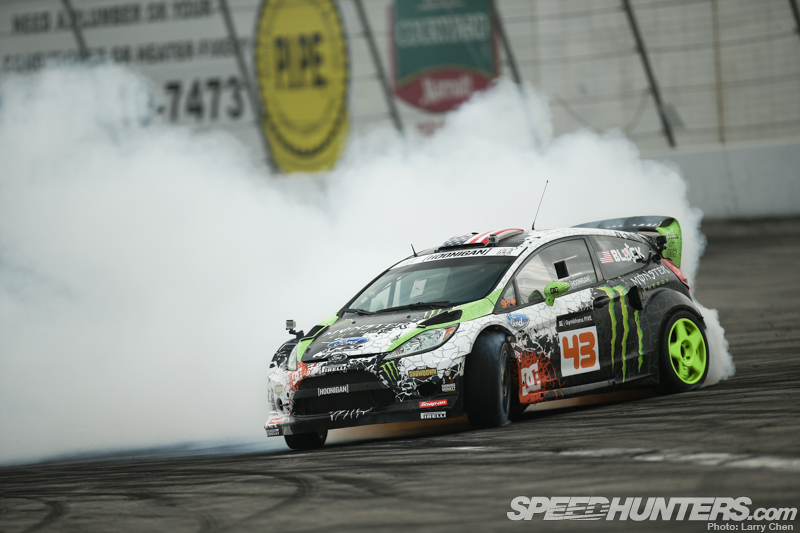 It is now proven that this Hoon-machine can not only connect the entire Formula Drift Irwindale course, but he can actually hit all the clipping points. Crazy!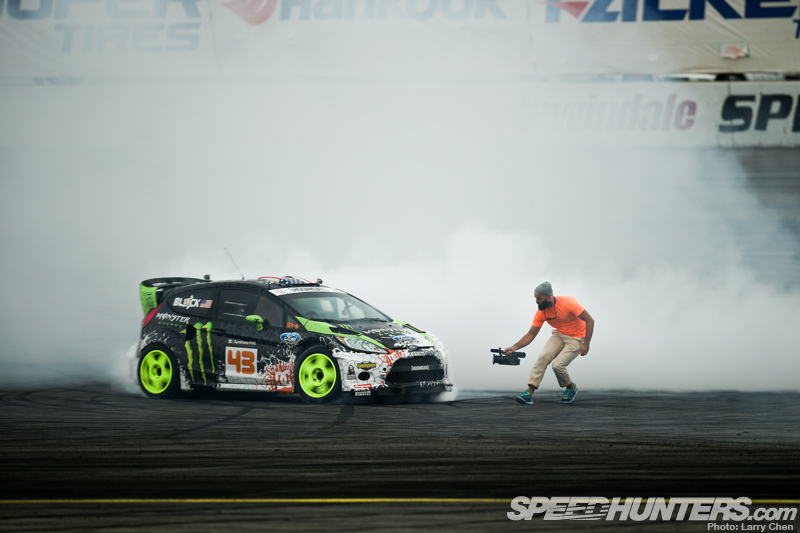 What better way to end the day than with some AWD donuts around a bearded camera guy.
If you have not seen the video then spend two minutes out of your day to check it out. Make sure you download a few desktops while you are at it.
Larry
larry@dev.speedhunters.com
Additional Photo provided by Andrew Bohan – Lifeblasters.com
More stories from Larry Chen on Speedhunters
More stories about Ken Block on Speedhunters
---
---
---