As each week passes, the popularity of the #IAMTHESPEEDHUNTER program grows steadily. I know some of you may have little interest in social media, but #IAMTHESPEEDHUNTER goes far beyond the social networks. Blake Williamson is about to provide you with a perfect case in point of this with his complete coverage of the recent Drift Matsuri which took place in Queensland, Australia not too long ago. If you feel up to the challenge of being the Speedhunter, all the details you need are at the bottom of this post. Blake, take it away … – PMcG.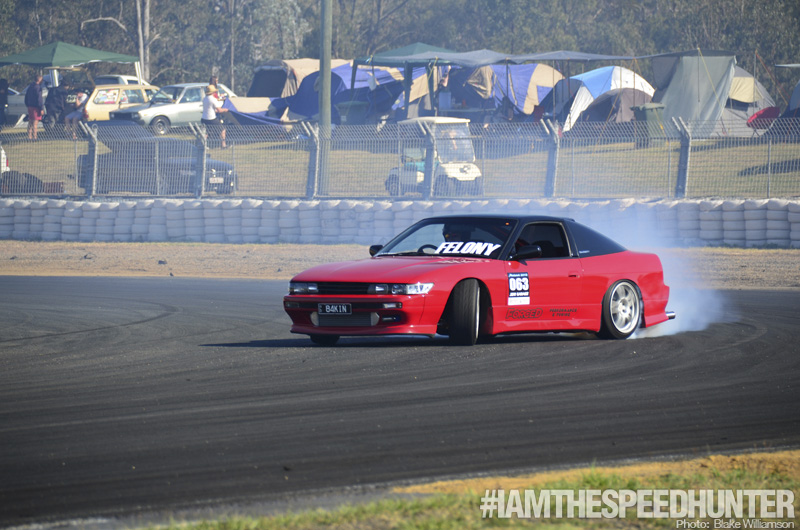 Queensland Raceway's Drift Matsuri inspired by the Japanese who run Matsuri at the famous Ebisu Circuit in Fukushima Japan, is one of the biggest drifting events of its type held within Australia. 200 drivers, a total driving time of 24hrs over two days and cars ranging from Silvias, Skylines, Toyota Cressidas, BMW and even Australia's own Holden V8 Commodore, this annual event is for those who enjoy a personal challenge of their skills and the power and speed of their car.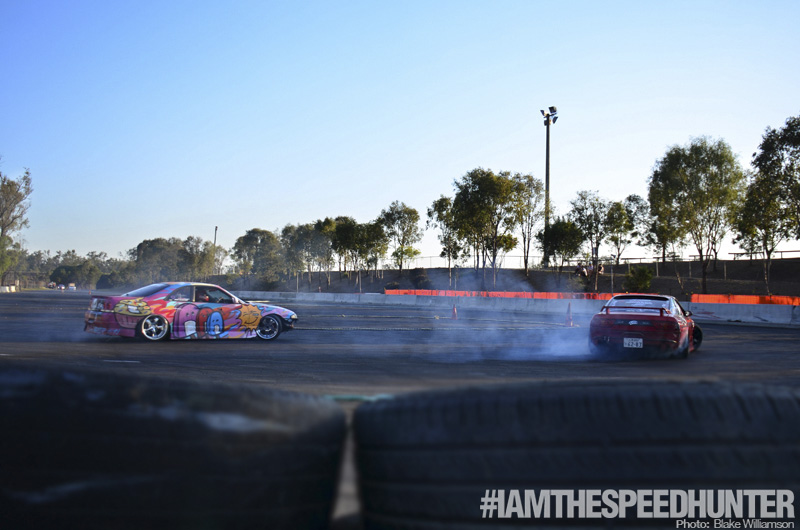 The event had 5 courses which drivers could take part in. The Short Track where drivers come within a centimetre of the concrete walls, and often closer, much to the delight of spectators! The Wet Skid Pan was also a load of fun, with many new beginner drifters learning the art of car control and testing out their cars, while the Full Track Event was cut up into 3 Sectors which saw the most intense displays of drifting you will see in Queensland.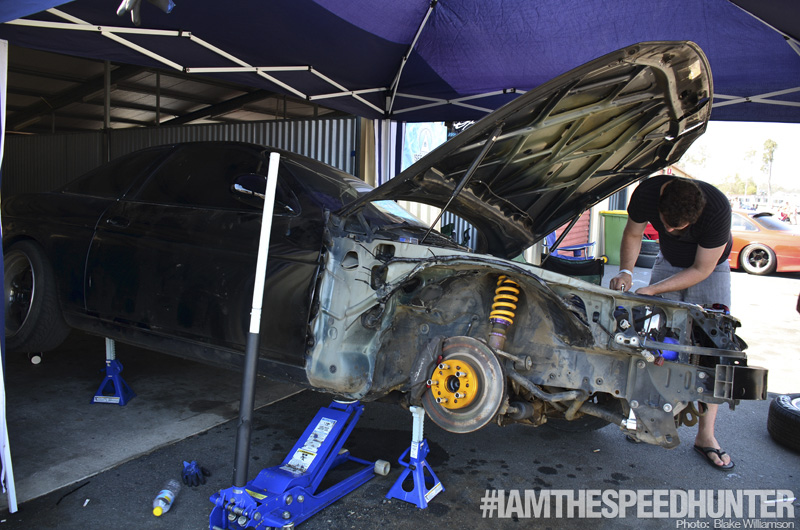 With clutches, gearboxes and even some engines giving out, crews worked franticly all day and night to get their machines back out on the track for Sunday's session. One team, in fact, rebuilt their engine throughout the night. The sheer determination of all the guys at Matsuri was amazing. And don't just think this is a "GUYS' SPORT ONLY"… one girl gave her S13 a thrashing on the Wet Skid Pan and Short Track for the majority of the weekend.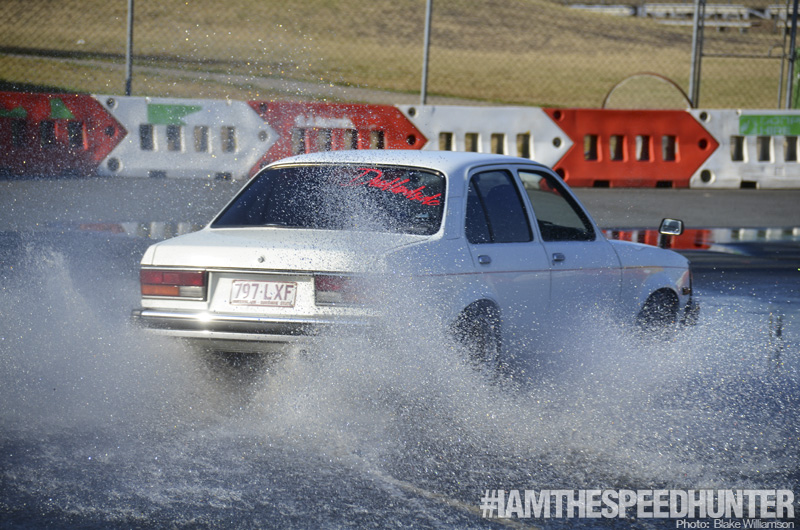 The Wet Skid Pan kicked off Saturday letting drivers get a feel of sliding and their cars setup.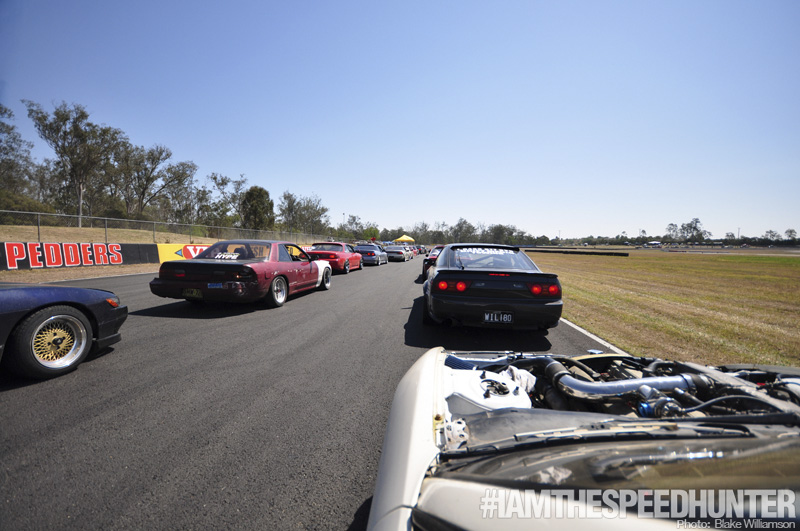 Cars lined up on the Full Track for the run around Turn 3 and 6 of the raceway. Some of the amateur guys got to do the famous "Trains". Getting together a perfect 9 car train sure got the spectators on their feet.
One drifter, Nigel Peitrie, made the trek up from Victoria to Qld Raceway (A 22hr drive) with his awesome "Engineered to slide" 180SX. Check out his neat fab work and builds here.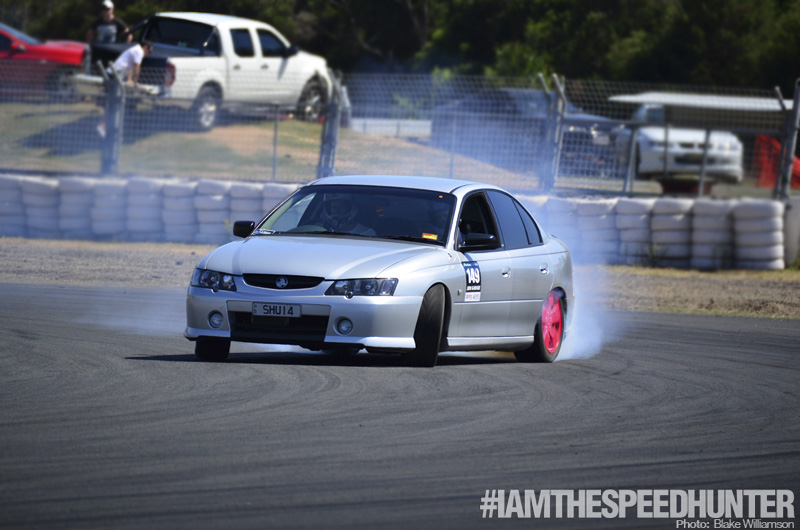 A site that many weren't expecting was Alex Schuler's Holden Sv8 Commodore. These cars are normally the family run-around-car in Australia but Alex took 10 pairs of tyres and gave the big full weight 1600kg Commodore a hiding. Making the most of the weekend with around 15hr's total on track time Alex only ever stopping to re-fit new tyres and to pick up passengers. And to bring home the point that Australia builds tough cars Alex then drove his car back home after the flawless weekend.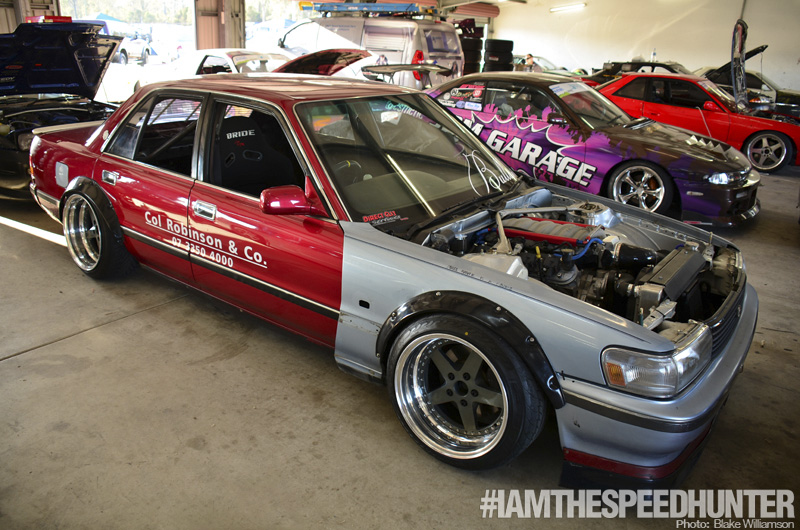 The mighty Ls1 V8 engines were popping up in everything over the weekend, from Toyota Cressidas to BMWs.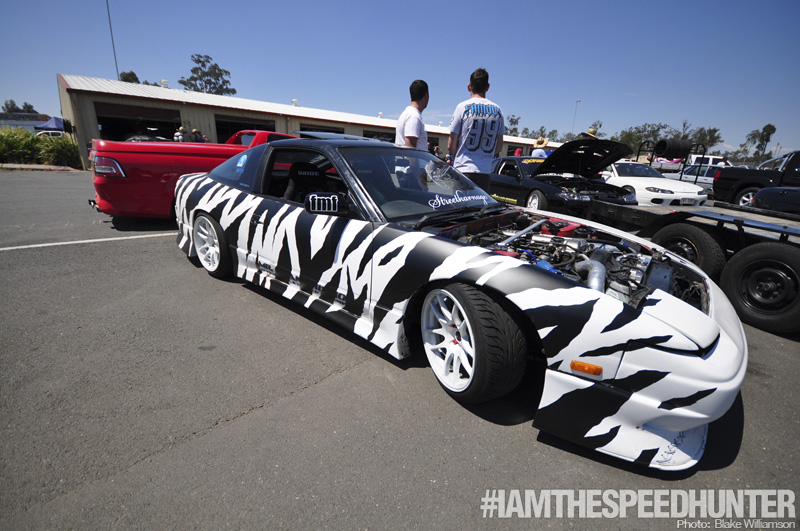 This 180SX really stood out from the crowd with its wild tear paint job.
Lunch time Saturday rolled around while a few opted to let their cars cool down and take a break many were still out on the track pushing their cars to the limits.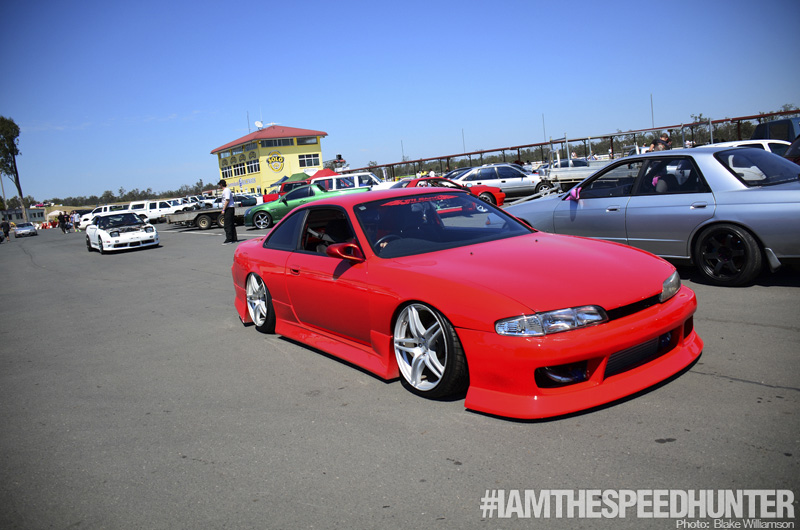 This S14 was one immaculate machine and the driver who seemed to favour the Short Track over the weekend made some crazy entries showing no fear.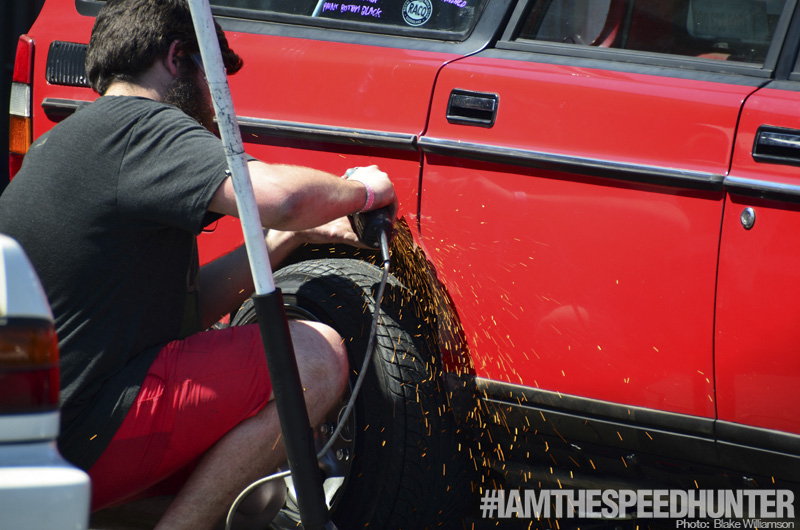 Ongoing repairs of engines/guards/suspension during the day and night were a common scene with these dedicated drifters.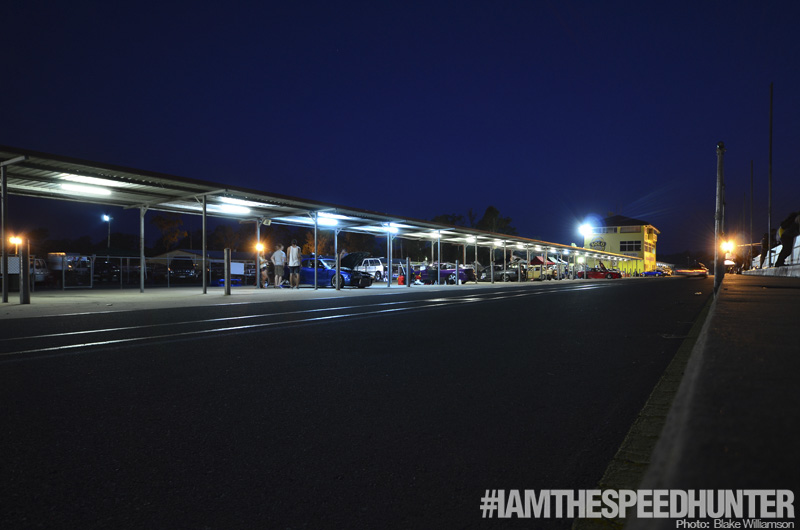 As dusk approached a few drivers in the pit lane fine tuned their car before heading out onto the track for some night drifting.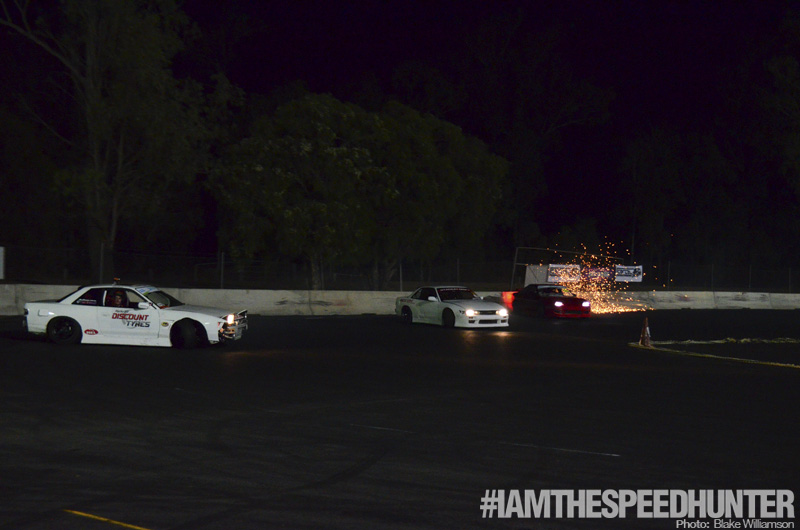 The short track got intense in the darkness, as more and more drivers got braver by taking higher speed entries and getting as close to the concrete walls as possible. Nigel Peitrie did just this,  throwing a wild set of sparks into the night air.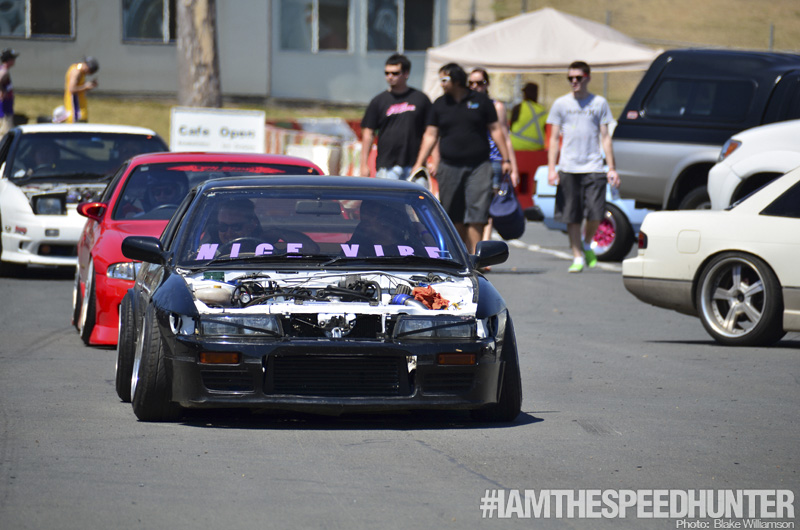 After only a few hours of rest, I arrived back at the track bright and early. Most drivers only got 4hrs sleep after working on their car all night in order to be able to get back on the track first thing Sunday morning.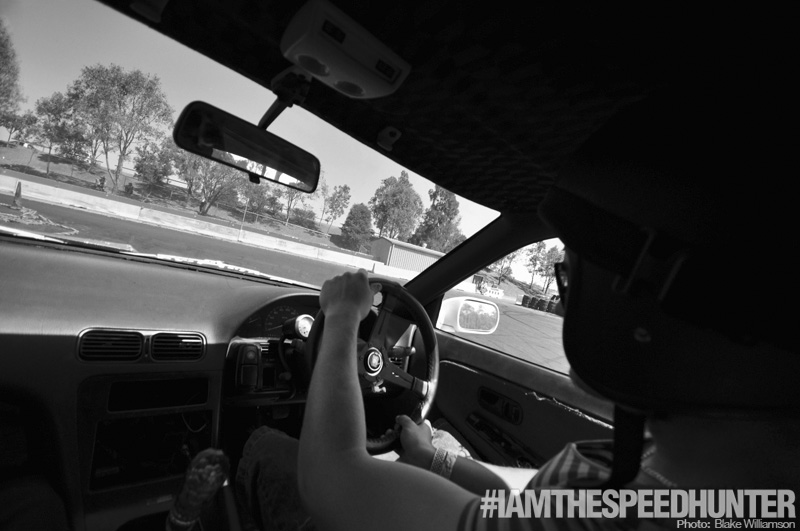 After experiencing the Wet Skid Pan and the Main Track some guys then headed over to the Short Track to give it a go.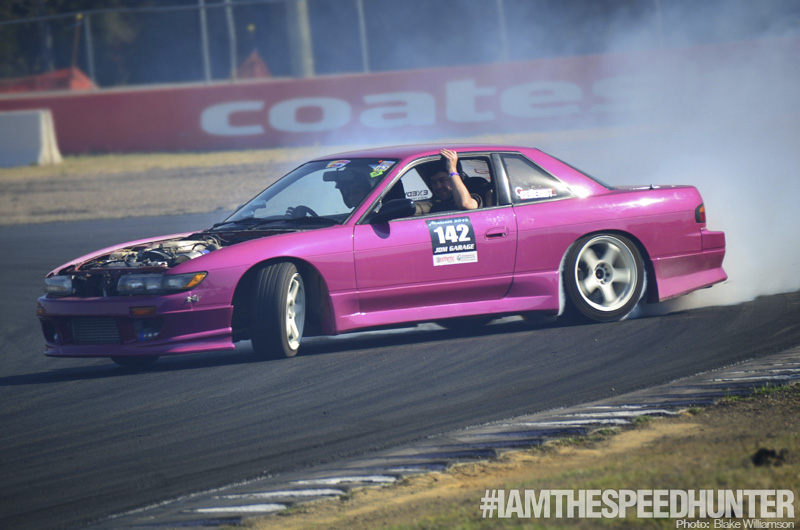 Here is Kody Nelson in his Silvia heading into the 1st turn of the Short Track.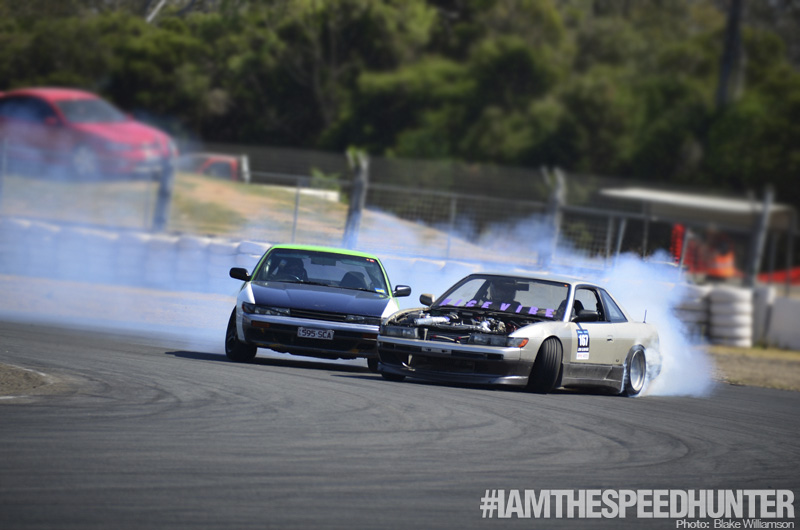 The weather was great over the weekend but Sunday was by far the hottest day, hitting 38 degrees by midday. The Main Track was going off with many insane entries into turn 6 providing massive amounts of smoke for the crowd's enjoyment.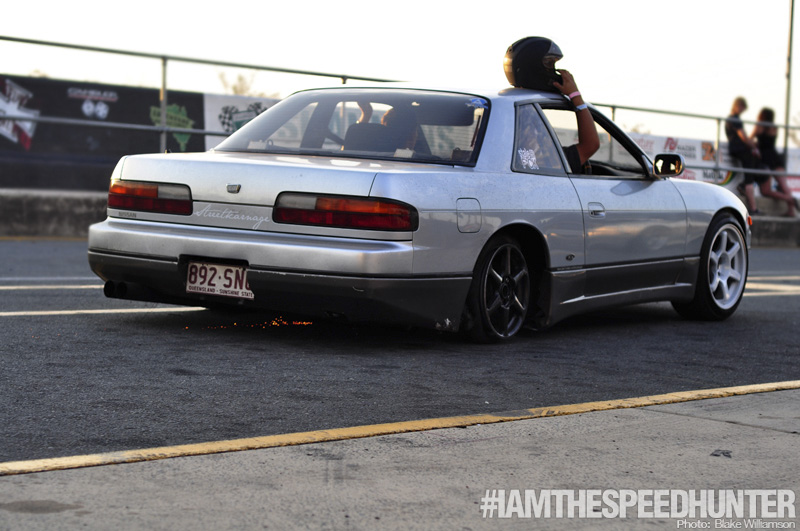 Some tyres had a very short life span but this did not stop drivers for long.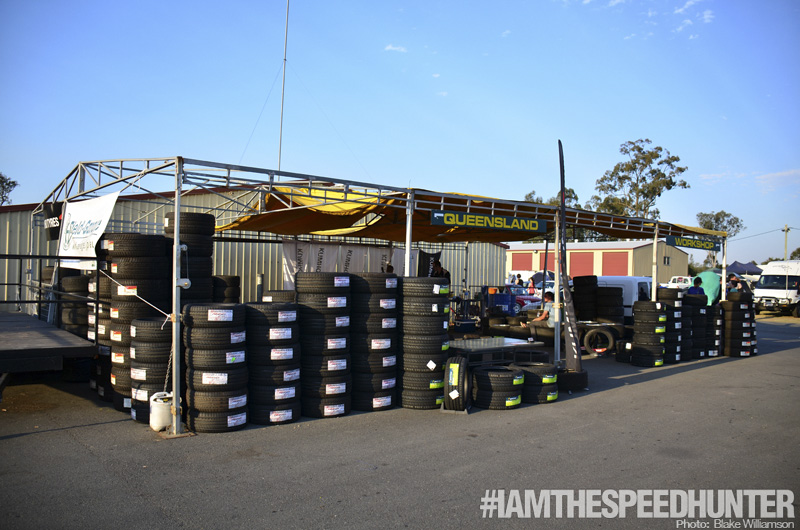 The tyre stand was operational all weekend so drivers could purchase or re-fit tyres, enabling them to keep their adrenalin rush for drifting going all weekend.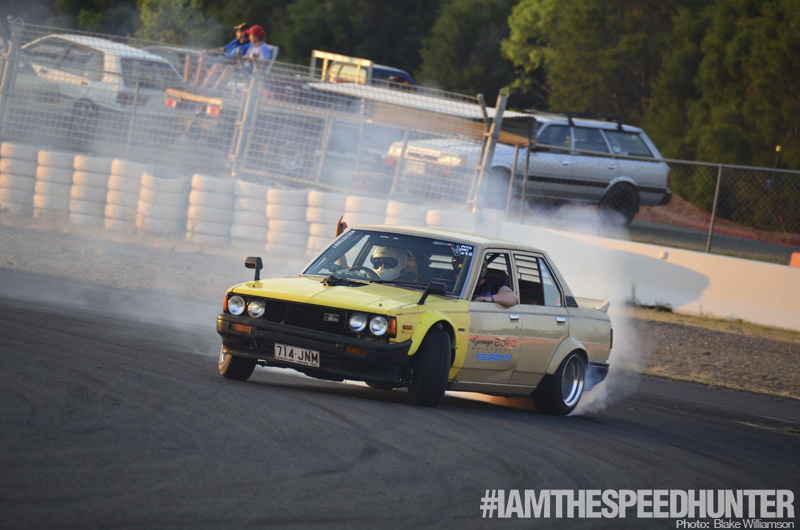 An awesome thing about Drift Matsuri is the relaxed atmosphere. With so much track time available, drivers could enjoy testing their driving skills to their hearts content.
This picture says it all! Great fun was had by all who visited Queensland Raceway from drivers to spectators. With everyone loaded up and ready for the trek home by 6:00pm, the biggest weekend of drifting at Queensland Raceway finally came to an end. What a weekend it was! Personally I can't wait to be back beside the track with my camera capturing the insane madness of these drivers in 2013.
–
Words & Photos by Blake Williamson
#IAMTHESPEEDHUNTER
About #IAMTHESPEEDHUNTER
We created #IAMTHESPEEDHUNTER to allow you the opportunity to share your skills and car culture experiences from around the globe with the rest of the Speedhunters audience.
How do you get involved? It's simple…
Instagram – Follow us on Instagram at @TheSpeedhunters and tag your own car culture images with #IAMTHESPEEDHUNTER
Twitter – Follow us on Twitter at @SPEEDHUNTERS and share your tweets with the #IAMTHESPEEDHUNTER hashtag.
Tumblr – Visit our Tumblr page to view the latest #IAMTHESPEEDHUNTER tagged images.
E-Mail – If you've been to a cool event and captured some amazing images, be sure to e-mail them to us oniamthespeedhunter@dev.speedhunters.com and tell us a little bit about the event. The images need to be a minimum of 800×533 pixels.
日本のSpeedhunters読者にお知らせです。
Speedhuntersでは、週一回#IAMTHESPEEDHUNTERにて、読者の皆さんから寄せられたカーシーンの投稿写真を紹介しています。
投稿写真は、カーレース、カーショー、イベント等、車に関するものならなんでもOKです。
Speedhuntersで皆さんの撮ったカーシーンショットを世界中のファンに紹介して、あなたもSpeedhunters記者の仲間入りしましょう!
#IAMTHESPEEDHUNTERには、ツイッターかインスタグラムにて簡単に写真を投稿していただけます。
上記方法で写真を投稿する際は、写真に#IAMTHESPEEDHUNTERのハッシュタグを付けてください。
また、メールアドレスiamthespeedhunter@dev.speedhunters.comでも投稿受付しています。
写真は、800×533 ピクセル以上のJPGのフォーマットでお願いします。
上記サイズより小さい写真ですと、すばらしい写真でもサイトの写真サイズの関係上掲載できないことがありますのでお気をつけください。
投稿された写真は世界中のSpeedhunters読者とシェアされますので、あなたのベストショット写真を投稿してくださいね!
また、写真に併せてどういった写真なのか、どこで撮られた写真なのかの説明と投稿者様のお名前を明記の上投稿お願いします。
皆さんからの投稿お待ちしています!