The smoke has finally settled and for the first time in Formula Drift history an FD rookie wins the Championship.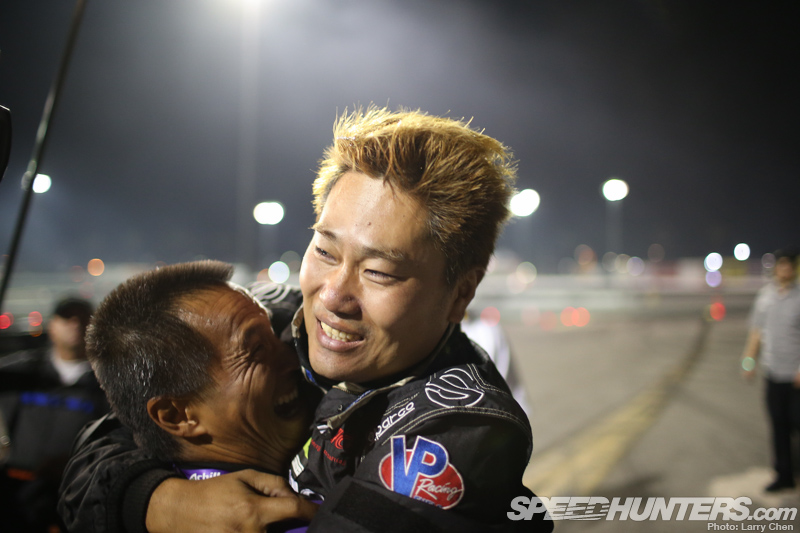 Daigo Saito won the championship by a mere 19.5 points after finishing in 1st place at Irwindale.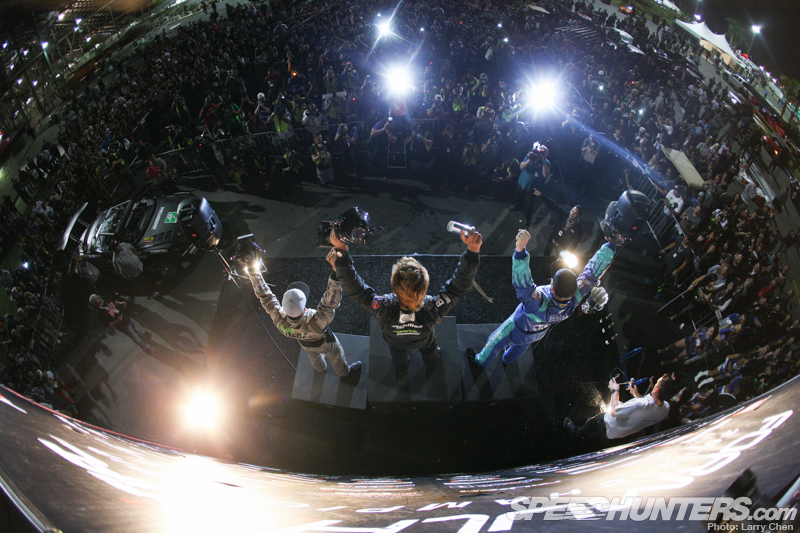 He has said time and time again that he would not try to compete in Formula Drift until he had a real chance at taking the championship. This year he entered FD with the notion that he was ready. He was.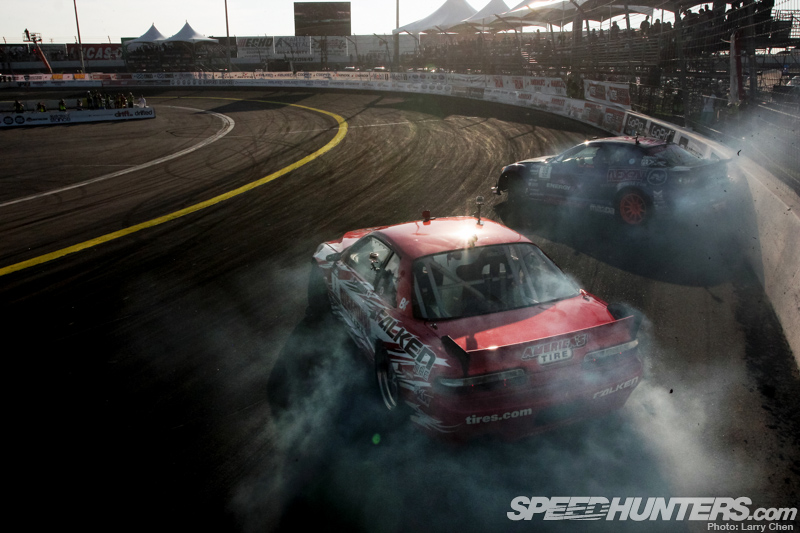 This is the final event of the year which was very evident from the way the guys were driving. There was no point in holding back at all and as a result, walls were scraped and bumpers smashed. It was an awesome event in its entirety, but here are a few of highlights.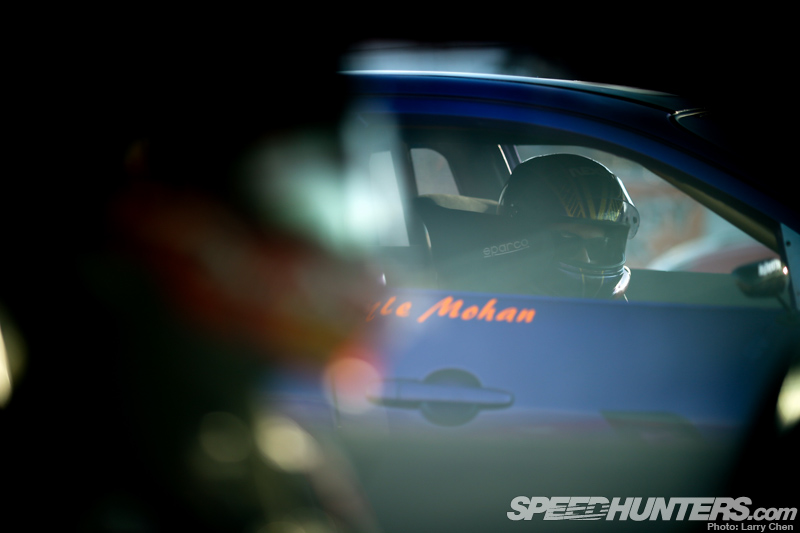 For some reason Kyle Mohan always draws Daijiro Yoshihara in competition and he has always lost to the Falken driver. This time he finally got his revenge and knocked Dai out of the top 32 bracket.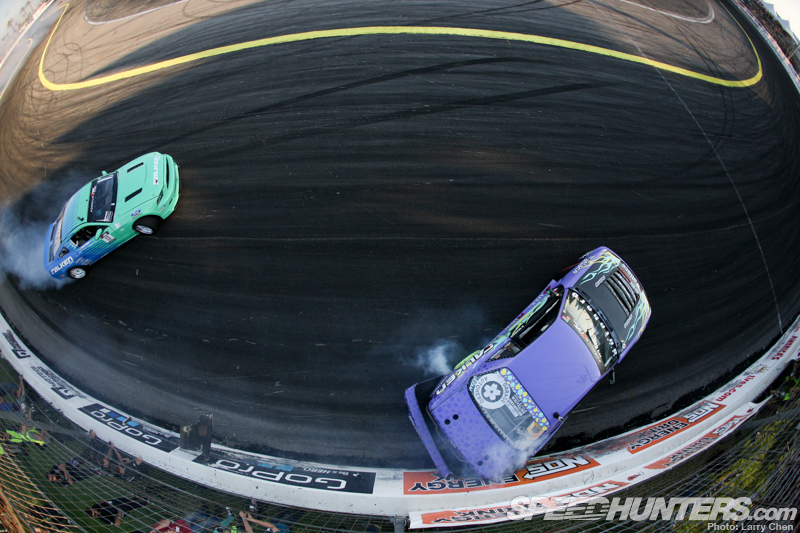 The carnage began early in the top 32 with Walker Wilkerson going into the wall.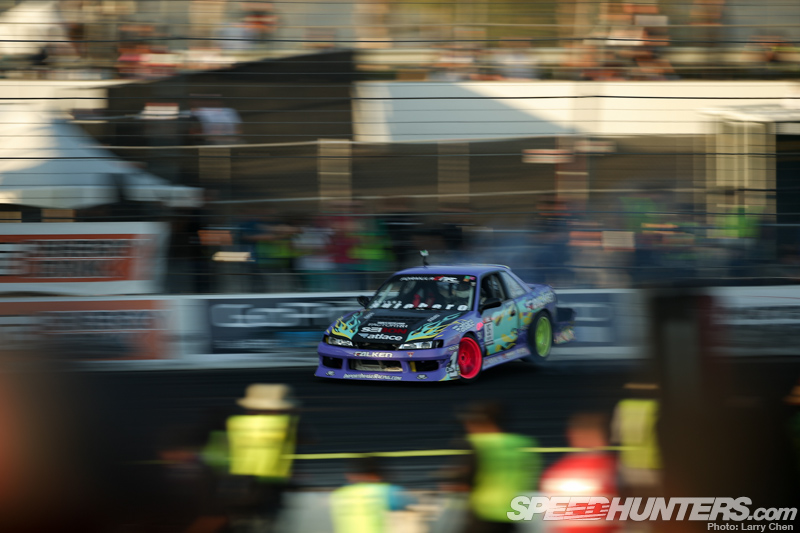 He did not just tap the barrier, he literally rode the wall and the car lifted the rear several inches off the ground!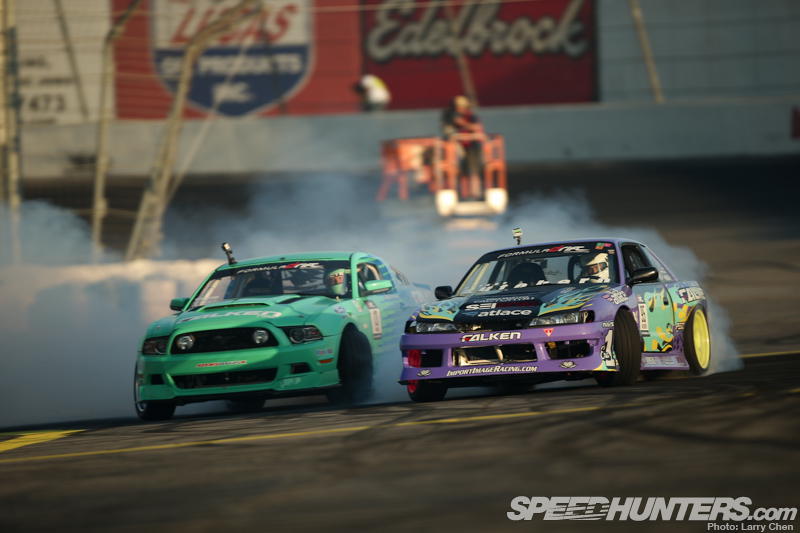 Amazingly he did not lose drift. He just kept on going and he finished his lead run with Justin Pawlak.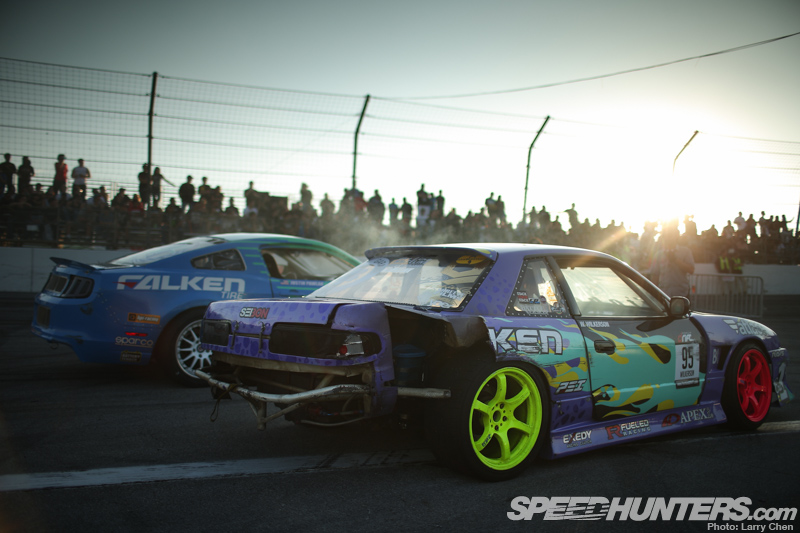 Justin would move on, but I have to give it to Walker for putting on such an amazing show.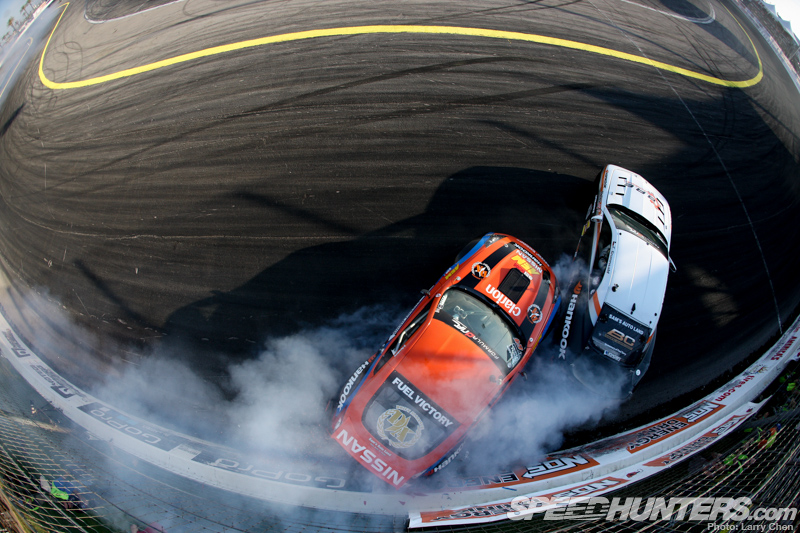 Next up was Chris Forsberg and Conrad Grunewald which did not end so well.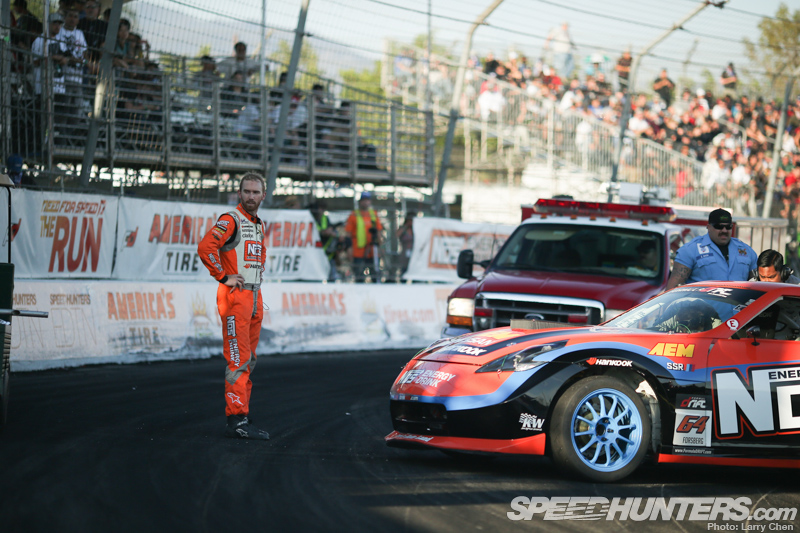 Conrad hit the wall and Chris was following very close. The two collided with each other  which sent Chris' rear end into the wall, sucking the rest of the car along with it at which point he was merely a passenger. It has been tough for Chris as he has had a string of back luck to close out the season.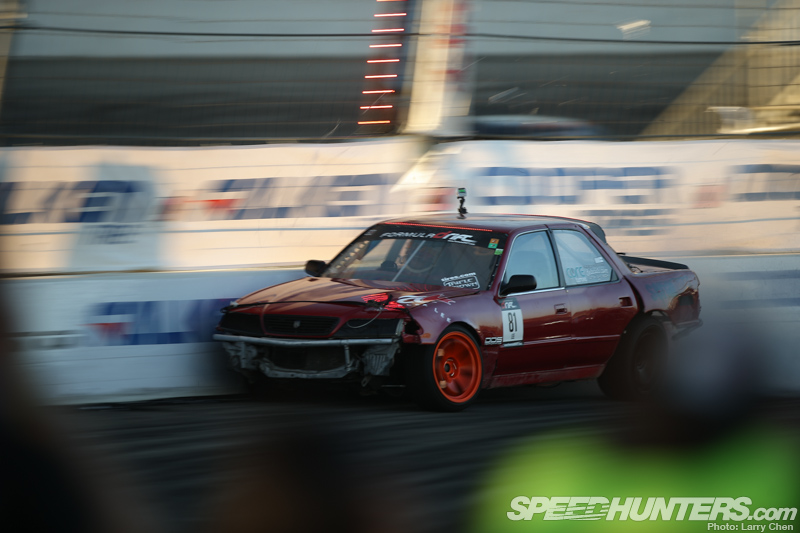 For someone who does not compete very often, Alex Lee always seems to do very well.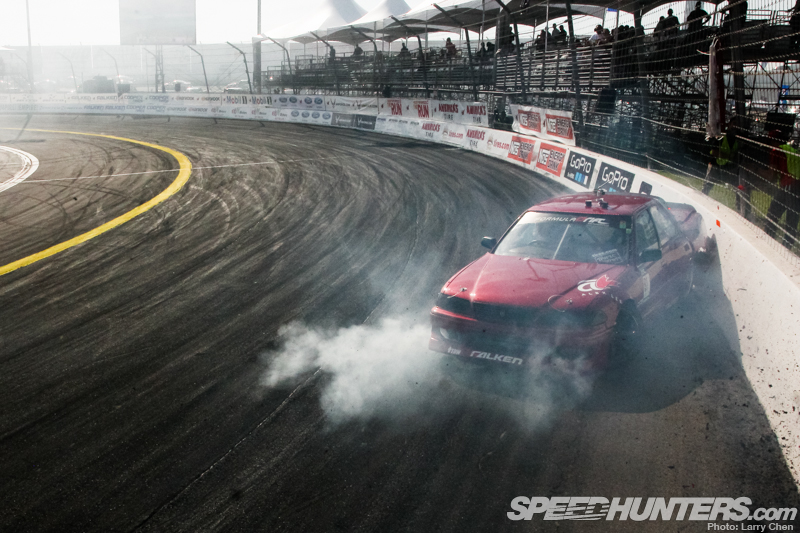 I think he has outgrown his car if I'm honest. It is severely under-powered and over-weight, yet he manages to get into the top 16 with ease.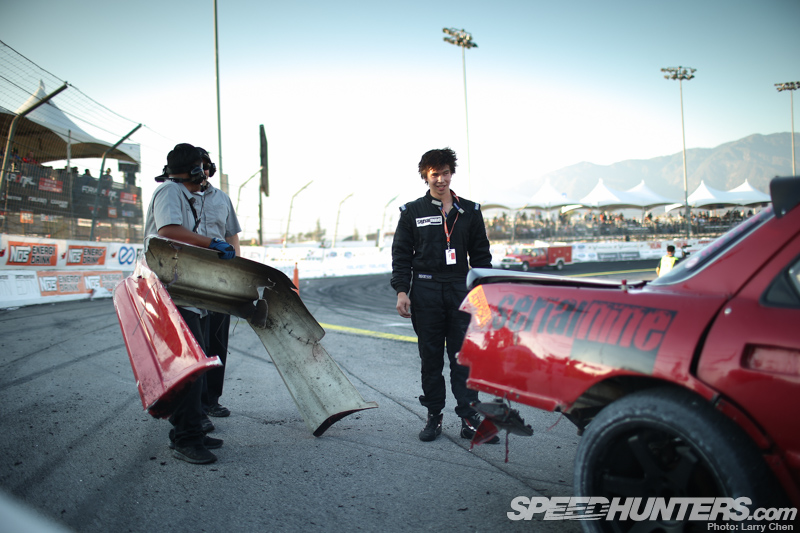 Unfortunately for him this time he too ended up in the wall which took him out of the top 32 bracket. I am sure he will come back next year fighting.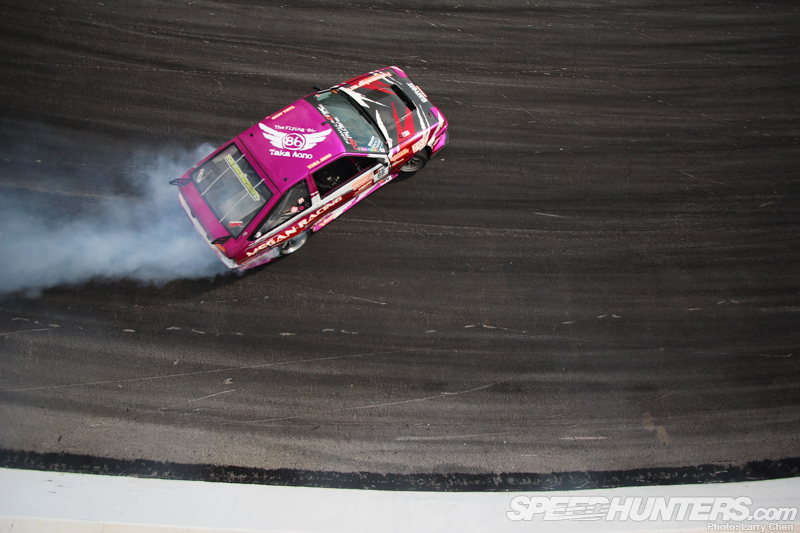 One of the few drivers who has never missed a Formula Drift event is Taka Aono. It is unfortunate, but the team has been dealing with mechanical issues all year long.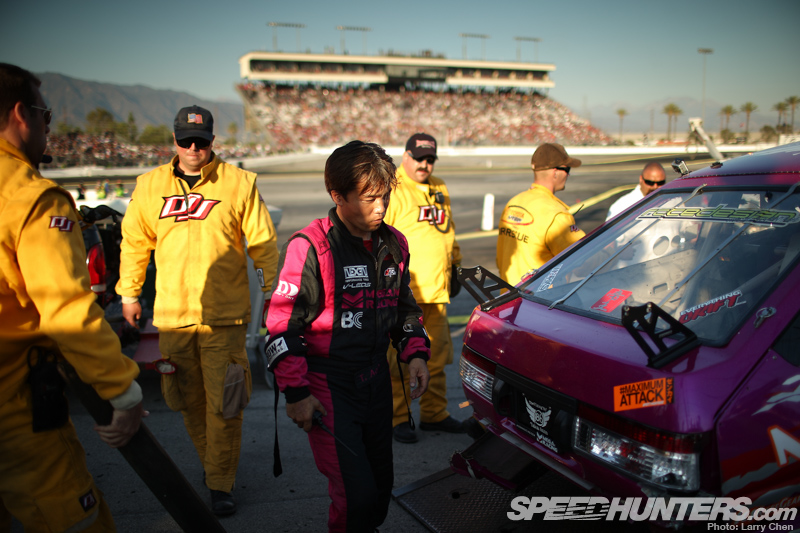 Taka was the first road block in Daigo Saito's final stretch of road to the championship. On his follow run Taka found the wall and took himself out. Time and time again Taka gets right back up after being knocked down and I don't think anything will be able to break this man's spirit. I hope he can gather up his team once again for another shot at glory next year.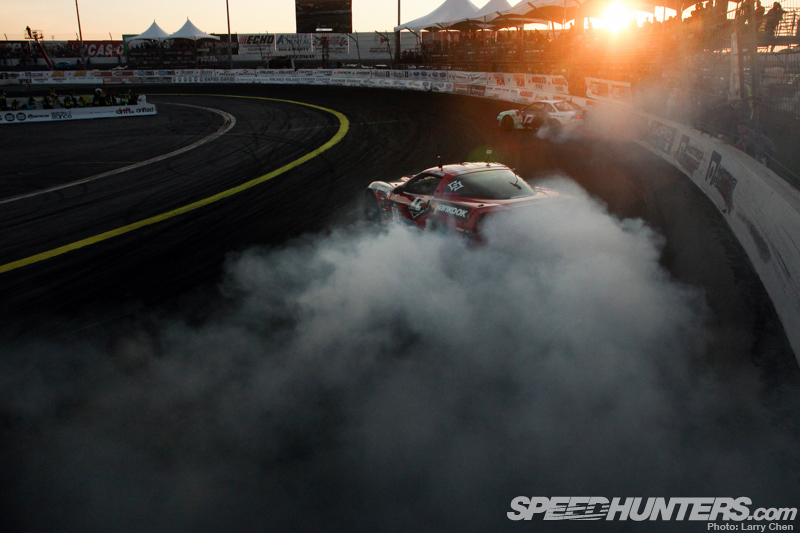 The last battle of the top 32 bracket was between Matt Powers and Luke Lonberger.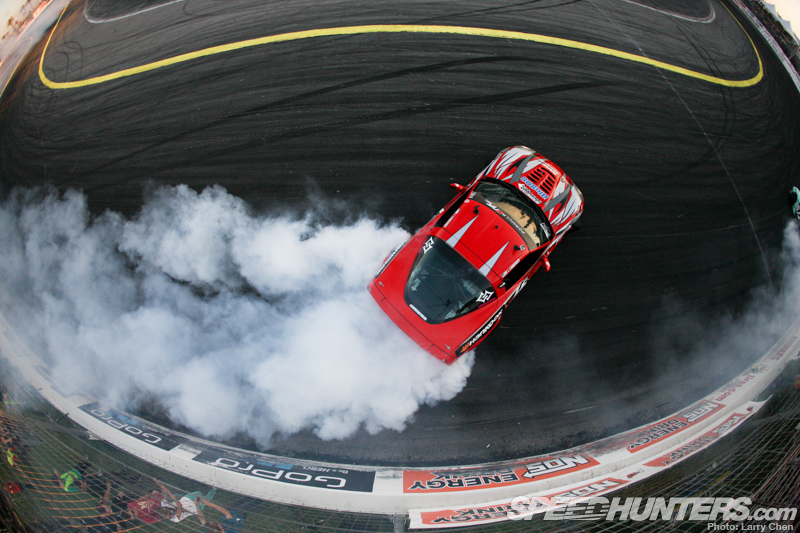 It actually looked as if Luke was going to take the win, but after the judges debated for a while they decided to give the win to Powers.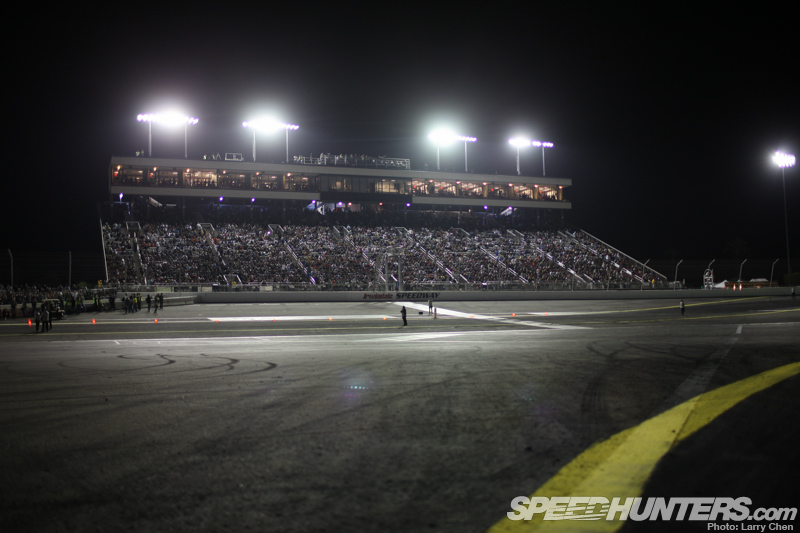 As night fell the stands got more and more packed. The event was 100 percent sold out before the gates opened and by now all of the ticket holders were trackside. It was pretty much standing room only surrounding the entire Perimeter of the track.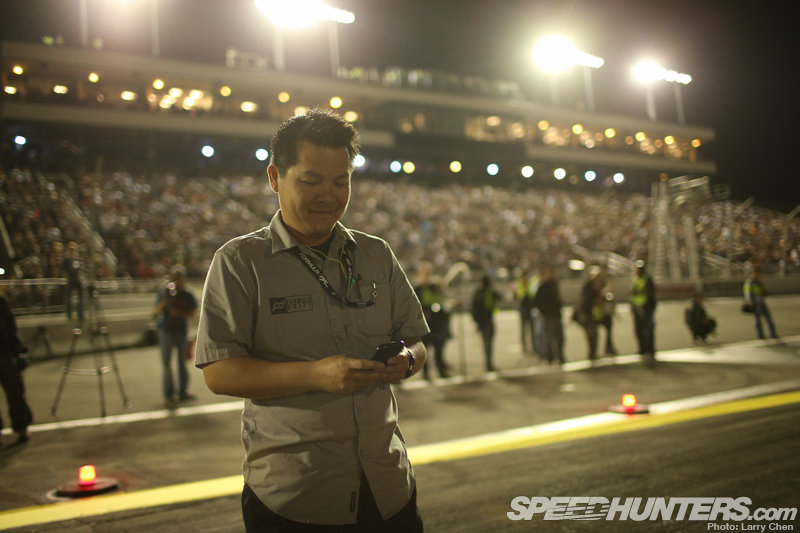 President and co-founder of Formula Drift, Jim Liaw, had his happy face on.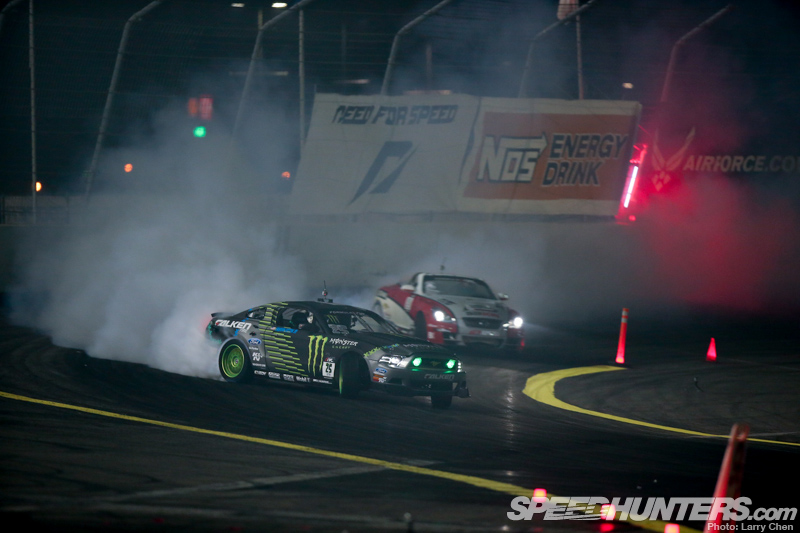 The most talked about battle of the entire event was between Vaughn Gittin Jr. and Patrick Mordaunt. For Vaughn to win the Championship he had to win this battle which would have statistically eliminated anyone else from being able to claim the title.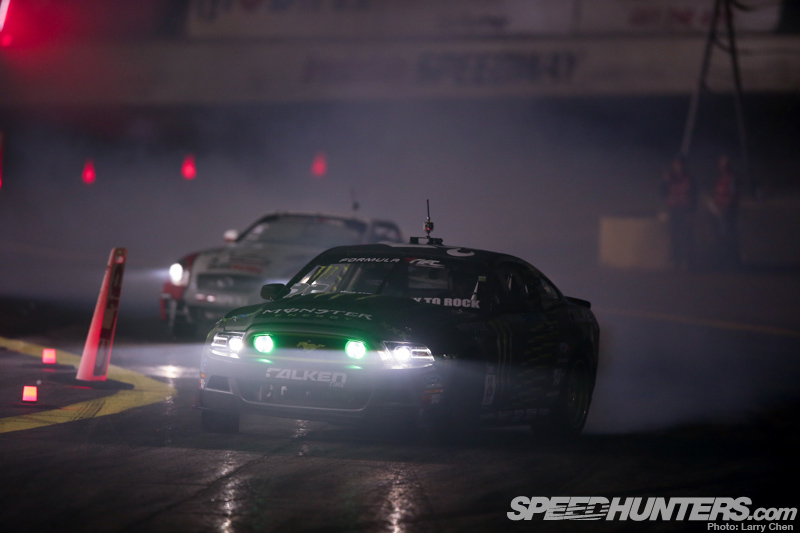 It looked like he was going to take it very easily as he gaped Patrick very badly in the first run. For Vaughn's follow run he left some room to catch up, but spun out on his own accord gifting Patrick the win.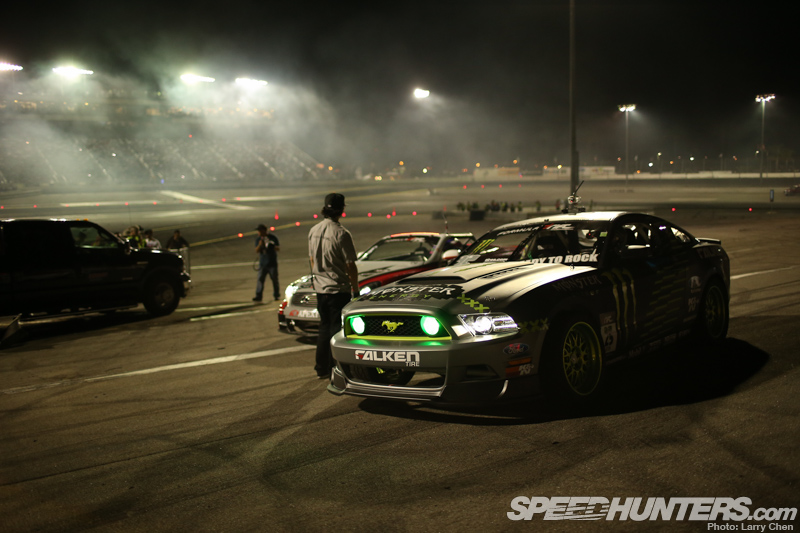 The tension was very high as he was forced to sit and watch his second potential championship at stake from the sidelines.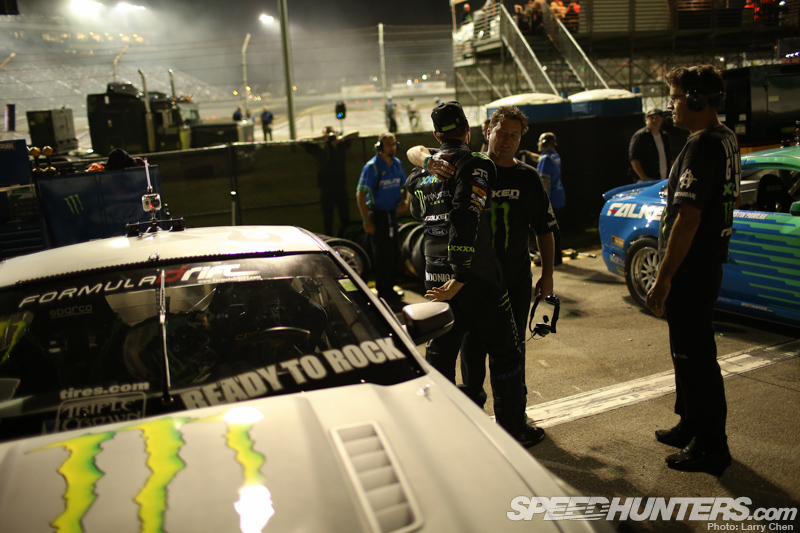 He kept his cool and thanked his crew members for all their hard work over the season.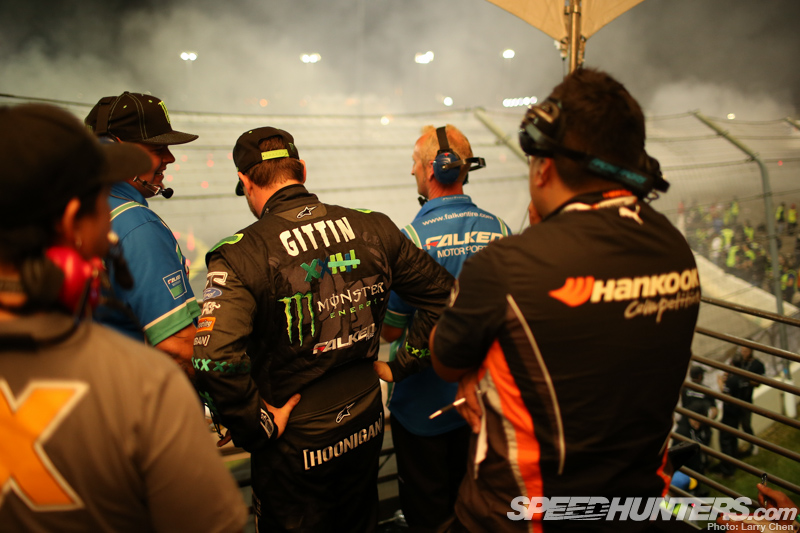 Then he just watched as the the rest of the event unfolded. Daigo and Rhys would have to get knocked out in some shape or another for Vaughn to keep his lead.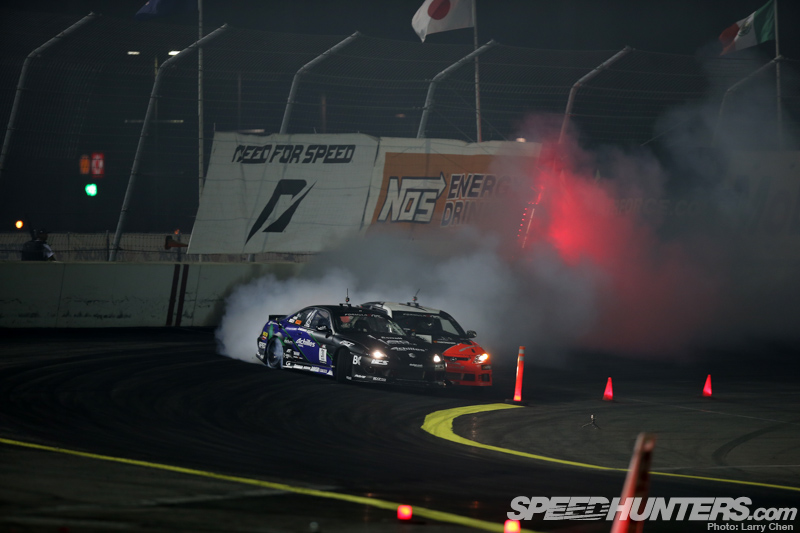 Next up was our very own Fredric Aasbo in the Need for Speed Scion tC, against Robbie Nishida in the Lexus SC300.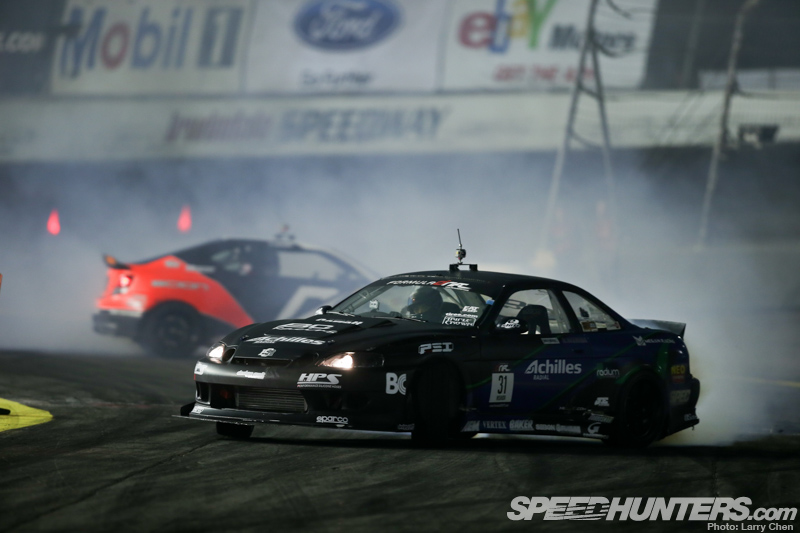 Both drivers did very well on Fredric's lead run, but on Fredric's follow run he tapped Robbie coming off the bank. Unable to recover from the hit he spun out and like that, his season was over.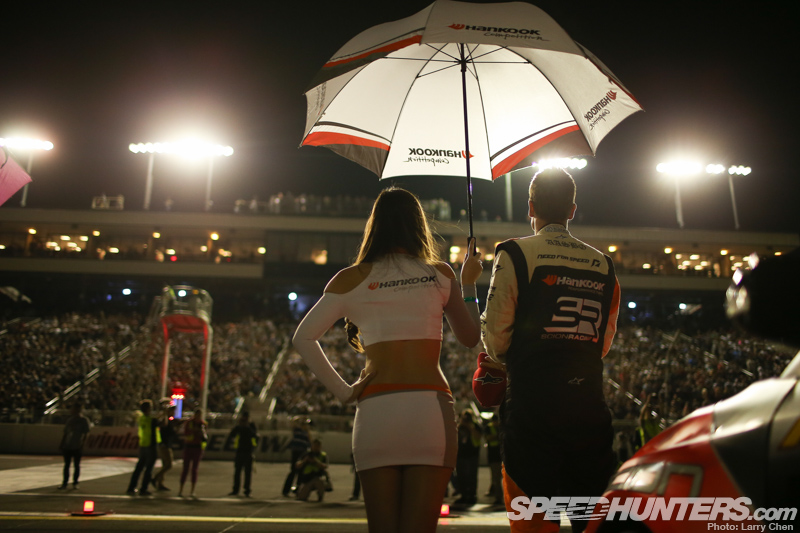 Fredric would finish 6th in the points ranking which is the best result from the Norwegian hammer. I know for a fact that he will be chasing the championship next year.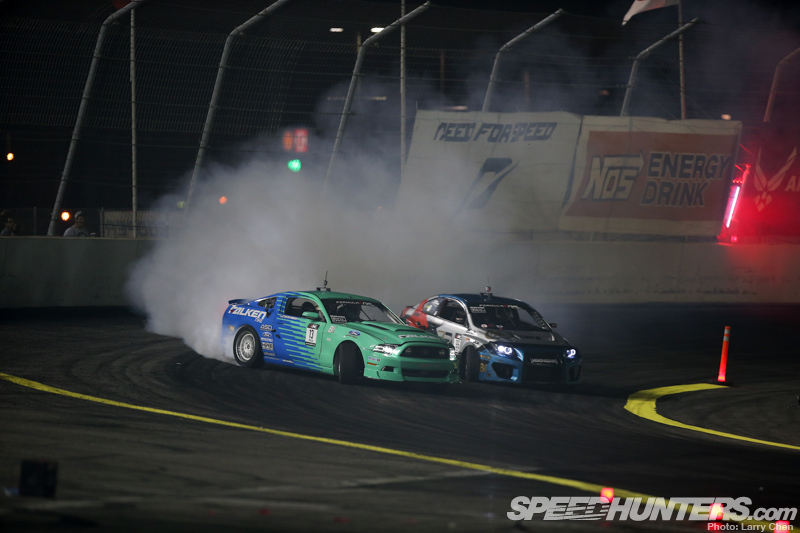 The top 16 bracket also had its fair share of wrecks. Drift Alliance brothers Tony Angelo and Justin Pawlak battled it out door to door.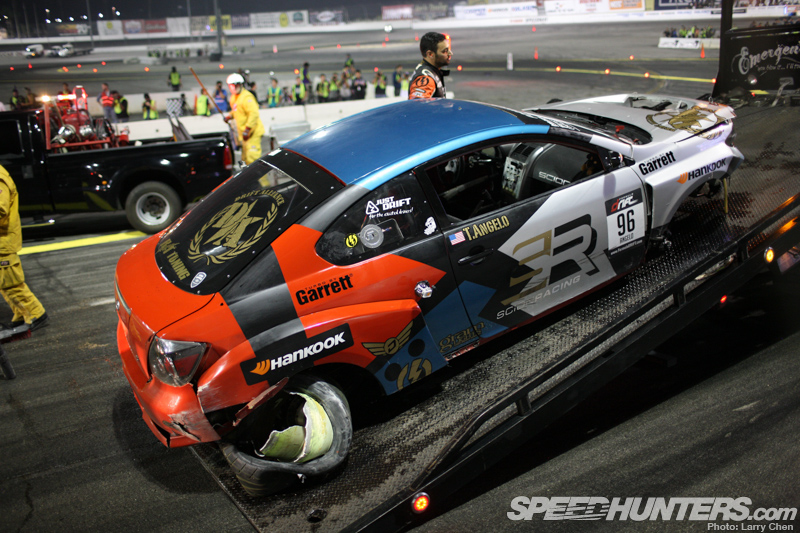 Tony just took it in way to hard and had a massive hit on the inner bank.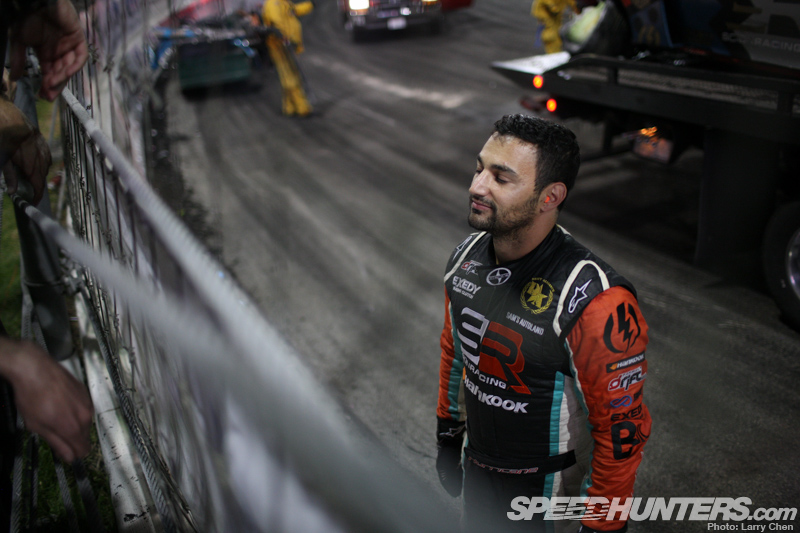 He was ok, but surely kicking himself for not putting up a better fight. Hopefully they will be able to button the Scion up for next season.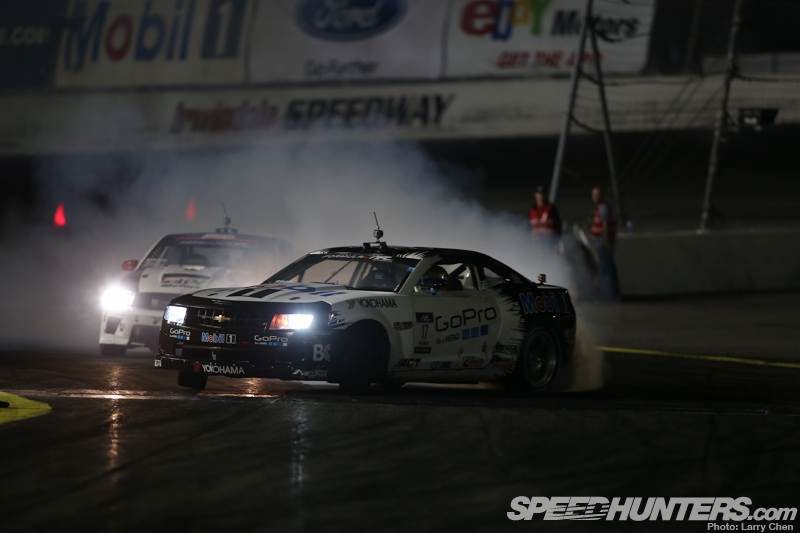 The wrecks did not stop coming just yet as Tony Brakohiapa practicly mirrored Tony Angelo's wreck going against Tyler McQuarrie.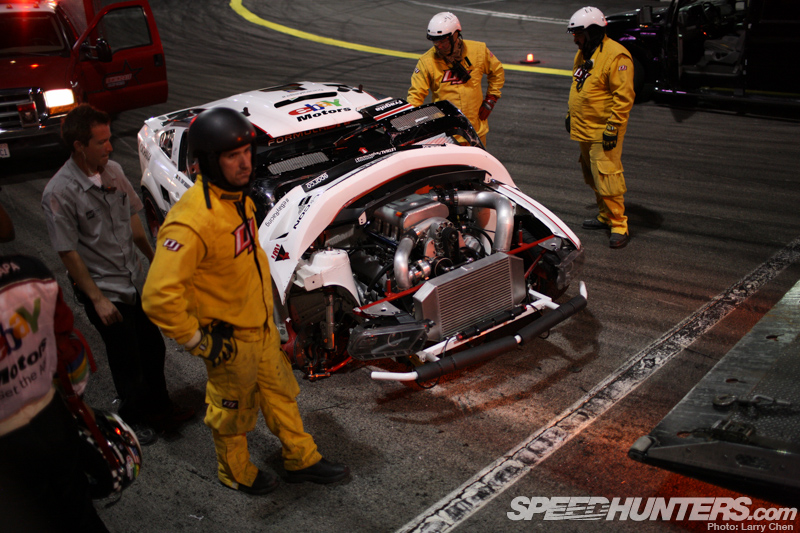 They have been suffering mechanical problems all year and it seems like they finally sorted it out for this event. It was a shame that it had to end this way.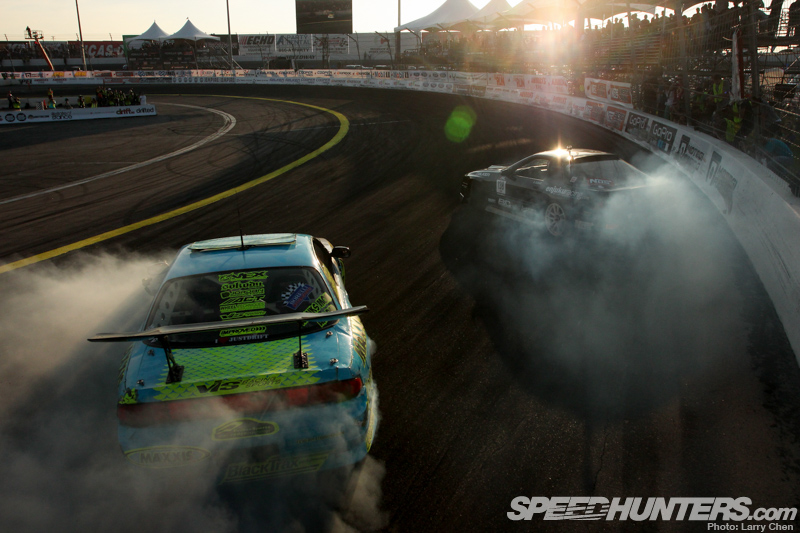 The breakout performance of the event came from Mr. Hollywood, also known as Matt Field. I have always known he was a competitor to watch out for, but this time he literally let it all hang out.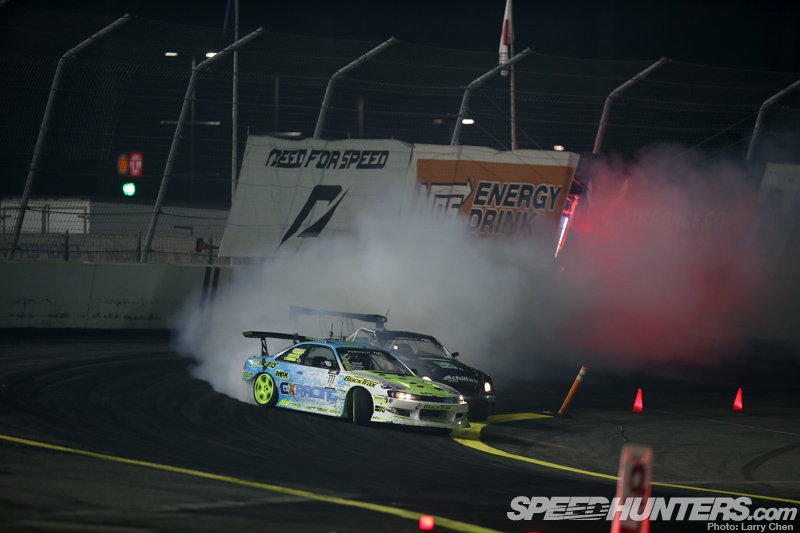 After knocking out Jeremy Lowe in the top 32 he went onto knock out Ken Gushi in the top 16. In the top 8 bracket he met Daigo Saito.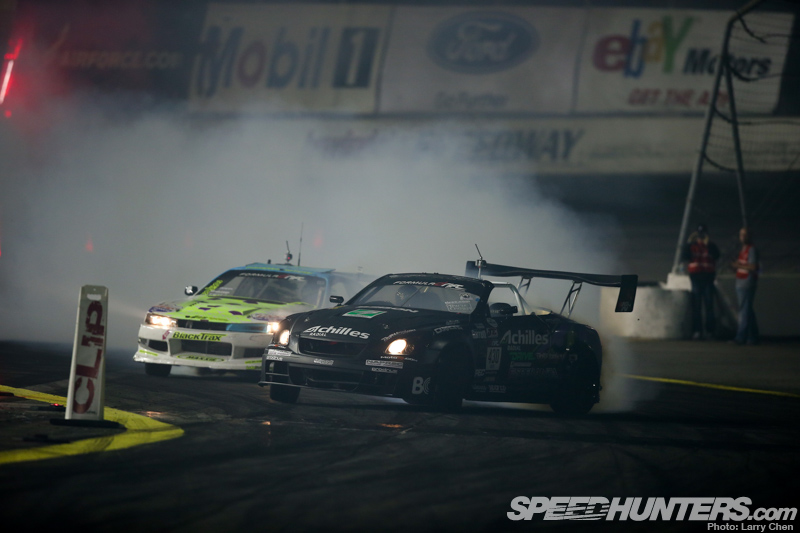 This was when things got interesting. He was scraping the wall on the inner bank every single time at this point. The judges could not decide after the battle so they called a One More Time. Daigo would knock Matt out, but the outcome of the championship could have been very different if Matt took the win. Kudos to him for such an awesome performance, it goes to show that you can be competitive with a budget build as long as you have the balls to throw it in hard.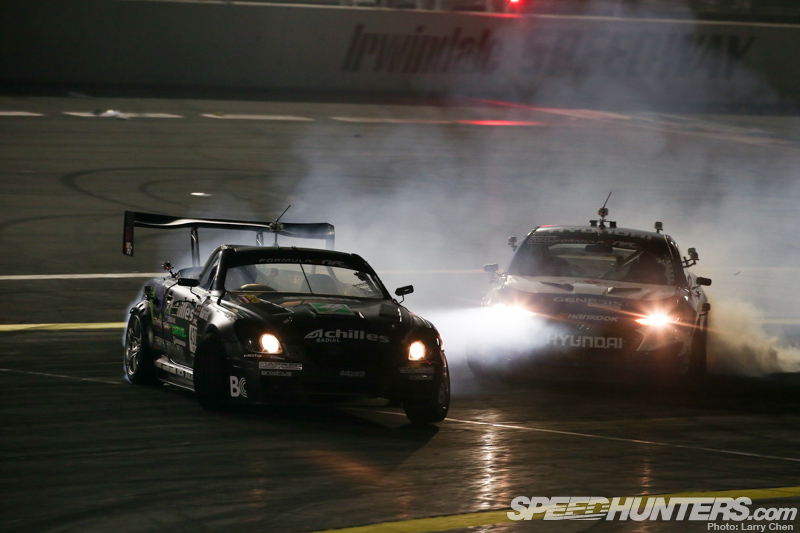 After seven events, and all the spills and thrills you could ask for, it all boiled down to one final battle – the battle for the championship. It was Daigo Saito vs. Rhys Millen… there could only be one.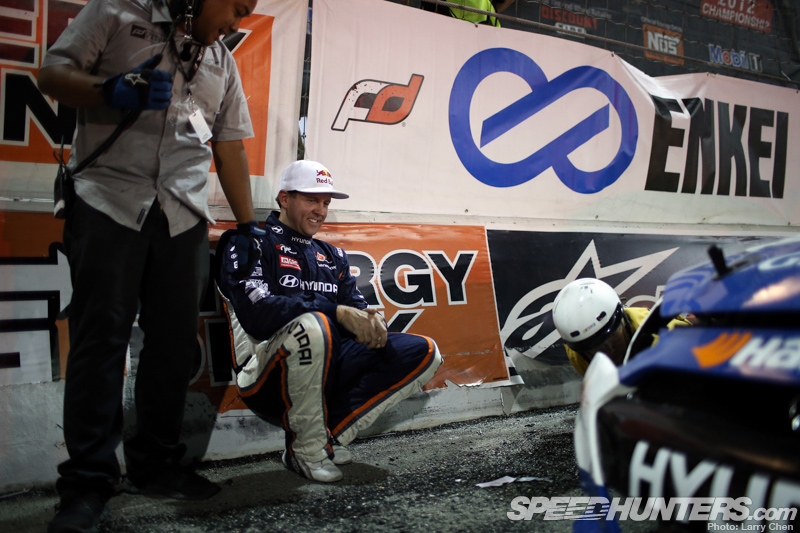 Rhys was all smiles after his crash…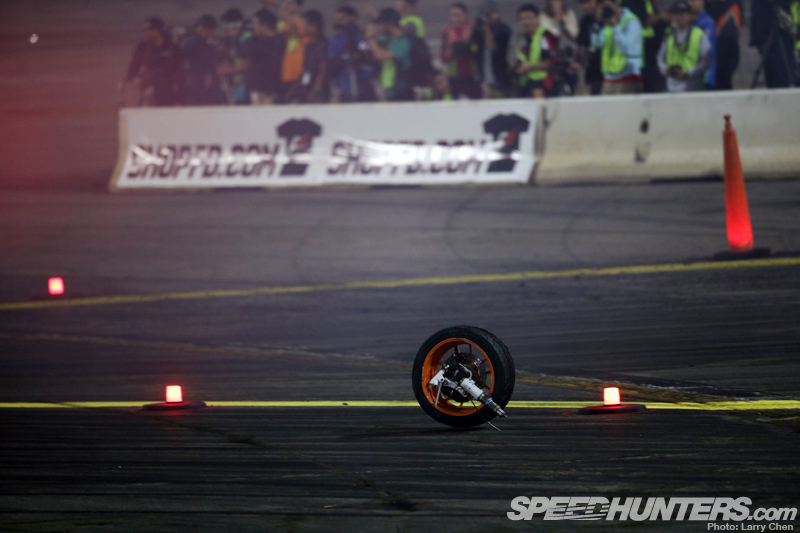 …as his wheel, with suspension still attached, rolled away, taking his hopes for the title along with it. Maybe he was just plain happy or perhaps he knew that he was pushing as hard as he possibly could. Either way I hope he finds a major sponsor for next year because we would hate to see him not competing in Formula Drift after getting this close to earning another Championship.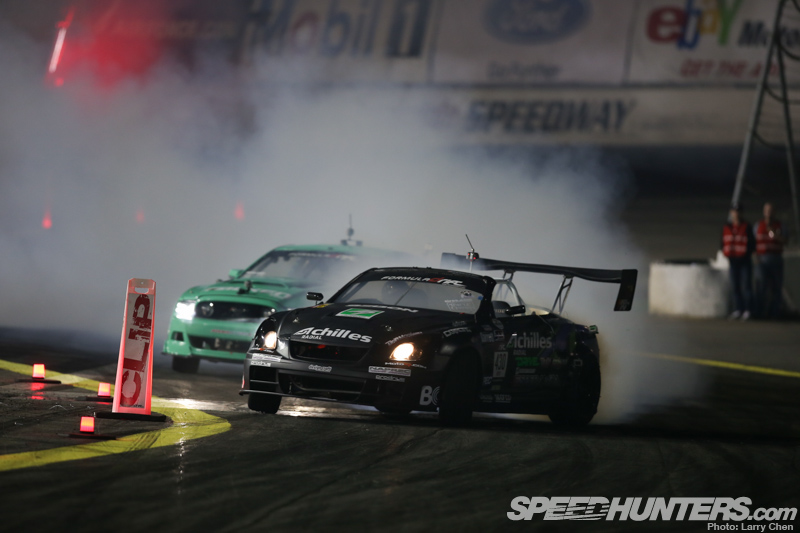 It was now up to Daigo and Justin Pawlak to settle a rivalry that was started back in round 3 at Palm Beach. Both drivers had nothing to lose so they went all out.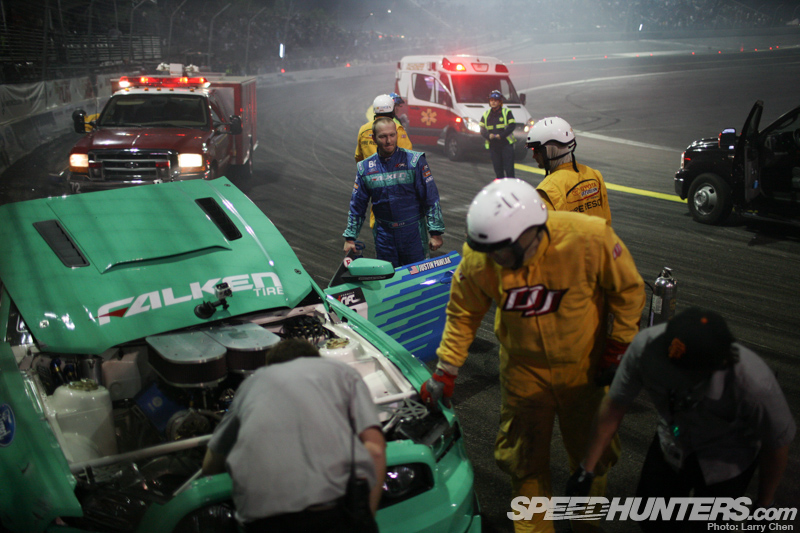 Justin threw it in just a hair too strong and was the wall of champion's final victim of 2012, surrendering the win to Daigo Saito.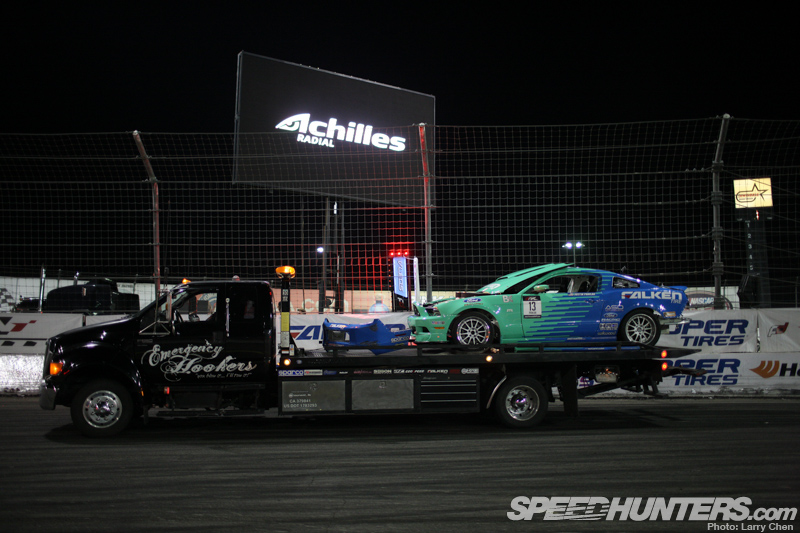 I've never seen so many wrecks where the drift cars could not go back to the pits under their own power.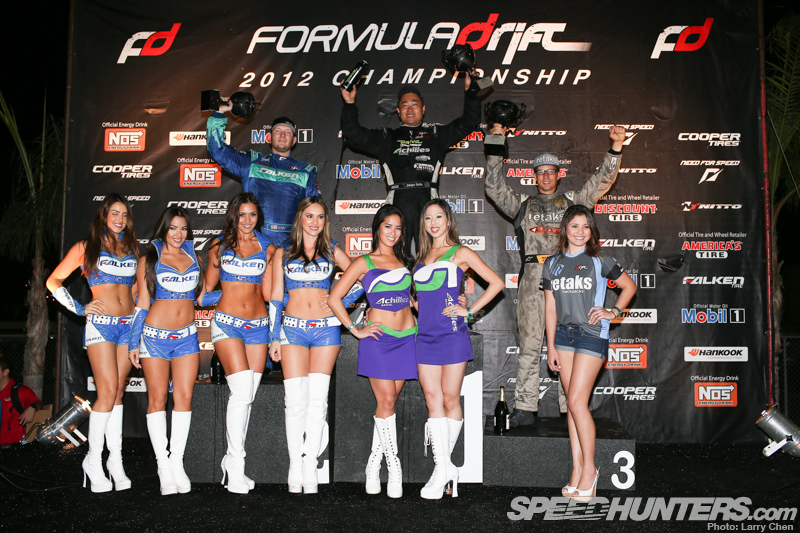 Congratulations to Daigo Saito, Vaughn Gittin Jr. and Rhys Millen for an awesome performance this year. I can't wait to see what these guys have in store for us next year.
If you weren't there to see Irwindale unfold live, be sure to check out the driftstream if you watch to watch the entire event.
Larry
larry@dev.speedhunters.com
More stories from Formula Drift on Speedhunters
More stories from Larry Chen on Speedhunters
---
---
---