I feel like I have been planning for this one competition all year, but I am still far from ready even as qualifying day comes to a close. I don't think I will ever be prepared, as there is just so much to cover and to see.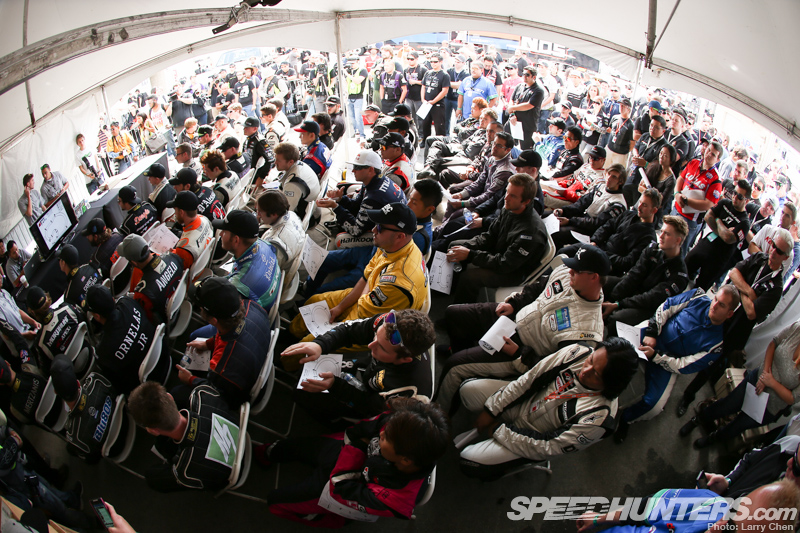 There were so many driver entries that they actually had to limit the number of drivers in order to make sure everyone got a fair amount of run time.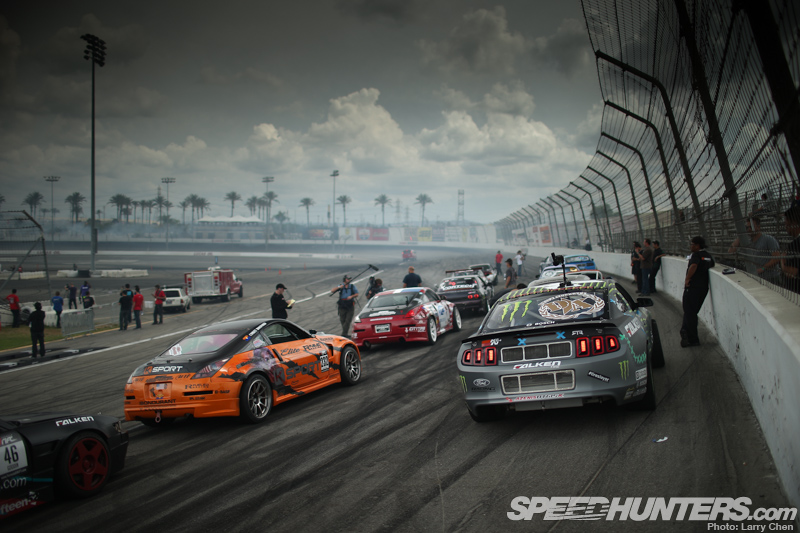 I've never seen the grid so packed, especially for a practice day. Usually there is a pretty short line so you can run until you're out of tires or fuel, but for this event I think everyone only got a few runs in before qualifying.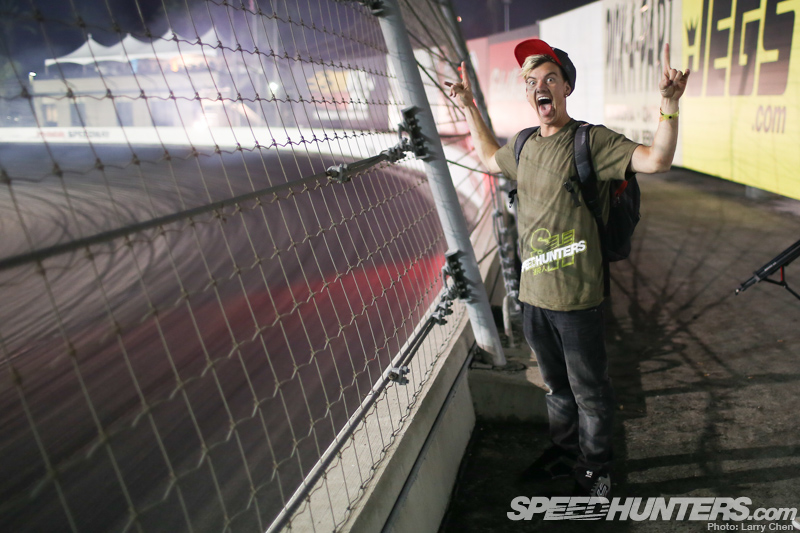 MadMike Whiddett came all the way from New Zealand just to hang out and help out with the Speedhunters team. He even scouted some awesome photo spots for me, which I will go into more detail about later in my long behind the scenes post.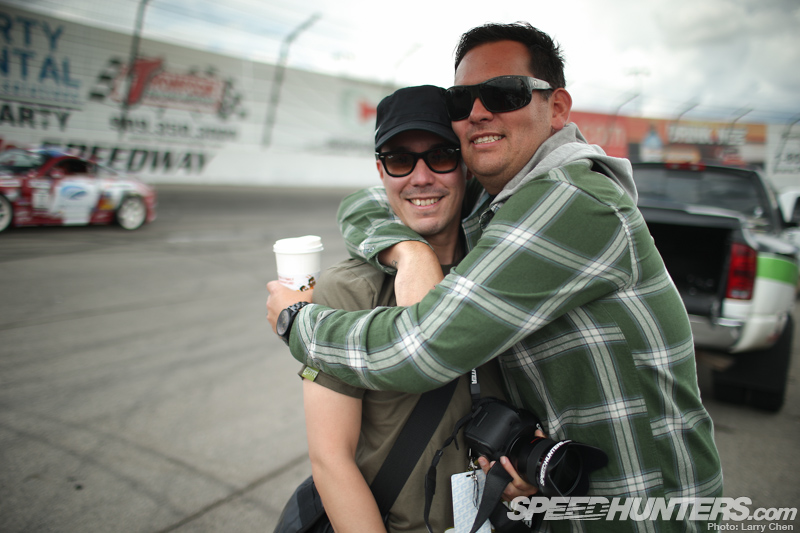 Even our very own fearless leader, Rod-bot, made it over all the way from Stockholm. He loves his big American hugs and Jarod, the Formula Drift announcer, loves to dish them out.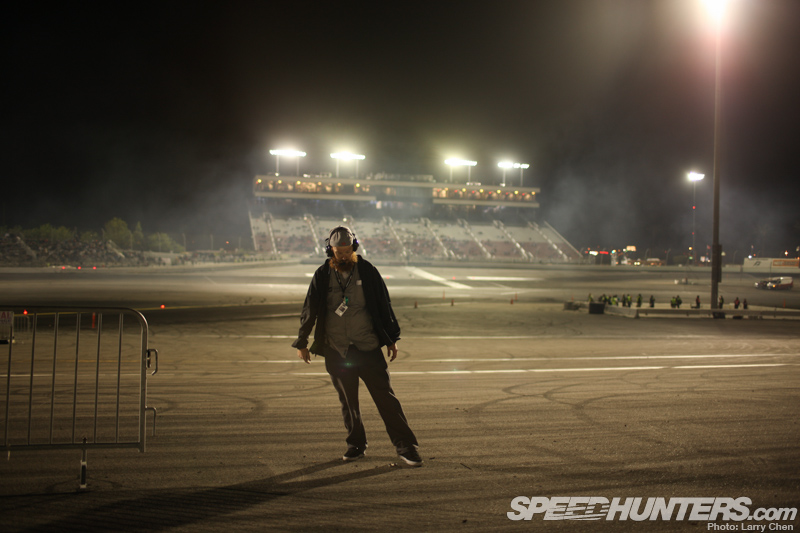 As night fell qualifying began, and one by one the guys went out for their two non-consecutive runs.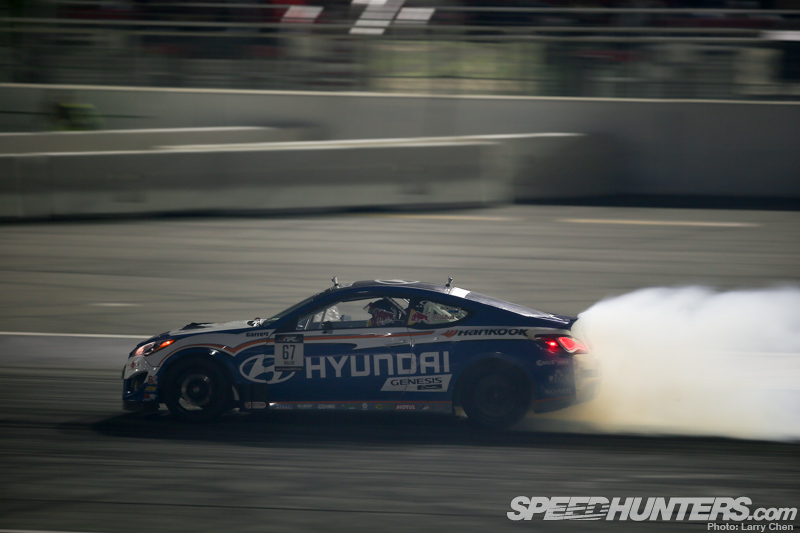 Qualifying first with a score of 97 was none other than Rhys 'Mad Skillz' Millen. He has been on fire recently and he had a near perfect race weekend at Formula Drift Las Vegas.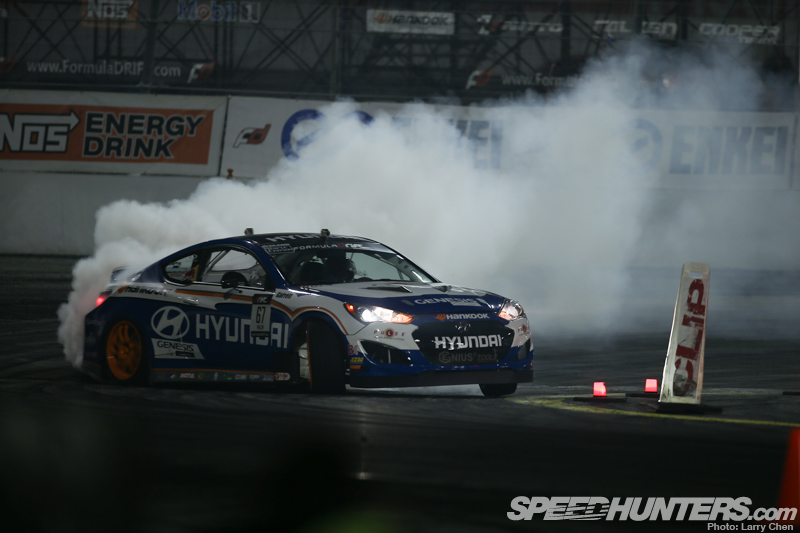 He threw in his car super hard and somehow it did not go into the wall. It was just amazing to watch.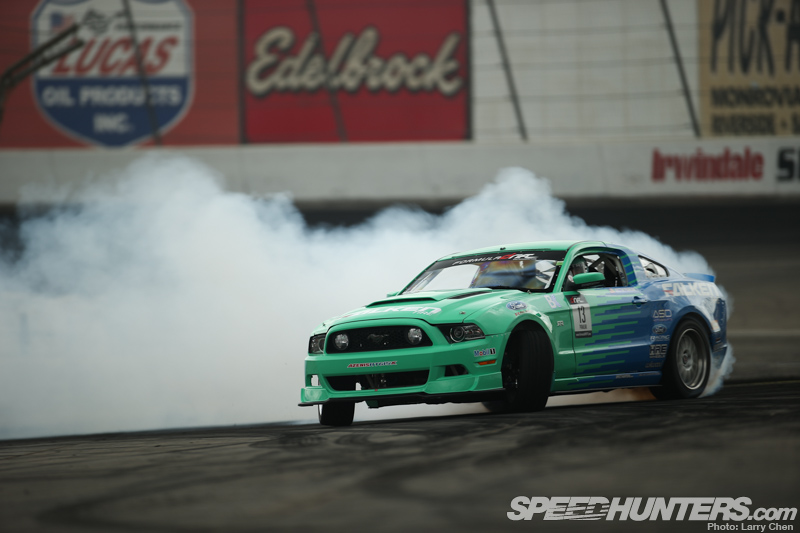 In second was Justin Pawlak. He got his first podium at Irwindale in 2008, so this place means a lot to Justin. He has been super consistent all weekend, so I would not be surprised if he ends up winning the event. Once again Justin has a shot at the championship that slipped through his fingers last year.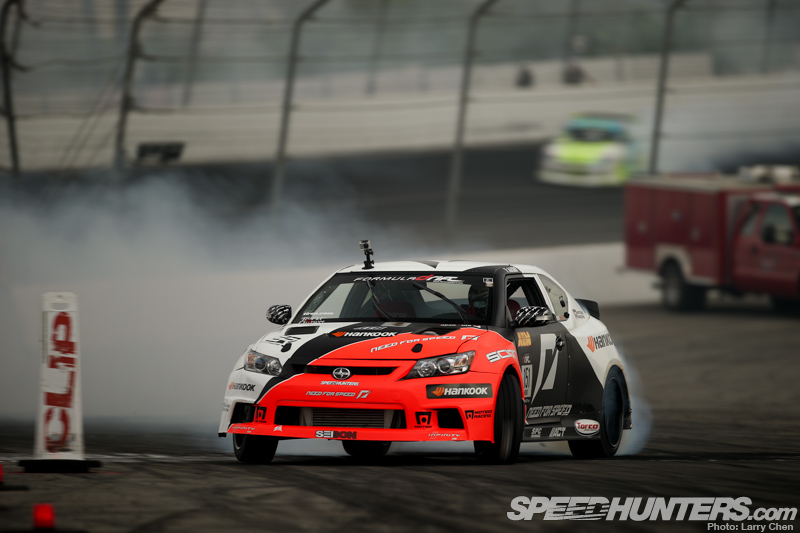 The third spot goes to our very own Fredric Aasbø. He seems to be getting better and better at this car after driving it for close to two seasons now. I guess the best way to finish off his second season with Papadakis Racing would be earning his very first win, which is what he will have to do if he wants a shot at the championship.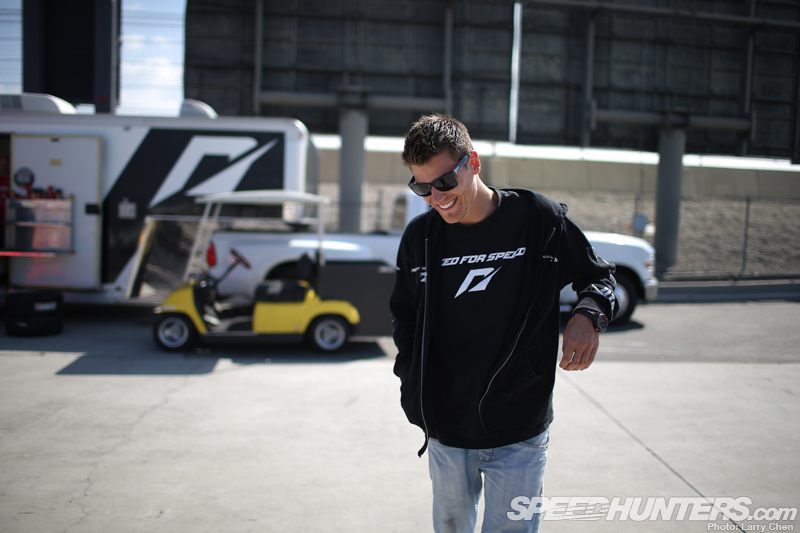 Either way I know Fredric is happy, because it's only been three years since he started driving in Formula Drift and to be in the title hunt during his third season is a feat in itself.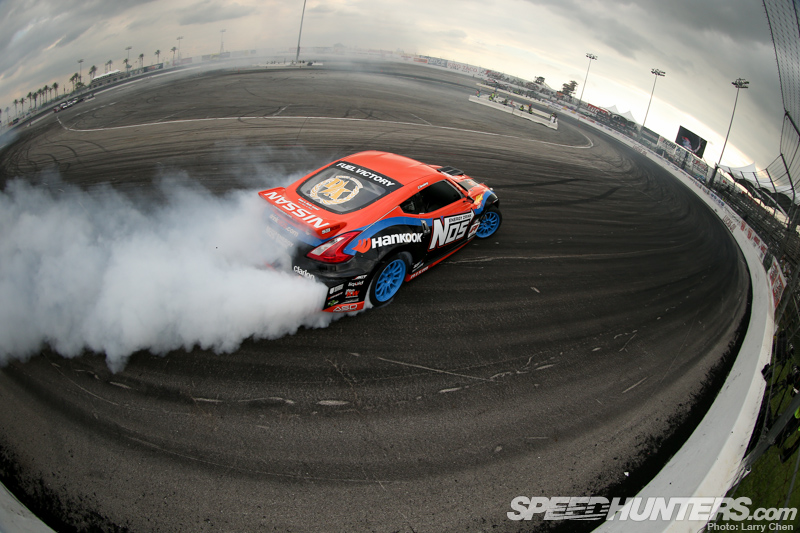 Back in action is Chris Forsberg in the VK56-powered 370Z. I guess that makes it a 560Z doesn't it?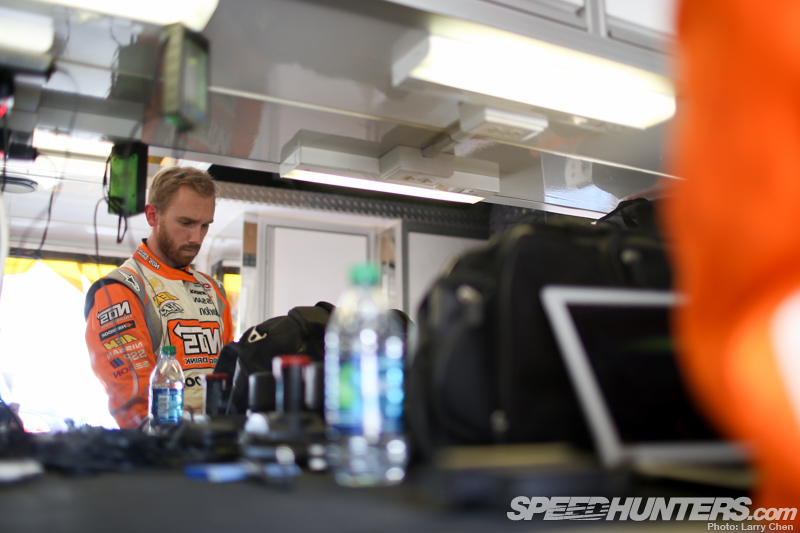 He improved vastly on his 32nd position from the last round in Las Vegas after fixing all the spontaneous car problems that popped up out of nowhere. Chris also has a shot at the championship, but only if he is dealt a good hand.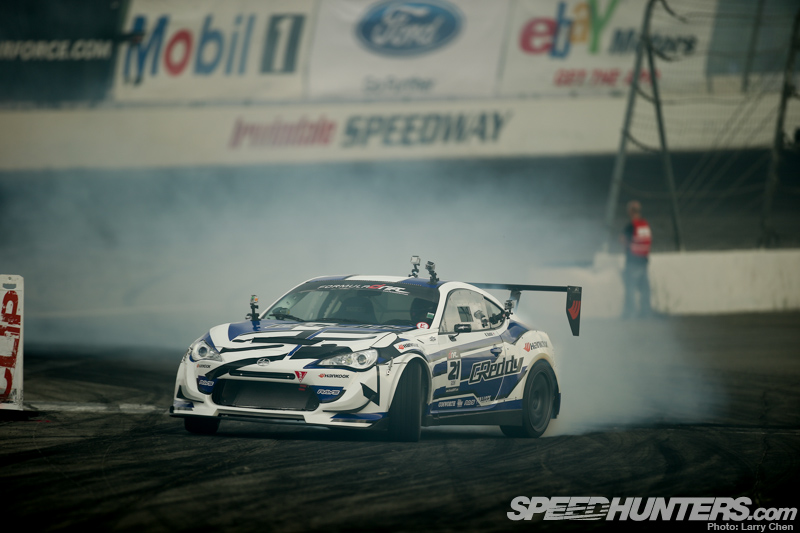 Ken Gushi got the fifth spot, not bad considering the mechanical problems they had been having all weekend.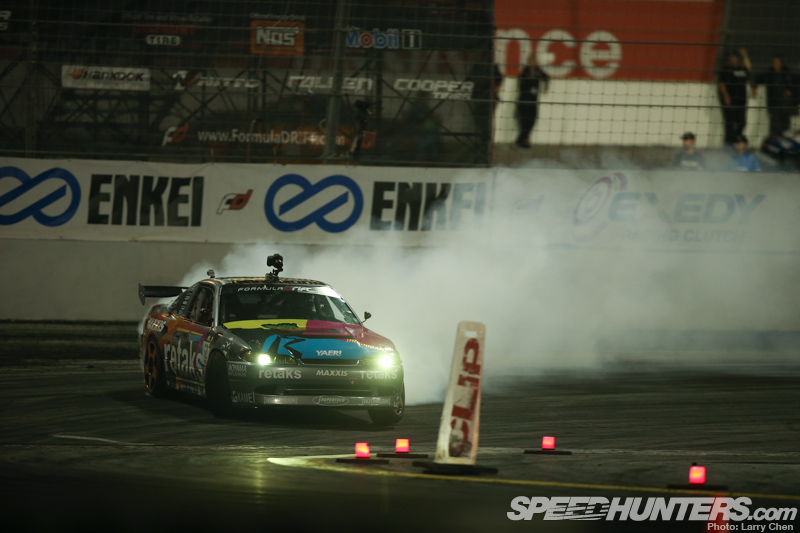 After qualifying sixth Ryan Tuerck is mathematically knocked out of the championship run. However he can easily earn a second or third place in the championship if he wins, which he managed in 2009 at Irwindale Speedway.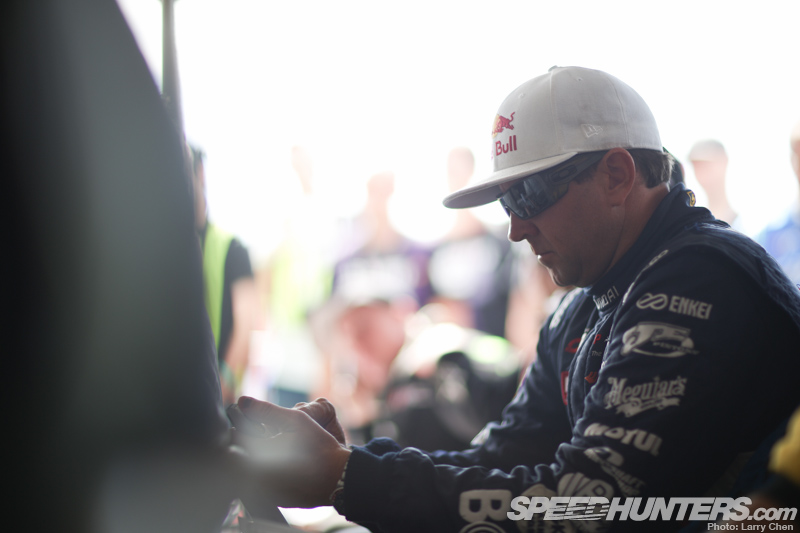 Rhys now poses a great threat to Vaughn after qualifying in first position. He has been on another level late in the season and he did take second place last year at the same race, but in order for him to secure the championship he will have to win the event…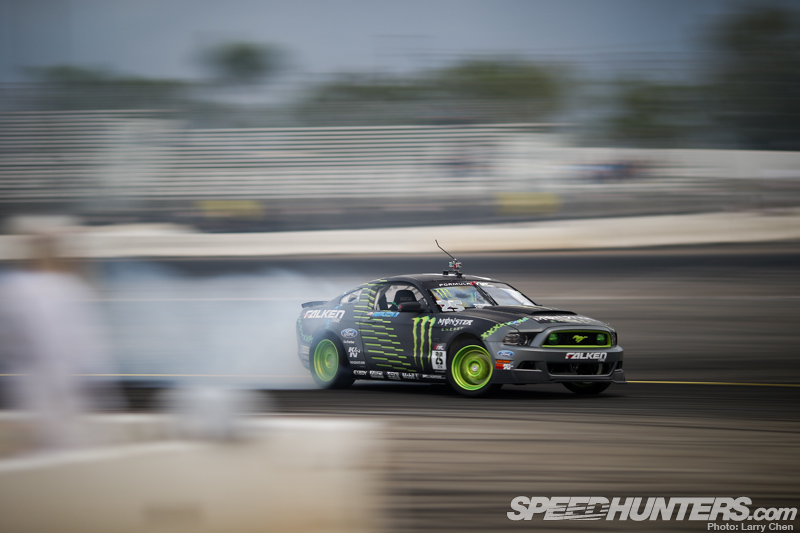 …and Vaughn will have to get knocked out of the Top 16.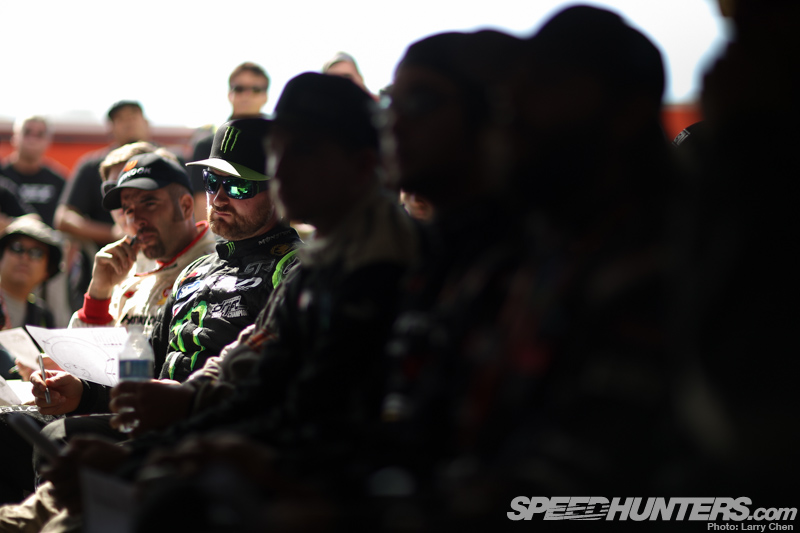 Vaughn will face Nick D'Alessio in the Top 32 bracket and if he moves on he will either meet Pat Mordaunt or Chelsea DeNofa.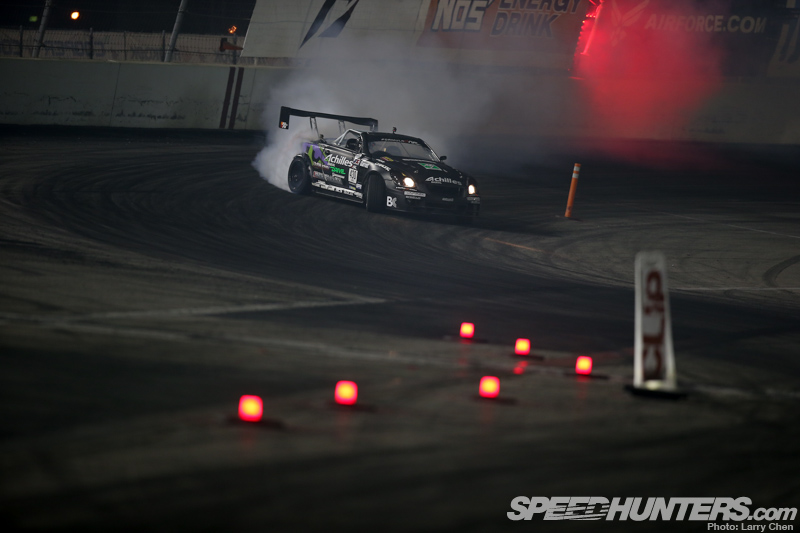 Of course we can't count Daigo Saito out, although it did look like Daigo was struggling with mechanical issues all weekend. He did not drift most of practice and he initially put down a very low qualifying score, but on his second run he redeemed himself by getting a spot in 13th place.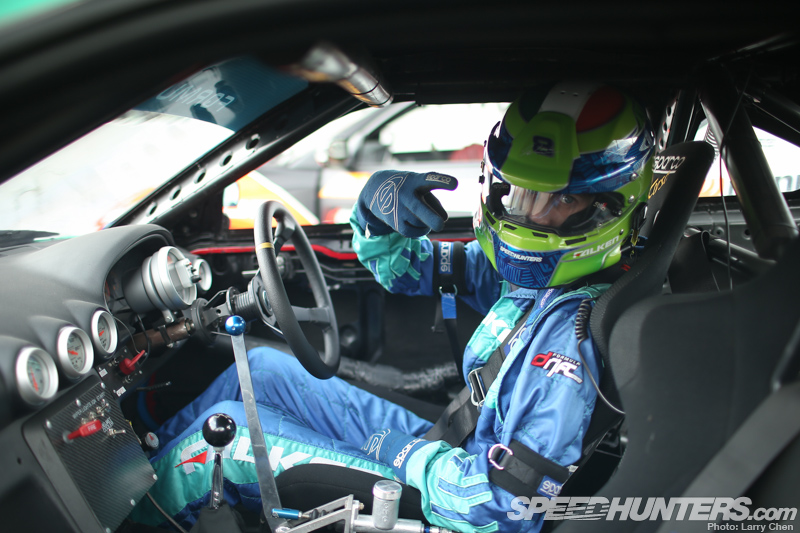 Our favorite Irish drifter, Darren McNamara, was back in the groove after his disappointing result in Las Vegas where he did not qualify in the Top 32. He drove the under-powered S15 to 30th position and he will be facing Fredric Aasbø. Although he is down about 350 wheel-horse power I think he will still put up a good fight.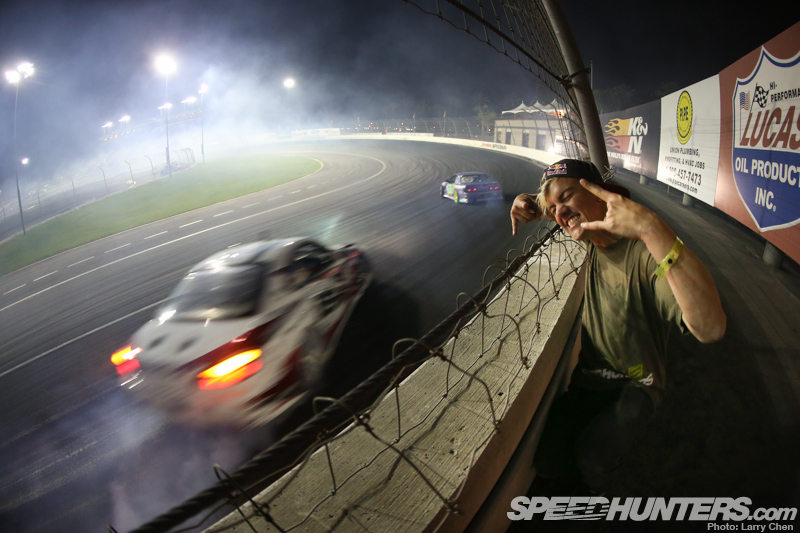 It's so crazy how many possible outcomes there are that it is making my head spin a bit. I guess we will just have to wait one more day to see who will be crowned the 2012 Formula Drift Champion. For now, click on the thumbnails below to download some desktops.
Larry Chen
larry@dev.speedhunters.com
More stories from Formula Drift on Speedhunters
More stories from Larry Chen on Speedhunters
1. Rhys Millen
2. Justin Pawlak
3. Fredric Aasbo
4. Chris Forsberg
5. Ken Gushi
6. Ryan Tuerck
7. Tyler McQuarrie
8. Chelsea DeNofa
9. Vaughn Gittin
10. Tony Brakohiapa
12. Matt Field
11. Matt Powers
13. Daigo Saito
14. Ddave Briggs
15. Alex Lee
16. Kyle Mohan
17. Dai Yoshihara
18. Tony Angelo
19. Robbie Nishida
20. Taka Aono
21. Jeremy Lowe
22. Luke Lonberger
23. Mike Essa
24. Nick D'Alessio
25. Pat Mordaunt
26. Joon Maeng
27. Ryan Kado
28. Toshiki Yoshioka
29. Conrad Gruenwald
30. Darren McNamara
31. Walker Wilkerson
32. Kenny Moen
---
---
---