Ladies and gentlemen, boys and girls welcome to the first ever full feature shoot winner of the #FEATURETHIS program. Okay so the fanfare might be missing and this isn't a game show, it's Speedhunters. But the reality is our choice of Chaydon Ford's N-Spec kitted AE86 represents a step forward for us and we're going to celebrate it.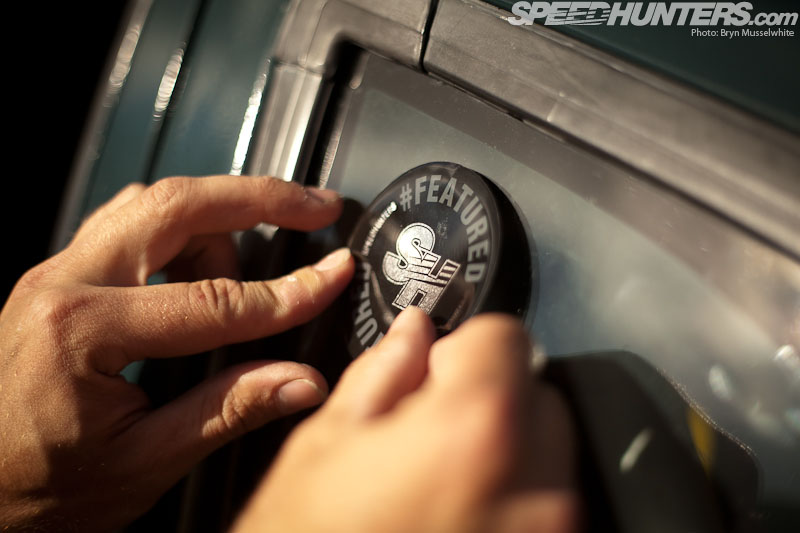 But we're not going to let the cake and streamers get in the way. No, suffice to say what better place to start than here? What better time than now, with a way of getting you guys involved? We decided to kick off our first ever #FEATURETHIS search at TRAX.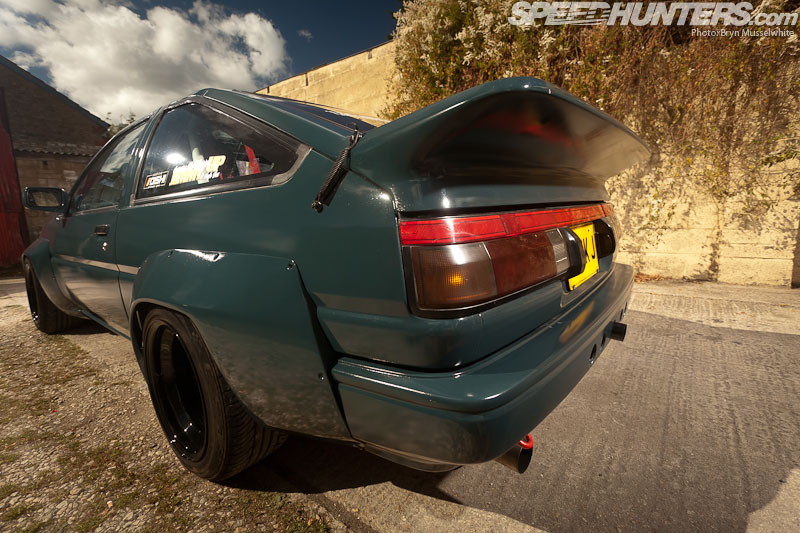 A massive one day show that takes place at Silverstone, which is arguably the UK's best motorsport venue. The stakes were high when it came to picking right? In all honesty choosing Chaydon's AE was actually pretty straightforward. At first you might think "really, another 86?". Bit predictable, huh guys?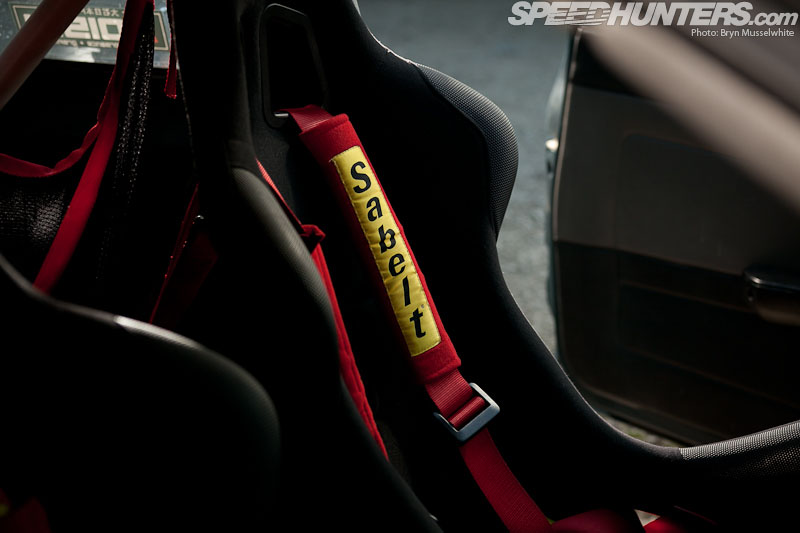 But then you look closer and disregarding the badge or image, or anything you know – we just wanted to know more. So we went and asked.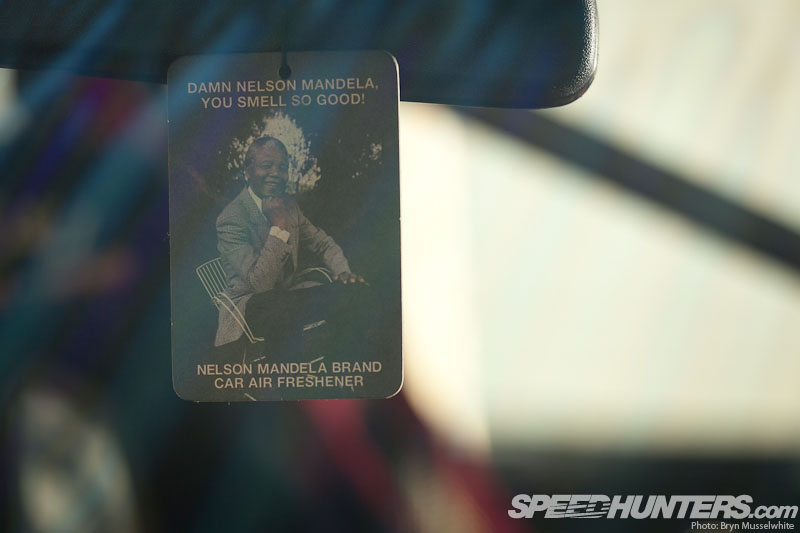 South African born Chay isn't sure why we're talking to him about cars, instead of say train spotting or paragliding, it just presented itself as a sensible path. "No one in my family was into cars, but I always liked mechanics and mechanical things. I rode BMX for ten or twelve years but I was getting hurt. The problem is with broken bones you can't work, which means you don't get paid."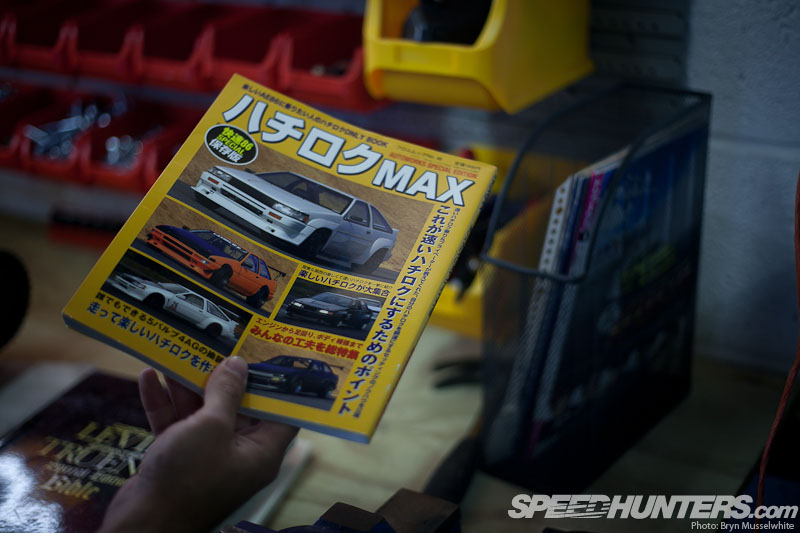 Chay still rides, but nowadays the cars take precedent or more precisely this Corolla does. Which begs the question we love to ask, why that particular brand and model? "I've always liked Japanese cars, which I guess would be from the media and I've always liked all the old N2 racers. In South Africa the Corolla didn't have a huge following, so I wasn't exposed to them so much."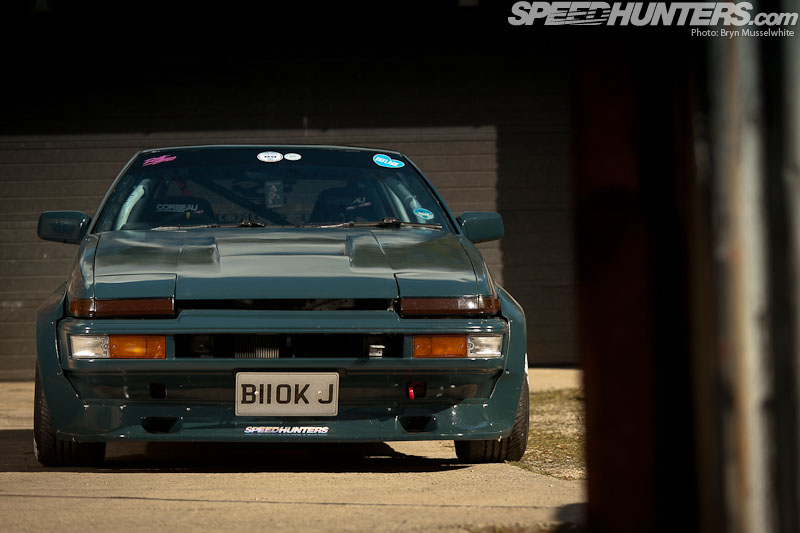 Having worked his way through a couple of newer hot hatches, Chay wanted something that was a bit more, well, raw. Having also had milder, more road friendly Levin Hatch for two years that he used as a daily, when friend James Bullock (the plate is a play on James' name) decided to sell his N2 kitted Trueno, it was a no brainer.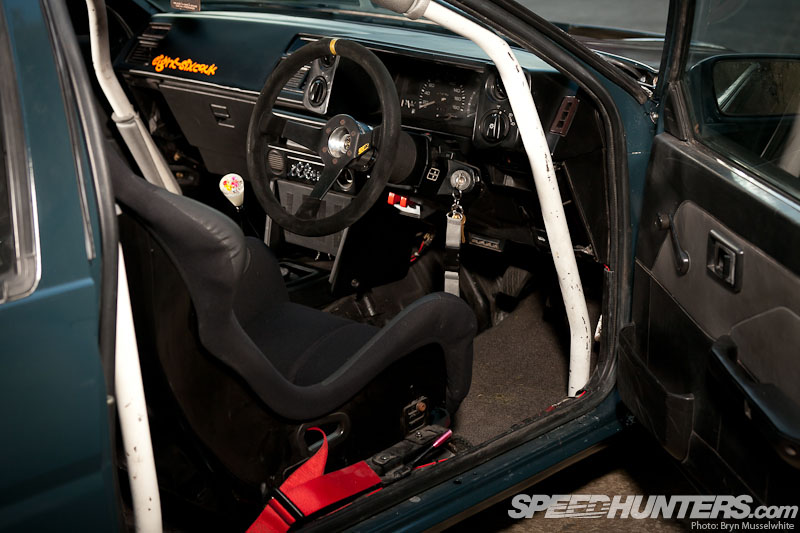 Chay adding "I don't like new stuff. The old stuff has character, history, where has it been? How has it come to be in my possession? So for me it had to be something mid to late 80s. So really there's either this or a Civic hatch, but this is far more driver orientated. You can feel in your arse when the back end is going to go and your hands when the front is going to."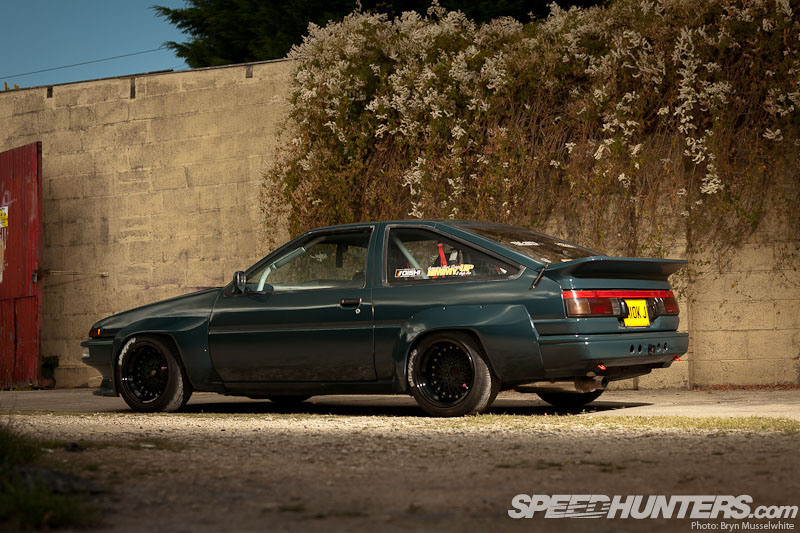 But there is so much more to this story, as the Toyota itself has been on quite a journey. Originally put together by Garage Shapple in Tokyo, you're forgiven if you haven't heard of them. They're a small outfit that brand themselves as an, "AE86 Levin Trueno custom shop". Which sounds mighty fine to us, maybe Dino should take a closer look?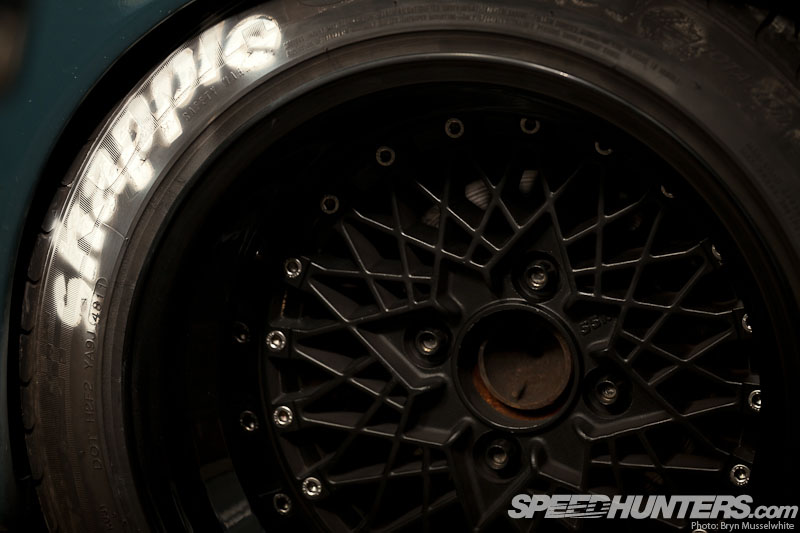 Take a look at their website and you'll see the some gorgeous looking metal, parts and the kind of cult stuff that anybody from outside of Japan finds fascinating. Chay has also taken his influences from the Rauh Welt way of doing things…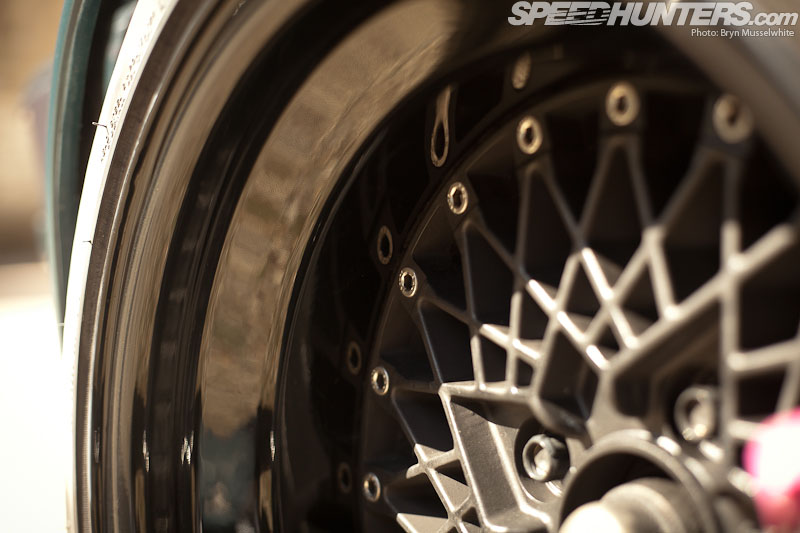 Hence the tyre writing on the gloss black on satin black Mesh SSR rims. The term N2 refers to a race series that ran in the mid to late '80s exclusively for TRD selected drivers and teams. It was revived in the early '00s and if you thought Hachi Roku were all about drifting, then think again.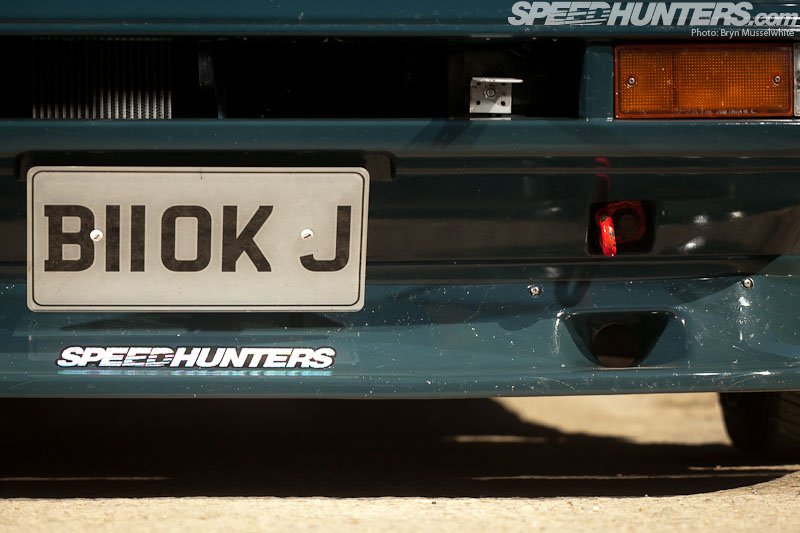 The N2 regulations were effectively 'special touring car regulations' which allowed scope for greater modifications to be made the cars. The signature modification would have to be the arches, plus front and rear spoilers allowing the fitment of at the time, wider 14in wheels.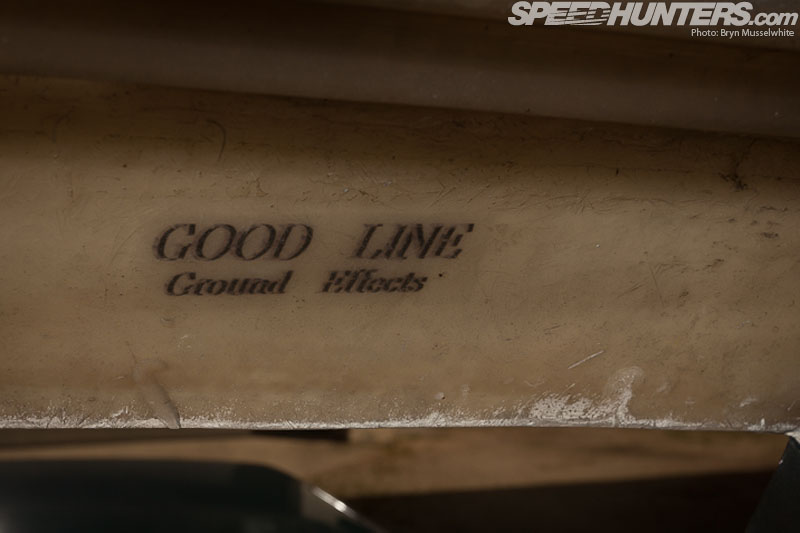 The rather lovely Good Line bonnet and bootlid just add a subtle flavour of race if you know what you're looking at, without being overtly gregarious.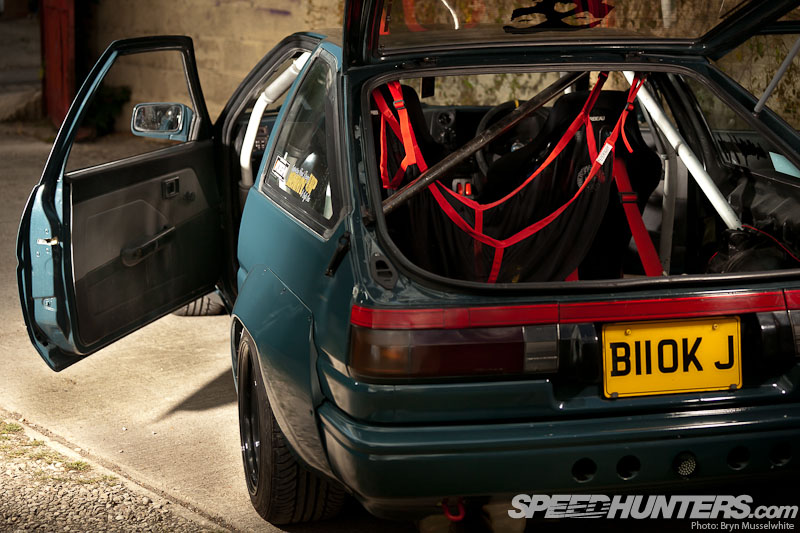 James imported the Trueno in around 2006 complete with the kit fitted and a screaming 4AGE. It needed some remedial work to what was essentially a Japanese hard street, race car.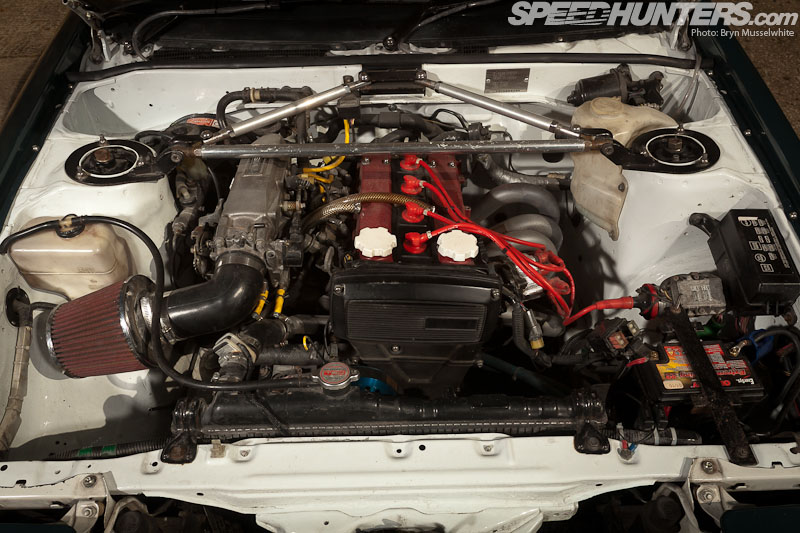 When James came to sell the AE, it was again in need of some attention and this is just another part of the appeal for Chay. As he says, "They're dead easy to learn on, I couldn't do much mechanically before I owned this. I mean I could do service type stuff but not swapping motors, gearboxs, diffs, it's not overly difficult stuff but I couldn't do it. Now I'll have a go and it's taught me to do that."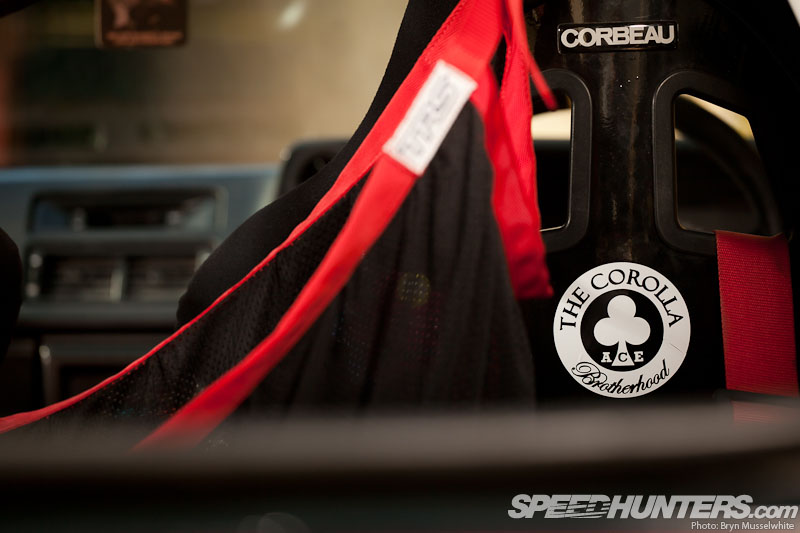 A big part of the learning curve has been completed by the Corolla Brotherhood, a global collective of like minds who Chay wants to extend a special thanks to.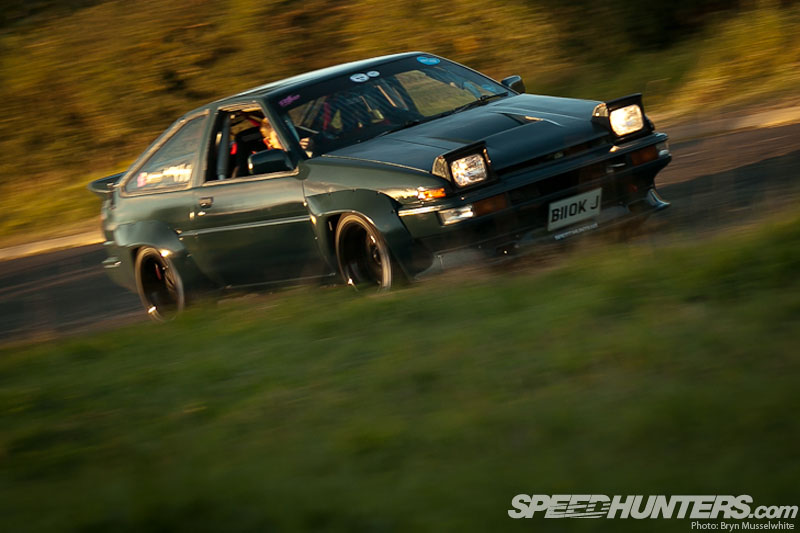 He even had a go at the respray from the originally imported white, "I was going to do it battleship grey, but I went for this instead. It was meant to be Audi Nimbus grey but it's come out a weird colour. I really wanted that purposeful aggression you get with the Rauh Welt cars. It can look good but perform well too.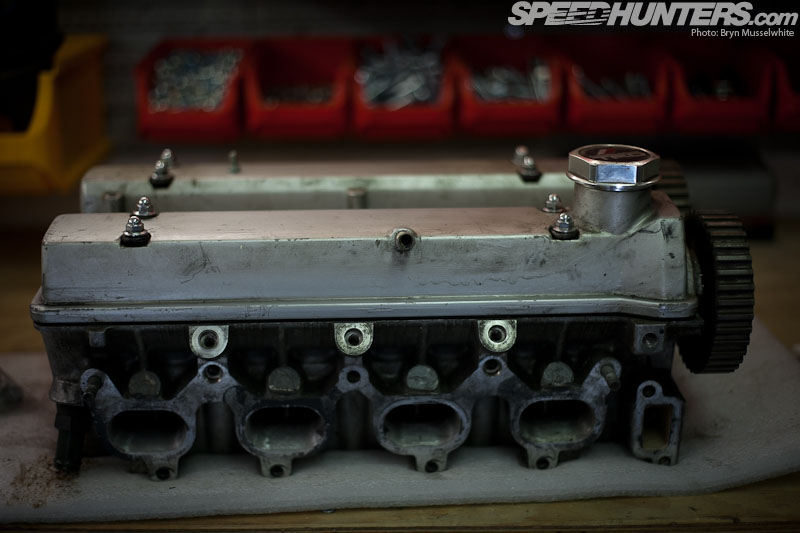 Sat on his workbench is a head which will soon sit on top of a new hot 4-AGE, although Chay knows how to enjoy the largely standard motor that's under the bonnet at the moment. "Once it's warmed up I hammer the sh*t out of it, I always let it cool down properly but it just begs to be really be driven to 10/10ths…"
The coupe is actually Chay's second car, as he rightly points out, "When you play with your toys everyday, you can get bored of them. Fuel, insurance, running costs all are cheap with this, in fact I couldn't have a second car if it wasn't this. So now when I want some freedom, I go and burn some fuel."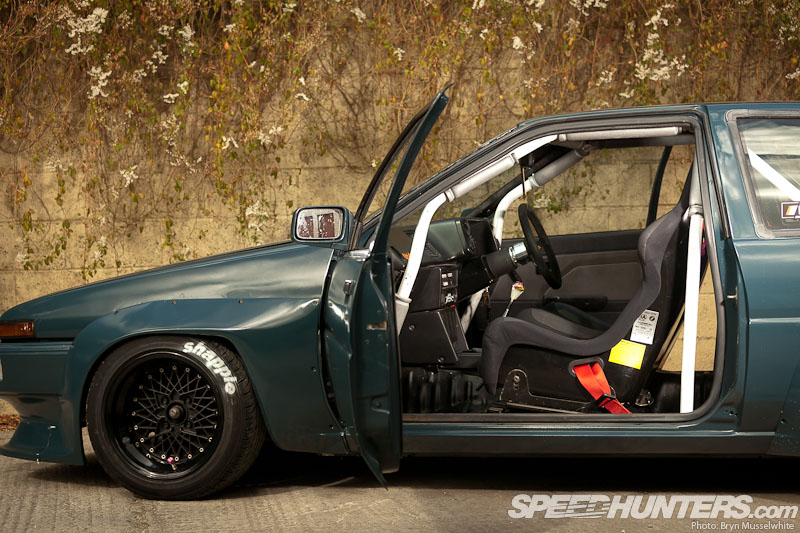 If you've never driven or been driven in an AE86 chassis then maybe you're wondering what all the fuss is about. If this video of Mr Keiichi Tsuchiya doesn't convince you of their merits, Chay has his own real world take on it, "It's very progressive when it goes. But the main thing is you can have fun in it driving at 30mph. In a 600bhp Skyline you haven't even hit boost at that speed."
We thread our way out of some late afternoon city traffic to find some quieter roads, even at completely legal speeds the feeling just makes you smile. One word sums up the Trueno for us, eager, it always feels like it's asking you for more. Even when the cams are bouncing and the harmonics are screaming,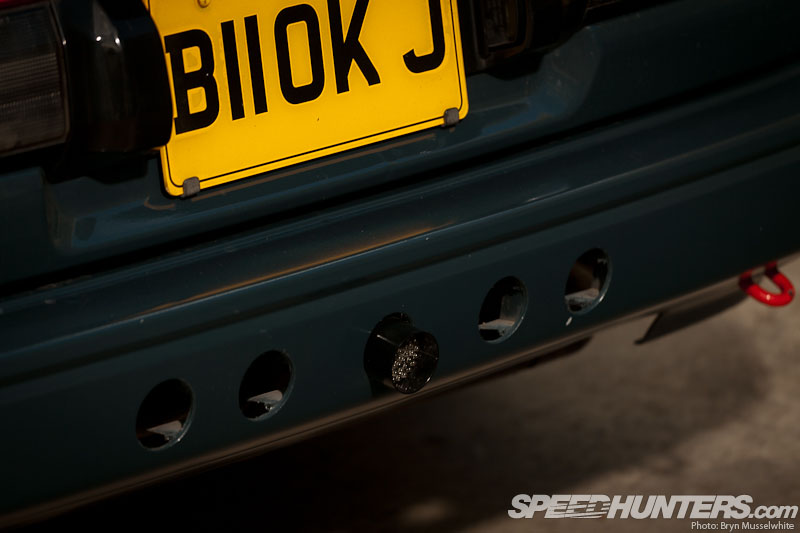 It's like a dog that can only just control its tail with happiness. "On track you can humble a car with three times as much power because it's nimble and light…"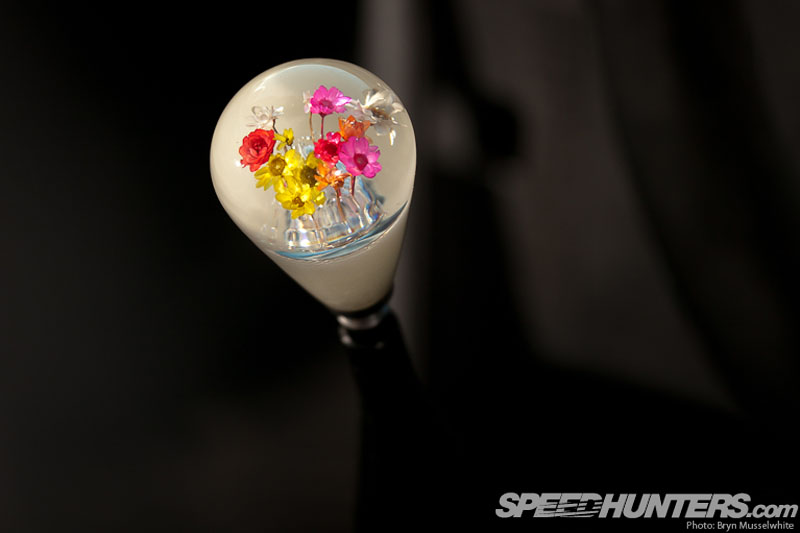 Well at TRAX it humbled us. Sometimes it's not about the biggest power, most extreme suspension set-up or composite laden componentary. It's just about having fun, good old fashioned fun. So what do you have fun with? #FEATURETHIS…
………………………………………………
Engine
Martelius R1 Ultimate Manifold, TRD radiator cap, electric fan to thermostatic switch, aluminium pulleys, cone Intake filter, uprated plug leads, custom manifold back exhaust (sub 96dB for trackdays), Odyssey drycell battery
Exterior
N2 wheel arch flares, N2 front lip spoiler, GoodLine rear hatch with moulded in wing, GoodLine fibreglass ducted bonnet, bonnet raised at the back edge to aid static cooling, later spec front and rear bumper, fuel tank filler relocated to the boot
Wheels
SSR Reverse Mesh split rims refurbished with gloss black powdercoated
barrels and satin black centres, stainless hardware, 15×8.5 – 21offset front, 15×9 – 27 offset rear, Kuhmo Ecsta 205/50/15
Suspension & Chassis
Front Revolver Coilovers, Garage Shapple front triangle strut brace, Cusco adjustable Top mounts, Negative Roll centre adjusters, TRD 8 way adjustable "blue" shocks – rear, TRD springs – rear, Cusco rear strut tower brace, completely polybushed, refurbished Non P/S Rack with Quaife internals and Ueo style inner tie rods (2.5 turns lock to lock)
Brakes
Standard AE86 calipers front and rear, Mintex pads, Goodridge braided brake lines
Interior
Safety 21 roll cage sprayed white, spreader plates located at mounting points, completely stripped of carpet, headliner, sound deadening, sprayed statin black, Corbeau Pro Series seats, adjustable side mount seat rails, Sparco suede steering wheel with removable boss, T3 3 inch wheel spacer, Japanese Glow in the dark flower gearknob, Sabelt 4 point harnesses
Drivetrain
TRD 2 way LSD, 4.7 final ratio
Thanks
All of the Corrola Brotherhood, everybody else that has helped, Jonny at Oishi Performance and of course Billy at Sweet Oblivion Clothing