The term 'street driven' is one that's often bandied around drag racing circles. While I have the utmost respect for any production-based machine that can cut a quick quarter (and we're talking a sub 10-second ET here), there's extra something special about a car that can do it straight off the road. In my mind there's a big difference between a street car that turns fast times on the strip with ET improving modifications like drag slicks, race fuel, giggle gas and the temporary removal of weight, and one that simply does it in true street trim.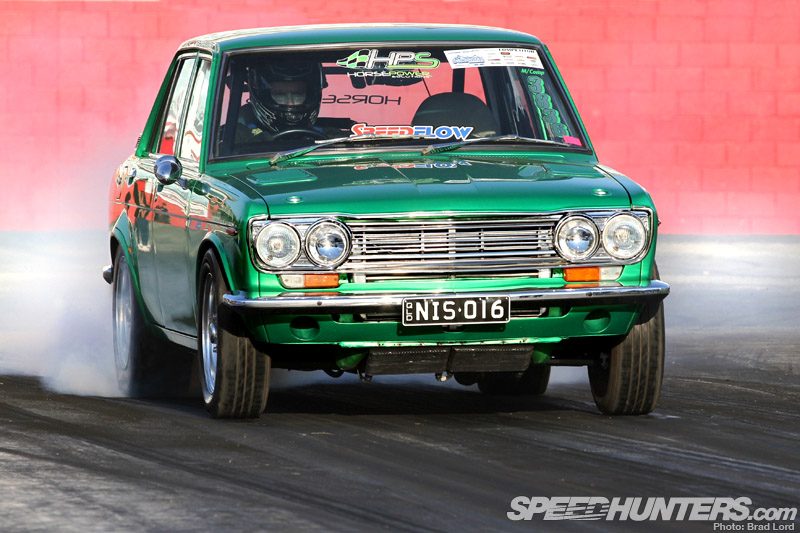 Mick McGregor's 1969 Datsun Bluebird 1600 is a perfect example of the latter. Not only does the little green machine pack an honest 700-horsepower-at-the-crank punch for supercar decimating straight-line performance…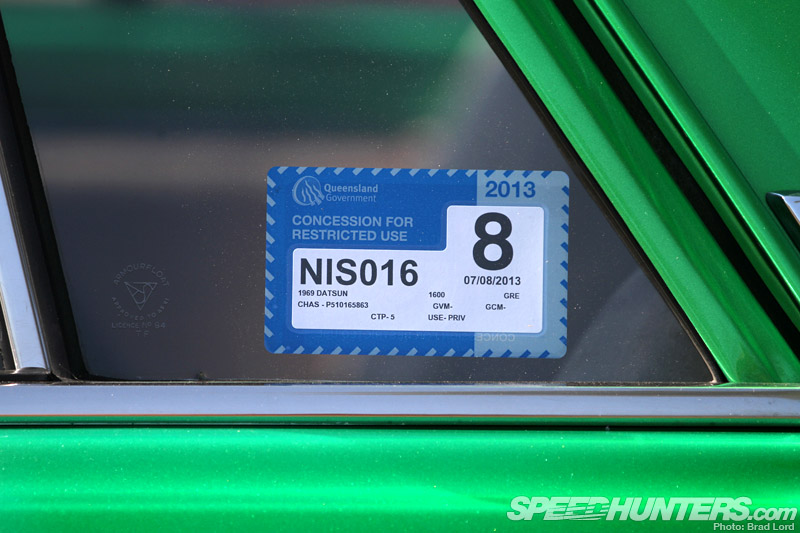 …but it does so while maintaining total road worthiness and full cabin comfort. In the very same guise used to blast nine-and-a-half-second passes down the quarter mile, Mick's Datsun is 100 percent street legal in his home state of Queensland, Australia.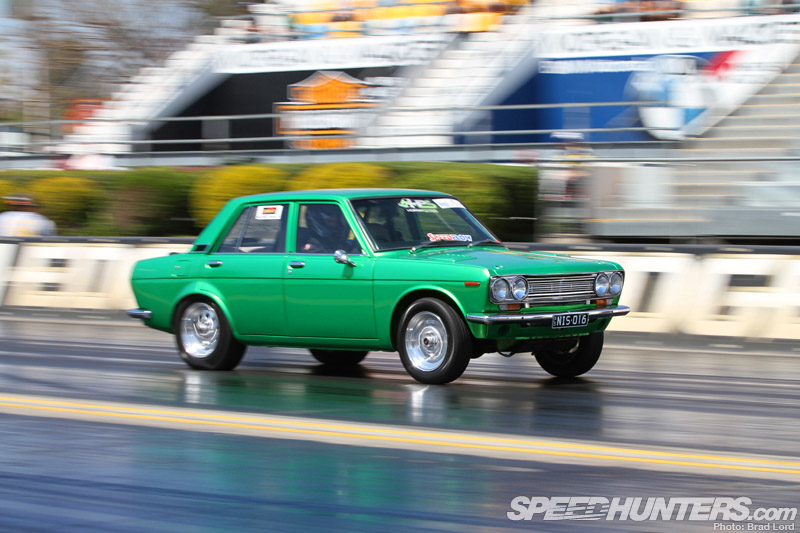 So what does it take to turn a 40-odd year old Aussie-spec Datsun 510 into something that's all but unrivaled in acceleration on the street? It's a pretty simple recipe really, albeit one that from go to whoa has been well thought out and executed.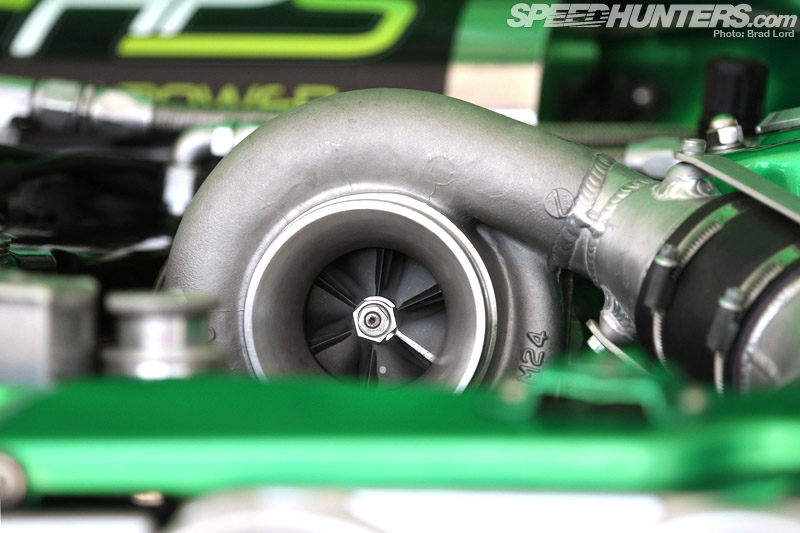 Of course, it all begins under the hood where an engine a little more serious than the OEM-fitted 96hp L16 now resides. As far as 510 swaps go, there are a few Nissan four-cylinder formulas that people generally tend to stick to. FJs, CAs, SRs are the norm. This one is not.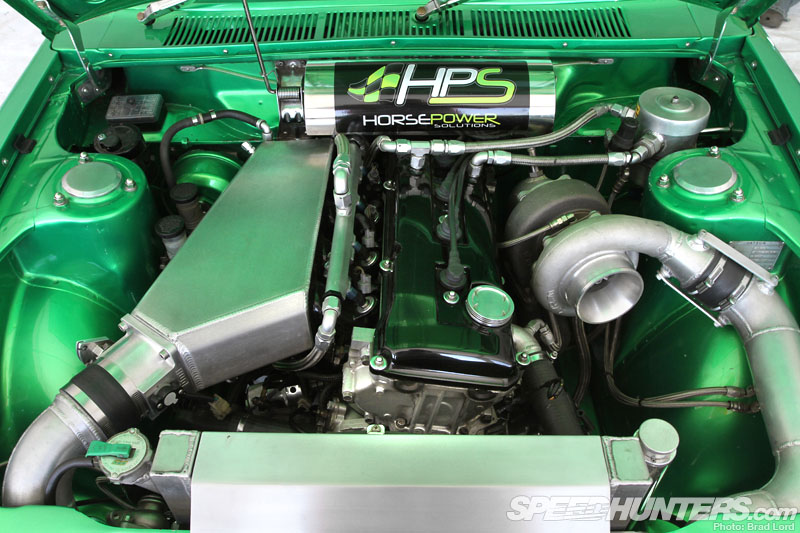 When Mick built the car 12 years ago it used a built SR20DET that ultimately saw 450hp to rear wheels. The SR' was a pretty high-tech re-power back then, but after many years running that combination and a best pass of 9.89 at 131mph (210kph) under his belt he decided it was time for a change. In case you're wondering – as I was – that's 2.4L four-cylinder Nissan KA24DE – or as Mick so eloquently put it: "a dirty old Navara [aka Nissan Frontier] engine." The build actually came together by chance after Mick stumbled upon a front-wheel-drive spec KA24DE block on eBay. It had been fitted out with Ross pistons, Crower H-beam rods, and ARP studs by its previous owner and $250 owned it. A rear-wheel-drive engine was sourced and the aftermarket internals retrofitted with new rings and bearings, before being pieced back together with a Cometic 1.6mm metal head gasket and readied for a boost injection.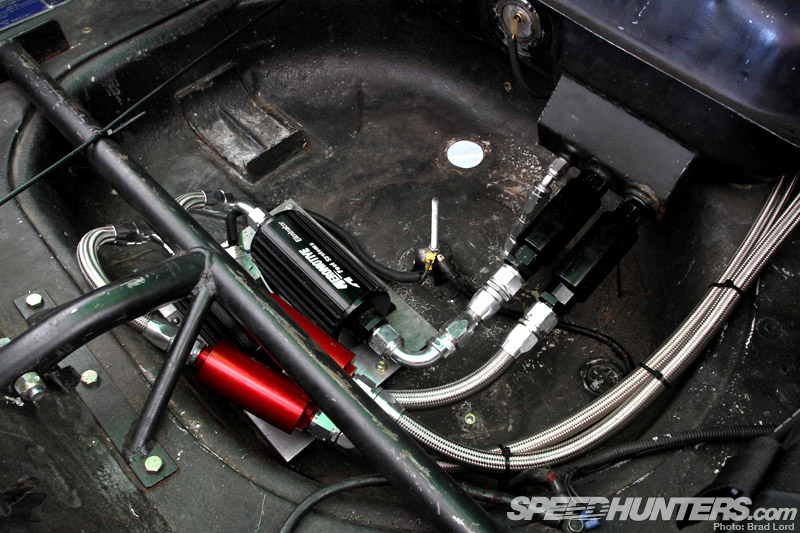 To make sure the engine would be suitably gassed up, no corners were cut in the fuel delivery department. Running exclusively on a diet of high octane E-Flex E85 biofuel, the system uses a pair of Aeromotive Eliminator pumps, dual -10 feed lines (and a single -12 return line), an Aeromotive regulator and a quartet of Injector Dynamics ID2000 injectors fed from an aftermarket SR20DET rail.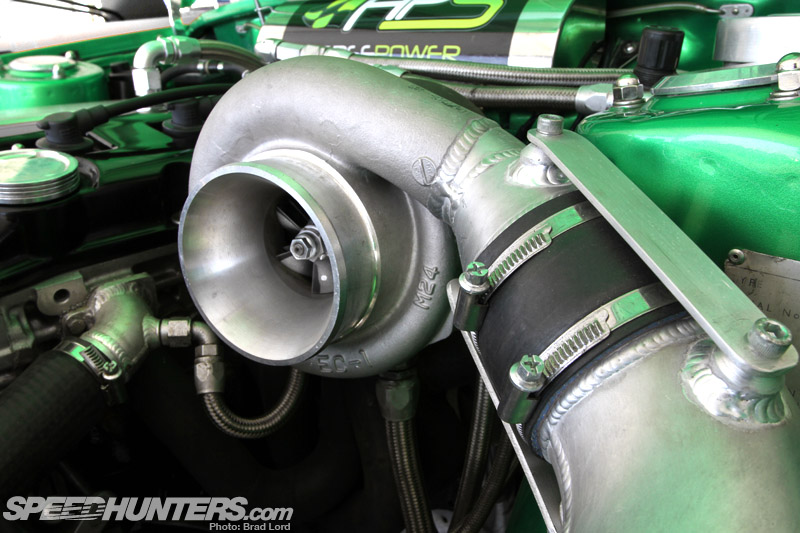 The engine's XXL appetite for fuel has a lot to do with this: a venerable Garrett GT35 with a 1.06 exhaust housing. Boost is controlled through a TiAL wastegate.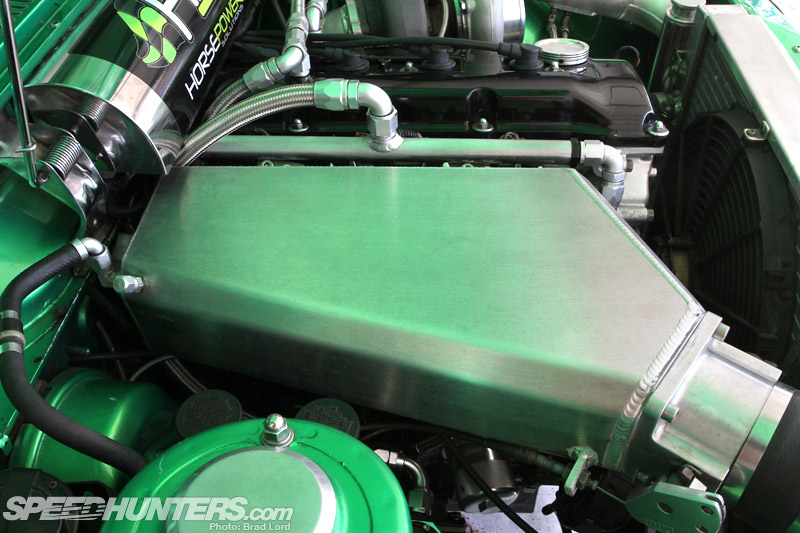 On the other side of the engine Mick enlisted the services of ProModz, which knocked up a custom plenum complete with an 80mm throttle body. The highly regarded fab' shop took care of the exhaust manifold and intercooler pipe work too.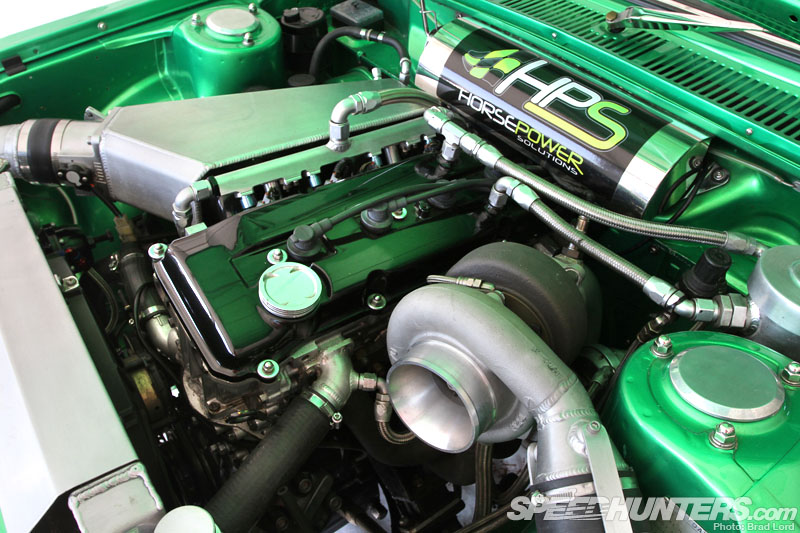 Although the engine was only supposed to be used for R&D purposes, it's hung together well all things considered. Eventually it will be pulled down for inspection and perhaps a freshen up, but for now Mick's happy with the 570hp it's pushing to the rear wheels thanks to the tuning prowess of Horse Power Solutions (HPS) and the Haltech Platinum 1000 engine management system giving the fuel and ignition orders.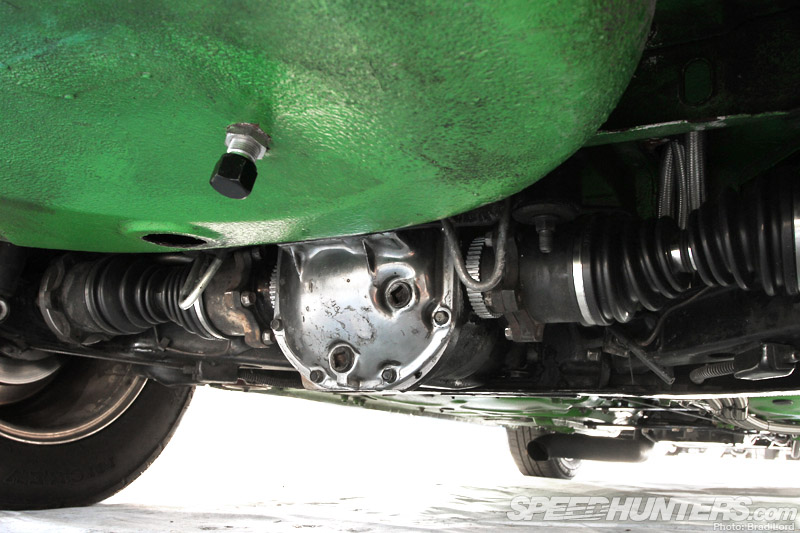 In the driveline, the Datsun runs a manualized and "extensively modified" Trimatic M40 (aka TurboHydro 180 or TH180) 3-speed automatic transmission with a TCE torque convertor. Up until the recent Brisbane Jamboree where I first met Mick and his 510, the trans used a Nissan RB30 flexplate. But after ripping the center out of it just three days after the annual sport compact drag meet at another event, a Yella Terra billet equivalent has since found its way into the car. After a quick look under the back  of the Datsun I don't think there's much chance of breakage in that area anytime soon. Built to handle punishing launches, the recently beefed-up rear end features a R200 long-nose diff with a 3.9:1 final drive and modified R32 Skyline GT-R axles installed by HPS with billet companion flanges, billet stub axles and 1/2″ studs.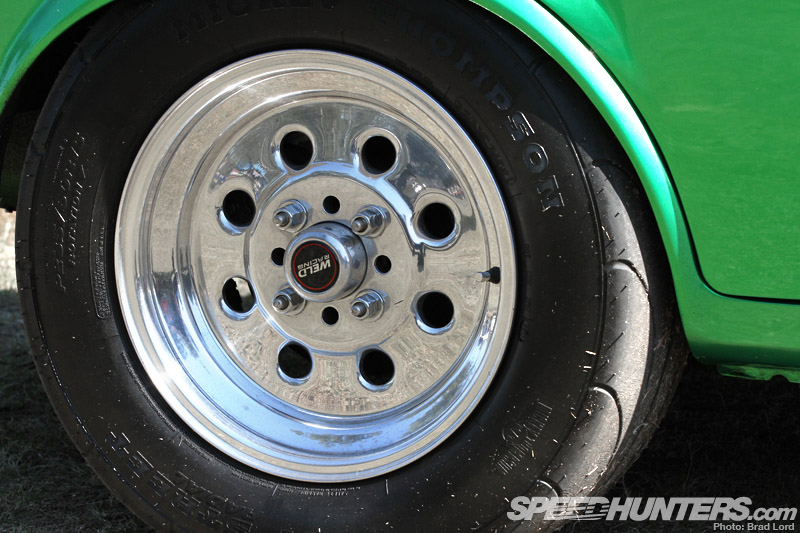 The final piece in the driveline puzzle are of course the rear tires – in this case sticky road-legal 235/60R15-sized Mickey Thompson ET Street Radial rubber wrapped around 15×8.5″ Weld Racing cold-forged Draglite wheels.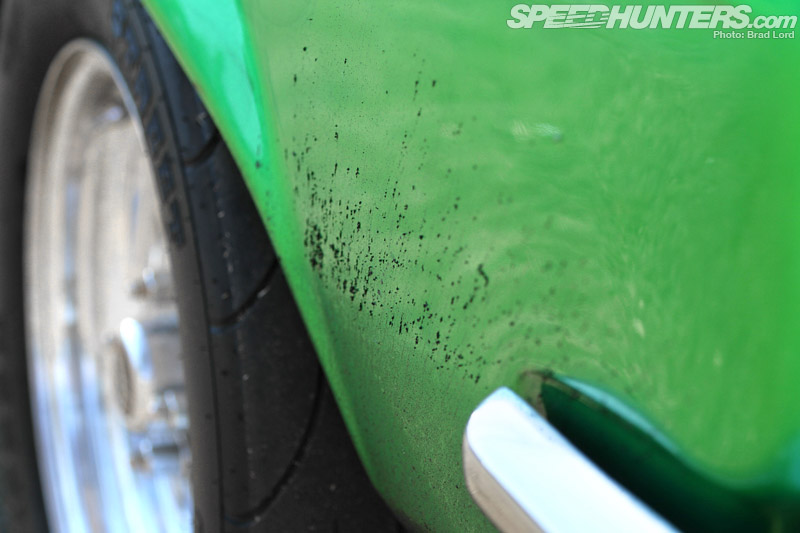 They burn easily too as Mick often likes to demonstrate.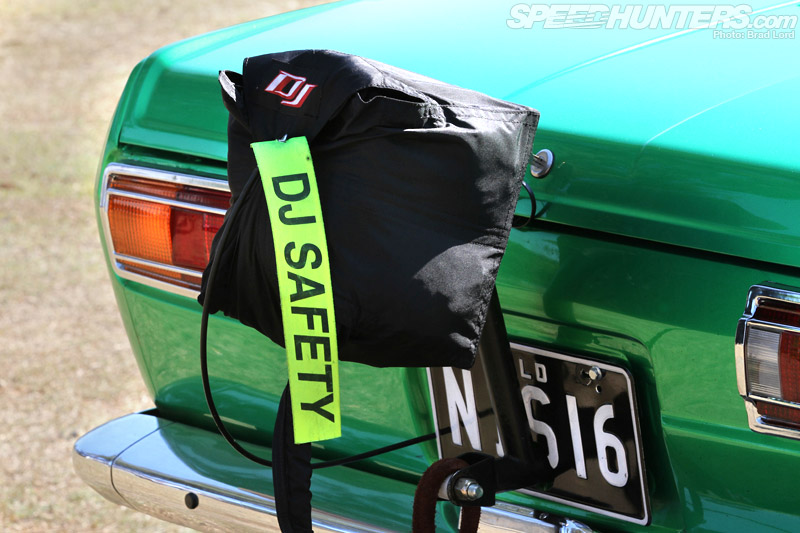 Although the brake system has been suitably upgraded with Nissan Silvia rotors and Toyota Hilux 4-pot calipers on the front end and a Mitsubishi Starion Turbo disc set up on the rear, it's a DJ Safety parachute that really helps to scrub off the speed after the Datsun trips the deep end beams. I'm sure it's a talking point when people see the car on the street too!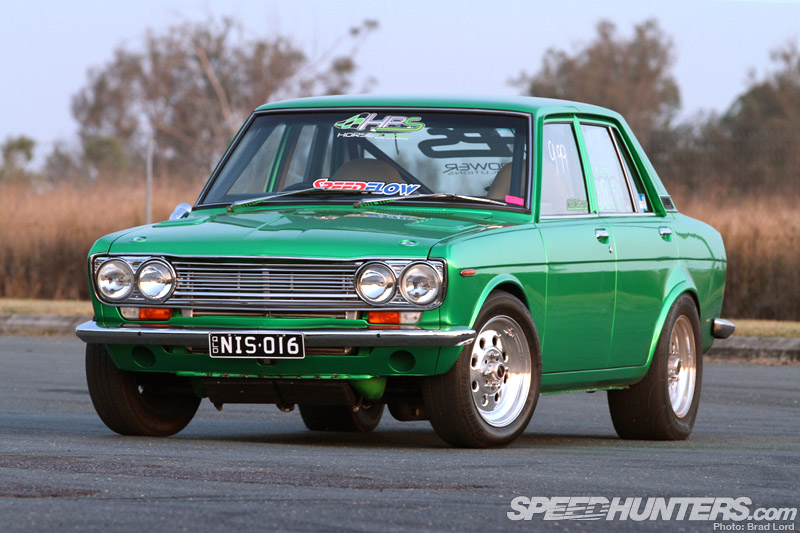 If the 'chute doesn't demand attention, the House of Kolor Lime/Gold Kandy paint that was flowed on over the 510's iconic box-shaped bodywork some seven years ago certainly will. So simple, but so good.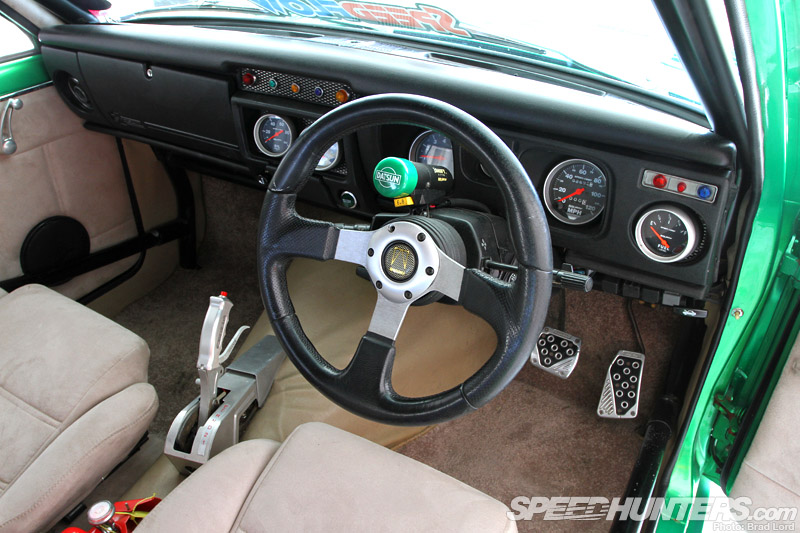 With the exception of door bars to climb over, the small cabin is a pretty comfortable place to be for both 1320-foot jaunts and club cruises Mick and his wife Kell like to take part in as often as possible. The car didn't miss a beat on a recent 170-kilometer (105-mile) round trip.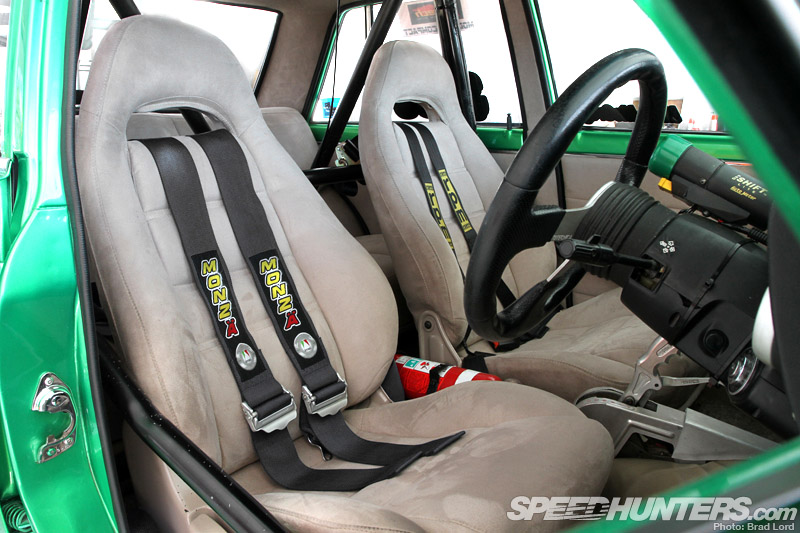 That comfort is thanks in part to a pair of Mazda FD3S RX-7 front seats, which like the rest of the upholstery have been restitched in 'Buck' color suede.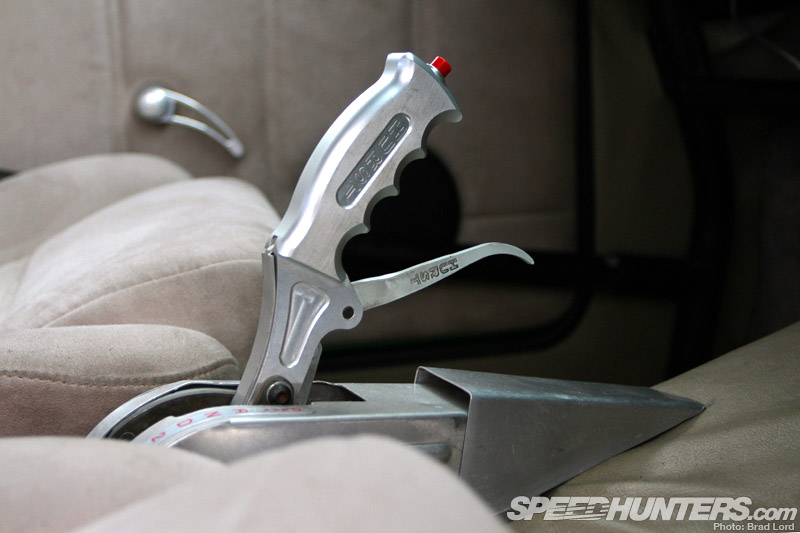 If the ANDRA-spec rollcage, harness belts and dash-load of Auto Meter Sport-Comp gauges isn't fair enough warning that passengers should hold on tight, the serious-looking Hurst 'Piston-Grip Quarter Stick' shifter is.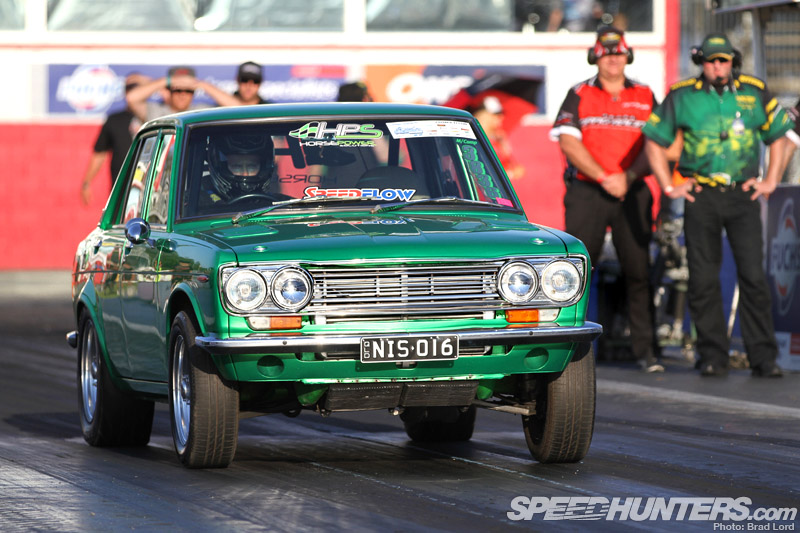 To date the little Datsun has run a best ET of 9.5 seconds and 142mph (228kph) with the current package – fourth tenths quicker than it did with the SR20 set up. But with the new rear end set up Mick's certain there's much more in it now that they can start to really lean on the car and launch it hard out of the hole.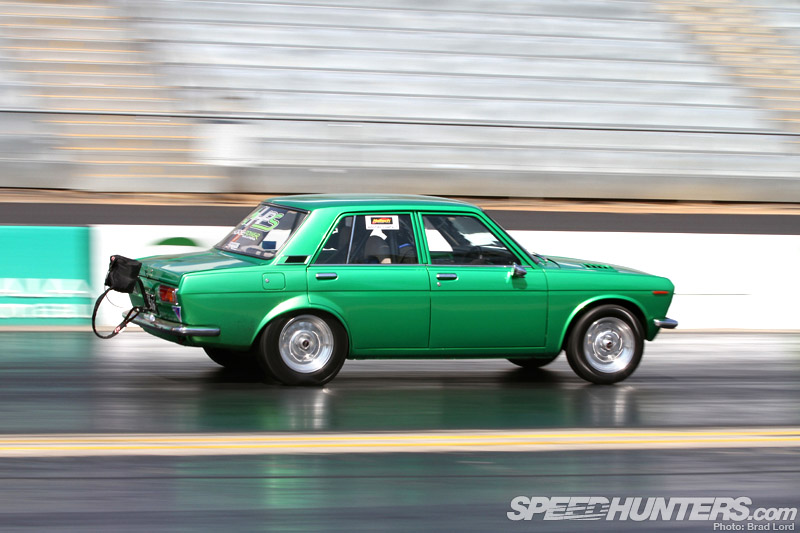 Any further development, however, is currently on hold as Mick and Kell are currently turning their attention to another Datsun chassis that's currently perched on axle stands in the McGregor garage: Kell's 1600 wagon. When the pair went on the hunt for a 510 wagon around four years ago Kell put up a request on a local forum using a photo of a wagon Mick had owned years prior as an example. Low and behold, the owner of that car saw the ad and in a cool twist ended up selling it back! With a turbocharged and fuel injected L-series engine on the way it'll be a whole lot of fun. Perhaps not as much NIS-016, but a perfect street cruising companion all the same. Mick wouldn't have it any other way.
Brad Lord
SPECS
1969 DATSUN 1600 (510)
ENGINE: Nissan KA24DE(T) 2389cc inline-four DOHC 16-valve; Ross pistons; Crower H-beam rods; balanced OEM crank; ARP bolts; mild cylinder head port; custom 292-deg/12mm-lift camshafts; custom valve train; Cometic 1.6mm headgasket; ProModz custom alloy intake manifold; 80mm throttle body; ID2000 fuel injectors; aftermarket SR20DET fuel rail; Aeromotive adjustable fuel pressure regulator; 2x Aeromotive Eliminator fuel pumps;  Garrett GT35 turbocharger; TiAL wastegate; Turbosmart blow-off valve; 2x -10 braided fuel delivery lines, 1x -12 braided fuel return line; 4x MSD coils; 600mmx300mmx75mm air-to-air intercooler; 3″ stainless turbo/down pipe; 3″ mild steel exhaust system
ENGINE MANAGEMENT / ELECTRONICS: Haltech Platinum Sport 1000 programmable ECU
DRIVELINE:  Tri-Matic 3-speed manualized automatic transmission; B&M ratchet shifter; TCE torque convertor; R200 long-nose differential; 3.9:1 final drive; modified R32 GT-R axles; HPS billet companion flanges; HPS billet stub axles
SUSPENSION / CHASSIS: Front: Koni dampers, King Springs coils; Rear: Koni dampers; custom springs; Nolathane bushes front/rear
BRAKES:  Front: Nissan Silvia rotors, Toyota Hilux 4-pot calipers; Rear: Mitsubishi Starion Turbo rotors/calipers
WHEELS / TIRES: Front: 15×5″ Weld Racing Draglite alloys; Michelin 195/65R15 tires; Rear: 15×8.5″ Weld Racing Draglite alloys; Mickey Thompson ET Street Radial 235/60R15 tires
CABIN: ANDRA-spec steel rollcage; Mazda FD3S RX-7 front seats; Buff suede upholstery; 4-point harness seat belts; AutoMeter Sport-Comp gauges
BODY: OEM Datsun 510 panels; Ford Sierra Cosworth bonnet vents; House of Kolor Lime/Gold Kandy paintwork
THANKS: Horsepower Solutions, Capalaba, Justin Simpson (tuner & engine builder); ProModz Fabrication; Dan Swanney (fabricator); GearTorque; Slacks Creek; Tony Carter (gearbox); TCE (torque converter); Queensland Performance Datsun Club (QPDC); Kell; Buzz
DESKTOPS