The 2012 Goodwood Revival paid tribute to a number of iconic motor racing institutions during the 2012 running of the vintage festival, with each of the quartet being intrinsically linked with racing history. The phalanx of pre-war Silver Arrows single-seater behemoths flattened fans each time they took to the track; an unbelievable number of GTOs lined up in the paddock and made demo runs; a roaring horde of Shelby Cobras battled it out on track; and of course tribute was paid to the legendary American racer Dan Gurney.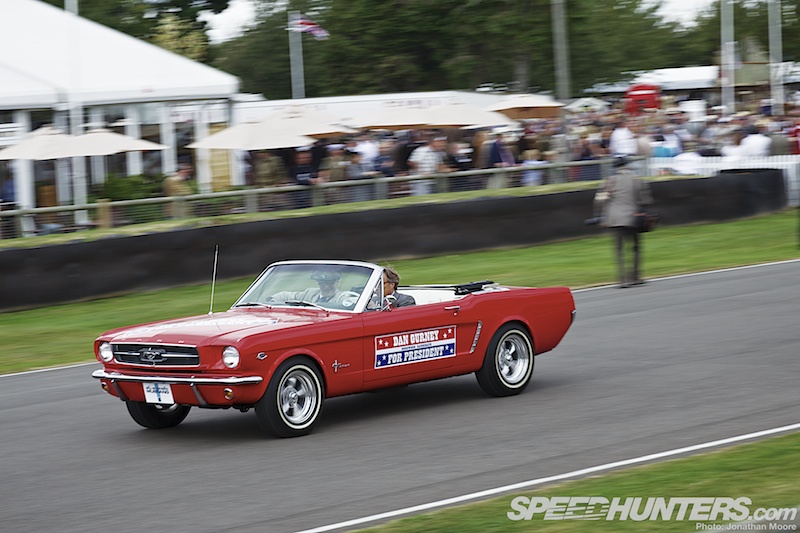 The daily parade of cars driven in period by the legendary Dan Gurney demonstrated not only the diversity of cars that Gurney drove but was also a virtual history lesson of racing in the '60s and '70s. 24 cars were driven out, led by a Mustang convertible carrying the man himself and driven by Revival organiser Lord March, whose grandfather founded the track in 1948.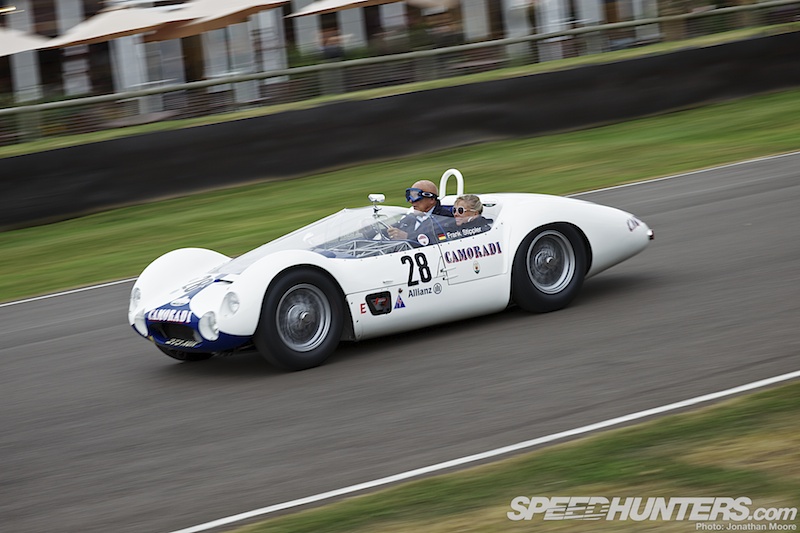 Drivers such as Stirling Moss and Jackie Stewart piloting his racers, with Moss taking out this Maserati Tipo 61 Birdcage Streamliner.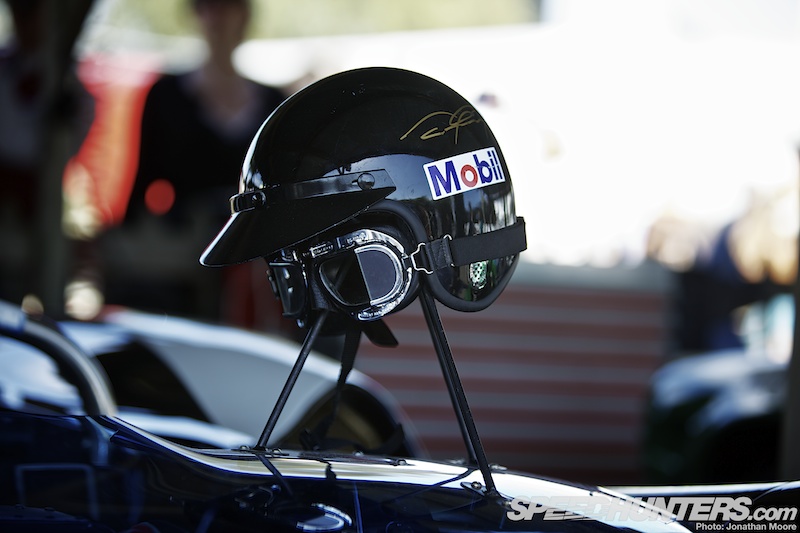 Like so many drivers of the period, Gurney drove everything and anything. Even at international events he would still be jumping into cars for support races. He started off racing jalopies in local events, but was quickly talent spotted and signed up by Ferrari North America in 1958.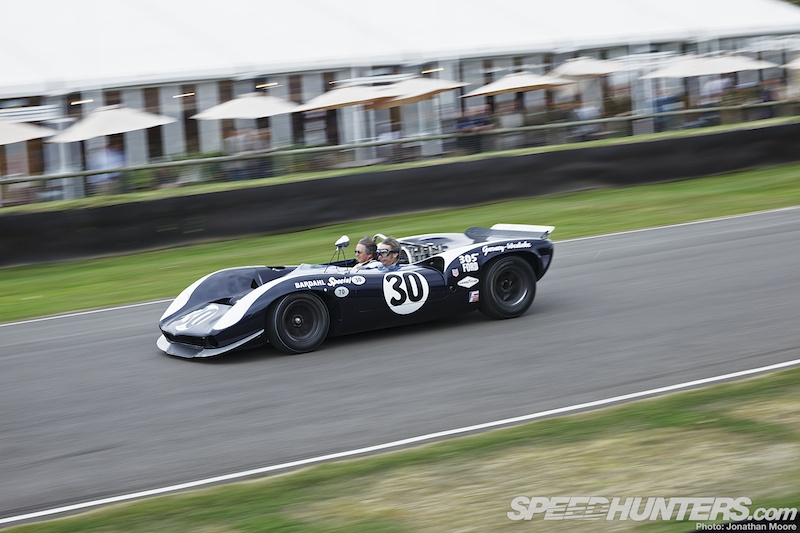 From then a whirlwind of interest was whipped up around him: Gurney would go on to win in Formula 1, sportscars Indycar, NASCAR, touring cars, Can-Am, Trans-AM… Basically if he drove, he won.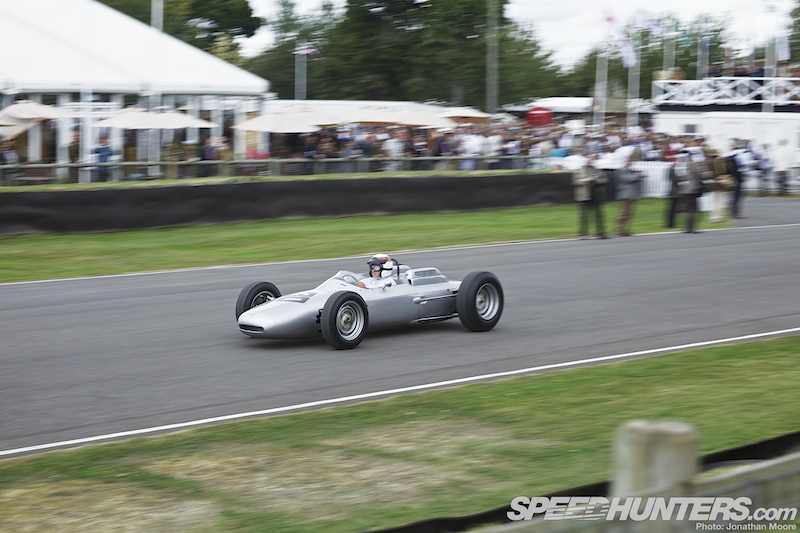 Dan Gurney was never one for following convention: he was responsible for a number of innovations and firsts. Porsche's only victory in F1? Gurney at the fearsome Rouen circuit in France, 1962. Spraying champagne on the podium? Gurney at Le Mans 1967. Full-face helmets in F1? Gurney at the German Grand Prix in 1968. Increasing rear downforce whilst reducing drag? The Gurney Flap, first used in 1971.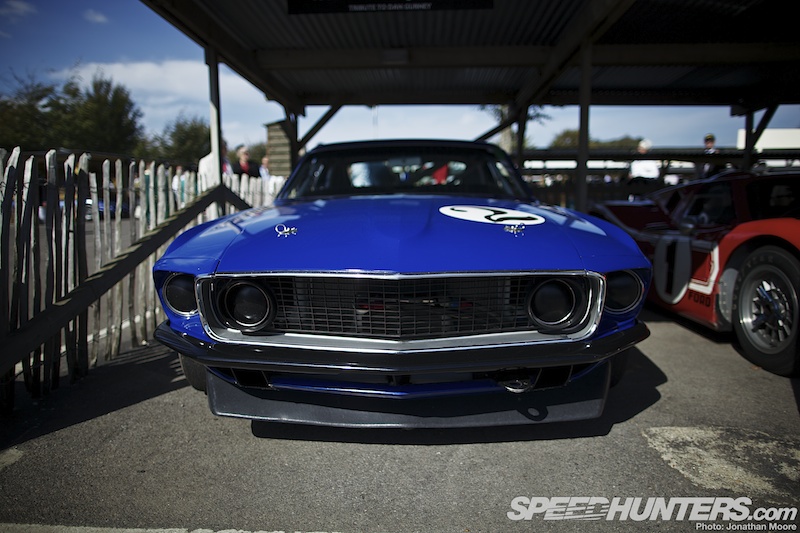 Whilst still successful as a driver (such as with this later '68 Boss Mustang), Gurney moved into team ownership and car construction, partnering with Carroll Shelby in an effort to take on and beat the dominant European teams in sportscar racing. The Cobra was born.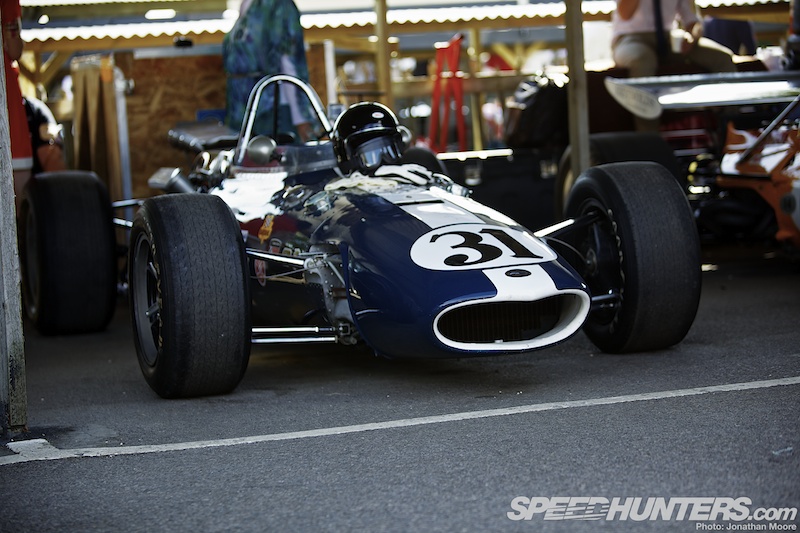 He also formed All-American Racers, an actually Anglo-American partnership that bequeathed the most beautiful of '60s F1 racers, the Eagle-Weslake V12, and won in IMSA and Indycar.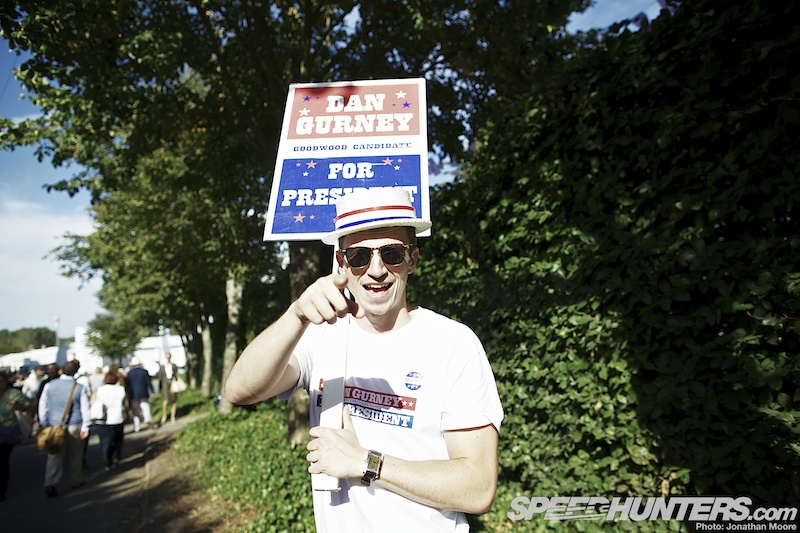 Gurney's enduring popularity led to Car & Driver magazine starting a Dan Gurney For President campaign in 1964, an idea only partially tongue in cheek and one reborn for this year's Revival. There were at least 146,000 people who would vote for him at Goodwood…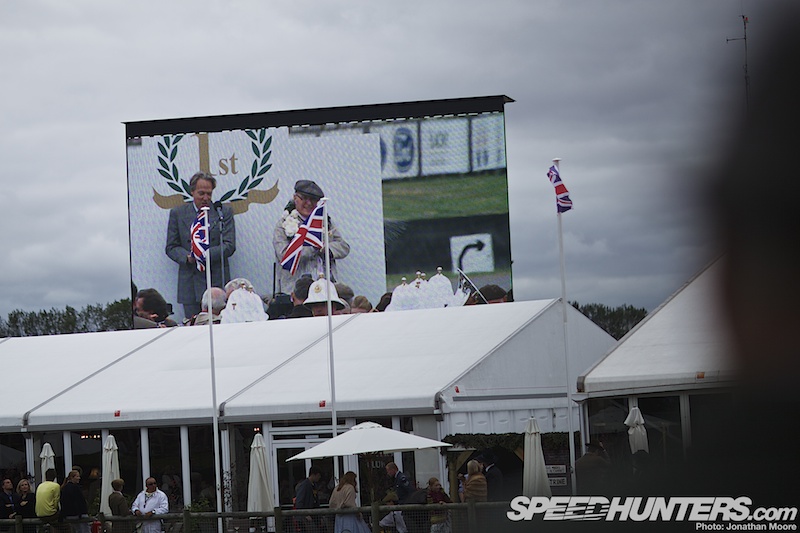 On Sunday, an emotional special event was held, with Gurney taking centre stage on the Goodwood podium whilst Revival organiser Lord March read out a stirring tribute to the man, complete with a short video summary of his career.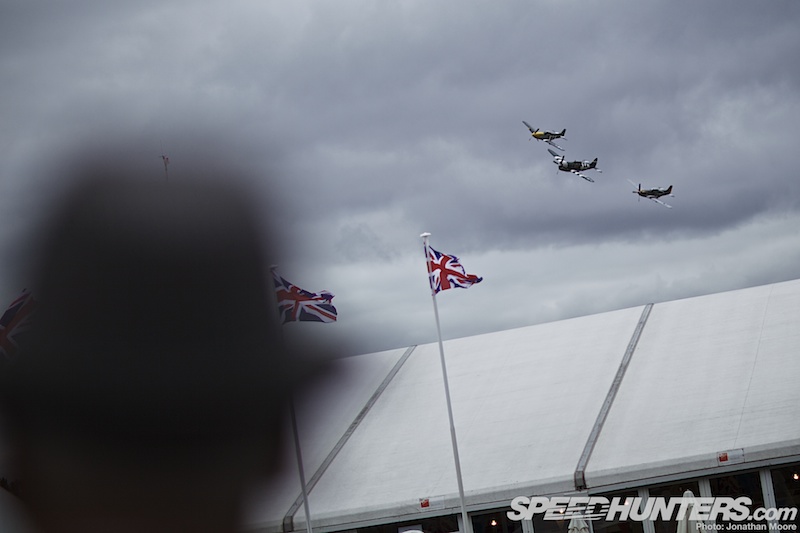 With emotion writ large over everyone's faces, the big ending of a flight of Mustangs and a Thunderbolt powering overhead and an explosion of fireworks and ticker-tape was everything the modest man isn't, but all that he deserved.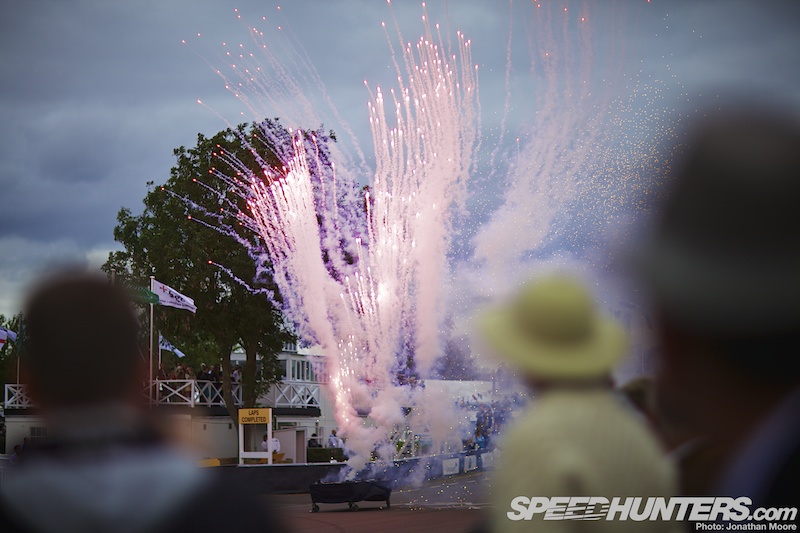 Dan Gurney, Goodwood salutes you.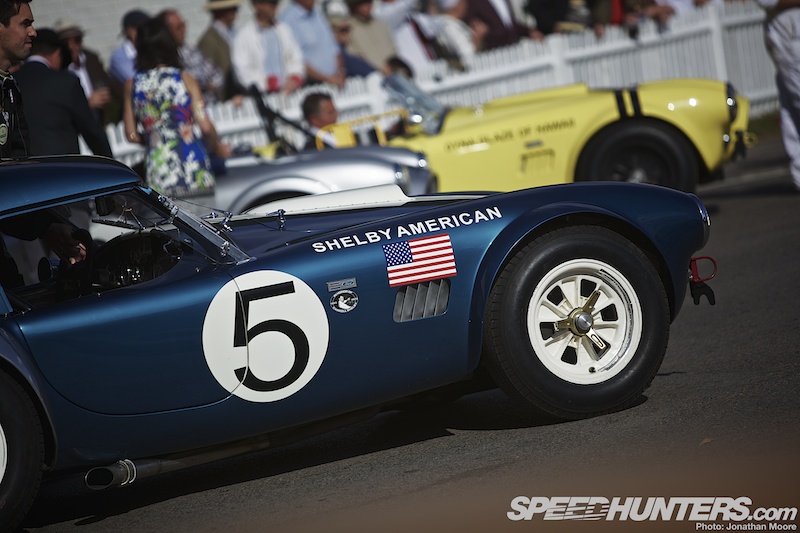 On Saturday the Shelby Cup was held, an exclusive event for Shelby's iconic creation with a grid overflowing with all things Cobra.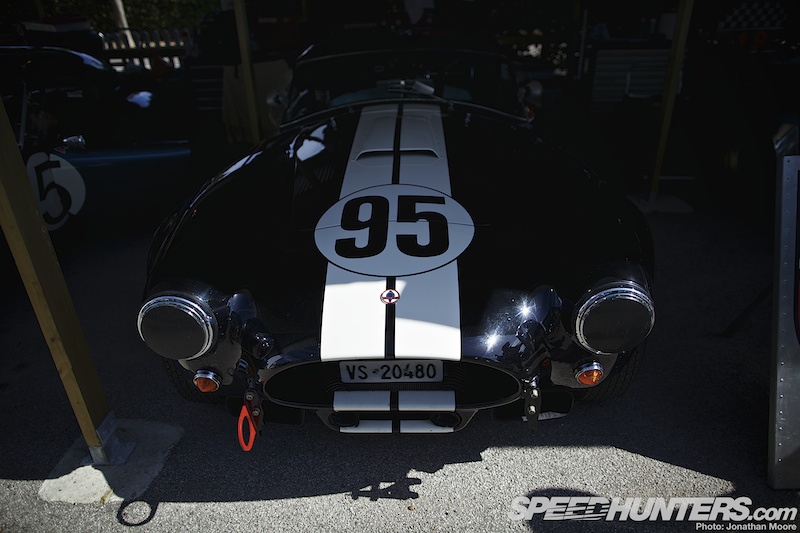 A half-century old, the Cobra shape is still a familiar sight whether in original or kit-car form, and an even more familiar sound due to the breathtakingly deep rumble of the V8 power station that is barely contained under the bulging hood.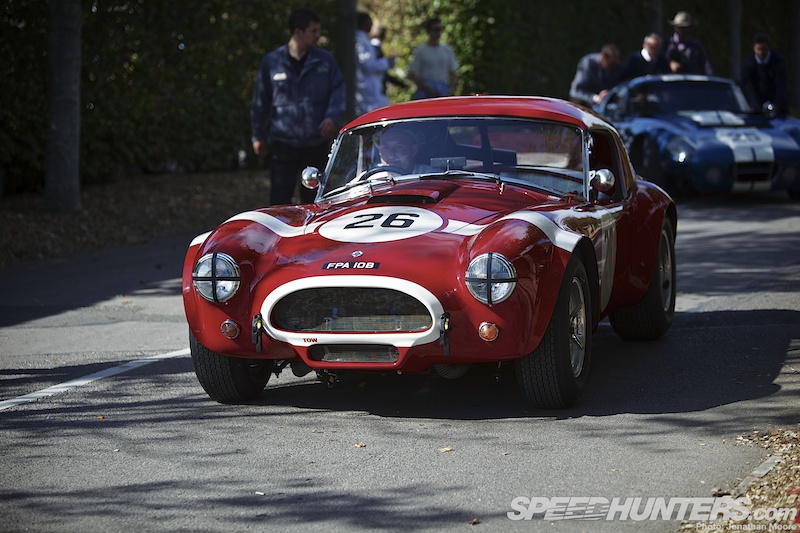 The Cobra evolved from the original AC Ace roadster, a relatively innocuous, underpowered British two-seater that Carroll Shelby targeted as the perfect platform for a racing car project to take on the dominant model in the US, the Corvette.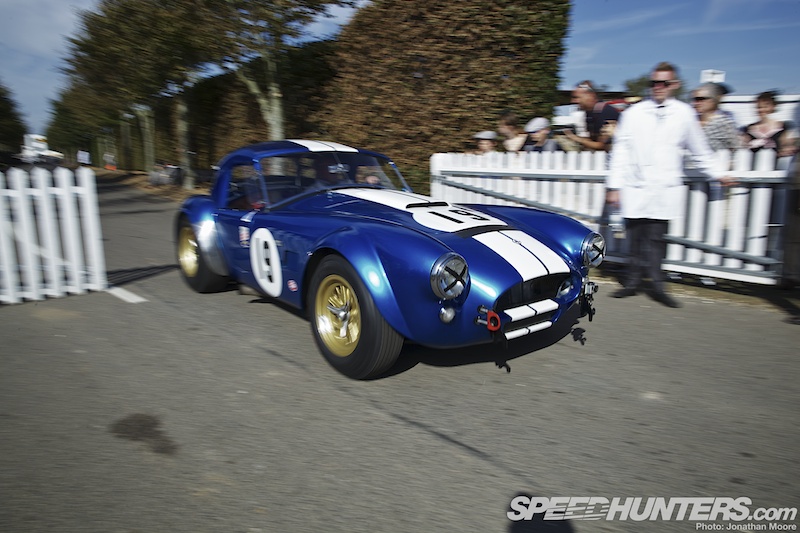 With a Ford V8 installed, the underpinning beefed up to take the increased power and the bodywork muscled-up, this was a car that could take the fight to Chevrolet – especially as the car weighed in at an incredible 500kg lighter than its competition.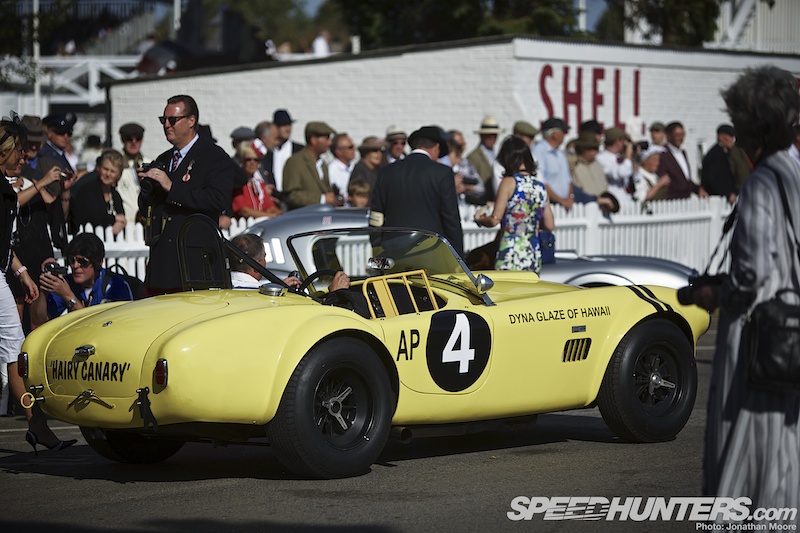 Cobras came in many shapes and sizes as far as engines and drivetrains were concerned: the Hairy Canary (a winner in 1953 Hawaiian Grand Prix) is officially recognised as one of just 21 Independent Competition privateer cars, fitted with rack-and-pinion steering and the 289ci block. Although Cobras are not in short supply, those with proven racing pedigree can be just as valuable as their more illustrious European cousins.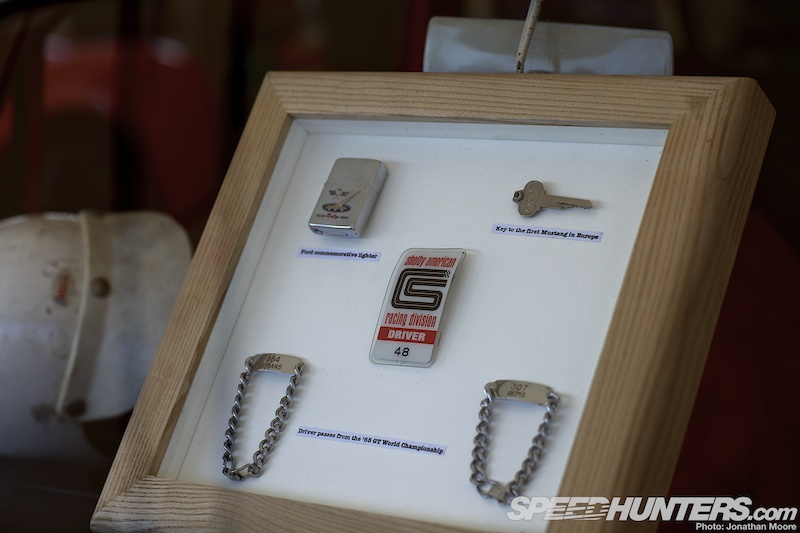 Memorabilia from Shelby American's racing team was also on show: those driver bracelets are rather nicer than the passes modern drivers use!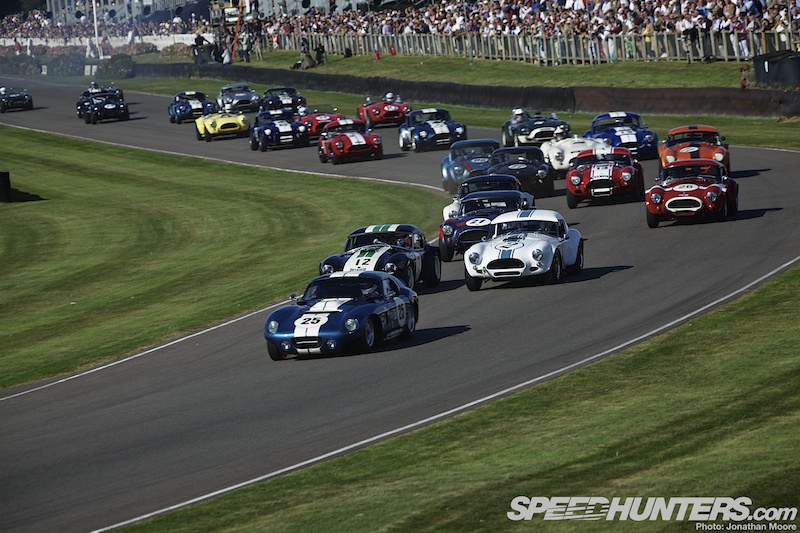 The Shelby Cup was a two-driver, 45 minute race that contained a number of specials amongst the more regular coupés and open-tops.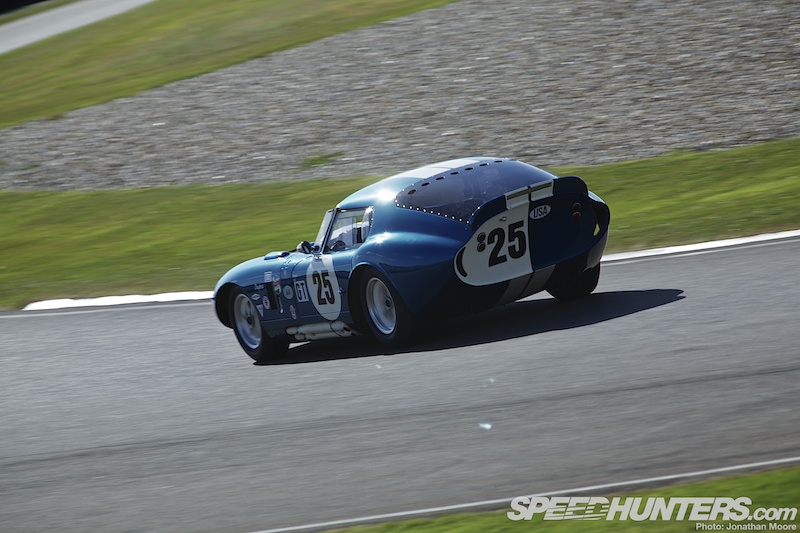 A singleton Shelby American Cobra Daytona Coupé romped away at the front, driven by Derek Hill – son of 1961 F1 World Champion Phil Hill – but succumbed to an engine problem soon after the pit-stops.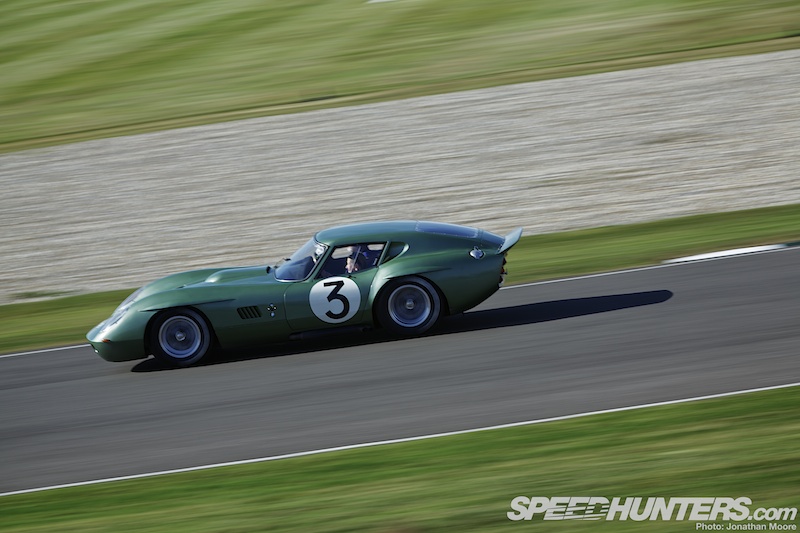 The other non-standard entry was the unique Le Mans Coupé: it finished in fourth at the flag. This version was built by the British AC Cars concern, and was nearly destroyed when a tyre blew at the 1964 running of the Le Mans 24 Hours.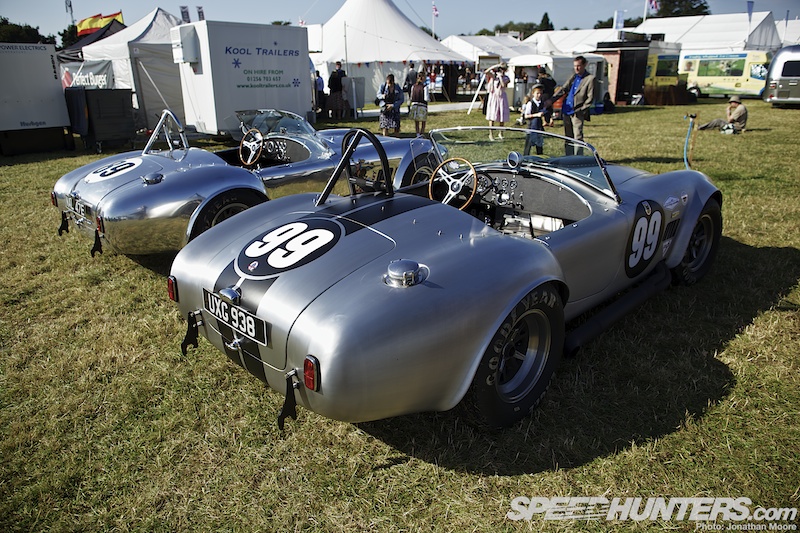 The Cobra tribute spilled out into the Forward Parking Area, with many examples of the brutish sportscar on show. But there was something else with a noise even more unique that is next on the list.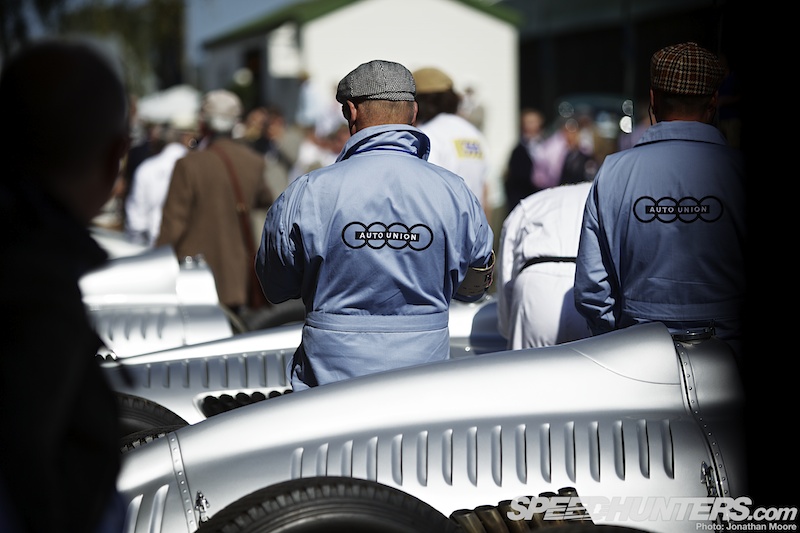 It was the sound that drew me in. A deep, rhythmic rev – slow and sonorous, like a sleeping monster.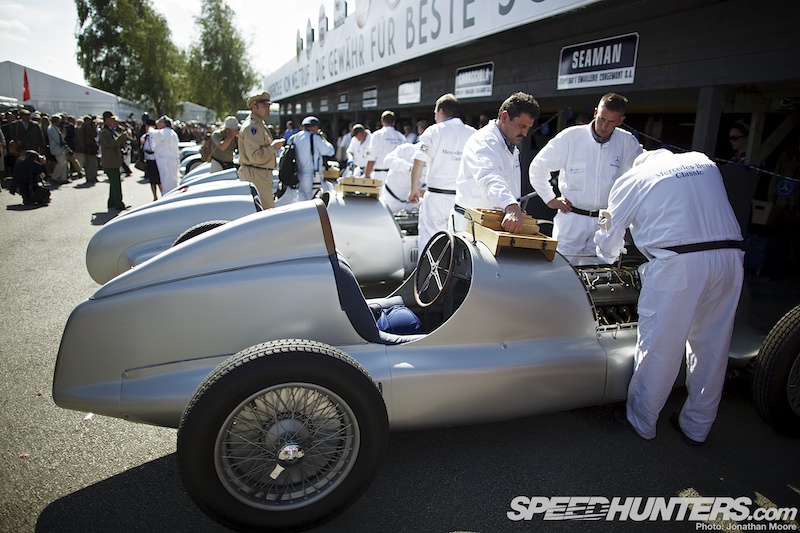 A crush of people made it hard to see what everyone was transfixed by, so I made my way through and finally saw what had been making such a haunting, unearthly sound.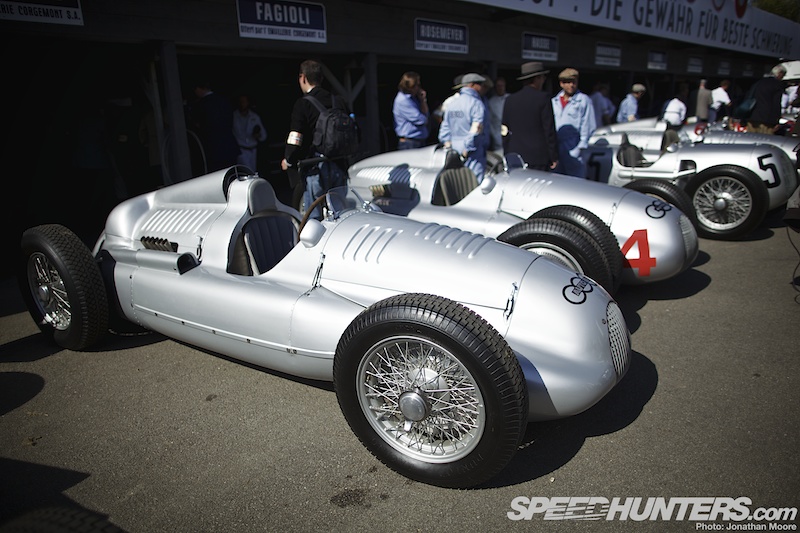 Auto Union. Two words that revolutionised racing in the 1930s and directed technology on a never-before-seen level towards punishing anyone who dared come between the four rings and victory.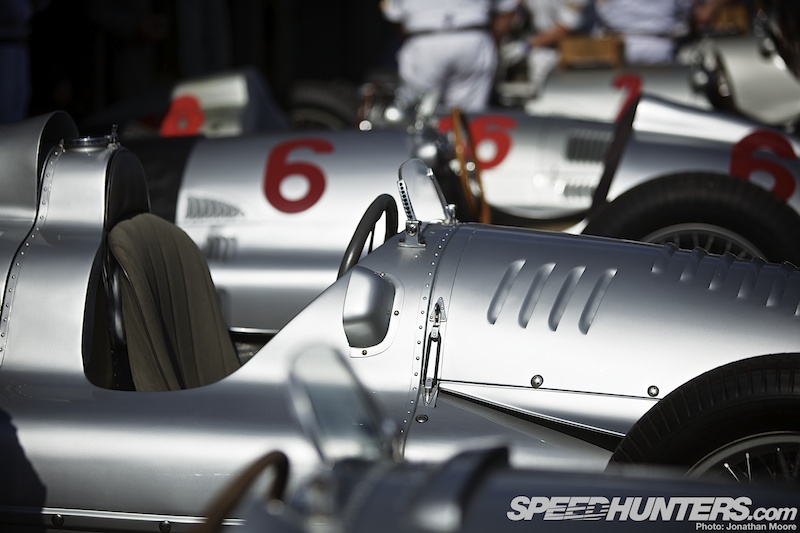 The Revival saw the largest ever gathering of these monstrous racecars: a priceless collection of racing metal from Mercedes-Benz and Auto Union.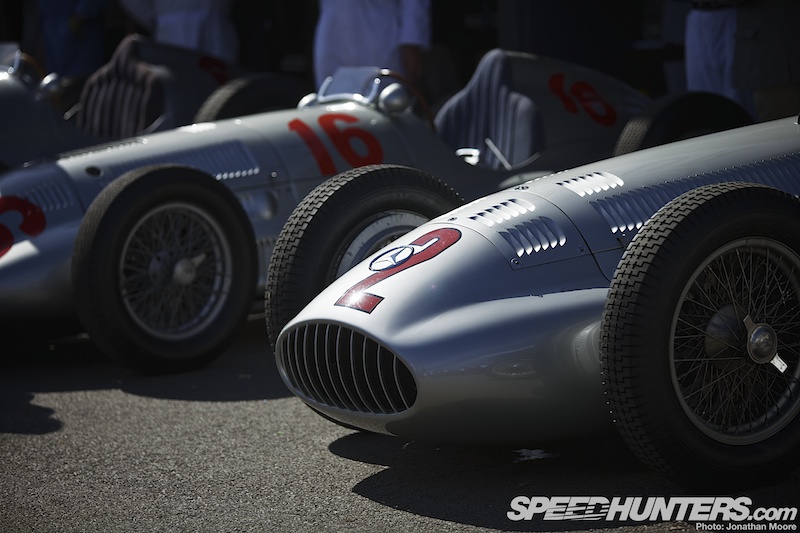 The Auto Union Rennabteilung began a technical arms race that was only cut short by the onset of war: the opposition never had a chance in the face of such a crushing application of racing might. Paired with the Mercedes cars, the German racing teams were utterly dominant.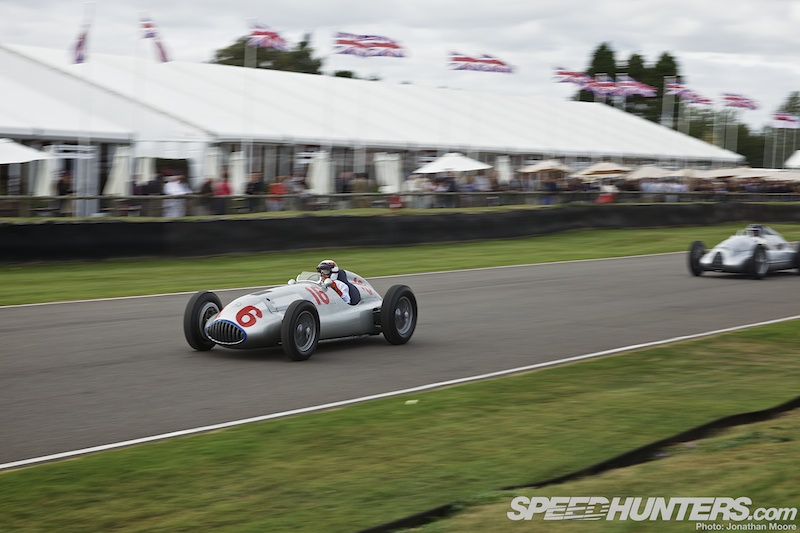 Several racers that attempted to compete withe the Silver Arrows in period shared the on-track demonstrations – Alfas, Maseratis, Bugattis and ERAs – and showed just how far ahead the Silver Arrows were: they have more in common with the shapes of '50 racers than the cars they shared tracks with in the '30s. Bows and arrows against the lightning.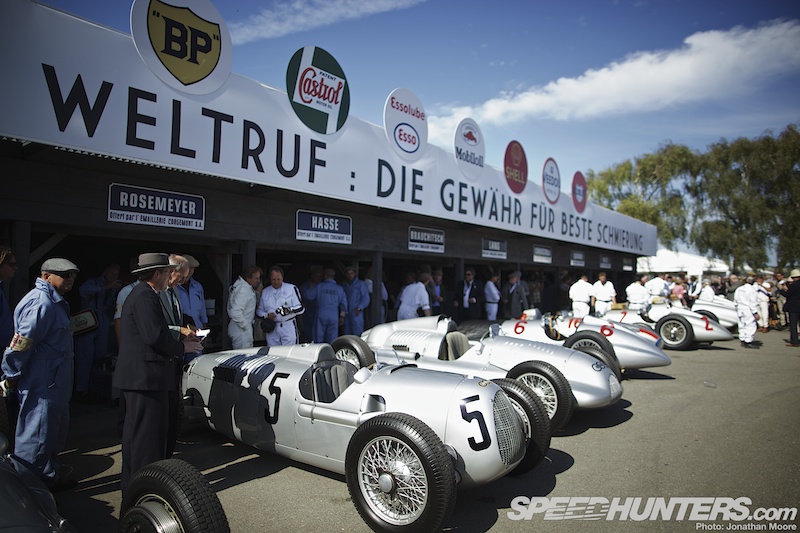 Back in the paddock, a special enclave had been built to house the 10 cars, recreating the shelters used at Bremgarten, the home of the Swiss Grand Prix in the 1930s.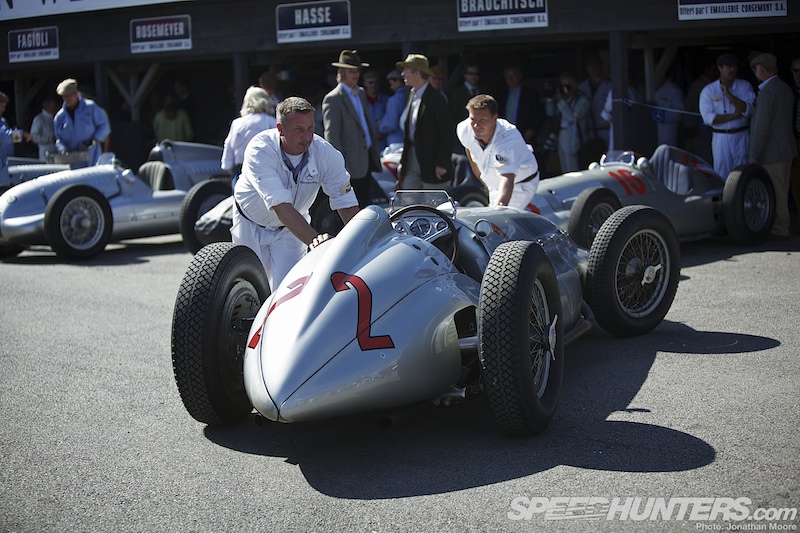 It was all too easy to be transported back in time: period-dressed mechanics swarmed around the cars as onlookers stood and stared at these futuristic-yet-historic racecars. Only the modern cameras gave the game away.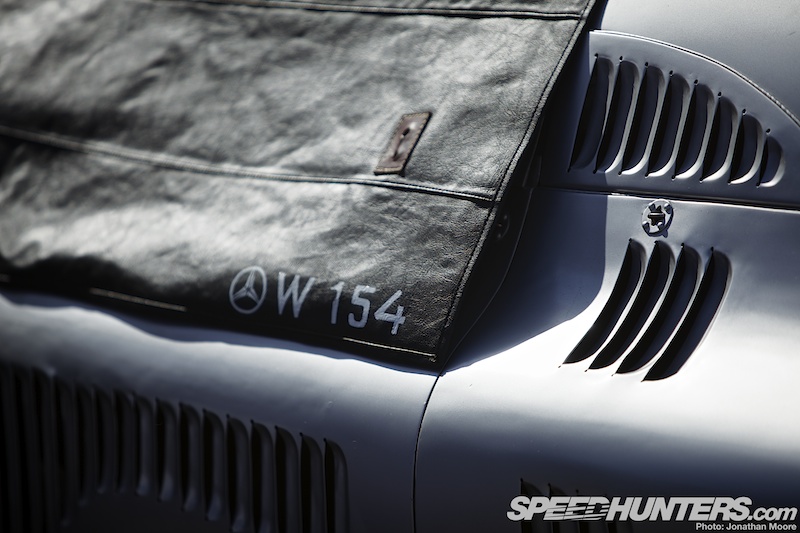 Five Mercedes-Benz were matched with their Auto Union counterparts: W154, W25, W165 and W125 against Type A, C, D and D Doppel Kompressors.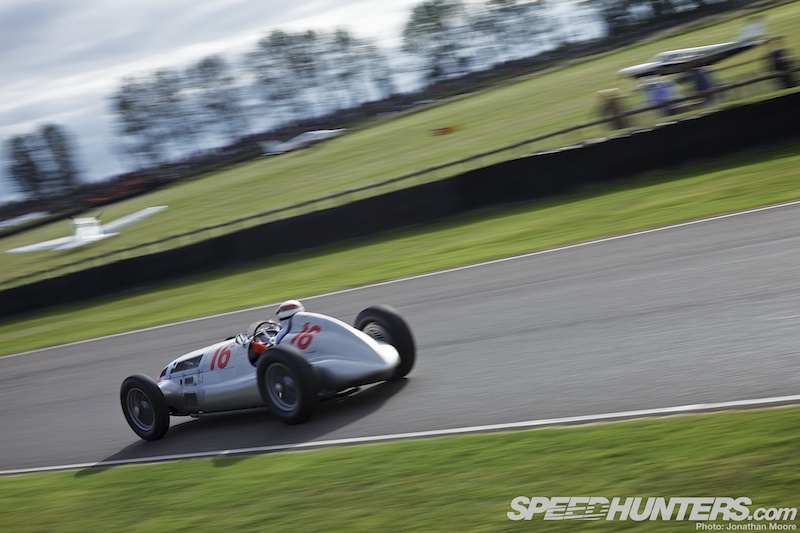 Out on track they sounded more like fighter planes than racing cars with their V12 and V16 supercharged piston engines. The sheer power was clear to see: even at the easy pace they were being driven at the cars looked alive and ready to snap.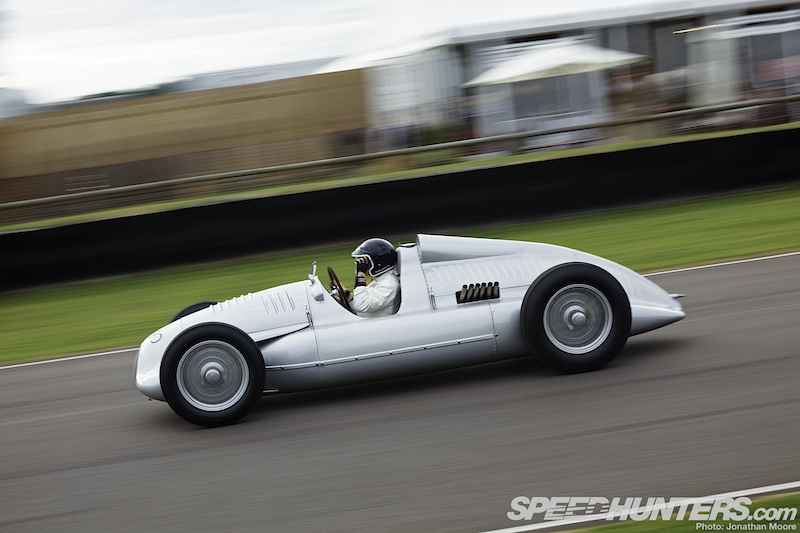 The Auto Unions were so loaded with torque that they could lap the Nordschleife competitively using a single gear. Power grew year on year, reaching a heady 550hp when the big six-litre units were fitted in 1936. Records set by these cars stood for decades afterwards. A stunning demonstration.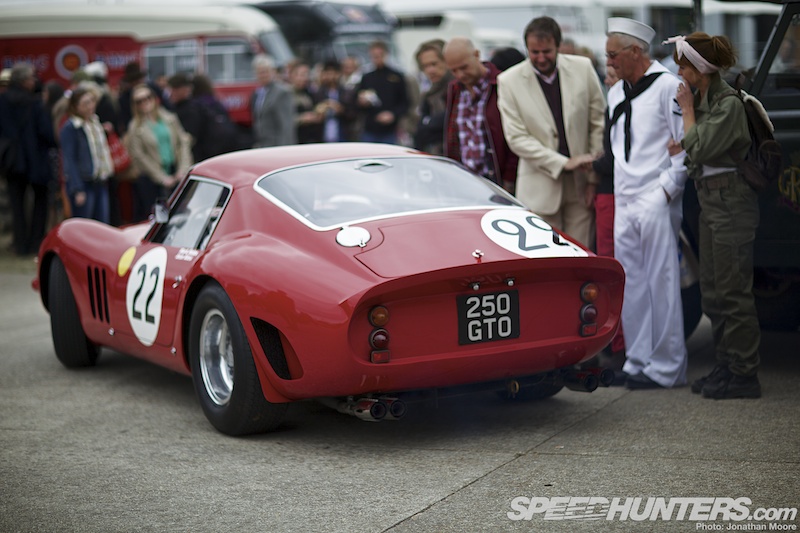 The Ferrari 250 GTO is another of those cars that is instantly recognisable by everyone, car fans or not, as an exquisite machine.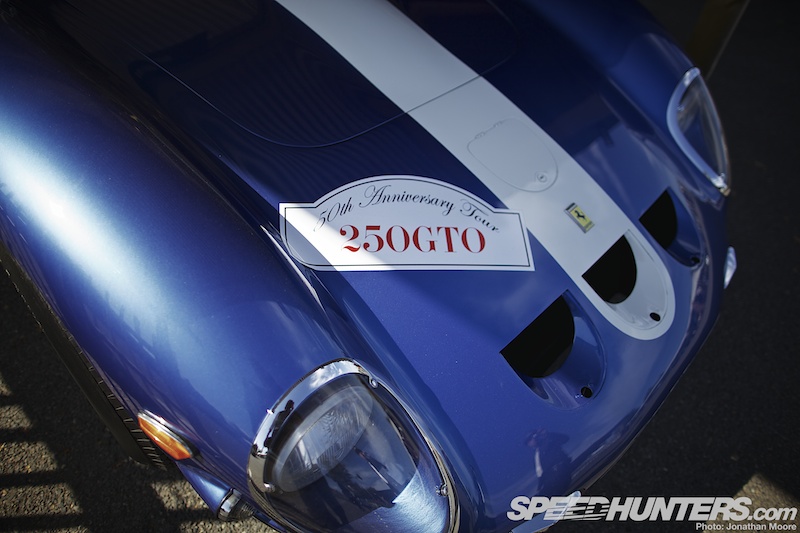 Like the Cobra, the GTO is 50 years old this year – and can still out-do many teenagers on looks and performance.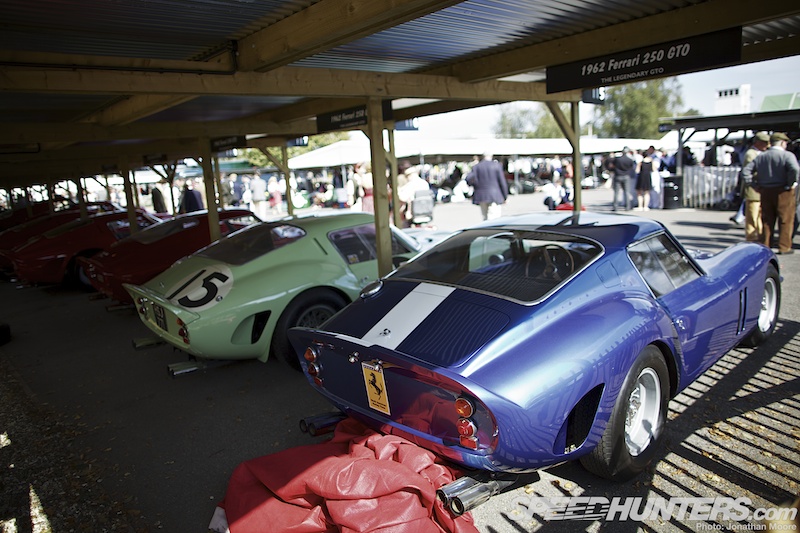 With a line of 250s in the man paddock that stretched for almost the entire length of the stands, 15 GTO variants took to the track each day to stretch their legs around the challenging Goodwood circuit in a non-competitive demonstration.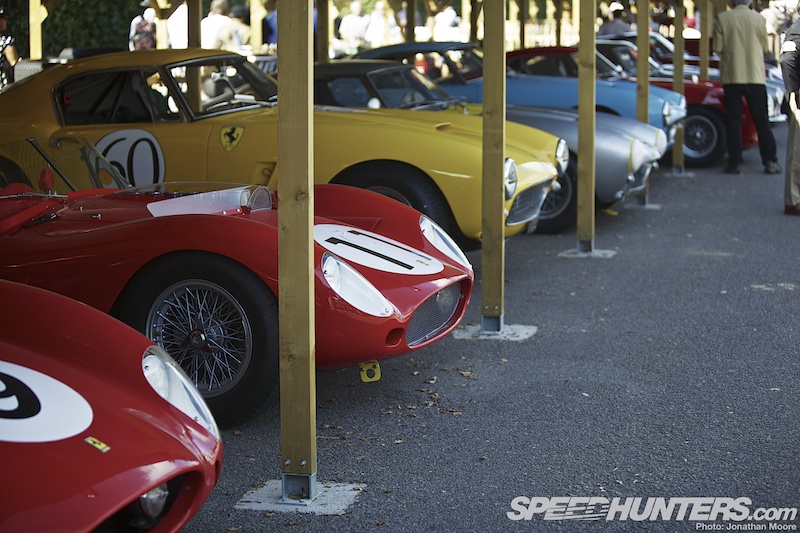 Just 36 of the 250-series GTO racers were built to Group 3 rules between 1962 and 1964, plus three larger-engined 330 GTOs, so to have so many in one place was an amazing event. The line of GTOs was then continued by a whole range of other 250-series racers.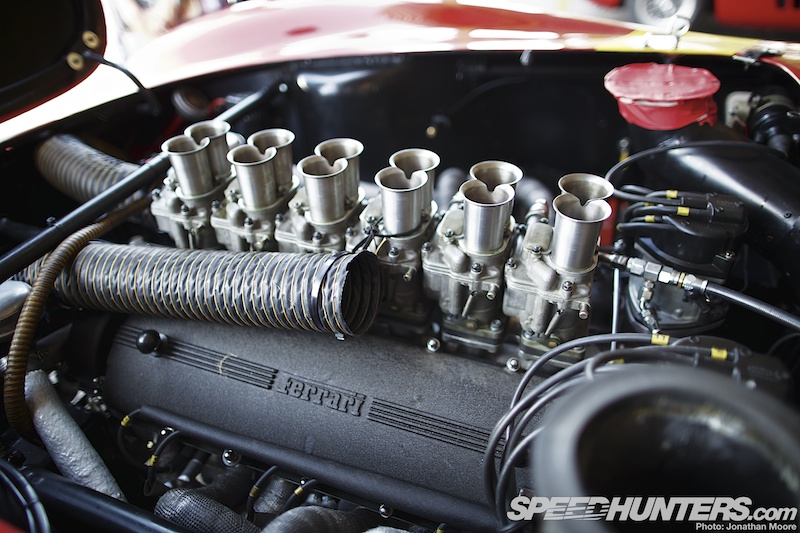 The wailing 3-litre V12 gave the car part of its name: the 250 was the displacement in cubic centimetres of each engine cylinder, with GTO standing for Gran Turismo Omologata.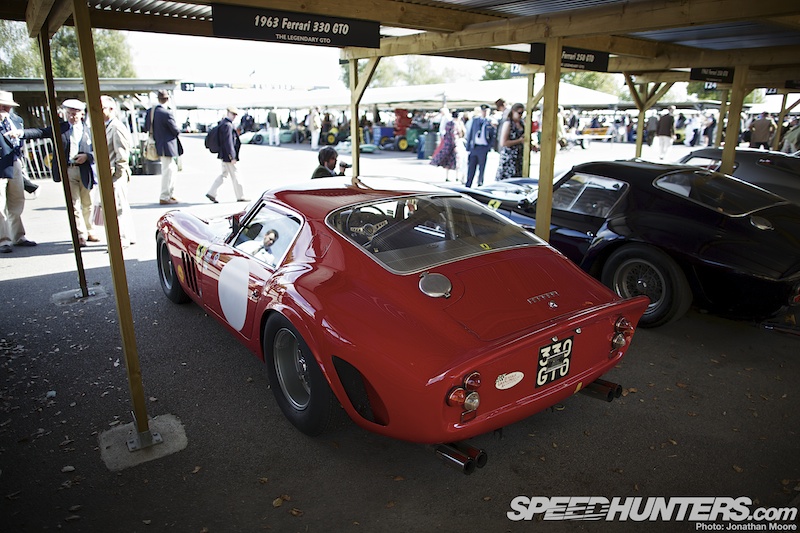 In typical Ferrari style, the 'Omologata' translated as homologated: something the GTO patently wasn't. Ferrari jumped chassis numbers to give the appearance that they had built the required 100 units.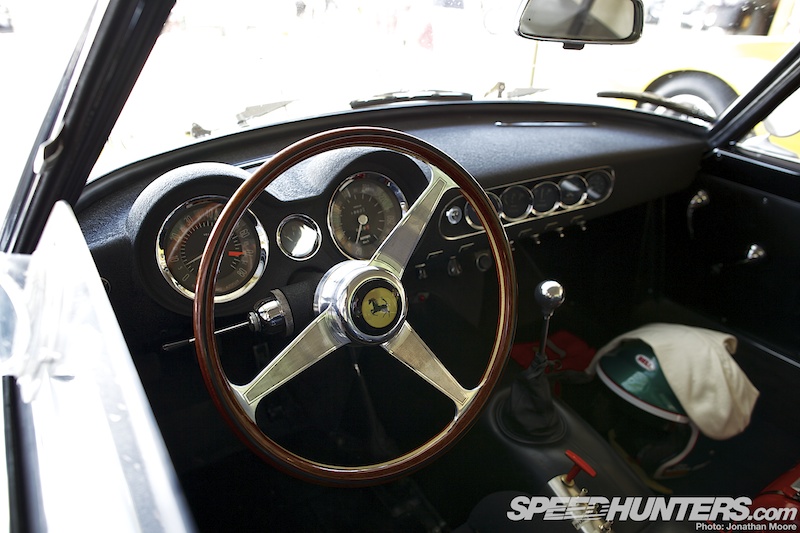 Despite this, they dominated for three years, winning Goodwood's Tourist Trophy twice in '62 and '63 and taking class wins at the Le Mans 24 Hours – they finished second and third overall behind the winning prototype Ferrari in '62, second and fourth in '63 and fifth and sixth in '64, losing that year to one of its constant Cobra rivals, the Shelby Daytona.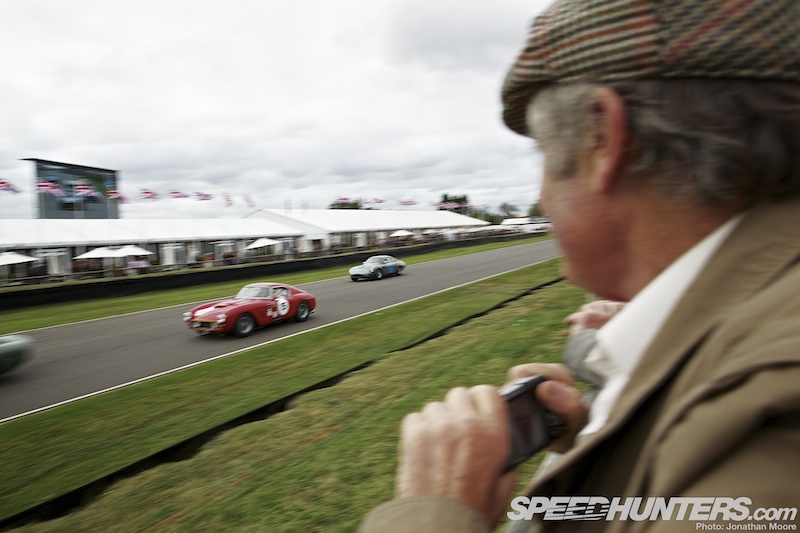 Valued at over £20-million pounds each, you soon run out of fingers trying to estimate the combined value of all these Ferraris. The demonstration runs might have been more sedate affairs, but the RAC Tourist Trophy Celebration race showed the more aggressive side of the GTO and its 250-model sisters…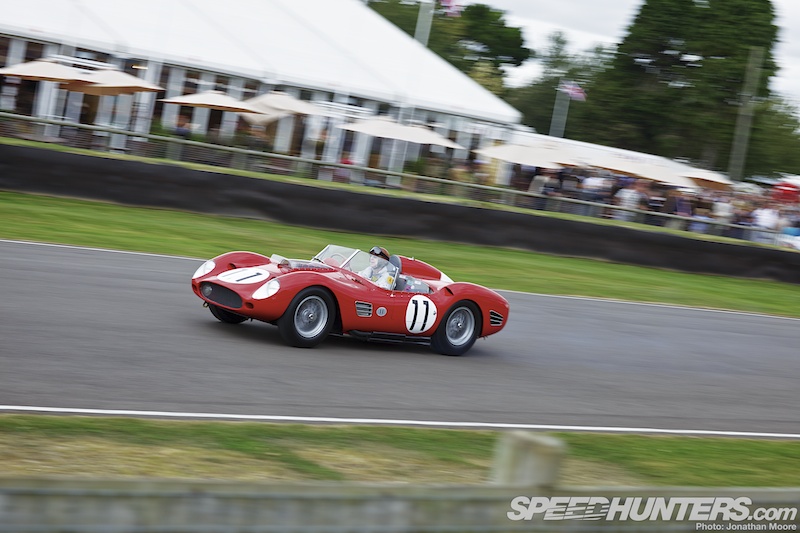 10 250s competed amongst the massed Astons and Jaguars, including three GTOs and five SWB/C open-topped models, plus the unique Drogo 'bread van'-bodied SWB.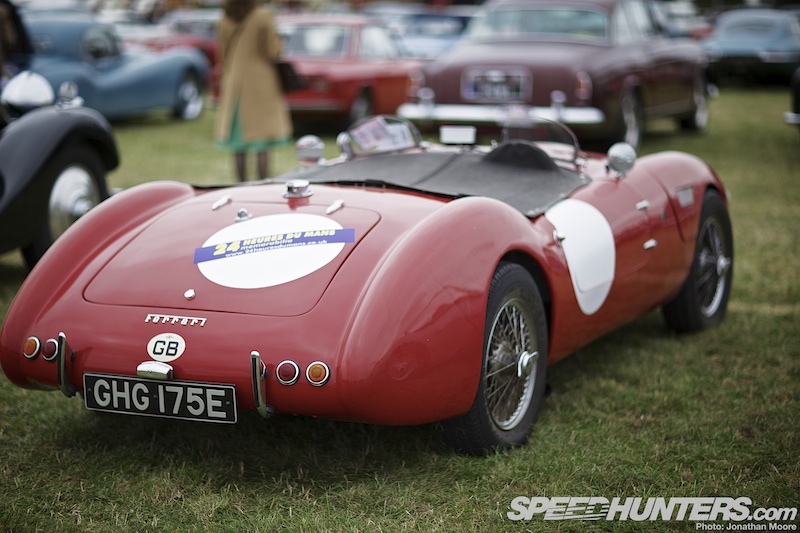 Once again, the public car parks picked up the theme. You can see why it was so difficult to leave those Forward Parking Areas: Paddy and I could do a year's worth of posts covering just that…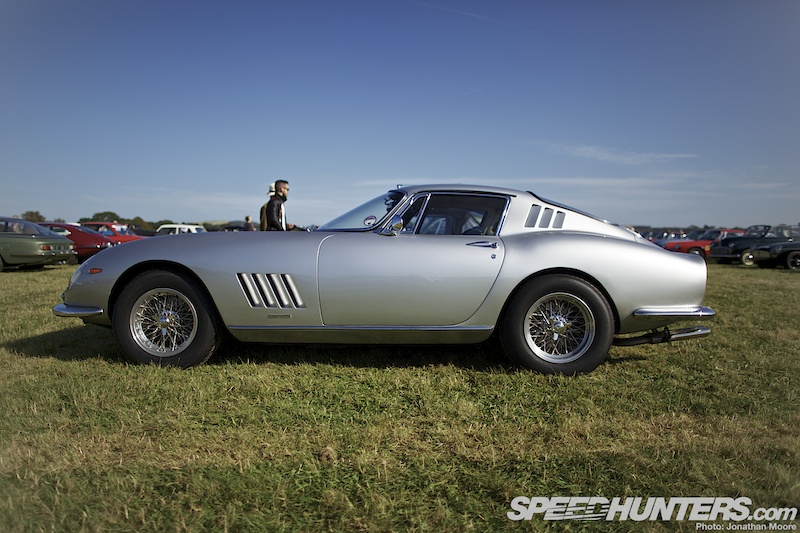 This beautiful 275 was one of several examples of the big coupé dotted around.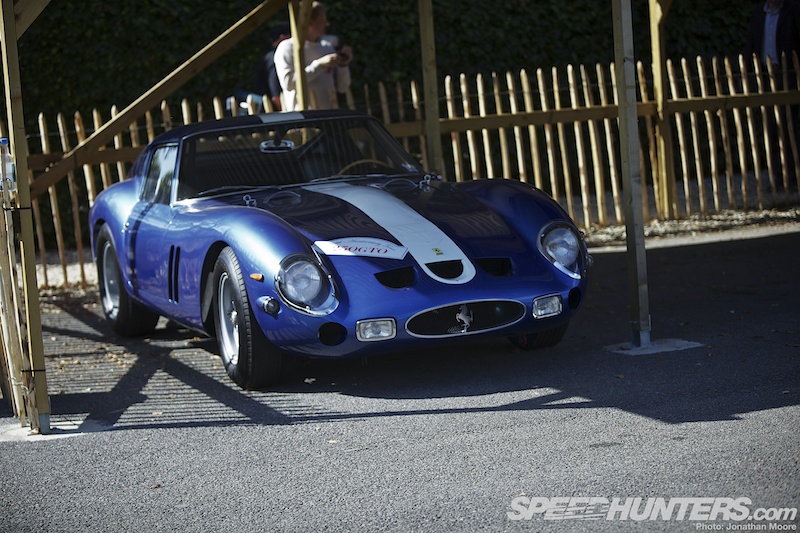 It's been a purple period for anniversaries, and it's a privileged time when you can witness such a wealth of priceless machinery in one place. Three cars, one driver: all icons.
Jonathan Moore
---
---
---
---