.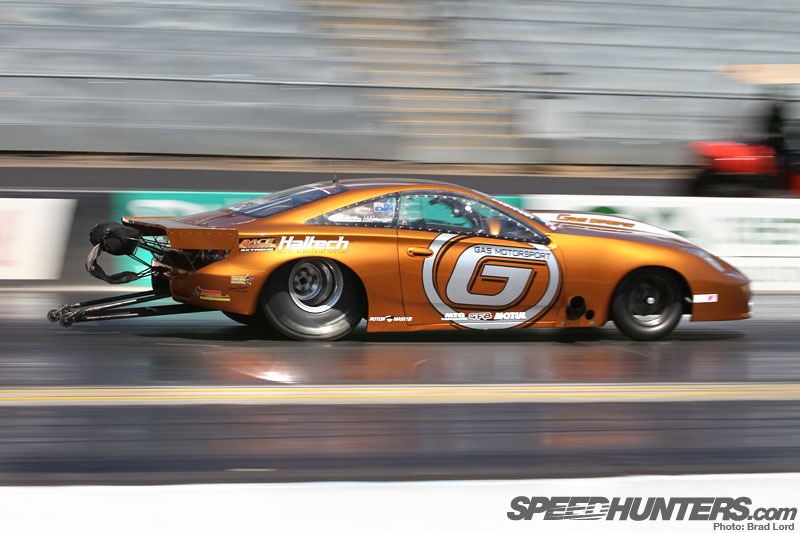 While the popularity of sport compact drag racing has appeared to have lost its shine in other parts of the world, it was more than clear looking around the pits at the 2012 Brisbane Jamboree (aka J22). The Australian scene is bucking the trend.
The Land Down Under has enjoyed a strong sport compact drag racing community ever since the community was first formed. But as time has gone on, and the quest for greater performance has increased, so too has the quality of builds.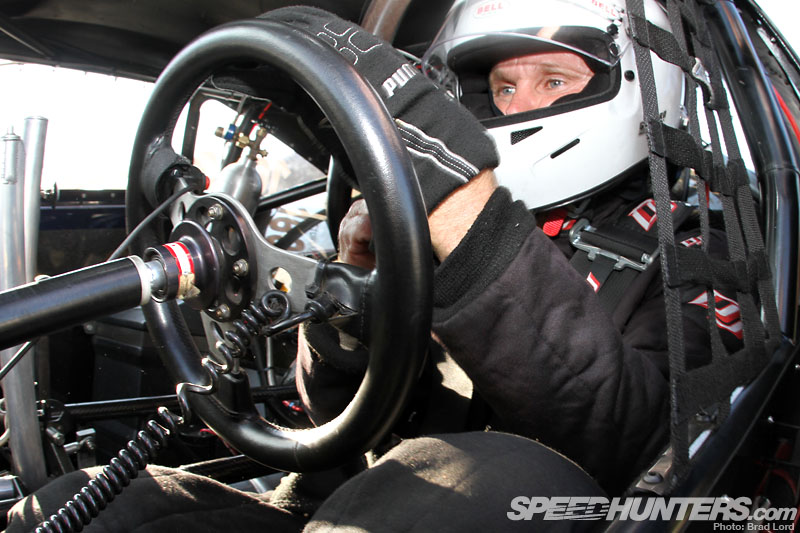 For many of the top-ranked competitors – Rod Harvey's Rayglass Boats-backed team from New Zealand included – lost interest in sport compact racing stateside has spelt opportunity for drivers looking to step up into a proven chassis at much less cost than building a new car from scratch.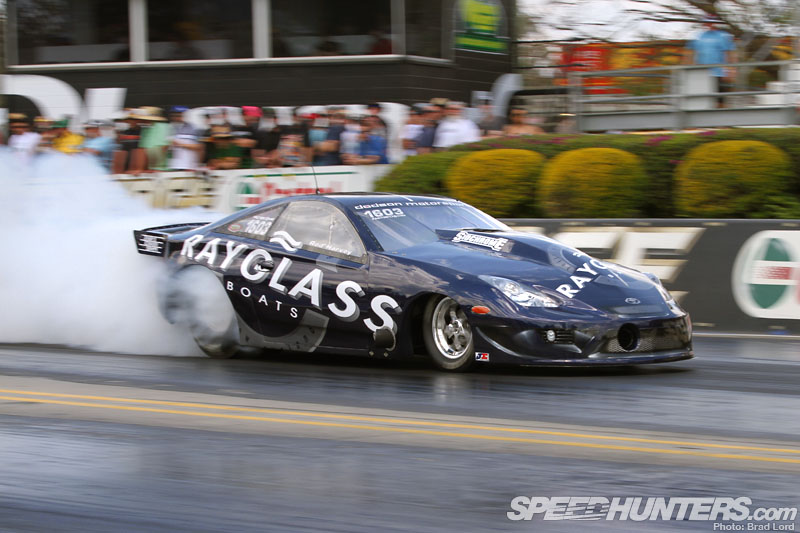 With so many local sport compact racers stepping up into similar packages, it made sense that a new class be developed for these late-model, high-tech turbocharged machines. Brand spanking new for 2012, Factory Xtreme – or FX for short – is the result.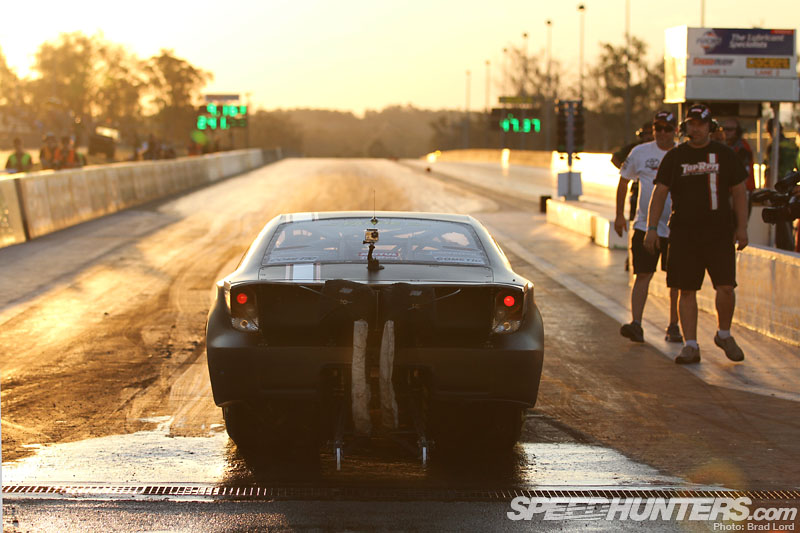 Although FX cars are far from simple, the concept behind the Australian National Drag Racing  Association (ANDRA) backed series absolutely is. This is 'heads-up' racing for any post-2000 full chassis vehicle with a maximum wheelbase of 115 inches (2921mm) and that is motivated by either a four-cylinder, six-cylinder, twin-rotor or triple-rotor engine. Weight breaks and equipment concessions even out the odds.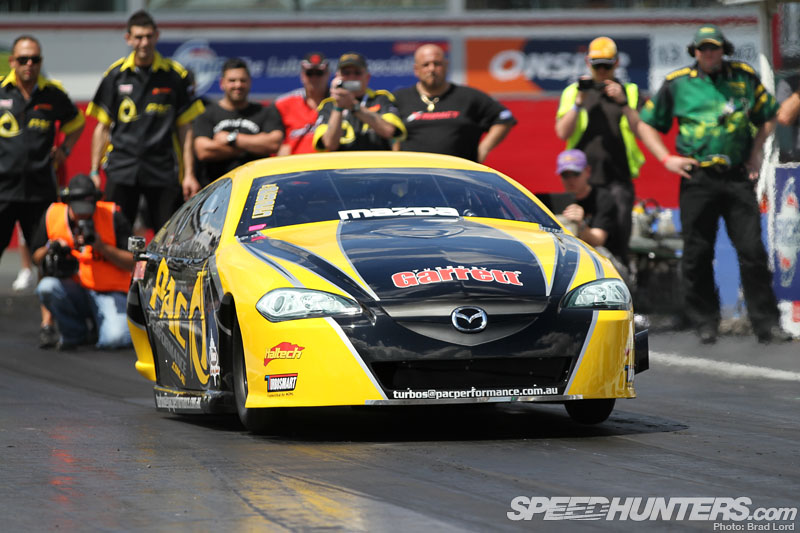 Fourteen cars signed up earlier in 2012 and J22 was the last of four rounds contested this year at various meetings, including Sydney's Jamboree held in late March. But For some teams like PAC Performance, the last weekend's Brisbane event was their first time racing in the class specially developed for ultimate sport compacts. In PAC's case that "ultimate" is brand new Mazda 6 SP built around a RJ Race Cars (USA) chassis and featuring a 20B engine with a Garrett GT55 strapped on the side.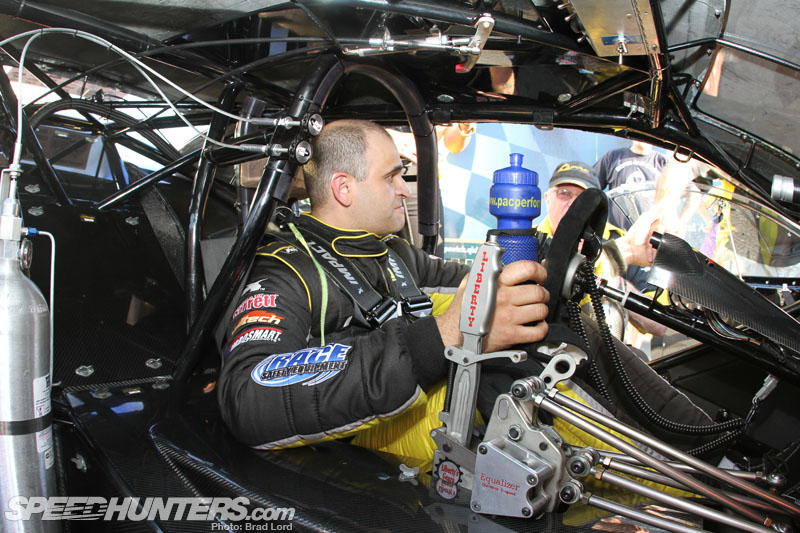 As you can see from George Rehayem's office outlook, machines like the PAC Mazda 6 are built for serious speed and safety, with a strong chrome-moly chassis and acres of lightweight composite moldings. J22 was the first time the Rehayem's were back on track after George's brother Rocky's huge 175mph+ accident at the 2011 Nitro Champs. Stepping up to this stateof-the-art chassis is allowing the PAC brothers the chance to realize their dream of reclaiming the world's rotary sport compact title.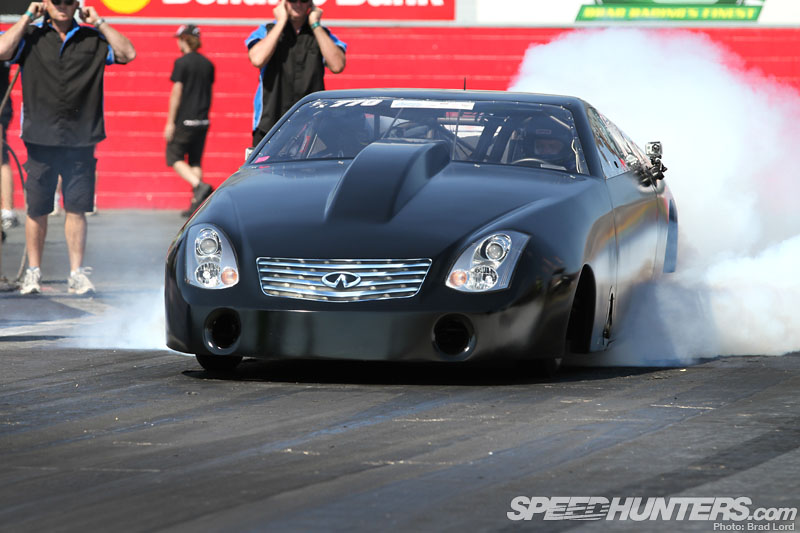 At J22 there were a total of 11 starters of varied chassis, engine and body design. From cars like Scott Porter's sinister looking 6.46-second G35 Nissan/Infiniti…
…built on a Vanishing Point chassis and powered by a wild, twin turbocharged Nissan VQ35 V6.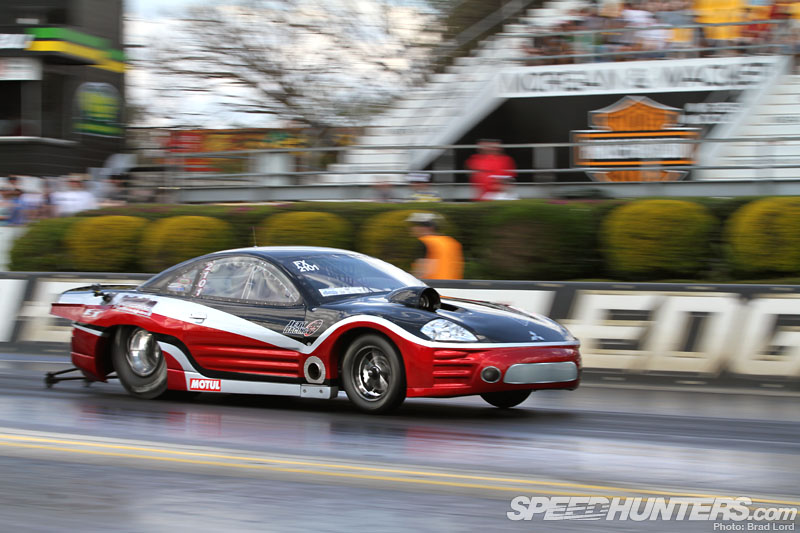 To builds like Collin Wilshire's Jett Racing Mitsubishi Eclipse built on a Jerry Bickel frame…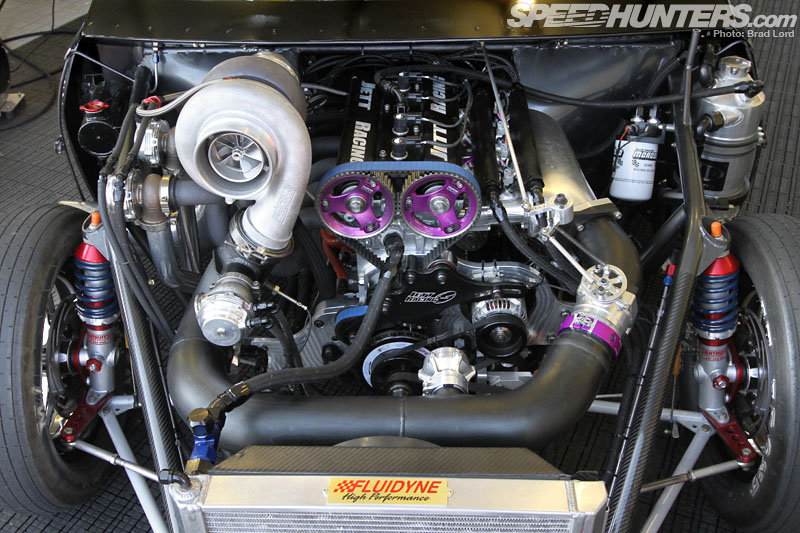 …and running a Jett-built Mitsubishi 4G63. Just a couple of weeks ago the impressive package helped Collin achieve the long-time goal of taking the first four-cylinder powered vehicle into the sixes. He did it on a 6.98 @ 197mph (317kph) pass.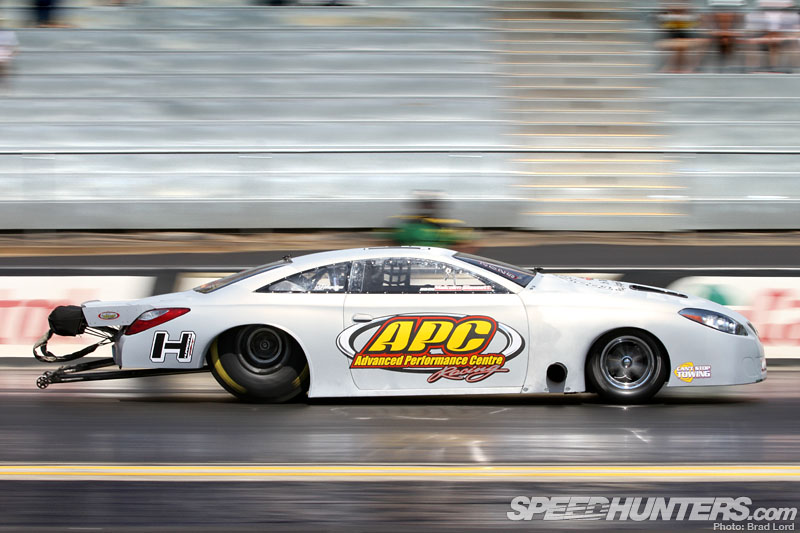 Of course, within the Factory Xtreme ranks there are no shortage of Toyota 2JZ-powered weaponry, including Malcolm Glassett's Hurricane Racing Toyota Solara…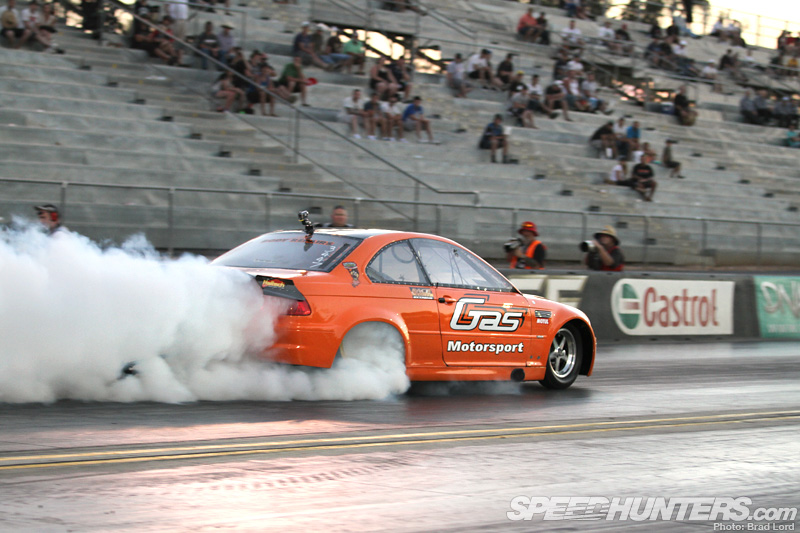 …Zoran Gajic's BMW E46 M3…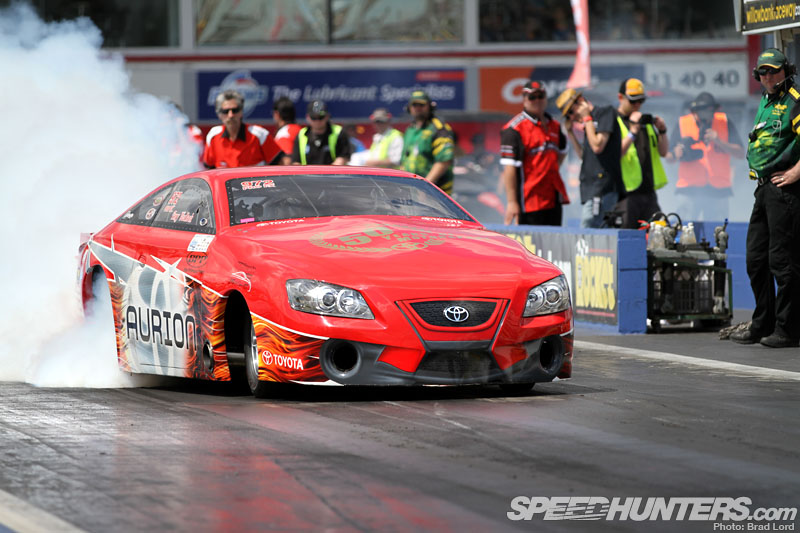 …as well as Tony Wedlock's Ultimate Motorsports Toyota Aurion.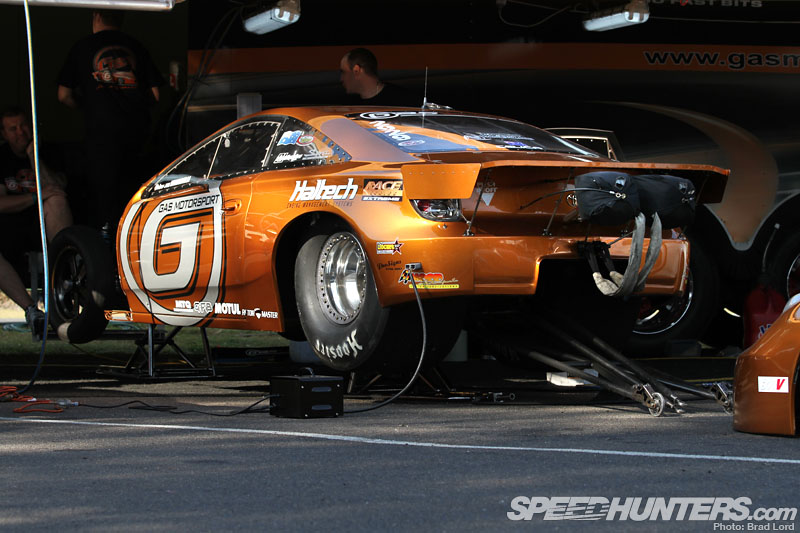 And let's not forget the ground-breaking GAS Motorsport Celica.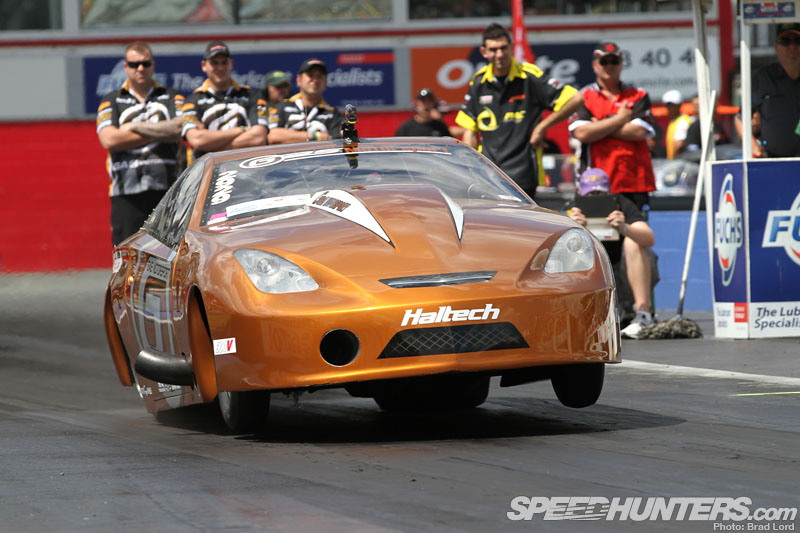 If you caught our first coverage of J22 you would have read that Joe Signorelli pointed the ex-Titan Motorsports machine to new heights of sport compact performance with a competition shattering 6.30 @ 227mph (365kph), followed up by an even quicker and faster 6.26 @ 230mph (370kph). It was a moment I won't forget in a hurry, that's for sure.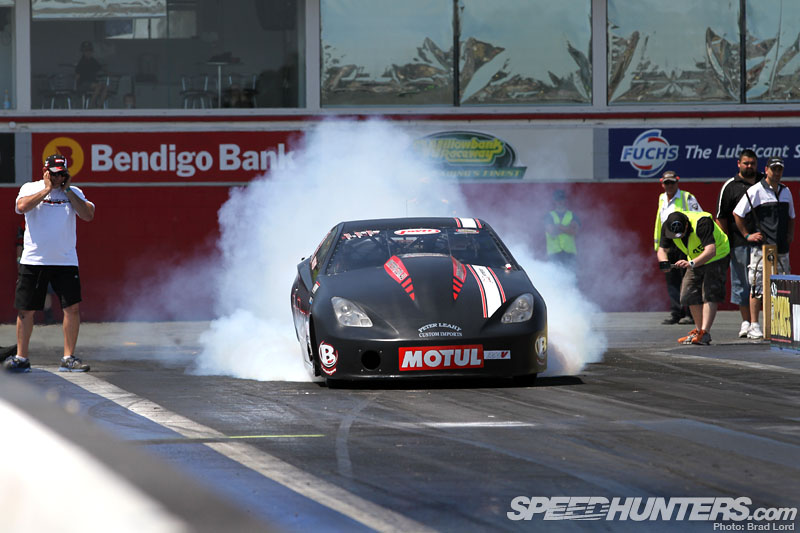 To see so many of these cars in one place at one time was pretty cool. Even though it might not look like it here, experienced racer Craig Dyson had a few problems with the Top-RPM Motorsport Celica (another ex-Titan car) during the course of the weekend.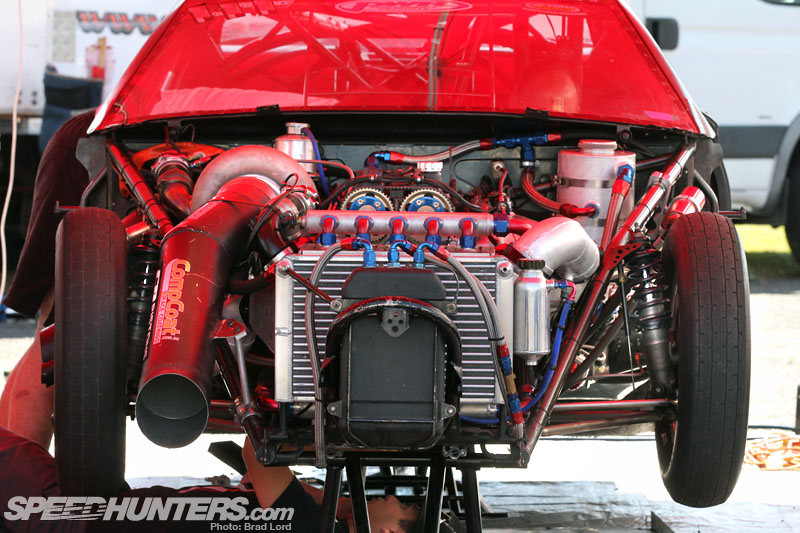 But there's just as much potential in this car as there is in the GAS machine. The hard part is getting everything to gel together on the day.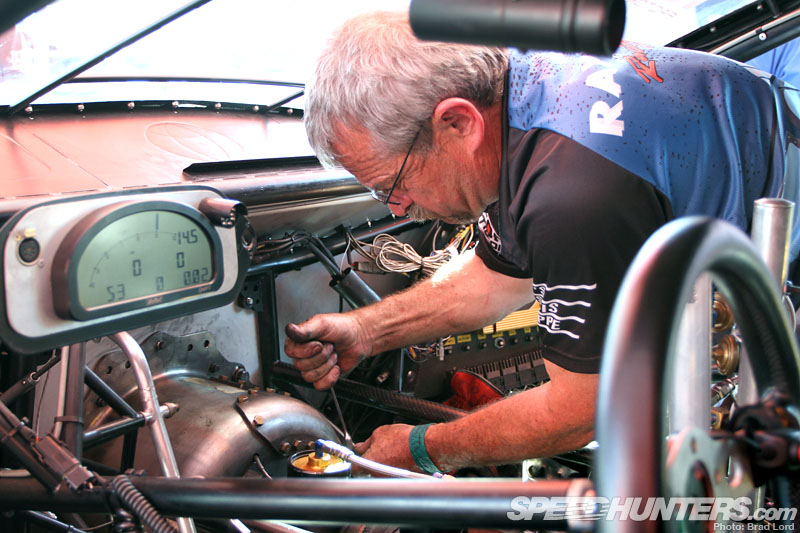 That's easier said than done when small changes– like slight clutch adjustments – are just one small piece of a very big puzzle.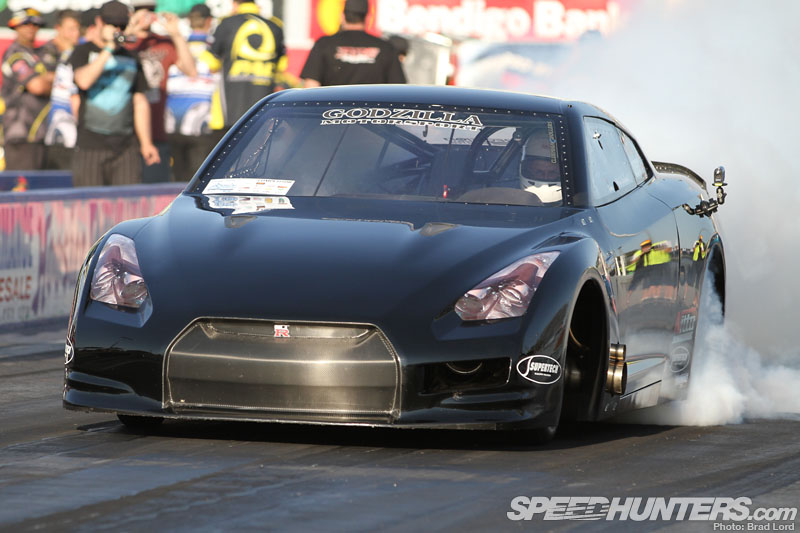 Mark Jacobson used to be found behind the wheel of R32 Nissan Skyline GT-R built to challenge Heat Treatments Racing's 4WD record. That project might have fallen by the wayside, but I doubt Mark's too concerned given the success he's having with Godzilla Motorsport's recently unwrapped full tube R35. There's no Nissan VQ set-up under the front clip, but rather a monster 3.2L Nissan RB derivative.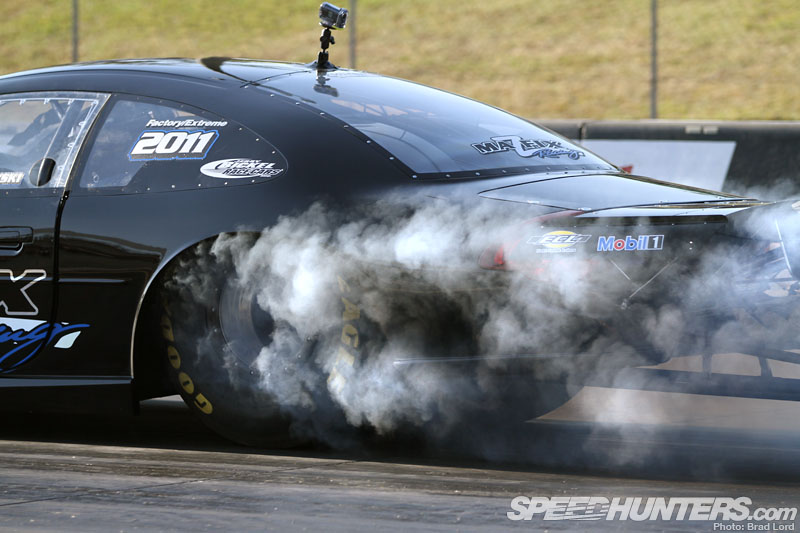 Another force to be reckoned with when it's full dialed in his Archie Kajewski's new-look Mazfix Racing Mazda 6. Like the PAC Mazda 6, there's a triple-rotor 20B turbo engine beneath its skin.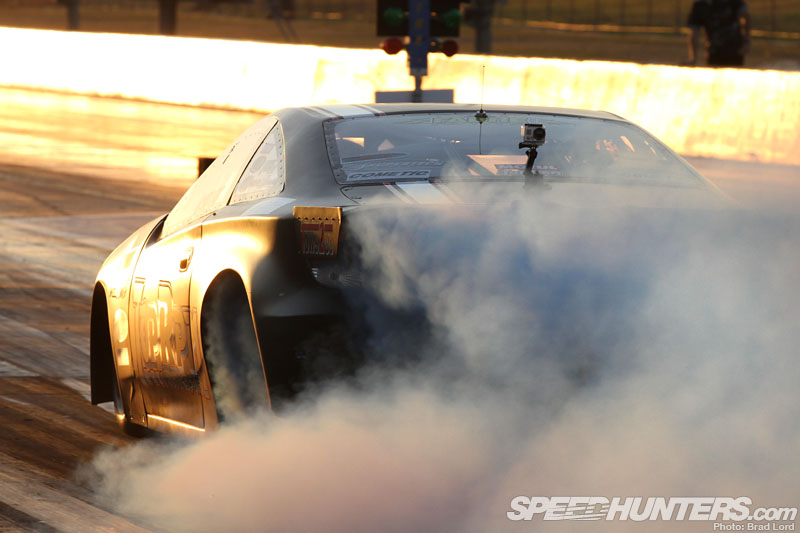 With such an impressive line-up of Factory Xtreme cars racing at J22 (and more cars on the way) it's safe to say that sport compact drag racing's future – at least locally in Australia – is looking very bright indeed. How many sleeps until J23?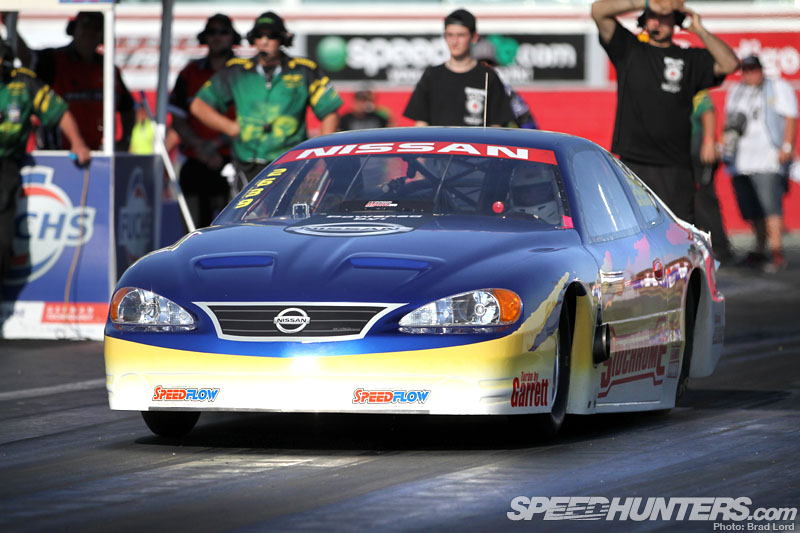 I'm going to wrap this post up with two cars that left an impression in the Pro Compact ranks, a category that currently allows Pro Stock-type, full-tube frame cars using four-cylinder or twin-rotor engines and up to two power adders, i.e turbocharger and nitrous. First up was the class winner at J22, Ben Bray, who debuted his Nissan Altima in style, driving it to a 7.10 @ 196mph (315kph).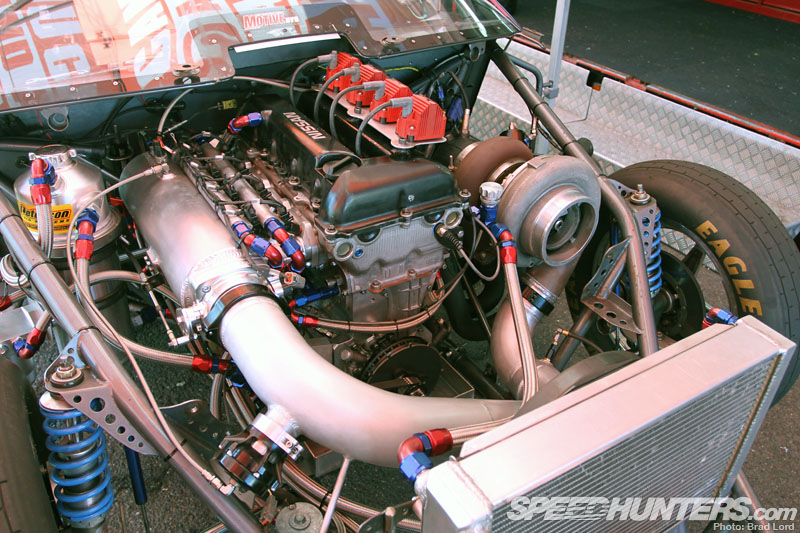 As the son of Australian V8 Doorslammer legend, Victor Bray, Ben has racing in his blood. Now he's got new car built around a Ness Racecraft tube chassis.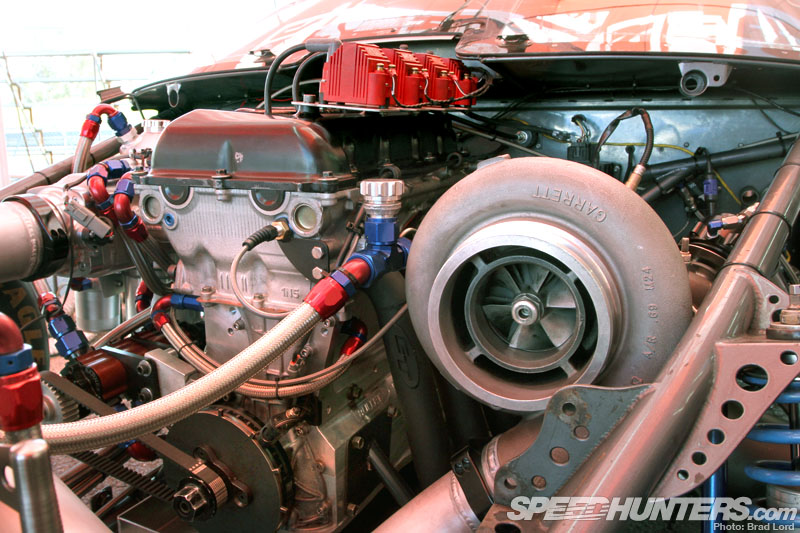 The engine set up is based around a fully built billet SR20 block that breathes through a large Garrett turbocharger and gets its firing orders from a MoTeC ECU.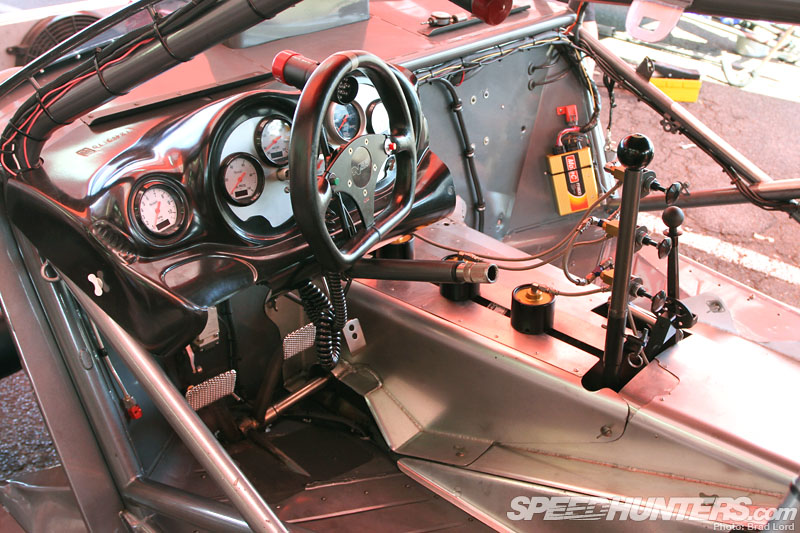 Already of the verge of breaking into the sixes after just one meeting, I'm really looking forward to seeing how Bray Jr progresses through the ranks with this world-class package.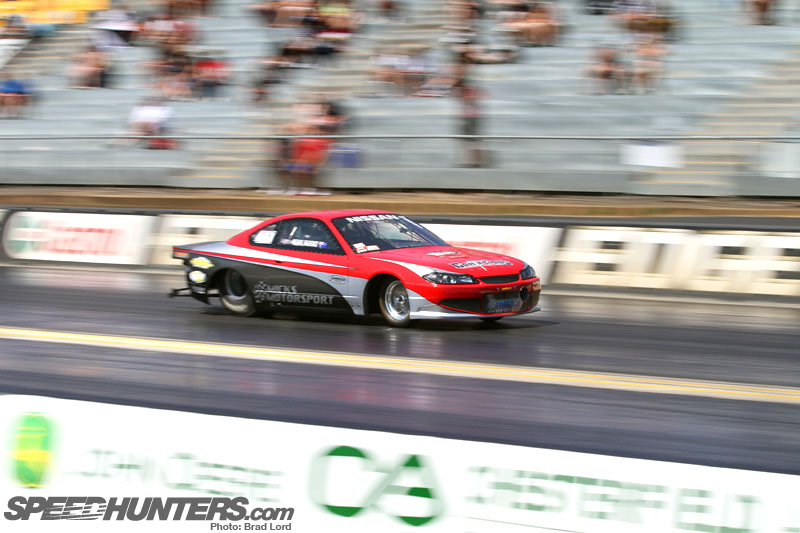 Speaking of SR20s, Michael Baghdadi's Micks' Motorsport Nissan 200SX (Silvia) certainly did the business at J22 when it set a new ET world record for the popular four-cylinder performance engine.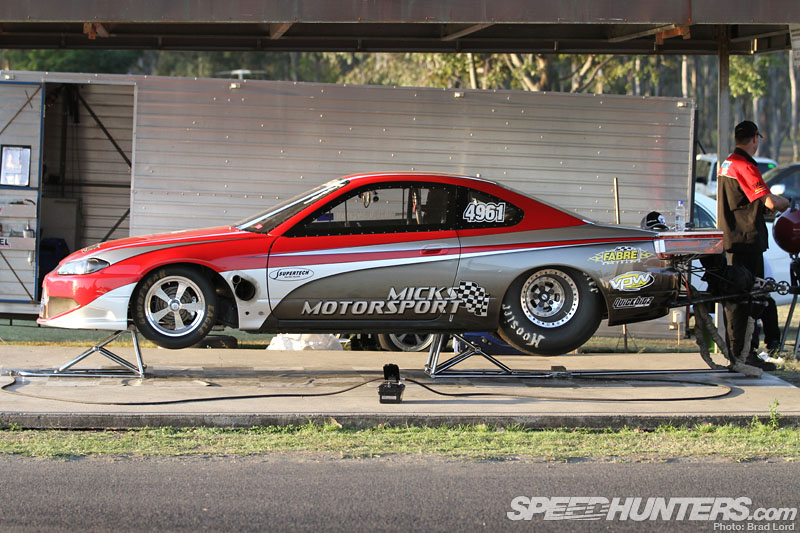 It was only a few weeks ago that Puerto Rican team Kako Racing became the first into the sixes with an SR20 motor running 6.916 in their Datsun 1200 coupe. Michael's 6.914 @ 197mph (317kph) ET eclipses Kako's ET by just two hundredths of a second, although the Puerto Rican's still retain the trap speed title having hit 200mph on a 6.95 ET pass.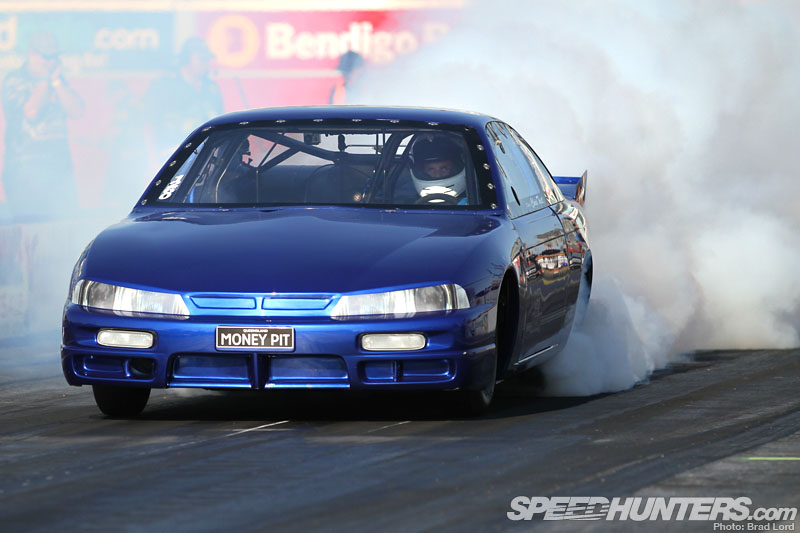 Finally, I'd be doing a real injustice if I didn't make mention of Chris Tait's 7-second Nissan 200SX, which recently won the Australian National Drag Racing Association's (ANDRA's) Best Engineered Vehicle Award at the Fuchs Winternationals. In the company of other seriously impressive Australian builds, it's  big news that a sport compact took out that prize. But having seen the stunning Toyota 3RZ-powered machine doing what's been built to do in the raw, it's not hard to see why. Kudos to Good Times Racing!
Stay tuned, more J22 action is just around the corner..
– Brad Lord