Time has a funny way of taking its toll on things. Much like the changing of the tides, trends seem to come and go with time. What is now popular will likely become old hat in coming months, only to be resurrected some years from now. Of course there are exceptions to every rule and some styles are timeless, staples if you will, like Converse's legendary Chuck Taylor.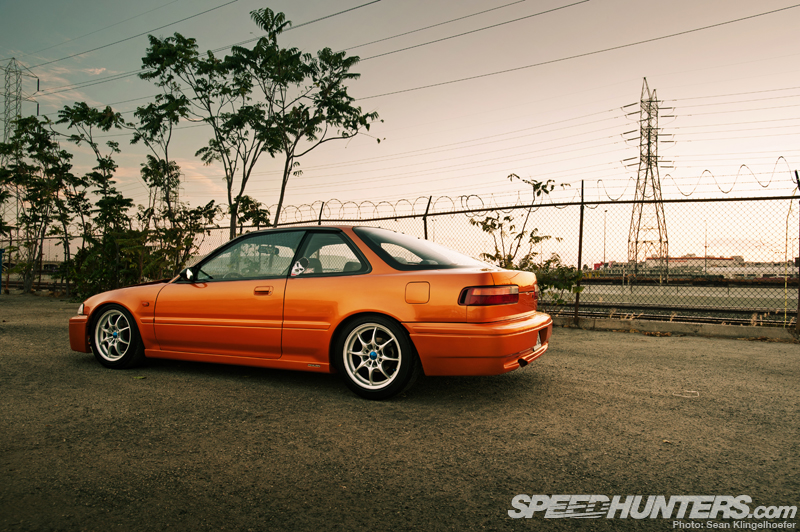 It's a look that isn't difficult to achieve, yet has unquestionable head-turning capabilities. The formula around which this car was constructed is one I grew up admiring in print magazines like Sport Compact Car, Turbo and Super Street. You start with a reasonably sporty car like the Integra and apply a handful of top-notch and properly executed modifications.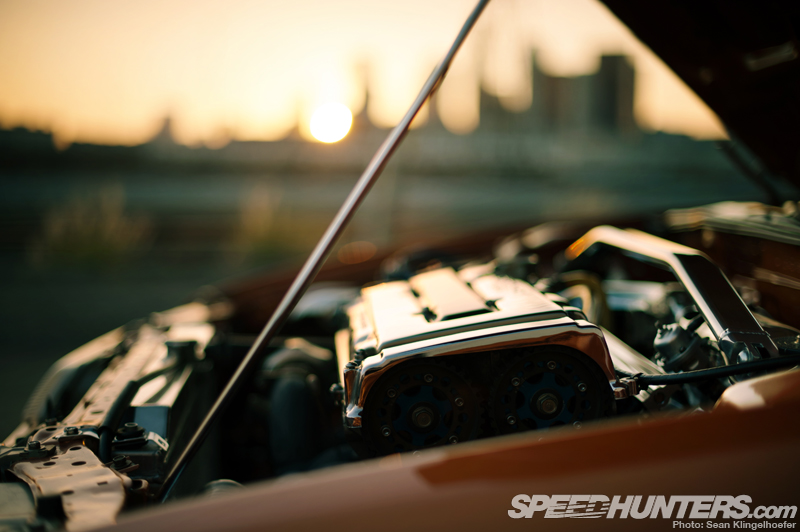 When Parnell Navarro bought this, his first car, second-hand back in 1997, cars like this could be found all over LA. The key ingredients back then were a lowered ride and expensive wheels, with SSR and Mugen being the cream of the crop. Those that were particularly keen to stand out from the crowd would add additional bits like JDM components and lip kits.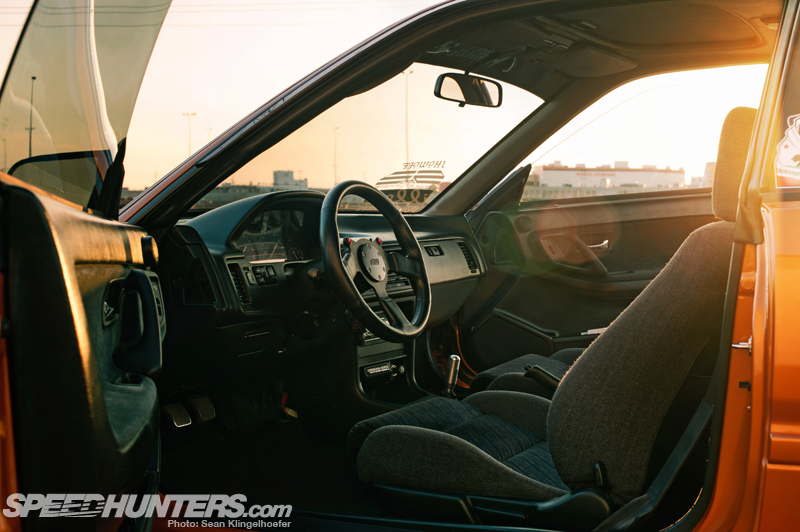 If you really wanted to take it to the next level a full color change was the grand finale. By today's standards this stuff is all quite mild, but back in the '90s before wire tucks and shaved engine bays and all the other trends, this was how people built their cars and to be honest, I wish more people would go back to it.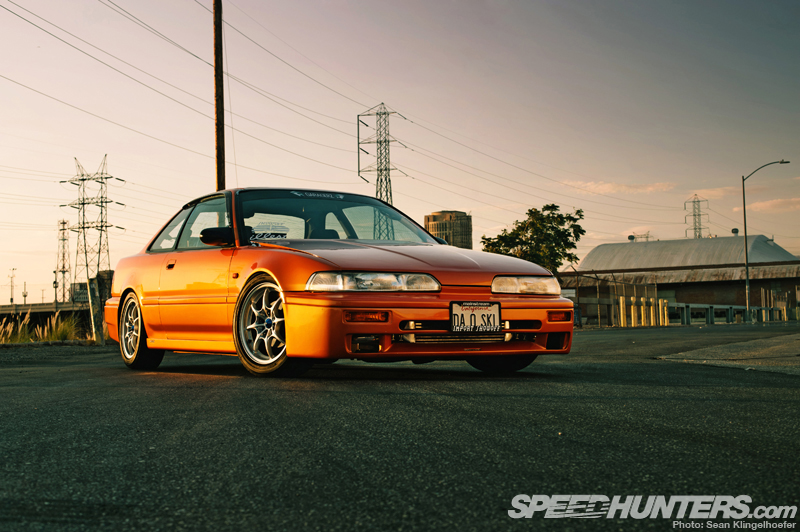 Now don't get me wrong, I have a lot of respect for what people are currently doing in the Honda scene, but you'd be hard pressed to find a car from the current crop that will look as good in ten years as this Integra does today. If there's something to be learned it's that simplicity will always stand the test of time.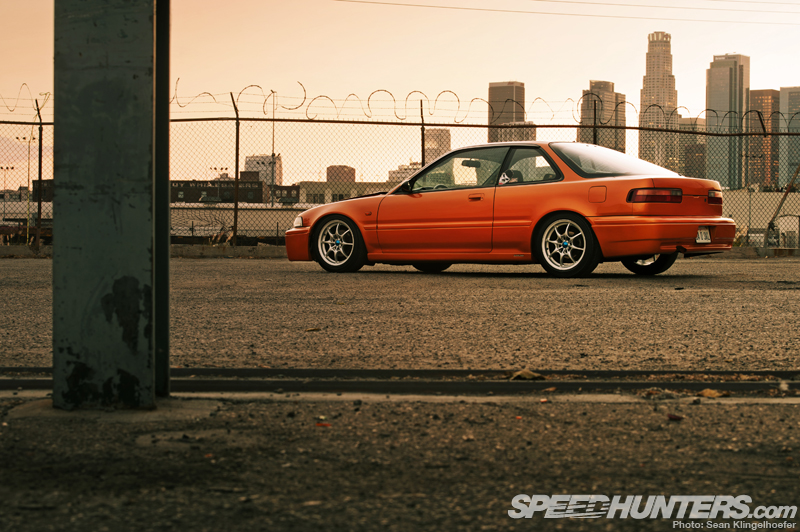 There's an old adage we've all heard that says "you get what you pay for" and there are two schools of thought: quality and quantity. Of course there's no right or wrong way to build a car or spend money, but I've always felt more compelled to own a smaller number of well-made things – be it camera lenses or car wheels – than a massive amount of mediocre stuff.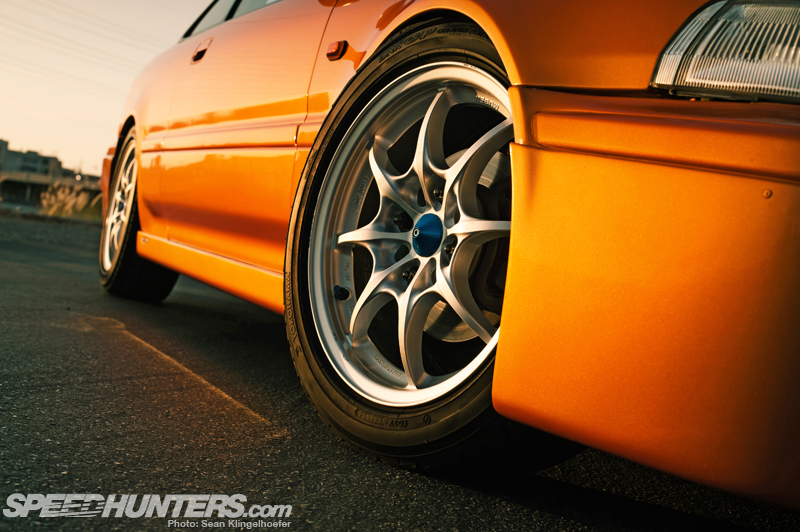 Perhaps that's why I've always been attracted to this style, rather than throwing hundreds of shiny anodized do-hickeys and sticker-bombed add-ons there are just a few nicely placed items. While the Mugen MF8 wheels might not be "hellaflush" with deep barrels and chrome lips, they do look rather nice and considering that these were forged by Rays in specs designed for a Honda, you know they work.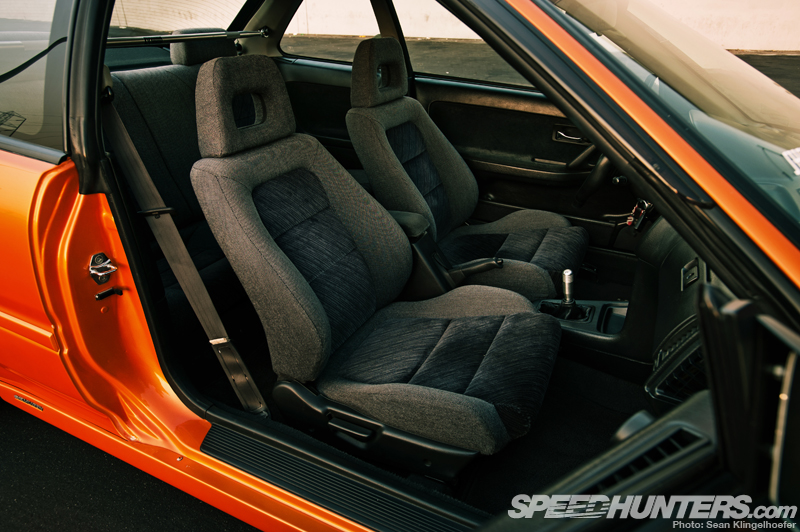 There's no mickey-mouse-shiny-look-at-me-bolt-in-cage in the interior, nor is there some ill-mounted second hand bucket seats with a death-trap expired harness setup either. Just a well kept original interior which suits a clean street car perfectly. "If it ain't broke, don't fix it!"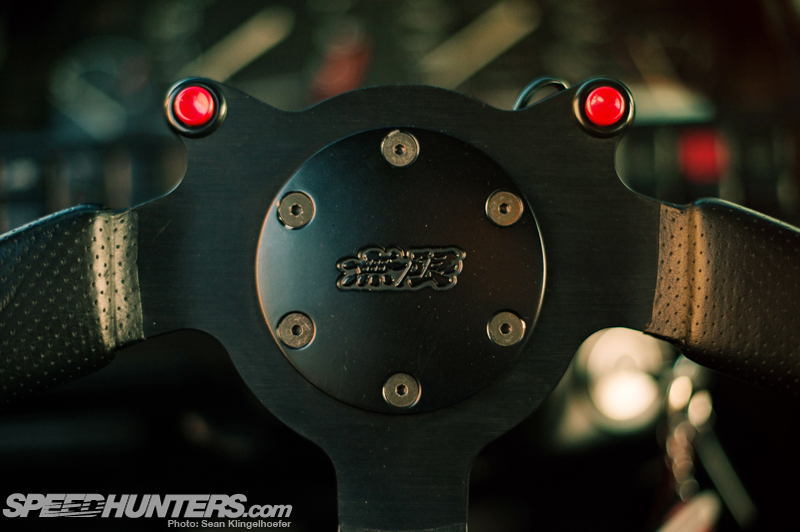 Of course there are some modifications, like the highly sought after Mugen FG360 steering wheel. It's become one of the hottest Honda accessories of all time and this very steering wheel commands anywhere from $600-1200 on today's market depending on condition and accessories.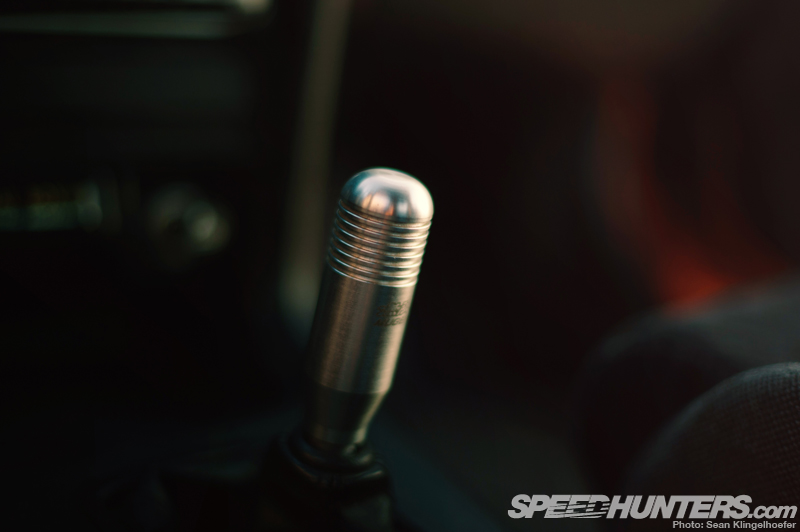 The only acceptable shift knob to use in unison would be a same-era piece also by Mugen. Anything else would be uncivilized.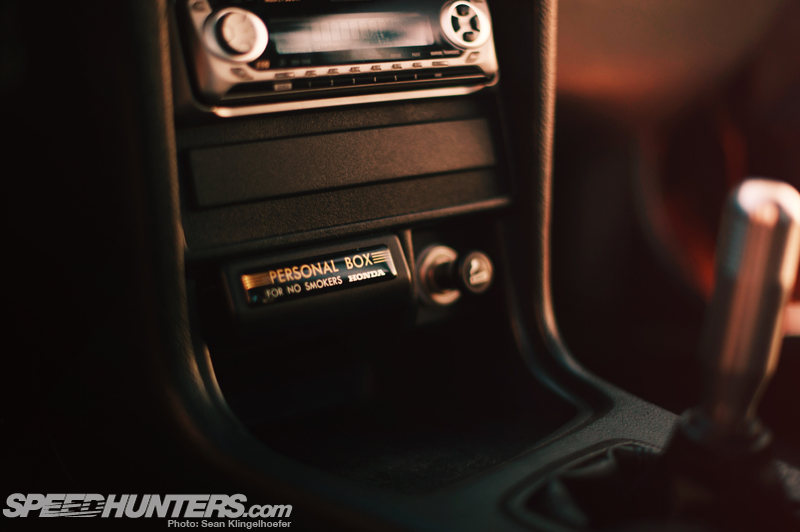 Elsewhere are more little details that only a trained enthusiast's eye would pick up on, like the optional Japanese "Personal Box" which is of course "For No Smokers". The interior of the box is felt lined and most owners seldom place anything inside, but just knowing it's there is worth the cost of entry.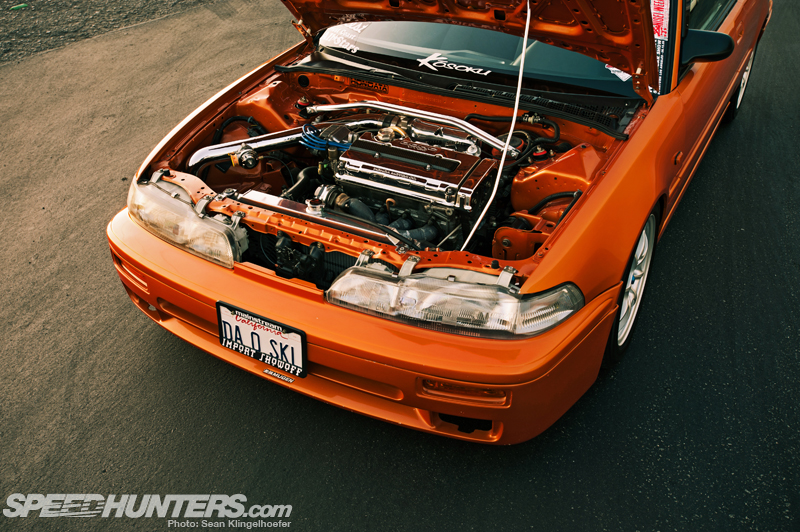 The engine compartment follows suit and places emphasis on the effectiveness of the mods rather than the sheer volume of bolt-ons. With the exception of a few polished and chromed pieces, the engine bay looks shockingly standard compared to many of today's Honda engine bays.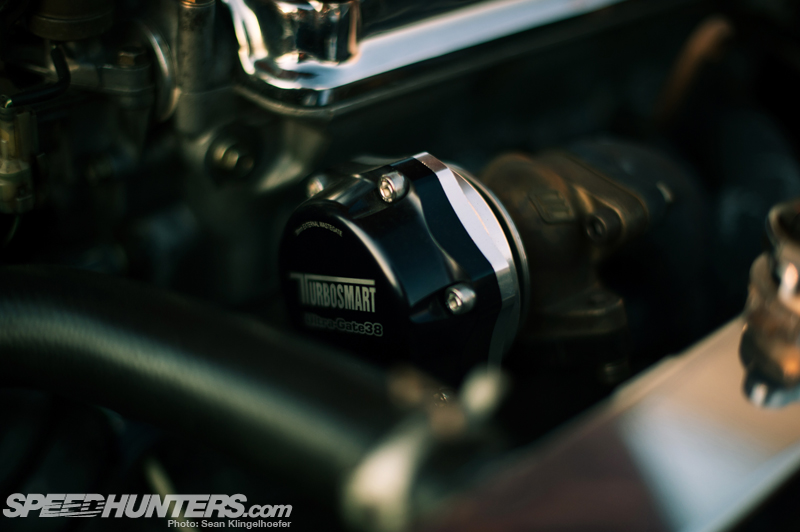 Using a tried-and-true LS/VTEC Frankenstein engine as a base, the block has been sleeved, punched out and stuffed with aftermarket internals. The head has been sourced from a B16A and received some massaging before being bolted to the block. For good measure a period-correct Rev Hard turbo kit has been attached for even more oomph.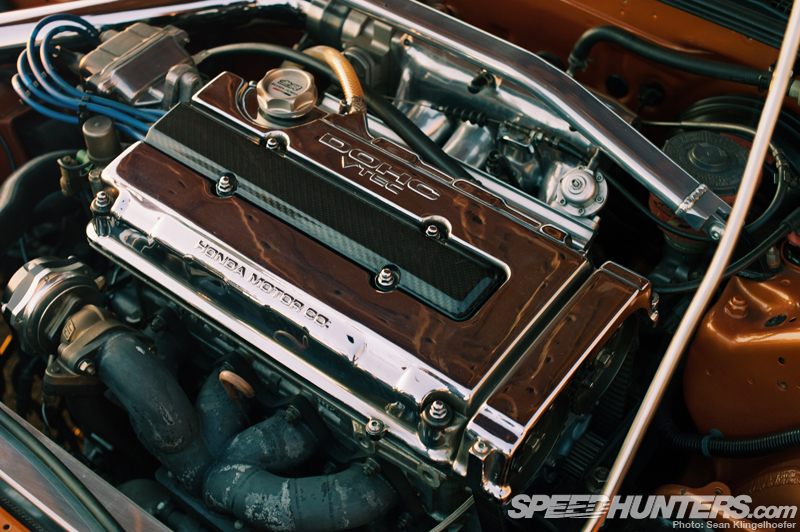 It's a look that says the owner cares enough about presentation to show it off, but still desires the reliability of a car that's actually driven. What it lacks in tucked wires, shaved holes and fancy nuts, bolts and washers it makes up for in driveablilty.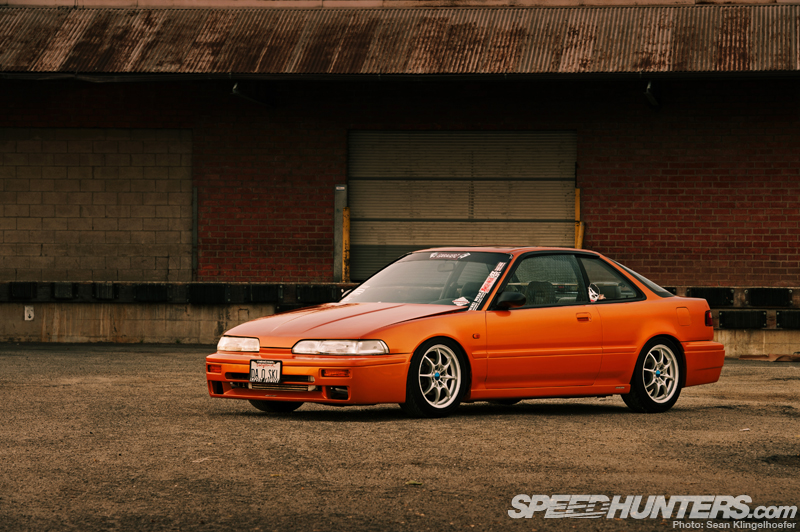 While it may not be the fastest, most expensive or immaculate car I've ever shot, there's something about it that excites me as much today as it did the first time I saw it nearly a decade ago. If anything, the current hyper builds make this kind of car even more special and reaffirms the less-is-more approach to car building.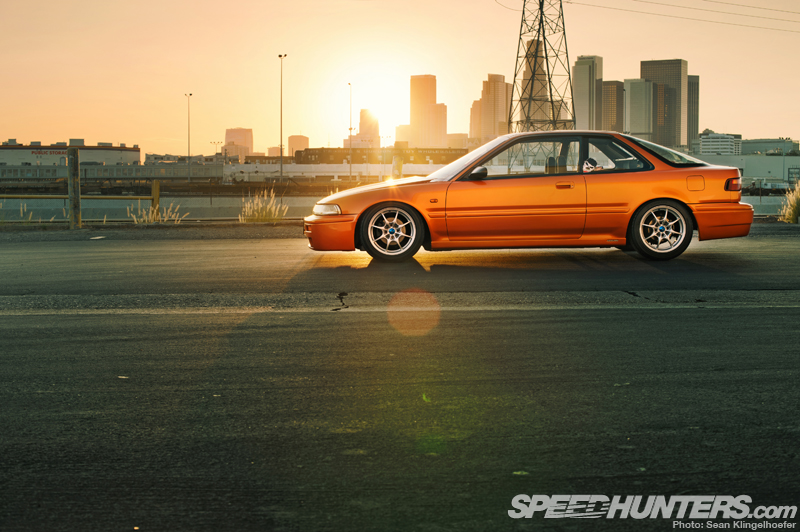 As time moves forward I'm sure there will be lots of fads we look back on in shame, like the haircut on our driver's license. But there's one thing that we can be sure of; quality never goes out of style. Along that token that I'd think Parnell has built a car that could be considered an automotive staple – the timeless SoCal street import.
1993 Acura Integra
ENGINE
2.0L Turbocharged LS/VTEC; Darton sleeves; 84.5mm CP pistons; 11.5:1 compression; Eagle rods; knife edged crank; JDM B16A cylinder head ported and polished by Sparton Performance; Type-R valve springs, retainers and intake manifold; Buddyclub Spec 3 cams; Skunk2 cam gears; chrome valve cover; polished intake; Fluidyne radiator; Rev Hard turbo kit (manifold, intercooler, charge piping); Spoon oil and radiator caps
ENGINE MANAGEMENT / ELECTRONICS
Hondata S300 ECU
DRIVELINE
JDM XSi Integra Y1 transmission w/ factory LSD; Kaiten Karui flywheel; ACT clutch kit; DC Sports short shifter
SUSPENSION / CHASSIS
Skunk2 coilover sleeves; Tokico HP shocks; ST sway bars f/r; Spoon front strut bar; custom cross member by Dirty Cambodian; EM Racing c-pillar bar
WHEELS / TIRES
16×7 Mugen MF8 wheels; 205/45R16 Yokohama AVS ES100 tires
CABIN
Mugen pedal covers, FG360 steering wheel, shiftknob; Autometer gauges; JDM XSi gauge cluster, seat belts, personal box
BODY
NSX Imola Orange Mica paint; Mugen lip kit (front half-bumper, side skirts, rear half-bumper); JDM DA headlights, side markers, taillights, side moldings, window visors
THANKS
Reggie Q, Allen at Rev Hard, Chuckie and Rocky from Showstoppers, Robbie, Brandon, E-jay, Sam, Sean K and my family
More stories by Sean Klingelhoefer on Speedhunters
More car features on Speedhunters
-Sean