The setting sun is slowly turning the skies around Mondello Park a creamy orange colour. A rain shower has just passed over but has now cleared, leaving the air clear and crisp. At the top of the paddock, whilst others are working at taking down and removing all evidence of the weekend's events, four members of the Speedhunters team are sat inside a car. In the driver's seat – Fredric Aasbo still in his race suit, playing with the steering wheel controls and looking dejected. Sat beside him is Darren McNamara, poking at buttons and smelling the air freshener. He too has seen better days. Sat behind them is both Larry Chen who will be conducting the interview, and myself recording it.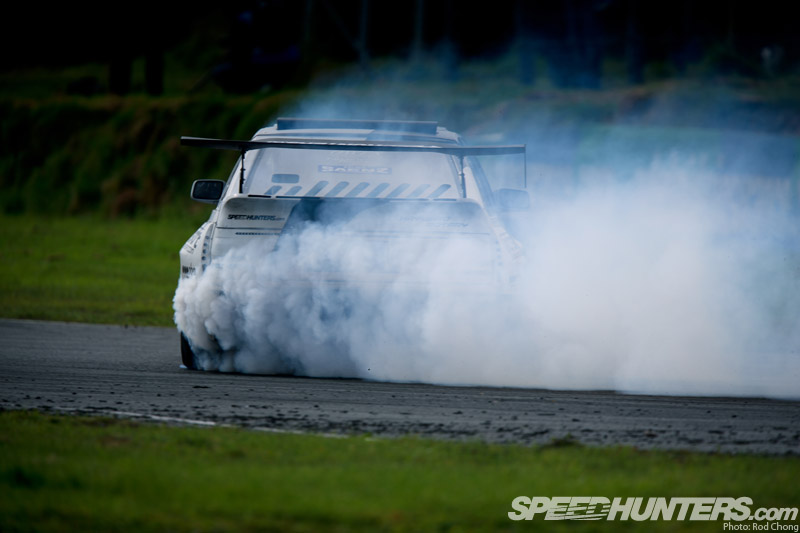 LC: So let's start from qualifying, what happened Darren?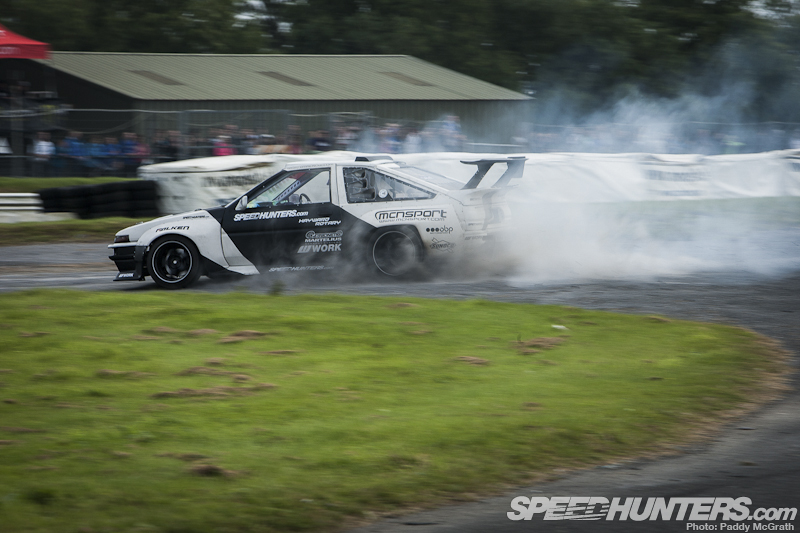 DMAC: I'm still having steering problems and this track really brings out the setup in your car, I think Freddie would agree. Silverstone masks so many problems and when you get here where you have everything and your car just needs to be spot on, and mine wasn't. It was just way too difficult to drive. I got my first qualifying run done and it was nothing spectacular. I lost a lot of points for speed because I couldn't come down the start quick enough to be aggressive and to flick it in.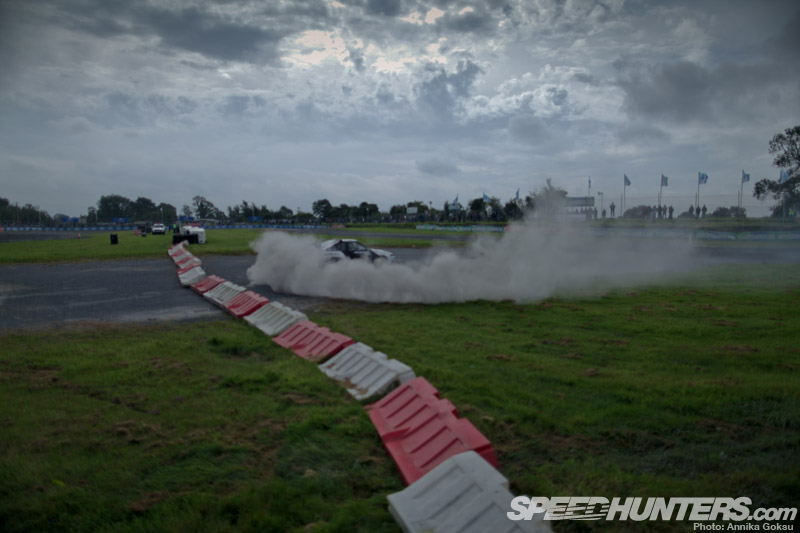 LC: I honestly thought you were going to make it through from your first qualifying run.
DMAC: Yeah, I think I lost massive points for speed as I was below the target speed and they took away a lot of points. To be honest, I wasn't too impressed with that run either – I came in and straightened a little bit, and then went again so it was a little bit two part. We were awesome here last year, I know the track like the back of my hand. There's just something fundamentally wrong [with the car] and there's only one thing we haven't changed, so it must be that I guess. It's disappointing, especially in front of the home crowd.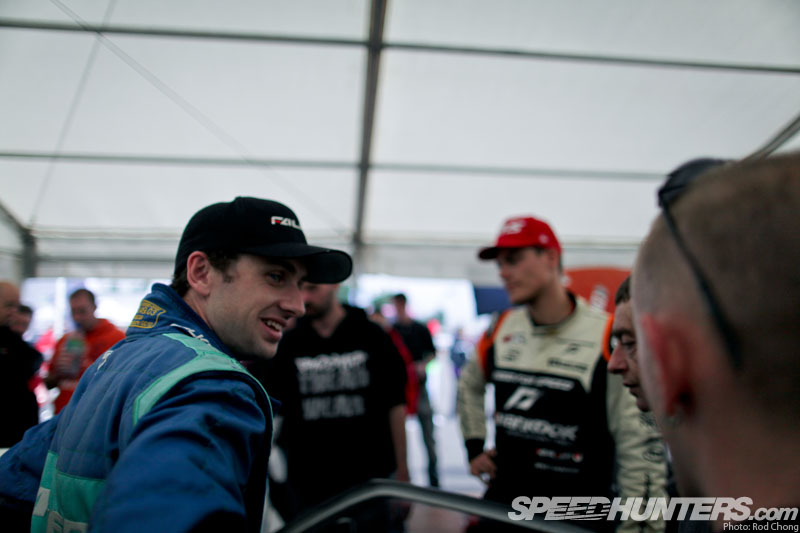 DMAC: There was a big presence here, a huge crowd and the Irish people are very enthusiastic about everything we have going on and it's just a pity but, you know. The car is finished now and we have the whole off-season and it's going to be absolutely A1 come the first event next year, so I'm looking forward to that.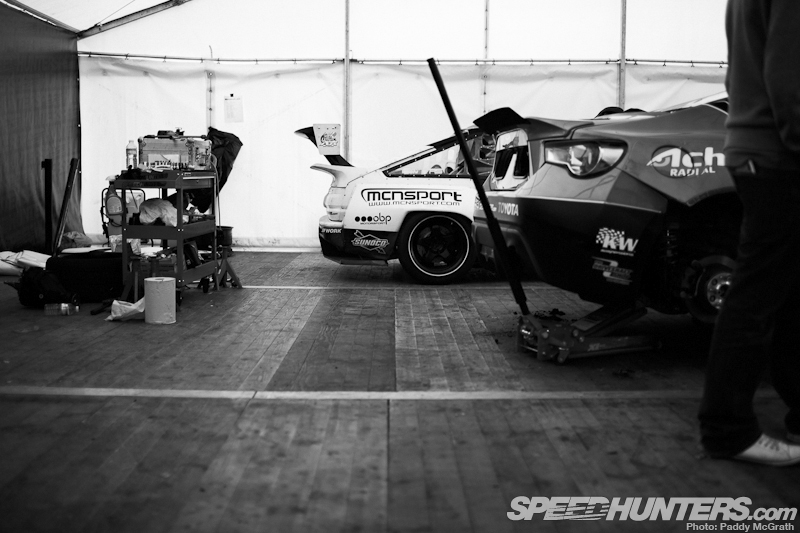 DMAC: There's so much potential left in the car. When you do these crazy builds, stuff that people haven't done before, it just takes time. It's easy to just put an engine in a Silvia, some wheels and tyres and go. The things Freddie and I are doing, nobody knows about them so it's just going to take some development time.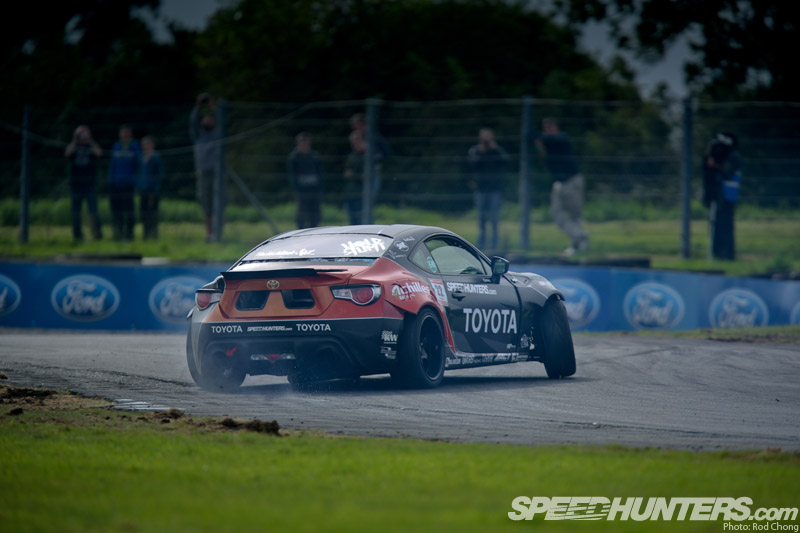 LC: Fredric, what about your qualifying runs, what happened?
AASBO: Well in the practice just before qualifying, we broke an axle. This was a result of what helped us at Silverstone becoming a curse over here.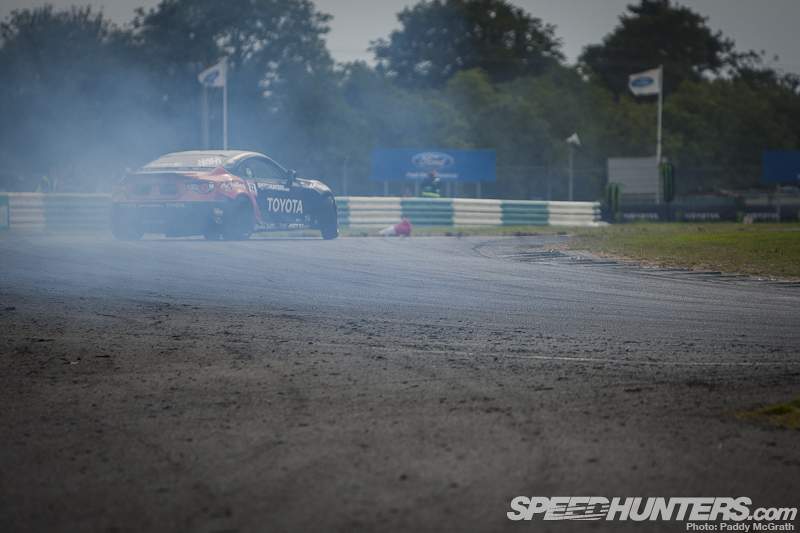 AASBO: We had great speed at Silverstone, but here the car was so tight it barely wanted to drift. We had tried all sorts of issues to get around that and we had the car pretty much dialled for Friday and Saturday in practice, but as the track rubbered in more and more it was like driving into a cliff or something.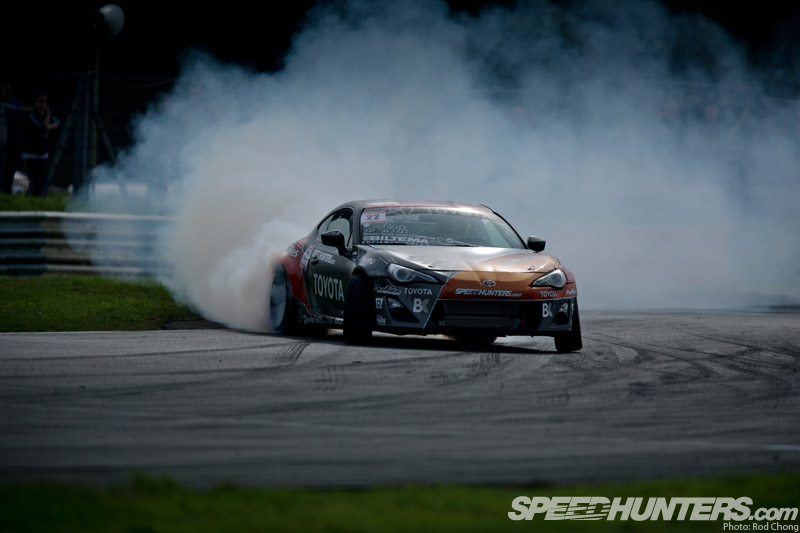 AASBO: I was almost frightened just to get in there, even just to get the car to drift I had to bomb in there as hard as I could and hold it on the throttle because the moment I lifted, the car would straighten up still. We were fighting with issues and didn't want to change a whole lot for qualifying because we didn't really know how it was going to affect things.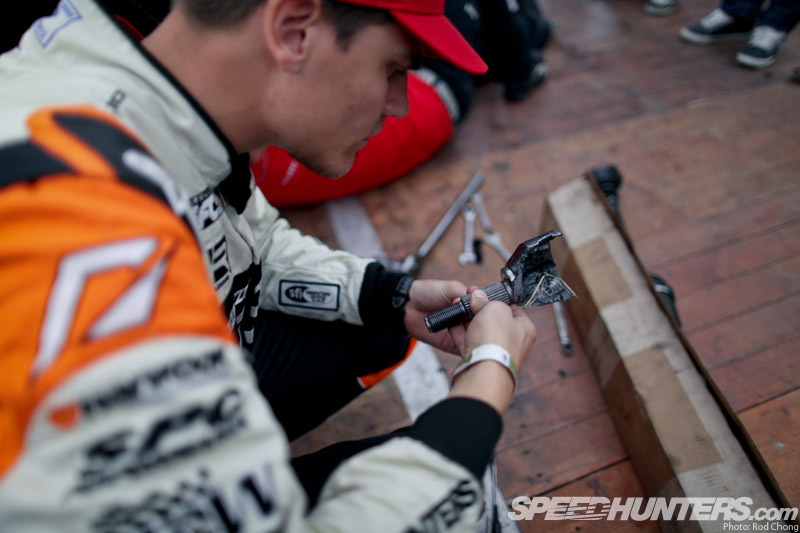 AASBO: When I broke the axle in the practice, it also took out the rear calliper which meant I had a very limited handbrake and you really need your handbrake on this track. I wasn't able to initiate properly in qualifying but we came through somewhat.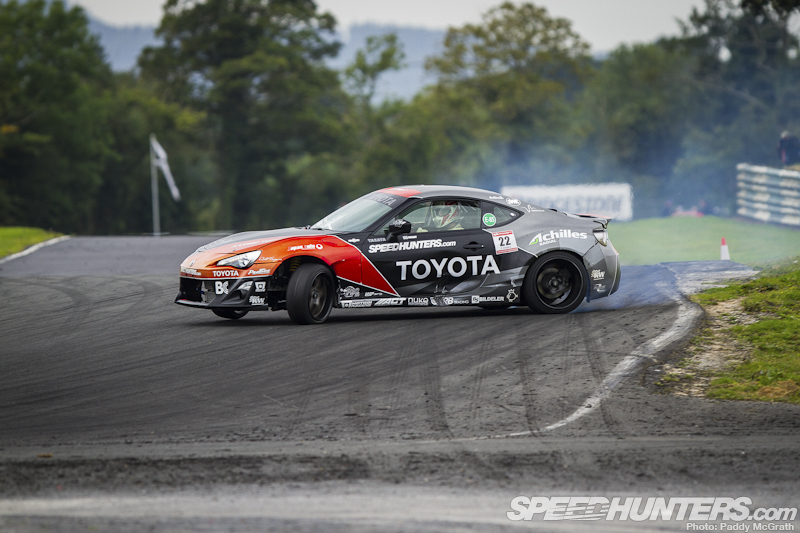 PMcG: So what about your Superlap?
AASBO: I think we qualified in about eight place out of a field of thirty or so drivers, but one of the most interesting things about Prodrift is the Superlap. It's basically a shoot out, so once you're in the show you've got one lap to determine the grid for the finals. I fell back to my good old Freddie, who's an older and tougher guy, and came in blasting as hard as I could but slightly overshot it and dropped a tyre off course so ranked pretty low and would face Prodrift championship leader Brendan Stone in the first battle.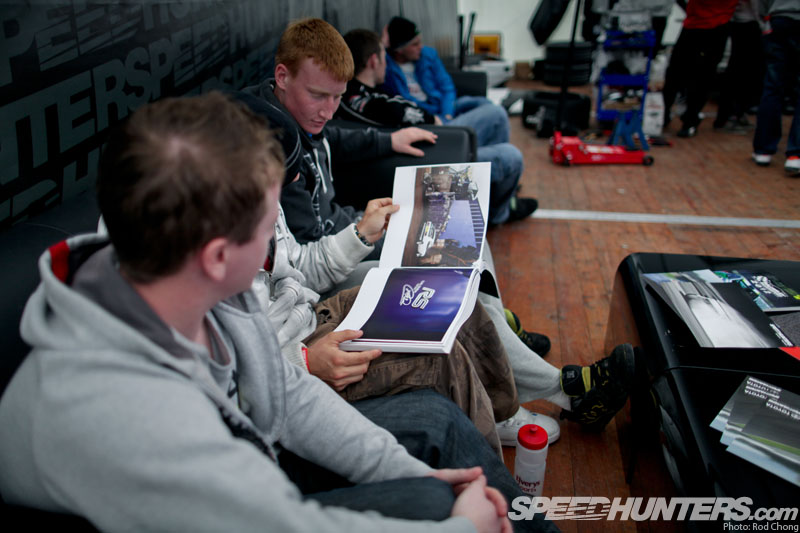 DMAC: I didn't even watch Superlap. I stayed back in the pits where there were still a lot of fans around and we were talking to them, but I made sure to have a good view for the tandem battles from the judging tower, it's the best view in the house.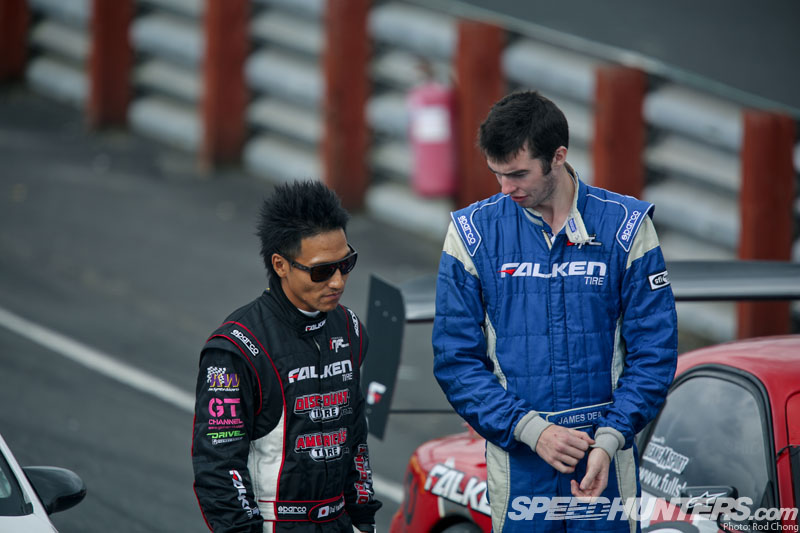 LC: What did you think about the battle between Dai and James Deane?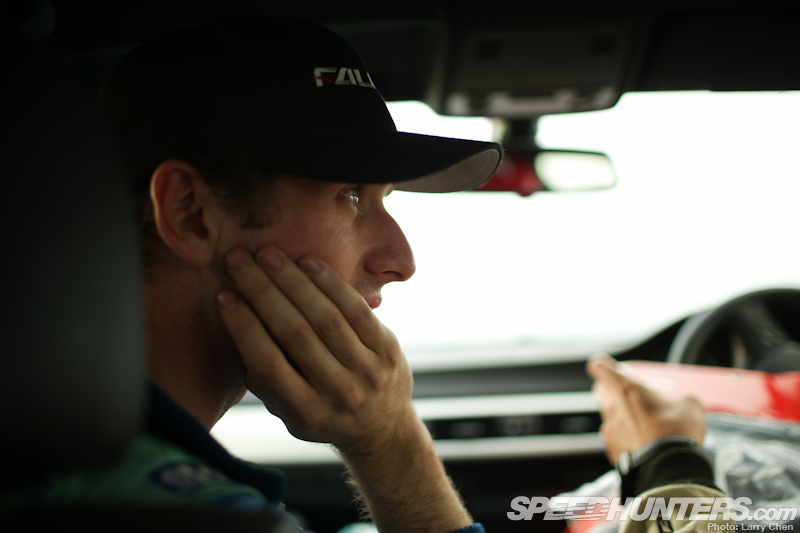 DMAC: Hmm, I thought James won it to be honest.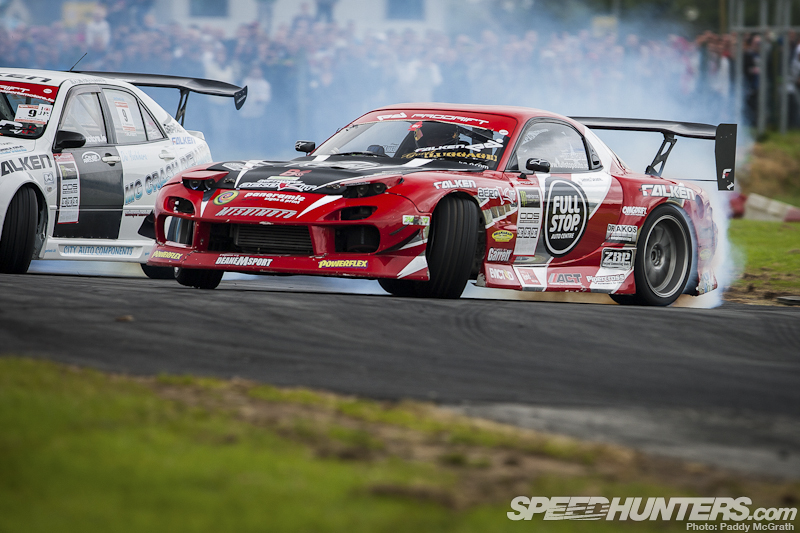 AASBO: What exactly happened there? Was there a tap?
DMAC: Yeah, Dai touched him and then Dai understeered as far as I could see.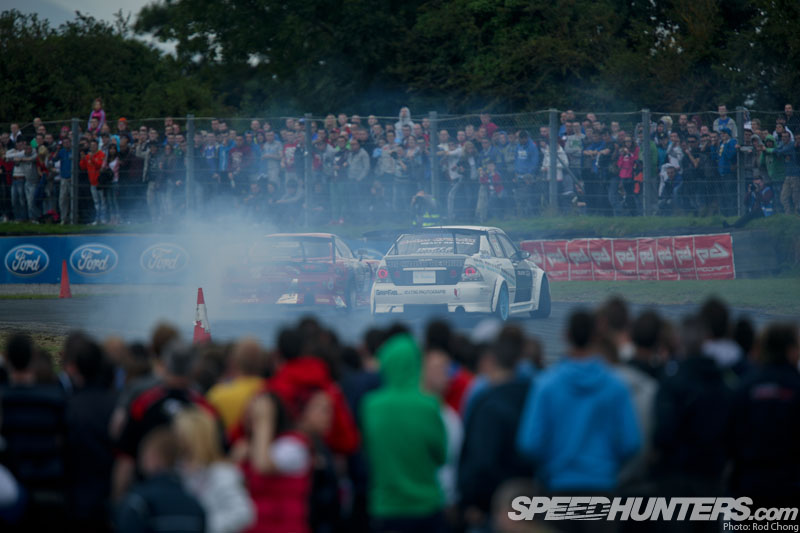 AASBO: Dai touched him when running behind James?
DMAC: Yeah.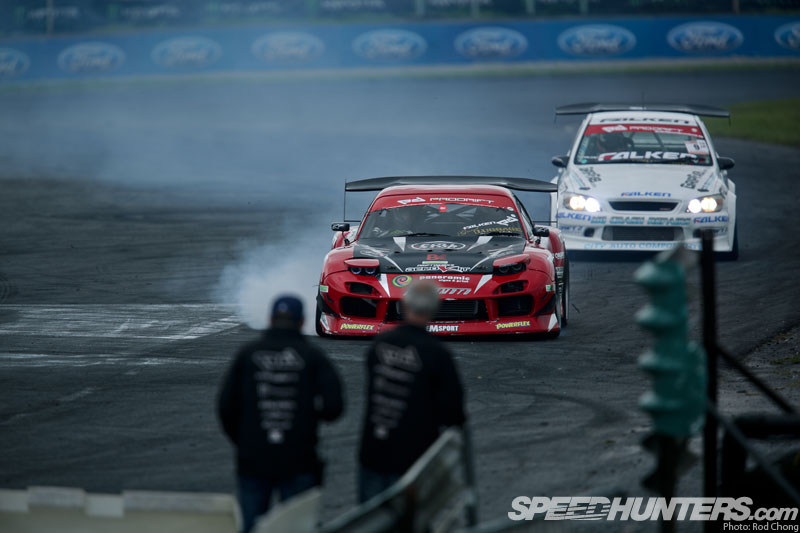 LC: So this was the first battle when Dai followed and he touched him?
DMAC: And understeered then, yeah. So, if I was judging, which I wasn't, that would have been a deduction from me but it doesn't matter what I think. I think everyone does it though when watching, as you watch the battles you judge things yourself. All the crowd do it, you look for the advantages.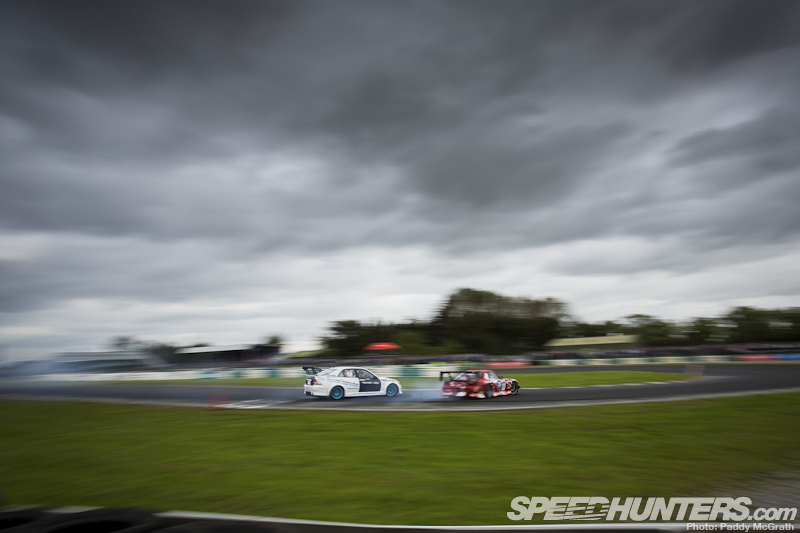 AASBO: That's the appeal of drifting though?
DMAC: Exactly. Perspective is a big thing too, I mean watching from the judging tower is completely different perspective to the guys at the fence. It's very easy to get different opinions but you know Dai was very lucky to get through I thought. Sometimes things go your way, sometimes they don't. It was an interesting one for sure, maybe it was harsh on James.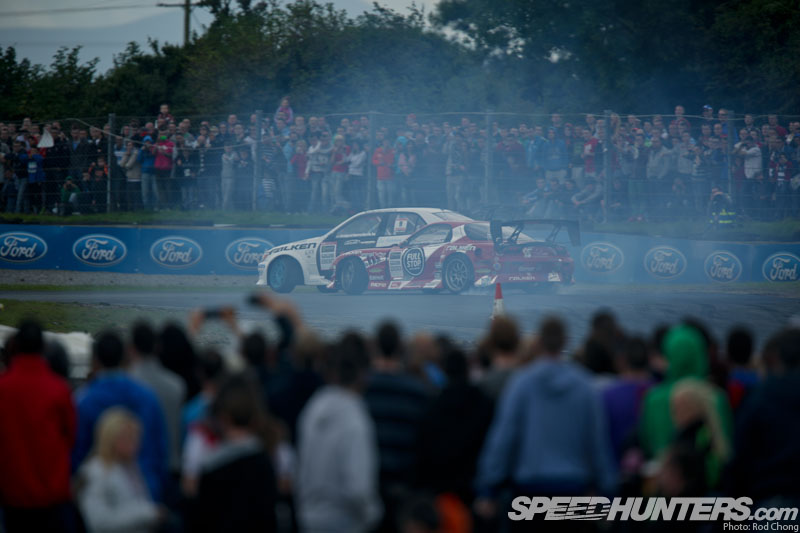 DMAC: It was interesting that, but nothing's a given, that if James beat Dai we probably could have had James versus Brendan in the final, fighting for the championship. That would have been awesome because the Irish guys kicked everyone's ass today. The Irish guys are definitely the most competitive guys around for sure, you can see just from sheer passion they're competitive but you know it's frustrating for the blow ins, myself included, to not be where we wanted to be. We could go anywhere in the world with the cars we have and get a good result, except here. If you're car isn't right and if you're not right, you're going to get hammered here. Someone will come along and beat you, straight up.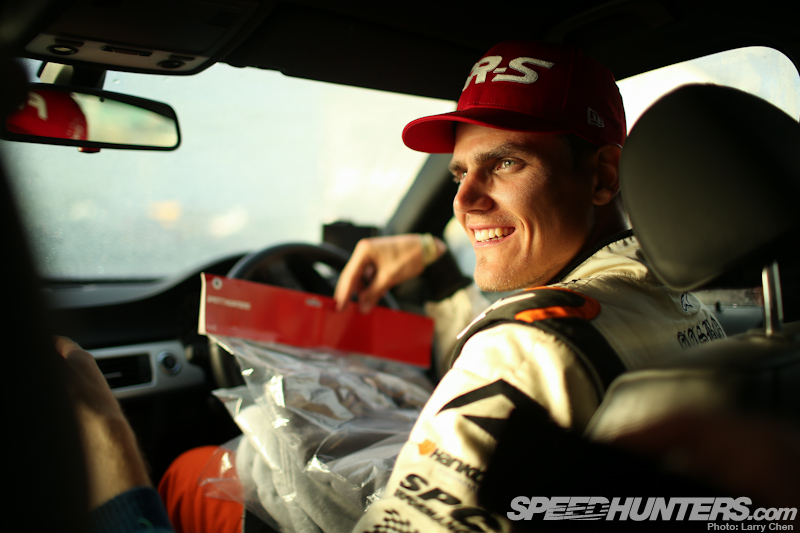 AASBO: I agree with you and it's [...]
[CAR DOOR OPENS]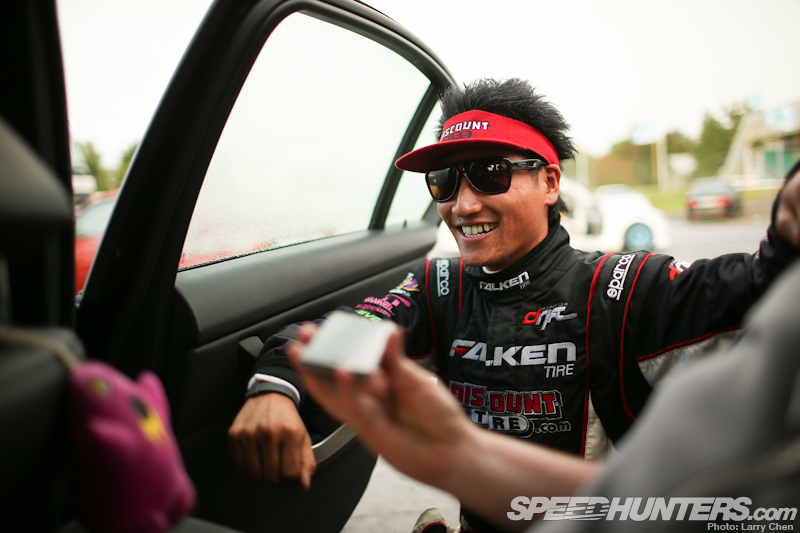 DAI: Can you please not write about me getting second place so lucky or some other f*****g bullshit?
[LAUGHTER]
DAI: I know that was what was f*****g going on! F**k you guys!
LC: That's so funny!
[LAUGHTER]
DAI: I KNEW IT! You guys are so mean!
DMAC: That's amazing!
LC: What's the timing on that!? Perfect!
DAI: I know right. Lucky is a f*****g skill man.
LC: You want to come in on our interview? Come on in.
DMAC: Paddy has never had so much action in his car.
PMcG: Not in the back, no.
DMAC: Don't dirty Paddy's car now.
DAI: Don't talk to Paddy's car?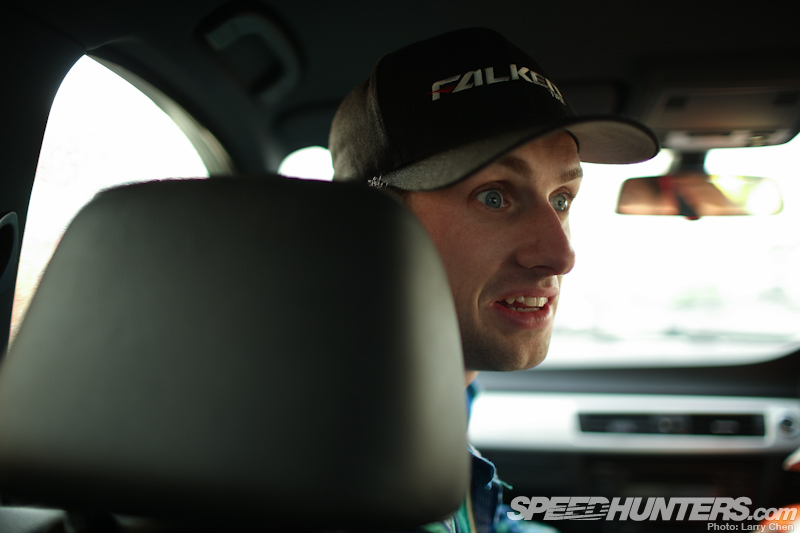 DMAC: Jesus, can you get back out?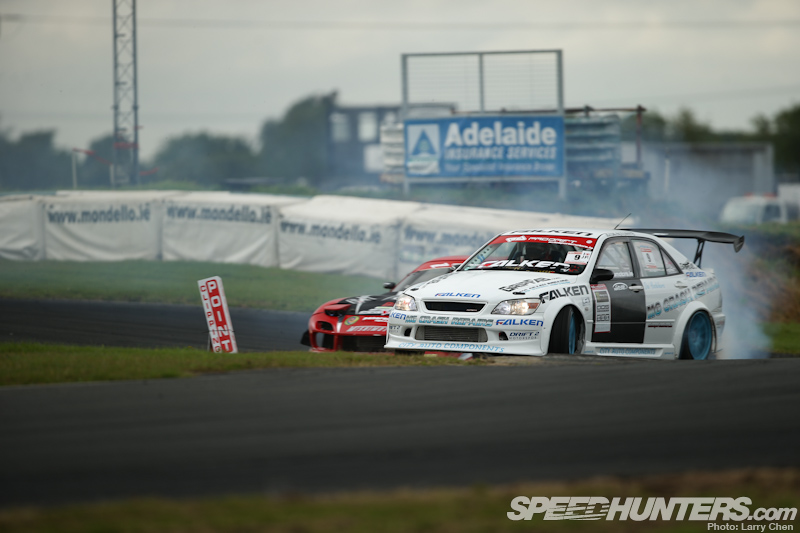 LC: Everyone has their opinion but what do you think about the battle between you and James? The first one?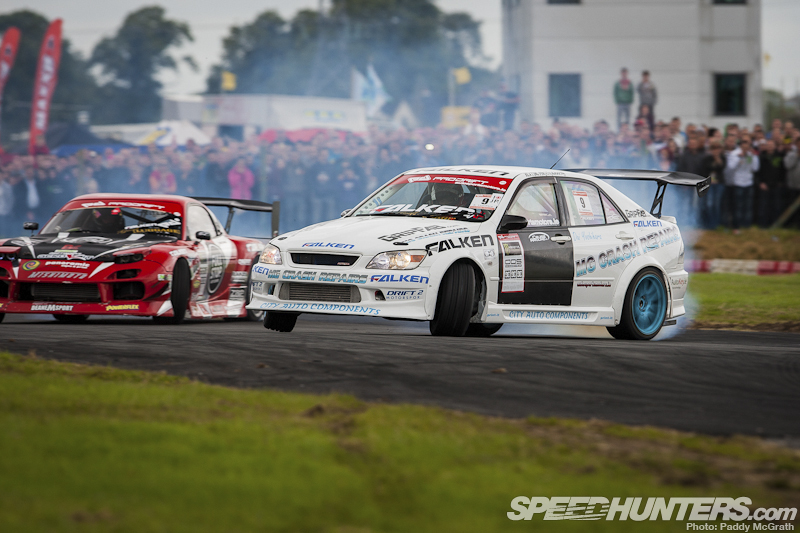 DAI: He was saying that I was getting a lot of understeer but because I hit him slightly, so of course I had to make a little correction.
DMAC: So you had understeer and you hit him? Isn't that a double deduction?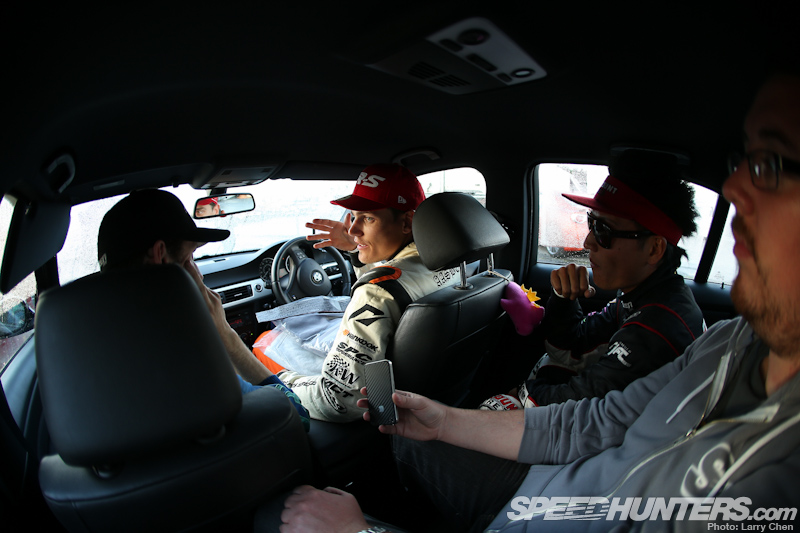 DAI: Oh s**t.
[LAUGHTER]
DAI: Is it? I talked to the judges and they were all saying they would have liked for James to move on, it's not like they wanted me to win after coming over from Formula D, they want their own guys to be the best in the world. I don't know. I thought the second run should have been one more time because I almost half spun out and when they called that I won, I was like 'oh, really?'
DMAC: Did you think James should have won?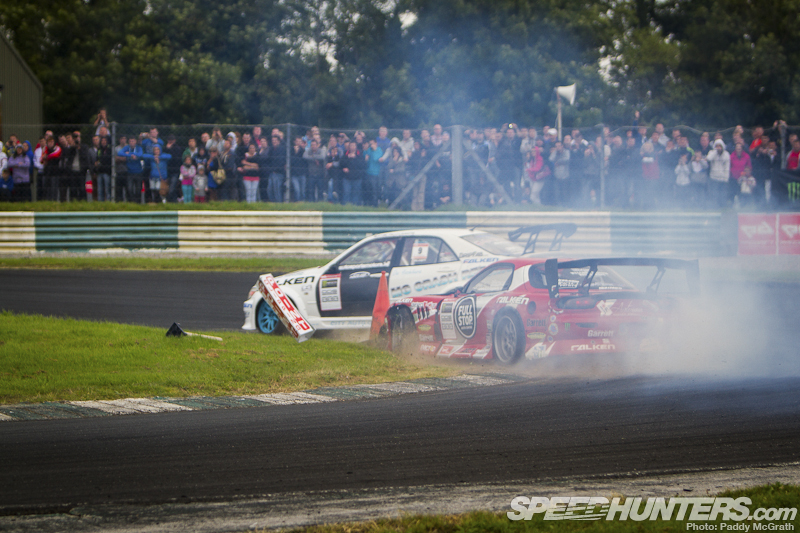 DAI: No, I didn't think he should have won because I heard he was diving in and this was the reason he had to straighten out. Should have been one more time. In the first one, I don't know what was going on behind me so I can't really judge but my mistake wasn't that bad is what I thought.
[DMAC IS LAUGHING AT HIM]
DAI: F**k you man!
DMAC: You can't curse on Speedhunters!
LC: We can bleep it out.
DAI: Oh s**t, er, eh, what the, banana, man?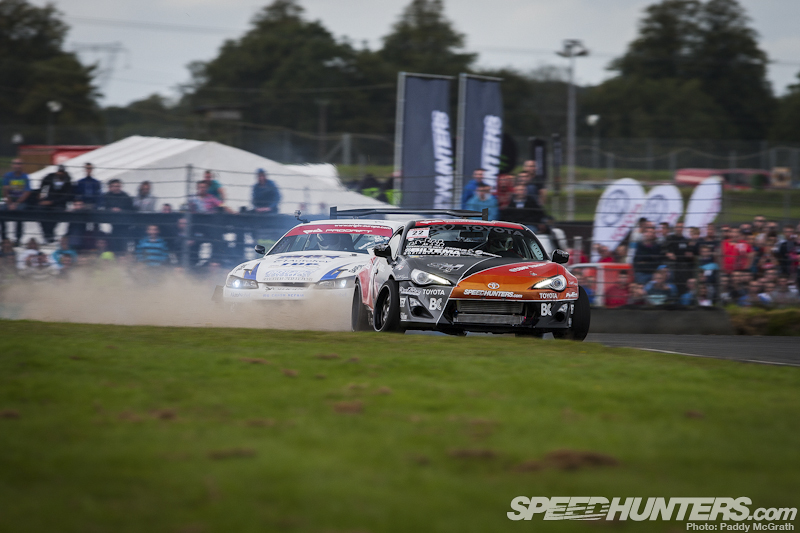 LC: So Fredric, what about your battle with Brendan Stone?
AASBO: You know, watching today Brendan was the most consistent guy and has obviously been good throughout the season. I knew it was going to be super hard.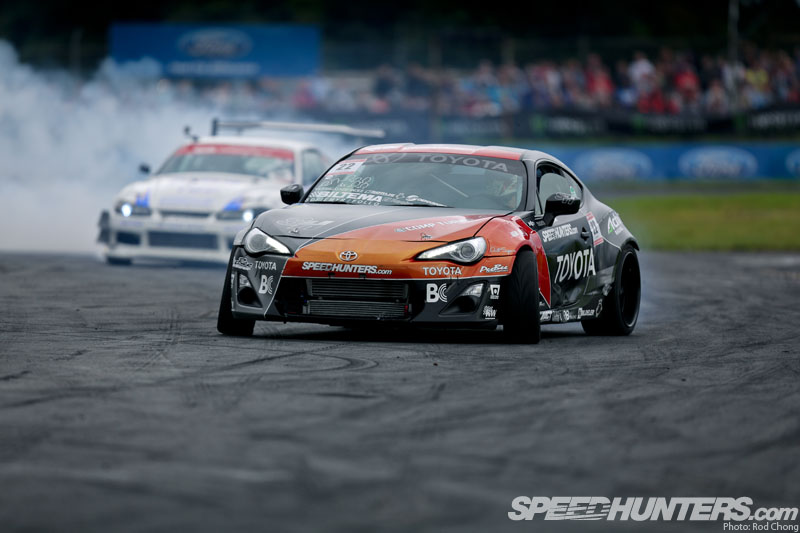 AASBO:  It was very awkward, I messed up behind him coming in and he gapped me by probably a mile but I managed to catch him and get back along side of him. It showed just how fast our car is and what it's capable of but I've never driven a car that is so tight like that before. In my lead, I messed up again. It's hard to drift a car that doesn't want to drift. I guess tight is good, but not always.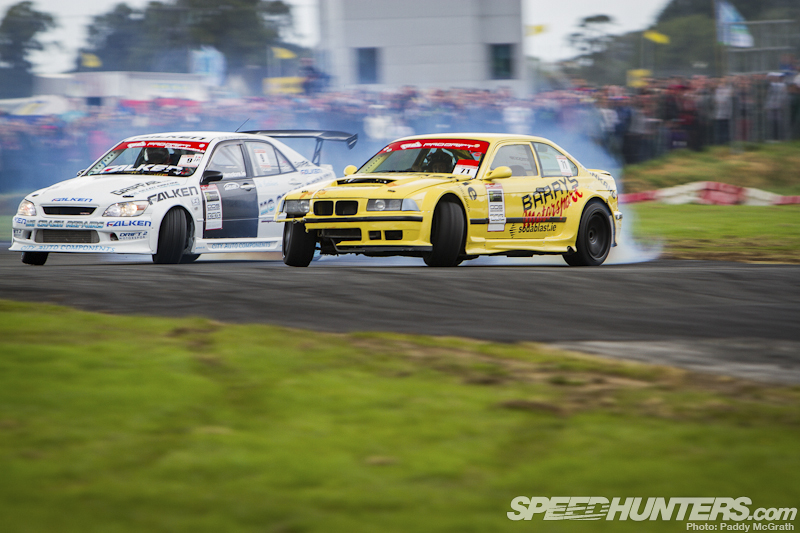 LC: So what do you think about Dai's next battle?
DAI: Me again? Why don't you guys talk about f*****g DMac!?
LC: We're talking about things all the way through.
AASBO: Remember, DMac wasn't in top sixteen?
DAI: Can I talk about how bad he was? You know his qualifying f*****g, f*****g sucked man.
[LAUGHTER]
DAI: I'm just kidding, Everyone knows he can drive but he had car problems, so you know.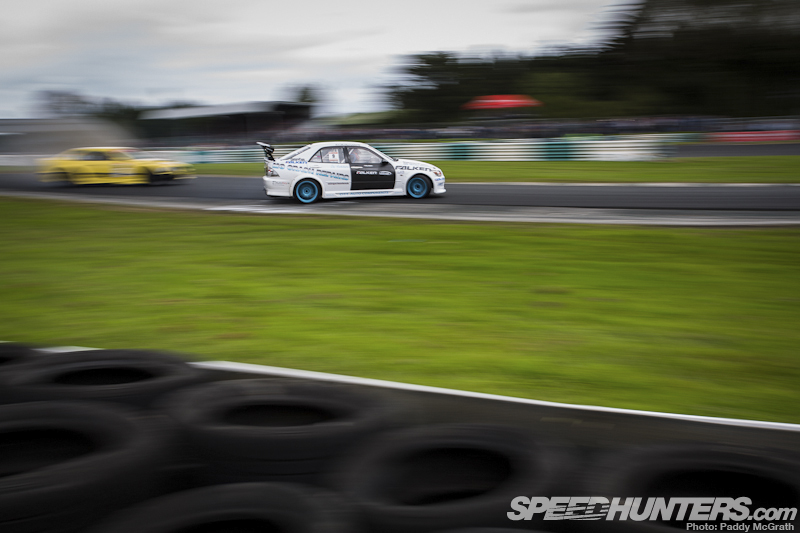 LC: What do you guys think about Dai's next battle with the BMW of JP McCarthy? You guys saw it?
AASBO: I didn't see it.
DMAC: The BMW was very fast.
DAI: Yeah you're right, he was very fast. It was amazing.
DMAC: It was close, he's fast.
DAI: Yeah, he wasn't fast on the straight but once he initiated, he was really quick. Even faster than James
DMAC: He said the same that he couldn't keep up with you in a straight line. You probably understeered in that one too.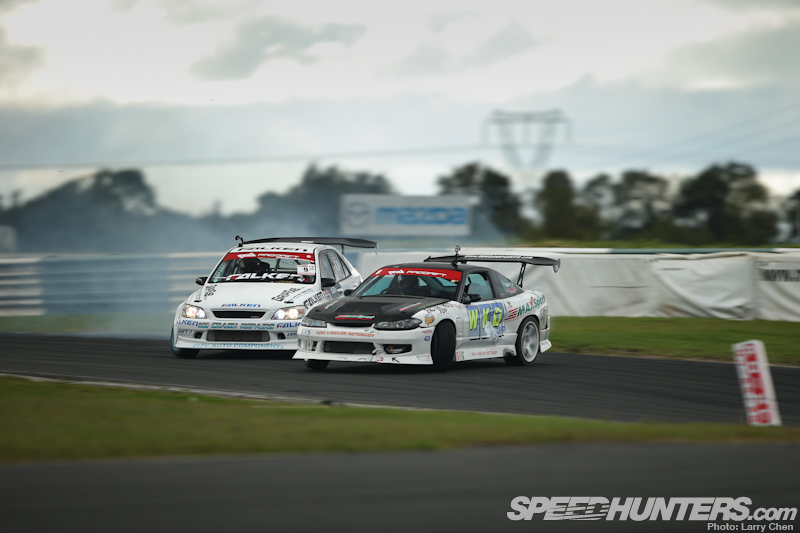 DAI: Maybe a little actually … [laughs] … No, that was okay but in the top four I think, that was bad.
DMAC: Top four was very bad.
AASBO: Super bad.
DMAC: Even when you turned around to go back up the track, you could see you had no front grip. You were just pushing and pushing and it would eventually roll over into oversteer.
DAI: Yeah, but it wasn't bad until top eight and top four.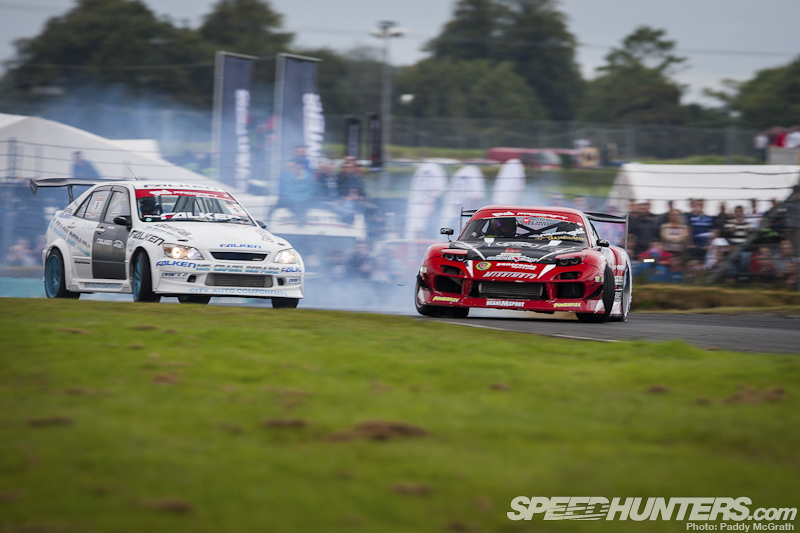 DMAC: It looked to be doing the same thing in Top 16 against James, your wheels were turned right [around the first corner], it looked really bad.
DAI: Did the judges not see that part?
DMAC: I don't know.
AASBO: Maybe he paid them a lot of money?
DMAC: In yen? The yen is worth a lot of money now. Maybe you're importing a car for them or something because we love Japanese cars here so much.
AASBO: Well it was 'Japfest'.
DAI: F*****g racists man!
DMAC: Stop cursing!
[LAUGHTER]
DAI: Sorry man!
DMAC: Did you drink that bottle of champagne or something?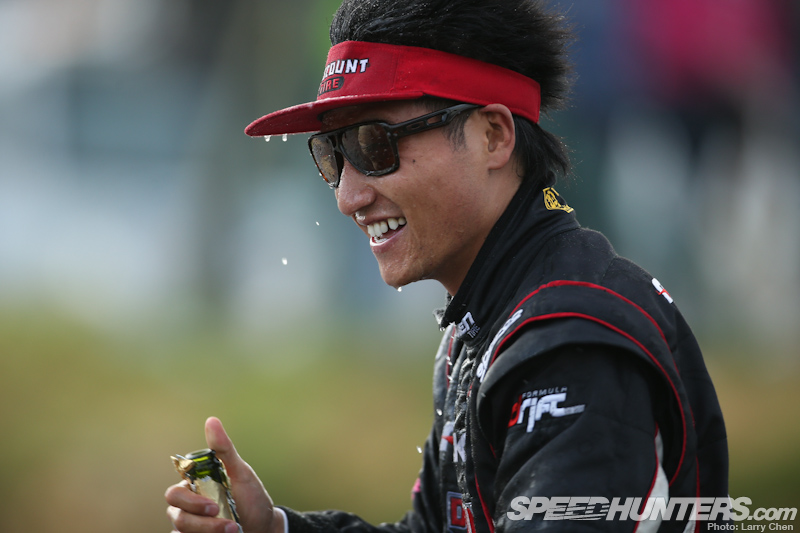 DAI: A little bit …
[MORE LAUGHTER]
DMAC: I don't think we can use any of this interview, can we?
PMcG: No. It'll just be "Team gets into car" and "Team gets out of car".
DMAC: Like Big Brother, it'll just be the sound of birds whistling.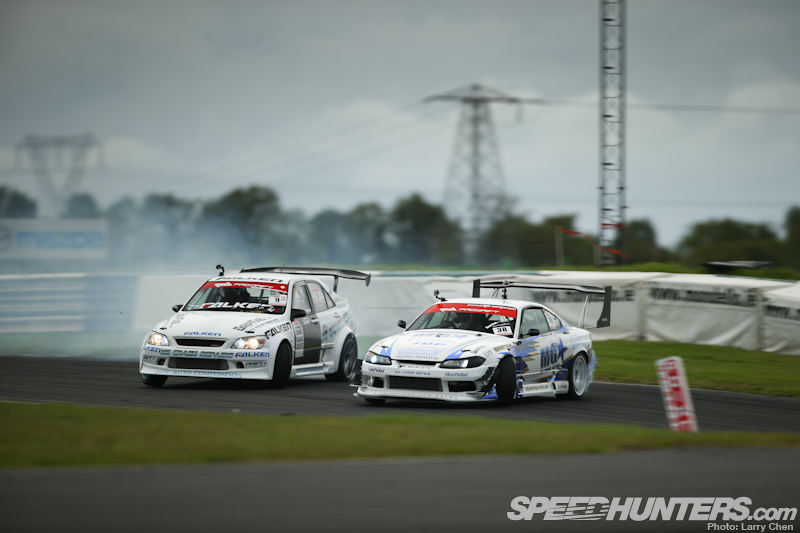 LC: Let's just talk about the final battle. What happened your car?
DMAC: Always blame the car.
DAI [to DMAC]: You're pretty good at that, huh?
LC: You looked pretty frustrated when they took the car away for the five minute rule, did you not think they would make it back?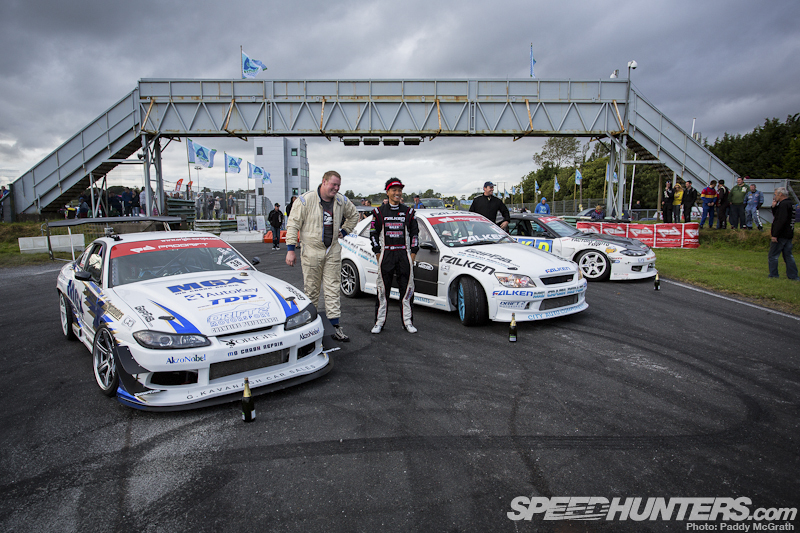 DAI: No, I thought they would make it back but they didn't fix the problem but fixed another one with a driveshaft instead. I still believe that the coolant leaking was causing the problem and they wanted to change it but we didn't have enough time. I had a mean understeer problem and that's why I lost. I mean, I don't mind coming second, but I really wish I could have done better and made a better show. It's the final round, we should have really made it an exciting battle. But it was boring because I made a big mistake.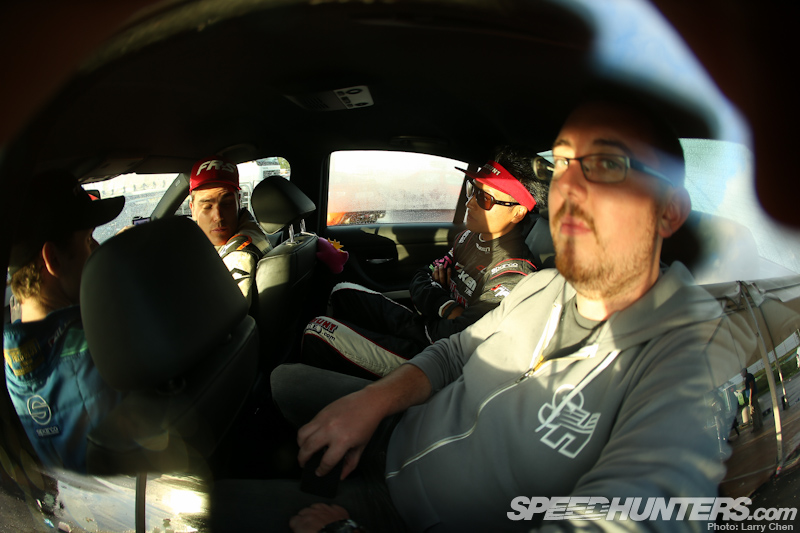 LC: Any final words?
DMAC: We all suck.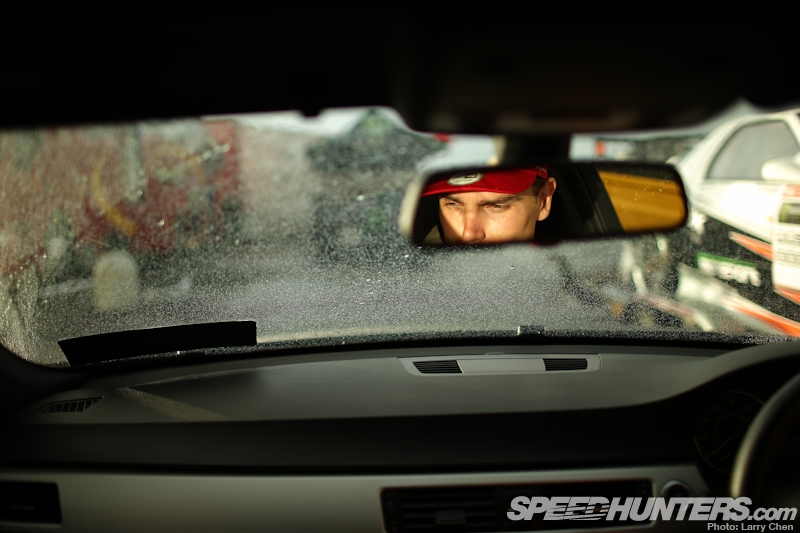 AASBO: Yeah, especially us in the front here.
DMAC: Yeah, the front row is really bad. Like, you'd probably crash this trying to park it and I probably wouldn't be able to find first gear or something.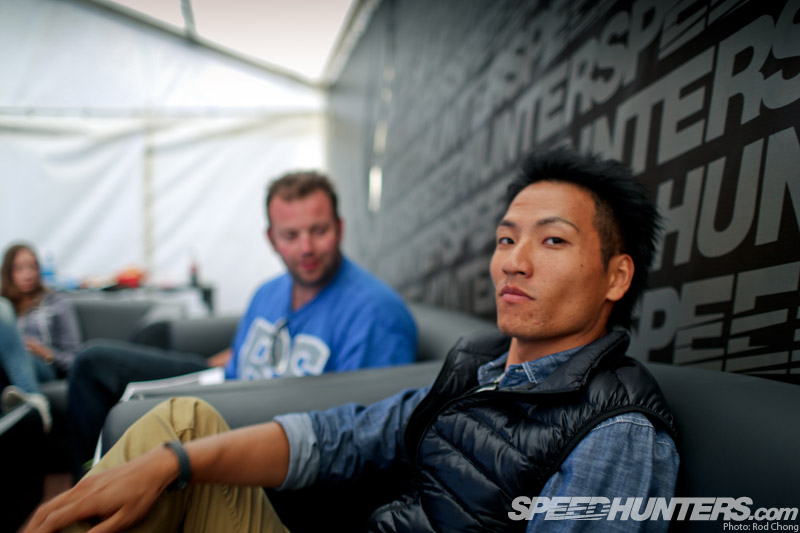 DAI: I just want to thank everyone for putting things together and having me here, Falken tyres, MG Crash Repairs […]
AASBO: Did you just say F*****g Tyres?
[LAUGHTER]
DAI: I say "F A L K E N", Falken tyres.
DMAC: It's an awesome event here, it's just hard to believe.
AASBO: It was much bigger than last year, huh?
DMAC: Yeah, I feel it's such a cool event that you have all these people you know and your love for the sport is shared. I don't know what the right word is but I feel like I left them down.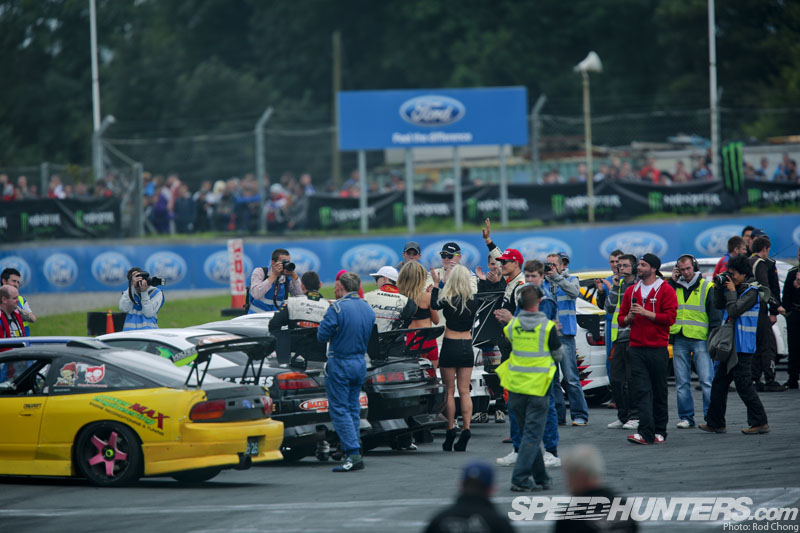 AASBO: Exactly but I feel that the most touching thing that is most of those guys would come over to you after the event, and even though you're absolutely upset with yourself and they'll say 'great job' still. I think people can appreciate what you've done outside of one event. After all we've been lucky and we've had some things go good for us over the last couple of years too.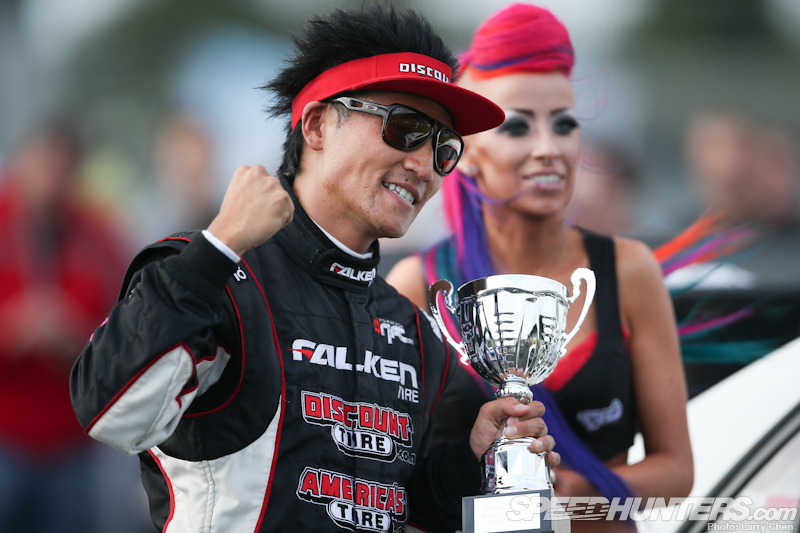 DMAC: Yeah, we're lucky to be in the position we're in. Thanks to the support from Speedhunters, Falken and people like that that allow us to build these cars and build a bit of hype for drifting. It's grand for us to be pissed off and upset and all because we like to win, but we're still very fortunate that we get to do what we do.
AASBO: Amen.
DMAC: That was a nice way to finish.
PMcG: Yep, it's turned off now.
DAI: Does that mean we can say anything now?
PMcG: Yep.
DAI: F**k you guys.
–
Interview with Daijiro Yoshihara, Darren McNamara & Fredric Aasbo
Mondello Park, September 9th 2012
Interview & Photos by Larry Chen, Paddy McGrath & Rod Chong
larry@dev.speedhunters.com / paddy@dev.speedhunters.com