Attending the Goodwood Revival and Gatebil on consecutive weekends is quite a difficult thing to cope with. From a place which is all about pushing machinery to the limit, both on track and in terms of just what is possible with a car, to the ultimate celebration of everything retro within five days. Both events are at the pinnacle of their respective genres, and both are simply incredible festivals that should be on everyone's bucket list.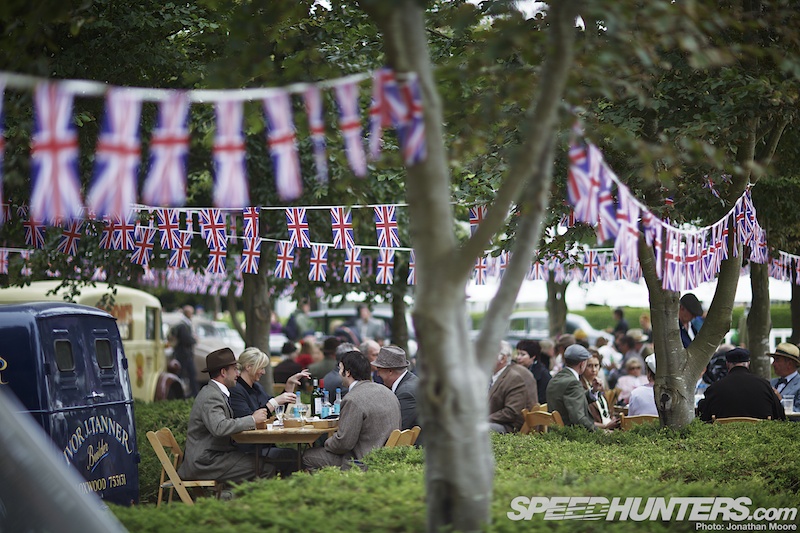 The Revival experience starts well before you get to the airfield site nestling in the shadow of the rolling hills of West Sussex: there is serious preparation required. First of all, what to wear.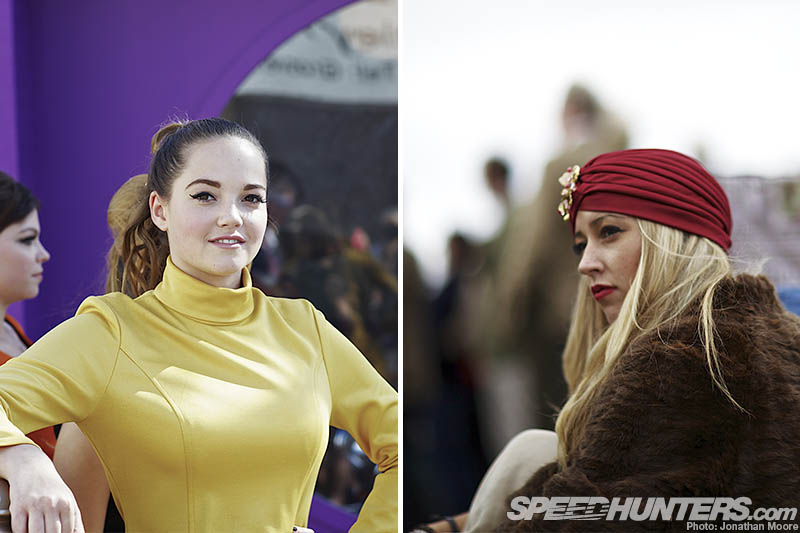 Dressing in period style is becoming an almost obligatory part of the spirit of the Revival: it now jars to see people dressed in modern clothing. The Revival aims to recreate the short but active life of the Goodwood track: it opened in 1948 and held its last race in 1966, which gives a wide range of fashion options to choose from.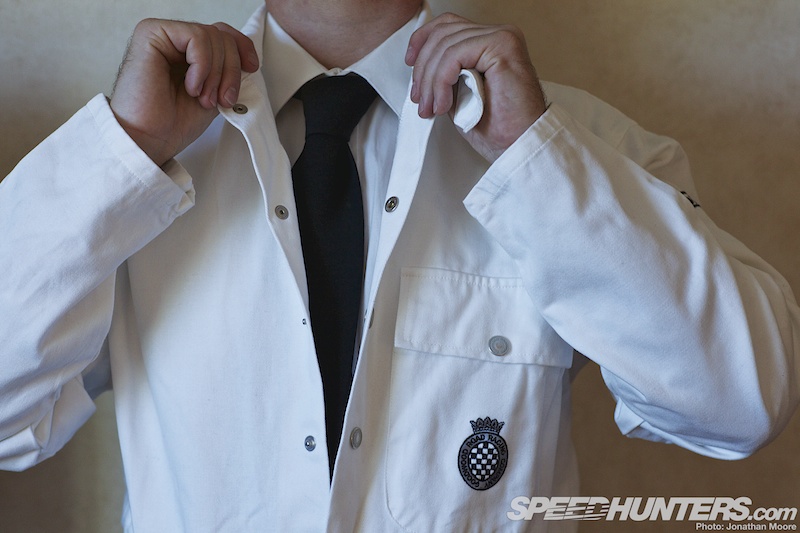 Following on from smart trousers and waistcoat on the Saturday I settled upon a classic Goodwood mechanics suit for Sunday – matched with a shirt and tie, it should go without saying.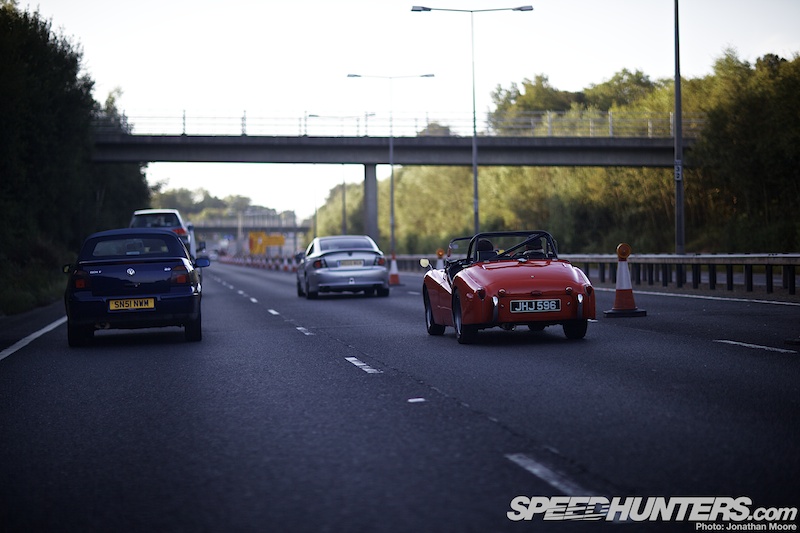 I'm lucky enough to live within an hour and a half's drive of Goodwood, and you soon fall into convoy with other cars which obviously share a common destination. Being overtaken by a modern rep-mobile can be galling to say the least; being passed by a classic British sportscar or – if you're lucky – a Ferrari is an active pleasure!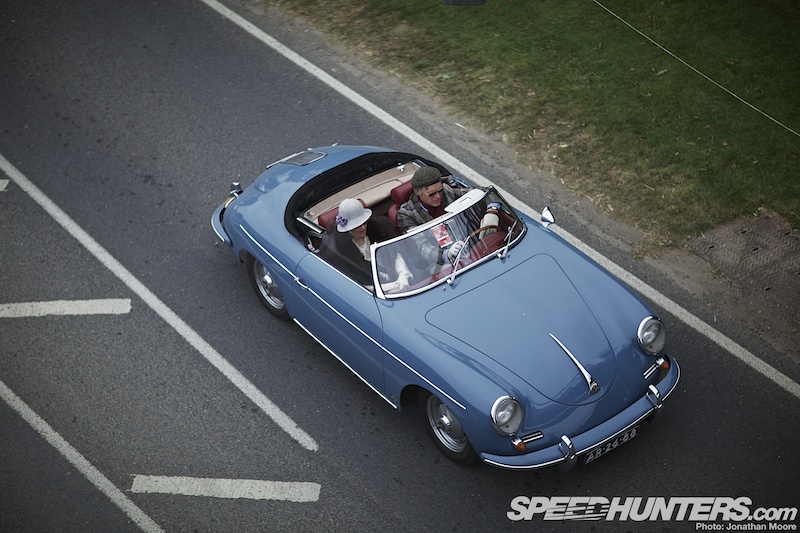 Situated near the historic city of Chichester it might be, but Goodwood is no bustling metropolis. A dual carriageway runs nearby, but the preferred route is via the narrow backroads and through the beautiful sleepy Sussex villages which for three days a year echo to the sound of thumping flat-fours, barking V6s, rumbling V8s and shrill V12s.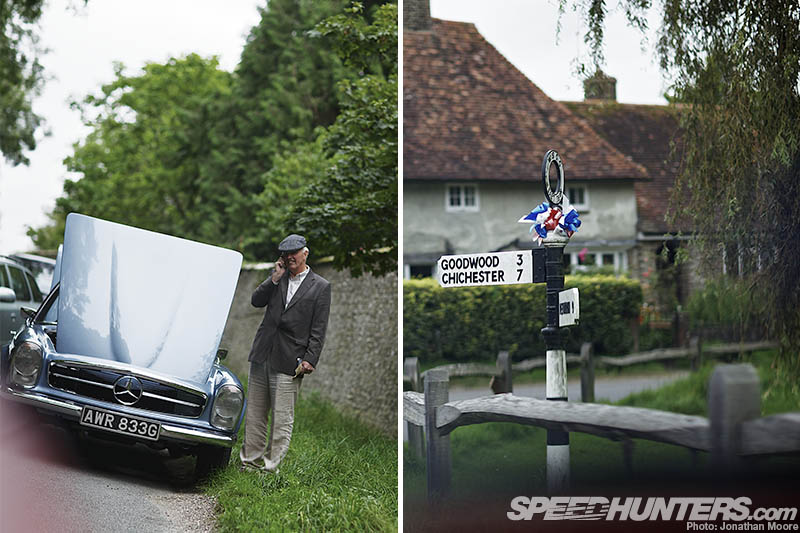 Sadly running a vintage car means you need good breakdown cover…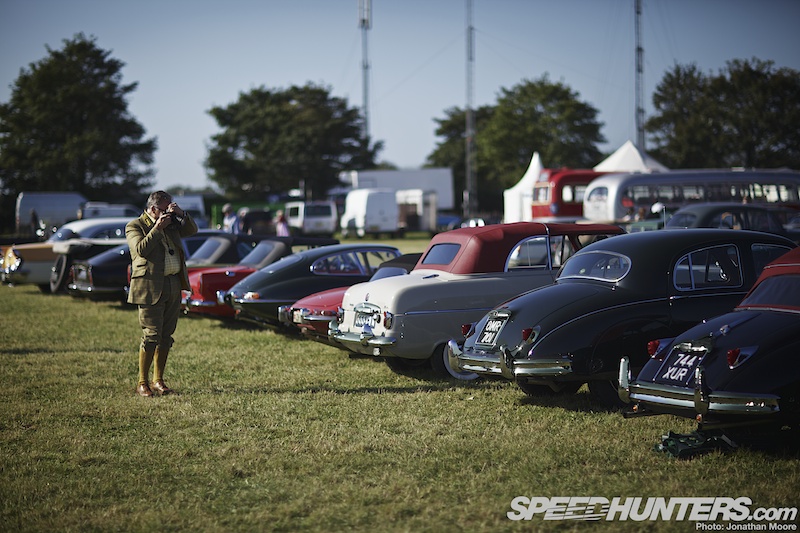 Being at the Goodwood Revival with a camera is a blessing and a curse at the same time. Looking at the Revival through a lens isn't the best way to experience the event: it's something you need to live and soak up first hand. The upside is that it's impossible to move for things that are crying out for a photo…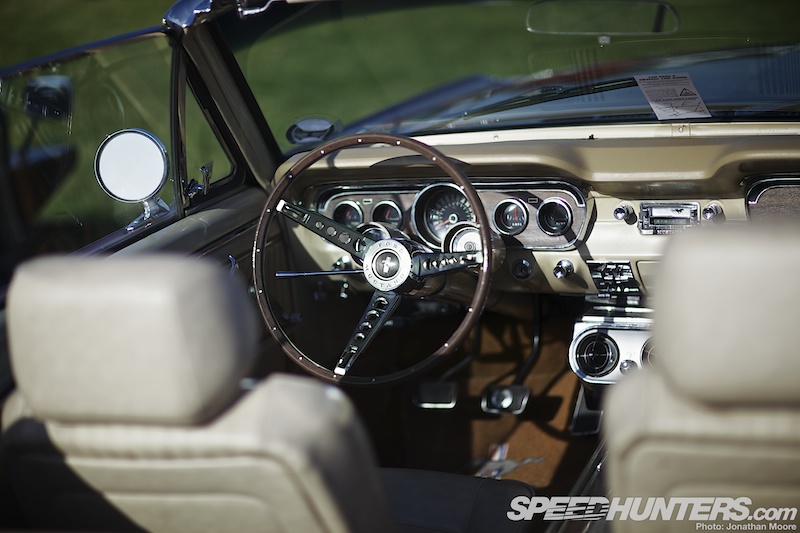 There are a wondrously large number of steering wheels that anyone with a drop of petrol in their veins would kill to sit behind.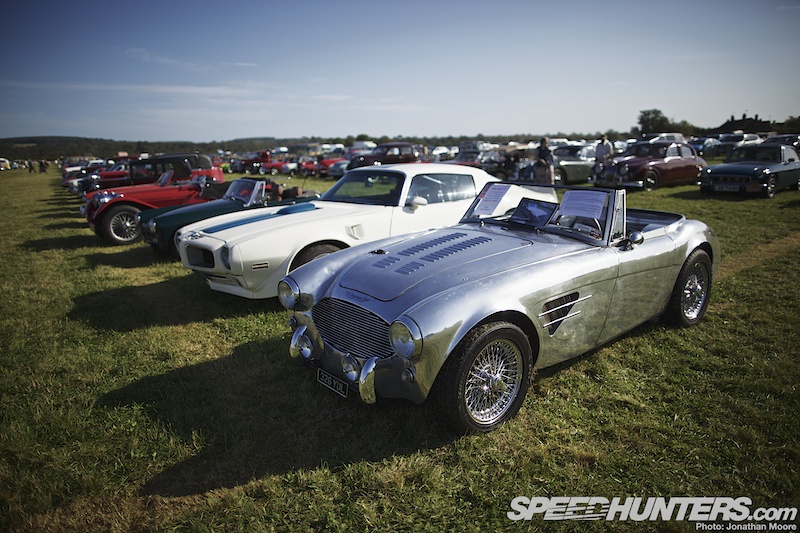 As ever, the Revival's Forward Parking area was reserved for period machinery. Row upon row of stunning cars were lined up in their hundreds.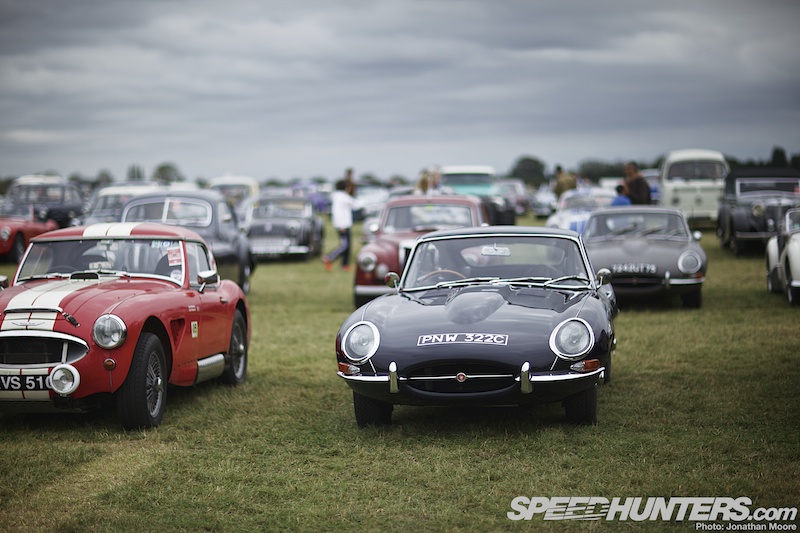 It is a physical impossibility to move through the parking within, say, an hour. But it's an hour of happily wading through unavoidable, treacly automotive happiness. Last year's Revival celebration of the E-Type has made way for the anniversary of both the Ferrari 250 and that classic Anglo-American project, the Cobra, but the Jags were out in huge numbers as ever. The most beautiful car ever made?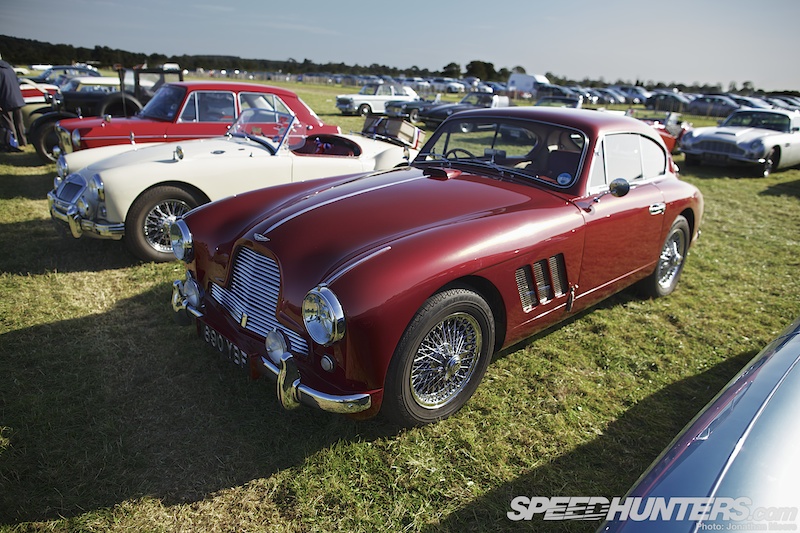 It's the sheer variety and rare examples that you would never expect to see outside a museum that I find so impressive. Mere hundreds of Aston Martin's DB2 Coupé were ever manufactured.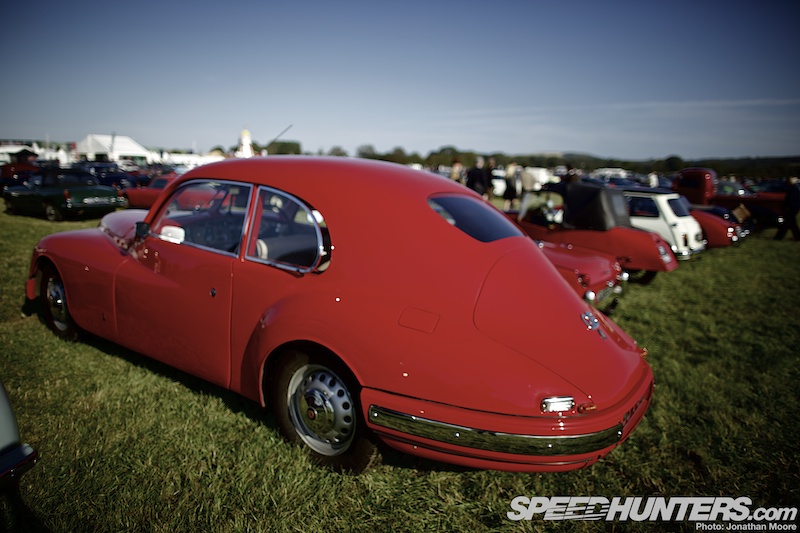 I love the eccentricity of Bristols: I always think that the rear of the hand-built 403 is like an inflated Porsche.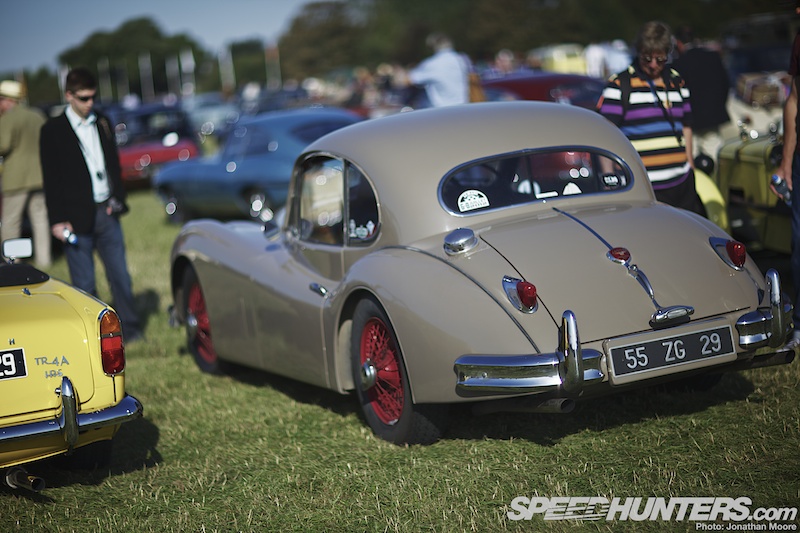 There were a surprisingly large number of XKs: the Fixed Head Coupé XK140 is a lithesome beast, with it's tapering sides and long nose. The dual-exhaust and knock-off red wire wheels give it an even more sporting look.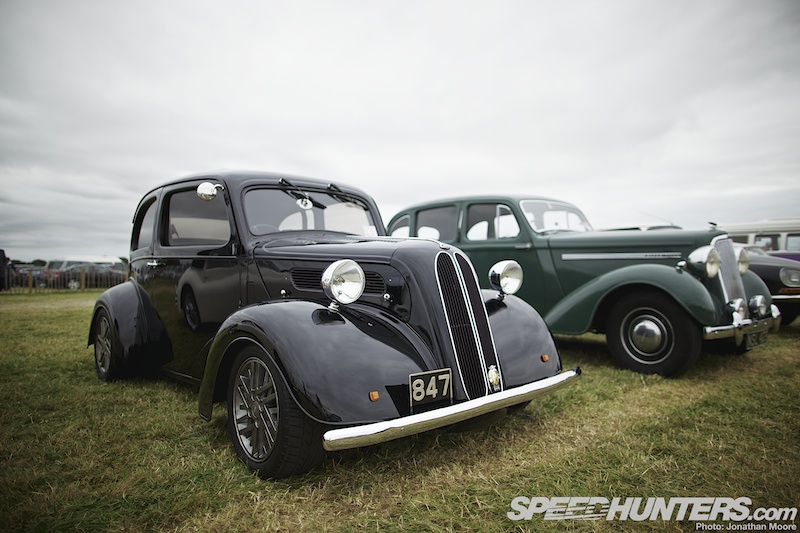 You could even sneak a modern take on something old through if you were lucky, like this very subtly modified Ford Popular.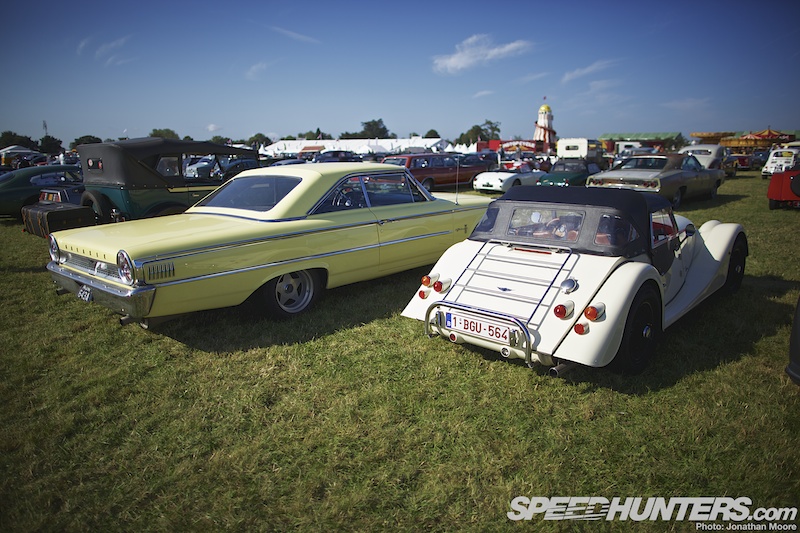 It's always funny to see the different takes on the motor car between Europe and America, with the vast US supertankers completely dwarfing the diminutive European sportscars.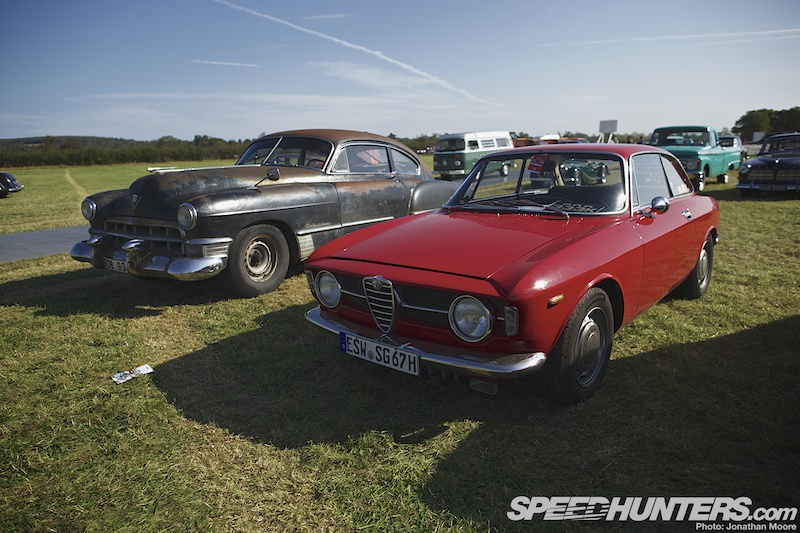 The Alfa looked like it could fit in the Caddy's hood! Actually, the Cadillac was one of a number of really nicely finished 'weathered' American cars.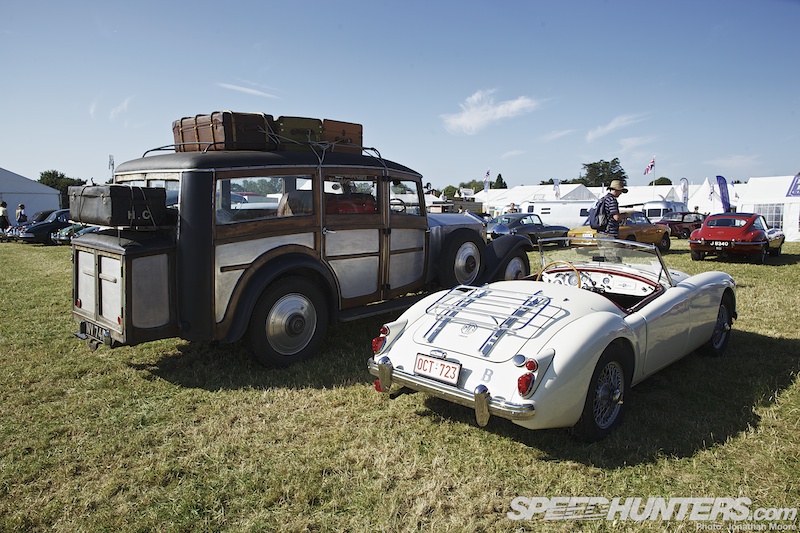 At the other end of the comfort range was this Rolls Royce, looking ready to set off for a grand European Tour. Then the MG for cruising down Mediterranean boulevards?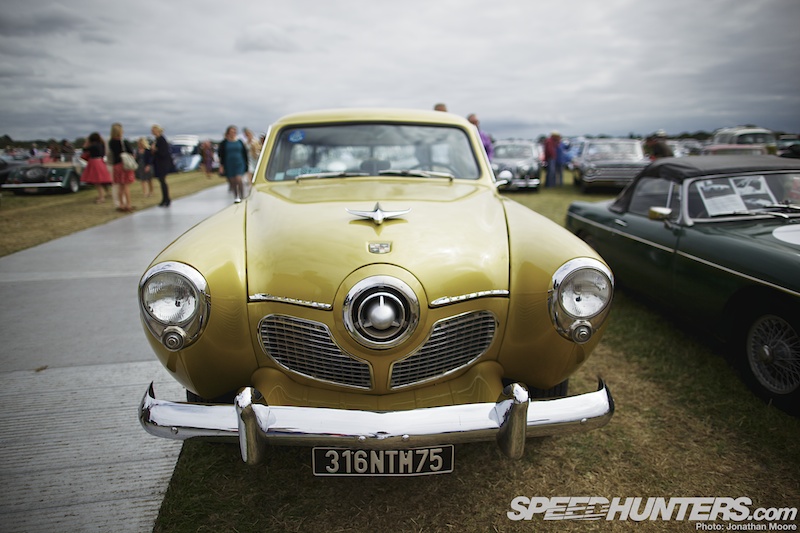 The nose art on vintage cars never fails to impress. The rocket-ship Studebaker Commander is fully Jetsons, from its bullet-nose to the winged hood ornament and wrap-around rear screen.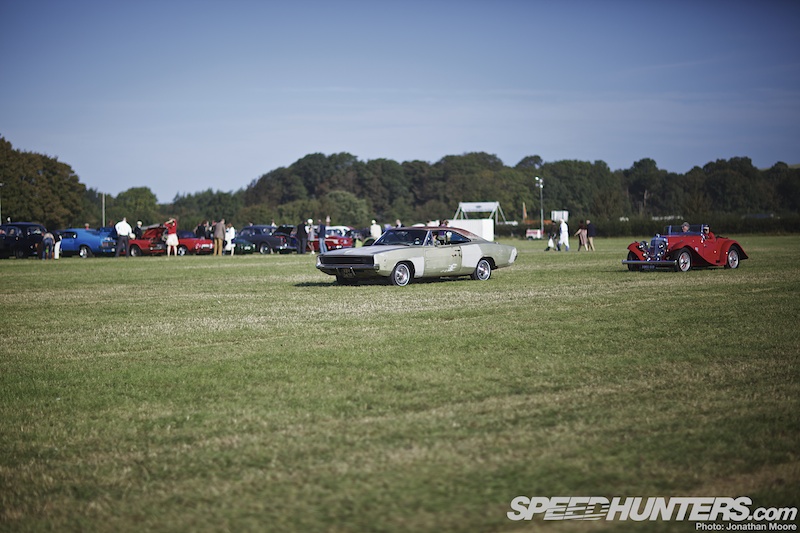 …and still more cars rolled in to park up. Admittedly I had been wandering through the parking in a daze for hours, but it's an integral part of the Revival experience. And at this stage you haven't even had to pay a penny!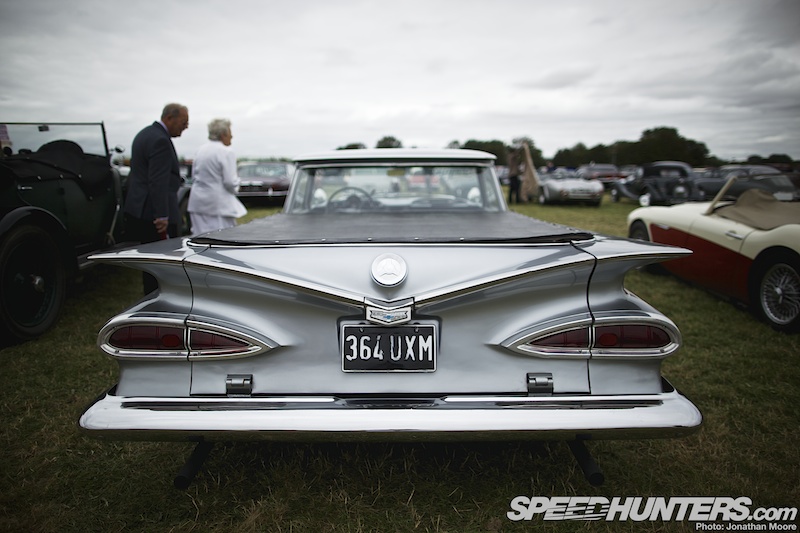 Vying for prize of longest car was this El Camino, which had an aircraft carrier-sized rear pick-up deck.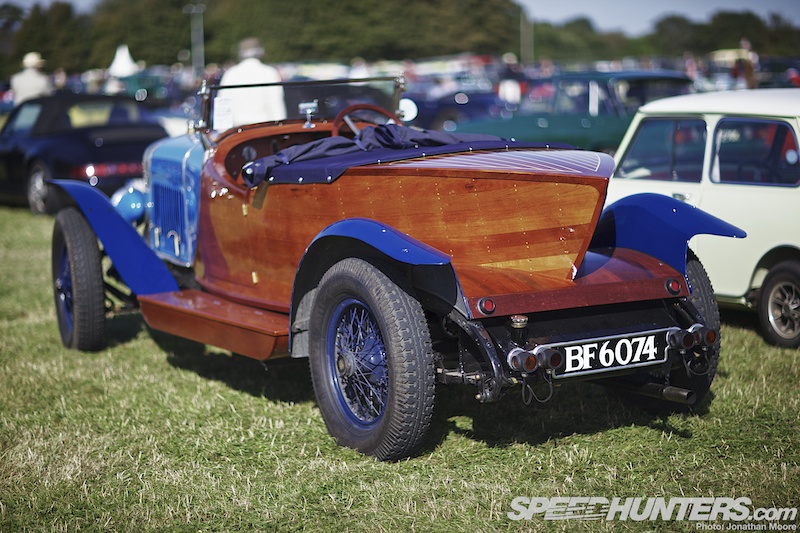 Boat-tail cars were all the rage for a time, as people got used to what on earth the motor car actually was. Make it look like a boat. That'll be easier to understand perhaps?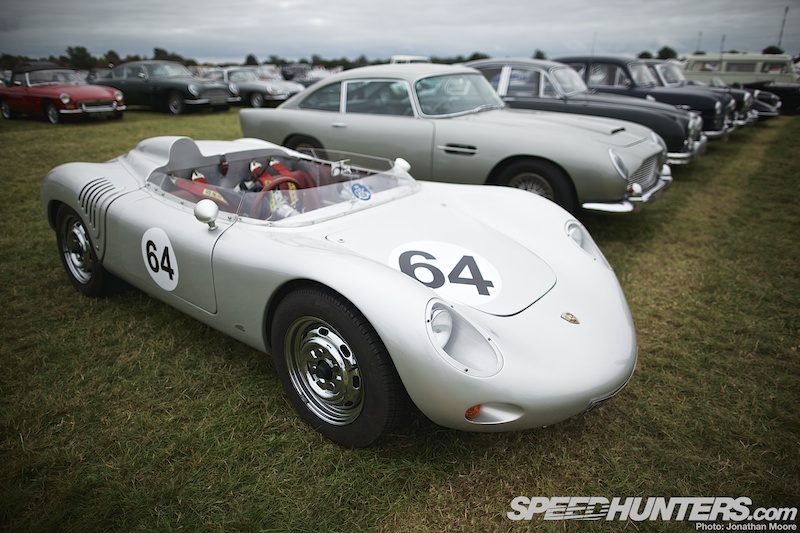 Amongst the Americana and British representation were almost every model of vintage Porsche imaginable. 356 and 911 models like the ones in the header image abounded, but I think my favourite was this 718 RSK.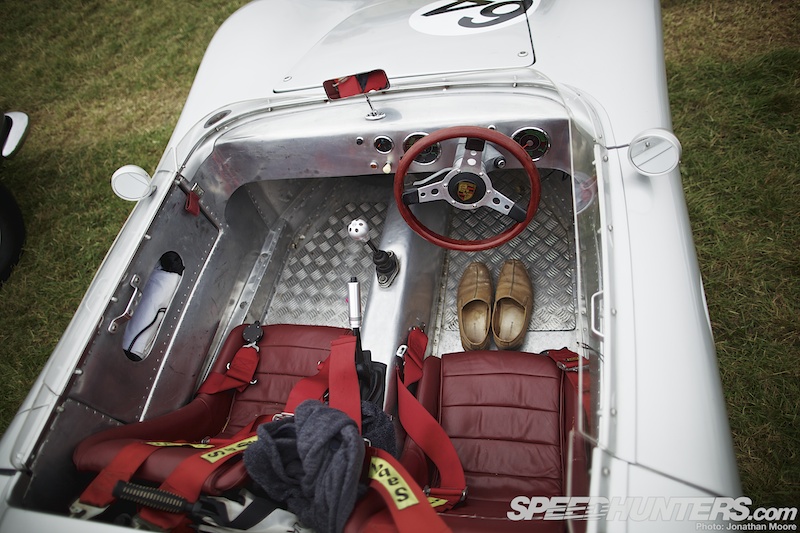 It's always difficult to tell whether they're replicas – but the fact it's parked in a field suggests the truth about this one! Perfect simplicity nonetheless.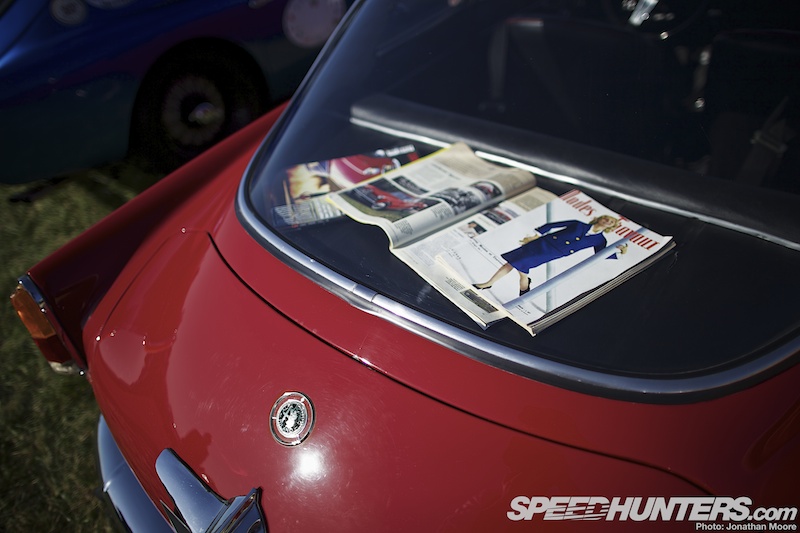 Period touches add that little extra: things like vintage magazines left on a parcel shelf or clothing laid out on a back seat.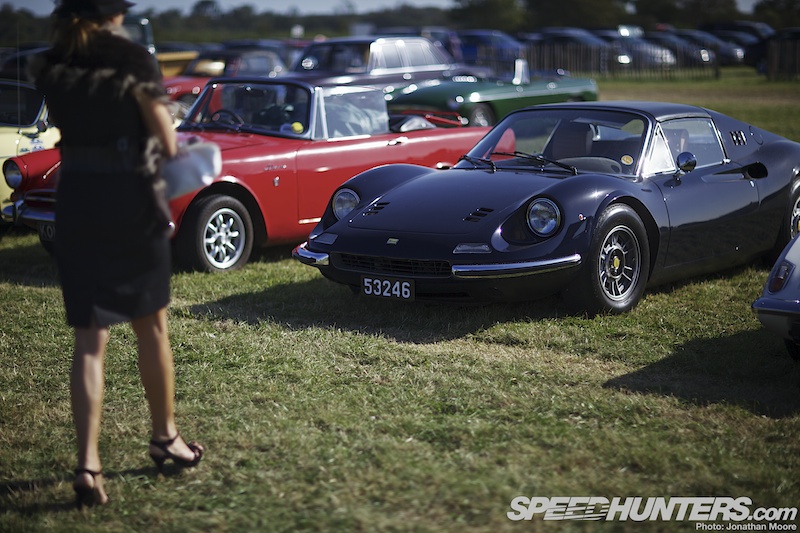 A handful of Dinos were parked up, strategically spread about to prevent possible hyperventilation.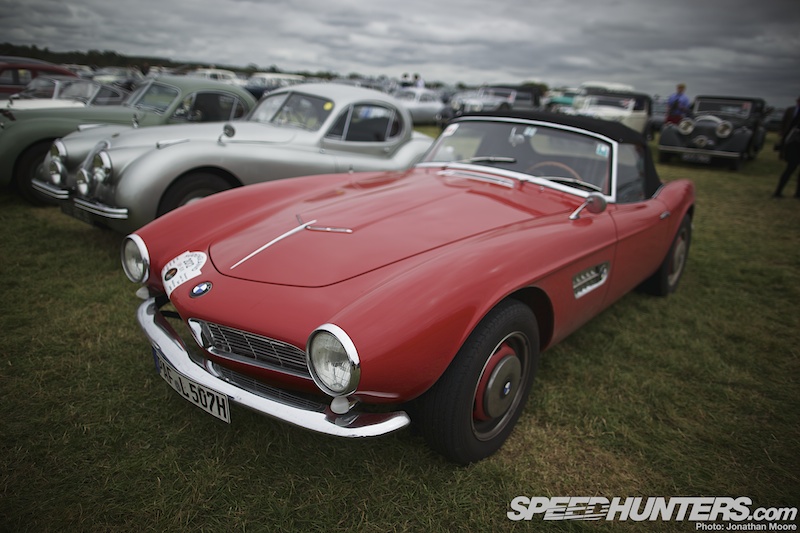 BMW's 507 svelte roadster was another low-volume treasure – barely 250 were constructed between 1956 and 1959, and this was one of several to be worshipped at the Revival.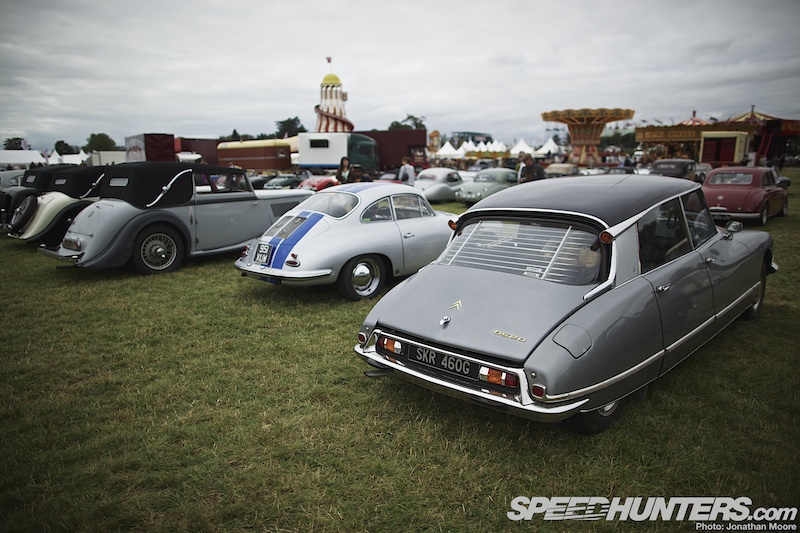 Eventually it was necessary to fight through the final rows of cars and into the Over The Road market, the extra-mural extension to the Revival site that contained the funfair, Wall Of Death and secondary markets.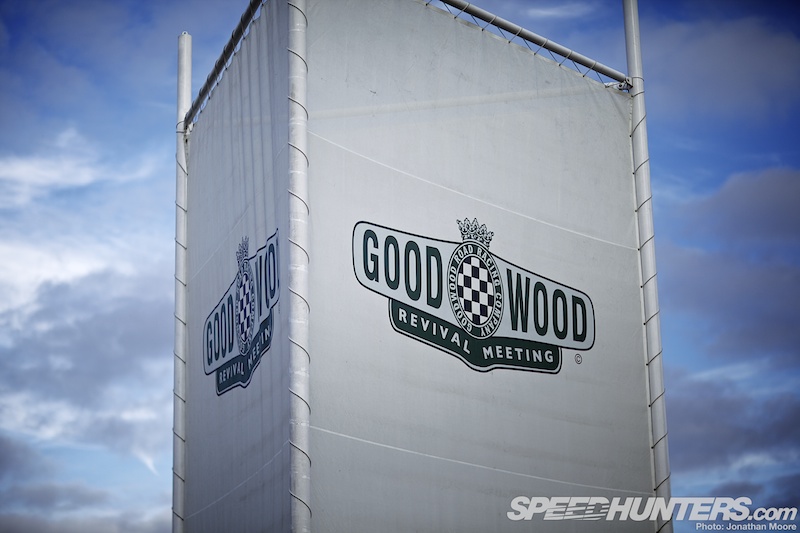 Through the ticket checks (electronic QR codes! How very un-Goodwood…) and over the bridge, and the magic of the Revival is fully laid open before you.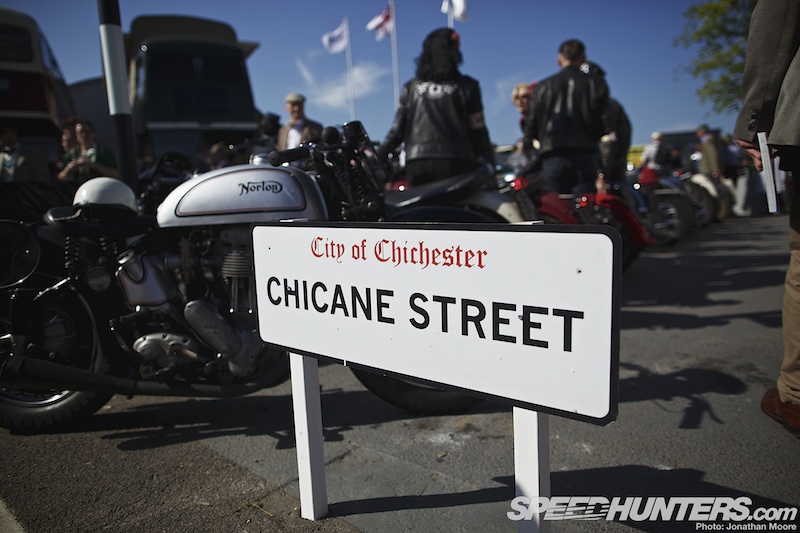 From then on until you regretfully leave at dusk, vintage ruled and the smell of racing oil hung in the air.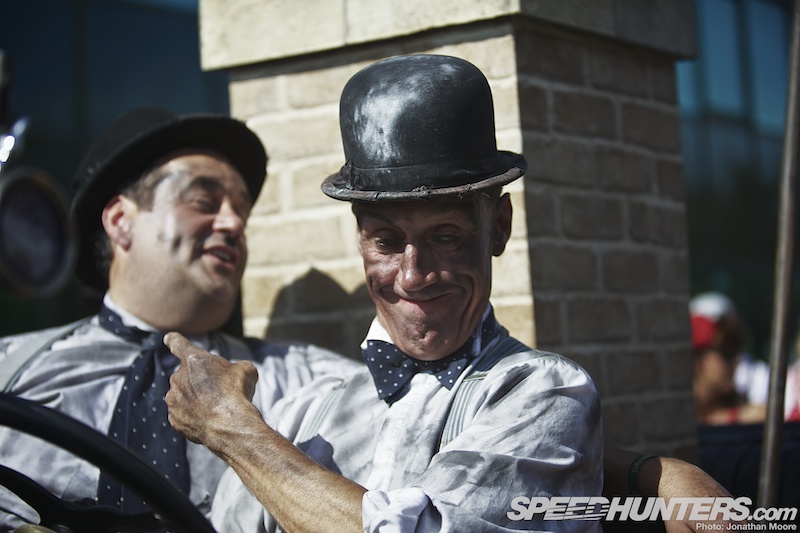 The people make the Revival what it is. The atmosphere is so theatrical and well-mannered: ladies show off every fashion style imageable and men show off military uniforms, demob suits, plus-fours and, yes, even tweed. You'll meet up with Marilyn, Laurel and Hardy…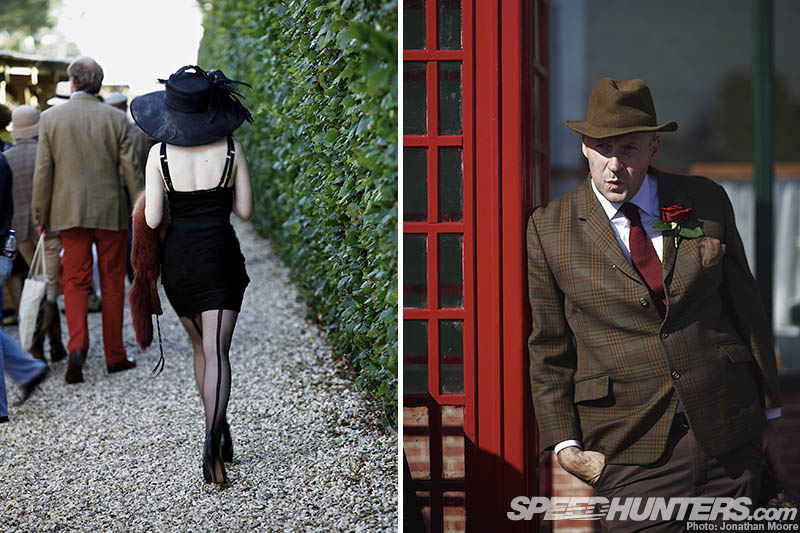 …and in areas like the high street recreation, complete with vintage Tescos, Kenwood outlet and Delonghi coffee shop, a spiv prowled around looking to sell off-ration goods to the unwary.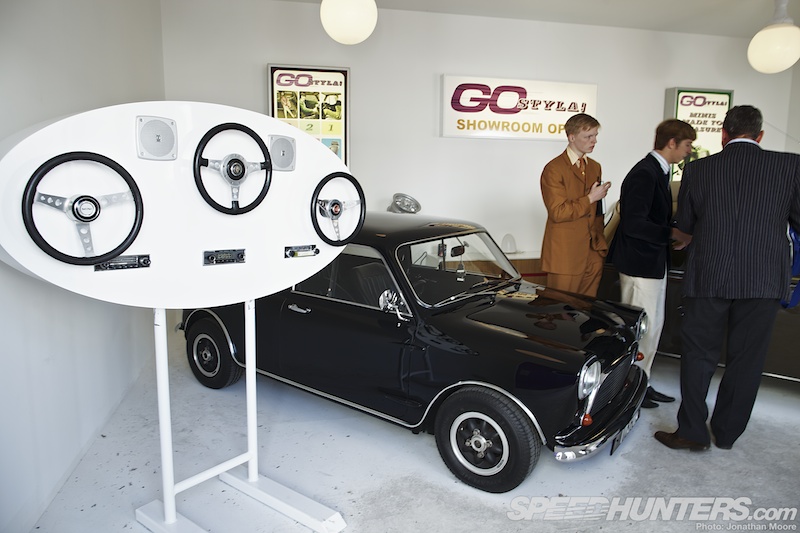 In the March Motor Works Mini dealership, fresh-faced young salesman touted the latest must-have car for the fashion-conscious of the '60s.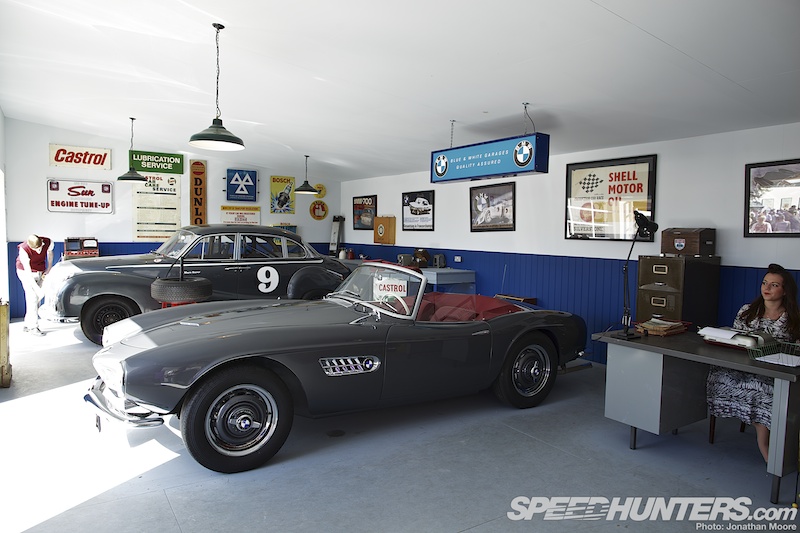 Next door's BMW dealership was a far more sober and business-like place…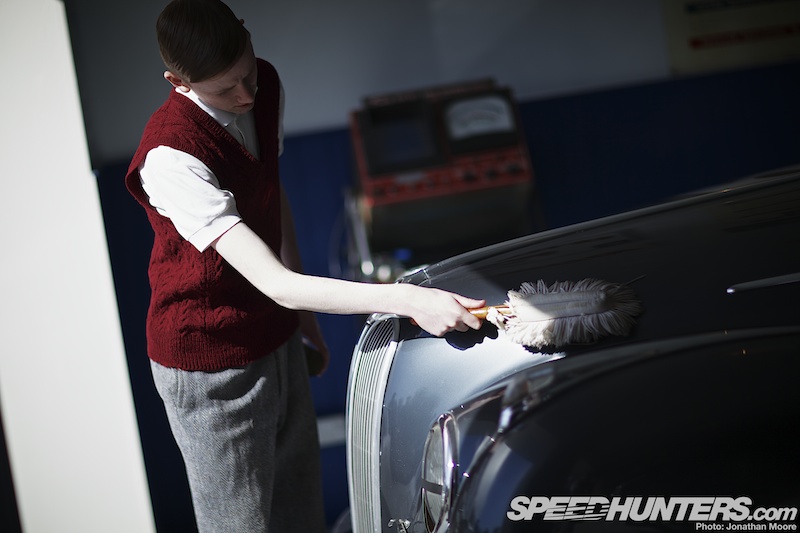 …complete with a junior polishing the cars.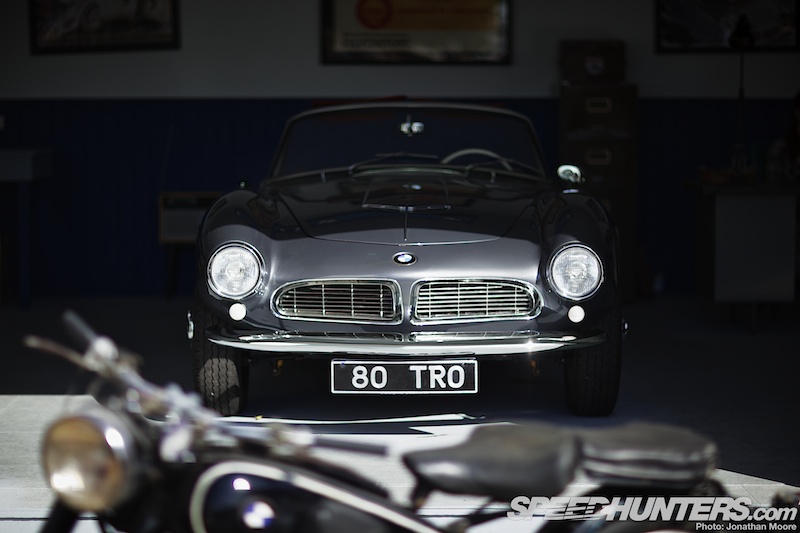 Pride of place in the Blue And White Garage ('Quality Assured') was another glorious 507.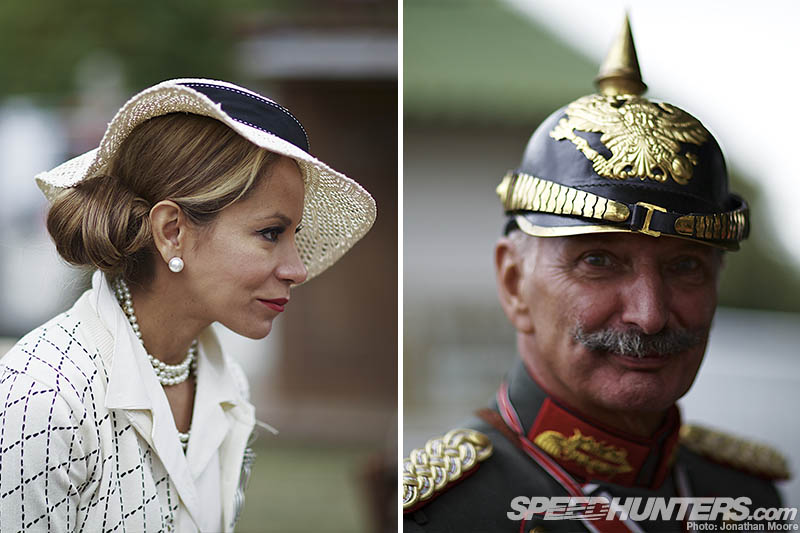 Hats came in many guises, from stylishly floppy to worryingly spiky.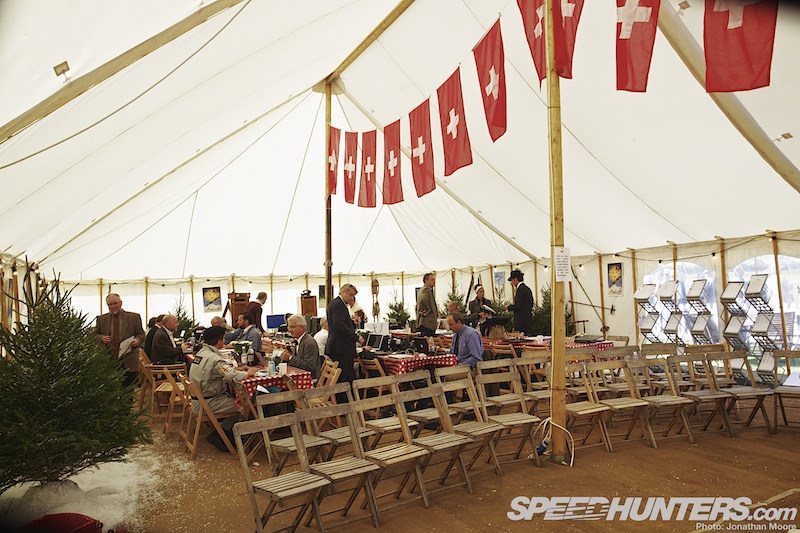 Even the media centre was immersed in the vintage style: the St Moritz 1948 Winter Olympics Press Centre was slightly confusing, with fake snow, vintage telegram and typewriters and christmas trees. Certainly unlike any other press centre!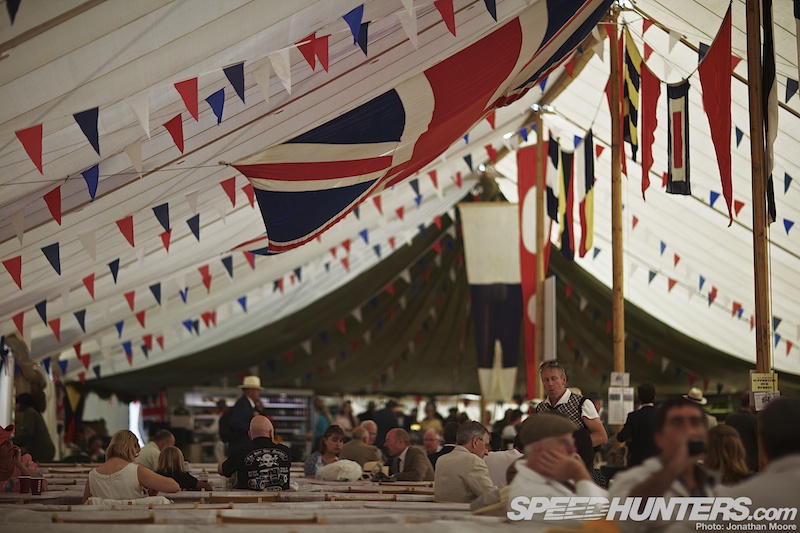 Swiss flags might have flown in the media centre in deference to the sponsor, but everywhere else Union Flags hung proudly. That said, the Revival is no celebration of parochial fervour: it truly embraces all nationalities and racing cultures, and you were just as likely to hear a foreign accent as a foreign exhaust note.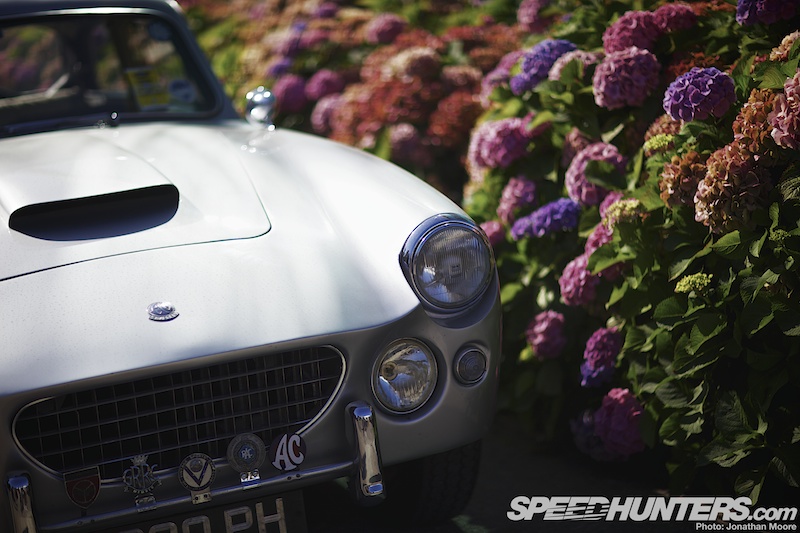 As ever the in-field paddock was immaculately presented and always bustling with activity.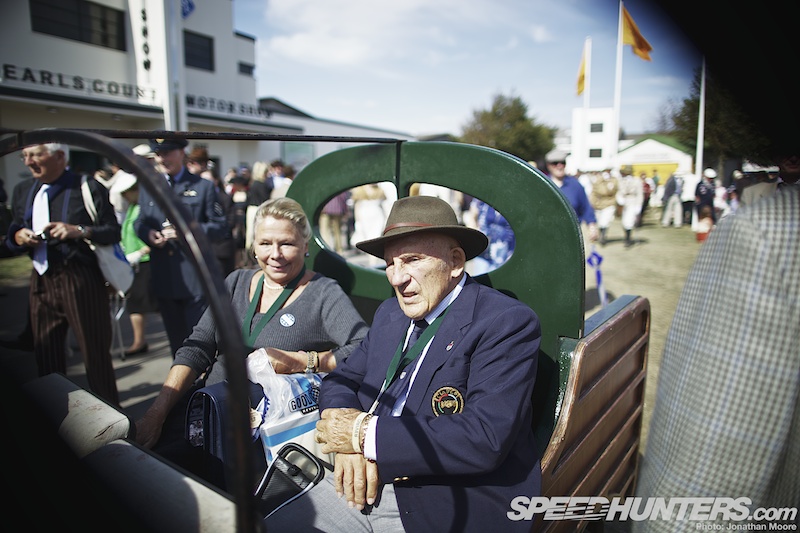 Many famous faces show up year after year – Sir Stirling Moss might no longer be flinging cars around or chasing quite as much 'crumpet' as in previous years, but he is now racing royalty.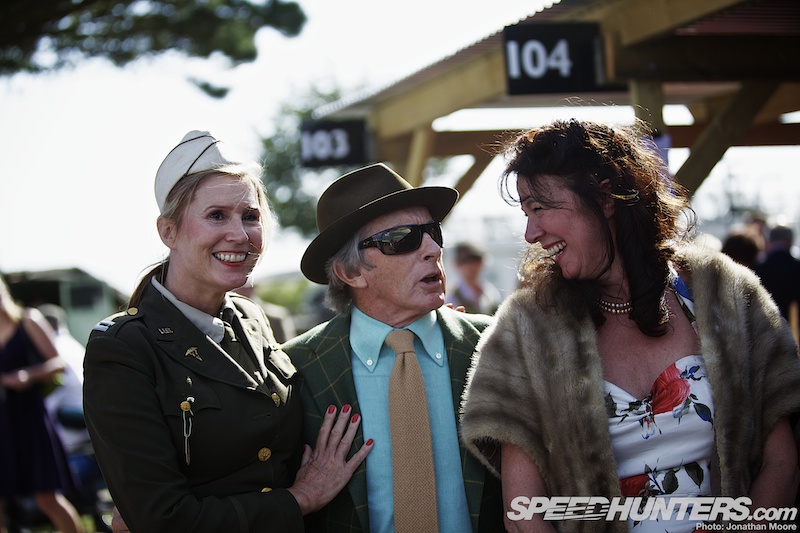 The next generation was also represented, with Sir Jackie Stewart taking the wheel of several Grand Prix cars over the weekend.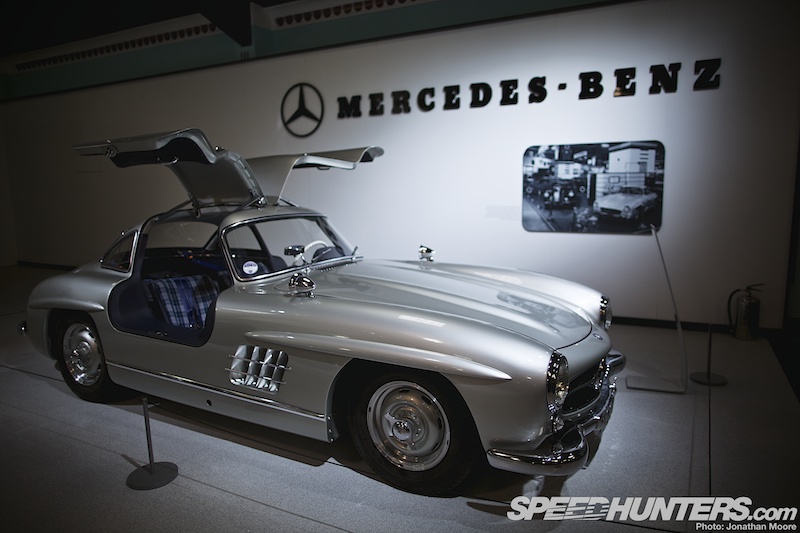 The Earls Court Motor Show recreation has become another incredibly popular aspect of the Revival, with contemporary manufacturers showing off they heritage next to their latest (and dare I say it not nearly as exciting) models.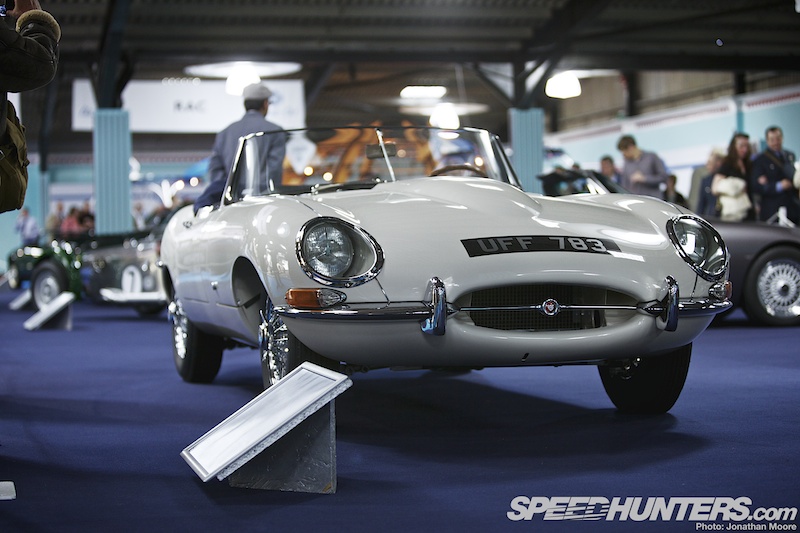 The central theme this year was a celebration of the Great British Sports Car, with Jaguars, Lotus, Triumphs, Aston Martins and Morgans all on show.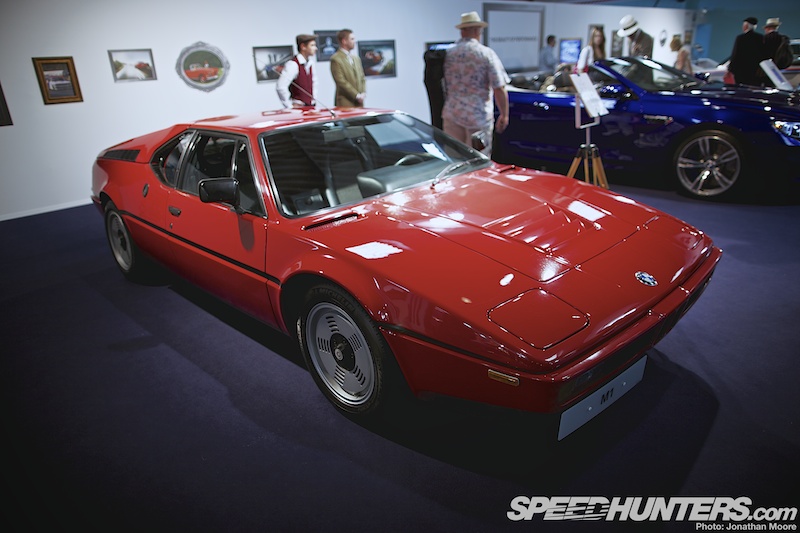 Like the 507 the M1 was only produced in small numbers, and BMW's mid-engine supercar kicked off the M brand.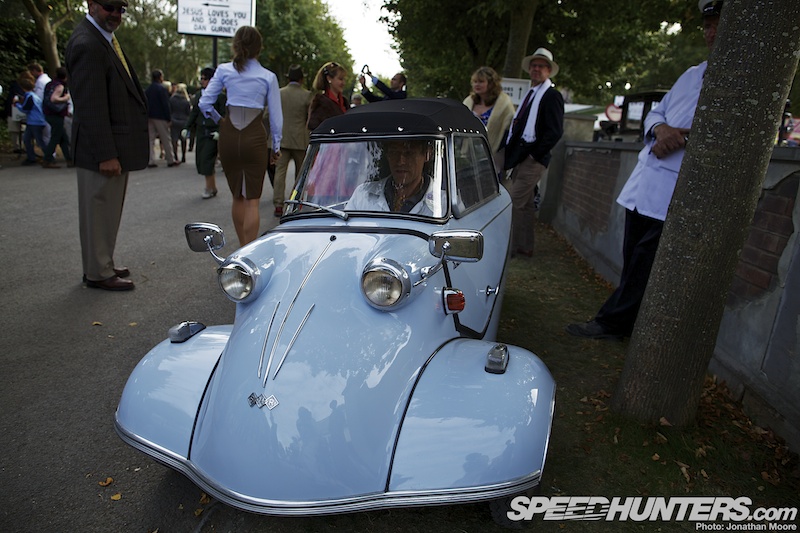 For a more sedate pace you could always take the FMR (Fahrzeug und Maschinenbau GmbH, Regensburg) Kabinenroller. As long as you didn't have too much luggage…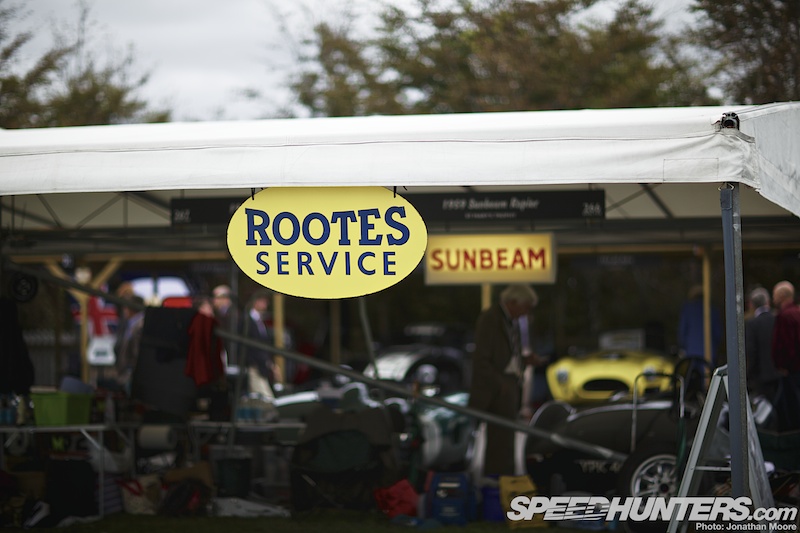 The racing paddocks were split up between the various series competing over the weekend: a mixture of touring cars, sportscars, bikes and GP cars. The teams operate out of their tents for the week, often with period signs and decoration for added flavour.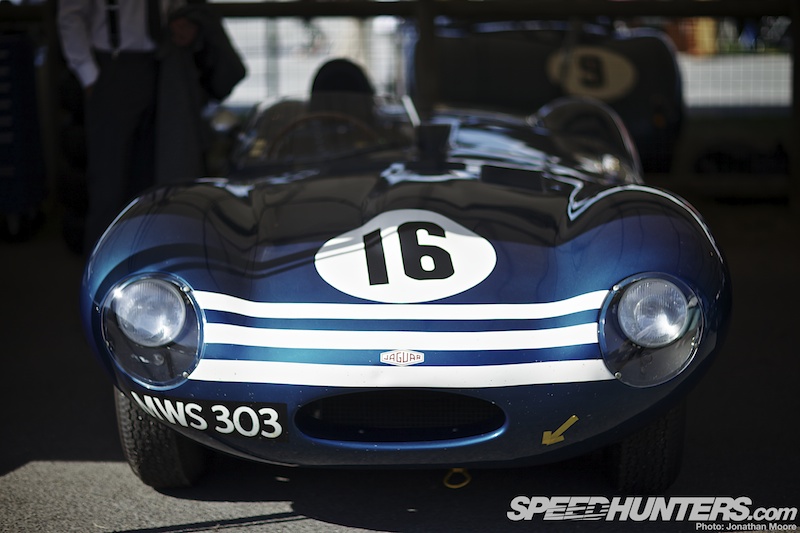 It's another place full of mouth-watering machinery, with no restriction on how close you can get to the cars. You can peer down intakes, gawp at cramped racing cockpits and stare longingly at bodywork like this.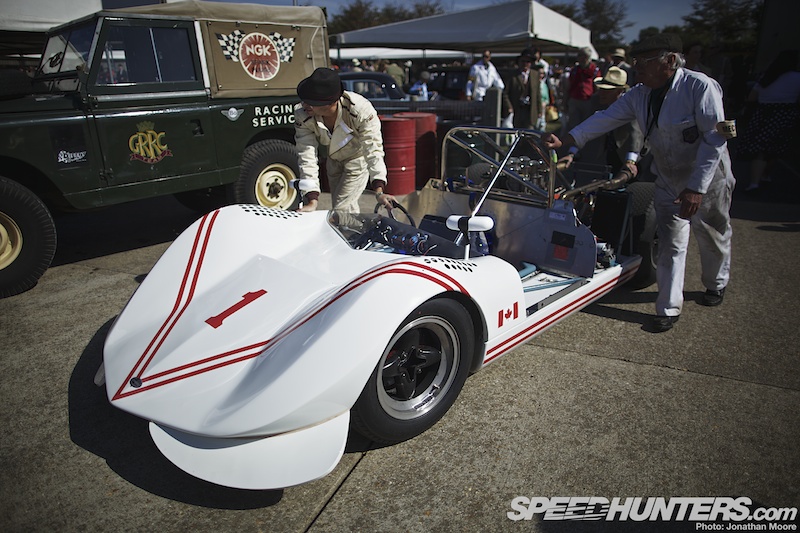 The biggest problem is avoiding the cars being manoeuvred around between track and tents: whistle-blowing teams struggled to push their charges through the crowds.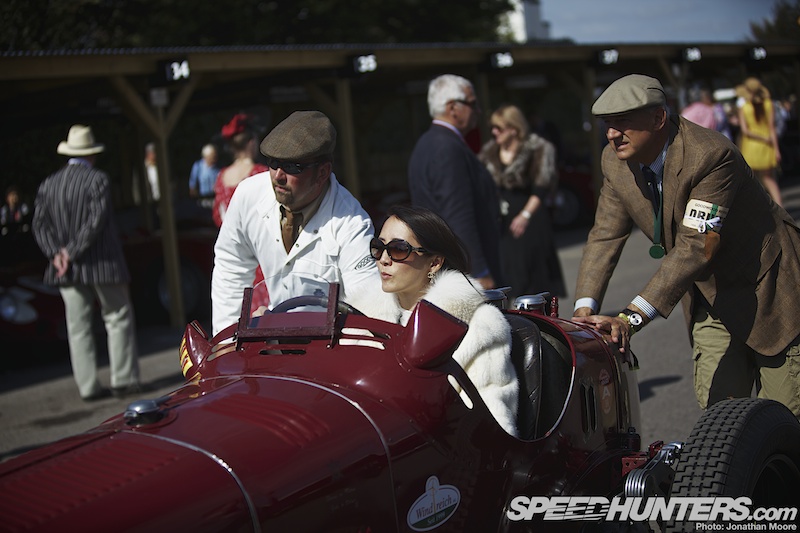 The main interior paddock is not just invite-only, but also a firmly shirt-and-tie only zone. Or mink… Armbands denote people's roles: drivers, mechanics, press and so on. This paddock contains the GP cars, big-banger sportscars and the insanely large number of GTOs.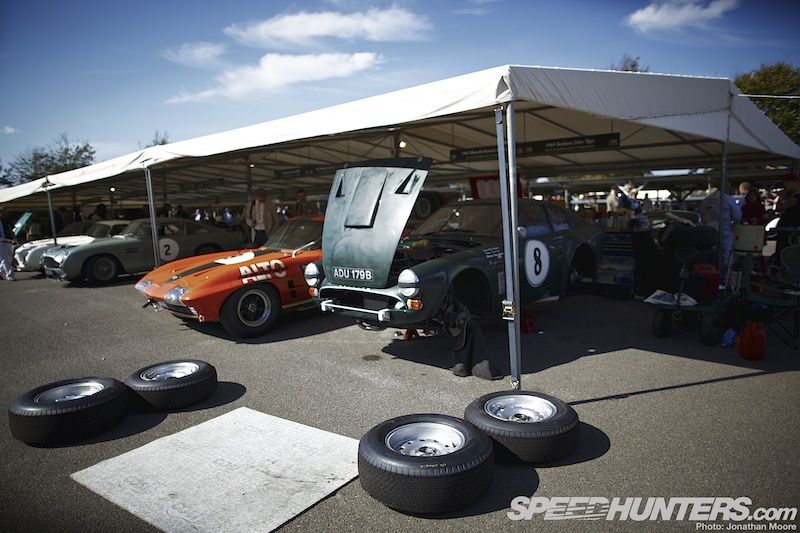 Work on the cars is almost constant: tools are wielded with appropriate zeal to keep these machines in racing condition and more often than not a hardy mechanic can be seen in a wheel well or poking around an engine bay.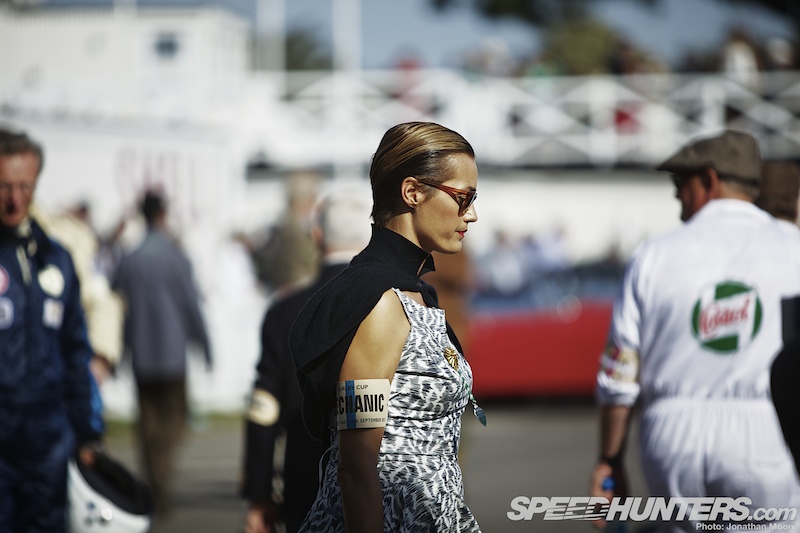 Some mechanics looked less hardy than others, but demonstrated a lot more style.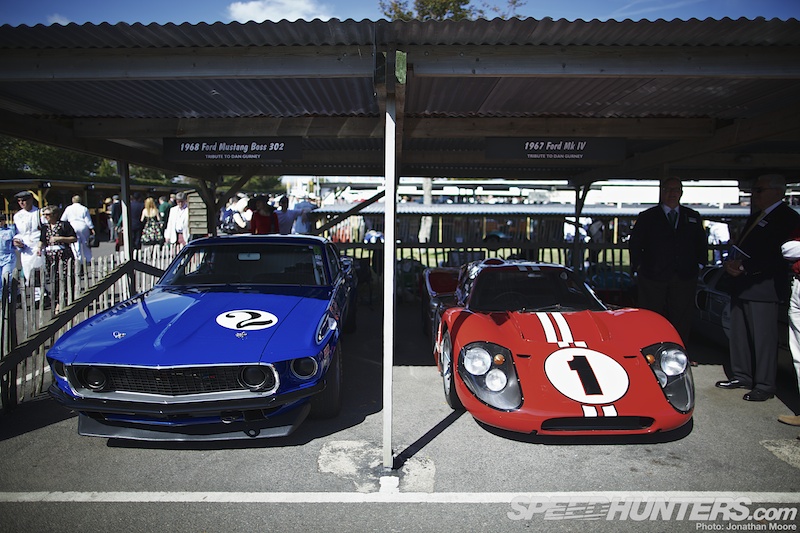 Along with the celebrations for the Cobra and GTO, a special place was reserved for the legendary American all-rounder Dan Gurney: Le Mans, F1, Trans Am, touring cars – a wide gamut of racers showed off just how versatile the hugely popular racer had been.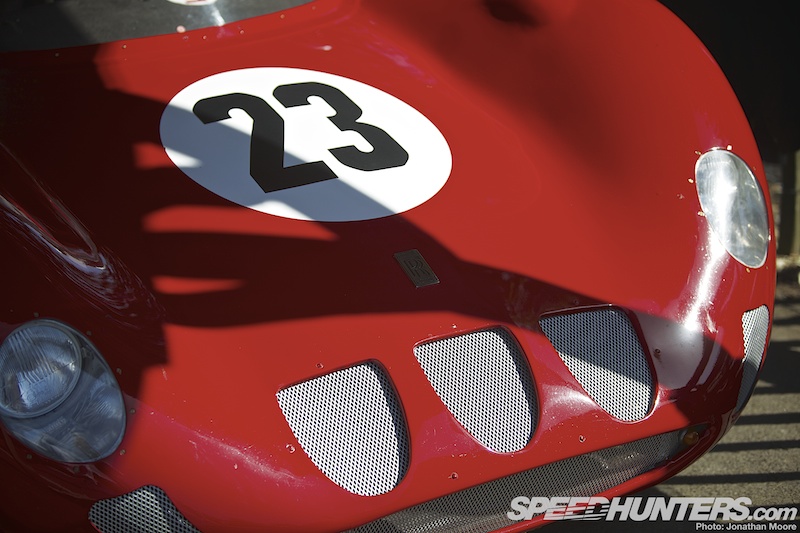 Some badges you just don't expect to see on the noses of racing cars: on huge grand tourers or on old fighter planes maybe – but a Rolls-Royce in a sports prototype? The Marina was built in 1963 by the famous Alan Mann team, utilising a converted 6.2-litre V8 marine engine. Rolls-Royce were not impressed at the time and issued legal proceedings against the team, though with the marque now based just around the corner from Goodwood you would hope that they are more amenable to it now!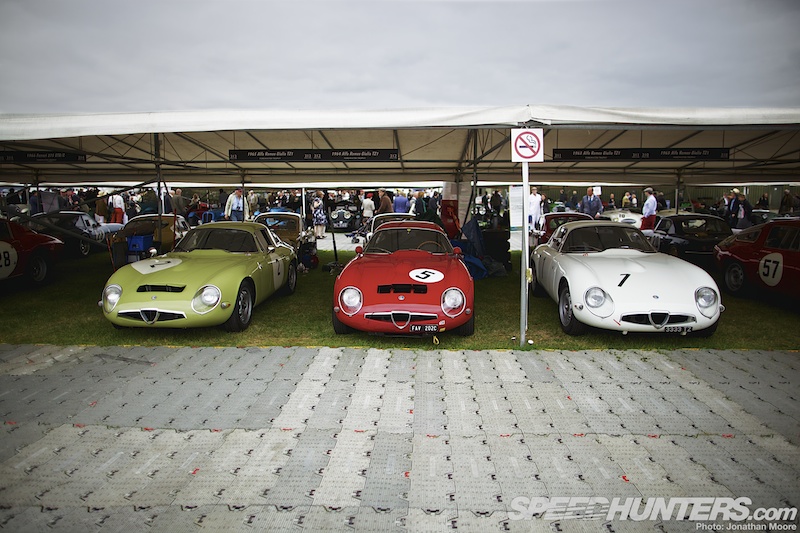 The Fordwater Trophy highlights GT cars from between 1964 and 1966: this trio of Alfa Romeo Giulia TZ1s sported a suitably patriotic set of colours.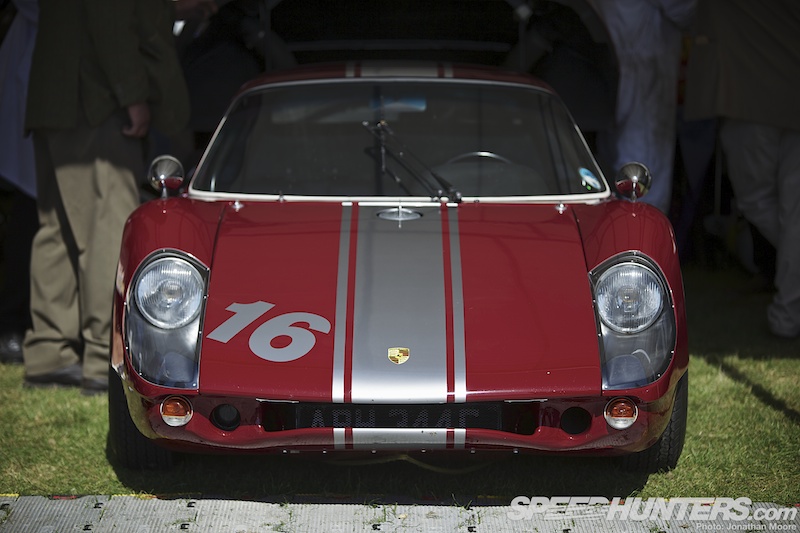 Their neighbours were a pair of Porsche 904/6 Carrera GTS: the most Italian-looking of Porsches.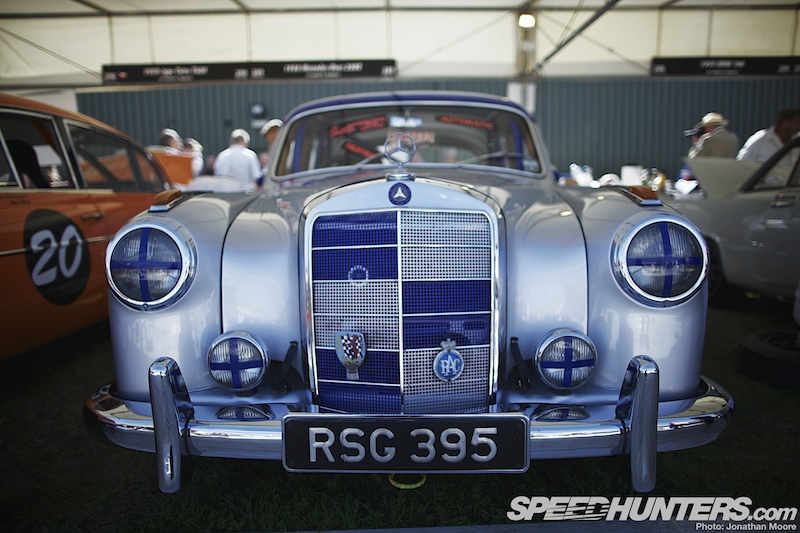 The St Marys Trophy is a three-wheeling touring car thrash: the big grid was dominated by Jaguar MkIs and Austin A40s, but there some very interesting individual entries like this 1958 Mercedes-Benz 220s.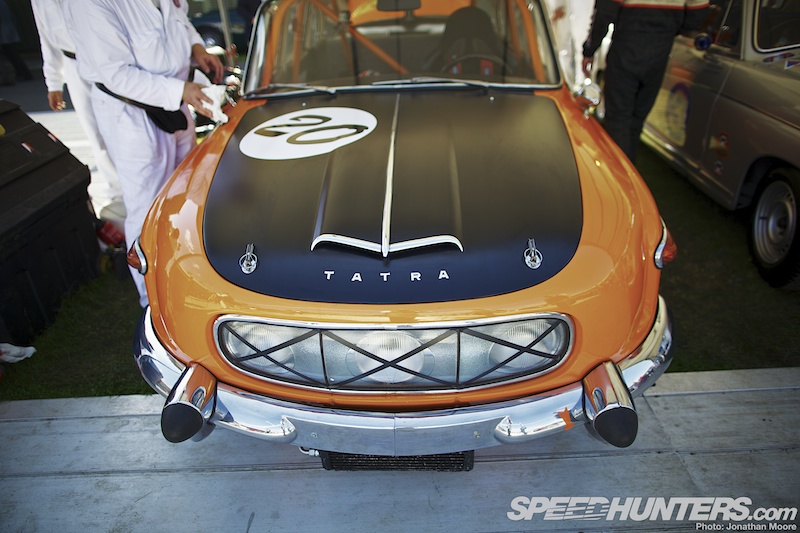 The Tatra T603 from 1959 looked like it was straight out of a scifi B-movie!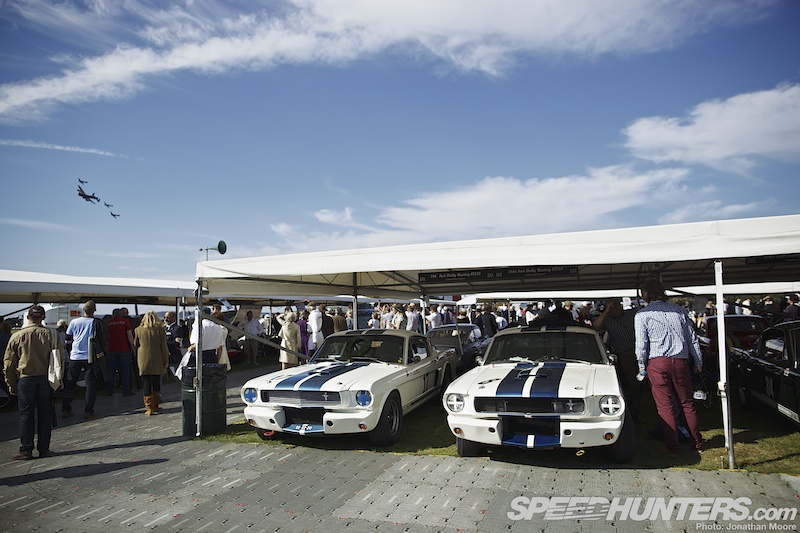 All the while, either the sound of racing engines or big aero motors reverberated around – silence is definitely not golden at Goodwood.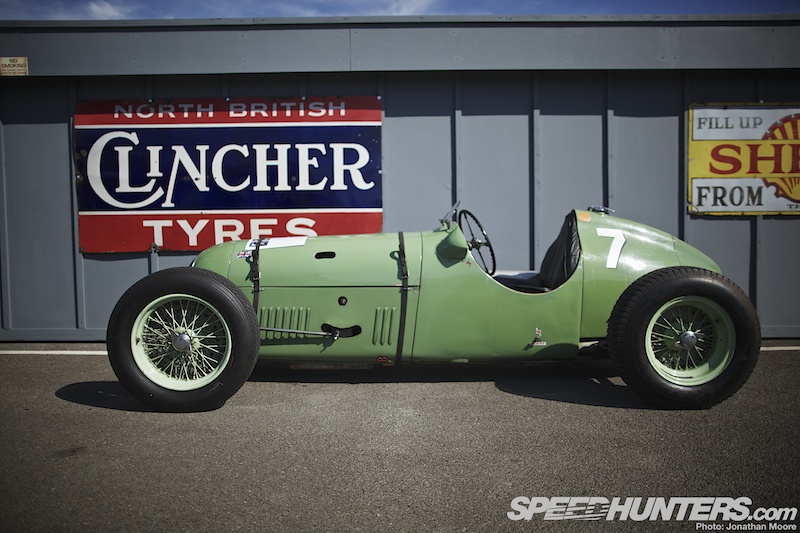 The pre-war cars are more impressive than you'd expect, both on and off the track. I'll talk about the Silver Arrows in another post – seeing them was an experience not quickly forgotten.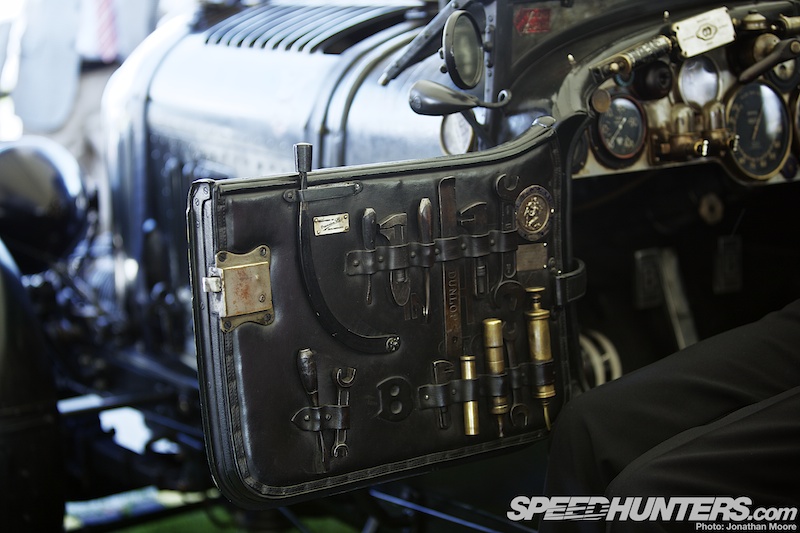 The Brooklands Trophy demonstrated racers that competed at the legendary speed oval prior to 1939: a trio of Bentleys lined up, one complete with an on-board tool-kit in the door panel.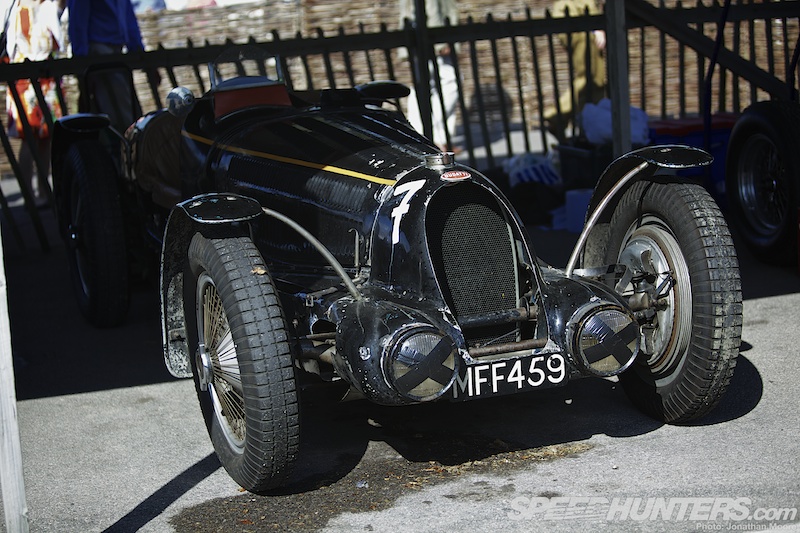 The cycle-winged 1934 Bugatti Type 59 looked a lot more streamlined than typical Bugatti racers of the period: this one is a converted GP car that was run in sportscar events in the late '30s. Unsurprisingly given their origin, 59s often hammered the pure-bred sportscar opposition.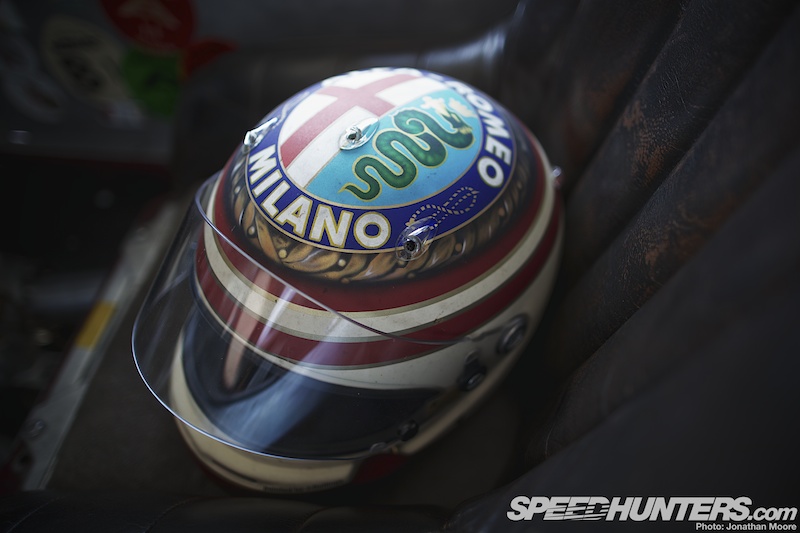 It always gives me twisted pleasure to think of Ferrari as a sub-brand of Alfa Romeo – Enzo ran Milano's finest before developing his own cars. I need this helmet…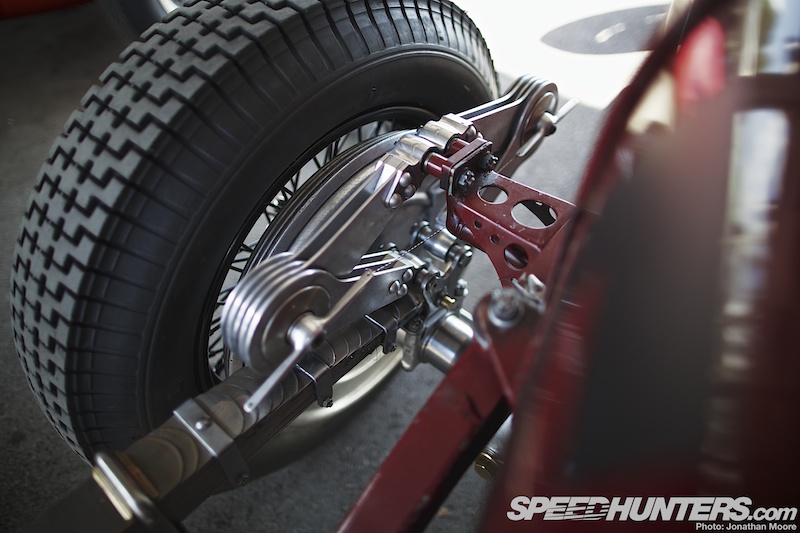 The mechanicals of the pre-war cars are surprisingly complex and metallurgical works of art, as seen with the suspension components of this Tipo B Alfa.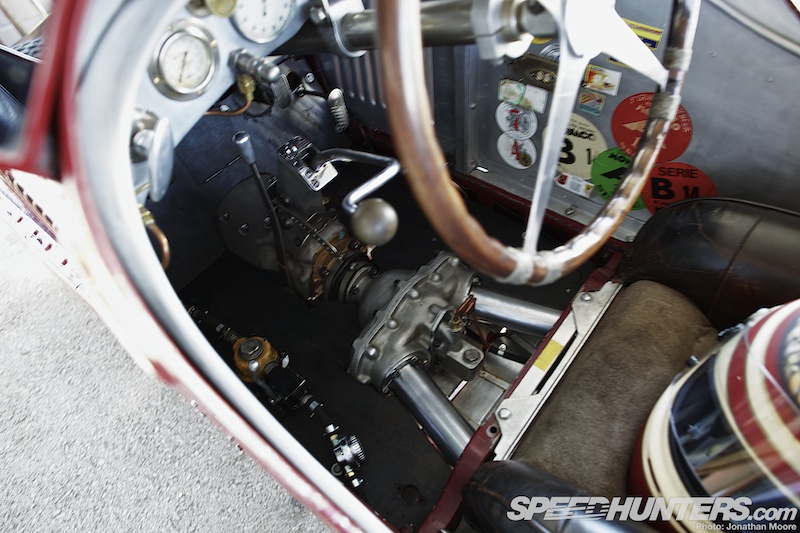 Putting aside the non-existent safety features, just look at the cockpit: the driver straddles the drivetrain, with the gear-lever protruding straight up out of the 'box between his legs. It must have been hellishly hot and uncomfortable to drive one of these cars on the limit.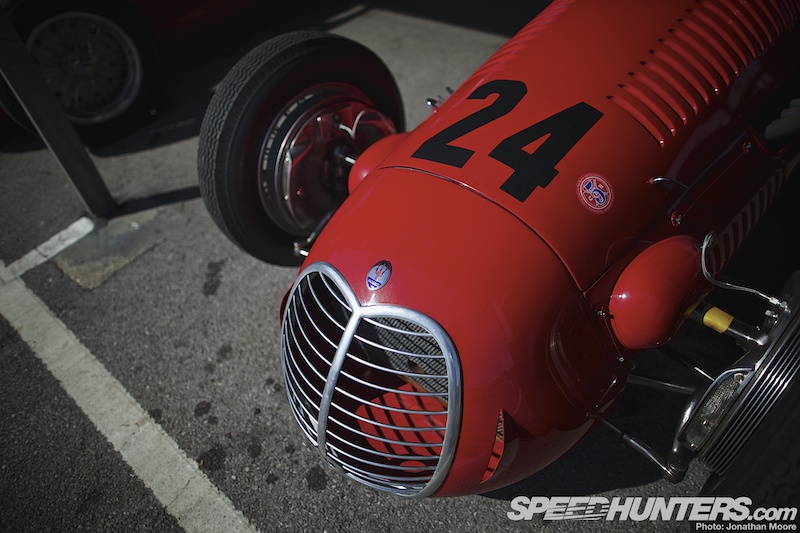 Maserati's 4CL was developed on the eve of WWII, and when racing recommenced in the late '40s these supercharged 4CLT racers were the car to have. The nose grill reminds me of a fencer's mask.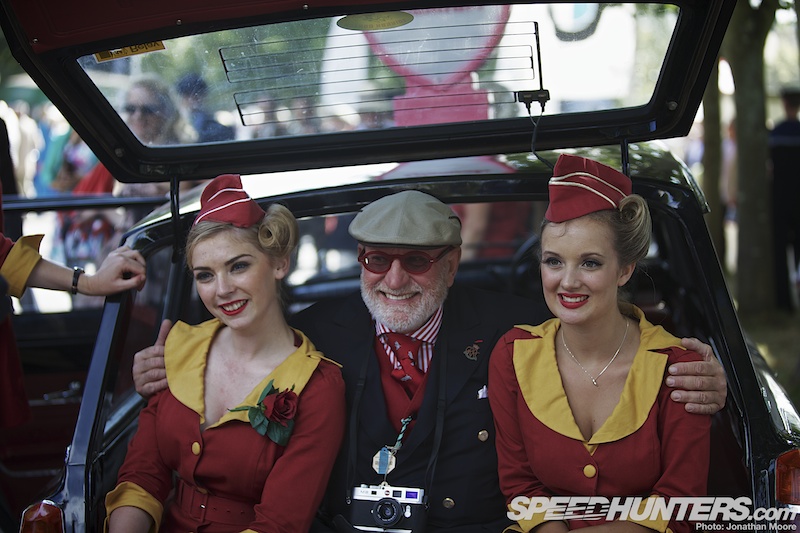 Back to the outside of the track, and the markets and show areas were awash with people: Glamour Cabs were doing a roaring trade as ever…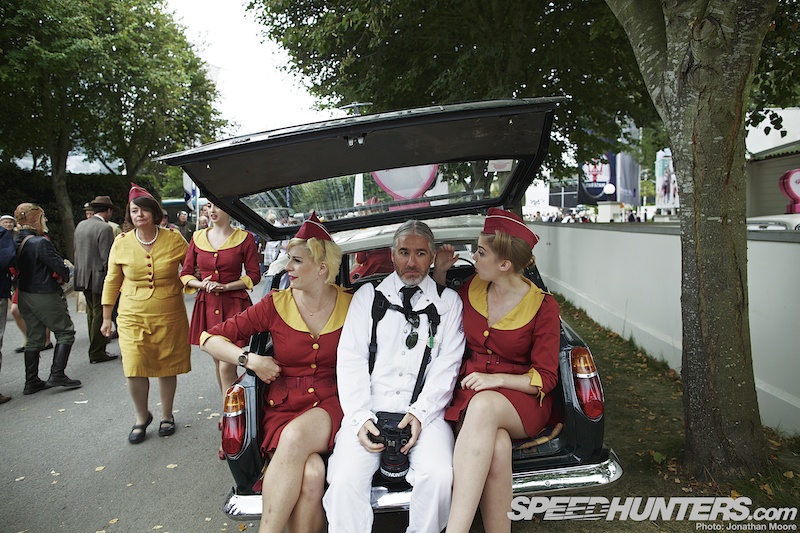 …though one can get nervous when the photographer becomes the photographed. I forget now what was being said, which is probably just as well.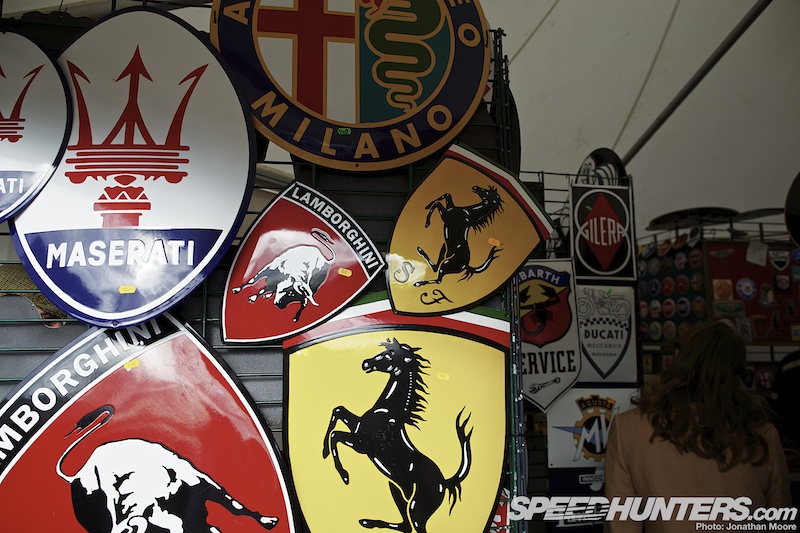 You could find pretty much anything car-related in the many stalls around the markets: so much temptation.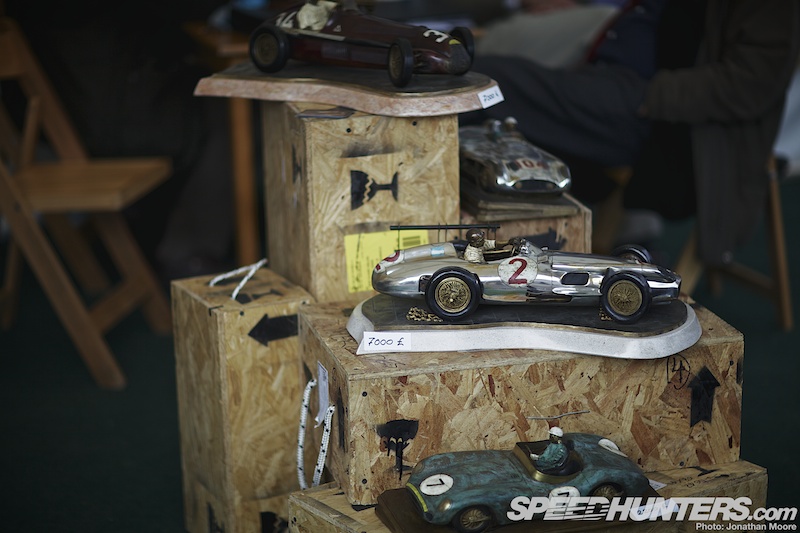 There were toys to fit all budgets and available spaces: you could go small…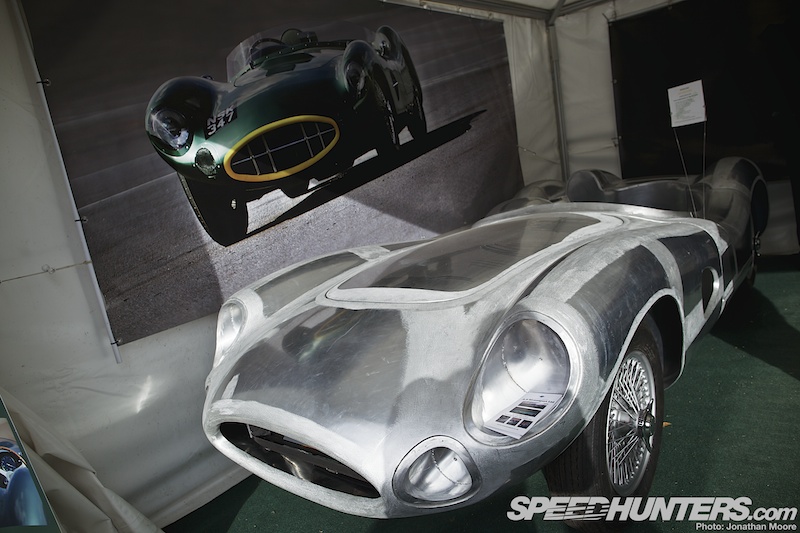 …or full-size if the wallet and garage-space allowed.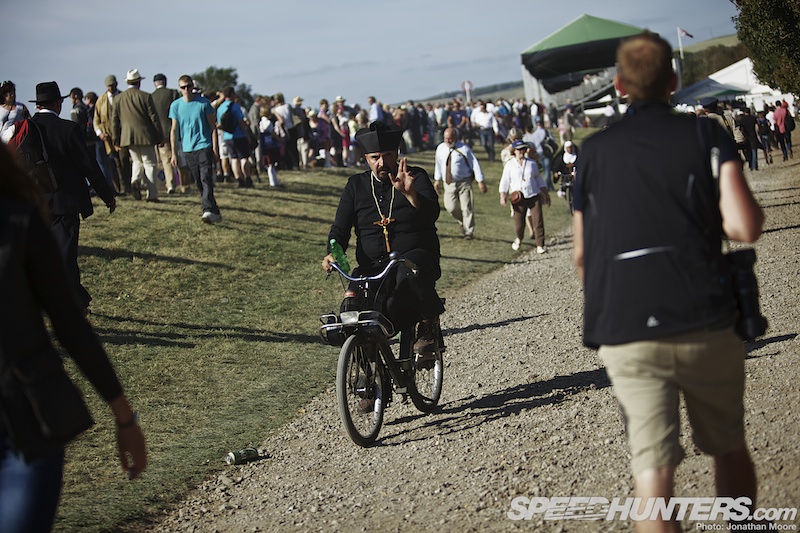 The Goodwood Revival is a place for religion to thrive: the religion of the automobile.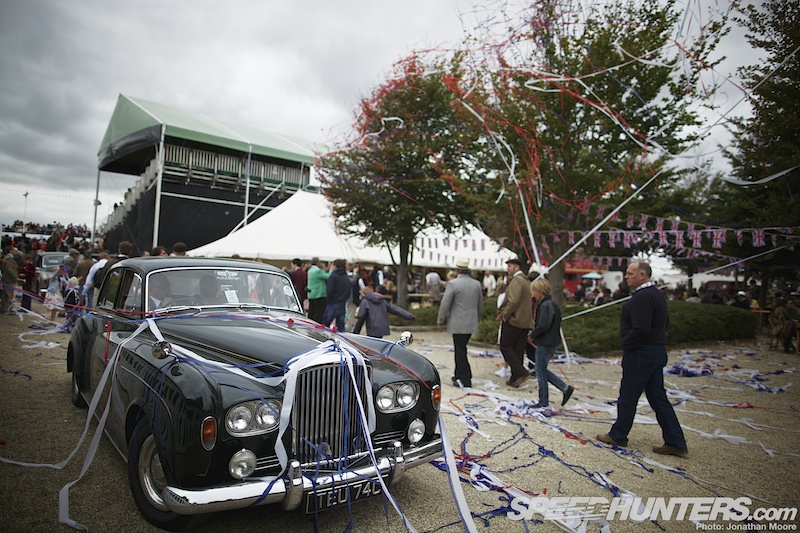 It's probably just as well that the Revival happens just once a year: the magic is almost too much to deal with! As with most people who attended, I'm already counting the days until next September.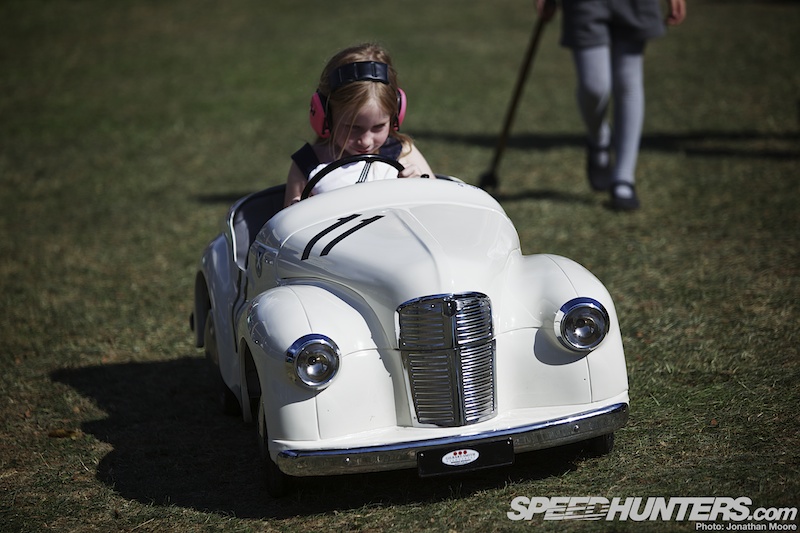 For fans old and young, veteran and newcomers, the Revival stirs up a passion like few other events. Its combination of vintage style, cars and planes is unmatched – the Revival has soul. Even now as I write this the sound of a Merlin engine fills the skies above my house (I live near Biggin Hill airport, which is frequently home to vintage fighters), transporting my heart back to Goodwood. If only they made air fresheners that smelled of burningCastrol GTX my life would be complete…
Jonathan Moore
---
---
---