McLaren GT, the sportscar racing arm of the Formula 1 team, have released shots of this brutal-looking trackday concept, looking to stir the soul of anyone who harks back to the glorious Can-Am racing series. The MP4-12C Can-Am Edition will be making its debut at the Pebble Beach Concours d'Elegance weekend.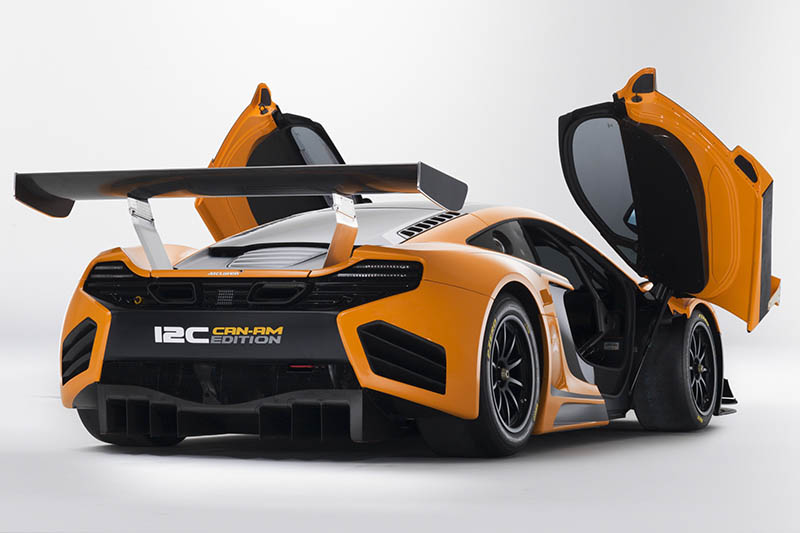 The Can-Am Edition isn't legal for the road or any racing series: like Ferrari's extreme trackday cars, this is very much aiming at those with very deep pockets but limited time on their hands. It's based on the GT3 race car, and uses McLaren's traditional orange offset with satin black panels and bare carbon aero parts.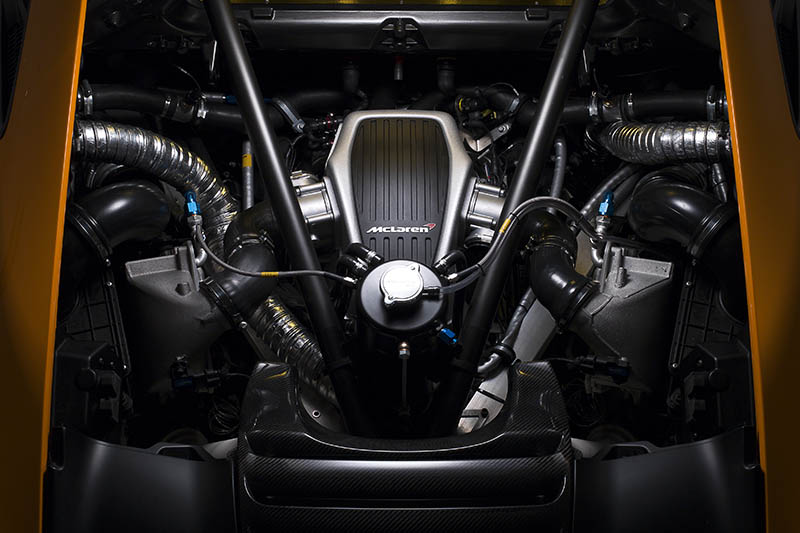 The 3.8-litre twin-turbo V8 has been given a make-over, with a new engine map and cooling system boosting power to 630hp, making the Can-Am the most powerful 12C yet.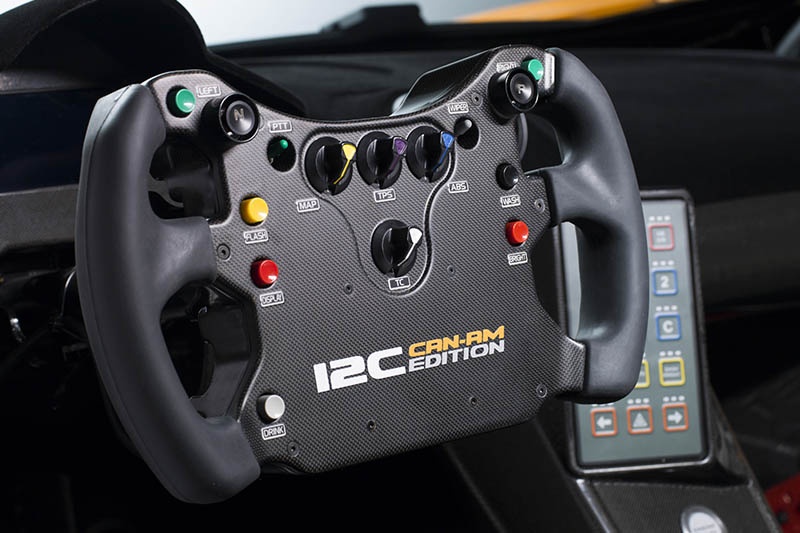 The cockpit is completely stripped out, and features a pair of racing bucket seats with six-point harnesses and a full race-spec rollcage. The steering wheel is based on the GT3 racer, which in turn has its profiling taken from Lewis Hamilton's Formula 1 wheel.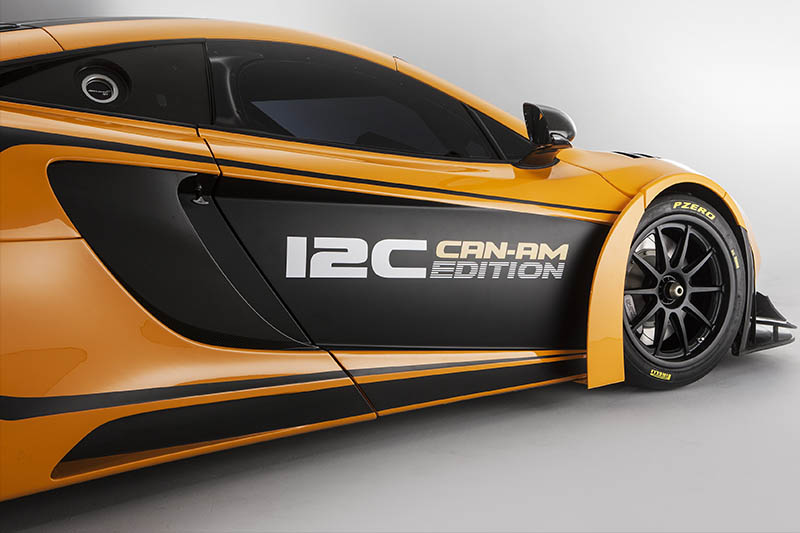 Akebono provide an uprated braking system to bring this beast to a halt; these sit inside black satin forged lightweight racing wheels shod with Pirelli racing slick tyres.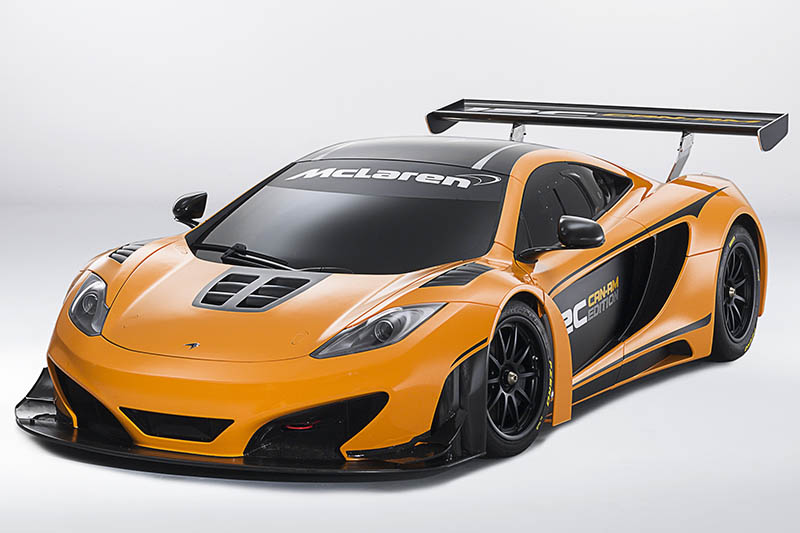 Freed from regulations, downforce is up 30 percent from the GT3 car, with carbon fibre dive planes, a new wing and big diffuser added. The Can-Am has been designed for the North American market: there's the possibility that there might be a one-make series, in the style of the Ferrari FXX.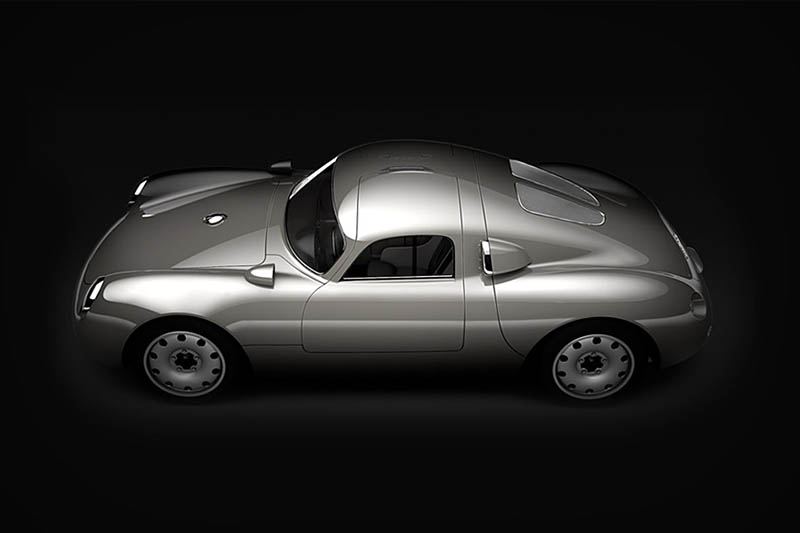 Also at Pebble Beach, the French Vintech company will be exhibiting their modern take on the Porsche 550. The carbon-bodied P550 Tribute has a 3-litre boxer engine under its lightweight shell.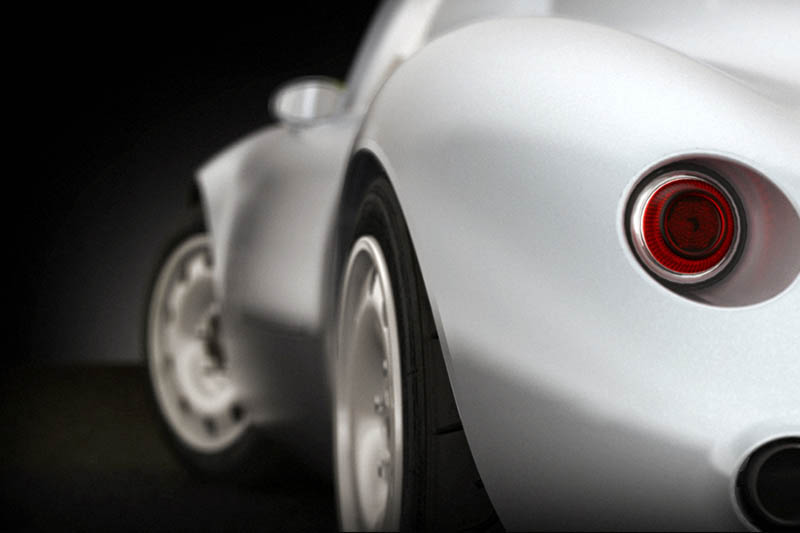 At the moment the P550 is a one-off, created by the company as a project to show their appreciation of the 550. You can follow the construction of the car on their blog.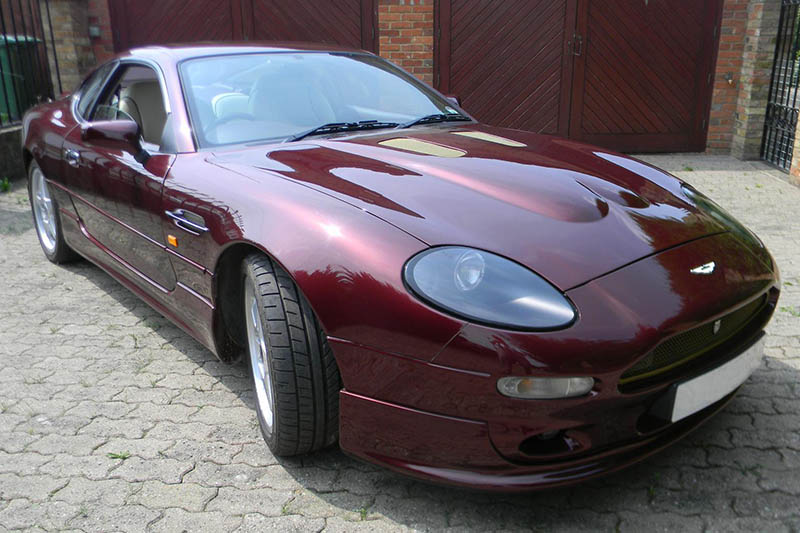 A unique Aston Martin is coming under the hammer at the end of this month: this 1998 DB7 was commissioned by the Saudi royal family, and hides a rather unusual powerplant under the distended bonnet.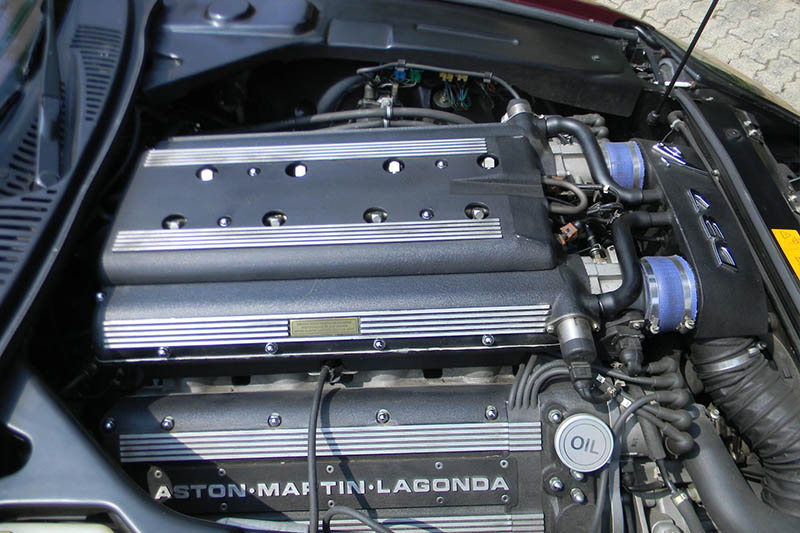 The original straight-six was replaced with a 6.3-litre V8 producing 452bhp, derived from Aston Martin's Group C AMR-1 sportscar. This meant AP Racing brakes and uprated suspension and steering were also fitted. The Cheviot red exterior is matched by a leather and red carpet interior; the DB7 has just 3,220 miles on the clock and is expected to go for between £70-80,000.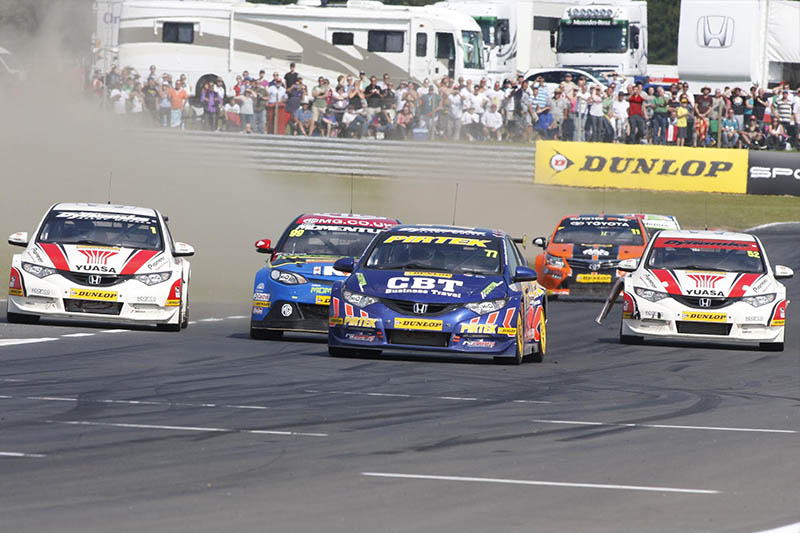 The British Touring Car Championship has kicked off again in every sense after a month-long Summer break, and it's like they've never been away. They've been back to their bumping and boring best, with three races on the Snetterton 300 circuit in Norfolk starting the second-half of the series.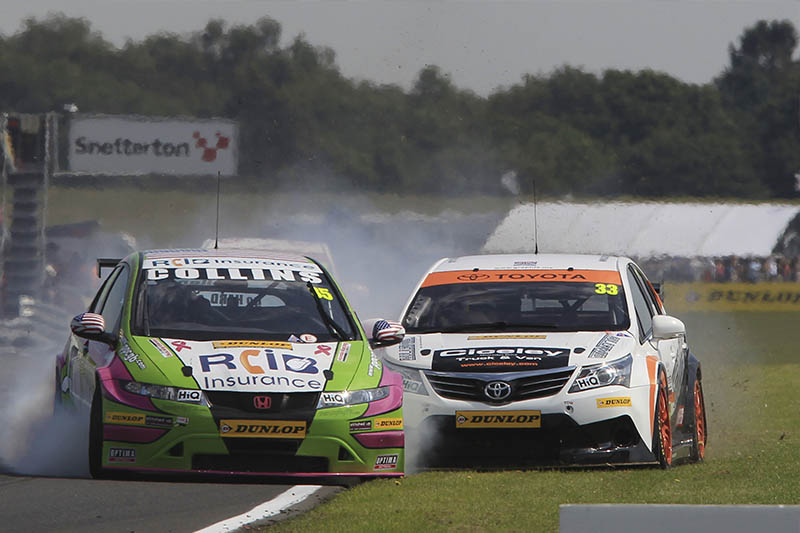 Action came thick and fast on and off the track. American newcomer Robb Holland had a tough introduction to the BTCC, with several offs over the weekend as he came to terms with the physical nature of the racing…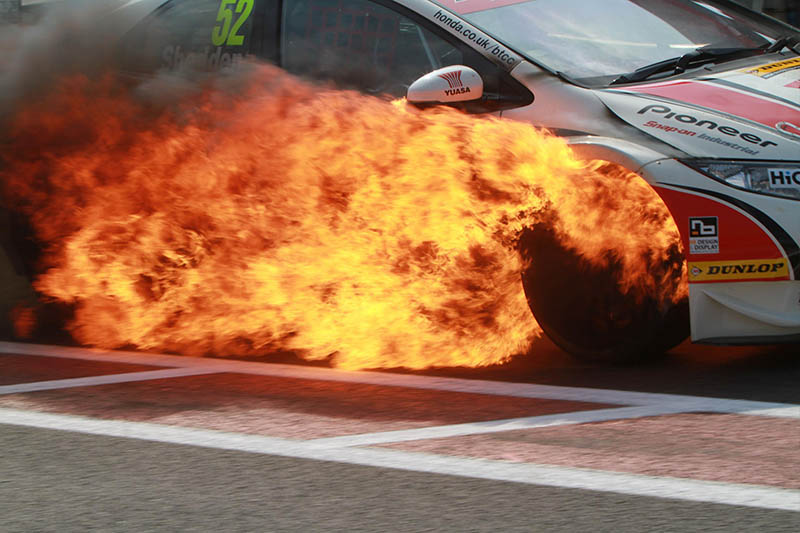 The usual suspects were up front: the battle between Matt Neal and pantomime villain Jason Plato reignited, as did the Civic of Neal's team-mate Gordon Shedden. He suffered a fire in Free Practice and started from the back in race one, then bounced back to finish in the points in all three races – only to be excluded from his podium in Race 3 for a turbo infringement. Plato's MG, Andrew Jordan's Civic and Dave Newsham's S2000 Vectra picked up the three wins.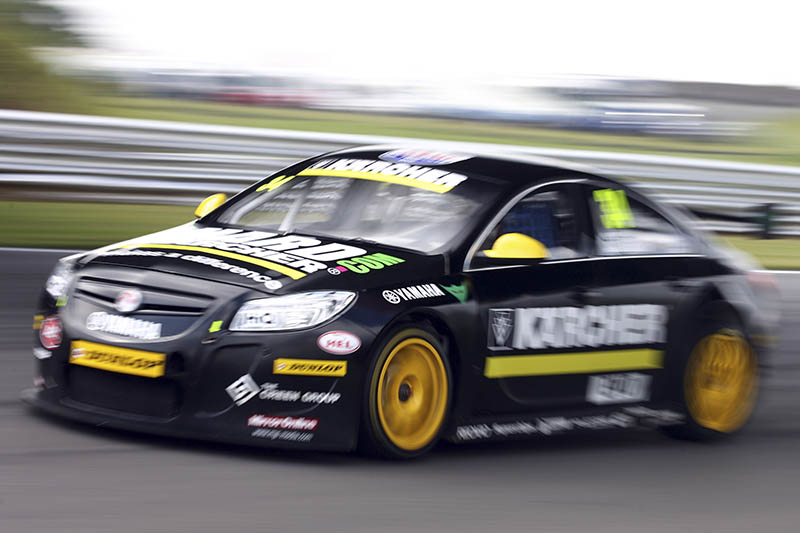 Thorney Motorsport were back with their NGTC Vauxhall Insignia after changing engine suppliers and drivers: the car performed well, despite the lack of testing and budget, and looked like a proper meaty touring car. The team unfortunately are unlikely to be at the next round at Knockhill, but, sponsors allowing, will be running at the Silverstone races that follow.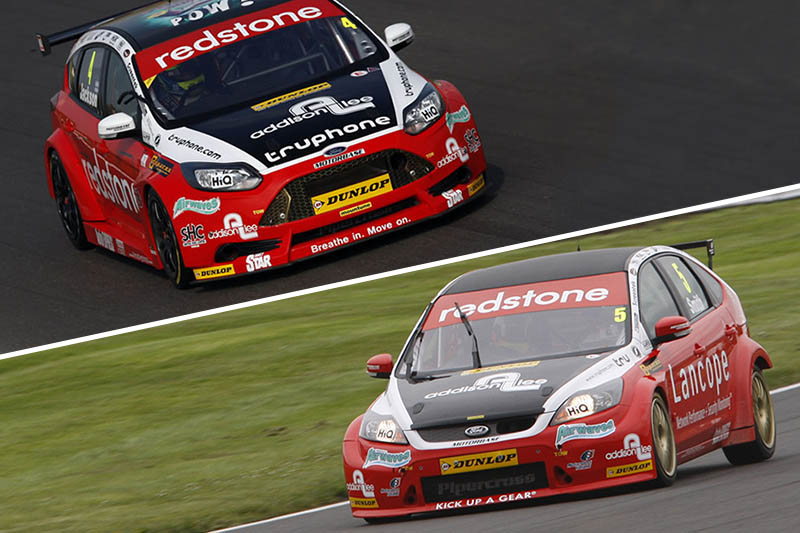 Motorbase Performance rolled out their new NGTC-spec Ford Focus, the latest car to be built to the British series' own rules package. Their Focus looks far more aggressive than their old S2000 car, taking advantage of the improved aero and larger wheels the NGTC regs allow.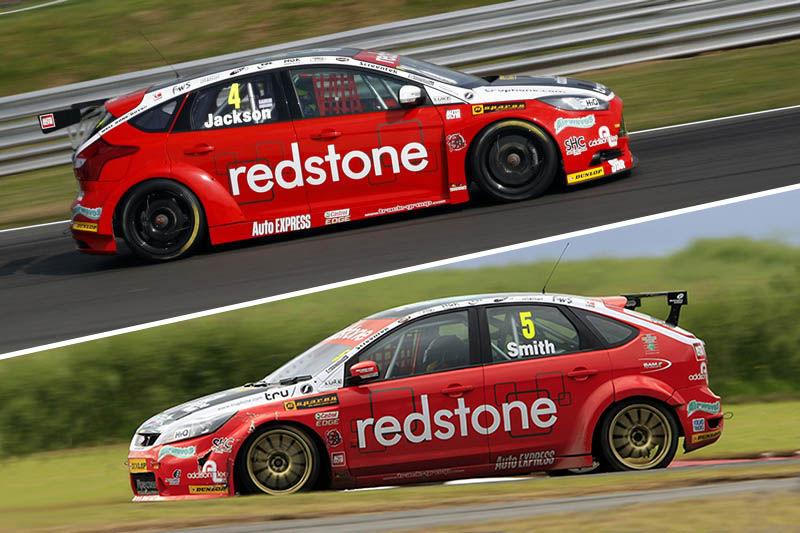 I think it also looks a lot better than the WTCC-spec Focus – the British series is concentrating on promoting bigger, more muscular-looking cars than the FIA championship, and a number of race teams have stepped up to becoming a constructor courtesy of the NGTC parts package that is used as a starting point.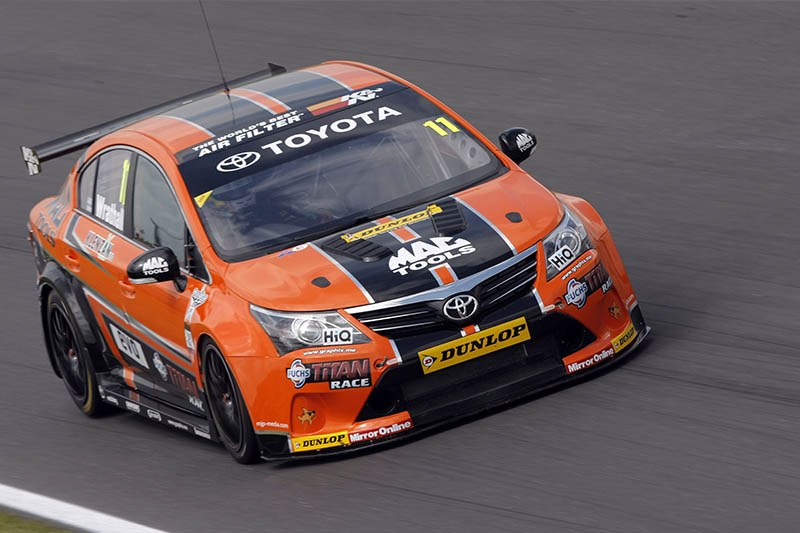 It's a rules set that works as well: Frank Wrathall's Toyota Avensis came on song towards the end of last year and he's been a revelation in 2012. At Snetterton he claimed Toyota's first pole position since 1993 – now all we need is his Toyota to be decked out in traditional Toyota factory racing colours, like the GT86 due to race in the Britcar 24 Hours next month… With more success, maybe that factory support will be forthcoming!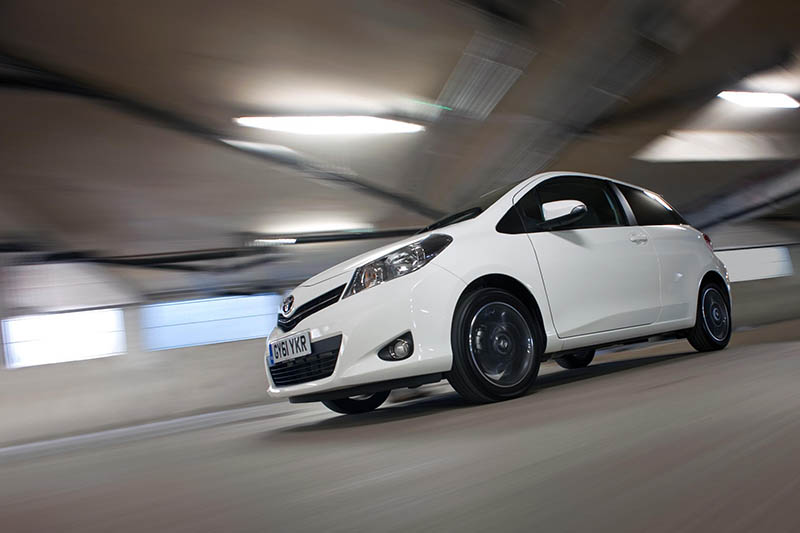 A couple of refreshed Toyota Yaris models are being released in the UK. The Edition and Trend versions add bigger wheels (15″ and 16″ respectively) and updated body kits.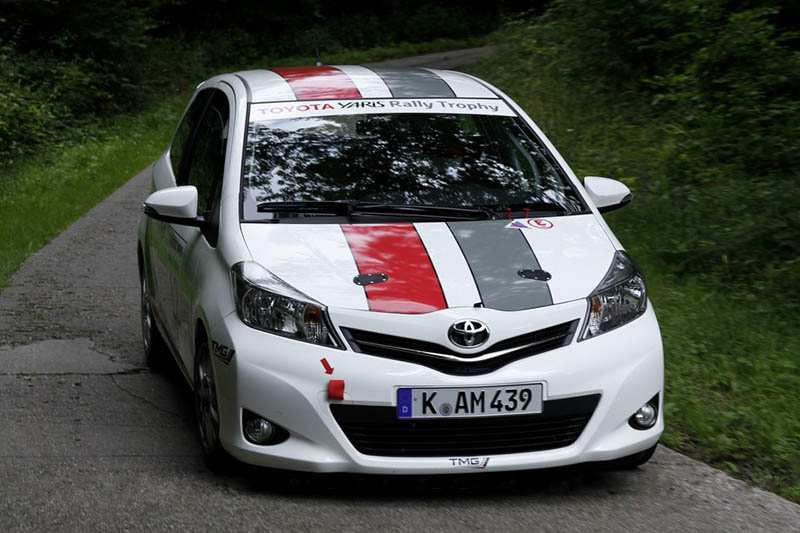 Toyota can't be accused of not promoting their motorsport programmes: the LMP1 hybrid will be out in action at Silverstone at the end of this month, and the company have also announced a new entry-level WRC car: the TMG Yaris R1A. At just €22,500, it's a cheap way to get into rallying, and an R1A will act as the 'zero' car during Rallye Deutschland. Could this be the first step on the way to a return to the top level?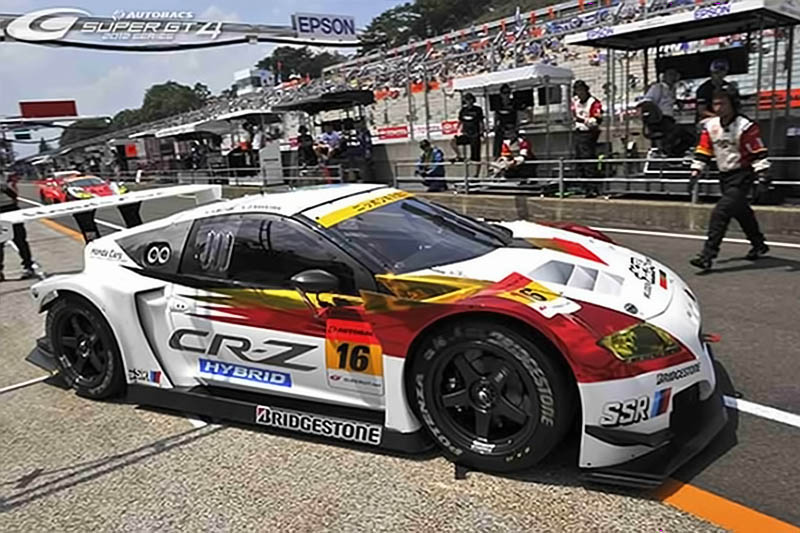 Over in Japan, teams have been testing at Fuji ahead of the next round of the Super GT series. Competition has been epic this year, with a hugely diverse number of manufacturers taking part across the GT300 and headlining GT500 classes. Hybrids battle compacts battle supercars battle street coupés in GT300. The new Mugen CR-Z was fastest in the morning session, ahead of a 911 and GT-R, with a Prius in fourth.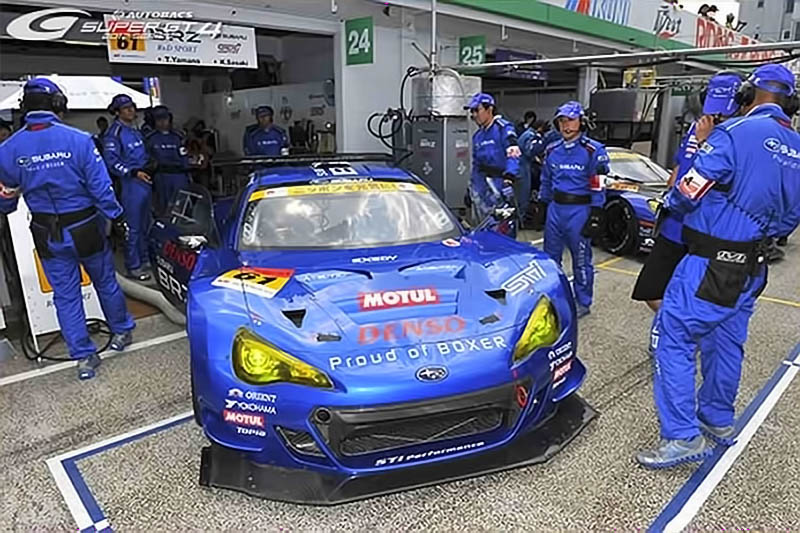 Behind them, the list of competitors was representative of just how impressive GT300 is this year: the Subaru BRZ, Lamborghini Gallardo, Mercedes-Benz SLS, Chevrolet Corvette, Audi R8, Ferrari 458 and 430, BMW Z4, Lexus IS350 and Vemac 350R all do battle in the class.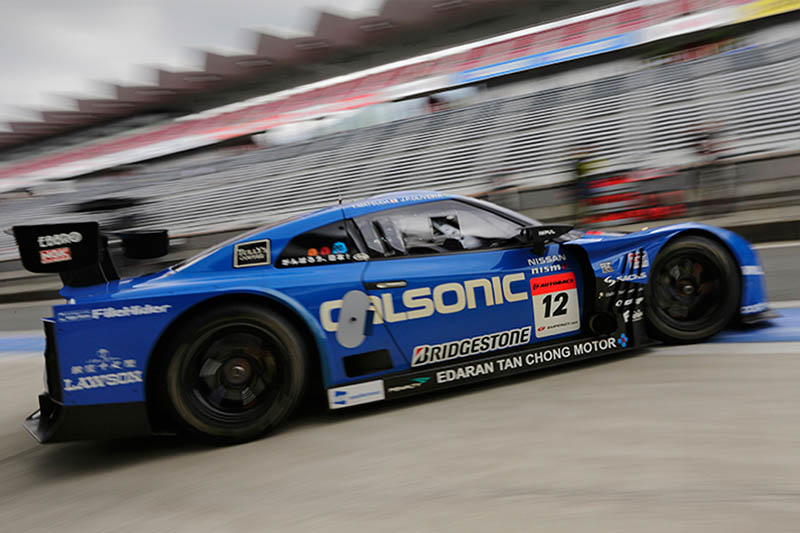 In GT500 the Calsonic Impul Nissan GT-R topped the times, with a second GT-R just behind and a Lexus SC430 in third. 15 GT500s from Honda, Nissan and Lexus will be joined by 25 GT300 entries at Fuji.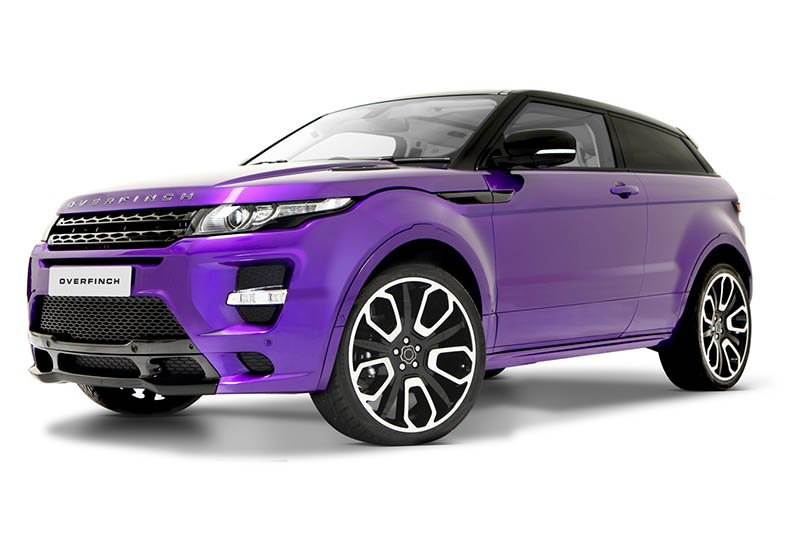 The exclusive Salon Privé concours d'elegance takes place in London at the beginning of September, and more manufacturers are lining up public debuts for the show. Range Rover mutators Overfinch will be bringing along their Evoque GTS, adding a splash of, well, colour to the normally rather formal proceedings.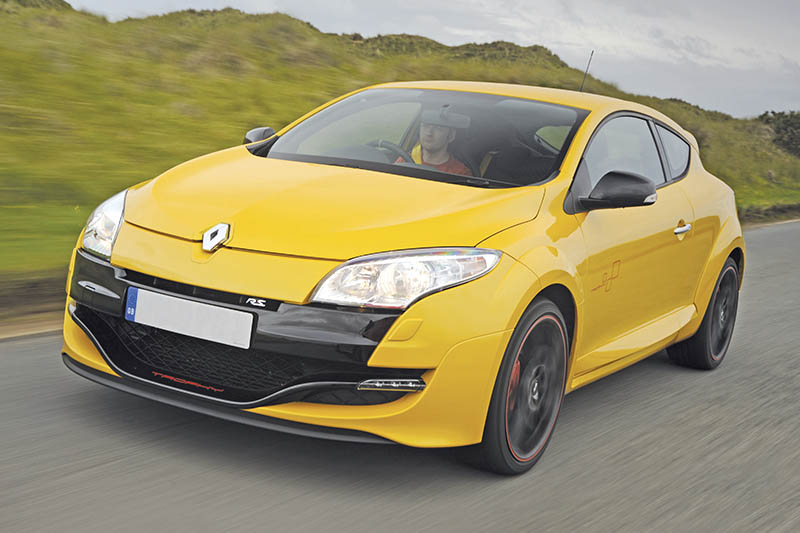 Europe's leading Renault tuning house, K-Tec, have launched a performance kit for the RenaultSport Megane 265 Trophy. The Performance Pack 1 significantly boosts torque and airflow, and has an optional plug-and-play engine map module.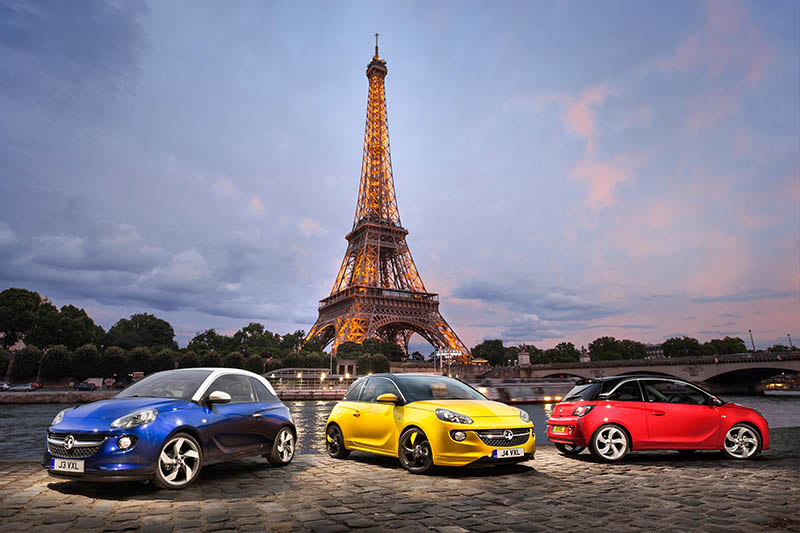 Manufacturers are gearing up for the wave of autumnal international motor shows: the Paris event kicks off at the end of September, and Vauxhall have released these appropriately Gallic shots of their customisable ADAM model, which will be launched in 2013.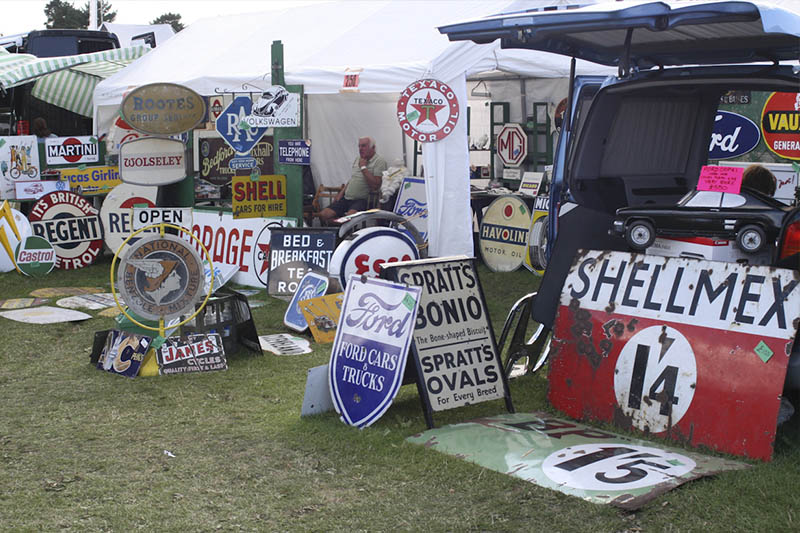 For the vintage end of the market, there's the Beaulieu Autojumble coming up over the second weekend in September. The show has been going for 45 years and 2,000 stands are expected this year, selling every imaginable kind of classic motoring part, accessory, book and tool. It's a quick way to fill your garage up with a host of automobilia.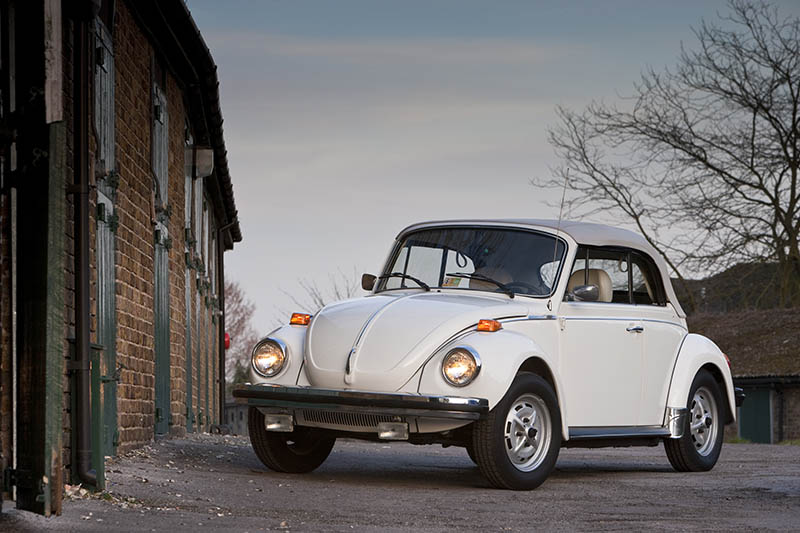 A pair of nearly-new Volkswagen Beetles are up for auction in a couple of weeks: Historics At Brooklands have tracked down this Triple White droptop. The car was a limited edition version of the last convertible Beetle built, with one car offered to each US dealership.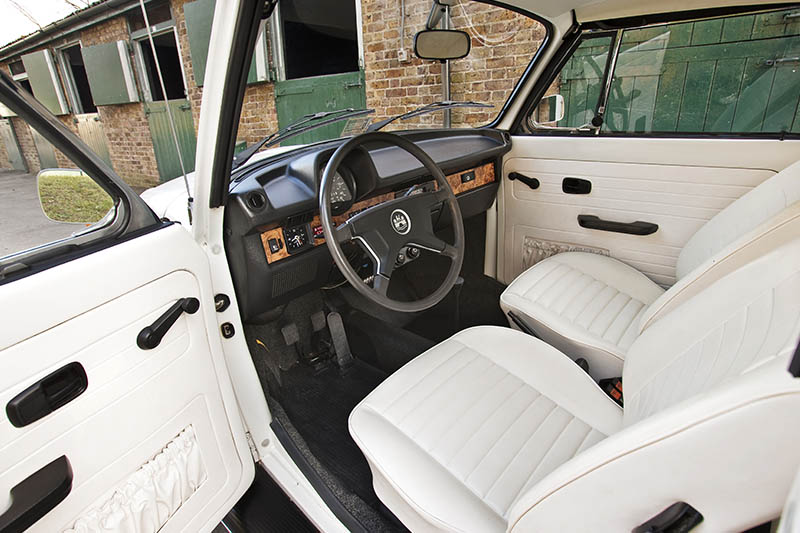 The interior is absolutely spotless – the white theme is carried across the coachwork, interior and roof, and the Triple White even has factory-fitted air conditioning.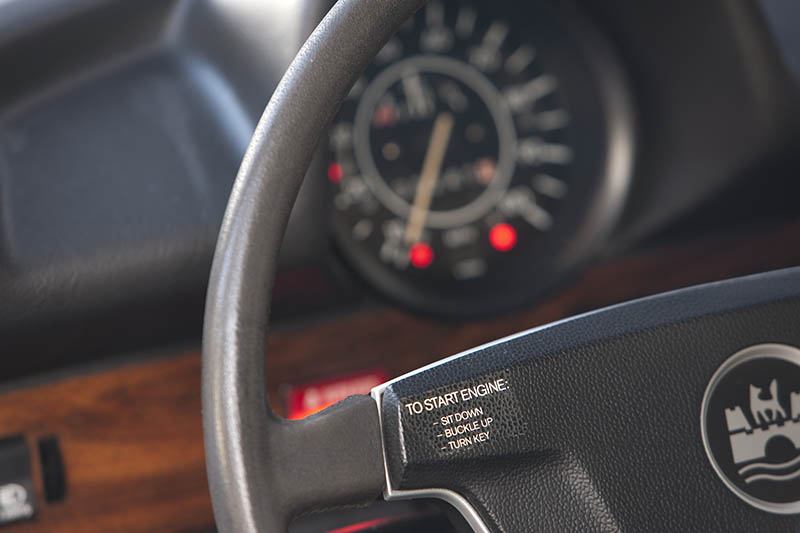 This car has just 429 miles on the clock: it's been kept in pristine condition since being ordered in 1979 for a dealership in Georgia, and just the injectors, plugs and tyres have been changed.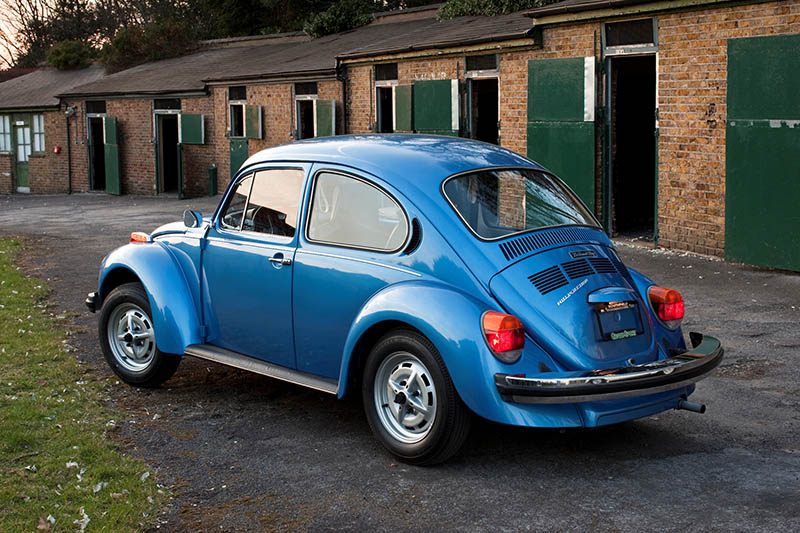 The second Beetle is a 1975 La Grande Bug. Again the exterior colour is carried through to the interior trim, with the additional luxury of a leather-grained steering wheel and rosewood appliqué on the dash. The Bug has been kept in a dehumidified garage since nearly new, so is in absolutely forecourt condition. Bug love!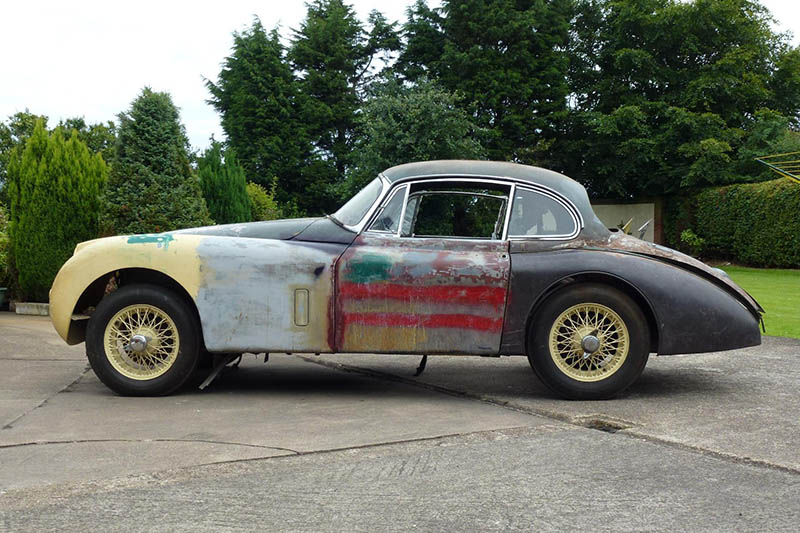 That's not to say that old and weathered isn't equally nice. This 1959 Jaguar XK150 SE 3.4 Fixed Head Coupé was driven by the owner of a seafront butcher's shop during the '60s, where rust set in. It's recently been bought at auction for less than £10,000 as an on-going restoration project after 46 years off the road. Just 1,000 Fixed Heads were built, and this example still has its original 3.4-litre engine.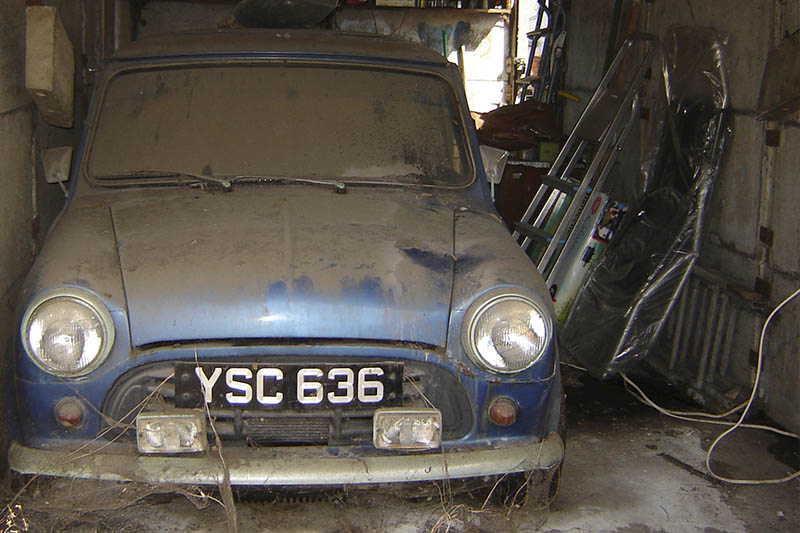 Never walk past a barn: it's amazing what you can find. This 1961 Mini was upgraded by Oselli to 1125cc specification, but after being taken off the road in the early 1980s has sat dormant in a garage gathering dust for the last 31 years. A new, caring owner is being sought at the Barons Heritage sale at Sandown Park next month.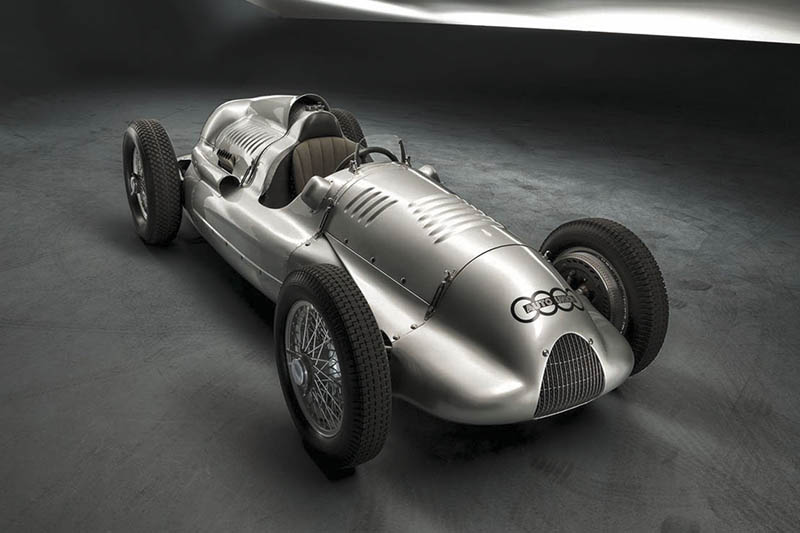 On to an older car in rather better condition: Audi have bought back the second 'Karassik Restoration' Auto Union Type D. It was built in 1939, and then lost in the USSR for many years. In the late '70s, after a ten-year search American collector Paul Karassik tracked down two Auto Unions, bought the remaining parts and restored two cars with the help of Audi.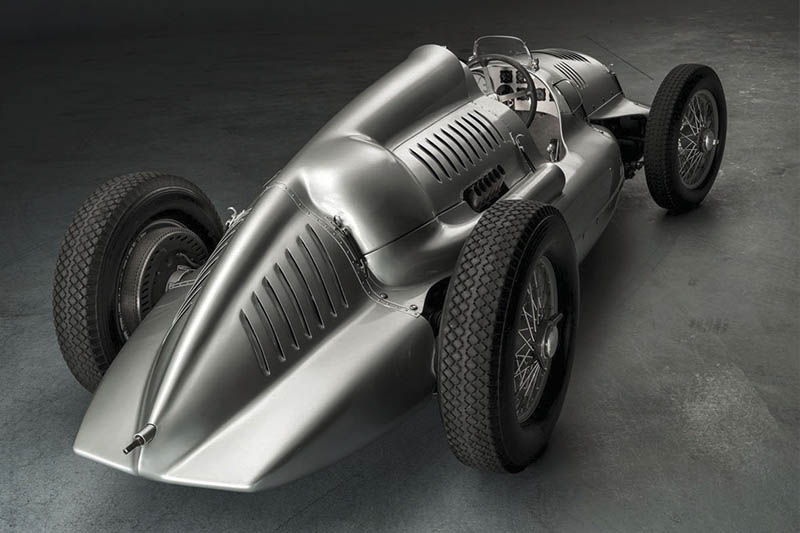 These weren't intact cars, really more a box of components. After examination of what they had, it was decided to reconstruct one 1938-spec single-supercharger Type D and then a 1939-spec twin-supercharger D.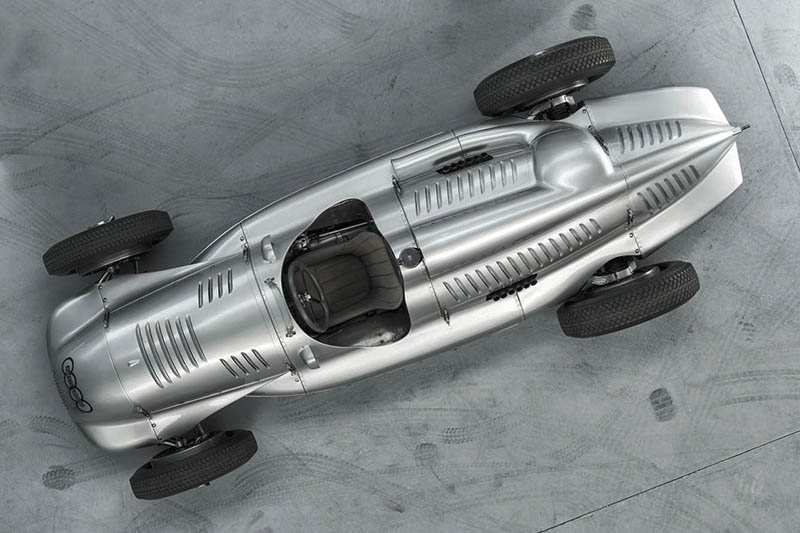 In 1993 the 1938 car was completed, and competed at the Eifel Classic in 1994. It was later bought by Audi and moved to their museum. Now they have also bought the second D, which had passed into the hands of a private collector.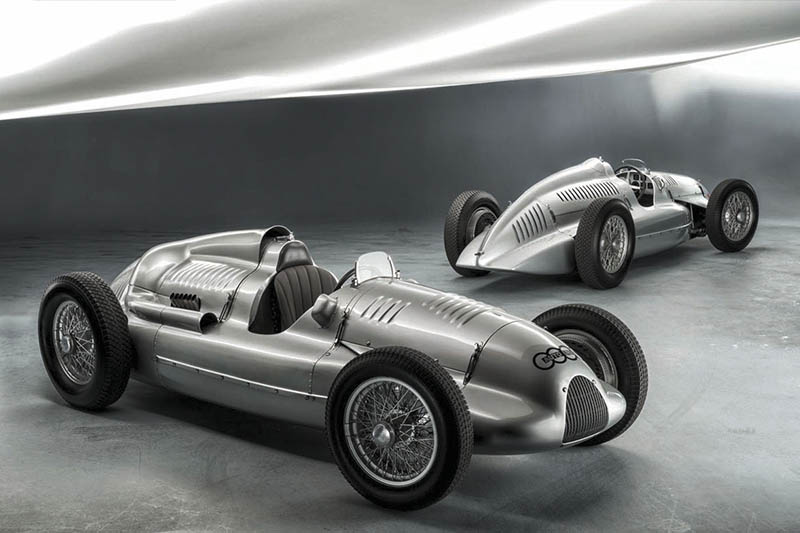 With the twin-supercharged D now in their hands, Audi now own three of the five original Auto Union racing cars of the period, as they also have the famous hillclimb Type C/D driven by Hans Stuck. The Type D will be on show at the Goodwood Revival: yet another reason to visit that amazing event.
Jonathan Moore
---
---
---