Rhys Millen has brought the overall Pikes Peak International Hill Climb record back to his family. He did it with his Formula Drift Hyundai Genesis Coupe, which was entered into the Time Attack class.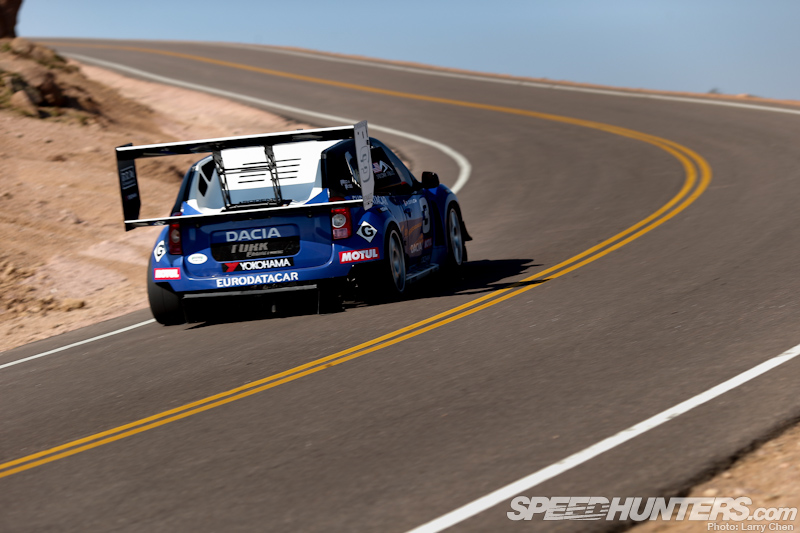 This was a record-breaking event in many ways as there were a whole load of wrecks. There were a total of eight red flags and accidents which resulted in two people getting air-lifted to hospitals because of their injuries. The Dacia Duster is one of the Unlimited-class cars who never saw the summit.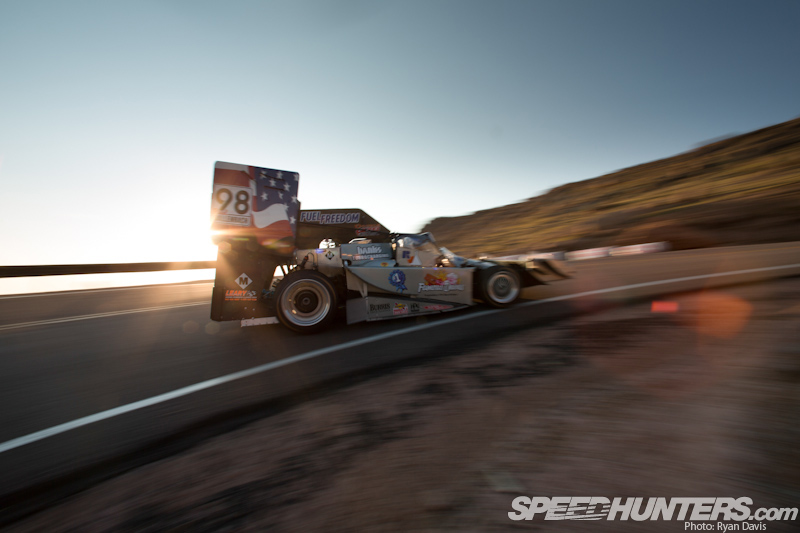 Paul Dallenbach also went off. His car was completely destroyed as he crashed into trees lining the course. Paul had been a favorite to take the overall record.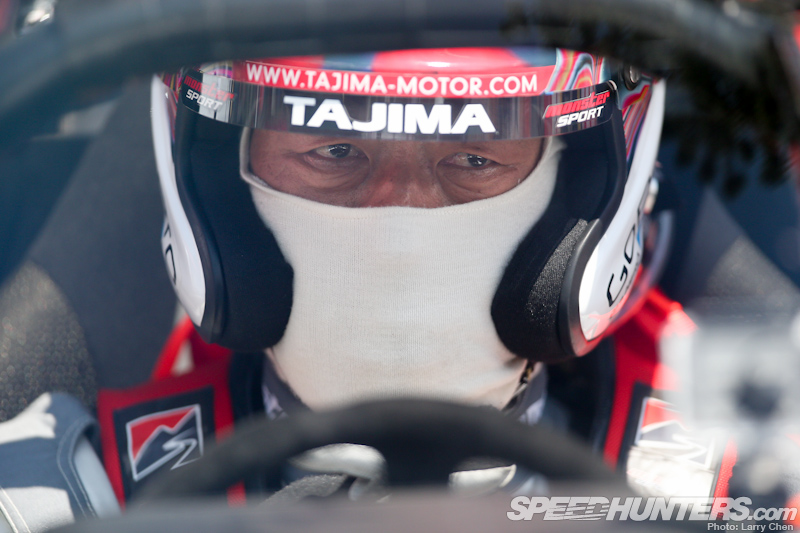 Everyone thought 'Monster' Tajima would take the overall record with his E-runner. It seemed that way during practice, as the electric race car had been running well all week.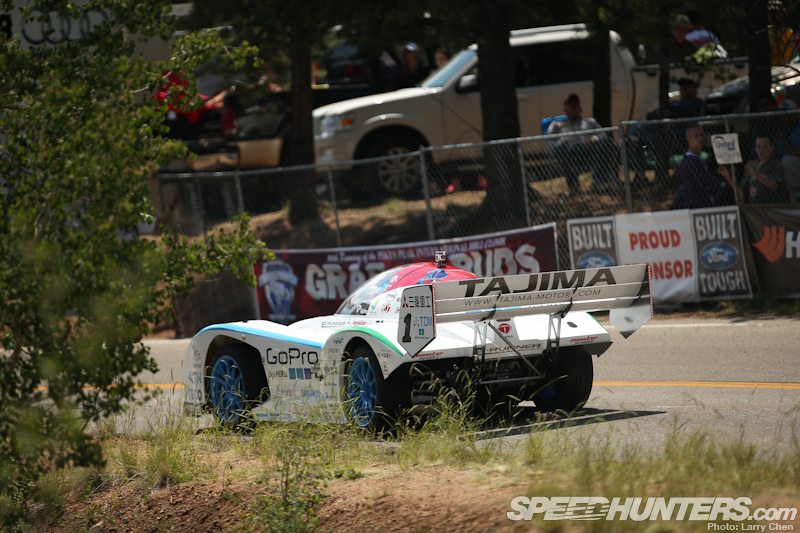 He launched the car off the line like a bat out of hell as soon as the green flag was dropped, but after only three corners the car lost power and he pulled over.
The cockpit filled with smoke as there were some electrical problems with the car. Luckily he got out safely and walked back to the starting line. He was crushed, as his day was done.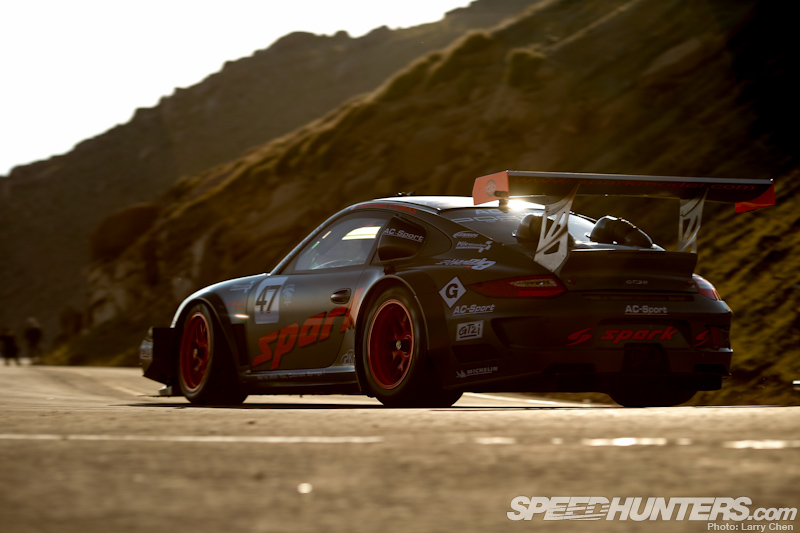 It seemed like the fastest cars at the event were dropping like flies. Then Frenchman Romain Dumas set a new overall record with a 9:46.18, although he set that time with semi-rainy conditions on the summit.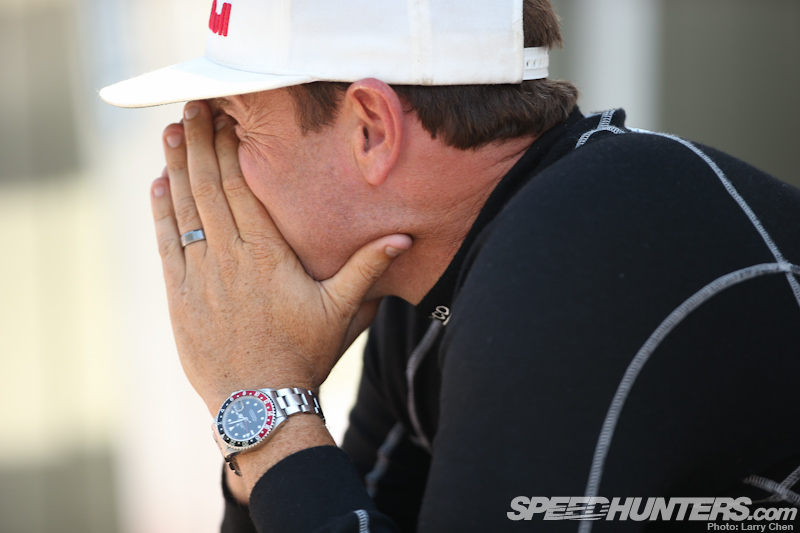 With most of the other fast guys out Rhys knew he had a chance to beat Romain and take the overall record, which had been held by his father for many years.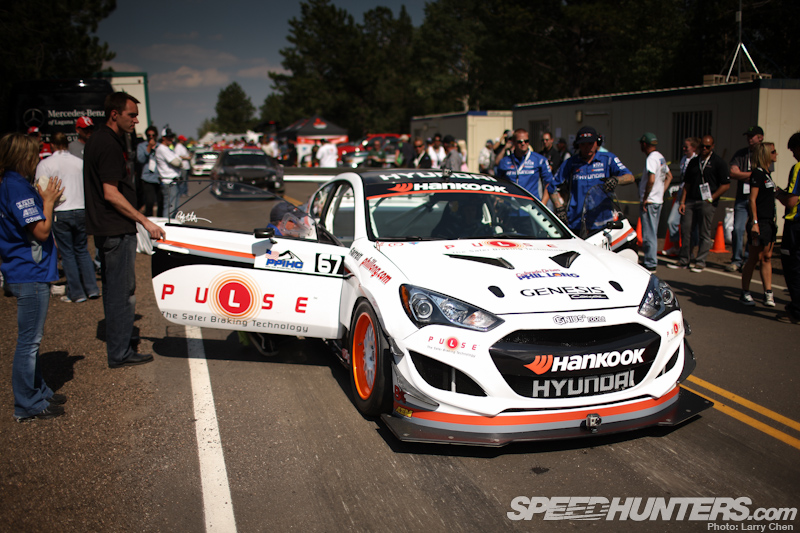 He was anxious to go as there were delays upon delays due to incidents. By the time Rhys lined up, the clouds had cleared a bit and the track started to dry up.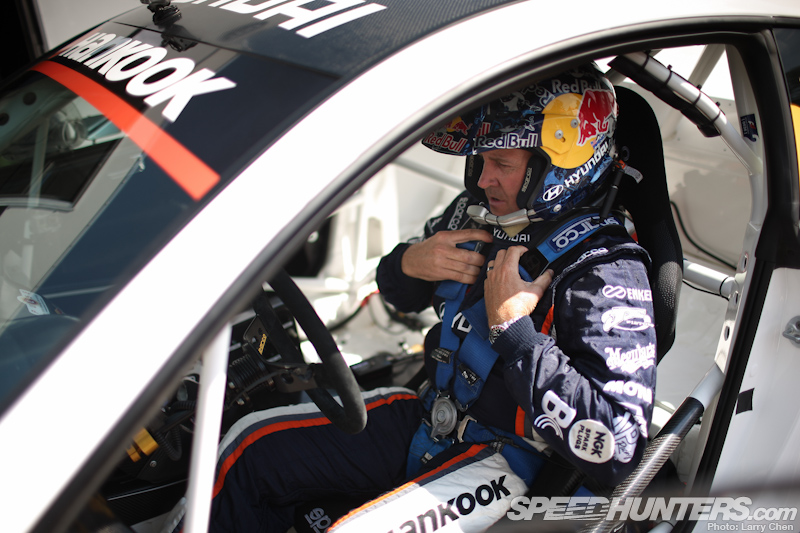 All eyes were on Rhys as he strapped in for 12.1 miles of the Pikes Peak hill-climb.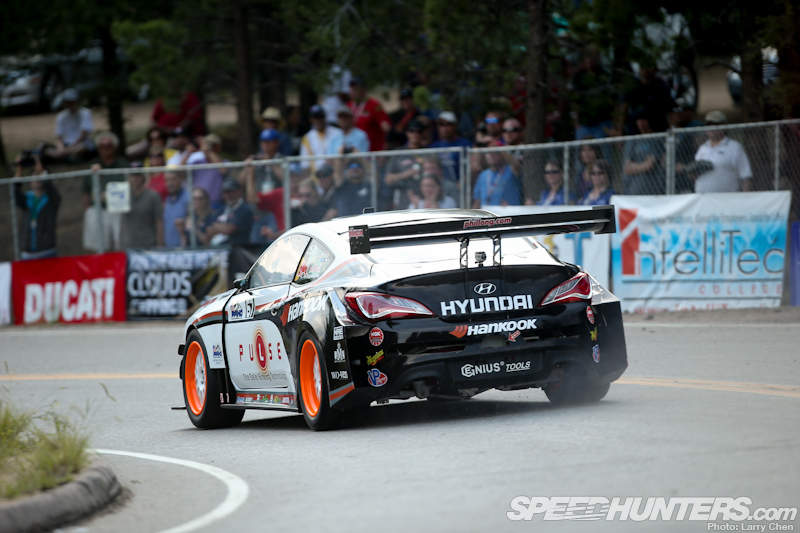 He started slow as his motor had an issue with the cold, but as soon as he was around the first corner the motor came to life.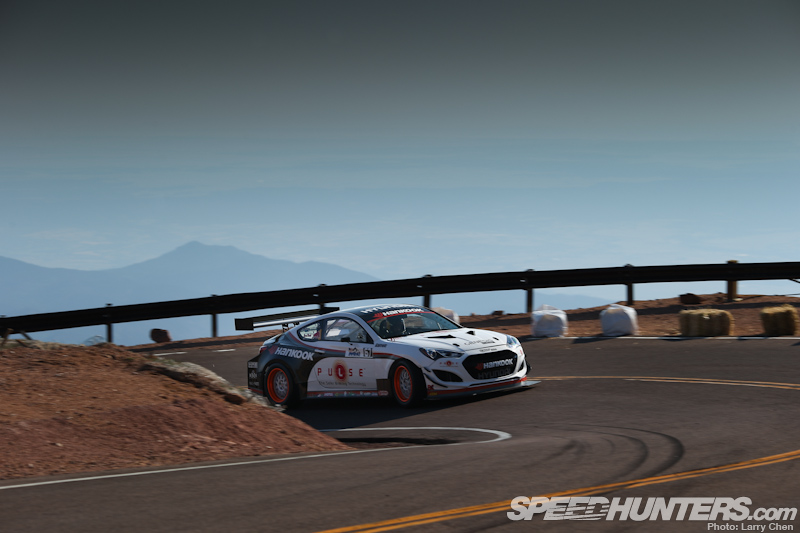 Everyone huddled around radios and listened as the announcer was saying Rhys was one second behind Romain going into the last third of the course.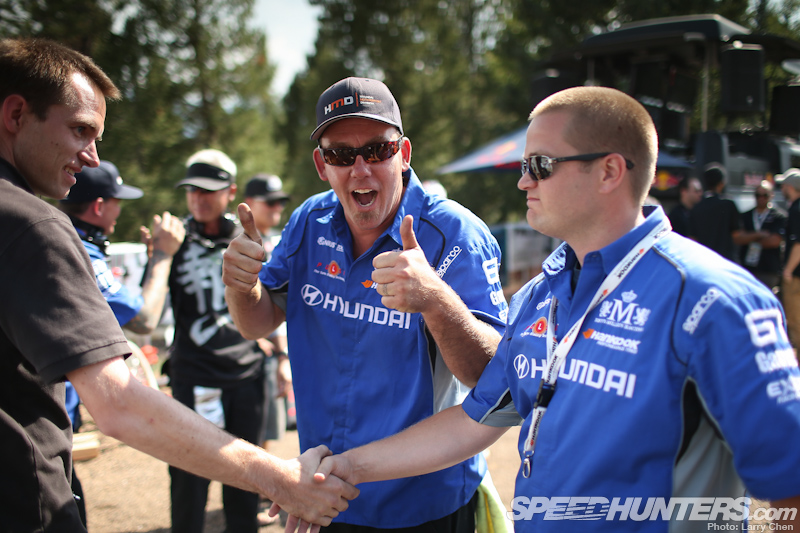 When the radio crackled a time two hundredth of a second faster than Dumas, his team and everyone on the grid erupted in joy.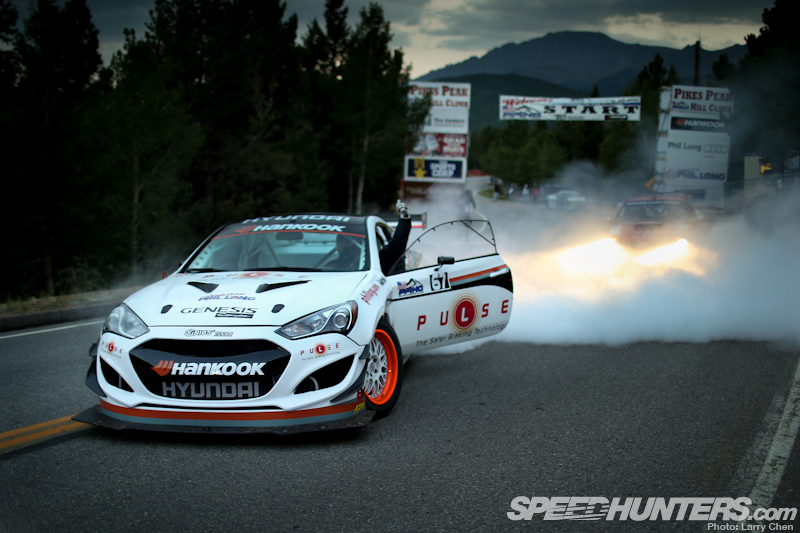 Rhys is the new king of the mountain with a time of  9:46.16. What better way to celebrate a victory in a drift car than with a fatty burnout.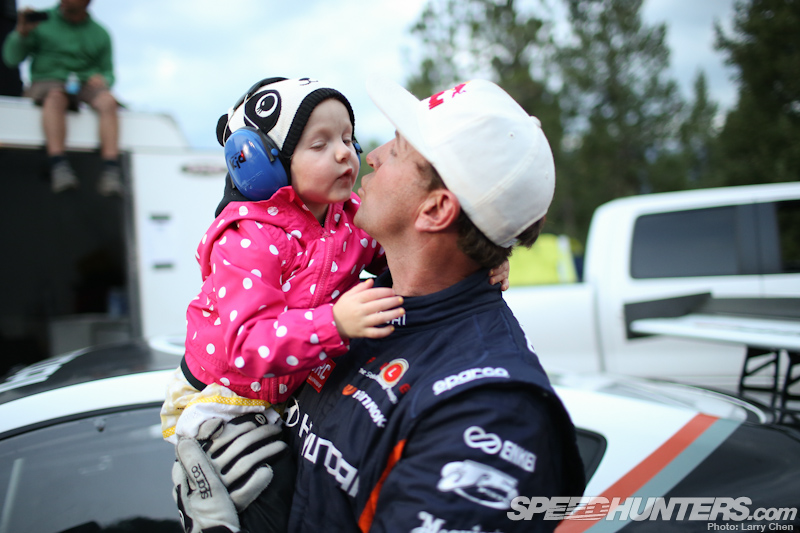 This goes to show with a little luck and some insane driving you can take down even the biggest and baddest teams. The Pikes Peak International Hill Climb is racing in its purest form after all. Congratulations to Rhys Millen and his crew.
Larry Chen
larry@dev.speedhunters.com
More stories from Pikes Peak on Speedhunters