There was so much happening back on Sunday at the 86 Style event in Fuji Speedway that it would have been a pity not to revisit this awesome gathering. I really enjoyed seeing so many great examples of the old AE86 lined up against the new car, which is certainly becoming the success Toyota originally hoped it would.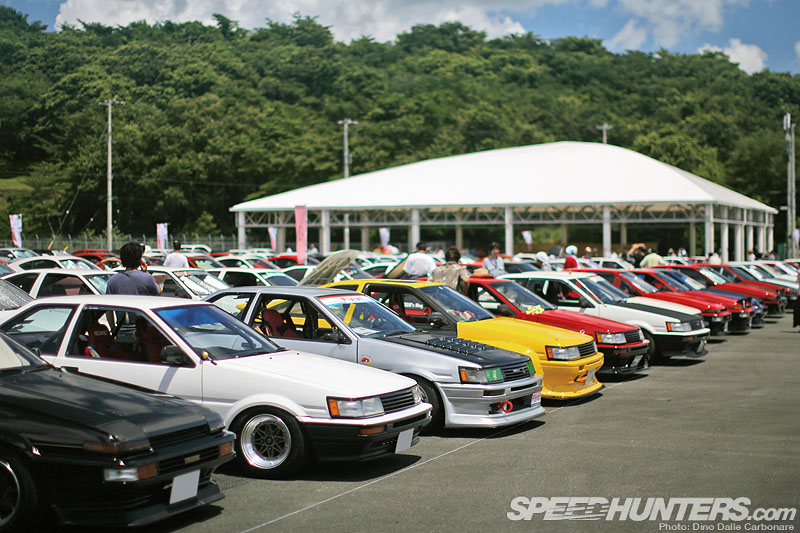 There is definitely a lot to live up to, and to be honest I think it's quite hard to even begin to match what the hachiroku has done.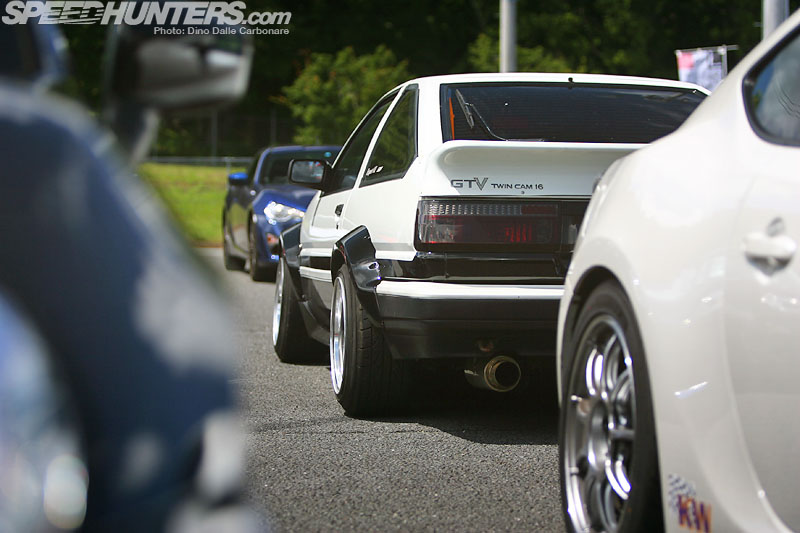 But still you can never look back for too long, it's important to move on and the 86 has definitely slotted in rather well into the affordable sports car sector, attracting interest from plenty of enthusiasts as well as the whole tuning world.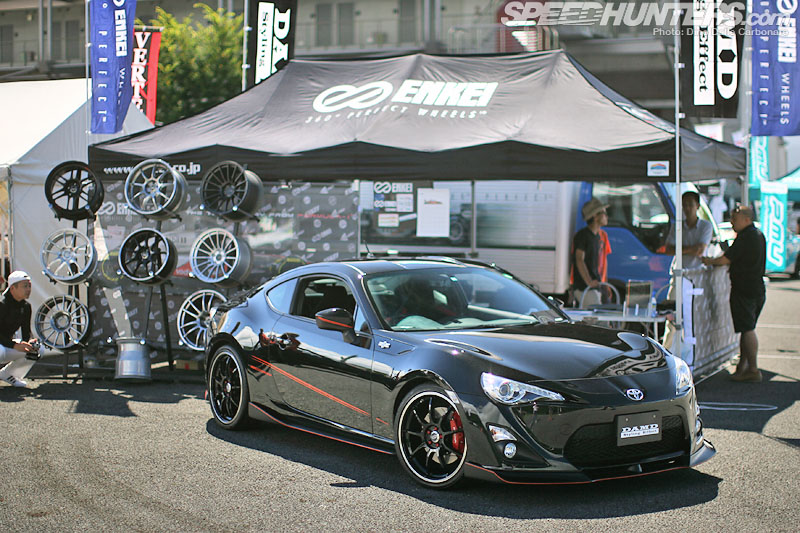 86 Style was as much about remembering the old car by having owners line up their cars in the paddock, but at the same time to help tuners promote their ZN6 demo cars and 86-specific products. DAMD teamed up with Enkei to bring this new "Black Edition" version of the 86 sporting a 3-piece aero kit. There is an equivalent Black Edition version for the ZC6 (BRZ), that was made in collaboration with Prova for this year's Tokyo Auto Salon. Some of you may remember having seen it at the STI stand.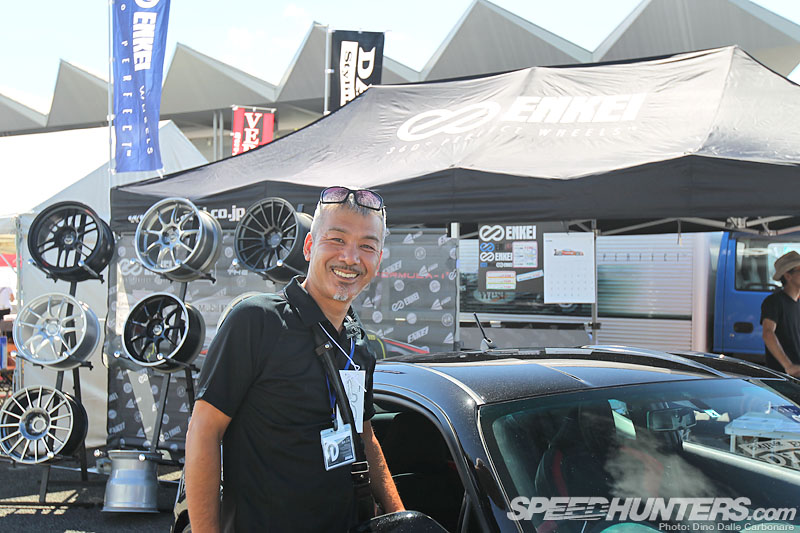 Omodaka-san, the man behind DAMD, tells us his new LFA-look aero for the ZN6 is almost ready, so you can expect a full feature when their second demo car is completed.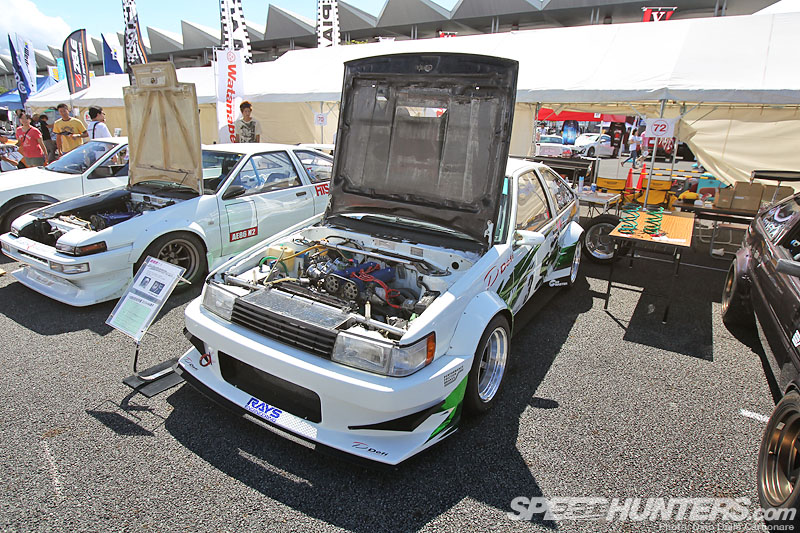 Next door to the Enkei booth was a nice line up of legendary AE86s which included this Techno Pro Spirits N2 racer.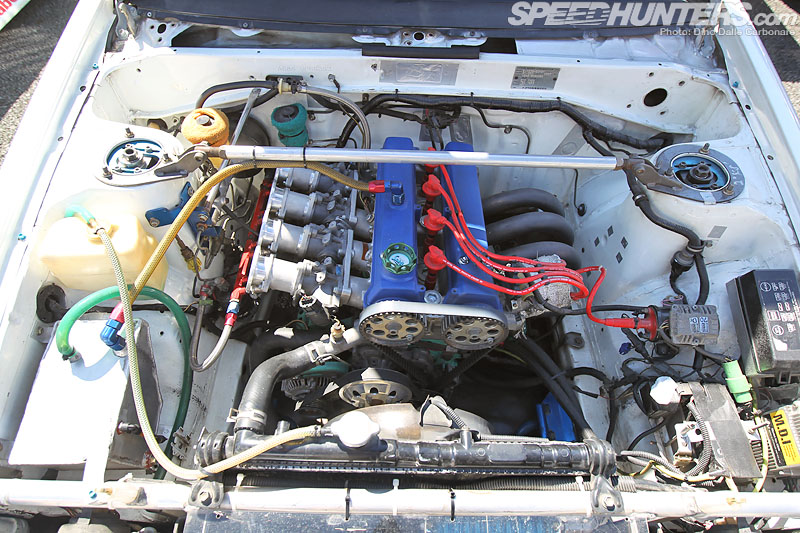 As you can imagine on these highly tuned cars, it's the engine bays where you really nerd out on!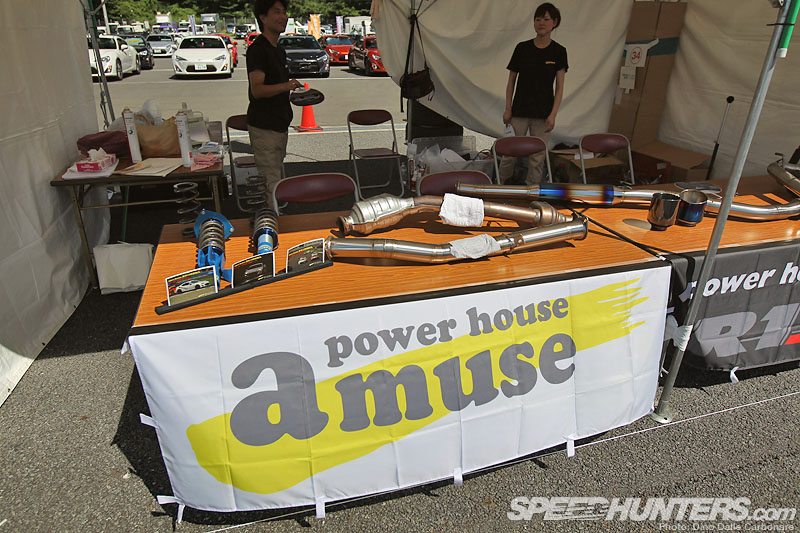 When I dropped by the Power House Amuse display area their 86 was not there as it was racing around the track. But what I did find was some nice suspension upgrades…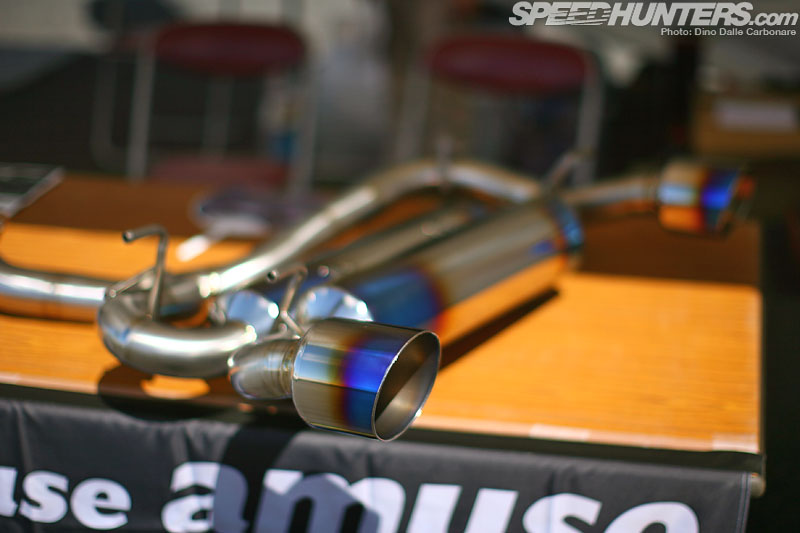 …as well as their R1 Titan exhaust system. They are also working on a more extreme straight-through version that does away with the twin tail pipe set up for a more conventional single one. This is what their demo car is currently running.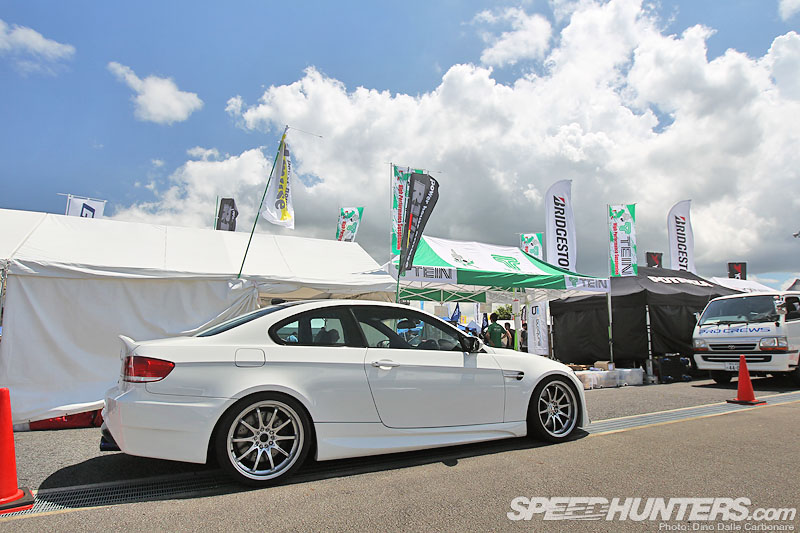 And take a look what I bumped into behind their tent! Yup, it's the awesome Ericsson M3. I think it's the first time I have seen this car without the big 20-inch BBS, now sporting a very nice set of CE28Ns.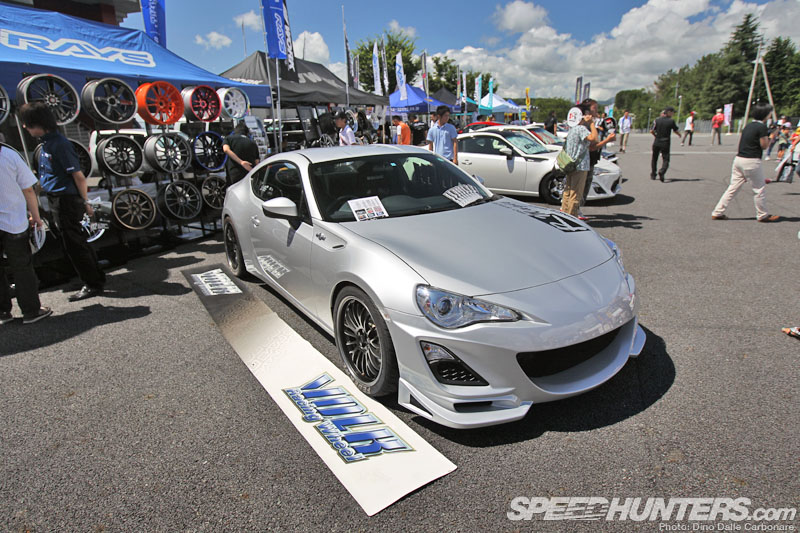 I found it quite interesting that two renowned rotary shops have decided to start working on the 86, R-Magic with this new car we saw initially at the Nagoya Exciting Car Showdown a few months back and Revolution. With Mazda no longer building rotary powered cars I guess there is a need to expand! Is it me or doesn't the R-Magic front bumper make the 86 look a little RX-8-ish?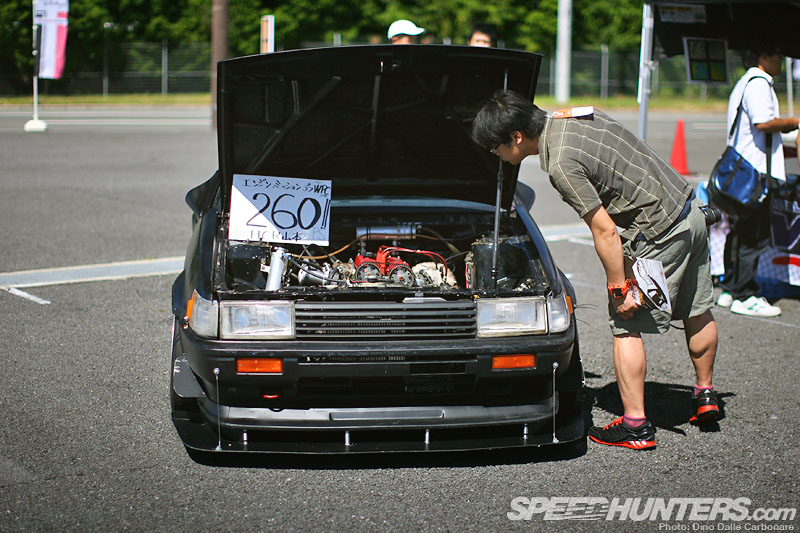 HCR Yamamoto, a crazy Toyota shop from Chiba prepped this drag-spec AE86. The 4A-G powering it develops 260 PS!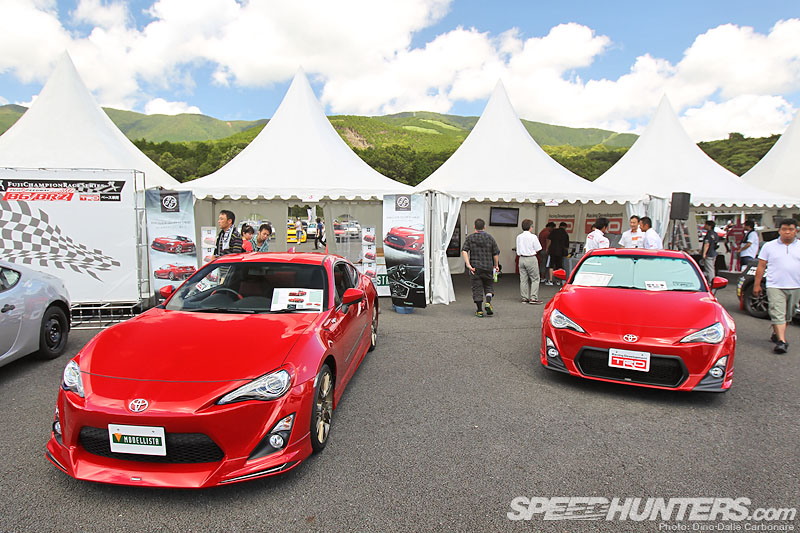 Toyota set up a very nice display area showcasing all the different customization options available from factory or dealers. Here is the Modellista version sitting next to a red TRD version, a car we were the first to feature.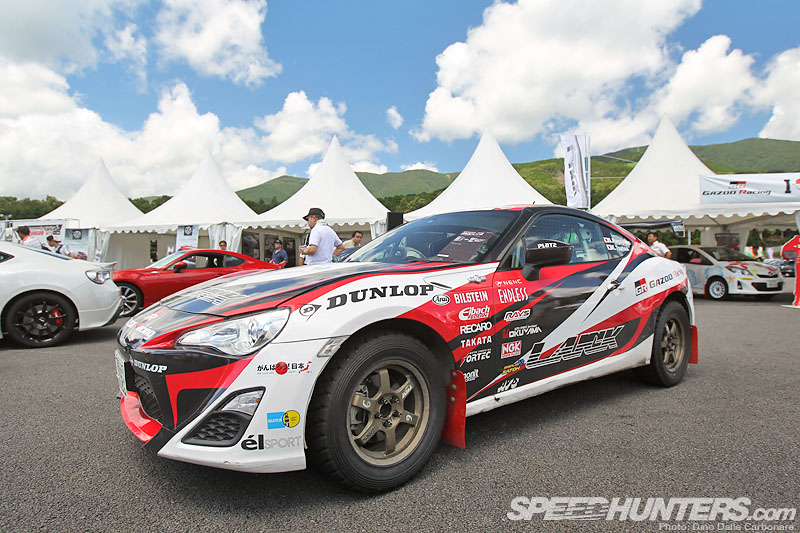 Gazoo Racing has really taken advantage of the 86, also building a rally car out of it! This must be so much fun to fling around the gravel stages of the Hokkaido Rally!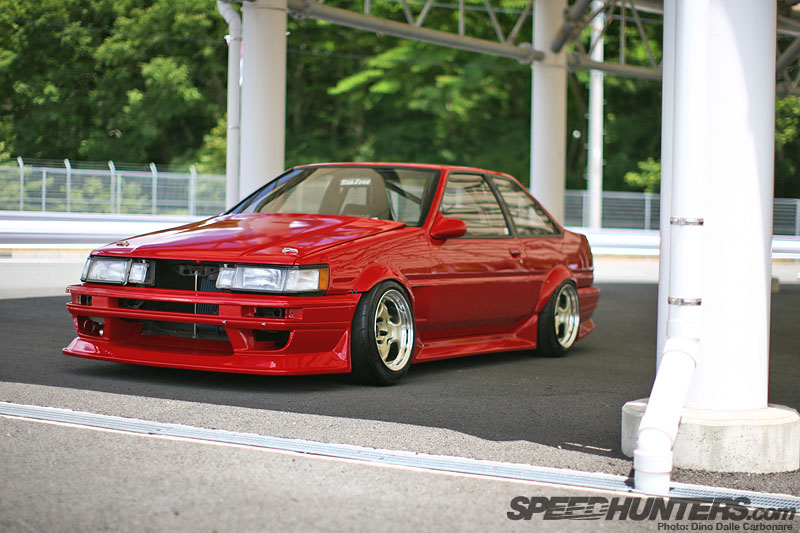 The owner of this Run Free kitted Levin notchback was obviously in search of some shade…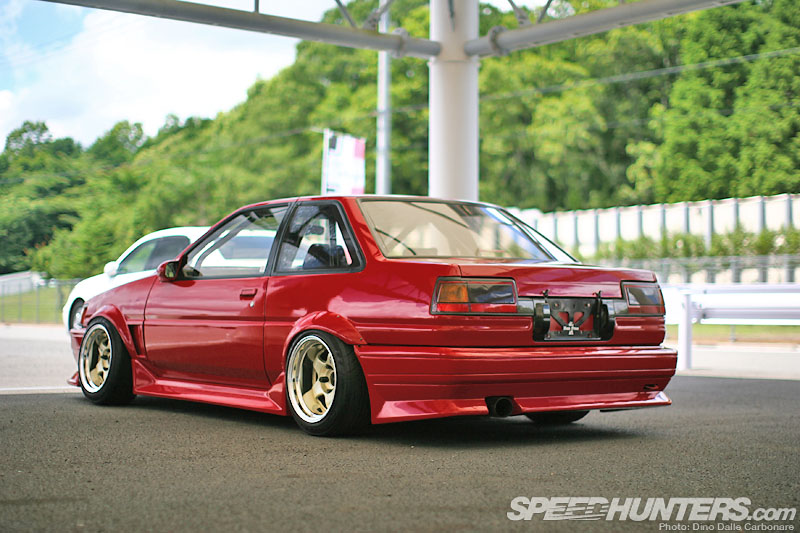 …parking under the empty canopy on the far side of the display paddock. This car really checked all the right boxes, from stance to fitment to the all-important dish-requirement!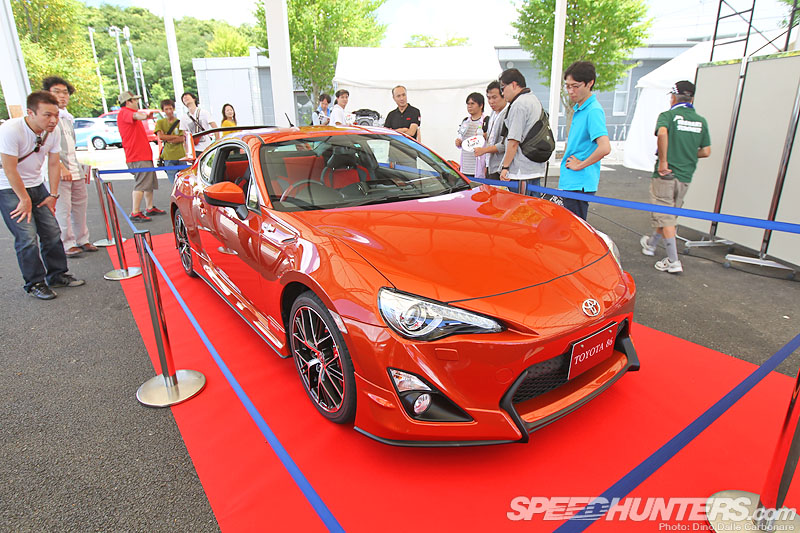 Toyota took advantage of the occasion to debut a limited edition "Factory Special" version of the 86 sporting a new aero package…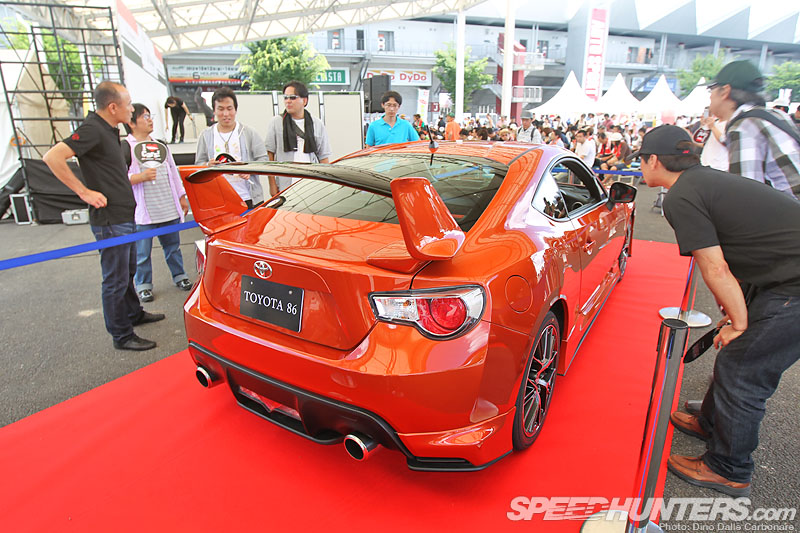 …with a rather massive wing, and lots of nice upgrades like a new wheels design, a suspension and brake upgrade and a raspier sounding exhaust. If I was in the market for one of these cars I'd really have no idea when the right time to buy would be as there will be so many limited edition versions coming out! Not to mention that it's already hard to pick between the 86 and the BRZ!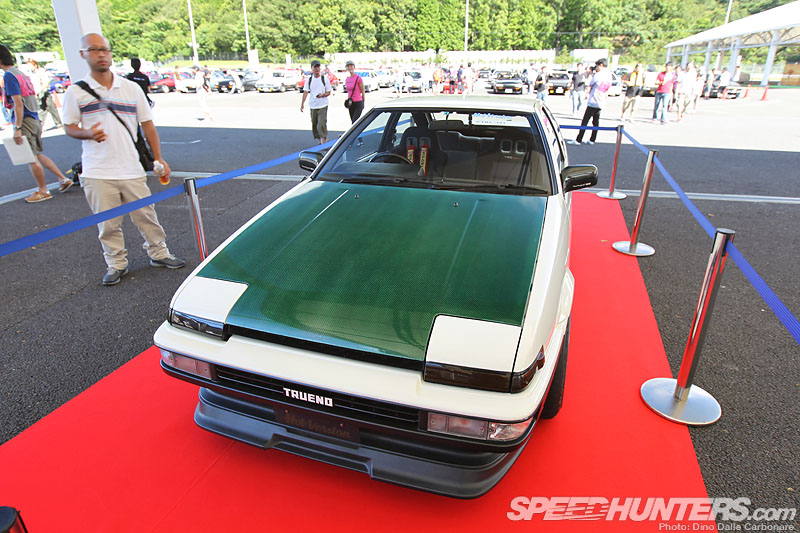 No hachiroku event would be complete without Tsuchiya's own AE86!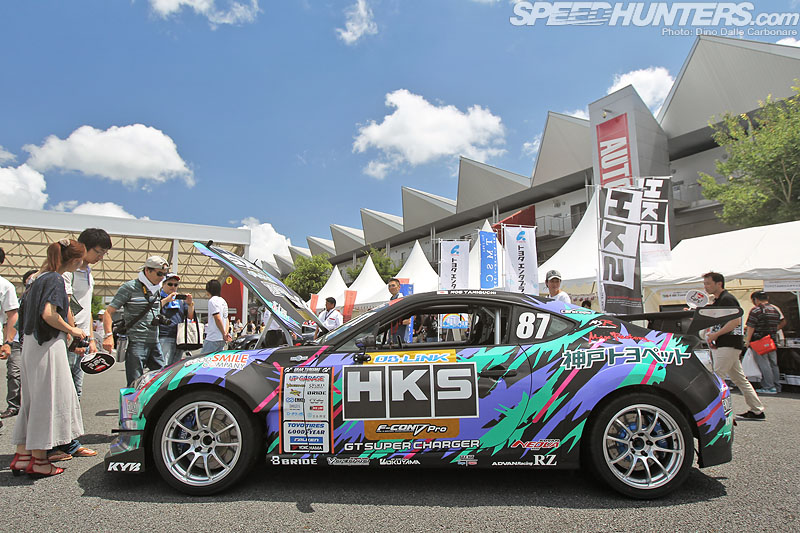 HKS have so far been the only tuning outfit to really push the ZN6's stock engine. Thanks to forged and balanced internals the supercharged engine that powers Nob's D1 86…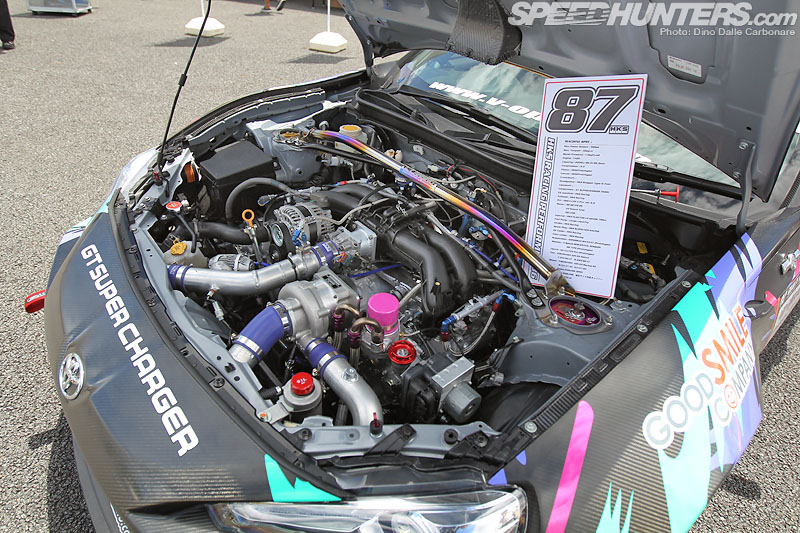 …is now developing 580 HP, which is pretty phenomenal from such a new 2L motor. Car seems to be performing well and HKS will be releasing tons of tuning parts during the remainder of the year.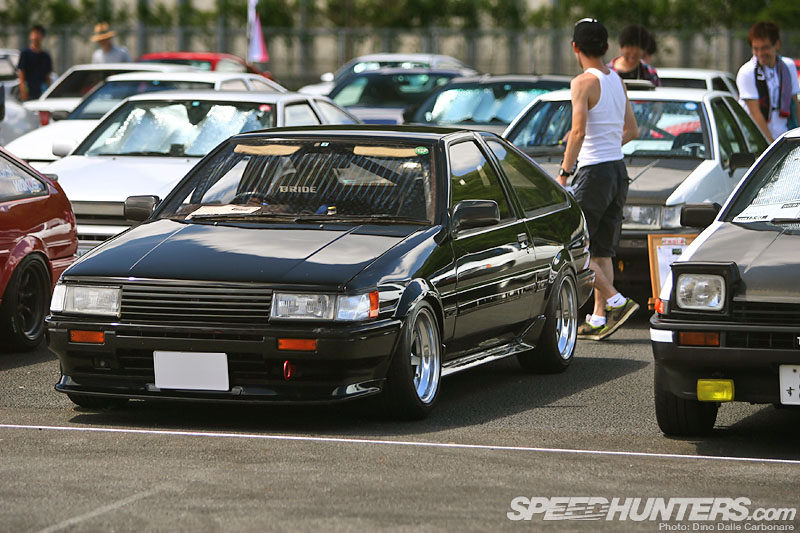 I tried to have a look at pretty much every hachi that was on display in the owner's area…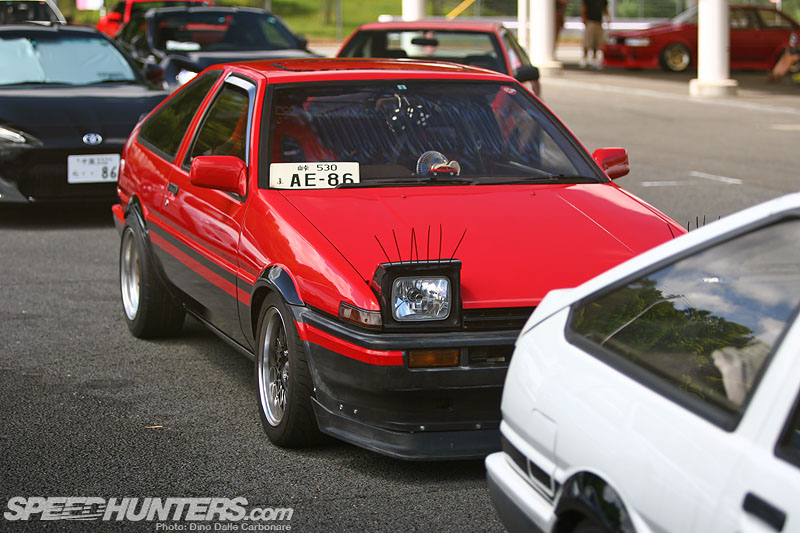 …stopping to take a snap of the wildest and more original ones I came across…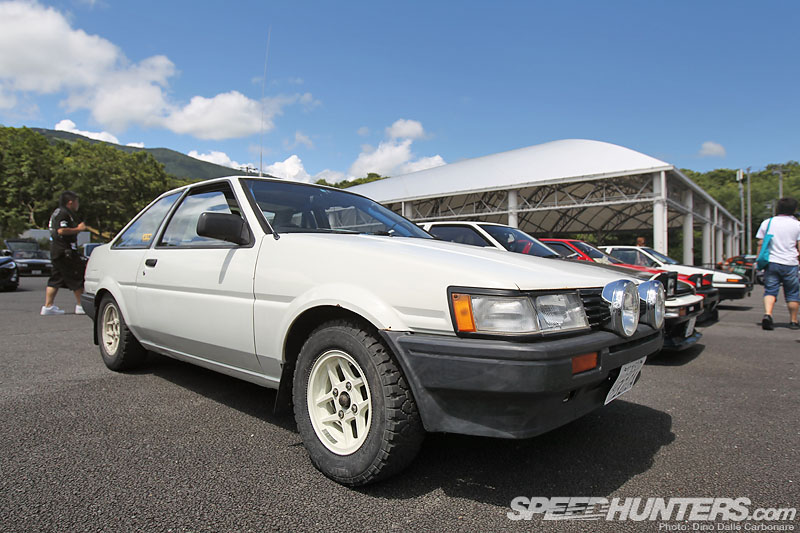 …which included a rally-spec Levin on snow tires! Awesome!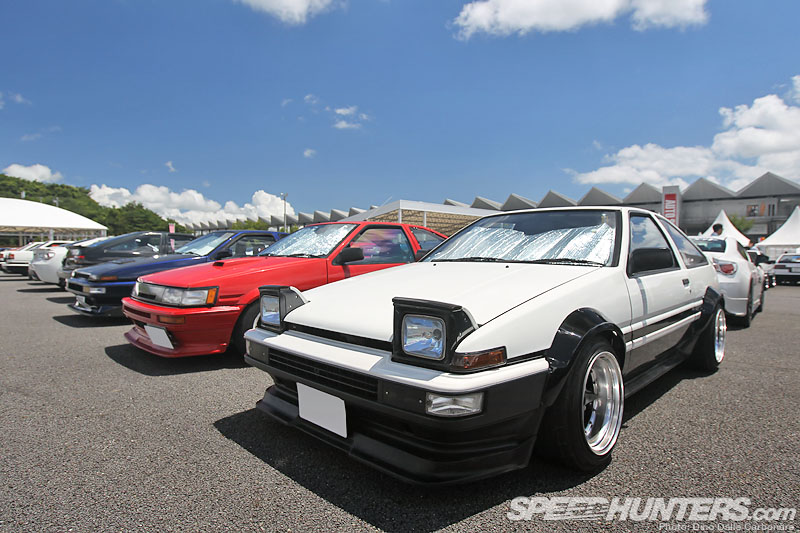 There really was something out there for all tastes…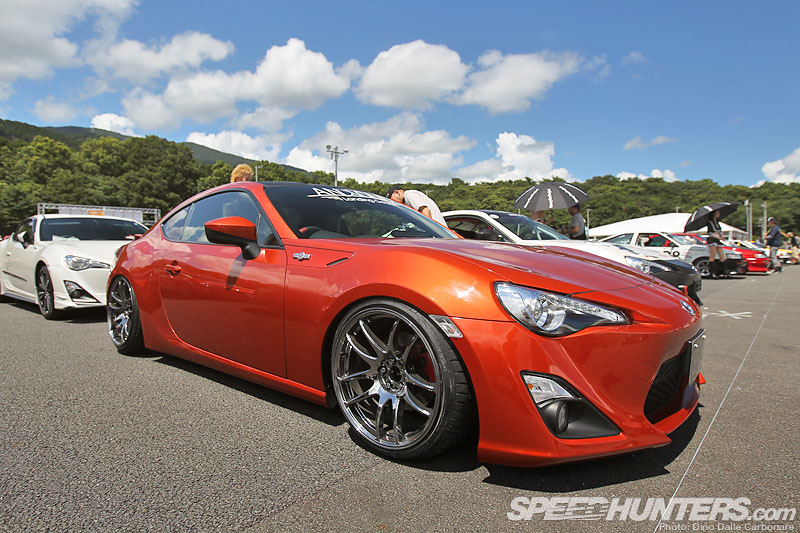 …including some nice examples of the new car like this particular one slammed on a set of Work Emotion CRs.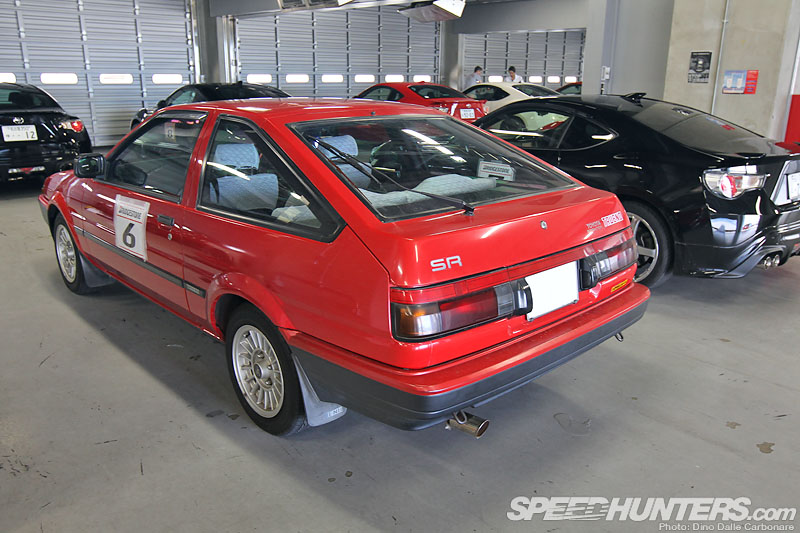 With the tuner race start imminent I moved down to the pit area where a lot of cars were patiently waiting to take part in the big parade lap at the end of the day. It's there that I spotted this SR version of the AE86, a model I have actually never heard of.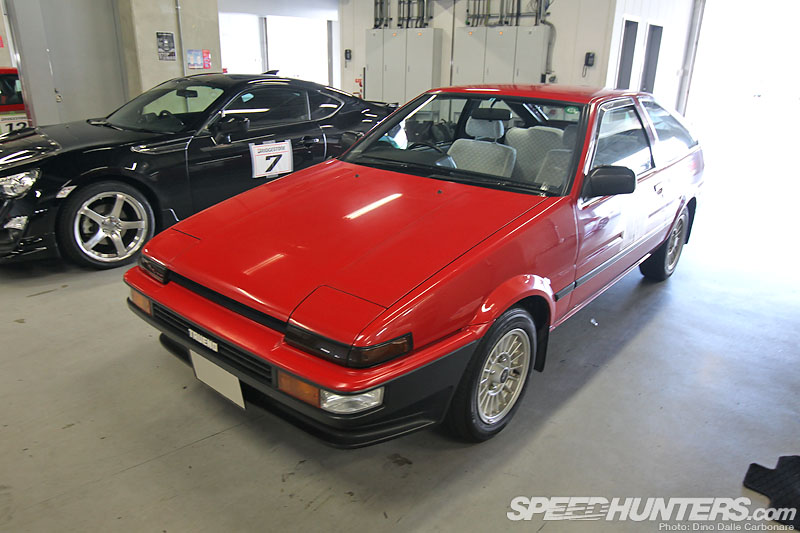 The car was literally in showroom condition, completely stock and still fitted with the lace seat covers that were offered as a dealer option.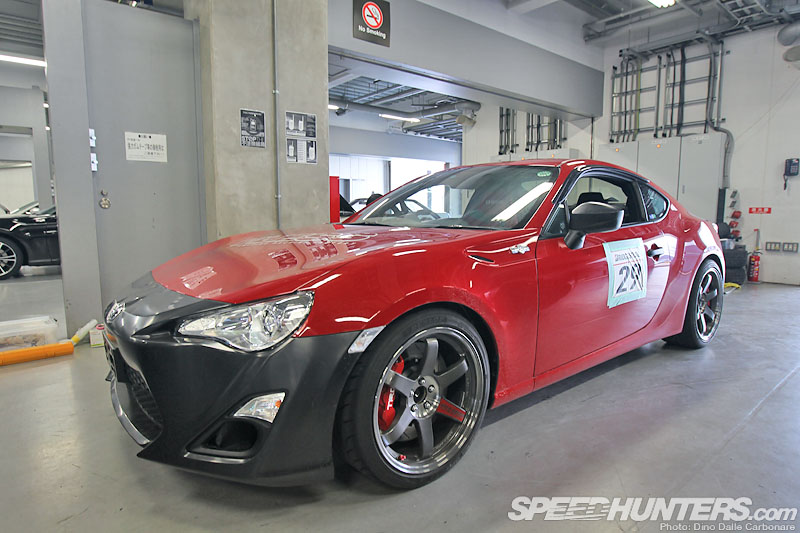 From the old to the new with this RC version of the 86, the lightweight base model that doesn't even come with painted bumpers and mirrors. It looked especially functional sitting on some TE37SLs not to mention running a full TRD brake package which would have set back the owner close to half what he paid for the car itself!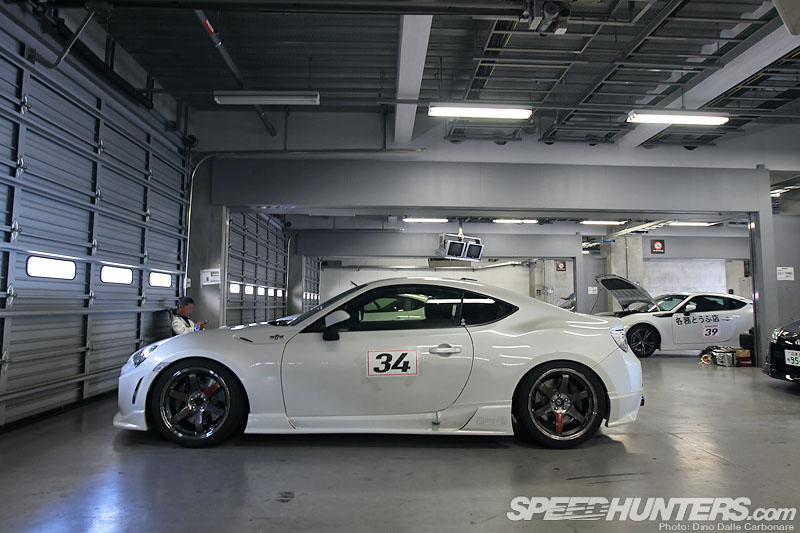 More TE37SL goodness, fitted to an ignis kitted ZN6. Nice.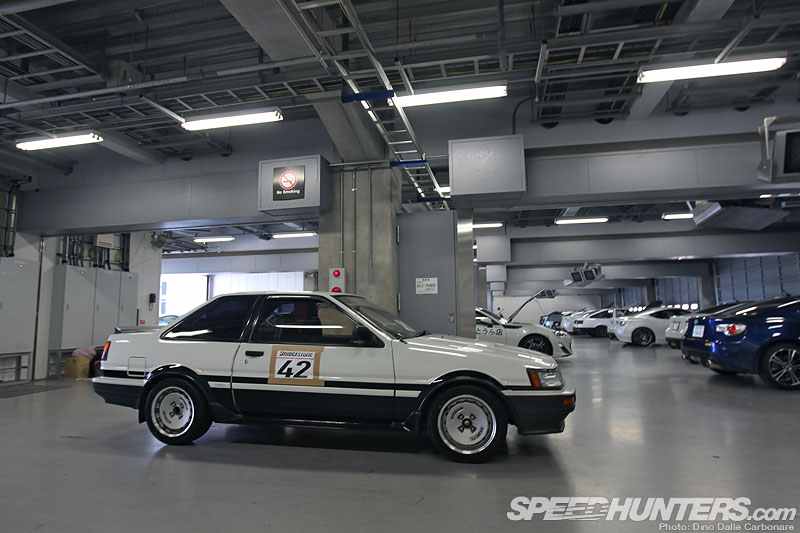 The pit was full of superbly maintained machines like this Levin running Autobahn Racing FX wheels.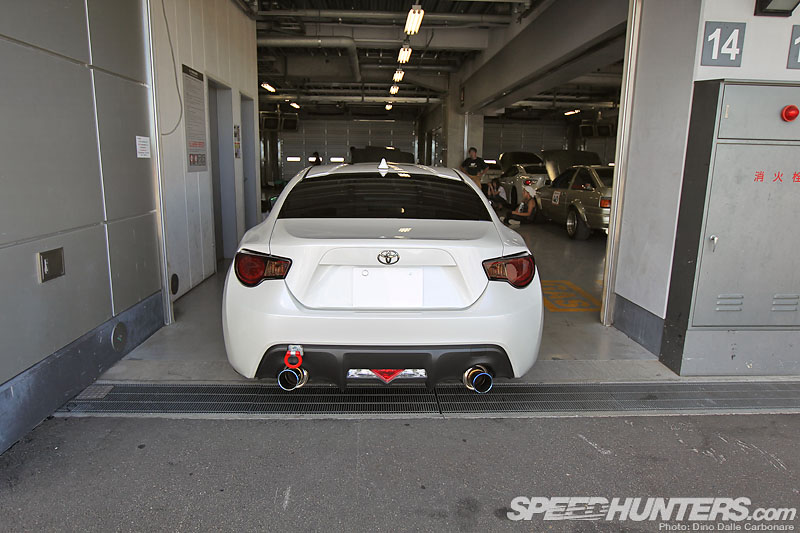 If there is one area of the 86 that doesn't particularly impress me is the rear end, not the design itself but the actual taillights. I can understand that Toyota probably deemed the concept car's LED taillights too expensive for production but why it went with a transparent Euro-light look is beyond me. Thankfully, as this car perfectly shows, it only takes a little semi-transparent tint to sort that out. Very nice!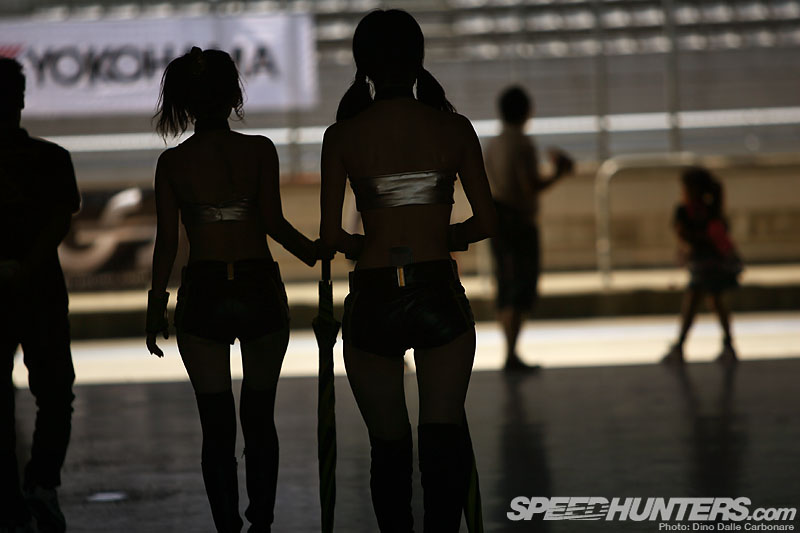 When I saw the race queens head towards the starting grid I knew it was time…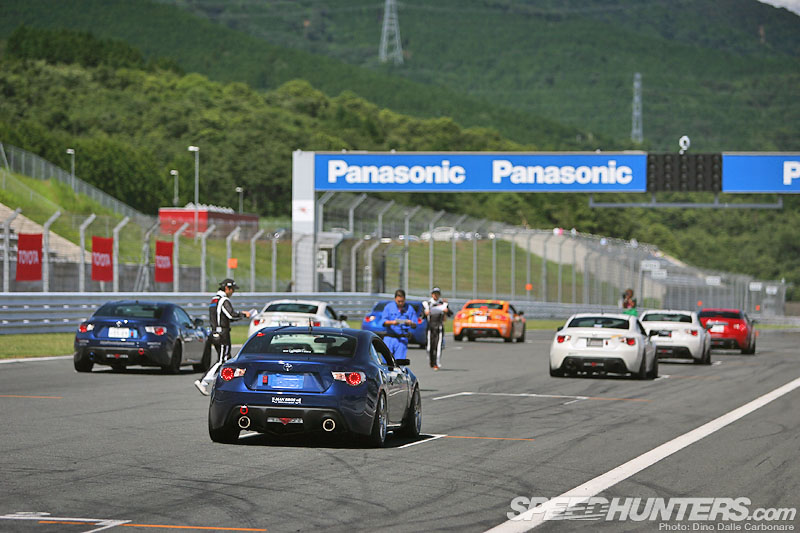 …for the short 3-lap tuner race to begin.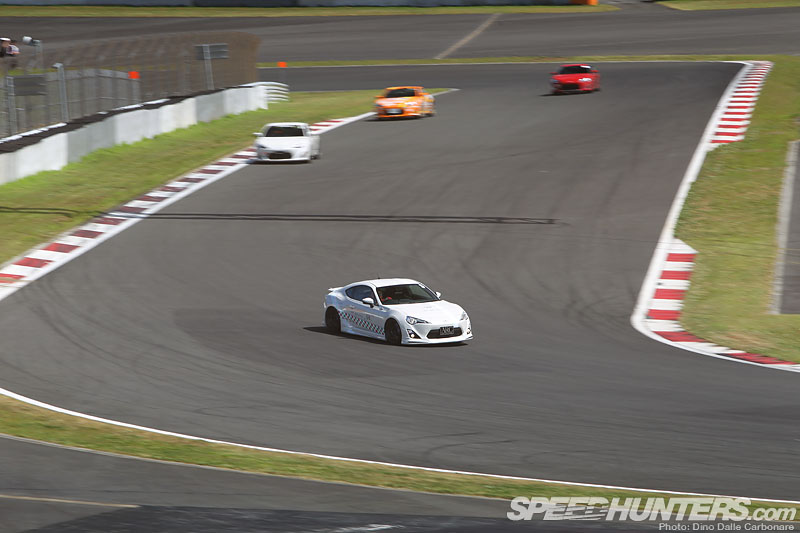 It's great that the 86 has been so well received in Japan and around the world and it's pretty much one of the most exciting things to happen to the JDM car and tuning scene in a long time. It's also very important not to forget the history of the hachiroku, at least part of where the inspiration for the new car came from. 86 Style did just this and because of it turned out to be a very well put together event!
Don't forget to check out the desktops below and download your favorite ones!
86 Style coverage on Speedhunters
86 Day coverage on Speedhunters
-Dino Dalle Carbonare