We have featured some pretty unconventional builds done by Speedhunters readers, but this one has got to be one of the craziest we've seen yet. Submitted by Tyler and Stephen Gibson of St. Joseph, Missouri this 1947 Chevy Truck has been rebuilt from an abandoned carcass into one of the most unique low budget autocross vehicles ever.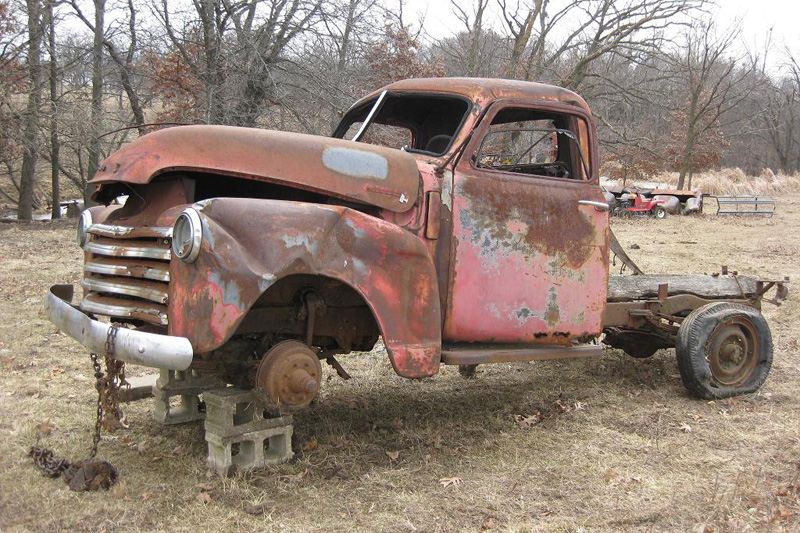 This what the truck looked like when the father/son duo began the project. Most would take a look at this thing and leave it to rot, but Tyler and Stephen had some crazy ideas swirling their heads. They began by taking the chassis from a 1984 S-10 minitruck and shortening the wheelbase to 101″ and boxing the frame rails before dropping the '47 body on it.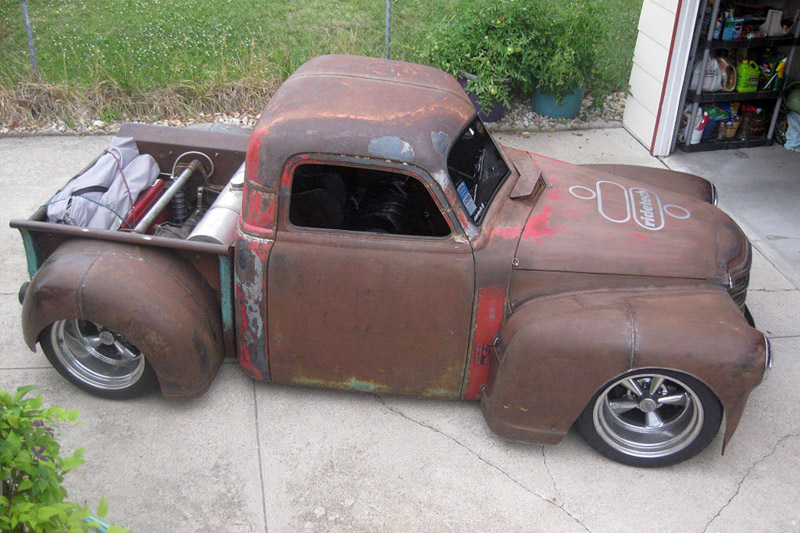 The body received plenty of custom work as well. The cab itself was narrowed nine inches and chopped by three and a half. The big fenders you see in this photo are a recent addition. Over the course of the build, the entire chassis and suspension was redone with both custom-fabricated and aftermarket parts in the front and rear. Highlights include RideTech triple adjustable coilovers and a rear suspension that is almost completely fabricated from scratch.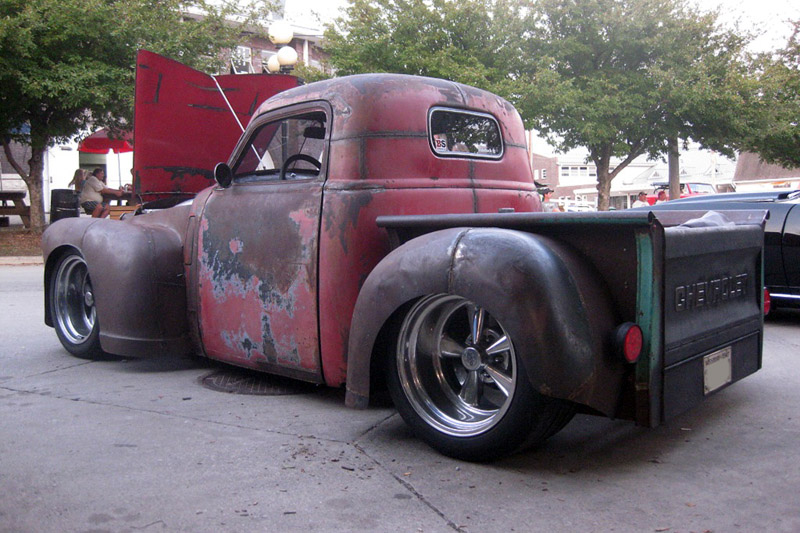 The Gibsons also added Wilwood calipers in the front along with a 10-bolt rear end with LSD and disc brakes sourced from a third gen Camaro. The wheel and tire setup is equally impressive – 17×11 Cragar S/S in the front and 17×12.5 Cragar S/S in the rear. The front tire size is 315/35/17, while the rears are 335/35/17!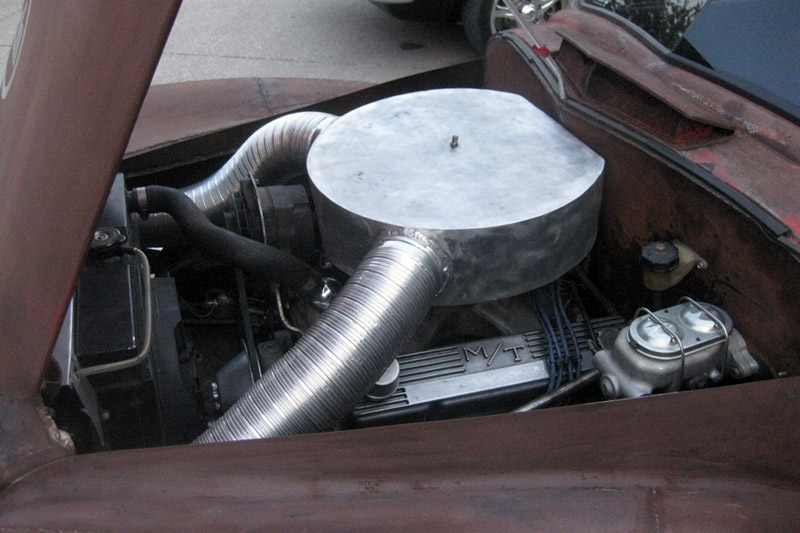 The truck is powered by home-built small block Chevy V8 with aluminum heads, a roller cam, an aluminum intake and large diameter headers from a circle track car. Running on 91 octane fuel, the motor makes 390 horsepower and 371 foot pounds to the rear wheels.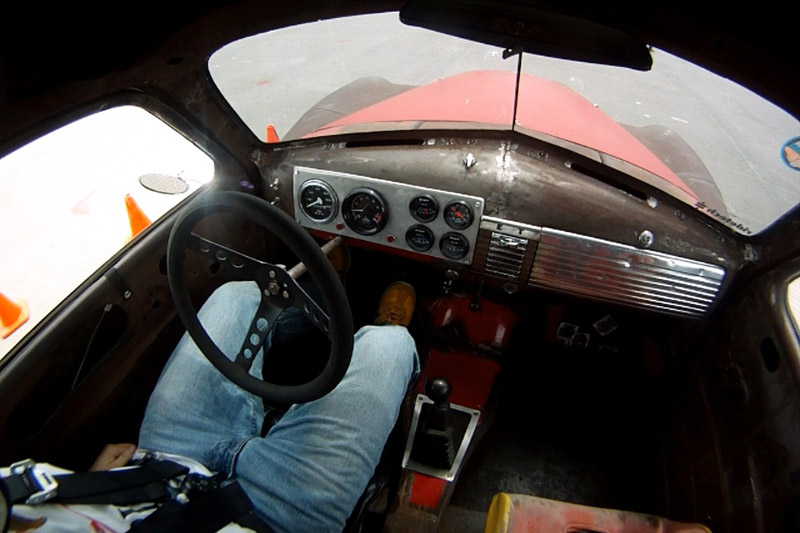 Tyler calls the interior "sparse" with a mismatched pair of Kirkey and RCI racing seats, four-point harnesses and a variety of Sunpro and Equus gauges. It all seems to get the job done.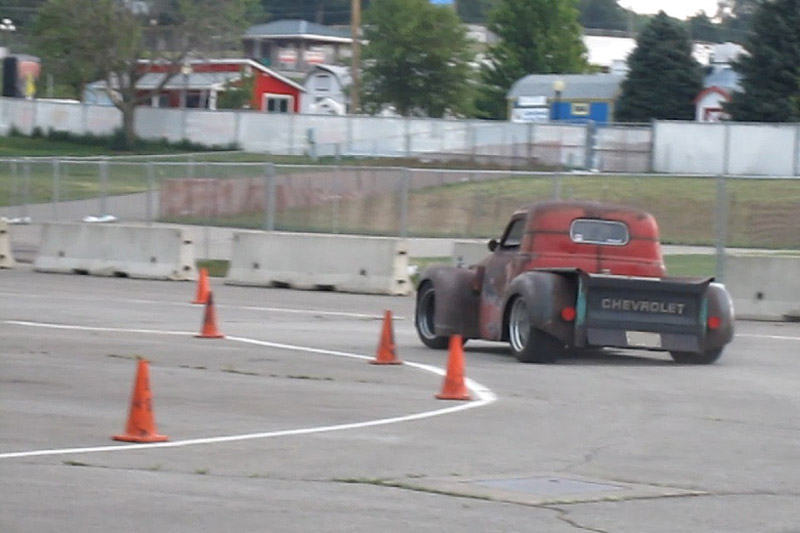 With a total weight of just under 2,400 lbs and nearly 400 horsepower to the wheels, you have a recipe for big thrills on the track in what I'm sure is the most unusual looking vehicle at every event it goes to.
Thanks for sharing guys!
If you have a cool car or build story that you think is worthy of being featured on Speedhunters, drop us a line at featurethis@dev.speedhunters.com . Please make sure to include your name and location, as well as some basic details and specs, along with at least 5-10 photographs. Photos should be no less than 800 pixels wide and in .JPG format.
-Mike