There is always a build-up to entering competition for race-car drivers and they all deal with their emotions in different ways. I remember Vaughn Gittin Jr  told me that he still gets nervous to this day in Top 32 competition. It's the first battle of an event, and it's the worst feeling when your day ends there. Although as Vaughn progresses though the brackets he gets more and more relaxed, and by the finals he is on fire and can drive like he is watching himself from the outside, controlling every movement of the car with near-perfect precision. From a wheel-to-wheel perspective, Tommy Milner told me that the start of a race is when he really needs to control his emotions – once the car is safe after the first few laps he gets in the groove and it becomes second nature. Then he can finally drive very comfortably and concentrate on moving up in position or fight to stay in the lead.
At Pikes Peak the build-up to the actual race is unlike anything else. You get one run per year and that is that. I can only imagine what goes through the mind of a driver as they are about to tackle one of the world's most dangerous hill-climbs. Months and months of planning and manpower just for a couple minutes up a mountain pass. Just amazing.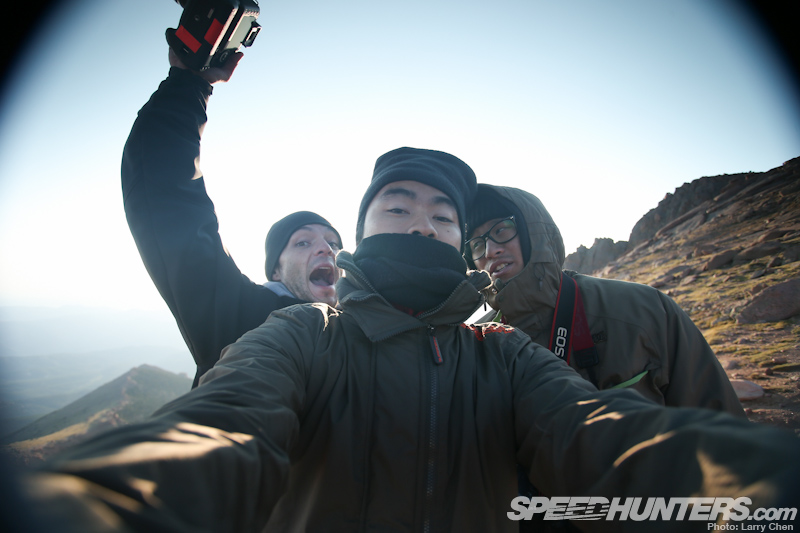 This was my second year at Pikes Peak and I wanted to touch on some things that happened during the event as well as a few stories from race day. I may never know first-hand what it feels like to compete in the hill climb, but I can try to capture it from the outside to my best ability.  Accompanying me was Linhbergh and my good friend Ryan Davis of Yaer Productions.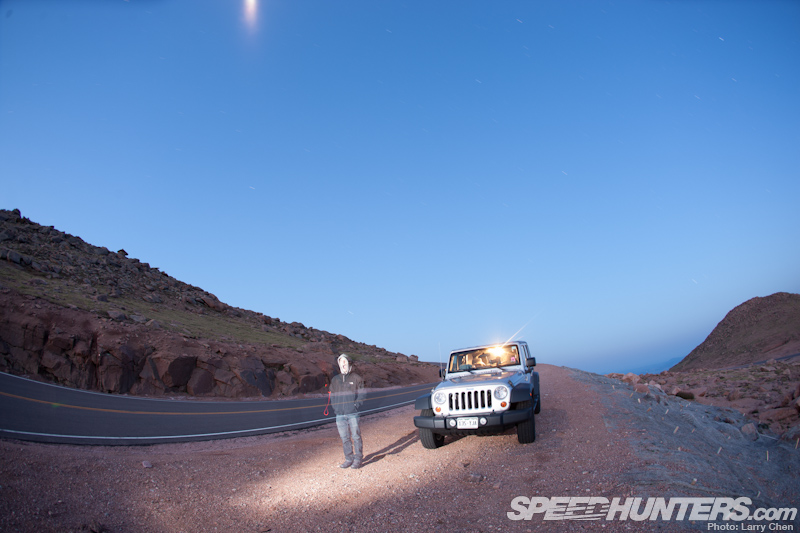 I say this all the time, but if I get at least a few of you Speedhunters out there to come support these events in person then my job is done. If I was not working for Speedhunters, then the Pikes Peak International Hill Climb would be my equivalent to the 'Hawaiian vacation'. This is my all-time favorite event and I spend the most time covering this event. I spent six whole days on the Mountain. After all, I didn't want to miss a thing. If I could only attend one event a year this would be the event. Period.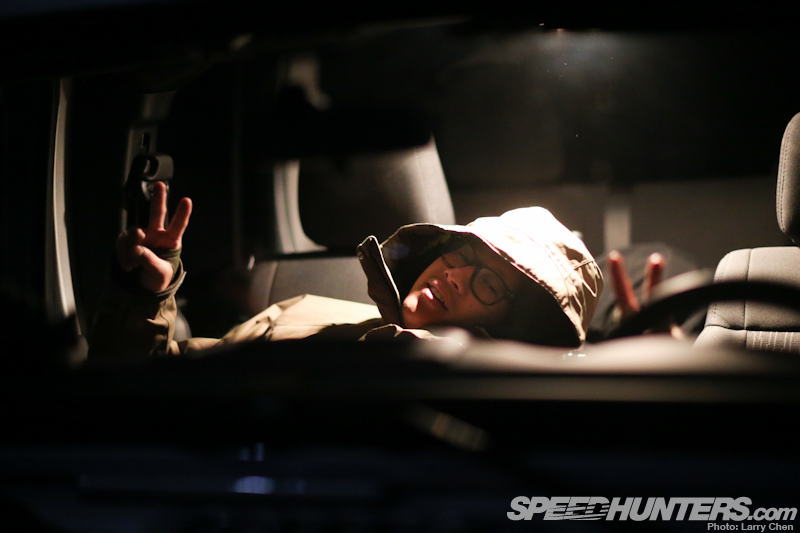 Every morning we roll out of our beds with bloodshot eyes at 2:30am, whether it be a practice or race day. Depending on where we want to end up on the mountain, it can take up to two hours to find a good parking spot on the side of the road. This year I rented a Barbie dream-mobile – aka Jeep Wrangler. It served us well climbing the 14,110 feet. Once we found a spot we would sleep till the start of practice, which is 5:30am.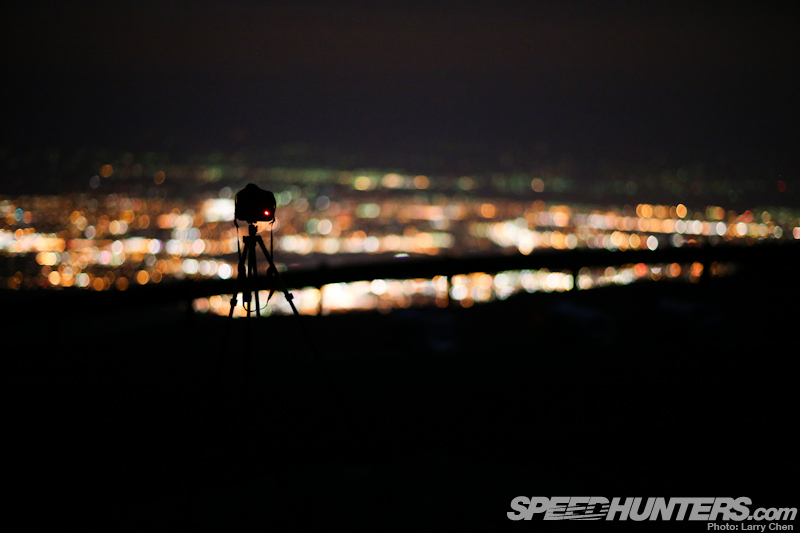 Although, I found this to be the perfect time to get some nice long exposure shots in.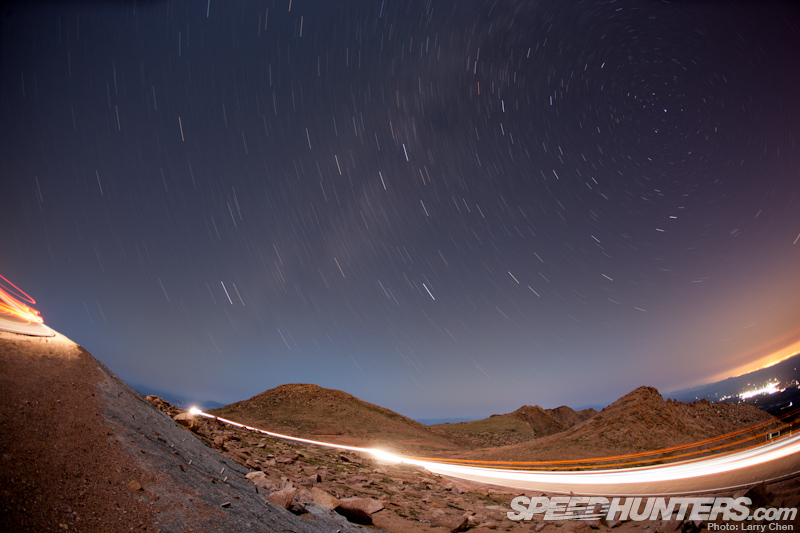 It's still dark for over an hour, so I had the opportunity to do this 20-minute exposure near the summit.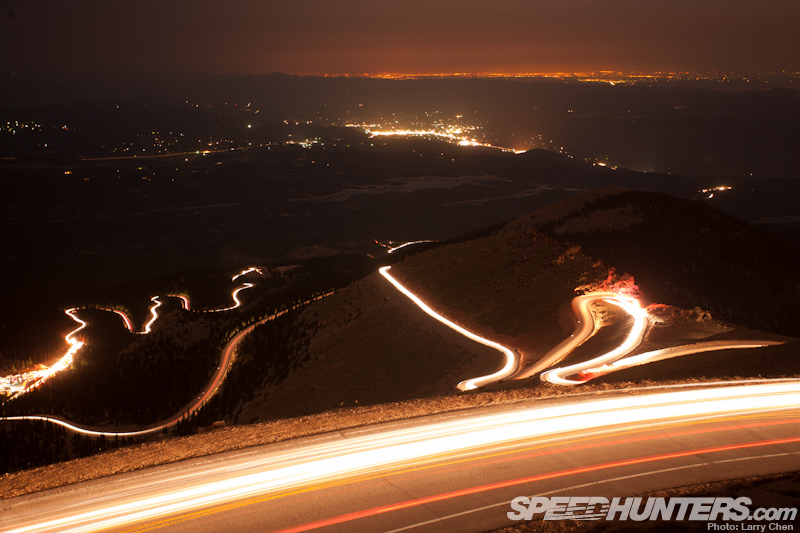 On the second day of practice I had the chance to get a nice long exposure of the Ws as well as the lower section.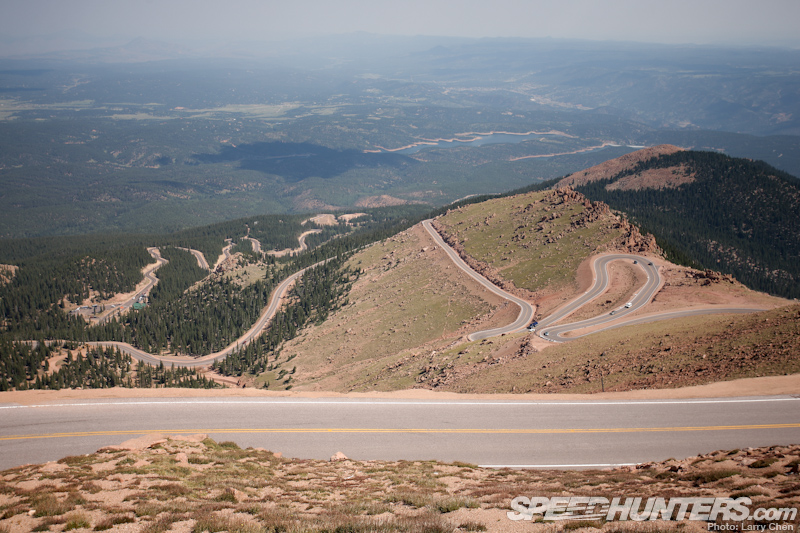 Here is the same shot during the day from just a couple feet higher.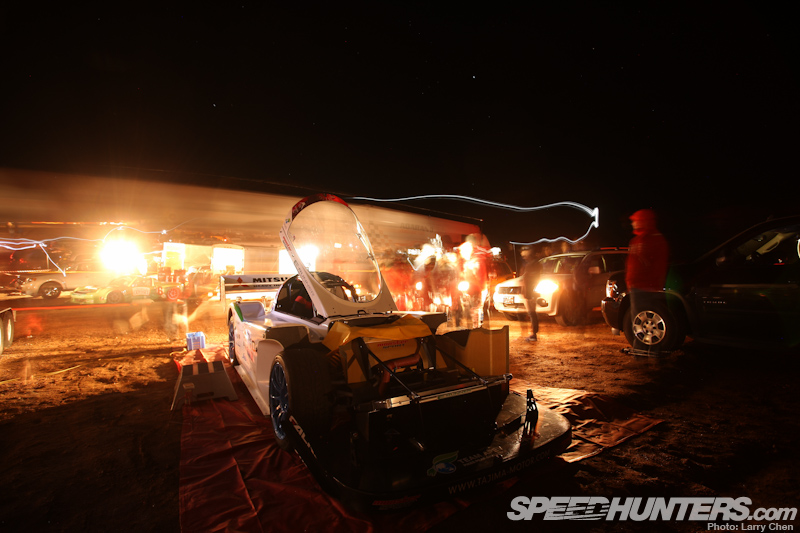 I don't like missing out on any practice because it really gives me a feel for what to expect on race day. Plus it is very hard to get any nice action shots on race day since the drivers only get one run. This was also the first time I had a chance to check out Monster Tajima's E-runner up close.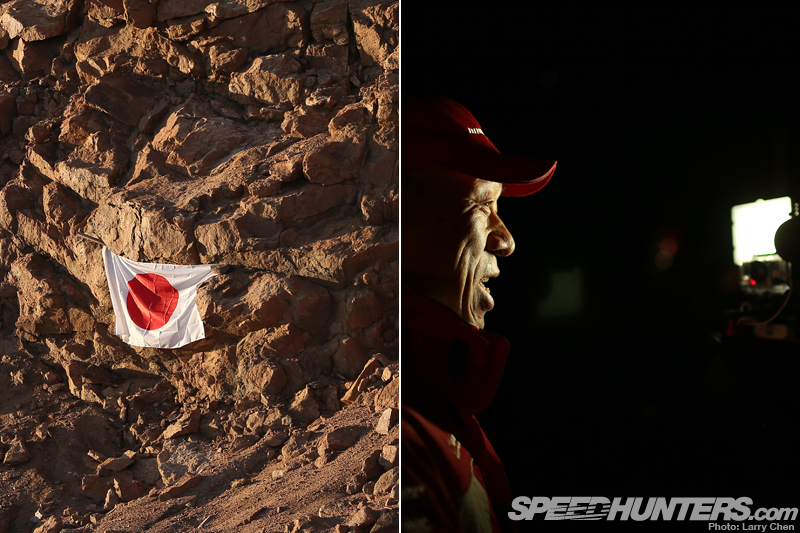 I was really excited to see him run as he was the world record holder, though technically no one will have the chance to beat his record since he obtained it when the track still had dirt – this year the track is completely paved.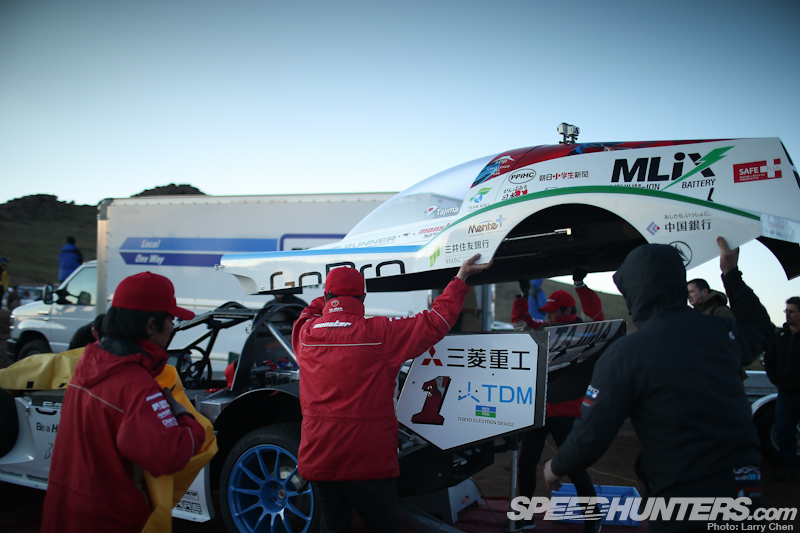 I think it's great that he is leading the electric car movement. There is much I don't understand about electric cars and there are many secrets to this very expensive machine.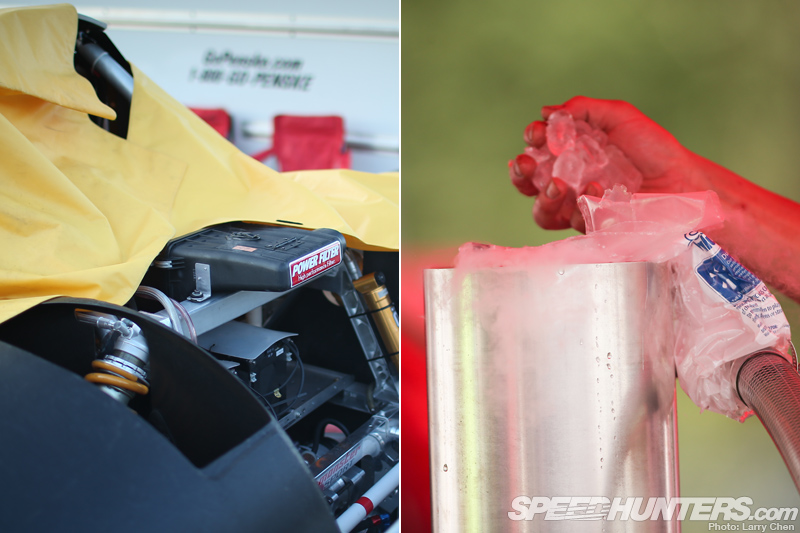 Every time they took the body panels off they would drape the car so you could not see the mechanical parts. What is interesting is they are running dry ice as well as regular ice in the front and rear compartments of this car to keep things cool.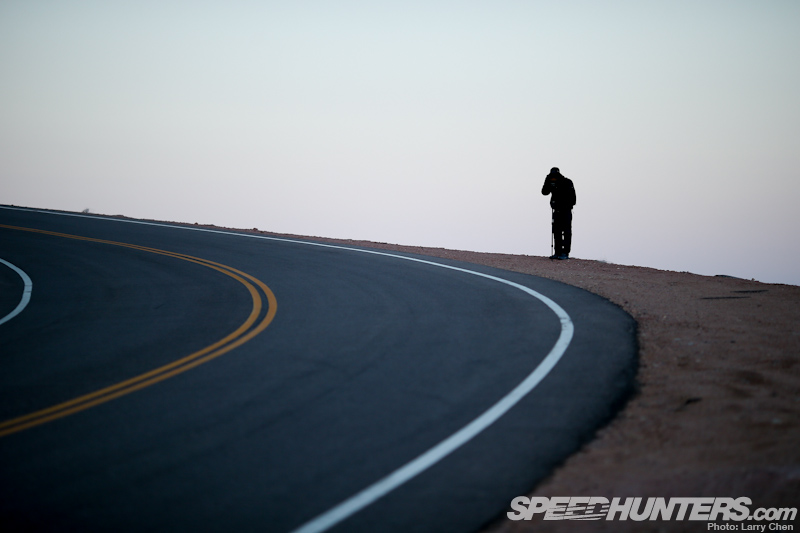 Before the sun peaked over the horizon we would take our positions and wait for the cars to do their first runs of the day.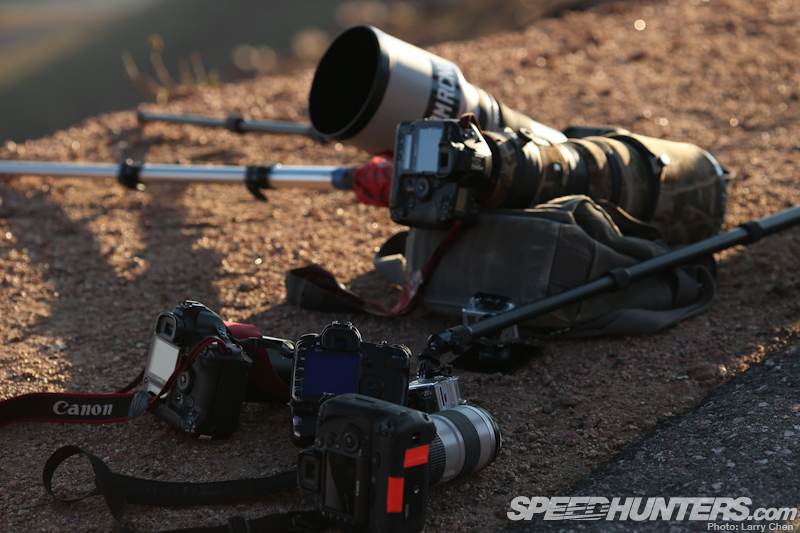 With the air being 40% less dense everything feels a lot heavier. I forgot how much the altitude affected me. Generally speaking, altitude sickness can kick in at around 10,000 feet. The first day of practice we started at 13,000 feet. I made sure to drink a lot of water to combat dehydration due to the quicker breathing of the very dry air.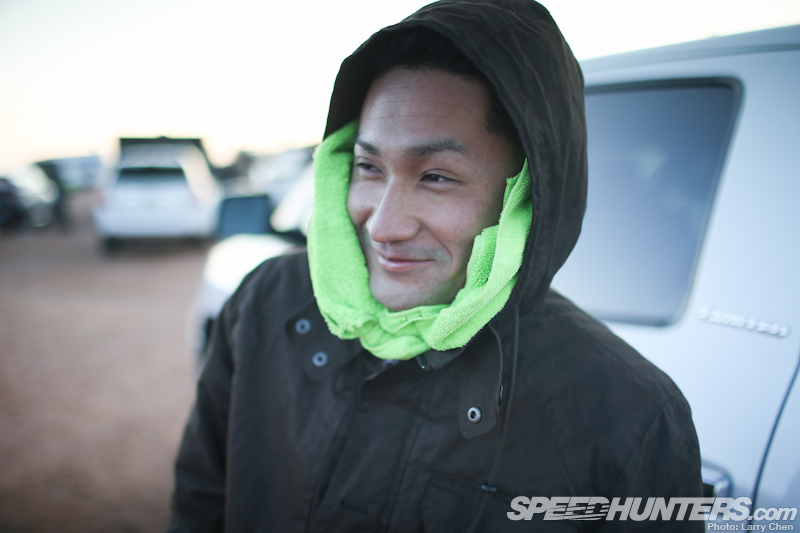 It was also very cold up on top considering it was the middle of August. Temperatures reached just a hair below freezing. On race day there was hail as well as snow on the summit.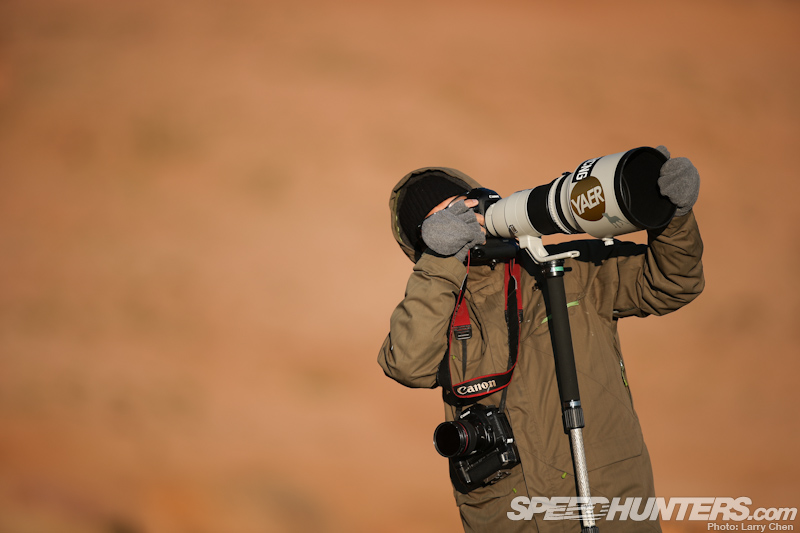 The temperature at the base was around 90-degrees Fahrenheit (32 degrees Celsius), so we had to add lots of layers when we went to the top and slowly take it all off as it got hotter in the day.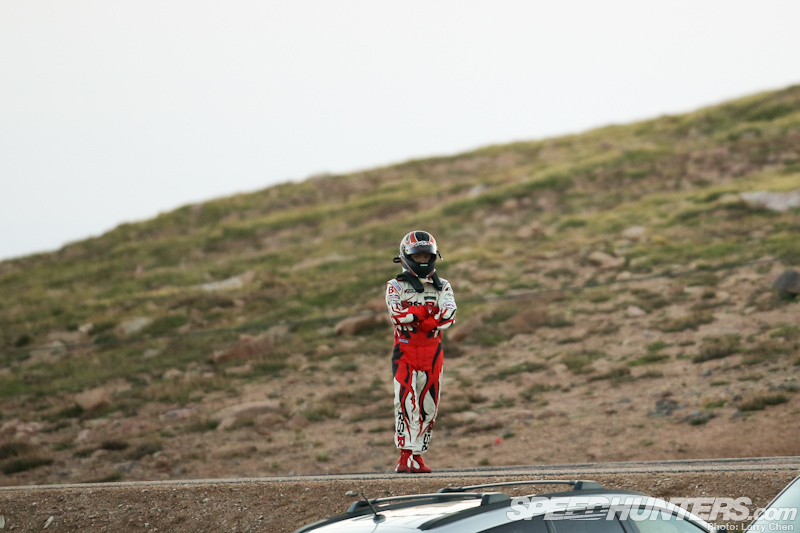 That meant that drivers mostly stayed in their cars with their helmets on to stay warm. I got pretty good at shooting with snowboarding gloves on. However my battery did not last as long as it usually did on my camera. I found that I would go through almost a full charge in one day, versus having to normally charge my battery once for an entire event.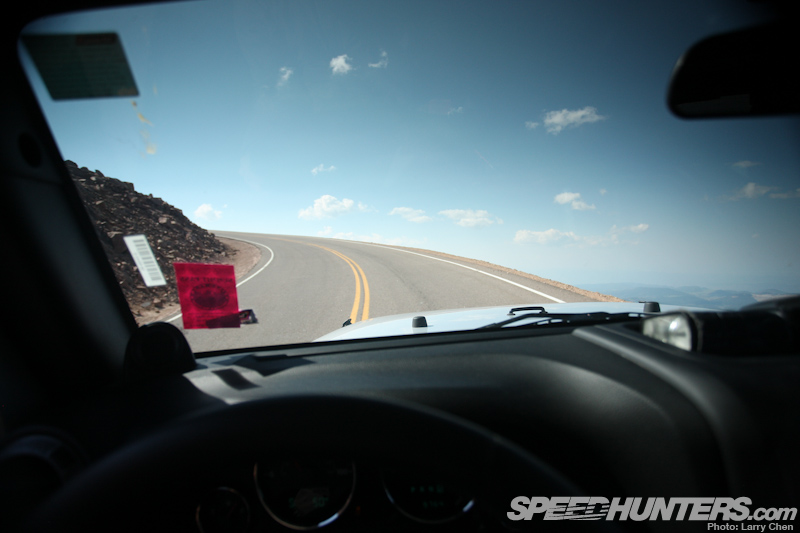 After practice was over it was a real treat to head to the summit for some spectacular views and awesome donuts.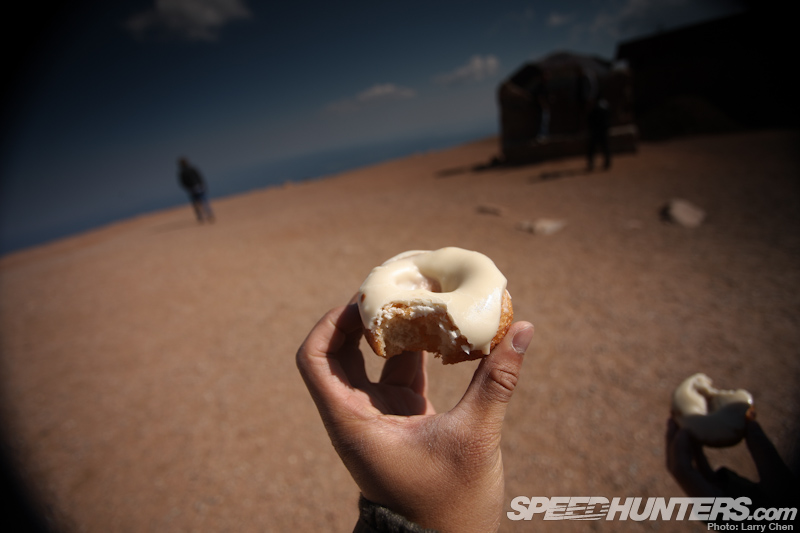 I swear the donuts at the top are some of the best I've ever had. Its neat because when you get to the base of the mountain the donuts will shrink but the frosting will stay the same size. They are super chewy and nothing like I've ever had before. Like a super sweet bagel.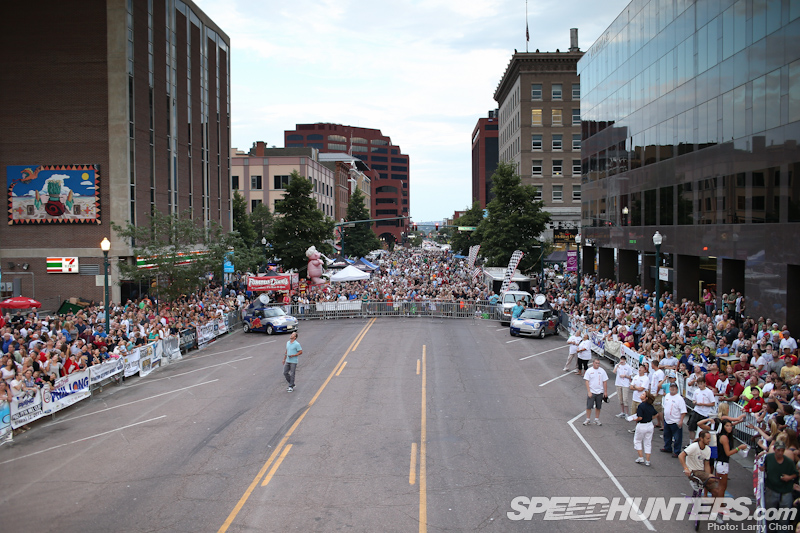 The schedule calls for three days of practice, one day of rest and on the last day is for racing. The night before the day of rest is the 'Fan Fest.'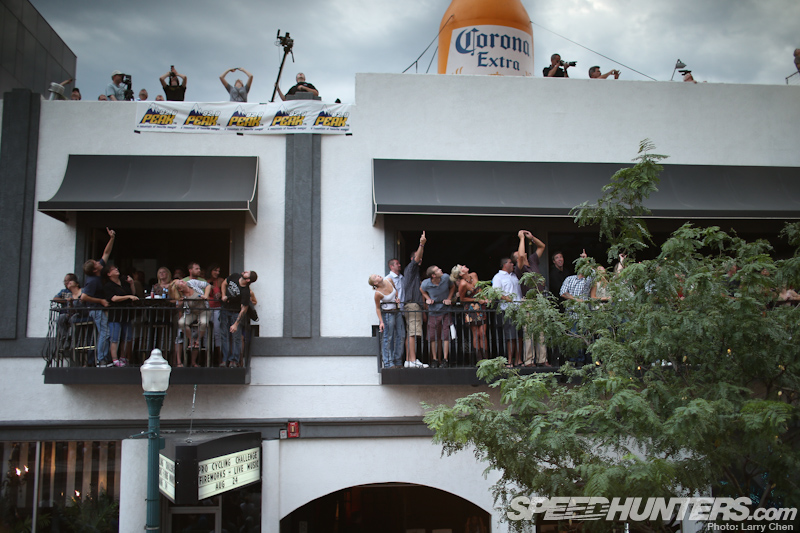 It's a chance for all the fans to check out the cars up close and personal. The city of Colorado Springs blocks off a few streets to hold this event. To top it off, admission is free.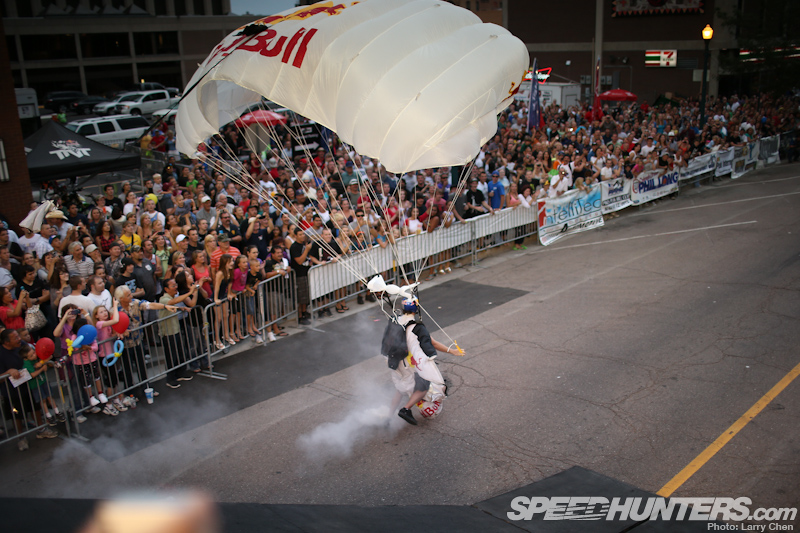 One of the highlights was the Red Bull sky-diving team jumping from a plane to hand Monster Tajima a gift.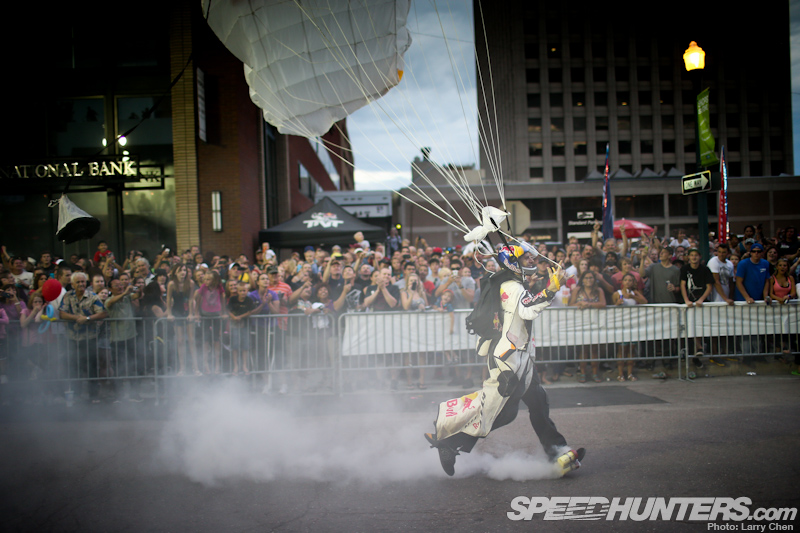 It was amazing to me how precise they were, as the streets were lined with somewhat tall buildings…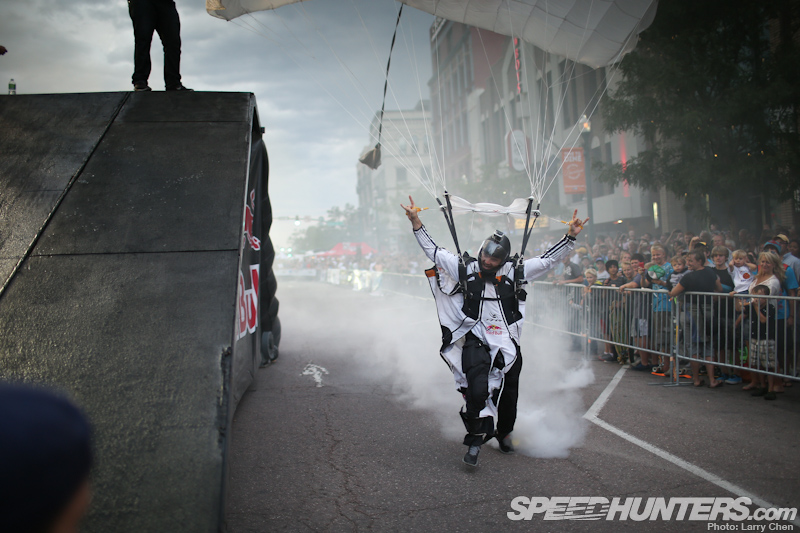 …although there was little crosswind which must have worked to their advantage. The crowd loved it.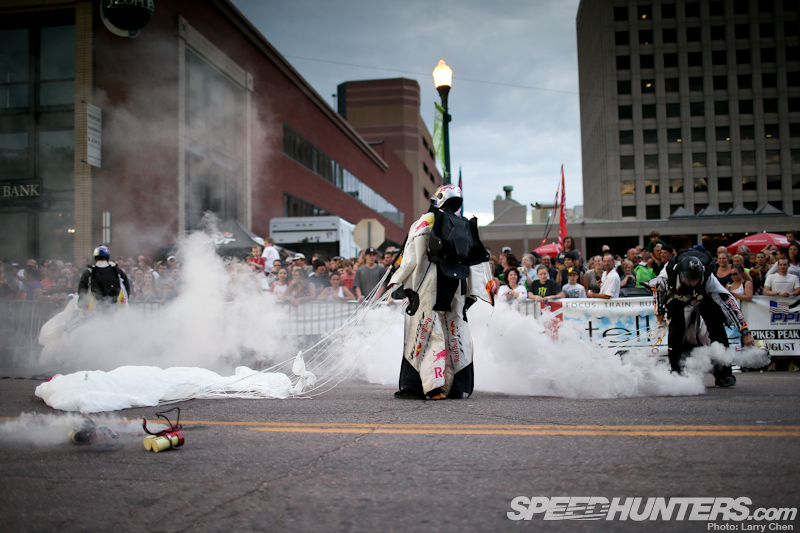 I've never shot this close to these guys before, because usually I see them jump right before the start of a big NASCAR race or other big motoring event.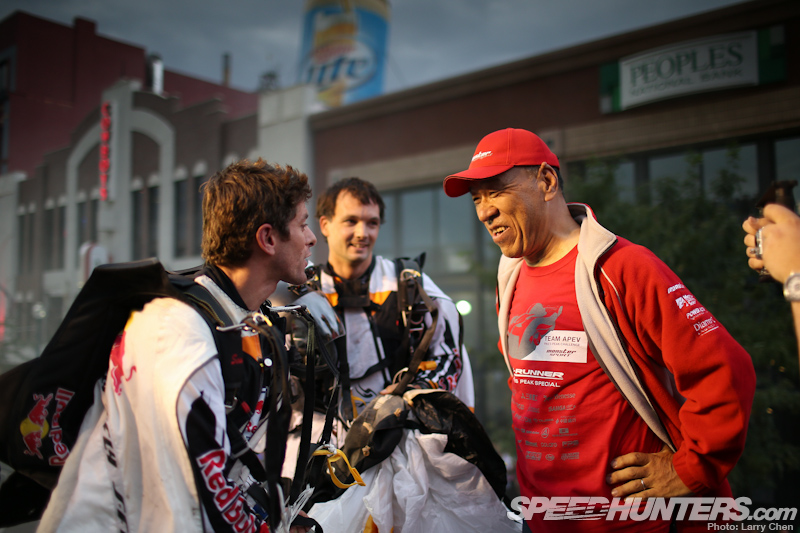 And the gift? A shiny belt buckle.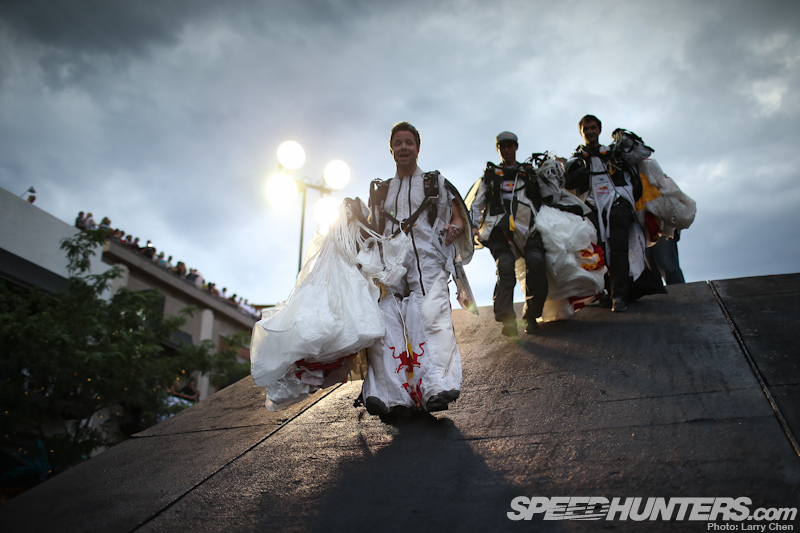 I think their parachutes made them look like brides with long trains. What a cool job!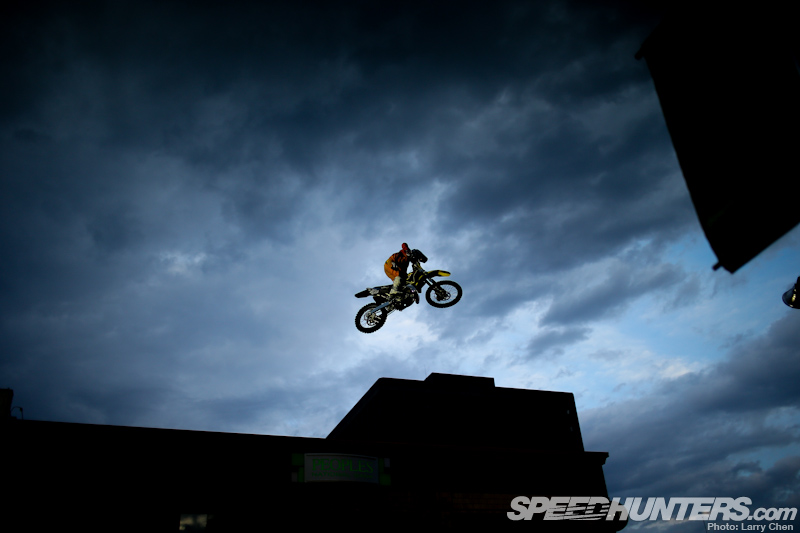 The festivities did not end there. Right afterwards the Red Bull motorcross team hit the jumps, as the crowds oo-ed and aaaah-ed till the cows came home.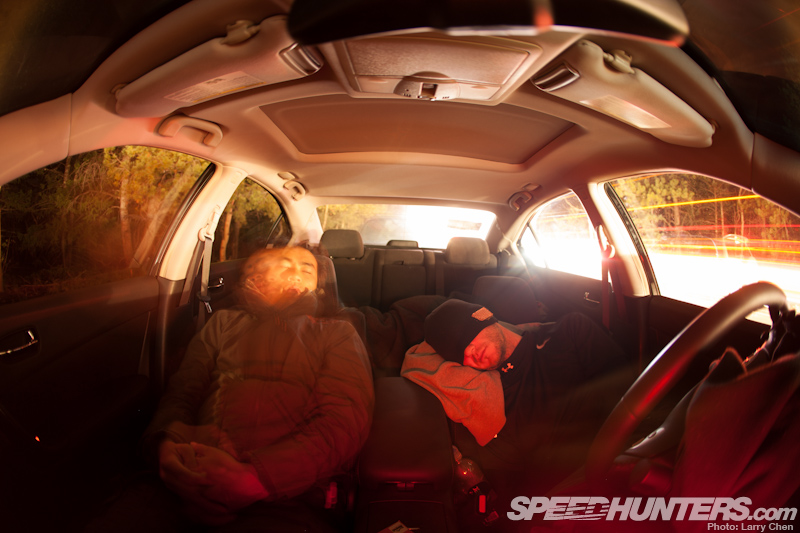 On race day we decided to take the smaller rental car so we could easily find a parking spot. Since I was going to cover the grid we parked at the base of the mountain at around 3:30 am. I caught up on my sleep before the race started because it was going to be a gruelling 20-hour day.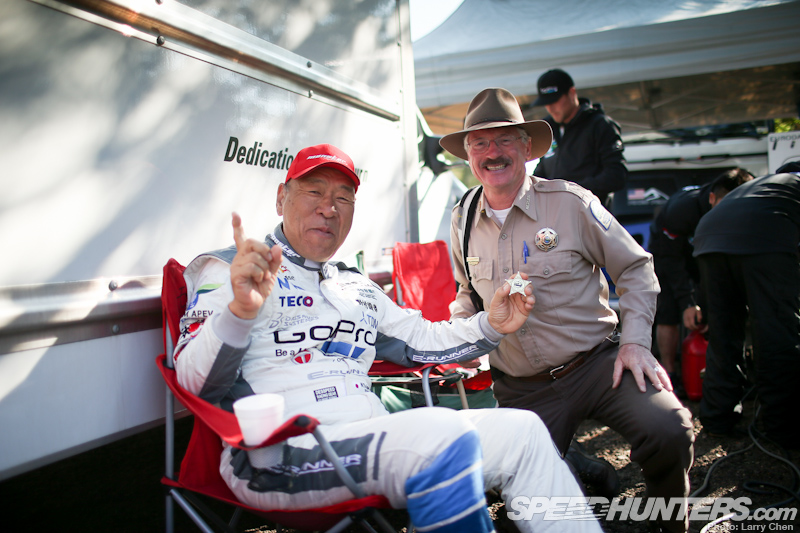 This year the motorcycles ran first, so it gave me a chance to walk around a bit. It also gave a chance for the fans, like this Pikes Peak Ranger, to meet their favorite drivers.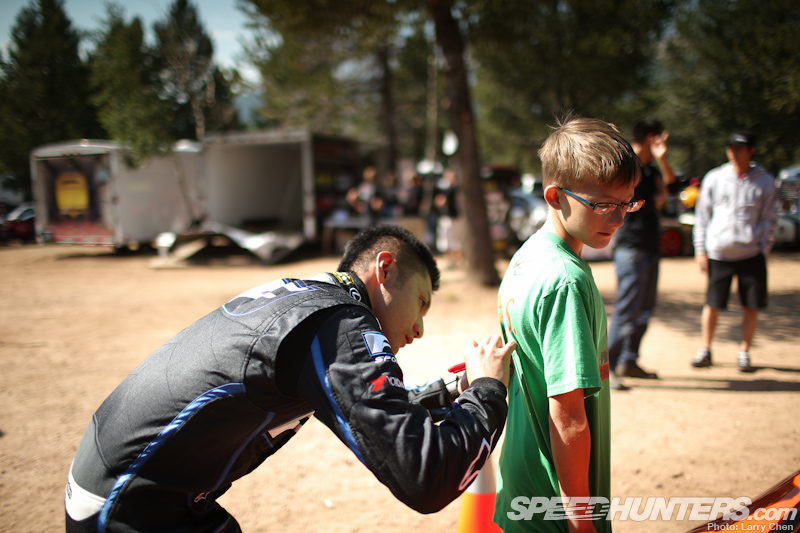 My home-base would be the Scion pits as I was following around Andrew Comrie-Pircard and the rest of the Scion Racing team. There I found Ken Gushi signing autographs as he was getting ready for his run up the mountain.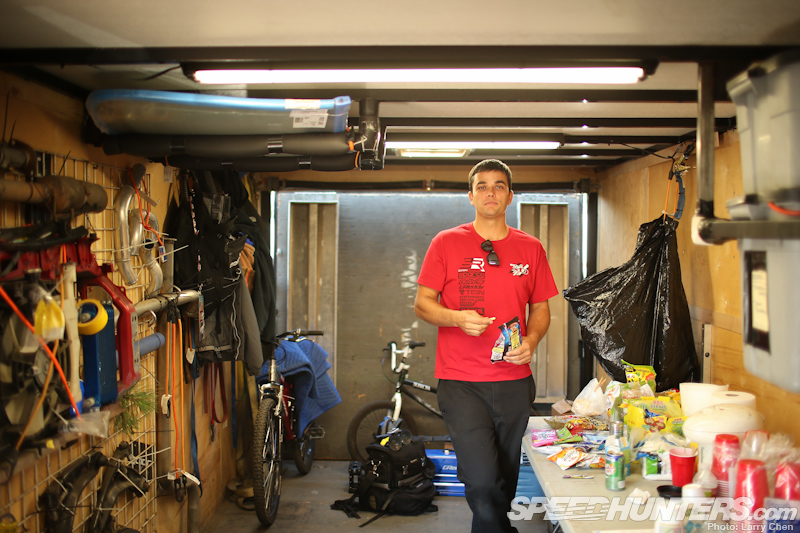 Helping the team out was former Formula Drift and D1GP driver Ben Schwartz. I used to follow him all over the world. Now he is on full-time with the Scion Rally team.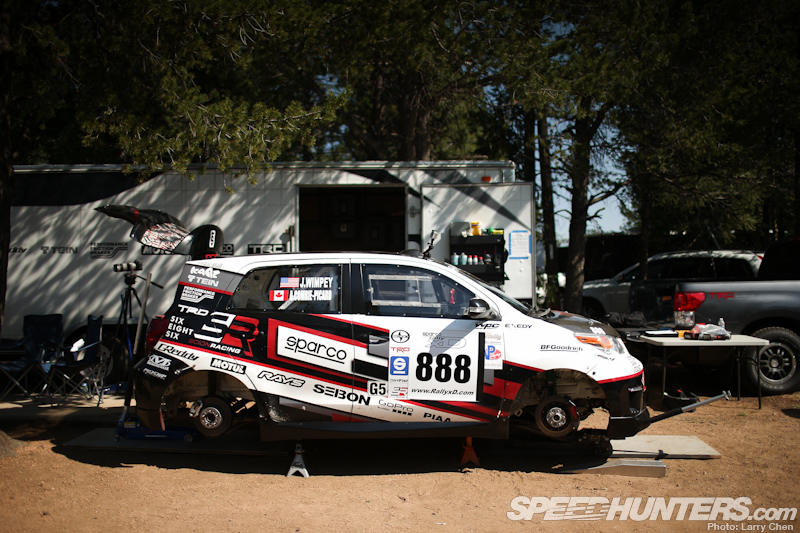 What amazes me is the team drove the xD rally car all the way from where they are staying, about an hour away, because they still had a few things to button up before race day. It still has California license plates on it with current registration, so they would not have gotten in trouble anyways.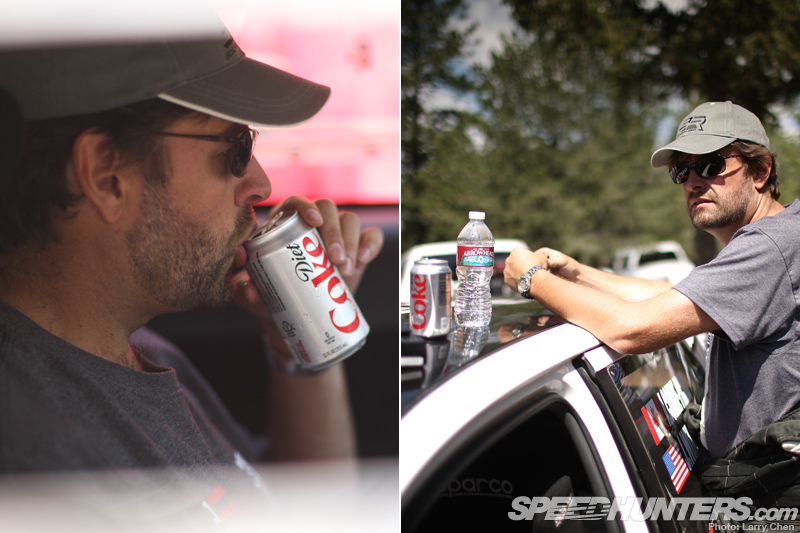 I asked ACP if he was nervous at all. He just sipped on his cold soft drink and told me that he did not feel a thing. After racing for so many years some of these guys can just turn into a robot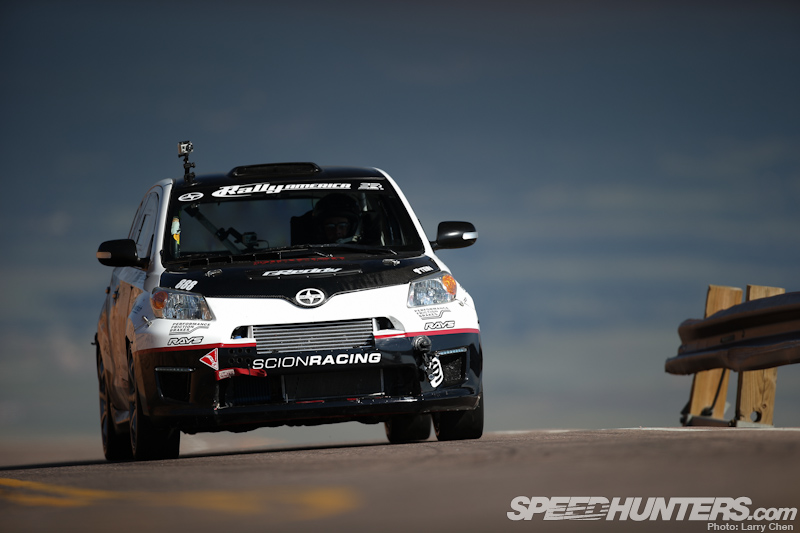 Then again everyone handles it differently. Like ACP said in his interview, he has overcome the fear of careening down the side of the mountain.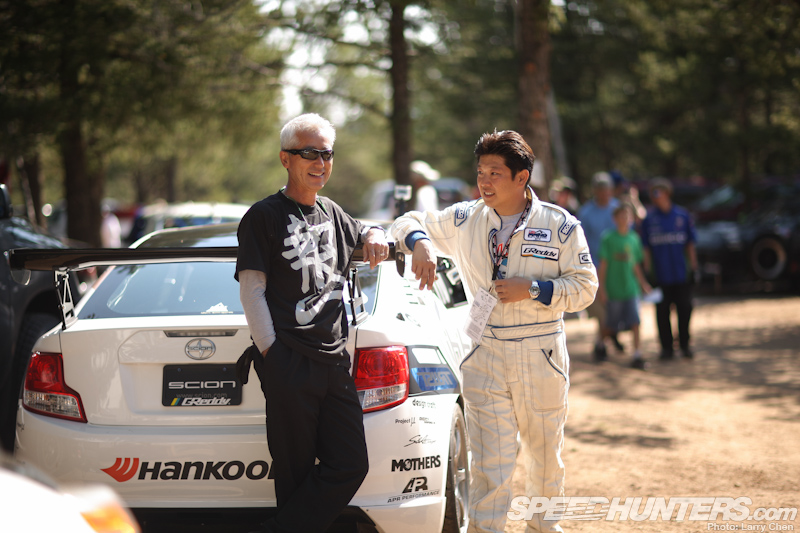 ACP's teammate, Takeshi Aizawa, has not overcome that fear just yet, though he seemed pretty relaxed as the Exhibition class was getting ready to run.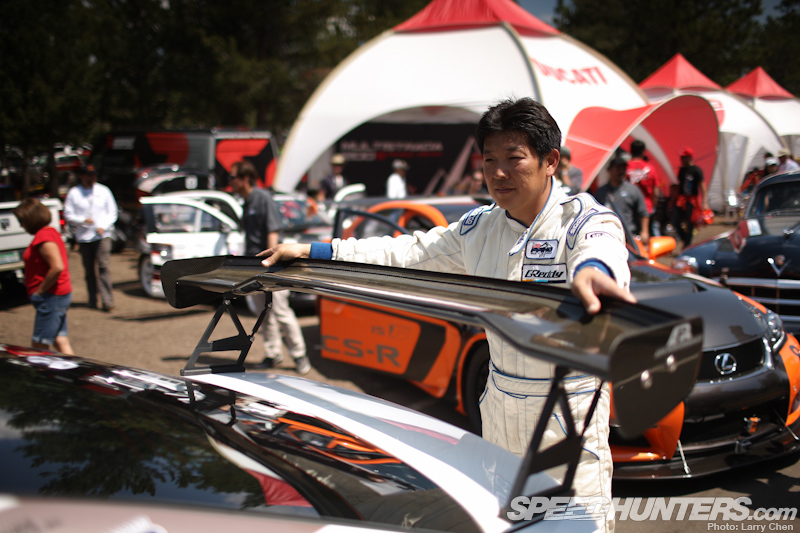 As they pulled up onto grid he started to feel the pressure. This Time Attack driver definitely had butterflies in his stomach.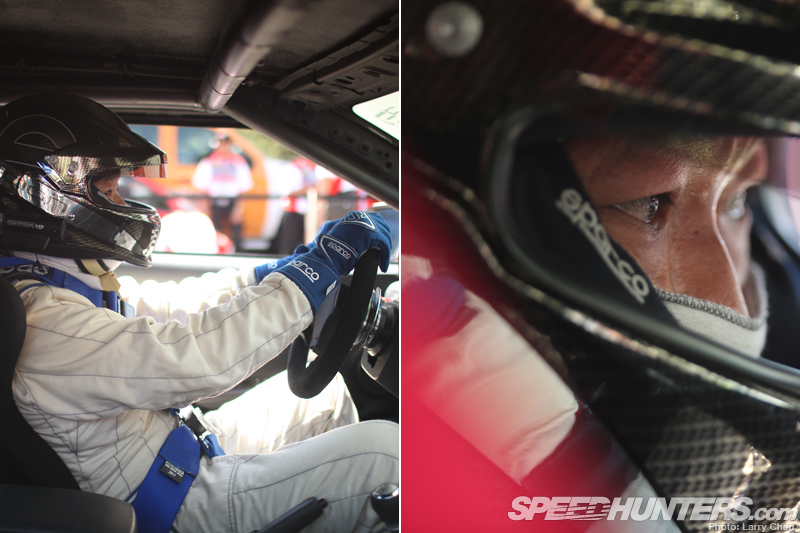 I asked if he was nervous. He said he was, but he also said that as soon as the green flag drops he will forget all of that and just drive with his instincts.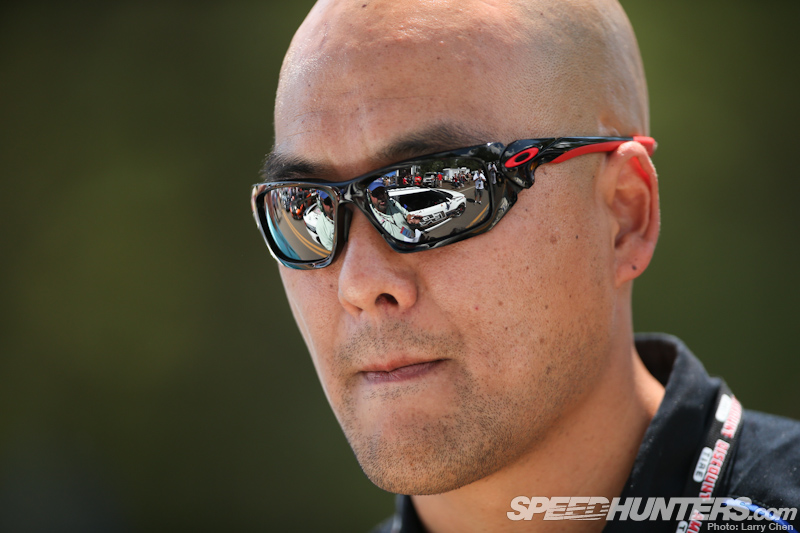 Takeshi's boss and managing director for GReddy, Kenji Sumida, was cool as a cucumber. He personally oversees all of the racecars that come from GReddy USA including Ken Gushi's Scion FR-S and ACP's Scion xD Rally car. I am guessing he has the 'if you want it done right, do it yourself' mentality.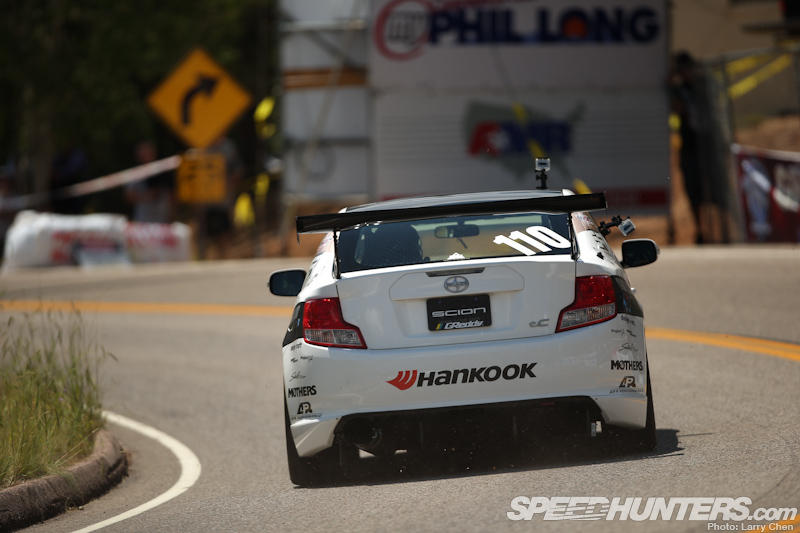 Takeshi was right. As soon as he left the starting line, things just clicked. He made it to the summit without incident. Considering there were nine red flags throughout the day finishing the race was a feat in itself.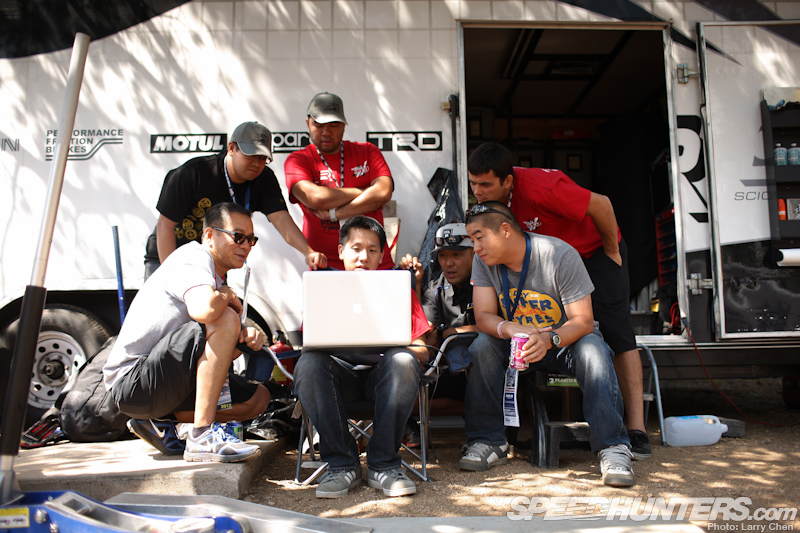 Hopefully they decide to come back next year and compete in Time Attack class, because I am curious how ACP will do in his new car.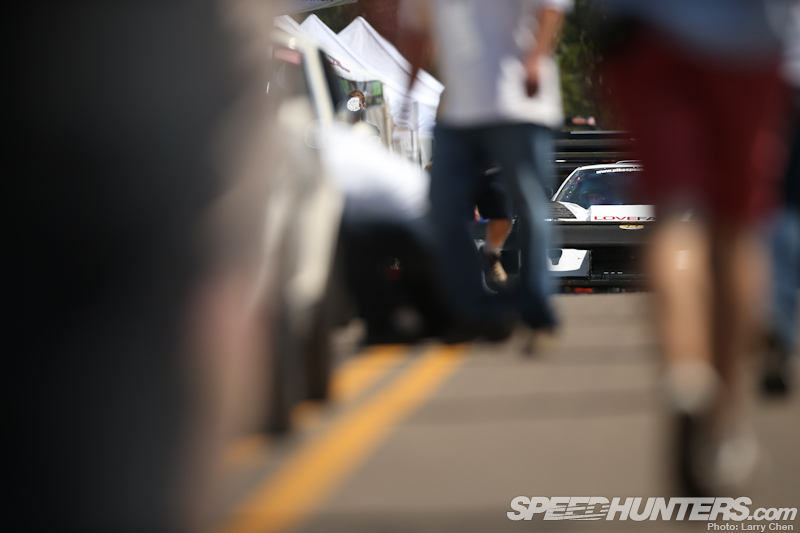 Takeshi was one of the many rookies to compete this year. There were more rookies this year than any other Pikes Peak race.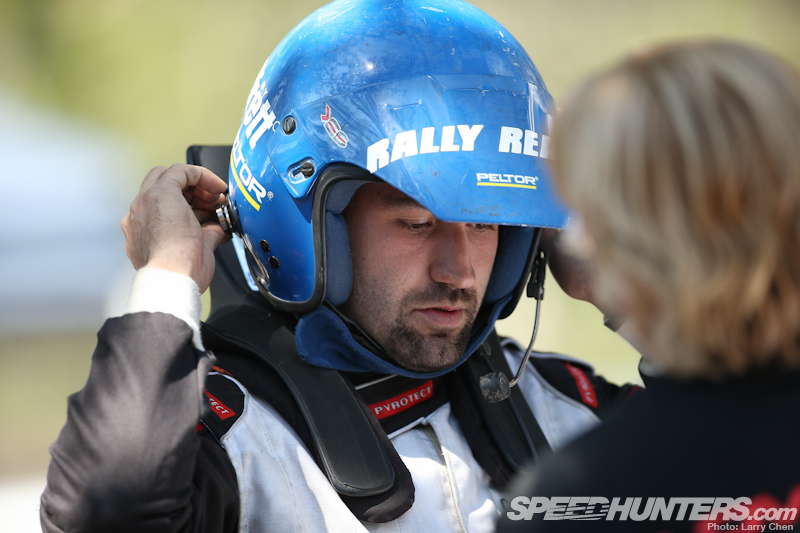 One of the rookies that caught everyone's attention was Cody Loveland. He drove the LoveFab Acura NSX. I swear that thing has the craziest custom aero I have ever seen.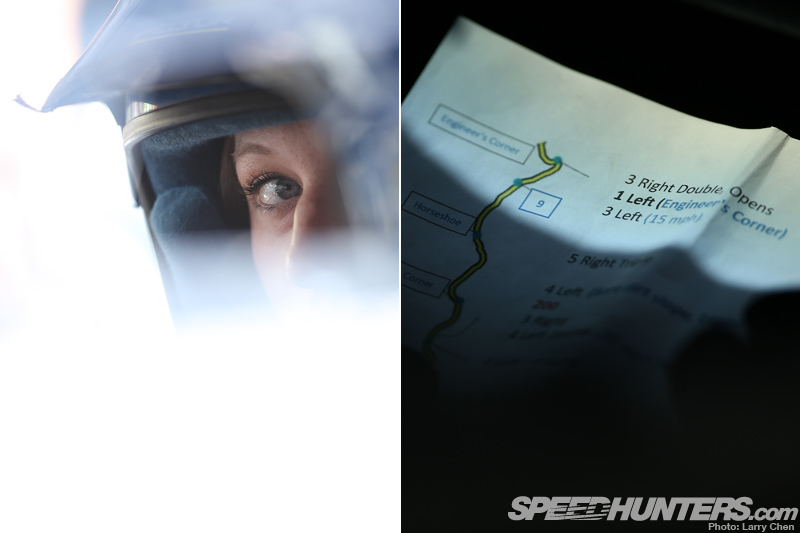 Tabitha Lohr was his co-driver and also his girlfriend.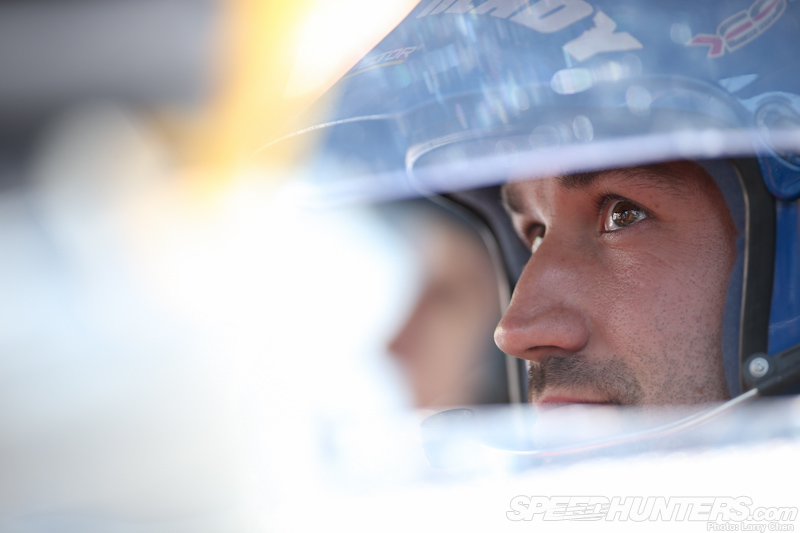 Cody seemed to be super relaxed for what he was about to get himself into. Maybe he had other things on his mind…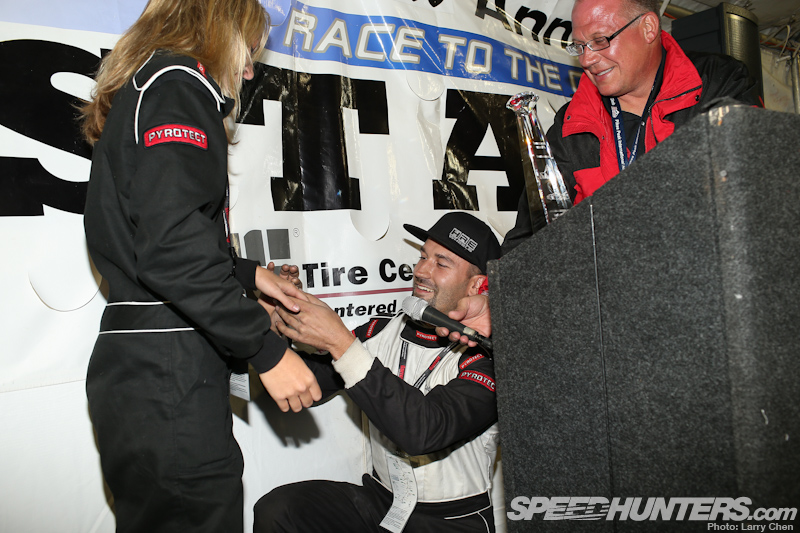 …like proposing to his girlfriend at the trophy ceremony. They were one of only two teams that reached the summit in the Unlimited class, so they got second place. I wonder if he still would have proposed if he did not get on the podium?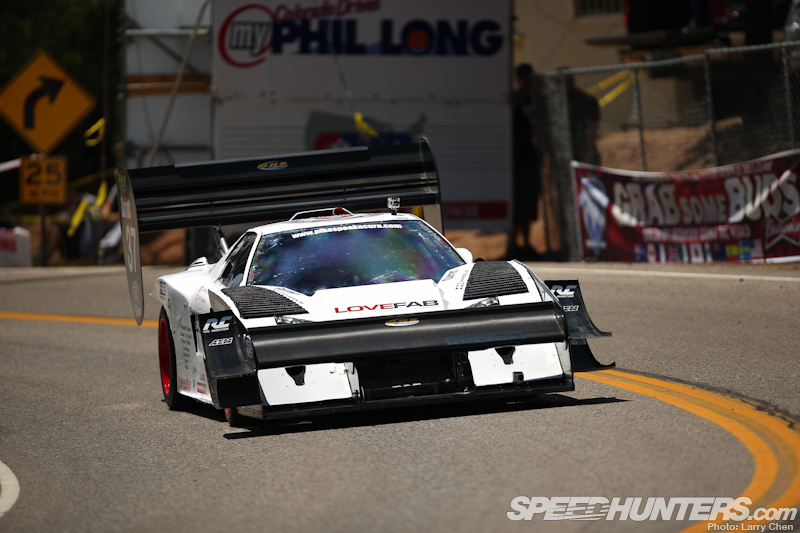 It was probably a relief for him as they had a restart due to a red flag. I can imagine it being much easier starting the race a second time around.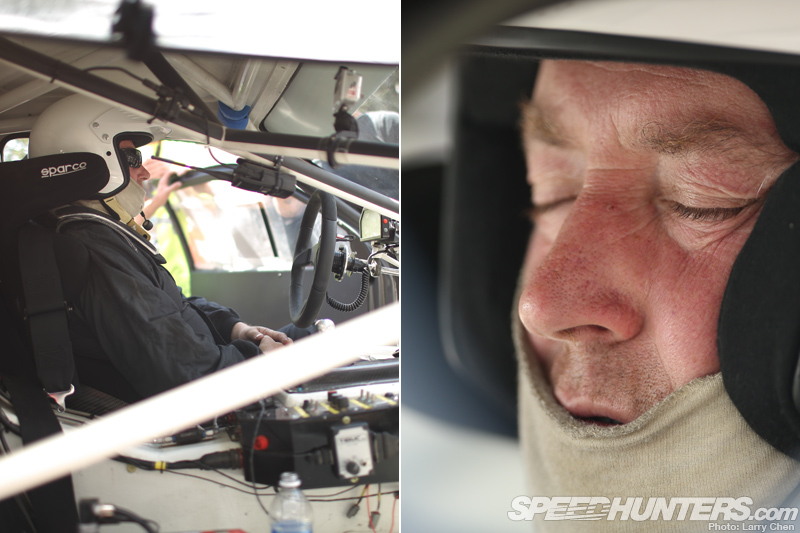 15 years ago, British Rallycross Champion Pat Doran drove up Pikes Peak while on vacation. Since then he vowed to compete in the hill-climb.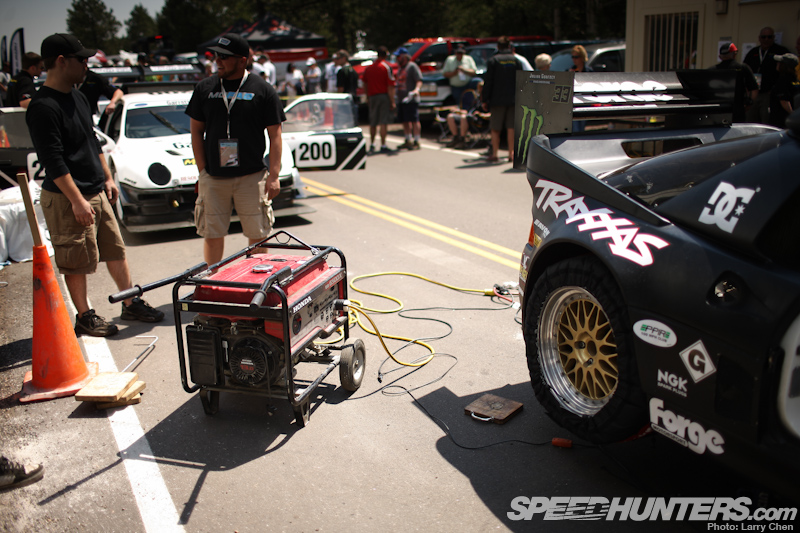 His son Liam was set to compete in his Ford RS200, however since the event was moved due to the fires there was a scheduling conflict with the European Rallycross Championship. So Pat took Liam's place and he gets to fulfil a 15-year dream.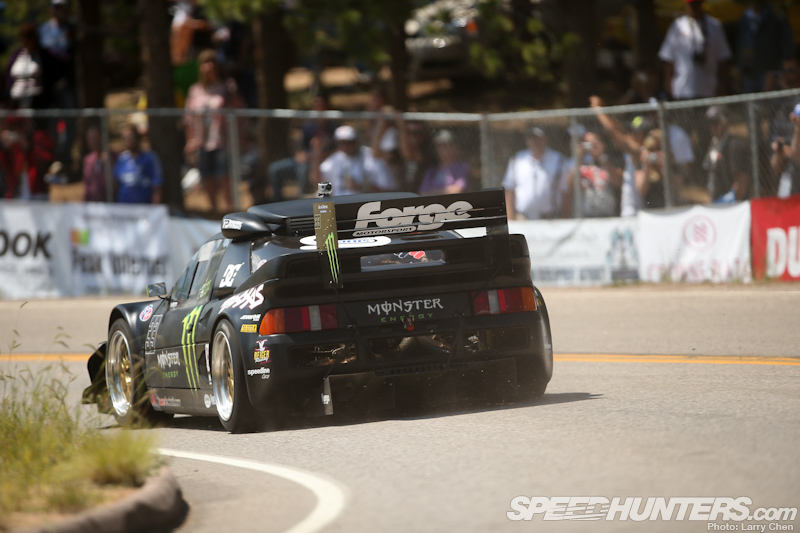 With just nine practice runs, he was very confident he was going to break the 10-minute barrier. However, his gearbox gave up and he could not finish the race. He will be returning next year as now he has some unfinished business with this mountain road.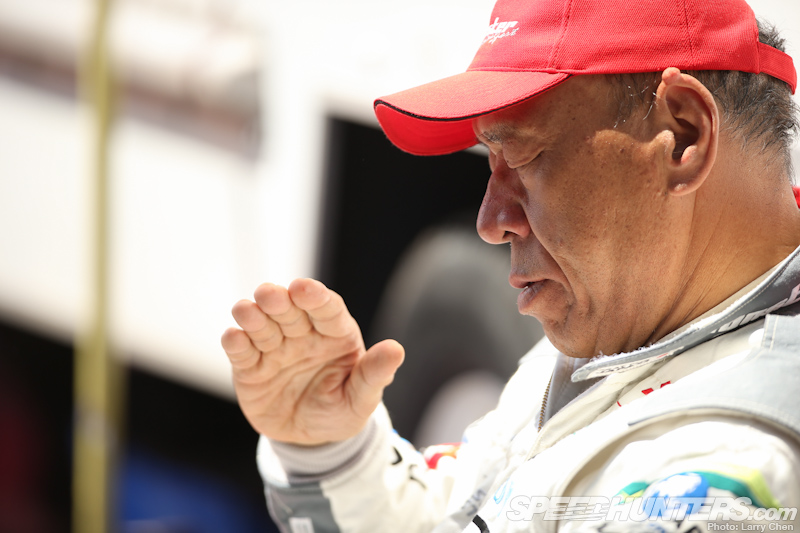 But no one knows the mountain better than Nobuhiro 'Monster' Tajima. I've heard that he can draw the Pikes Peak course free-hand and it will match perfectly with a printed map.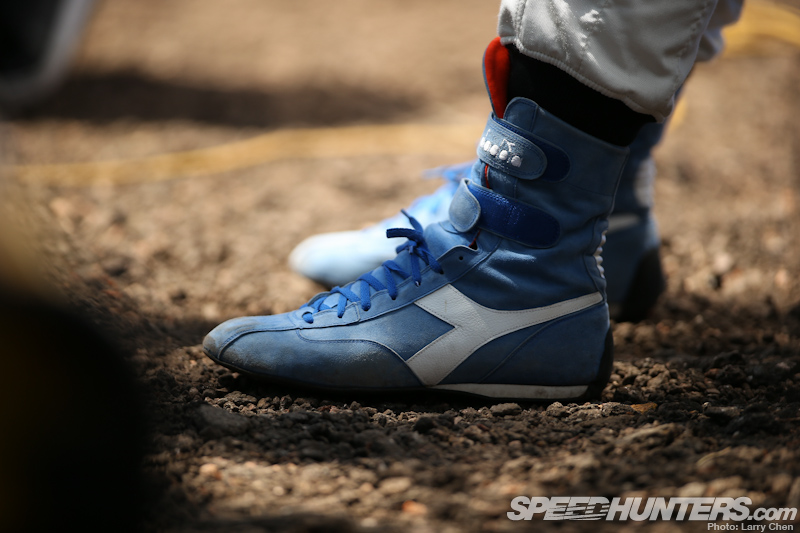 I kept my distance, but I found him driving the course in his mind right before his run. His feet were moving ever so slightly as he was mimicking the pedal movements.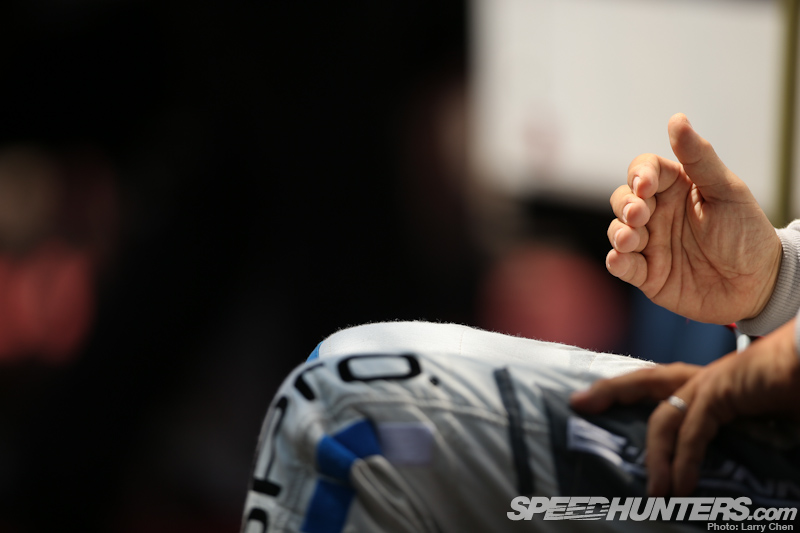 He was moving his hand like it was his electric E-runner going up the winding mountain pass.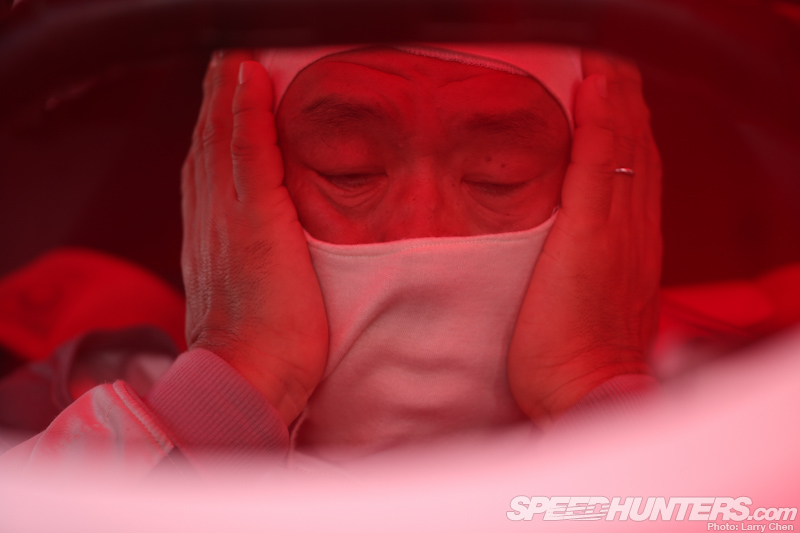 This was his 21st run up the Pikes Peaks course that he knows so well. Everything was going according to plan.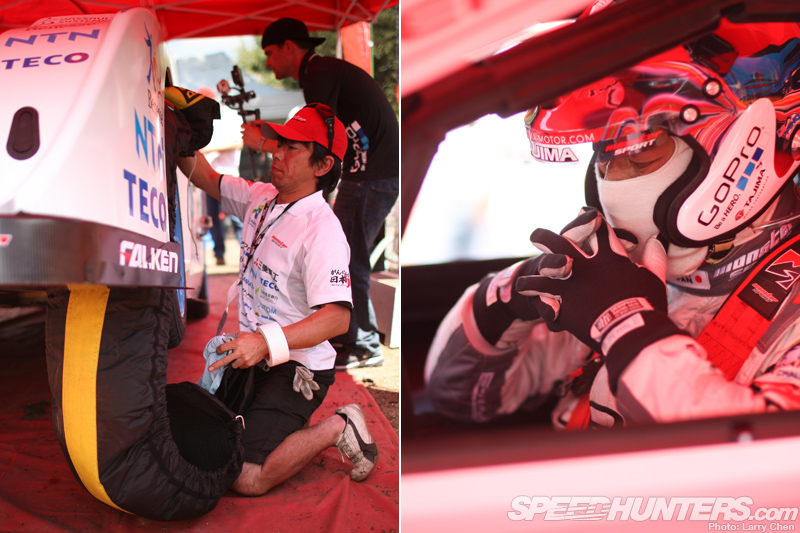 Monster went over the course one last time as the tire warmers were removed.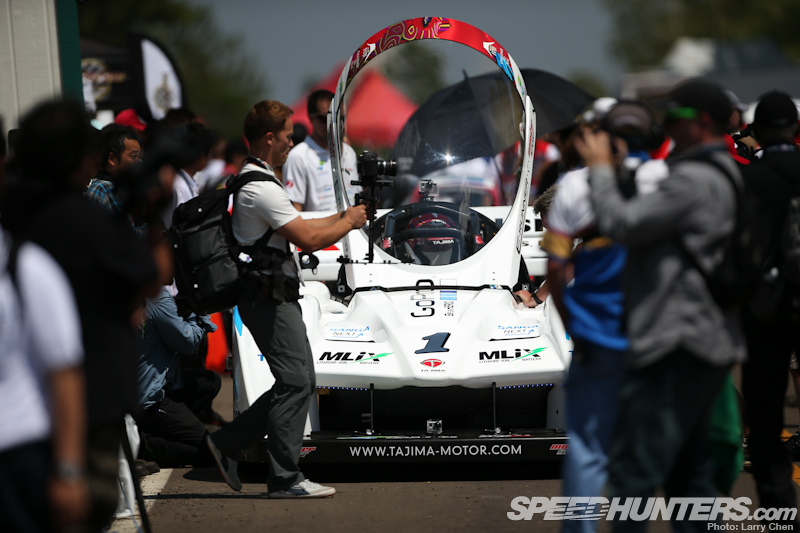 The crowd parted like the Red Sea as he rolled to the start line.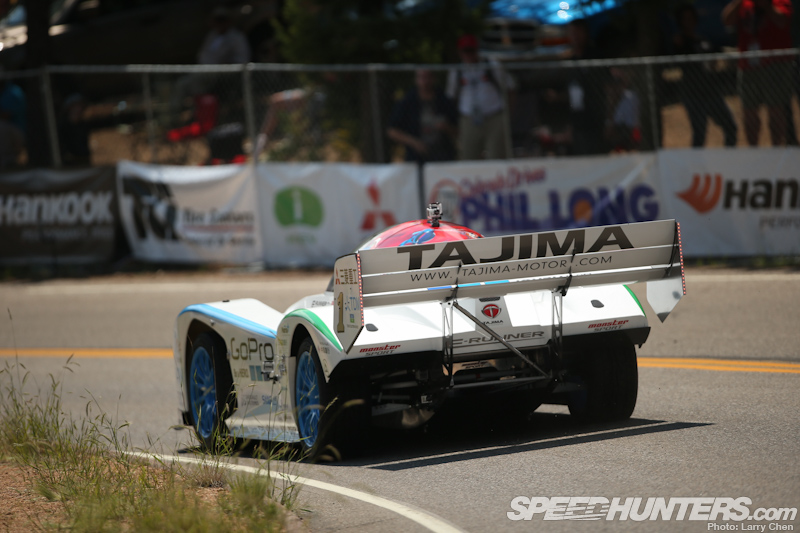 Just a few moments later Monster Tajima was on his way to making history.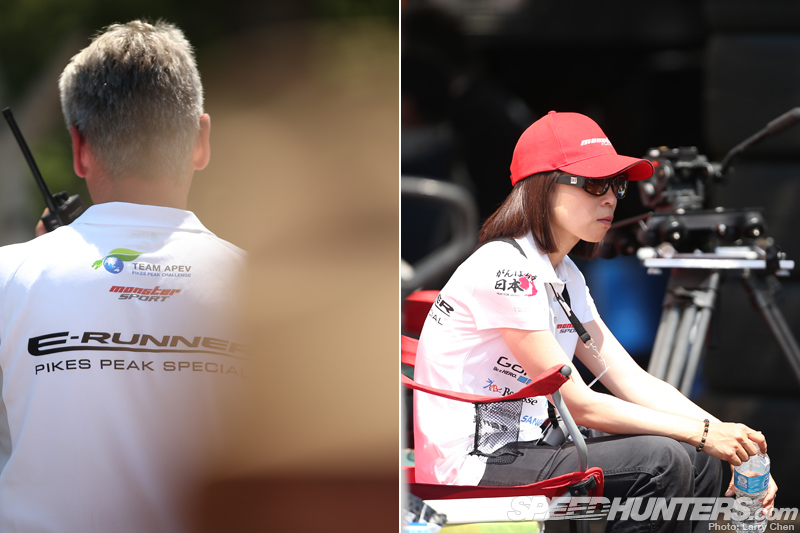 After three short corners the glory faded. A call came in on the radio saying there was smoke in his dome shaped cockpit and he had pulled off to the side of the road. I think everyone including his wife's first reaction was to find out if he was safe.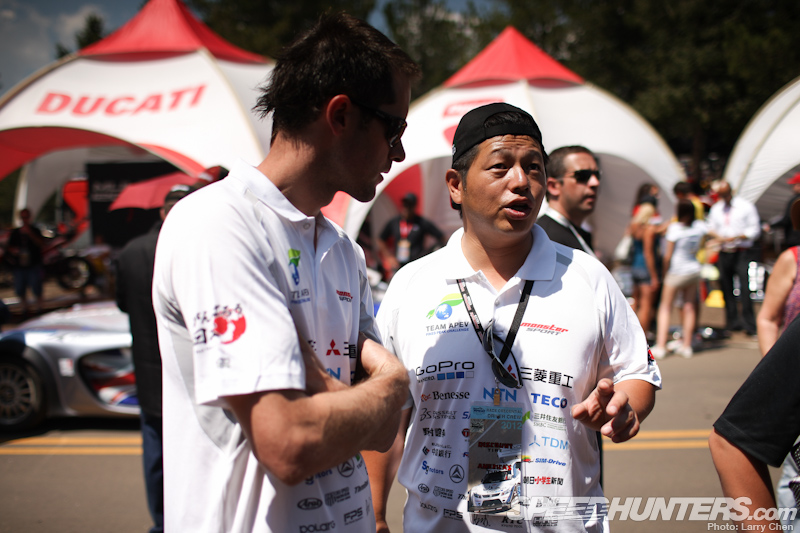 The team scrambled to find out what happened to the car. No one except for the team knows what happened. The car was towed back and Monster walked back to the pits.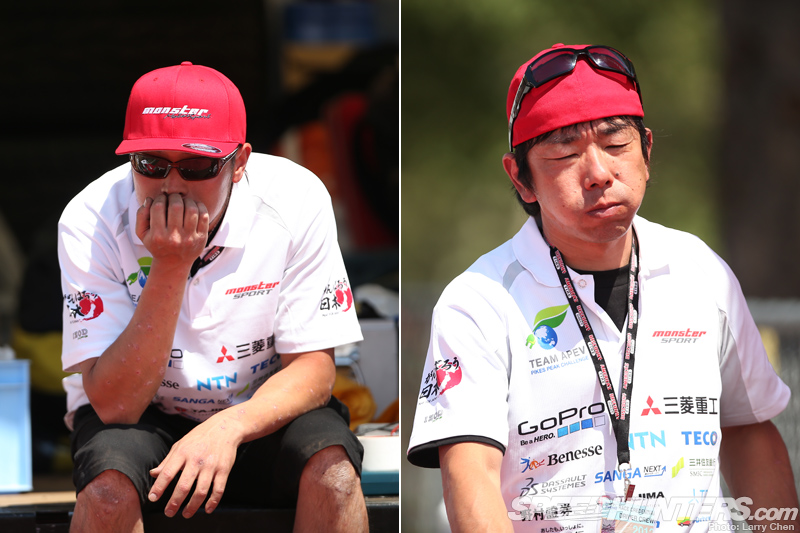 The mood was very sour. So much hard work and preparation went into this event.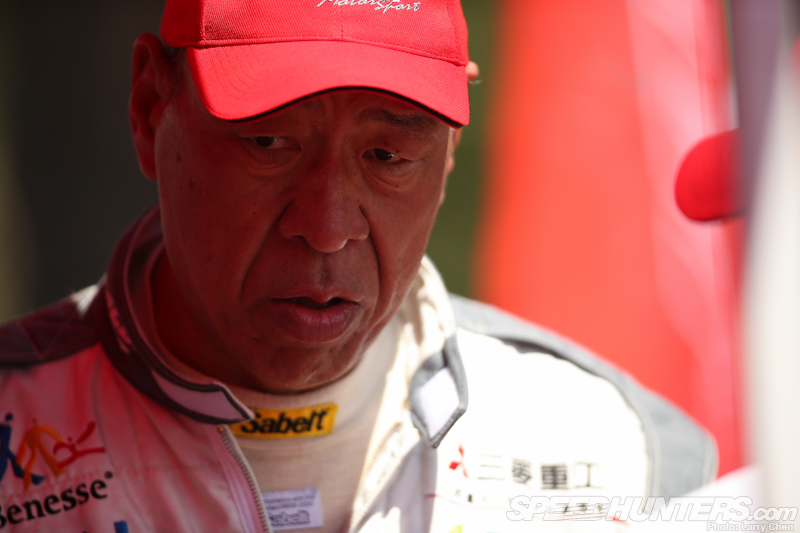 It was hard to look at him. I just felt so bad. I am always used to seeing him smiling and happy, but he was just so crushed.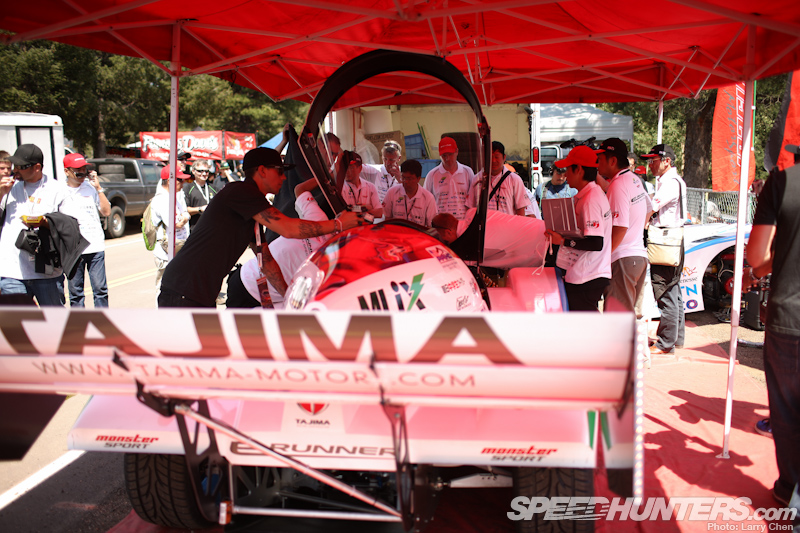 The team packed up quickly and left the mountain shorty afterwards. I am sure they will figure out what went wrong and come back next year for another shot at the overall record.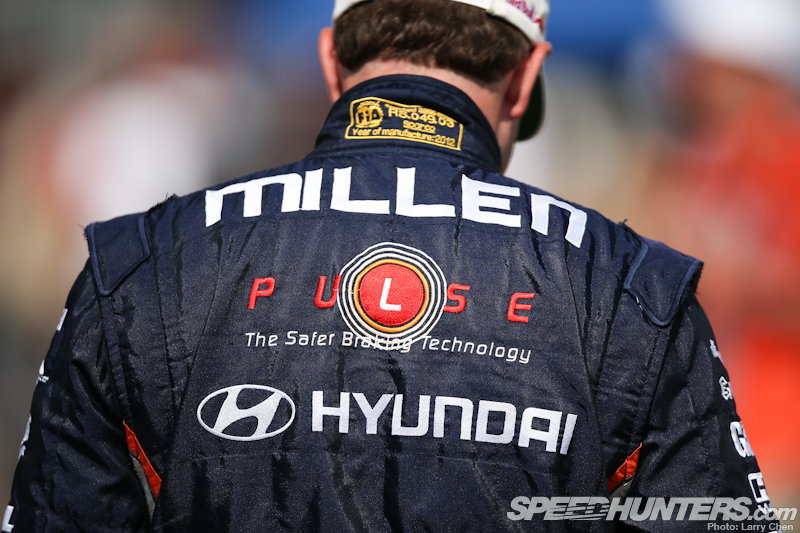 The most compelling story from the event was the chase for the world record. Romain Dumas set a time of 9:46.18s in his Porsche 911 GT3-R in the Pikes Peak Open class. Rhys Millen knew he had a chance to take back the title that his father held for so many years.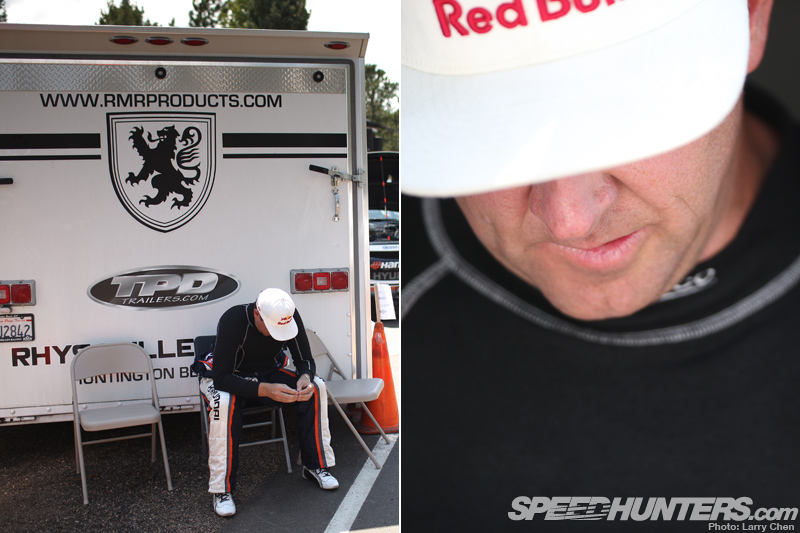 He was understandably nervous. His team pointed it out to me, but they didn't even have to. You could tell by the way he was pacing back and forth.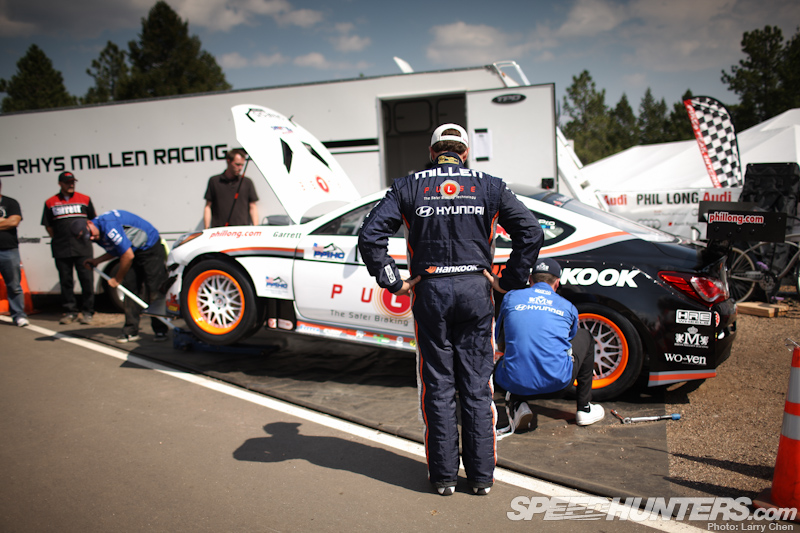 He watched on as the car went under final preparations. His car was outclassed: it was a converted drift car after all. The only things that were different were the tires, some brake ducting and some aero – that was it.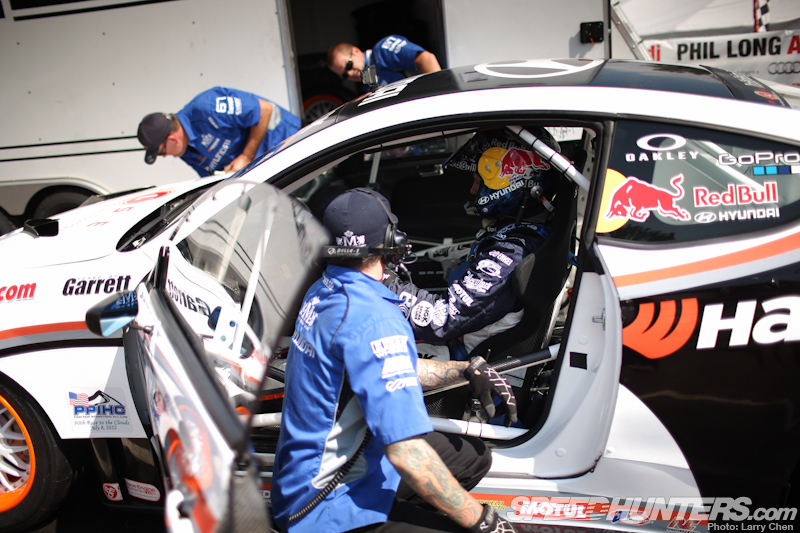 He strapped in and with some final words with his crew chief he was off to the starting line.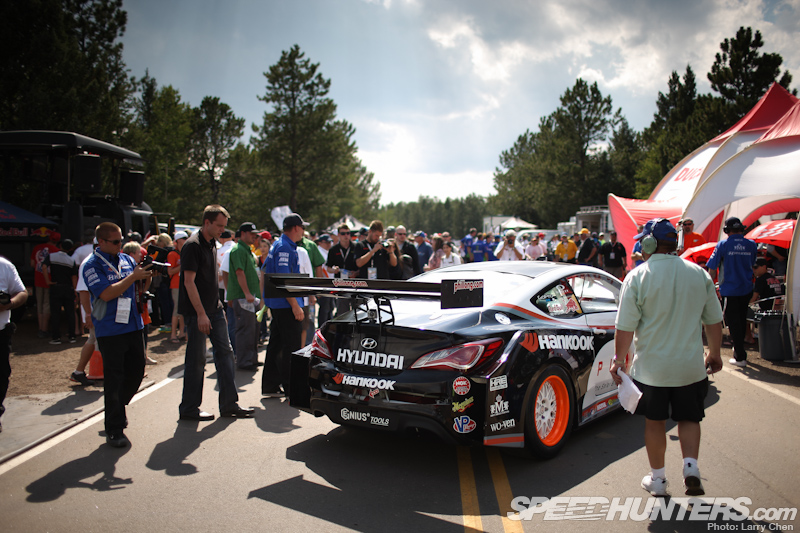 The crowds gathered, as they knew Rhys was the last one who had a shot at taking the World Record.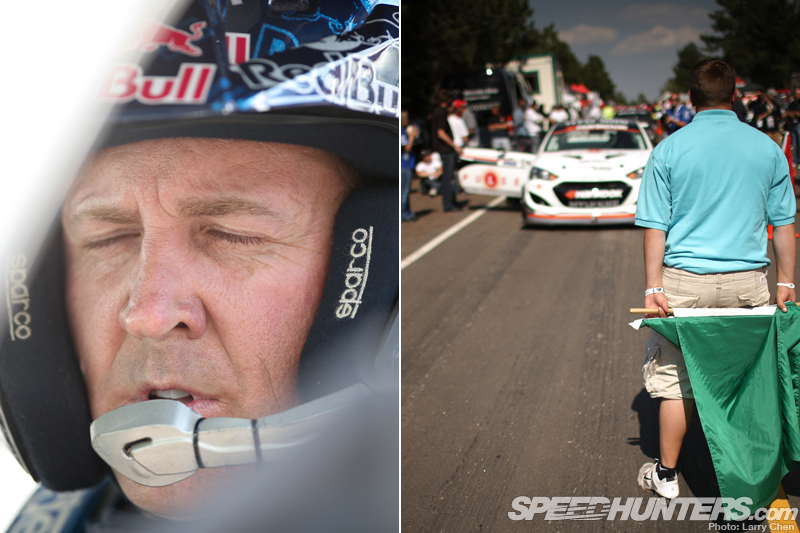 Maybe he was driving the course in his mind, like Monster Tajima does, or maybe he was thinking about his family. All I know is when the green flag dropped everything went out the window.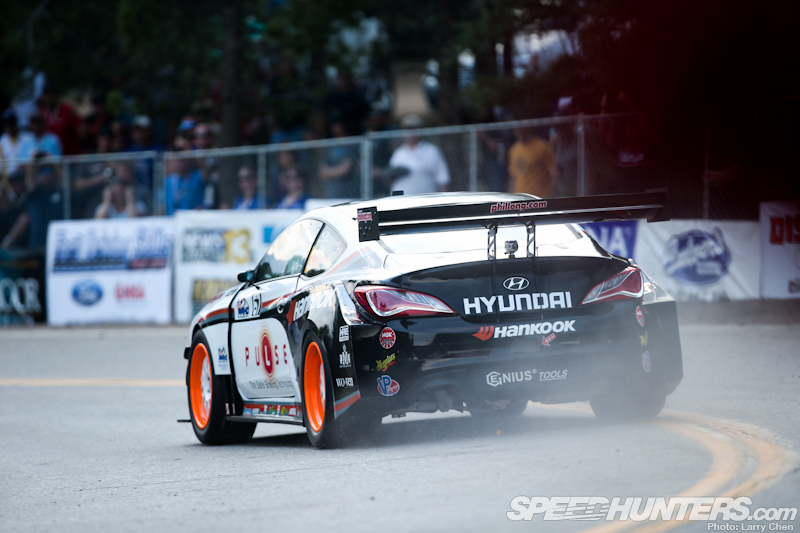 I've been photographing Rhys for over six years. I wanted him to win so bad. Not only because I knew him, but he was the underdog. I could feel the excitement in the air. If this was a hollywood blockbuster this is when the tense music would kick in. The team ran back to the pits to listen to Rhys' progress.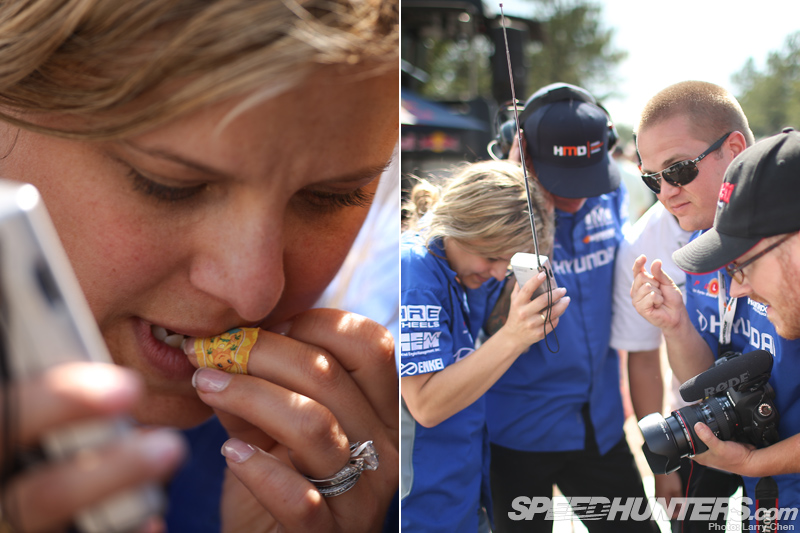 It literally was a nail biter. News came in that he was just about one second behind Romain Dumas. Everyone was quiet.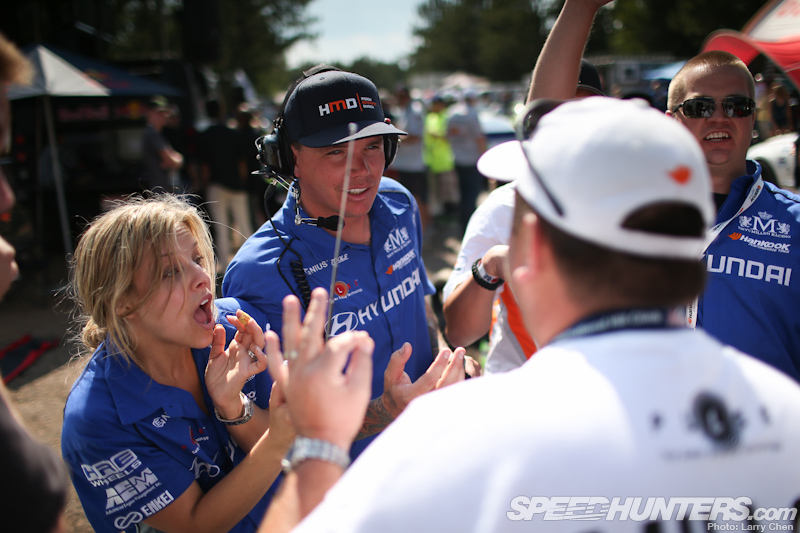 Then when the final time was announced. Everyone was in shock. Just two hundredths of a second separated the two titans.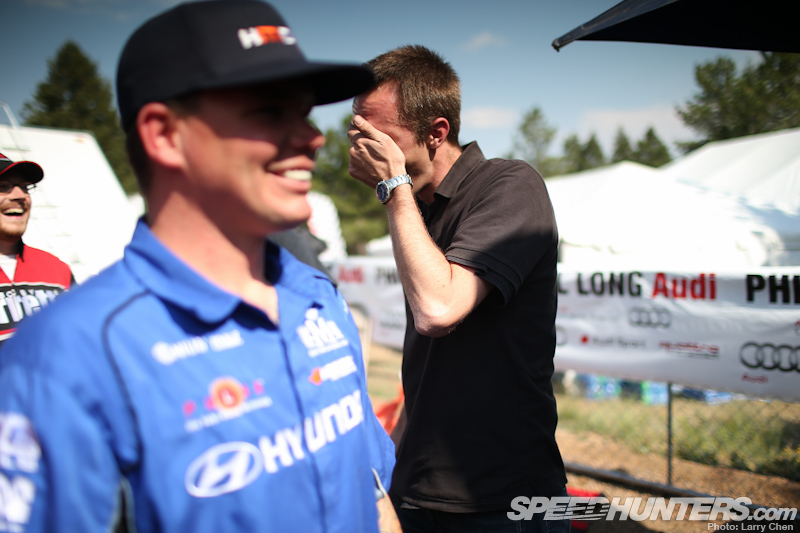 The team was overcome with emotion. All their preparation and hard work paid off. It was time to celebrate.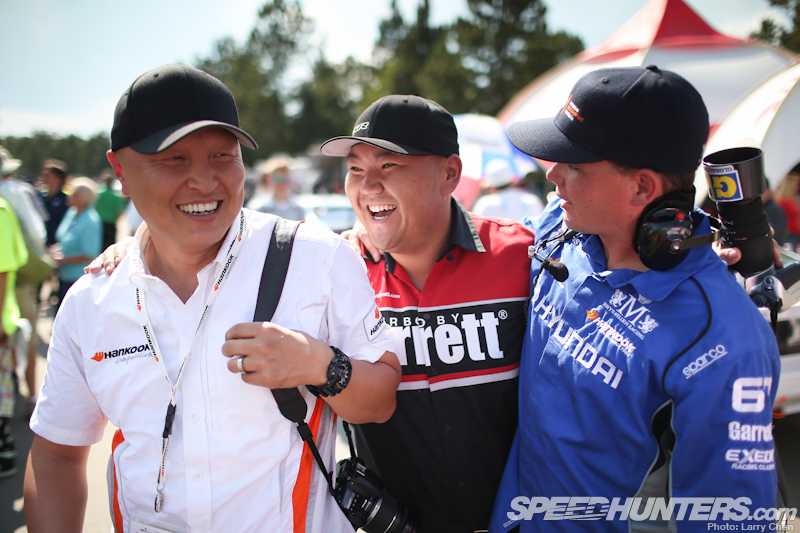 It was definitely a group effort. These guys were joking that they almost kissed when the time was announced. Maybe they didn't because I was around.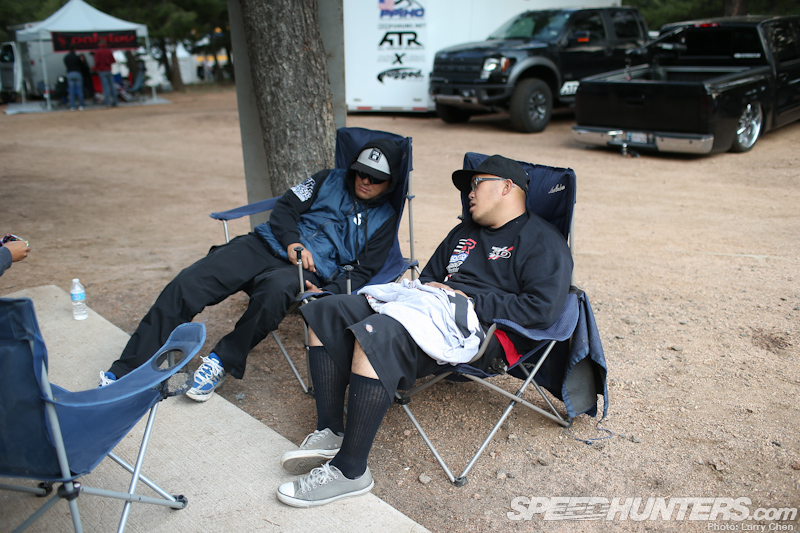 I headed back to the Scion pits to take a break and found the guys sleeping. With all their drivers safe at the summit they could finally relax.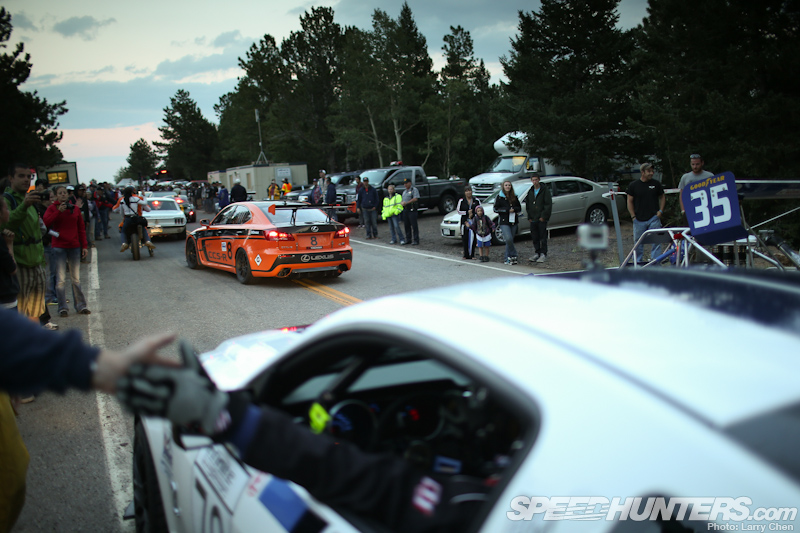 One by one the drivers paraded down, giving high fives along the way. I reconized Ken Gushi first…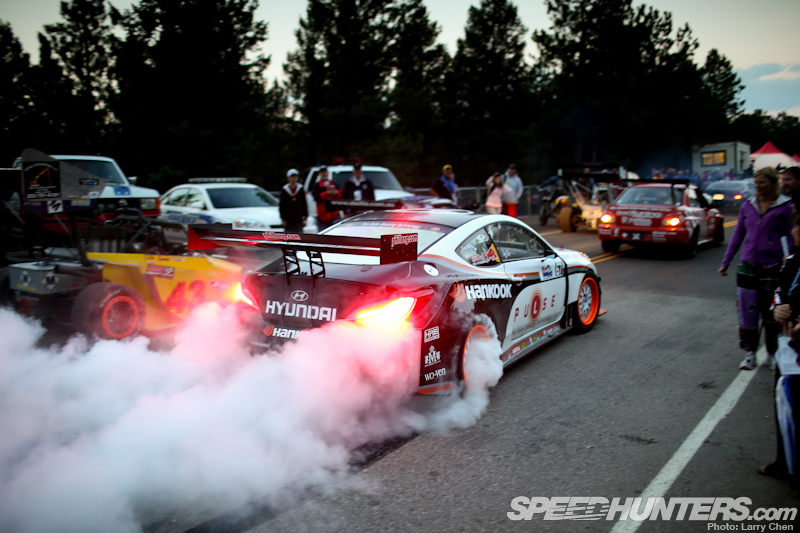 …then in a cloud of smoke appeared the champion.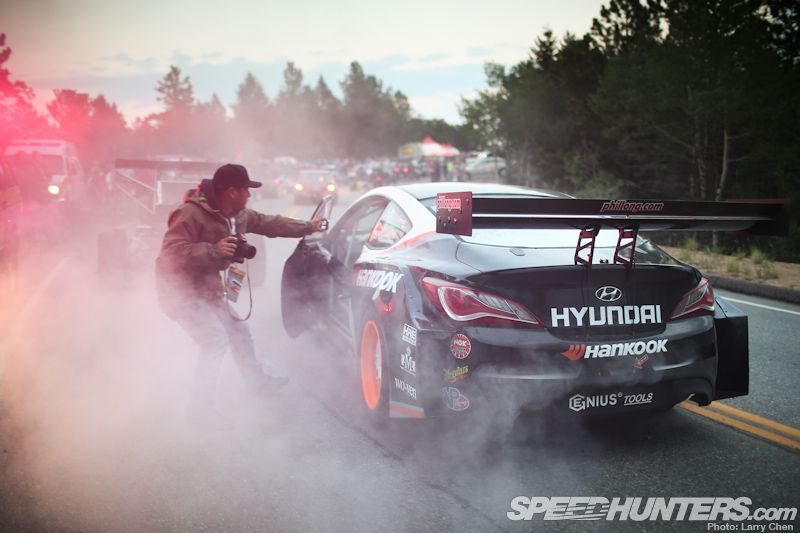 In true paparazzi-style Linhbergh opened Rhys' door and shot his face that had a smile from ear to ear.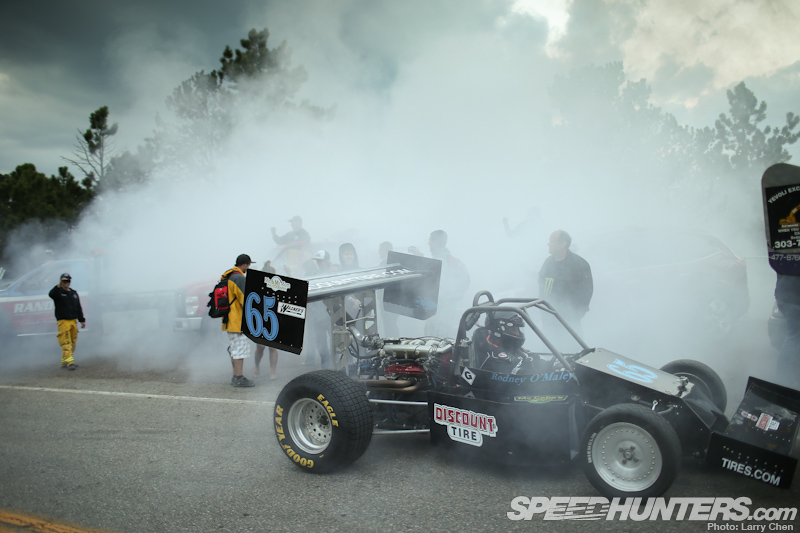 What better way to end an event than with a massive burnout. I felt at home again.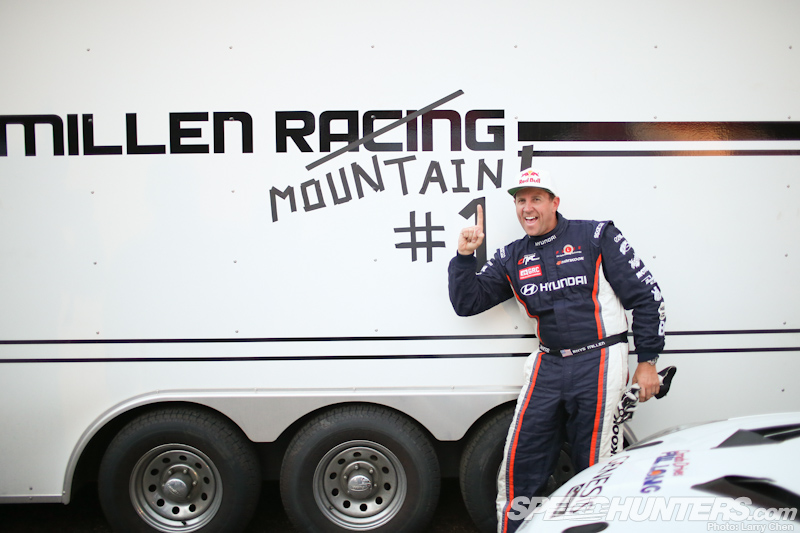 With drivers like Tajima taking the lead for clean electric cars who knows what will happen to the future of Pikes Peak. Maybe Rhys will drive a hydrogen-powered race car in the coming years. All I know is in 10 years, I want to be on the mountain for the 100th running of the Pikes Peak International Hill climb.
Larry Chen
larry@larrychendesign.com
More coverage from Pikes Peak on Speedhunters