Andrew Comrie-Picard, also known as ACP, is the driver of the Scion xD rally car.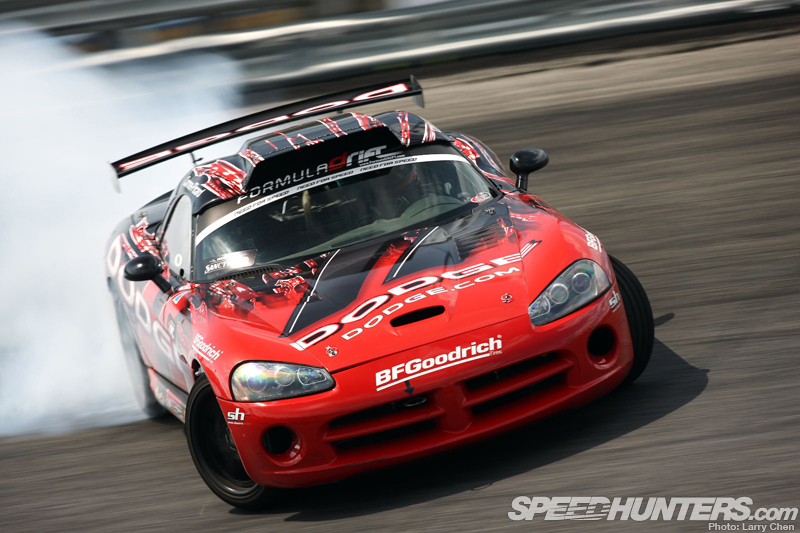 I've followed ACP from when he competed in Formula Drift back in 2010, driving the SRT Dodge Viper…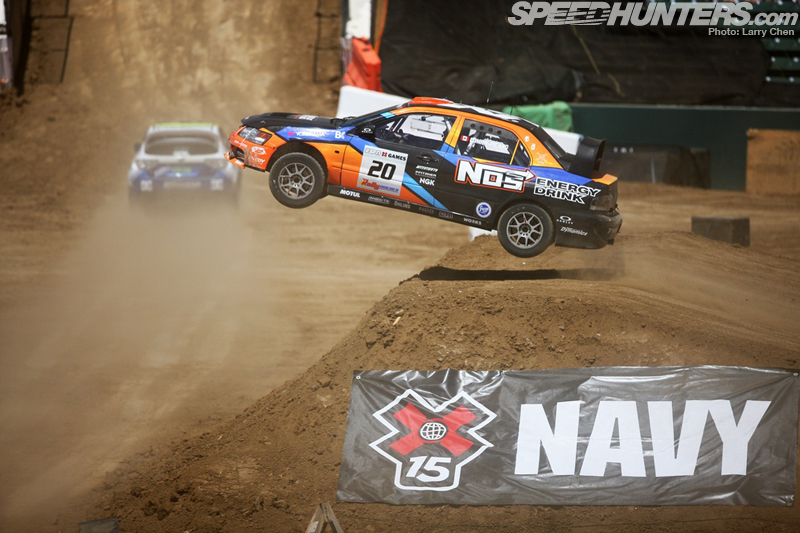 …and I shot him in X-Games Rallycross where he has earned a Bronze medal.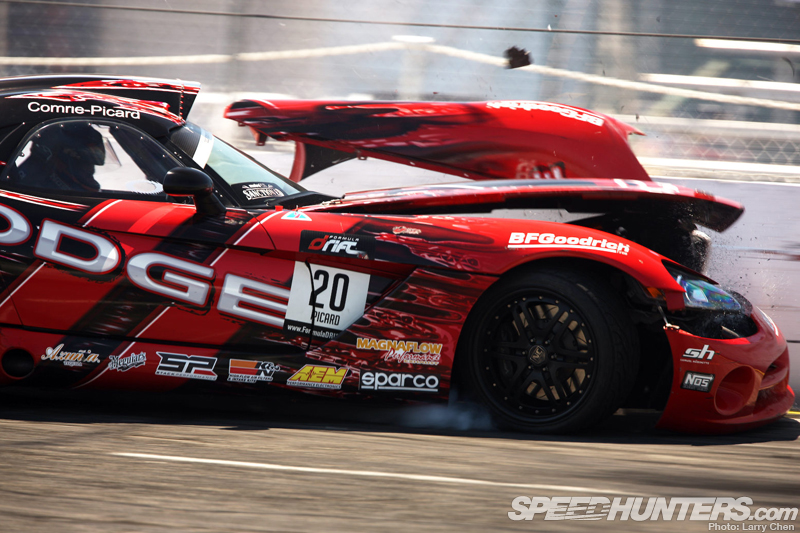 ACP is a very hardcore racer who has had his fair share of mishaps while behind the wheel.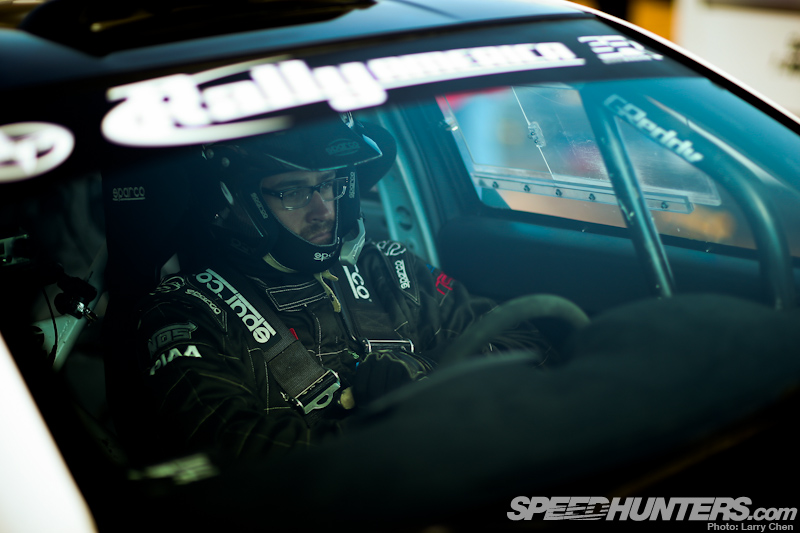 He has even gone off the course while driving at Pikes Peak a few years ago, but just like Fredric Aasbø he still and always will have a 'never lift' mentality. I caught up with him after the last day of practice at this year's Pikes Peak International Hill Climb to find out more about this driver.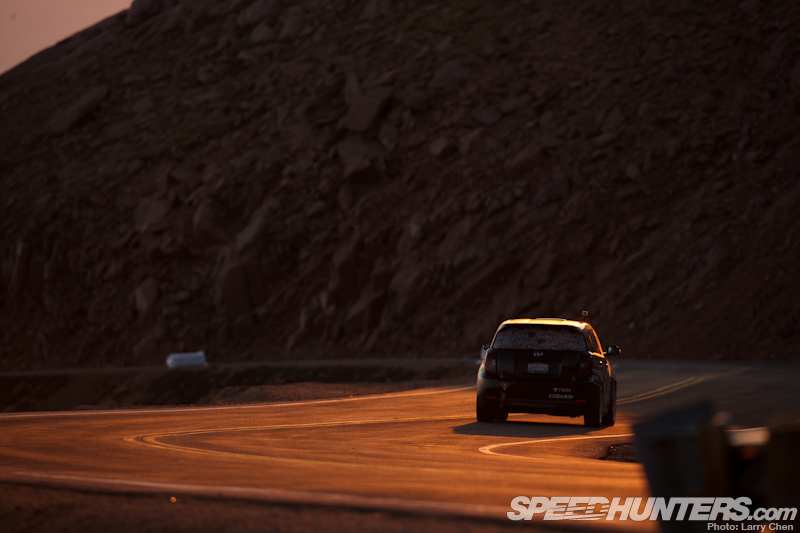 Larry: Andrew, tell the Speedhunters out there a little about yourself and your rally background.
ACP: I grew up on a farm in Alberta, Canada, driving all sorts of things from tractors and dirt bikes to snowmobiles, so it naturally led to me racing. I started with BMX bikes, and actually I was a really serious remote-control car racer as a kid.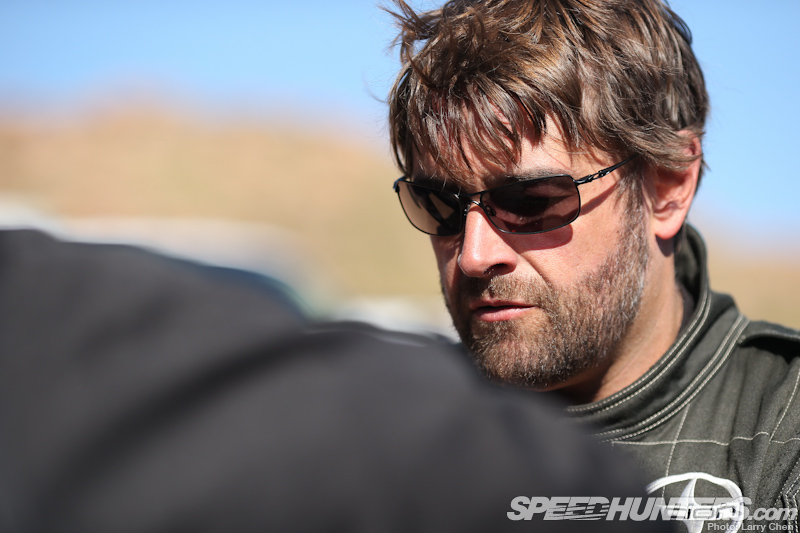 Larry: That's funny, I was really into that to. I competed in the local RC racing scene.
ACP: Oh seriously? Thats cool. I was sponsored by Team Associated and Reedy Motors, and I flew around the world to a couple world championships driving 12th-scale cars.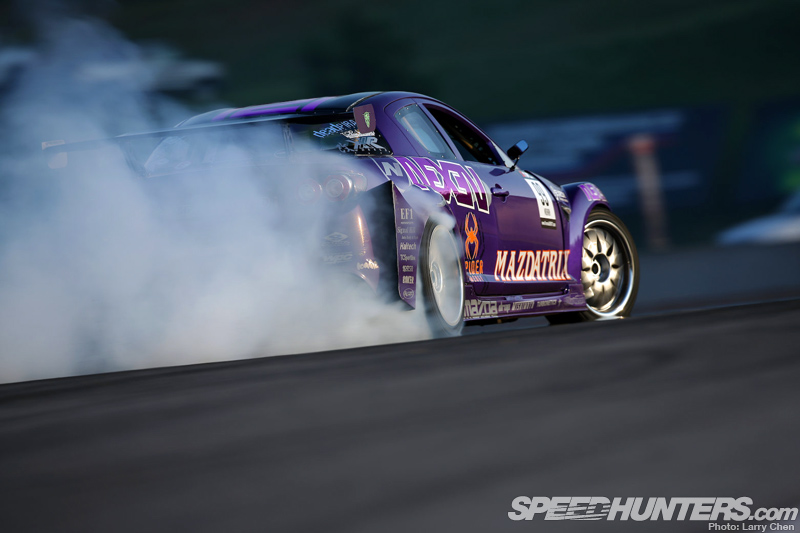 Larry: Did you know Formula Drift driver, Kyle Mohan, was a Team Associated driver?
ACP: Was he really? That is so weird. I didn't know that and I know Kyle.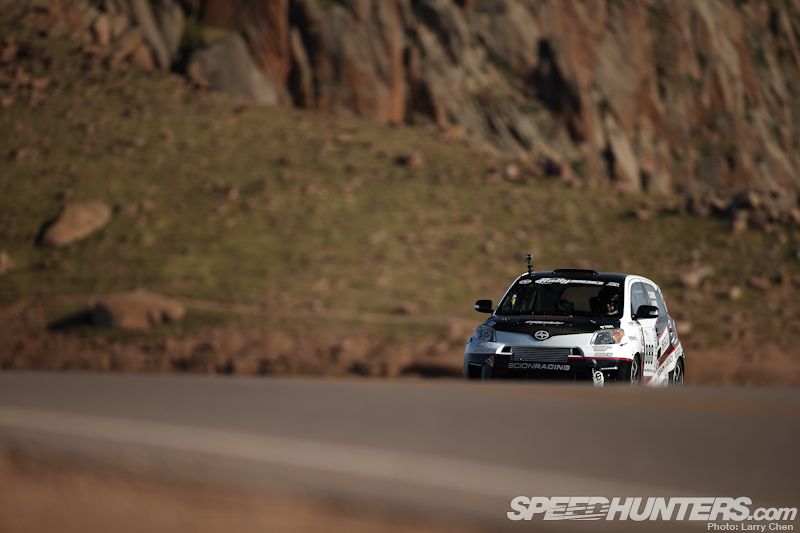 It was cool because that taught me a lot about racing, like dealing with sponsors and competition and car preparation on a really small scale. I ramped that up and started rallying when I was in college, so I got a pretty late start to real racing. I started with shitty old cars and got better and better and finally got sponsored.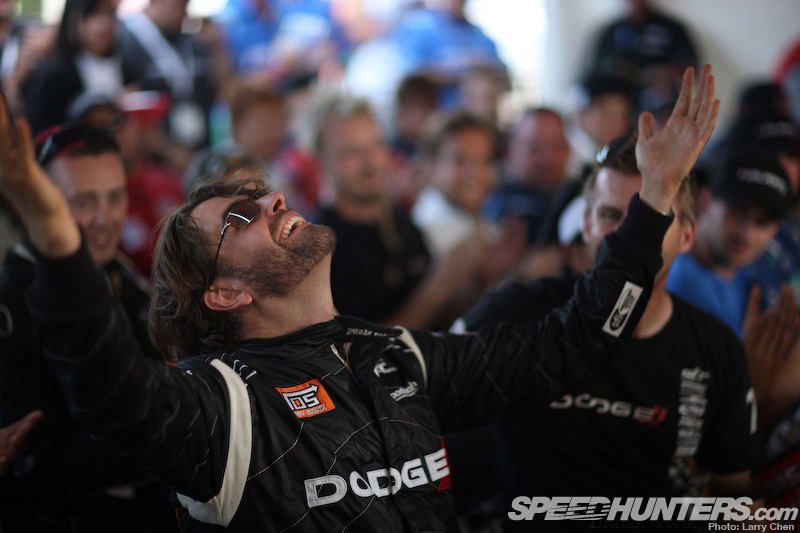 My first rally car was an old Russian Lada because I was living in Canada and they were readily available. Eventually I got an Mitsubishi Evo IV and it kinda took off from there. I've been rallying professionally for about 10 years, and in 2009 I won the North American Rally Championships. I've competed in five X-Games and I got a Bronze medal in 2010.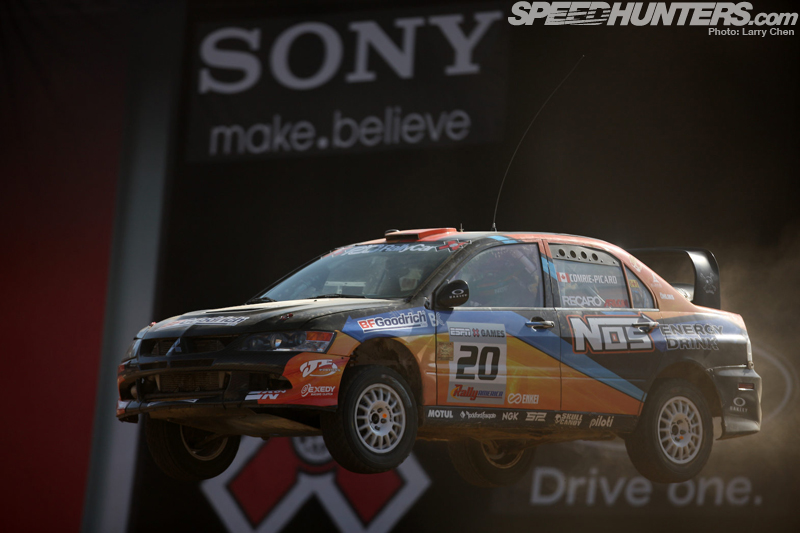 Larry: You are still doing Rally America, but now you are with the Scion team?
ACP: Yeah, I drove for NOS Energy and Mitsubishi for several years. NOS went a different direction, so when that happened, Gordin Ting (owner of the Scion team) called me and said they wanted to develop their show car into a more competitive rally effort. They already had another driver at the time, but they wanted somebody who could invest in the team to become more competitive. I said 'yes, sounds like fun'. It's been really great for me because I had competed at the sharp end of the whole rally championship with AWD and won some events as well as a championship.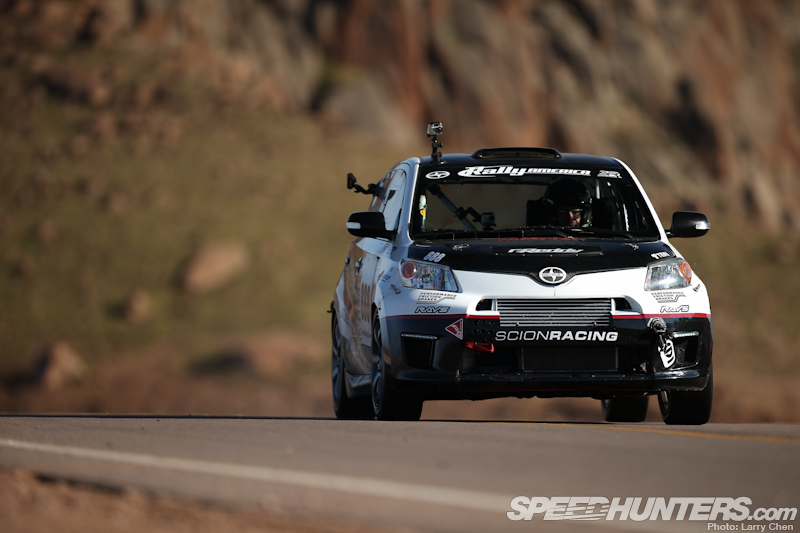 It's really interesting to take a car that was never meant to be a rally car and help these guys develop it into a competitive front-wheel drive rally car. We won some events right out of the box and we were leading the championship at one point. Right now we are in second place with one event to go. We can pull off the championship if we are really sharp about it.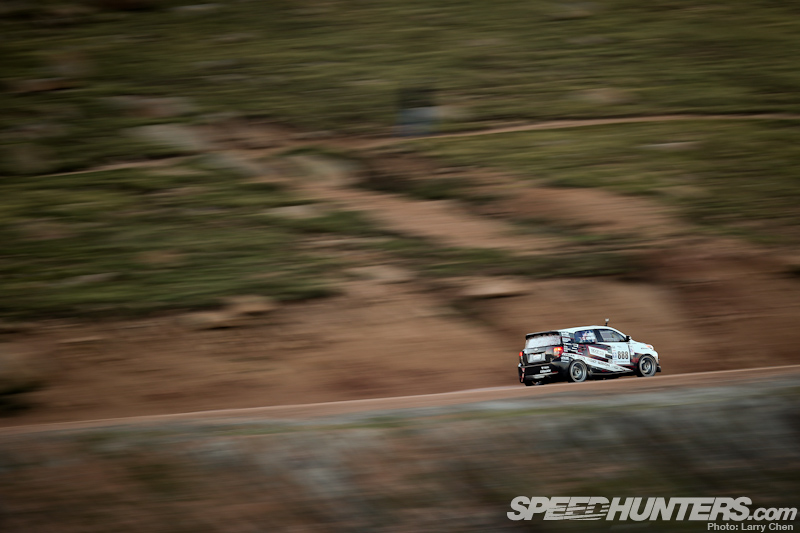 Larry: So what made you want to drive Pikes Peak?
ACP: I love Pikes Peak. The initiative came from Gordon Ting and Scion. They said it looks like a great event with good attendance, lots of media coverage and great overseas interest. When they asked if I'd like to do it, I thought about it for one or two seconds and said 'yeah, totally'! It's just an amazing event.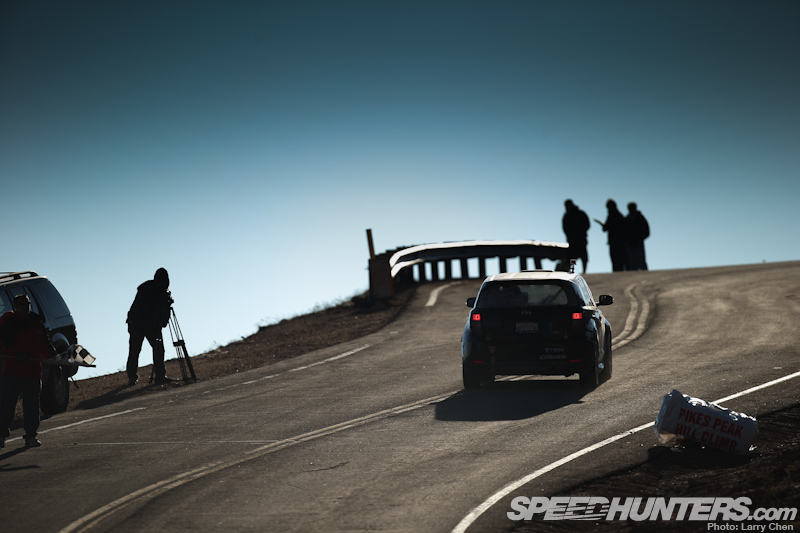 Larry: So what do you think about about the course this year since it's completely paved from top to bottom?
ACP: The paved course makes it a different challenge. The reason I ran in 2010 was because it looked like it was going to be the last year with lots of dirt. I like dirt – I mean, I am a rally driver. I like sliding sideways. I love hanging the tail out off to the side with all four wheels spinning. That's just bad-ass.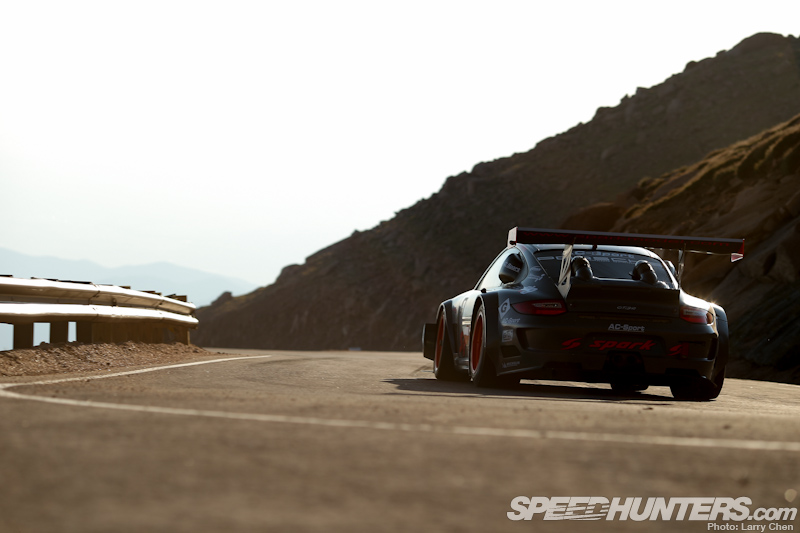 Larry: As a photographer I miss that a little bit too.
ACP: Then again it opens up to a whole new group of guys. There are a ton of rookies this year who have never done the Peak because they wouldn't bring their slammed Camaro, or in the case of Romain Dumas he brought over a Le Mans car. It's cool to have those kind of cars here and it's a different kind of race.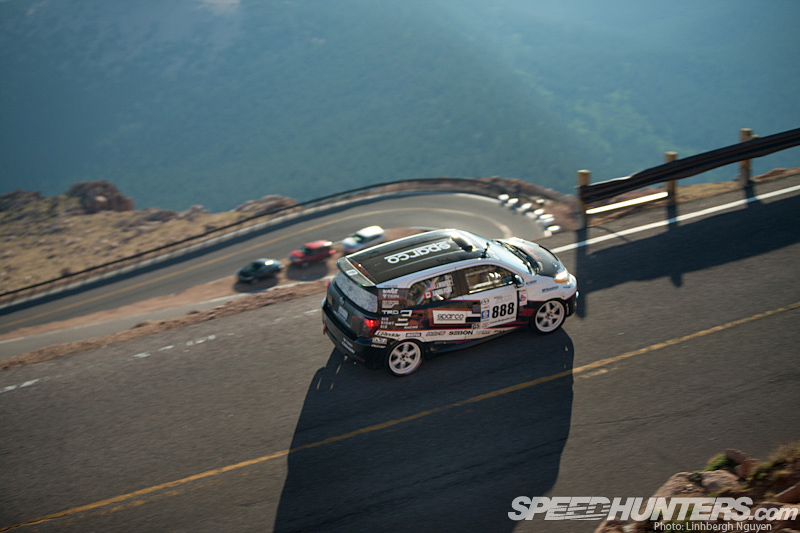 In some ways the stakes are higher because dirt and gravel are more forgiving. If you go into a corner too fast you are screwed anyways, but there is a certain 'give' to dirt. Tarmac on the other hand… There was one turn near the top that we were driving today that was wide open in fifth-gear: it was a right-hander with a cliff on the outside. In the middle of that corner there are a bunch of hard bumps. If you have a little squirly twist on that thing you will for sure sail off into eternity.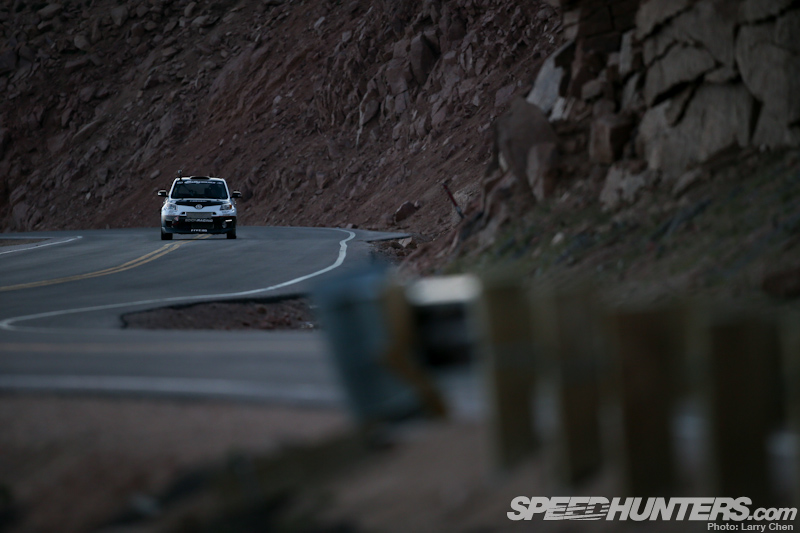 So I think Tarmac presents its own challenge. We are having real trouble getting enough temperature in our tires. I am running a proper Tarmac rally tire and it doesn't start working until it gets to 40° centigrade. And we can't get them hot enough. But I think it will work out on race-day because we run in the middle of the day rather than 5am in the morning.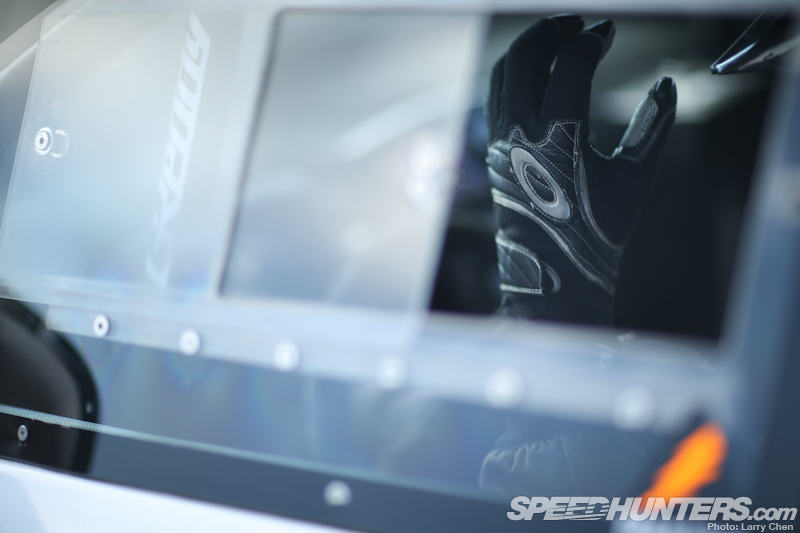 Being on hard tires that are below their operating temperature is very sketchy. I loved it on gravel and I love mixed gravel and Tarmac… But I'm a racer: whether the course is paved or not I'm going to race on it.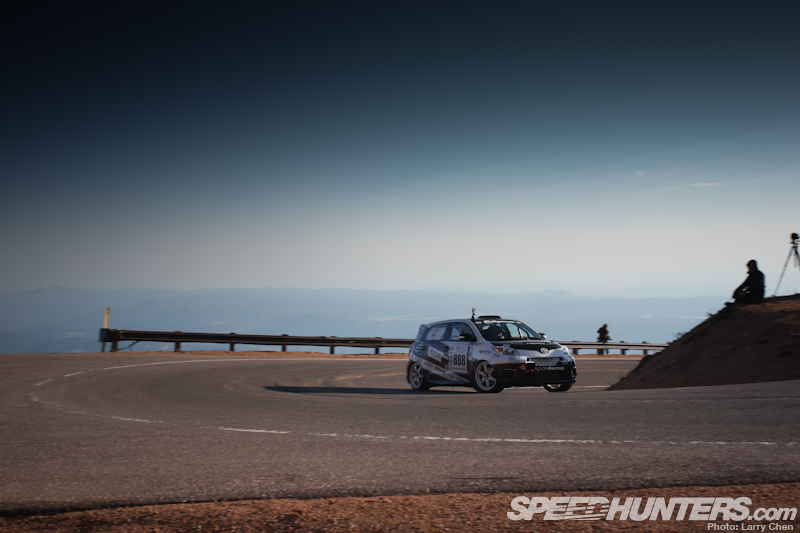 Larry: So going back to what you were saying about your tire. I noticed every time you come out of a hairpin you are bouncing off the rev-limiter like crazy. Is it because you just have no traction?
ACP: Yeah, we are getting wheelspin out of the hairpins because our gearbox is geared for gravel rally events and so we don't really have the right gears for the slow corners. If I go around in second gear I drop out of the power band. So, I take all the hairpins in first gear. It means one car length out of the corner I have to be back in second gear.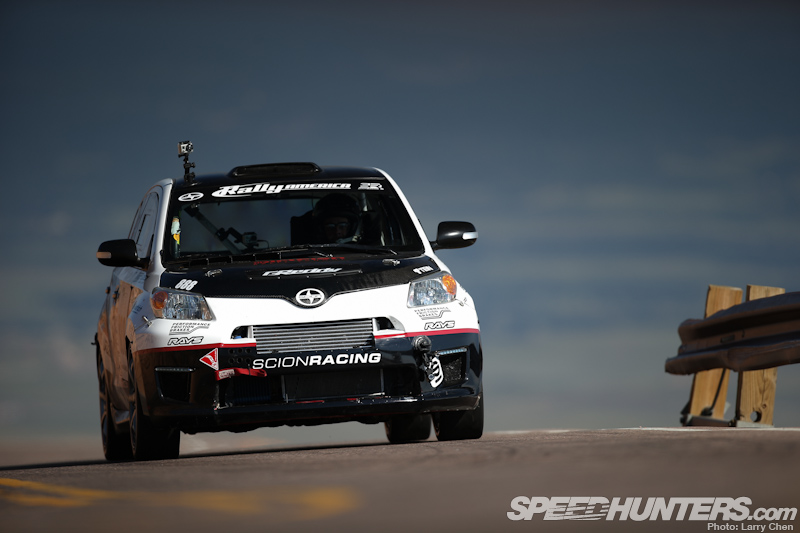 There is a big gap between first and second and we never really have to shift much between those gears when we are rallying. So in order to shift to second and keep it in the power band I have to max it out in first and then slip the clutch to make sure the revs don't drop that much. It's torture on the car but it gets the job done. I know it sounds kinda gnarly; we are getting around the hairpins pretty fast.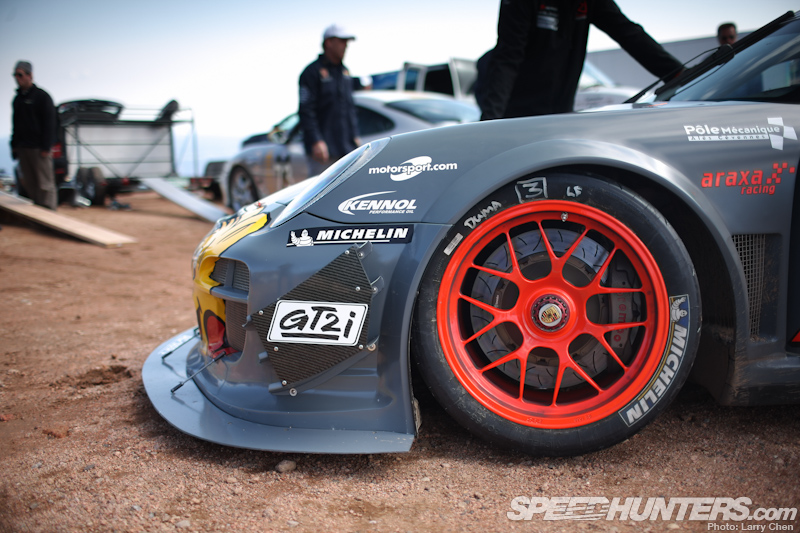 Larry: So why can't you just run a full-on slick like a lot of the other guys?
ACP: Technically slicks are not allowed but a lot of people are getting away with it. We are running a rally slick but it still has a 17% tread void. The other guys are having the same problem, like Romain Dumas who is also running Michelins. He is running a proper Cup-type slick; he has tire heaters on and he is doing massive burnouts to get the proper temperature. He should be okay on race day.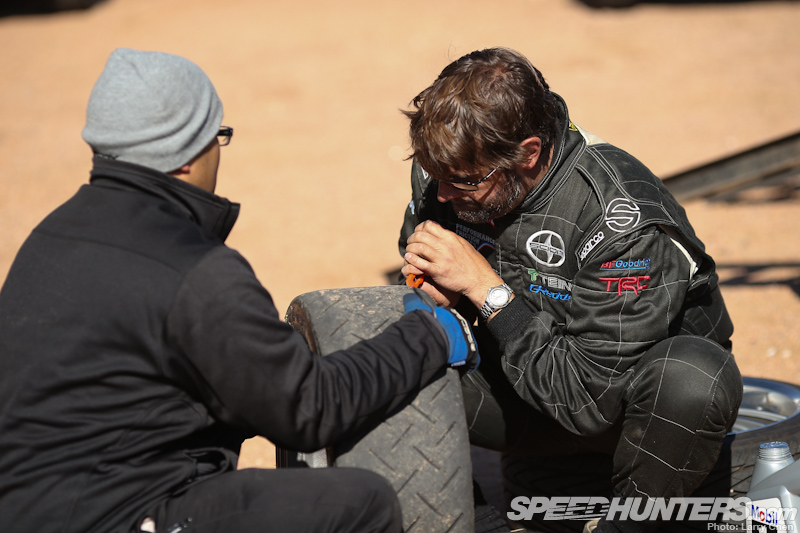 Racing tires are designed to operate at a very specific temperature range for their compound. So the ones we are running are the softest rally tires, that are designed to run about 40 to 80 centigrade. That is fine when you are running in a rally but one of the challenges of Pikes Peak is that you start off in the pits, you wait in line, then when it's time to go you drive 50 yards and then you race 12 miles up the mountain. So there is no chance to warm up the tires, there is no chance to shake it down before your competition run. Each driver competing in Pikes Peak gets one run up the mountain.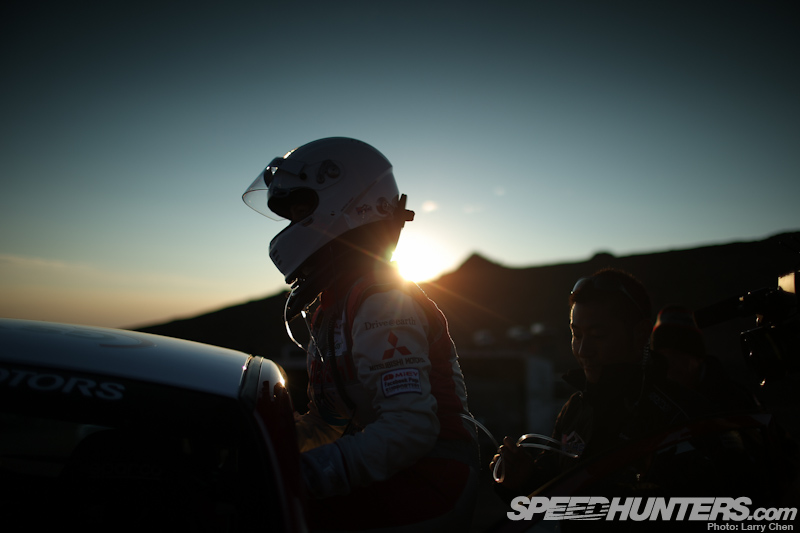 So you just show up, drive 12.1 miles with 155 corners with 5,000 vertical feet of incline and you're done.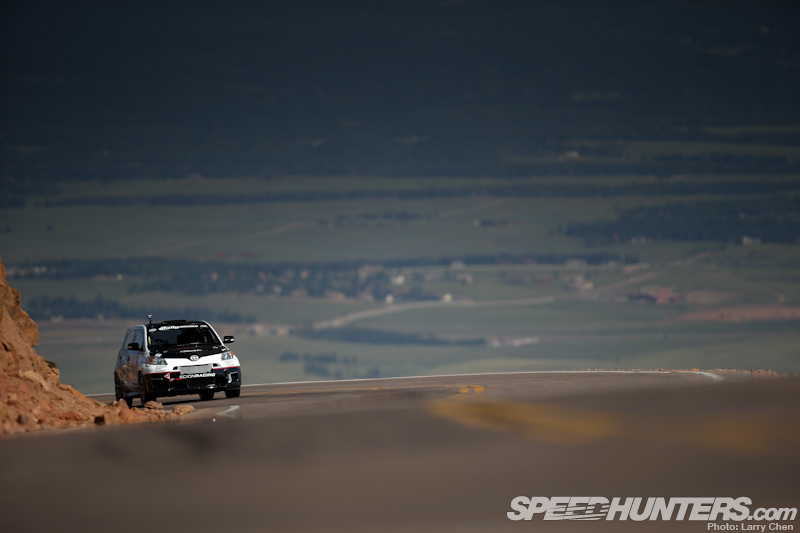 Larry: So tell me about the car you are driving.
ACP: The team started a couple years ago with a stock Scion xD. They started out by caging it and putting some slightly beefed-up suspension and some skid plates to be able to go gravel rallying. At that point it had only 110 horsepower and it was still pretty heavy.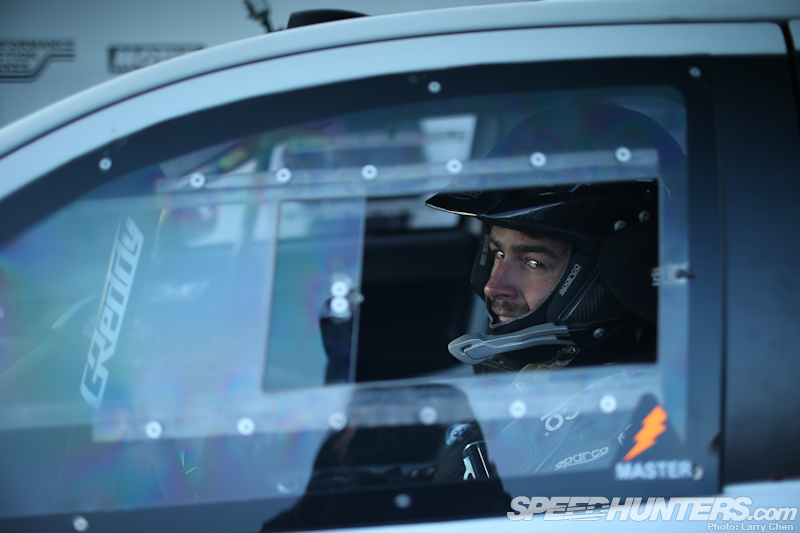 Over the past year I've been helping them develop the chassis as well as power. What is interesting is Kenji Sumida is the managing director for GReddy, and he is here working on the car at every rally. He leaves his office at GReddy and comes out in the field with us, which I think is really cool. Anyways, they designed the turbo kit. We now have about 240 horsepower and 250ft-lbs of torque, which for a front-wheel drive car is all you can use on gravel. We are just spinning the tires all the time. So, now we have to work on strategies for traction management and limit the boost in various gears, as well as speed-limiting the boost. It's great to be working with them because they are doing a great job.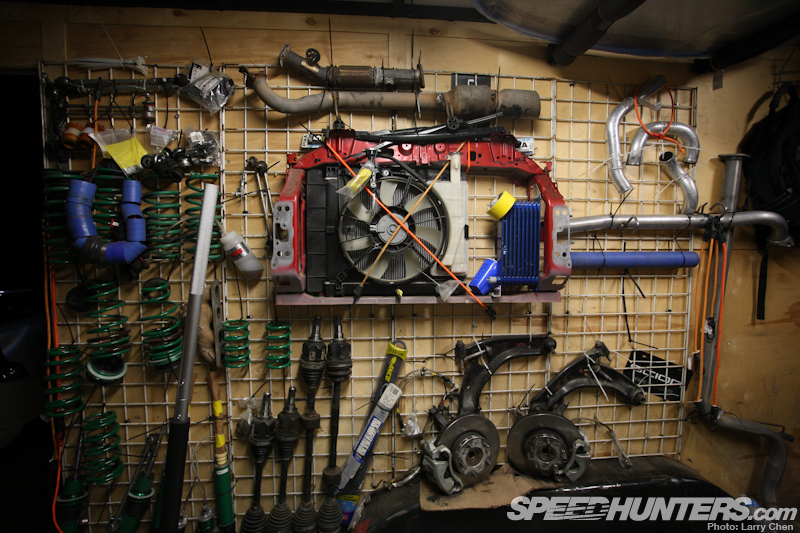 Philip Chase used to work for Tein and now he works for our team, so we have great suspension support. Tein have developed custom valving and custom Tarmac suspension specifically for Pikes Peak.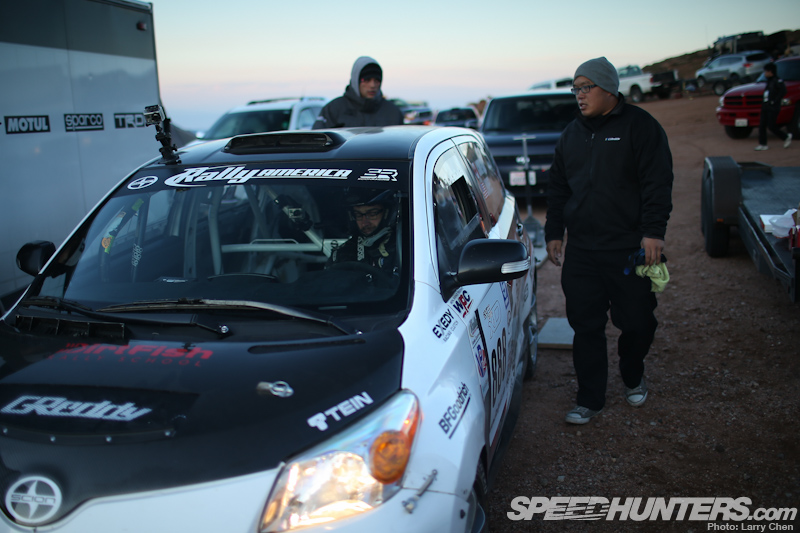 So Tein has been working very hard to improve the suspension, and the shocks have just been fantastic. Beyond that, we have been working with Kaaz with the differential and gearbox, as well as WPC with treating all the gears, because with double the power we are really pushing the limits of the the stock stuff. The nice thing is the xD is a pretty solid and fun car to drive, and I think we are in a really good place right now. The team did a great job converting a bone stock street-driven car into a truly competitive rally car.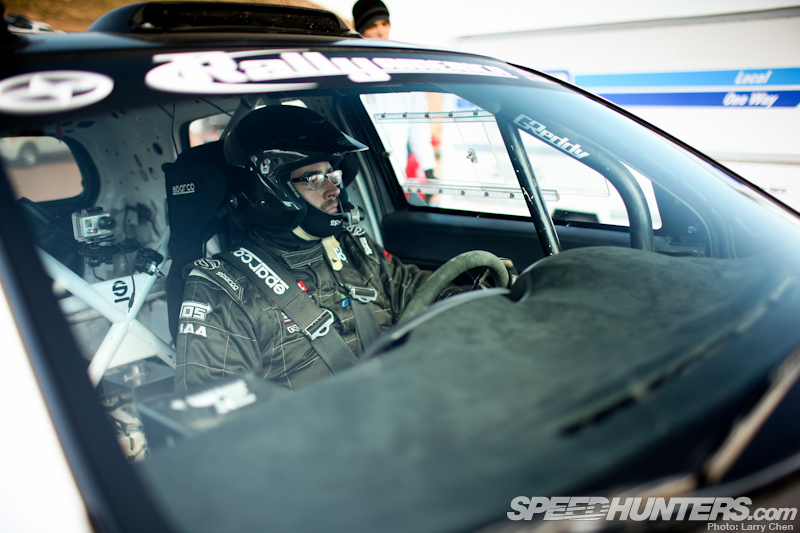 Larry: So how do you think you are going to do on race day?
ACP: Well, we are in an exhibition class so there are no trophies or awards, but I am very competitive so I'm going to race my hardest anyways.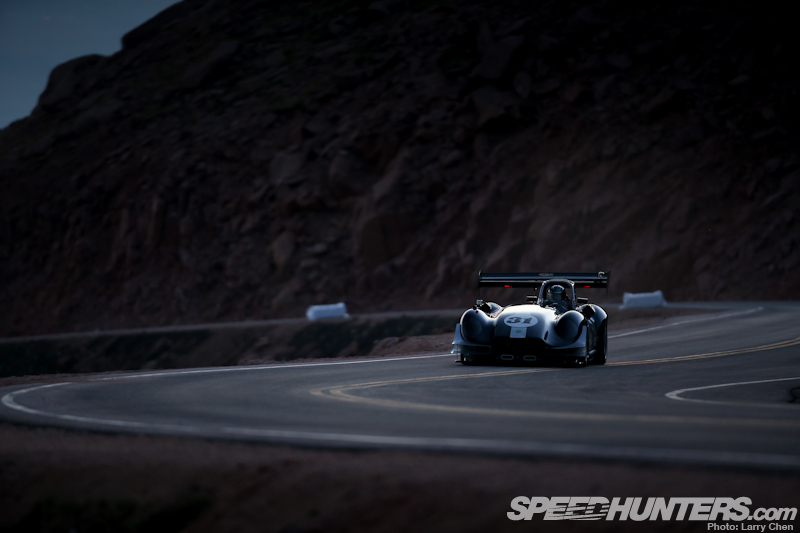 In our class we have a 600-horsepower, 2000lb Lister Jaguar, which will win if he does not mess up.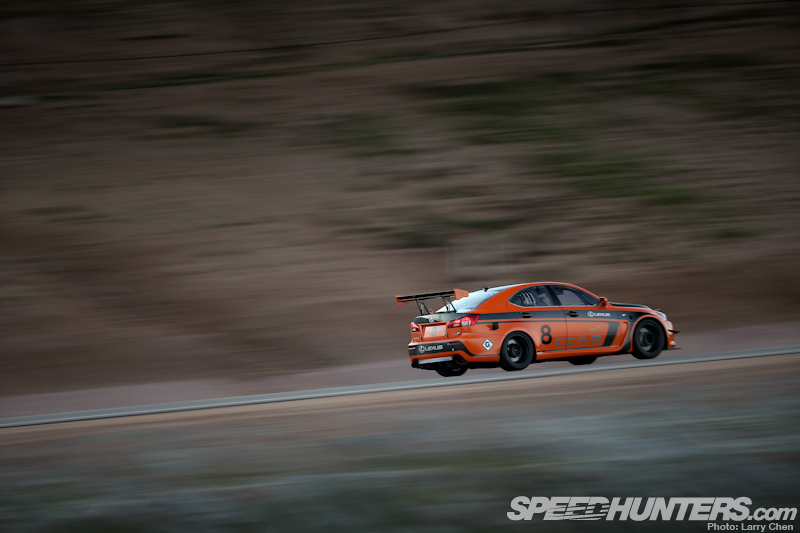 Then we have Ken Gushi in the Lexus ISF, me in the Scion xD and Takeshi Aizawa in the Scion tC.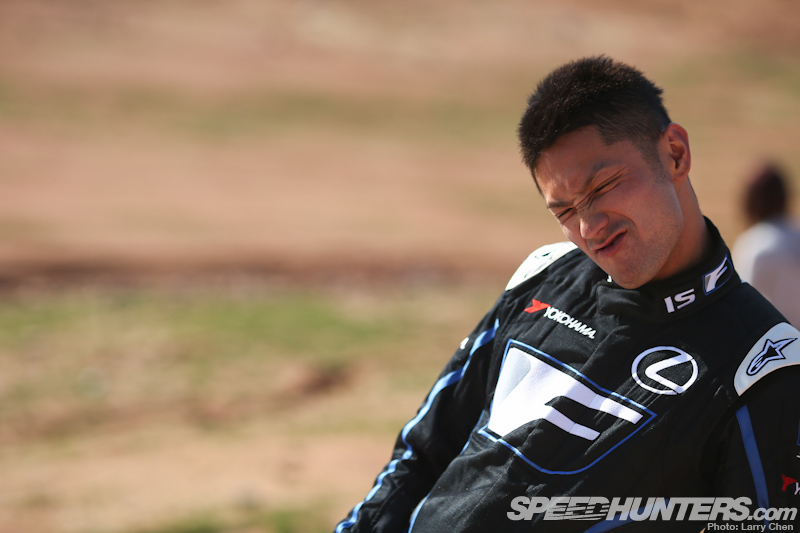 Ken is a great driver and he's done this event before. His car has 419 horsepower and rear-wheel drive – we've got 240 horsepower and front-wheel drive. So, I was happy today that I was only nine seconds off from Ken on the top part of the mountain and we were 10 seconds off on the middle of the mountain.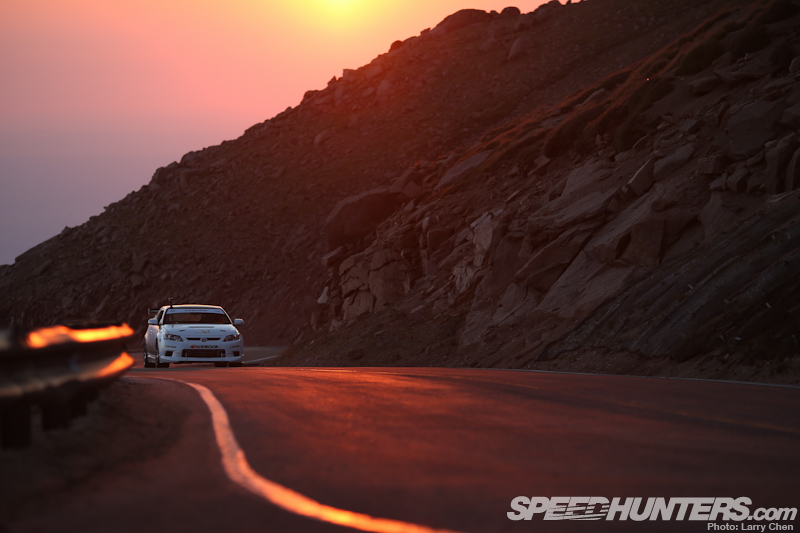 Takeshi has not done this event before and he has never done rally-type racing before.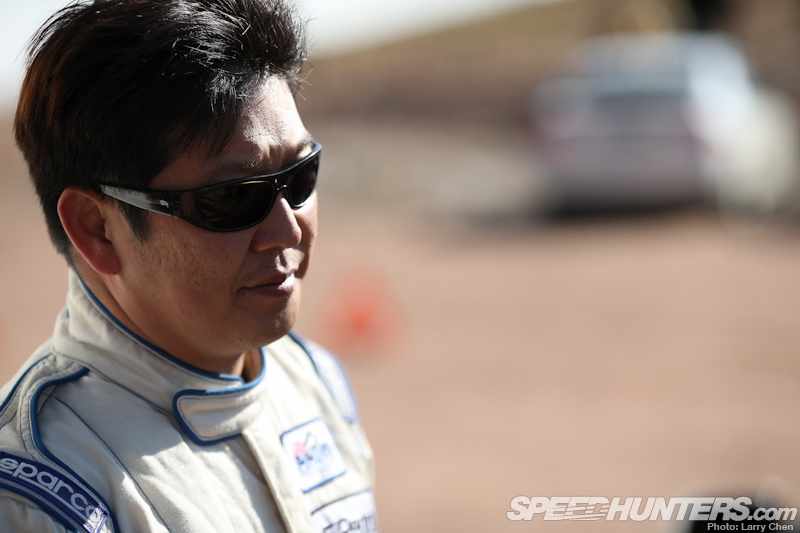 He has done mostly track racing so he is still overcoming the fear of shooting off the mountain – which is a very legitimate fear!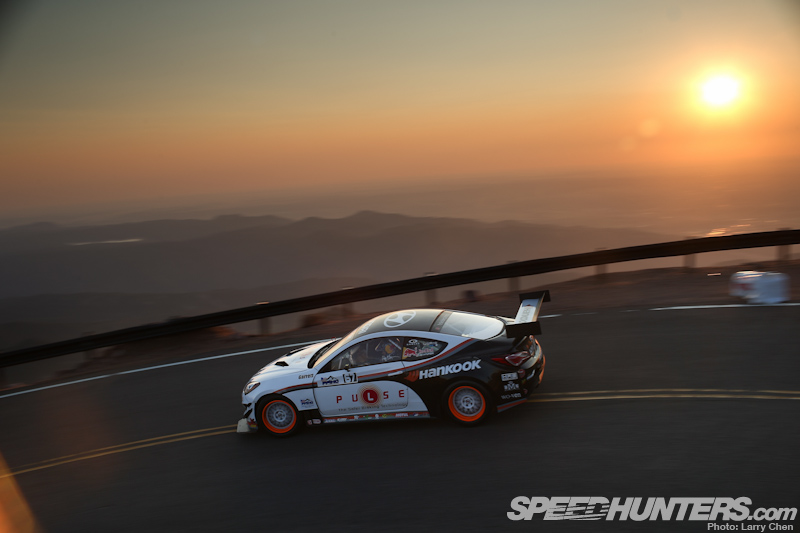 I expect the three of us to finish – Ken, then me, then Takeshi – but then again it is 12 miles of uncertainty. I've also been looking at how we will stack up against the Time Attack class and Ken would maybe get fourth, fifth or sixth; I would get sixth, seventh or eighth; then Takeshi would be a little further behind. It's good for our first time out here as a team, as some of the Time Attack guys are ridiculously fast, like Rhys Millen – he knows the mountain really well.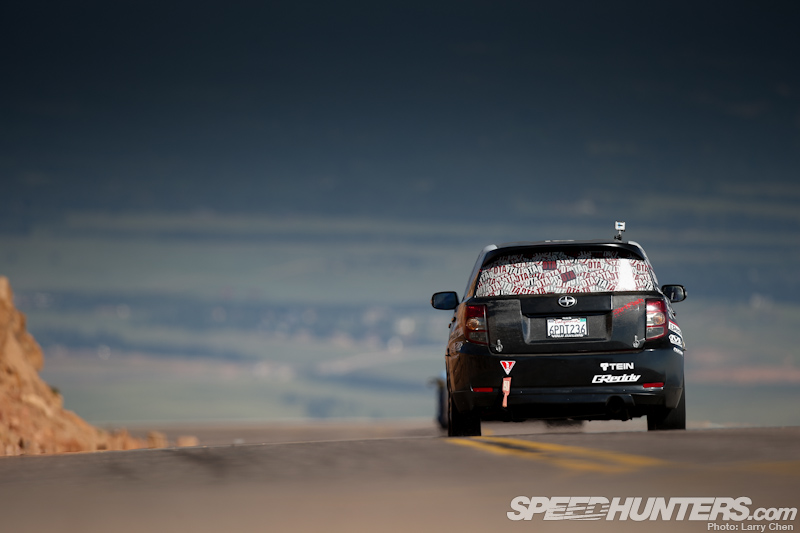 Larry: So what about next year? Do you think you are going to try to enter the Time Attack class?
ACP: I can't predict what will happen for next year, but I'll tell you one thing: back in Los Angeles we have a new Scion xD shell sitting in an acid bath. That will be built up into a faster rally car.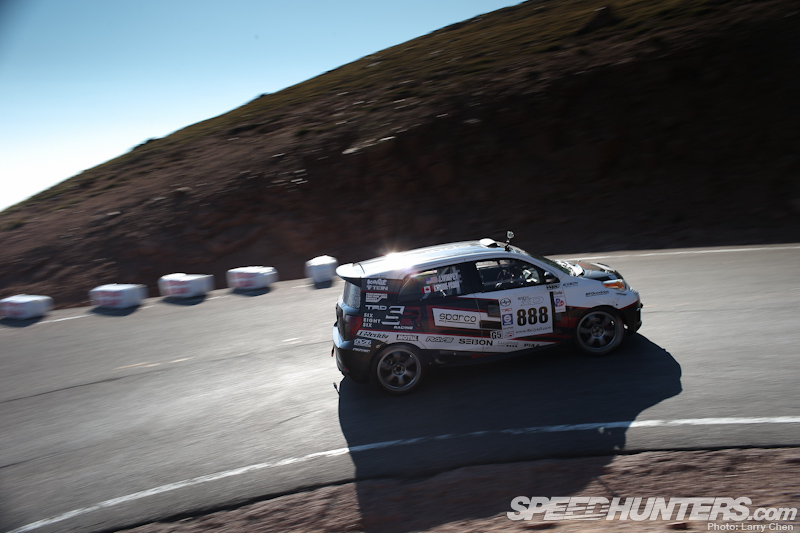 The current car started as a show car and it was developed into a race car. Now we are starting with a shell and turning it into a race car. So, I know we are going to be even more competitive in the North American Rally series and my hope is that we will come to Pikes Peak and be even more competitive.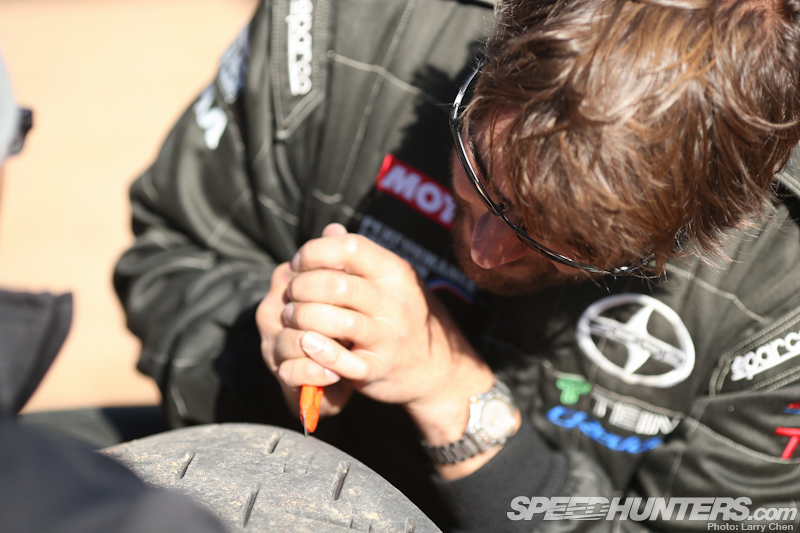 It would be hard to take down Rhys in the Time Attack class, but I'd like us to be close to that.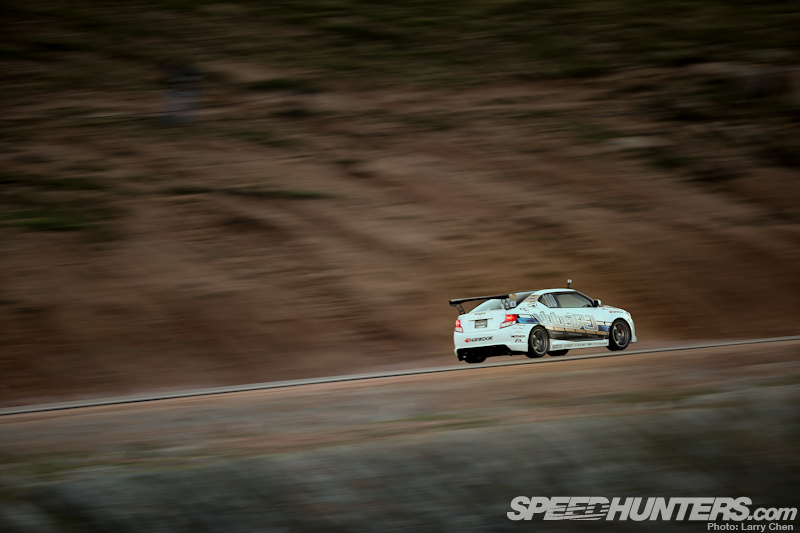 Larry: And your new car will still be front-wheel drive?
ACP: Yes, though we are working on other ideas as well. The thing I admire about Scion is they really focus on authenticity. They really want the race car to be a Scion.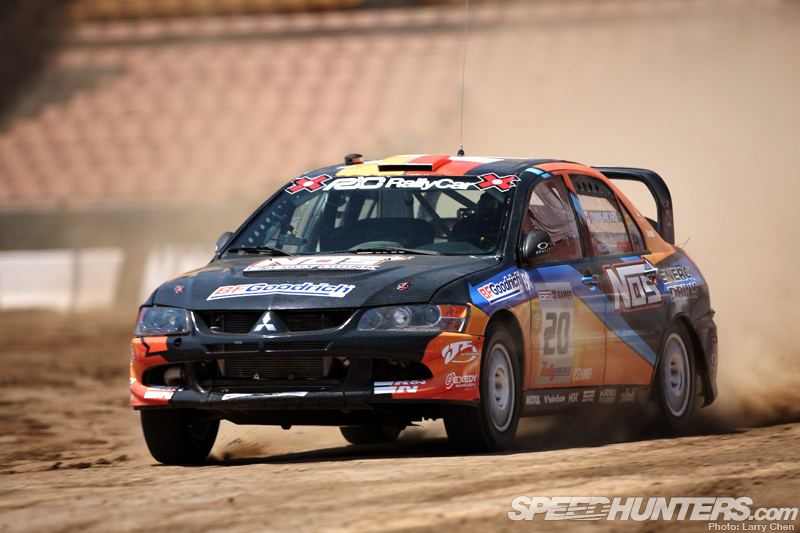 I love four-wheel drive racing and I've done it for quite a few years. I'd like to build a 4wd Scion, but it may be a little while be a while before we do that.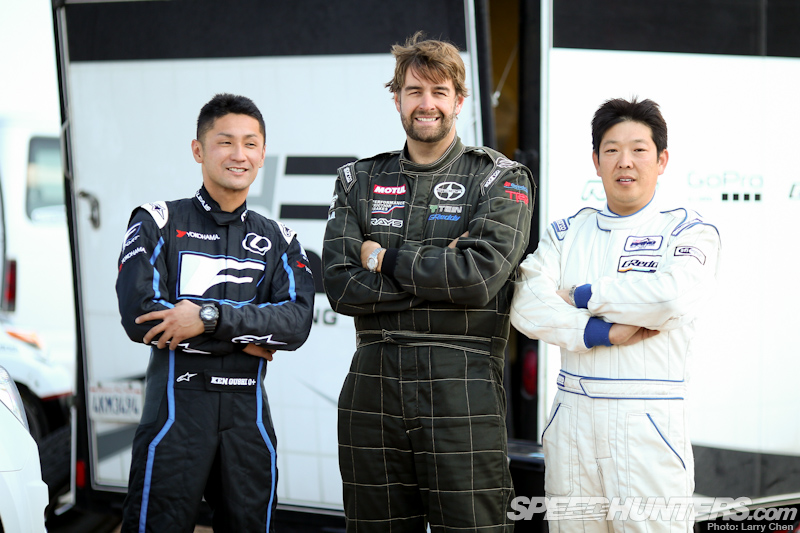 We'll see… we are working on it!
Andrew and Larry
larry@dev.speedhunters.com
More retrospective stories on Speedhunters