The 1980s are remembered for some of the wildest years in motorsport. It was a golden era in which turbo technology took Formula 1 to never before seen (nor ever since seen) heights of horsepower, and that four-wheel-drive Group B rallying arrived, proved too fast and too dangerous, and was just as quickly outlawed. Then there were the Group A tourers – raw, powerful, race cars bred from road cars and driven to their limits in arguably the most exciting tin-top racing series of the decade. It's what has brought us to Hampton Downs Motorsport Park in New Zealand to catch up with not only a survivor, but one of the all-time Group A greats. Meet the legendary #1 Eggenberger Texaco Ford Sierra Cosworth RS500.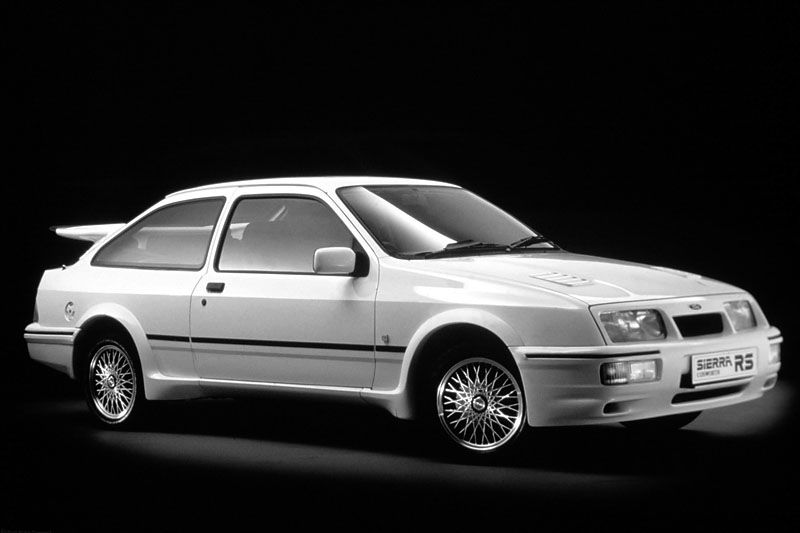 Like all Group A machines, Ford's be-winged '80s racer was derived directly from a production car. The car maker's desire to contest to the World Touring Car Championship (WTCC) was the original catalyst for the 1986 Sierra RS Cosworth – a 2-litre turbocharged, 204hp, rear-wheel-drive road warrior. FISA's rules of the day dictated a minimum of 5,000 road cars had to produced before racing homologation was granted, but once that happened manufacturers had the option to build an 'Evolution' version.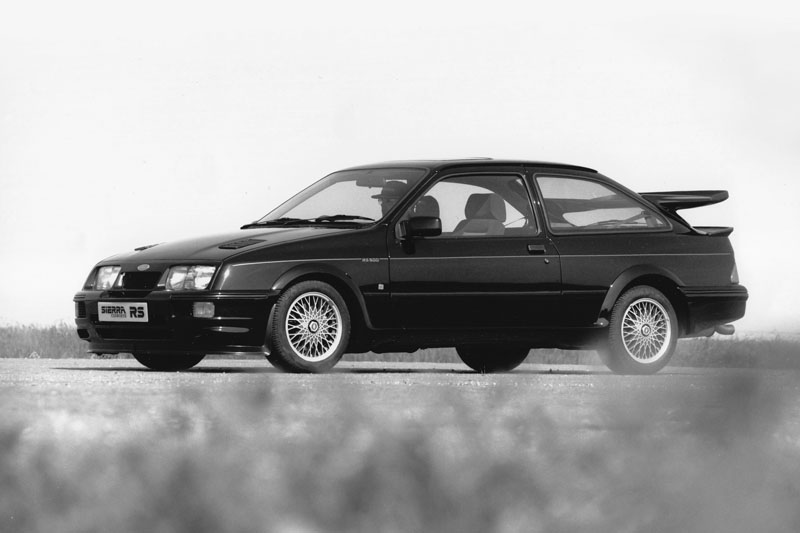 Ford and its performance arm, Tickford, created the RS500. Lessons learned on the race-track dictated many of the performance enhancements, which visually included a redesigned front bumper with lip spoiler and the addition of a lower boot spoiler. But the real improvements were made under the skin. Along with a revised rear suspension layout, a new YBD Cosworth engine featuring strengthened internals and a revised cylinder head design was installed and fitted-out with a larger Garrett turbo, a bigger intercooler, fuel system modifications and an engine management upgrade. All of the 500 road cars produced were right-hand-drive.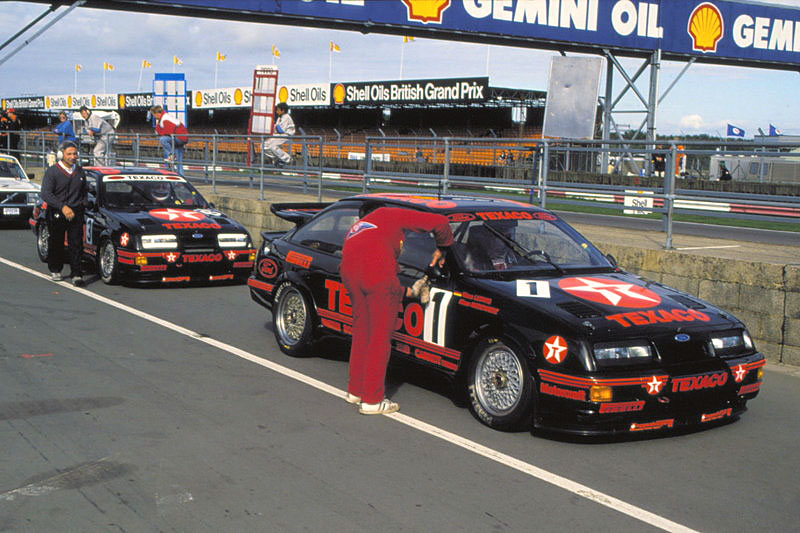 Ford's works racecars, however, were a little more special. To run its WTCC competition program the car maker turned to Swiss tuner Eggenberger Motorsport. In '86 Ruedi Eggenberger had already created a Group A race car from the RS Cosworth with Ford, and using his turbo-tuning expertise learned from campaigning Group A Volvo 240s in the preceding years helped determine the RS500's competition specification. Only six Texaco RS500 works car were built by Eggenberger in 1987, and all from left-hand-drive Ford Motorsport-prepared body shells.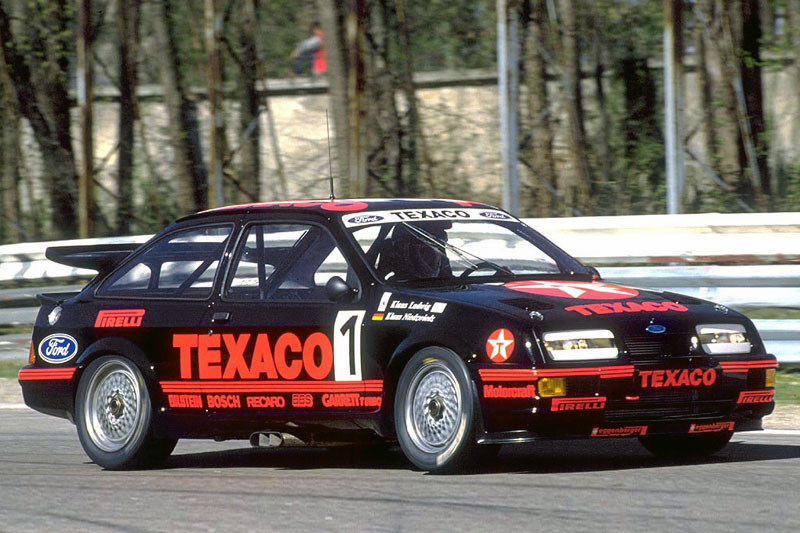 The same year, Ford and Eggenberger had launched a full-scale assault on the '87 World Touring Car Championship – a truly global series which took the team as far away from Europe as Australia for the Bathurst's James Hardie 1,000 and the Bob Jane T-Marts 500, and to New Zealand for the Nissan Mobil 500 street race. The team won at Bathurst finishing first and second, but was later disqualified on a technicality. By the end of the season the Texaco Eggenberger team had amassed enough points to finish first overall and fourth in the manufacturers' championship.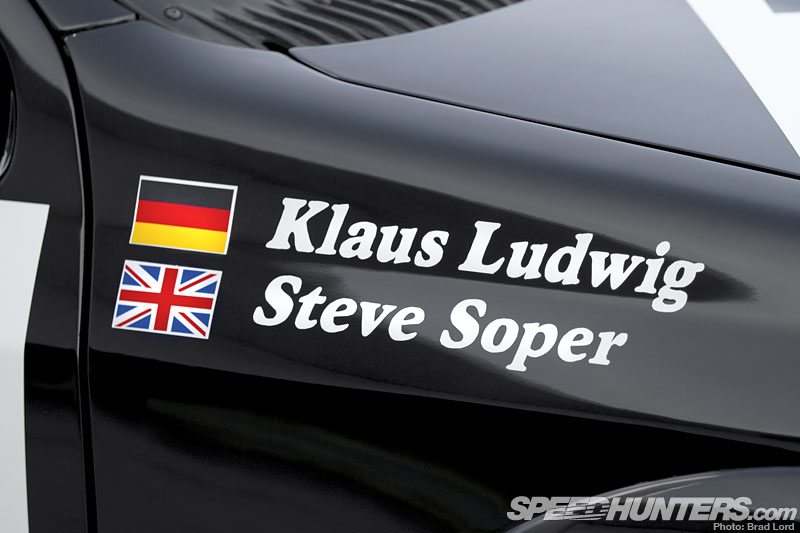 The Texaco car you're about to see in detail was built to defend that WTCC win. But after FISA's unexpected cancellation of the championship for the 1988 season, the Eggenberger-led works team had little choice but to concentrate its efforts on the European Touring Car Championship (ETCC) instead. The #1 Texaco machine was a starter at all 11 rounds of the series, and throughout the course of the season was piloted by some of the biggest names in touring car racing, including German wheelmen Klaus Ludwig and Klaus Niedzwiedz and British driver Steve Soper. It qualified in the top three at every event and claimed five pole positions; in the subsequent races the Sierra had five wins, three seconds and one third, earning enough points to help Ford claim the '88 ETCC manufacturers' title.
In 1989 Ford and Eggenberger planned to defend their title, but FISA canned the ETCC. That left the Deutsche Tourenwagen Meisterschaft (DTM): an 11-round series held across race circuits in Germany. In a black and white Mobil 1 livery, the car was once again driven to numerous podium finishes before its final race as a works-backed car at Hockenheim in September that year.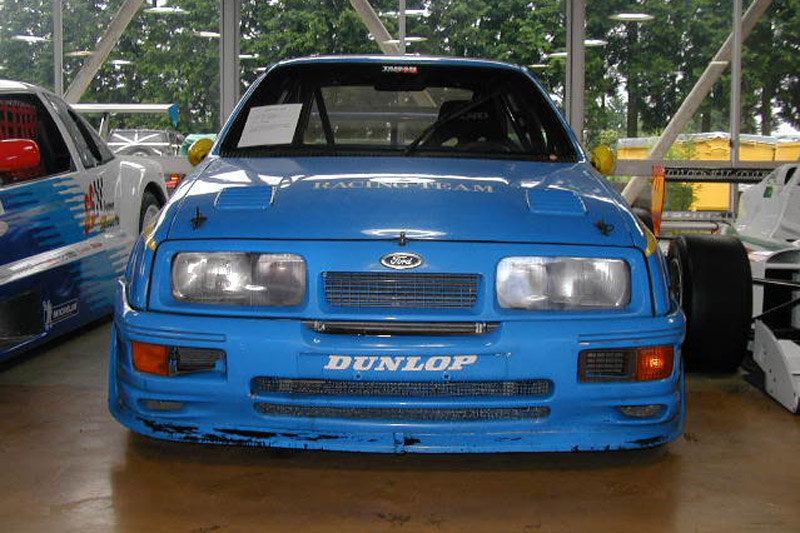 At the end of the 1989 DTM season the car was sold to Japanese driver Yojiro Terada and the ART Nature Racing Team, who repainted it blue with yellow, and entered into the six-round 1990 Inter-Tec Japanese Touring Car Championship. After the Fuji 500 final in November that year the Sierra was retired and subsequently purchased by Fuji Motor Museum at Fuji Speedway, where it remained – on static display – until the collection was broken up and sold off in 2002.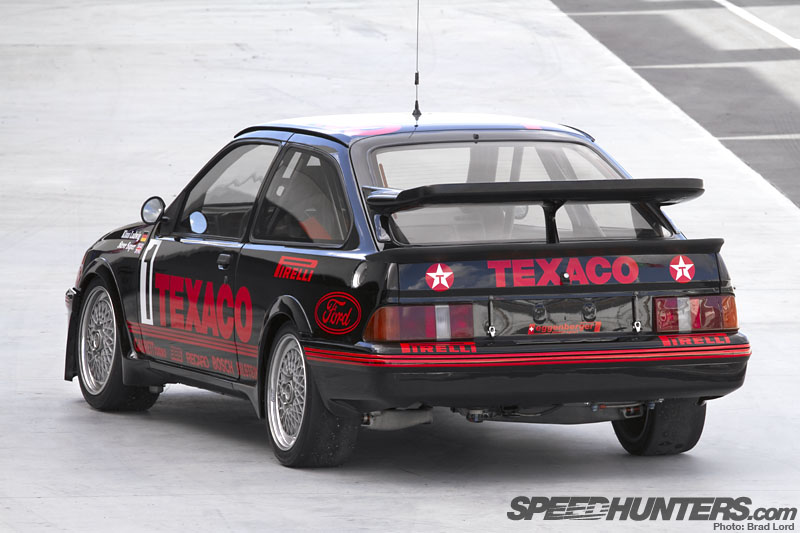 It was then that British-based Group A touring car collector Martin Johnson got his hands on the car and returned it to the UK, where it was returned to its original black and red Texaco livery. But it wasn't until Johnson met with Ruedi Eggenberger in Switzerland that the car's illustrious race history could be recounted through its build number. Chassis #99269 was a very special car.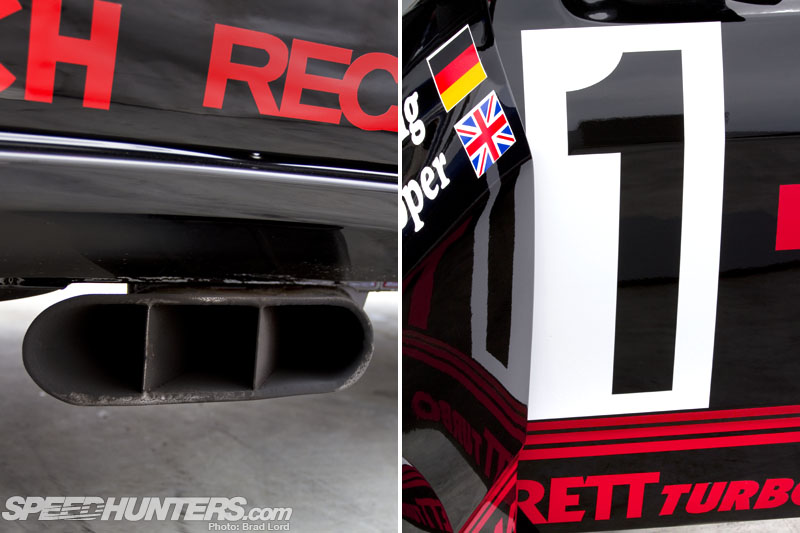 The car's current owner, Neil Macfarquar, purchased #99269 from a British classic car vehicle broker in 2007 and shipped the car to New Zealand. For three years it was displayed in Neil's Ford dealership alongside two more of his acquisitions – a perfectly original RS500 road car and an RS200 Group B road car with less than 1,000 miles on the clock – at which point he decided he'd quite like to drive it. The preparation job was entrusted to local company Octane Automotive, which had previously worked its magic over a couple of other notable historic race cars, including an amazing ground-up restoration of an ex-works Audi Quattro Group B rally car that also resides in New Zealand.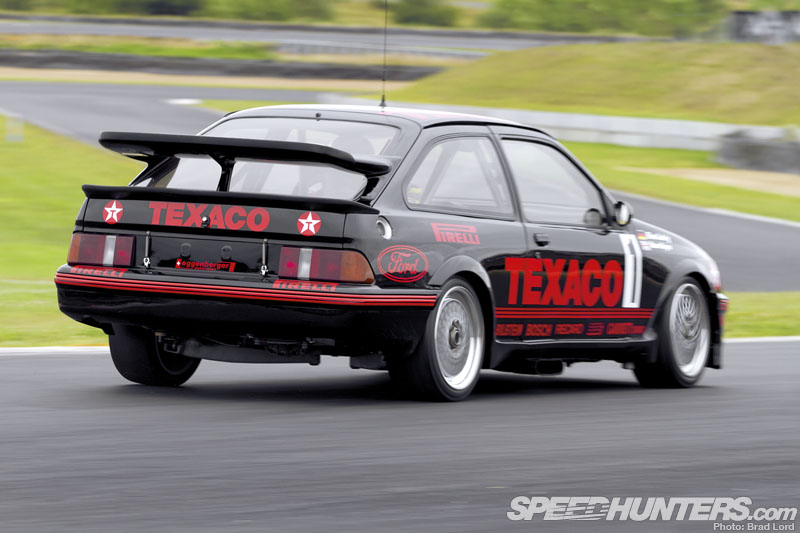 The initial plan for the Sierra was to give it a quick freshen up to make sure it was mechanically sound, and to bring it up to modern-day historic racing safety specs. But as rebuilds of this nature often go, the 'quick freshen up' quickly evolved into something a little bigger: a 300-hour 'nut and bolt' restoration, to be exact. But what came out the other end six months later is something pretty spectacular, and not just from a visual standpoint.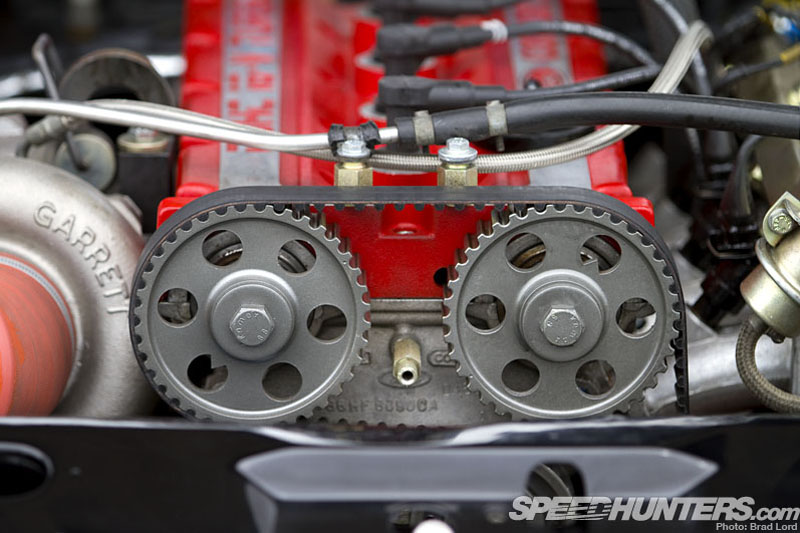 Neil didn't just want something that looked pretty; he wanted to be able to use the car as it was originally intended. For Octane, that meant stripping down all of the Sierra's mechanicals to see what sort of condition they were in. Fortunately, #99269's Cosworth-developed engine and driveline were in amazingly good order.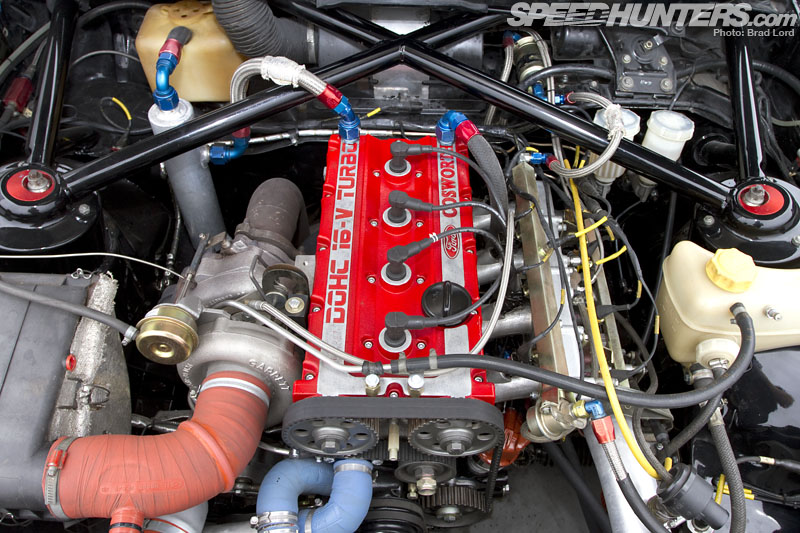 You're greeted with this view when you lift the lid on the Sierra's engine bay. Eggenberger cars were always tidily presented, and 25 years after this one was first pieced together it still looks every bit as impressive. As you can see, fuel is supplied by two rails feeding a total of eight injectors. For homologation purposes you'll find the same set up in an RS500 road car, albeit with only one row of four injectors operational.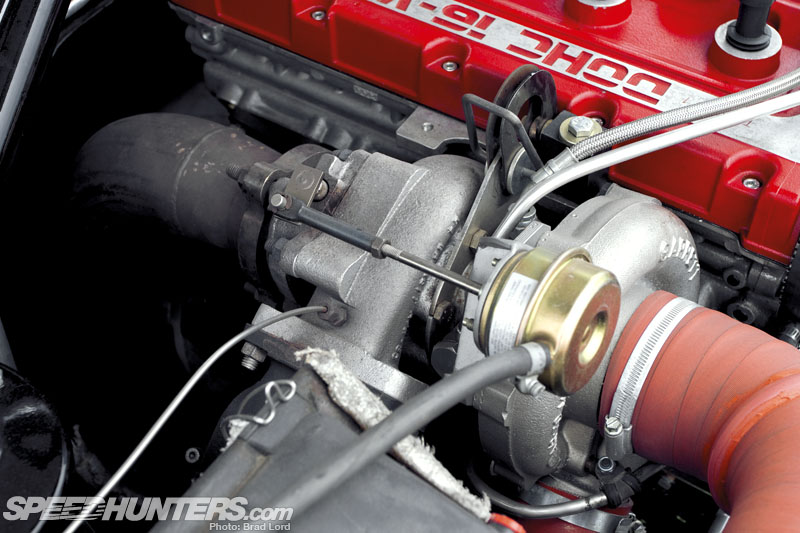 Of course, for racing duties a little more fuel was required, especially when the Garrett T31/TO4 turbocharger was pushing the two-bar (29.4-psi) boost pressure it was designed for. In race guise, Group A RS500s developed around 500hp – more than double the 224hp the road-going RS500s left the Tickford factory with.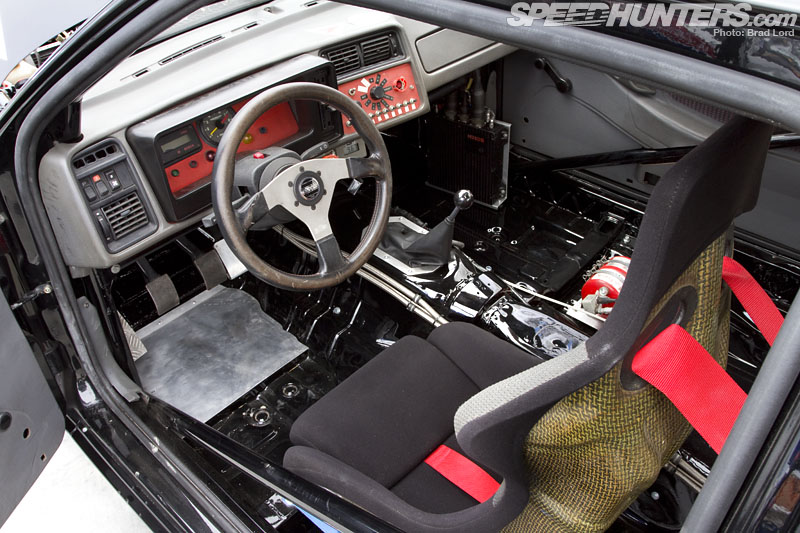 Save for a few small repairs needed to the floor and new black paint, the interior fit-out remains true to its Group A touring car roots…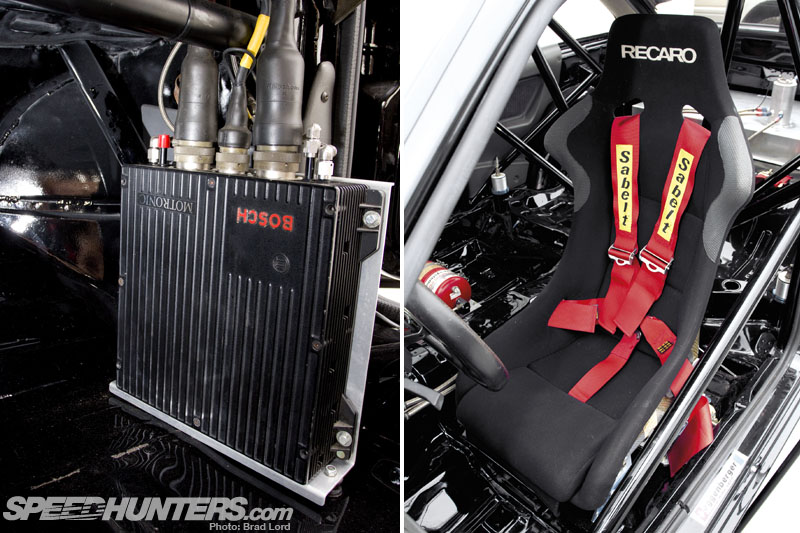 …right down to the original Bosch Motronic engine management system. This thing would have been absolute state-of-the-art in the mid '80s!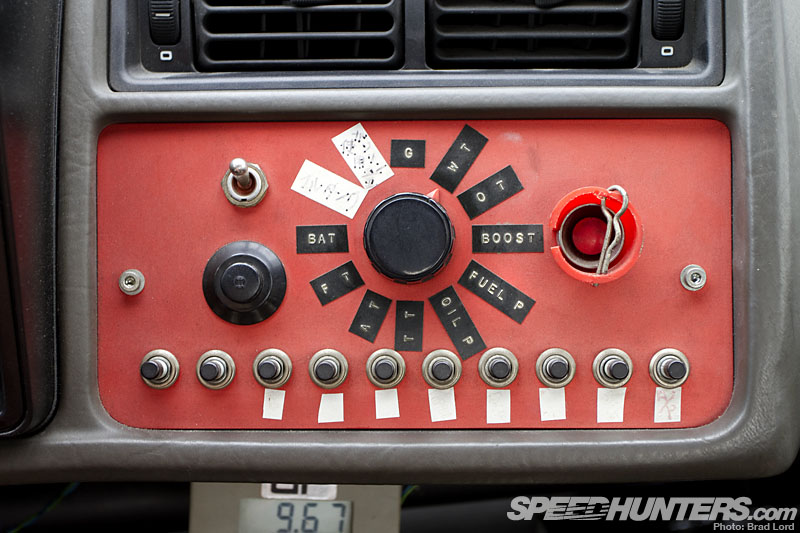 The dash-mounted switchboard retains all of its original labeling along with a few additions from its season spent racing in Japan – a nice touch.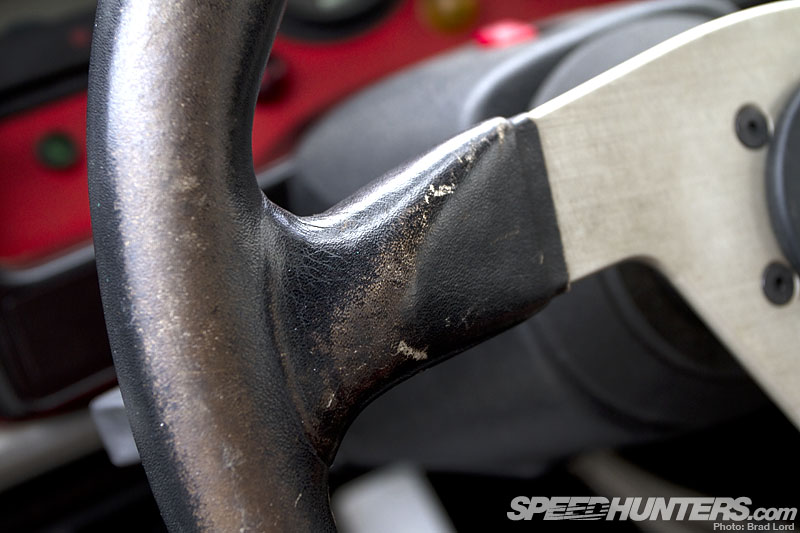 Even though the car has been restored it's great to see plenty of the car's original equipment still intact. The Sparco steering wheel has seen a lot of action at the hands of some of the biggest names in Group A touring car racing, and has the battle scars to prove it.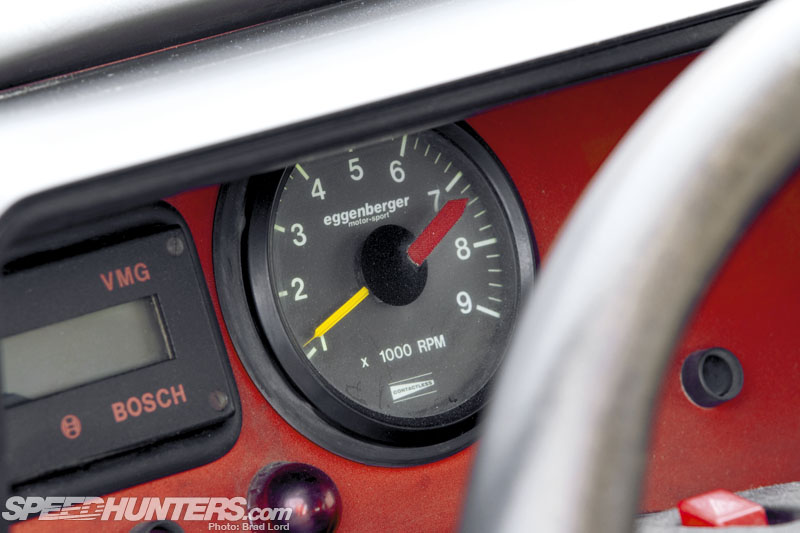 I wonder how many times the yellow needle has paid a visit to the red line in the car's lifetime?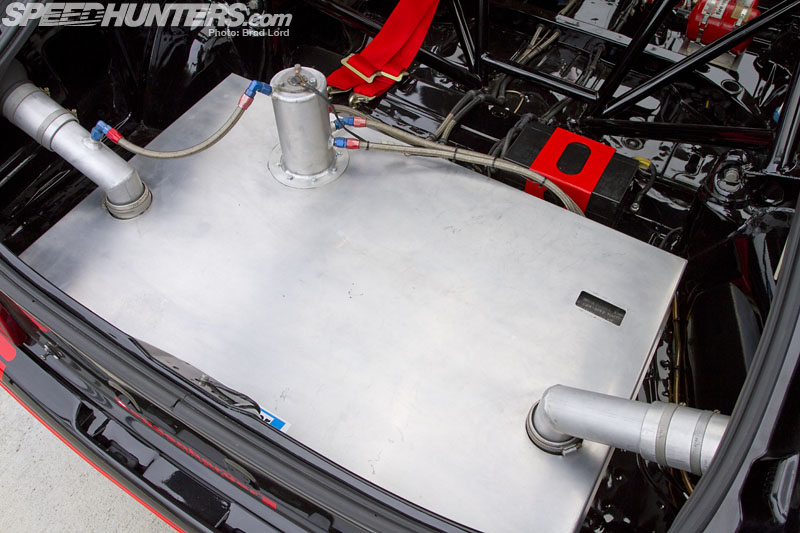 To satisfy the fuel requirements for endurance events the trunk cavity is home to a 120-litre (32-gallon) dry-brake cell with dual fillers.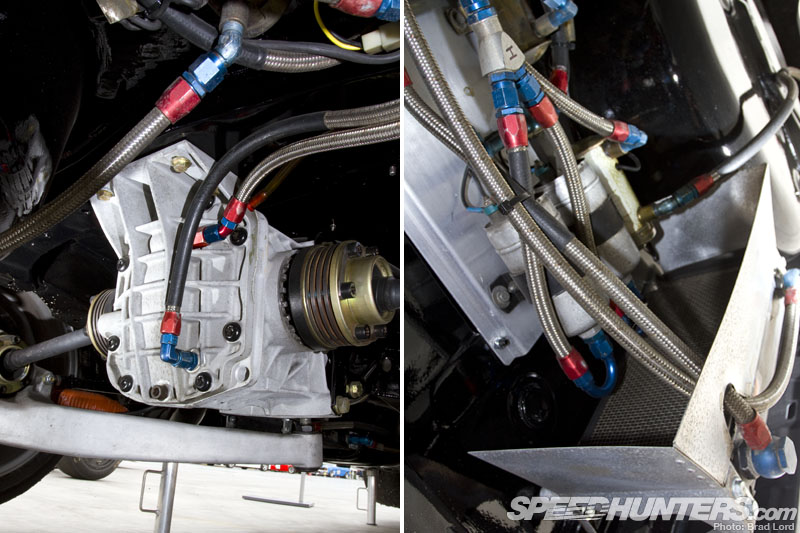 It's one part of an extensive fuel system (right) that uses four external fuel pumps. The rear end (left) is a bullet-proof Ford Motorsport 9″ unit complete with oil cooler (also pictured right) tucked under the rear bumper.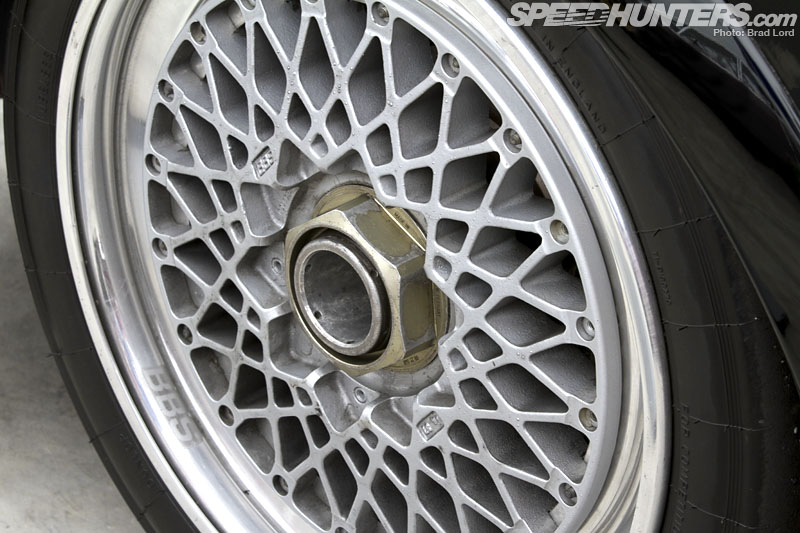 Wheels are the original BBS center-locks in 17″x9″ size. For how much power the Group A RS500 output,and how little they weighed, the cars were severely under-tyred, making them a handful-and-a-half to drive at ten-tenths according to those who were charged with taming then.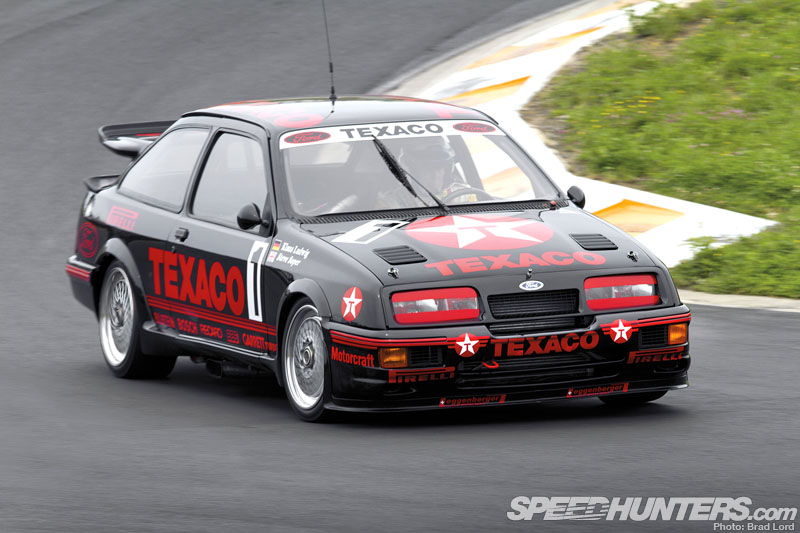 While Neil hasn't driven the car quite that hard yet, even with the power turned down to a safe 350hp it's still quick, as he's proved on the few times he's had it out on the track since its rebuild. From where I was standing it definitely makes all the right noises! According to Neil the power will eventually be wound all of the way up, and when that day comes he hopes to have a fast driver behind the wheel in an effort to show what the Sierra is really capable of.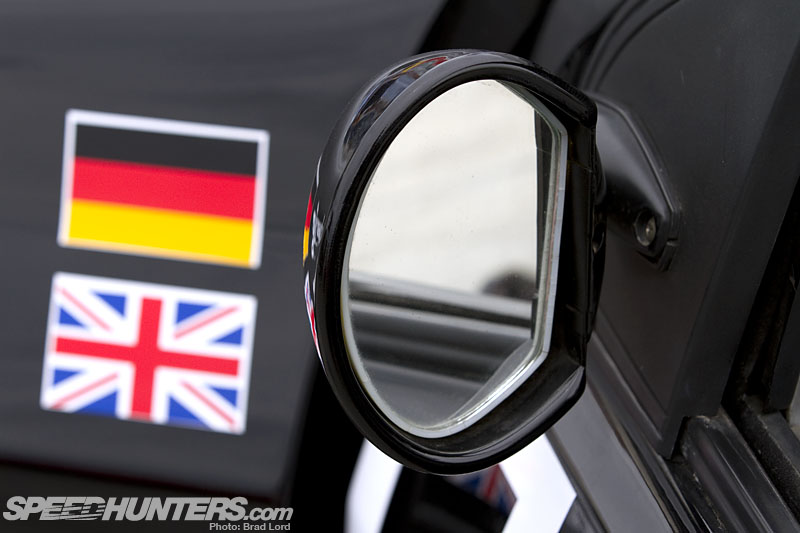 Until that day comes he's happy demonstrating it at classic events and having it on display in the showroom at his Ford dealership…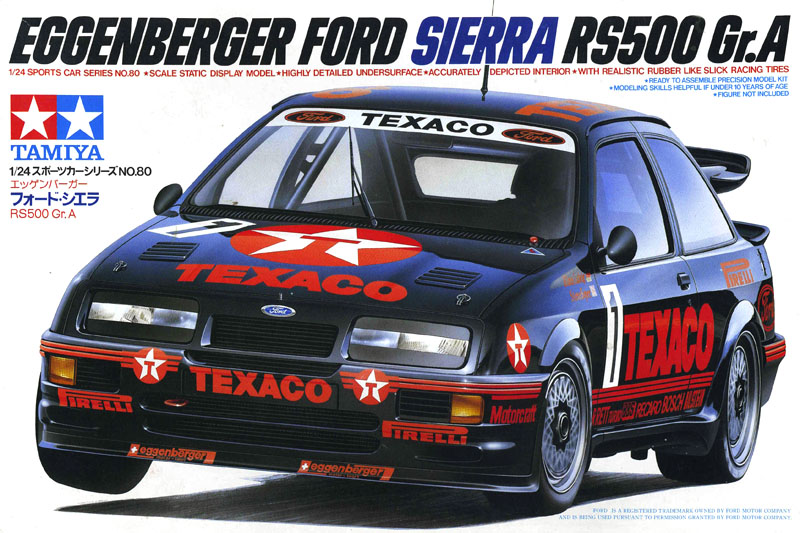 …and his shelf in 1:24 form. AutoArt and Tamiya have immortalized the #1 Texaco machine in scale model form. Very cool!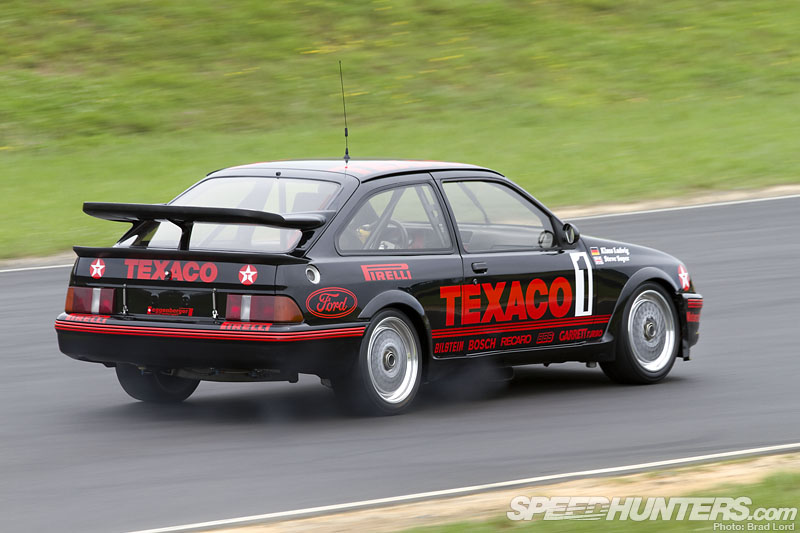 There's no shortage of rare and historically significant racing machines in New Zealand, but Neil's Group A RS500 is one of my absolute favorites. And judging by the interest #99269 generates whenever its shown, I'm not alone, either. Better still it's been perfectly preserved for years to come.
Brad Lord
1987 EGGENBERGER TEXACO FORD SIERRA COSWORTH RS500
Engine: Ford-Cosworth YBD 2.0-litre DOHC 16-valve inline-4, Group A cylinder head, Group A pistons, Group A connecting rods, Group A crankshaft, Garrett T31/T04 turbocharger, air-to-air intercooler, 4x external fuel pumps, 8x fuel injectors, side-exit exhaust system, Bosch Motronic engine management system, twin-entry dry brake 120-litre fuel tank, Eggenberger fuel swirl tank, 16-row oil cooler
Power: 540hp (403kW)
Driveline: Getrag 5-speed gearbox, 9-inch Ford Motorsport differential, gearbox cooler, differential cooler
Suspension: Ford Motorsport Group A uprights, Bilstein coil-over shocks (front/rear), adjustable front anti-roll bar, Ford Motorsport magnesium rear arms, quick rack steering
Brakes: AP Racing 4-pot callipers, AP Racing 330mm drilled/vented rotors (front), AP Racing 4-pot callipers, AP Racing 300mm drilled/vented rotors (rear)
Wheels/Tyres: 17″x9″-inch BBS centre-lock alloys, Pirelli tyres
Exterior: Factory RS500 front lip spoiler, bumpers, twin rear spoilers, bumper spacers, factory steel panels, factory glass, original ETCC Texaco livery
Interior: Seam-welded chassis, FIA-spec roll cage, air jacks, Recaro SPG carbon/Kevlar seat, Sabelt harness belts, Bosch LCD display, Lifeline fire extinguisher system