It's early 2010 and Romain can now speak English. He was firmly in the UK and he wasn't going back to France. As he explains, "We'd rented the dyno at Eurospec in Guildford, so I ended up coming to work here. I do their rolling road work and mapping." That was two and half years ago and to say things have moved quickly would be an understatement, Eurospec have been around for nearly two decades and are no strangers to the tuning scene. Put the two together and good things have happened.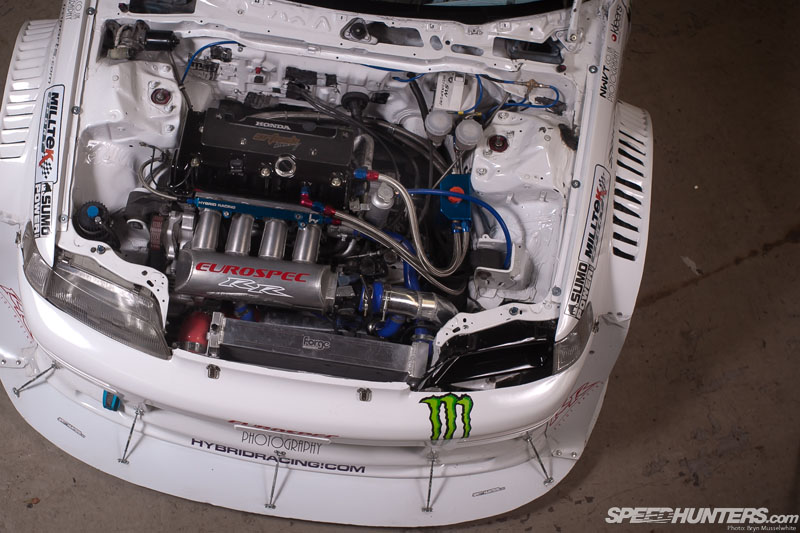 Watching this video of the Roger Clark Motorsport Gobstopper meant Romain got the taste for Time Attack, "So we spoke about putting the supercharged K20 in the CRX from Anouar's old EP3. They said yeah, why not?"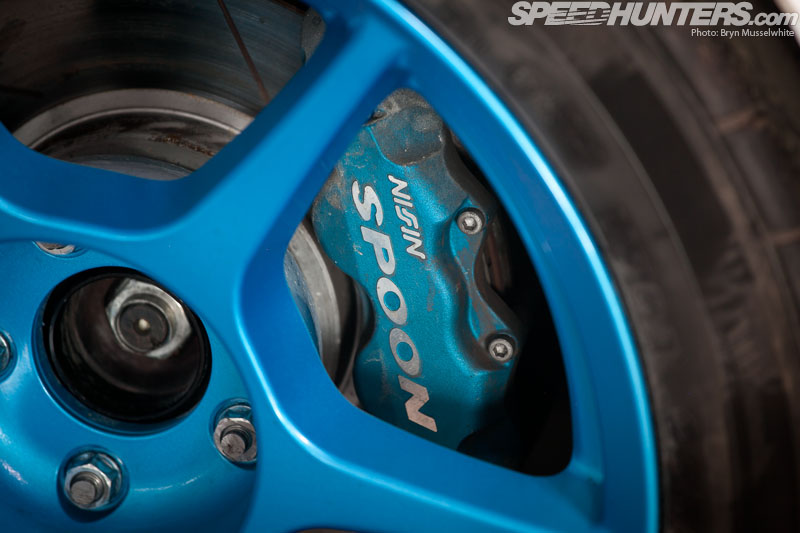 Some other well-known names got involved too, "I'd been working with Paul at Buddy Club doing a few cars, so I went to visit him to basically see what I needed to do Time Attack. He asked if I wanted some sponsorship? I thought that was cool, it was awesome. I've only been here for two years, wow, this is really happening?".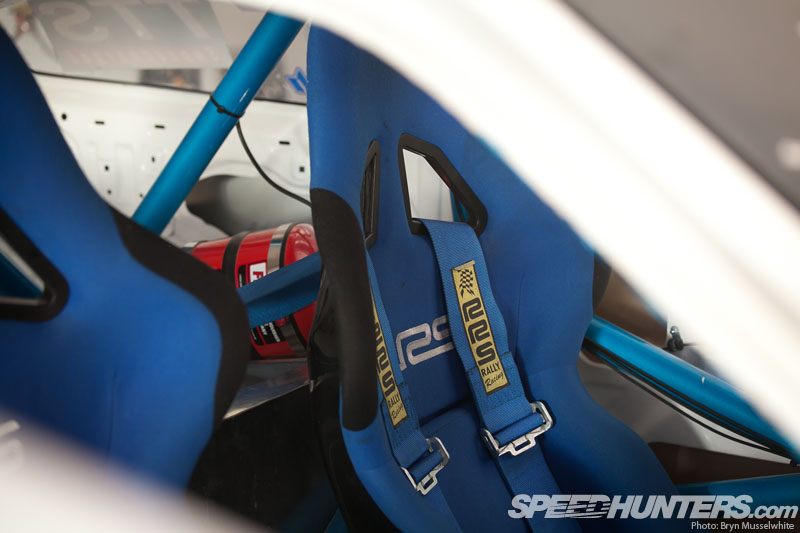 Buddy Club stepped up with wheels, suspension and sorted out a cage too. Romain was also sourcing some conversion parts from Hybrid Racing in the USA, who have what is quite possibly the coolest air freshener ever…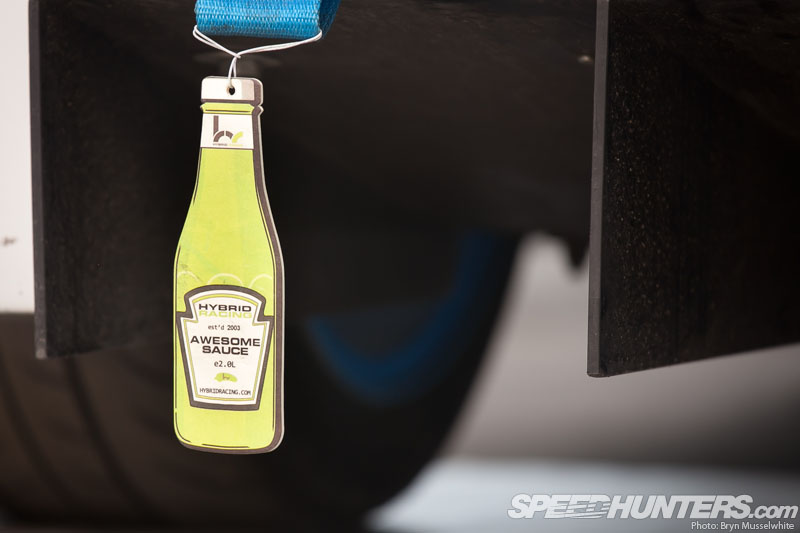 Debuting at Brands Hatch in 2010, everything went well until the water pump failed in the final and the K20 blew its head gasket. I personally remember this day well as I was commentating on Time Attack for the full 2010 season. This Civic had come from nowhere and put in some impressive times before we were robbed of seeing it in the final, battling in the Club Challenge class.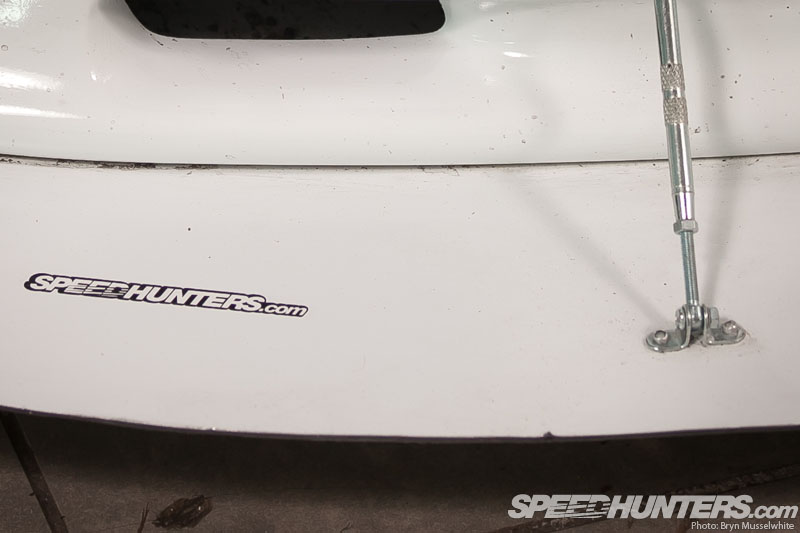 The next round was Cadwell, and the team returned with a forged, fully rebuilt engine, "We got the rings on Friday and we were racing at Cadwell on Sunday."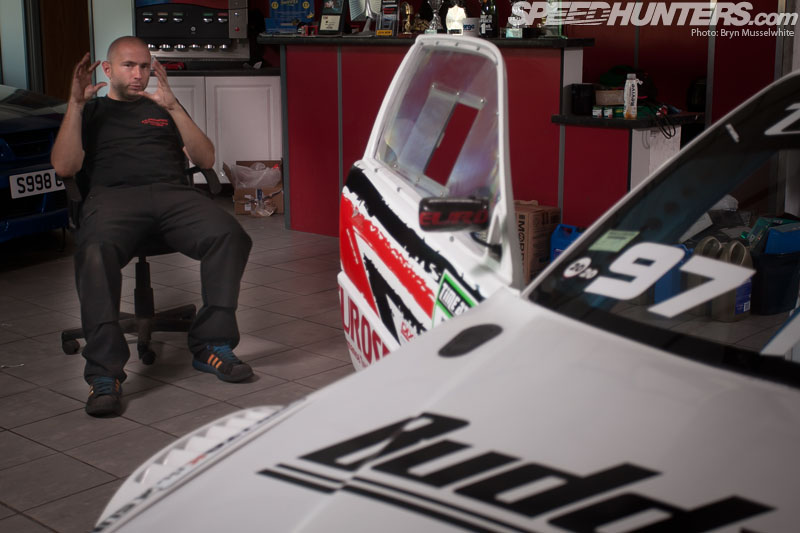 It's good to know that Eurospec are as dedicated as Romain. Again everything went great until the final. "The sandwich plate for the oil cooler split on my first lap so I had to stop. Call it a day."
Gutting. Again I remember the challenging circuit ringing with talk of the Civic, which was fast turning in to a giant slayer.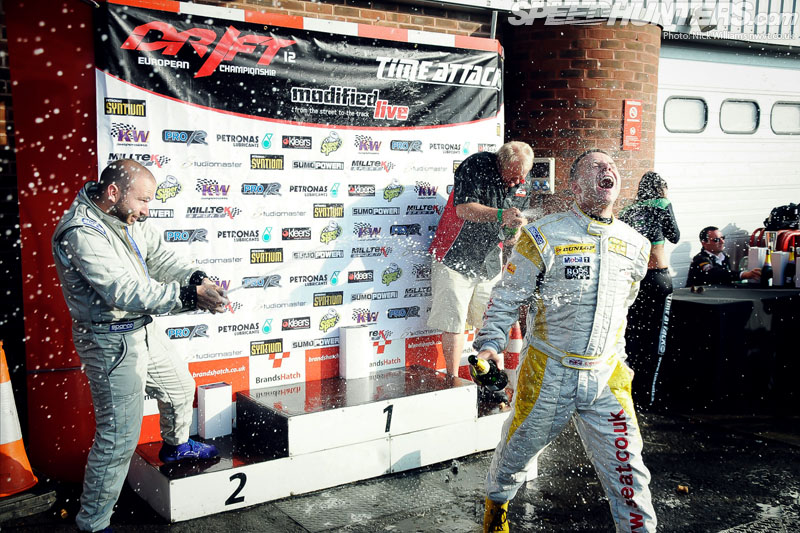 The final took place at Snetterton, "I drove there for the final and did a track day on the Friday. Then I went quickest at everything throughout – warm up, practice, qualifying, and the final. We were on the podium."
(This picture is more recent and @ Brands Hatch)
Success at last. It might sound like a volatile package with failures just waiting to happen, but far from it. After some pre-season niggles that meant Round one was missed, 2011 proved just how good a package the car was, "Last season was awesome, we won at the second round in Club FWD."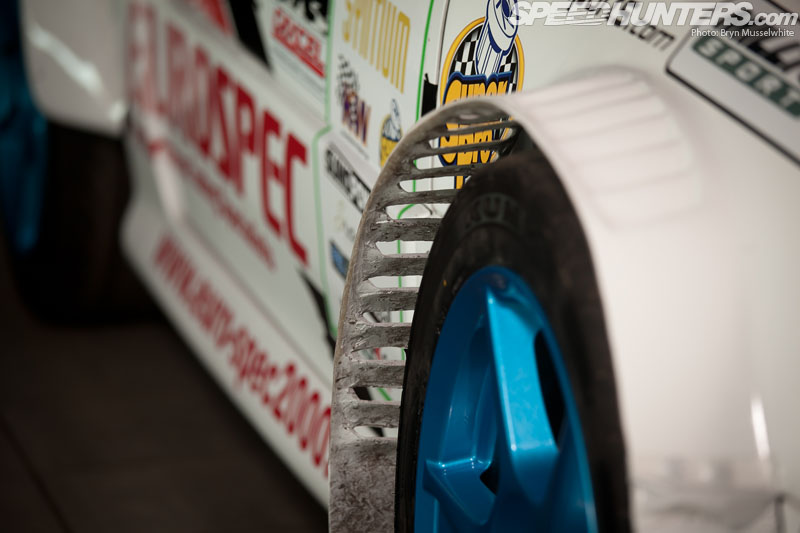 Traction was an issue though, or as ever the lack of it. Romain saying of Knockhill, "I was wheel spinning in fifth in a straight line. So we needed wider rubber, so wider arches, 245 on the front and rear…"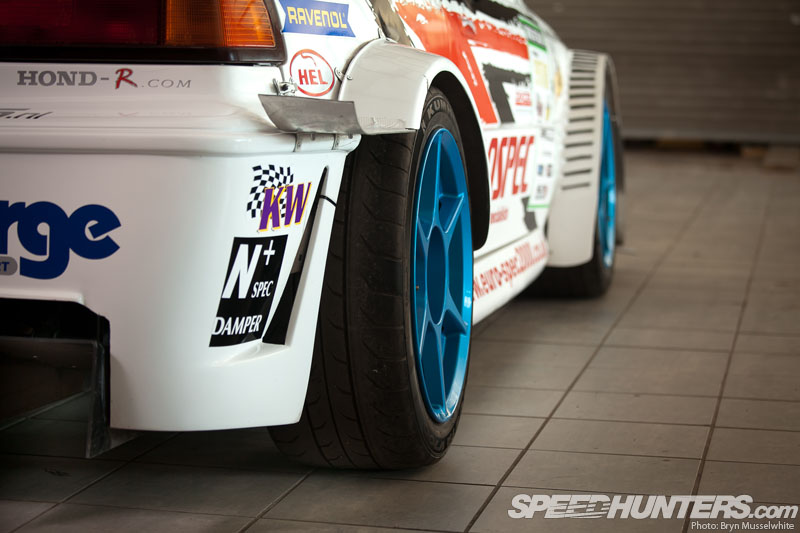 "… next we went to Brands Hatch, we drove there, won on Saturday, won on Sunday and drove the car back. One of the best weekends ever."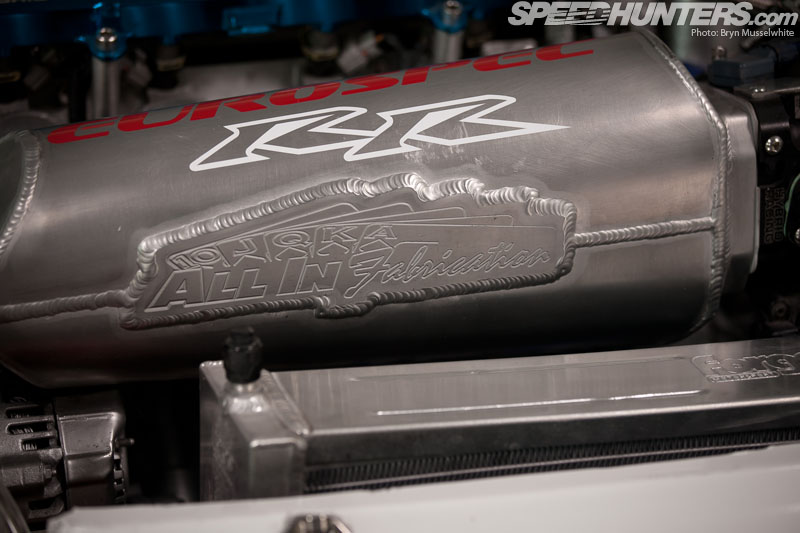 Coming second overall in the Club Challenge class meant setting faster times than Evos, Subarus, Skylines and other well know names, "Not many people spoke to me before but then people started taking interest. I got some good feedback. It was really pretty cool."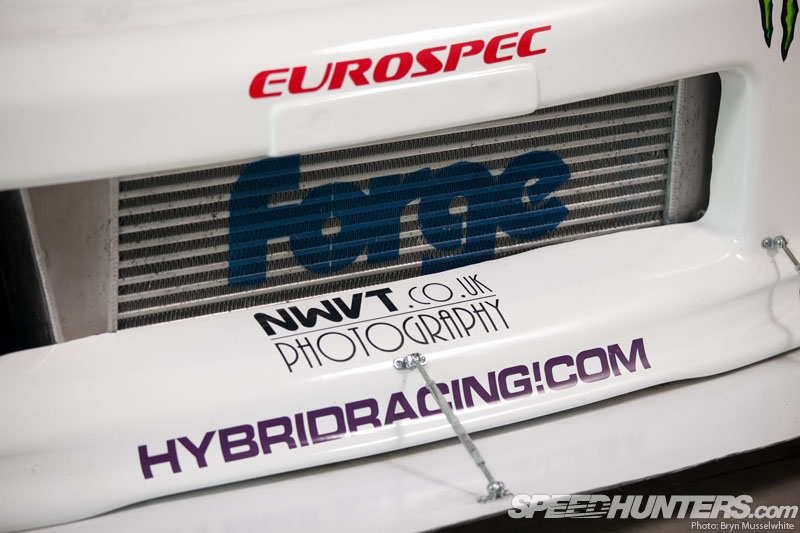 Romain is humble about his achievements and the dedication he's shown over his entire tuning career should be an example to all of us.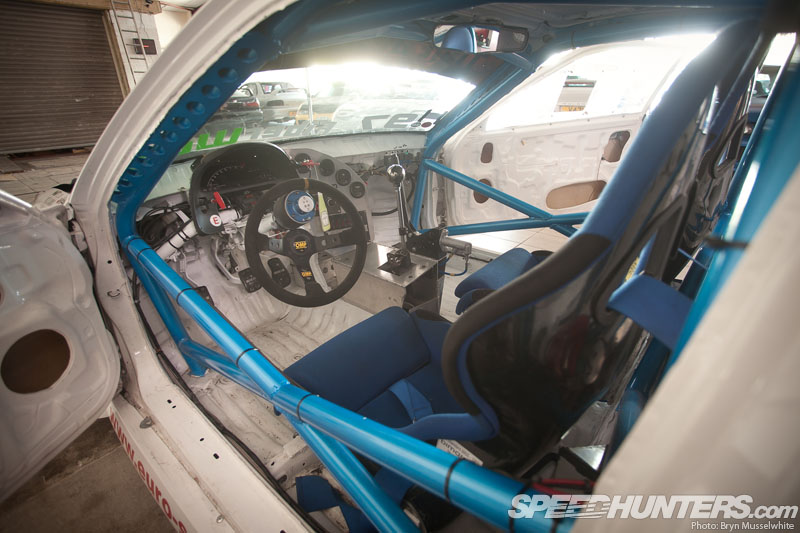 The next round at Anglesey was even more spectacular, now moved up in the Club Pro class. The supercharger broke in practice leaving Romain with no option than to run without, "I bypassed the supercharger with another belt I found and remapped the car in the pitlane so I knew the VTEC would kick in. We didn't do too well in qualification, but in the final I finished third."
Again I remember commentating on this. Amazing times, people were genuinely saying what's going to happen when he's got the supercharger?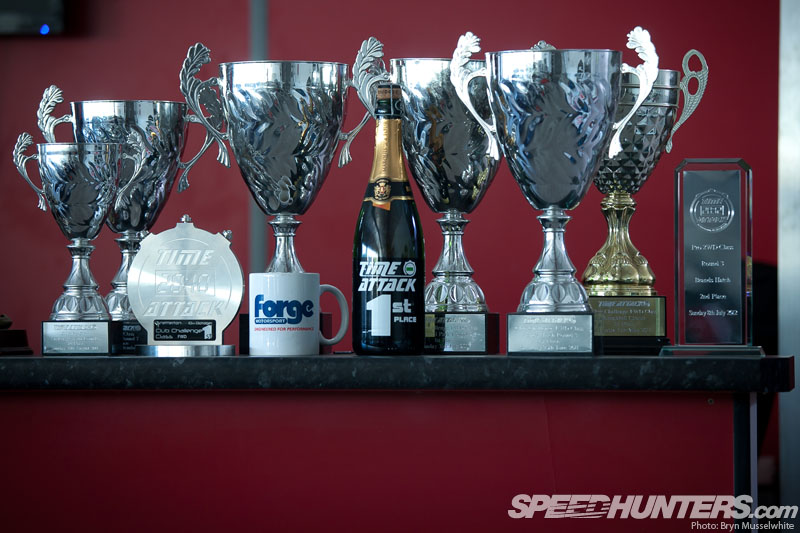 We could continue with giant slaying stories, Time Attack is a family though and on track it might be war, but Romain has genuinely been welcomed in the pit lane, given his everyday work mapping all kinds of modified cars. How does the CRX compare in feel? "It's a totally different approach, you have to push and run with the car. I drive all sorts of cars, a 700bhp Evo…. It will break your neck. The CRX is like wahh, wahh…" Romain beams with a big grin and tails off, "You can't compare it really."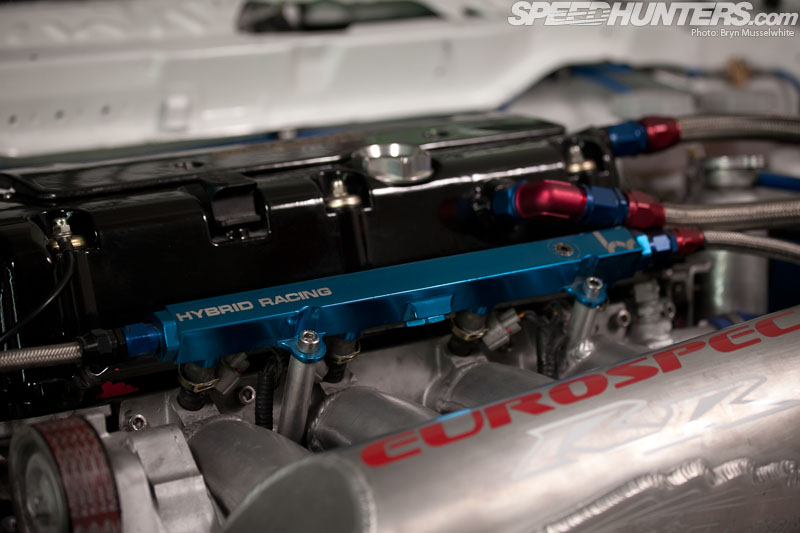 After the huge commitment to get to that stage, Romain was going to give the 2012 season a skip, but after a holiday to see Anouar who now lives in Australia… It was time for more development work, "As part of my deal with Buddy Club we got a 2.4 engine, a slightly bigger supercharger, which means more torque at lower rpm and more power. I now have 522bhp at the flywheel, which is about 440 at the wheels with 390ftlbs," and it weighs how much? "It's heavier than you think, 890kgs."
That's not heavy Romain, it must fly huh? Sorry…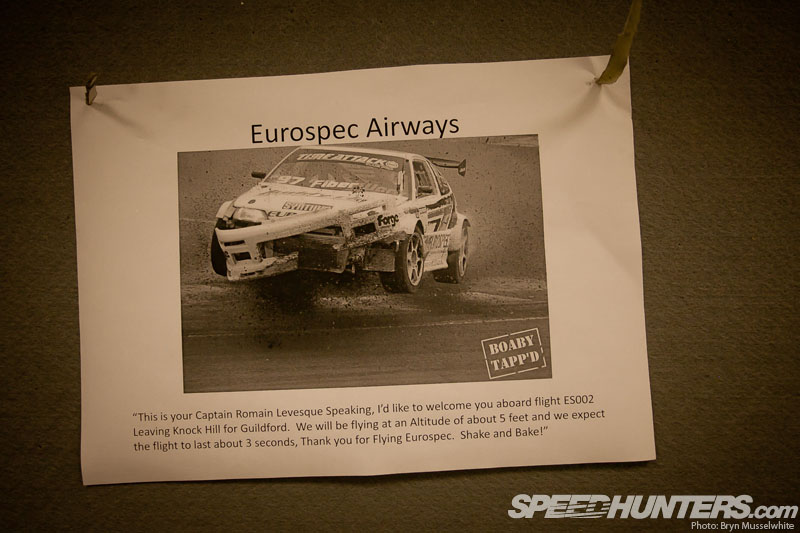 "We went wider body again, got another diffuser, more aero… I crashed at the first round.  But I have to say a huge thanks to Fibreworks who have done all the body kit.  Alex does a lot of Honda parts. He can do any custom job you need."
The picture above was from a spectacular off at Knockhill circuit earlier this year, with the many sponsors rallying around to get the Civic back in shape.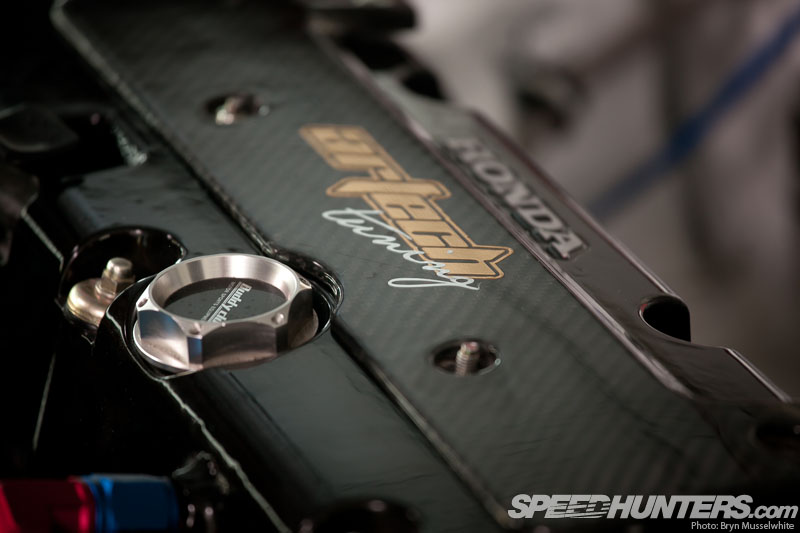 So the big question is how much further can Romain go with his Civic? Given that he's changed country, learnt a new language and pushed CRX tuning whilst doing so, who knows? He tells us of aspirations to compete in World Time Attack. Why not? If Romain wants something, he'll find a way of making it happen.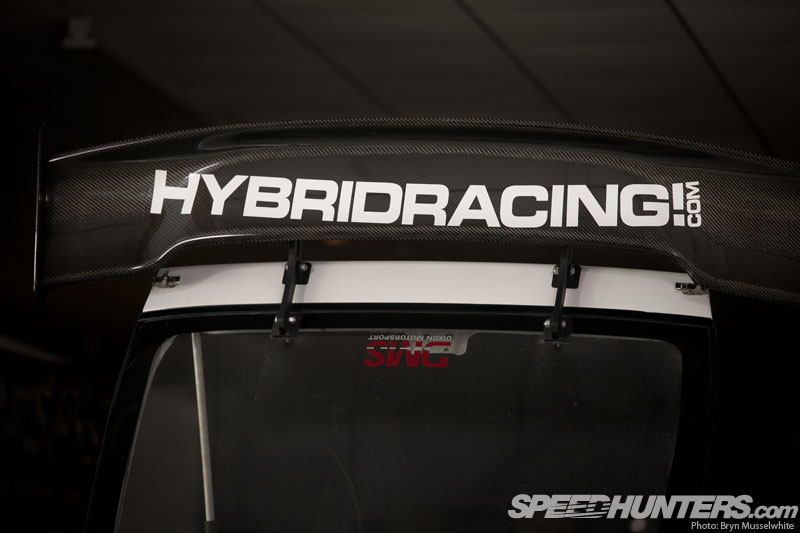 With a list of global sponsors and passionate enthusiasts who have been involved, it's on a worldwide scale that Romain thinks. This is why he will succeed in our eyes, the CRX is Romain personified, packing a punch way above it's apparant weight it is devastatingly effective. Yet somehow because of it's size, it is still approachable and aspirational.
Romain cites another famous Honda as giving him some inspiration over the years, the SS Works Civic, "It's the ultimate. In VTEC Battle… That car killed everything, I love that car."
So who knows what's next? Romain does, "I haven't got to the end of the story yet… There's more to come."
We believe him. You should too.
………………………
Bryn Musselwhite
Technical Specification
1990 Honda Civic CRX
Engine
Performance
522bhp @ 8000rpm, 390ft/lb @ 7100rpm
Buddyclub K24A3 Accord Type-S engine, standard K20A2 head and cams, Buddyclub valves, valves springs retainers, Buddyclub multi-layer steel head gasket, CP pistons giving 10:1 compression ratio, Crower conrods, Micro-polished standard K24 crankshaft, ACL race bearings, TGM baffled sump, custom ALL-IN Fabrication intake manifold, Hybrid Racing 70mm throttle body, Eurospec custom-made 3in pipe and air filter, Forge Motorsport custom-made radiator, Forge Intercooler, Forge Motorsport blow-off valve, Forge Motorsport overflow tank, Injector dynamics 2000cc injectors, Aero-spec -8 fuel lines, Walbro 255 l/ph in-tank fuel pump, Forge 4liters swirl pot, Bosch 044 inline fuel pump,
Hybrid Racing fuel rail, Aeromotive fuel pressure regulator, Skunk2 Racing MegaPower exhaust manifold, Eurospec custom-made 3in stainless steel exhaust system, Hondata K-Pro ECU remap by Piv, Mocal 25-row engine oil cooler, Rotrex kit by TTS C38-91 supercharger, Eurospec 2000 custom-made 3in intercooler piping, Rotrex 16-row oil cooler, Hondata 4 bar MAP sensor, Hybrid Racing engine mount kit, Hybrid Racing earth kit, Hond-R wiring tuck
Transmission
Competition Clutch twin plates, Standard EP3 six-speed gearbox, Kaaz 1.5 way LSD, Driveshaft Shop Stage 2.9 driveshafts, Hybrid Racing customized short shifter, Hybrid Racing uprated shift cables, Hybrid Racing heavy duty gearknob
Chassis
Buddyclub Racing spec adjustable coilovers, Buddyclub front and rear camber alignment kit, Progress Auto 22mm front anti-roll bar, Progress Auto 24mm rear anti-roll bar, Progress Auto front and rear lower control arm pivot bearings, Progress Auto front radius rod pivots
Progress Auto lower damper bushes, Custom rear trailing arm, SPC rear toe alignment kit, K Tuned front traction bar welded to chassis, front stabilizer arms, Blox rear lower control arm
Brakes
(F) Spoon Monoblock four-pot calipers and Dixcel 282mm carbon front discs (R) DC5 Integra Type-R rear calipers with Dixcel 260mm carbon disc, Dixcel brake pads all round
SW servo delete kit, Custom HEL braided brake lines
Wheels & tyres
Buddy club P1 Racing 17x9xin Kumho 255 40 17 Front 245 40 17 Rear
Exterior
Buddy club Racing Spec wing, Resprayed Plain white by Bodyart paintwork, Showoff Imports rear bumper, Showoff imports  glass-fibre doors, Fiberworks custom side skirts, front bumper and wings, Fiberworks single-skin Carbon fibre bonnet with Aero catches, APR carbon-fibre door mirrors, Plastic4performance windows kit with sliding panel, Custom rear diffuser by Eurodynamics, Custom front splitter by Eurodynamics, Custom front and rear Canards by Eurodynamics
Interior
Hond-R custom wiring harness, Custom cage rollcage, extensively stripped out, RRS bucket seats, RRS six-point harness, OMP steering wheel, Quick-release boss, S2000 clock, Zenky Racing oil pressure gauge, PLX water temp, oil temp gauge, Eurospec custom rear aluminium boot, Forge fuel tank
Massive thanks to
Anouar
DMS
Hybrid Racing (special thanks for David, 24/7)
Competition clutch
Skunk2
Maz @ Hond-R
TGM
Fiberworx
Showoff imports
Monster
Sean Wood Motorsport (servo delete)
Andrew and Vince Eurodynamics for the aero