It might be the middle of winter here in New Zealand, but there's no shortage of Speedhunting to do in the 'Land of the Long White (and sometimes blue and green!) Cloud'. The CRC Speedshow is annual event on the Kiwi calendar and combines a wide variety of speed, performance and custom automotive interests all wrapped up in weekend-long event at Auckland's ASB Showgrounds. Speedshow always manages to serve up plenty of good stuff to look at/drool over, so I packed up my gear and headed along for a quick look…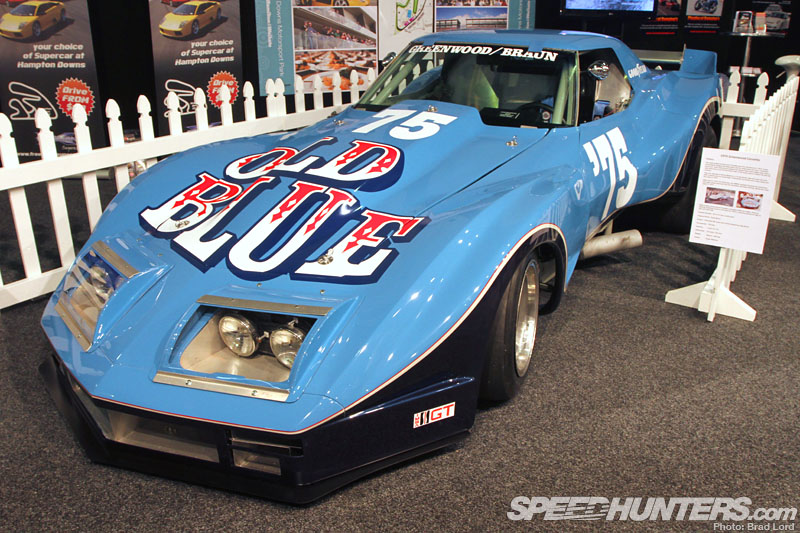 One of the best things about Speedshow is the diversity of cars on display. 'Old Blue' is number #5 of just 15 crazy Greenwood Corvettes that were built and raced in the USA during the mid 1970s…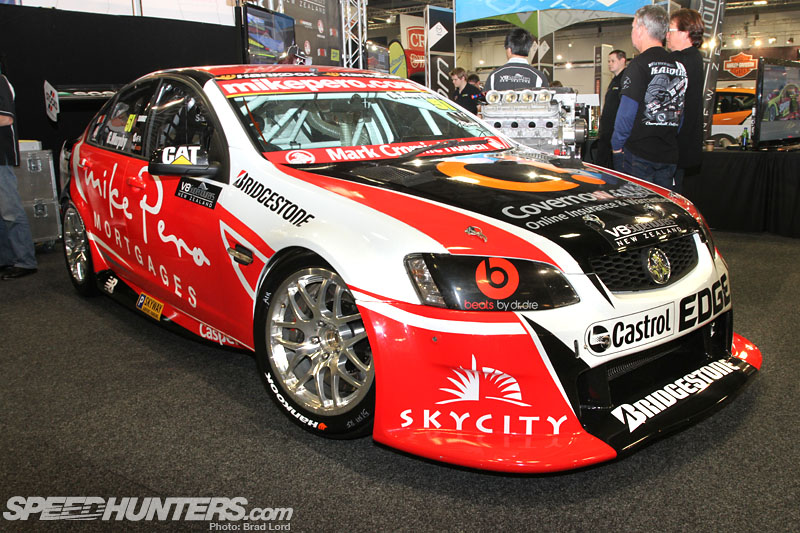 …where as this M3 Racing Commodore is brand new build for the brand new Kiwi V8 SuperTourers racing series launched earlier this year. At the heart of the cars are GM Performance Center-built LS7 motors.
One of the headline displays for the 2012 event was New Zealand's new Landspeed Record challenger: JetBlack. This was the first time I had seen the creation in the flesh, and at over 42 feet (almost 13 meters) long, it's very impressive!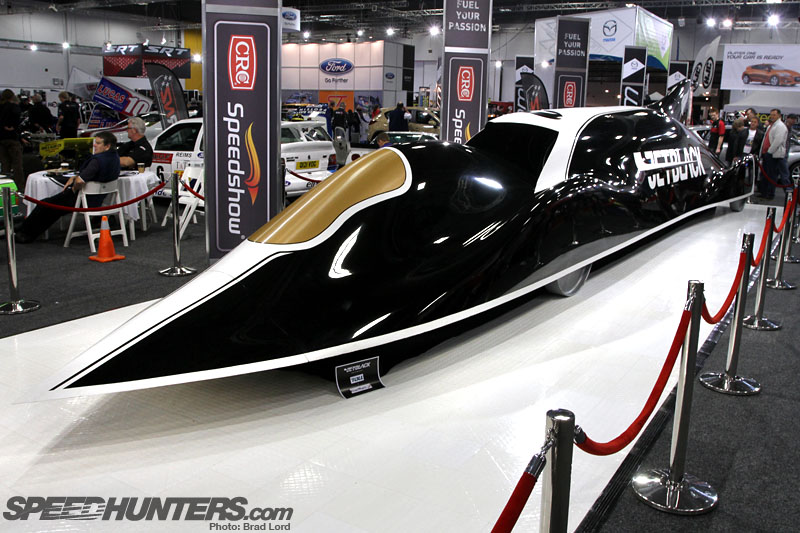 The JetBlack team is made up of some very talented engineers, who together are aiming to shatter the current LSR held by the Thrust SSC, which managed 763mph since 1997. In a quest to exceed 1000mph JetBlack will used use a pair of 20,000lb/f Hybrid rockets and an 18,000lb/f Turbofan jet engine, which sound dangerous on their own, let alone together!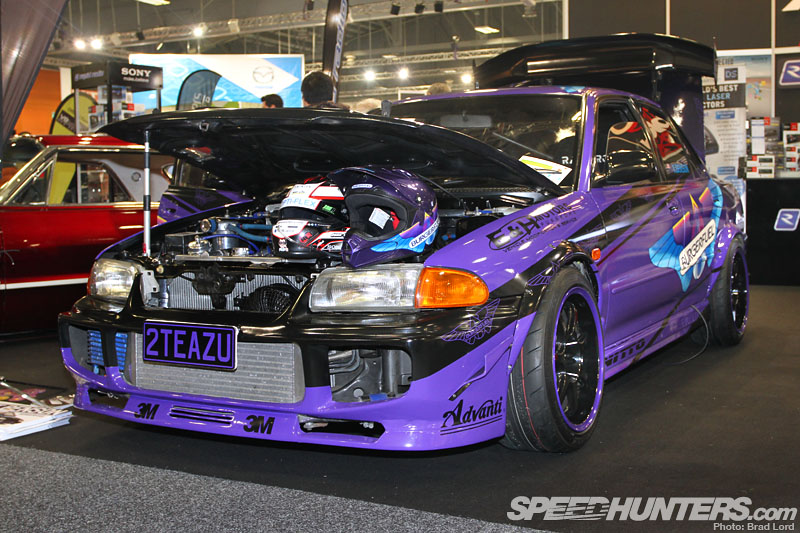 The local time attack fraternity was represented by Kat Benson who revealed her Mitsubishi Lancer GSR's fresh Burgerfuel livery for the forthcoming 2012/2013 summer season. I'm definitely digging the new scheme!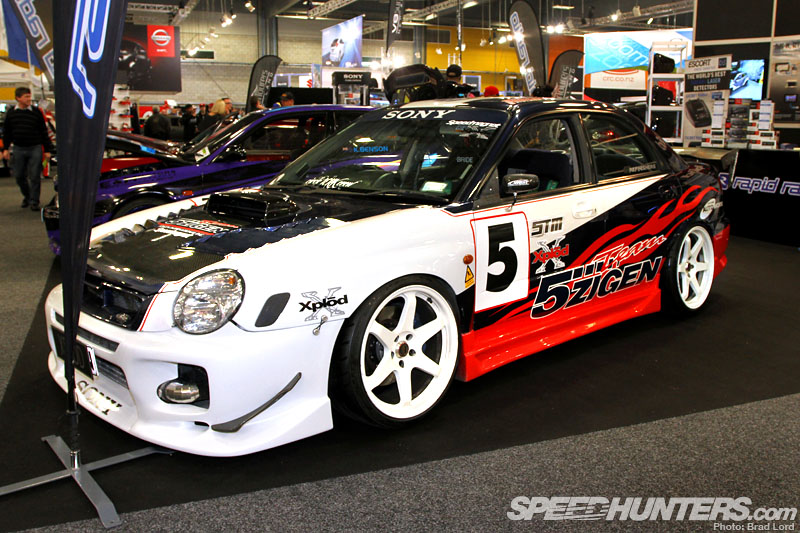 Next to Kat's car on the Rapid Radio/Sony XPLOD booth was a very well travelled Impreza WRX. The Subaru started off life as a Tokyo Auto Salon demo car for 5Zigen in Japan, before doing the rounds with 5Zigen in the USA and even made an appearance in Super Street magazine back in the day. They're genuine Volk/Rays TE37 rims in 19×9.5″ size just in case you're wondering…
The 7.85-second Thrill Performance Nissan Skyline is a very sweet piece of drag racing hardware, originally built in its owner's garage. Instead of an RB-based engine set up, the R34 runs a methanol-fuelled Nissan VH45DE quad cam motor that's been bored and stroked to 4.6L and fitted with a Littlefield Blowers 14/71 supercharger.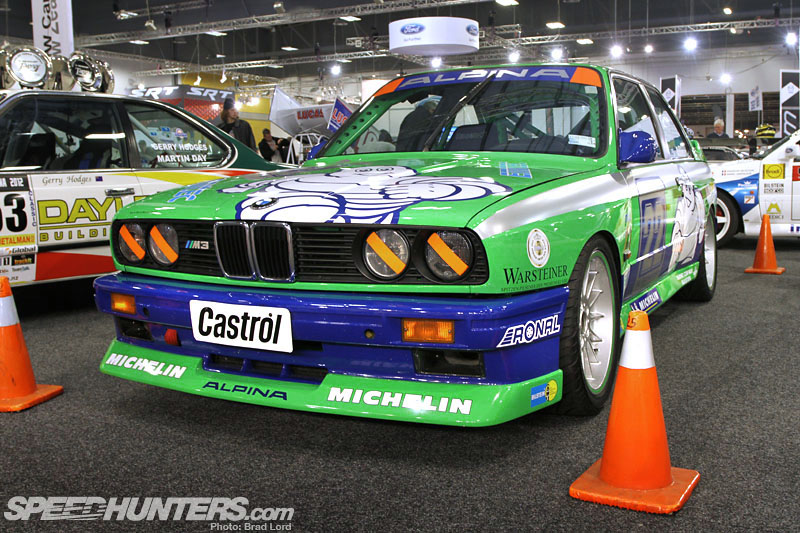 Another car receiving plenty of attention was this '88 Alpina BMW M3 touring car replica. Fastidiously built from a genuine E30 M3 for tarmac rally use and track day jaunts, the owner told me it sits between Group N and Prodrive specification.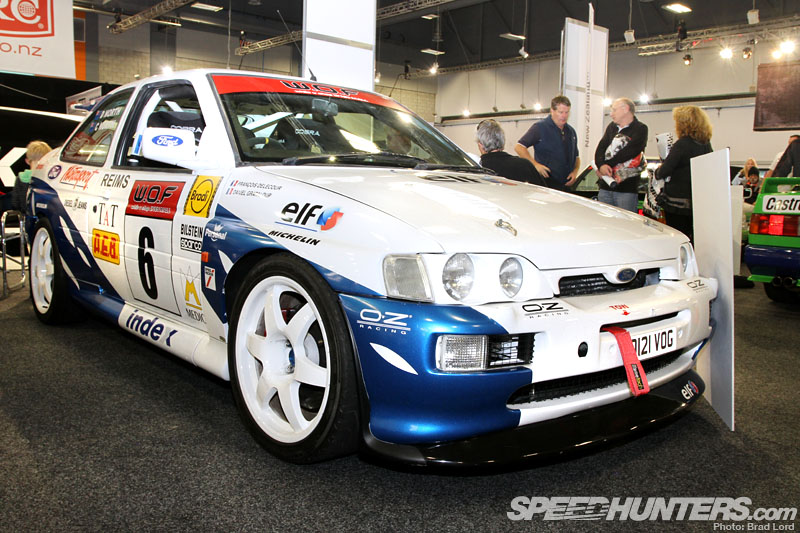 Speaking of rally, this Ford Escort RS Cosworth caught my eye, too. Originally pieced together from a genuine Ford Motorsport competition shell, the tarmac rally car was dressed up like Francois Delecour's '94 WRC Monte Carlo rally winning machine.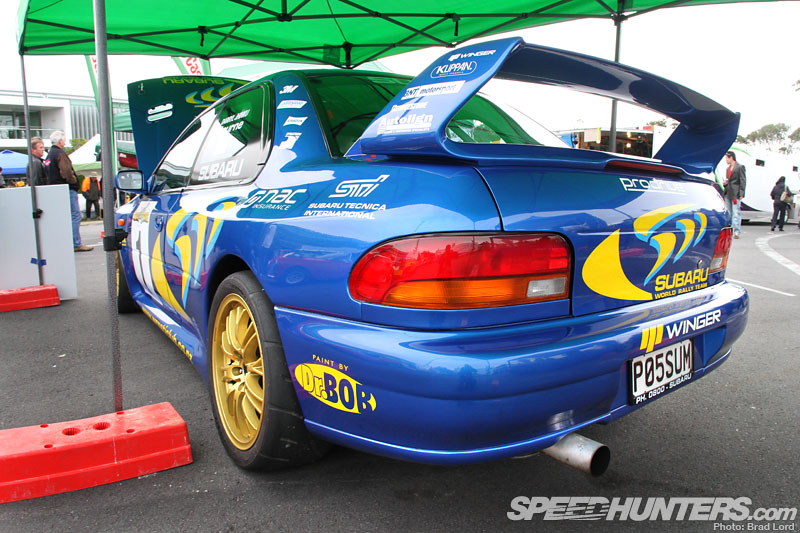 Built to honor the late Kiwi rally legend, Possum Bourne, this WRC widebody-kitted, stripped and caged, two-door Subaru Impreza WRX STI originally began life as a four-door Type-RA sedan.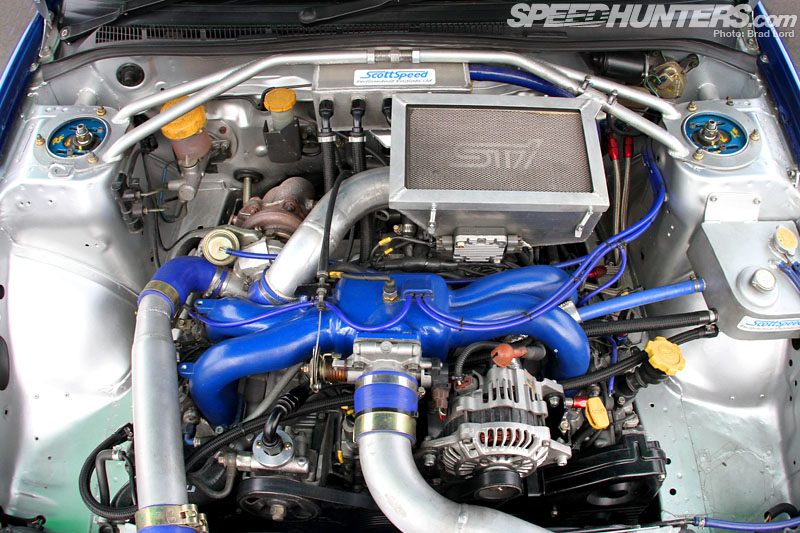 Under the hood is a fully-built STI engine with a TD05-based twisted turbo set-up that's forever spooled thanks to anti-lag. It even features a bunch of genuine WRC bits – some even supplied by Prodrive for the cause.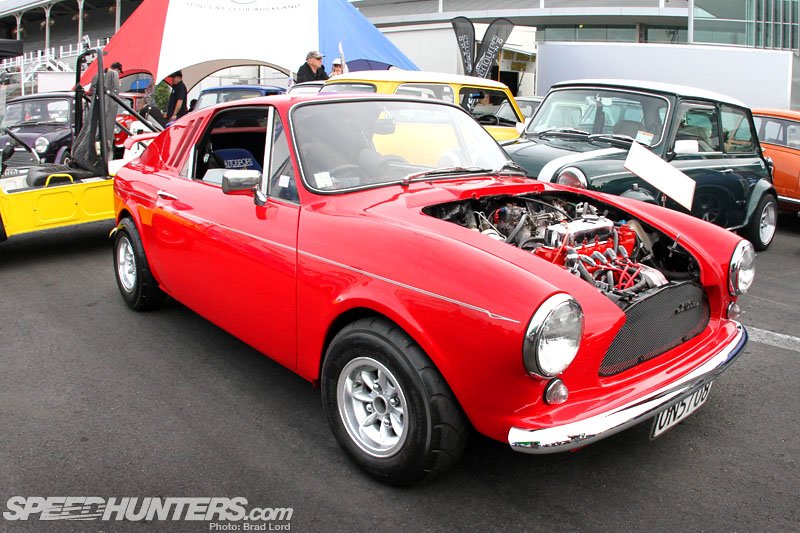 Unless you live in New Zealand you would have probably never seen one of these before! It's Mini de Joux GT, reputedly one of 30 ever built, and masterminded by local car designer Ferris de Joux back in the mid 1960s. It is – of course – based on a Mini, but features full fiberglass body work, and in this particular case – a tuned A-Series engine with a big side-draught carb!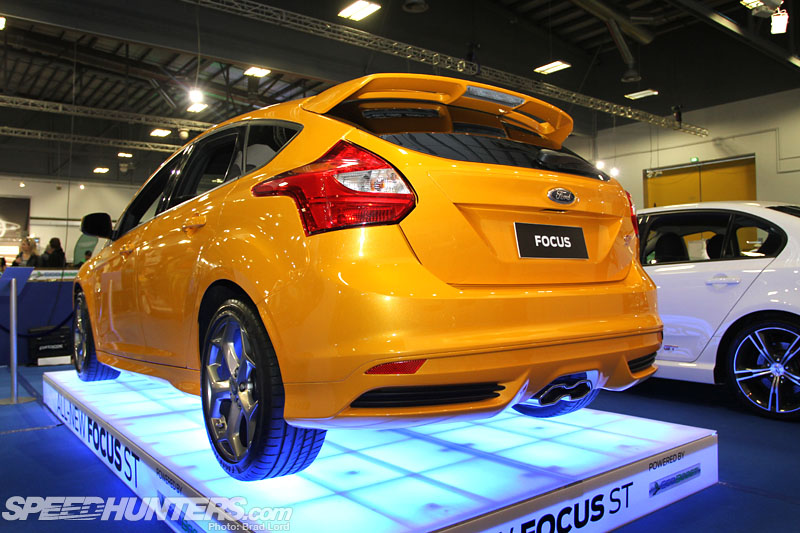 Another aspect of Speedshow is a hall designated mostly for new car manufacturers. Next to its 450hp supercharged V8 FPV GT, Ford showed off a car that I'm itching to test drive: the new 2013 Focus ST…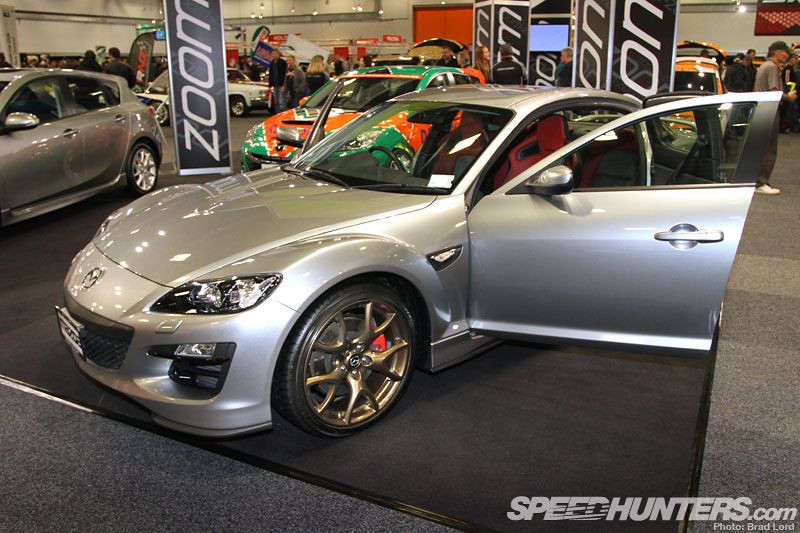 …While Mazda displayed the final iteration of the RX-8; the 'Spirit R'. This, of course, could well be the last Mazda rotary-powered production car the Japanese manufacturer ever builds, in which case is sure to become a collectors' item in years to come.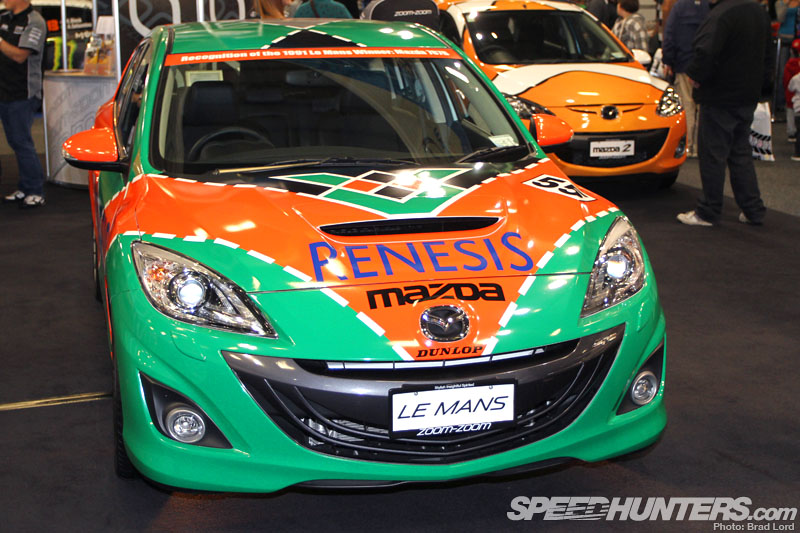 Mazda also showed of a Mazda3 MPS (aka Mazdaspeed3) dressed up like the '91 Le Mans 24-Hour winning, quad-rotor 787B. Not quite sure why…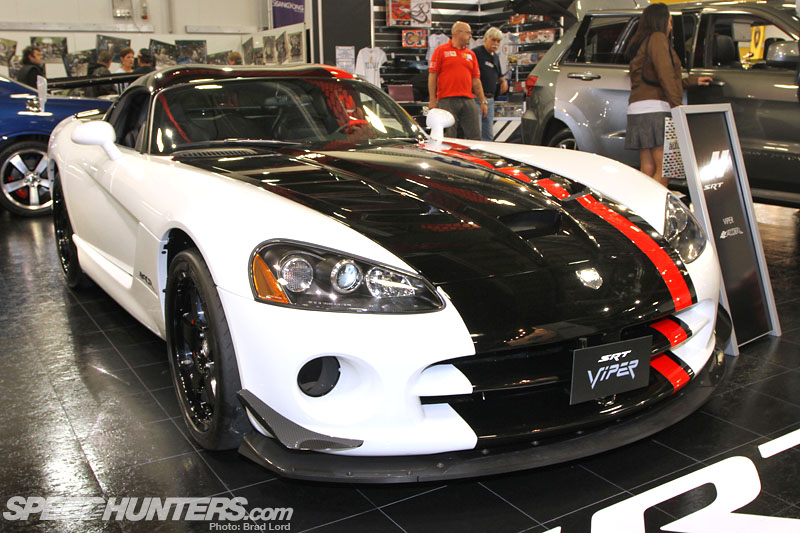 A 600hp Dodge Viper ACR (American Club Racing) took center stage on the SRT New Zealand booth alongside the recently released 2012 Jeep Grand Cherokee SRT8 and 2012 Chrysler 300C SRT8 models.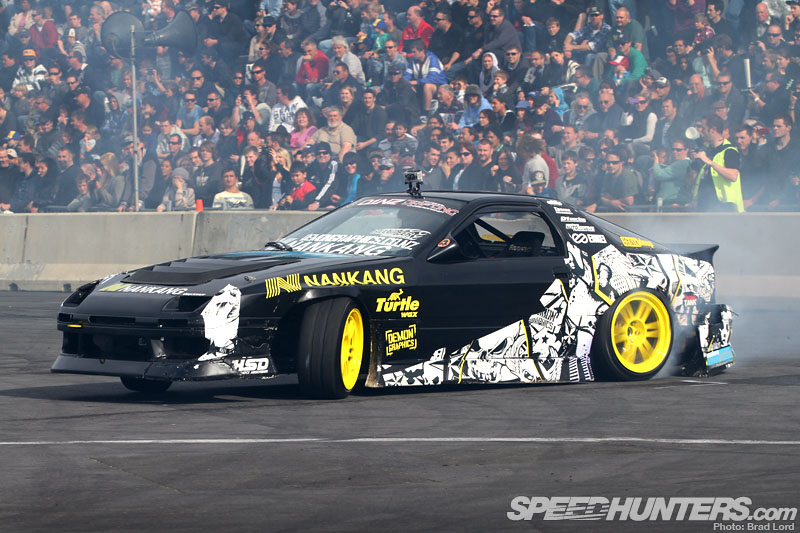 Along with the static show, a live action arena outside featured a stunt drive show and a drift demo that showcased the oversteer skills of three D1NZ drivers in front of a huge audience.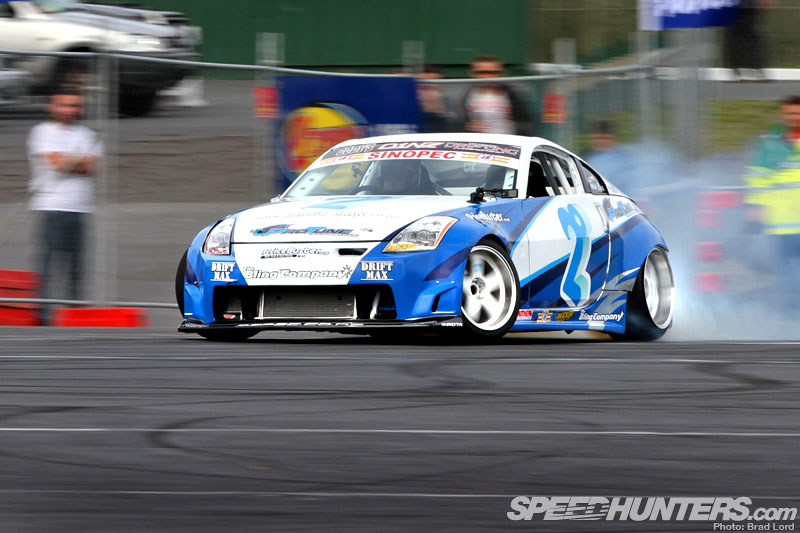 Sky Zhao used to be found behind the wheel of a bright orange RB30-powered Nissan Silvia, but at Speedshow he was shaking down his new 2 Degrees '570Z'…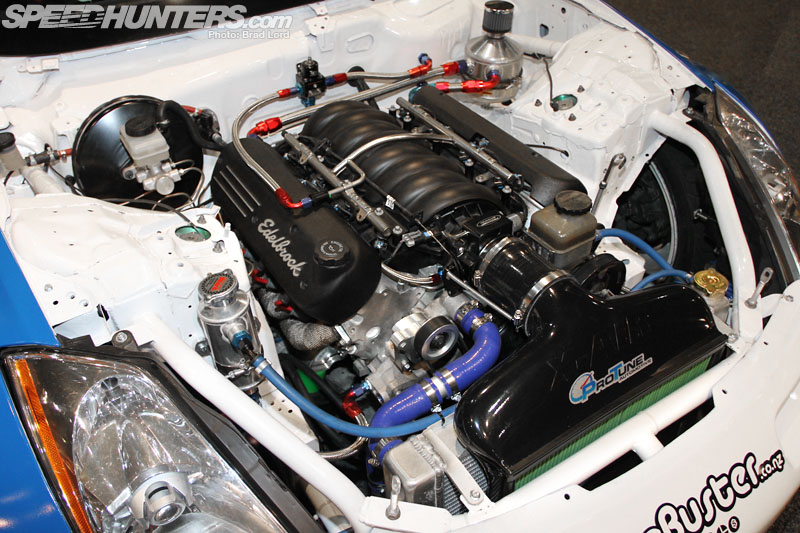 As you might have guessed from the 570Z designation, the Nissan 350Z/Fairlady Z runs a tuned 5.7L Chevy LS1 powerplant.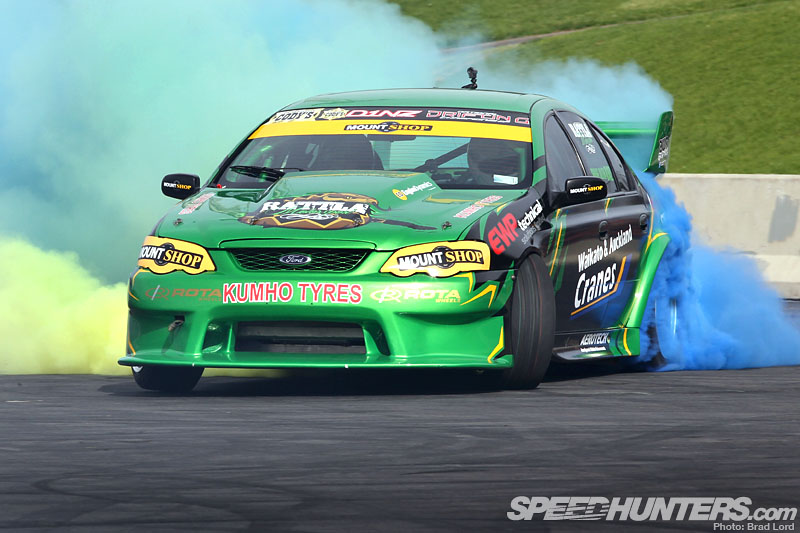 Making the most noise (and smoke) was Shane Allen's '99 AU Ford Falcon, aka 'RATTLA'. Updated in the looks department with a BF Falcon facelift, the green, tire destroying machine uses a Dart block with NASCAR-spec D3 aluminum heads and a Braswell Racing carb to churn out over 700hp. As you can see it had no trouble turning fresh tires into plumes of colorful smoke…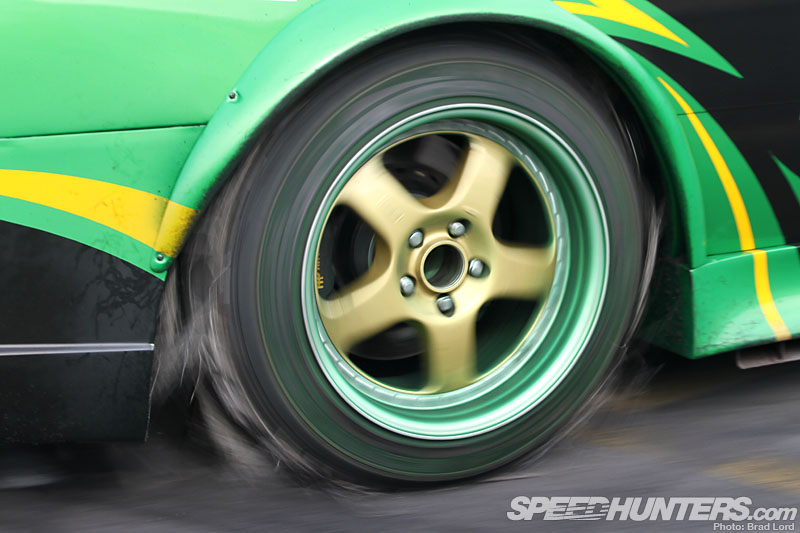 …Which quickly led to the inevitable happening. Not that the crowd seemed to mind – they loved it!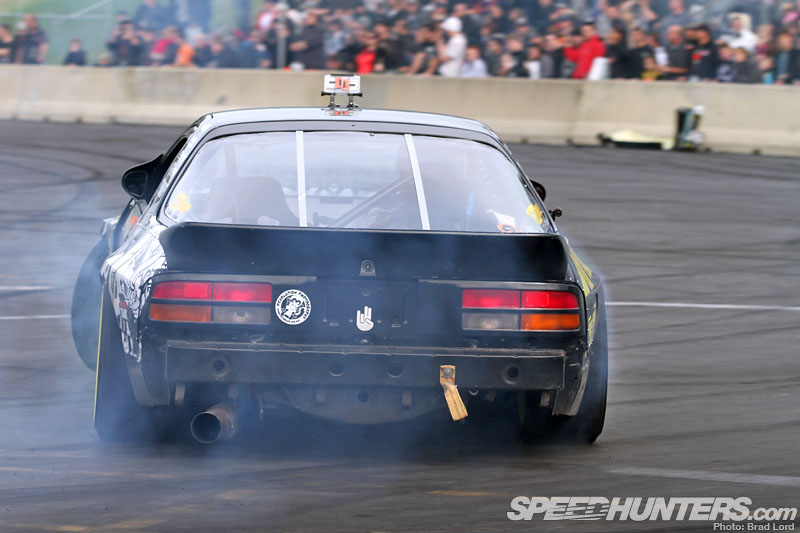 Andrew Redward put on a a good show in his LS1-powered FC3S Mazda Rx-7, but lost his rear bumper in the process. Oh look, there it is!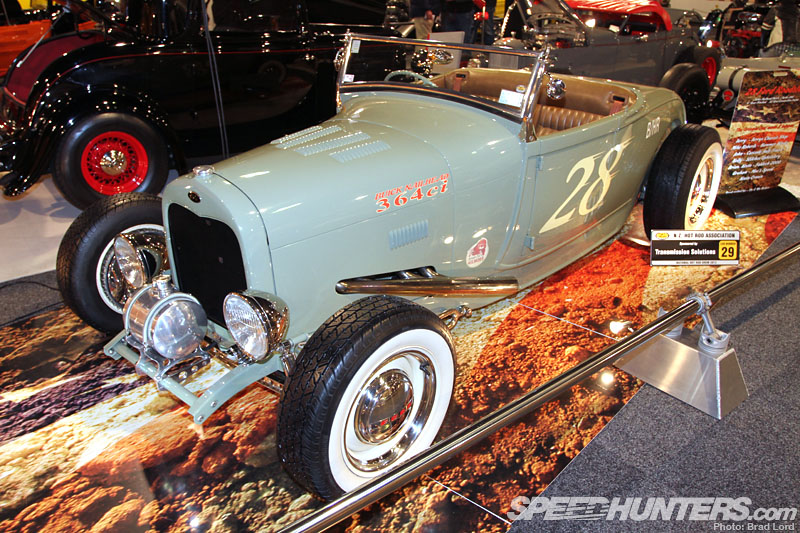 In my mind the highlight of Speedshow was the NZHRA 2012 National Hot Rod Show. Coinciding with the 50th anniversary of the New Zealand National Hot Rod Association, the show-within-a-show occupied an entire hall and was filled to capacity with some stunning creations. This cool '28 Ford Roadster built on a '32 Kiwi Connection frame and featuring a 364ci Buick Nailhead engine was one of my favorites…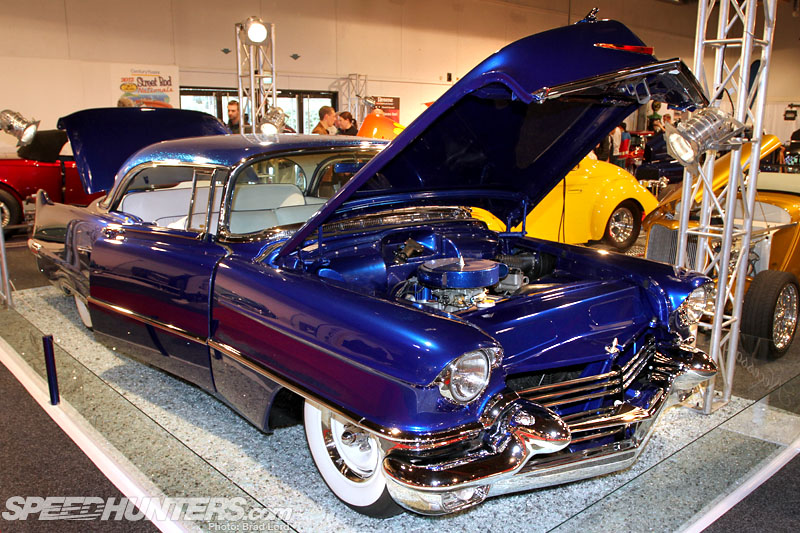 … As was the just-completed custom '56 Cadillac Coupe of NZV8 magazine editor Todd Wylie and his wife, Kym. At close to 20 feet long 'Necessary Evil' defines the word presence!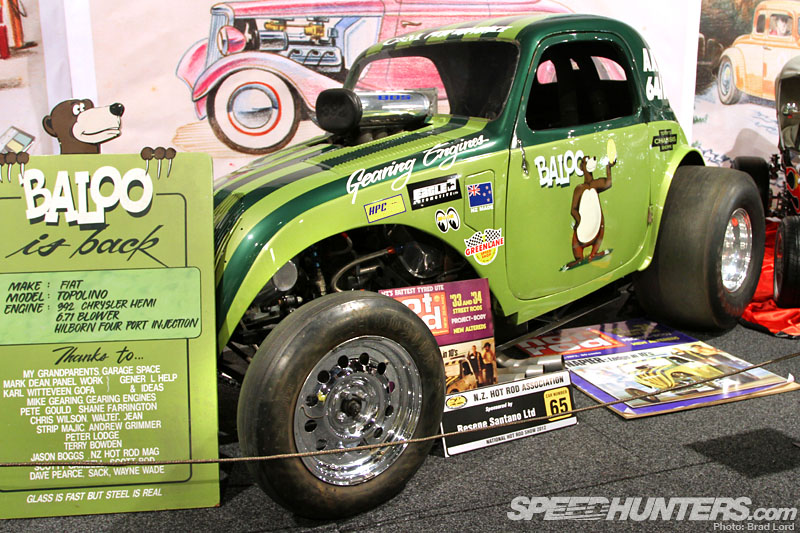 NZ Hot Rod Magazine occupied a large space in the hall to showcase bunch of historic builds, including 'Baloo', one of New Zealand's most well-know drag machines from the '60s and '70s.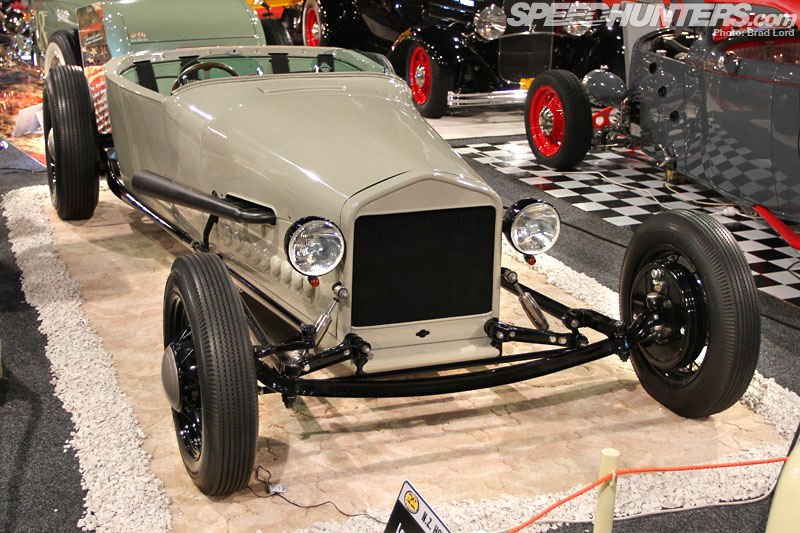 At the other end of the spectrum were new builds like this stunning '27 Ford Model T roadster, which has been based on a '40s dry lake racer. It's owner, Wade Nisbet, designed and engineered the chassis and body himself.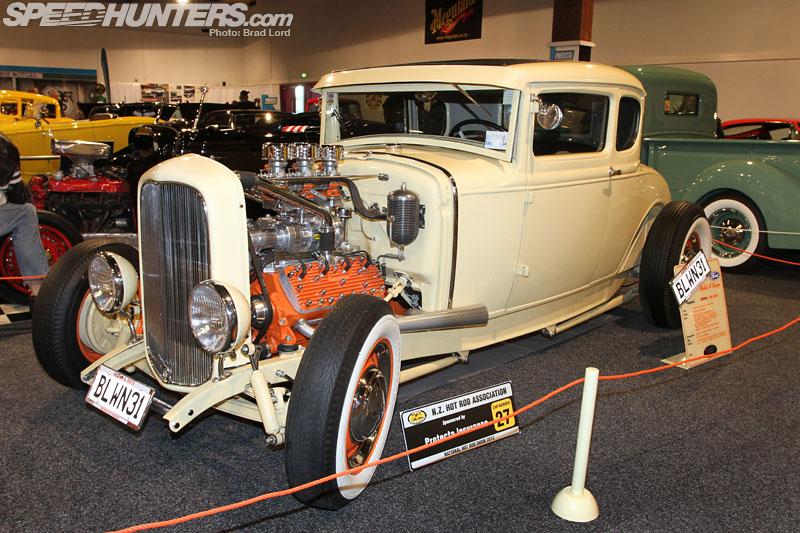 There's some nice detail on this blown '31 Ford Model A Coupe as well…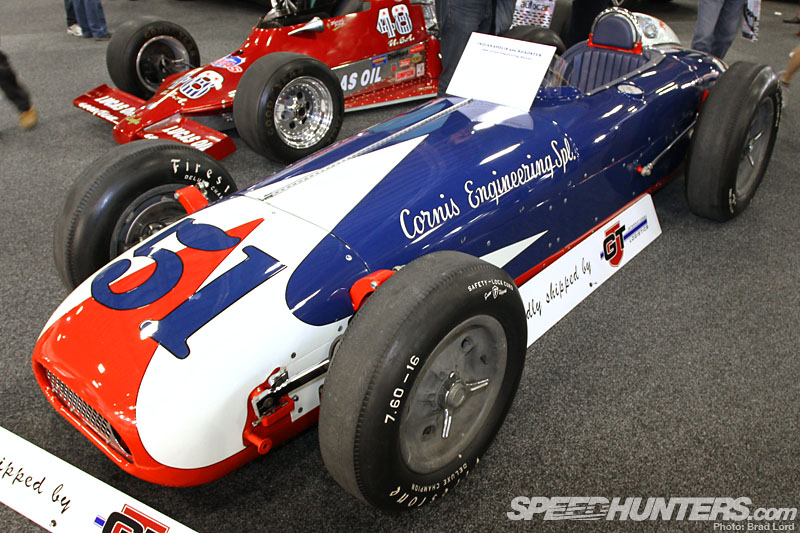 And with that I'll wrap things up from my quick look at the 2012 CRC Speedshow. I'll leave you with this image of one of the most interesting cars at the event. Now owned by a local motor racing museum, the Cornis Engineering Spl was built to contest the Indy 500 but never made it to the start line. Rookie driver Bob Cortner qualified the roadster for the 1959 event, but was tragically killed in qualifying when the car hit the wall at high speed. His death was the 50th at Indianapolis Speedway, in the 50th year of operation. Although it was never raced again the car was restored and today still runs a  250ci lay-flat, methanol-fuelled Offenhauser four-cylinder engine complete with a double over cam 16-valve cylinder head, 16.5:1 compression and Hilborn mechanical fuel injection.
 – Brad