Trying to pick a favorite car at Gatebil is like trying to determine if it were the chicken or the egg which came first. You'll think you've found a sure-fire favorite, then moments later a new one appears. I'm not entirely sure if I even have a single favorite car from Rudskogen, but without a doubt this immaculate E21 is in the running.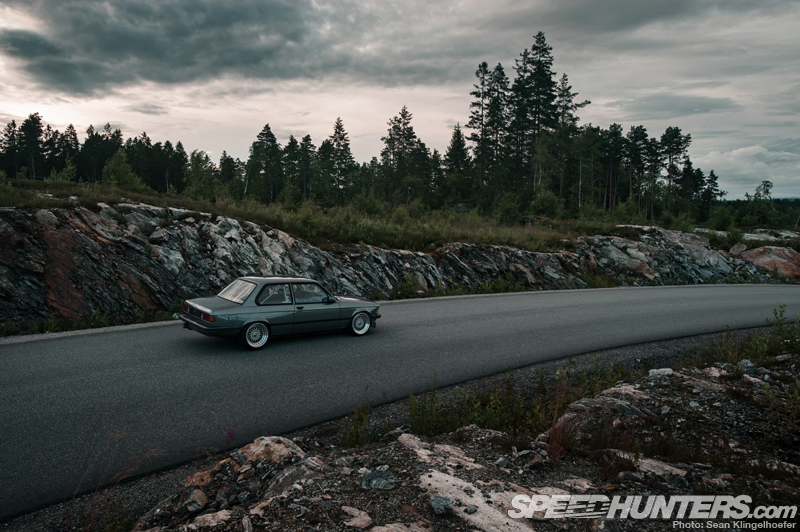 I knew the moment I first laid eyes on its magnificently understated shape that I wanted to shoot it. It's quite hard to not like a car so subtly beautiful, regardless of your personal taste. It was with this body style that BMW began what is now their most well known, and best selling, line of cars – the 3 Series.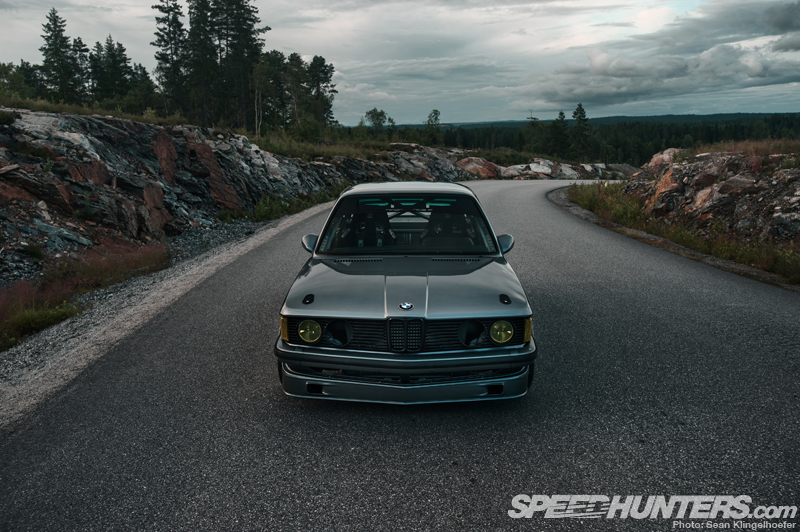 Back in Los Angeles it's a rare sight to see an E21 in any form, let alone a modified version. Needless to say when I stumbled across Jorgen Aune's car my jaw quite literally dropped. The pristine condition of the car immediately stood out from most of the cars at Gatebil, not to mention the incredible stance. From a distance I would have bet money that this was a show car, but that would be a bet I had lost.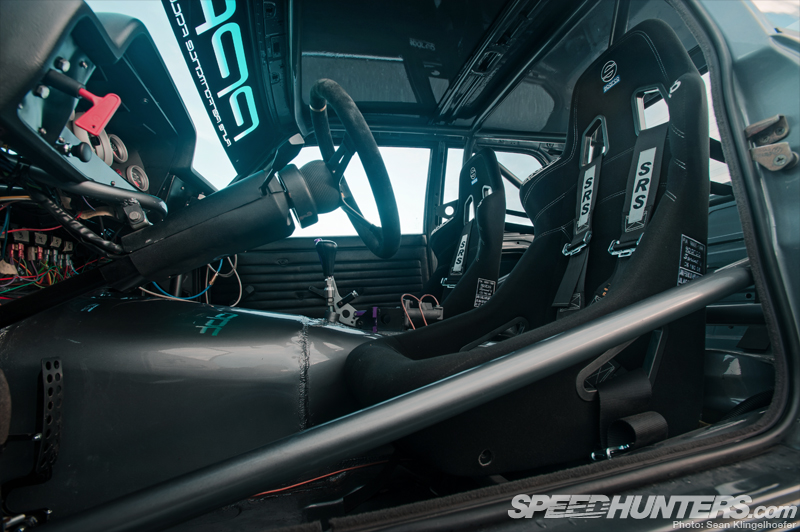 As Dino and I got closer to the car I had a peek inside the cabin where things were looking particularly interesting. I'm by no means an expert on the chassis, but I quickly picked up the obvious bits like the rollcage and bucket seats and could tell that this car meant serious business. The transmission tunnel also looked particularly huge, perhaps hinting at some monster power under the hood.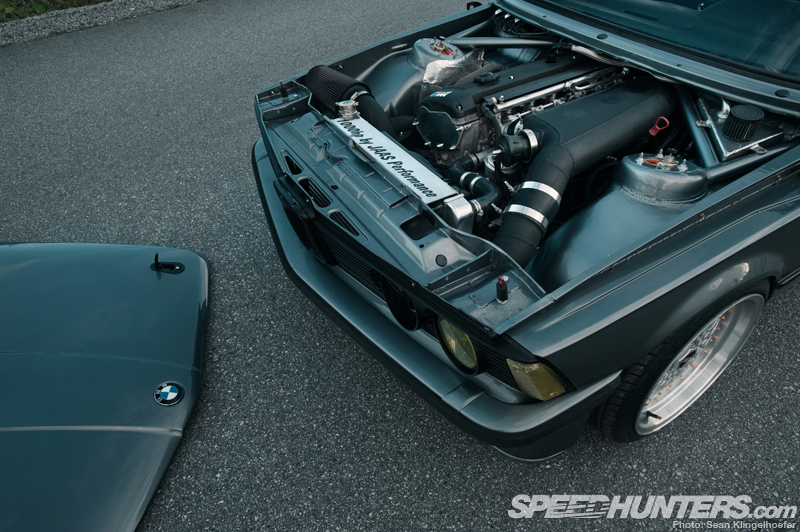 I soon discovered after speaking with Egil that the car was, in true Gatebil form, packing some insane power under the hood… one-thousand-horses to be exact. The owner wasn't around when I first dropped by so I couldn't have a look under the bonnet but based on the high standards of the rest of the car I set up an appointment to shoot it sight unseen.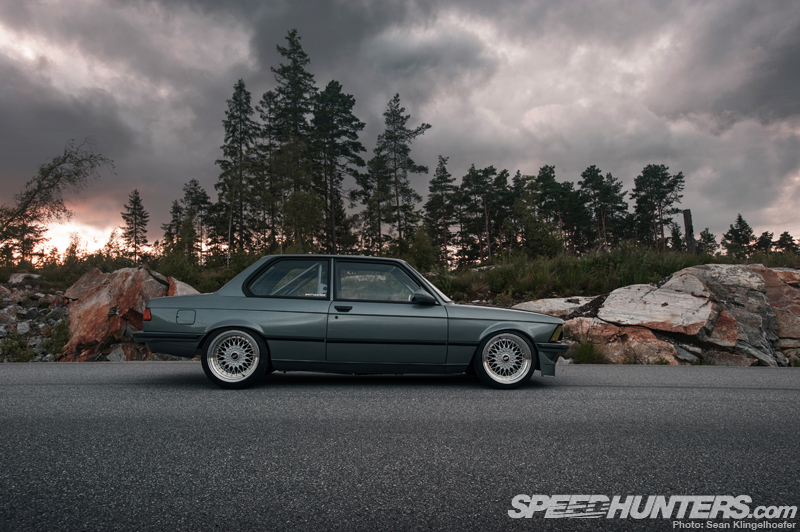 Inevitably this proved to be a very wise decision and with luck, and our friend Jan, on my side I was somehow able to find an incredible location to shoot in. As I began setting up my camera gear I had a rather large grin on my face as I was quite pleased with what was parked in front of me.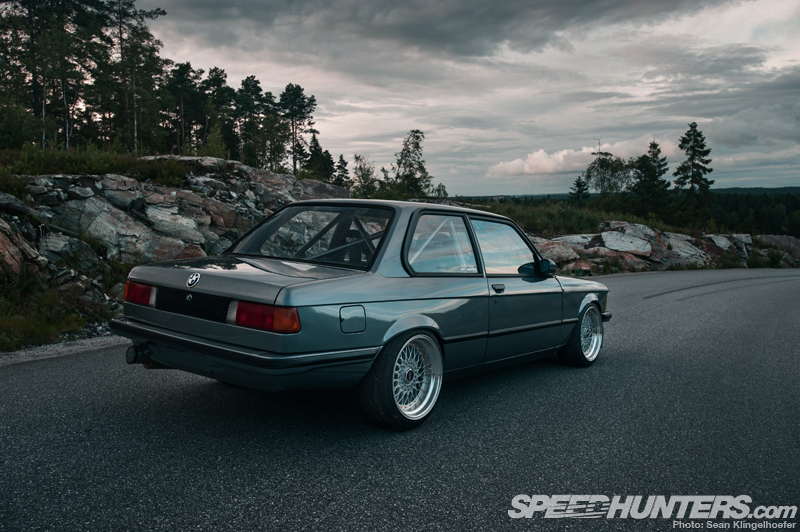 Every so often I come across a car that I think is so cool I can't wait to share it with others. This unexplainable need to share cool cars is large part of what makes us Speedhunters and why I'm glad to be here. There are moments when you find a car and just know that the world needs to see it. This was one of those occasions.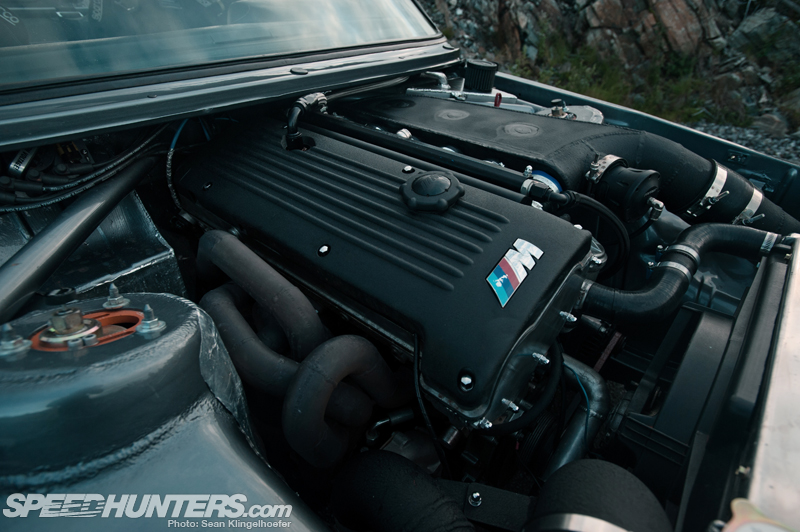 It isn't only the exterior of the car that's looking sharp, as the engine bay is astonishing as well. Keen BMW fans will have already noticed that the lightweight car is now being powered by an S54 engine from an E46 M3. Jorgen has been building this car for nearly two years now and the little details quickly reveal the amount of thought behind it.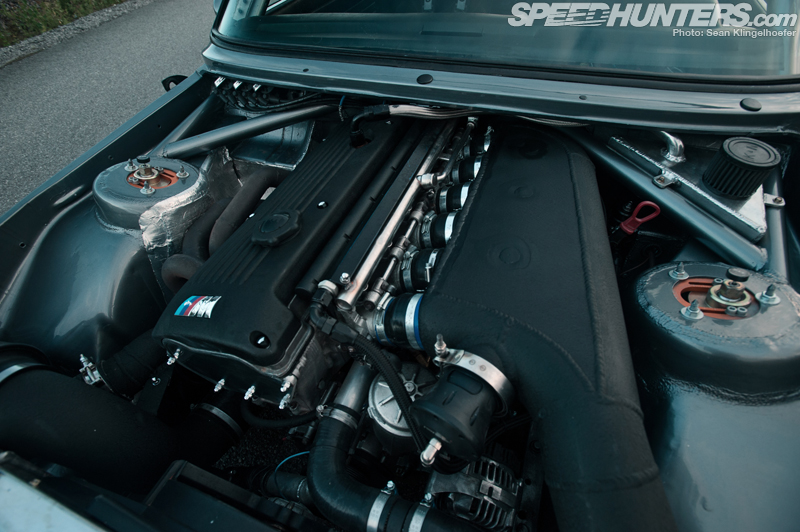 For starters the engine shouldn't even fit in the bay as its dimensions are asking too much of it. To solve this problem Jorgen didn't just notch the firewall but moved the entire thing back 30cm and built a custom transmission tunnel to allow the engine to sit comfortably. The VANOS system has been removed for reliable power extraction; when you're full-throttle 95% of the time there's no need for a smooth idle.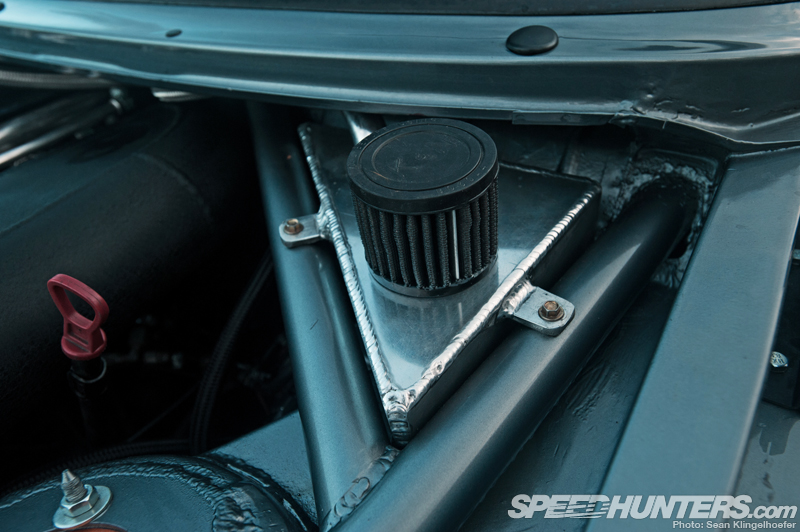 Many components were prototyped, test fitted and remade until an optimal solution was found. If you look carefully you can find literally hundreds of hours of fab work which Jorgen has performed in the pursuit of the ultimate ride. This little breather tank is just one ingenious example.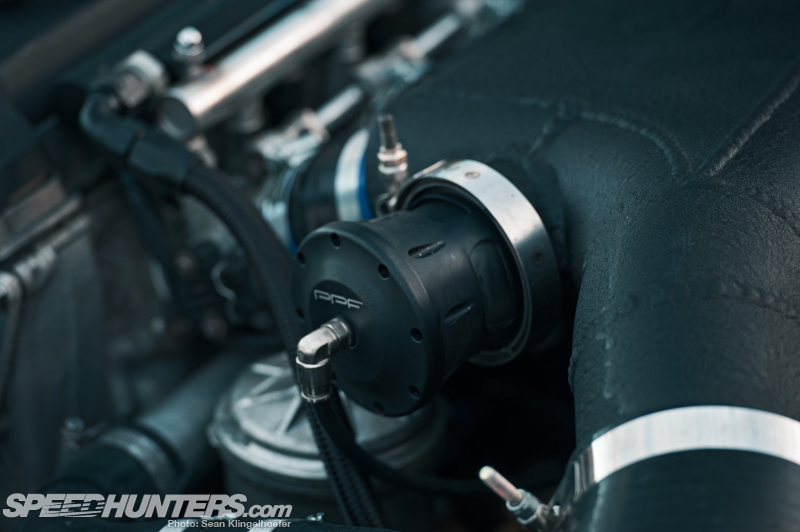 He also constructed the plenum which collects the charge from the turbo and introduces it to the individual throttle bodies. An engine is only as good as its weakest link so an optimal setup on the breathing side is step one to making big power.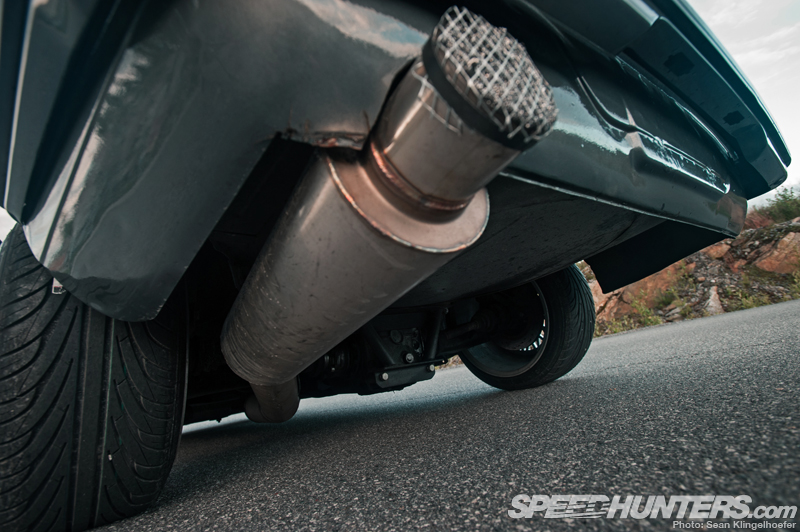 Of course the exhaust side is equally important and keeping all the components working in harmony is the secret. This is one concept Jorge seems to understand quite well and has adopted the top-notch-or-bust approach. To match the demands of his power goal he also fabbed up a custom exhaust manifold and 4″ turbo-back exhaust system.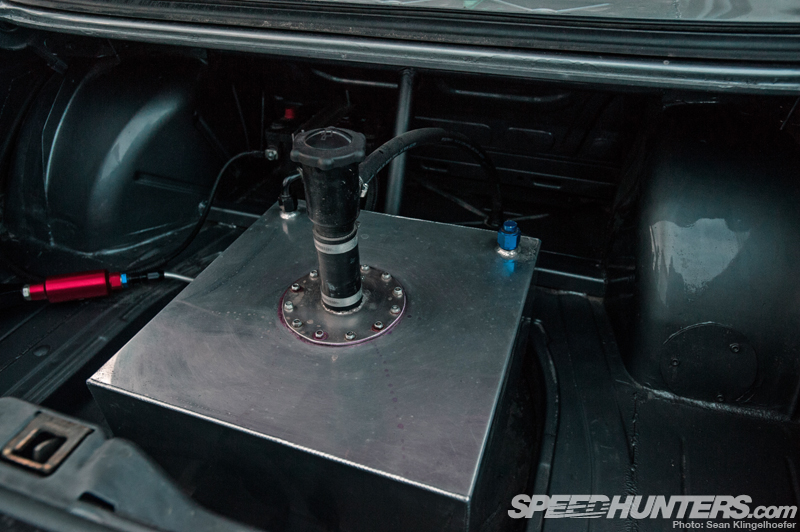 The trunk is definitely the most bare bones section of the car, simple even, if you can call it that. Since this car was actually built to be drifted a fuel cell has been installed to ensure starvation isn't an issue while the car is being tossed sideways.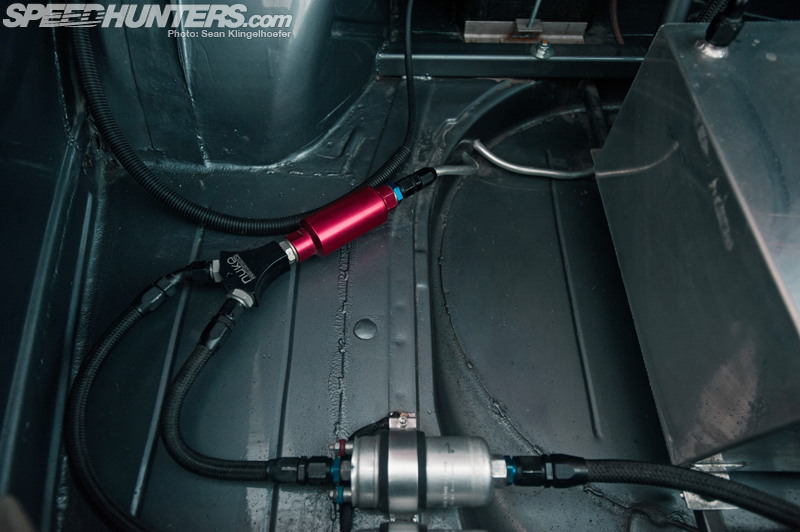 A pair of Bosch 044 pumps pick up fuel from the tank and feed it into a Y fitting where the flow is merged and sent along to six massive 1680cc injectors. Like I said this is probably the most basic area of the car, but I can't recall ever having called a dual-pump setup with 1680cc injectors simple until now. Because Gatebil.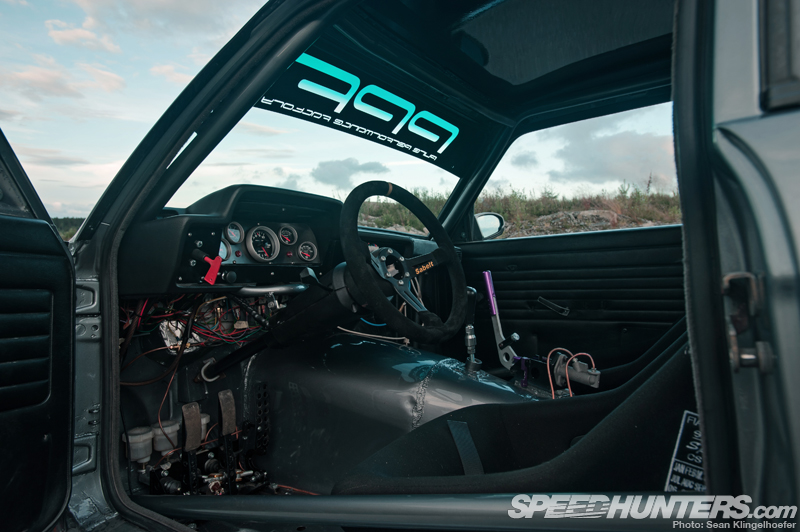 The cockpit is a little busier but still pretty straightforward in approach. There's everything you'd need to drive the car, seats, pedals, steering wheel etc, and just about everything else has been removed. Door cards and the dashboard have been left as what could be considered the Gatebil equivalent of "luxury" items.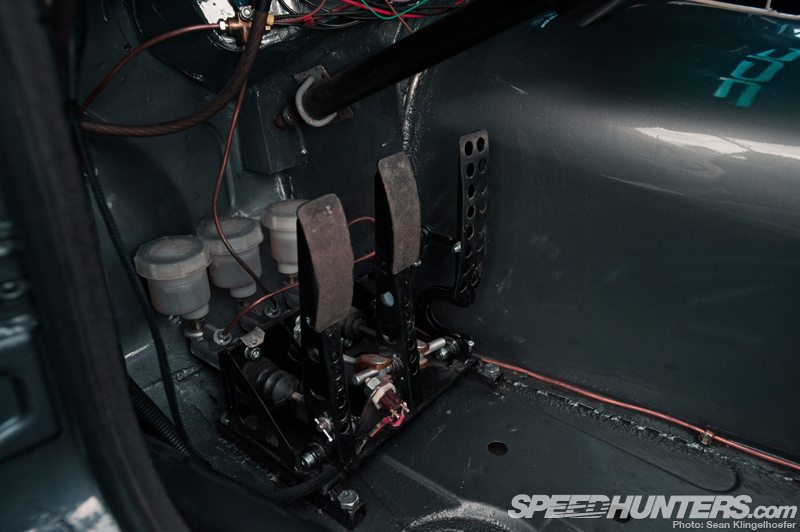 When a car has been customized as heavily as this one a floor mounted pedal box is mandatory. The pedal furthest to the right, very nearly kissing the tunnel, activates a custom built cable type throttle rather than the factory electronic assembly. The remaining pedals operate hydraulics: a brake system from an E34 M5 and a wicked Tilton triple-plate clutch.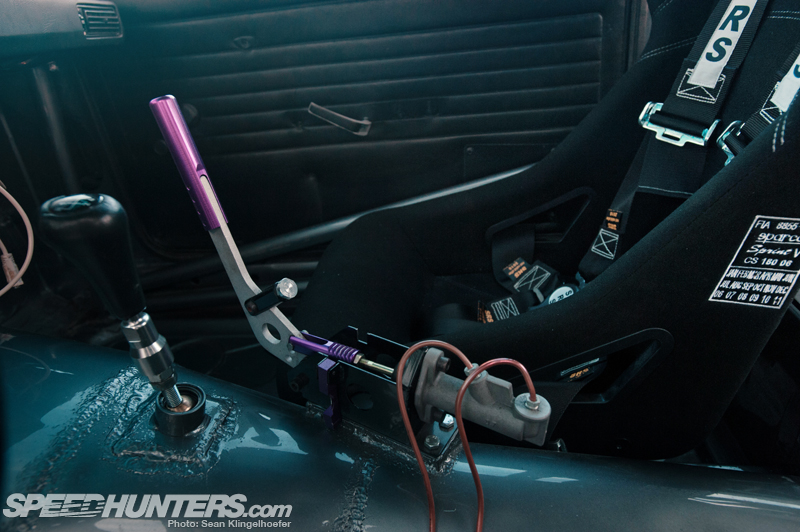 Only a fool would try to go out and drift all willy-nilly without a proper hydraulic handbrake. As you can see, Jorgen is no fool.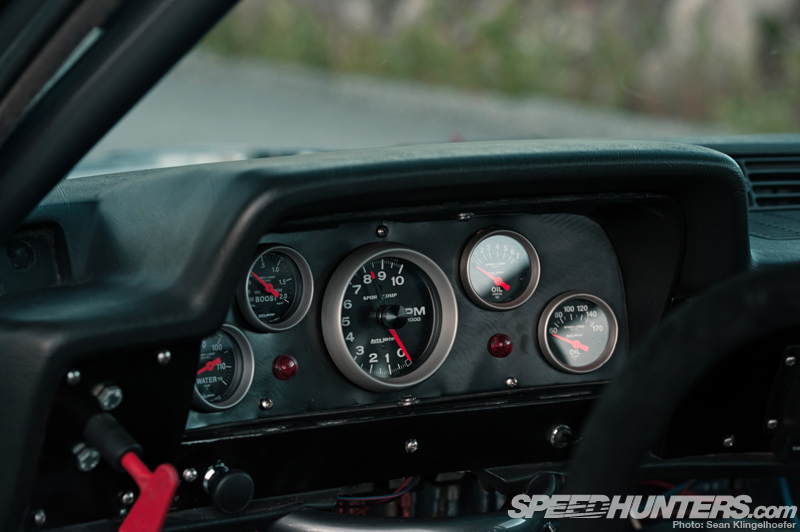 The instrument cluster has been removed and replaced with a panel built by Jorgen which has been impregnated with a series of Autometer gauges. I think this might be the best that the Sport Comp line has ever looked.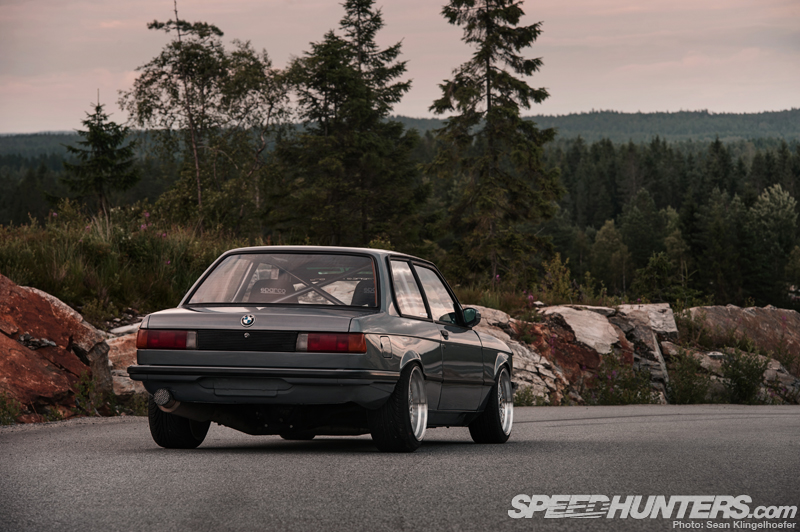 I suppose it's only right considering I think this might be the best any car at Gatebil has ever looked. Knowing what the car is capable of just adds to the cache. It's very nearly the epitome of the event all rolled into one car, i.e. it has something for everybody. Is this my favorite car of Gatebil? I don't know, but it's pretty damn close.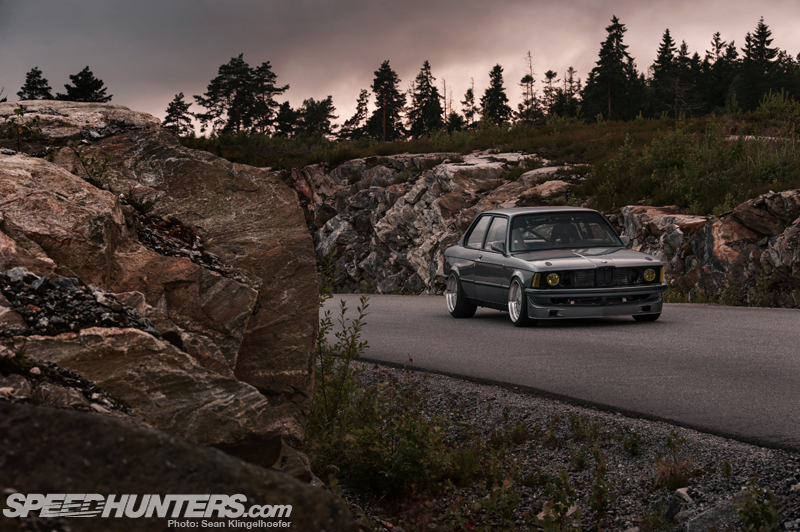 However I would say, without much hesitation, that it was the most well rounded vehicle I saw all weekend and goes above and beyond a tick for every box. When he set forth building this car Jorgen wanted to prove that you can build a car that looks nice, has a great stance and can still tear shit up on the track. I'd say he succeeded, and then some.
1982 BMW 316
ENGINE
3.2L turbocharged S54 engine; CP 9:1 pistons; Pauter X-profile rods; ARP I19 head bolts, 2000 cam beraring bolts; head overhaul with OEM components; JAAS VANOS block off, headers, intake manifold, throttle cable conversion, intercooler piping, exhaust manifold, exhaust, muffler; PTE 7654 billet turbo; 60mm PPF wastegate, 75mm blow-off valve; BOSCH 1680cc injectors, 044 fuel pump (x2); NUKE fuel rail; 40L fuelcell; electric water pump; VW LT fan; Griffin aluminum radiator, Intercooler
ENGINE MANAGEMENT
Electromotive TEC GT ECU
DRIVELINE
BMW E39 Gearbox, E23 745i differential; Tilton 3-plate clutch; JAAS made driveshaft
SUSPENSION / CHASSIS
XYZ coilovers from E30 (welded to E34 M5 struts in front); E34 bear arms and caster struts, modified E21 front sub frame with E46 RHD steering pinion, BMW E28 535 rear subframe, custom diff mounting point triangulated to the roll cage.
BRAKES
Original E34 M5 brakes front and rear
WHEELS / TIRES
17X8.5″ +15 (f) / 17X10″ +20 (r) BBS RS mesh; 215/40-17 (f) / 235/40-17 (r) Nankang tires
CABIN
Sparco Sprint seats; SRS 6-point harness; Sabelt steering wheel; Autometer Sport Comp tachometer, oil pressure, oil temperature, water temperature and boost gauges; hydraulic hand brake; floor mounted pedal set
BODY
Firewall moved 30 cm, larger custom transmission tunnel, compete roll cage welded to shock towers and rear sub frame mounts, rear fenders 4cm wider, custom trunk floor; yellow film on E34 headlights and blinkers
PERFORMANCE
1000hp / 675lb-f @ 2 bar (29 psi)
More stories by Sean Klingelhoefer on Speedhunters
More stories from Gatebil on Speedhunters
More car features on Speedhunters
– Sean
---
---
---