Vaughn Gittin Jr. is serving up a large portion of 'come back special' if I've ever seen one. He's absolutely on fire and just qualified 1st at Formula Drift Evergreen Speedway. Let's have a quick look at the event so far.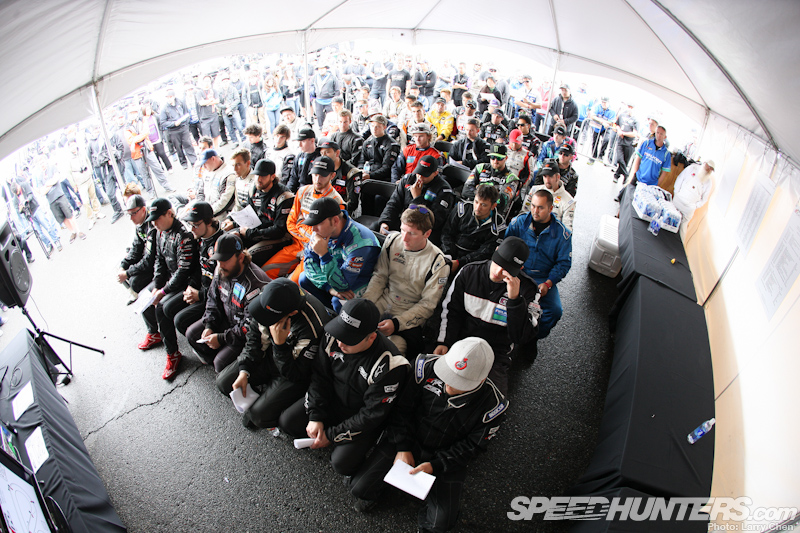 The field was stacked like I have never seen it before. There were 56 drivers competing for that coveted carbon fiber trophy.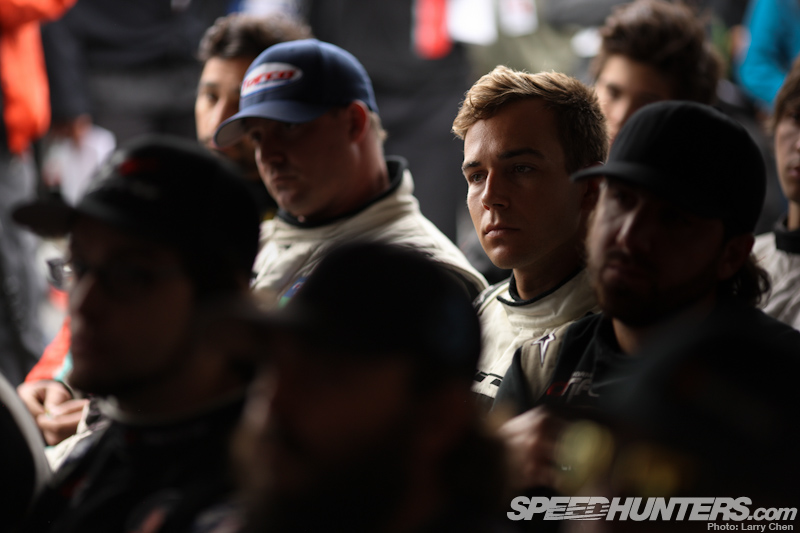 Matt Powers missed out on all of practice on Thursday. His car was in Mike Essa's rig, which happened to encounter a minor accident a couple hundred miles away from the track. The tow vehicle was disabled, so they had to find other means to get their two race cars to Monroe Washington. I could tell he was very stressed out on qualifying day, as he had enough to worry about let alone losing an entire day of practice.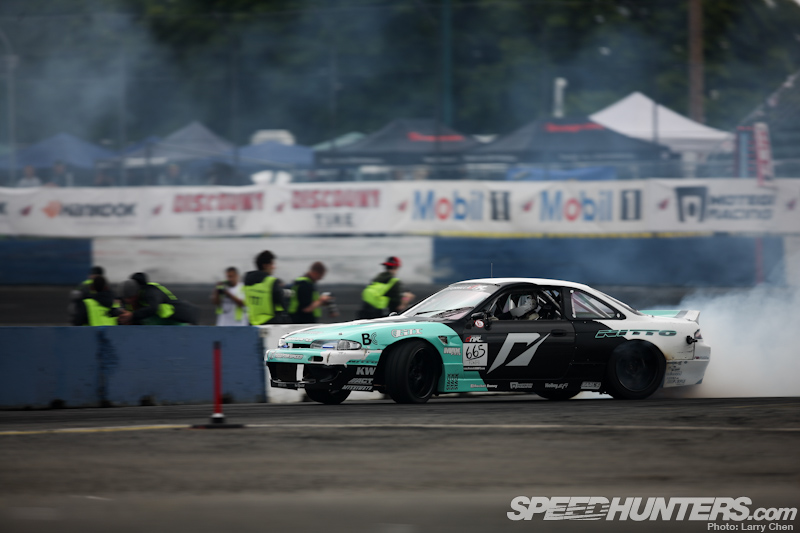 On Friday morning, Matt got a handful of runs in and it seemed to be enough as his first qualifying run got him a 9th place. His second run was thrown away due to some mechanical failure that's yet to be determined.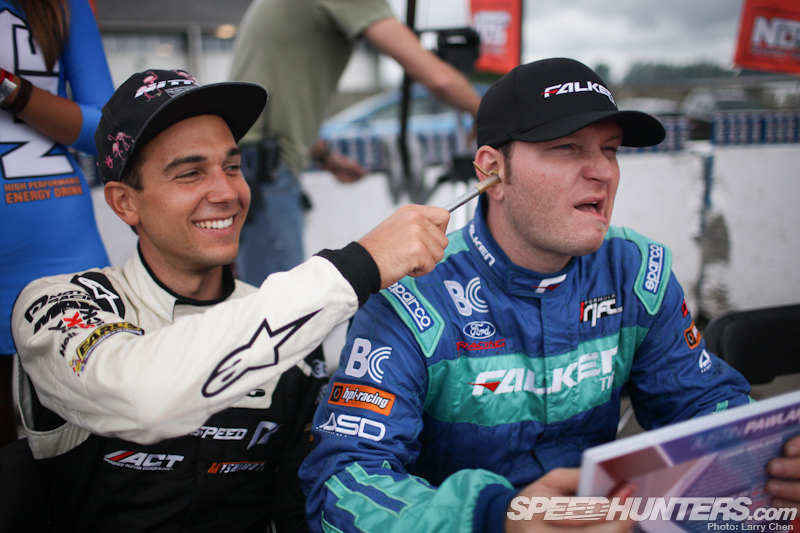 In classic Matt Powers fashion, he loosened up after securing a solid spot in the top 32 bracket. I suppose it was an early birthday present to himself as he turns a quarter century on competition day.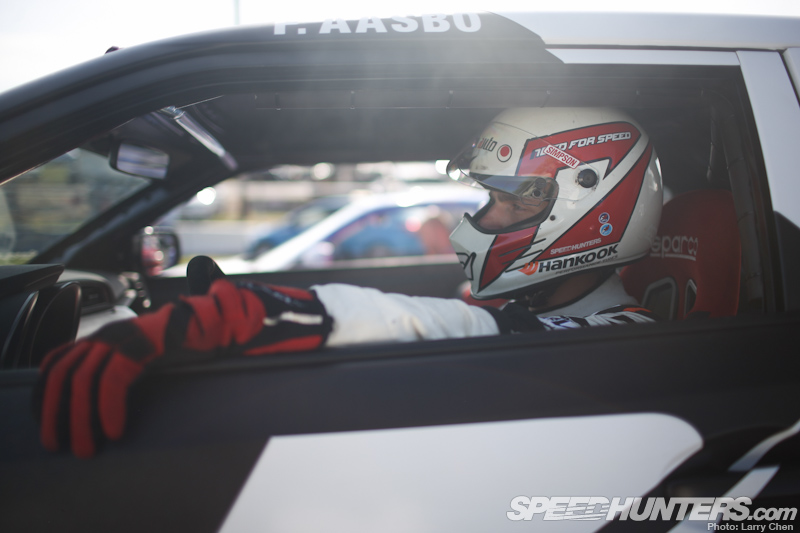 Matt's teammate, Fredric Aasbo, must have also had the Gatebil glow as he was driving non stop balls to the wall or as he would put it 'Hold Stumt.'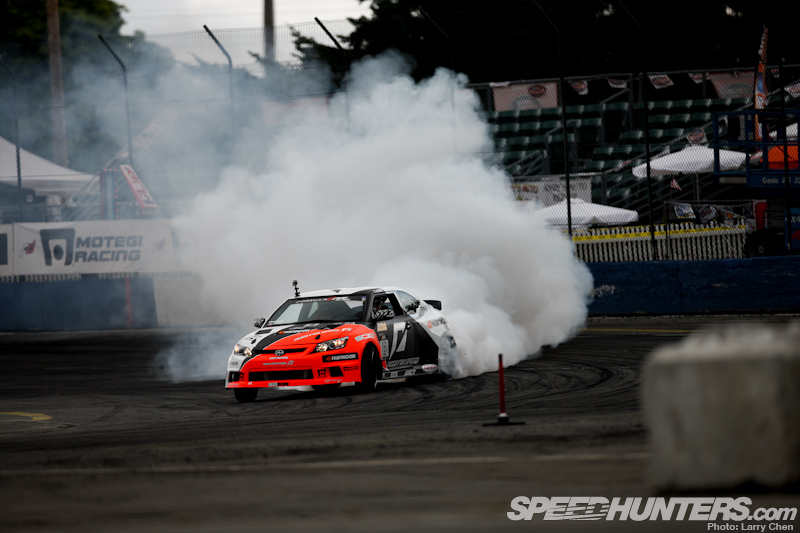 He put down a very impressive and smokey run, landing him in 7th place. Fredric will be going against Pat Goodin for an exclusive spot in the top 16 bracket.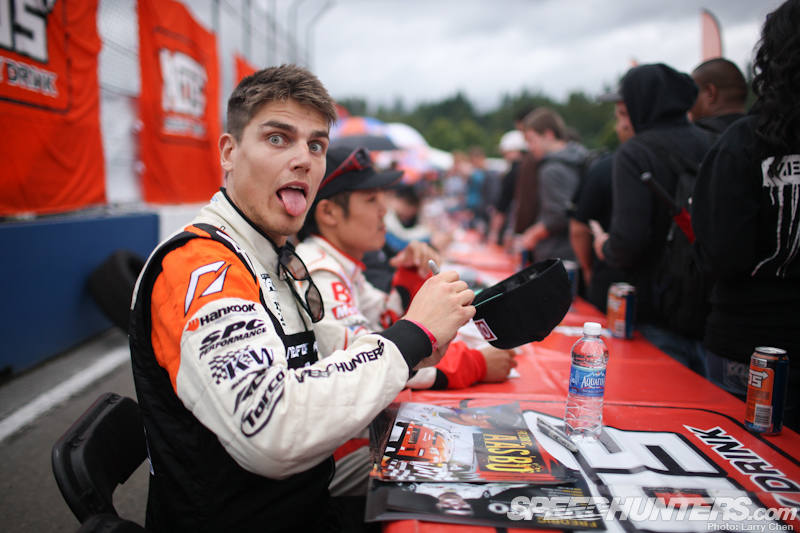 Last year Fredric earned his first podium at this very track. I can't wait to see the outcome, as I have a feeling he could go all the way to the top this year.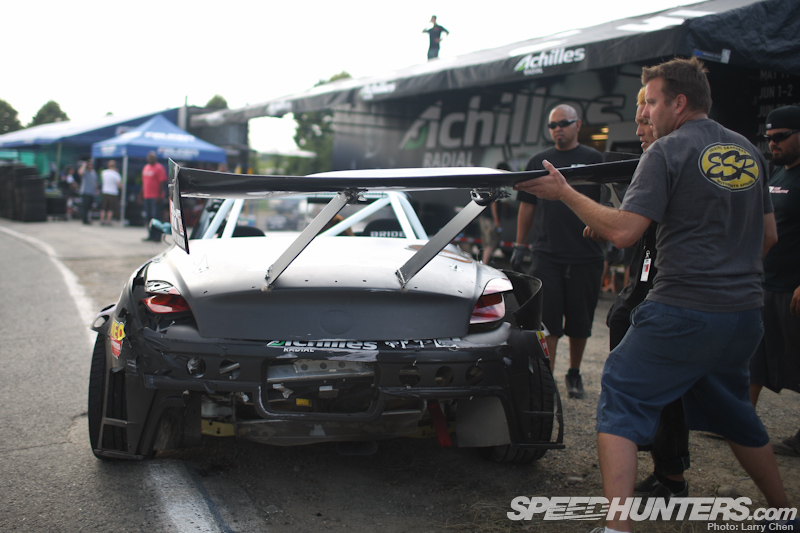 This was when things got interesting. Daigo Saito, who is 2nd in championship points, had a minor incident with the wall which destroyed his rear wing. The team just took it off and Daigo quickly went back out to practice.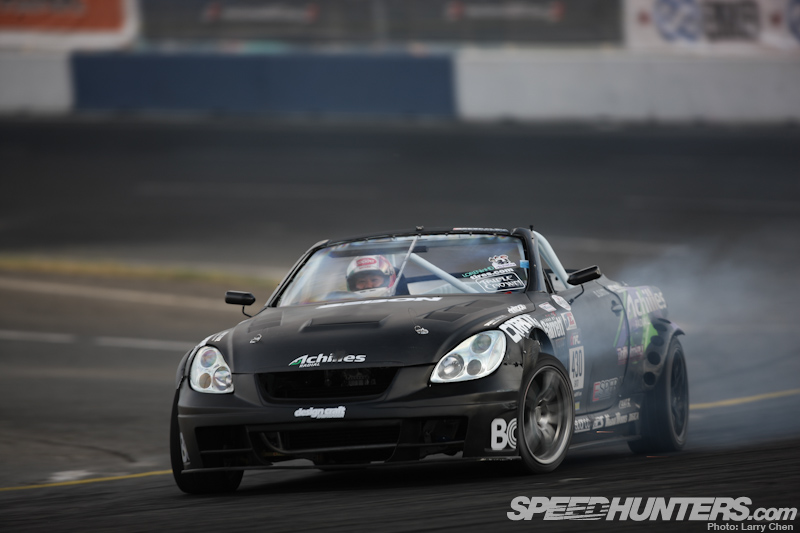 After a few more runs, Daigo understeered into the wall causing some suspension damage.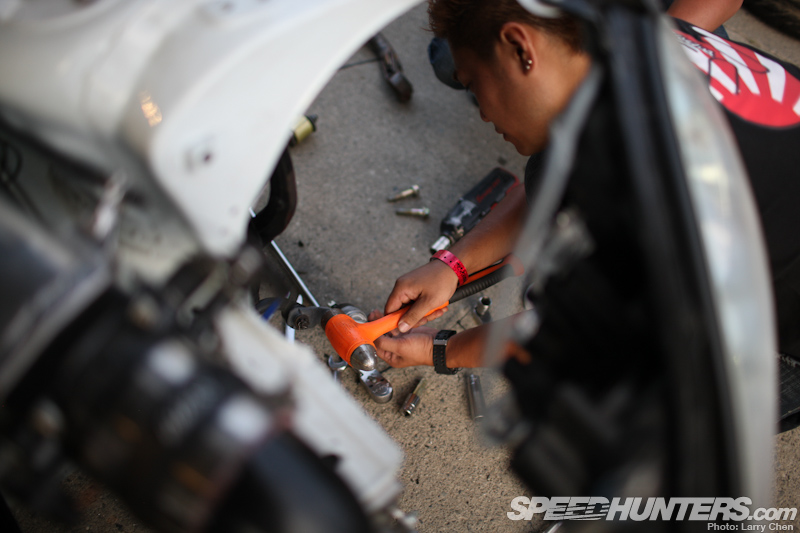 He and the rest of the team stayed up till 4:30 AM buttoning the car back together.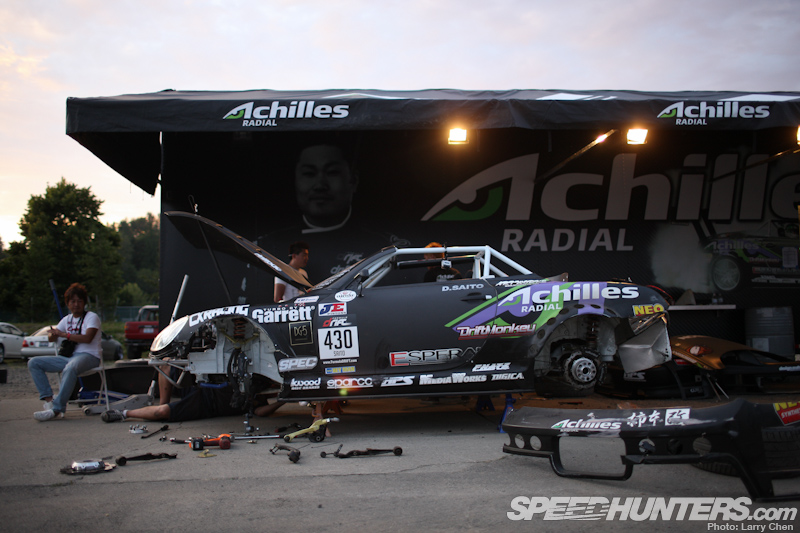 This was such a rare sight to see for me, as this was the first time he has had an incident while competing in Formula Drift. Usually, we see the team fixing damage to the car in less than five minutes.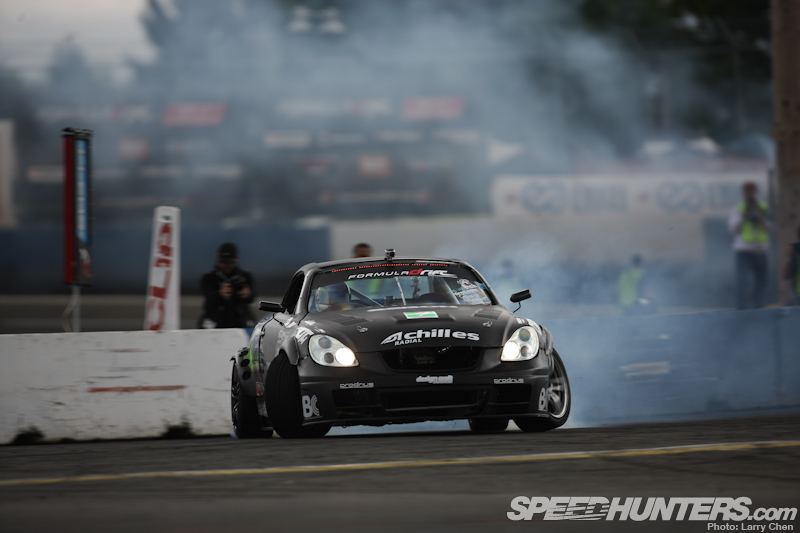 Thoughts of his encounter with the wall must have still been fresh in his memory, as he went off course for his first qualifying run. However, he looked past that and put down a second run worthy of a 22nd place in the top 32 bracket.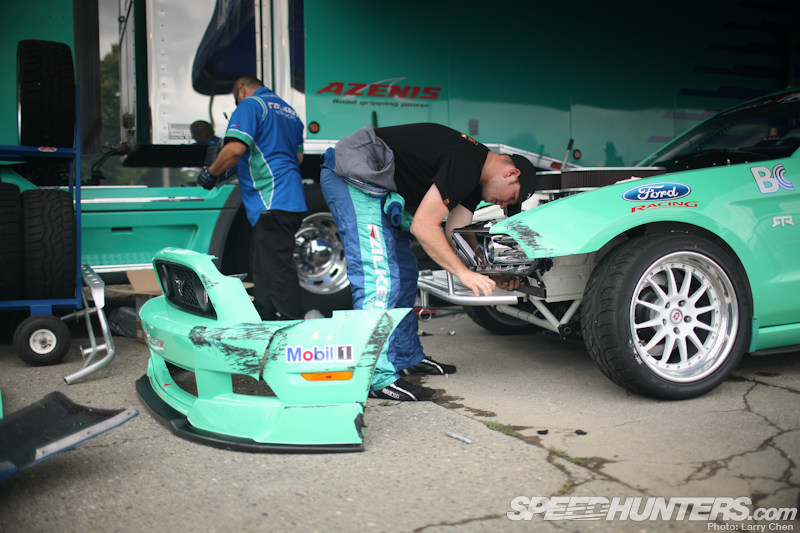 It seems the theme was the top championship contenders working on their own cars. Just minutes before qualifying began, Justin Pawlak put his 2013 Falken Tire Mustang into the wall. Luckily, it was just a minor incident and there was only cosmetic damage.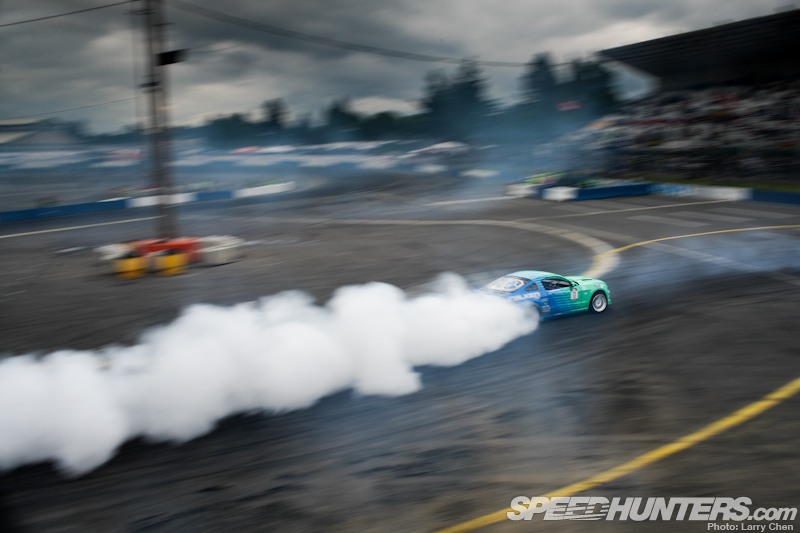 JTP did not let what happened during practice phase him one bit, and drove like he didn't have a care in the world, which landed him in 2nd place.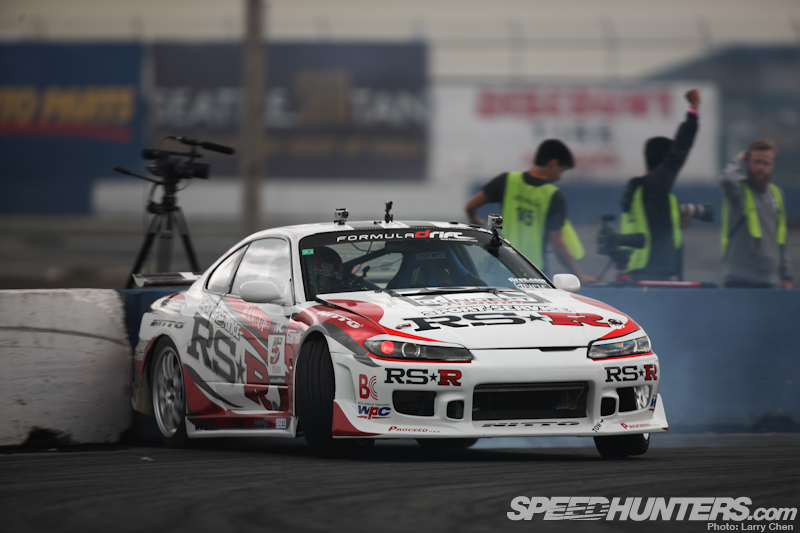 3rd place went to the ever consistent Toshiki Yoshiyoka. Out of the top ten qualifiers Toshiki and Fredric are the only ones running a non-V8 motor.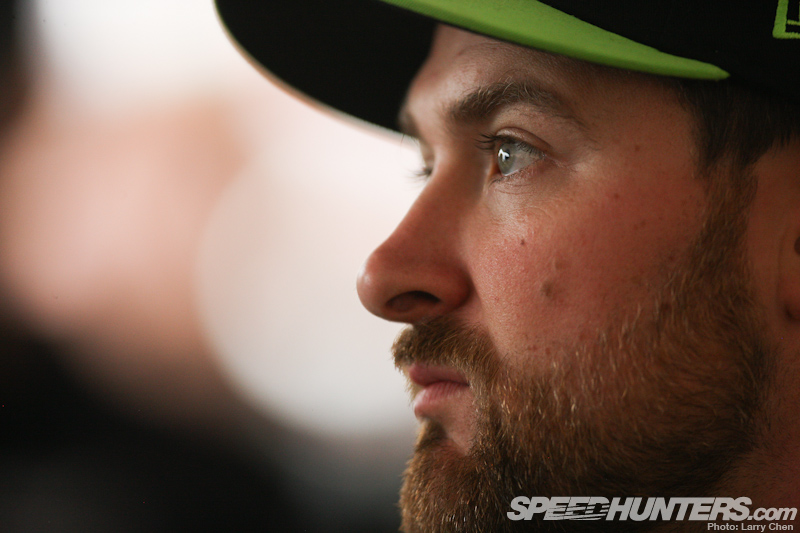 There are only two events left after FD Seattle and I have a feeling that this round at Evergreen Speedway will be the key to the championship. I don't know what Vaughn is doing differently from last year, but whatever it is, he needs to keep it up, because it seems to be working.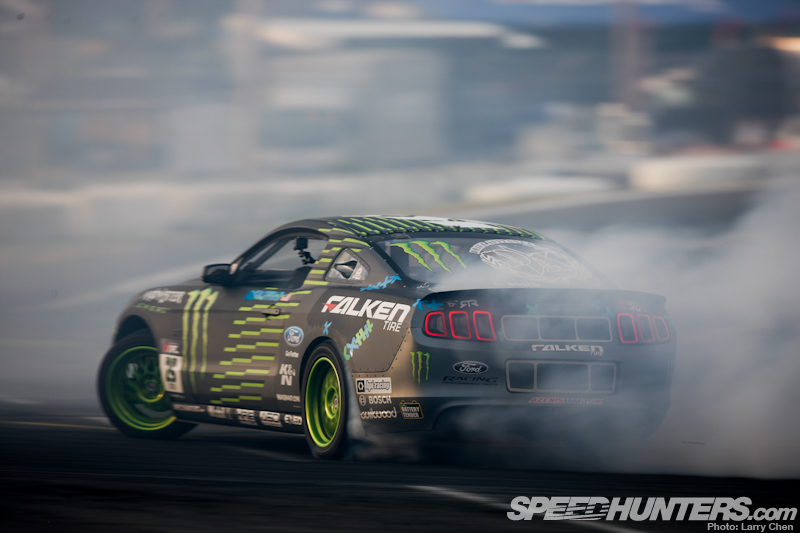 We could very well have another crazy five way championship run like we did last year. Except this time Vaughn will most-likely be joining the party.
-Larry Chen
larry@dev.speedhunters.com
More Formula Drift stories on Speedhunters
More stories from Larry Chen on Speedhunters
1. V. Gittin Jr
2. J. Pawlak
3. T. Yoshioka
4. P. Mordaunt
5. C. Forsberg
6. C. Grunewald
7. F. Aasbo
8. W. Wilkerson
9. M. Powers
10. R. Kado
11. D. McNamara
12. D. Yoshihara
13. M. Field
14. K. Gushi
15. R. Tuerck
16. M. Essa
17. O. Bakchis
18. R. Nishida
19. K. Moen
20. T. Aono
21. D. Mertzanis
22. D. Saito
23. A. Lee
24. K. Pollard
25. C. Denofa
26. P. Goodin
27. T. Brakohiapa
28. R. Millen
29. J. Castro
30. T. Angelo
31. J. Lowe
32. M. Ovcharik