Daikoku PA is synonymous with underground Japanese car culture; it's where Wangan racers used to meet back in the day and these days a popular location for countless car clubs to host their monthly gatherings. However when it rains, it's next to useless. That's where places like Umihotaru PA come in, and it's no surprise that as soon as the rain came on Saturday, most RX-7 owners migrated to find shelter.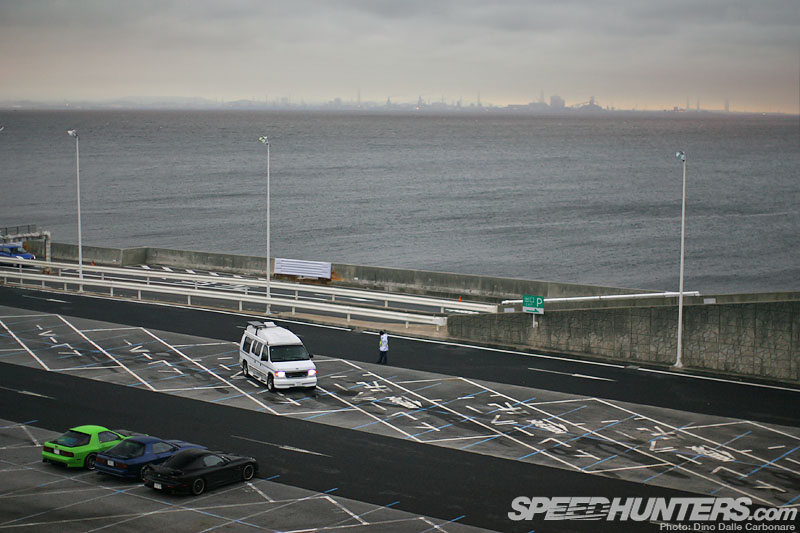 No matter how many times you stop at Umihotaru you can't help but ponder at the gigantic amount of investment and work that has gone into creating it, along with the Aqua Line tunnel/bridge of course. This is all the more apparent when you stop there during day time, the views as you sit on this bizarre man-made island in the middle of the Tokyo Bay rather interesting. You often see big container ships or oil tankers in the distance as they head to or from the countless ports that dot the bay. The Aqua Line connects the dirty and industrial areas of Kawasaki with the equally dirty and industrial areas of Sodegaura and Kisarazu on the Chiba peninsula. There is a continuous stream of airplanes taking off and landing in Haneda airport in the distance, built for the most part on reclaimed land. It all defines Japan so well, a modern day industrial nation with so little concern for the surrounding environment; a true concrete jungle.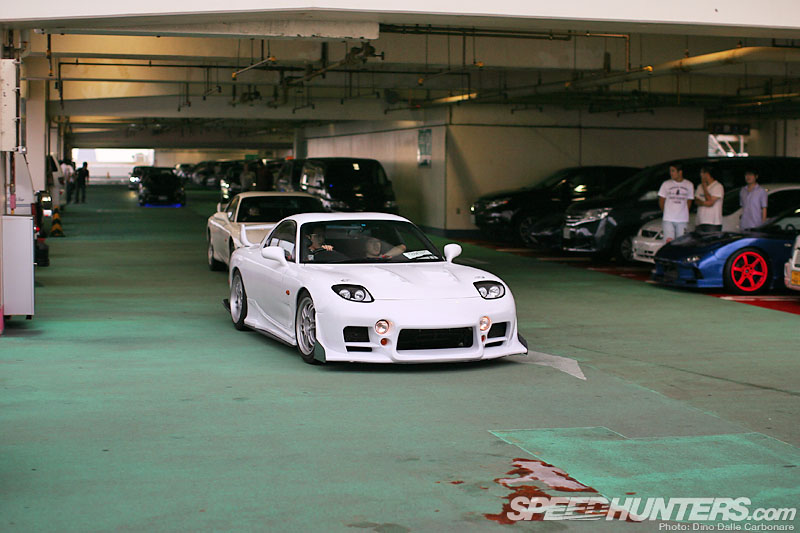 Add to this the buzzing sounds of rotaries and the continuation of the 7's Day festivities really couldn't have moved to a better location.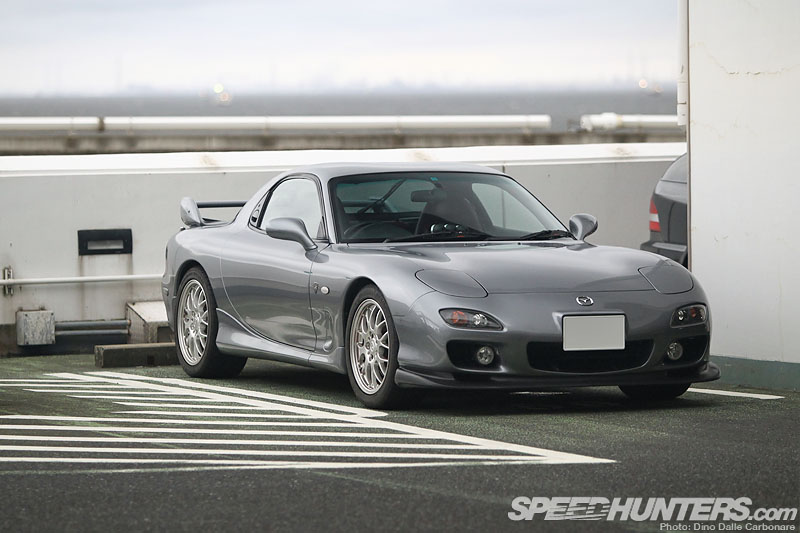 When I arrived most of the third level of the parking area was quickly filling up…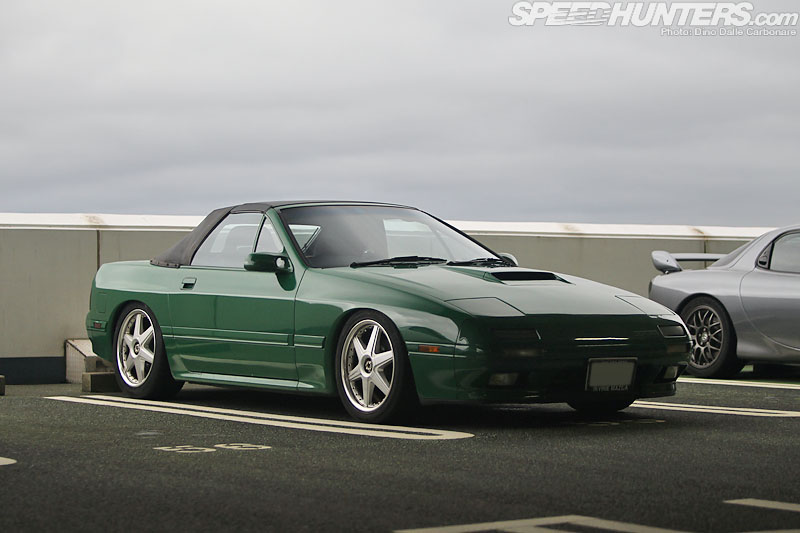 …with plenty to see already!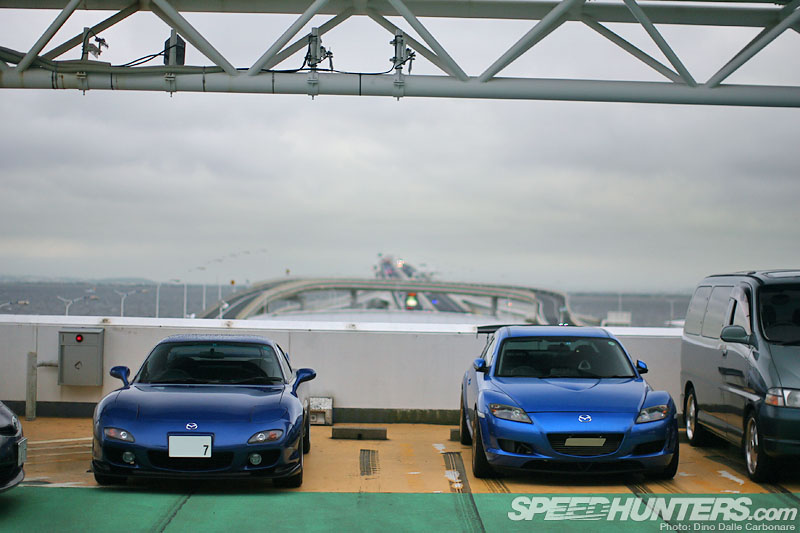 Take a look at the background behind this RX-7 and RX-8; this is the bridge section side of the Aqua Line as it spans the remaining couple of miles towards Kisarazu.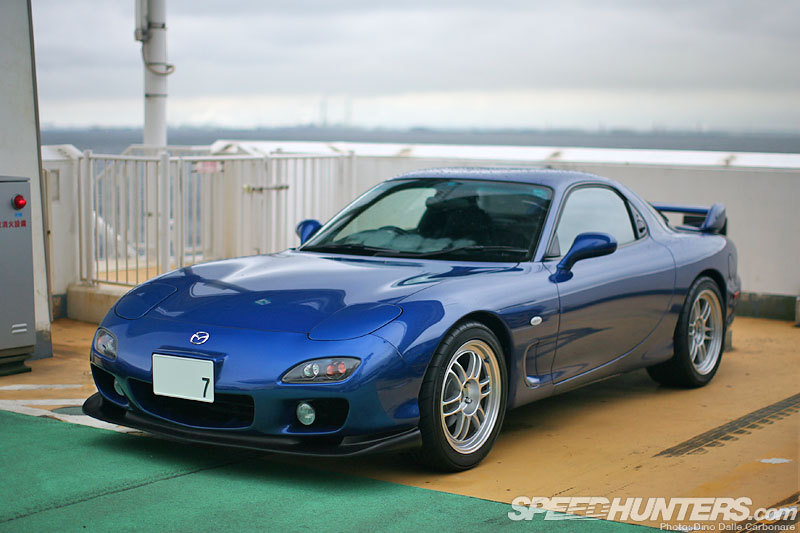 It was hard not to like the simple look of this FD sitting on 17-inch Enkei RPF1s.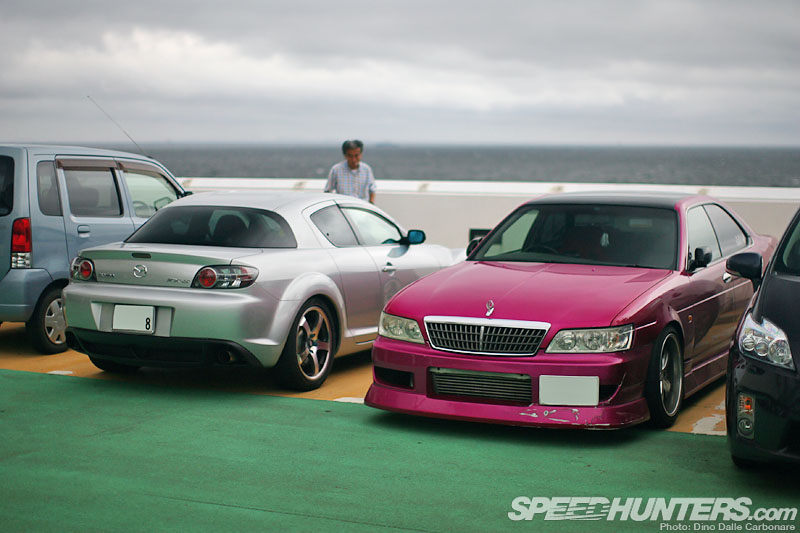 It wasn't all rotaries of course!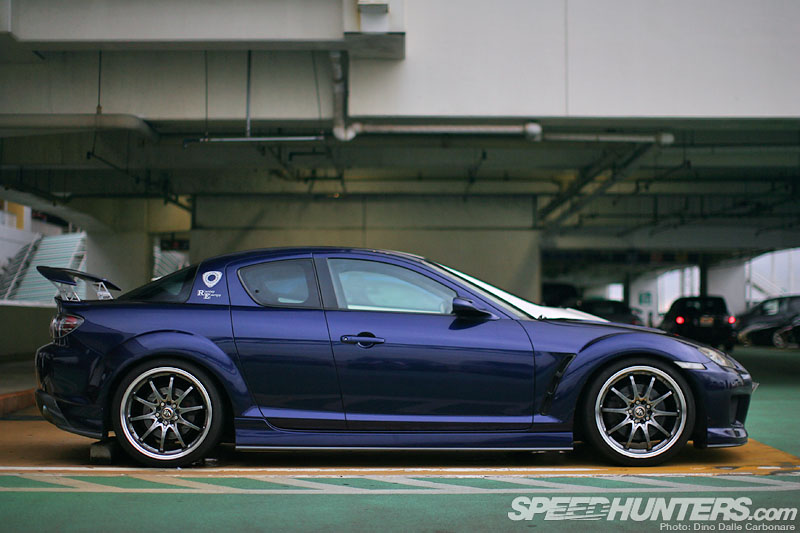 I always thought the MazdaSpeed aero for the zenki RX-8 was the best looking kit out there, and it still manages to look pretty modern, helped along with a nice set of CE28s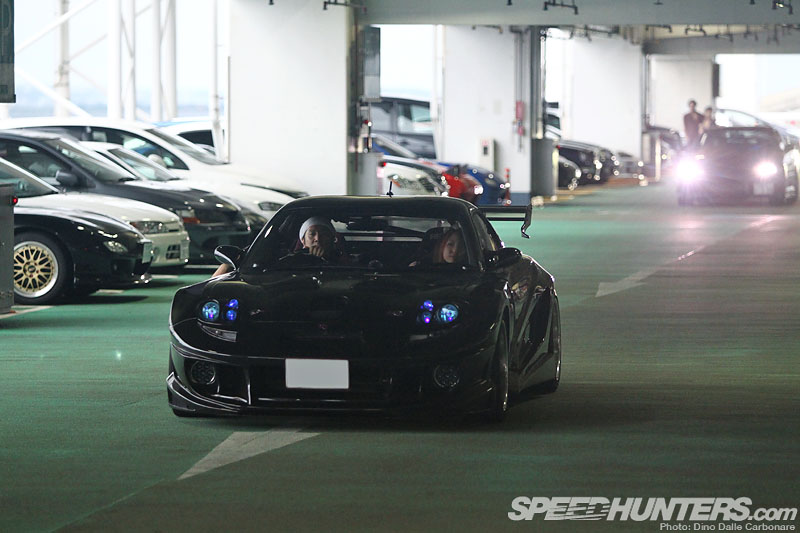 This Abflug kitted FD is a car I see every year at the 7's Day, the owner obviously evolving and perfecting his unique ride. I think those may be F50 Nissan Cima HID projectors being used as fog lights!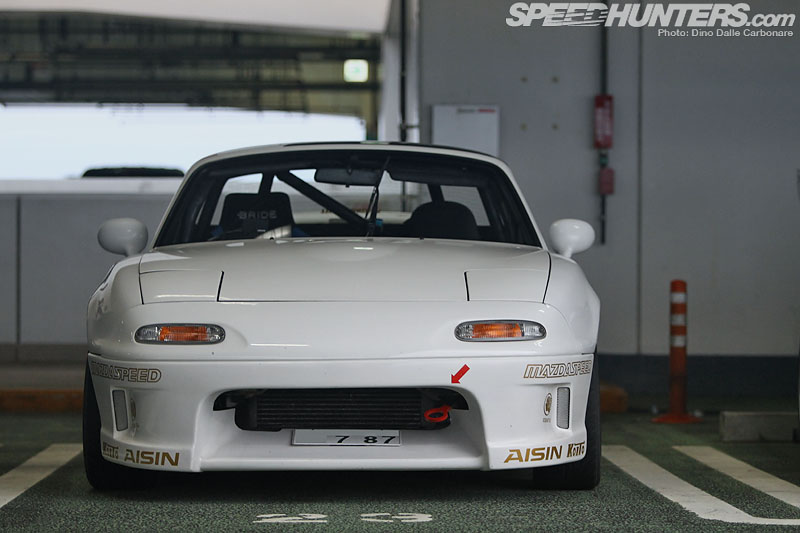 Nice Roadster and equally nice license plate. As we will see in the next part of the coverage this is a rather unique car…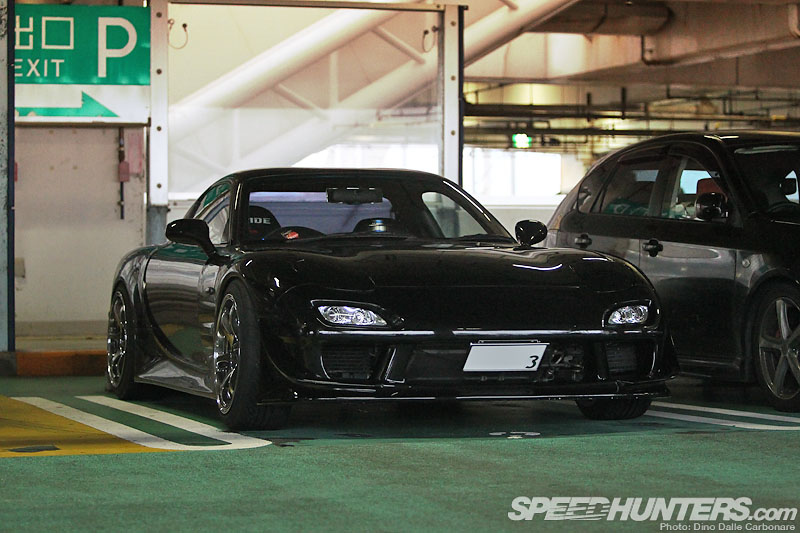 …much like this mean black widebody FD we saw back in Daikoku. That "3" on the license plate…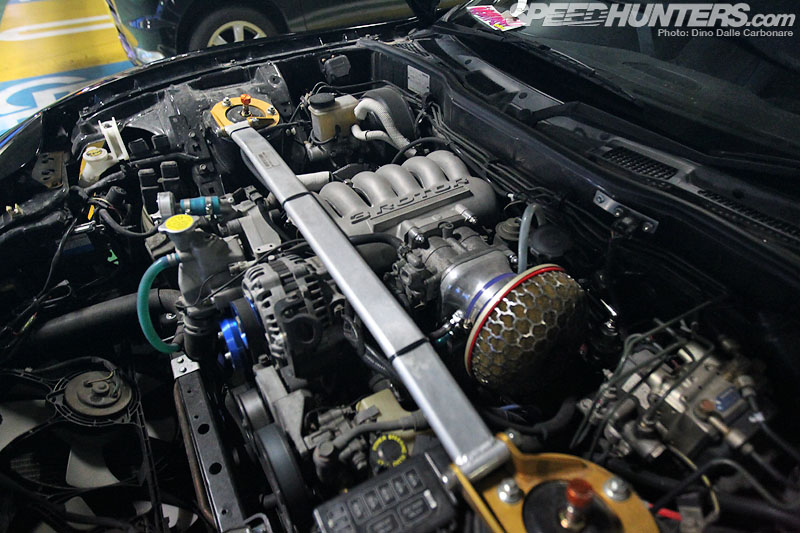 …is there for a reason of course, hinting at the NA 20B powering it. The owner is a great fan of Mad Mike and his crazy Madbull 4-rotor beast and he has attempted to create something similar with his own car. This was one of the best cars at the meet!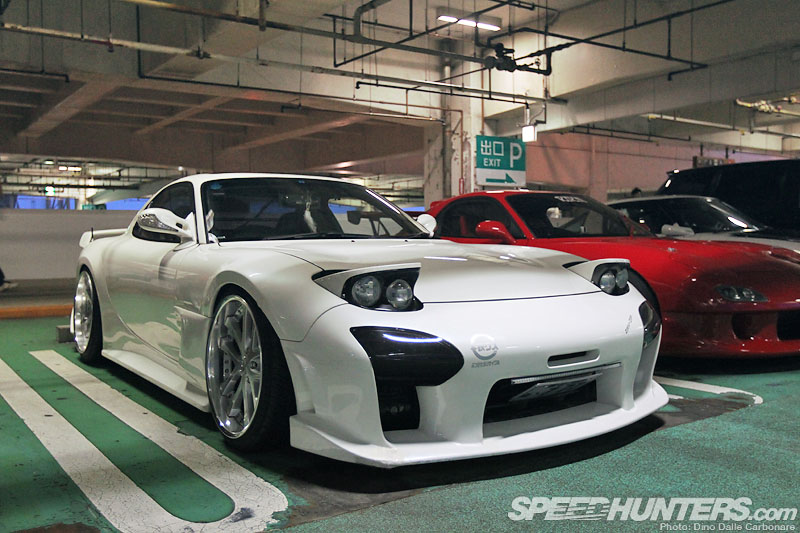 Another A-spec front bumper. This was a rather unique car as it not only had plenty of engine and aesthetic tuning but it was also an automatic.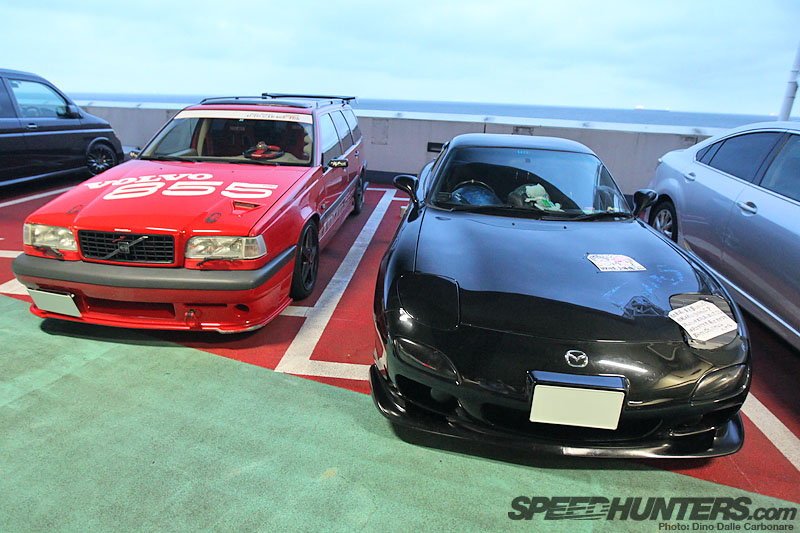 The message on the black FD said that the passenger side headlight cover had been blown off in the last typhoon and that if anyone had a spare, the owner would gladly take it! Check out the wild T-5 wagon parked next to it, proudly wearing a little Speedhunters sticker.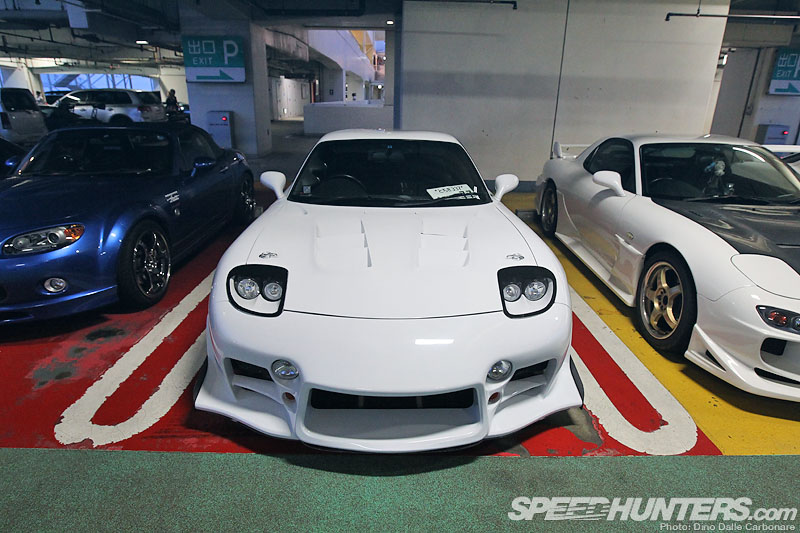 Every time I see the RE-Amemya Facer 9 bumper on an FD I can't help but think of the old RE-Xtreme RX-7 that Russ built. I featured his car back in 2009 if you recall, a car that remains one of the nicest rotaries I've shot. This front end isn't the most popular of Amemiya-san's creations but it sure is different with that protruding front section. It's probably one of those things you either love or hate.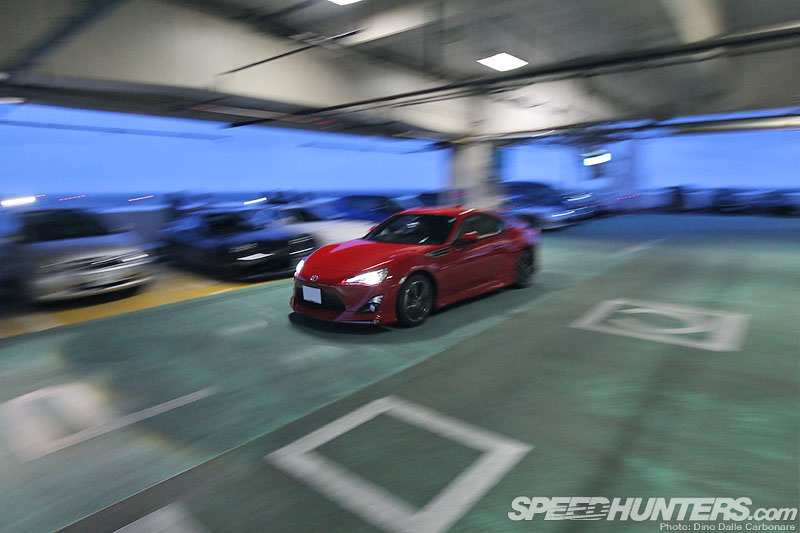 This was an unexpected visit! Now that the 86 and BRZ have been out for a while they are popping up everywhere.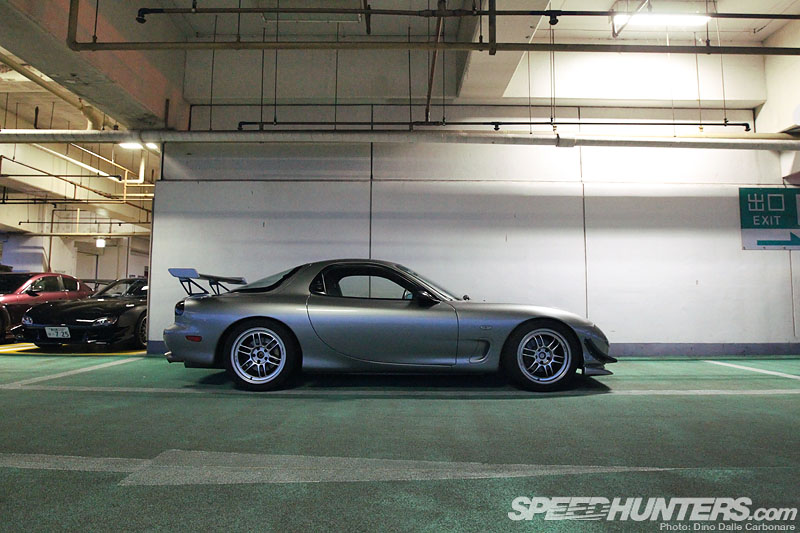 The Enkei RPF1s sure are popular!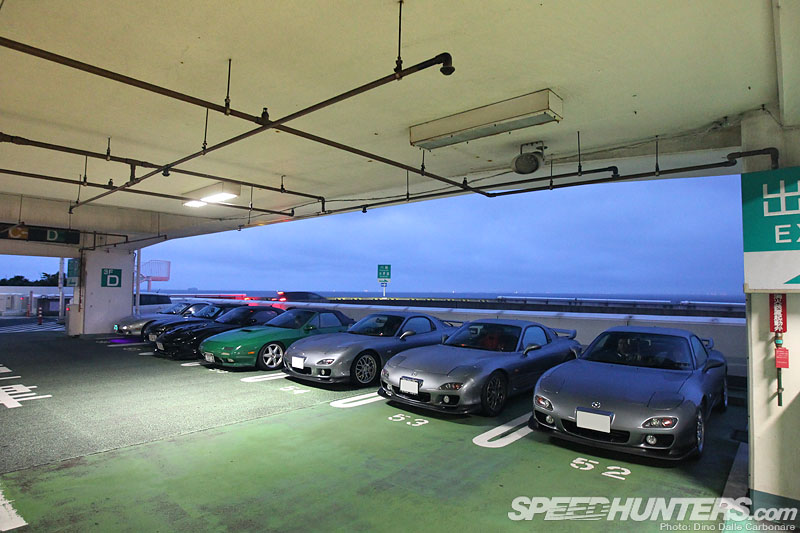 As it was getting dark the rotary guys had pretty much taken over the whole third floor with a lot more cars heading out on the outside portion of the lower level.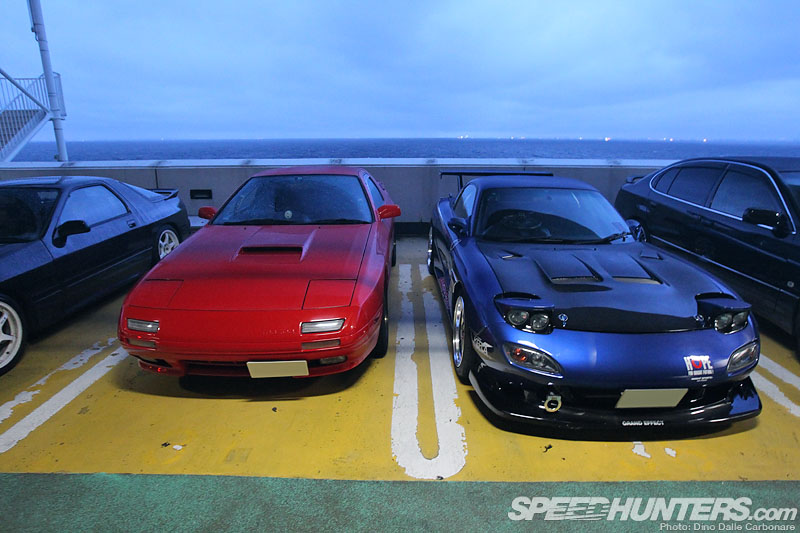 The selection was indeed getting interesting.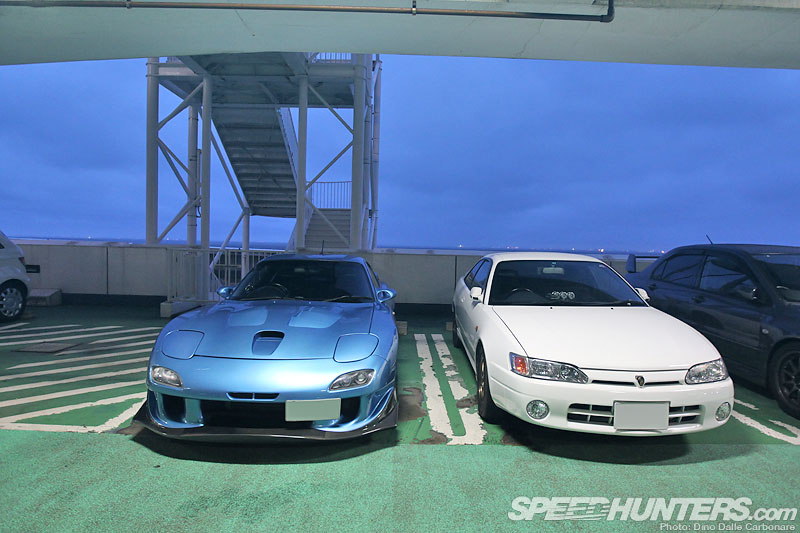 This RE-Amemiya kitted FD was sitting next to an AE111, a great FF car that is often butchered to extract its 20V blacktop 4AG, a sought after upgrade for the AE86!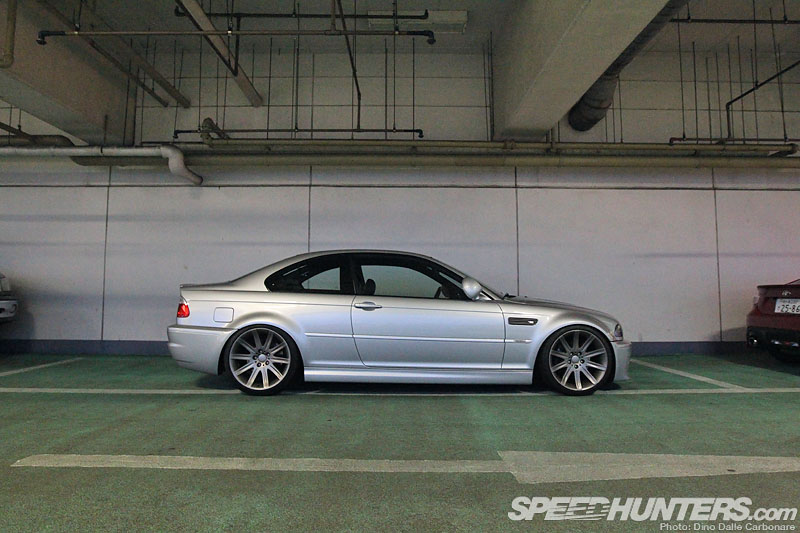 While I've seen these concave 7-series wheels fitted to tons of cars, not only BMWs, I have never seen them on an E46 M3. An interesting look. What do you guys think?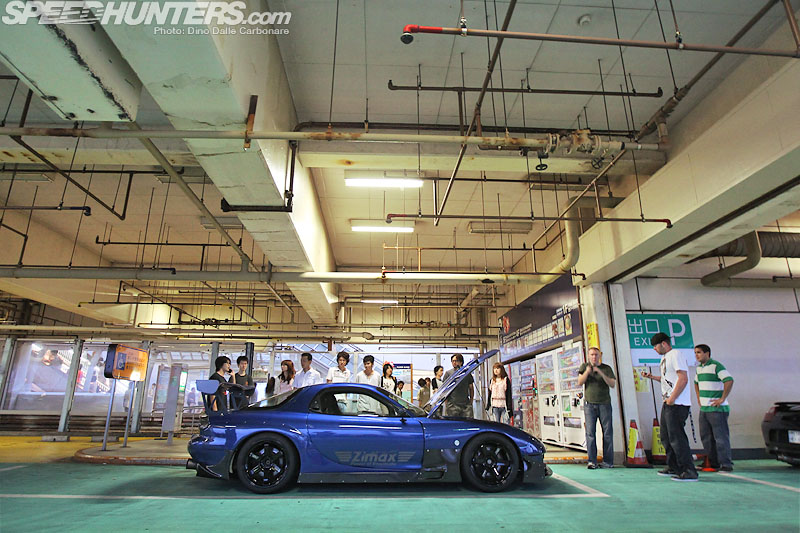 You may remember seeing this Zimax FD at all 7's Days that I've covered in the past, always an attention grabber. If you recall I featured this wild machine back in 2009, so if you haven't seen the feature I suggest you click here and have a read!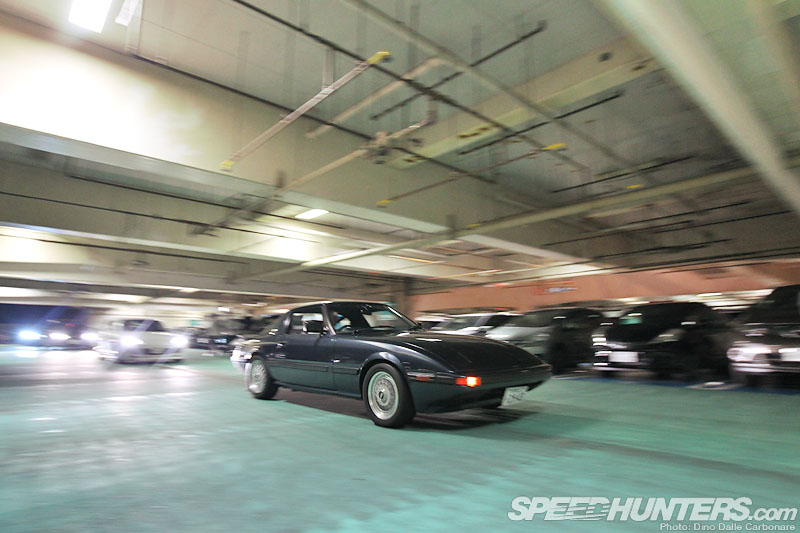 There weren't many SA22s this year but it was at least great to see a couple, an extremely important car to the rotary line up everyone always expects to see.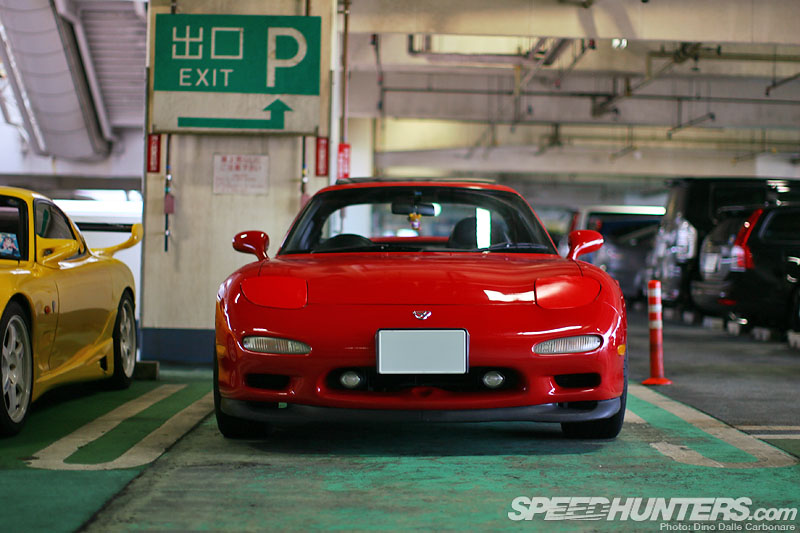 There was a rather colorful selection of FDs on one side of the parking lot, starting off with this red zenki.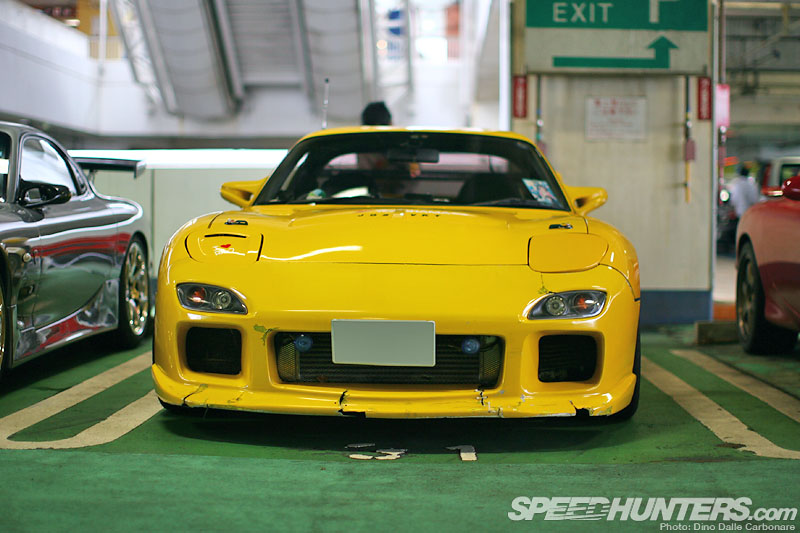 The owner of this yellow example is a Speedhunters reader and checks the site often so I had to give him a sticker. He obviously uses his FD in anger, judging from that front bumper, so big thumbs up to him!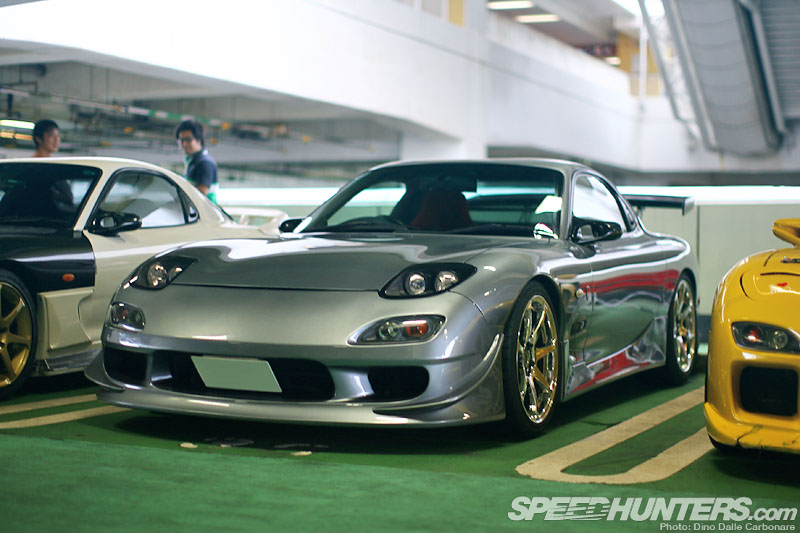 Immaculate I think is the word!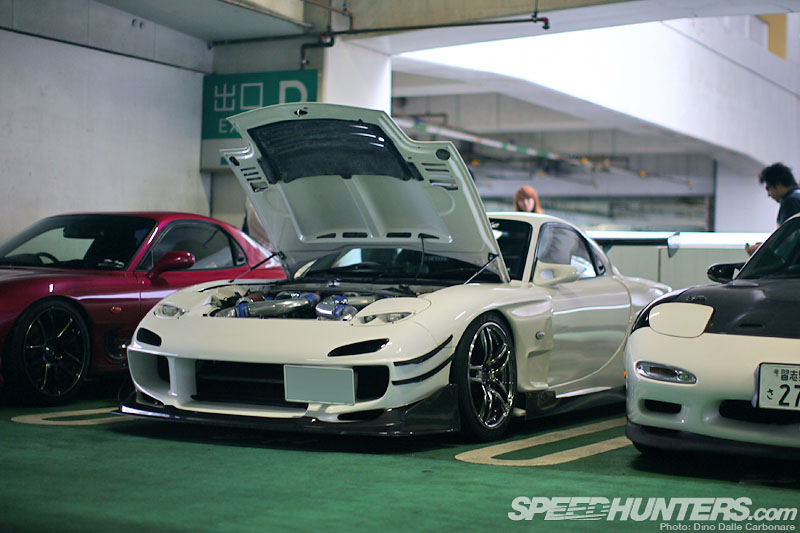 It's always hard to choose a favorite at these kind of meetings, but this white R-Magic beast would definitely by one of the top three cars I saw on Saturday.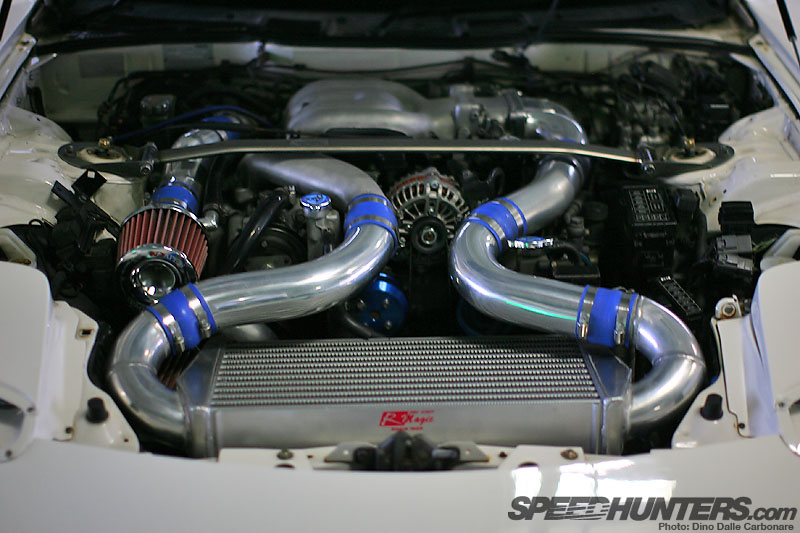 This horizontally mounted R-Magic intercooler upgrade it was fitted with had some pretty wild piping!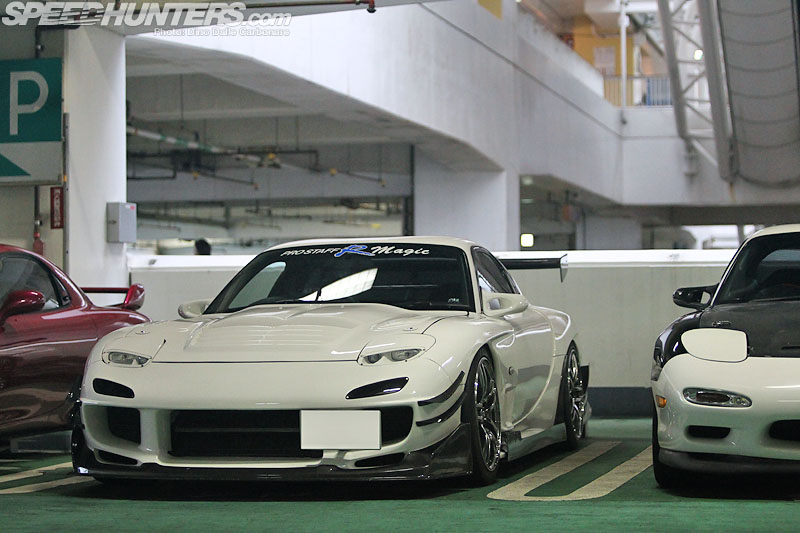 The exterior wears the same aero as Takayama's D1 car, except painted in simple white and with no livery to hide the lines. It looks a hundred times more aggressive.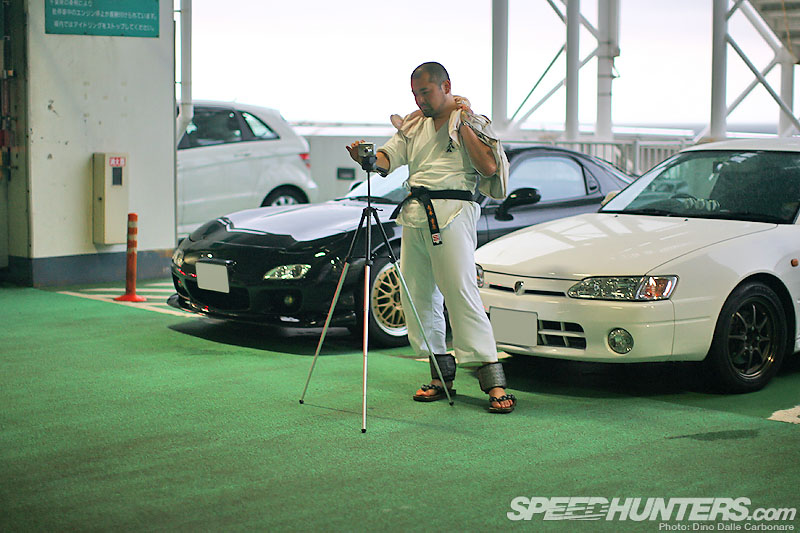 This guy has officially become my hero. Judo suit and ankle weights is the way to shoot, turning photography into a proper workout!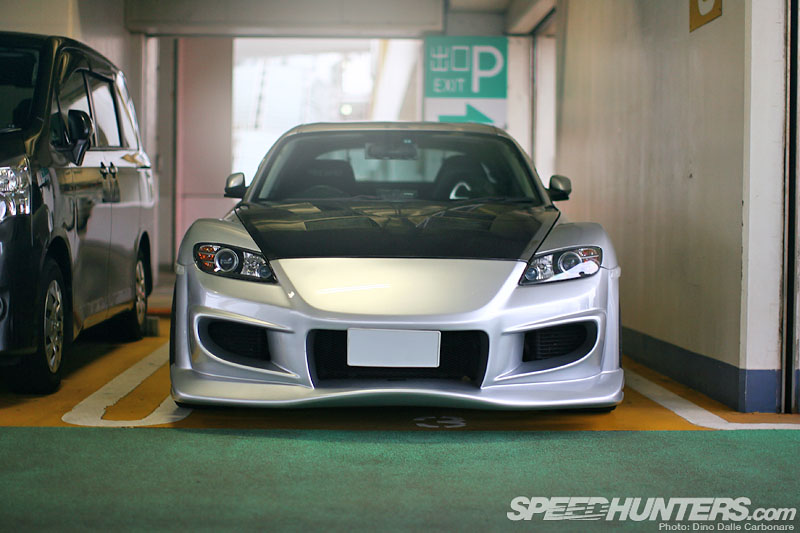 The RX-8 presence was getting stronger by the hour with some awesome cars like this particular one with full aero…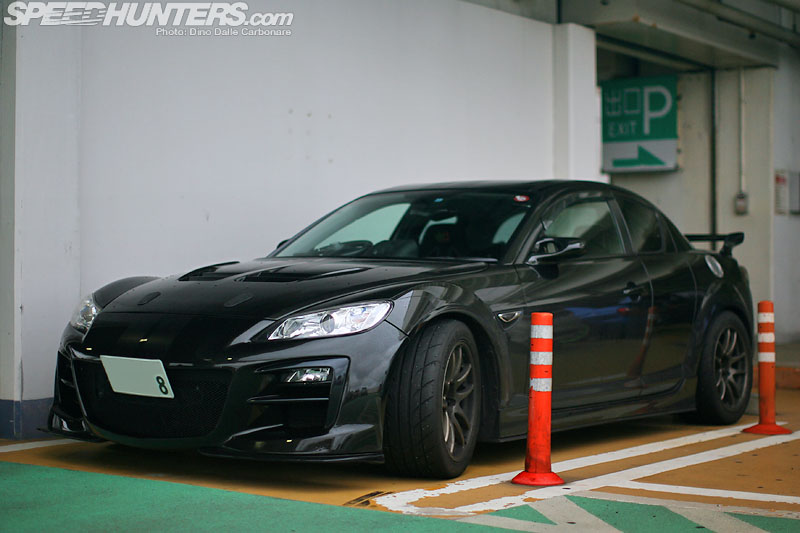 …or this mean looking black zenki.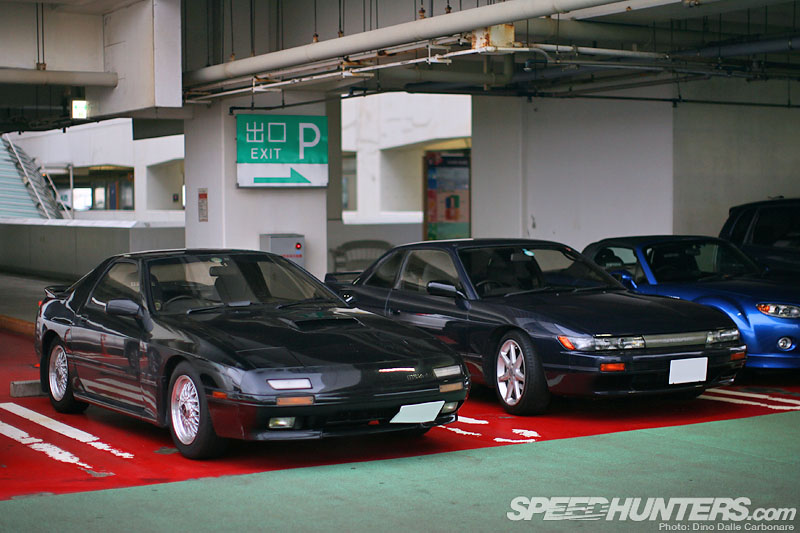 This FC and S13 were from one of the American bases as both were on "Y" plates, very clean rides representing the eighties side of things.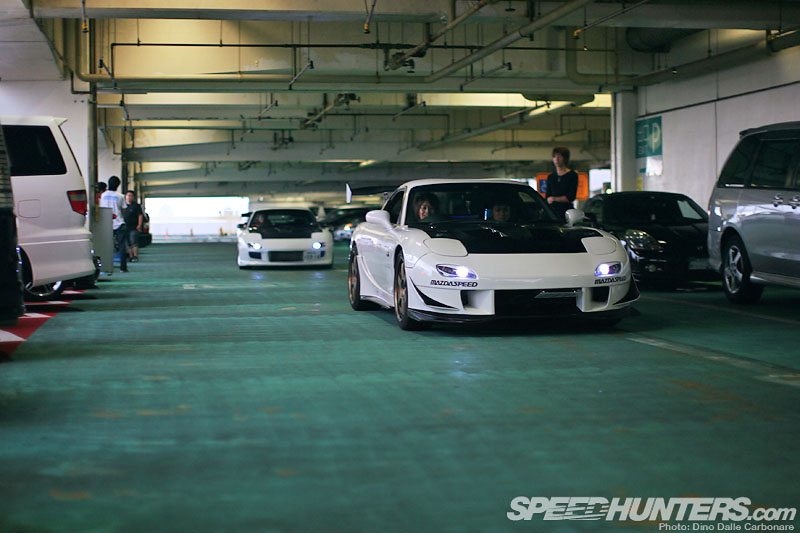 The flow of cars entering Umihotaru was pretty much constant…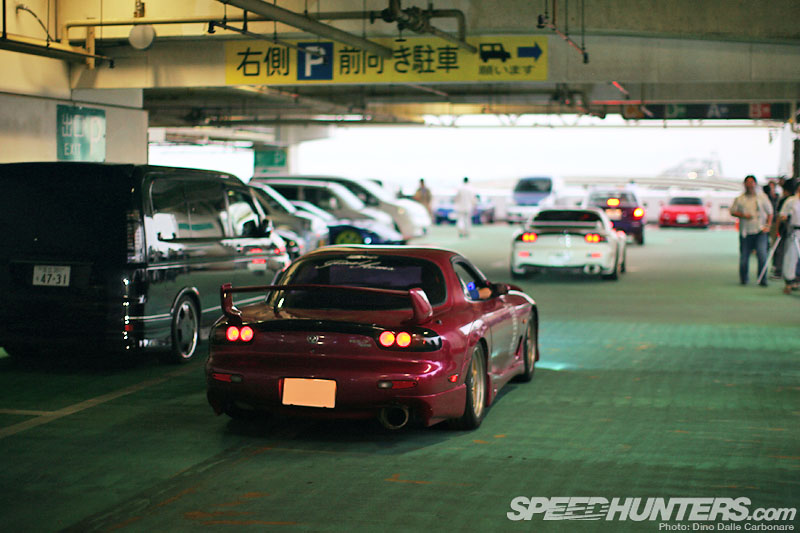 …most cars looping around the third level a few times in search of a place to park.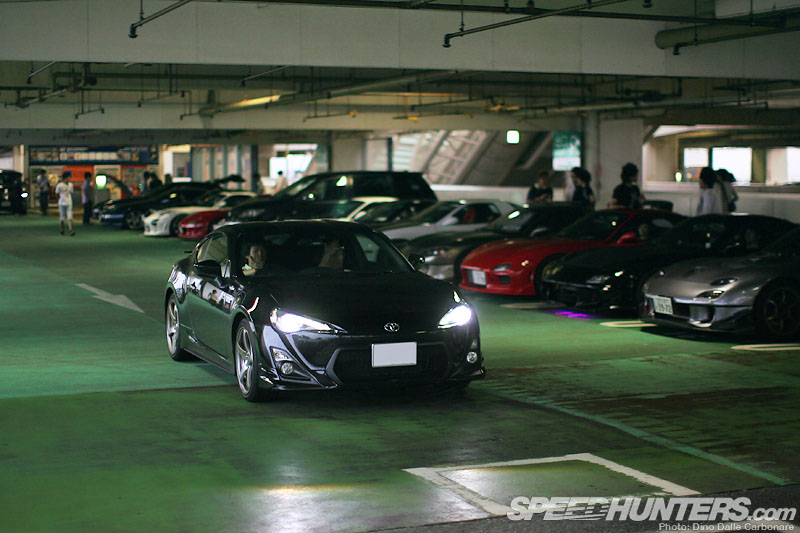 Yep another 86!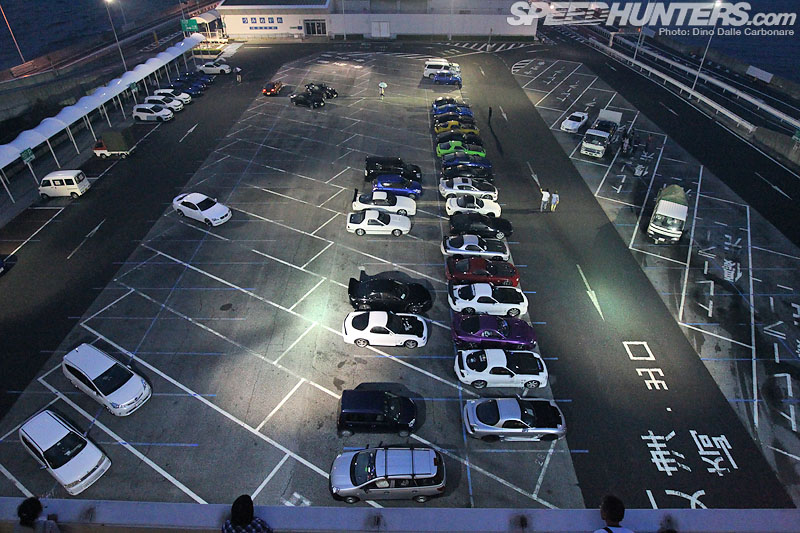 The outside lower level was beginning to fill up so I decided to take the elevator down…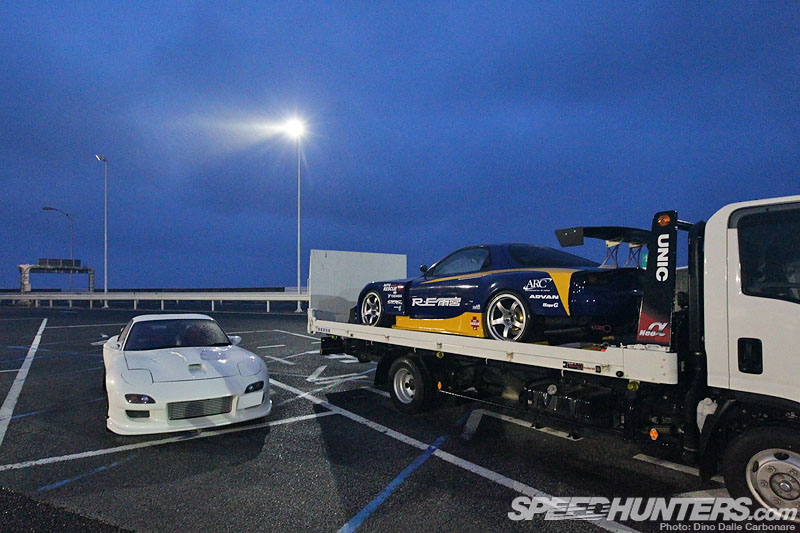 …and grab some shots under the rain. It would take a couple of more hours to get this whole area buzzing with people, something we will check out in the final part of the coverage coming up tomorrow. Don't miss it!
7's Day Coverage on Speedhunters
-Dino Dalle Carbonare