If you are like me you have probably been drooling over the red Hakosuka Skyline that's been featured in a couple of the latest Depth of Speed releases. When I saw that Eric Bauer, the new owner of the Skyline was a Speedhunters follower I immediately contacted him to see if he'd be interested in sharing his story. Needless to say, Eric was pleased to share his Skyline love story with the world and without further ado here's the inspiring tale in his own words.
-Mike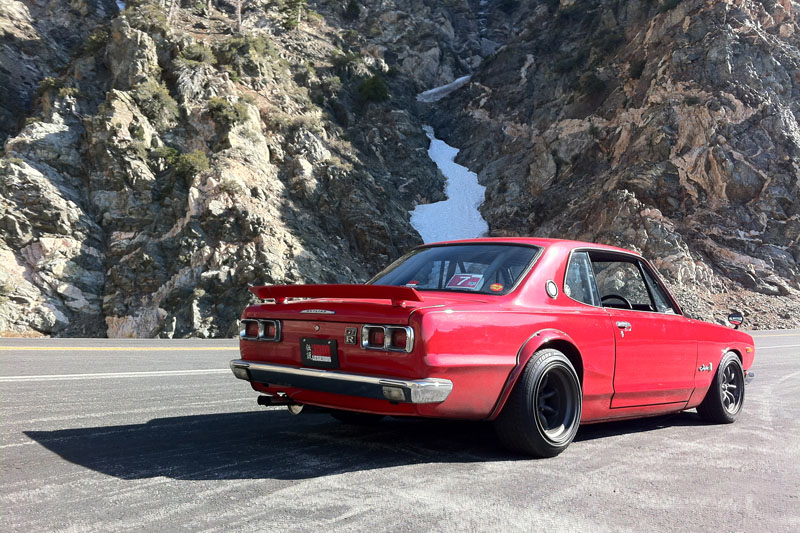 Hi, my name is Eric and I'm the owner of the red 1970 Skyline 2000GT coupe. Mike's invited me to write a piece about the car and how I've come to own it – I'm thrilled to have been given this opportunity.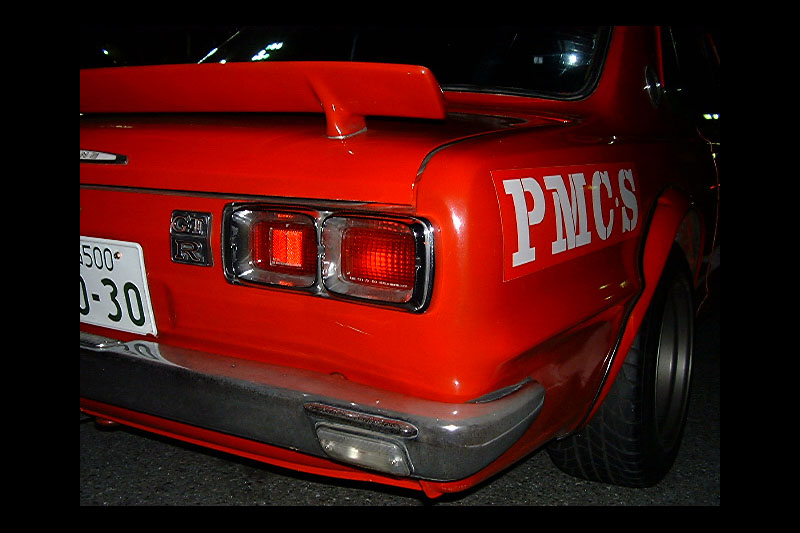 My passion for this model started in the late '90s when on a whim I quit my day job and took a flight to Japan on a clear summer's day. The timing just seemed right to go out there, especially because a college roommate's parents very graciously offered to give me a place to stay while I was visiting their country.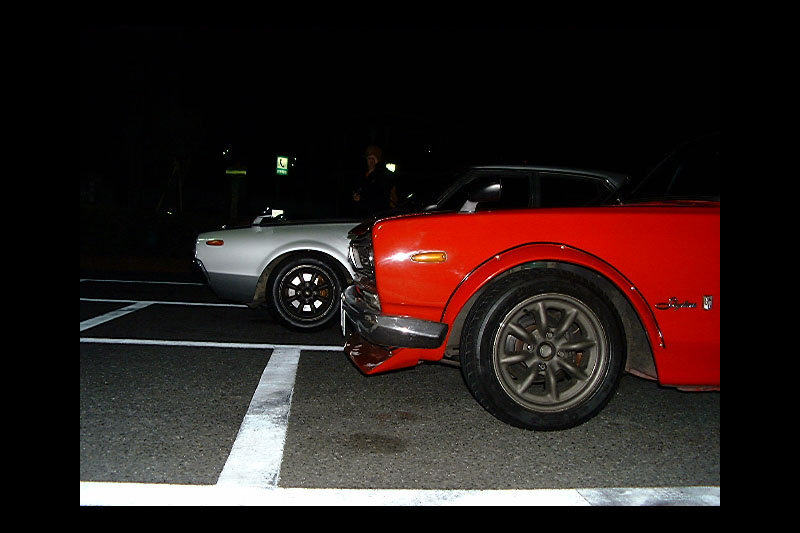 Like many of my peers who have gone over there at least once, I was floored by the Japanese people and their deep appreciation for car culture. I had grown up first in Europe and then in NorCal, and had always been aware of (but bummed at) people with fancy cars who seemed to only take them out on special occasions. Cool cars were meant to be seen, heard, and most importantly driven. Well right there, in the middle of rush hour traffic on a Friday night in Shinjuku I saw an ex-Safari Rally Lancia Stratos with full "Alitalia" racing livery, roof rack, spare knobby tire & the whole rest of the kit with a businessman at the wheel. I couldn't believe my eyes…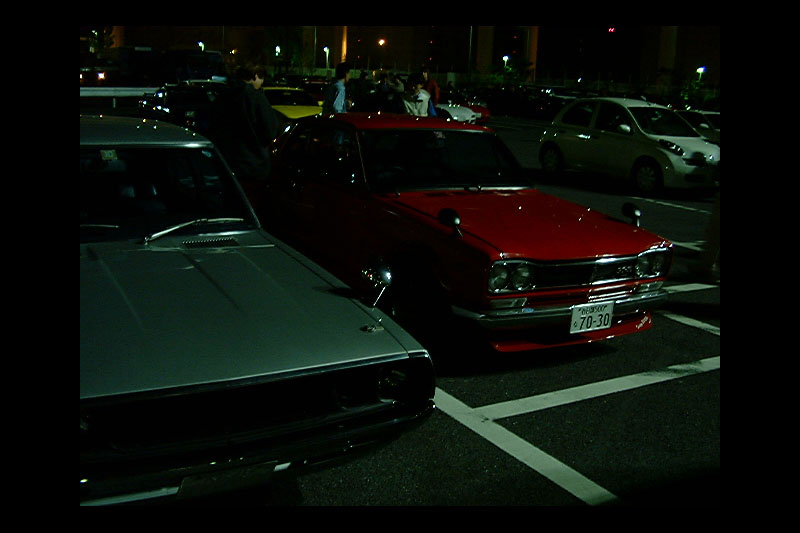 This set the tone for the rest of my trip there – one crazy adventure after another. Towards the end of my stay I was at the Yokohama Bay Bridge's Daikoku parking lot when I first heard the unmistakeable sound of a carbureted straight six coming into the parking lot. I went towards the source of that amazing sound and found a '70-'72 Skyline 2000GT coupe with the complete "GT-R"-look to it. The car was perfect. It had the right stance, it looked mean as heck, it sounded amazing – it just worked on all levels for me.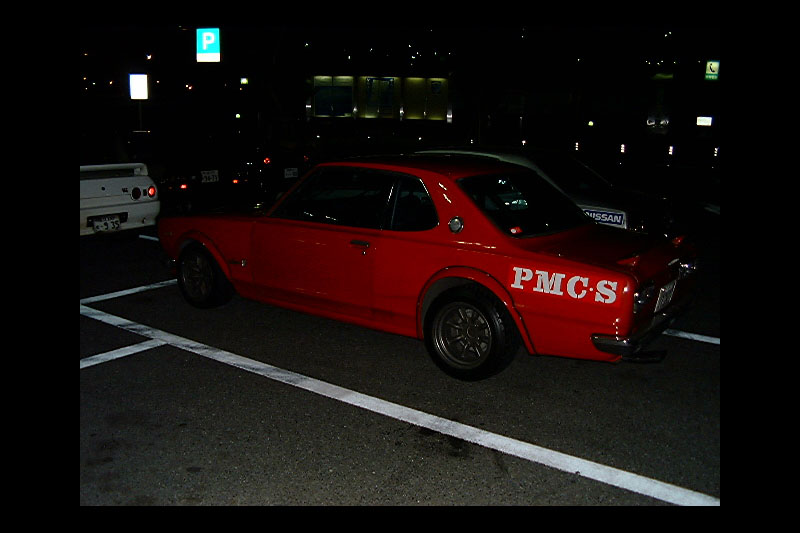 At the time the exchange rate was 150yen / $1 and these cars were selling at roughly 1,600,000 to 2,000,000 yen for nice ones, but I didn't have two pennies to rub together.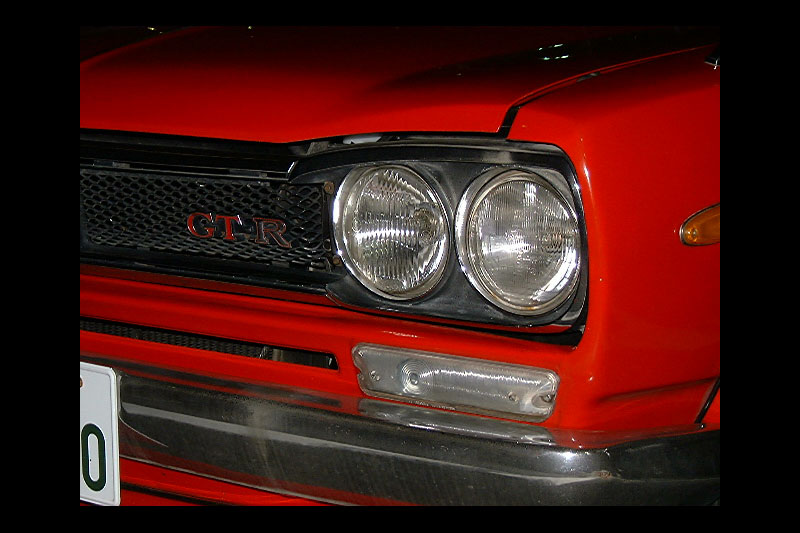 While I did shelve the idea for years, I always held on to it – I told my friends that "one day" I would make this a reality.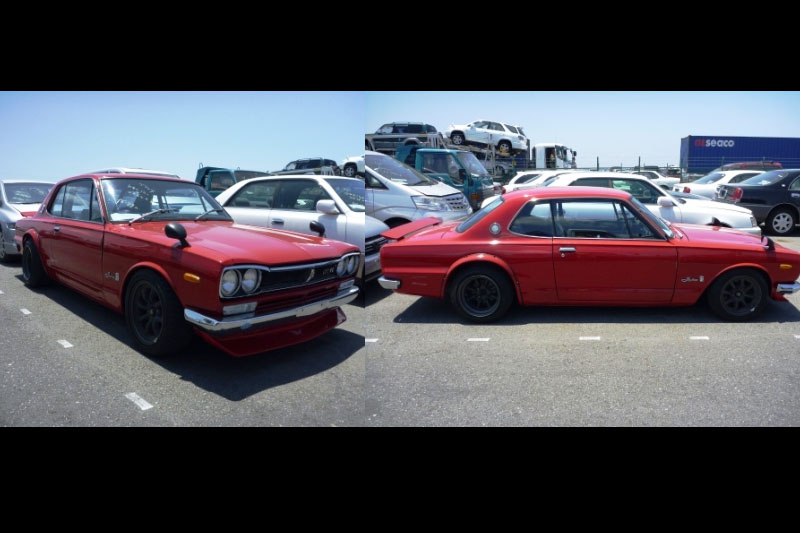 Fast forward to October 2011 when I decided that the right time had finally come. Without any hesitation I turned directly to JDMLegends in Salt Lake City. I had been keeping tabs on the cars they had brought in so far and the quality of their restoration work. JDML had been importing them on a special order basis only up until that point, so I made the call one afternoon and spoke with Eric. He said they were changing their business around and had just brought in two cars which were not yet spoken for.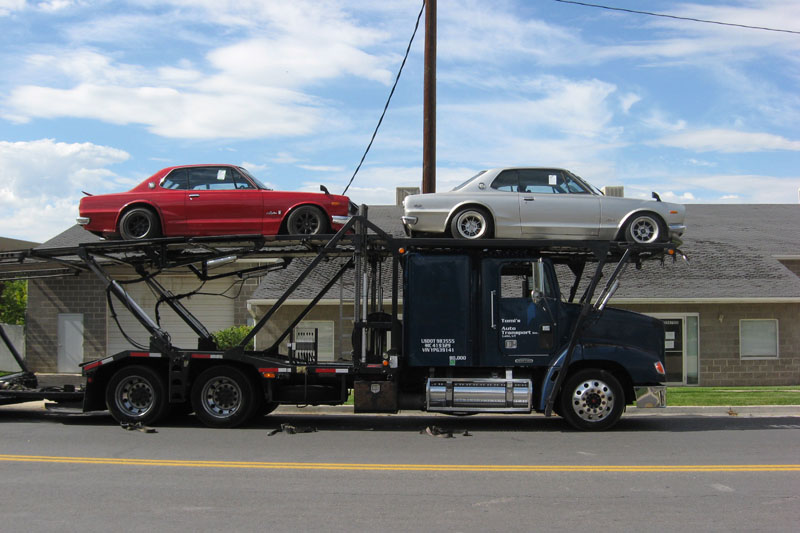 He sent me a description and pics of a silver stock car, and a modified red car. I had always assumed I'd end up with a white or a silver coupe, but although unexpected, the red totally worked for me. I called back shortly thereafter and was super disappointed to find out that there were at least ten people ahead of me that had shown some interest for the car.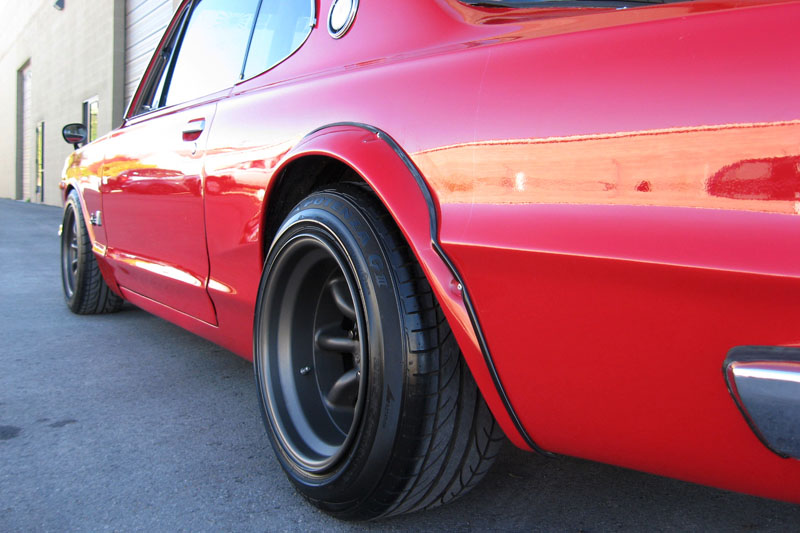 I didn't give up though and continued calling and emailing regularly throughout the fall. I inquired how the shop move from North SLC to Murray was going and when they'd be done. I checked in before and after the holidays, and come January I got the best phone call I could hope for. My persistence had won – Eric and Ryan over and they were now open to selling it to me.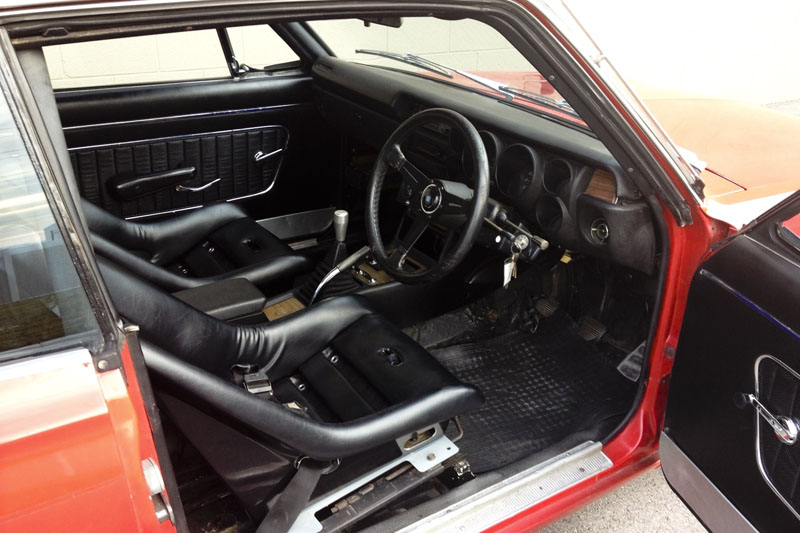 We scheduled a date in early February for me to fly out and see it. I was a nervous wreck at work that week – my co-workers even noticed something was up. I got so superstitious that someone would snake me at the very last minute that I didn't let on where I was going that weekend or what for.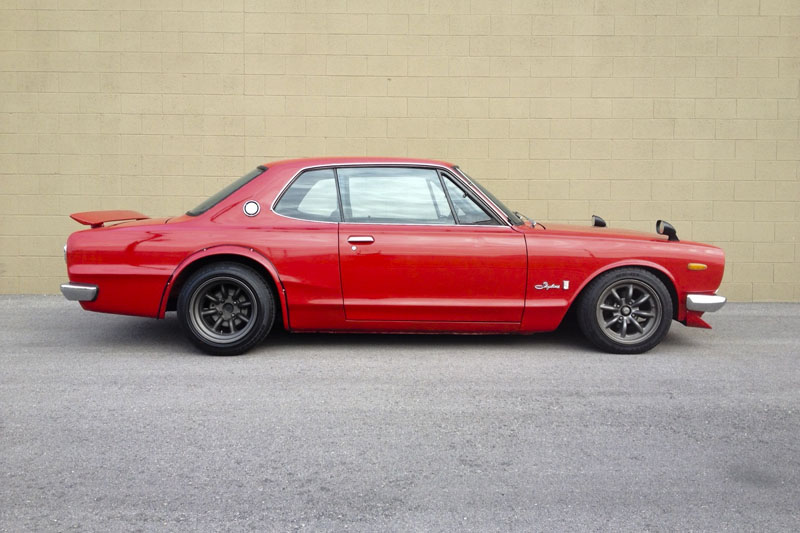 When I arrived at JDML, Eric & Ryan were waiting for me. Instantly I had a good feeling about seeing them in person and after some brief introductions they walked me over to see the car. I think my heart stuck in my throat at first sight – it looked just as good in person as it did in the pictures I had been sent. We chit chatted, I walked around it, poked at it, and so on. Then Eric started the car and pulled it out of the shop and into the sunlight…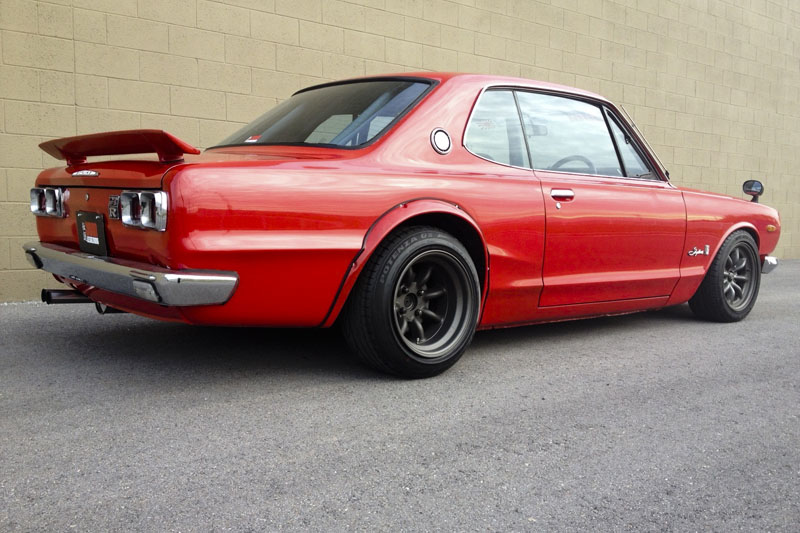 The lumpy cam idle, the sound, the volume, that special carbureted smell – it was win win win win! I was desperately trying to keep a straight face, trying to keep it cool – and then on a local backroad Eric nailed the gas pedal and with a roar it took off like a bat out of hell. Right then I knew: This is the car! This is what I had been waiting for since 1998! This had to be my Hakosuka!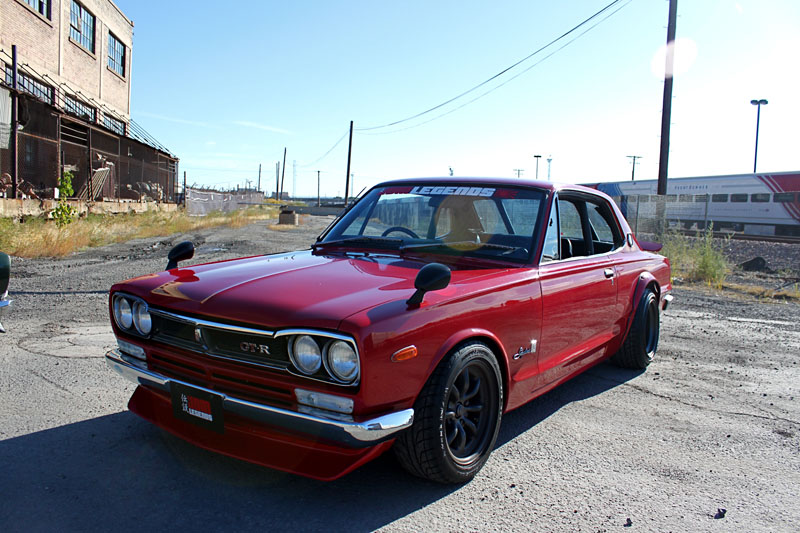 Eric & Ryan were (and still are to this day) understandably attached to this car, but at the end of the day they run a business and that means these cars need to get sold. I had come prepared with a cash deposit and made them take it then and there – I wanted to ensure this car would be my car.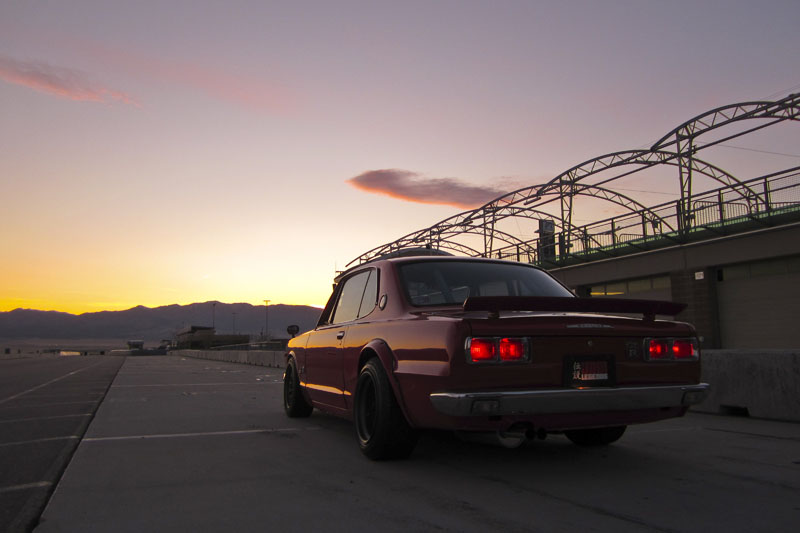 We agreed on price – I didn't haggle – and we agreed to some work I wanted them to perform which involved fixing some rust spots under the car. We set a date for the end of April for me to come out and get it. Honestly it didn't even cross my mind to have it shipped to LA – I had to DRIVE it home, and the best co-pilot I could think of was my buddy Jan who is a dyed in the wool Nissan guy through and through.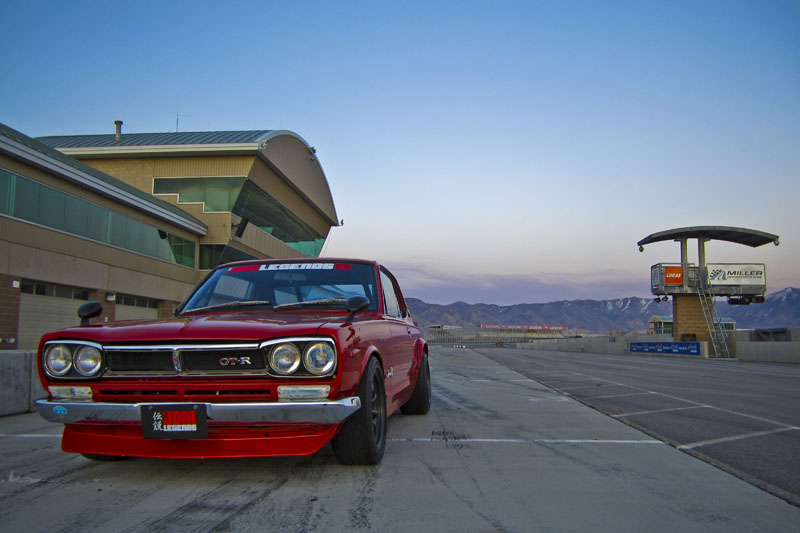 About two weeks before the pick up date I became more active on the forums at Japanesenostalgiccar.com and met some of the other Skyline owners in the country. Ivan from NorCal was one that stood out as he had both a Hakosuka and a Kenmeri. He had actually bought one of the first cars that JDML sold several years ago and was planning a road trip out to visit Eric & Ryan at the end of April. Our dates lined up perfectly and he agreed to come pick us up at SLC airport and take us out to the shop.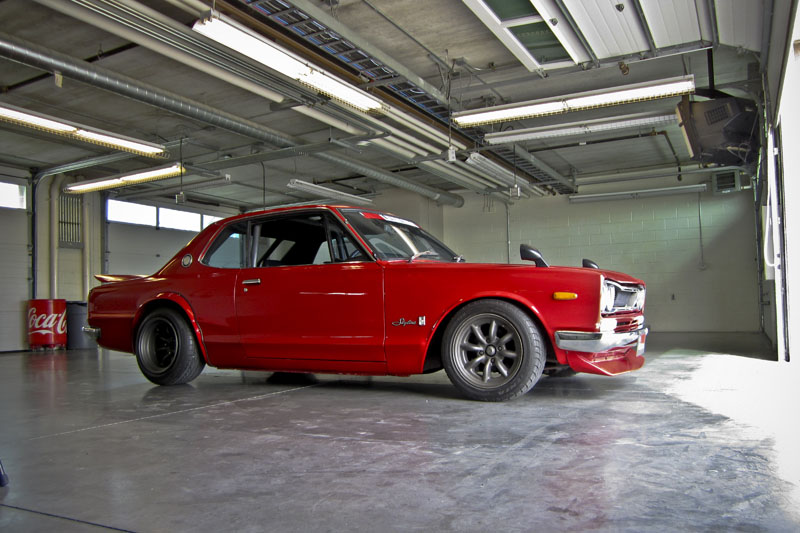 When I got to LAX early Saturday morning April 21, I met up with my buddy Jan directly at the gate. We're just hanging out waiting for our time to board the plane, and I'm staring at the flight info right across from me… Suddenly the flight number looks real odd, it took me a moment for me to realize but when I did I couldn't believe my eyes. I interrupted Jan, pulled out some JDML paperwork (the vehicle inspection report they create for each of their cars), pointed to the red car's VIN number and then pointed at the gate. Being a first year car, its VIN number is only the last four digits – the rest are zeros. The car's VIN was our flight number to SLC! I'm not a superstitious person, but that's pretty darn uncanny…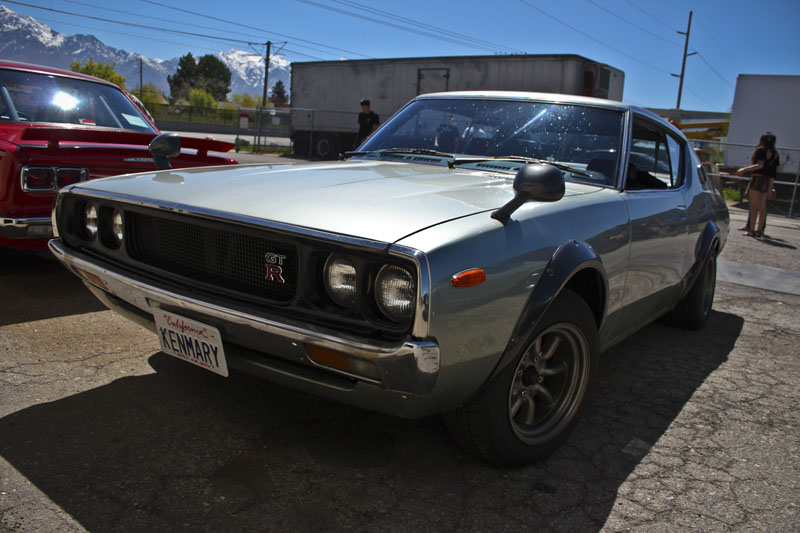 Seeing Ivan's charcoal grey Kenmeri pull up to the white curb at SLC airport really brought it home that I was minutes away from getting the keys to a long time dream. It was unreal to be driven in a Skyline to pick up my very own Skyline – I highly recommend the experience!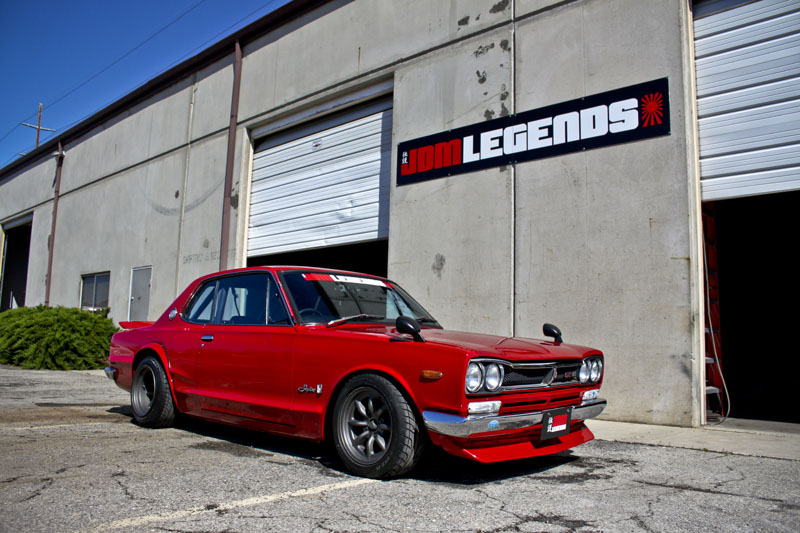 When we pulled into the JDML driveway, the red car was there – gleaming in the SLC mid-day sun, having just been washed one final time that morning.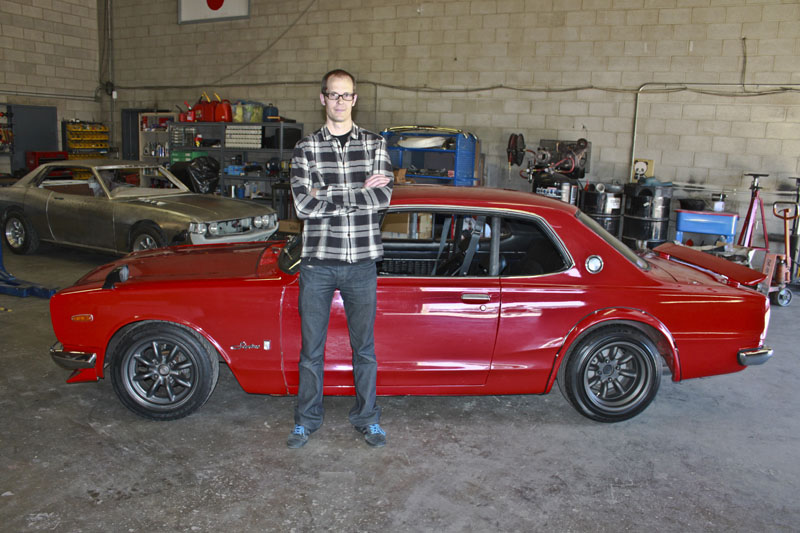 Handshakes, a couple hugs, some paperwork, & several pictures later I finally had keys in hand. It was all a bit of a blur and the few pics I personally took at the shop were out of focus on my cellphone camera…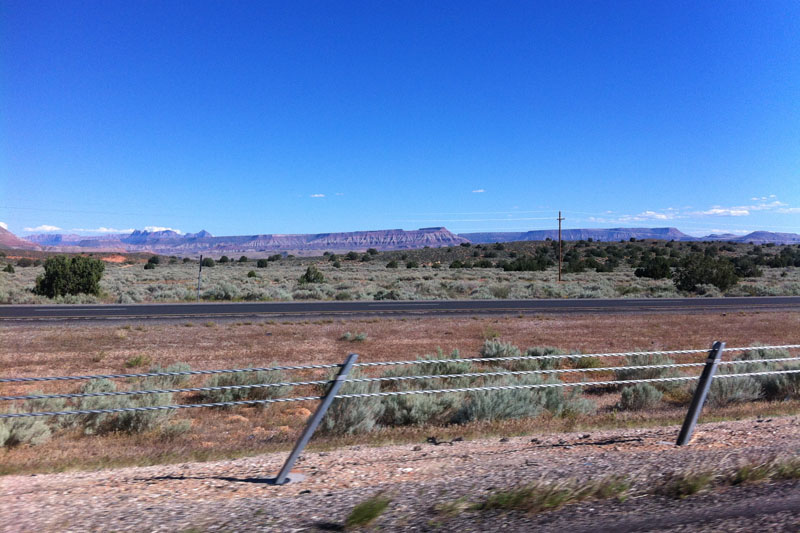 After a quick stop at the local auto parts store for some precautionary supplies Jan & I headed south on I15, it was close to 1pm. Utah freeways had a very enjoyable 80mph speed limit and we would gain an hour back as we headed West, but we were a little bit behind schedule already.
The high plains of Utah eventually gave way to the 100degree Arizona desert along with some truly stunning scenery – the canyon on the UT / AZ border on I15 has to be experienced in the afternoon light. I plan to go back out there just to film a drive through there. Jan and I took turns at the wheel – we were both stoked.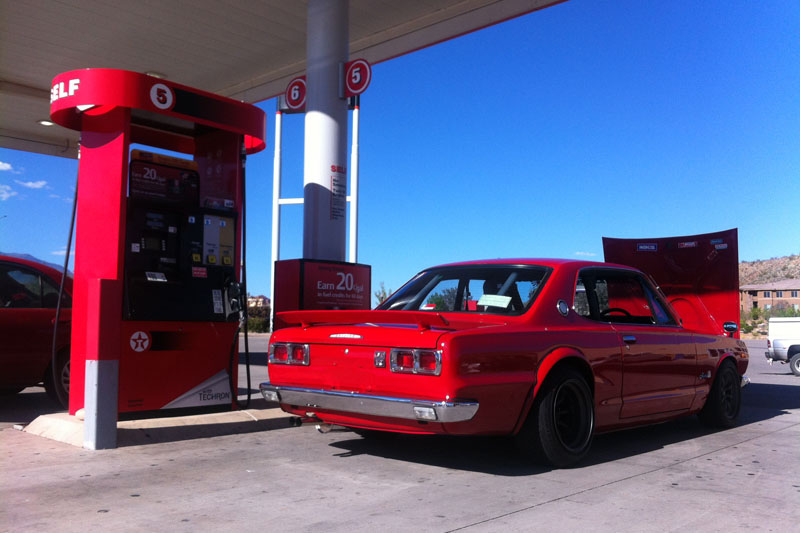 Then all of a sudden there was a faint smell that quickly became much more obvious – it really smelled like gas, a lot of gas, too much gas! We pulled over at the first safe place we could and found a quickly forming puddle of gas in the trunk. We had come prepared with an assortment of tools and spares and got it fixed.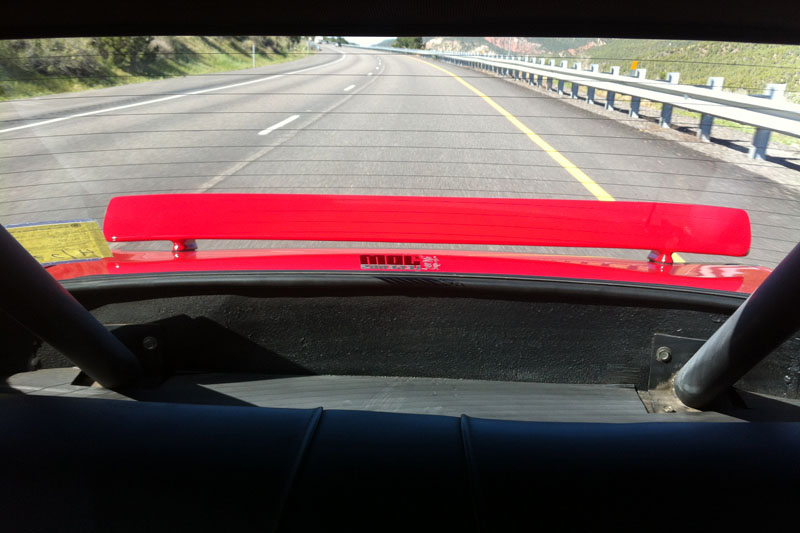 In the end nothing bad happened and we didn't let it sour the mood of the trip – after all this was a 42year old car in the middle of a 700mile trip which is probably the most the car had been driven in one sitting in a long time.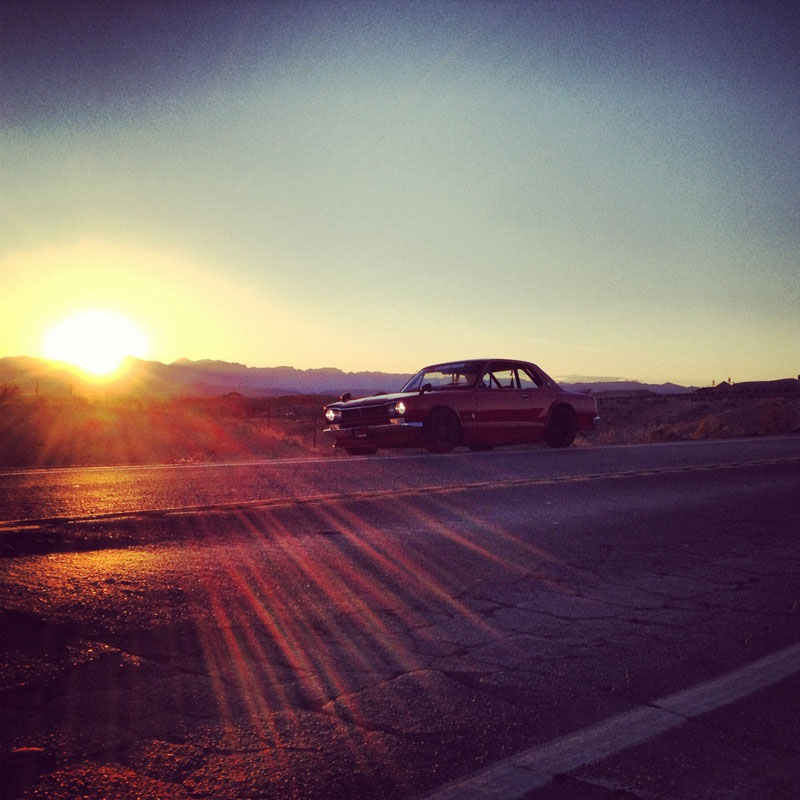 We took it all in stride and continued late into the night eventually dropping off Jan at his 350Z parked at LAX at 2am. I made it home closer to 3am and was completely exhausted & delirious.
The next morning after a mandatory early trip to the home improvement warehouse to get extra 2"x8"s, I finally managed to drive the red car up the driveway and park it next to my orange 1973 Datsun 240Z. I sat back, cracked open a cold drink, and admired the view. On Earth Day 2012 I now had two straight six triple carb'ed vintage Nissans in my driveway – it was absolutely perfect. I am a very happy man.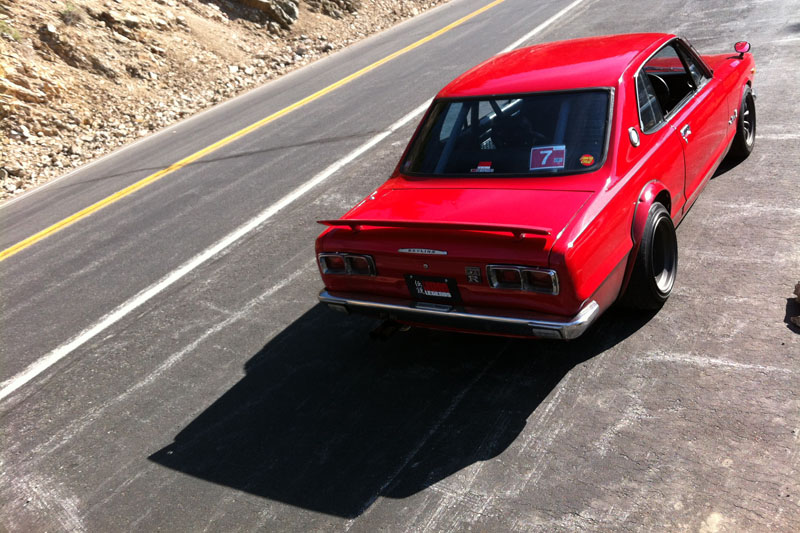 There are about two dozen of these cars in the US with more showing up on our shores all the time. They are all equally loved and cherished and I want to send out a big thank you to all the vintage skyline owners who have been so supportive both recently and over the past dozen years. I can only hope that one day Japanese Skyline owners and those of us in the rest of the world can come together and share our love for these cars in a tighter knit international community.
At the risk of sounding cheesy, I can't encourage you enough to hold on to your dreams however crazy they may be.
If you want them bad enough you will find a way to make them a reality.
-Eric Bauer