Over the past few years I've had many opportunities to cover drag racing events for Speedhunters, and Auto Club Famoso Raceway near Bakersfield in particular has become one of our go-to spots. Famoso is most famously known for the March Meet and the California Hot Rod Reunion – two of the world's most famous nostalgia drag meets held there annually.
I found myself at Famoso once again this weekend, but this time I'd be aiming my camera lens at slightly different type of drag action.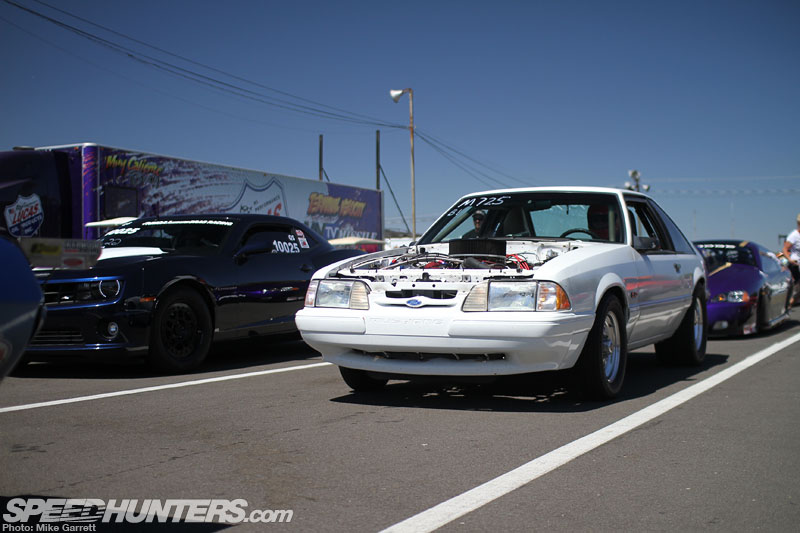 We love shooting nitro Funny Cars, front-engine dragsters and gassers, but one scene that we haven't showcased much on Speedhunters is the world of street car and outlaw drag racing.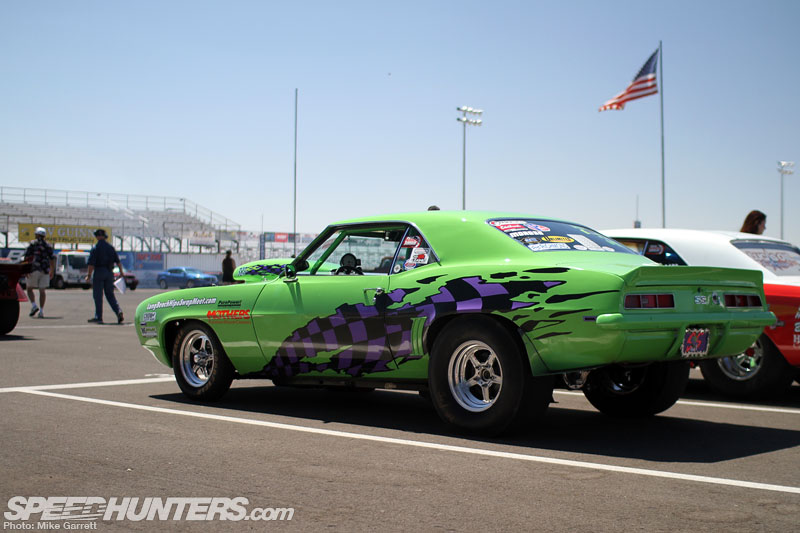 This scene has been big in the eastern and central parts of the United States for years, and now it's beginning to take hold here on the West Coast. For 2012, the National Muscle Car Association has established the NMCA WEST series,which consists of four events held in California and Arizona. Good old Famoso would be the the home of the first event of the year so I made plans to go have a look.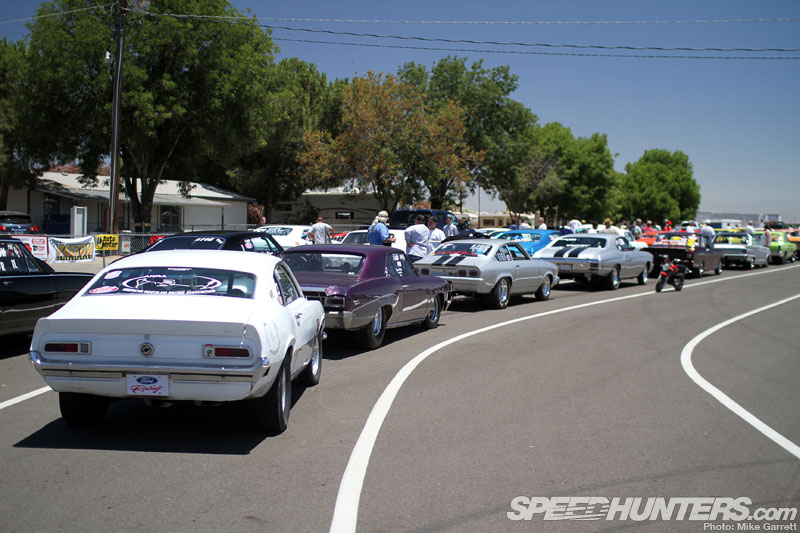 While the spectator turnout wasn't huge, I arrived at the track to find the staging lanes already full of some very fast machinery. Not bad at all for a new series running in somewhat unfamiliar territory.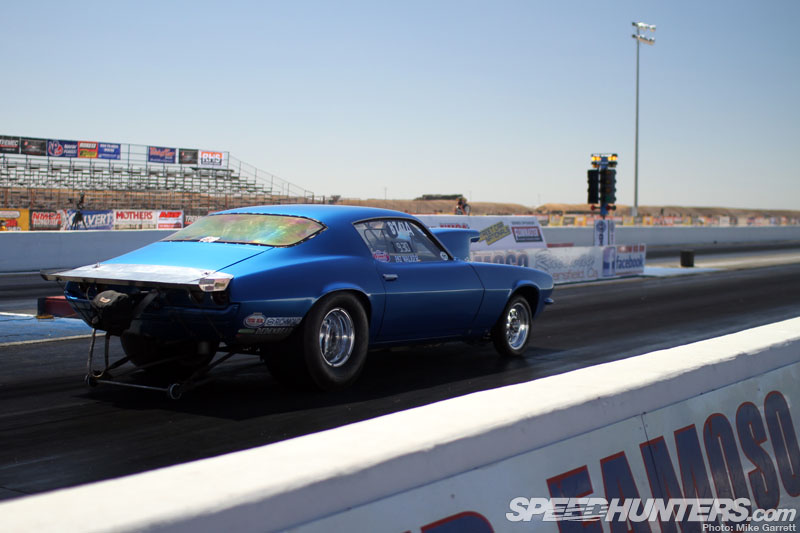 There were several classes of competition, ranging from road legal cars that drove to and from the track, all the way to Pro Street entries capable of running five second ETs.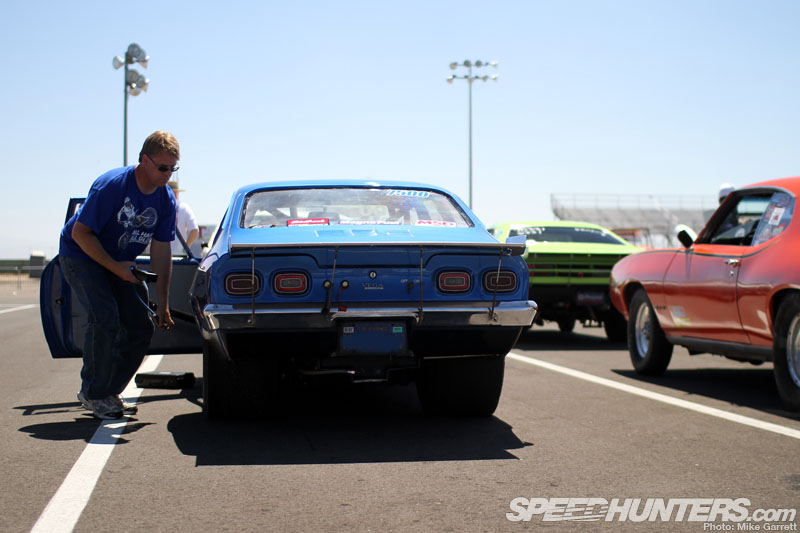 I'd run into bits and pieces of this scene at other drag events in the past, but this was my first time shooting a dedicated event of this type. Prior to heading trackside I took a browse around the pit area to see what I could find.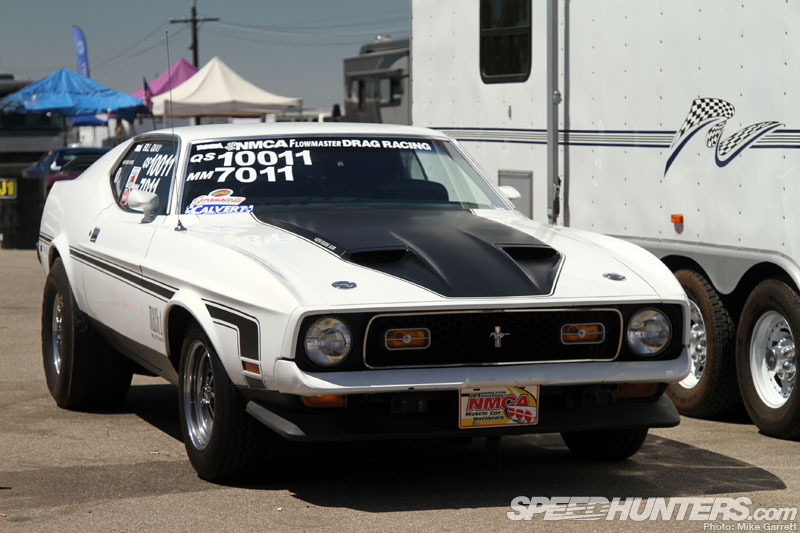 One of the first cars that grabbed my attention was this beefy looking '71 Mustang Mach 1. It looked surprisingly original – save for the enormous slicks on the back of course.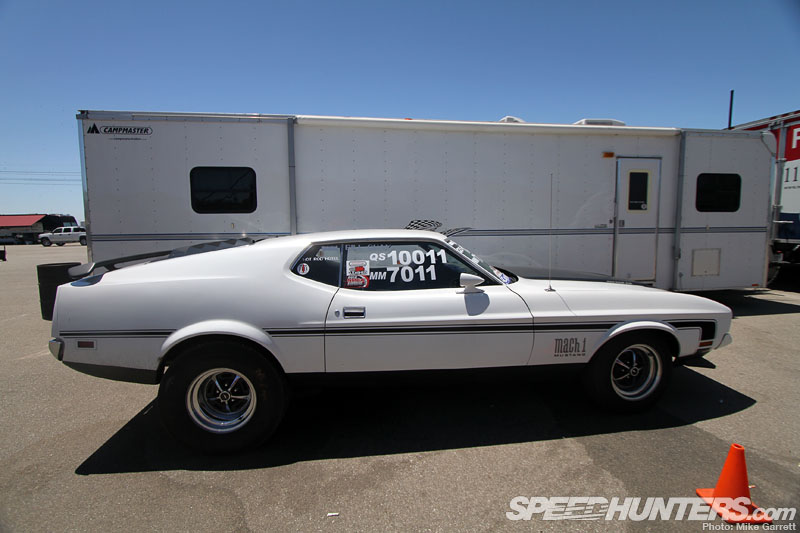 While the vast majority of the cars were equipped with lightweight competition wheels, I thought it was cool that the Mach 1 was still wearing Magnum 500 rallye wheels. As you can see, the rears have been widened significantly from their factory size.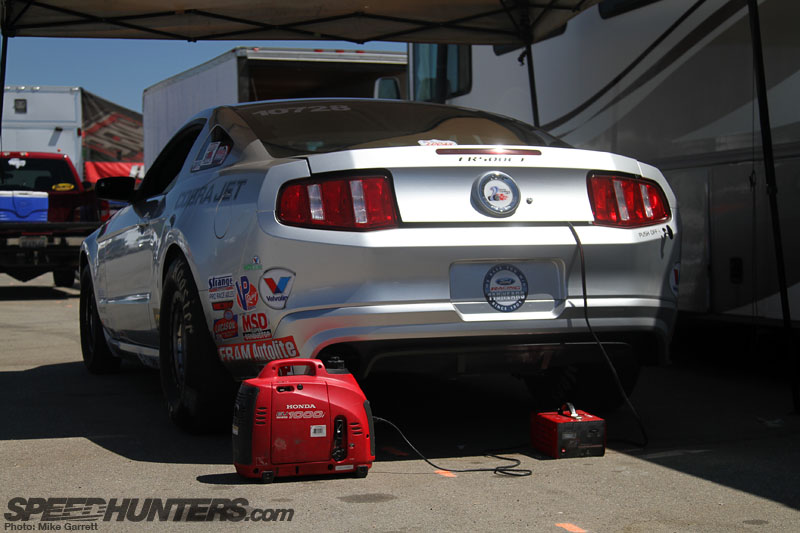 The term "Muscle Car" is used pretty lightly at these events, as the lineup includes cars from the mid 1950s up to today. Here's a new Cobra Jet Mustang representing the modern end of the spectrum.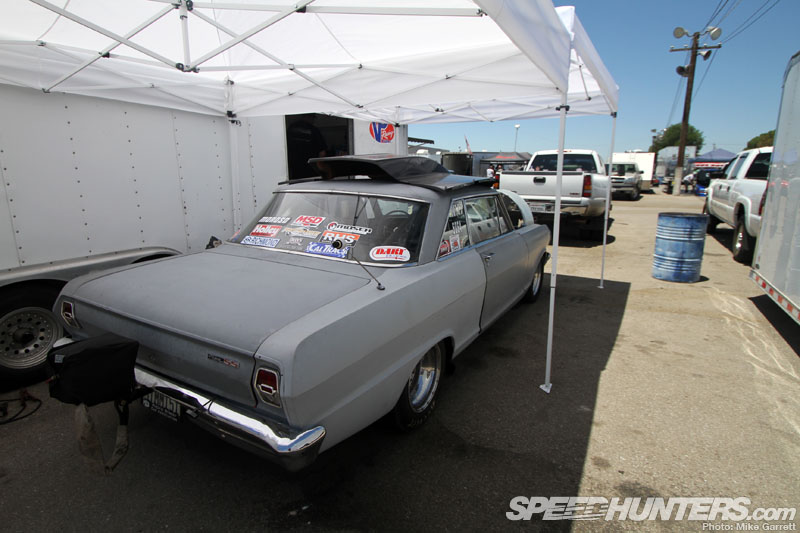 Many of the cars competing are based on older chassis, but under the hoods you'll find they are equipped with a variety of modern power adders.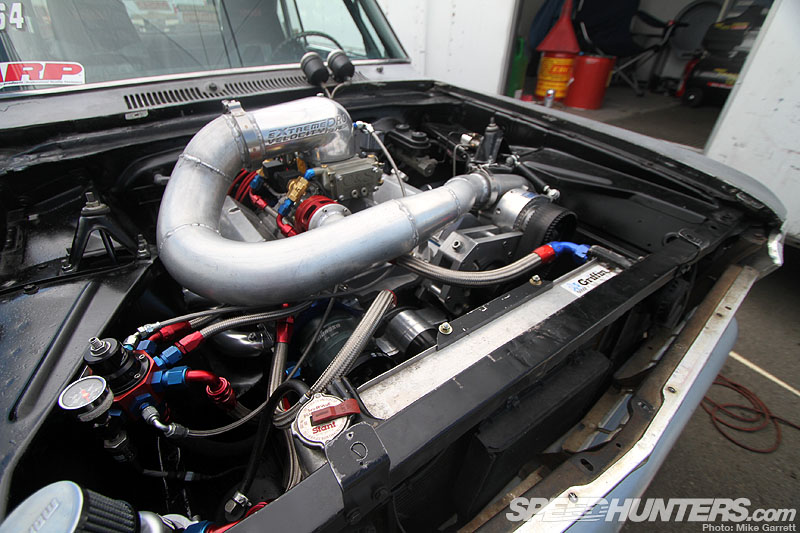 That definitley doesn't look like something you'd see at the March Meet or California Hot Rod Reunion…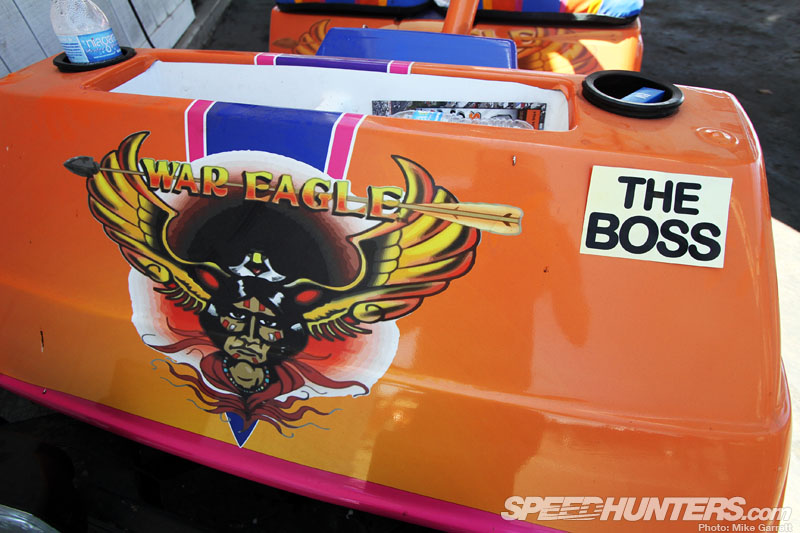 After browsing the pits for a little while, I made my way back towards the track – but not before I spotted this amazing custom golf cart known as the War Eagle. Just couldn't resist.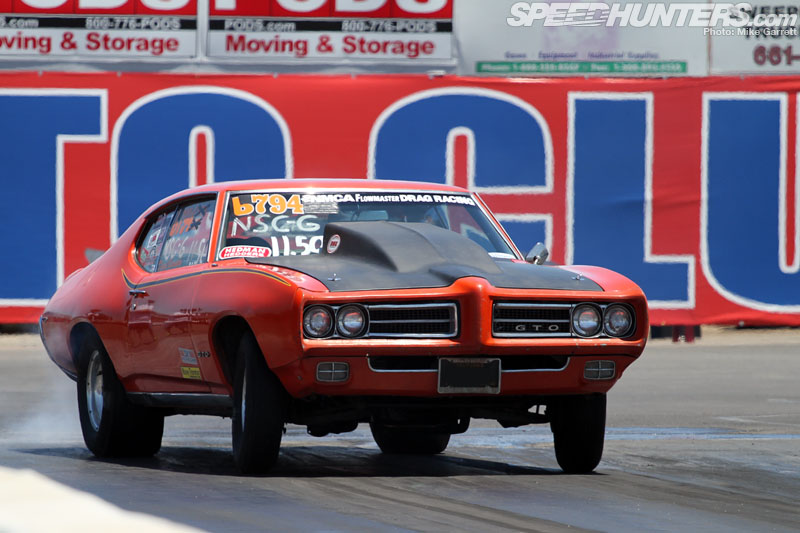 When I arrived at the track, the day's elimination rounds were just beginning to kick off. Late June in Central California can easily mean temperatures topping the 100 degree mark, but thankfully for both racers and spectators temps hung in the comfortable 80 degree range all weekend.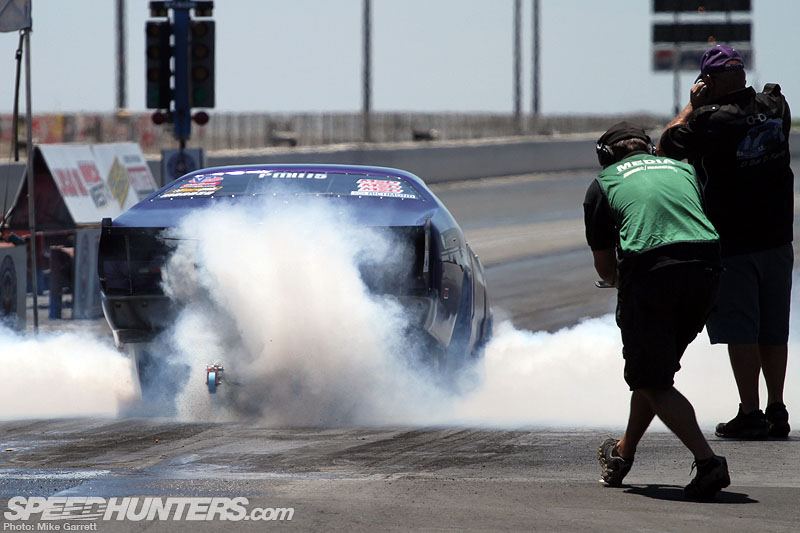 The quickest and most extreme race group of the weekend was the Garrett Turbochargers Pro Street class. These cars represent the cutting edge of what a door slammer can be capable of and are thrilling to watch.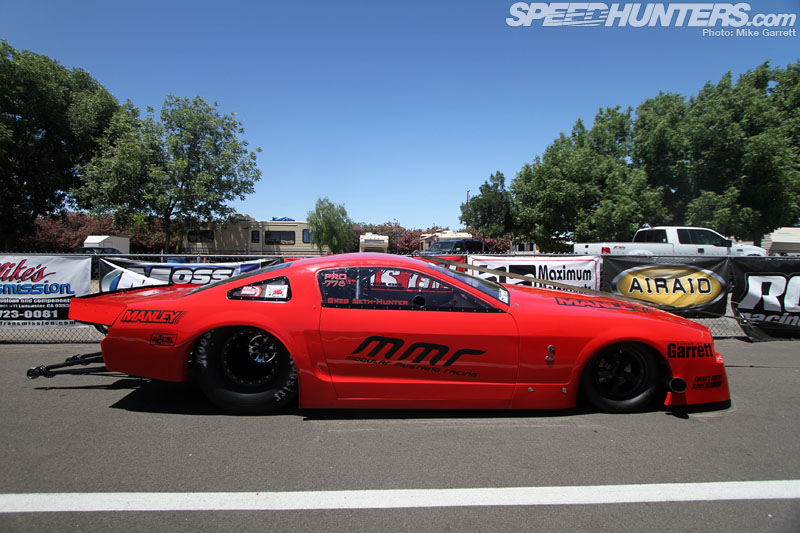 You may actually remember the MMR Pro Street Mustang from our coverage of last year's SEMA Show.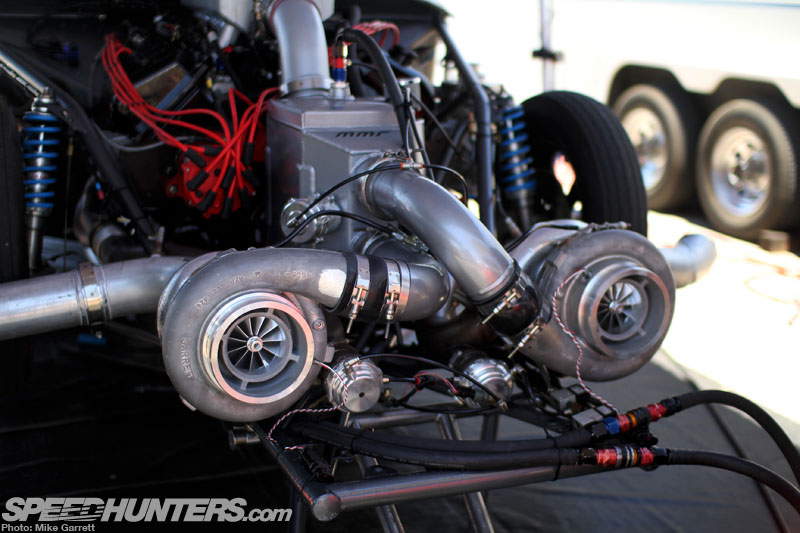 If the stretched out S197 Mustang body doesn't jog your memory, then perhaps its pair of enormous snails will.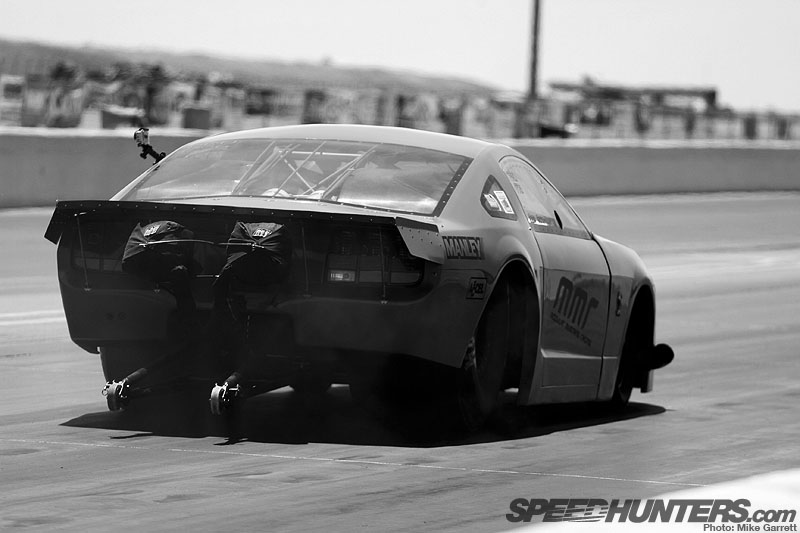 Of course it's one thing to see car like this on display under the lights of SEMA, but it's something entirely different to stand a few feet away from it as it rips down the track.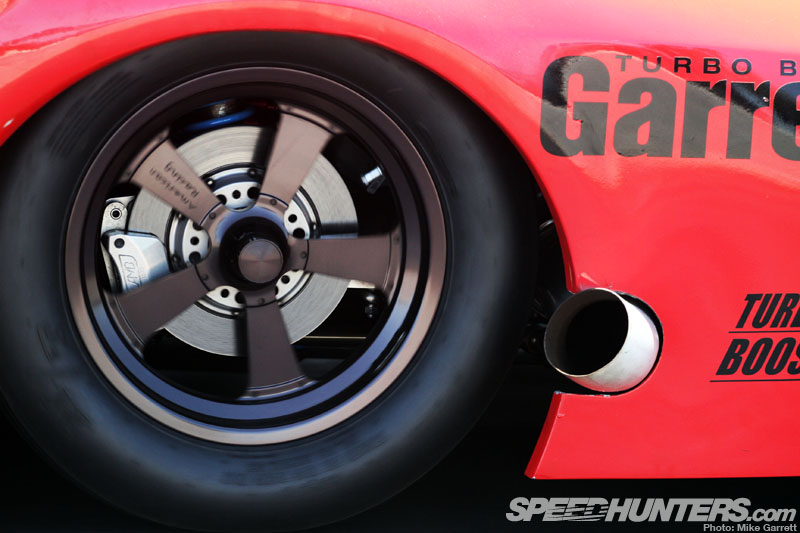 The sound alone is unforgettable. If you were to mix the note of a typical V8-powered drag car with that of single turbo Supra and then multiply it a few times you might get an idea of the noises this thing makes.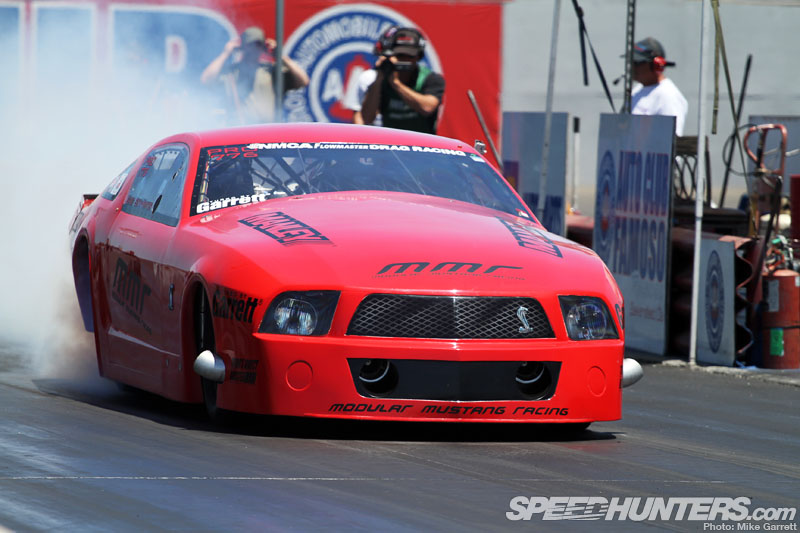 The MMR car was a Pro Street favorite heading into the event and it didn't disappoint. In the final round of heads up eliminations the Mustang  put down a 6.61 ET at 215MPH, good enough to take the class victory for the weekend.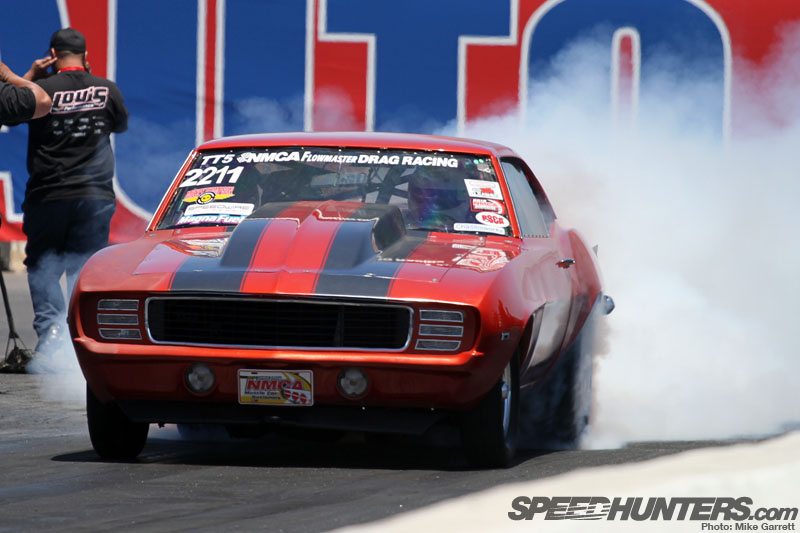 From there, the race classes go down in average ET but definitley not in excitement. The popular Mickey Thompson 10.5 class is made up of cars limited to 10.5 rear slicks and then further regulated based on race weight and engine/power adder setup.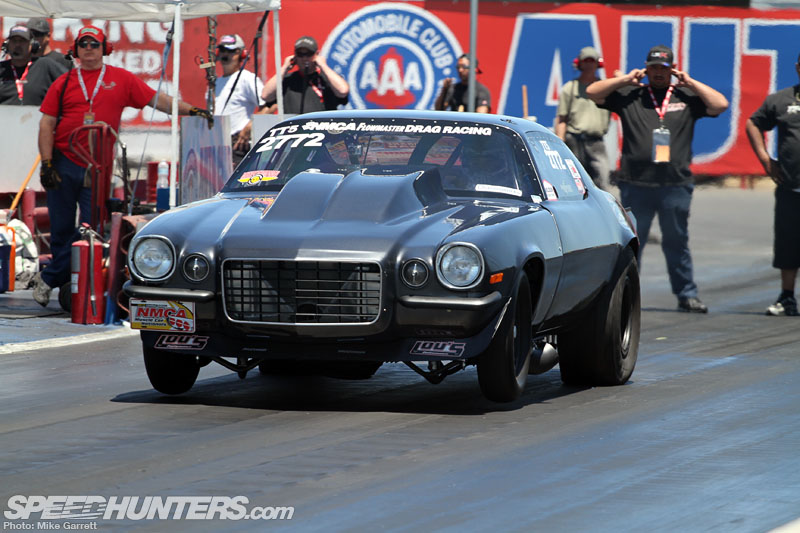 Cars in this class routinely run in the low seven second range – as did the '72 Camaro of class winner Al Jimenez. with a 7.32 ET at 205 MPH.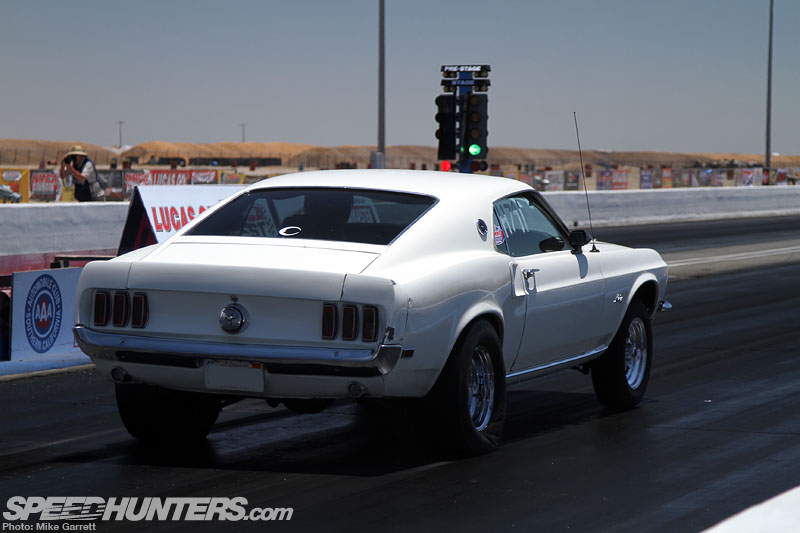 The most populous classes are the ones that feature more street oriented cars. This is weekend warrior racing at its best, with many of the cars still wearing license plates.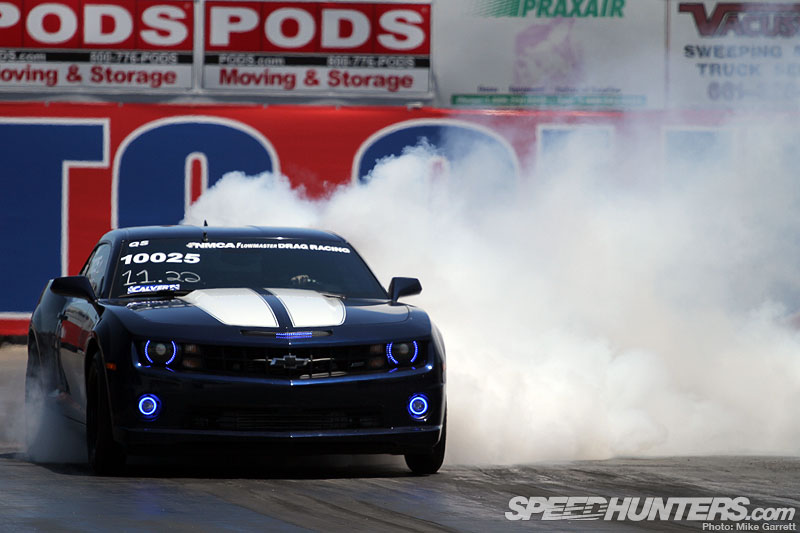 This where you'll find some of the modern Muscle Cars that came to do battle, like this 2010 Camaro running in the Quick Street class with low 11 second ETs. Even better is that it was running a 6-speed manual transmission in a field made up almost completely of automatics. There's something great about watching fast cars bang gears down the quarter mile.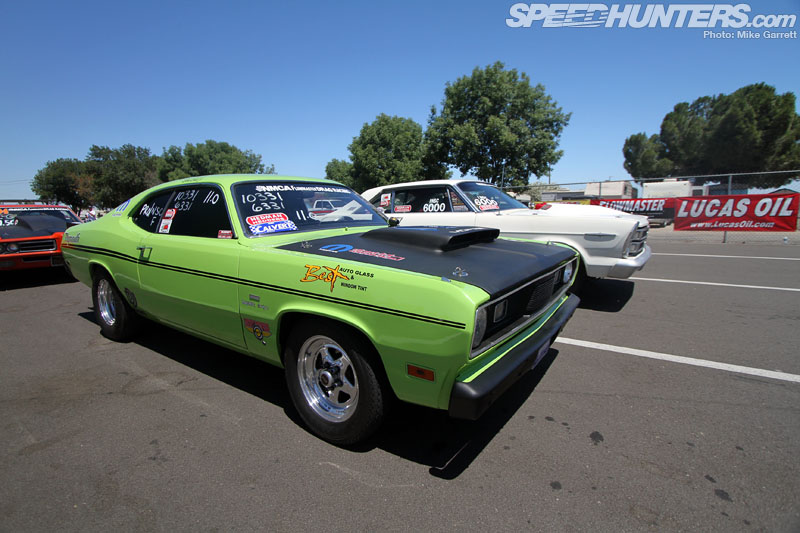 Not surprisingly Chevrolets were the most common vehicles in the pits and staging lanes, with Fords coming in second. That's not to say there wasn't decent Mopar turnout though.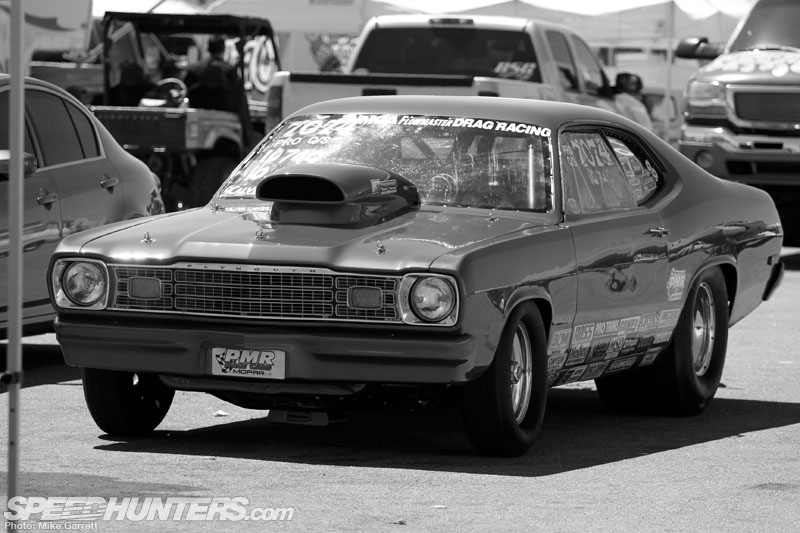 The Duster, Dart and other A-body Mopars are the most popular due to their light weight and affordable cost.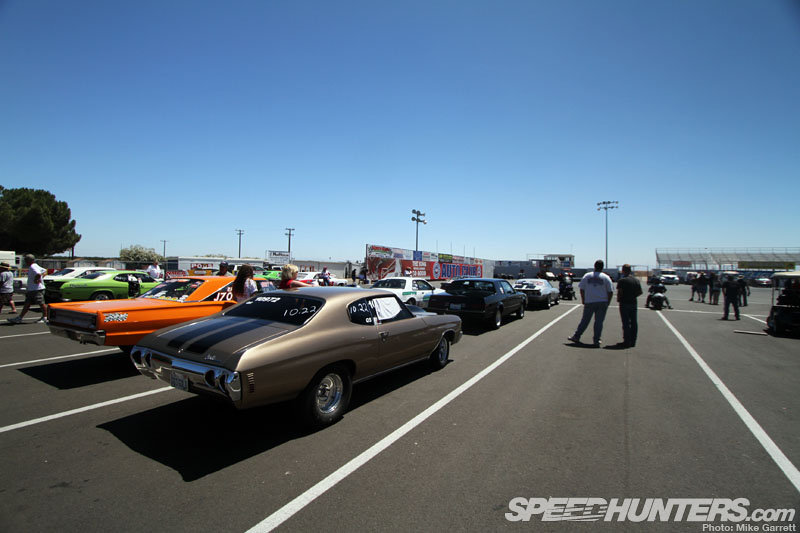 Speaking of affordable, I'm actually pretty surprised at just how many of these race cars are built out of desirable Muscle Cars from the '60s and '70s.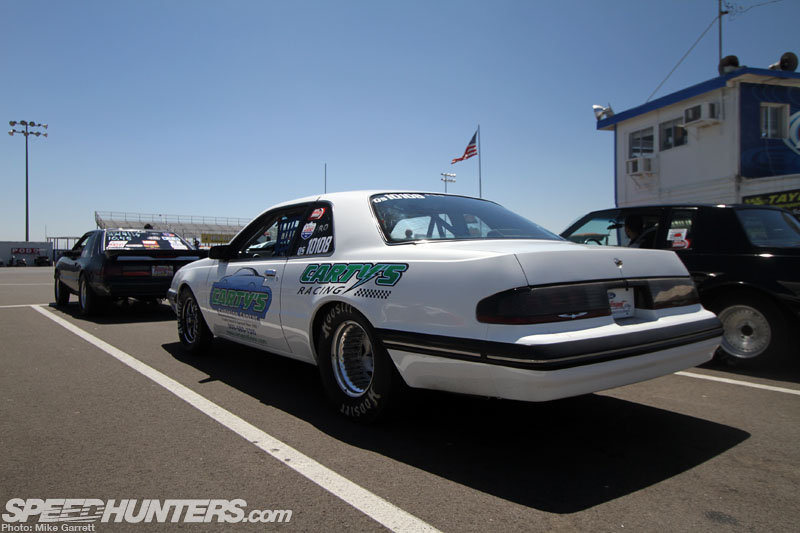 Other race cars are built out of slightly less glamorous cars like this 1988 Ford Thunderbird that was running well into the 9s. It's nice to see some variety to field made up largely of Camaros, Novas, Chevelles, and Mustangs.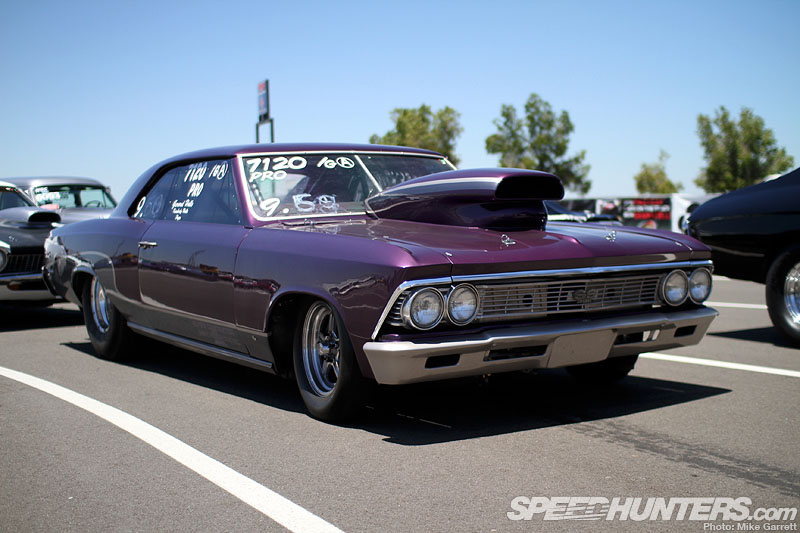 Not that there's anything wrong with Chevelles of course…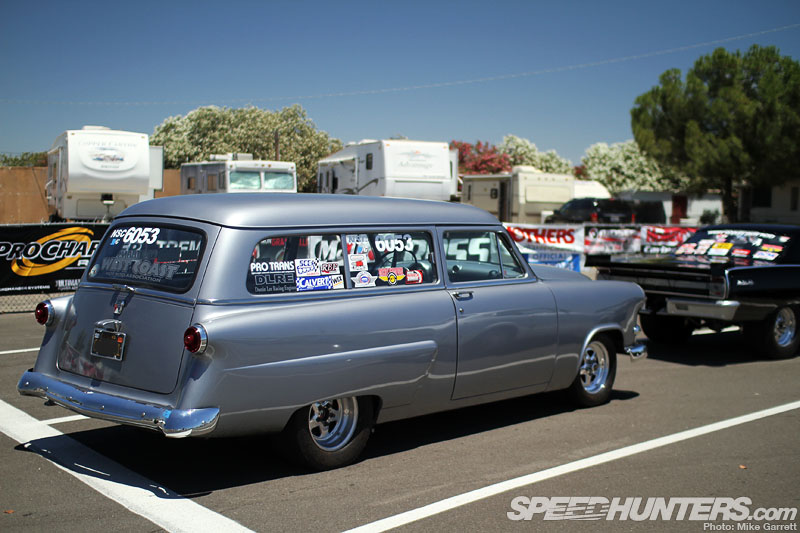 This '53 Ford Wagon probably isn't a car that comes to mind when you think of the NMCA, but it was cool to see it out there putting down mid 11 second runs.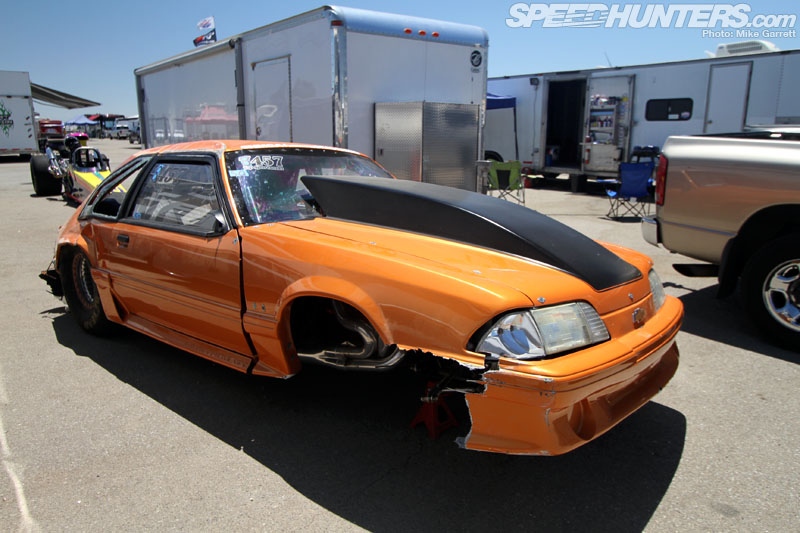 Unfortunately, the weekend was not without its victims – like this Fox Body Mustang. Unlike some motorsports, there isn't much room for error in drag racing.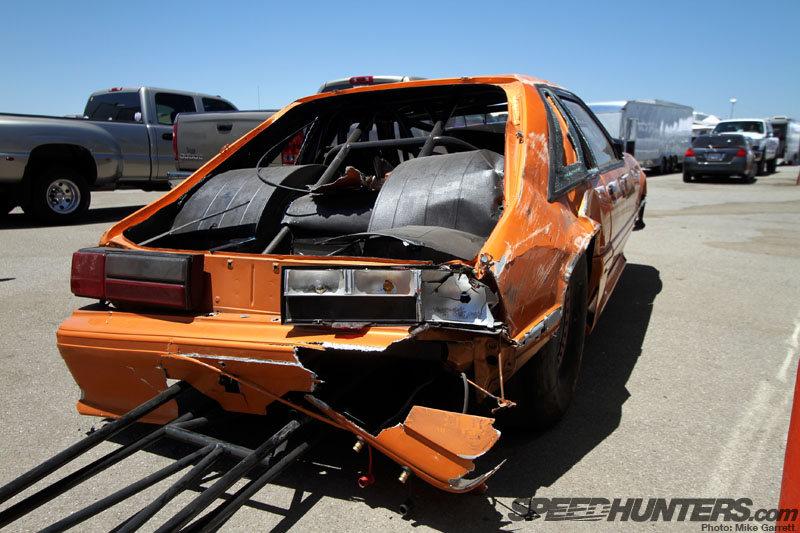 The damage was heavy, but it looked the safety equipment did a great job of protecting the driver.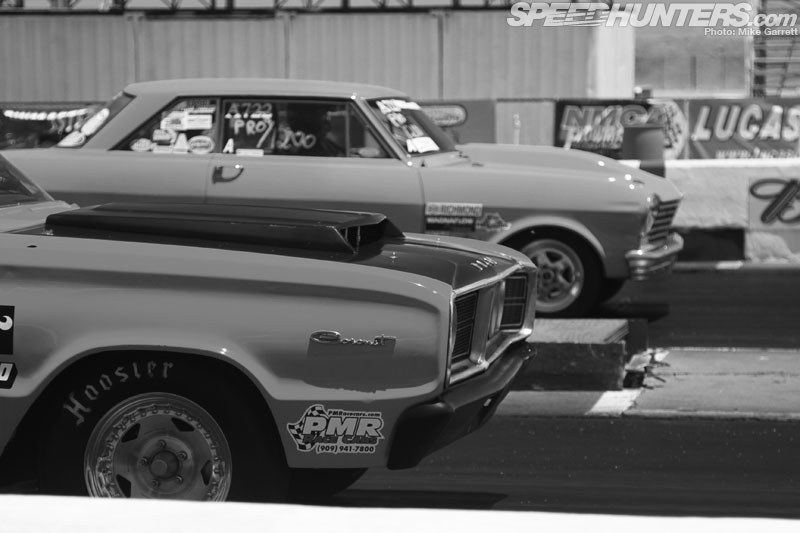 With that I'll go ahead and close out part one.
Back tomorrow with more doorslammer madness from Bakersfield.
-Mike Garrett
More Drag Racing Coverage on Speedhunters