I thought of this article while watching the old Senna documentary. There is a quick segment about Senna's yellow helmet and how it was unmistakable when you saw that helmet in your rear view mirror. I wondered to myself if the drivers of Formula Drift had an attachment to their helmets. So I walked around the paddock asking every driver I came in contact with. This is what I found.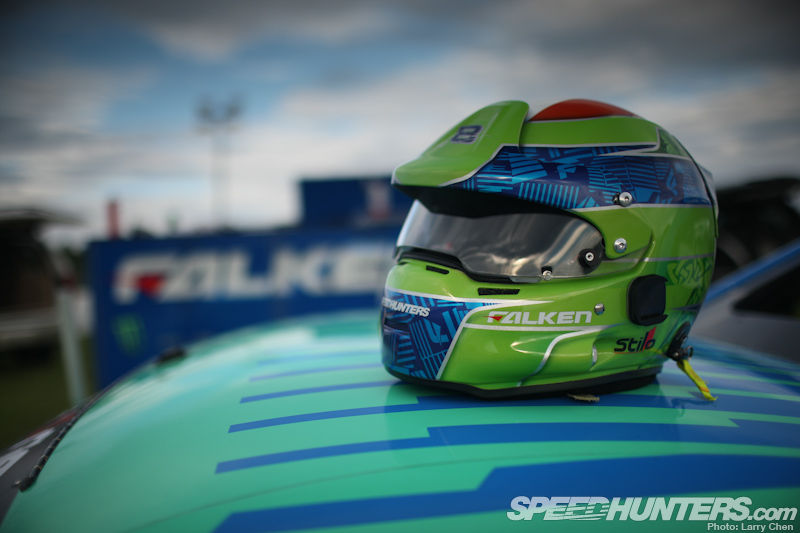 One of the first people I asked was Falken driver, Darren McNamara. His helmet really stood out from the crowd.  I've never seen anything like it before.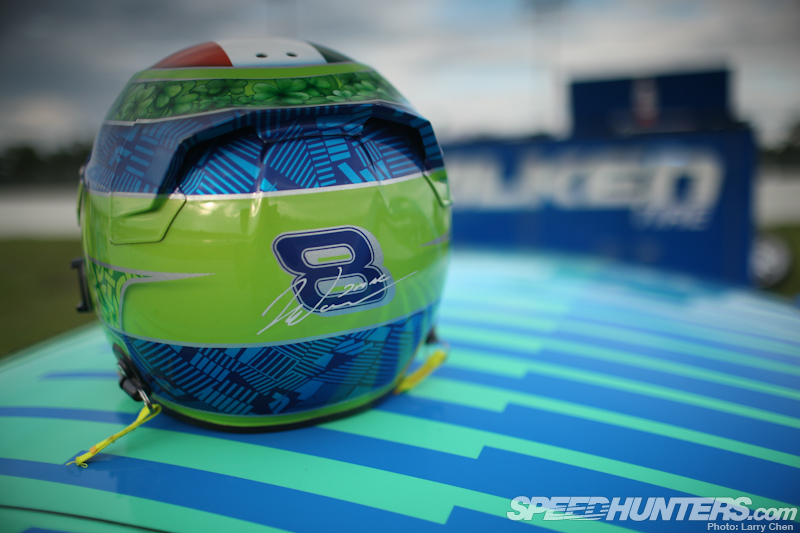 There is great meaning to the design. He has had the number 8 ever since he was racing as a little kid.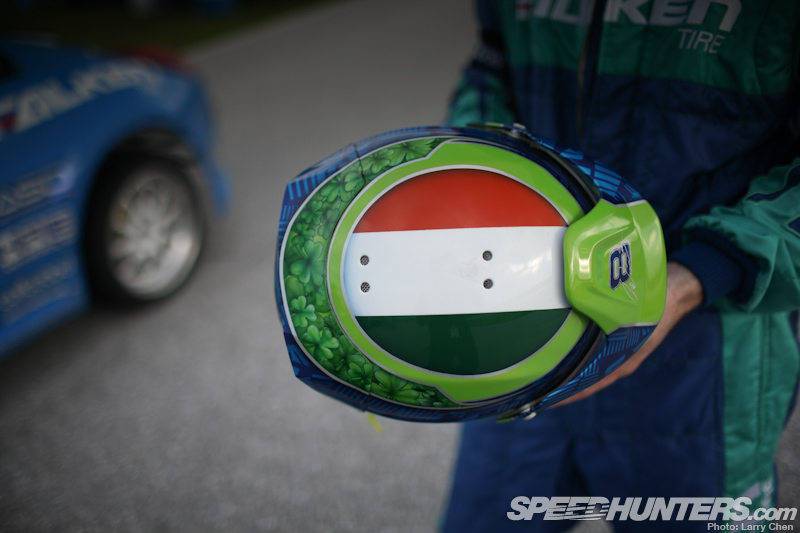 Of course there is the Irish flag. There's no harm in loving your country.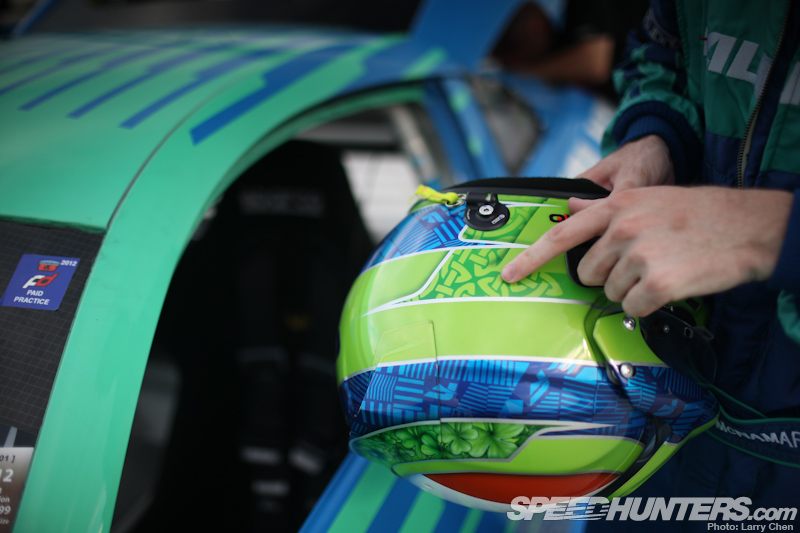 On the side there's a Celtic Cross design and on top are clovers, both of which are in green. Very Irish indeed.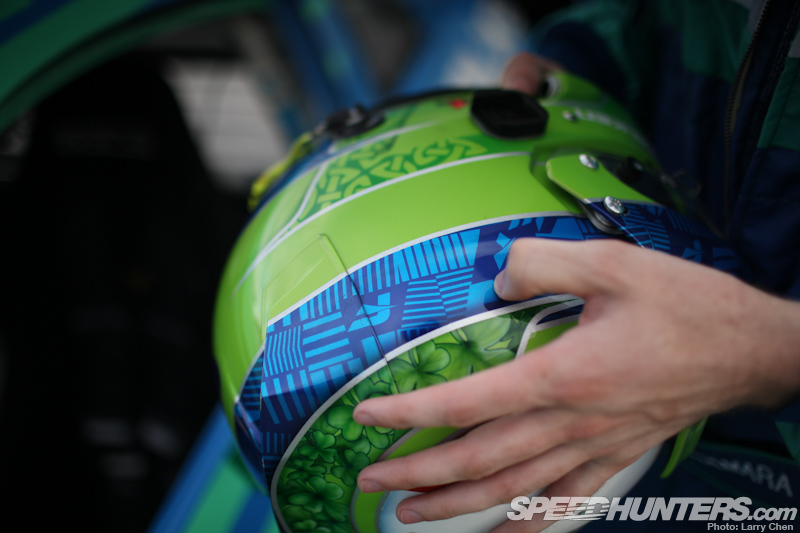 There are tiny Falken logos as well as scallops representing his team. The blue comes from the color of his very first drift car. That would be the famous SR20 powered AE86  he brought over back in 2006 to compete in D1 USA.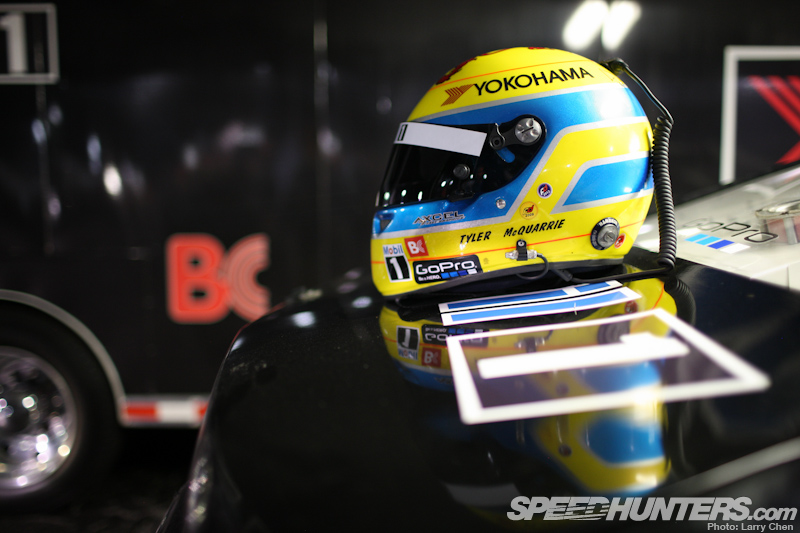 Tyler McQuarrie has had this helmet design for over 16 years since he started racing go-karts.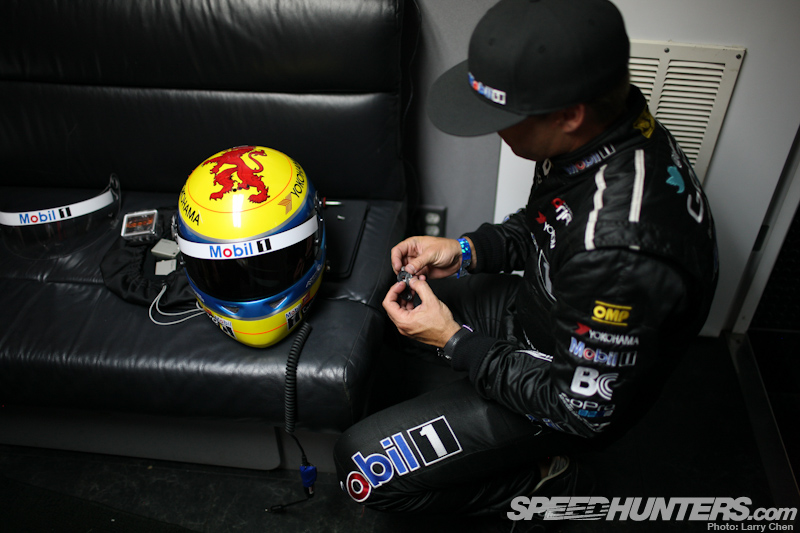 He is Scottish so the blue comes from the Scottish National flag.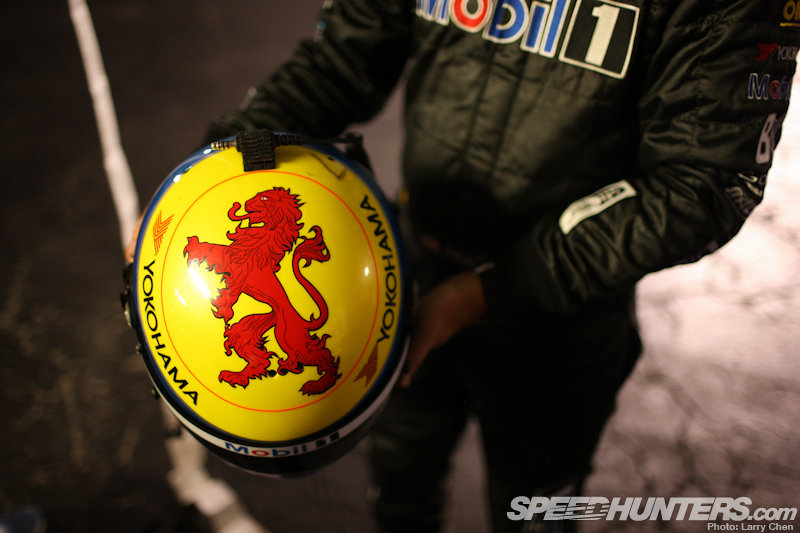 The design on the top is of the Scottish Royal Flag's 'Rampant Lion.'  Like Darren, Tyler is very proud of his heritage.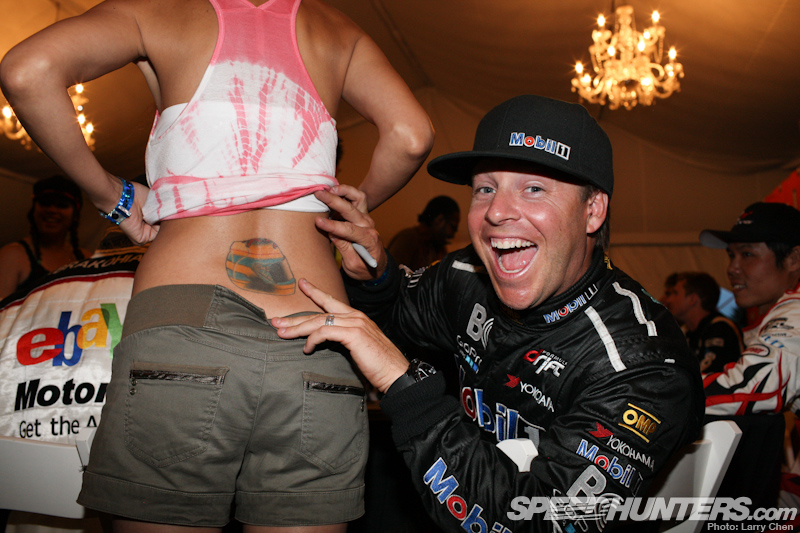 In fact his helmet means so much to him his wife tattooed it on her back.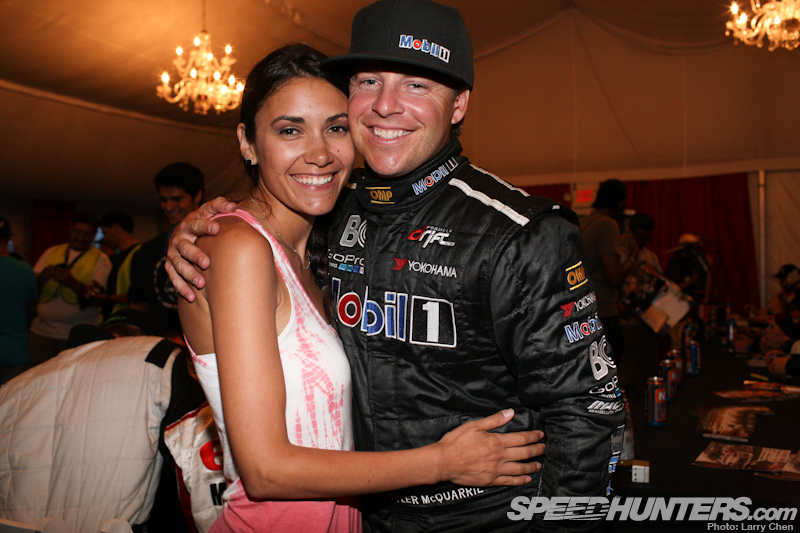 They have three kids so I am guessing we will be seeing a team McQuarrie go-kart team very soon.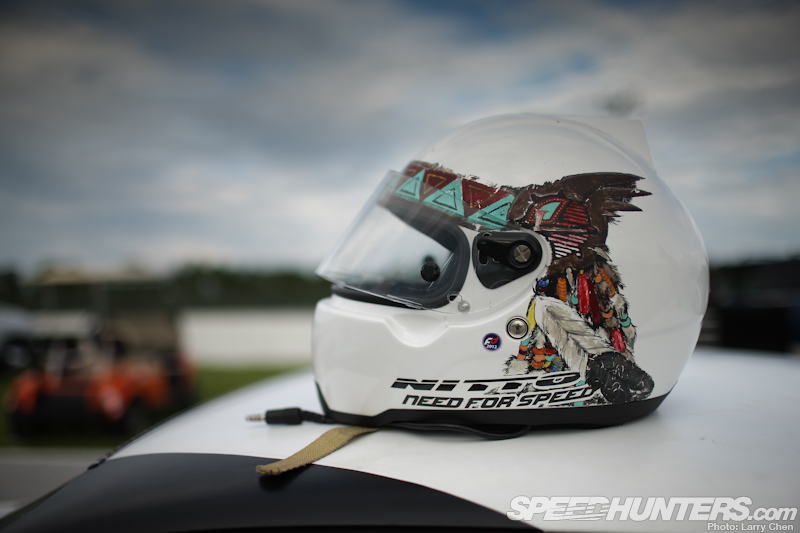 Next up we have our very own Matt Powers. This is a very simple design, but it has great meaning for the young driver. It is hand painted by his friend.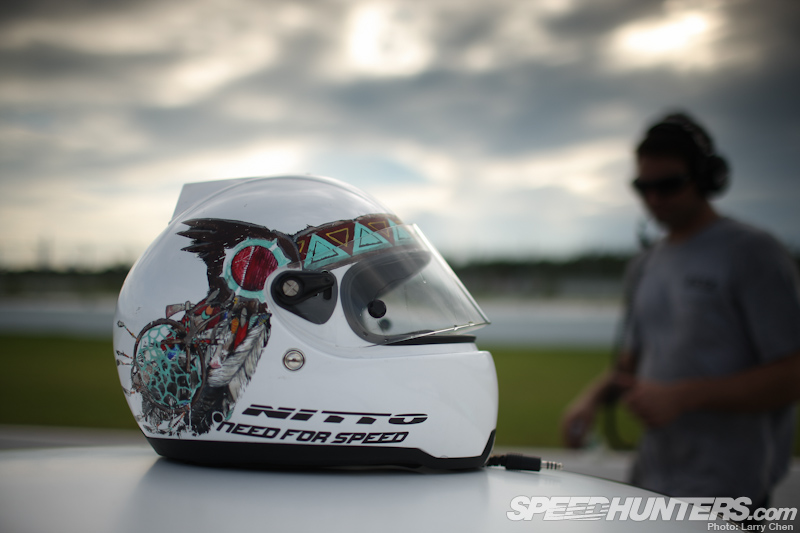 The initial art inspiration came from American Spirit Cigarettes. It's supposed to be for when he goes into 'battle' like Native American head dress for war…or something of that nature.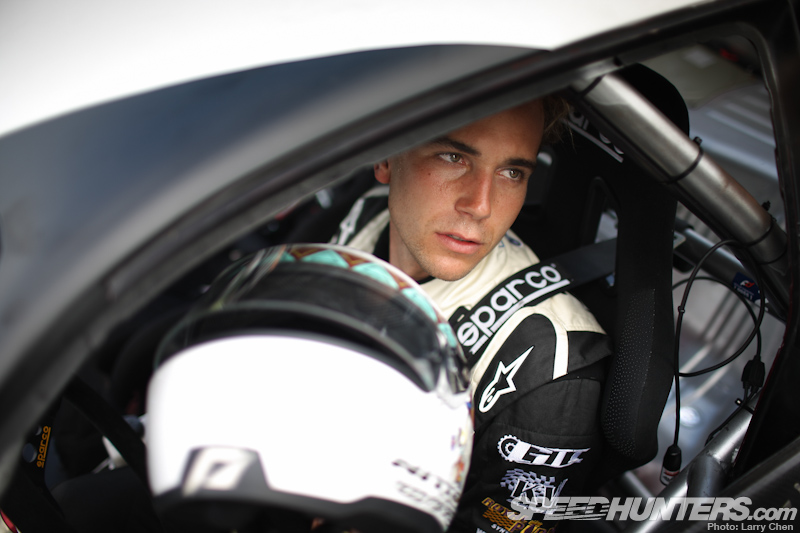 I don't think he will really be scaring anyone with a face like that, but it was worth a shot.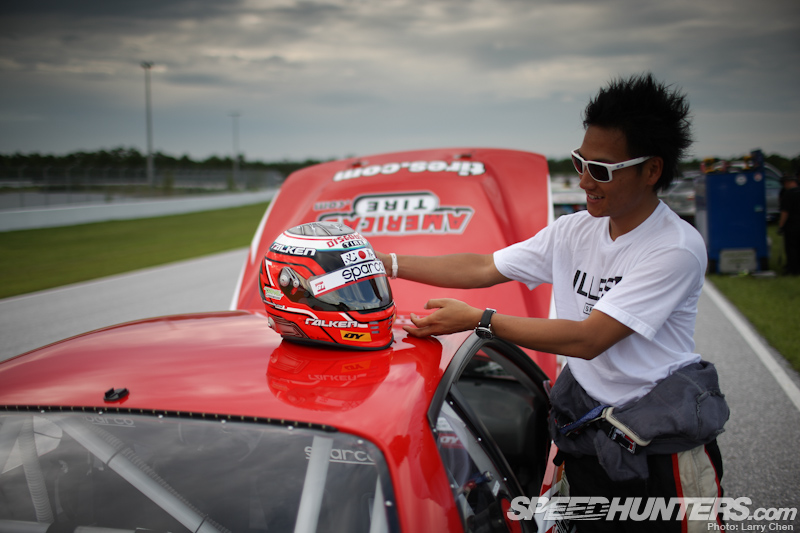 Daijiro's helmet has an interesting story too. He actually designed it himself back in 2006.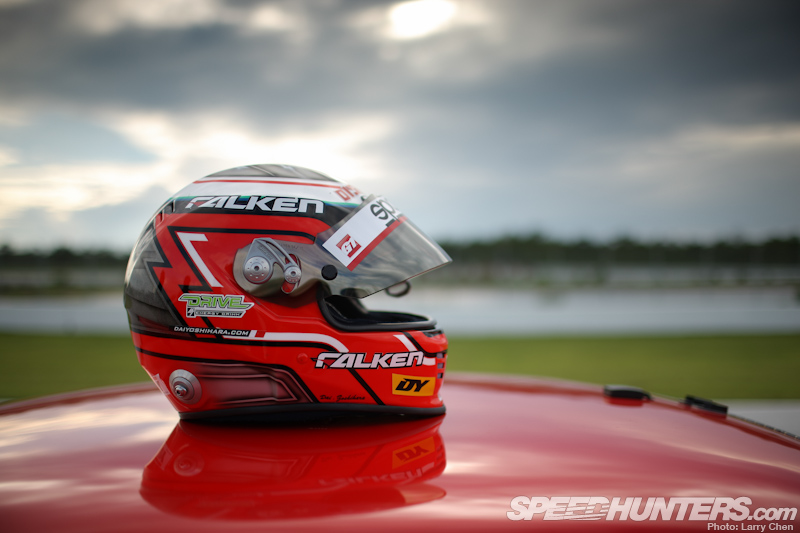 He drew in all the shapes and had a friend air brush it for him. He thinks he sucks at drawing, but I think he did quite well.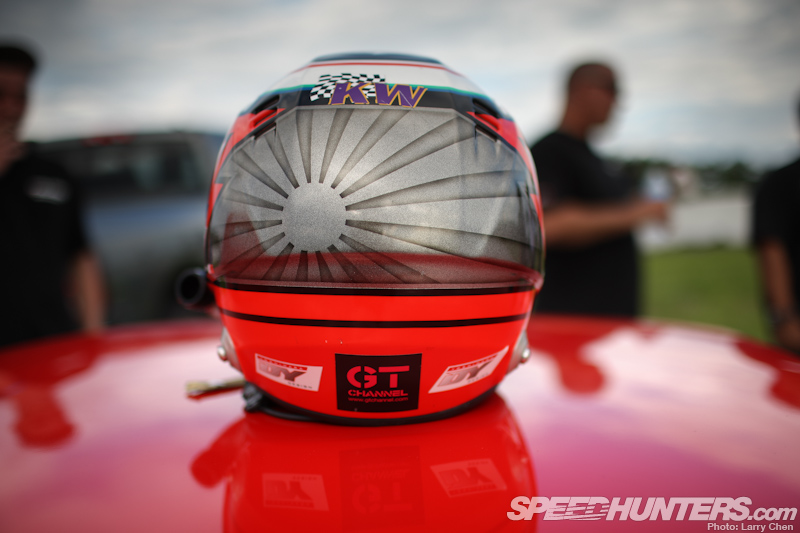 He mentioned to me that back in Japan most drifters including grassroots drivers spend countless hours designing and personalizing their helmets.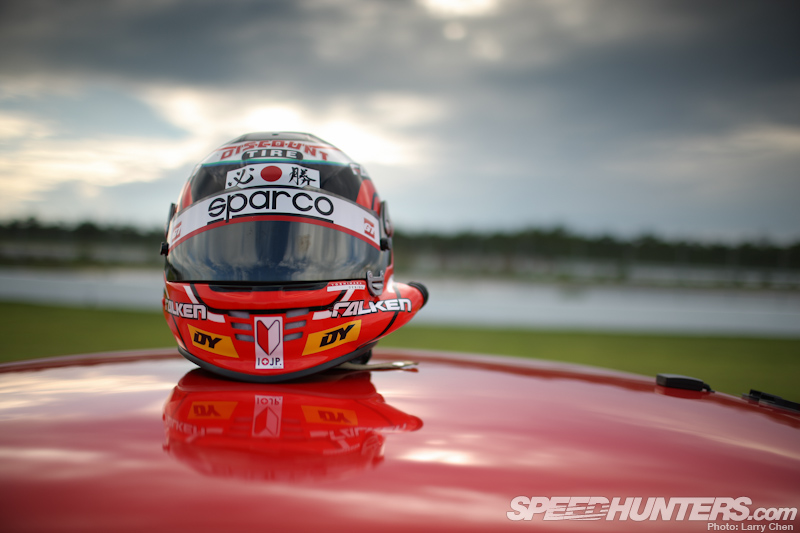 It allows each and every driver to stand out beyond what they have put into their car.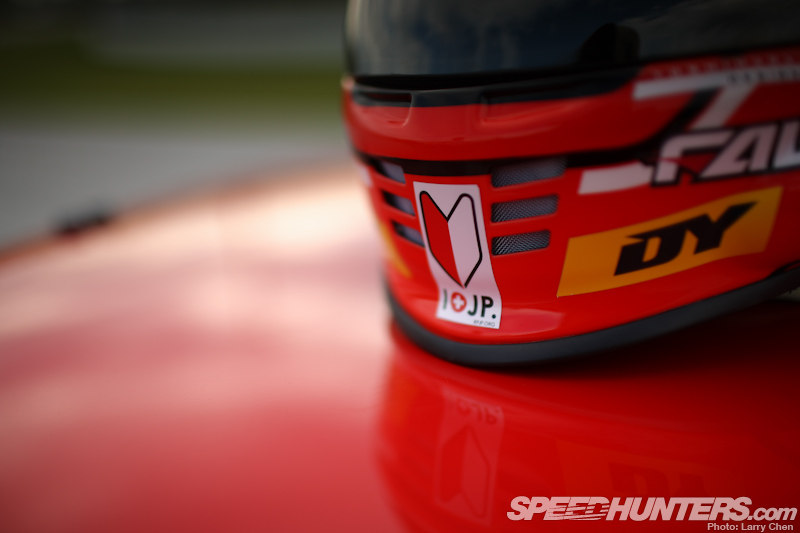 I think it's a great idea and wish more pro-am drivers would do the same here in North America.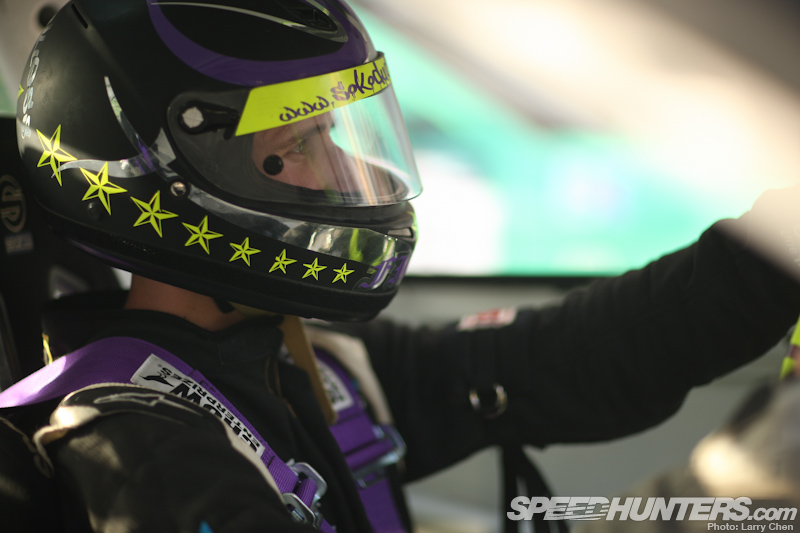 Matt Field has a simple design, but it has lots of meaning to him. It's a throw back to the car he used to drive in Formula Drift. He has picked up many more sponsors since then, but there is no reason why he can't have an individual style.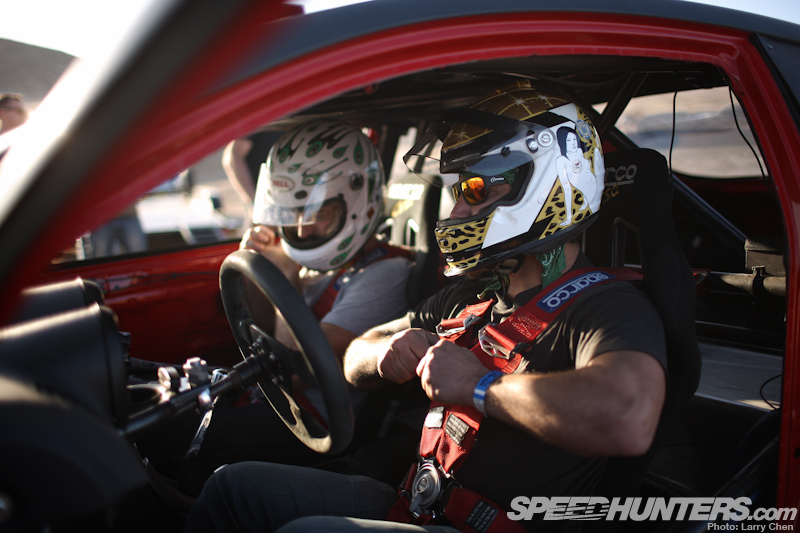 Tony Angelos had a friend design a helmet that was meant to be wild and fun. His friends specialty is drawing naked chicks. Wild and fun indeed.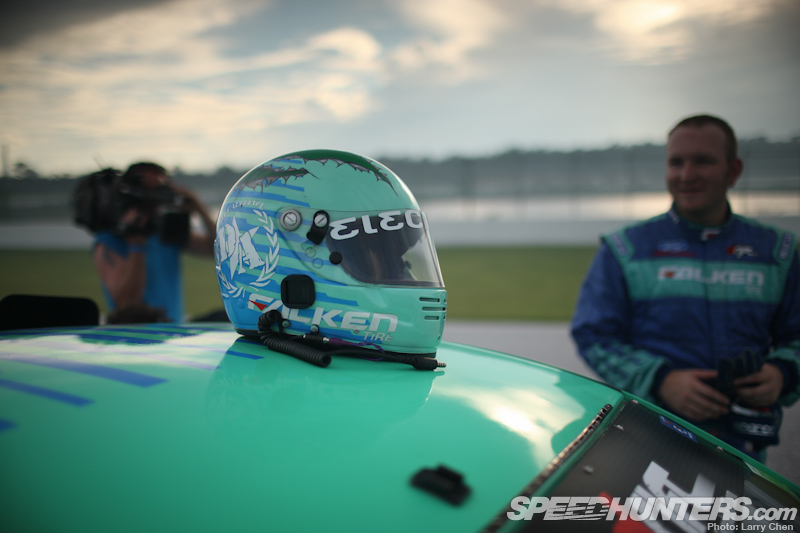 From the front Justin Pawlak's helmet looks pretty plain.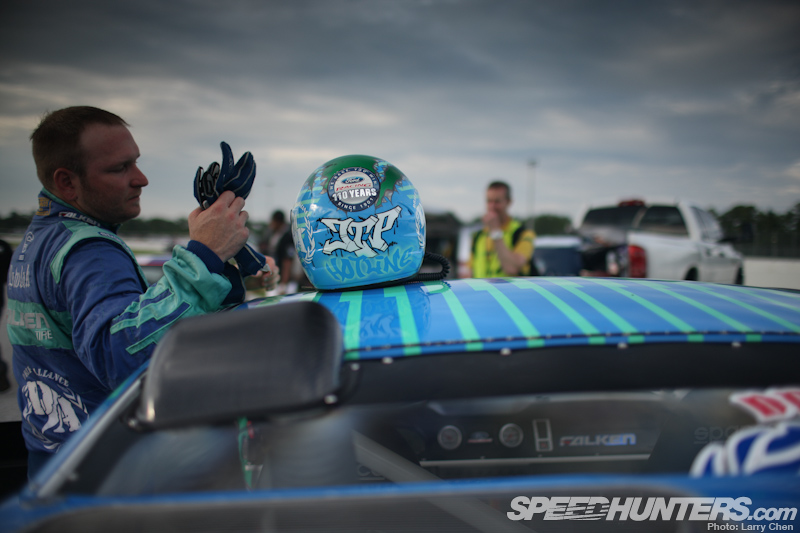 When you look closer it really starts to stand out. The back has his initials as well as 'Hotline' which is his personal shop in Southern California.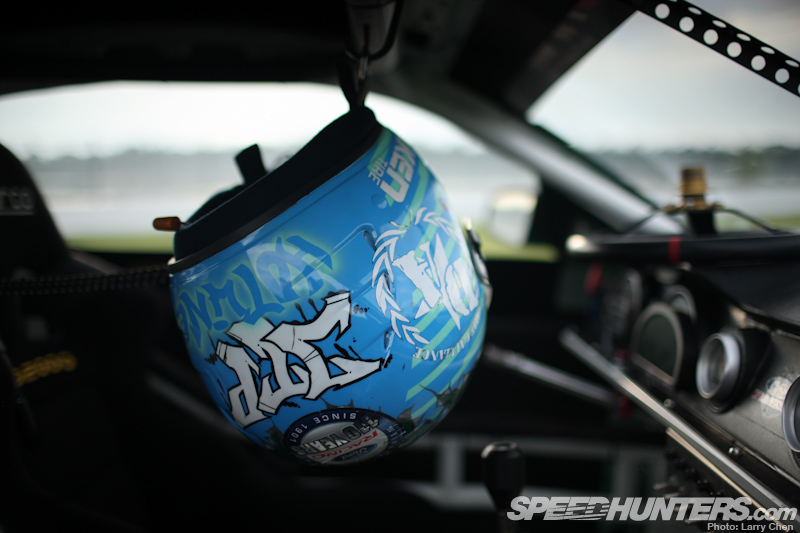 Of course there are the Falken scallops because he is very proud to be a Falken driver.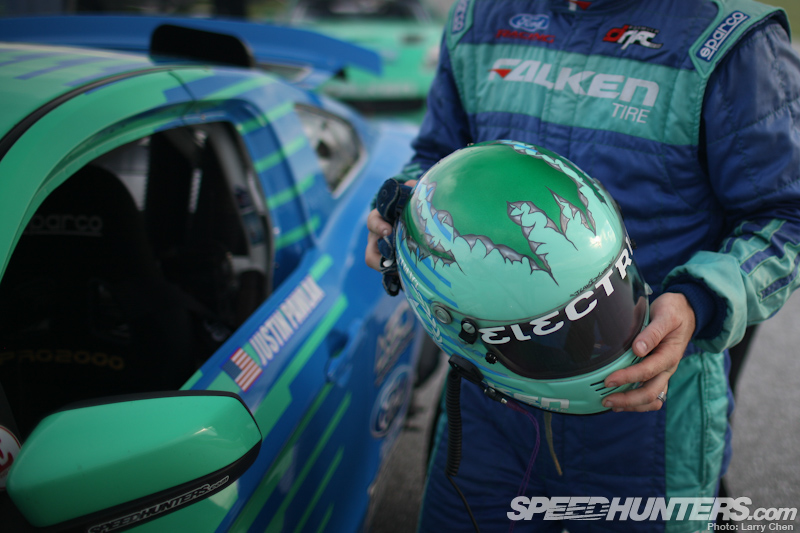 The top looks like its ripped and underneath is a throwback to his very first drift car that was stolen from him. That is the car he used to climb the ranks in Formula drift.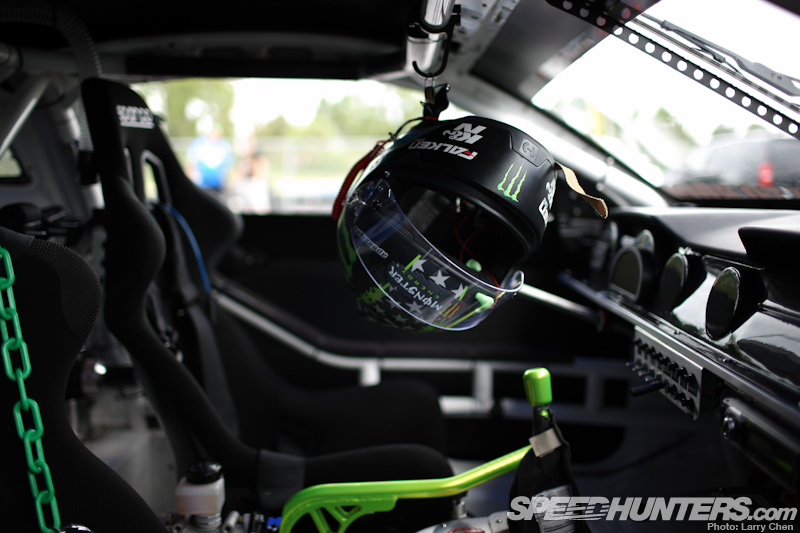 Justin's drift Alliance brother and Falken teammate Vaughn Gittin Jr.'s helmet has a much simpler meaning, but it has a pretty complex design.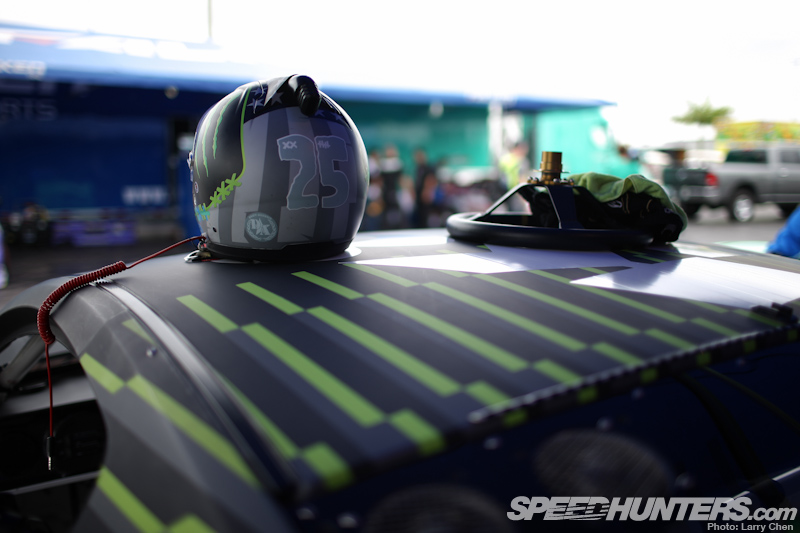 It has an American flag wrapped around it and is basically his car's livery on his head.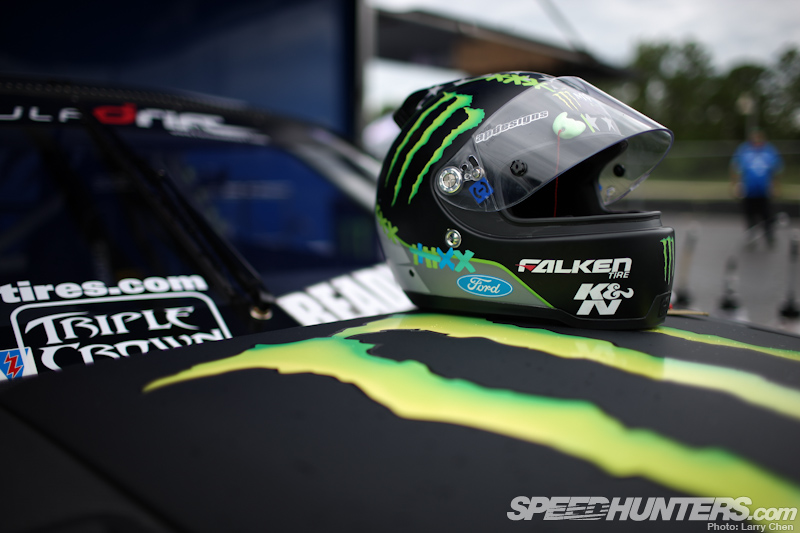 I asked him what that all means, he said…"it means AWESOME!"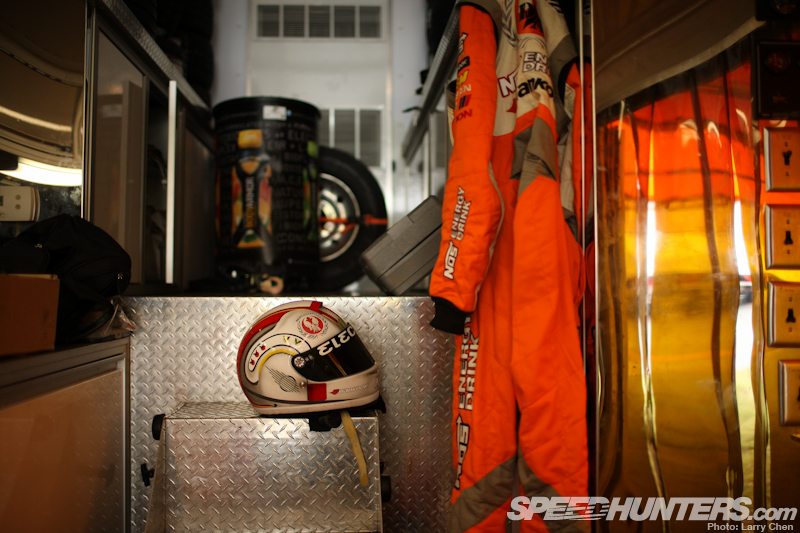 Chris Forsberg wanted to embrace a nickname that was given to him by Formula Drift announcer Jarod Deanda. He's been dubbed as Chris 'The Force' Forsberg since 2010.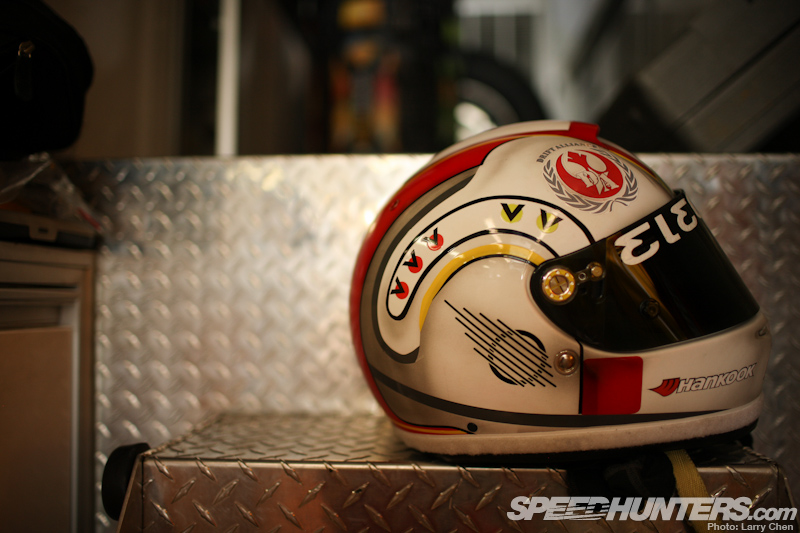 Well it stuck with him and he wanted to have some fun with it. He has always been a big fan of Star Wars so he went with the X-wing fighter pilot helmet and driver suit.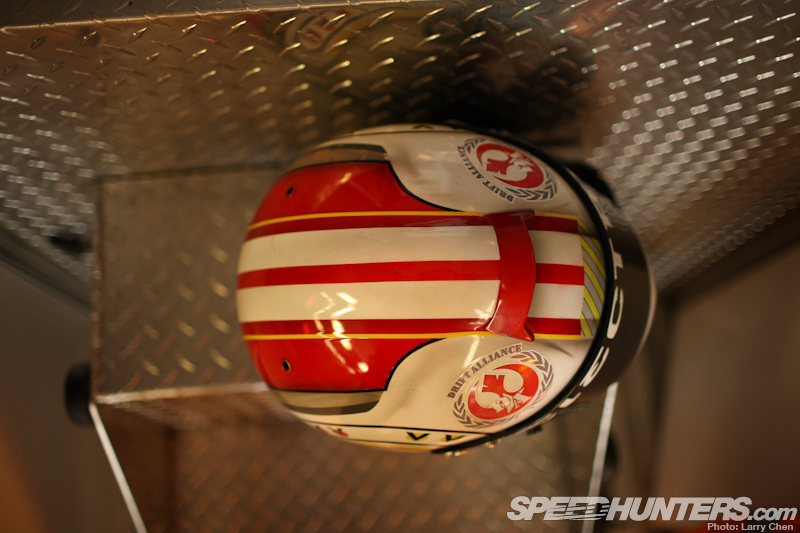 He even included little Rebel Alliance crests within a Drift Alliance wreath.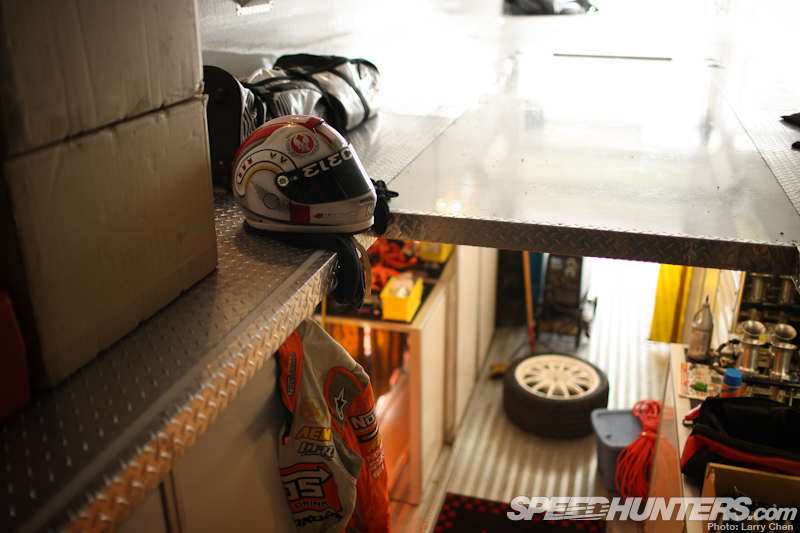 I wish more drivers embraced this kind of theme. Who do you guys think would make a good Darth Drifter?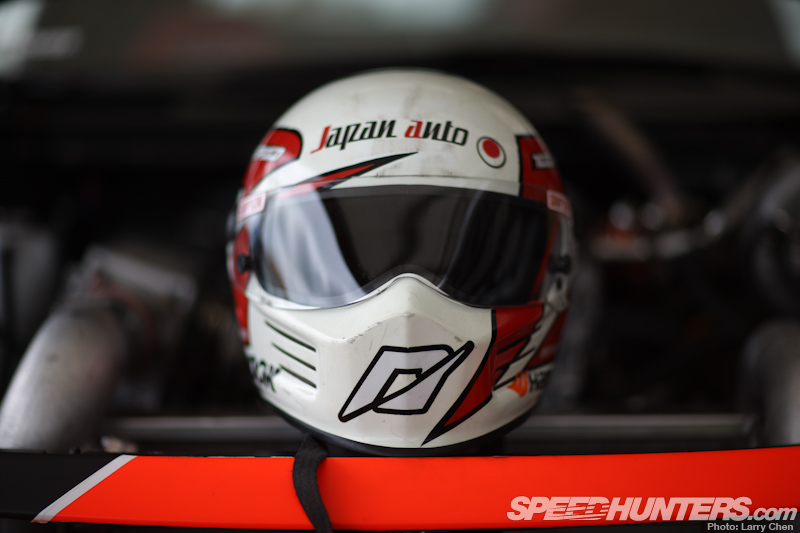 Maybe Fredric Aasbo could be the Darth Vader of the drift world. I don't think so, because he is too nice.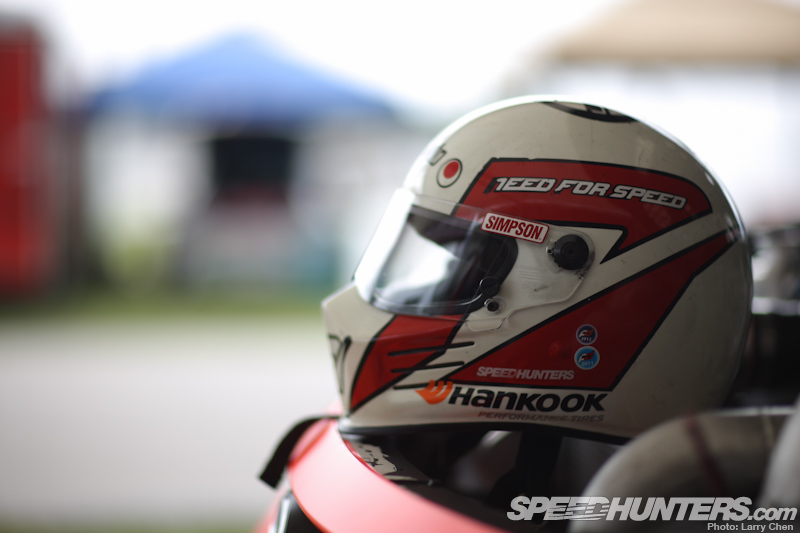 Fredric's helmet is similar to what Edward Sandstrom has been rocking in the FIA GT3 Championship. He bought this helmet for the 2008 Redbull Drifting World Championship. The Bandit style helmet was something he has always wanted since watching his dad's VHS cassettes of drag racing from the 80's.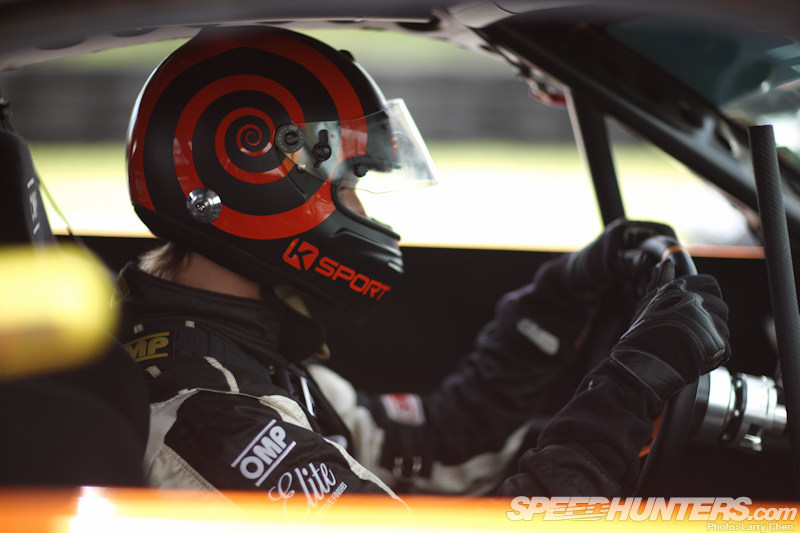 Corey Hosford has a more sinister motive when it came to his helmet design. It was designed to hypnotize his opponents before going into battle. He got the idea from the Twilight Zone.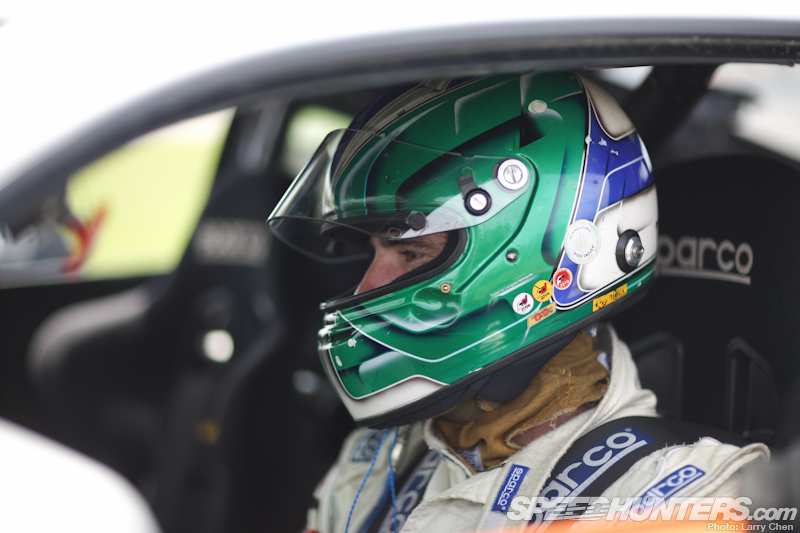 I asked Conrad if his design had a meaning, but there is none. He just likes the design and he has been rocking it ever since he started racing. I guess that's a meaning in itself!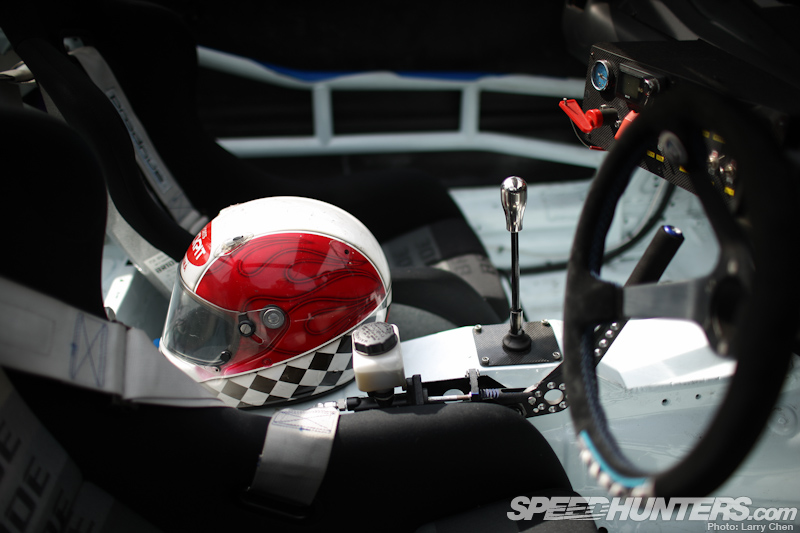 Daigo Saito's helmet has lots of history and it means a lot to him.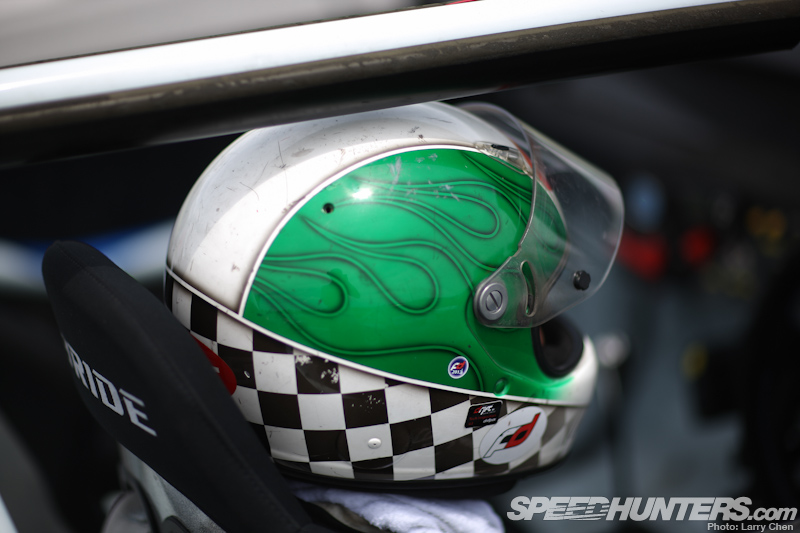 It's the same design his dad use to wear when he was racing motorcycles.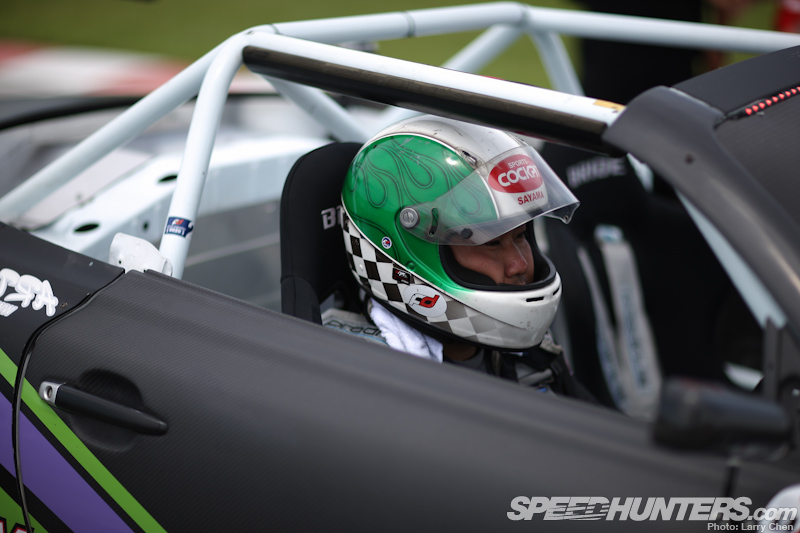 So ever since Daigo started racing he has been using the same design.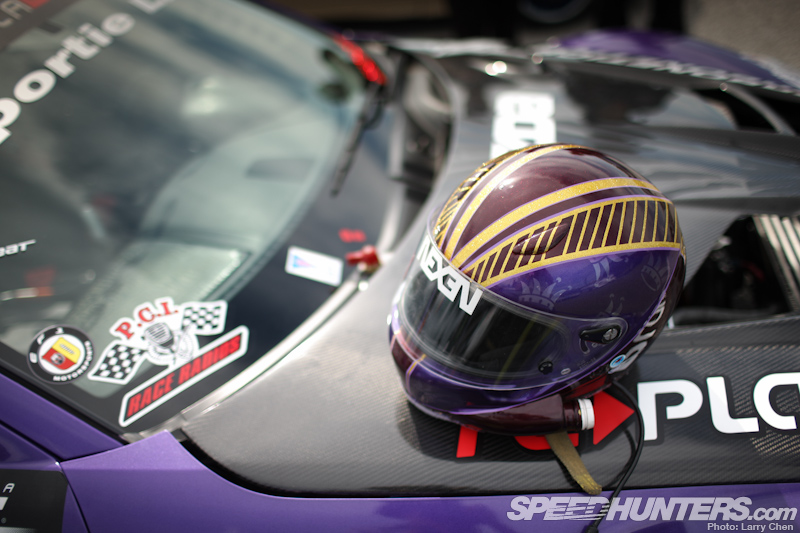 Kyle Mohan has one of the most thought-out helmets on the entire grid. His influences came from his surroundings and growing up in Long Beach, which means Lowriders as well as Hot Rods, and of course the Long Beach Grand Prix.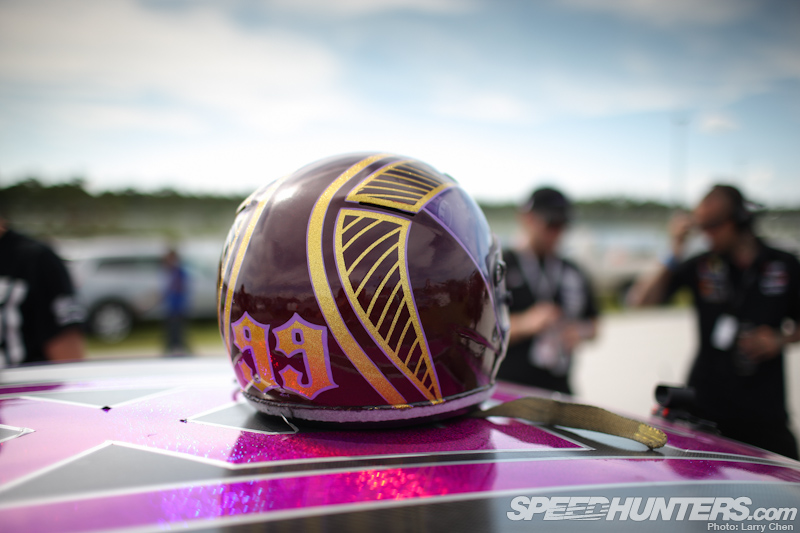 The number 99 comes all the way from when he used to be a factory driver for an R/C car company. The gold comes from the old JPS F1 cars. His first drift car was gold and black so the pin stripping and deep metal flake is from a blend of Lowrider, Hot Rod, and drift culture.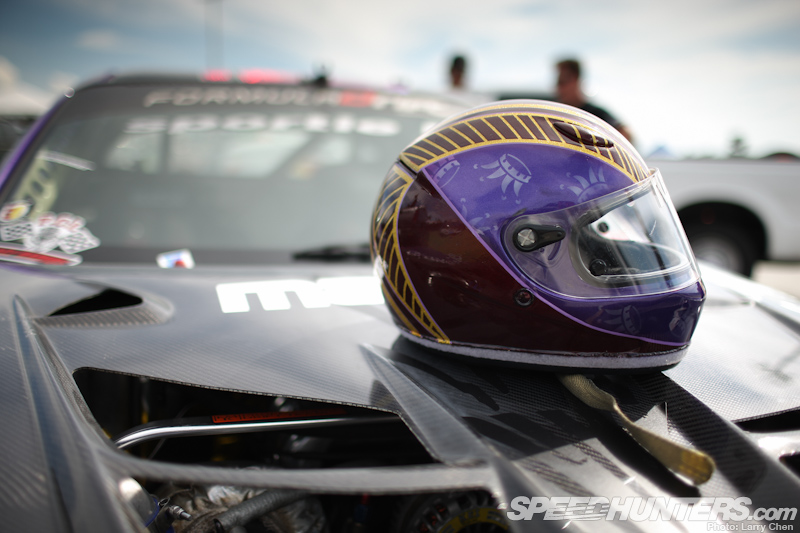 The candy purple comes from his main sponsor, Nexen tires. It was done by his friend, Tom Mcweeney. He specializes in pin stripping and Lowrider art. It took a few meetings just to come up with a rough color theme, but Tom took it from there and this was the end result.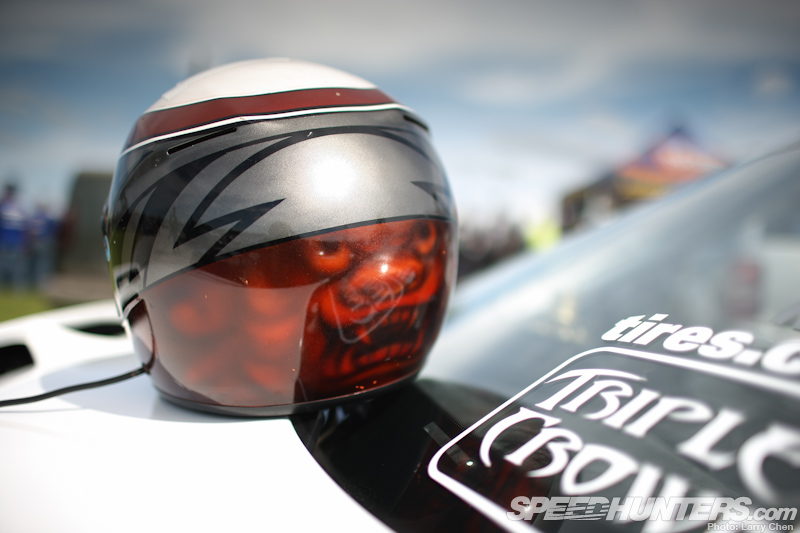 I'll end this post with Robbie Nishida's helmet with a picture of the Shisa Lion. Statues of these can be seen on top of roofs or gates of Okinawan homes to help ward off evil. Robbie grew up in Okinawa so that's where he got it from.
This post as made me look at my own plain white helmet. I think I will draw some old school cameras on it or something to jazz it up.
What do you guys have on your helmets?
Larry Chen
Larry@Speedhunters.com
More stories from Formula Drift on Speedhunters
More stories from Larry Chen on Speedhunters