We all know that the new AE86 can drift right out of the box without a problem, but no one has done a really extensive test drive for the average Joe. I knew I had to do something different with the new AE86 if I was given the chance, and after Scion answered my cries and loaned me one for a weekend I decided to embark on a classic Californian road trip to find out just why this car is so special.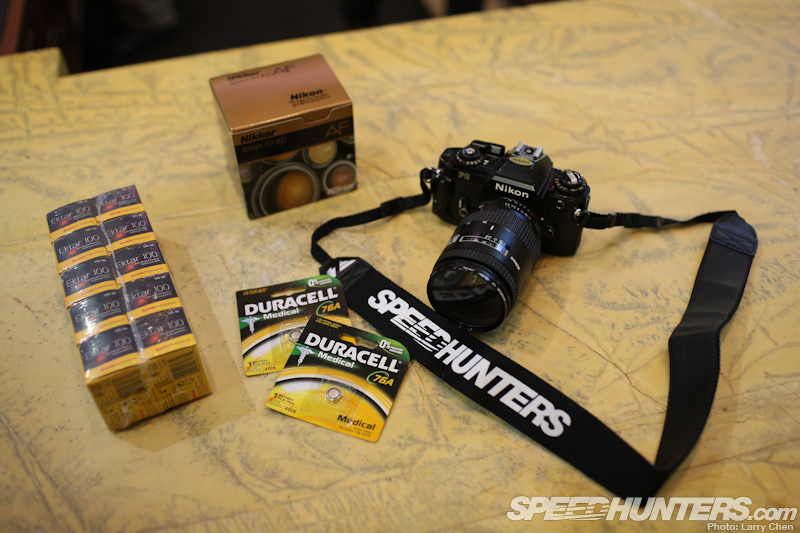 I was only a year old when the original AE86 hit the showroom floors so I never got to shoot a brand new 1986 Toyota Corolla. I wondered to myself what it would be like to be an automotive journalist back then, so I decided to shoot the new 2013 Scion FR-S with my 1986 Nikon FG. This was my father's, and it was passed down to me as my first camera. This was the exact one I learned to take pictures with in high school, copper body and all. Since I have not picked it up in eight years, it needed a bit of a refresh as well as some new glass. I picked up 10 rolls of Kodak Ektar 100-speed film and some new batteries as well.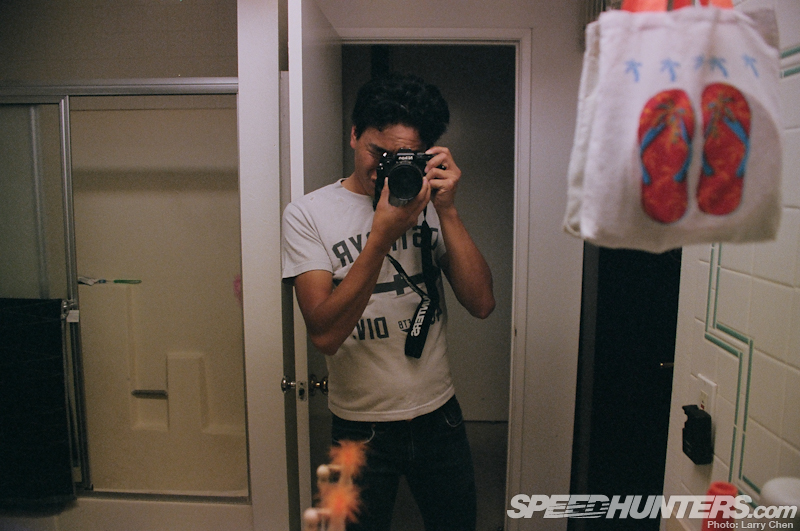 After an eight year hiatus I loaded the 26-year-old camera with expired film and shot a photo of myself. Damn, I need a hair cut.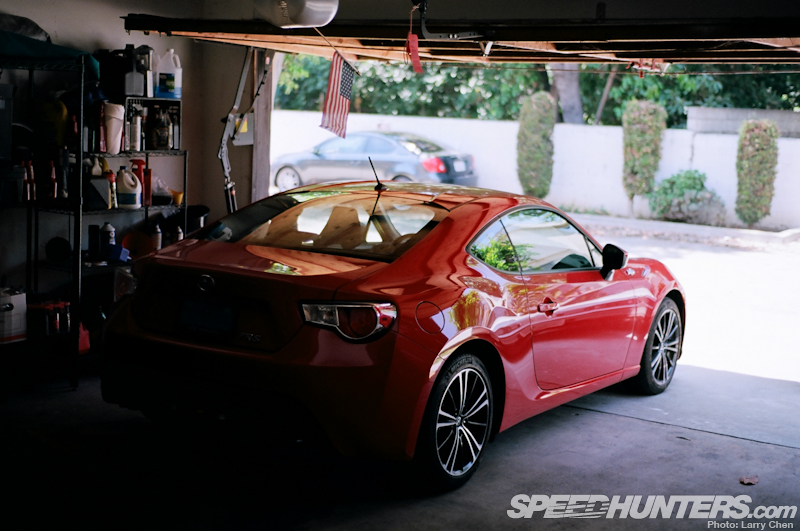 The next morning I opened my garage to this beastly sight. Ahead was a 1,000-mile trip around my wonderful home state. My plan was to tour southern, central and northern California in no particular order.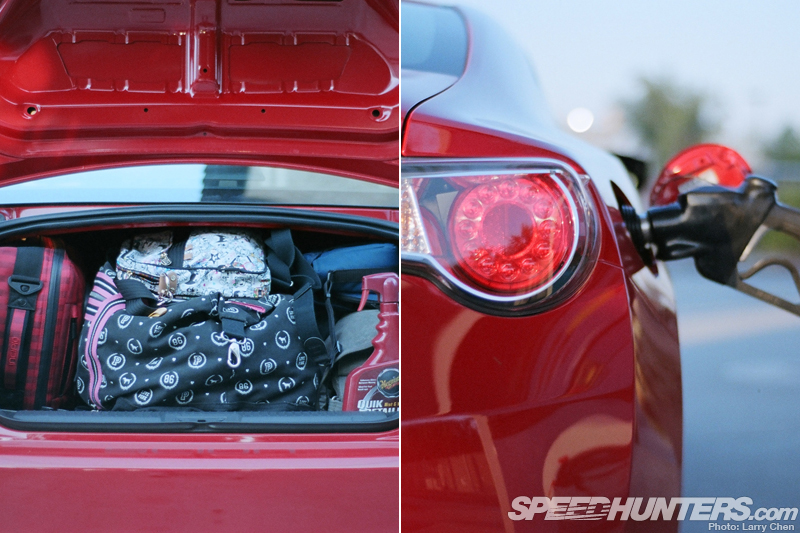 Me and my partner in crime filled the boot with our junk. A quick stop to the service station for high octane and we were off.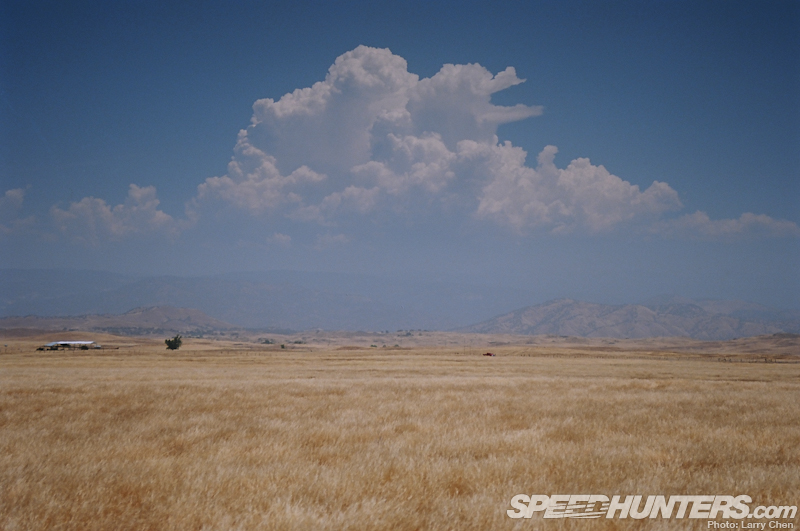 This was the scene for most of the drive up Highway 99. Our first stop would be to meet with fellow Speedhunter Mike Garrett.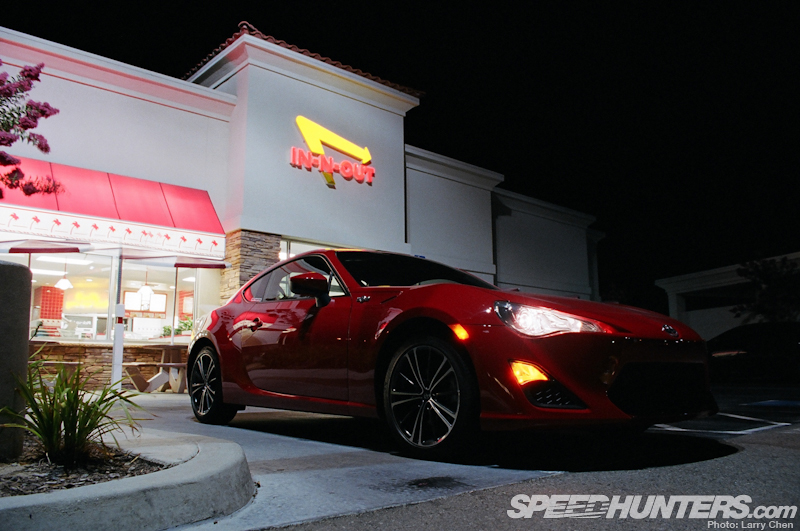 We stopped in Fresno to meet up with Mike at a Californian hot spot for a healthy late night treat.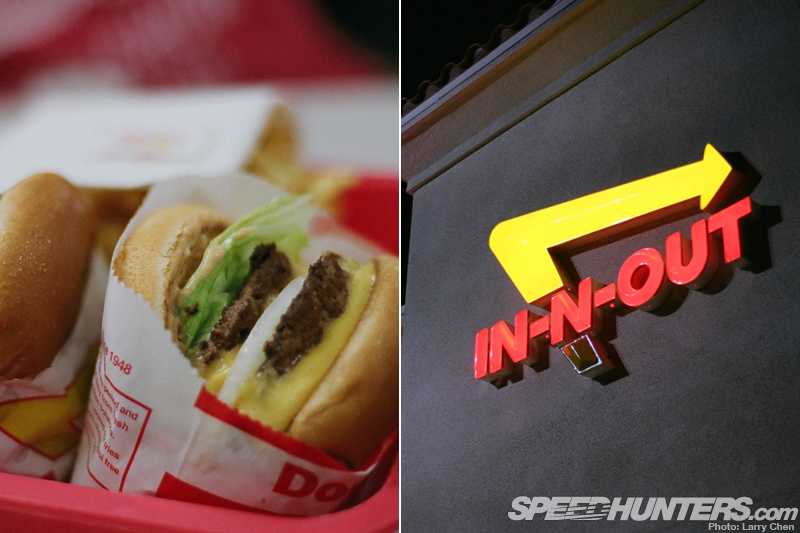 I've been going to In-N-Out burger since I was a little kid and I live very close to the very first one. This is a must for anyone visiting the West Coast.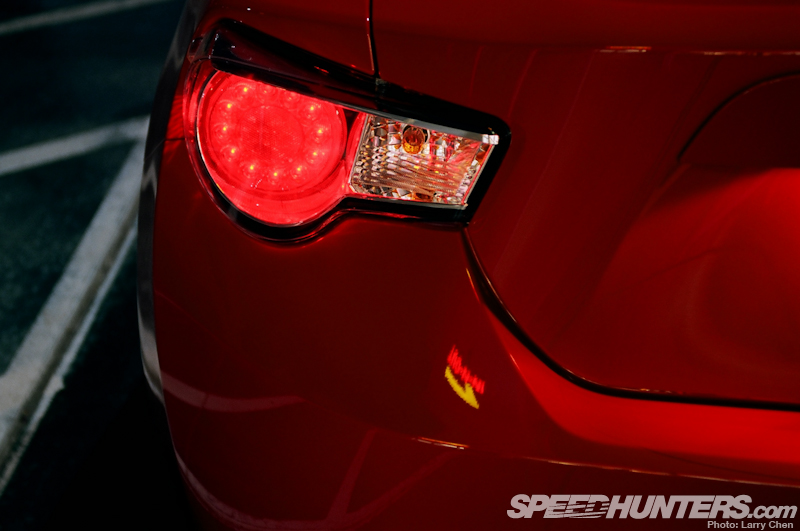 I was trying to figure out clever ways to show the sign in the reflection when the inevitable happened…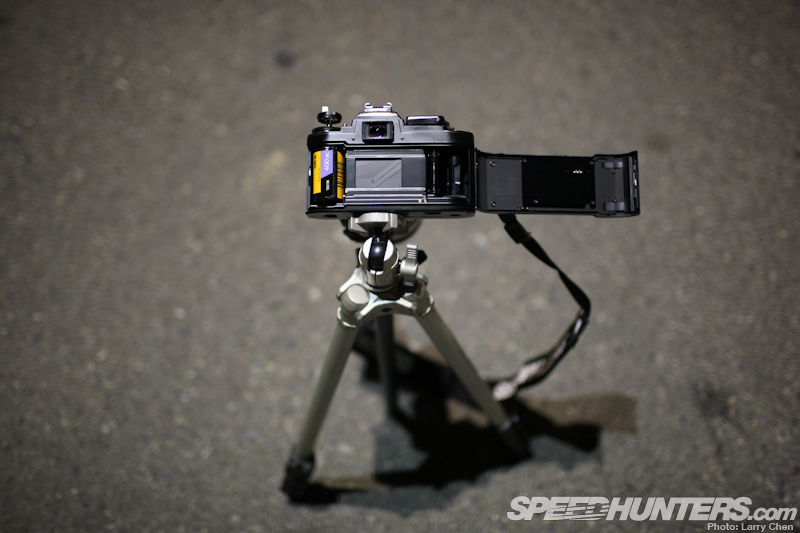 …I ran out of film on the first roll. This was very hard for me to get used to considering I shoot in mass quantities when shooting digital. If I was careful I could squeeze out 39 photos out of a single roll of 36-exposure film. I would have to guess the exposure for the first two photos because the camera didn't register the new roll until it had wound on more.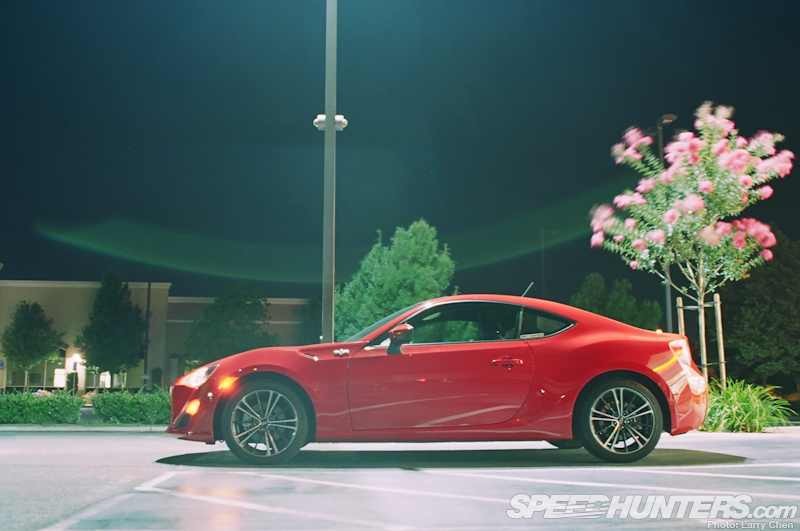 I loaded in new film, shot a few more frames, and then headed to Mike's house for the night.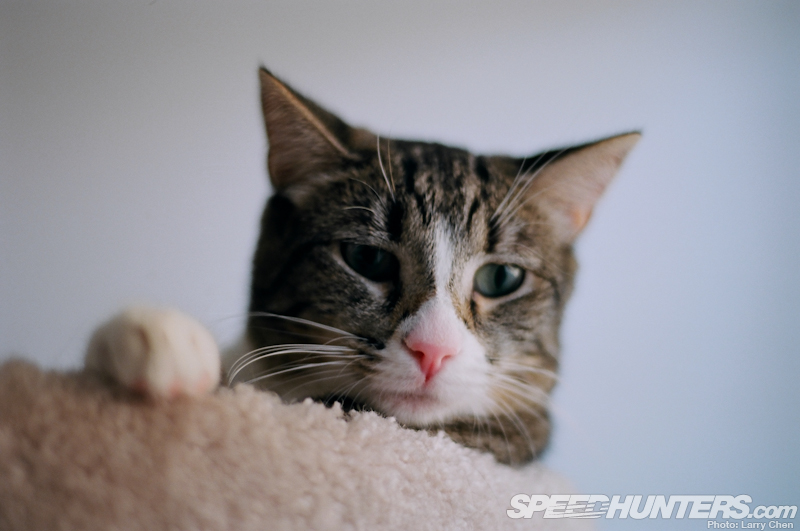 The next morning I woke up to one of Mike's cats. I am a big animal lover, so you can bet I have enough photos of those two to publish a cat calendar.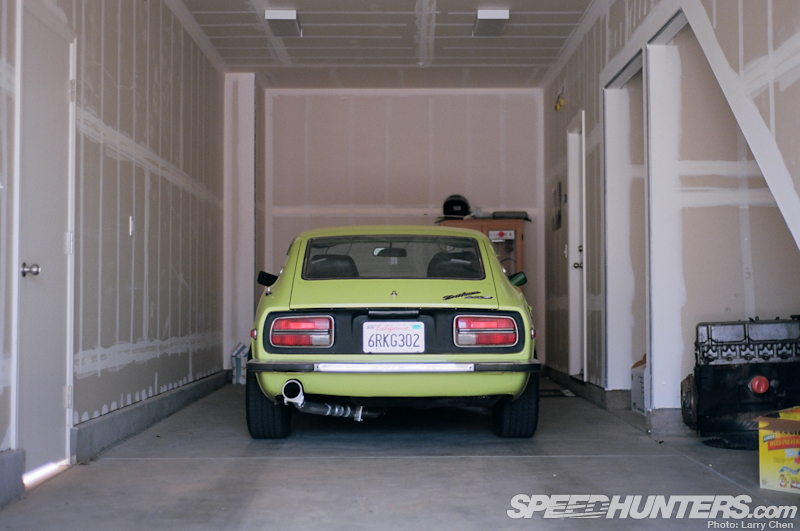 In the garage was the twin car to mine, a 1972 Datsun 240z. Mine is orange, but it was originally the exact same lime color.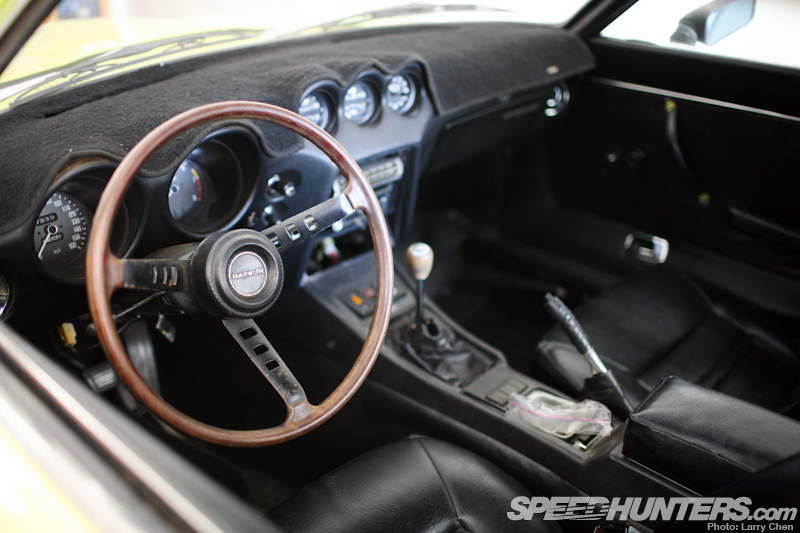 The interior on this car is in very good condition with the exception of a cracked dash. Not bad for a 40-year-old Japanese car.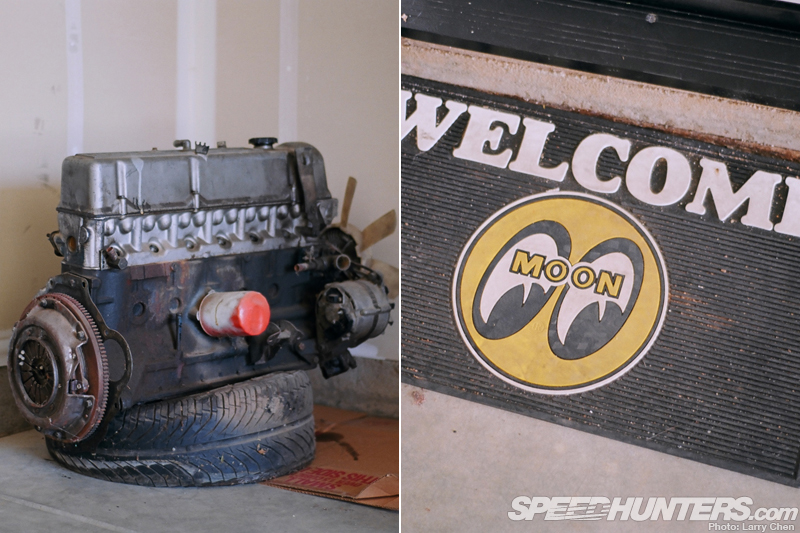 How can I put this lightly… the garage was very 'Mike Garrett' – in fact the whole house suited him perfectly. He is planning on building that spare L28 motor in the near future.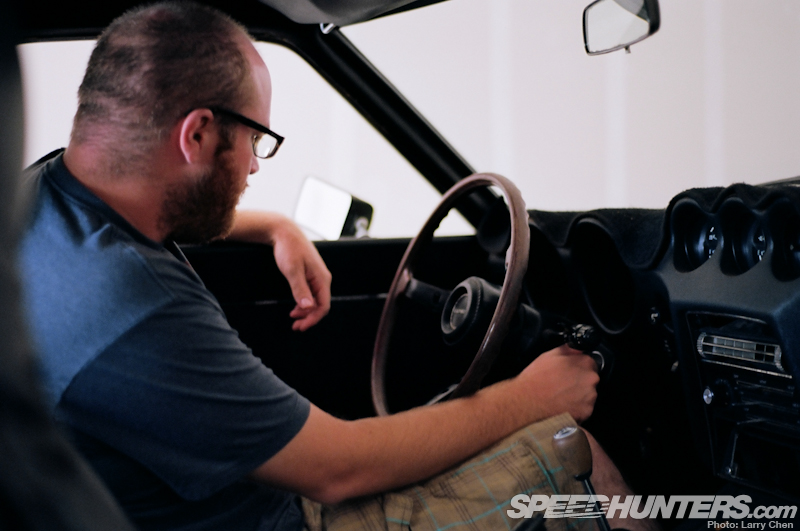 The Speedhunter became the prey as he went for a quick Friday morning cruise.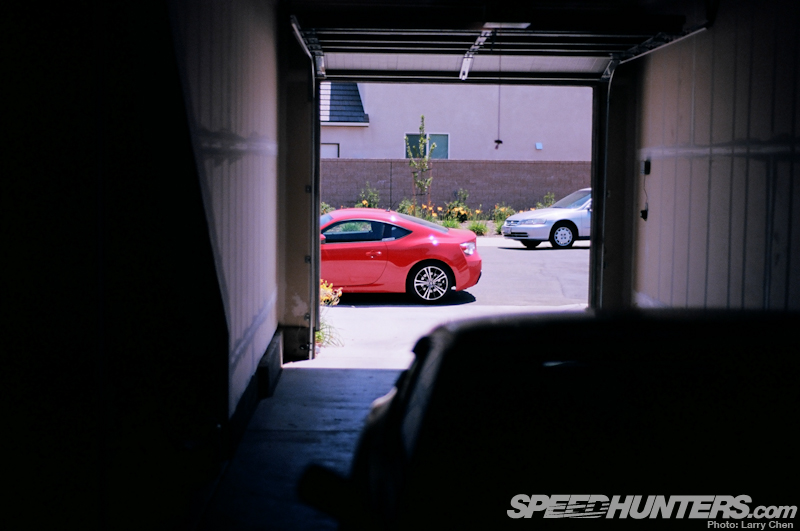 Then some dumb-ass decided to block the driveway.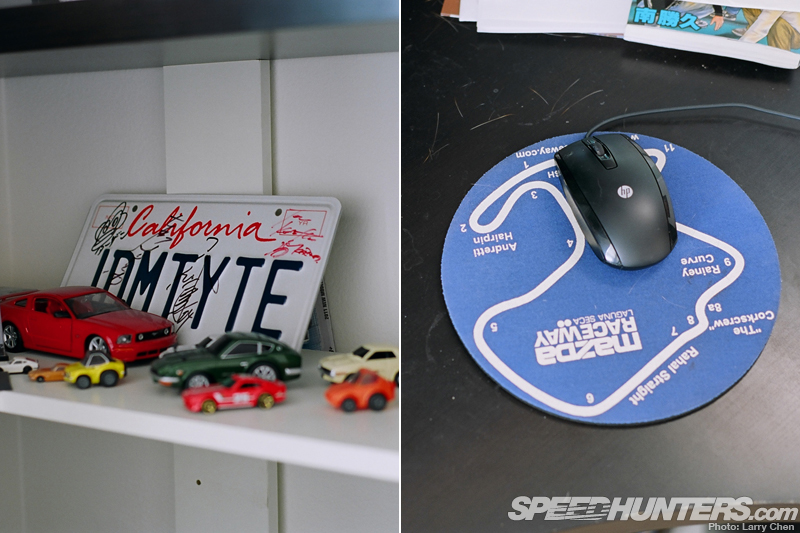 I decided to check out Mike's office to see where he gets his inspiration. I asked about his signed license plate and it turns out we were at the same GT Live event back in 2004, where we both met Keiichi Tsuchiya for the first time. I then realized how big fan boys we both were.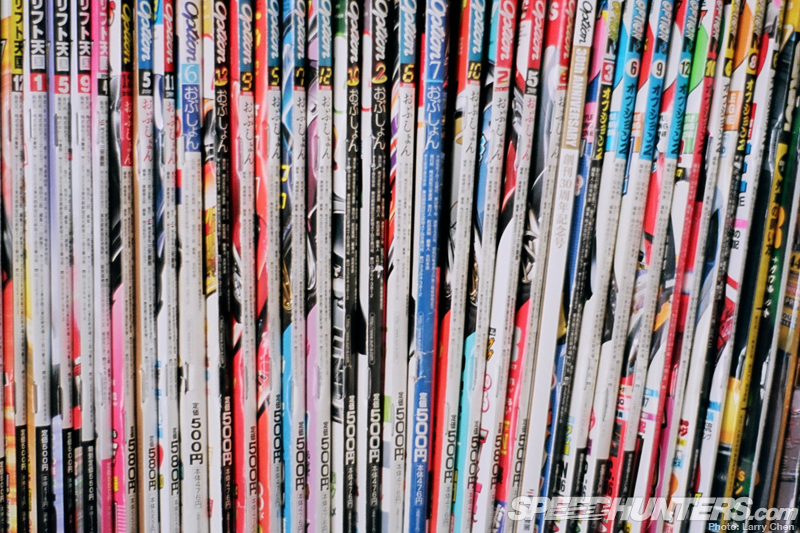 He also had quite the dirty magazine collection.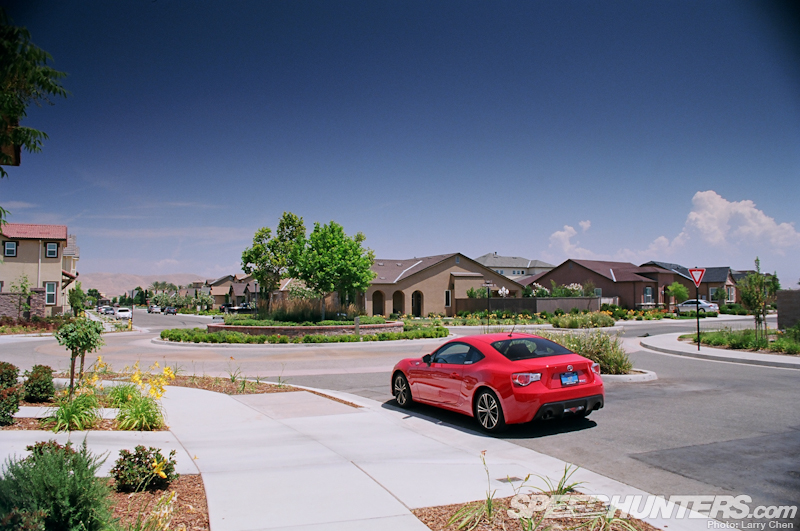 It was time for lunch, so we packed up and headed out for some Speedhunting and some barbecue.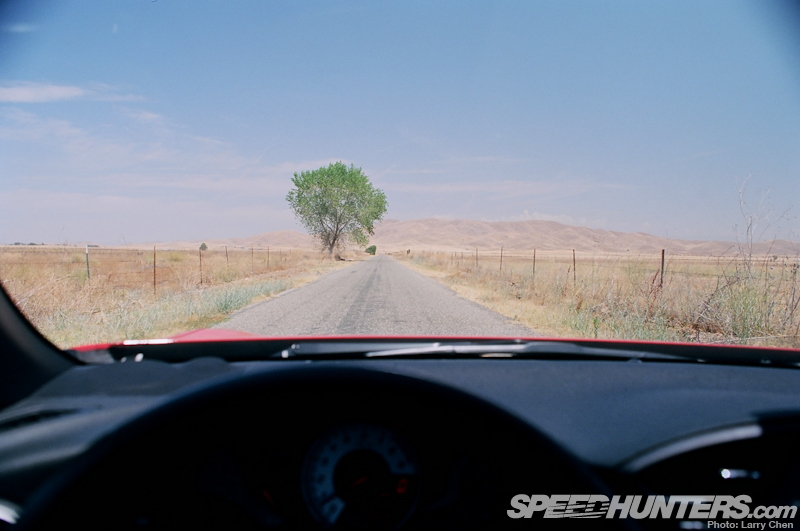 This road was just a few minutes away and it was the perfect place to get a good look at what we were working with.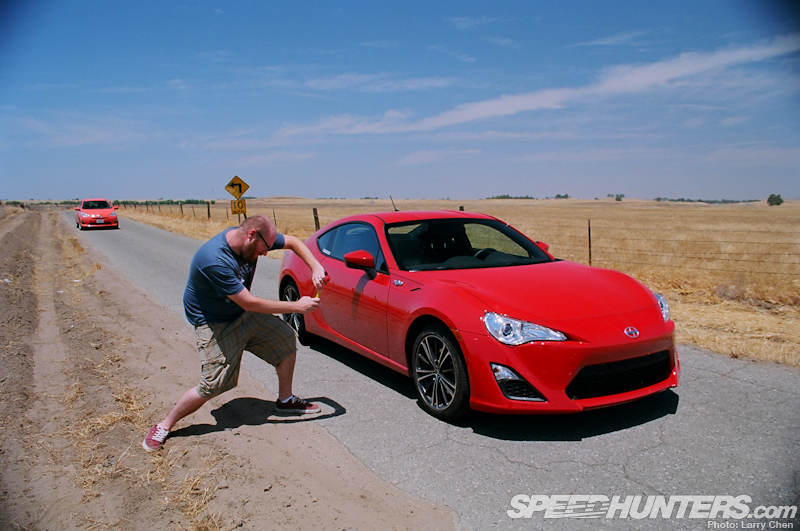 It seems Mike has been practicing his photo stance.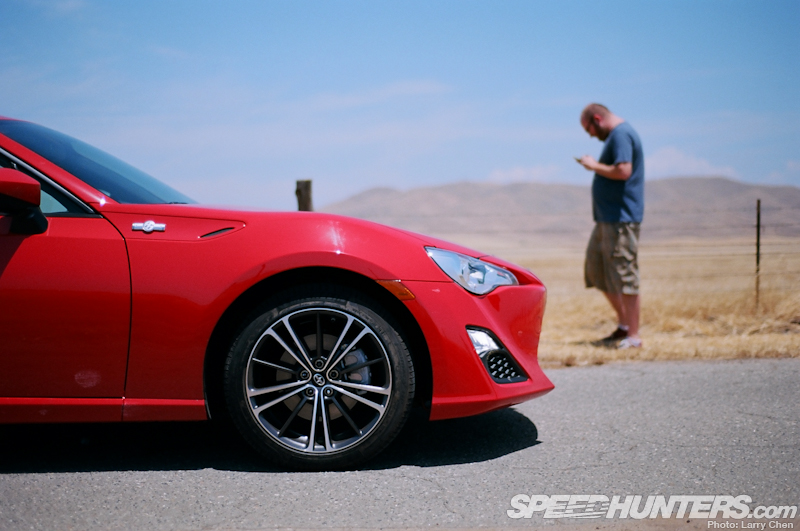 The stock ride height was a bit high, but it was nice not having to worry about scraping the front-end on driveways and such.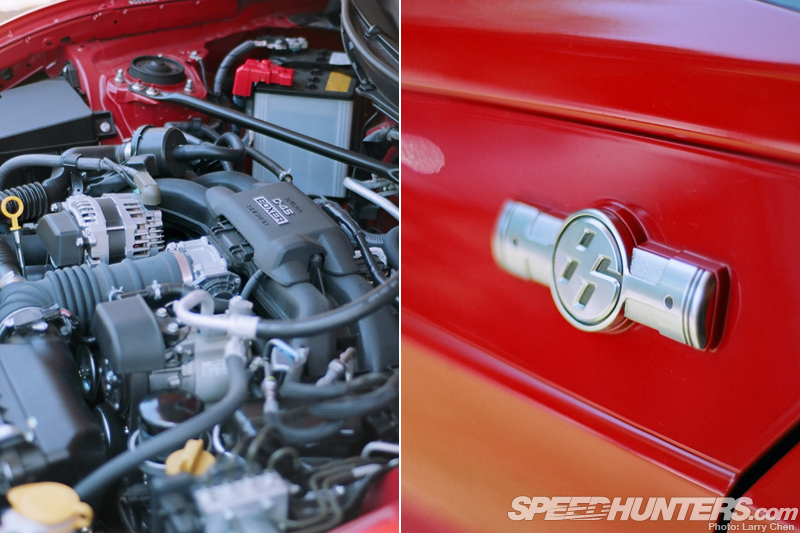 The stock motor has plenty of power for a daily driver and it had a very nice tone to it – unlike any other car I've driven.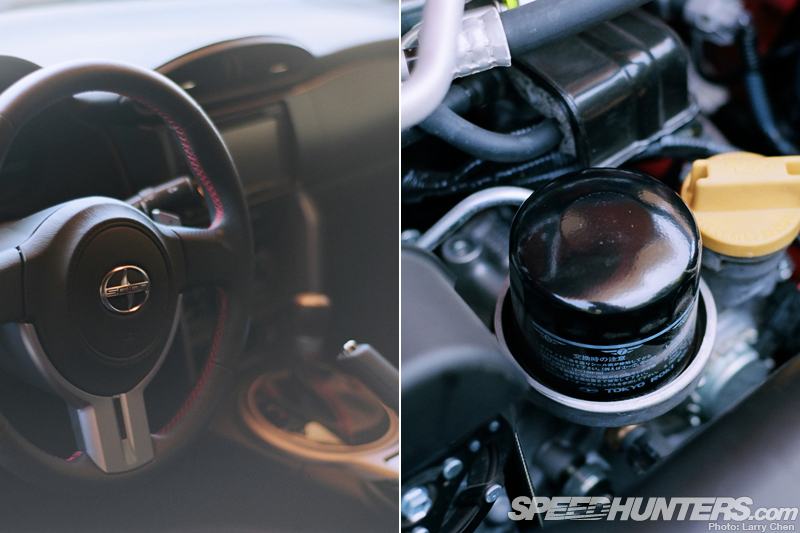 The interior is very easy on the eyes and everything felt like it had a good finish. I enjoy doing maintenance on my cars so it was nice to see the oil filter was in a good location.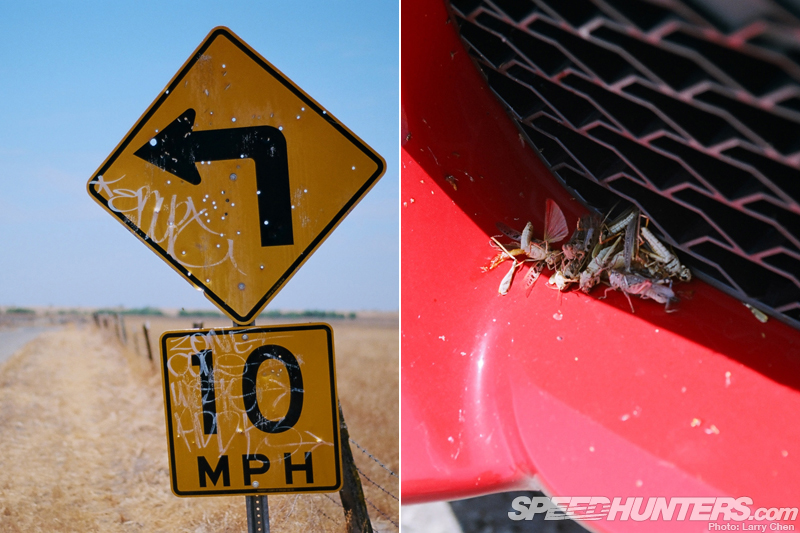 It was time to hit the road as there were many bugs that needed killing.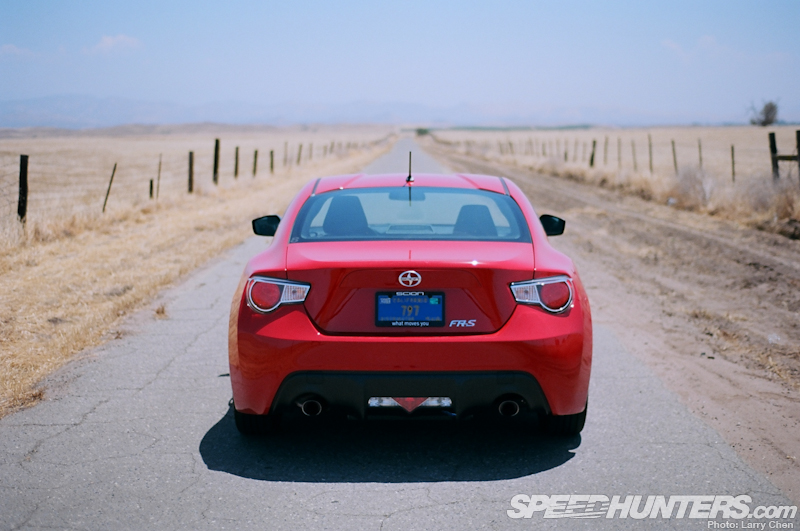 The rear of this sports coupé looks super aggressive and I think it is one of the best attributes to the car.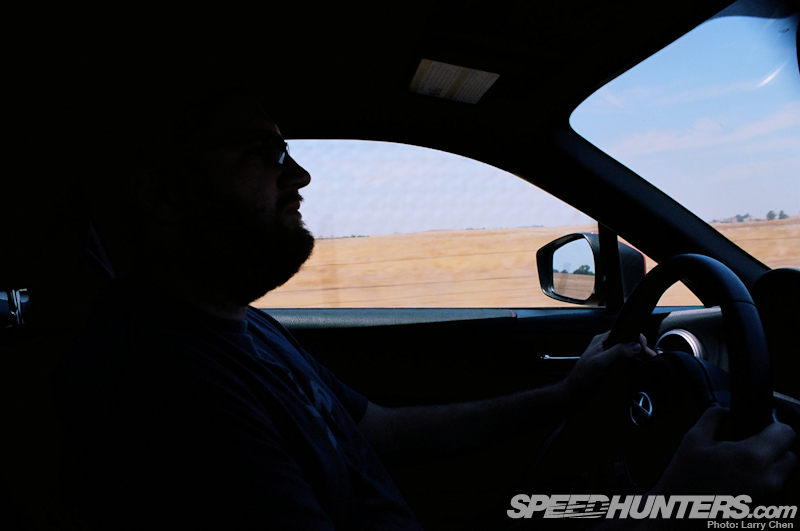 Mike took to the helm for his own impression on the new '86. He seemed to have liked it – who knows, maybe we will see Mike in his very own FR-S soon enough. The car was actually relatively roomy. Both Mike and I fit perfectly in the heavily bolstered seats.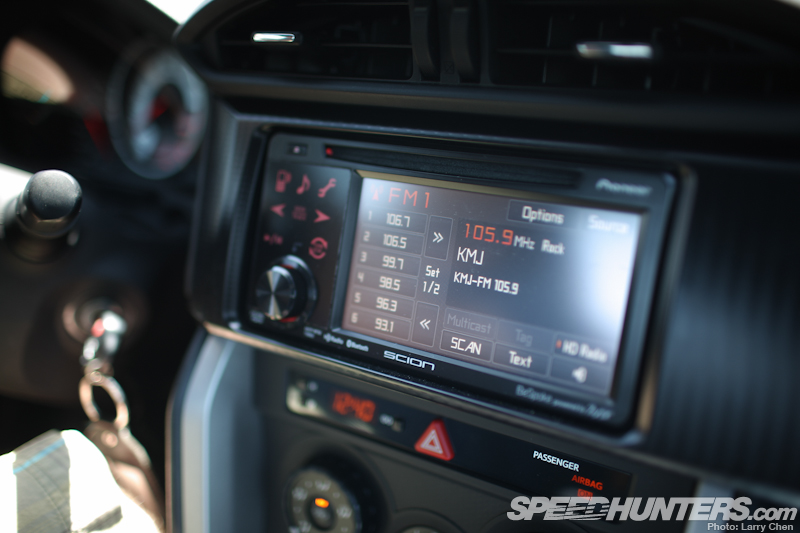 This one had the bespoke 340-watt audio system. The touch-screen interface was pretty fun to use. It made me want to jab at it for no reason and pretend like I was on a spaceship.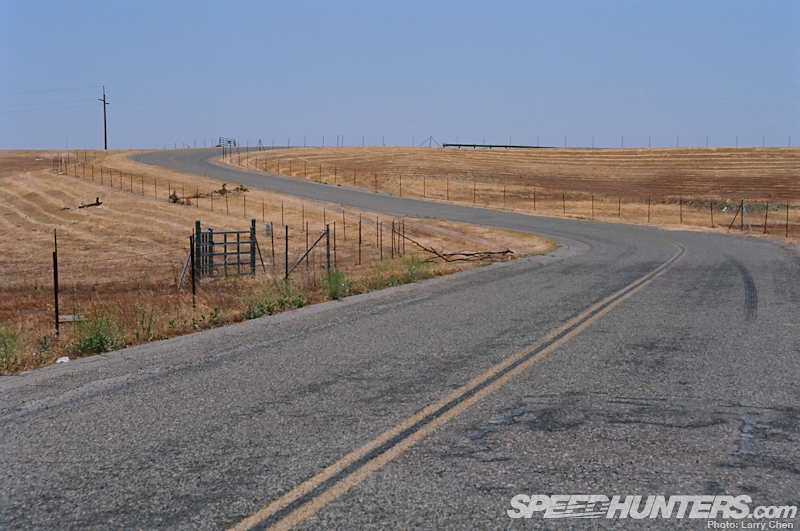 The roads of Fresno were very old and some of them lead to nowhere, but they were still very fun to drive.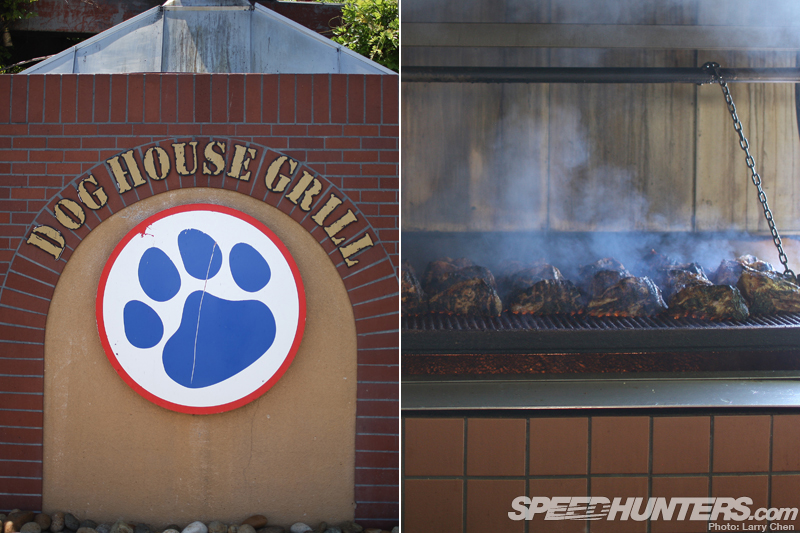 It was lunchtime and Mike showed us one of his favorite local joints. It was right across the street from the Fresno State University.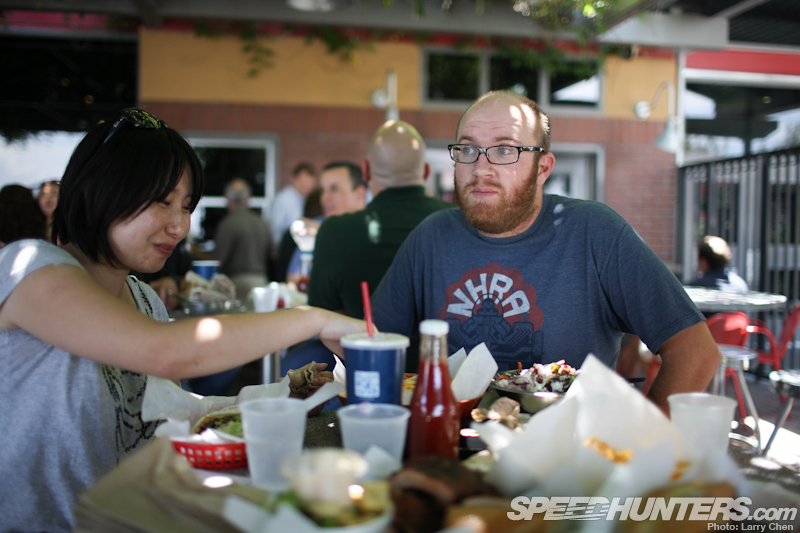 It was about 104 degrees Fahrenheit outside, so we decided to enjoy our meal under the shade.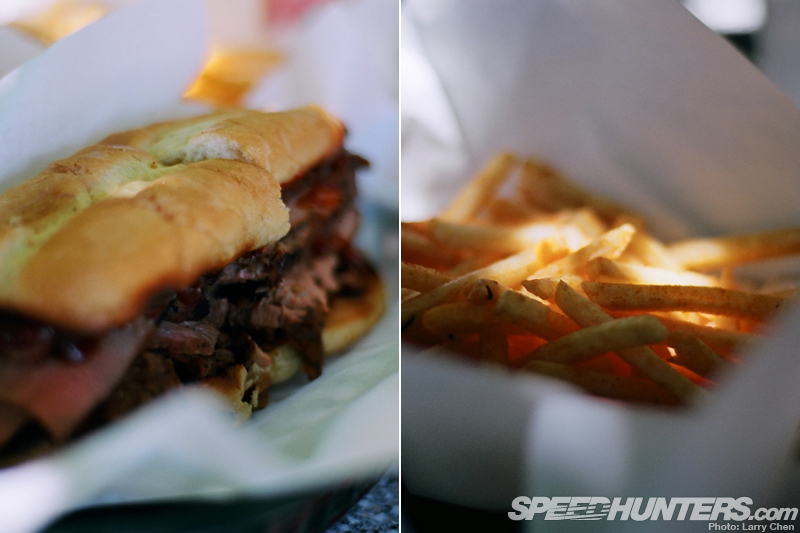 It was a good choice, and Mike knows his meats.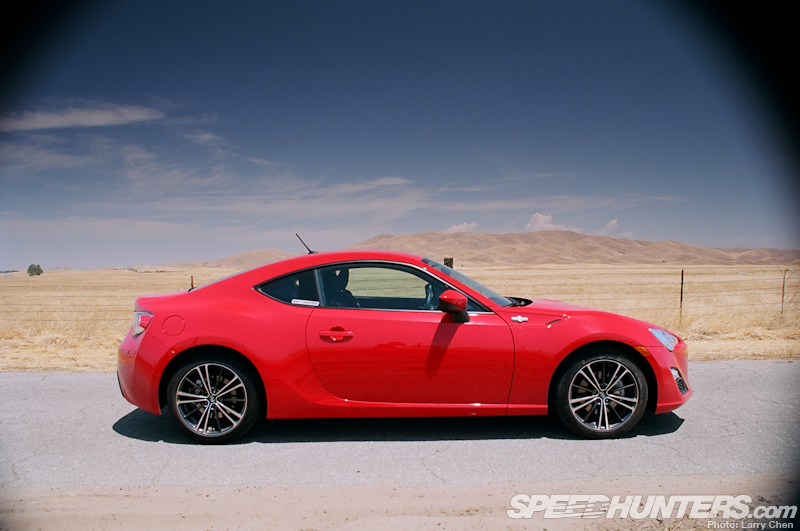 We packed up and headed to one of my favorite places, Yosemite National Park.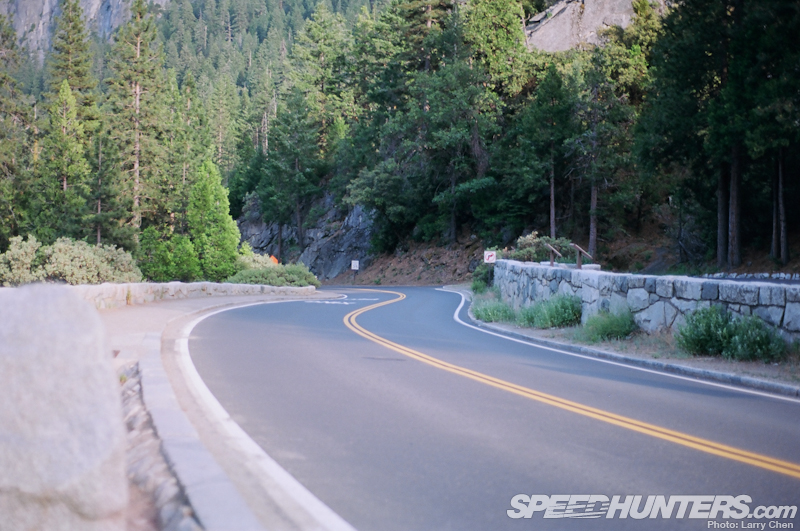 It was about a three-hour drive to the entrance of the park and I enjoyed every moment of it. The car felt very solid: it didn't have summer performance tires on it, but regardless it handled like it was on rails.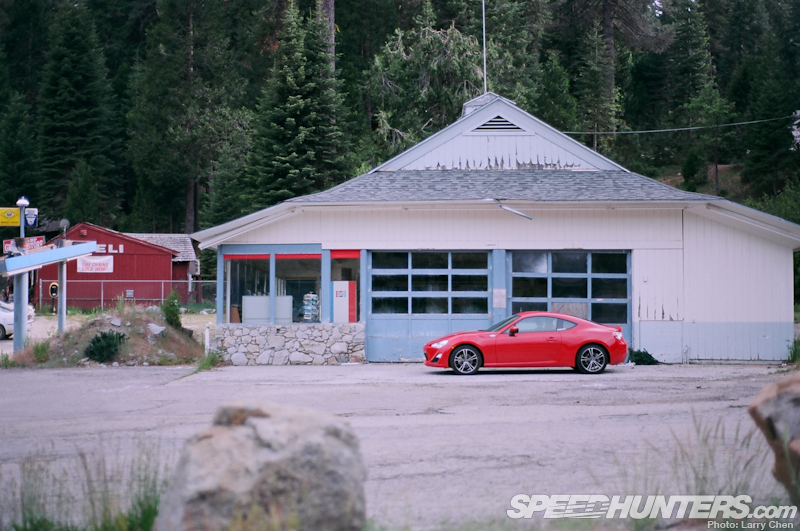 Along the way there were many abandoned service stations.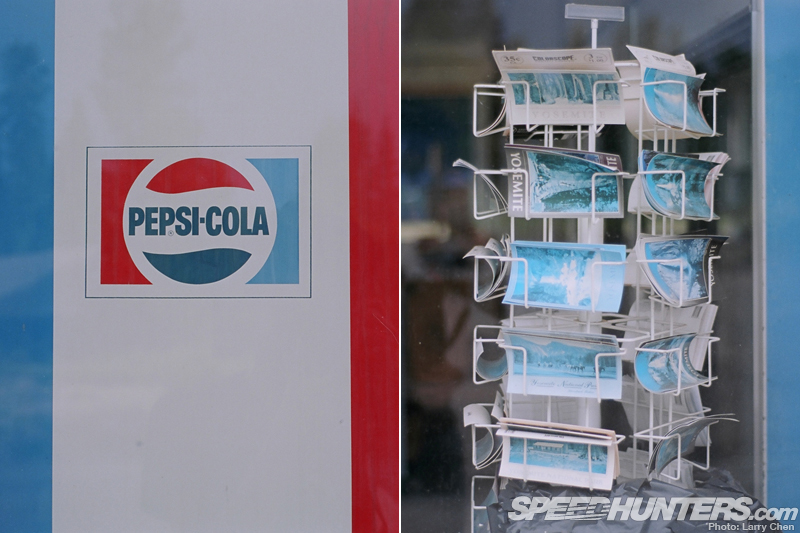 This place looks like it was abandoned in year of the hachi roku.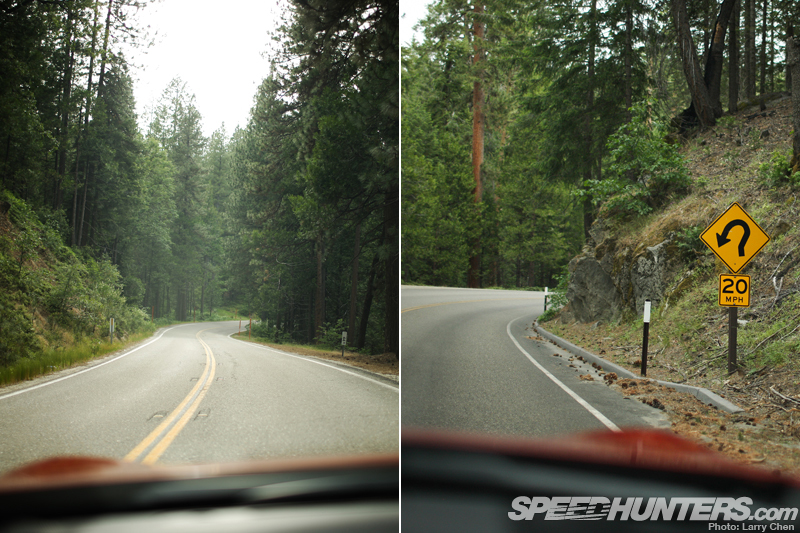 As we got closer and closer to Yosemite Valley the roads got more and more narrow. The FR-S felt at home. The steering is super precise and it followed my inputs with ease. I just didn't want the roads to end.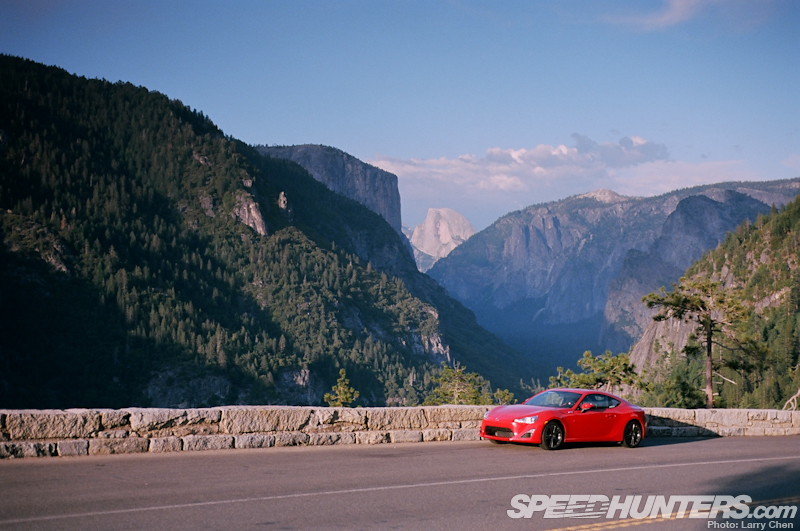 Just a few miles from the valley we stopped at the side of the road. In the background was the famous half dome. Something dawned on me as I was snapping away. I was thinking, what if I was shooting blanks this whole time? The camera I was using has not had a roll of film through it in eight years. It may not work at all.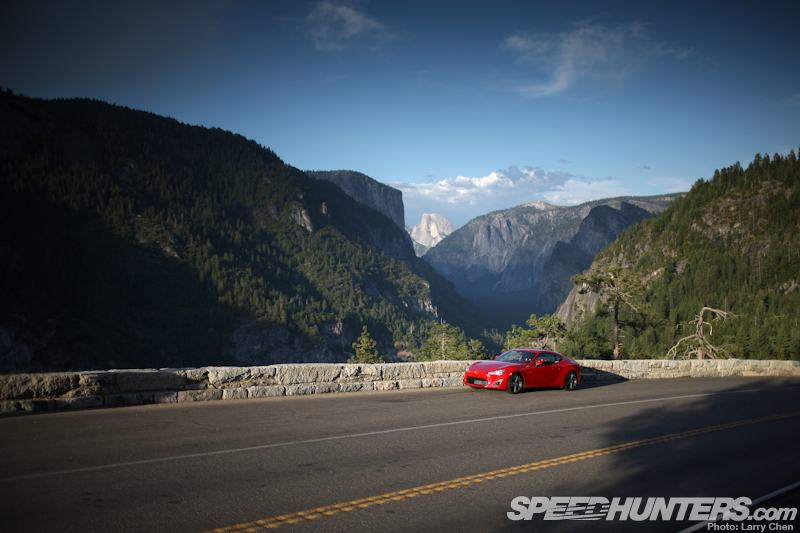 Just as insurance I shot everything in digital as well. Since the camera worked fine, you guys get to see a comparison between digital and film. Although, I was shooting a 50mm lens with the film camera and a 35mm lens with the digital camera.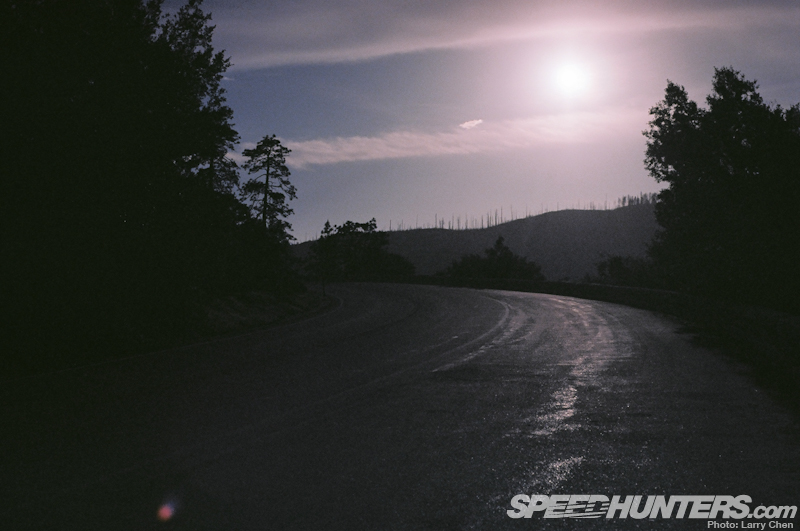 The colors are so interesting with this Kodak film. I was told it would be much 'cooler' or bluer.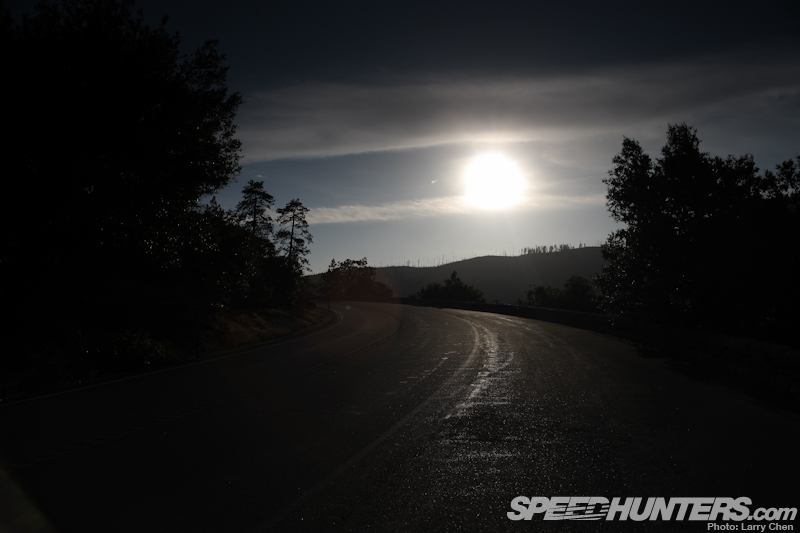 And for the digital version. It's amazing how different these two photographs are, yet they are of the exact same scene.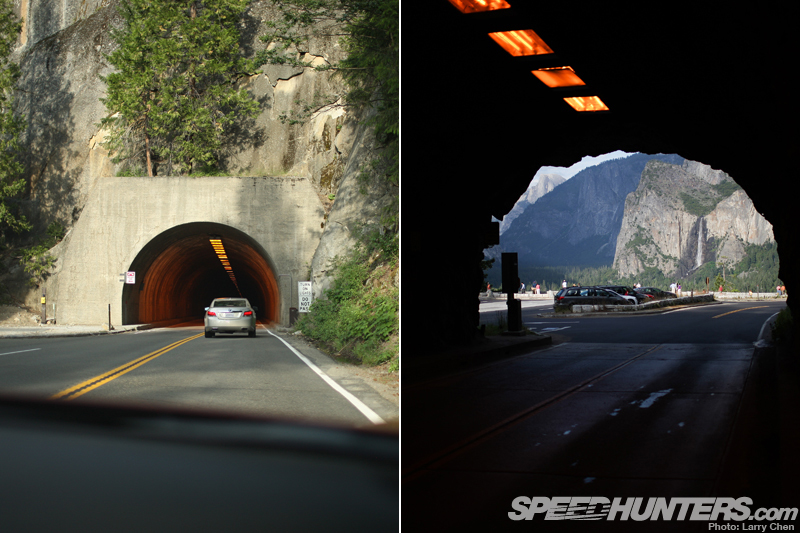 This was the last stretch of road leading into the valley. It is a pretty special treat as it really amplified the stock exhaust note, which actually sounds pretty good. Right when I picked up the car from Toyota just a few days earlier I had a guy pull up to me to ask if it had a rotory. I just smiled at him.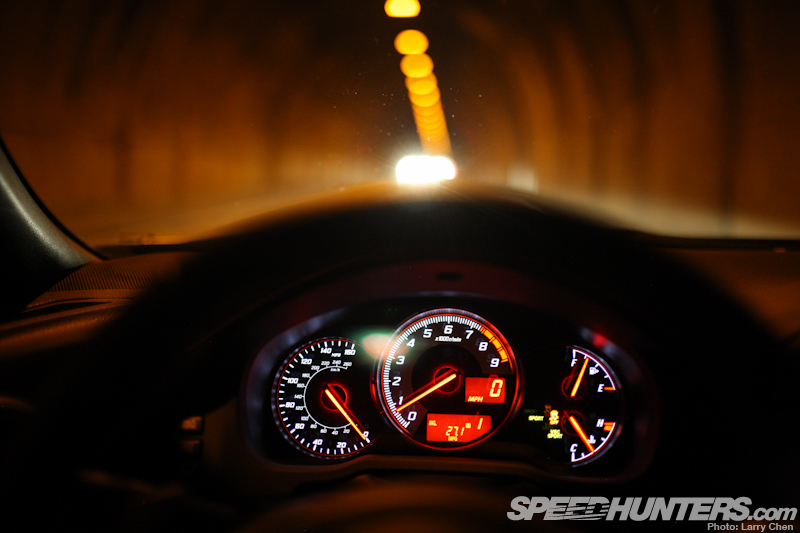 It was quite dark inside so I figured it would be a great time to get a shot of the gauges. If there was only a turbo gauge in that black area. I can dream, can't I?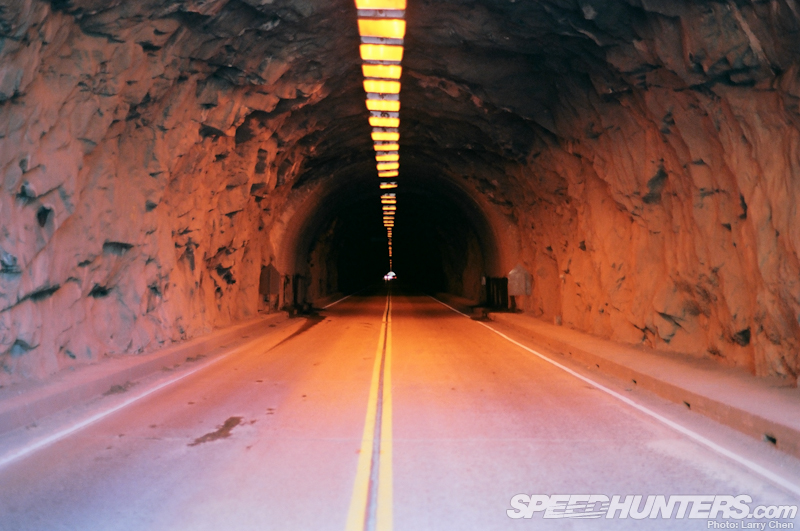 The tunnel is very long and the etiquette is to honk your horn and hold your breath the entire way or you will break your momma's back or something of that nature.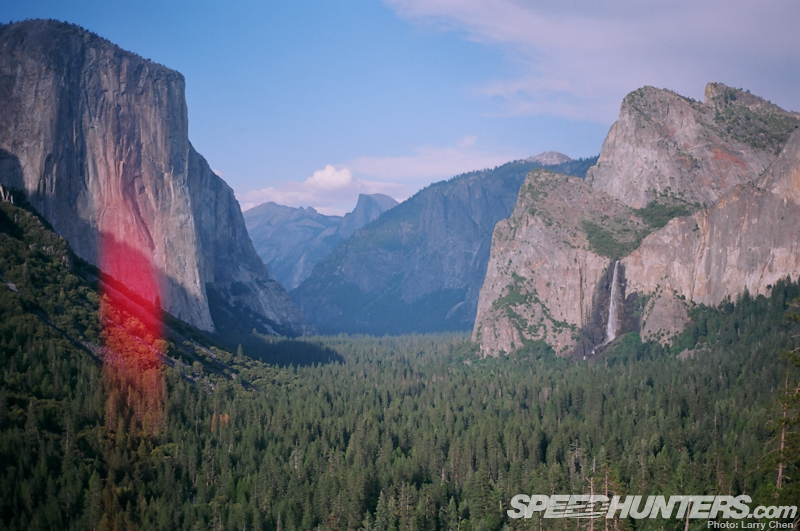 The scenery on the other side of the tunnel is breathtaking.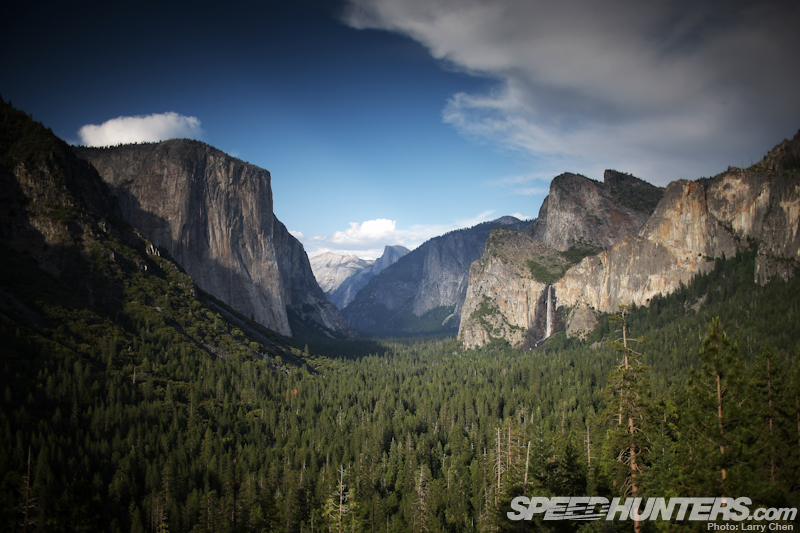 And here it is in digital. It's like we are in the future or something.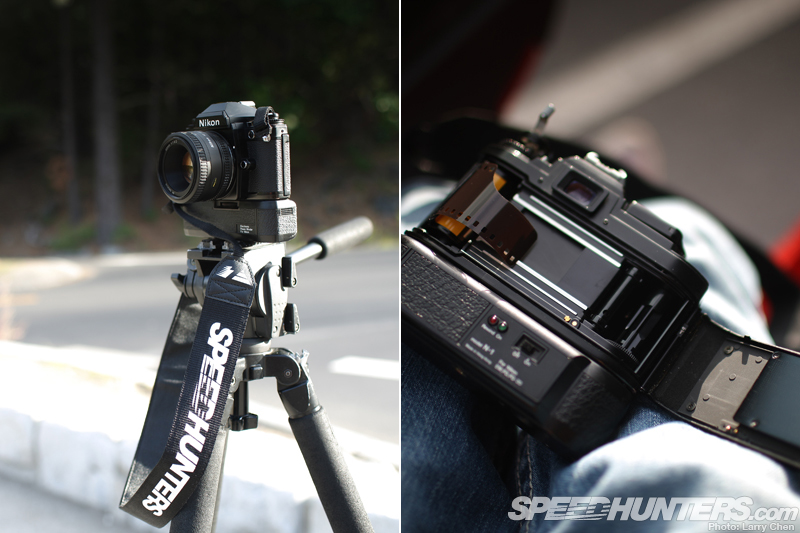 By now I was very fast at changing film. It was like my high school photography 101 class all over again…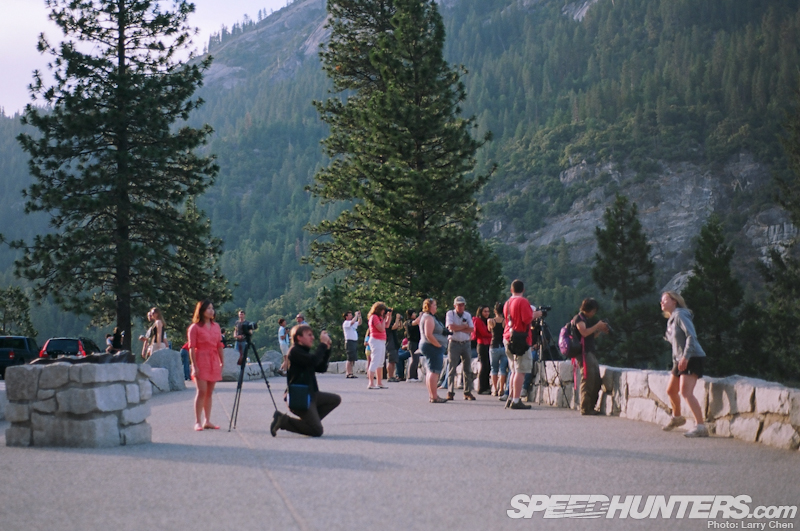 …and it looks like my classmates all tagged along.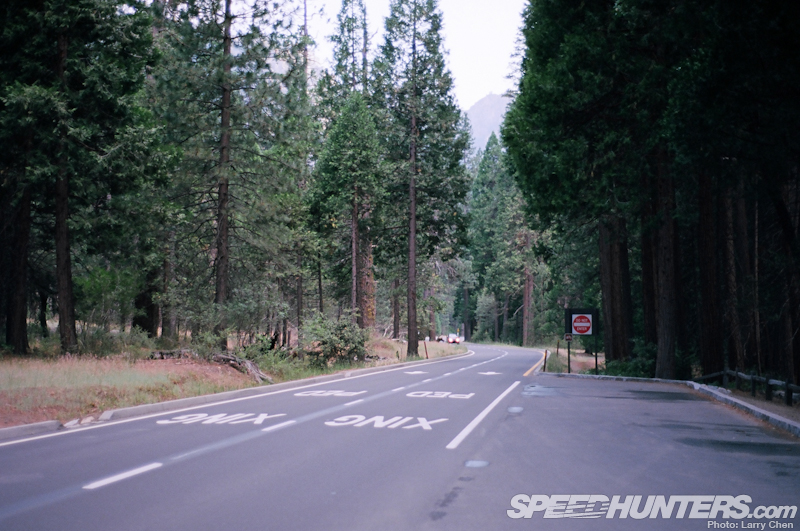 From here on out the road was one-way. The surface was very smooth and it was very fun to drive, because it was mostly two lanes.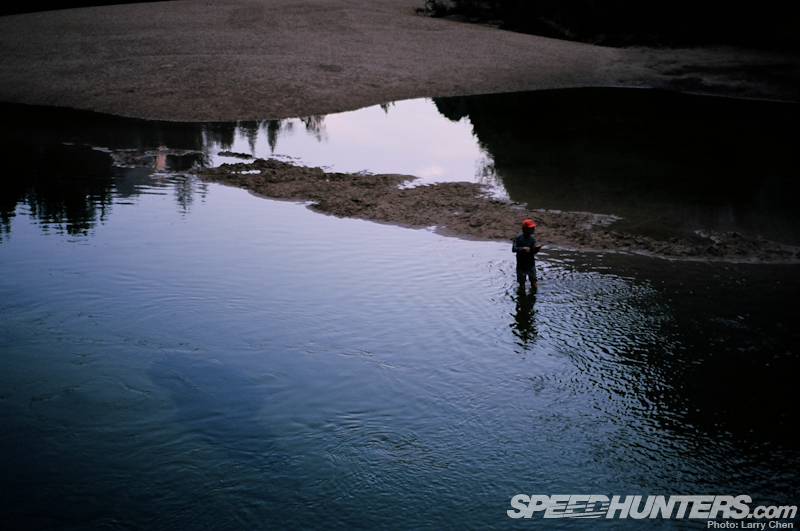 On the way to our home for the night we stopped by to check out the surrounding bodies of water…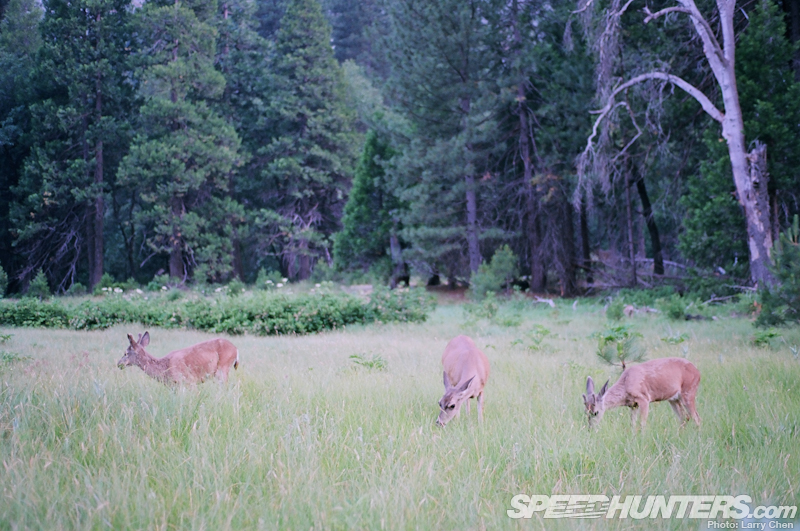 …as well as the local wild life.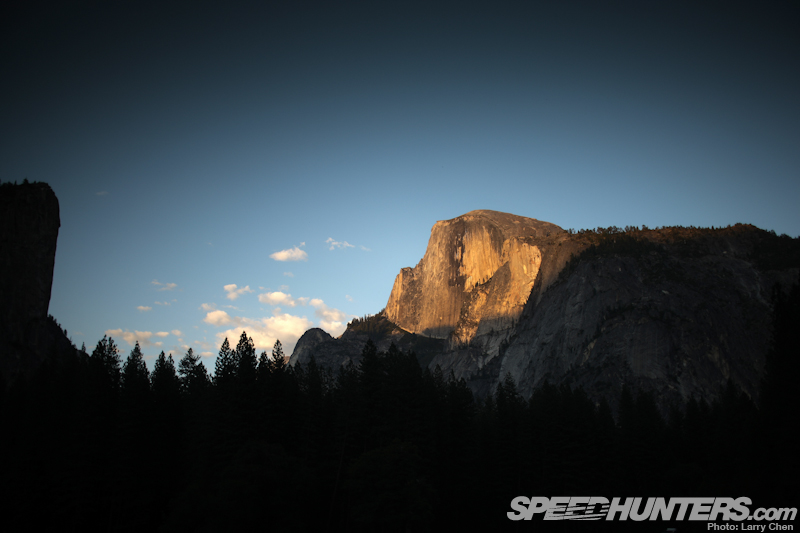 The sun was setting and it was quickly getting dark in the valley so we decided to call it a night.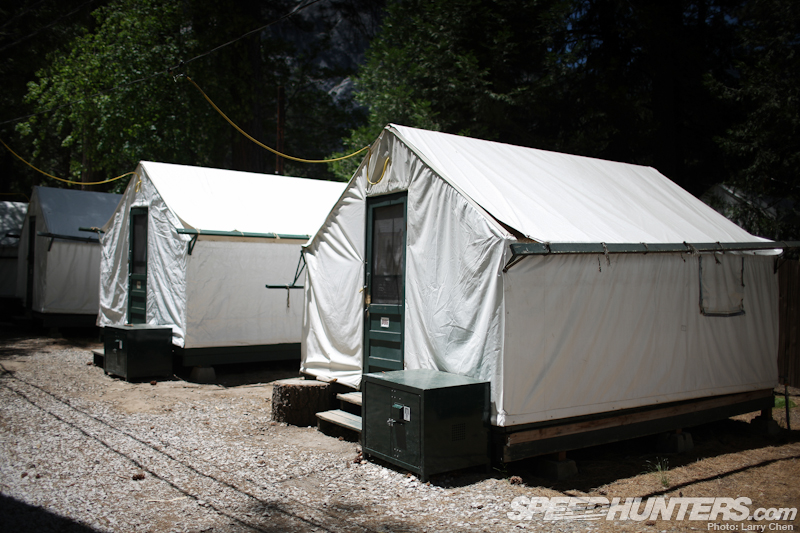 Our living quarters would be this canvas tent.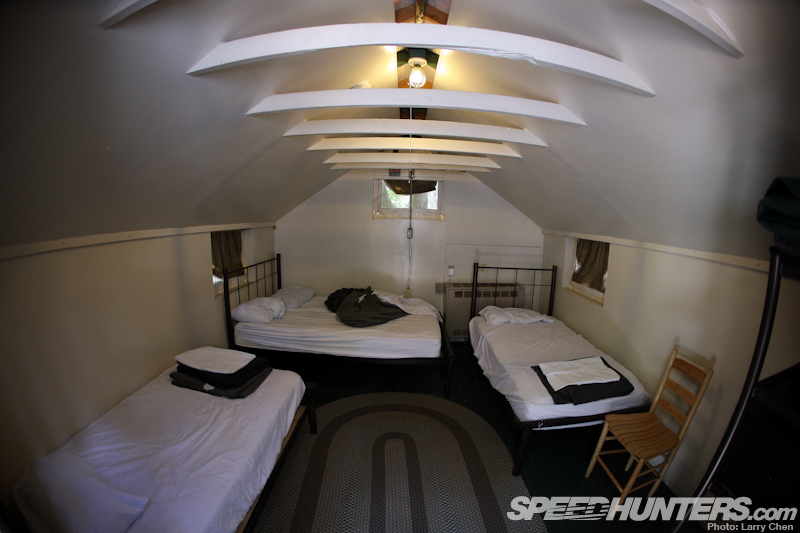 Inside was very roomy, but the only problem was the long gruelling walk to the facilities. This was as far as I was going to 'rough it' for the weekend.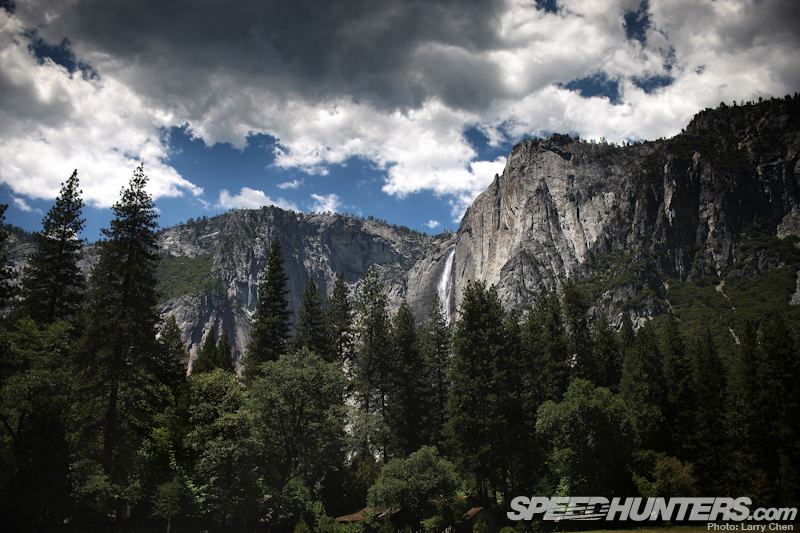 The next morning we woke up to this scene. Roughing it for one night was totally worth it.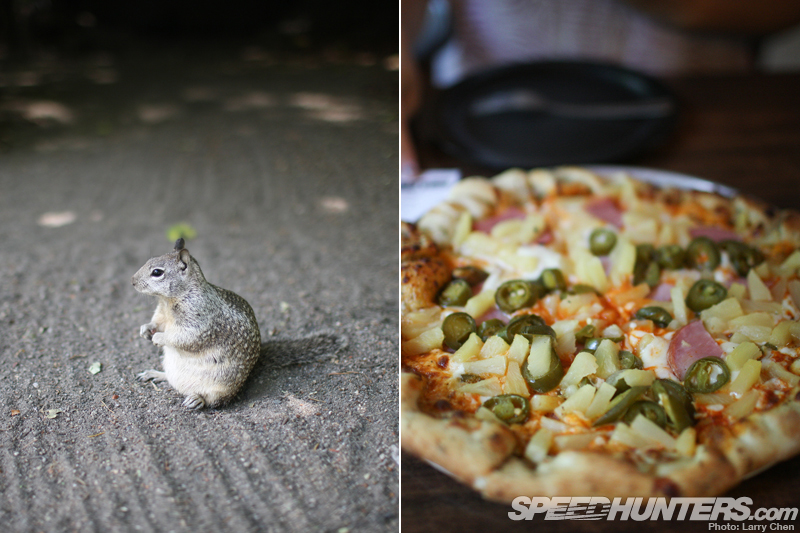 We ate a quick brunch and headed out once again as I was determened to get some nice sunset shots in the bustling city of San Francisco.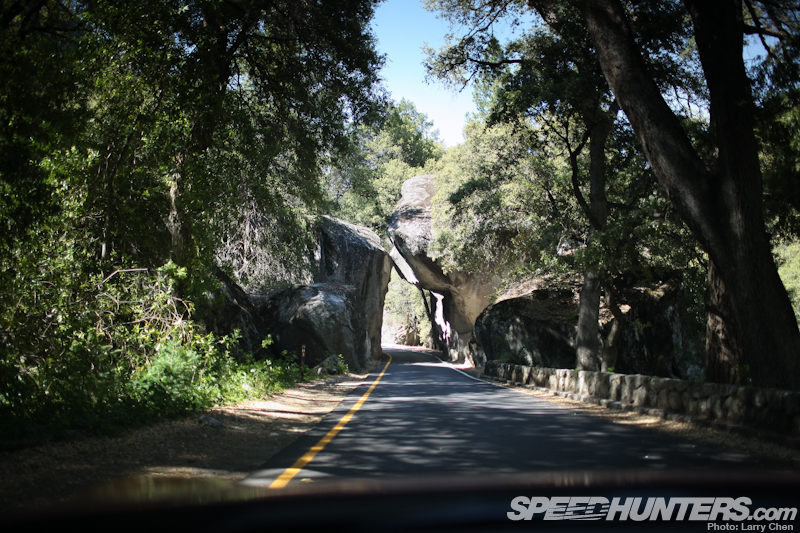 We headed down the 141 highway which drops you off in the city of Merced.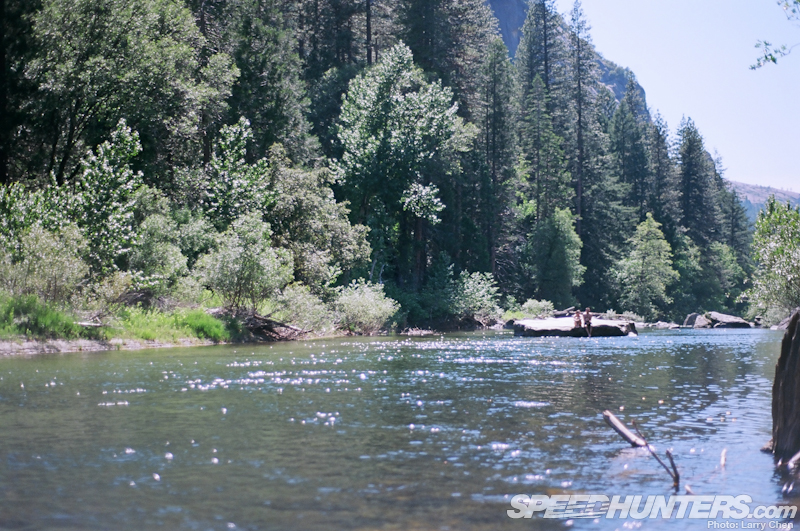 The highway ran alongside this river in a valley…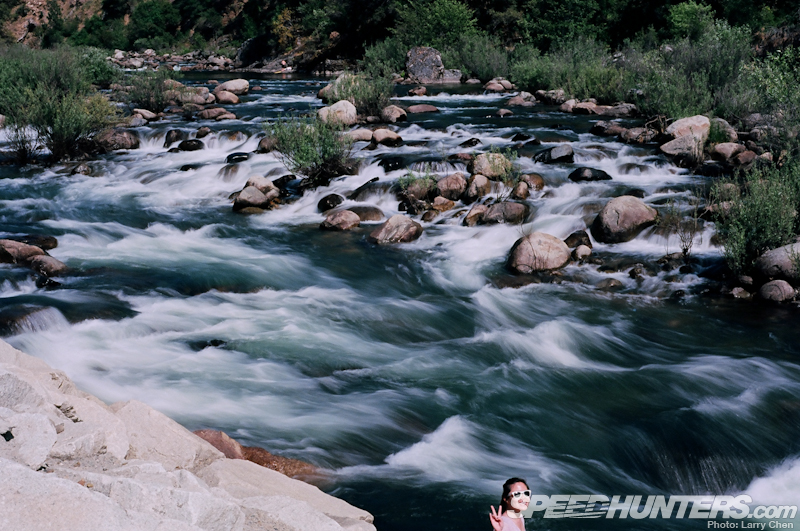 …so we decided to stop and enjoy it for a while.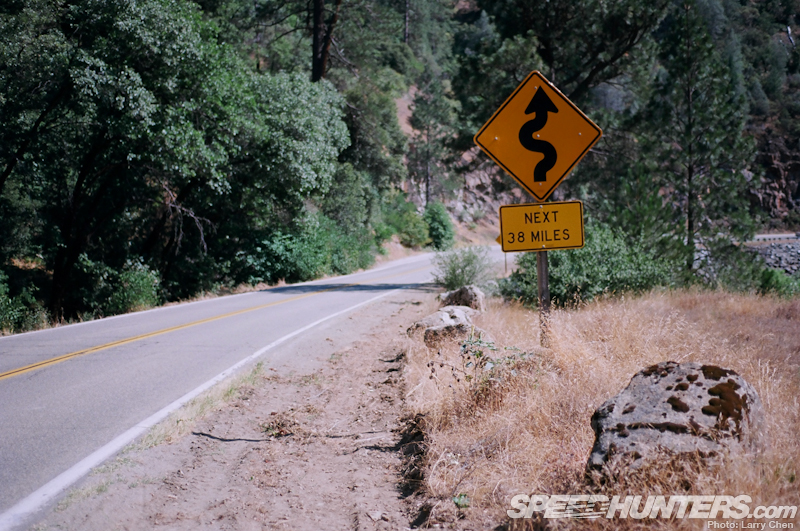 For many this sign brings dread. For me it brought a smile from ear to ear.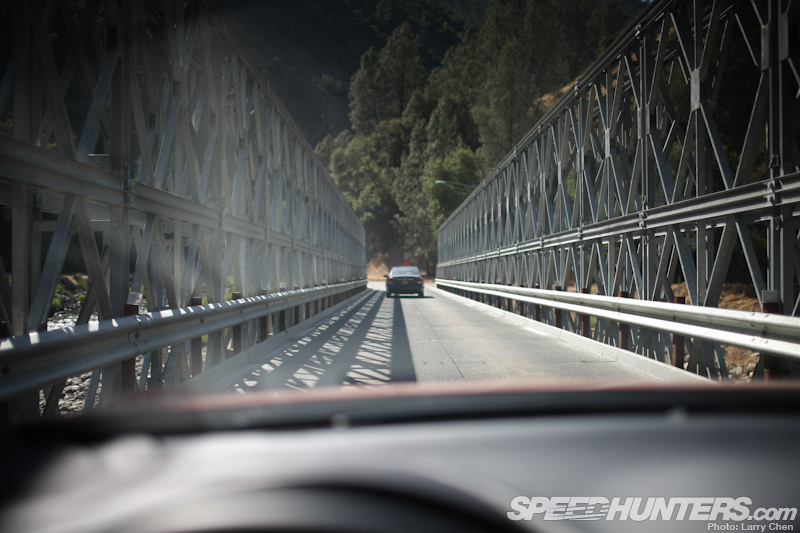 After said 38 miles of twisties we came across this one-lane bridge. Traffic goes both ways on it, so there was a stop-light letting cars go in either direction 15 minutes at a time.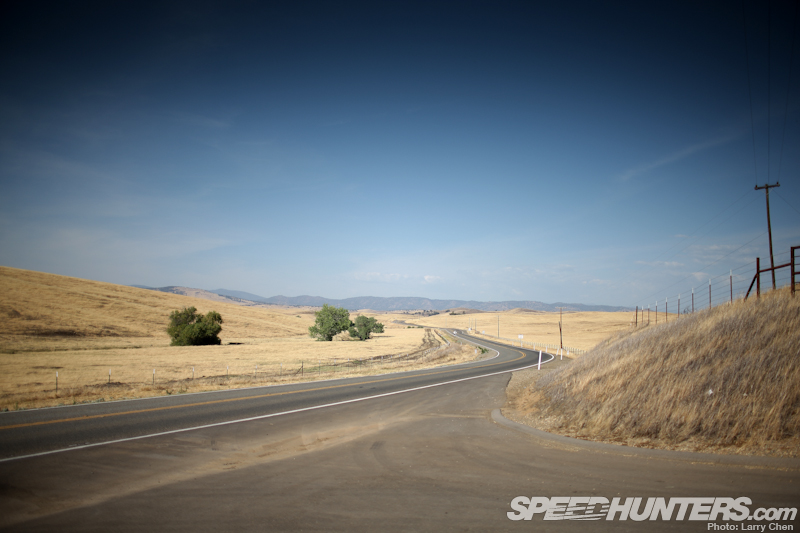 As we descended it got hotter and hotter all the way up to 106 degrees Fahrenheit. On the plus side we were at a much lower height and the ponies that were lost from the altitude were back.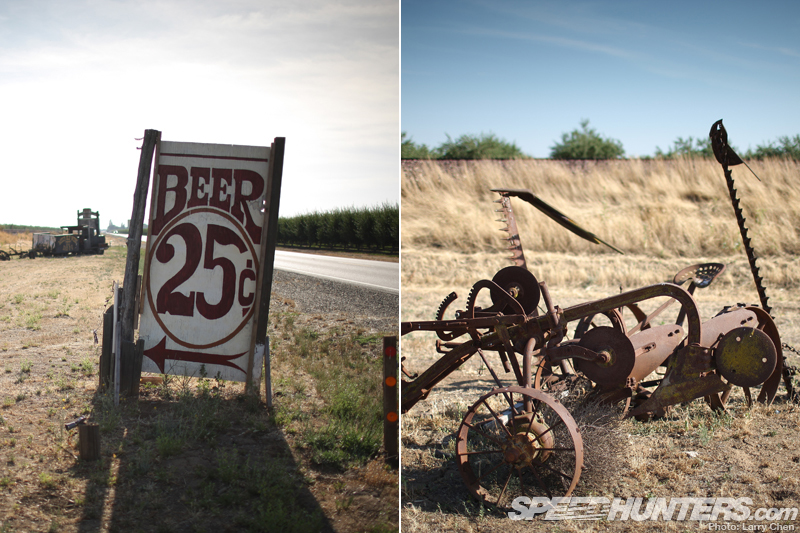 This sign stopped me in my tracks, but it just turned out to be a bunch of abandoned stuff on the side of the highway.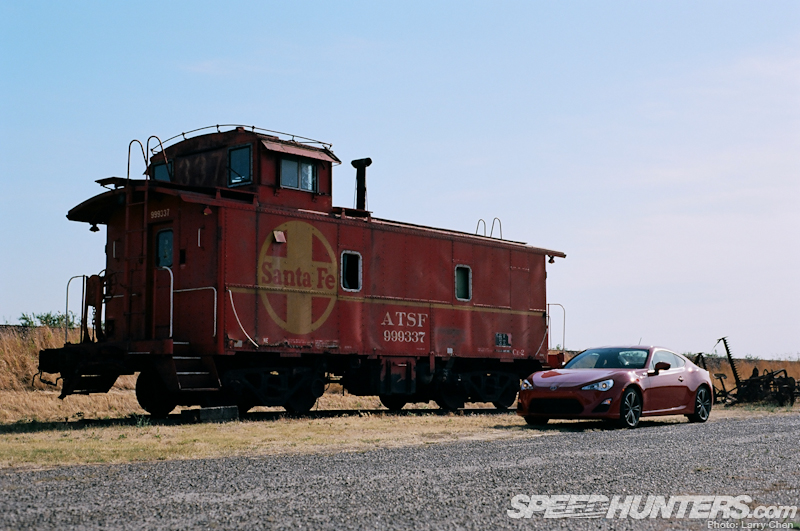 One of which happened to be an old train car.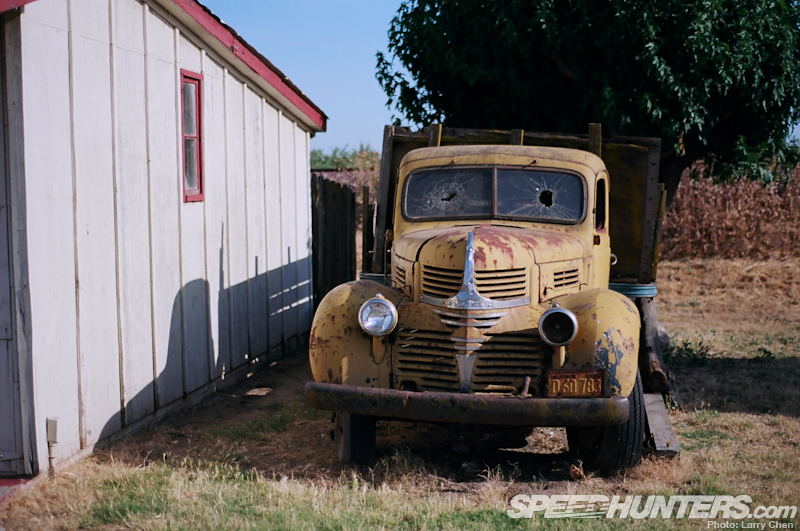 There were all sorts of goodies laying around.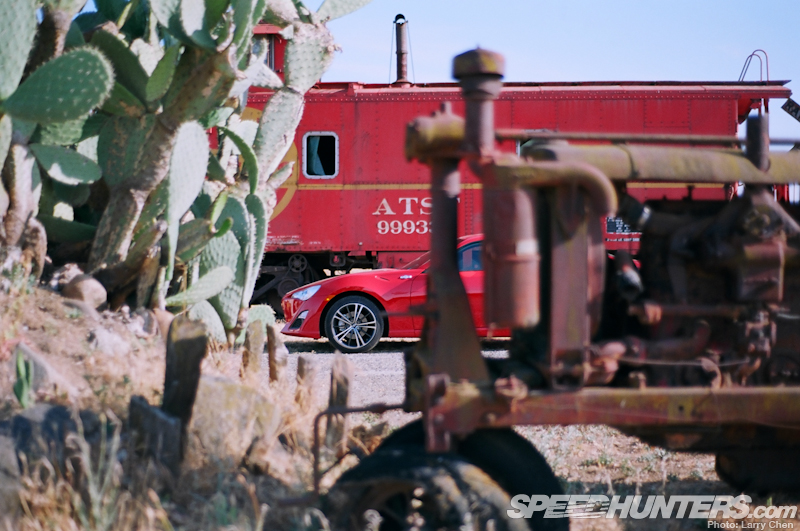 It was time to turn up the art…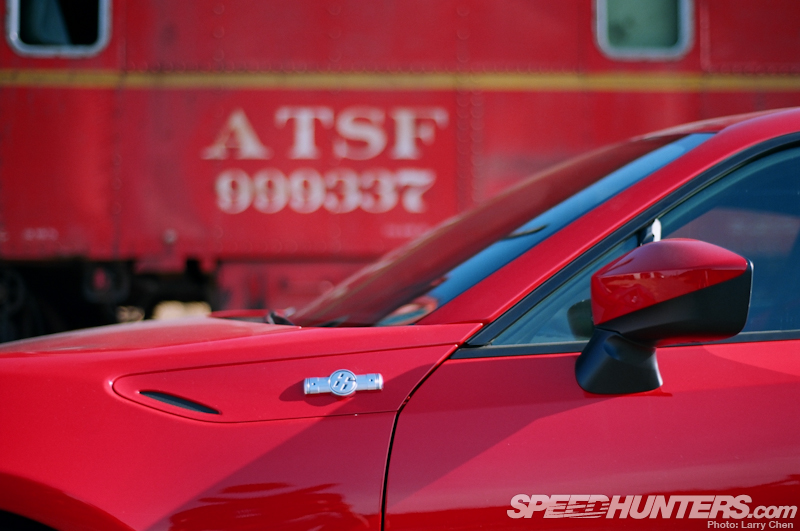 I was glad I asked for a red car as the film seemed to pick it up quite nicely. Because of all the unplanned stops we were running late.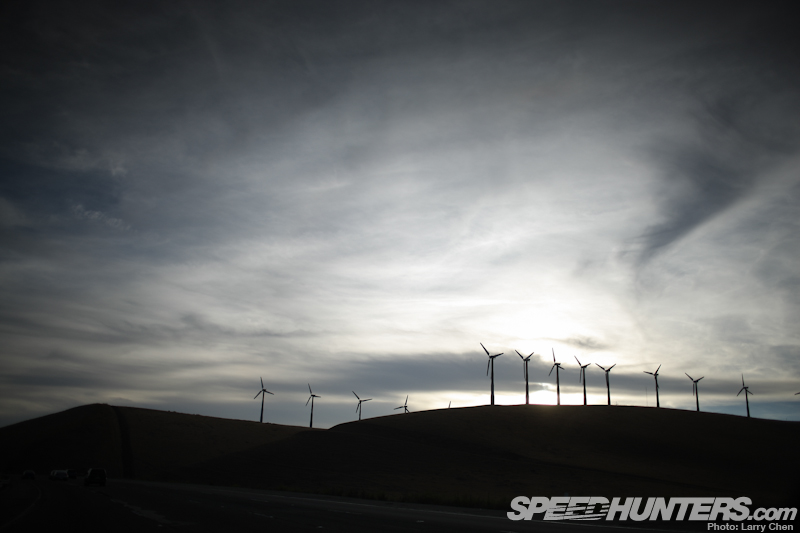 As we got closer to San Francisco the sun started to fade. I was getting worried that we were not going to make the sunset at the Golden Gate Bridge.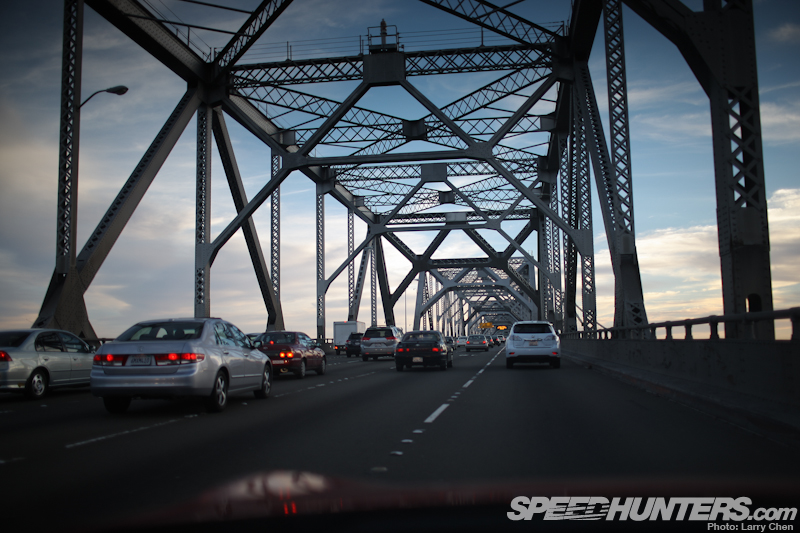 Little by little we made it deeper into the city as traffic slowed down to a crawl.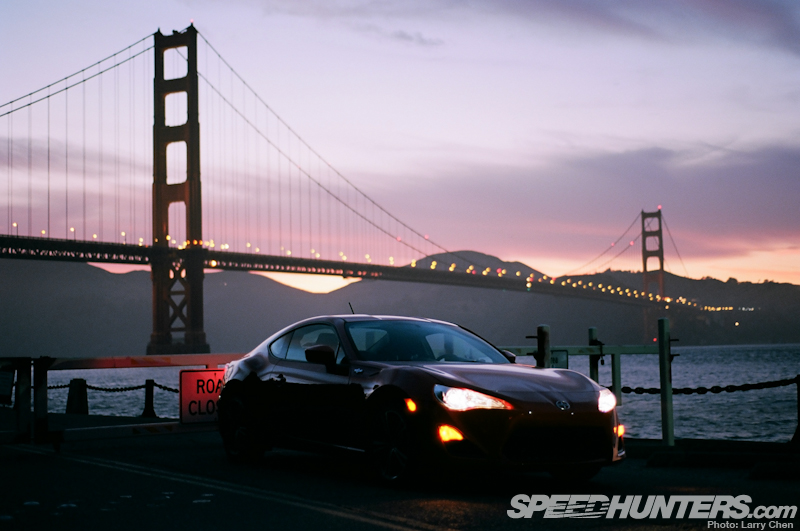 We finally made it and boy was it worth it.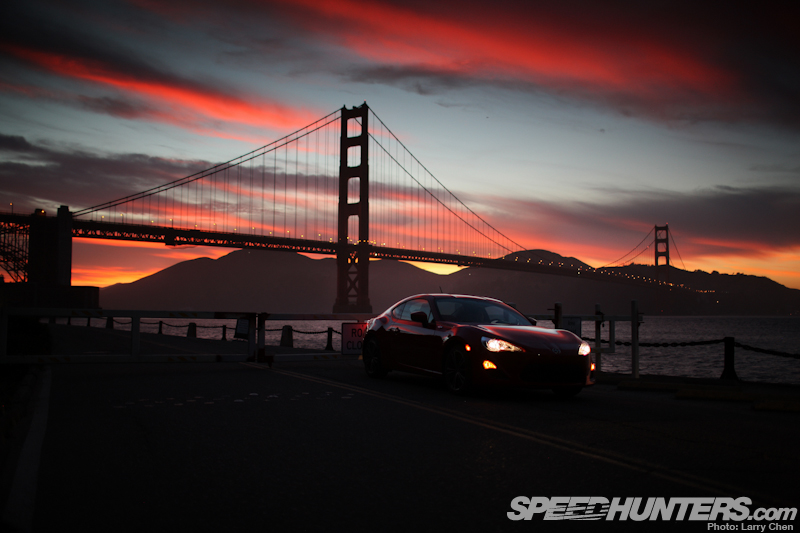 I think the digital version fared better for this scene.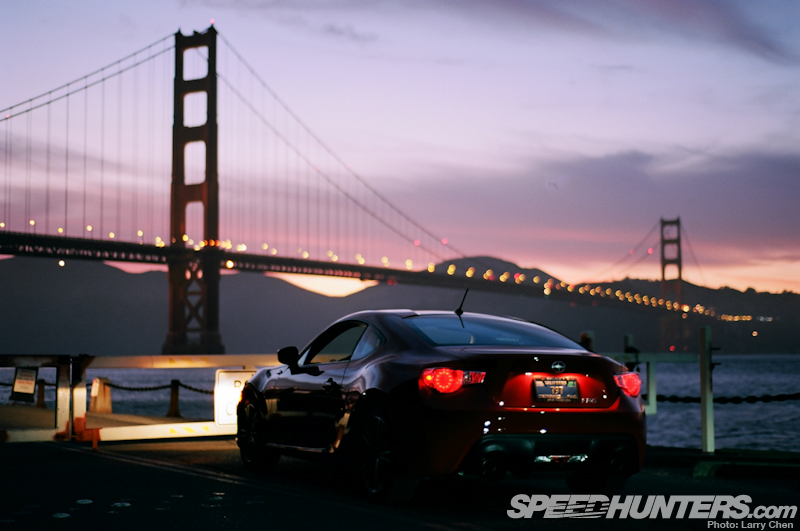 Although the film version didn't look too bad either.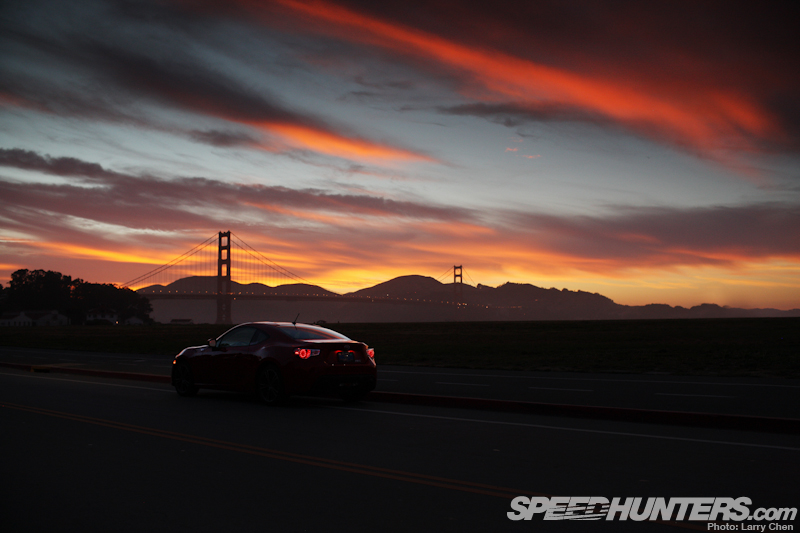 Out of all the sunsets I've seen in the Bay Area this was the most beautiful by far.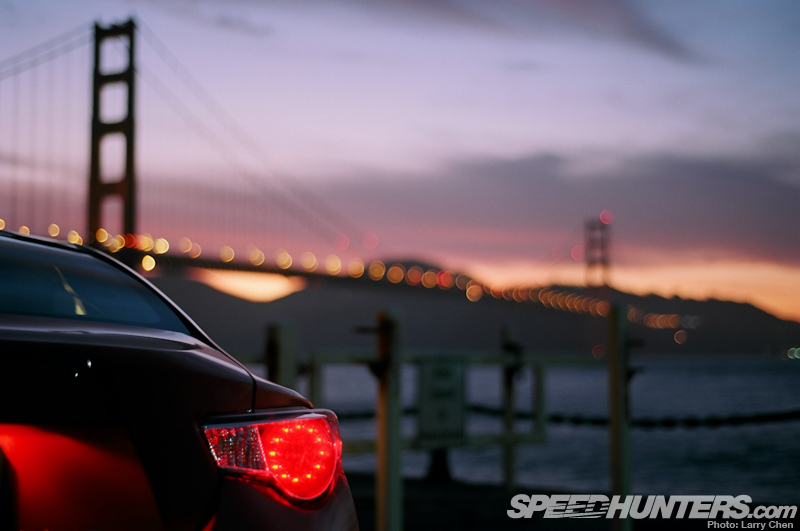 With the sun behind the horizon it was time to head to our hotel.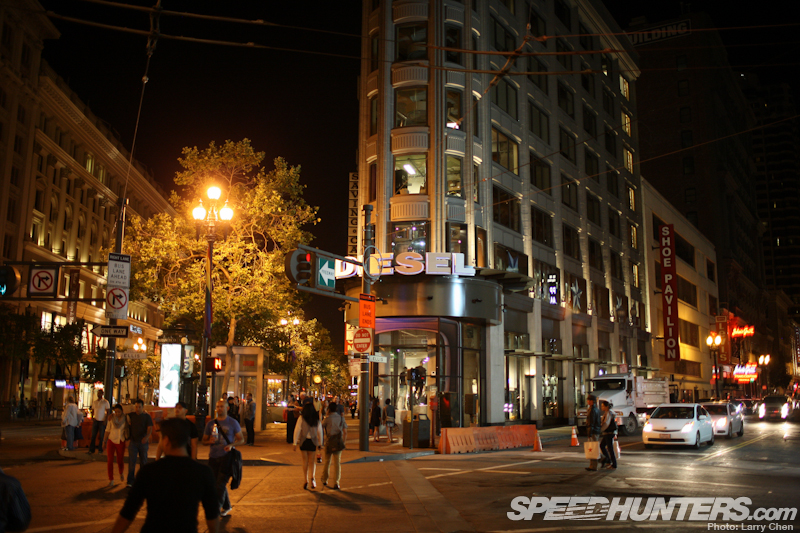 We stayed at Union Square, so there was much exploring to be done.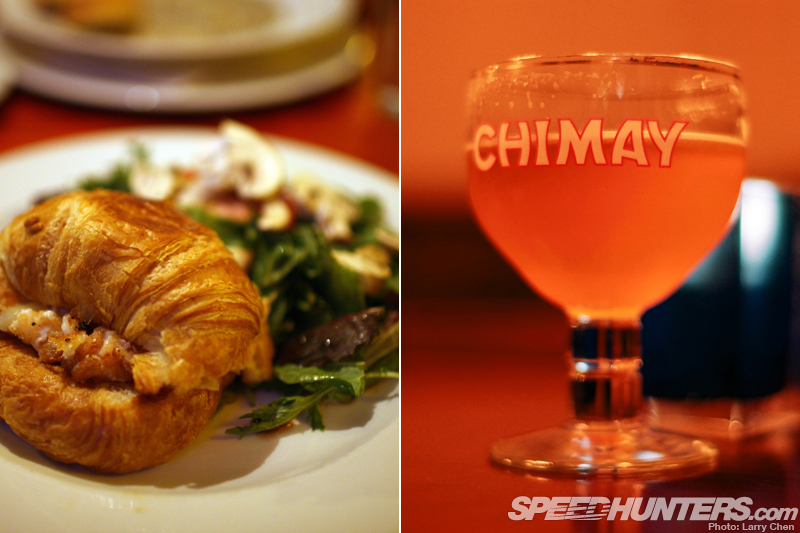 After a taste of the local cuisine and a quick nigh-cap it was time to turn in.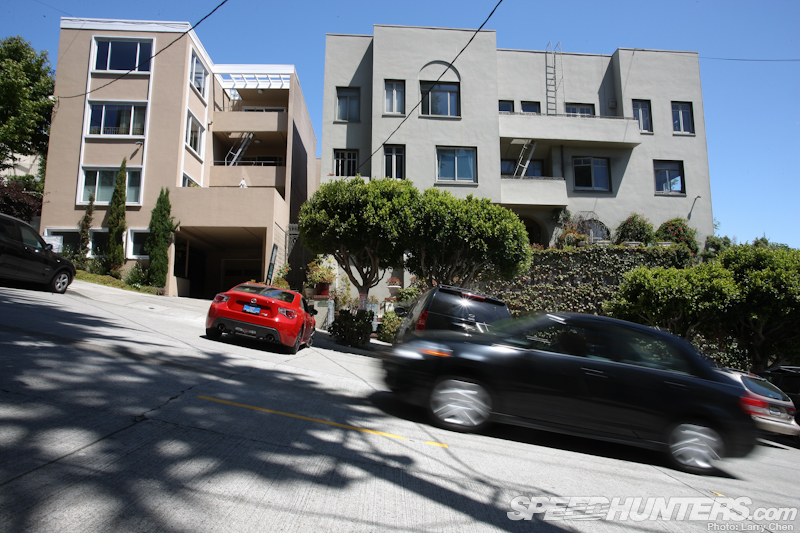 The next morning we headed out for coffee and waffles in the city.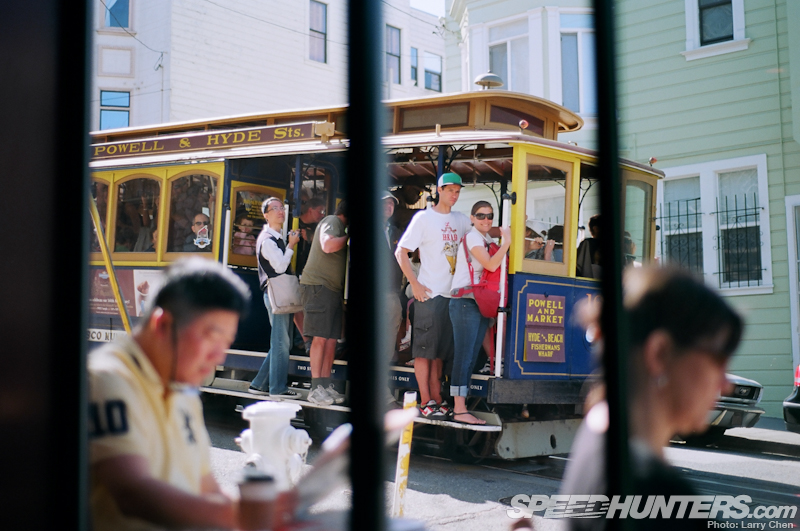 As we were waiting for our meal people passed by on the trolley, so I stole their souls.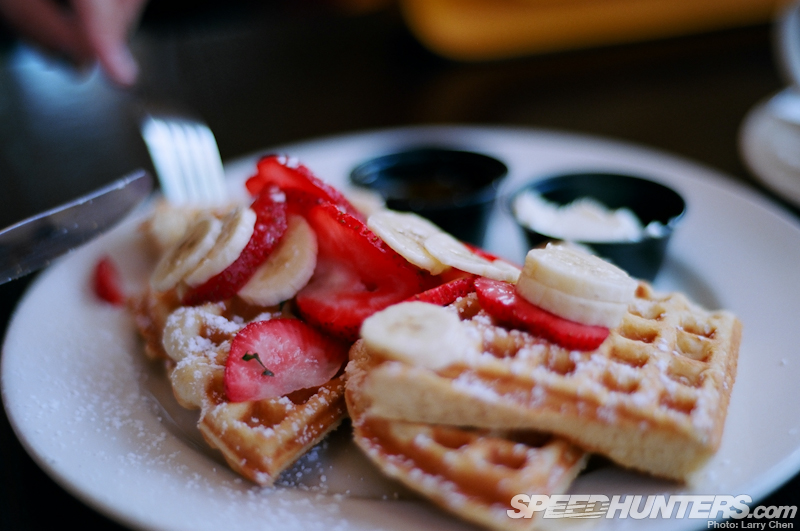 I always have a soft spot for good home-made waffles.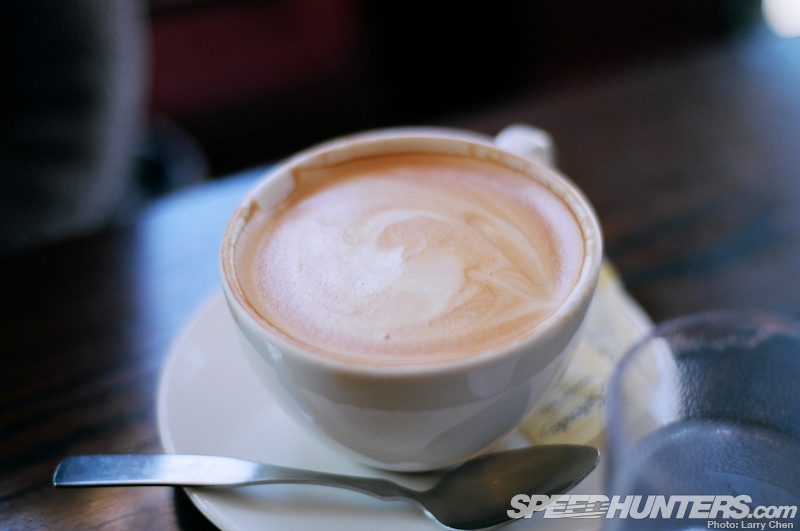 What better way to wash down those waffles than with some strong caffeine, my one true weakness.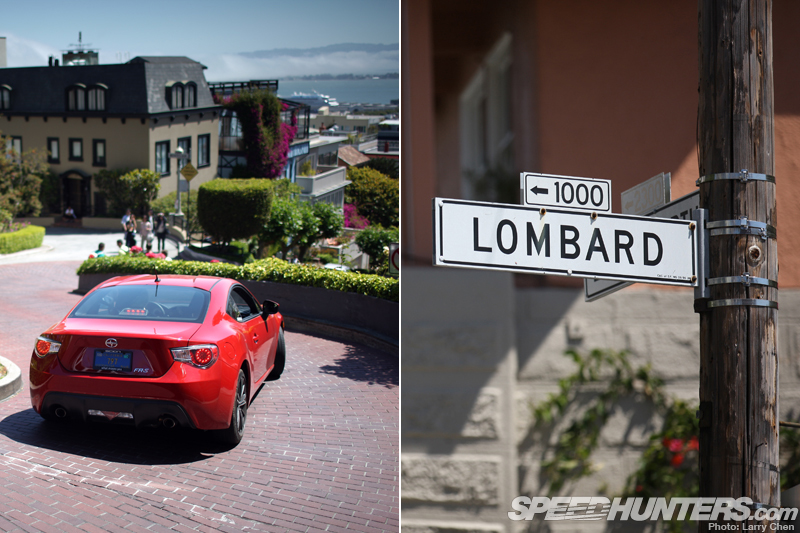 After breakfast we decided to do a bit of exploring as well as some easy city driving.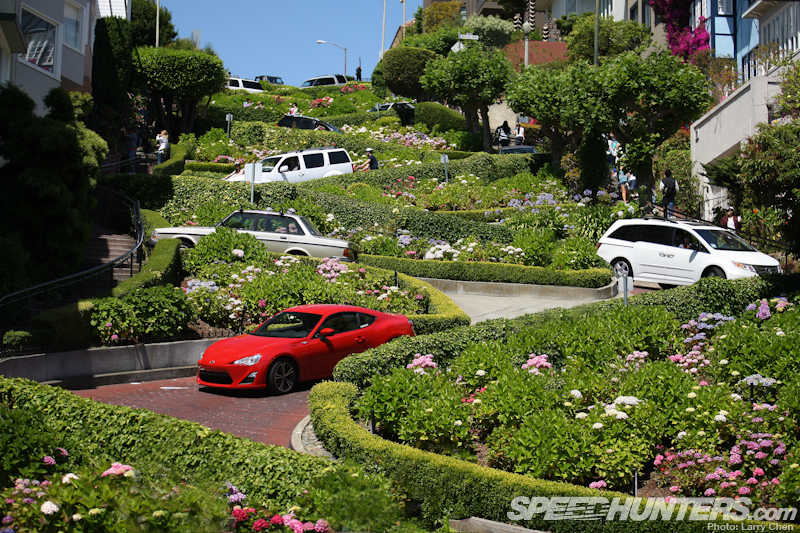 You never really realize how steep Lombard street is until you drive it. The famous street has a 27-degree grade. I just feel bad for the people who actually live there.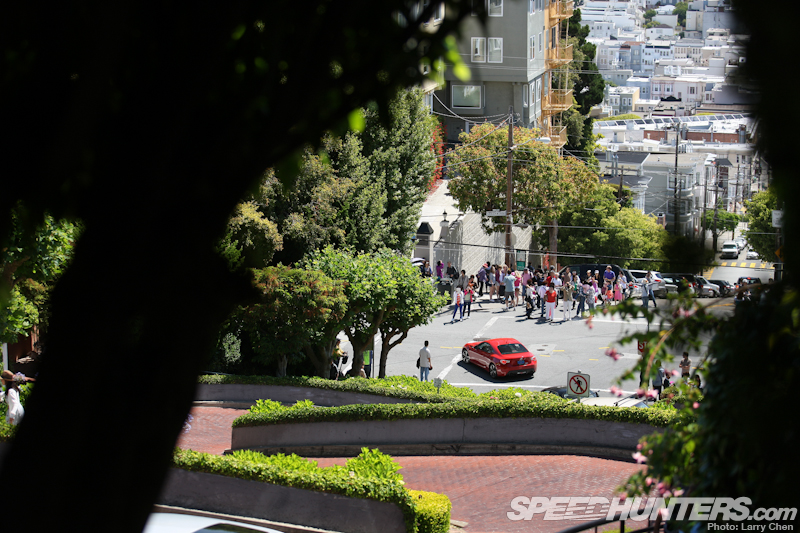 There are always so many tourists that block traffic whilst brandishing cameras out the window. The switch-back design was instituted in 1922 because the hill was too steep for most vehicles. The FR-S fared just fine.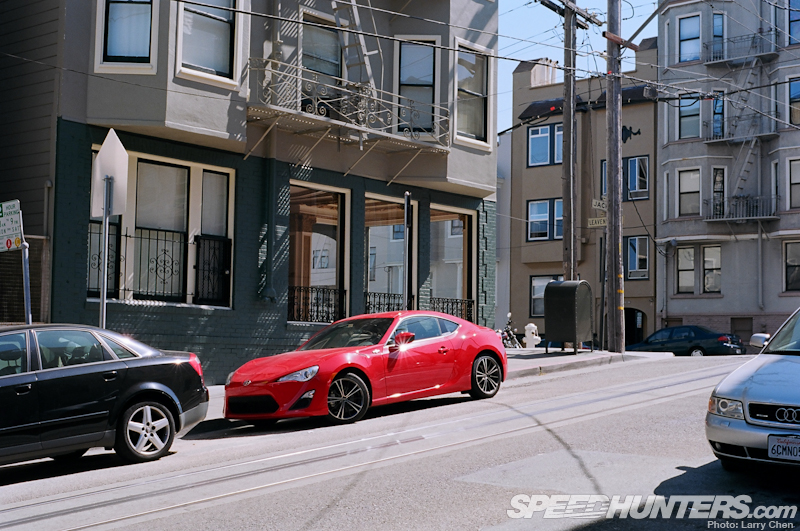 I snagged a nice parking spot on my much flatter street that was not too dangerous, as I was pretty afraid of getting a fender bender.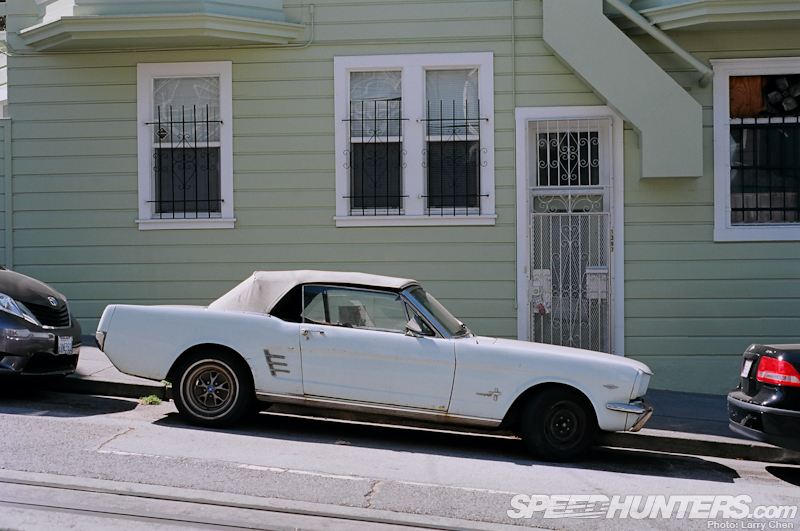 Across the street was this old beat-up Mustang. This one looked like it has done one too many chase scenes.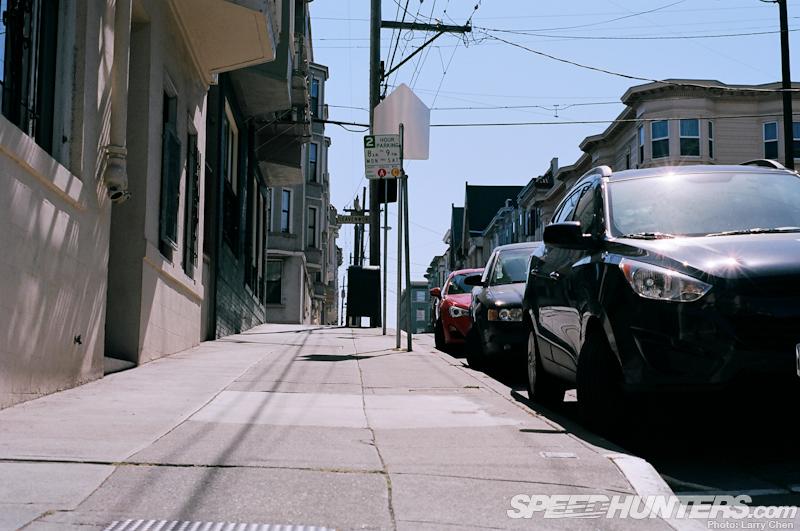 It was hard not to think of Steve McQueen in Bullitt.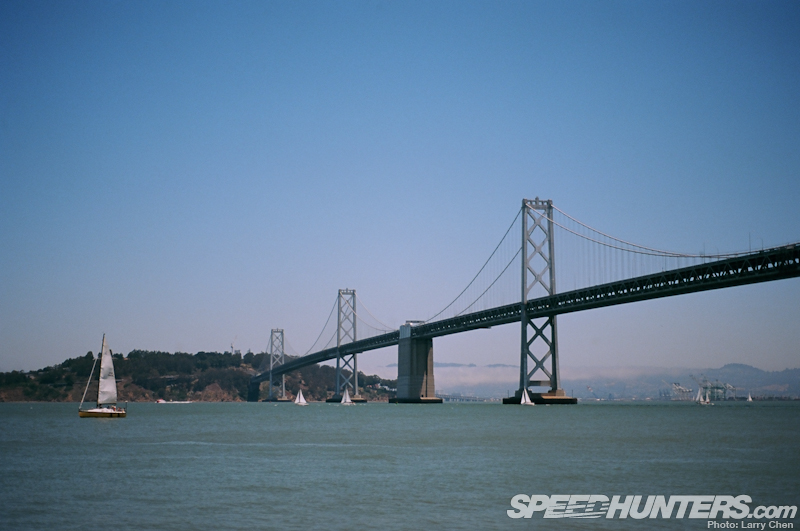 I've been to this city many times, but I was always in a rush. It was really nice to walk around without much of a plan.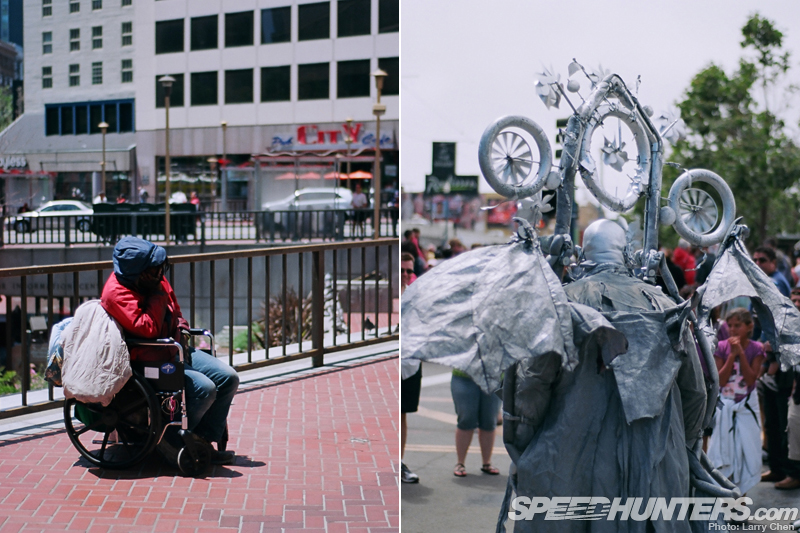 There are some very interesting characters lining these streets.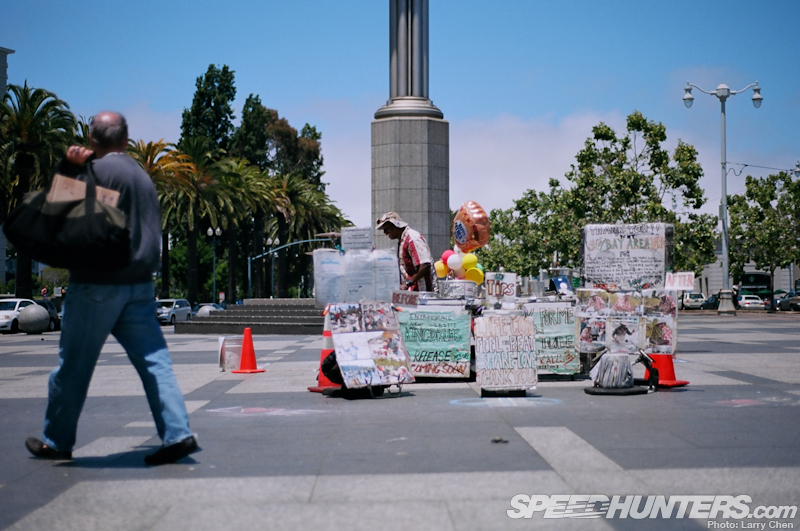 But you just can't beat the culture of this amazing place.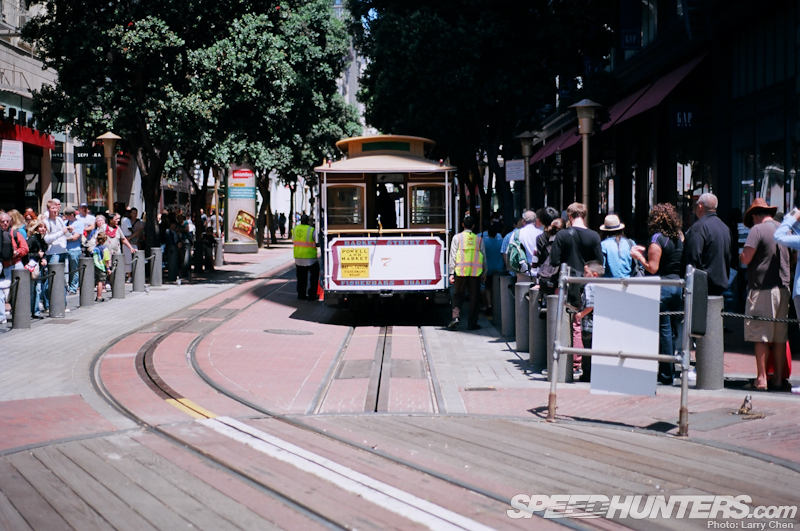 San Fransisco would not be the same without these 'moving landmarks.'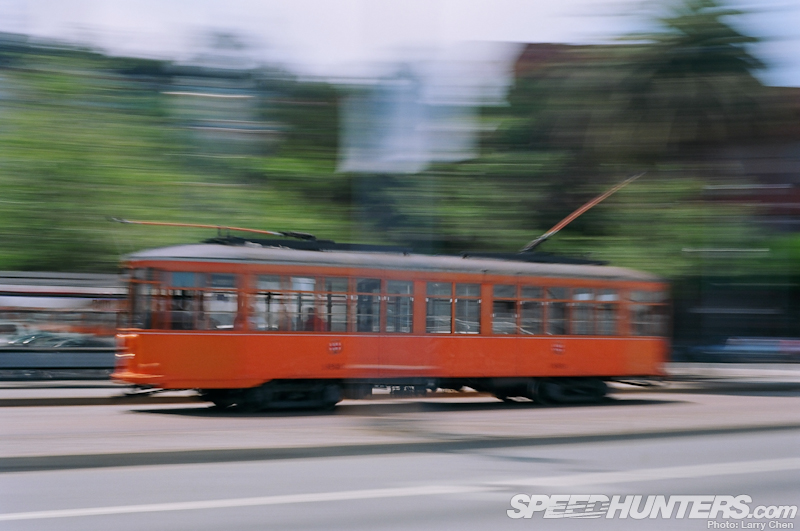 These train like things reminded me of the Toyko JR subway system from the way they sounded.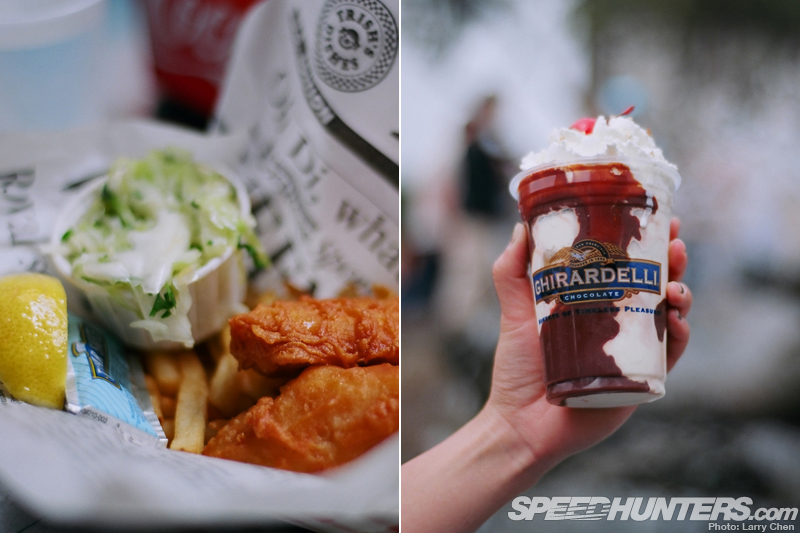 The last stop in this lovely city was Fishermans Wharf for some fish and chips as well as a nice sundae from Ghirardelli's factory store. Sadly this was the end of my journey in the Bay Area. It was time to head home.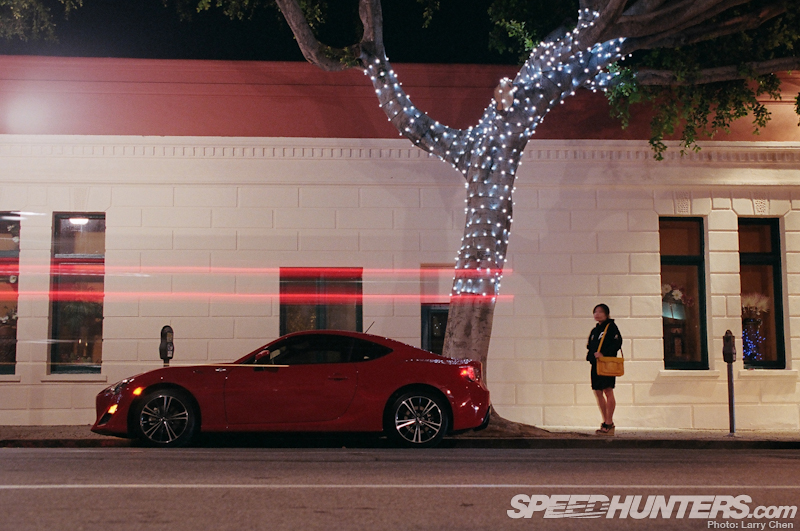 After a seven-hour drive we were back in Southern California. There is no place like home.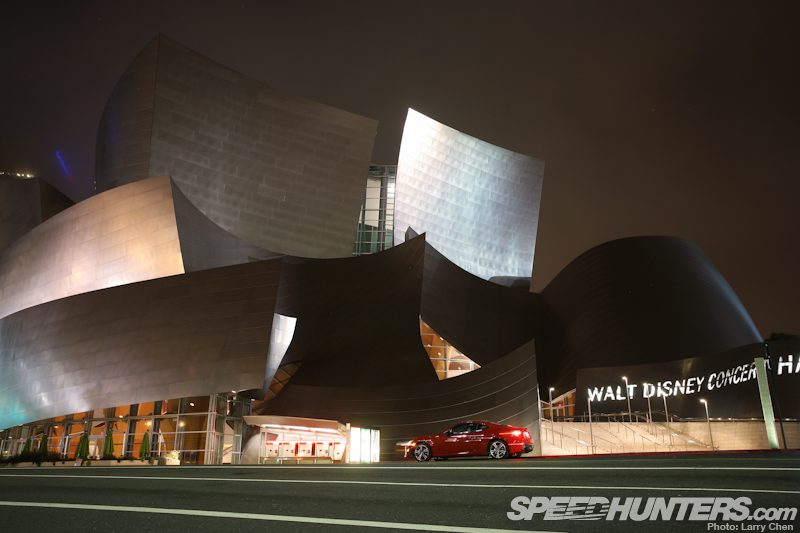 I had to return the car in the morning, so I decided to visit some last spots…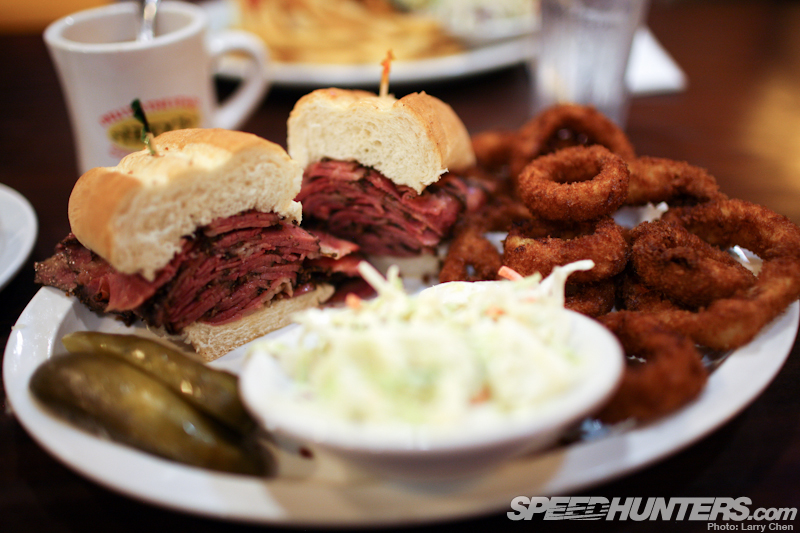 …as well as grab a late-night snack to end my wonderful food tour of California. Izzy's deli is another place I grew up on; it was down the street from my grade school. They have the best pastrami dip I've ever tasted.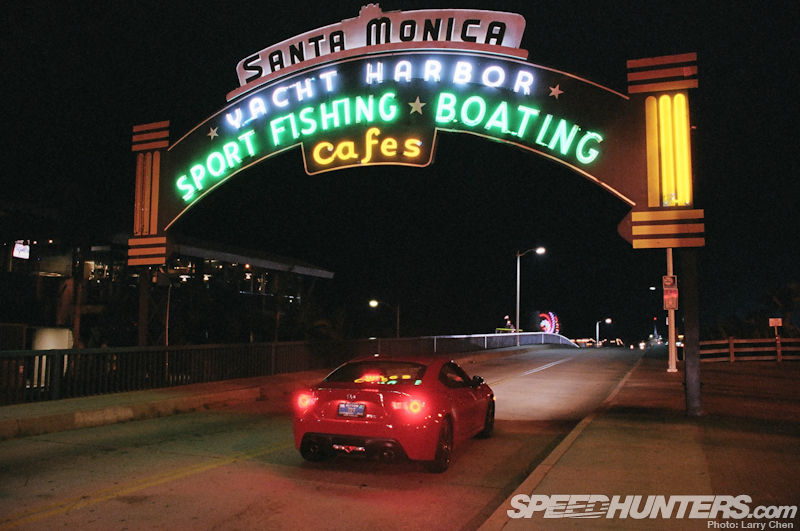 Fellow Speedhunter Linhbergh was rubbing in that he broke wind in the same car before I had a chance to drive it, but after three tanks of fuel and 1,000 miles I'd say I broke those seats in properly.  When we were on the highway people would speed up and slow down just to get a good look at this exotic-looking machine. The car was relatively stiff compared to your average economy car, but I had no discomfort whatsoever. On top of all that we averaged 33 miles per gallon for the entire trip, even factoring my lead foot. It was an absolute pleasure to drive and I can definitely see myself using it as a fun daily driver. You can check out the route I took here.
As for shooting in film… I think I've fallen in love once again with my Nikon FG. That is not to say I am going to abandon by Canon setup, but you never forget your first love.
Larry Chen
Larry@Speedhunters.com
More dream drive stories on Speedhunters
More stories from Larry Chen on Speedhunters
---
---
---
---
---