Out of all the various forms of motorsport drifting is by far the most visual. From the way the cars are modified, painted and styled to the actual driving itself, it is all about tickling your visual…not to mention aural and even olfactory senses! When it comes to entertainment on four wheels, there isn't much out there that can match it!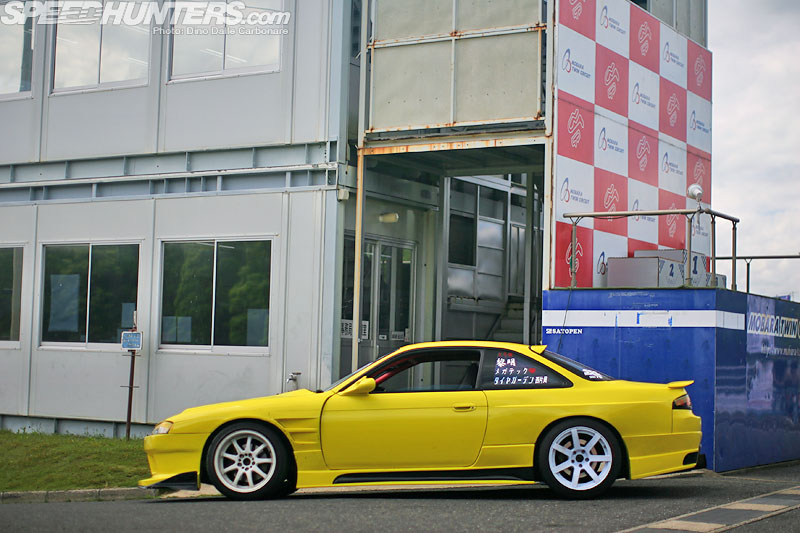 So let's begin with a walk through the paddock at Mobara to check out what kind of cars were present at this second round of the East Division.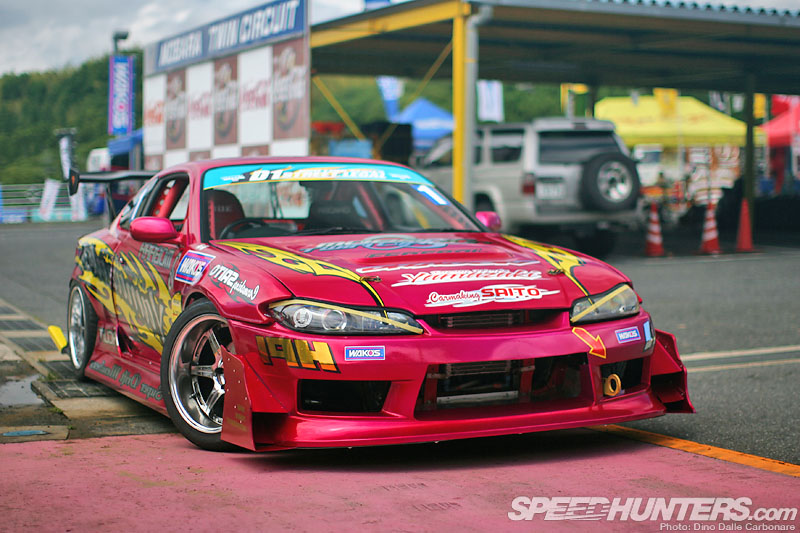 Yuuji Saito's widebody S15 built in collaboration with Garage Yamazaki is one mean machine, and one of the fiercest cars in the series. It may not boast massive power but it seems like a very agile machine on track. This season Saito has found his match…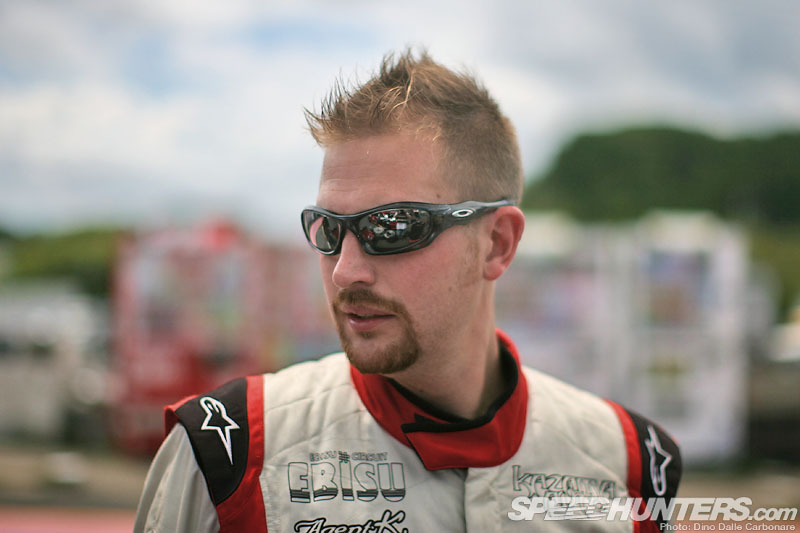 …Scotsman Andrew Gray that after years of drifting in Japan has stepped his game up and decided to go full out in the professional circuit.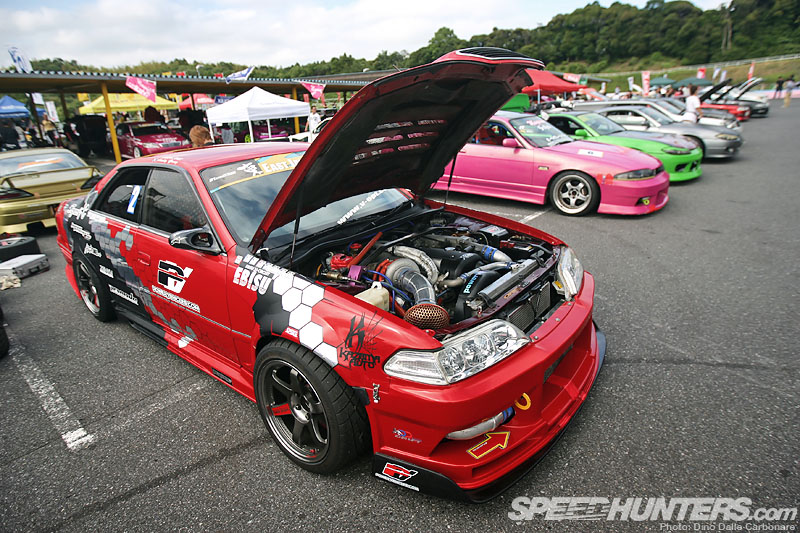 Andy's weapon of choice is his JZX100, which has over the years been evolving into the car you see here. Powering it is a 1.5JZ with an HKS T04Z sitting right by its side, all good for about 500 HP. Andy has just fitted new Hey Man extended front lower arms to help pump the front TE37SL right out of the wide fenders. Andy has even needed to cut off a bit off the bumper so the tires don't catch on full lock. This is all needed so he can do…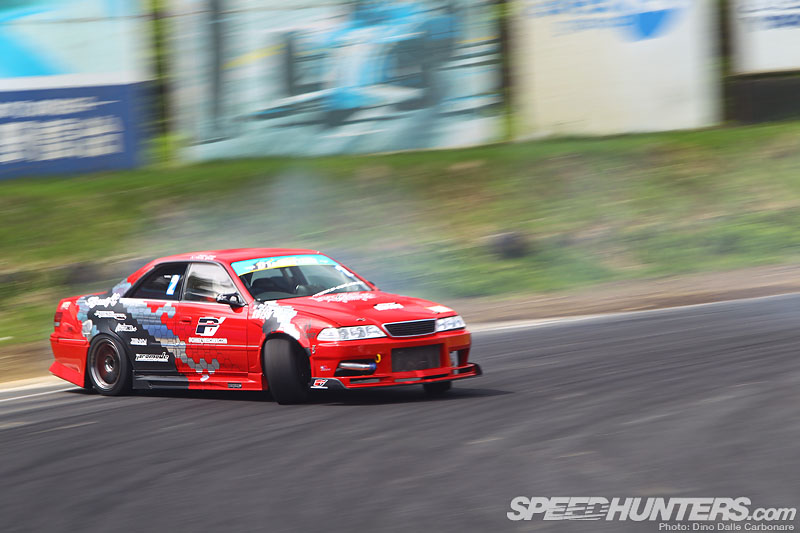 …this sort of thing out on track! Andy managed to qualify second on Sunday, in-between Naoki Ootani who managed to snap up first place…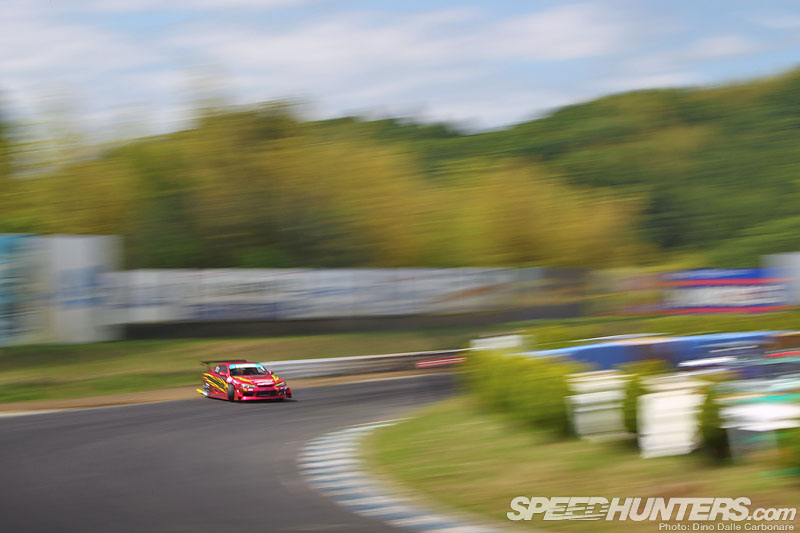 …and Sato who ended up in third place.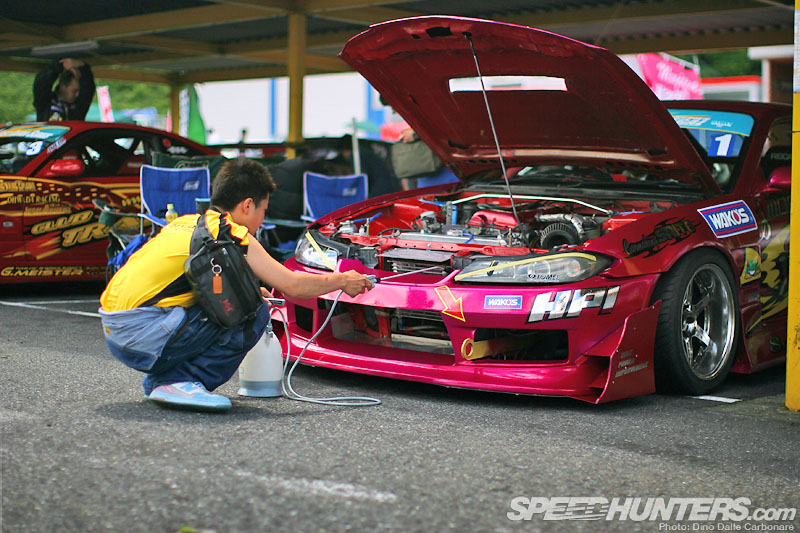 The warm day meant that drivers had to take special care of cooling, making sure the cars cooled down out on track before pitting, and then in the pits to avoid too much heat soak. Here is one of Saito's buddies spraying some water on the intercooler and radiator.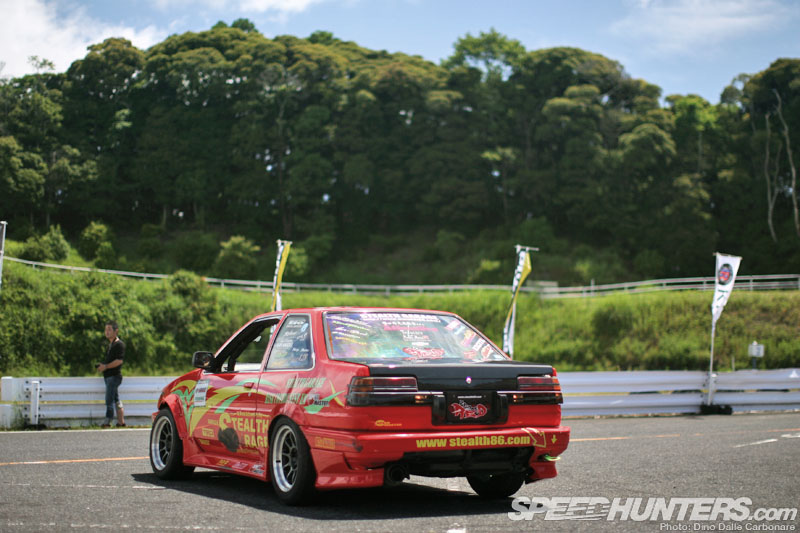 Walking through the pits I came across Daisuke Fukuda and his Stealth with Team Red AE86 Levin…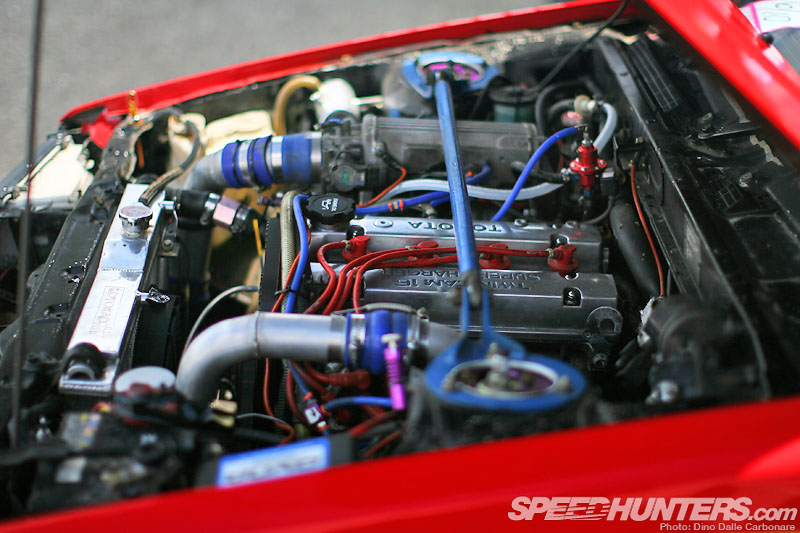 …and I just had to have a quick nose around in his engine bay. The little turbocharged 4AG seems to have plenty of puff to maintain a decent drift and angle around the long judged corner at Mobara, a turn that catches out a lot of naturally aspirated cars.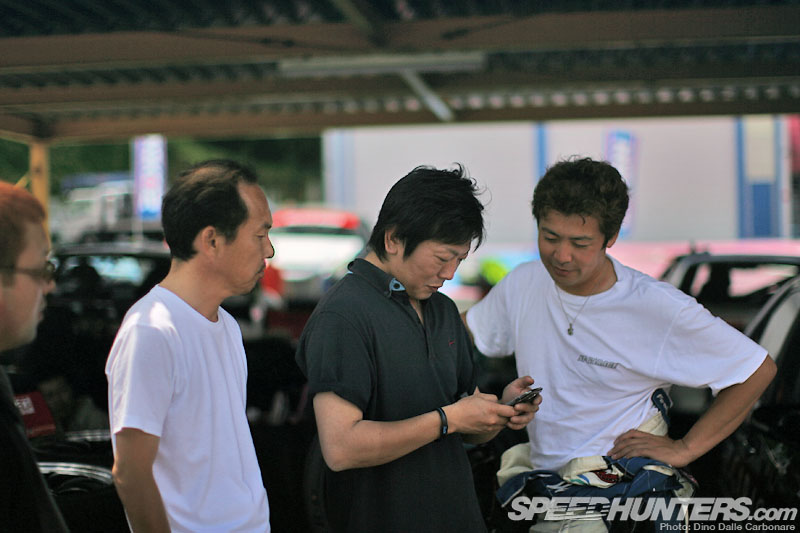 This is something you see all around the pits during the practice sessions. Drivers have friends, girlfriends, wives or whoever is available film them while doing their thing out on track. When back in the pits they take a look at their performance and think of ways they can improve their styles.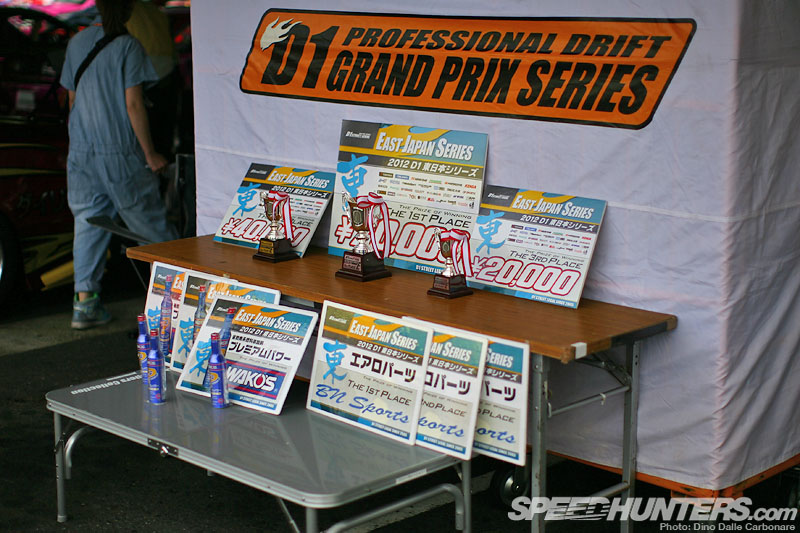 On one side of the pits the trophies and prize boards were already neatly laid out on display…a sort of incentive for the drivers I guess!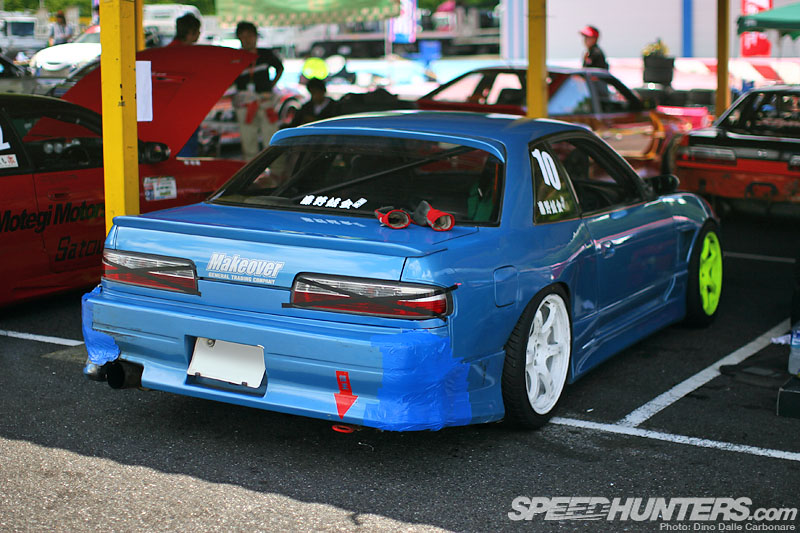 Teruo Hamakawa's Makeover S13 was looking a little beat up, but nothing a bit of color-matched tape can't disguise!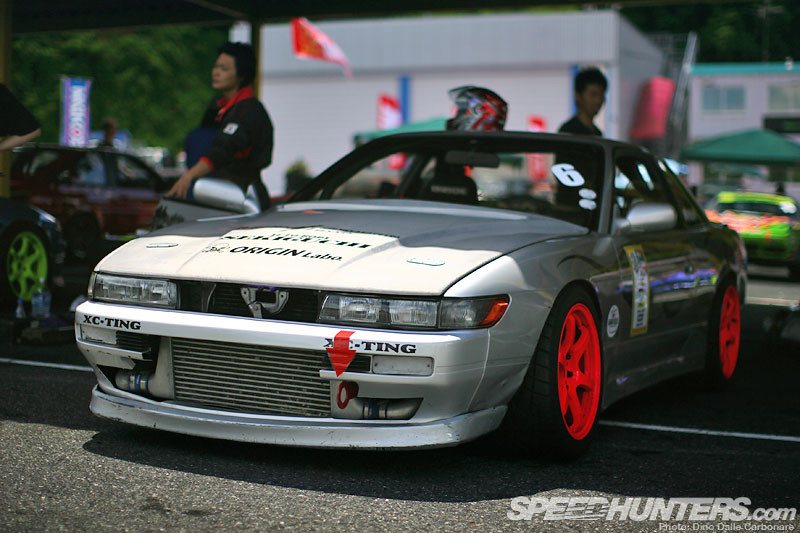 And talking of S13s, which as I'm sure you know by now I am quite partial to, it is always Mikihito Kawamura's Origin Labo Silvia which I like watching out in action…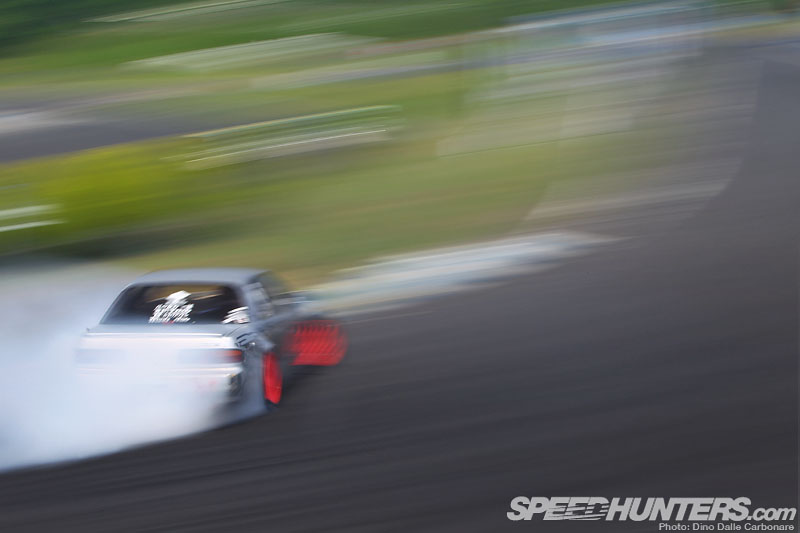 …as he sure knows how to get some awesome angles with it.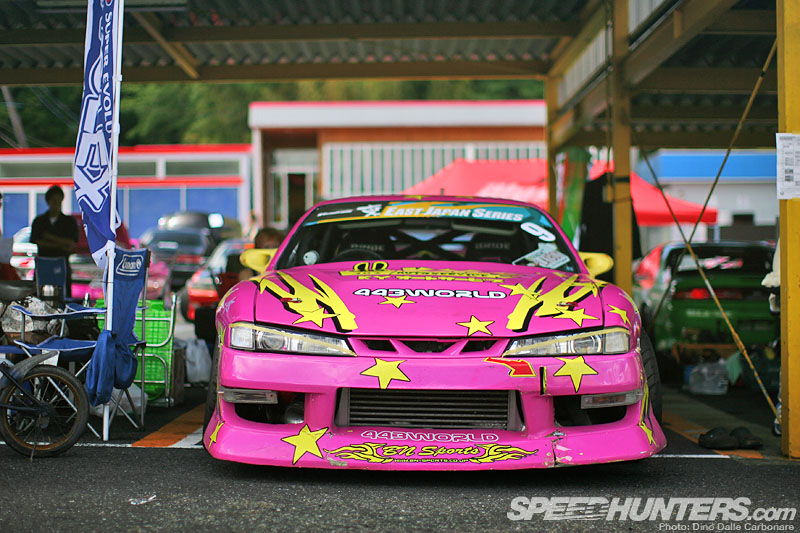 Sadaki Okamura's KY Auto Service is pretty hard not to miss either!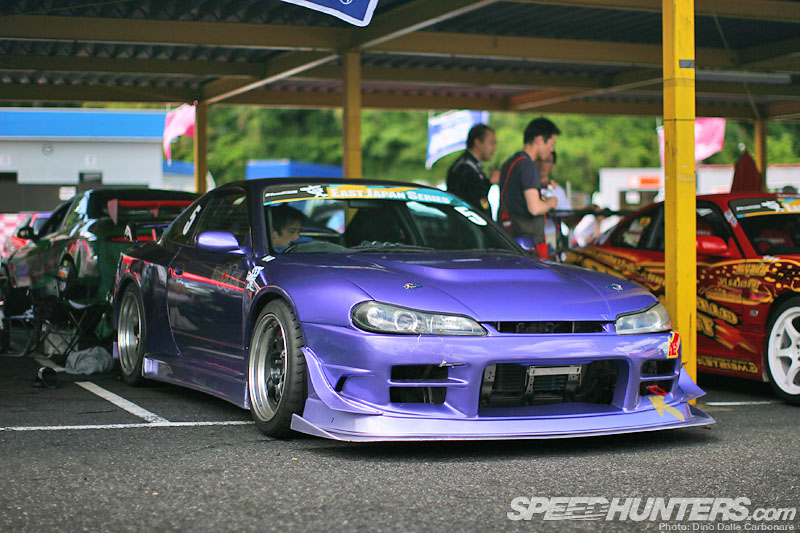 Atsushi Tarumi was just parking his S15 when I grabbed this shot…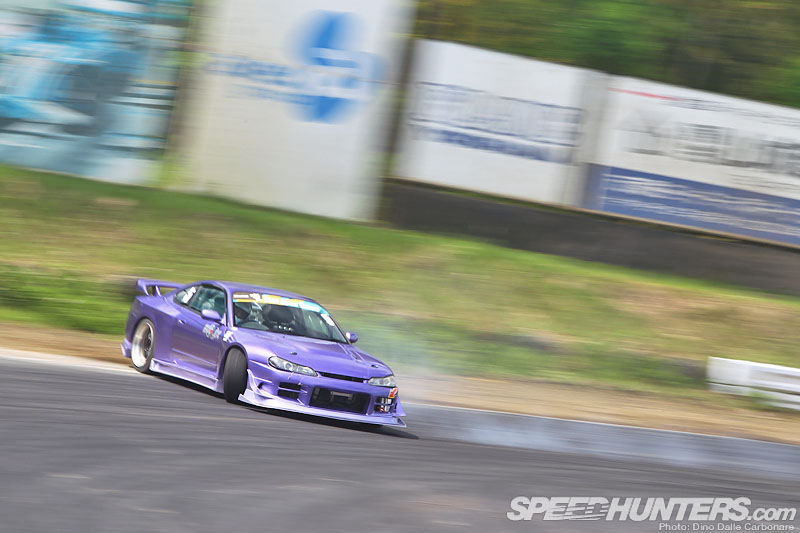 …having just come back from his final practice session of the day. The judges are always looking for a wide entrance into the corner at Mobara, before drivers get hard on the power to carry speed through and exit in style with tons of smoke. There were a lot of spins as drivers overdid it on the entrance, but only one real big crash, Mori-san of Auto Service Mori, pretty much wrecking his S14 Silvia on his first outing of the day.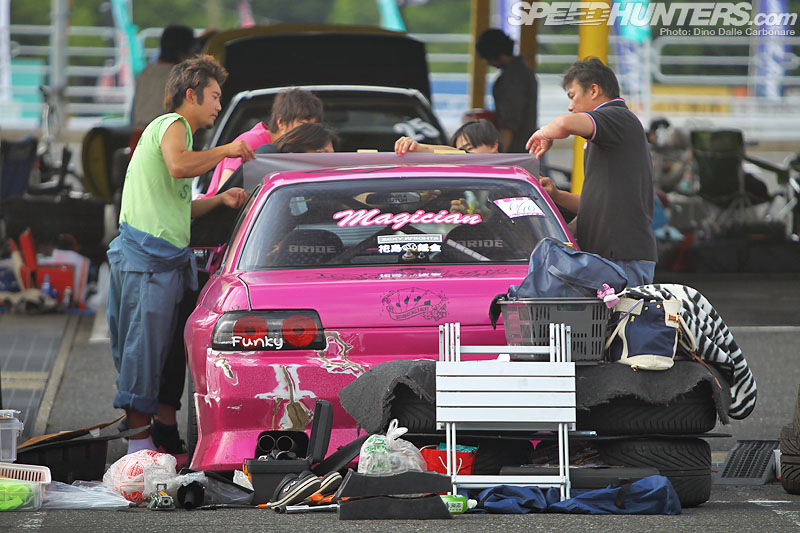 Ok so we have been looking at too many Silvias, so here are a few Skyline to balance things out a little! First the Team Magician HCR32 of Hiroshi Morikawa…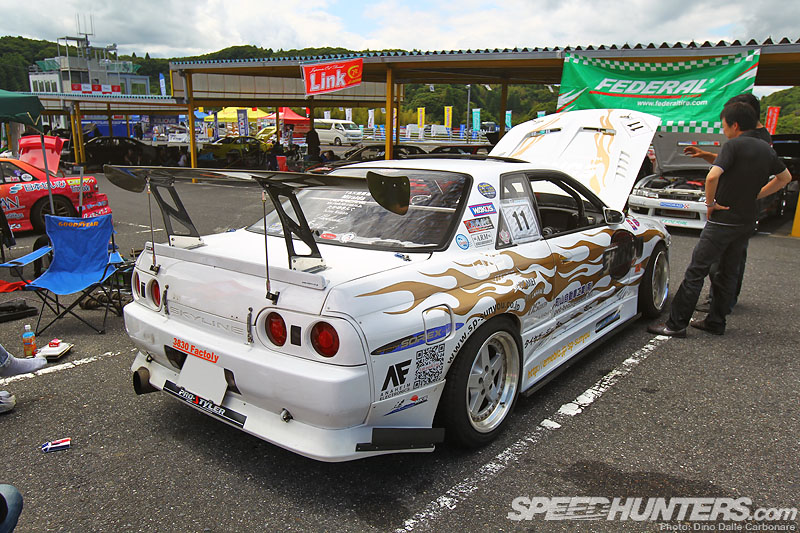 …and then Takayuki Miyazawa's HCR32…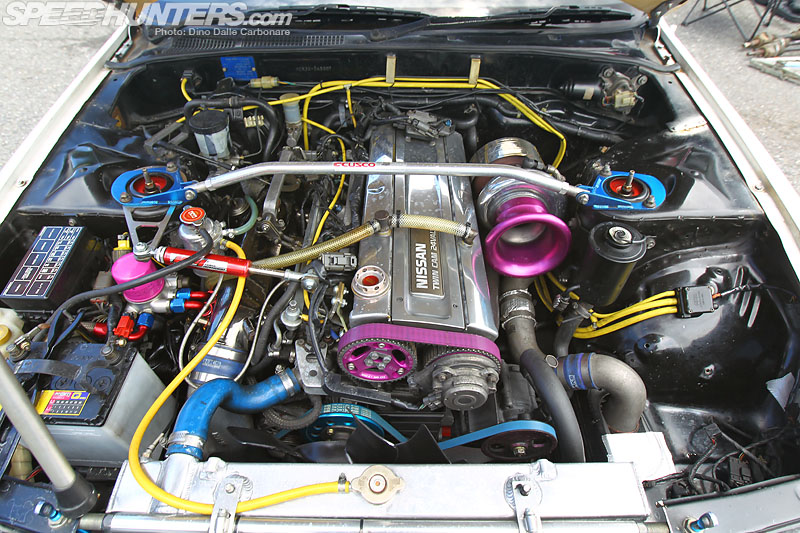 …which was obviously packing some serious power judging by all the nice and shiny things going on in the engine bay! This car was entered in the License Trial group…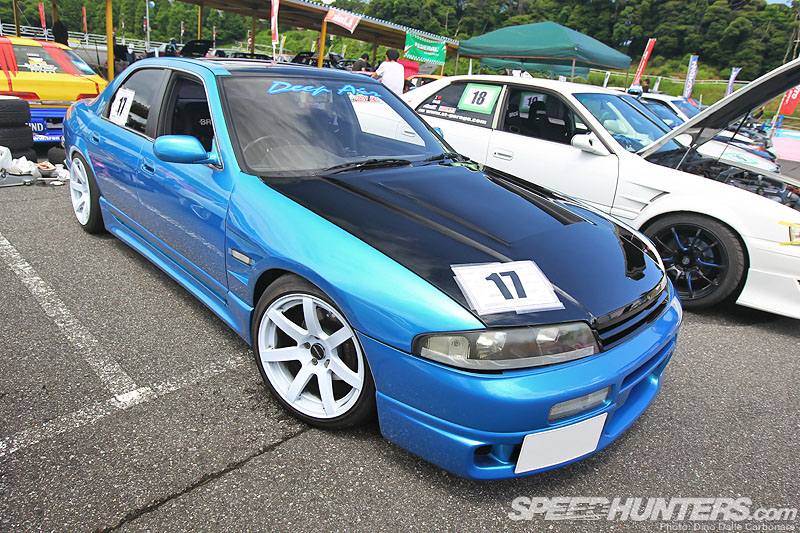 …for those attempting to qualify for a D1 license.  Takero Hayashi was also doing his best  in his spotless Deep Air ECR33 4-door to score points of that coveted license everyone wants so bad.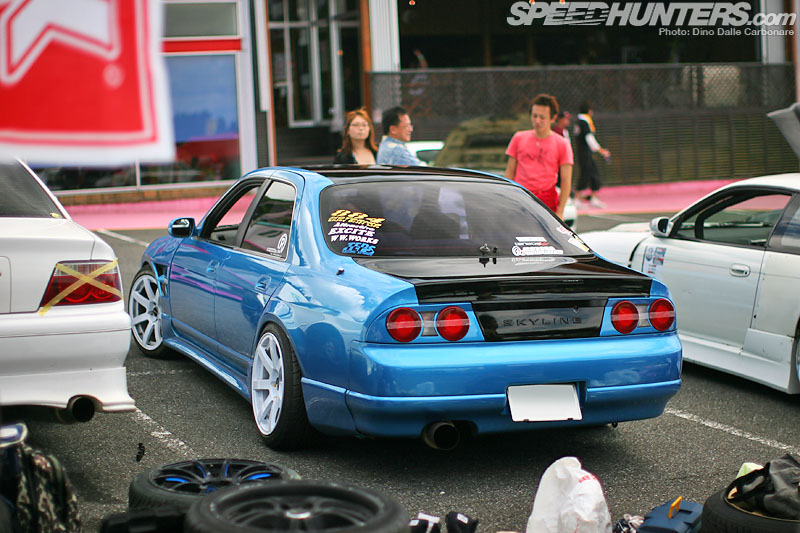 Check out those pumped rear fenders!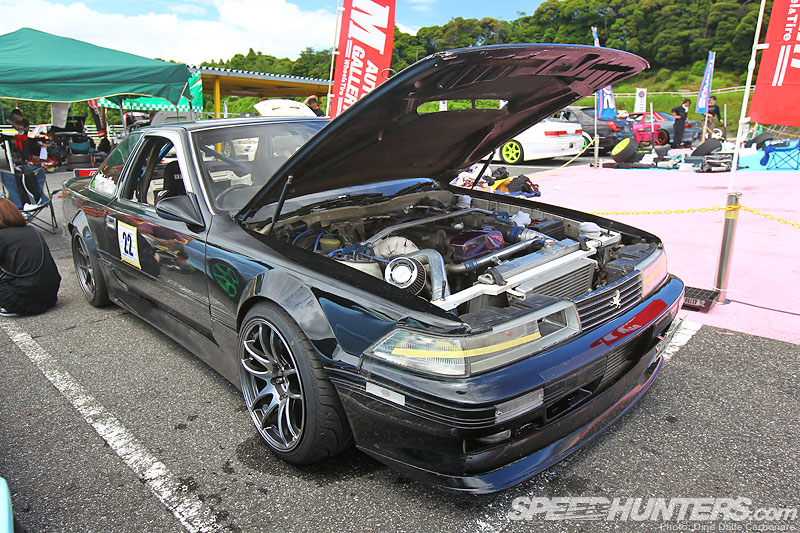 There were plenty of big Toyota sedans and coupes to feast one's eyes on, like Kazuyuki Sawada's Z21 Soarer.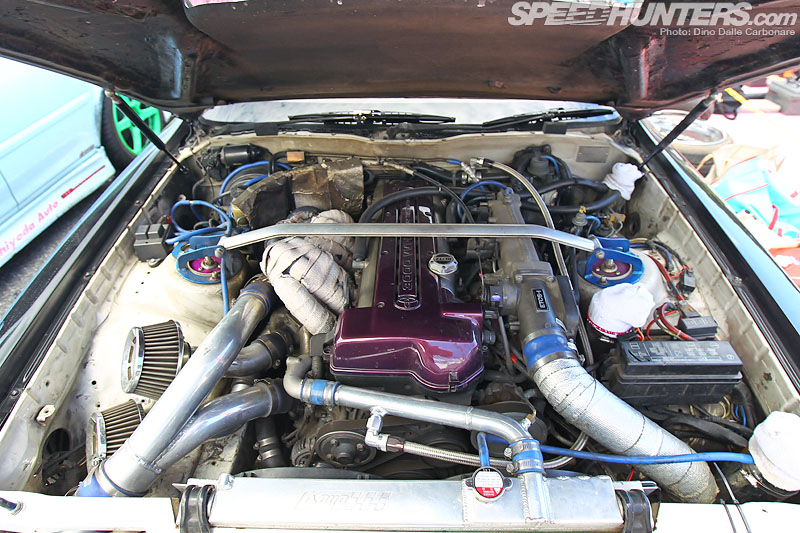 It sported a 2JZ swap and a few minor modifications needed to boost power slightly.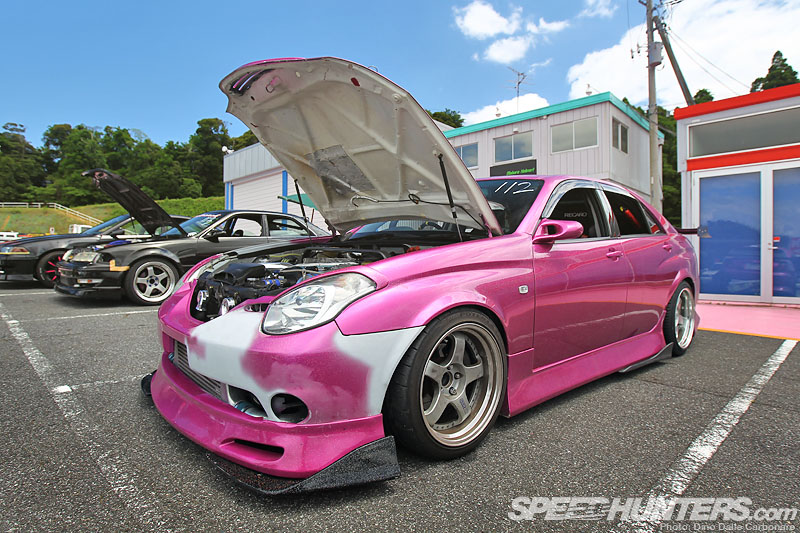 Chiba-ken is the home of Team Magician so it's not surprising that so many cars were entered in the event. This JZX110 Verossa was driven by Kenichi Nakamura…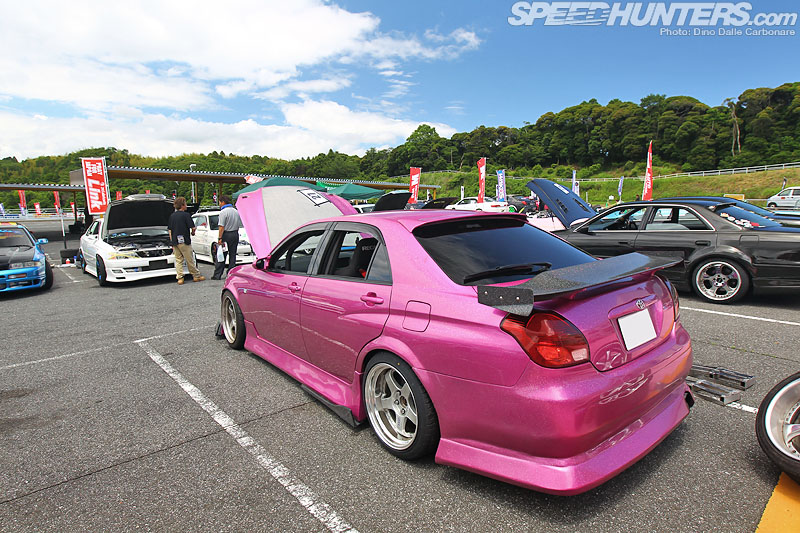 …another driver there to gain points for his license. Checkout the wild aero an all the carbon fiber additions!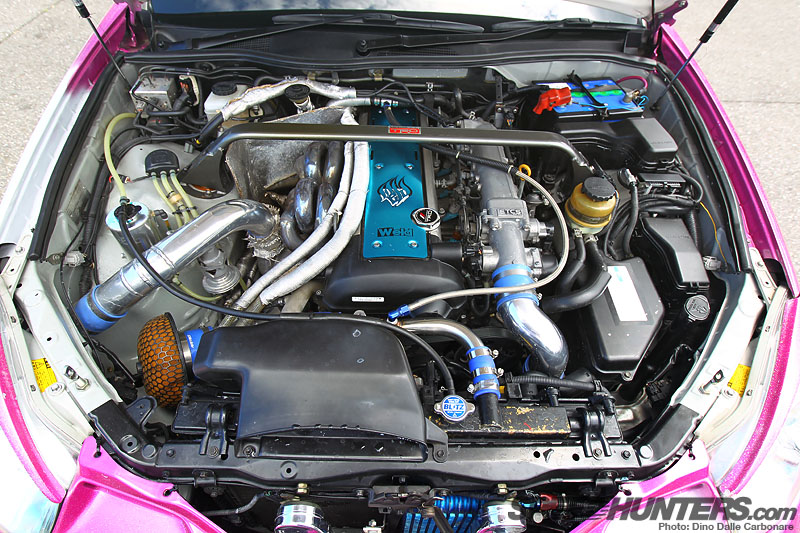 Under the hood the 1JZ was lightly tuned with some equal length exhaust manifolds and an upgraded turbo.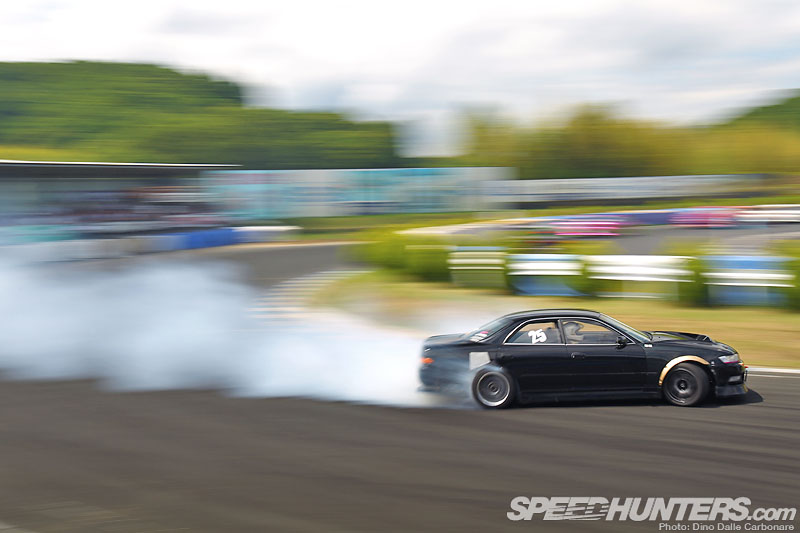 Masafumi Watanabe's JZX90 burning some rubber!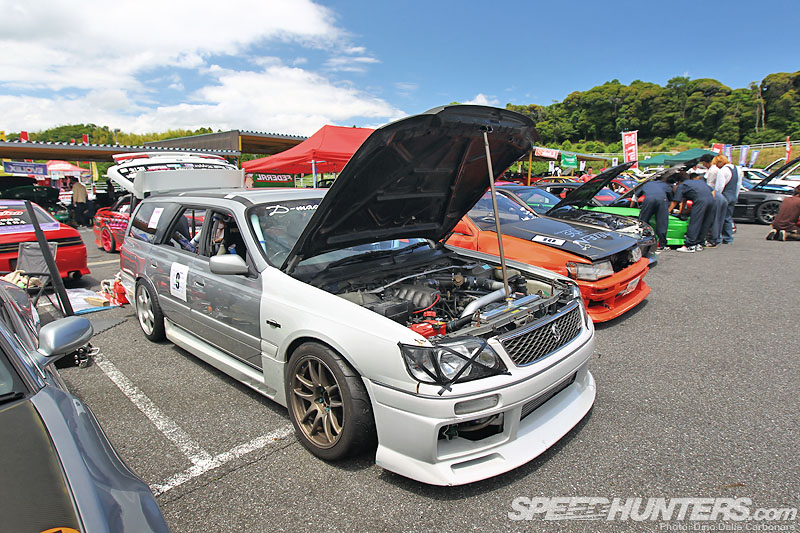 And of course there are always those that prefer to do it differently, like Kenta Iwade piloting his massive D-Magic Racing WGC34 Stagea.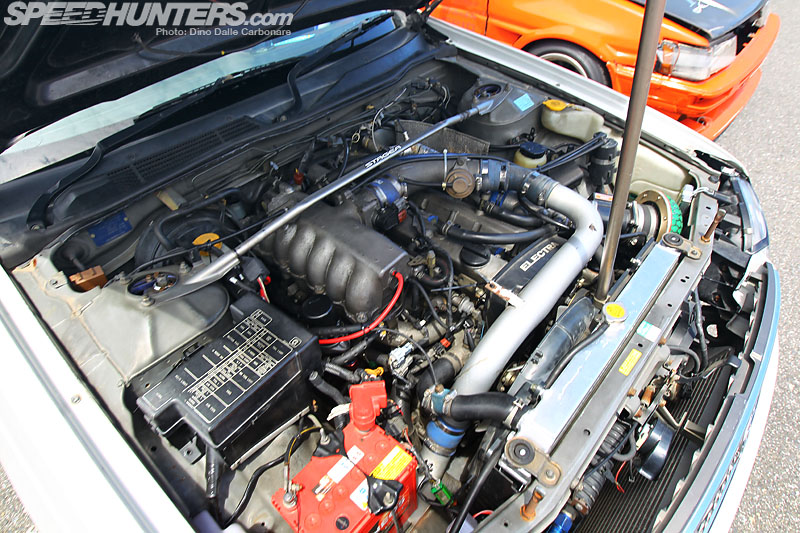 RB25 power of course.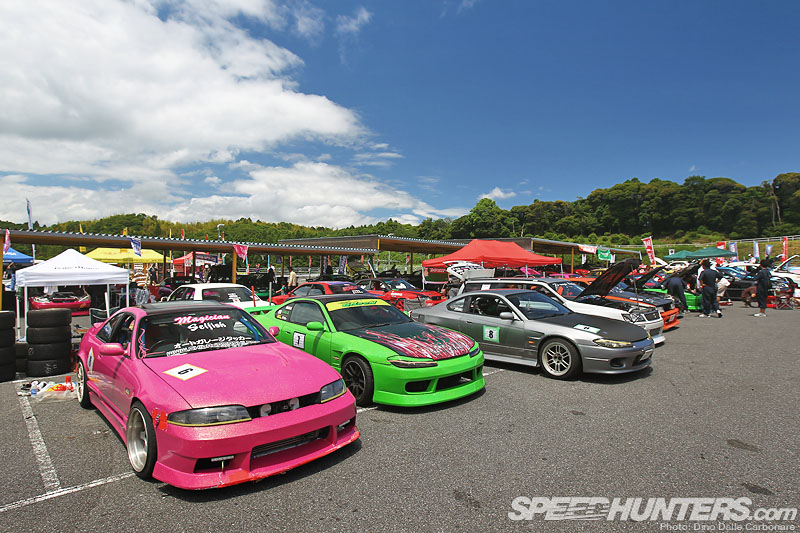 You can expect to see more cars and of course much more action in the second part of the coverage from this D1-SL round…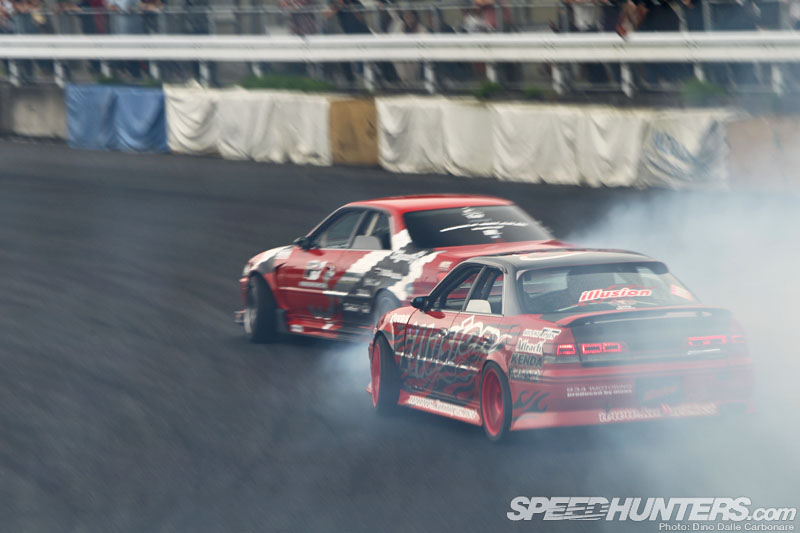 …as we take a closer look at the tsuiso battles that went down on the day! Stay tuned for more smoke-filled action from Mobara.
D1 Street Legal official website
D1 2012 coverage on Speedhunters
-Dino Dalle Carbonare