For guys like Ken Block the internet has become a bit of a double edged sword. On one hand it's the place where a string of well-executed video clips have helped make him the global sensation he is, and opened the doors to new adventures. On the other hand – and for reasons that escape me – it's the place where he's the become (underserving) recipient of more than his fair share of "e-hate". Some say he can't drive. Others say he's in "it" for the wrong reasons. While everyone's entitled to their own opinion, in my mind sentiments like that are pretty hard to substantiate.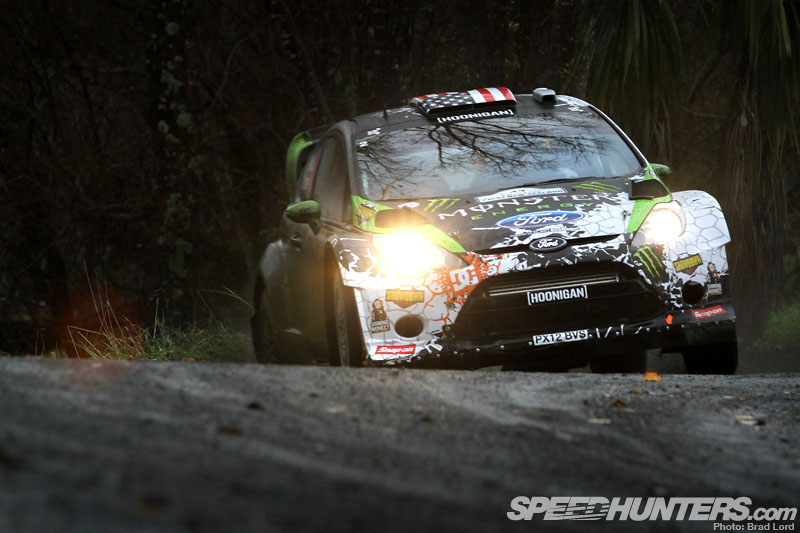 I interviewed Ken in New Zealand in 2008. Back then he was leasing a Group N Subaru Impreza WRX STI off a local rally team and set to compete in his first ever Rally New Zealand event. It was pre-Gymkhana Practice days, and not many people – including myself – knew who he was. Of course, that's all changed now. Find someone who doesn't know who Ken Block is. What hasn't changed is his disposition towards doing something he is truly passionate about – rallying. I quickly discovered that after spending a few days with him and the Monster World Rally Team (MWRT) at last week's Brother Rally New Zealand. This is how things panned out…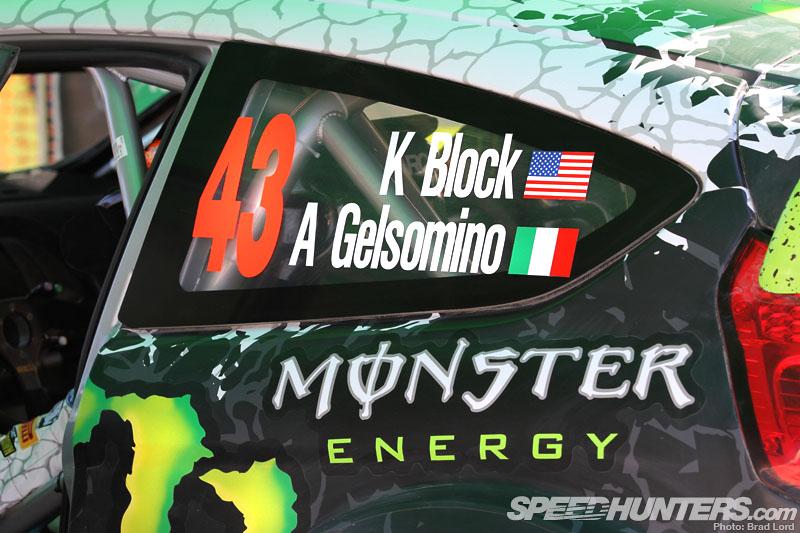 Ken first competed in select rounds of the WRC with long-time co-driver Alex Gelsomino back in 2010. He caught more rounds in 2011, but this year decided to scale things back to focus on other aspects of what is essentially a newfound career. With a full season of Global Rally Cross on the agenda, plus US and Canadian rally events, plus a Gymkhana World Tour, it's quite likely that he spends more time in his race suit than not!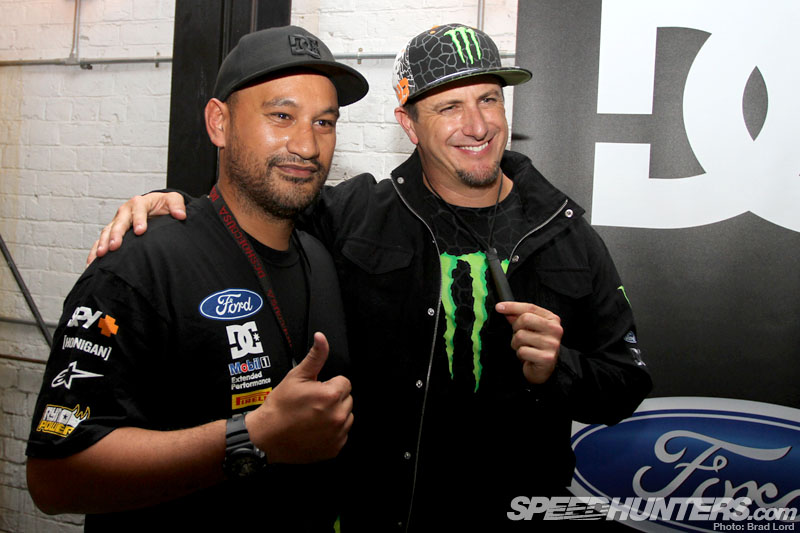 Having the motorsport identity in New Zealand during one of this three WRC stops this year was bit of treat for local fans. I can say that he was pretty humbled by the reception too, especially when he was gifted this traditional Maori pendant at a pre-event party. This handcrafted 'toki' is a tribal symbol of strength.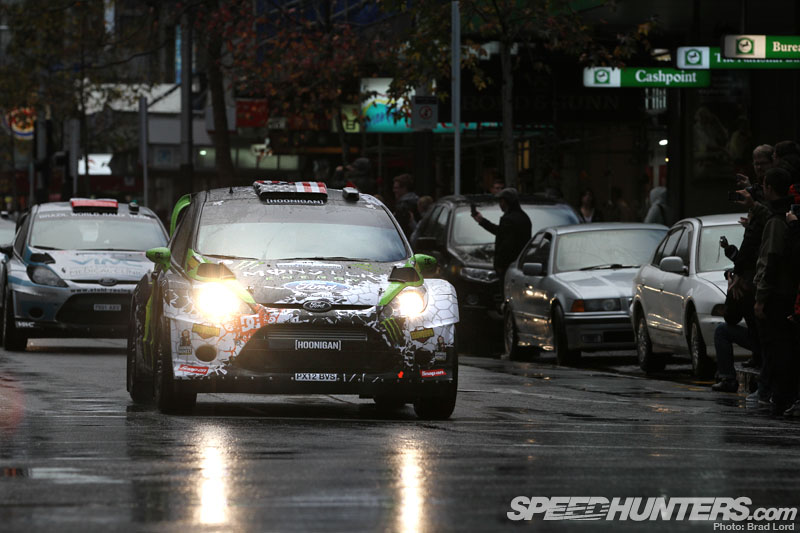 There was no shortage of people out to catch a fleeting glimpse of the the man and his machine as he drove his car through downtown Auckland with the rest of the Brother Rally New Zealand field before the event's official start. I'm pretty sure I know what would have been going through Ken's mind when he got to the end of Queen Street and was greeted with a huge, empty intersection surrounded by onlookers! But he managed to restrain his inner Hoonigan…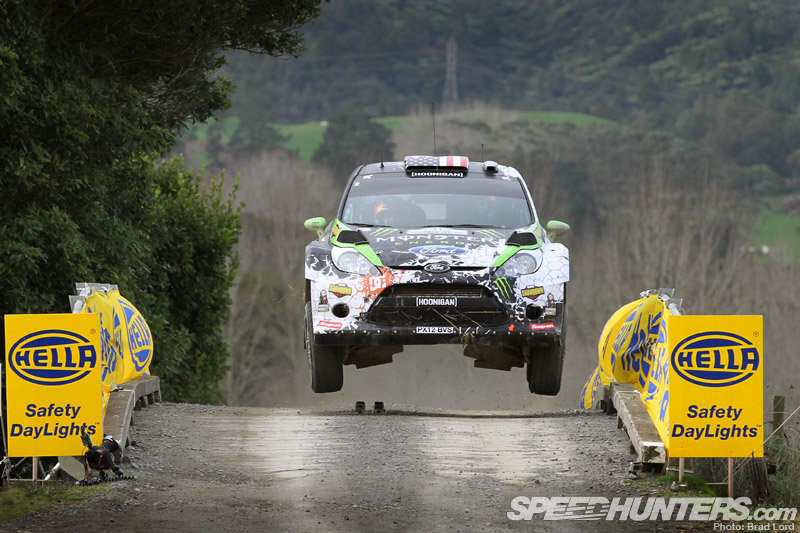 …At least until the Special Stages started anyway!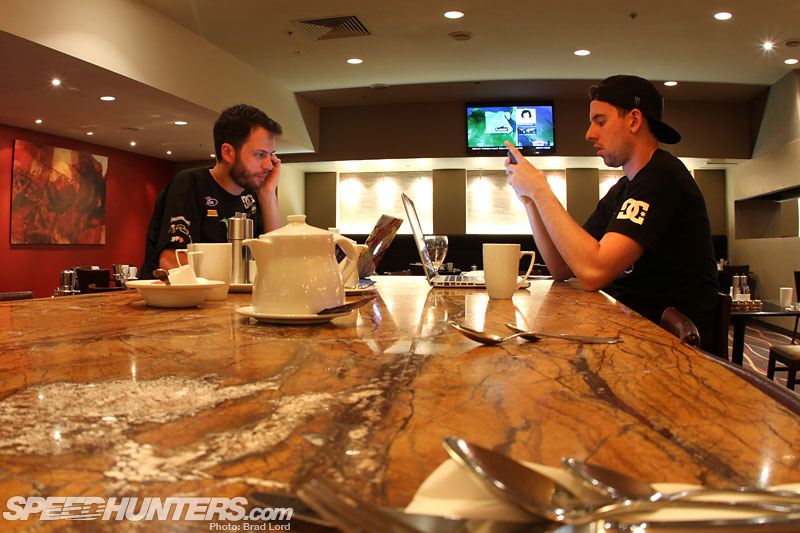 This is how most mornings started out – a 5am breakfast in the hotel lobby. After Ken and Alex had left for Parc Ferme, Ken's behind-the-scenes-guys, Matt and Ron, got as much of their day-to-day work out of the way as possible before we all jumped in the MWRT Ford Explorer and hit the road for the day. Due to the difference in time zones between New Zealand and the USA, I don't think they managed to get much sleep each night, but it's a small price to pay for what must be a pretty cool job!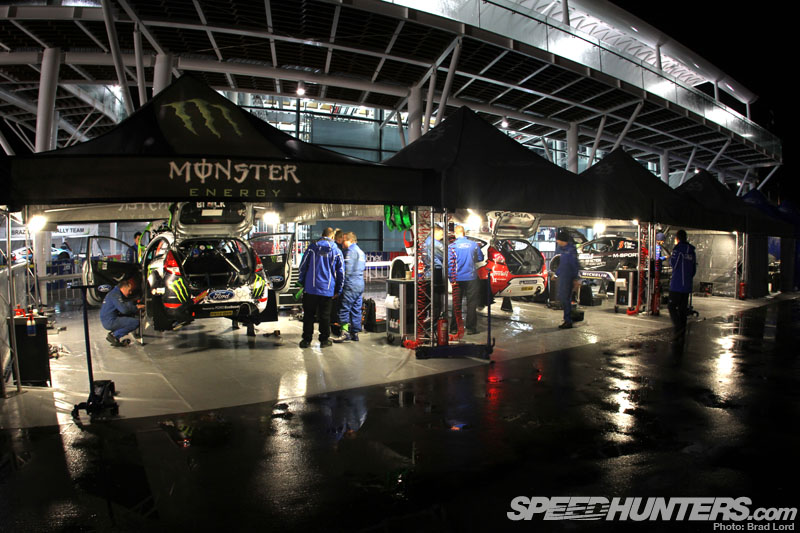 Down at Rally HQ the M-Sport mechanics were doing their final prep work for the day ahead. In all, M-Sport was looking after five cars at Rally New Zealand – the two factory-backed Works cars of Petter Solberg and Jari-Matti Latvala, and the three semi-Works entries pictured here. From left to right there's Ken's Monster World Rally Team car, and Evgeny Novikov's and Ott Tanak's M-Sport World Rally Team entered cars.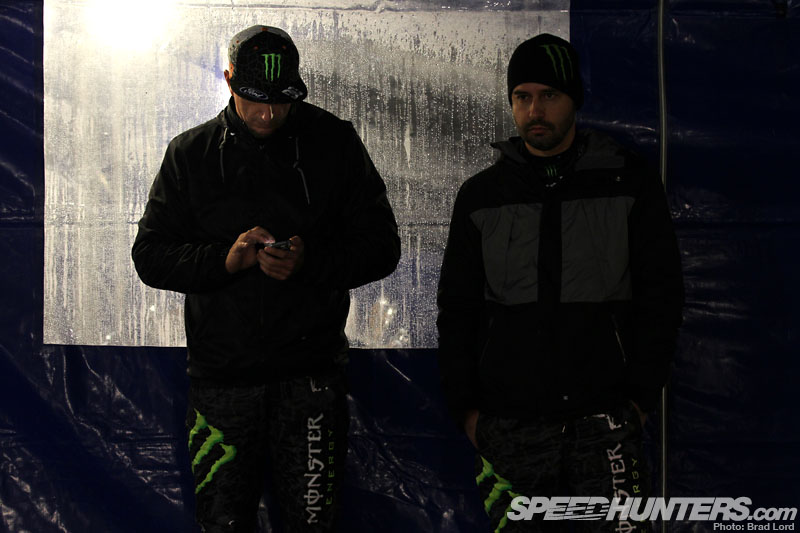 While the service crews did their thing, the drivers and co-drivers relaxed in and around Ford's cafeteria before getting into the cars for the better part of 12 hours every day. There's a pretty good chance Ken's working on one of his regular Instagram uploads in this photo. #kblock43 in case you didn't already know…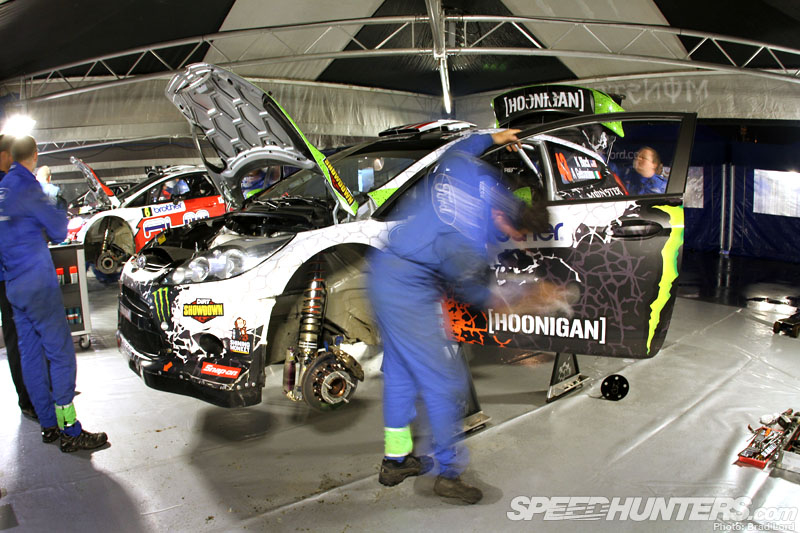 Originally derived from the Ford Fiesta S2000, all Fiesta RS WRC cars are built to the same specification at M-Sport's facility in the UK.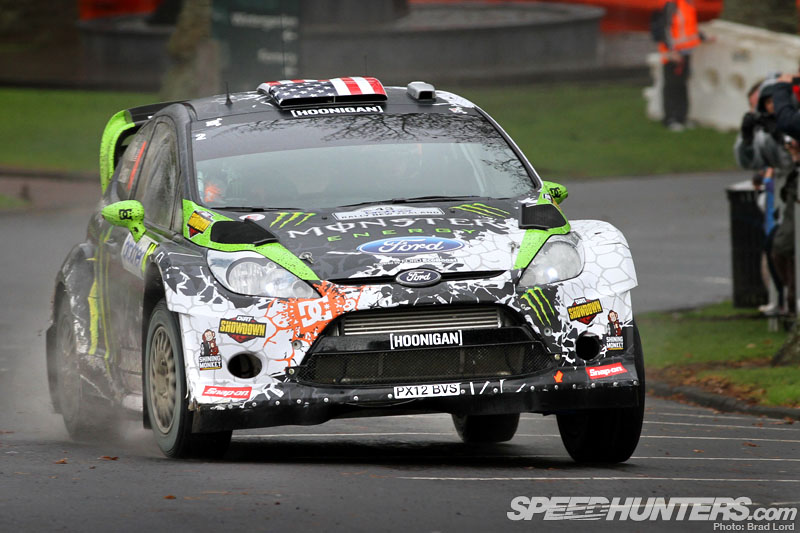 Under the hood is a Ford EcoBoost 1.6-liter four-cylinder unit with direct injection that was co-developed by Ford Motorsport, M-Sport and French tuner, Pipo Moteurs. Even with an FIA-spec 34mm restrictor a mandatory fitment onthe turbo inlet, the small engine make impressive numbers when tuned through its Cosworth engine management system: 300hp at 6,000rpm, and 332lb-ft (450Nm) at 4,000rpm.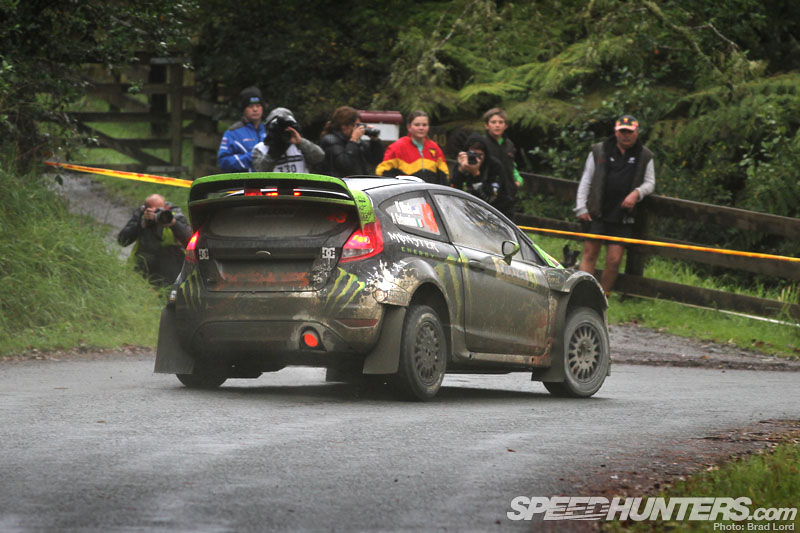 That orange glow in the exhaust is not a flame about to erupt from within, but heat from the rear-mounted catalytic convertor. All WRC cars are required to run a cat, but whereabouts it's positioned throughout the exhaust system is free for interpretation. Obviously there's some merit in fitting it at the end of the pipe. At the finish of this 7.3-kilometer (4.5-mile) competitive Special Stage Ken had his running pretty hot!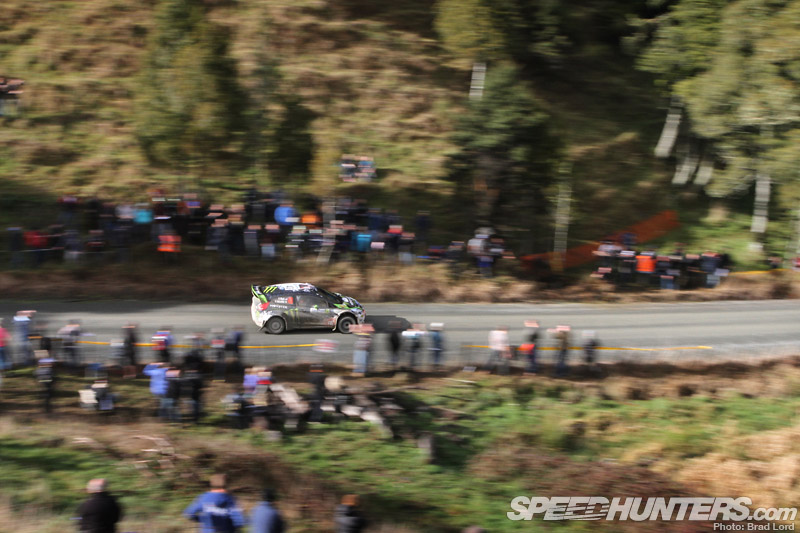 To make the utmost of the engine output and get it to the ground as efficiently as possible within the regulation the Fiesta RS WRC runs an M-Sport/X-Trac six-speed sequential transmission and AP Racing twin-plate clutch. Unlike the previous generation of WRC machines, new cost-saving rules introduced by the FIA last year to cut costs and lure new manufacturers to the championship, mean that gear selection is made through a mechanical lever rather than steering wheel mounted paddles. Expensive electronically controlled differentials were also dropped in favor of basic mechanical units.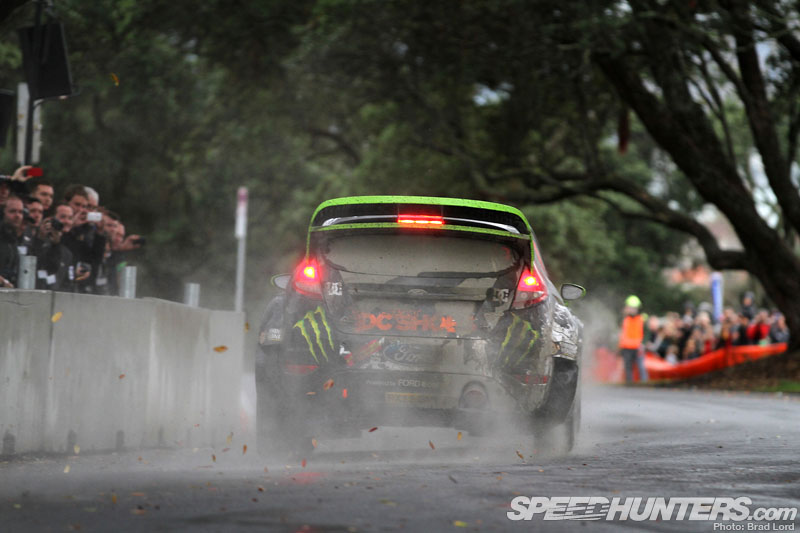 Suspension-wise the Fiesta RS WRC uses Reiger bump and rebound adjustable dampers fitted with external reservoirs, adjustable steel links and adjustable anti-roll bars. In the brake department 300mm (11.8″) Brembo ventilated discs and Brembo 4-pot callipers feature front and rear. Of course there's front/rear bias adjustment and an hydraulic e-brake lever that we all know Ken is no stranger to!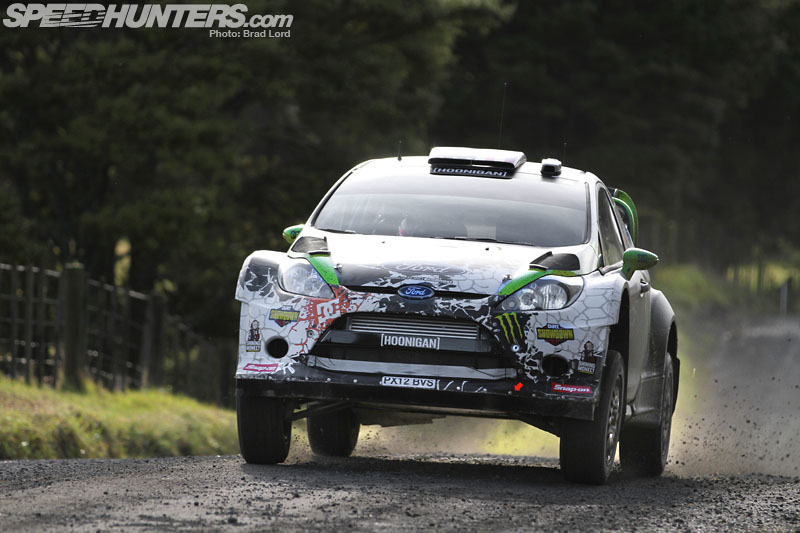 How the car is set up, though, is something that's left up to the driver and team engineer…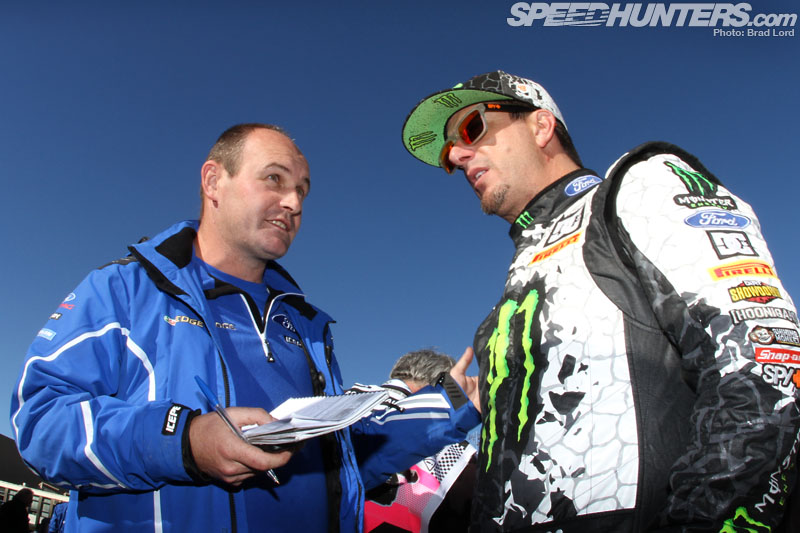 And here's Ken chatting with that very man: Scooter. Each team running under M-Sport is assigned a engineer at the beginning of the season, and with years of WRC experience under his belt, Scooter knows the Fiesta inside and out. He's also the guy largely responsible for the development of Ken's H.F.H.V. (aka Hybrid Function Hoon Vehicle), which featured in Gymkhana 4 and the soon-to-be-released Gymkhana 5. Although that car is based around a current M-Sport-derived Ford Fiesta RS WRC chassis, it uses an un-restricted (read: 650hp) version of the 2.0-liter turbo four that powered the now-defunct Focus RS WRC. It's not hard to understand why Ken refers to the H.F.H.V. as a modern-day interpretation of  a Group B rally car…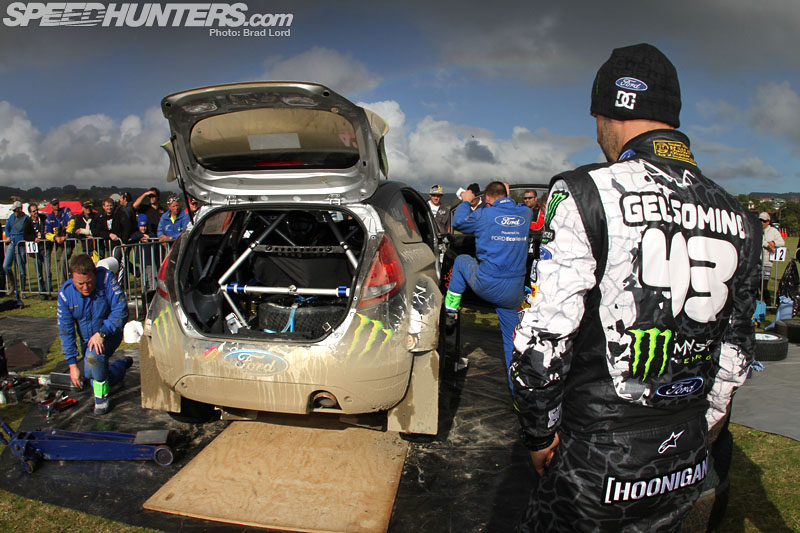 Servicing is high pressure, but it's truly amazing how much these guys can get done in a very small window of time – especially if a car comes in damaged. But there were no such problems for Ken at Rally New Zealand 2012…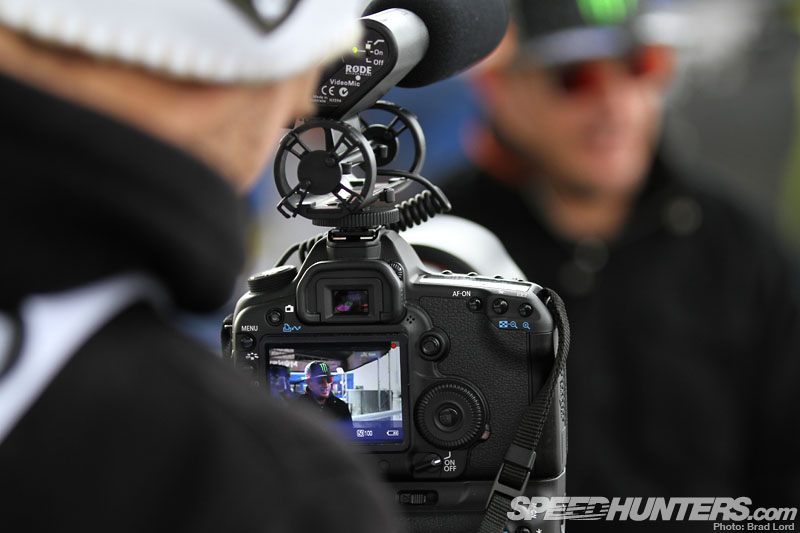 Of course, in between it all Ken was the subject of much media interest. Here he's giving an interview to WRC TV about how he went from co-founding of one of the world's most popular footwear and streetwear labels, to competing in the ultimate echelon of rally sport. It's a tale he's told many times now…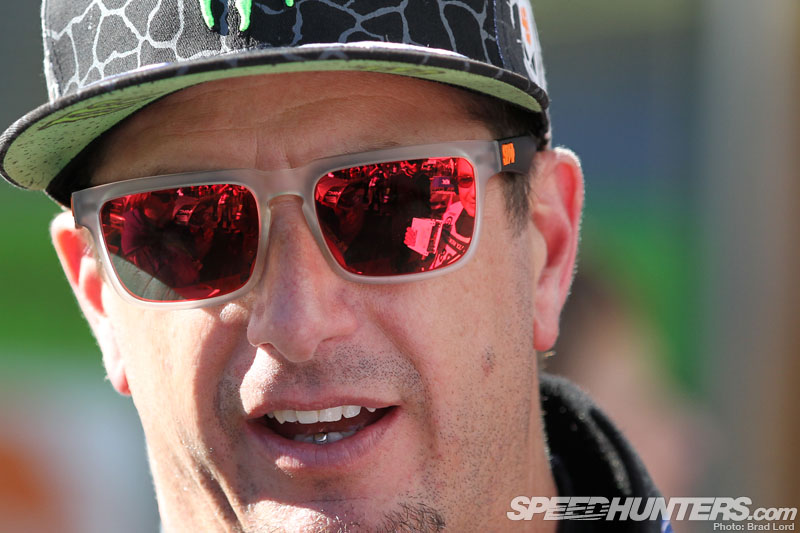 … but it comes with the territory. Ken is an interesting figure in rallying, not only because he's the only current American in the WRC, but also because he's one of the least experienced drivers, with only seven years of rally experience behind him.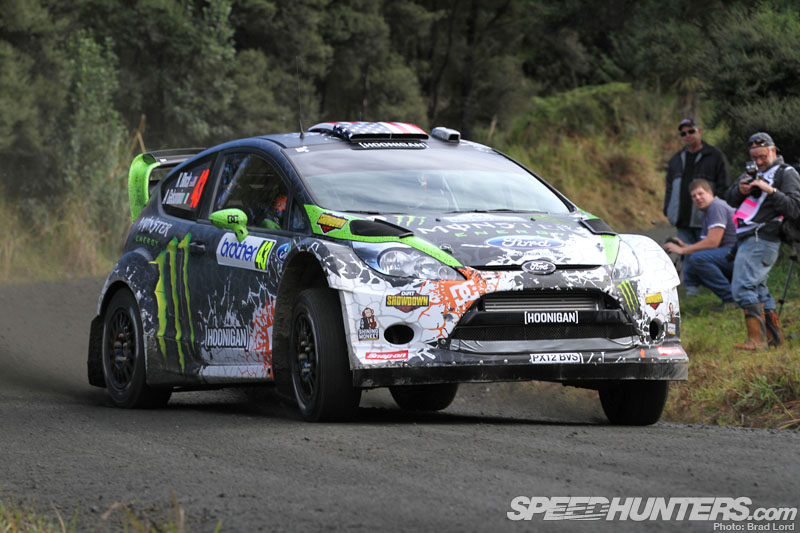 That said, Ken's on Special Stage performance during the event was impressive. During the shakedown and qualifying session he was around one-second per kilometer (0.6-mile) off the pace of the leaders. In world class motorsport that might be seen as a lot, but in reality it's a pretty small margin.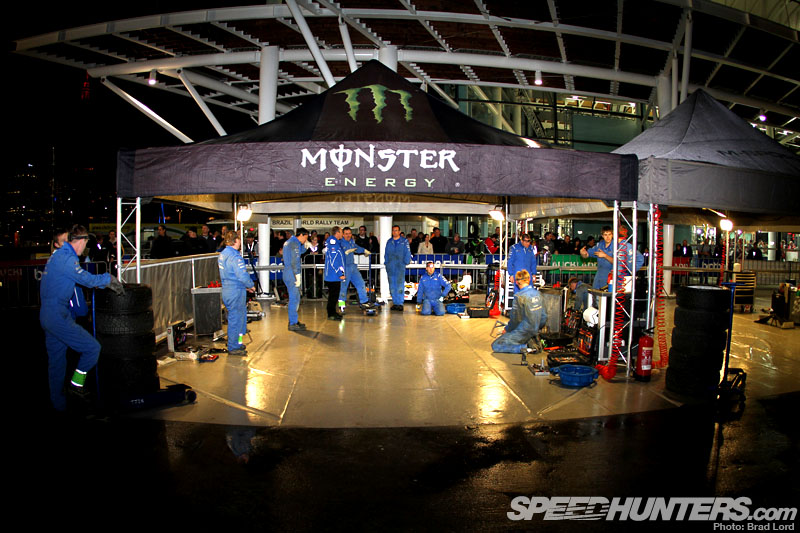 After covering literally hundred of miles per day on both touring and Special Stages this the view that greeted Ken and Alex every night they returned to the service park at Rally HQ. The type of service dictates how many mechanics are allowed to work on the car at any one given time, and those nominated must where a bright green band to allow the ever-hovering scrutineers to easily see that the rules are being adhered to.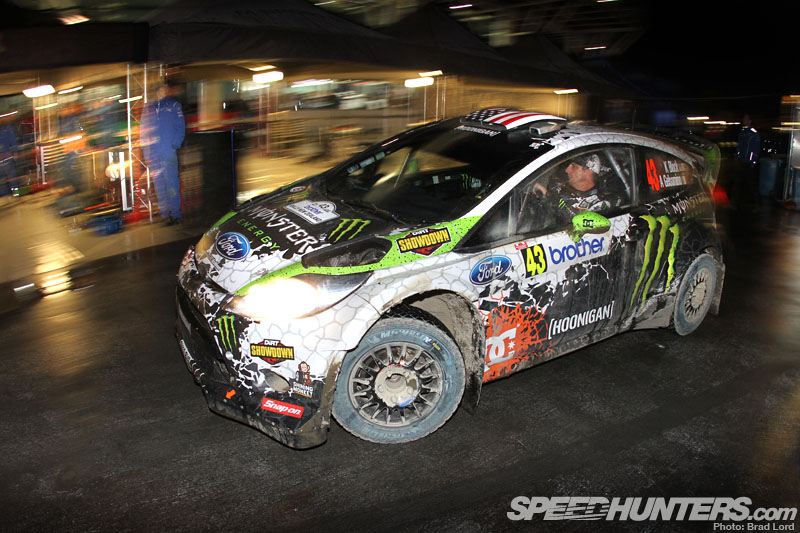 Mud-clogged, but straight and in one-piece – how everyone wants their car to return to the overnight halt.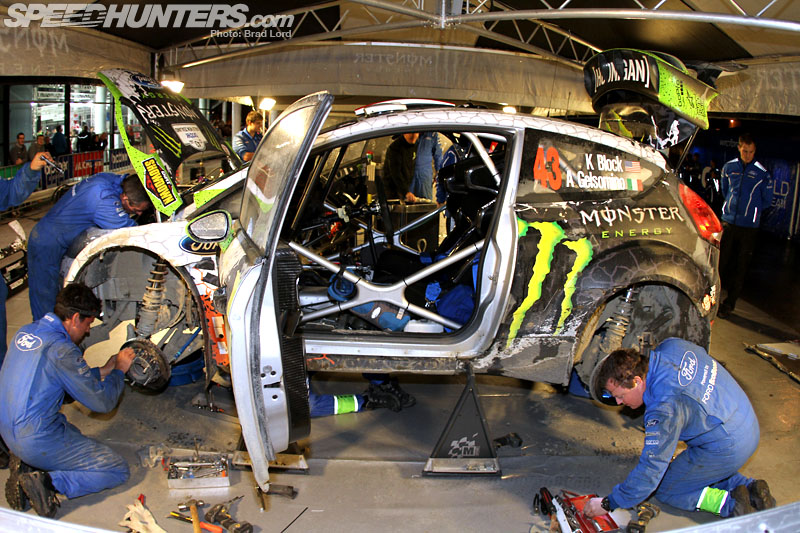 A couple of minutes later and the scenario looks like this. Like the well-oiled machine it is, everyone has a set area of the car to work on. I can only imagine how many times the crew practice these service routines…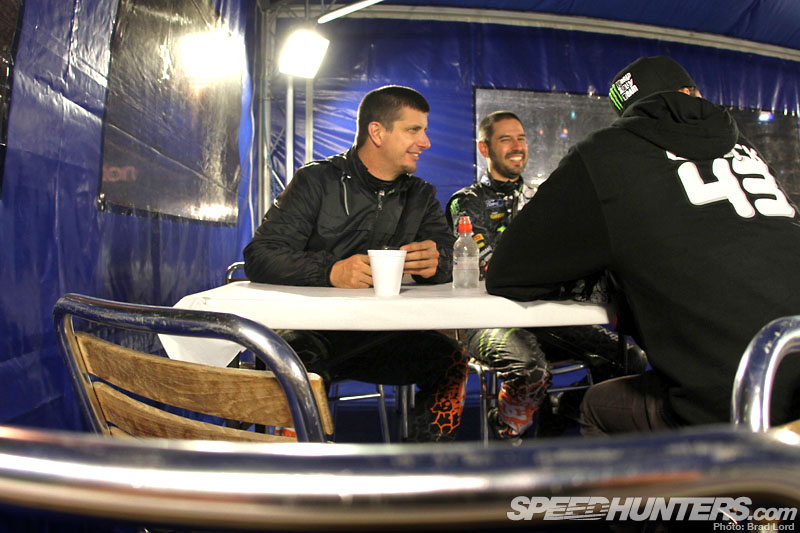 For Ken and Alex it's time for a sit down and relax with their extended team as well as Ford's other WRC drivers and wait for their dinner to be whipped up by the M-Sport kitchen staff. Even though they're all competing against each other, there is a lot of camaraderie between the Ford Works team drivers who seemed always happy to listen to lend an ear and offer Ken advice and encouragement.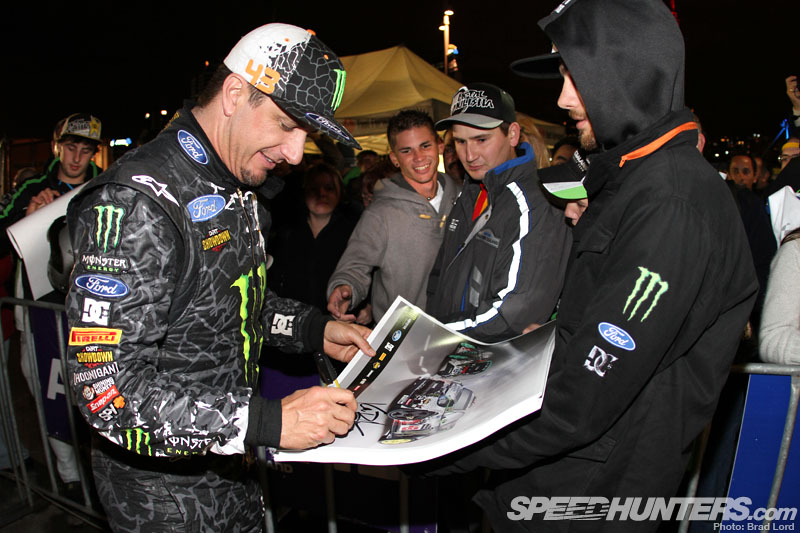 For most WRC drivers the evening meal signaled the end of their day, but not Ken. Over the course of half and hour he must of signed a couple of hundred posters in this impromptu late-night session and posed for dozen of photos for the large contingent of fans that had gathered around the MWRT pit. It made a lot of people, including these two, very happy…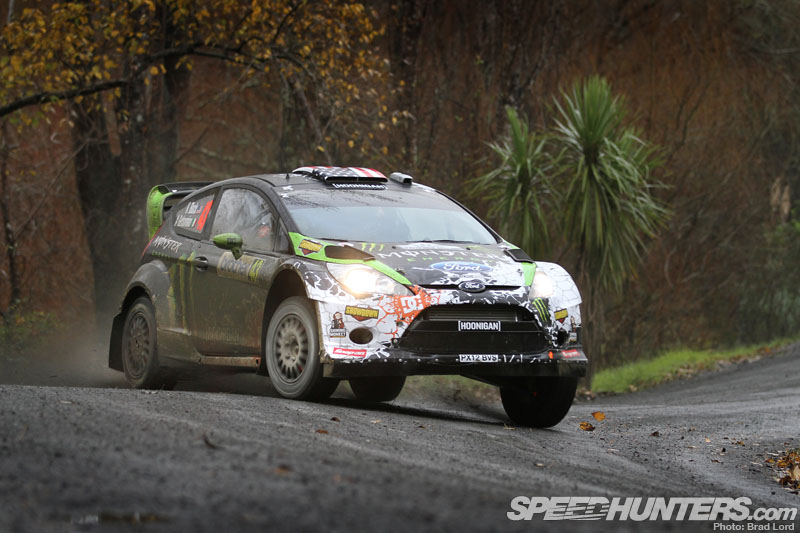 …Almost as happy as Ken was to be back driving some of New Zealand's fastest and most challenging gravel backroads. It's not that the loose surface is hugely different from what drivers encounter at other events on the WRC calendar…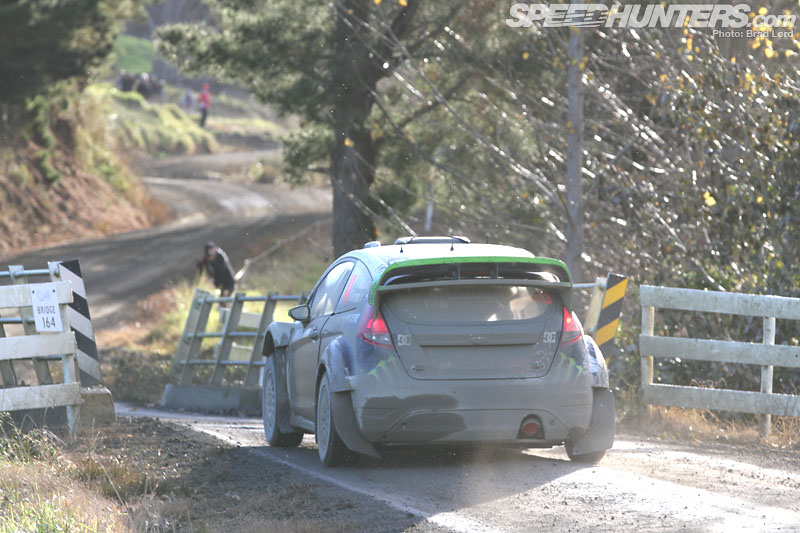 ….But the way that the roads snake up and down over the landscape rather than just cutting a flat path straight through it, as the background of the photo above shows. Alex (#AlexGelsomino) summed it up on one of his Instagram posts when he wrote: "The Rally Gods made these roads"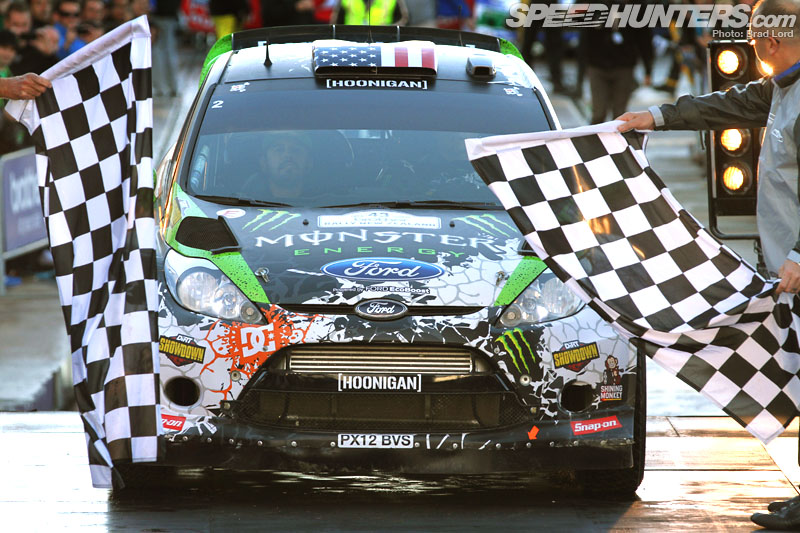 After three grueling days of competition, 423 kilometers (263 miles) of competitive Special Stages and 1243 kilometers (772 miles) of touring, it was great to see car #43 arrive at the finish line…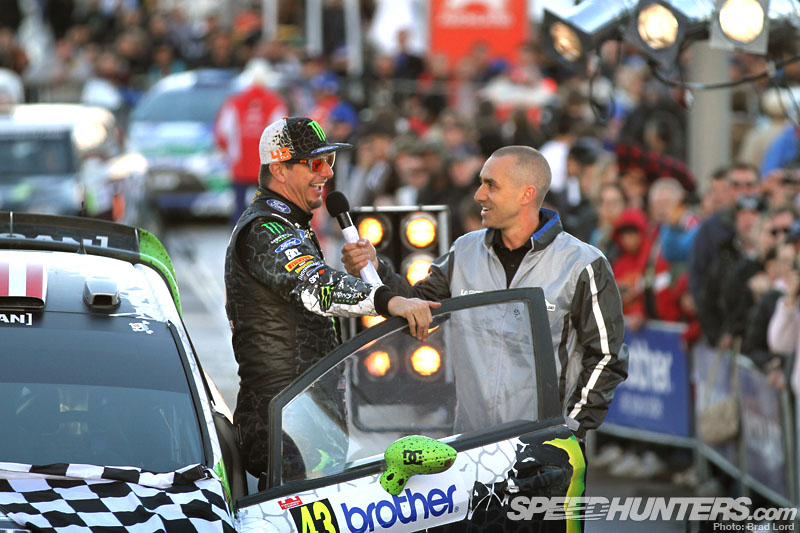 … And in ninth place overall to boot and ahead of fellow Ford Fiesta RS WRC drivers Manfred Stohl (10th) and Jari Ketomaa (11th).
Finishing a WRC round hard enough, let along achieving a top-10 overall finish. Ken and Alex (once again) achieved both.
– Brad Lord