Am I the only one who gets excited by that calm before the storm at an event? You know that surreal quietness which is slowly dismantled by the sound of combustion engines warming up, somewhere in the paddock. The sound of tools being dropped and used and the sight of bleary eyed mechanics, drivers and fans slowly swarming the area. It seems no matter where one travels in the world, or what the event is – they all share this exact same feeling.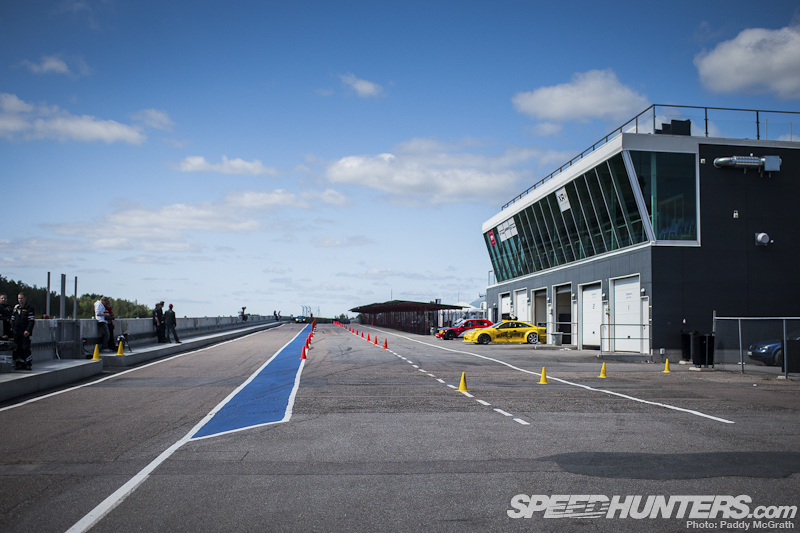 Sorting through my photos of the event, I found this shot of the pit lane, taken early on Friday morning. I thought I had an idea of what to expect, but as usual, Gatebil proved me wrong. I think this was the quietest it would be until the track closed on Sunday evening.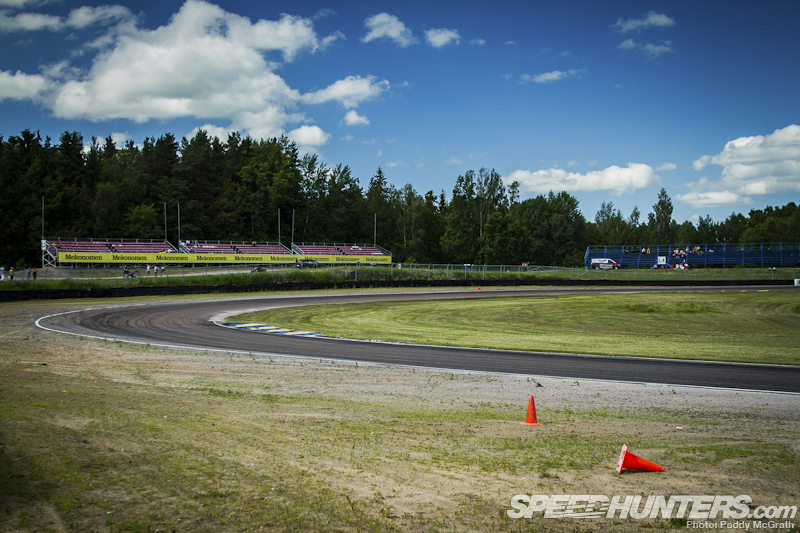 I don't know if it's the overexposure to sunlight during the summer, or the lack of exposure during the winter but there is something in the DNA of our Scandinavian friends.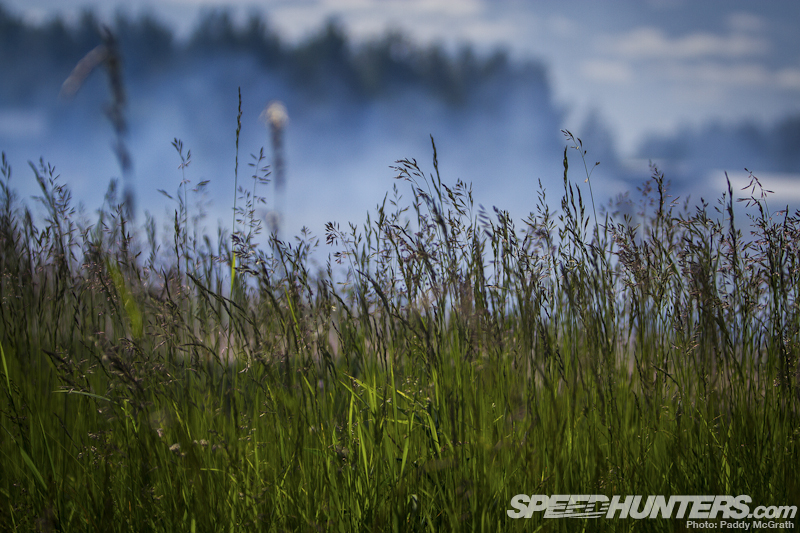 Quite frankly, I think they're mad – but in the best possible sense of the word.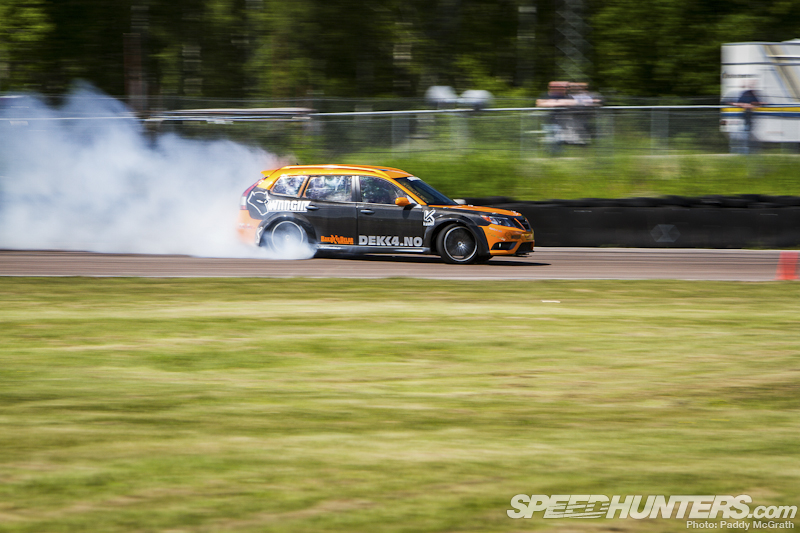 Where else can you see a carbon bodied Saab Aerodeck with a 500+WHP Volvo 5 cylinder engine smoking its rear tyres? The owner tells me the project was completed in two and a half months, from start to finish. He reckons he could have it finished sooner only he needed to work during the days …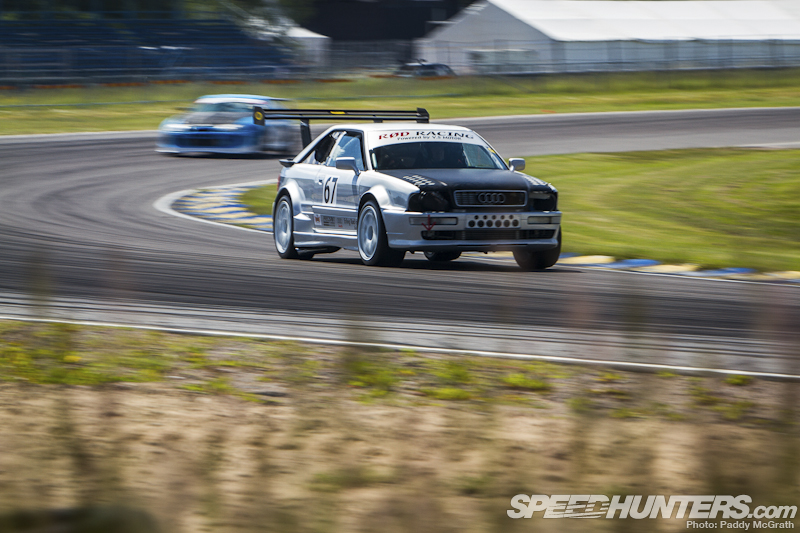 The Audi S2 is a popular platform, not least for its ultra reliable and mega tunable engine.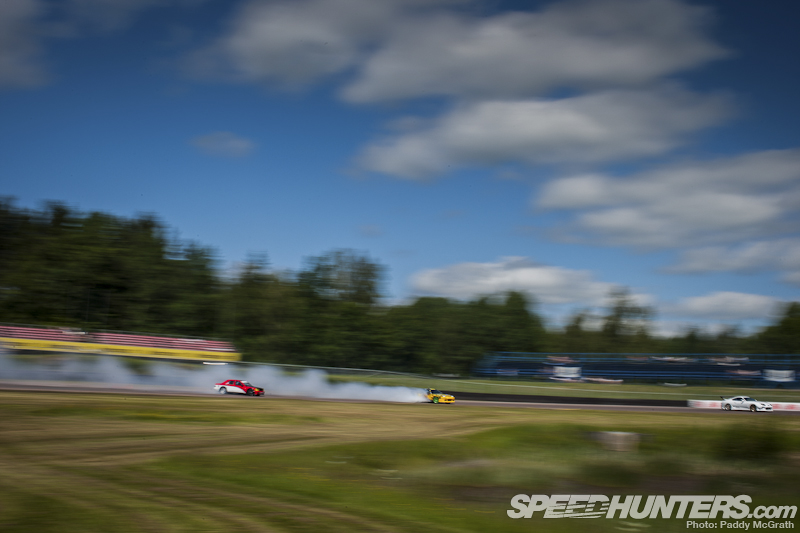 Don't worry though, there are plenty of Japanese cars here to whet your appetite.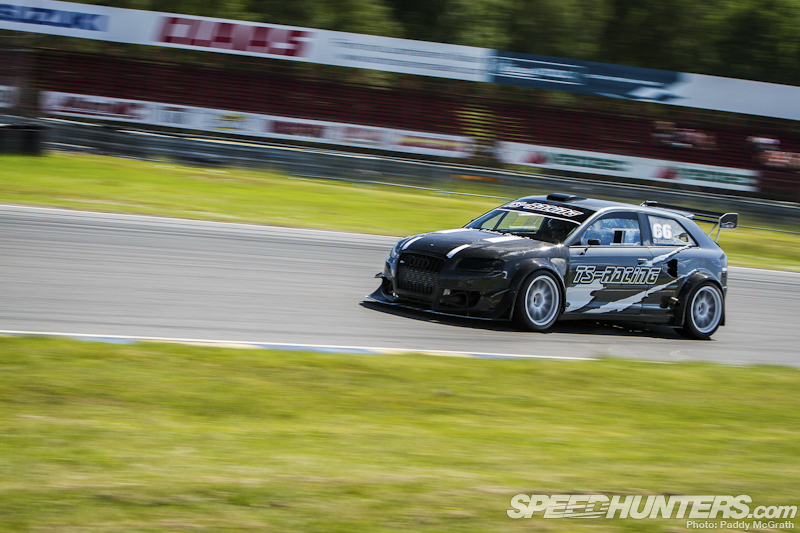 TS Racing brought along their S3 we spotlighted at Rudskogen last year.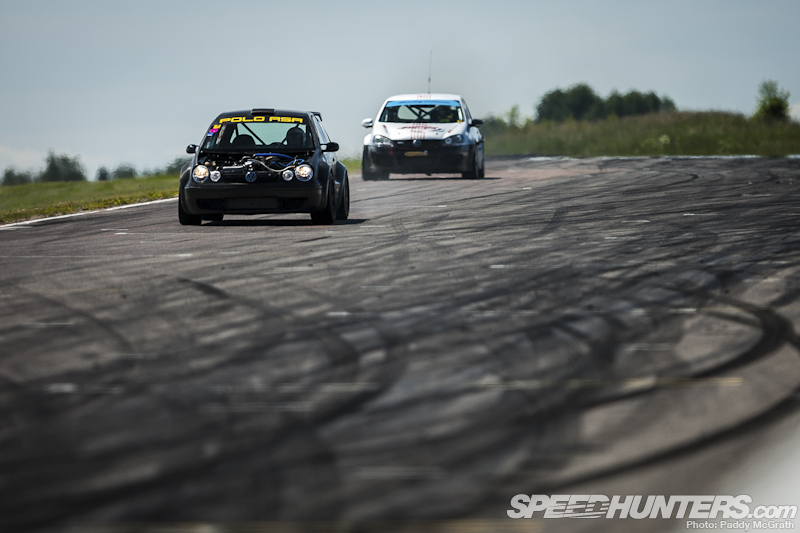 The Dhalback Racing Polo RSR is another one of those special cars. I'll reveal why in an upcoming spotlight.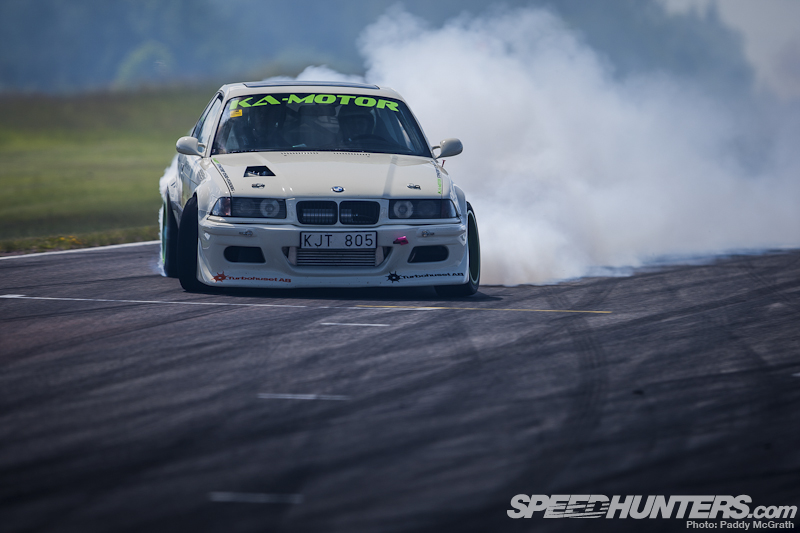 E36 with turbocharged LS2 motor, more than half way down the start / finish straight, still smoking its rears.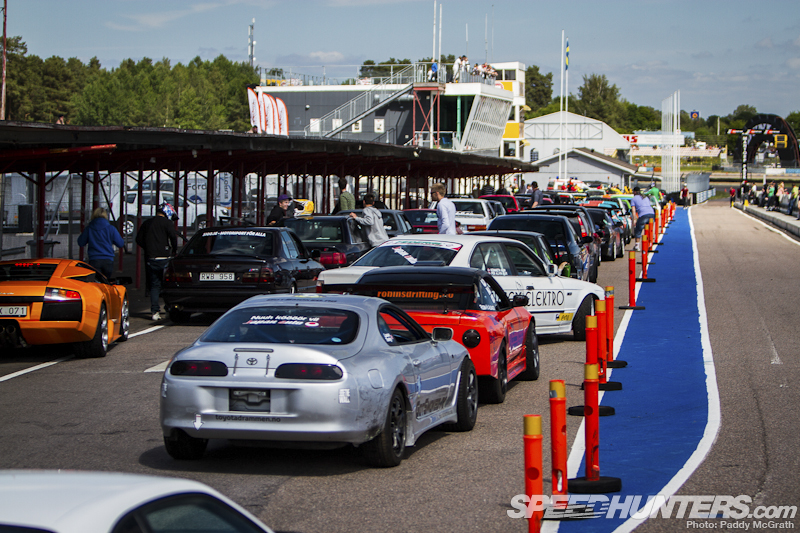 This is the queue for the track. I counted over 50 cars on track during one session with this queue still doubling back around on itself through the paddock.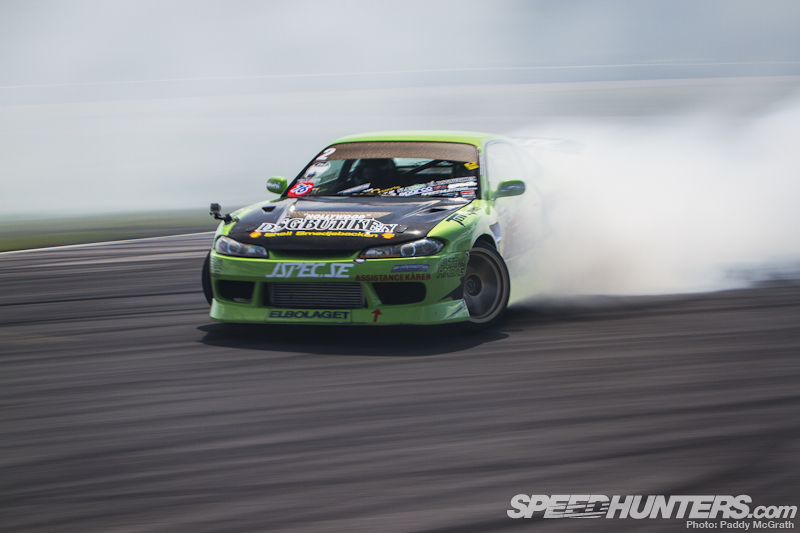 2JZ S15 laid down serious smoke all weekend with some incredible driving.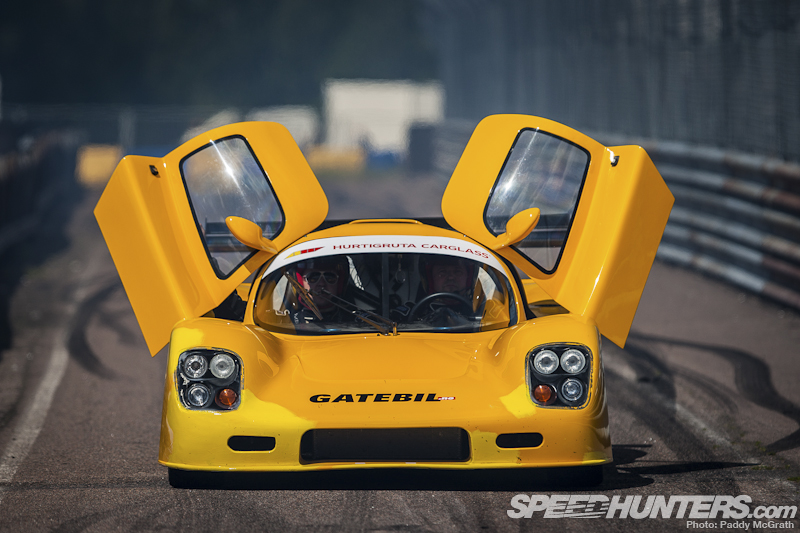 Gatebil's Ultima GTR was on hand for bringing paying spectators on passenger laps of the Mantorp course.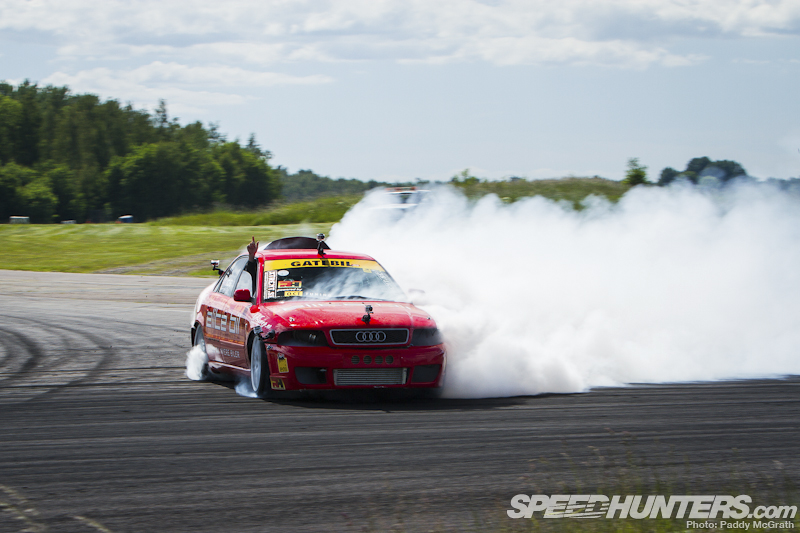 For me personally, Kenneth Alm stole the show in his Audi A4. I can't remember the last time I burst out laughing at the sheer ludicrous nature of someone's driving style. Again, a closer look at what makes this car tick is coming …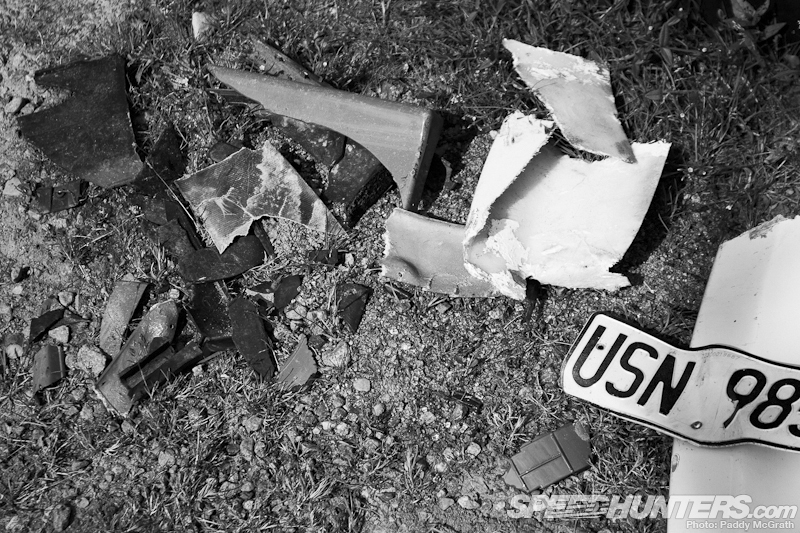 Unfortunately, when so many people are pushing so hard, things do go wrong. It's rarely permanent damage though, and the cars are usually seen again, still driving on the limit.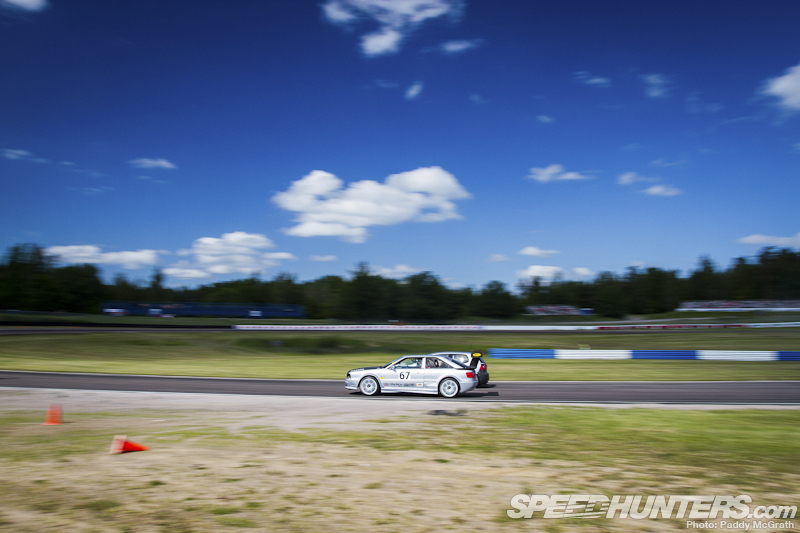 The track time is split between open track, where everyone is welcome to use the track as they please (drift and grip in the same session), dedicated drift and dedicated time attack sessions. The latter of these sessions is called 'Xtreme' and it's extreme for a reason.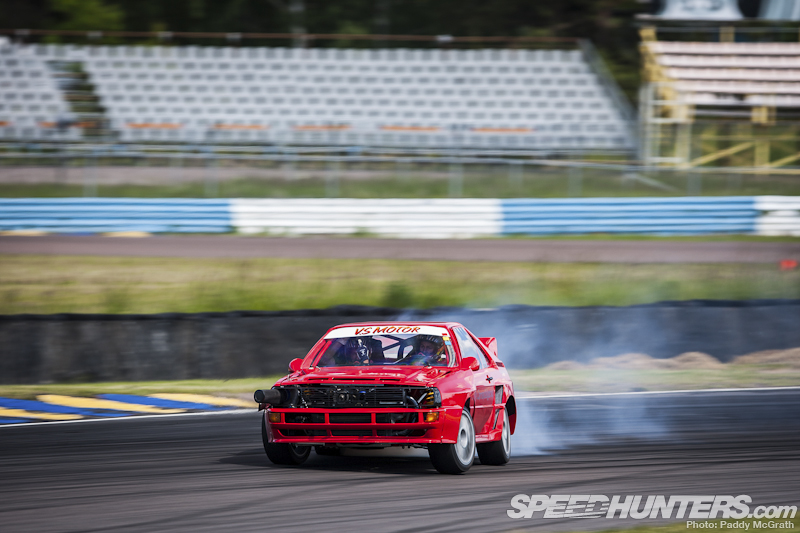 How often do you see a 4wd car power oversteer this dramatically? I guess with in excess of 900BHP per ton, this is going to happen regularly.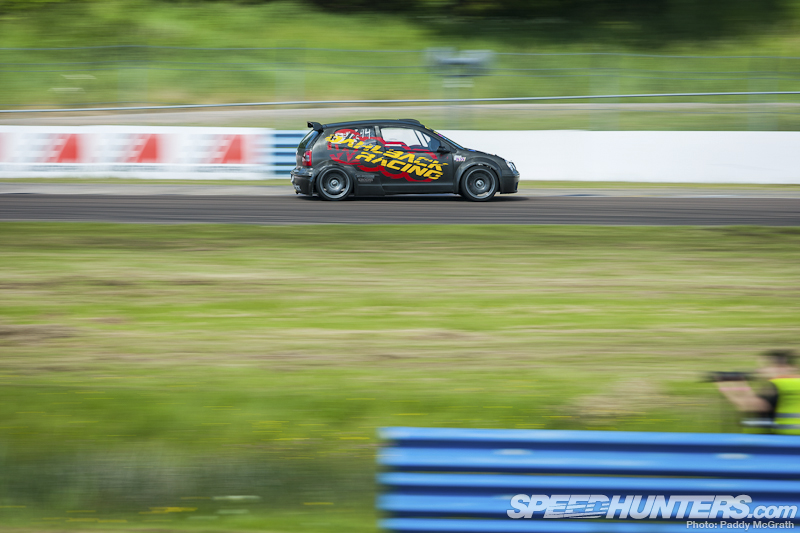 Squat.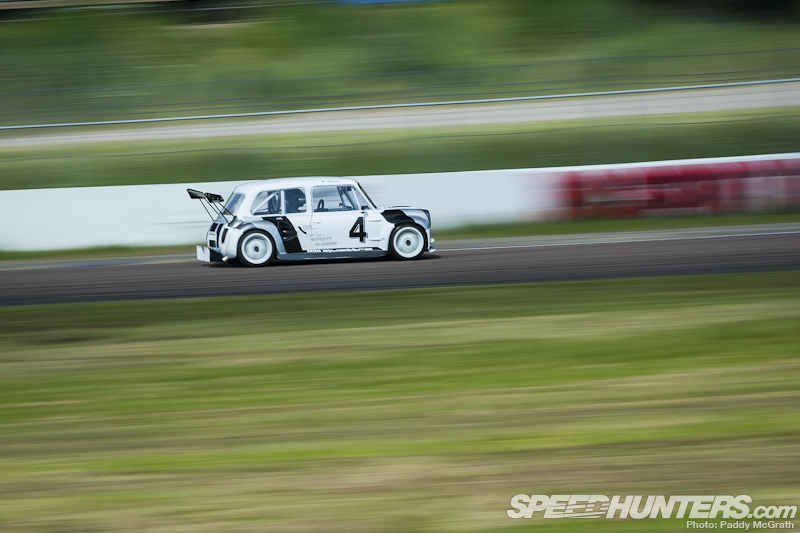 Oh yes, the Mini Quattro – 850KGs, 450BHP, 1.8 turbocharged Audi engine with a Quattro 4WD system. The guys will be bringing you an in-depth feature of this from Rudskogen.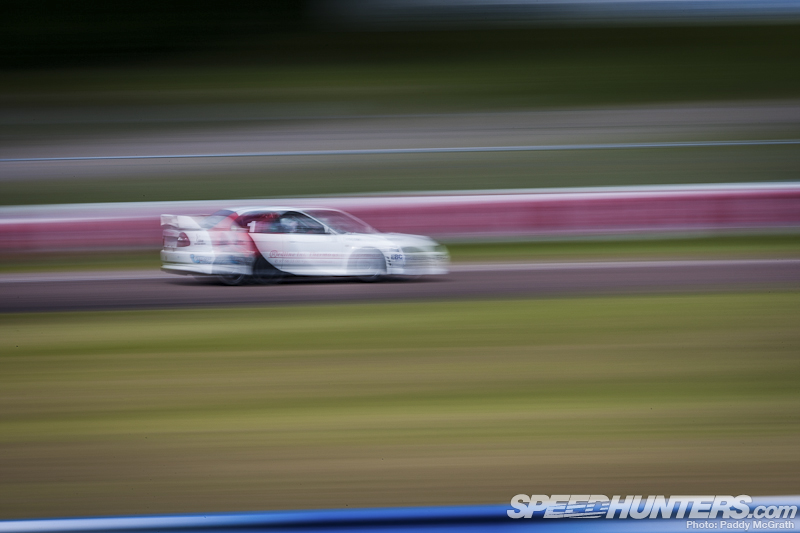 Watching the cars accelerate out of the second corner was a usually a two stage affair – breaking traction before hooking it up and launching into hyperspace.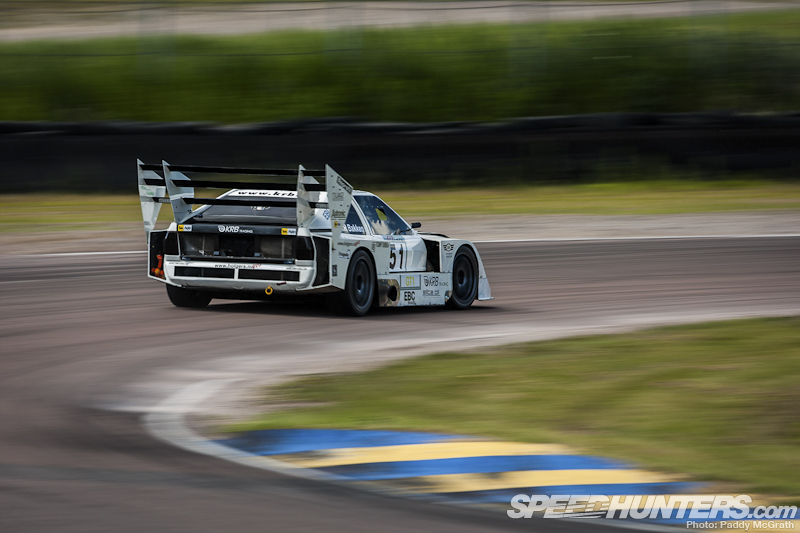 Kai R. Bakken is an avid reader. So much so he bring his own library shelves around with him. Kidding aside, this is *insert many expletives here* fast.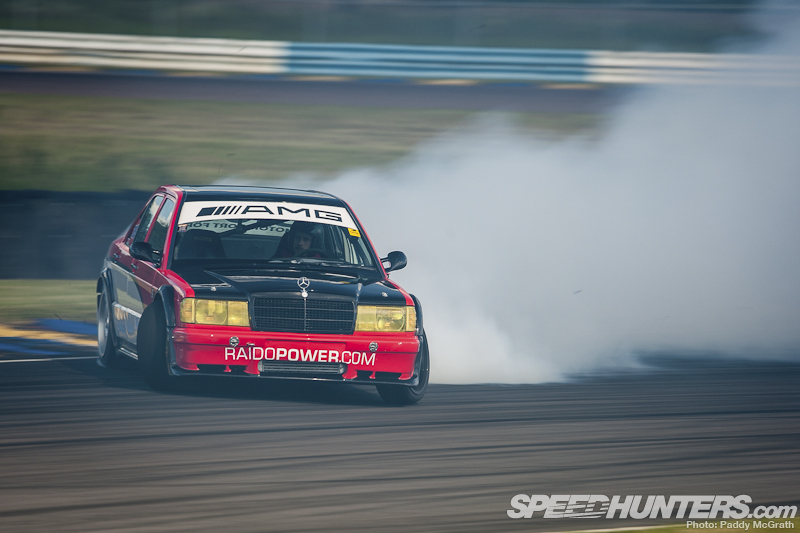 Of course, there is a lot of love for regular drifting here (only at Gatebil would you need to differentiate between different types of drifting).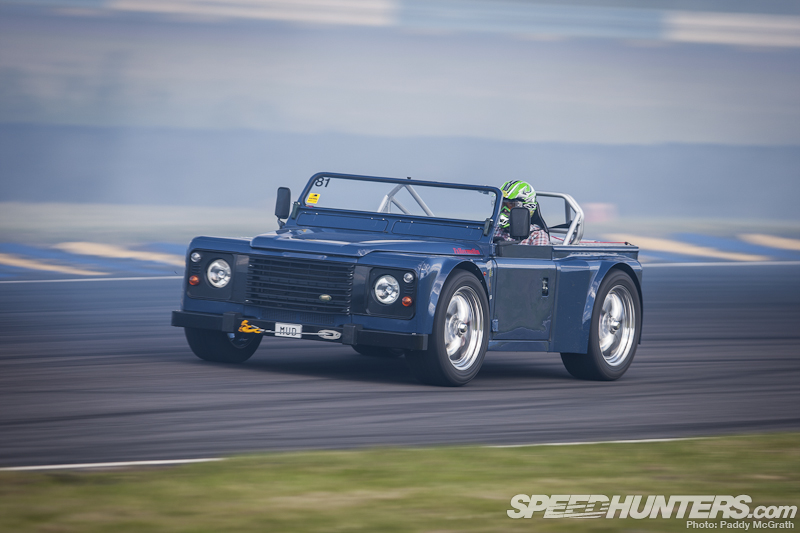 I know our Bryn will love this.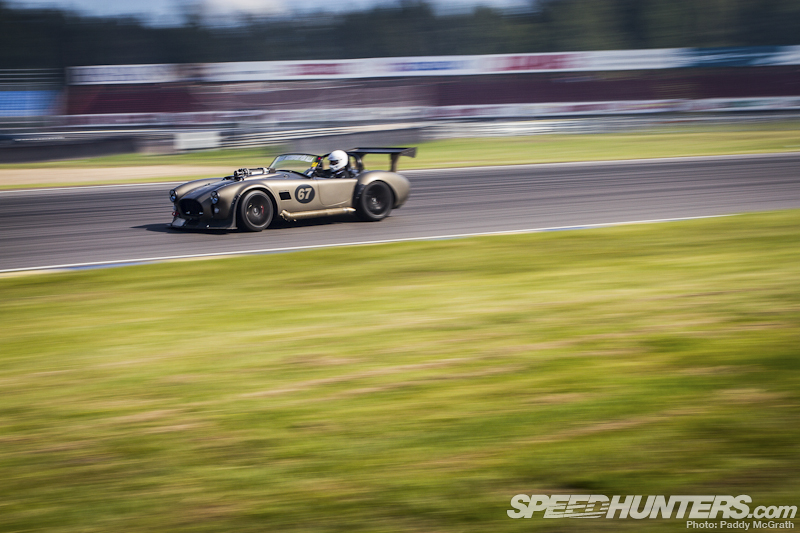 I'll wrap this post up with a closer look at one of the crazier cars present – a harmless looking Cobra.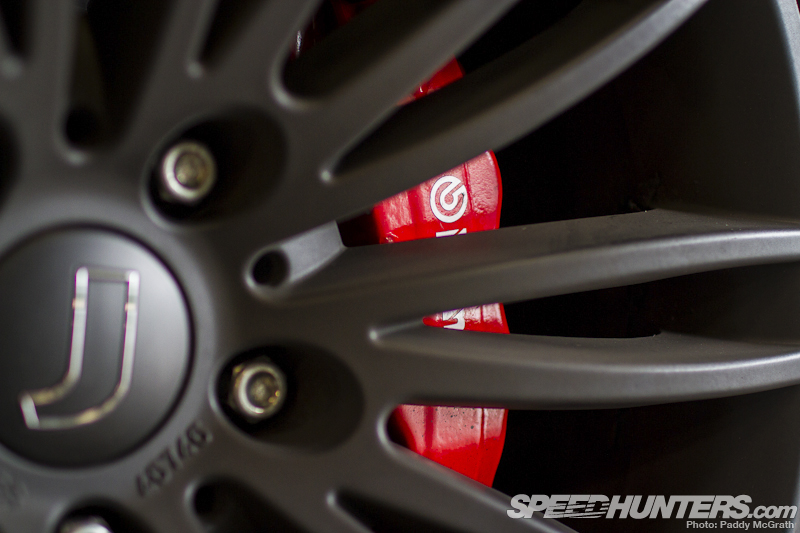 Those are some pretty big wheels and brakes for an itsy-little Cobra.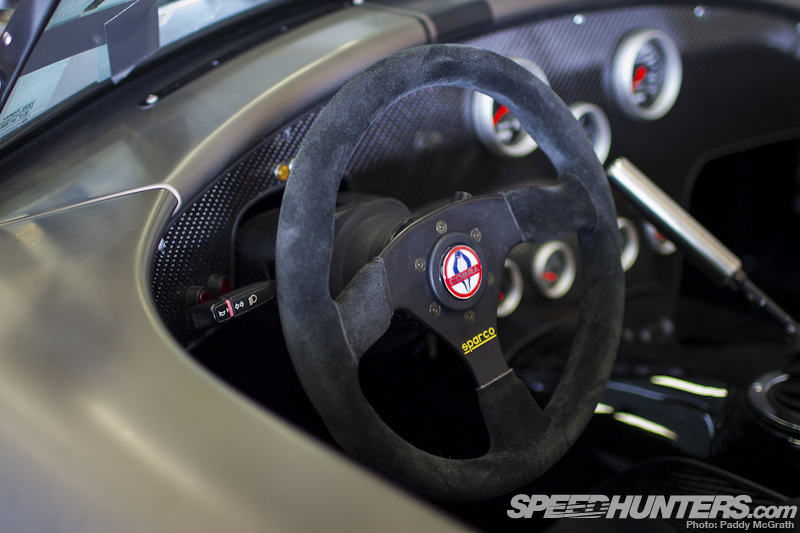 Gratuitous use of carbon fibre and other light weight materials?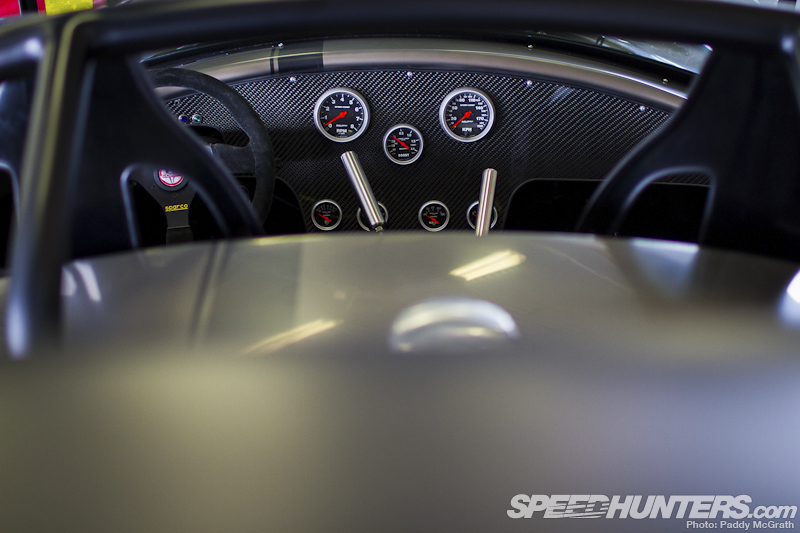 Check.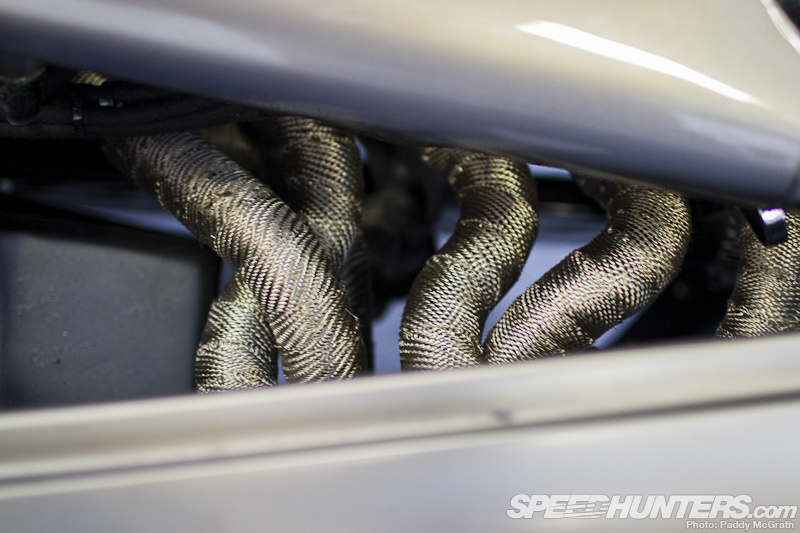 Wait a second, that's a lot of exhaust manifold …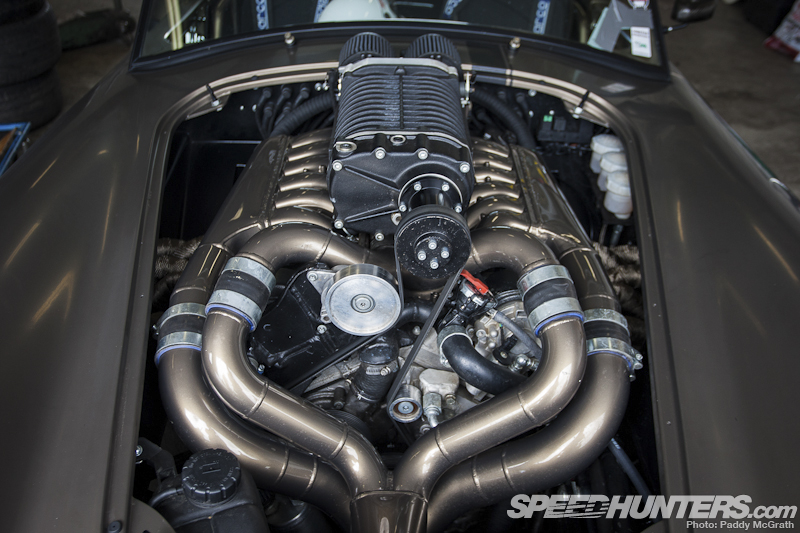 … oh. Oh my. A Mercedes 6.0 supercharged V12. I think I'm having a crisis.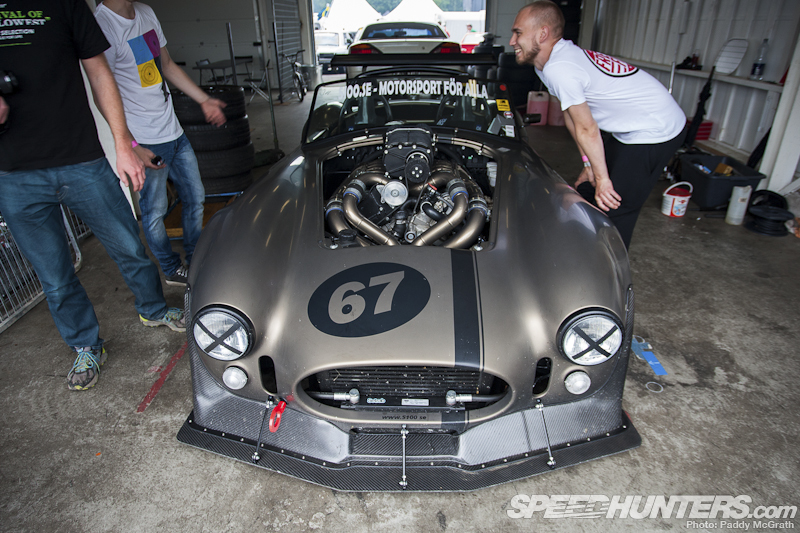 You see that guy's expression on the right? That stupid look is what everyone was wearing on their face all weekend at Mantorp.
Why? Because Gatebil.
–
Paddy McGrath
Gatebil Mantorp 2012 on Speedhunters