Part three of the 86-X build story ended with me arriving in New Jersey for Formula Drift Round 4. By qualifying in third we started off the event strong, but with the help of a drivetrain failure in the final turn of our Top 16 battles we ended our competition weekend early.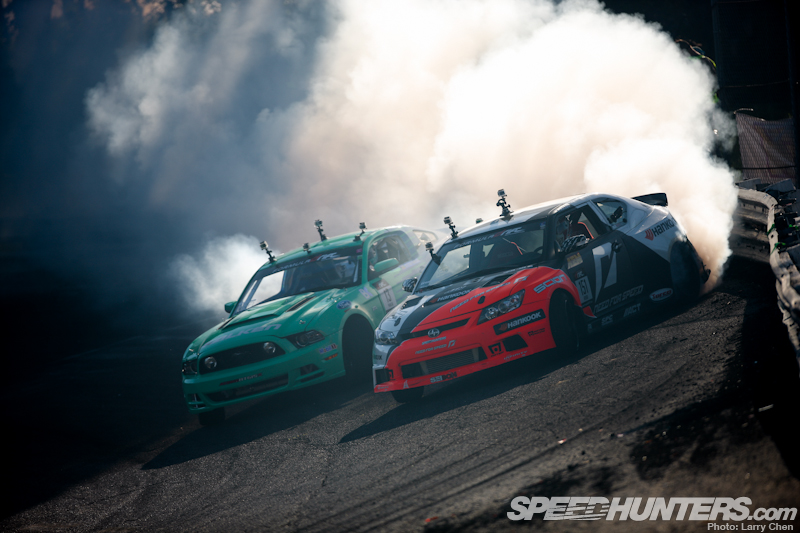 JTP was super fast, as always, but we felt that we were putting in some strong performances too!
I also got to do some double donuts with Matt after a Top 16 absence in Palm Beach for both of us. Erica Nagashima from the Hankook camp shot this quick sequence during the drivers introduction.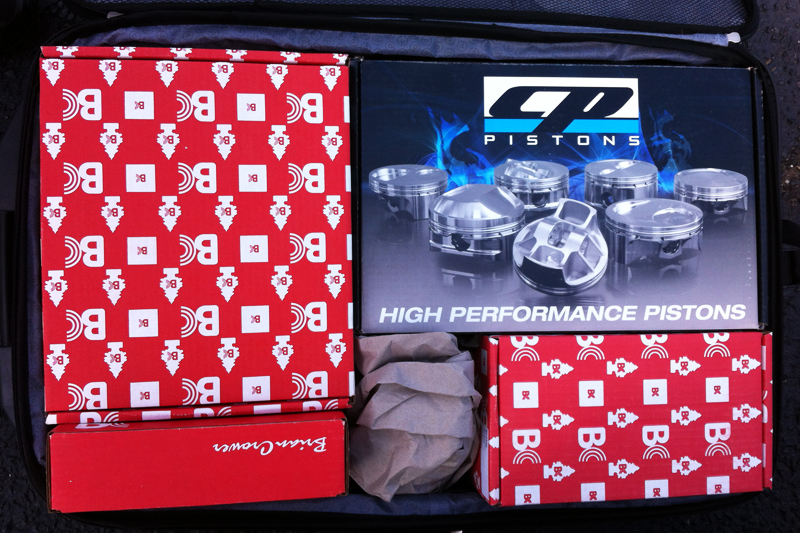 Flying back to Norway this past Monday, I was very eager to get to work on the 86-X. I wouldn't recommend bringing 100 kgs of parts (including a 2JZ stroker crankshaft) as your checked baggage, but sometimes you got to do what you got to do.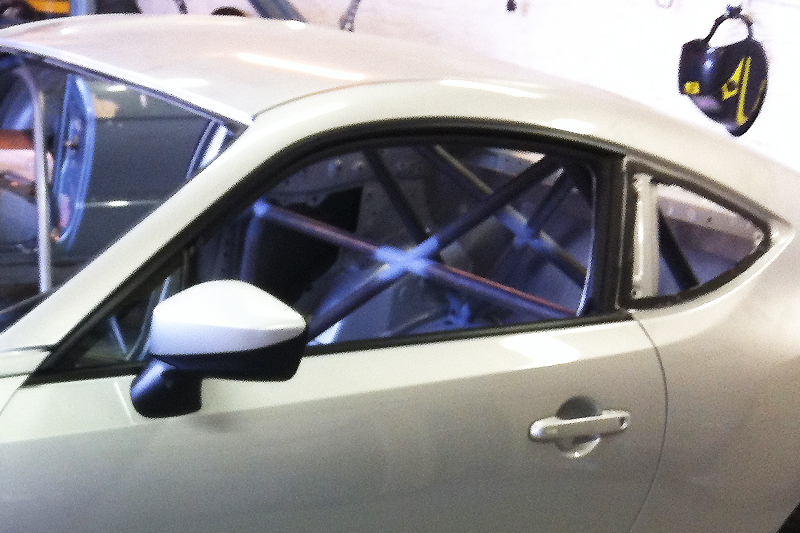 Just as I got back to Norway, I jumped in my van and cruised away deep into the woods, headed for the Swedish border. Joe Harry Linnerud literally has one foot in Norway and one in Sweden as he walks across his front yard. He had been hard at work building the cage, the rear firewall, the radiator mounts and the front crash bar while I was away.
I was very eager to check out his work, and here it is. Please excuse my poor phone snaps!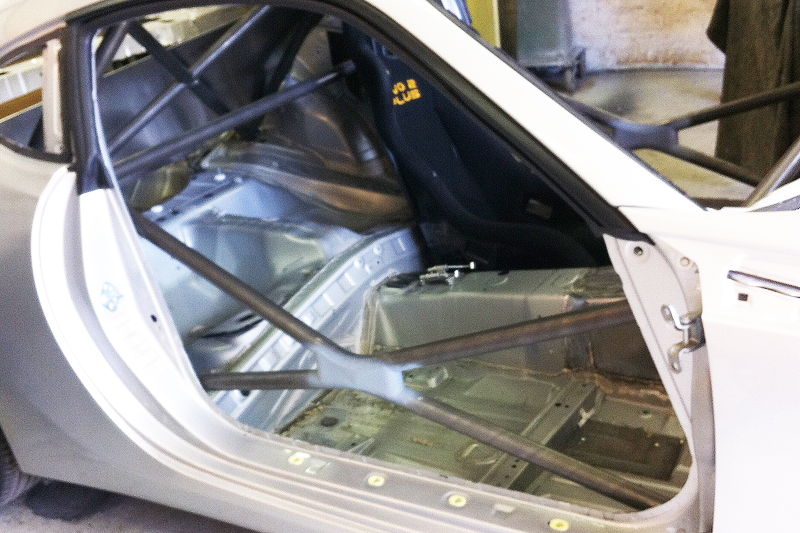 The fab work had come out absolutely amazing!
Linnerud had tied up the front hoops to the A-pillars with gussets. Because of the FD rules, which state that you are only allowed to have two bends for each front side hoop, there will be gaps between the A-pillar and the cage.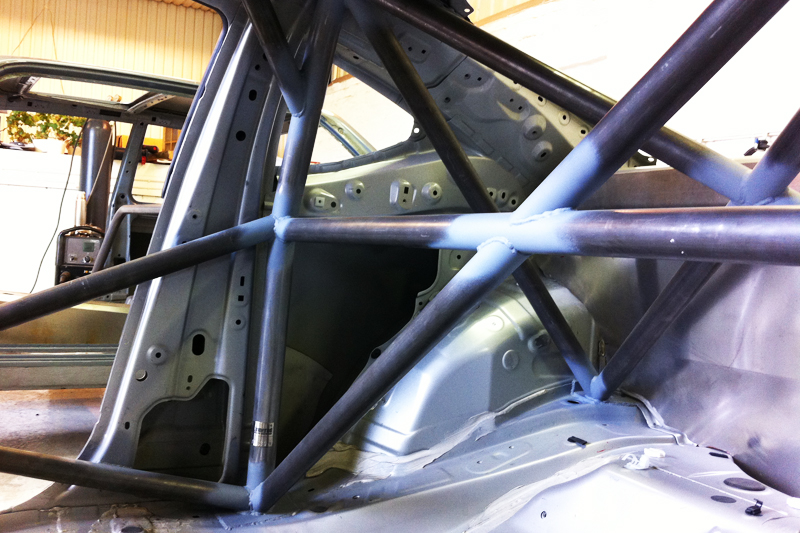 For the B-pillars, however, the cage was welded directly to the door shut seams and the roof liner. That's how tight the cage came out!
I had requested to have the main hoop set as far back as possible, just about where it starts to limit my head room due to the front hoops and the angularity of the roof. Not only does it reek of RACECAR when the main hoop is visible in the rear side windows, but the further back you put it, the more room and flexibility for the driver seat position you're going to get.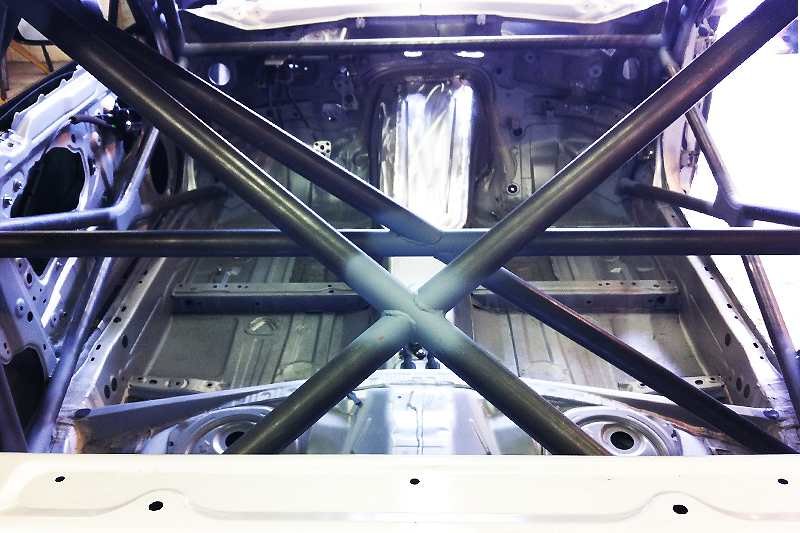 Joe Harry included horizontal and diagonal main hoop cross bars as per the Formula Drift regulations. The horizontal bar also functions as seat belt top mounts. In addition, he made an extra cross in-between the rear shock tower bars to stiffen up the unibody structure. This should help prevent chassis distortion in serious hits to the rear. Yes, I am talking about those outer clipping zone incidents that definitely do happen…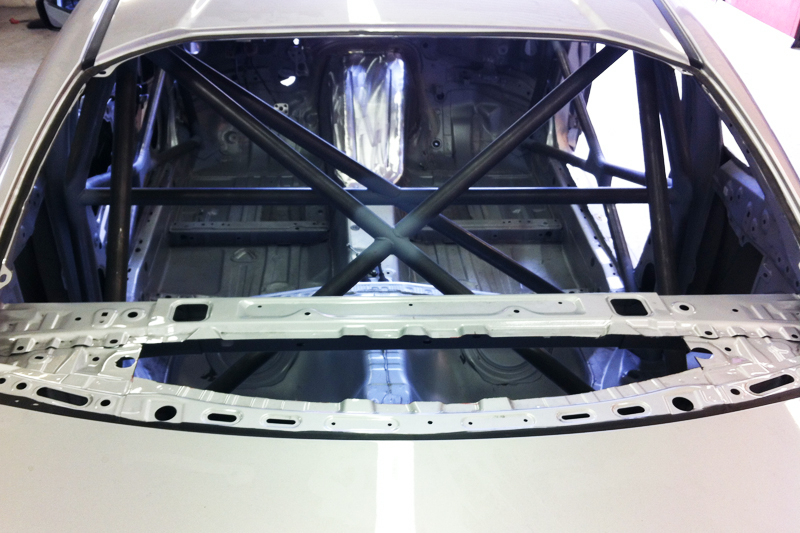 We will be doing a rear mount radiator setup in this car and we are planning some trickery to make the install as simple to build and maintain as possible. The rear window parcel shelf cutout, as you can see in this picture, is part of this setup. We are aiming at bringing air in through the radiator from the bottom of the rear window, and then have the hot air exit through large openings in the rear hatch.
What we are trying to do definitely contradicts a few aero guidelines, but we don't care about conventions too much anyway. That said, some good input on this is definitely appreciated! We are hoping that there won't be too much turbulence down by the hatch and radiator air intake because of the sleek curves of the rear window.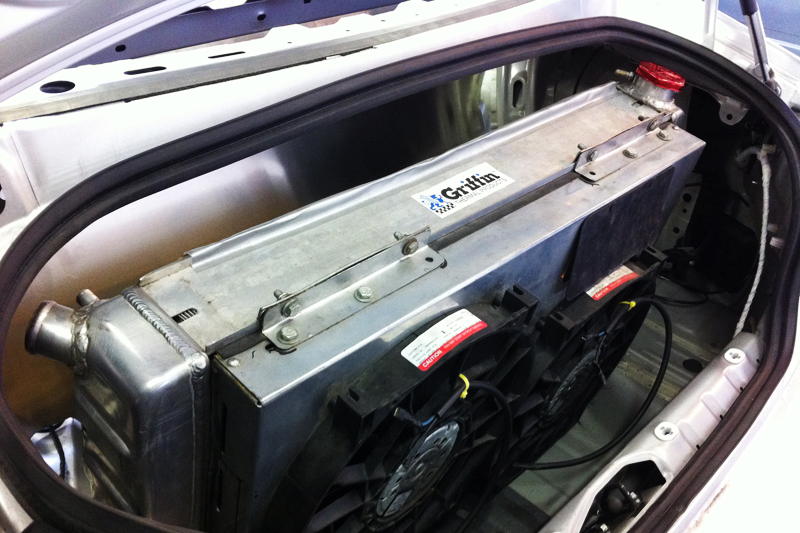 This is how the radiator will be sitting. Linnerud cut out the frame rails behind the rearward most subframe mounting points and made pockets that house the radiator firmly. Some upper mounts that tie the radiator down will be put in place, and we will retain access to the filler cap as well as the water inlet and outlet.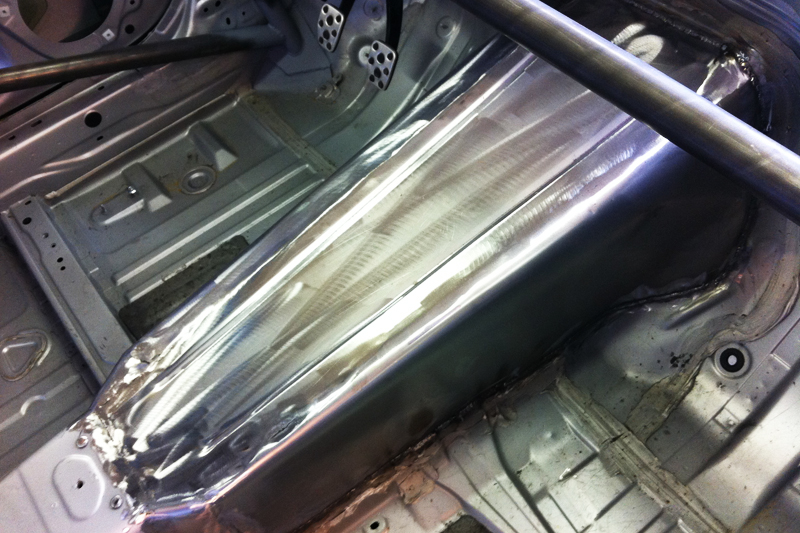 Linnerud has been doing an amazing job with the car! It's been so inspiring to work with him, not only because of his fabrication and design skills, but also because of how he has grasped what this project is all about.
The real key to being able to pull off a race car build in a month is to keep your head straight. It is incredibly easy to get tempted to go down the side route of doing just a little bit more and fabricate things just a little bit better than what is actually needed. If you are down to work with such a tight time frame, you need to "kill your babies".
By that, I mean that you need to skip all of the "this would be nice" extras. You will have to make things in a quick, straightforward way, and many times you will have to use standard OEM parts. And wherever you can't get away with OEM stuff, you need to work with companies that understand the project and can get you parts that are actual bolt-ons for your specific application.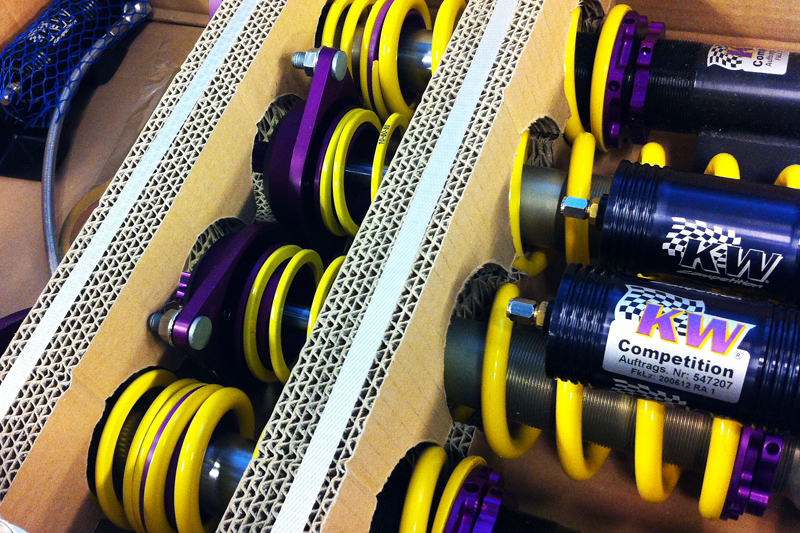 Like these KW Suspensions 3-way adjustable race coilovers. This is KW's most badass setup, with separate low and high speed compression, plus rebound adjustability. This particular kit is one of their very first setups that are tailored to the GT86/FR-S in terms of shock body lengths, bracketry, top hats and bottom mounts as well as spring selection and valving. We run this same style setup on the tC, and the KW products and support have been instrumental in dialing in much needed speed into a car that started out as something very different from a pro drift car.
I can't wait to test these out on the 86-X!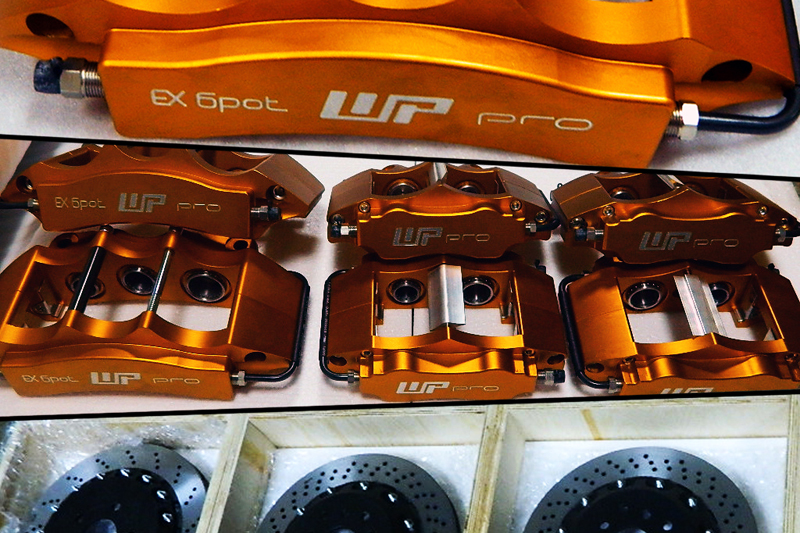 Another bolt on example is the WP Pro Brakes setup that just shipped out of Taipei. Designed in Canada and based off of a mix of data input from our friends over at Greddy USA as well as visual identification of production 86 parts, this is their very first complete brake setup for the new Toyota sports car.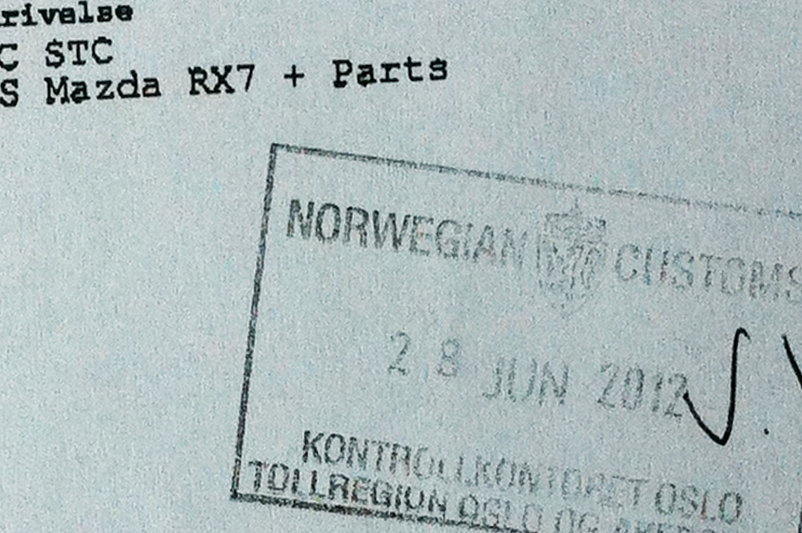 I will leave you with this final shot for now. This is a customs clearance stamp from one of the small access ports of Norway. As you can see, it states that a certain Mazda RX7, shipped out of Auckland, New Zealand, is soon to show up in Norway… Just in time for Gatebil.
All I can say at this point, is that July is shaping up to be full crazy in every respect. We have less than two weeks left, and the countdown has begun!
It's time to hold stumt.
Fredric
http://www.facebook.com/OfficialFredricAasbo
The Speedhunters Toyota 86-X project is made possible thanks to the support from our partners: