I've been trying to pinpoint what exactly it is that makes the Eagle Field Drags so great, and I think I may have figured it out.
Whether you are talking about a street legal car or a Top Fueler at the NHRA Winternationals, drag racing is a numbers game. It's about reaction times, 60 foot times, trap speeds, and of course the all-important ET.
At Eagle Field it's different.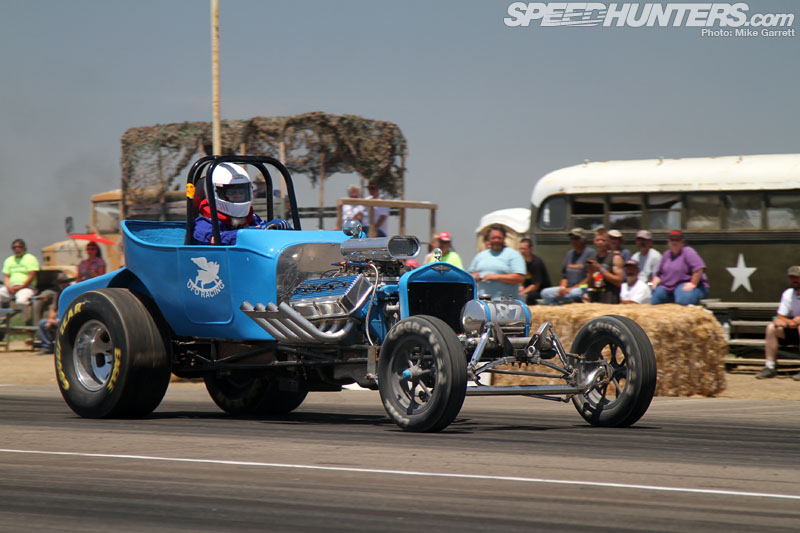 The numbers are completely stripped away while the spirit and fun of vintage drag racing takes center stage. The biggest competition you'll find is the one to get the crowd excited.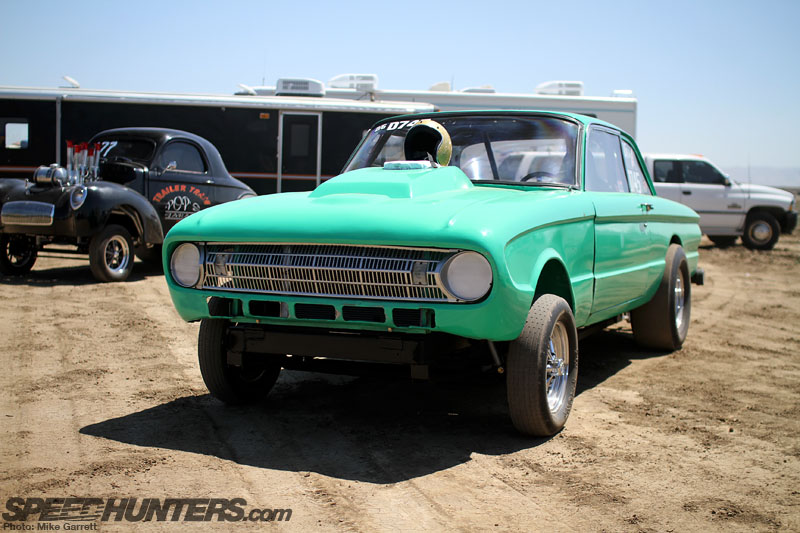 Even with no prize money or sponsorship at stake, racers bring their cars from great distances to have fun alongside like-minded purveyors of vintage drag racing style.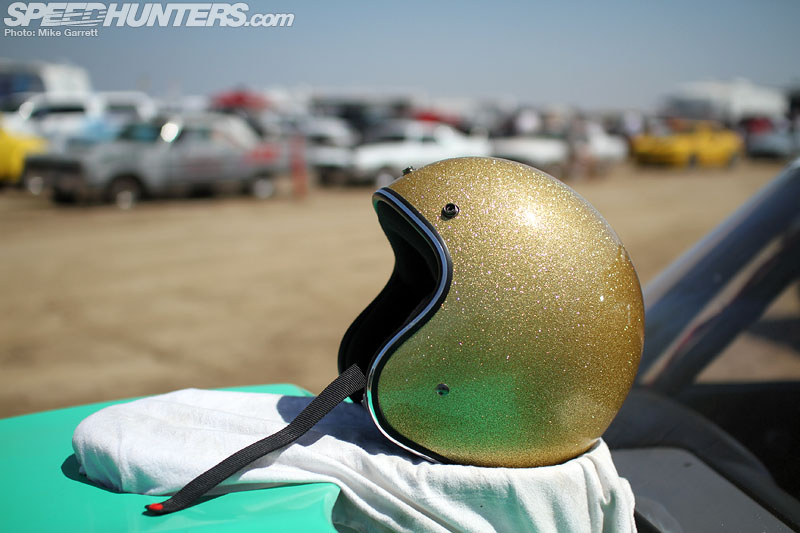 As I've mentioned before, Eagle Field is to drag racing what All Star Bash is to drifting.  There's a reason so many people show up a hot, dusty airfield in the middle of nowhere.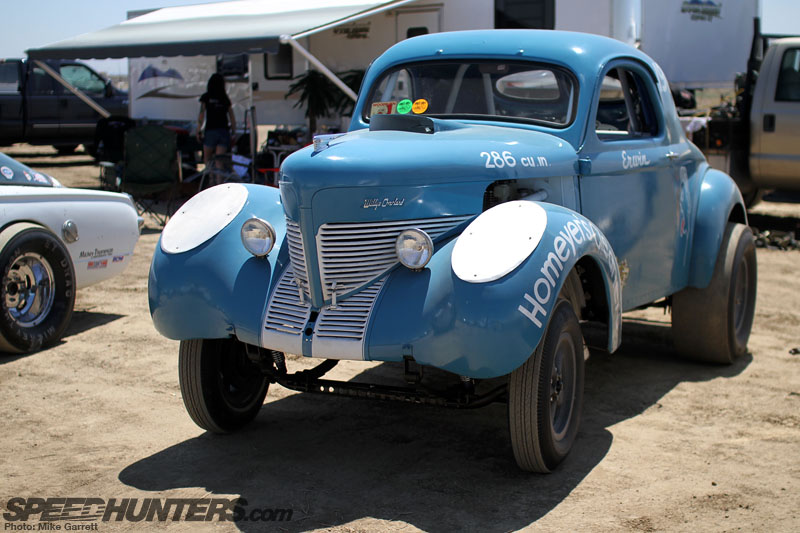 Robbie Davis' Willys Gasser is another one of the cars that made the trip down from the Pacific Northwest.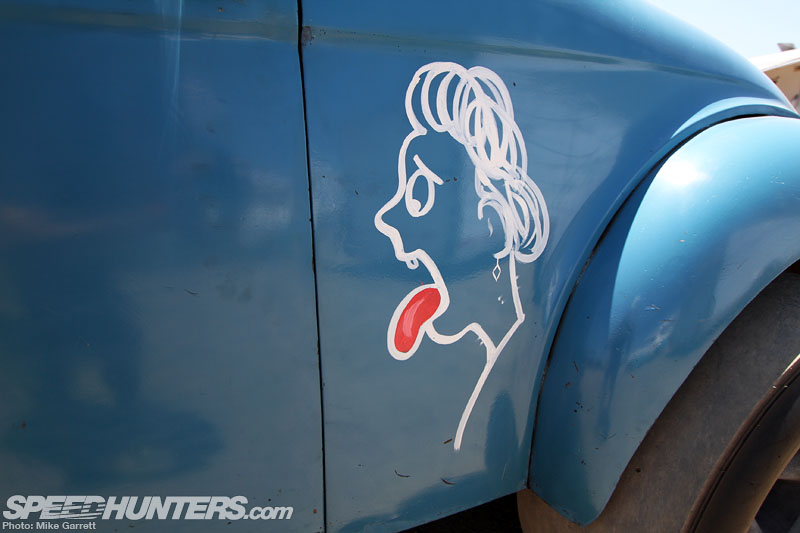 Apparently the last time this car saw a drag strip was back in 1967, and it very much looks the part.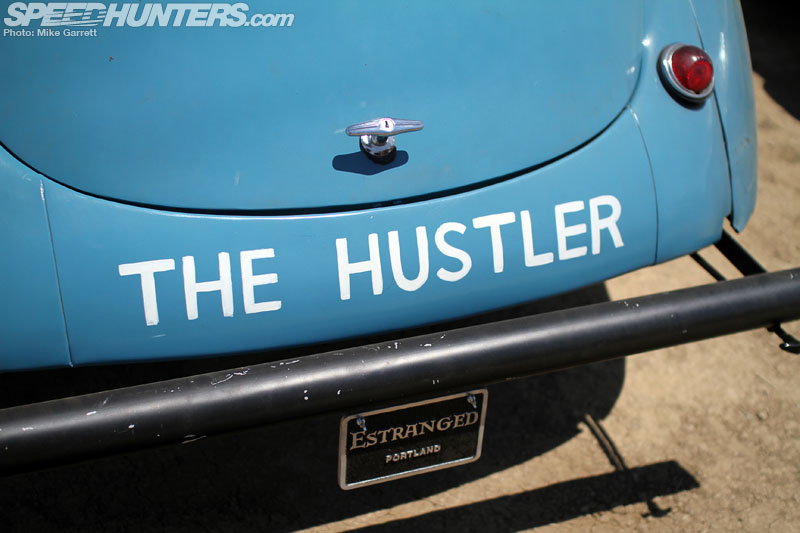 Hand lettering > vinyl graphics.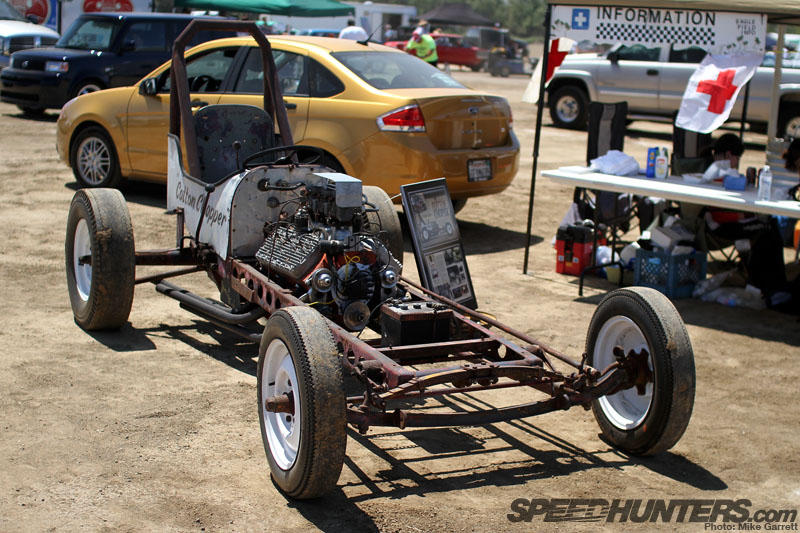 The flathead-powered Cotton Chopper represents the early style homebuilt dragster in its purest form.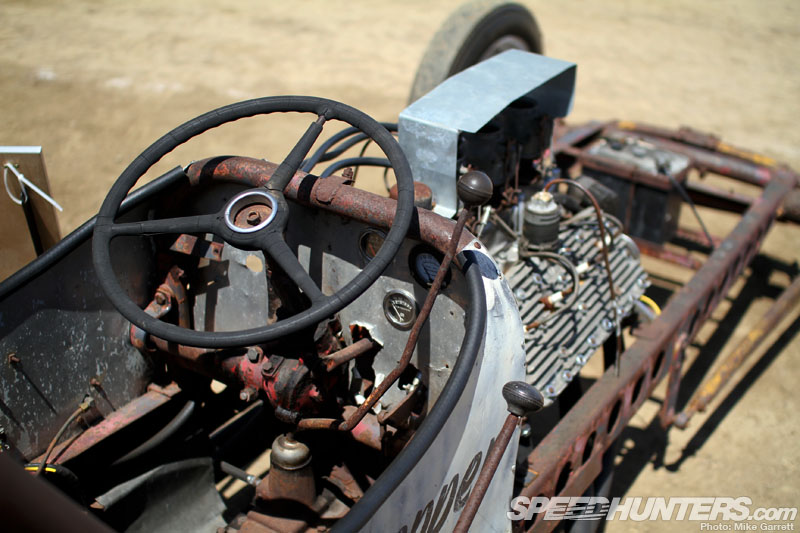 It has all the creature comforts you could possibly ask for, and how about that steering wheel position?
The Cotton Chopper was representing the Valve Burners out of the nearby city of Merced.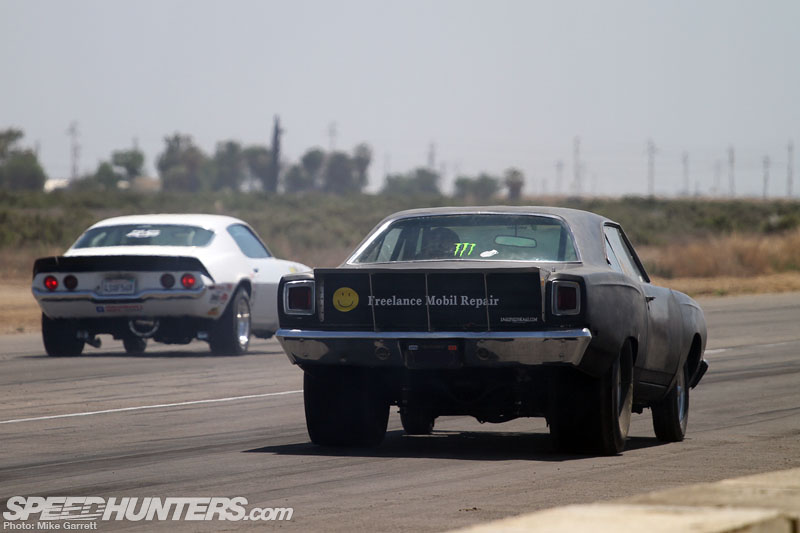 A fat-tired Road Runner squares off against a second generation Camaro in a Mopar vs. Chevy battle down the strip.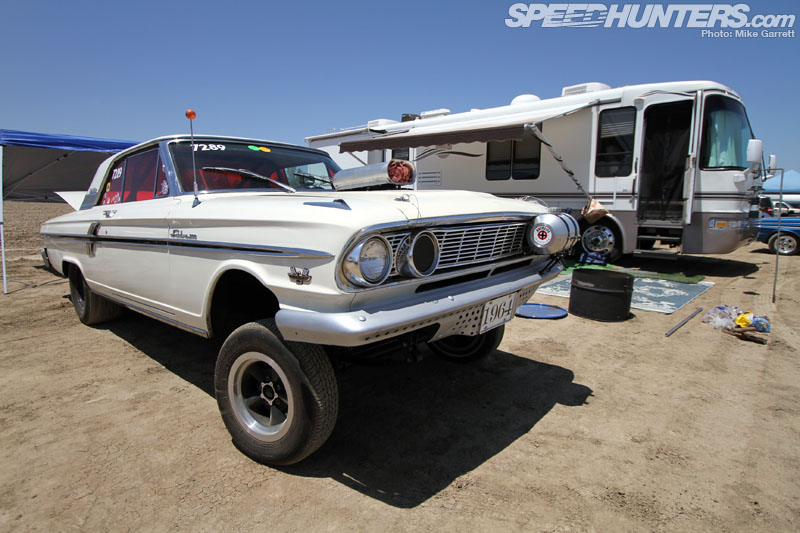 '64 Fairlane with the nose about as high as it will go. Red-tinted windows are a cool touch as well.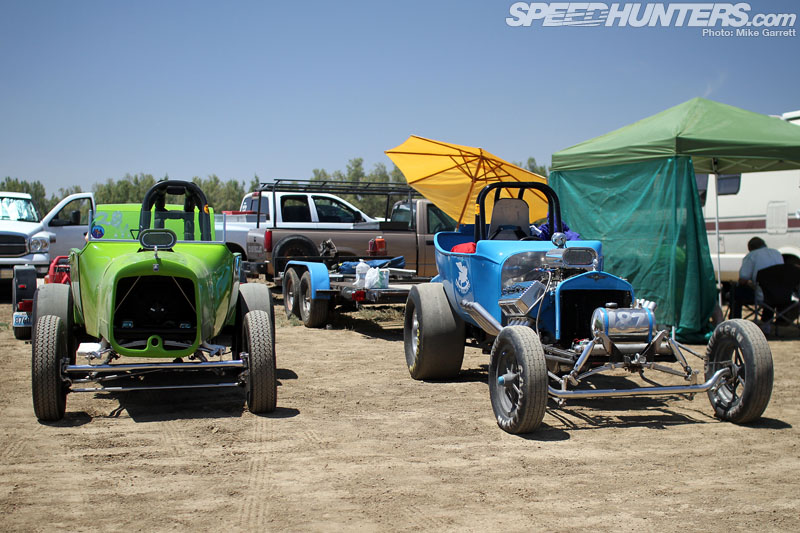 The wicked pair of drag roadsters from UFO Racing ready for action.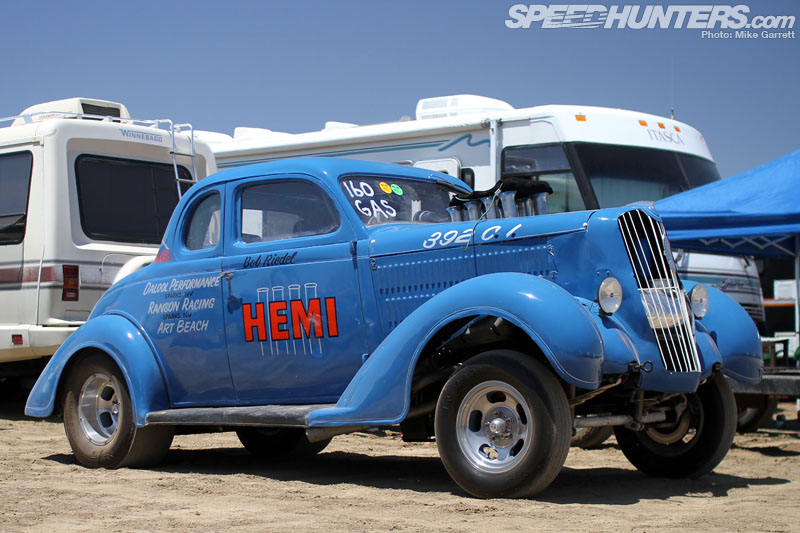 Bob Riedel's Hemi-powered Plymouth out of Reno, Nevada is another one of the Eagle Field regulars.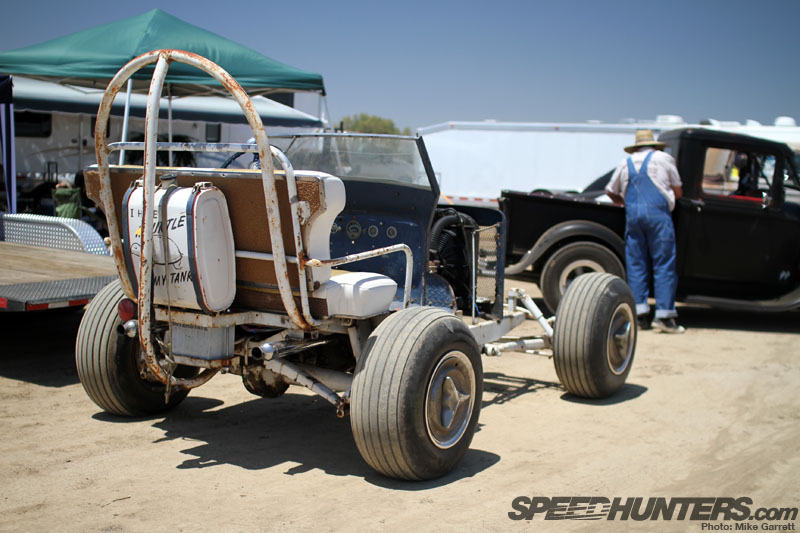 You will find the strangest things while wandering the pits at an event like the Eagle Field Drags. I'm not quite sure what this thing is…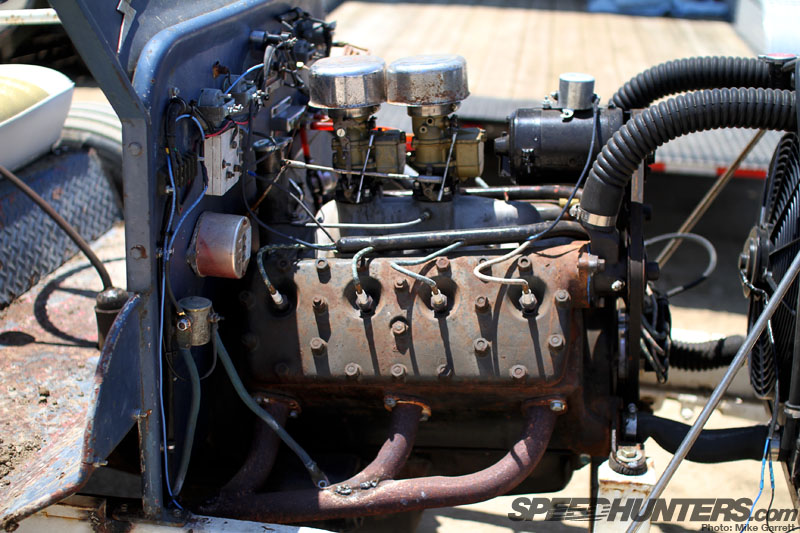 …but it did have flathead power.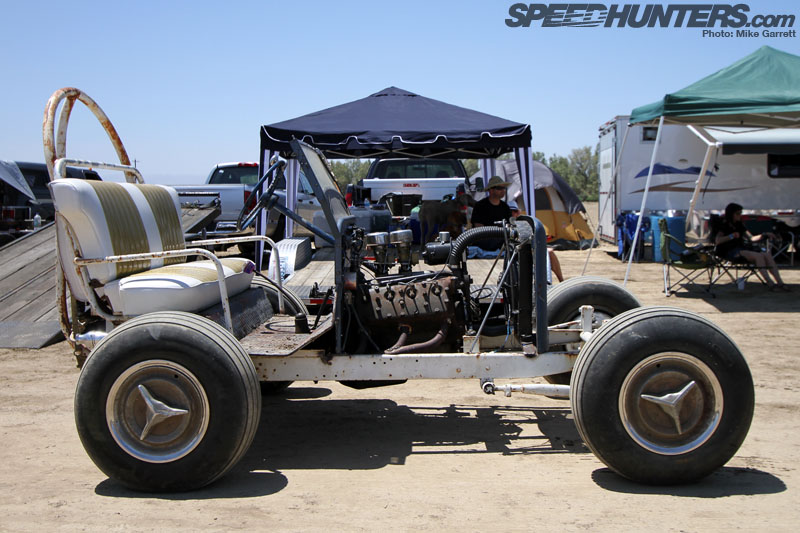 Is it a dragster, an off-road vehicle, or maybe just the world's coolest golf cart?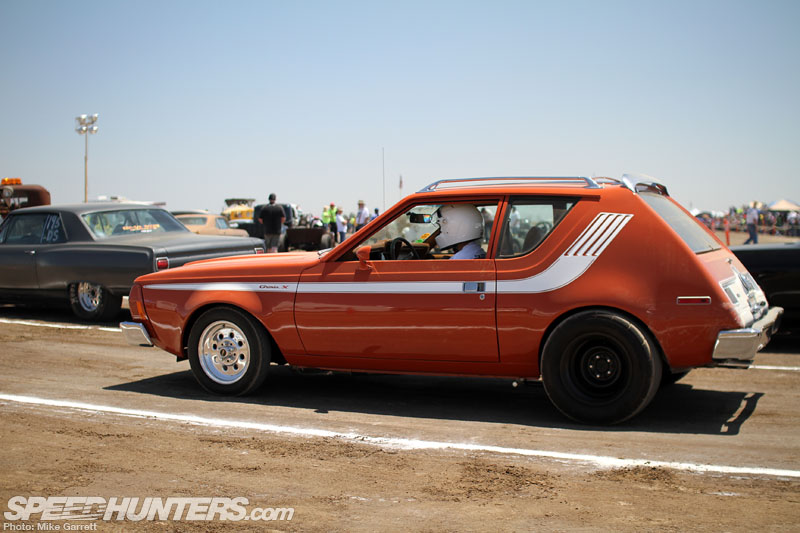 AMC Gremlin. The chances of seeing one of these on the street are extremely low, but they do pop up at the drags more often. The same goes for other American compacts from the '70s like the Chevy Vega and the Ford Pinto.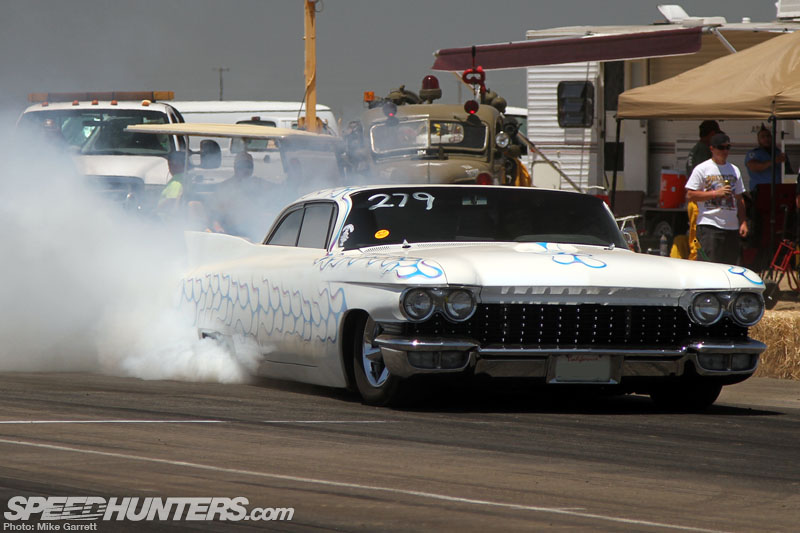 This airbagged Caddy didn't look like it was suited for the drags, but that didn't stop it from laying down some serious rubber.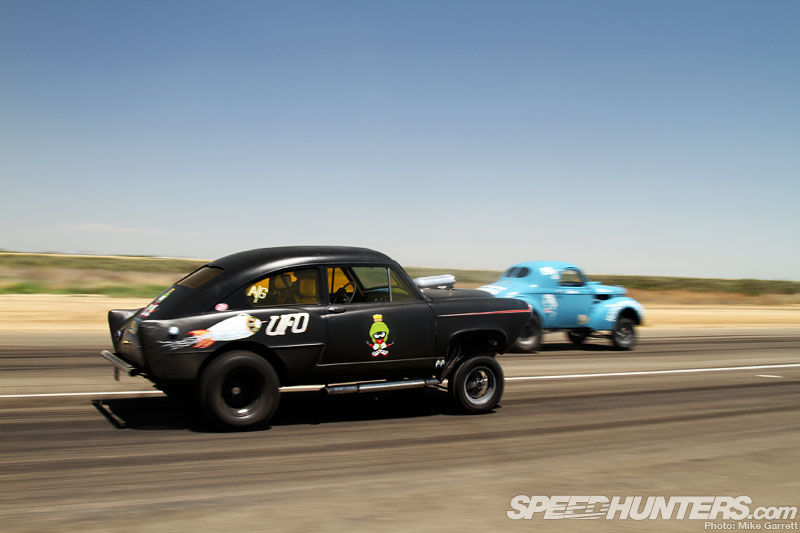 Henry J vs. Willys. Two bitchin' Gassers from long defunct nameplates going heads up. This is why Eagle Field is awesome.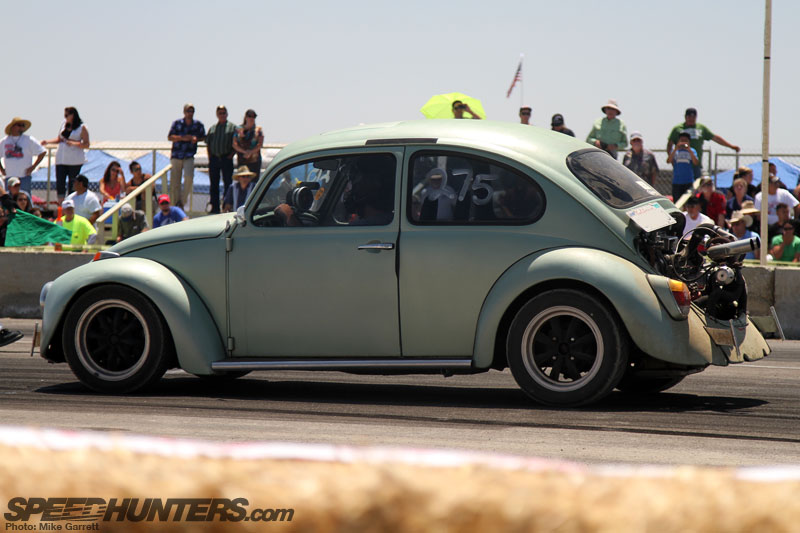 I was surprised to see this little Volkswagen out there mixing it up with the V8s.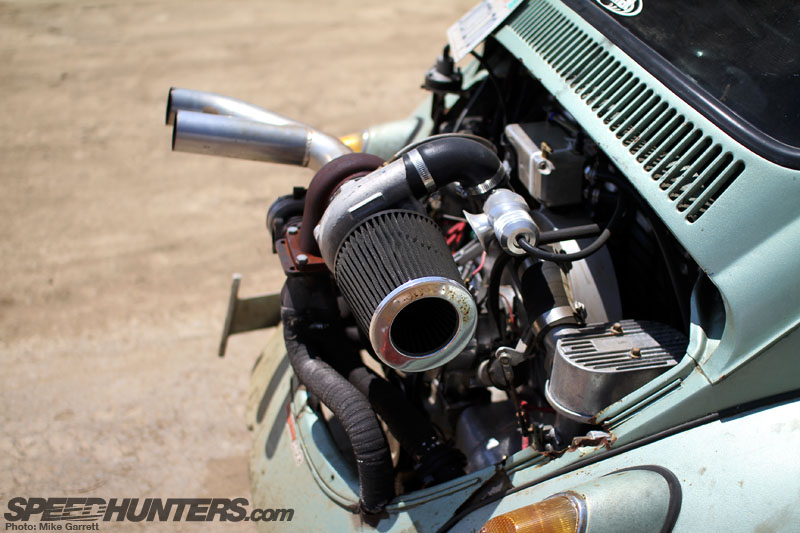 It got down the track pretty well thanks to its turbo power, despite some nasty looking wheel hop.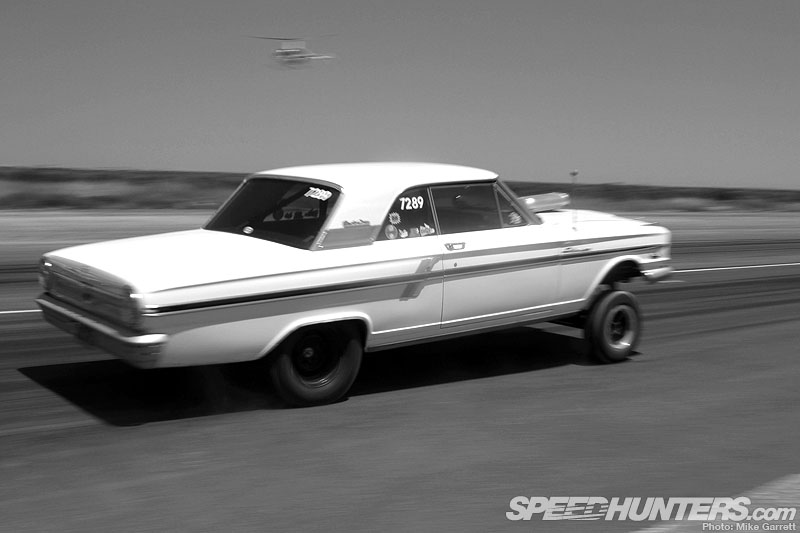 The '64 Fairlane comes off the line hard. On a normal dragstrip a car like this might lift the front wheels at launch, but it's not likely at Eagle Field with its lack of traction.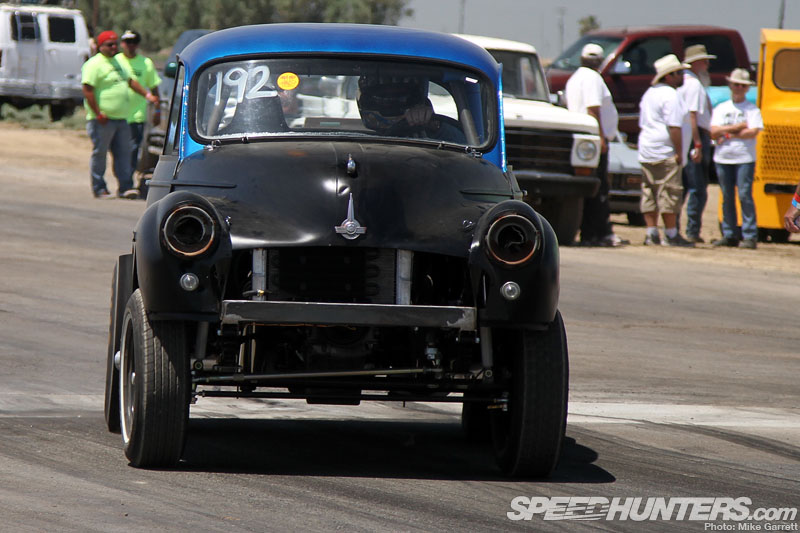 The Morris Minor is another one of those lightweight import cars that became prime drag car material beginning in the '60s. It may as well be a scaled down Willys.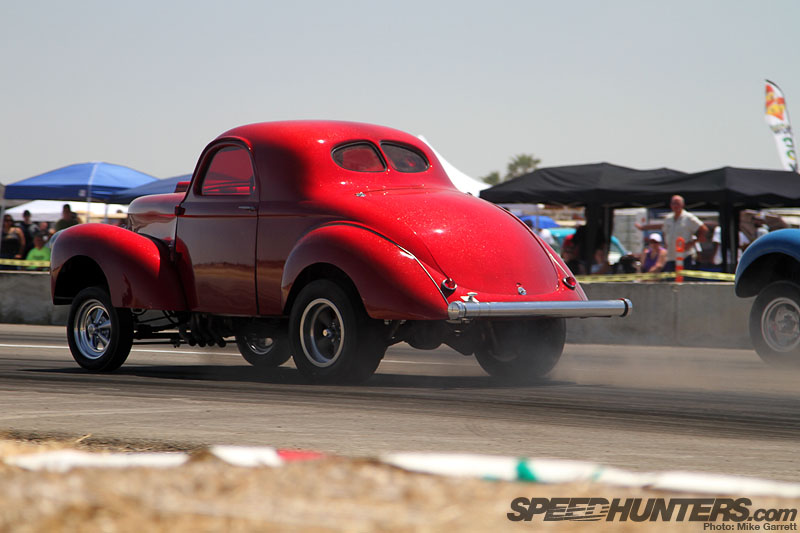 A real Willys for comparison's sake. This one was engaged in a grudge match with Riedel's Plymouth.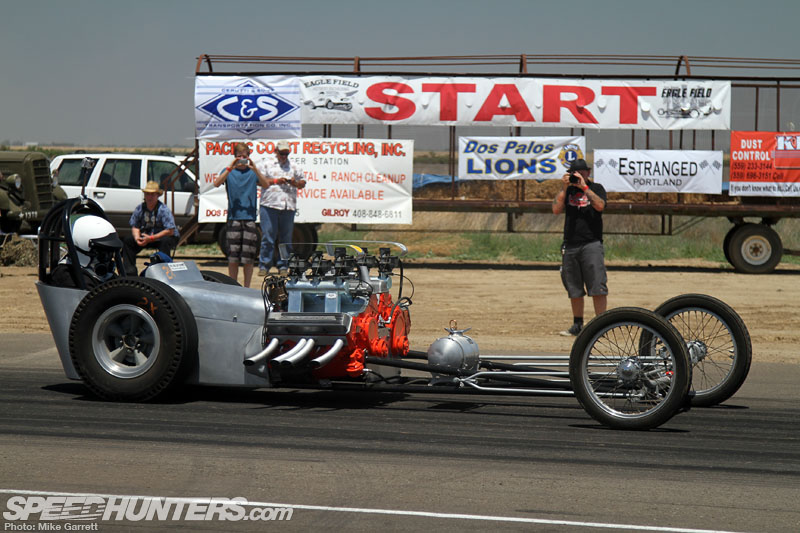 Event organizer Rocky Phillips was out with his twin-engined dragster, but an unfortunate transmission issue would keep the car sidelined.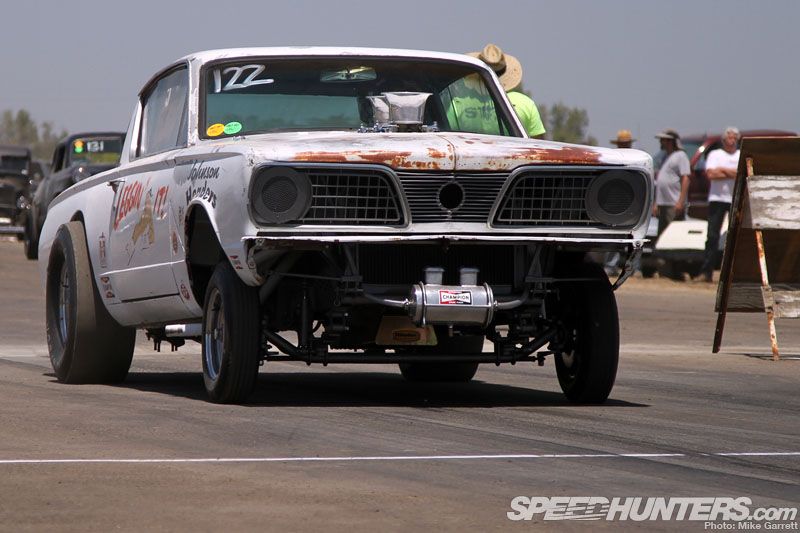 The Leggin' It Barracuda ready to pounce at the start line.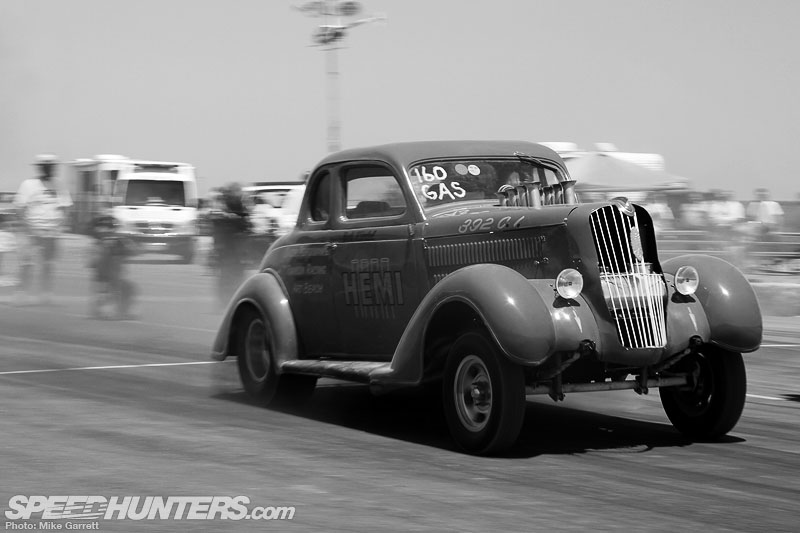 It's strange that two Plymouths built about 30 years apart could both look so natural together in this drag strip habitat.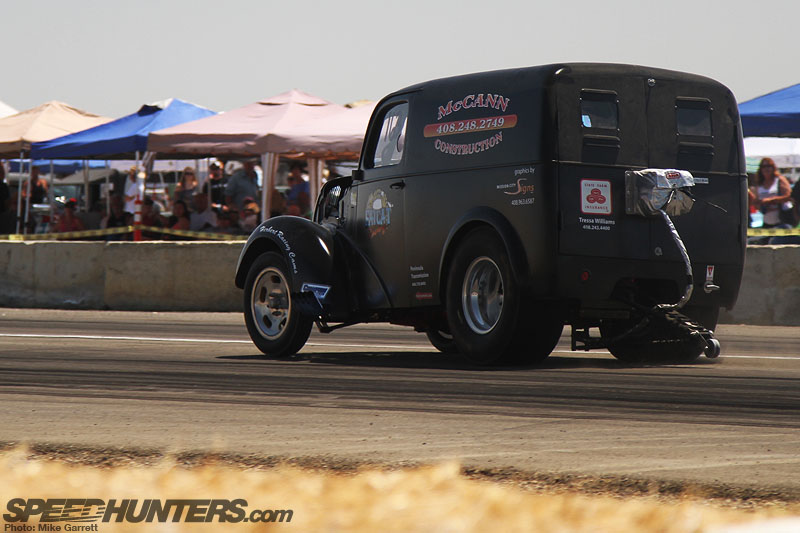 Steve McCann's blown '49 Anglia delivery van.  It's scary in a good way.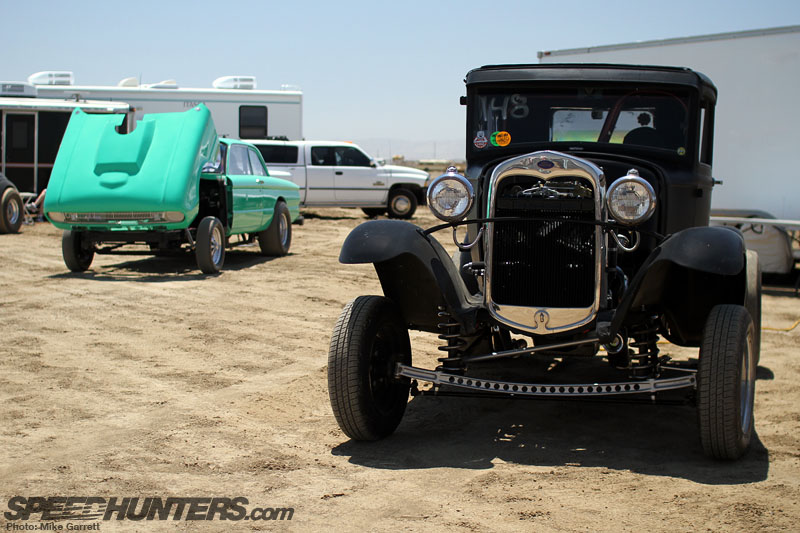 With that I'll wrap up my look at Saturday's Eagle Field drag meet.
I'll also be releasing some desktops of course, so if you have any requests leave a comment below.
-Mike Garrett