What's up Speedhunters, It's been a while! My last blog here was after FD Vegas last September, over eight months ago. I was ready for a break though, as two seasons of the same blog format definitely had an impact on my enthusiasm for the process.
I'm excited to be back and talking with you all again. There is so much to talk about. The break was good. I want to create new things for you. Clearly a lot has changed on the site and I'm stoked to still be part of the team. I now (finally!) have my own login to the site. I guess now they trust that I won't go off the deep end and post some weird gibberish in the middle of a cold night, although to be honest I feel closer to that state than ever. I'm not really sure what I will use it for.
At this exact moment, I am going to use it to reflect on Formula D Atlanta. My experience, my interpretation.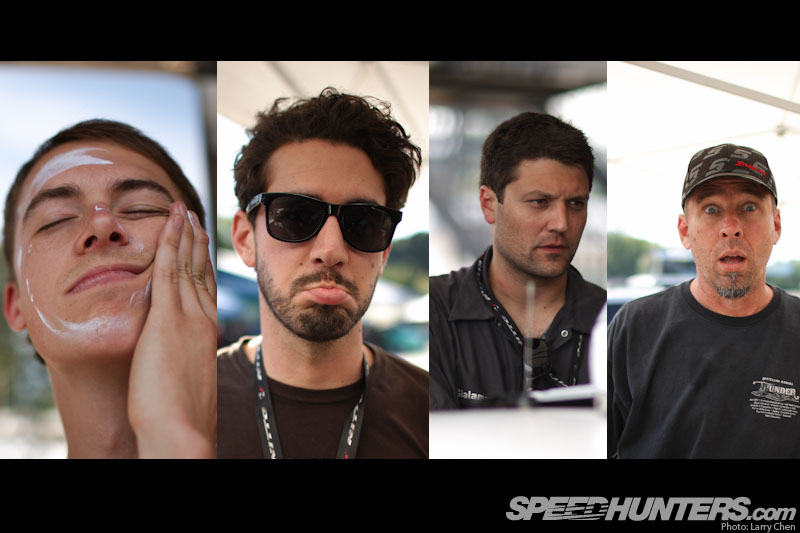 Before I talk about Atlanta, I should talk about my new car for this year. My last car I pretty much learned to drift in, and it was hammered worse than any Formula D car I think. There were was three years of Formula D competition, big crashes, lots of grassroots events, "fabbing" things on the car myself, etc.. All were arguments for a new car. Thanks to Need for Speed, Nitto tires, ACT, Mishimoto, and Brian Crower, my crew chief Costa from GTI was able to build me a new car like he wanted to. We stole the LS7, G-Gorce transmission, and diff from my old car, and got all the best new parts from KW, Motegi, Holley, Earls, STACK, Parts Shop MAX, Seibon, Rocket Bunny, Wilwood, and the Driveshaft Shop. Costa built the new shell in about two months, including some post Long Beach details. It's sick.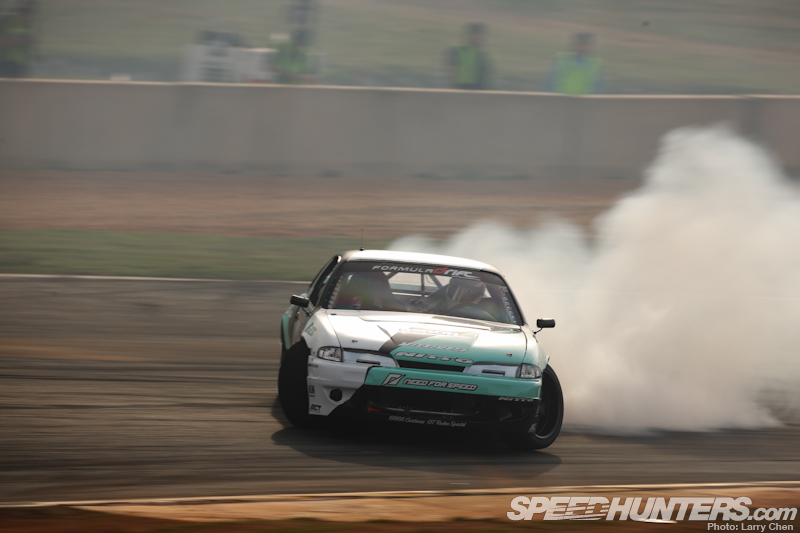 The car wasn't done and driftable until Formula D Long Beach half way through my only practice session before qualifying. I got only four practice laps in the car before qualifying and was pretty scared that I wasn't going to qualify at Long Beach. All the work the guys put into the car and all the work I had put into my program this year only to lose the first round. Somehow I qualified 17th and ended up getting fourth place. This was a success I guess, but overall I wasn't too stoked on my performance. I think I had two runs that were very impressive, some of the best runs anyone did all weekend, but outside of that my runs were mostly mediocre.
Two hours of practice time later, same thing in Atlanta. I currently sit fifth in the championship, but I feel mid pack right now. I'm not trying to sulk, I just think this is an appropriate place to express myself in ways I can't elsewhere, which may or may not be an interesting read. This could be my diary. Deal with it.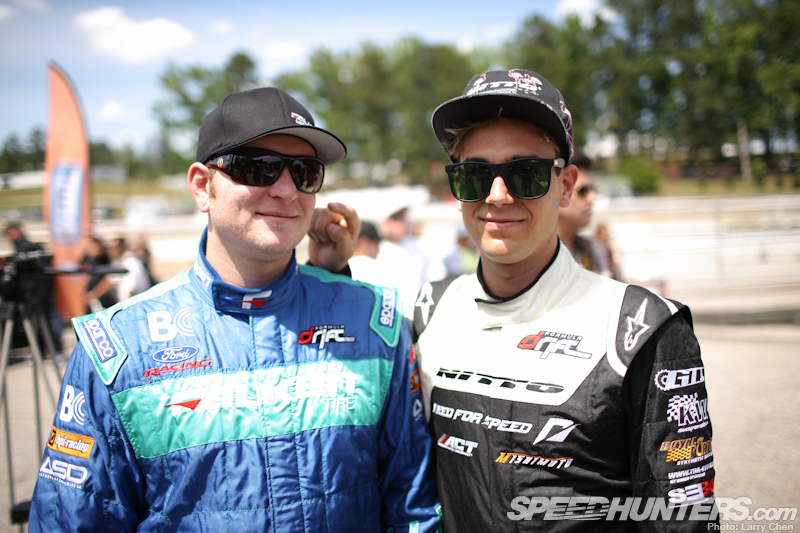 Atlanta had a track change this year. The layout looked really fun. Lots of the drivers thought the new course didn't "flow," but personally I thought it flowed better. I always used to think it was unnatural how hard you had to slow down to enter the horseshoe after such a short decently quick section, now you have the fist  S-turn and the run up the hill to maintain speed.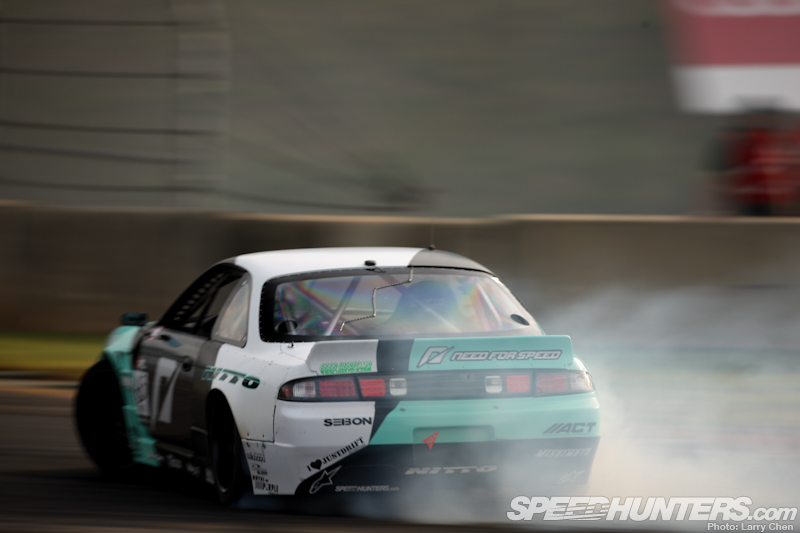 The main problem I saw with it though was that there was no one spot to really stand out and put it all on the line to gain an advantage. To show off, if you will. To do something that other drivers are scared to do, something that their right foot physically will not let them do. I like trying to make my right foot do things that go against my instincts. It's really hard. Sometimes I can make it do it, and sometimes I can't. I'm still trying to figure out what triggers that. I think if I can figure that out, I could consistently be one of the best drivers in Formula D.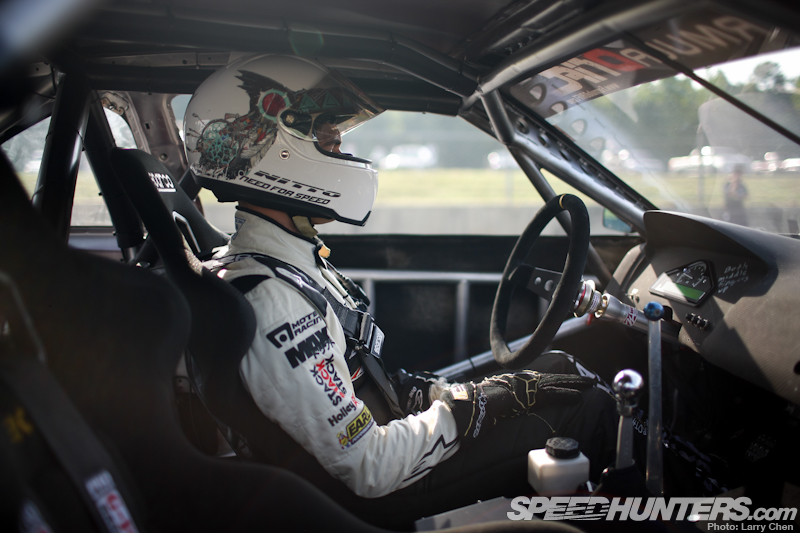 Detour over. The new layout seemed to lack this section, the flick under the bridge at Long Beach, the bank at Irwindale, the outer clipping zone at Vegas, etc. All the runs were really similar.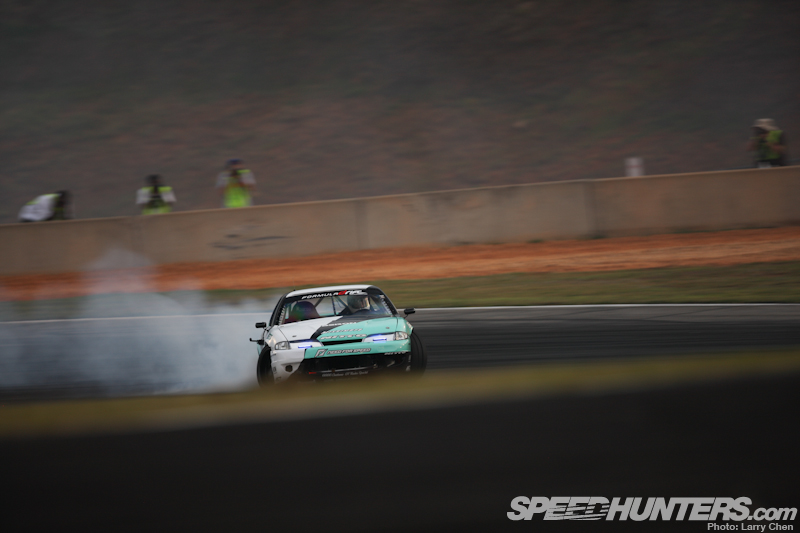 I qualified 7th with a 95.5, which was good. I think there were at least ten drivers with scores in the 90s and maybe fifteen in the 80s. Usually you can make top 32 with a score in the mid 60s. This isn't to say there weren't stand out drivers. There were, it's just that on the whole it seemed that runs were similar and it didn't take a lot to make at least a decent one. This was lucky for me because I missed pretty much all of Thursday practice.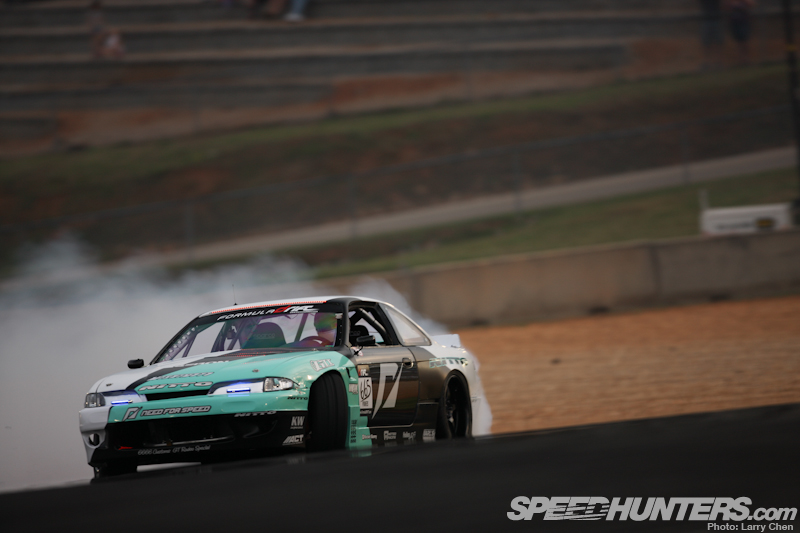 After my first lap Thursday, I told the guys the car sounded funny and felt slow. They thought it sounded fine as the problem was only apparent during high load moments, and they thought maybe it was ambient temperature or taller rear tires making the car feel slow. I did a couple runs before finally throwing in the towel and we headed back to the pits.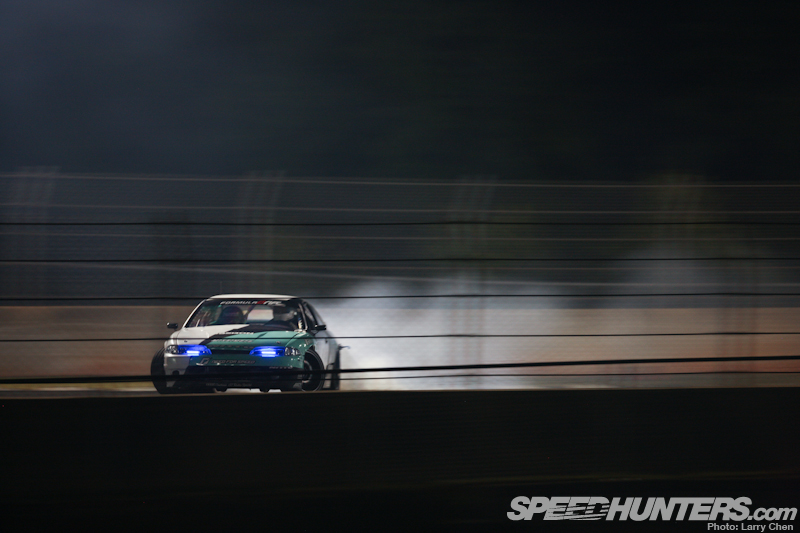 Around the end of practice we were still chasing issues with the car and we found a local dyno… [ I was cut off mid sentence here by a text from Larry Chen asking if I was at LAX. I thought we left a day later for our WDS China trip than we actually did, and had to be at the airport two hours away in an hour and a half. I literally packed in thirty seconds for a week long trip to China. I only had two pairs of underwear. I was in a bit of a strange and down mood above, I don't really remember exactly what I have written above, but I am choosing not to go back and read or edit it since it was true then and reflects my post Atlanta state. I'm now about to leave Tianjin, China,. I qualified third here then lost in top 16 which was pretty disappointing, but overall all of us had a fun trip I think. Now to return back to your regularly scheduled program....]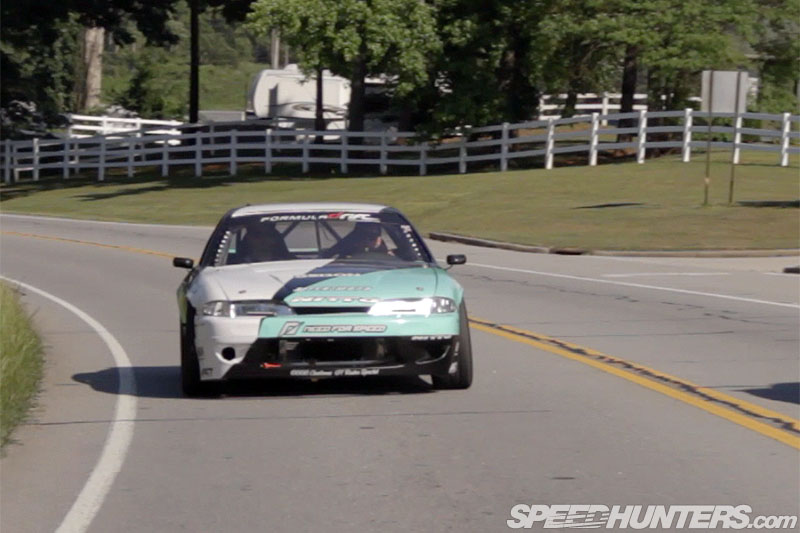 We found a local dyno that we could get the car on to troubleshoot it a bit better. Ended up just being a spark plug wire that had broken internally costing us 100hp. We ended up melting a lot of spark plug wires this weekend which made it really hard to get a consistent feeling for the track. During practice and competition my car would fluctuate by about 100hp.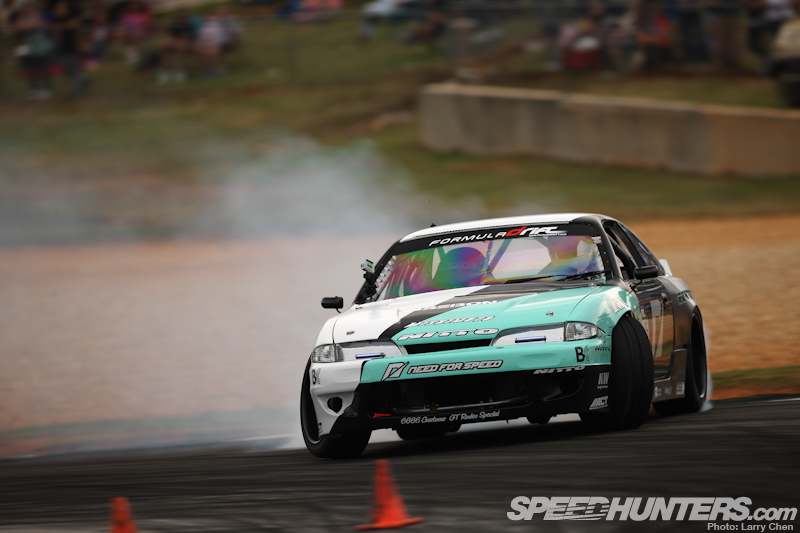 In top 32 I faced George Marstanovic who is one of the top rookie drivers in Formula D this year. I followed him in practice and he went off track so I wasn't really sure what to expect in competition. He ended up spinning out behind me on my lead run so I pretty much had it in the bag assuming I didn't mess up on my follow. I didn't want to drive overly conservative though, and George also told me he wanted me to hit him.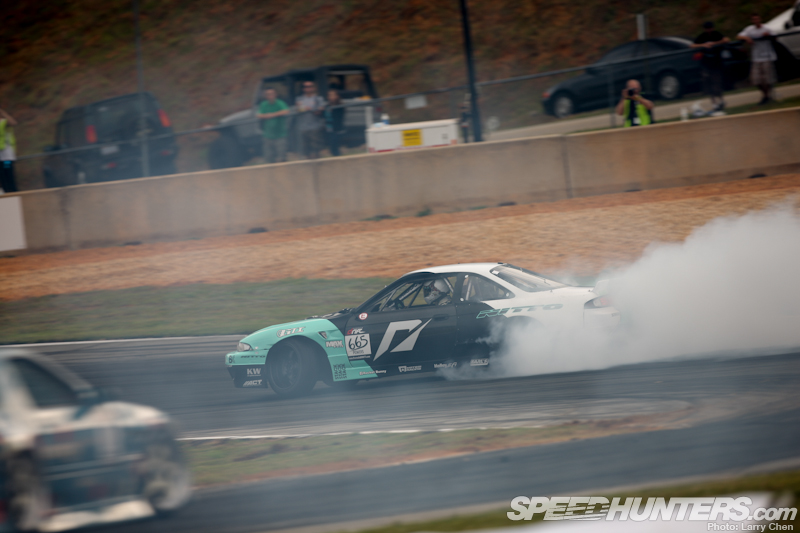 I ended up getting fairly close through the horse shoe and advanced. I remember in 2009 when I was a rookie I just wanted to get paired up with the top drivers in FD because there is no pressure and it would be rad to have an epic battle with them. You basically just want to give it to their door. No one expects you to win, so it's a good situation. If you do win it's huge.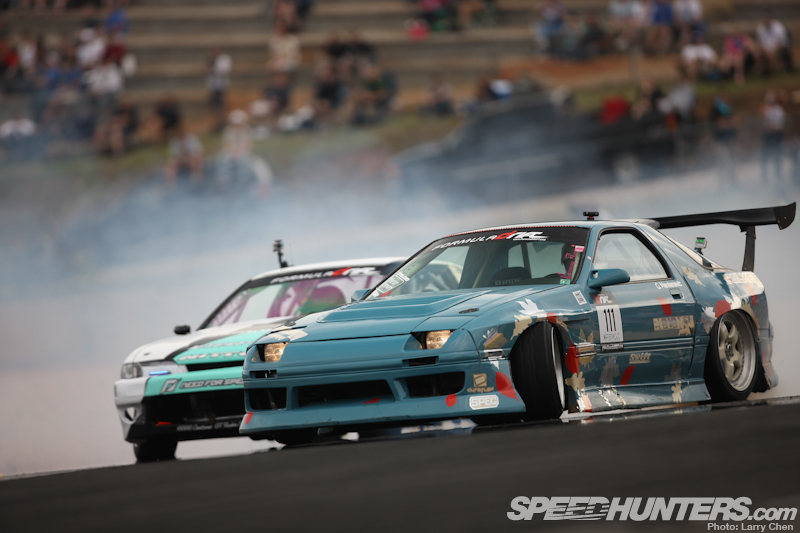 I'm not sure if now I am on the other side of the coin, someone that people are hungry to have good battles with. That would be cool I think and would tell a lot about my journey that got me where I am today. Another top rookie Chelsea DeNofa was matched up with Daigo Saito in top 32 and I was talking to him after the drivers meeting and he was so pumped to be matched up with Daigo. It totally reminded me of my first year. How cool it was to have the chance to get to tandem with one of your drift heroes and get a shot of your car in their door.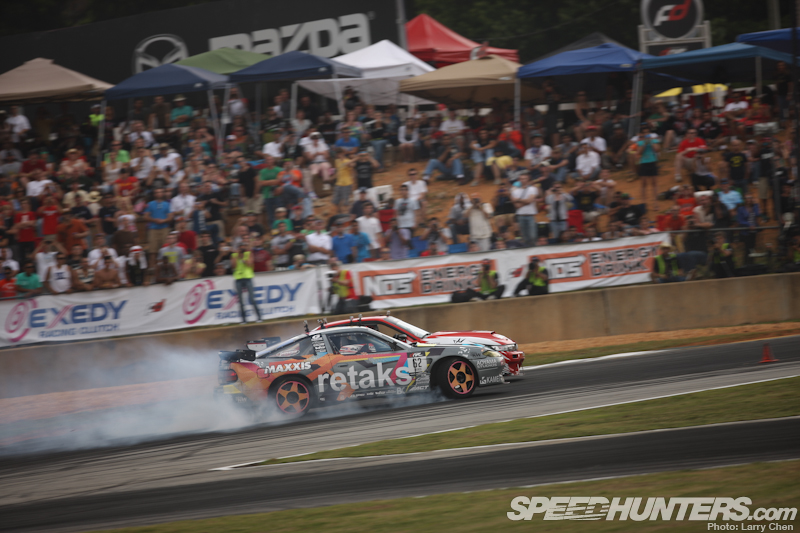 Top 32 didn't just slate up and comers against drifting's top drivers though. There were some heavy match ups and serious disappointments. The biggest one that comes to mind is Tuerck advancing over Dai in one of the first battles. This was not really a major shocker about Tuerck since he kills it, but just a huge blow to Dai's 2011 championship defense. It was definitely a close battle, and from the start line up on the hill I thought it was a one more time. Sometimes close calls go your way and sometimes they don't. Maybe the judges owed Tuerck a little love from my advancement over him in our close battle in top 16 at Long Beach.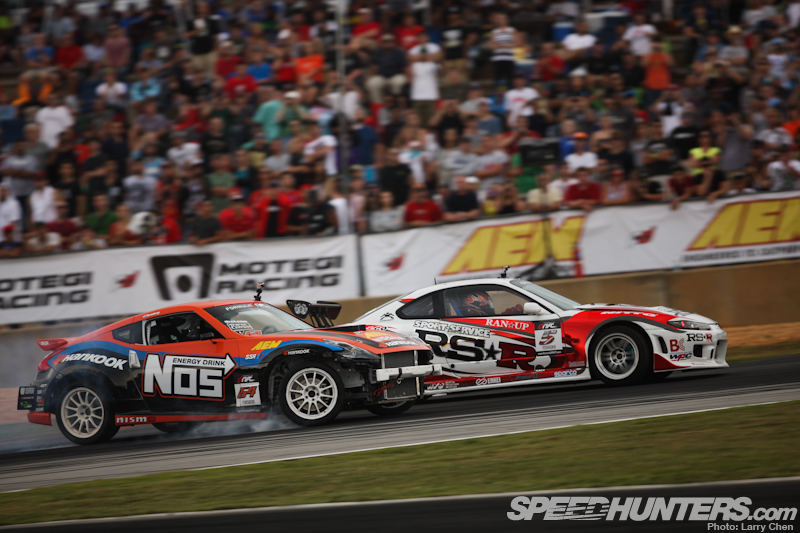 Forsberg also lost in top 32 when one of his front suspension arms broke upon entry. He placed 3rd overall last year, beating me (6th), so he is someone I keep track of I guess. He typically does very well in Atlanta so this was a big upset to him I'm sure.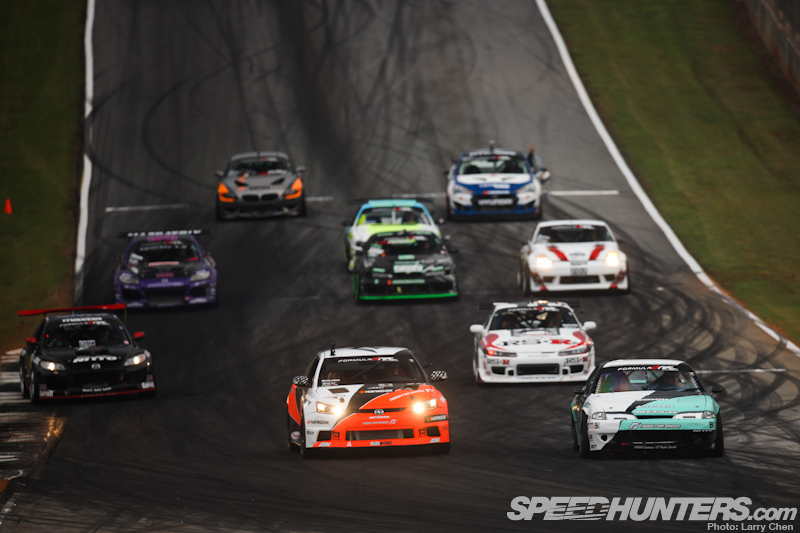 But there are bigger and deeper upsets, and I think I experienced that in Atlanta.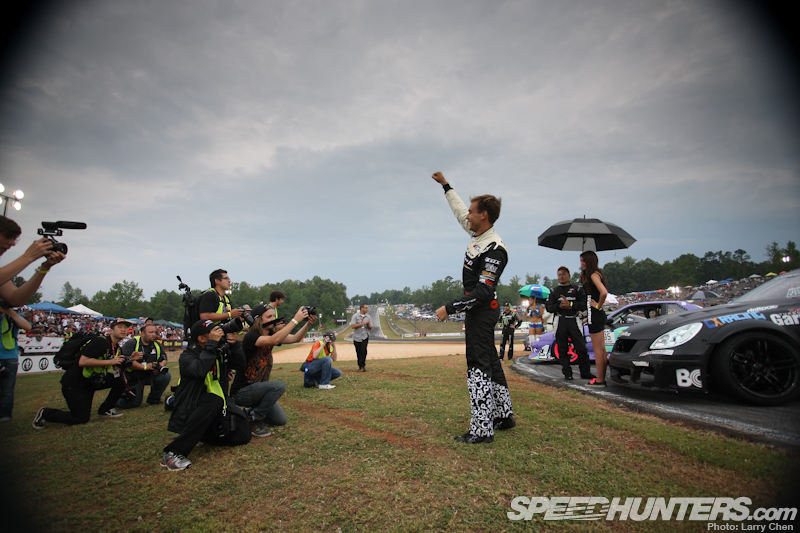 It happens when you just don't do good enough. There isn't any explanation except that you weren't good enough or committed enough at that moment, which stings deepest I think. Assuming that you are a harsh critic of yourself at least.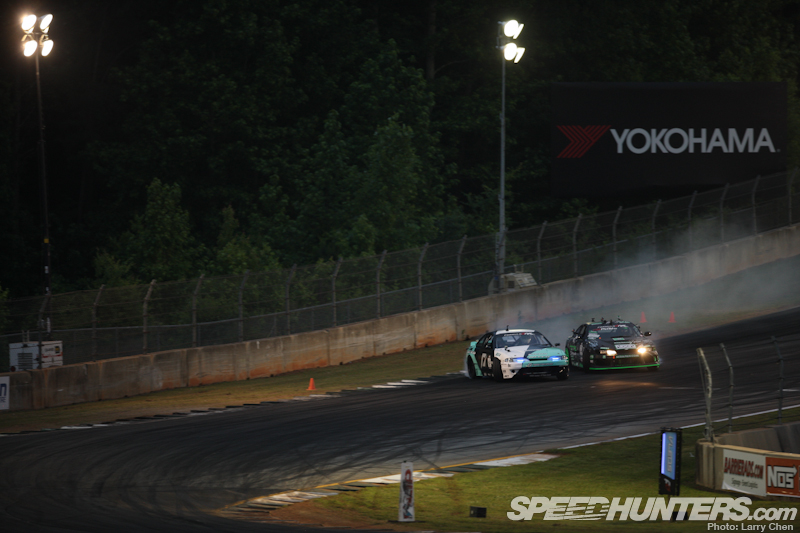 In top 16 I was paired up with Odi Bakchis, last year's Rookie of the Year. Leading I had a decent, but not amazing run. On the entry passing the firsts clip he was pretty inside line-wise, so it was easy to see he was right on my door.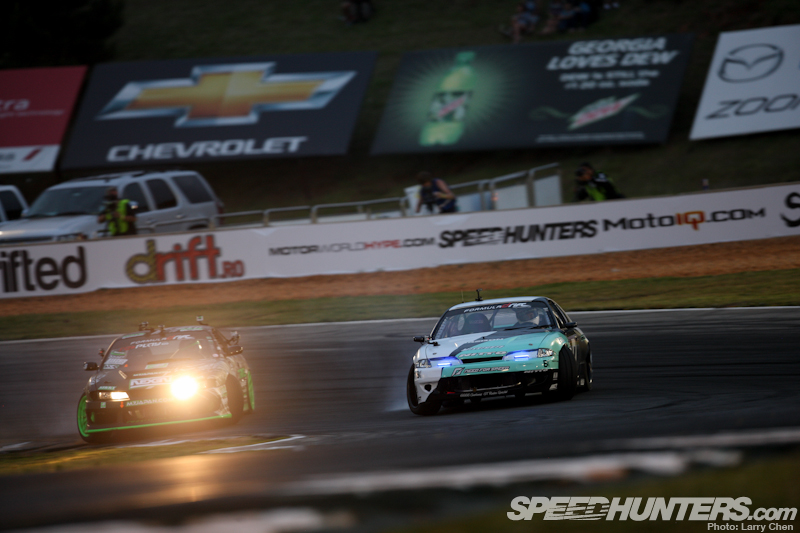 I knew he put it down and that I had to do a sick follow run to win or even for a one more time. I followed him pretty well, and even had my tire on his door, pushing him through about a third or half of the horseshoe, but I had to add a good amount of angle to allow him room to transition. This allowed him to pull a car length or two gap which I wasn't able to close until the last turn of the course.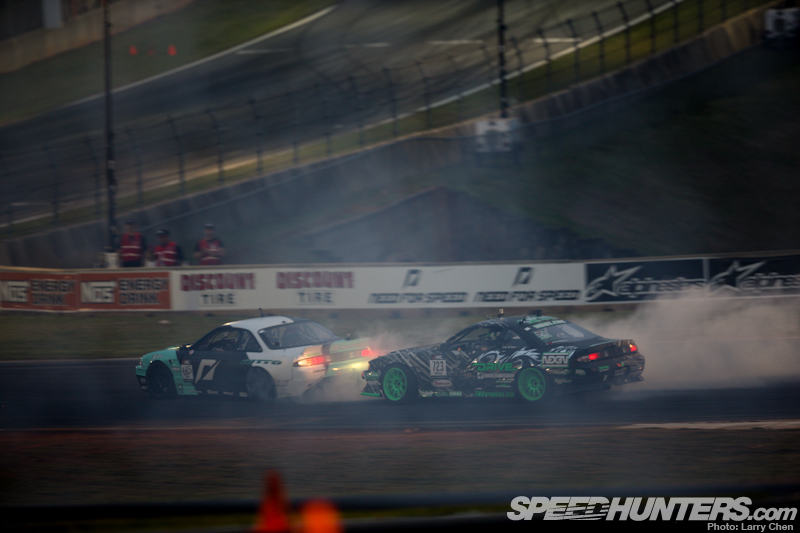 He is actually a fairly difficult driver to follow because he rides his brakes through the course including most transitions and in acceleration sections of the course. This isn't to say he is brake checking or a dirty driver. He is very consistent with this driving style and has a reputation for this driving style. It's just to say it's a little difficult to follow.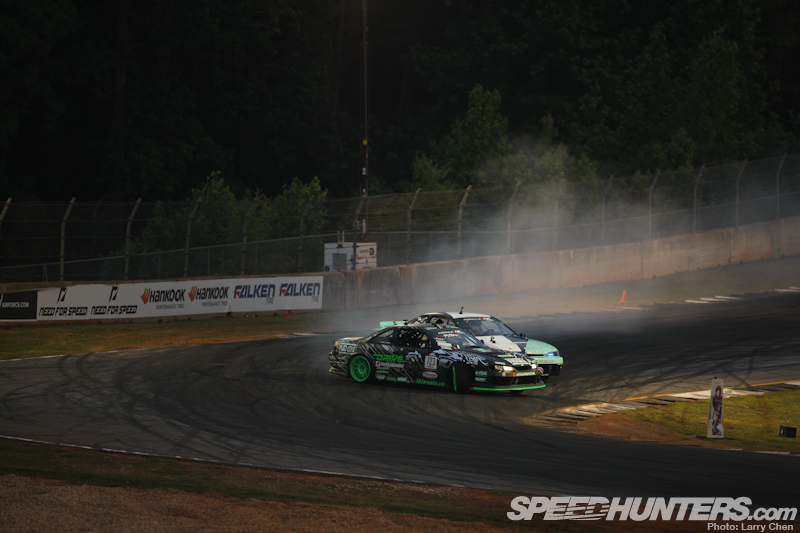 I was so gutted after having lost. I just feel my performance in Atlanta except for moments of my follow run with Odi were totally mediocre, and that's not what I'm out there to do. It sucks when you aren't on your game.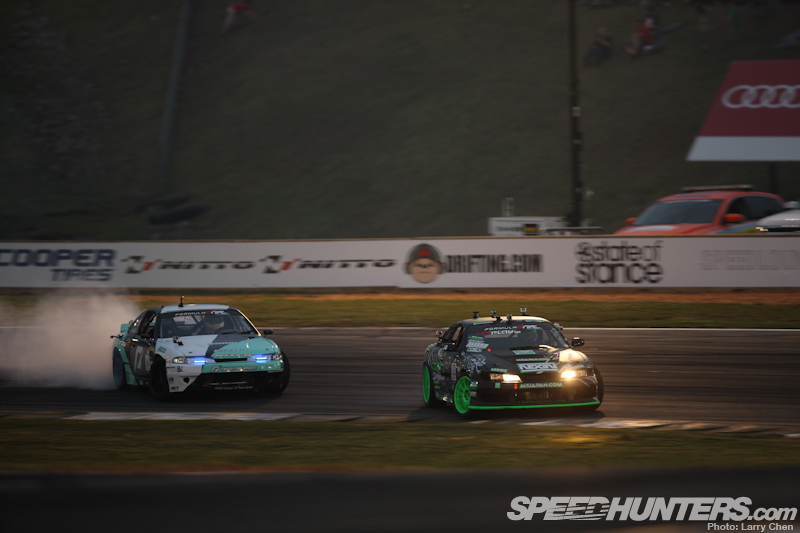 If I could better figure out how to turn it on, how to "get in the zone". I don't know. I need to focus less on trying to win and just stay focused on being aggressive and just trying to have fun with my driving and time on track. The rest will follow.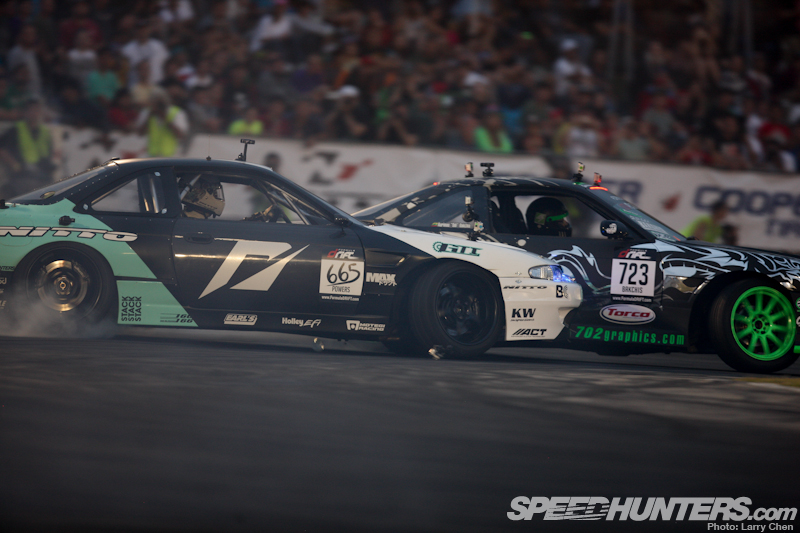 After I lost, I drove my car to the back section of the track and just sat there for a while, disappointed, trying to learn from my mistakes while things were still fresh in my mind. I tried to focus my disappointment and channel it into hunger and motivation to kick ass in Florida.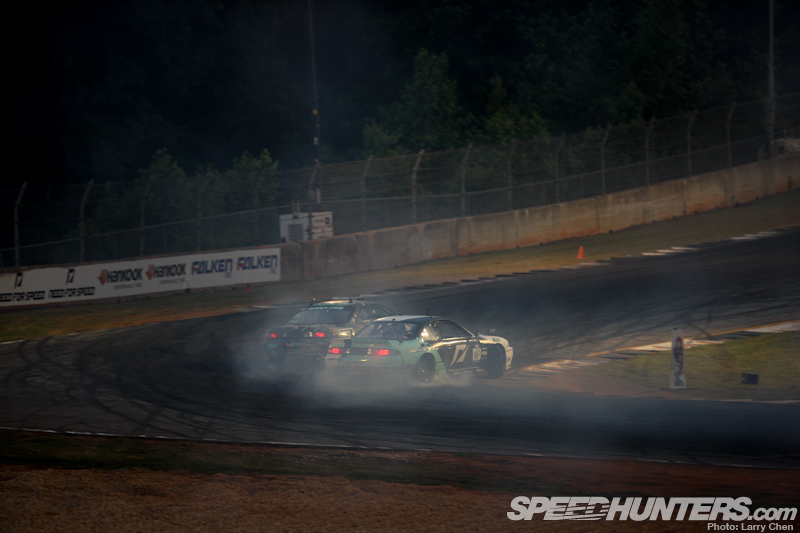 I went back to the pits after to drop the car off, then went to watch the last couple battles. I made it to the Team Rowdy hillside spectator area somewhere around the top eight, but the final four battles were the ones that made a strong impression on me, specifically Daigo vs. Walker and JTP vs. Aasbo.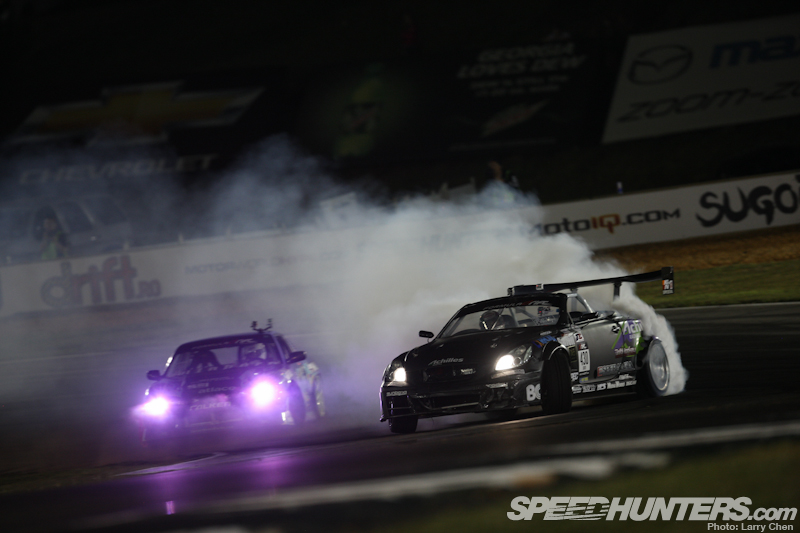 Daigo verse Walker was a tough one. After the first and second battles all I could think was man, I'm happy I'm not a judge. What a tough call. Daigo pretty much would win the first two-thirds of the track while Walker I thought won the last third. Typically I think tandem battles are weighted more towards the end of the run. It seems Atlanta was not the case. Daigo was really close to straightening out through the horseshoe, but Walker had been somewhat slow during detain sections of the competition with multiple people hitting him in competition giving him the win. Daigo dropped two wheels off at the end, which is typically a huge mistake. In the drivers meeting they say three off is a zero.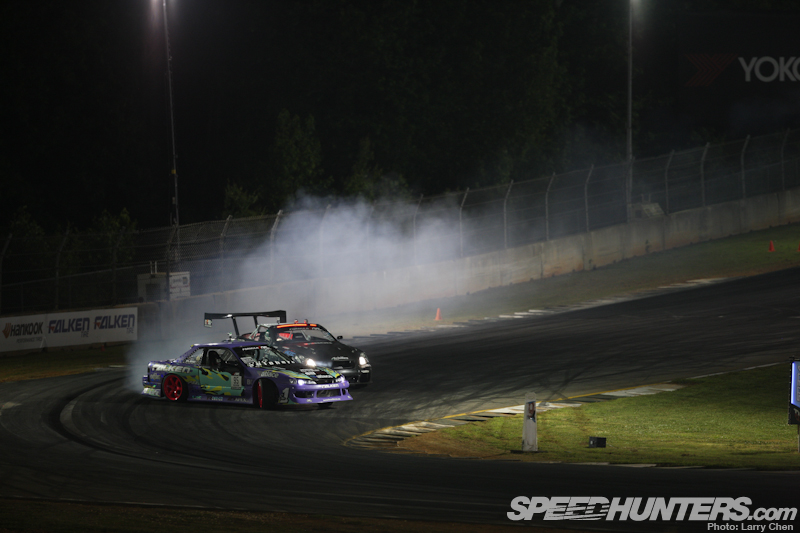 It was a super close battle especially with Walker's first podium on the line. All I could really say to him after was that it was really close, some calls go your way and some don't, and that he'll be that far in competition again and will have more chances to make it happen.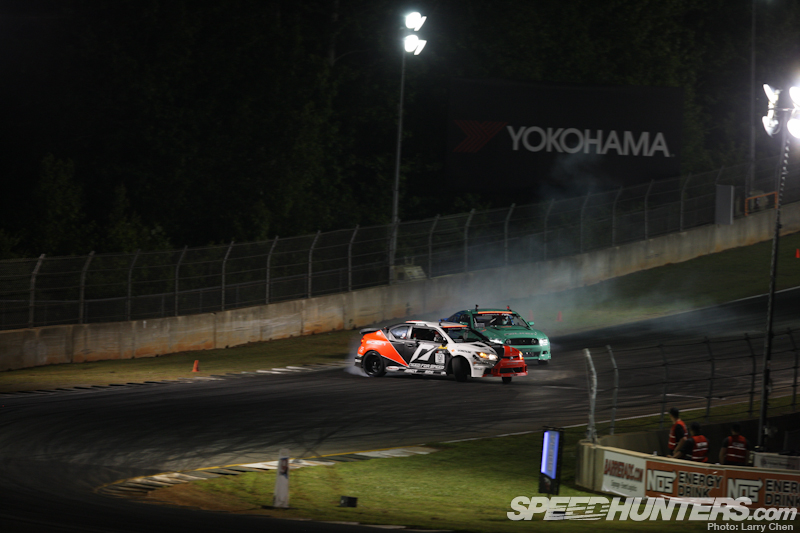 I was super stoked to see Aasbo in the finals. I would consider him one of my closest buddies through FD and I was super proud of him and pumped to see him in the finals for his first time. A couple times through the weekend his name kept coming up as someone who was killing it in the new layout. In the battles with him I watched, he definitely was looking very strong coming up the hill and had a sick transition style where he would accelerate through the transitions and it would sorta boost his car forward. He said he was turning the front wheel drive back on haha. Justin was coming off a win at long beach, but I don't really think he was looking as good as Aasbo.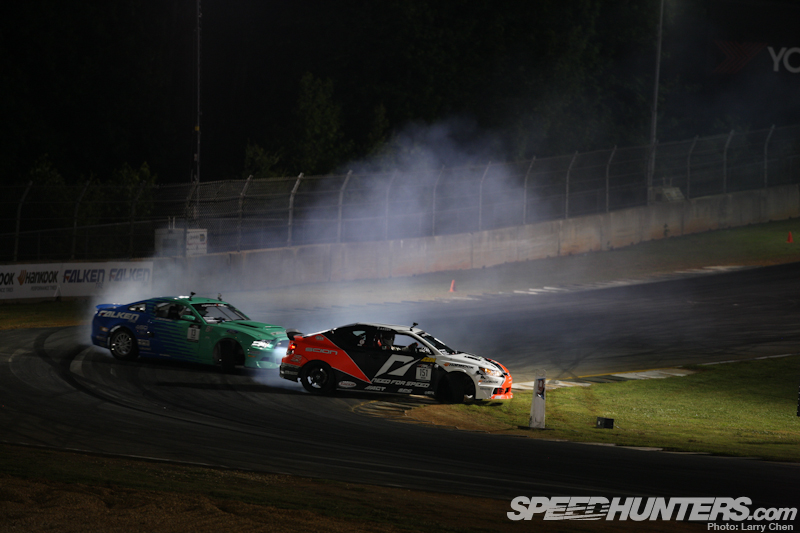 Fredric qualified higher and would lead first. He threw it in and botched the entry. It looked like he went for it a little harder than in his previous runs, and did a half spin at the first clip, pretty much giving Justin the win. I'm not sure if you can really blame Fredric for this. You can mess up and give away by going too hard, but you can do the same thing by going too easy in competition, leaving impact and commitment on the table hoping your competitor doesn't bring the heat. I would say most of my losses are from being overly conservative. I usually pull off my hyper aggressive runs. It's worth the risk. Leading and following first are both difficult situations because you have to push hard for both, but you don't know how hard. It's just as easy to overshoot an outer clipping zone and drop a wheel as it is to follow too close and straighten out or bobble.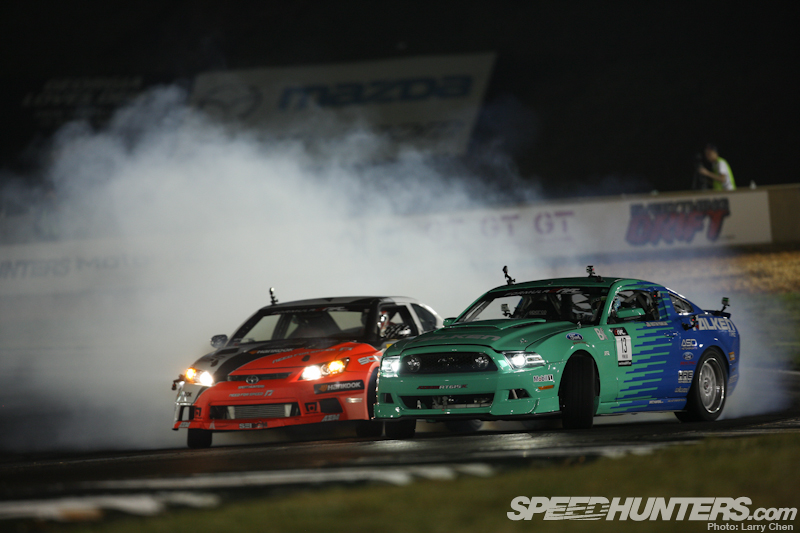 I'm sure Fredric was bummed, but I understand and think it's something you just have to go for. When you are in the finals, you should do the best run you have done all weekend. Turn it up round by round.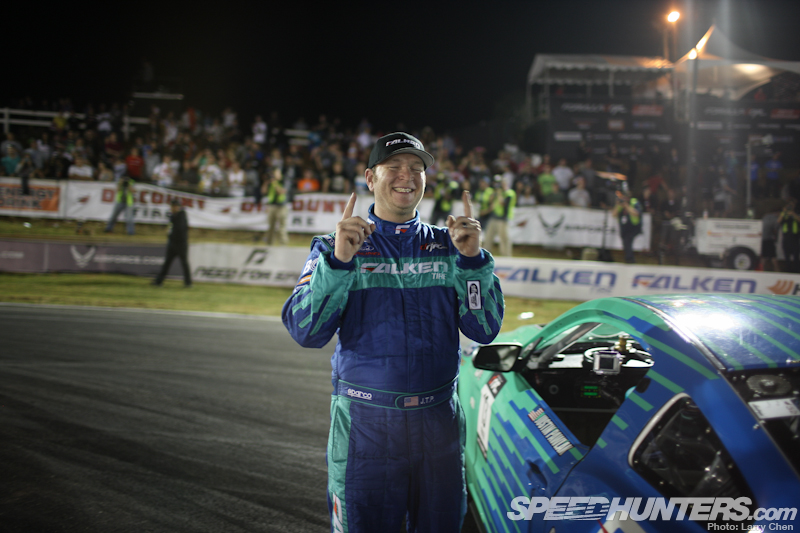 Now overall JTP has won two events in a row and has a massive lead in the championship. Last year he also had serious car issues two events in a row that I honestly think directly cost him the championship. Who knows what will happen? Who even knows what the track layout for Florida will be?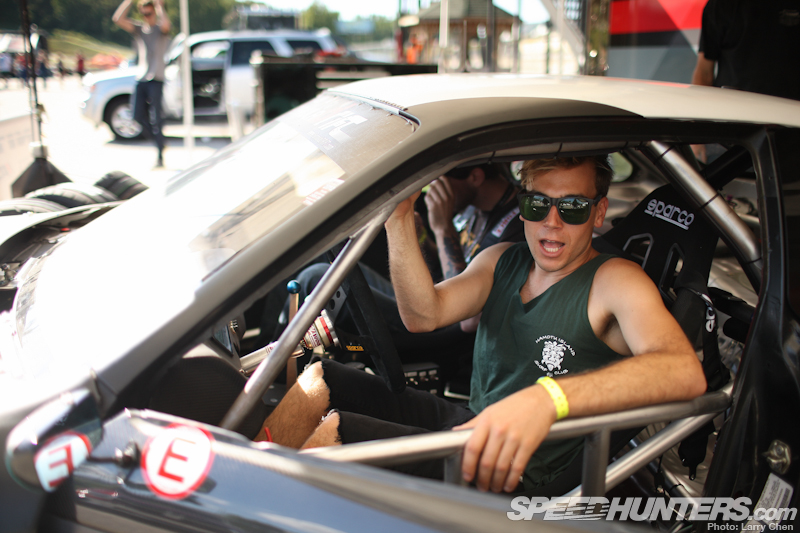 So long Speedhunters. Au revoir.
Hopefully next time I will have something glorious to tell you about. Something really glorious.
-Matt Powers