In my neighbourhood there are a few small communities where the locals don't get out much. They're all elderly and have lived what we would consider a simple life, they know no different, so why go changing a good thing? You might think that not having a wide knowledge base of the world is a bad thing, ignorant even and given that Speedhunters is a globally spread site, we'd have to agree. But sometimes it can be bad thing.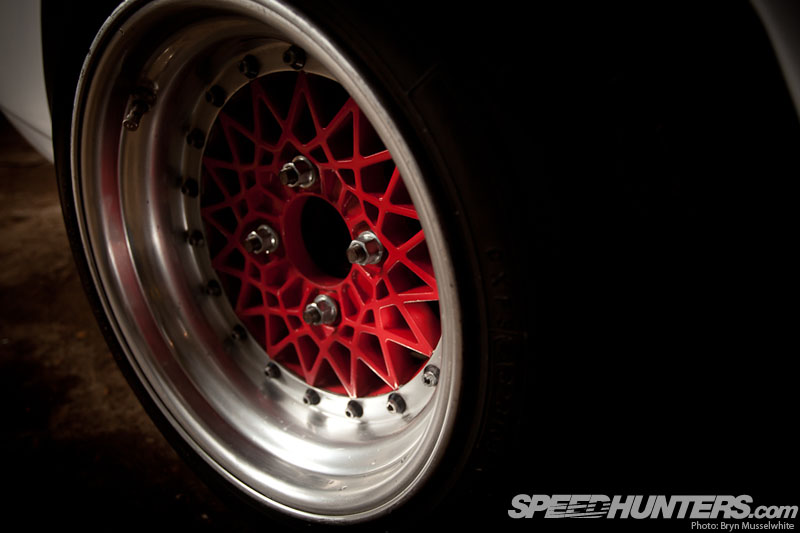 This 1976 Toyota KP30 is the case in point today, because when the world comes knocking and you open the door, you let a lot in, which can ultimately lead to frustration in some ways. Unless you know how to cope with the influx of information and influence.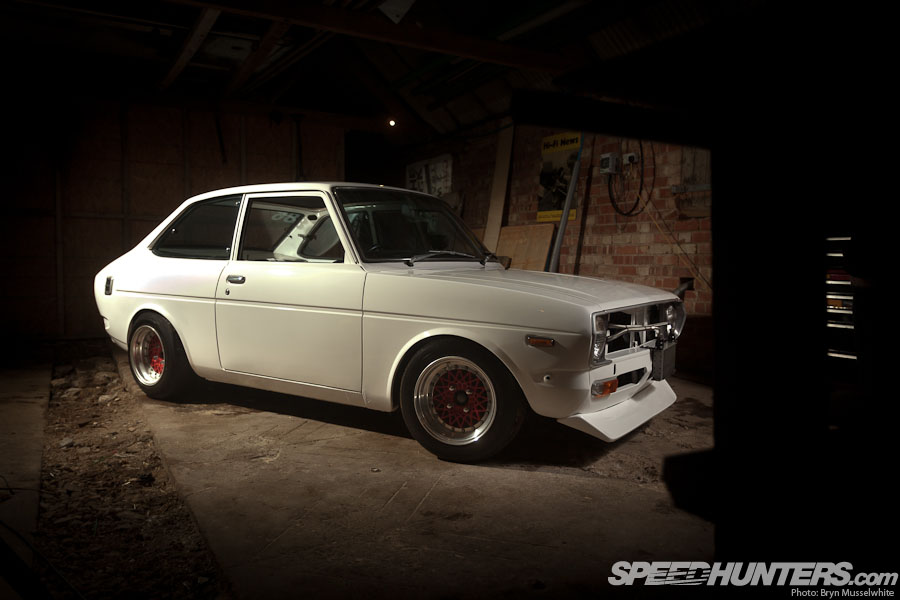 Rob Richardson does, based in the UK Rob's influences reach far and wide. Right now in his garage are a dropped BMW E28 daily driver plus a cafe racer style Triumph Herald, then there are the push bike projects and who knows what else in is hiding in his head. Take these Compomotive split rims for example, what could be more English than a wheel made in the heart of the manufacturing Midlands, by a long established favourite? Yet in context on the KP they look right at home for a JDM style.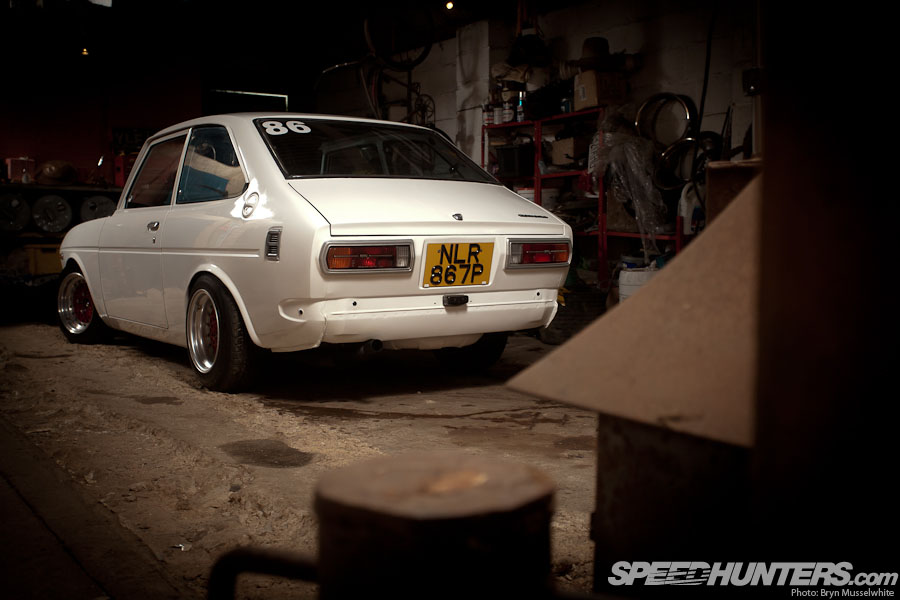 Which helps me with the point I'm trying to make here, when you truly open your eyes to what the Speedhunting world has to offer you soon realise there is no way you can ever have all the car's you want. Rob's expertise lies in getting things right though, where others have stumbled at the detail step and tried too hard, Rob is consistently on the money. Most of the time without spending huge amounts of money…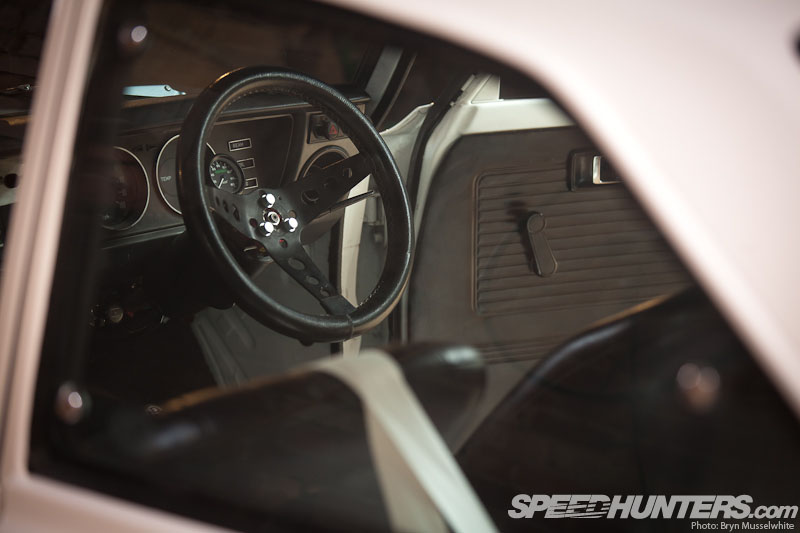 So where did the interest in cars come from Rob?  "My old man was in to bikes, he never really played with cars. He welded stuff up and fixed it where needs be. So I guess that's where I inherited the love of messing about with all things petrol, things that make smoke and noise."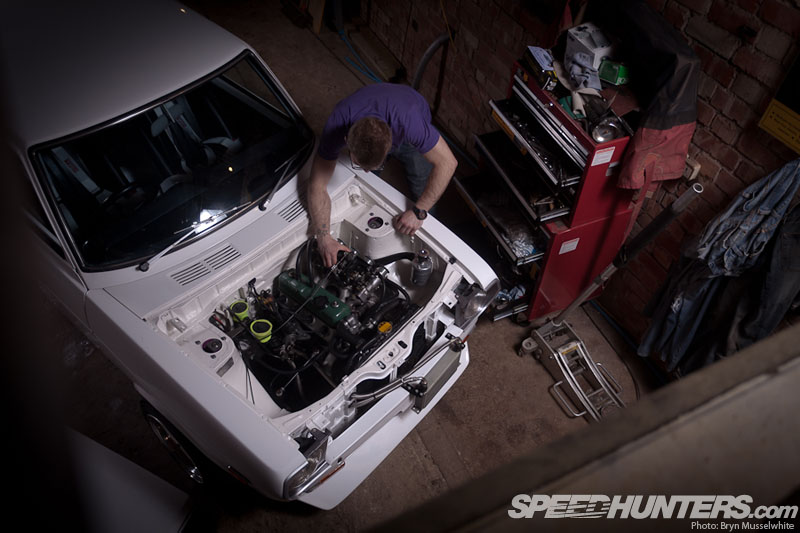 Like I said, Rob has currently got a wide variety of cars in his ownership, it wasn't always this way though as Rob remembers, "When you're seventeen and you're driving around in a Mini with a roll cage and spotlights, you think you're the fastest thing on the road." Rob was Mini through and through, like he says, "I was a diehard Mini guy, I would argue with you face to face that they were the best ever car."
Times change though…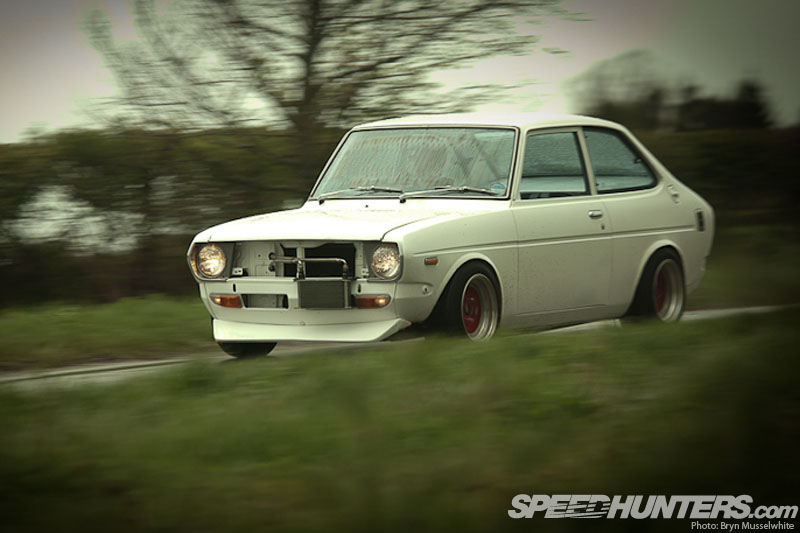 "Life was easy then, but it was Motorsport and rear wheel drive that spoiled me…"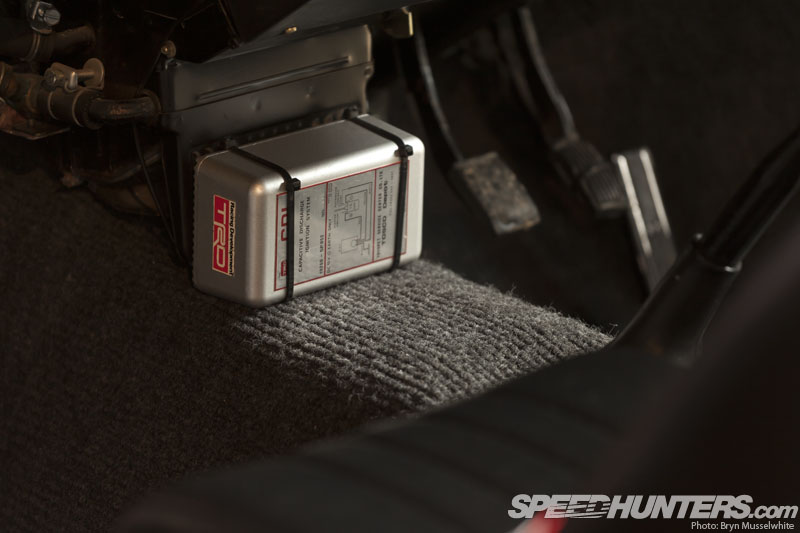 It was a degree in Motorsport Engineering that signaled the time for change, it was the first door that Rob opened up to the world. Here he found people like him who liked rallying, drag racing and plenty of other stuff on wheels. Rob saying of his time at college, "It was a qualification for arsing about in cars, everything had to be bucket seats and roll cages. The more unpleasant it was, the better, the more bars my girlfriend had to climb over the better it was."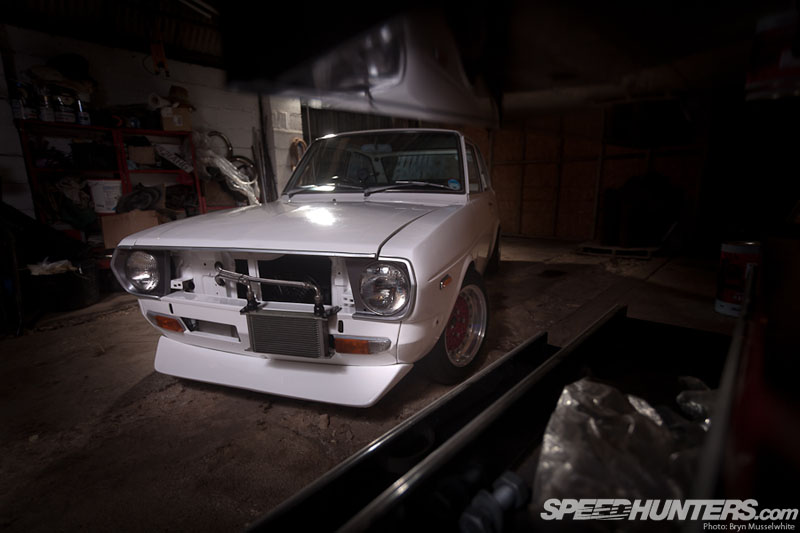 At the same time Rob starting paying attention to the internet and going to car shows, when this happened, "Suddenly there are these guys in Japan who are tuning up shit old cars and skidding them around mountains."
What you have to understand is that every word Rob says comes out of a smile, his eyes are alight with excitement. Half the time his tongue is firmly in his cheek, self deprecating, his sense of humour is as sharp as it is well-rounded.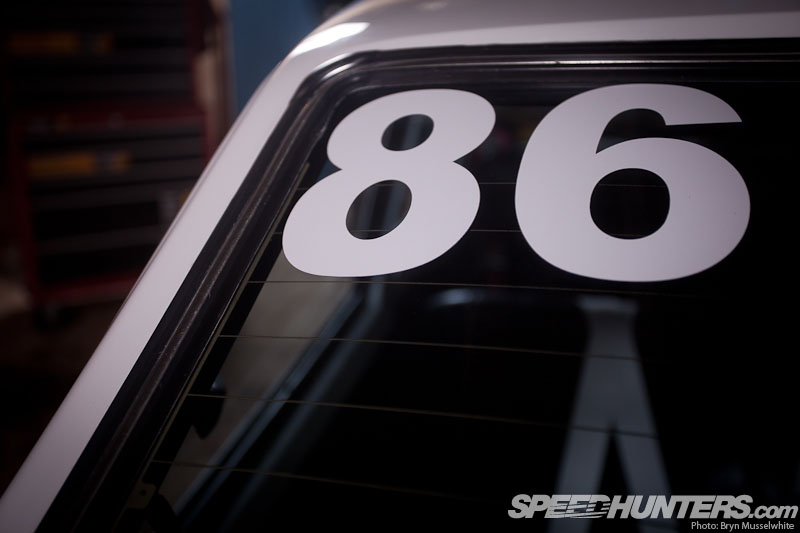 The '86' on the back window is a subtle nod to his own blog, Racer86.com. Rod actually saw the baby KP some years ago, charging me with tracking it down, it didn't take long as I've known Rob for almost as long as he's had the KP. So remind me Rob, when did you get it? "I think I got it in late 2005, early 2006. It had to sit and wait until the summer when I finished college."
I remember the advert well, I also remember it didn't look anything like this.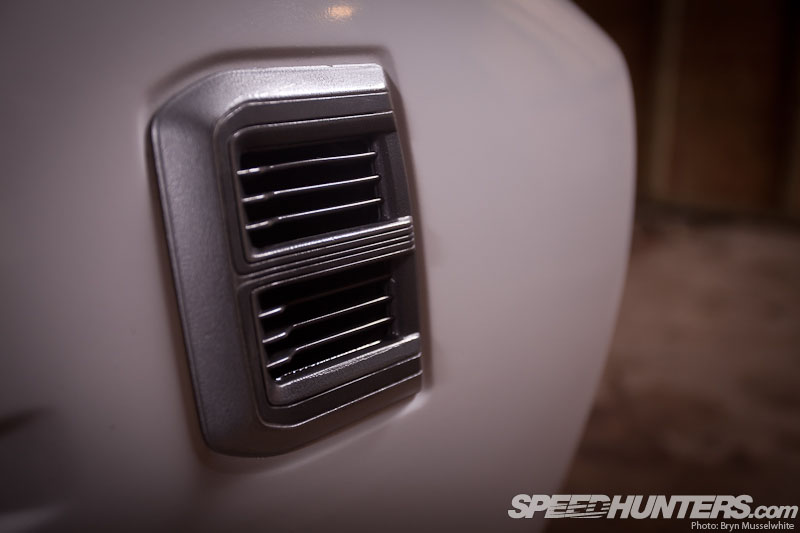 "It was painted in red oxide with a home emulsion paint stripe over the top. The standard engine was still in there and the interior looked like chickens had been kept in it."
Thankfully the shell was still solid after thirty winters in the UK and our lovely salted roads. The trim was still in pretty good shape too, as there are now less than ten KP30s on the road in the UK, spare body parts can be an issue. The initial build only taking sixteen days, "I wanted to get it to the Retro show at Santa Pod, I was moving out of Uni too so it was a good thing it didn't need any major repair. It had been a little old ladies cat food car, having been stored in a garage for eighteen years."
Painted white with some Ford sourced Lotus steel wheels fitted, the interior is the same as done back then, but there have been plenty of other changes.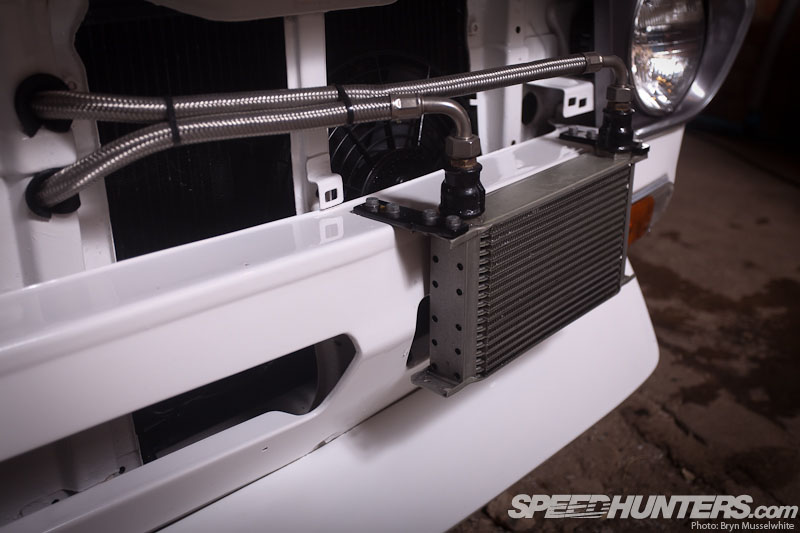 The only thing missing really was the front bumper, which Rob didn't bother replacing, instead he added this simple oil cooler set-up as a nod to his new found Japanese influences. Having finished college, Rob was and still is a fully qualified motorsport engineer, his work now being the new car development area. His attention to detail is impeccable.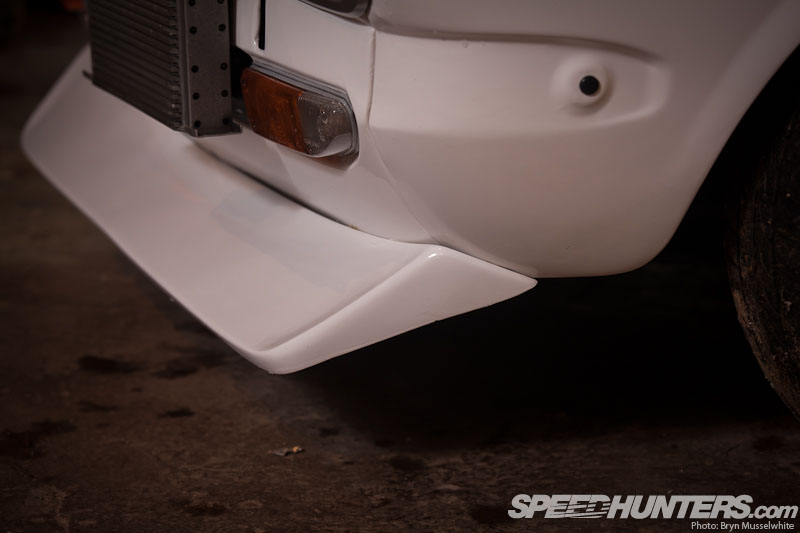 The only other major change on the outside is that front lip, somebody correctly identified it from our Facebook page the other day as a VW sourced item, although that would be far too simple a story for Rob, "A guy I was working with had been building a Mk1 Golf project and he had this rare deep Bonrath spoiler. I wasn't aware it had any heritage or pedigree really, so I wasn't too bothered about cutting it up."
Rob knows now that the VW fans amongst us may think differently, but again he manages to use what is around him to such great effect.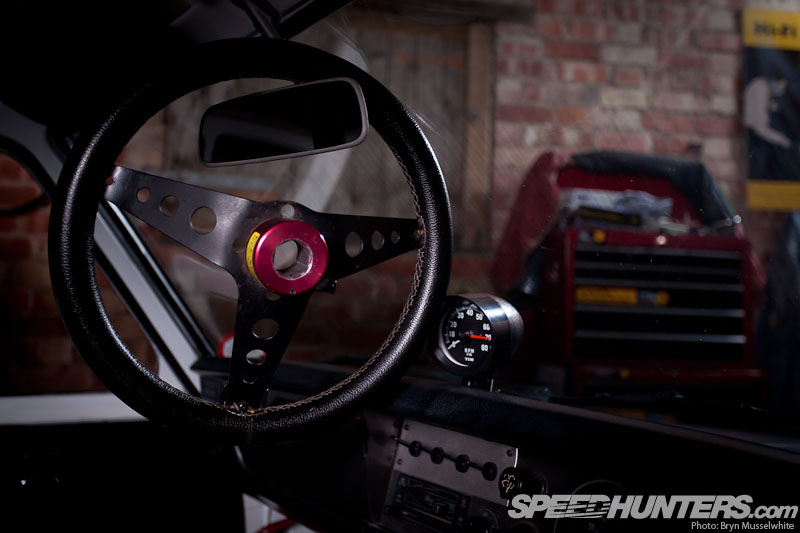 A proper oval racer spec snap-off steering wheel has been fitted, which looks good and aids with security too. Just in the last six years the retro Japanese scene in the UK has blossomed like an orchard full of Sakura, so you can never be too careful.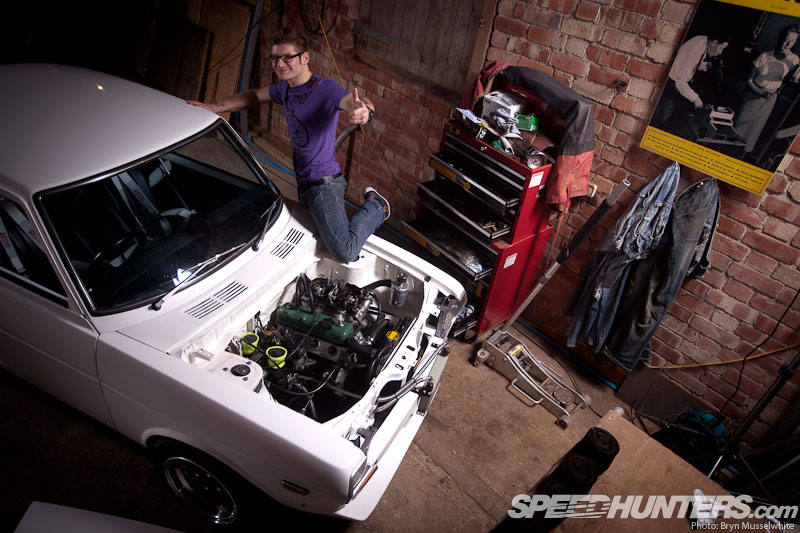 But thankfully Rob isn't all about being careful, like I said his sense of humour is infectious and the grin never really leaves his face.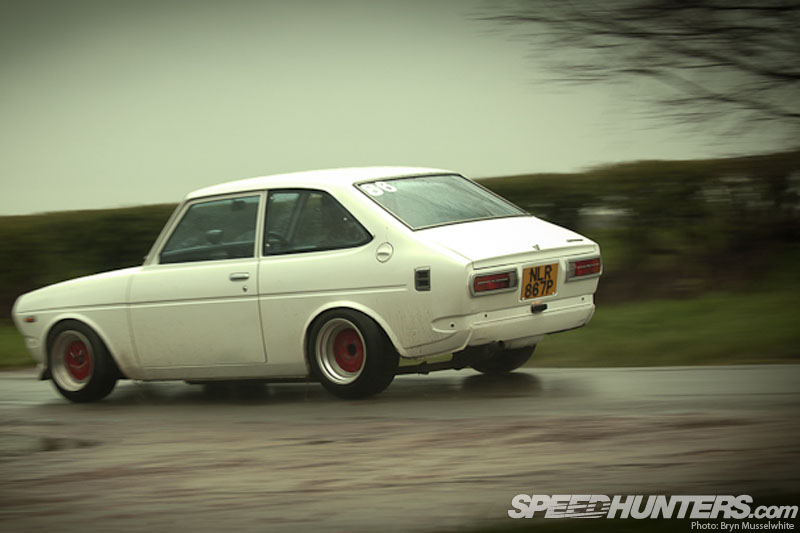 With the rain lashing down outside whilst I shot away, you'll have to wait until part two to check out just exactly what that engine is and how much other stuff has happened over the years since Rob has been thrashing the KP around the UK… Or maybe you just want to hear about how he hooked up with Cha Cha Racing in Japan to get his diff? Or just how many different models the Toyota gets confused with? Either way, see you in Part two.
_
Bryn Musselwhite