A visit to the Wally Parks NHRA Motorsports Museum in Pomona is an absolute must for fans of both drag racing and automotive history in general. Packed into the museum is a fantastic collection of historic drag cars that represent every era of the sport, but it's not just the full size cars that need to be seen.
The museum also includes an amazing display drag racing history through a collection of lovingly built scale models.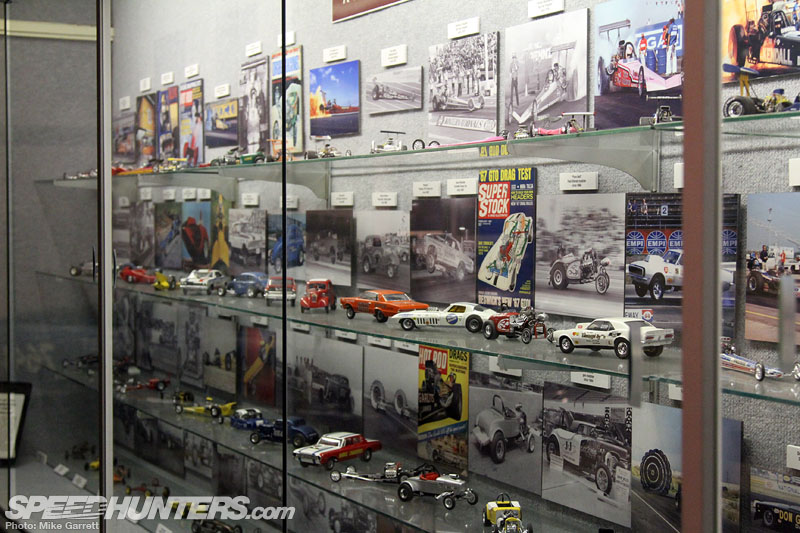 What's even more special is the fact that each and every one of these 75 1:25 scale replicas were built by one man – a fellow named Barry Price out of London, England. When he retired from model building Barry graciously decided to donate his entire collection of models to the NHRA Museum, loading them into special Styrofoam cradles for the trip from London to California.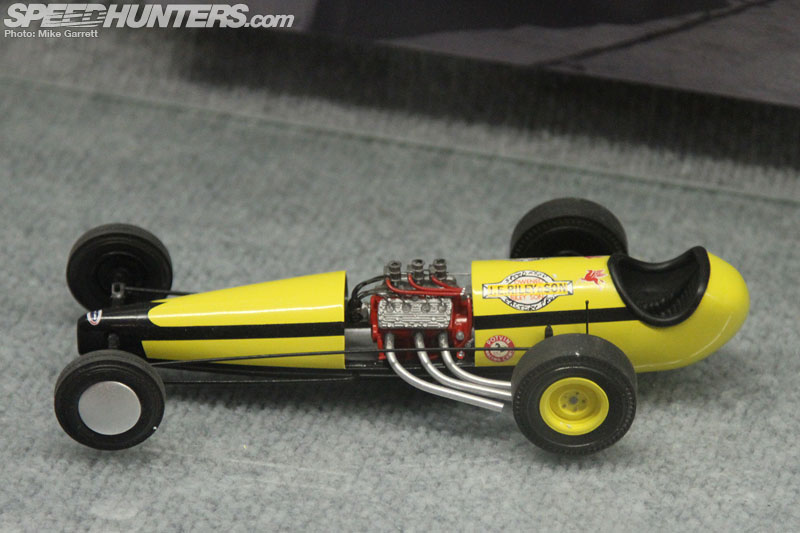 After being obsessed with building dragster models as a youngster, Barry rediscovered his love for model building in the 1990s when many of the classic kits were re-released onto the market.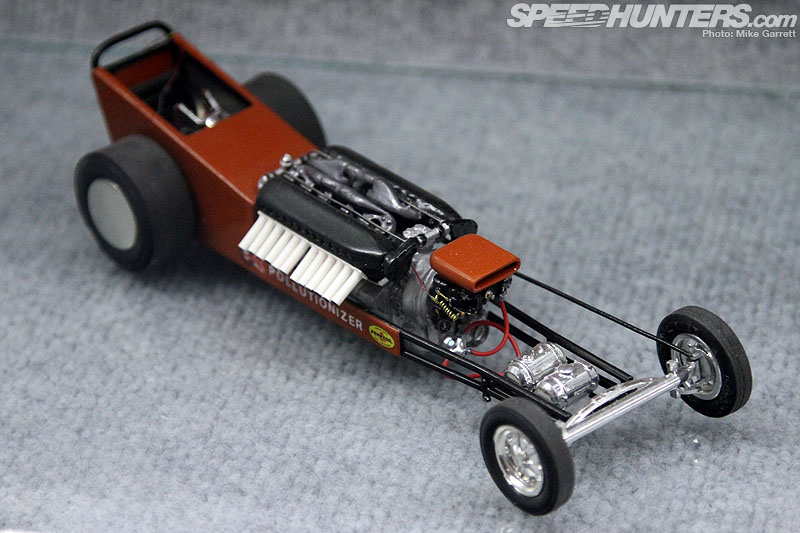 Each and every one of the models in the collection is a replica of an actual race car. Of course many of these cars were not available as kits, so Barry would build them scratch.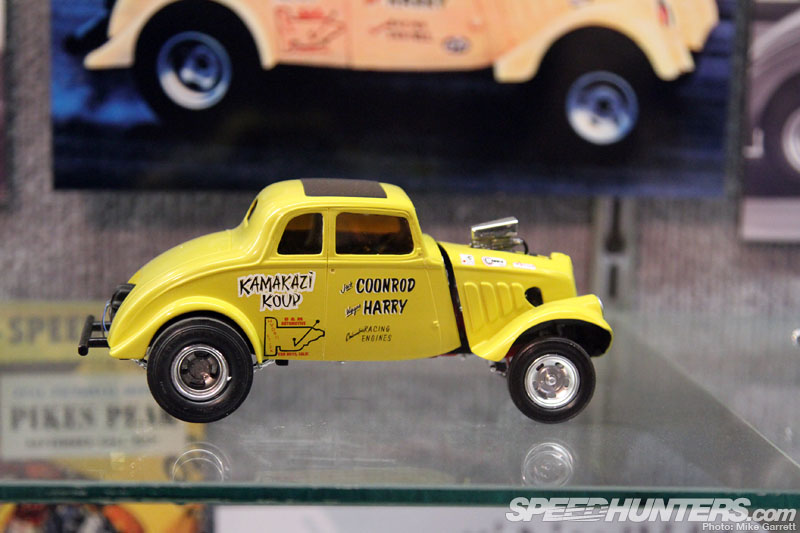 Barry studied photos of the real cars and got to work reconstructing them in scale form. Engines, wheels, and other parts were grabbed from existing kits to make the models as close to reality as possible.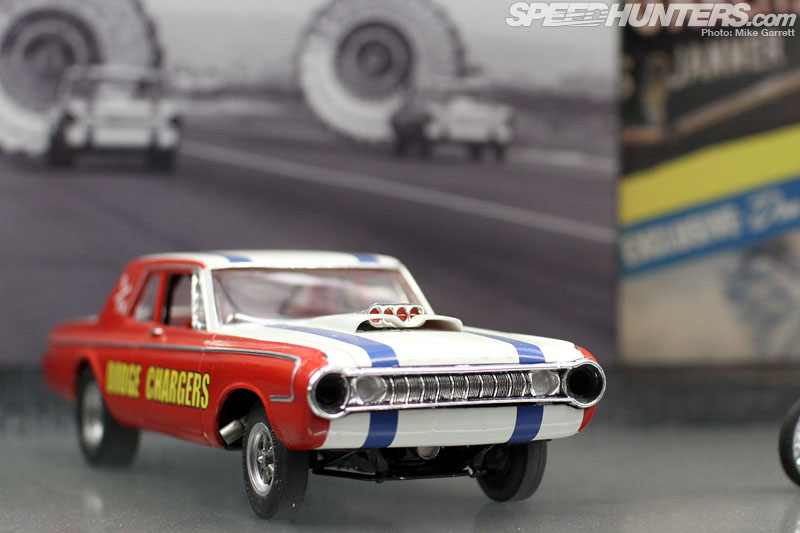 Nearly every type of competition car ever to lay tire on a drag strip can be seen in Barry's collection.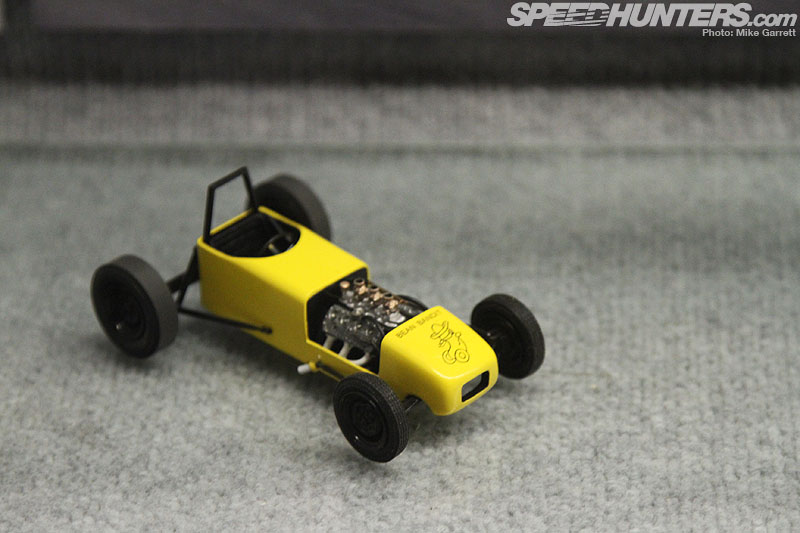 Barry built many models of early race cars like the Bean Bandits fuel dragster from 1953. With all of the models built to the same scale, you get a great sense of how small these early dragsters were in comparison to their modern counterparts.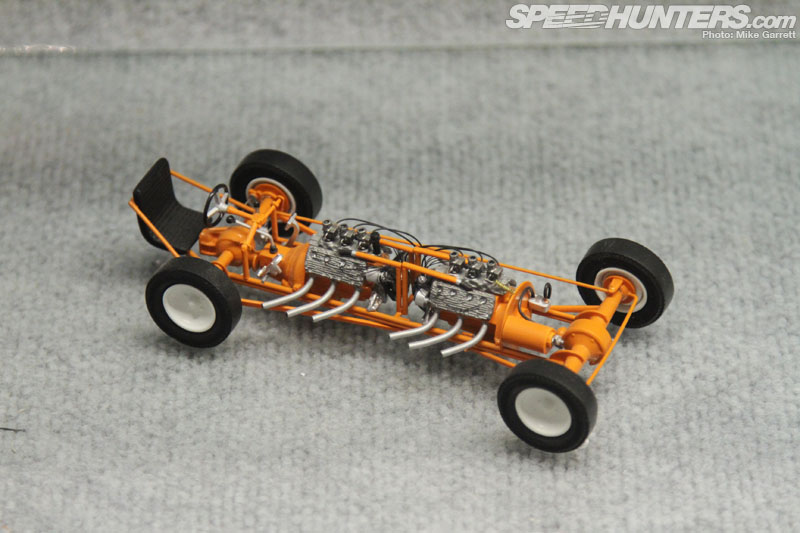 These early cars were some of Barry's favorites to build, particularly the twin-engined cars like Bob Brissette's double flathead-powered dragster from 1955.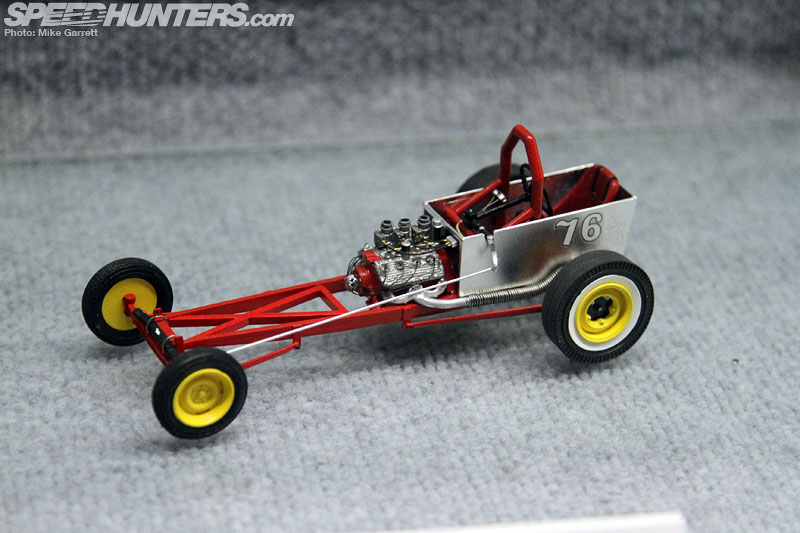 There are a few Don Garlits cars in the collection, including this replica of Garlits' first dragster as it was in 1955- a flathead-powered slingshot on Model T frame rails.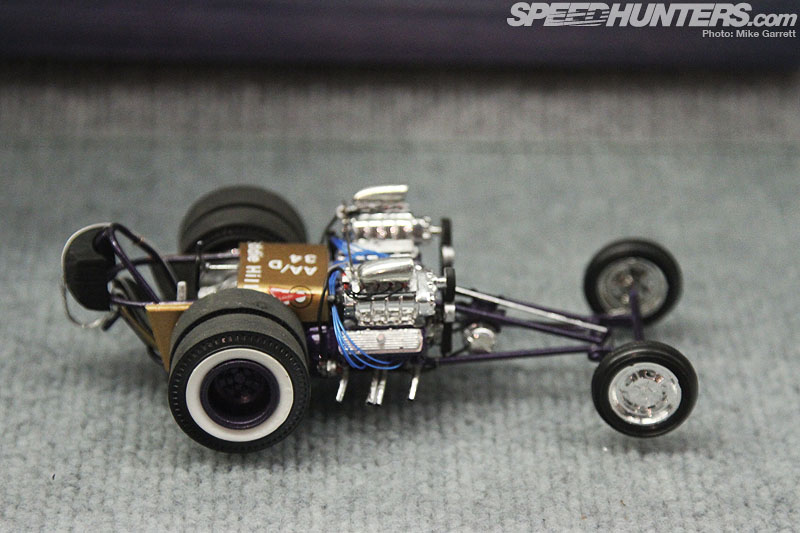 Another one of Barry's much-loved twin engined dragsters – Eddie Hill's "Double Dragon" from 1961. Note the double rear wheels and also the detail on the parachute.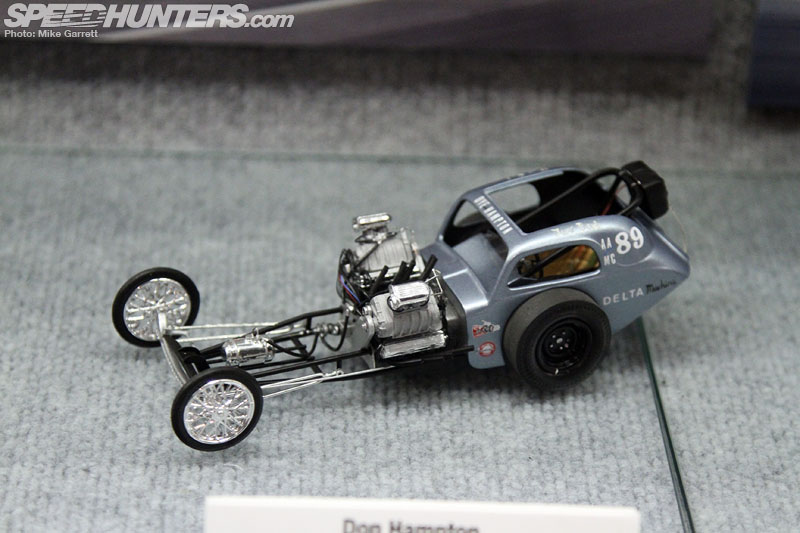 Also from 1961 is this replica of the "Two Bad" competition coupe driven by Don Hampton. Check the pair of angled blown Chevy motors.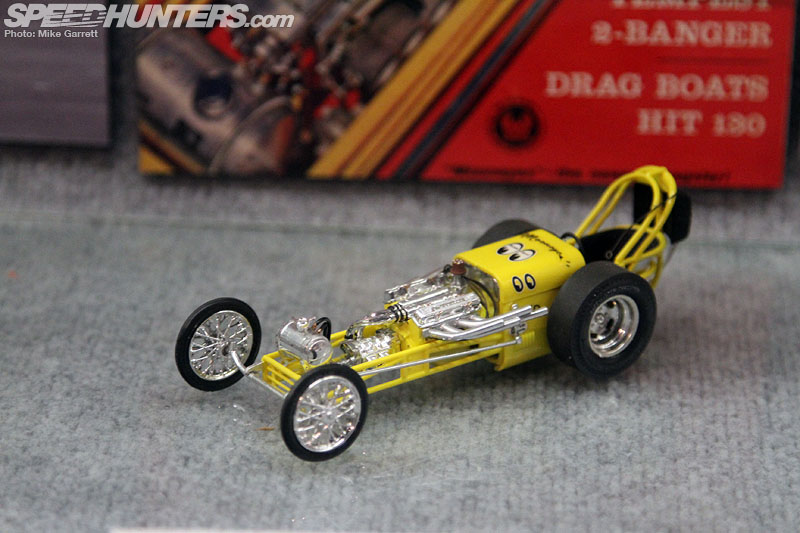 Nice to see that Barry also gave some love to the Mooneyes dragster. I've had the pleasure of seeing this thing in real life on a few different occasions.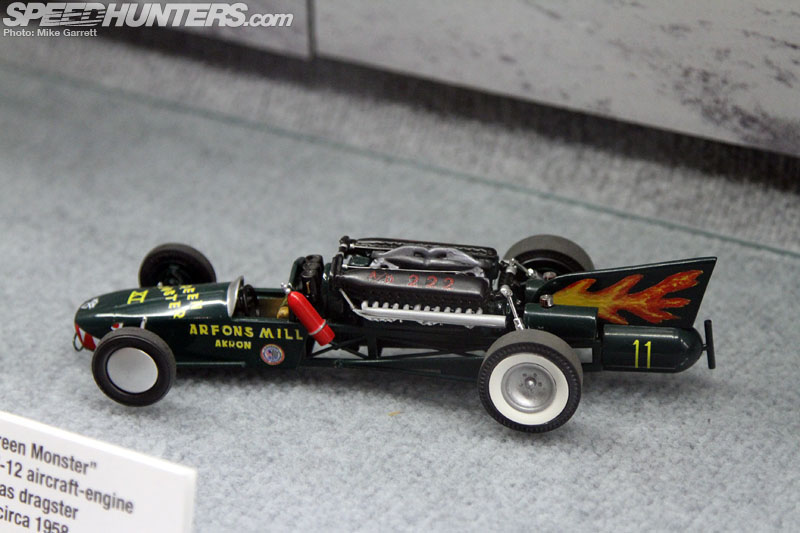 The insane "Green Monster" as it looked in 1958 complete with its Allison V12 aircraft engine. Can't imagine this one being easy to build.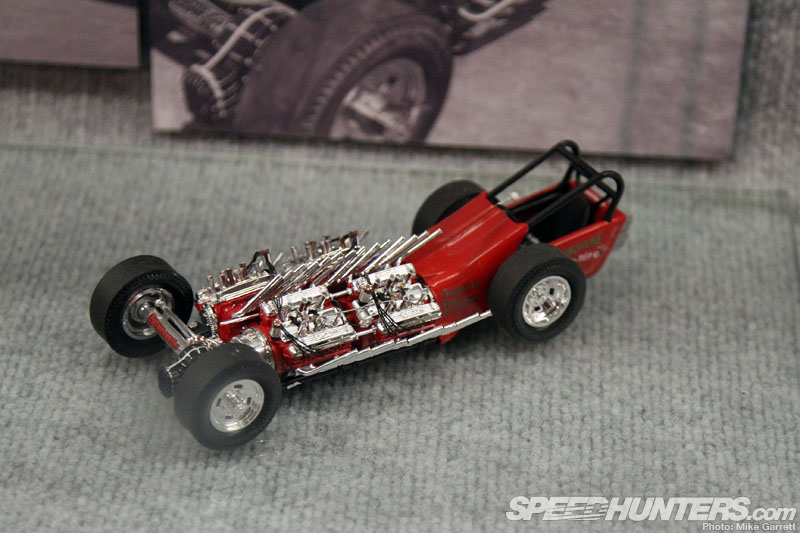 If two engines just isn't enough, why not double that number to four as "TV" Tommy Ivo did with his "Showboat" dragster.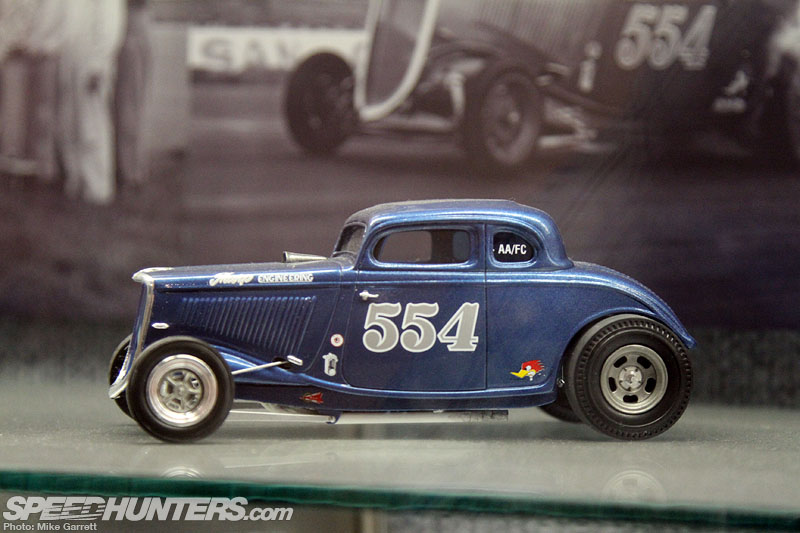 There's more than rail dragsters in the collection of course. This is the Mooneyham and Sharp "554" Fuel Alterted Coupe as it looked in 1963.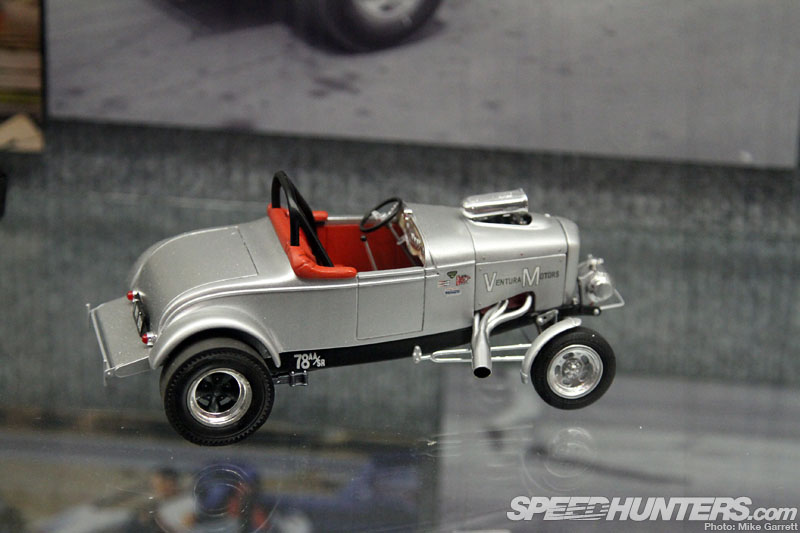 Here's Barry's highly detailed take on Hugh Tucker's '28 Chevy-based AA/Street Roadster circa 1964. The real life version of this car was restored in the early 2000s and is still making the rounds today.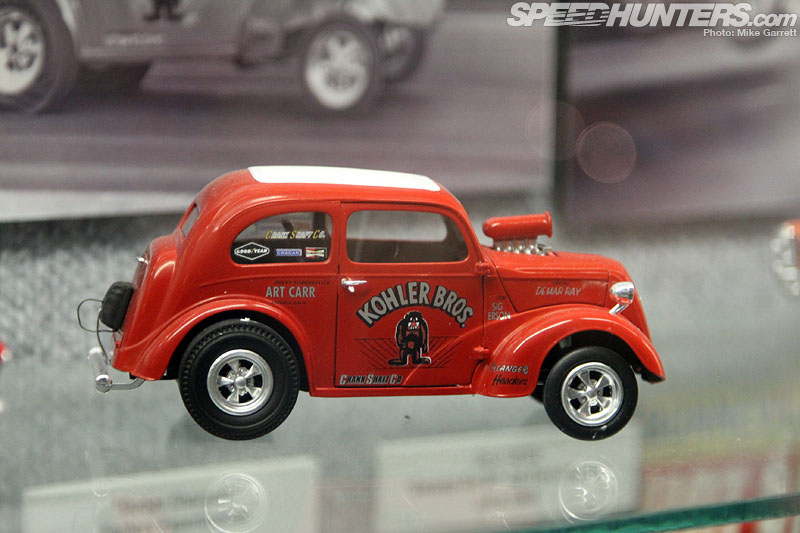 No collection of historic drag cars would be complete without an Anglia. This is the Kohler Brothers "King Kong" Gasser from 1966.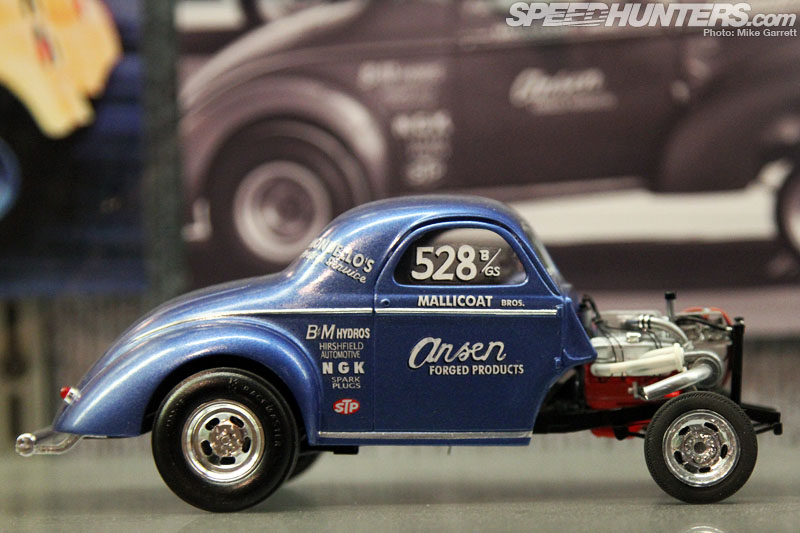 The Gasser glory days of the mid 1960s are represented by this model of the Mallicoat Brothers Willys. You can see that Barry perfectly modeled the car's experimental twin turbo setup.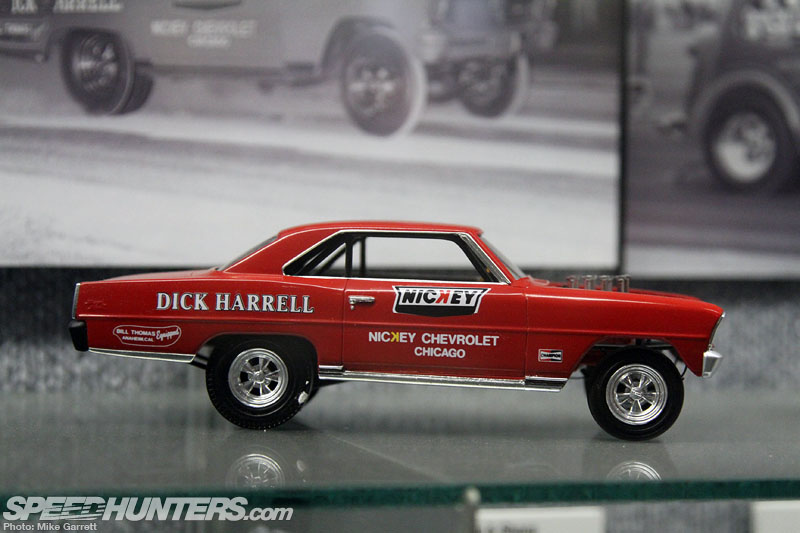 One of the great things about Barry's collection of models is the way it captures the experimentation and overall craziness that defined drag racing in the 1960s. This is Dick Harrell's 427-powered Chevy II from 1966.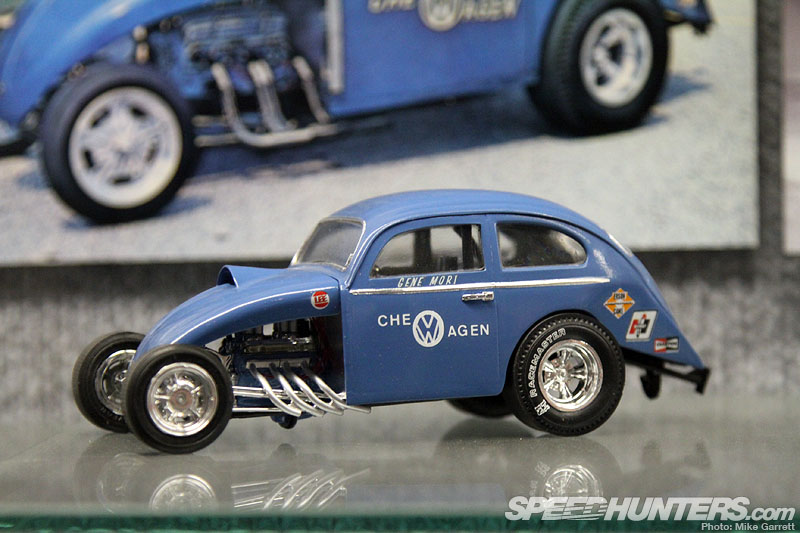 Another example of that experimentation is Gene Mori's Volkswagen-based Altered with Chevy V8 power from 1966.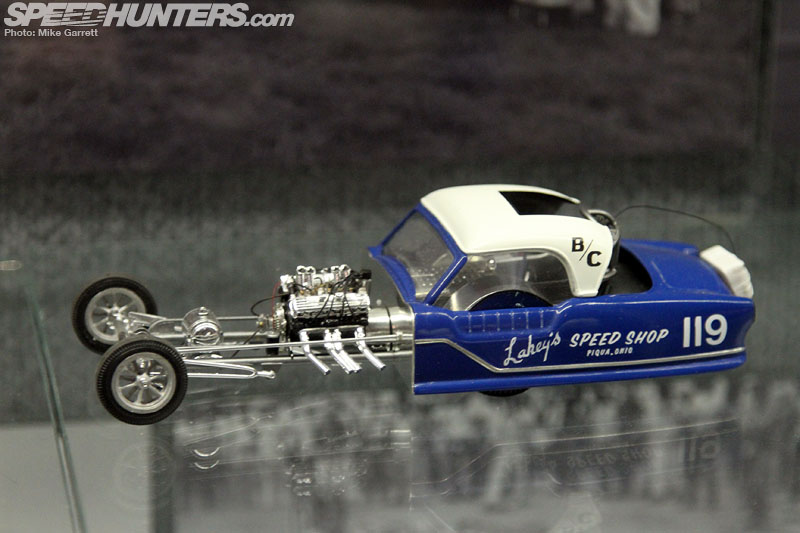 How about the Lakey's Speed Shop dragster draped with the body of a Nash Metropolitan? I'm sure Barry spent countless hours just doing research and gathering photos of these cars before he even got started on the actual construction.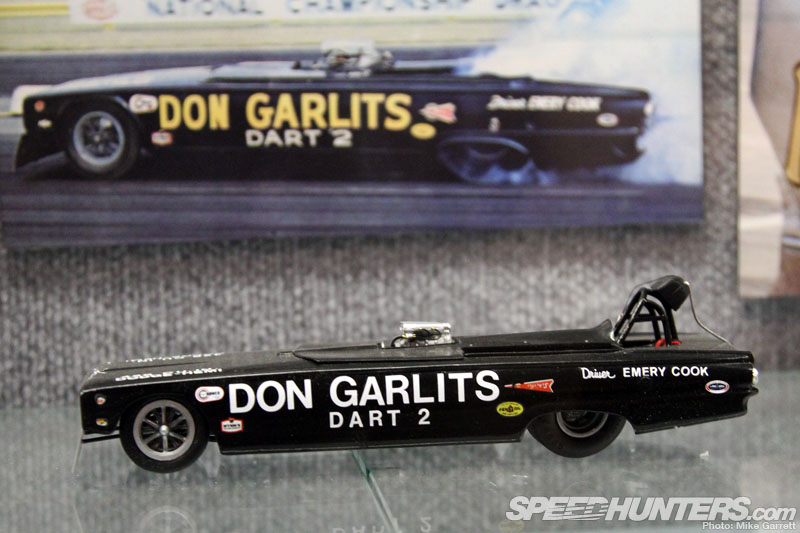 This is Don Garlits and Emery Cook's Dart 2, essentially a Hemi-powered race chassis covered with a stretched Dodge Dart body.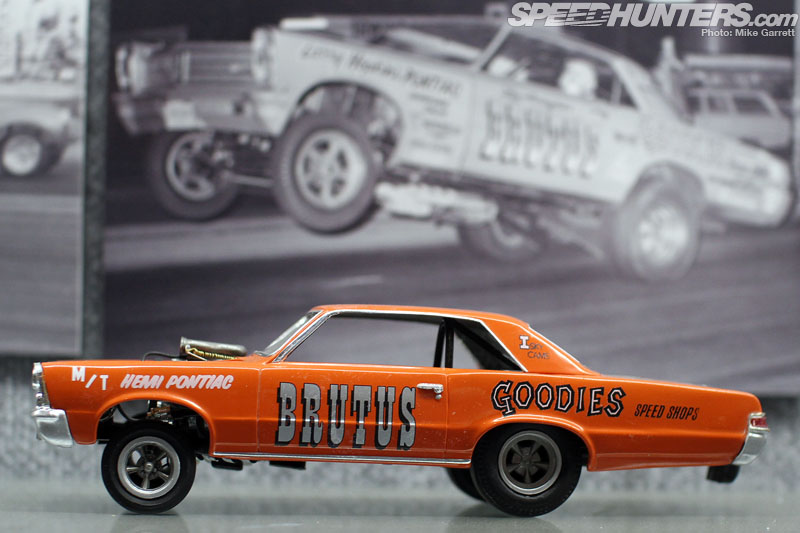 Funny Car history is represented by the "Brutus" '65 GTO altered wheelbase car from 1967. Strangely, this Pontiac was powered by a Chrysler Hemi.
Another Funny Car pioneer was Bruce Larson and his "USA-1″ Chevys. This is Barry's replica of Larson's altered wheelbase '66 Chevelle.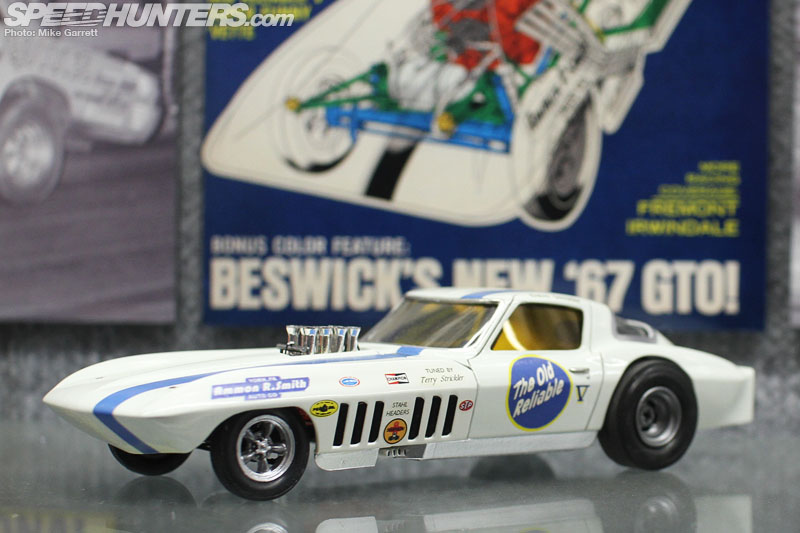 Dave Strickler's awesome stretched '65 Corvette Funny Car. Personally I prefer these early Funny Cars they looked like more like heavily modified street cars rather than loose fiberglass caricatures of them.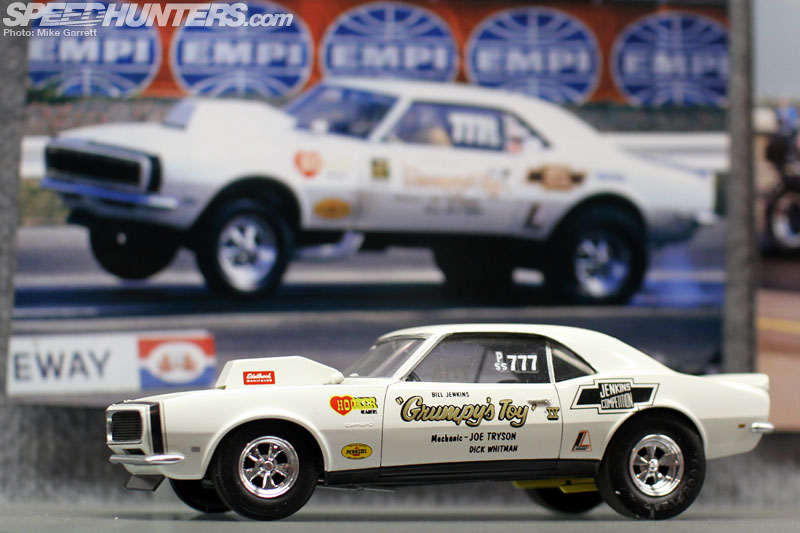 If Pro Stock is your thing, you'll find that Barry has also built some of those. Here's Bill Jenkins' famous "Grumpy's Toy" Camaro.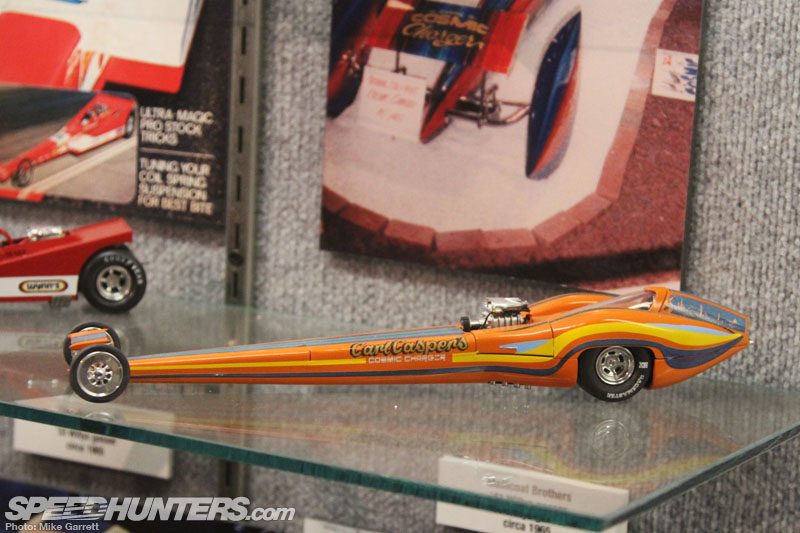 Show car meets dragster in Carl Casper's wild looking "Cosmic Charger" from 1967.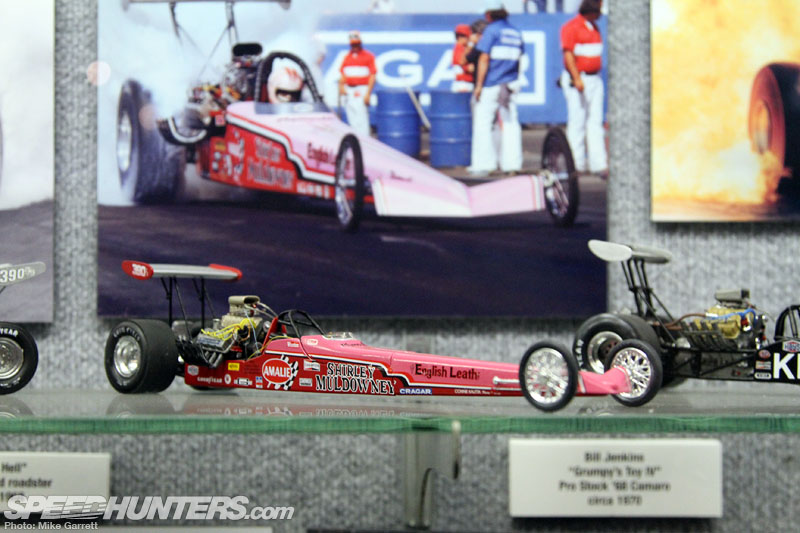 Moving towards the modern era, we have a rear-engined dragster as driven by pioneering female drag racer Shirley Muldowney.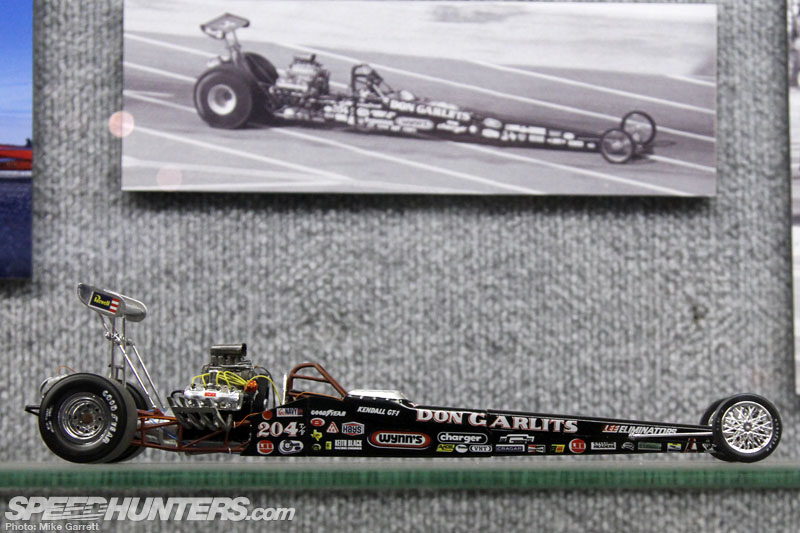 One more Don Garlits car. On these newer models in particular the amount of detail the Barry put into them is incredible.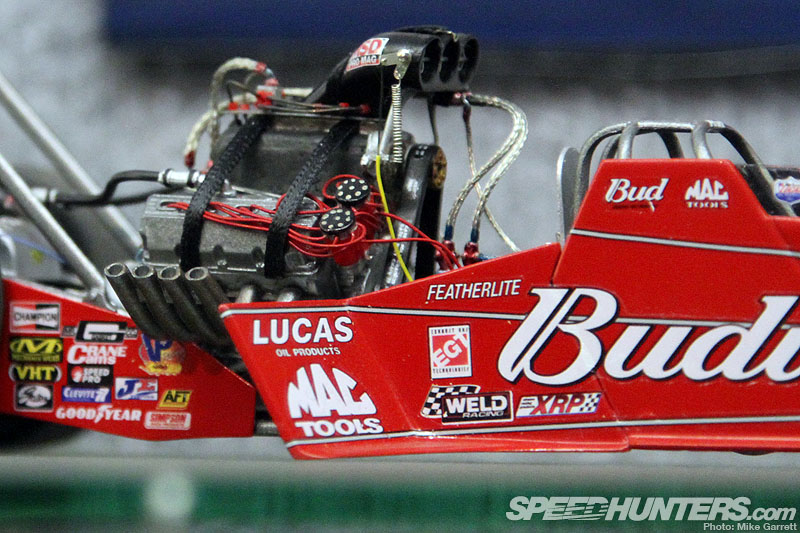 If you look closely, you'll even see that there's lettering on the belt.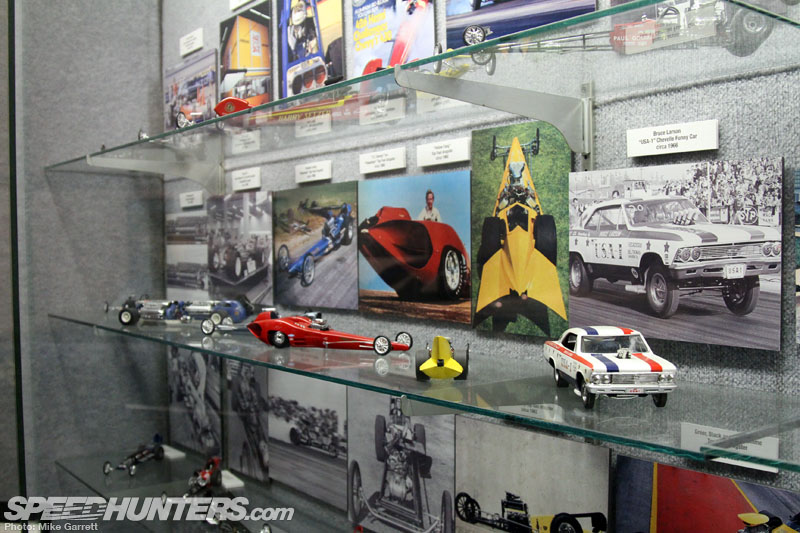 As I looked through Barry's creations, there were times where I completely forgot I was looking at models. The reactions in my mind were the same as if I was seeing these cars in real life, and I suppose that says a lot about his talents as a model builder.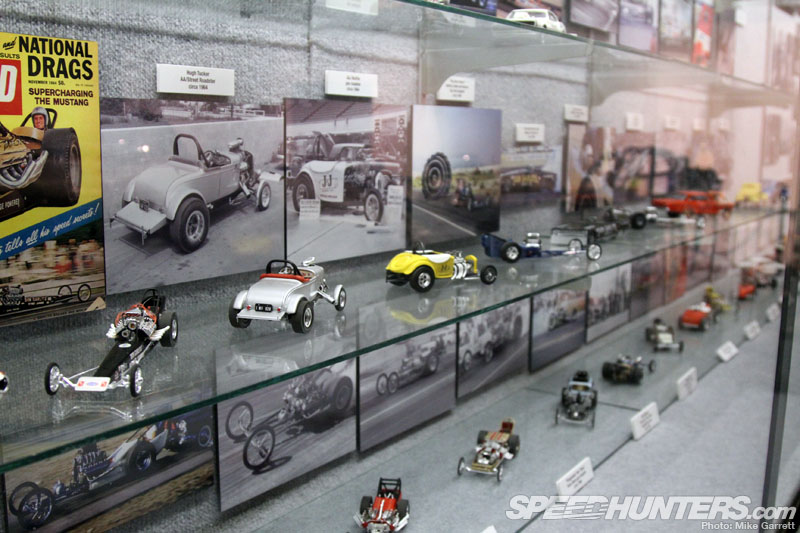 If you have the chance to visit the NHRA Museum make sure you don't overlook this display. It's quite something!
-Mike Garrett
More Museum Stories on Speedhunters
More Collectables Features on Speedhunters