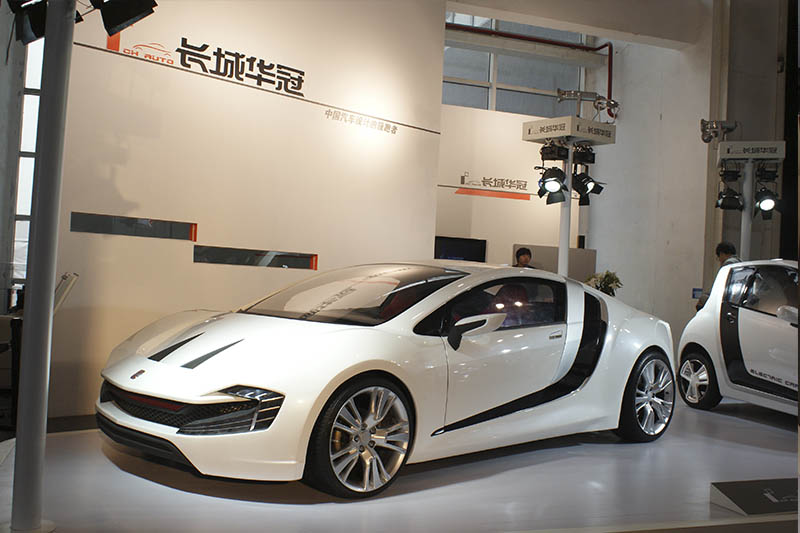 The big event in the past seven days has been the opening of the Beijing International Auto Show in China – the first chance for the world's biggest manufacturers to show off their 2012 models and future concepts to the South-East Asian market. As importantly, it's where the local car companies also get to prove how successful and powerful they are in their own right. It's easy to fall for stereotypes when discussing the Chinese motoring industry, of shameless copying and jarring model-names, but their manufacturers produce huge numbers of cars. China is by far the largest car producer in the world – their output surpassed the US in 2009 – and now almost almost 20m cars are manufactured and sold each year. The numbers are only going to get bigger – and the cars better.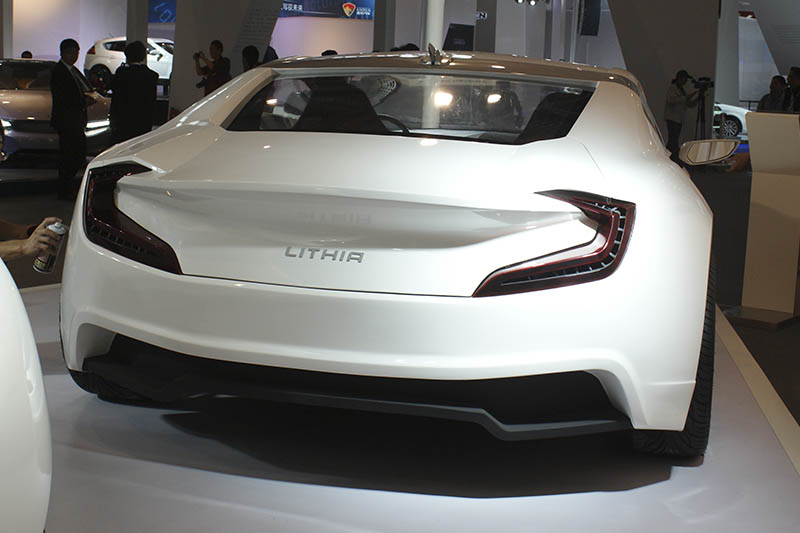 CH Auto showcased their Lithia electric sports coupé, which has hints of BMW i8 at the front coupled with an Audi R8 roof-line. The car is powered by lithium-ion batteries, has a top speed of around 100mph and a driving range of about 150km.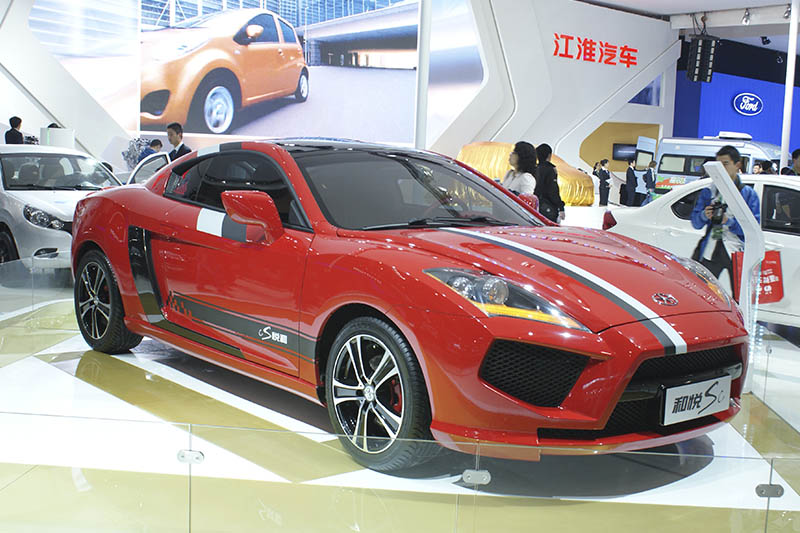 The JAC Heyue SC Coupé is another locally-produced sportscar with plenty of nods to other contemporary vehicles: the front is Mustang crossed with Gallardo…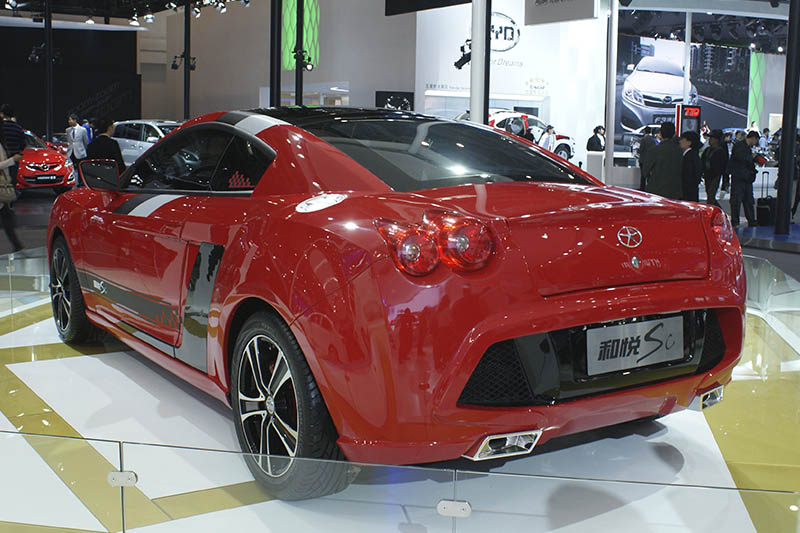 …and the rear a Ferrari? The rear-wheel-drive SC has a 2-litre turbo engine producing over 160-bhp – so not really enough to worry the cars it uses as inspiration.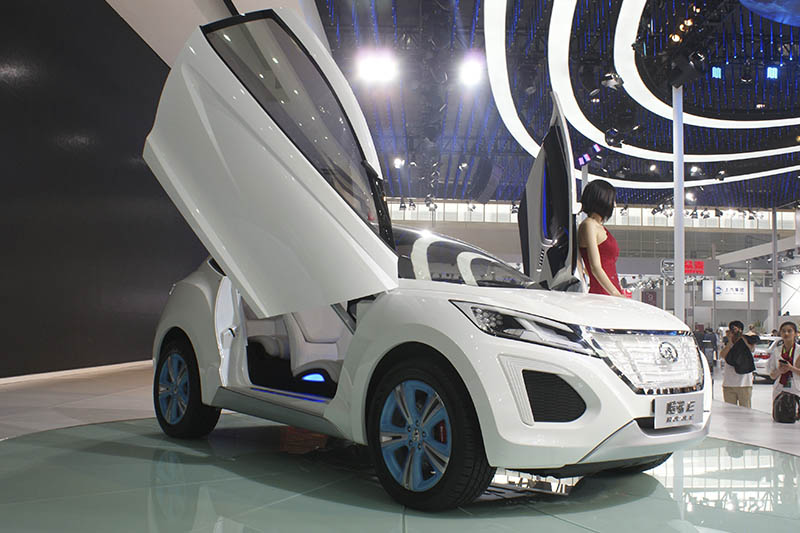 There's never going to be a great deal of trouble working out where a company called Great Wall comes from. The 245hp Great Wall Haval E hybrid SUV features stylish scissor-doors, a KERS-style energy recovery system and composite body panels.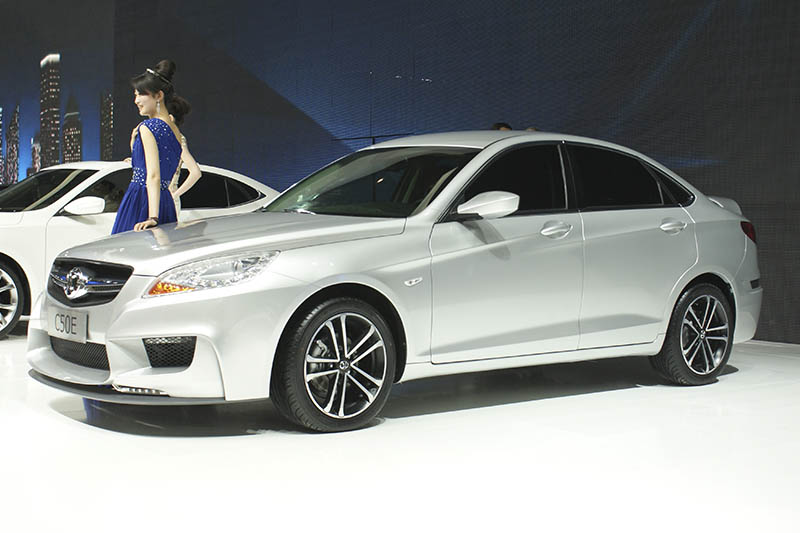 BAIC's Subaru-esque C50E is based on a modified version of the Saab 9-3's floorplan. The company acquired the rights from General Motors a couple of years ago during an attempt to purchase Saab, and have used it as a platform for a number of new cars, all of which have been designed with the help of Italian design studio Fiorovanti.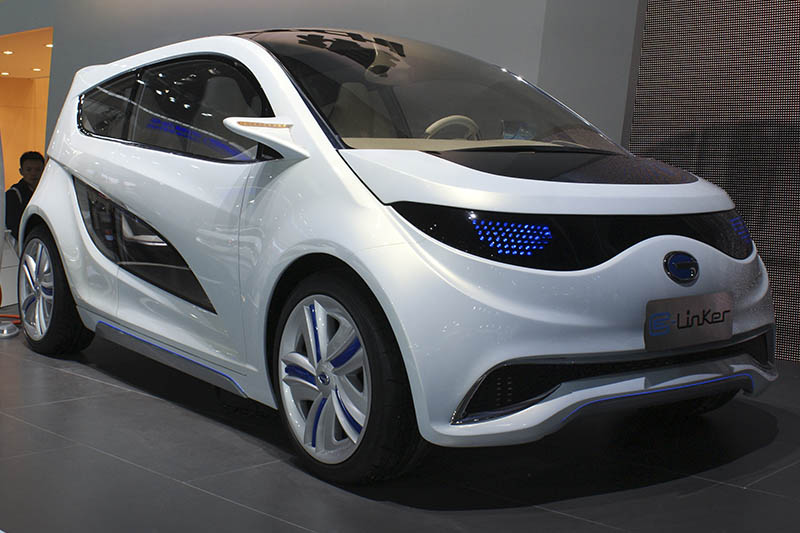 The Guangzhou Automobile Company have teamed up with various well-known Japanese and Western car companies over the last couple of years, including Fiat, Peugeot and Honda. This is their GAC Trumpchi E-linKer electric-powered concept – the company produces almost a million cars a year, and is one of many Chinese firms pushing hybrid technology.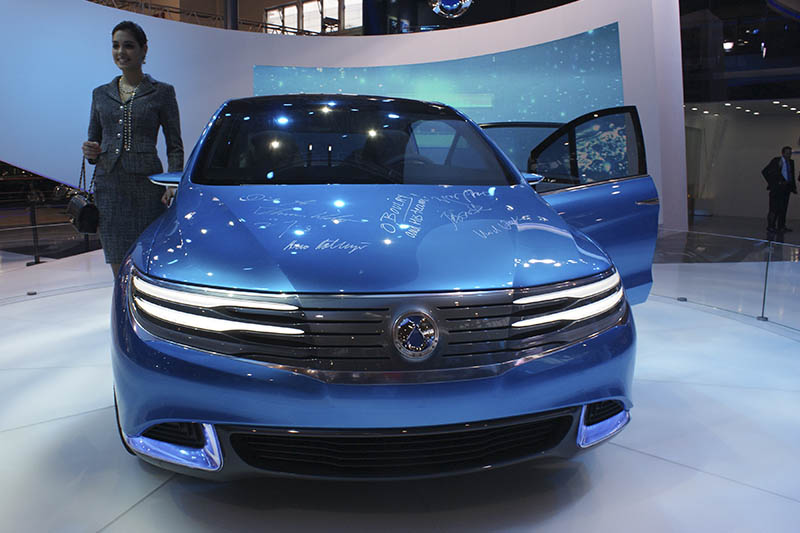 This is easily the most flattering angle for the Daimler-BYD Denza: but it does have cool headlights. BYD is Chinese car-maker Build Your Dreams (seriously) – they've teamed up with Daimler to build this electric concept which is on the verge of going into production.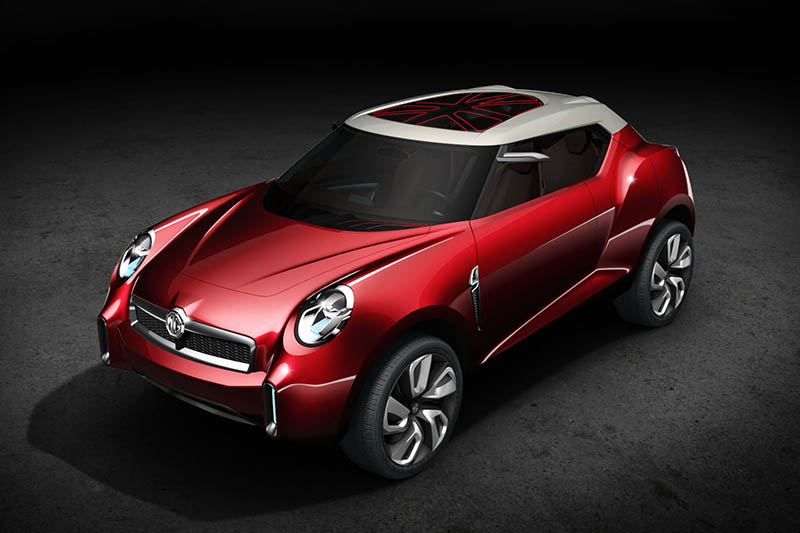 While a number of Chinese marques have been kick-started by partnerships with established brands, the booming economy has also meant that they've been reaching out and snapping up ailing foreign companies, such as happened with MG. Beijing was used as the venue to debut the new MG Icon concept, part of the relaunch of the classic British brand. Again, there are some very strong design cues in evidence – a Lancia Stratos squashed into a Mini perhaps?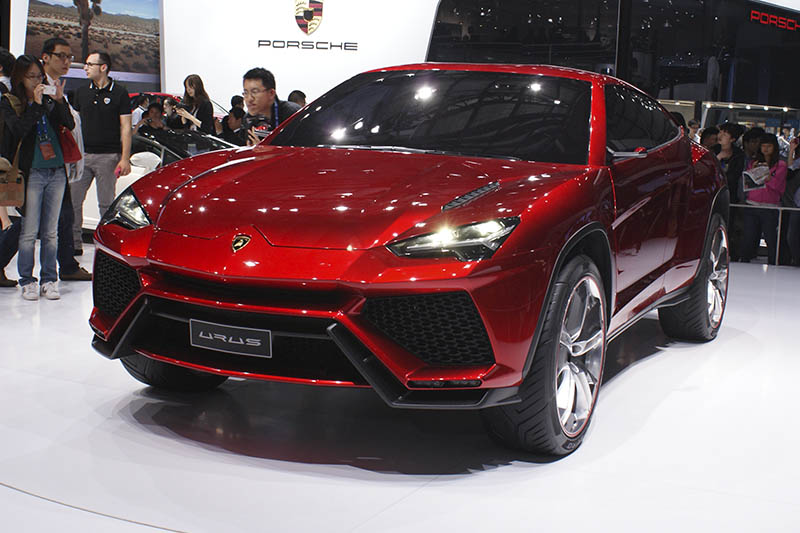 With those enormous numbers of potential customers on the table, it's no wonder that manufacturers are lining up to sell cars into the lucrative Chinese market. Geneva and the other big international shows might be known for their big-name debuts, but Beijing is seeing more and more unveilings. Lamborghini followed up the launch of the Aventador J in Europe with the Urus crossover concept in Beijing.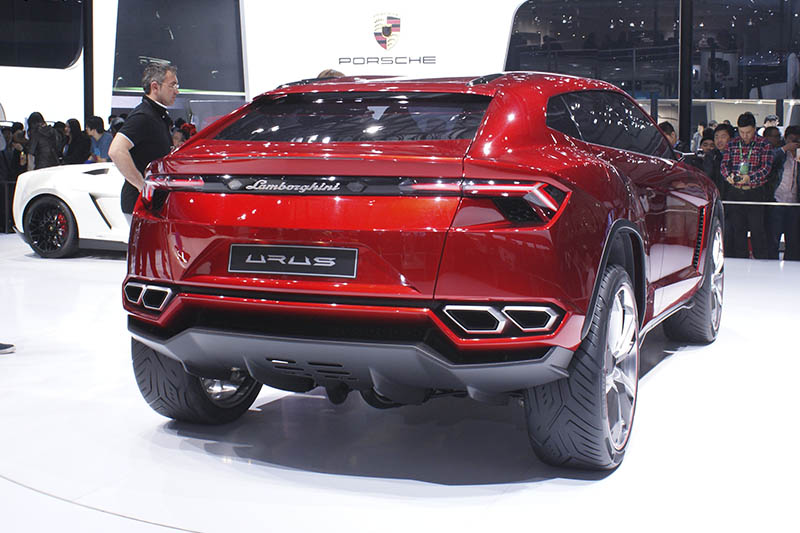 Yes, SUVs are normally a no-go zone, but this does look stunning. More importantly, it has a 600hp V12 engine, which will make for some exciting off-roading– which Lamborghini promise it is capable of.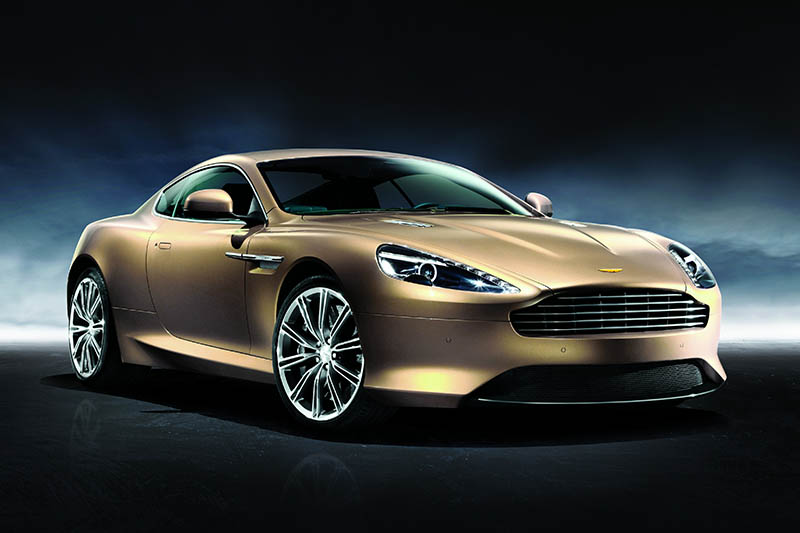 European companies were falling over themselves to introduce special editions tailored to Chinese customers. Aston Martin showed off three new 'Dragon 88′ makeovers in Beijing: a DBS Volante, Virage and Vantage S. Just 88 will be made, celebrating the Year Of The Dragon theme. 11 new Chinese Aston dealerships will be opened in 2012 alone…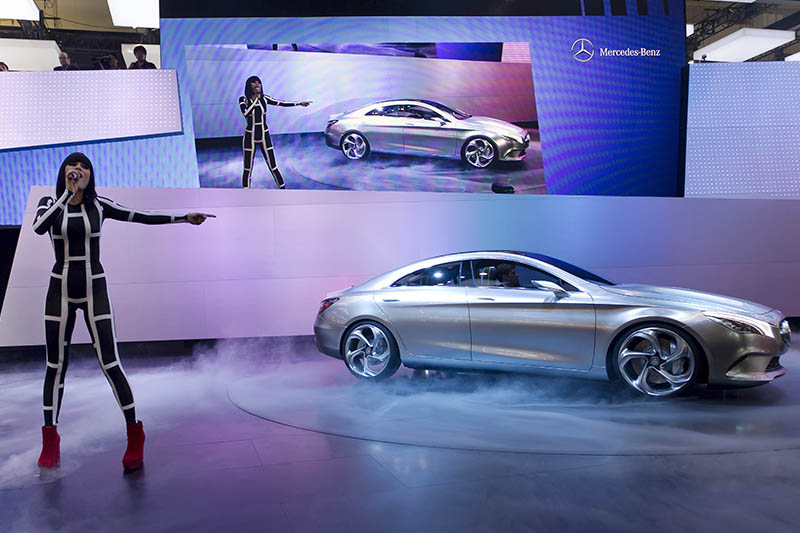 Mercedes-Benz called in pop power to help launch their CLA Concept Style Coupé: a four-wheel-drive, 208bhp, four-cylinder turbo coupé which, surprisingly for its apparent size, sits on A-Class architecture. The inside is fully tech, with internet-connected apps built into the cabin's control panels.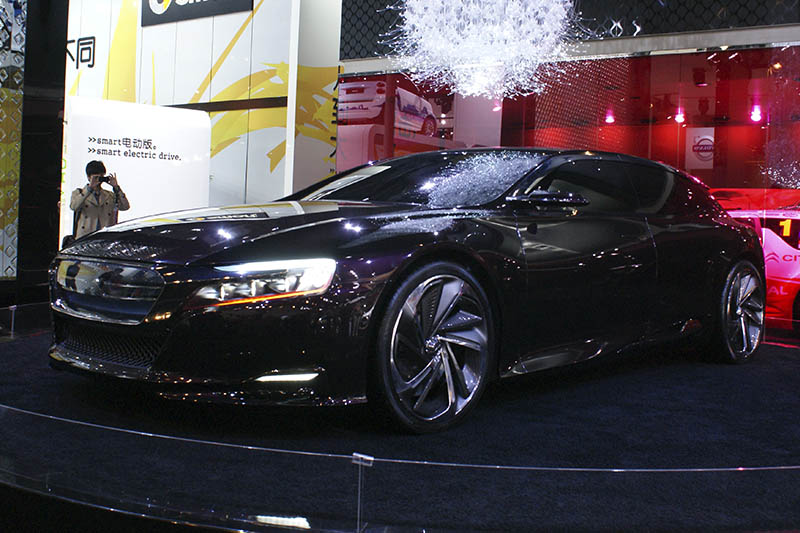 There was some impressive VIP style in the Citroen Numero 9 hybrid concept: 21″ rims, a super-low-profile roofline and fastback rear deck give it a pretty startling stance for a car that is likely to be aimed at execs. All the various motors inside add up to almost 300bhp, with a built-in boost taking the Numero 9 to 60mph in just over five seconds. Citroen really do seem to be on the ball at the moment, channeling their classic eccentricity into amazing cars.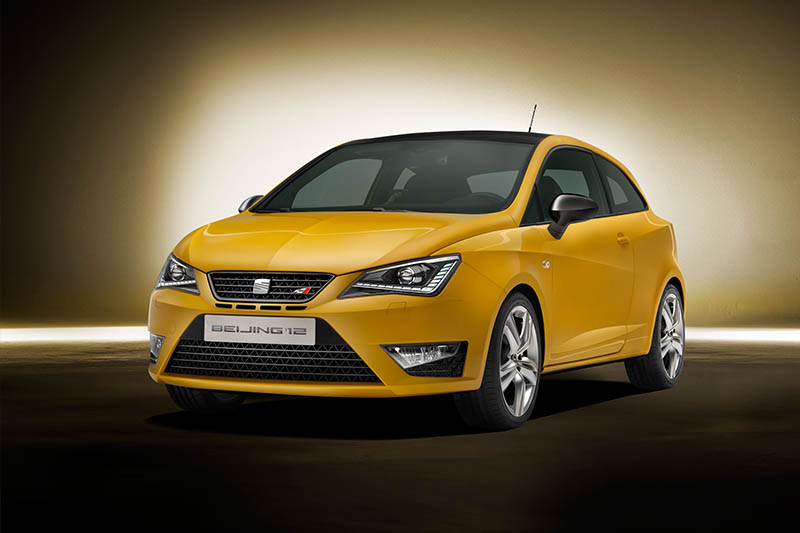 Slightly more down to earth was the Seat Ibiza Cupra Concept. Concept it may be officially called, but production is supposedly not far away for this latest facelift to the smaller Seat hot-hatch. The 1.4-litre engine has a turbo and supercharging, and 180hp in this little package promises a fun ride.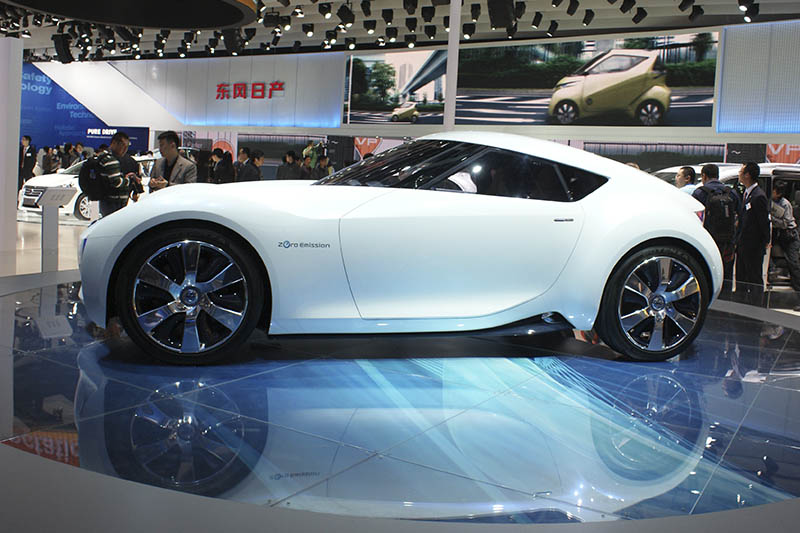 The latest iteration of the Nissan Esflow concept retains its 370Z influence from last year's launch. Separate electric motors power each rear wheel, and the production 0-60mph time is aiming for the five-second mark. It's another car with a big Stratos-style wraparound windscreen – front visibility looks fine, but with no obvious side mirrors knowing what's behind you could be another question…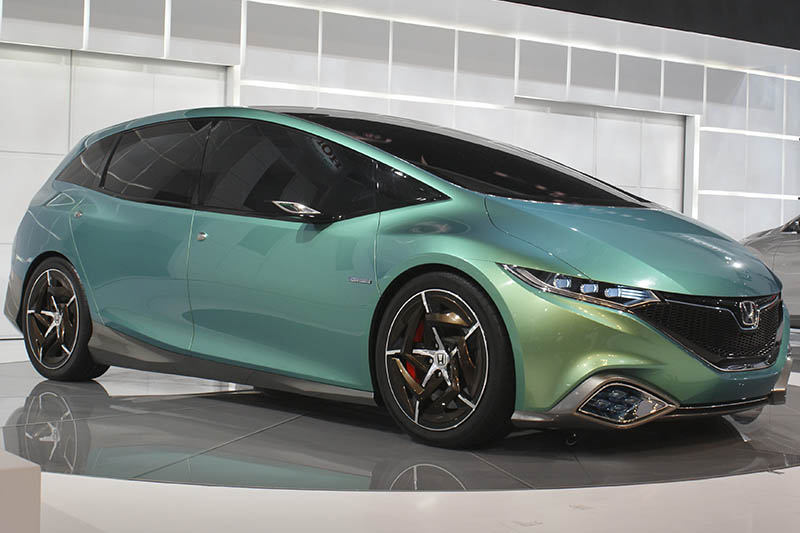 Honda showed off two new concepts in Beijing. Firstly the Concept S ('Stylish, Smart, Surprise' in rear-end-clenching marketing speak) hybrid, which will be aimed at emerging markets. The swooping front lines, which feature a nice take on the current Honda nose- styling treatment, unfortunately does end up looking like a supertanker at the back…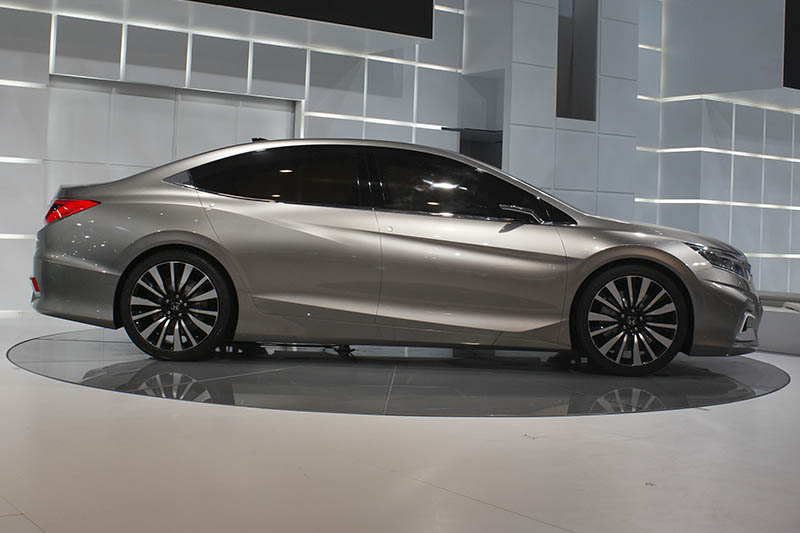 The Concept C ('Cool, Challenge, China'…) is planned as a China-only budget saloon. There are definitely some Mercedes undertones to this one.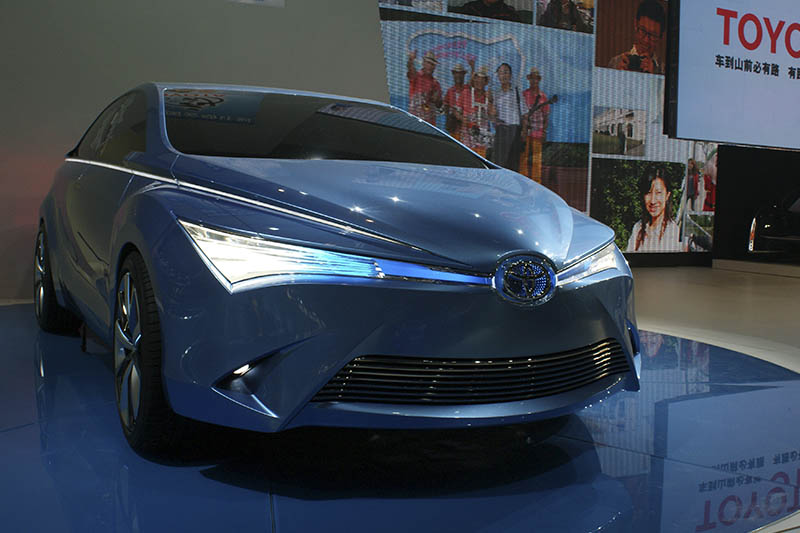 Toyota showed off an almost unfeasible 38 models in Beijing, including the Yundong Shuangqing – another hybrid model made specifically for the local market. But again, great lights! All very art deco.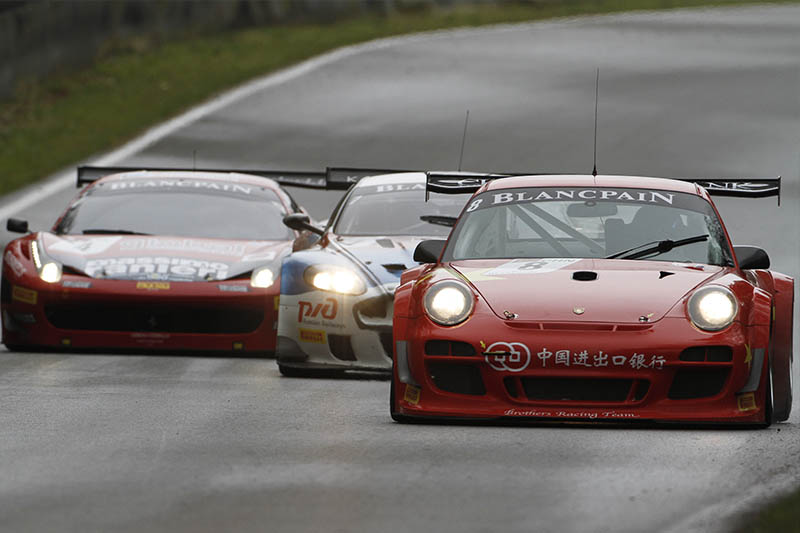 Moving over to the racing world, China was also at the front in the World GT1 Championship in Zolder, Belgium, courtesy of the Exim Bank Porsche squad. Matt Halliday and Mike Parisy won in wet conditions at last weekend's second round of the series, narrowly securing victory over the chasing Vita4One BMW – which as expected is now challenging at the front.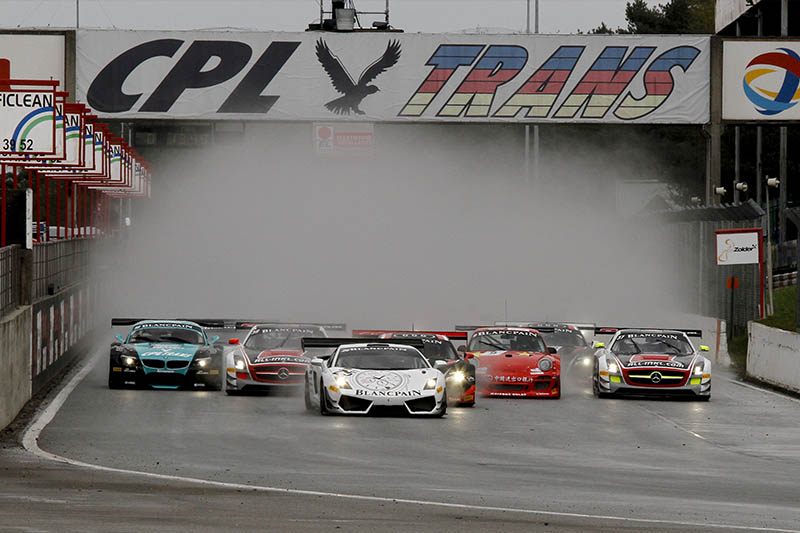 The Michael Bartels/Yelmer Buurman-driven Z4 won Saturday's Qualifying Race, but unfortunately things didn't go well for our friends at WRT: their Audis were leading towards the end of the Qualifying Race, but a gamble to stay on wets backfired and both cars tumbled down the order.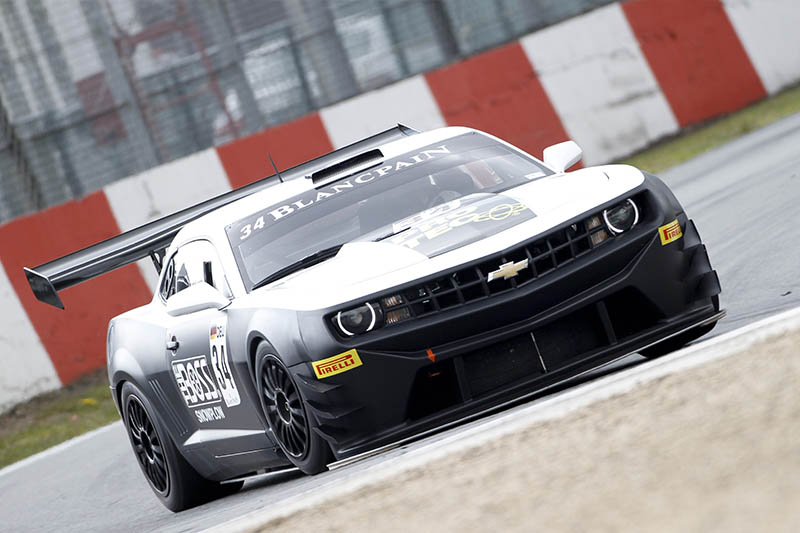 The FIA GT3 European Championship is really struggling for grid numbers in 2012 after a number of glory years: teams have been lured away by GT1 and the Blancpain series, and just 11 cars started in Belgium. The Reiter-developed Camaro did take part in the practice sessions but in the end didn't race.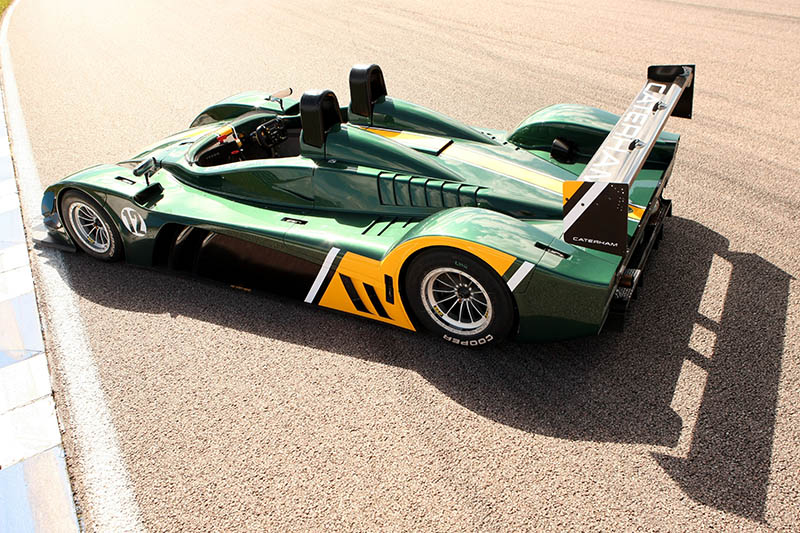 The first Caterham SP/300.R trackday-special has been delivered to its owner – which is the Dyson American Le Mans Series team! Dyson were heavily involved in the development of the car, and will use this first production version as a demonstrator for the US market.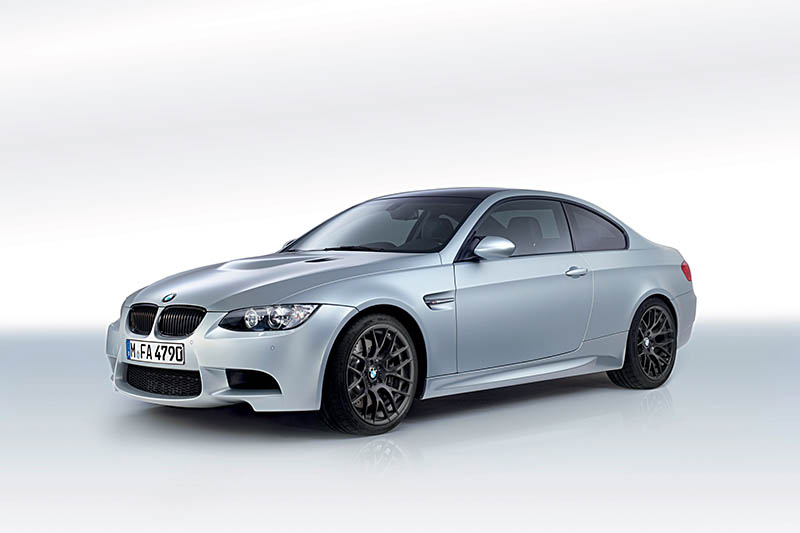 BMW are celebrating 40 years of the M brand with the release of the 420hp M3 Coupé Frozen Silver Edition. As well as the customised metallic paint and matt black alloys, there's also a whole host of bodywork tweaks along with lowered suspension and three-stage damper control.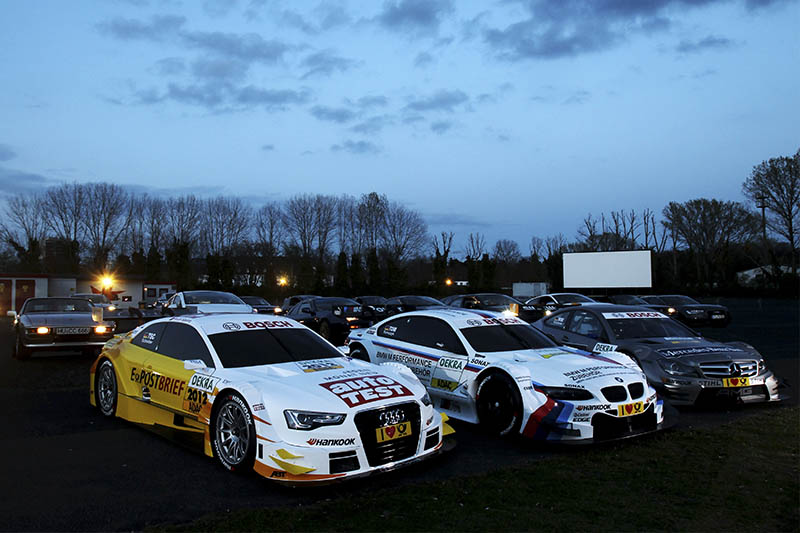 Although BMW seem to have stepped away from many major racing series recently, their focus is very much on the DTM. The start of the 2012 championship is fast approaching, and the traditional season launch has just taken place at Wiesbaden. The three manufacturers have also been involved in some pre-season TV promotional work at a drive-in movie theatre near Frankfurt, where Timo Scheider, Martin Tomczyk and Christian Vietoris rolled up to watch scenes from the classic 1992 DTM season.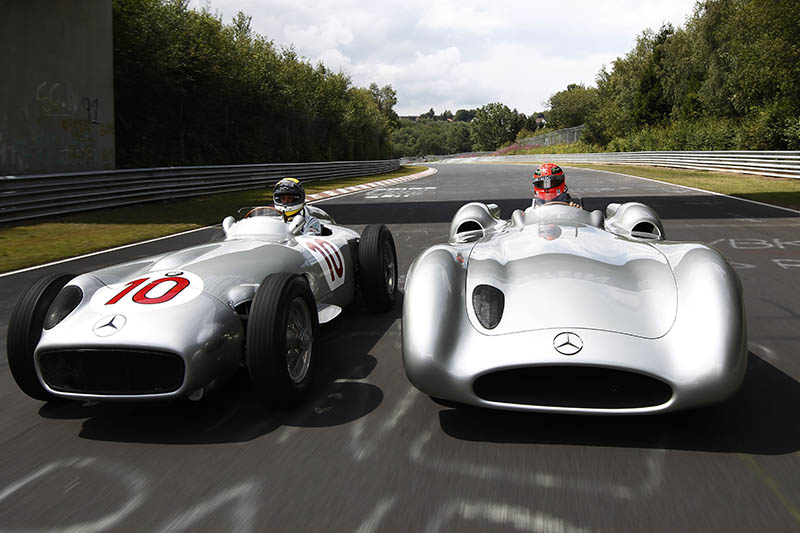 Mercedes F1 drivers Nico Rosberg and Michael Schumacher have been going even further back: they were getting some practice in around the Nürburgring in 1950s Mercedes W196s (Michael in the Streamliner variant here) ahead of demonstration laps that Nico will be putting in at next weekend's DTM opener at Hockenheim.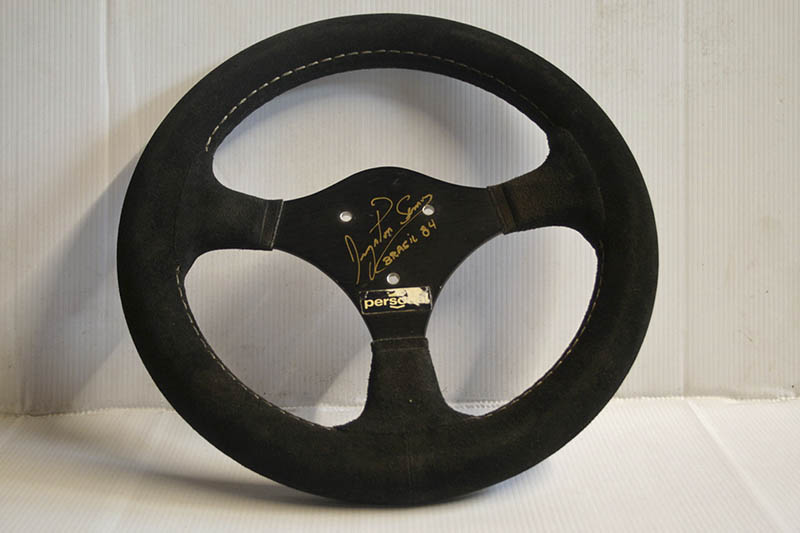 Auction news: this steering wheel from a Toleman was used by Ayrton Senna in his first ever Formula 1 race, the 1984 Brazilian Grand Prix. It's part of the Silverstone Auctions Spring Sale, which also includes two of Senna's racecars (the Toleman TG-184-2 and a 1982 Ralt RT3 F3 car), various helmets and race-suits.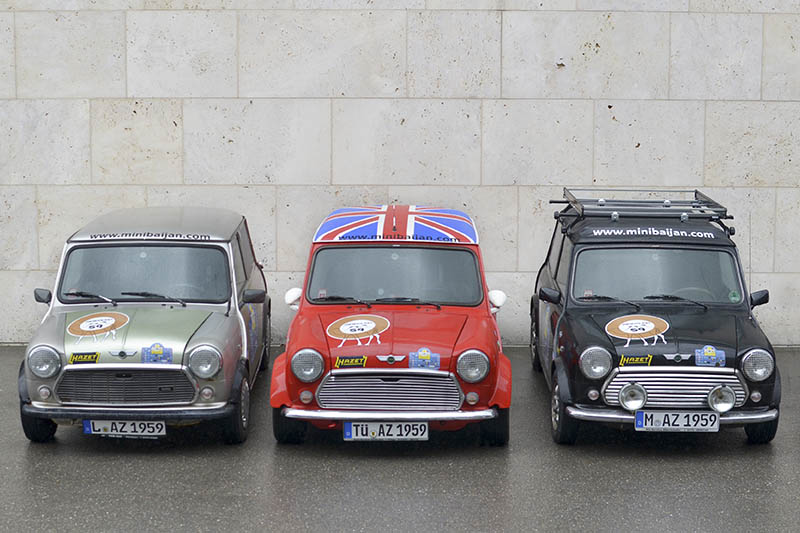 Five classic Minis (including these three works-prepared cars) are being lined up by BMW Group Classic to take part in the Allgäu-Orient Rally – they're joining 44 vintage BMWs in the competition, all of which are due to be auctioned off at the finish, with the processed going to humanitarian aid projects. Over 200 cars are taking part in the 5,000km event for classic cars, which runs from Germany through Austria, Hungary, Serbia, Romania, Turkey and Georgia on its way to Azerbaijan.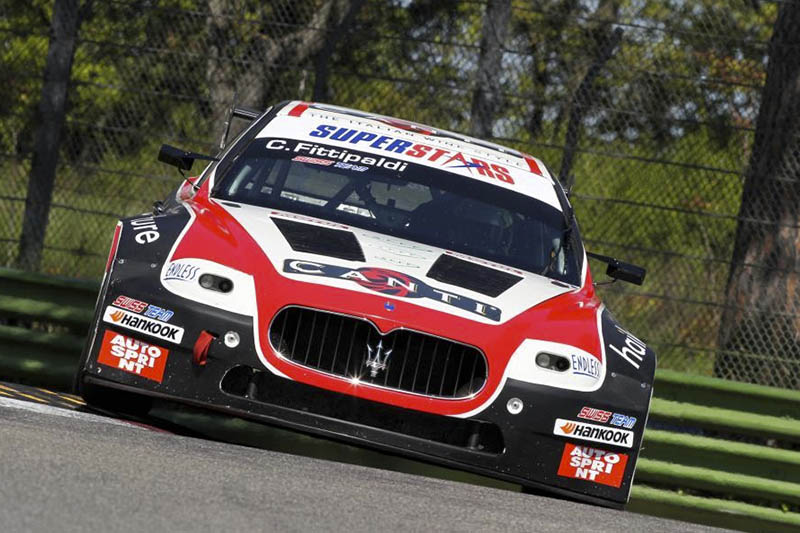 Out in Italy, the Superstars series has been racing at Imola for the second round of their championship. The blunt-nosed Audi RS5 of Johan Kristoffersson won, but Christian Fittipaldi (son of F1 driver and team-owner Wilson and nephew of F1 Champion and Indy 500 winner Emerson) managed fourth in this super-wide Maserati Quattroporte. What a great-looking series!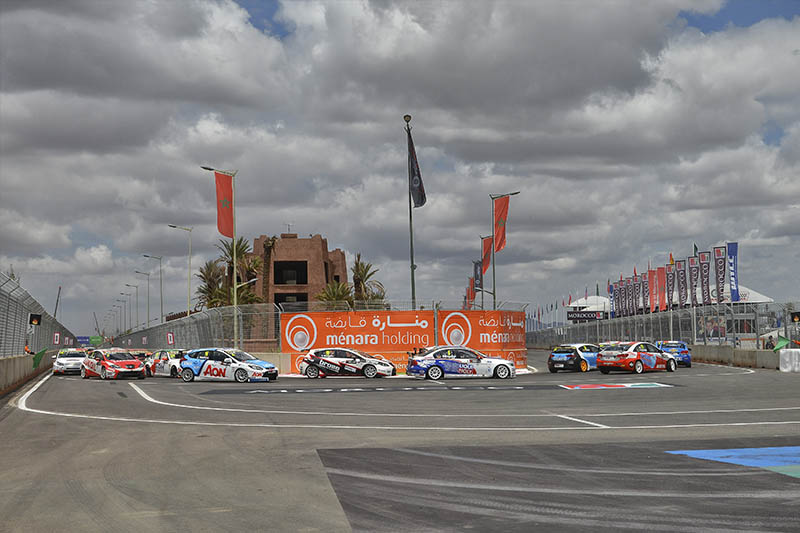 The World Touring Car Championship visited Morocco for Round 3, at the incredibly tight Circuit Moulay El Hassan on the outskirts of Marrakech. The track is simplicity itself – basically just two hairpins connected by two straights, with a couple of chicanes to interrupt the flow.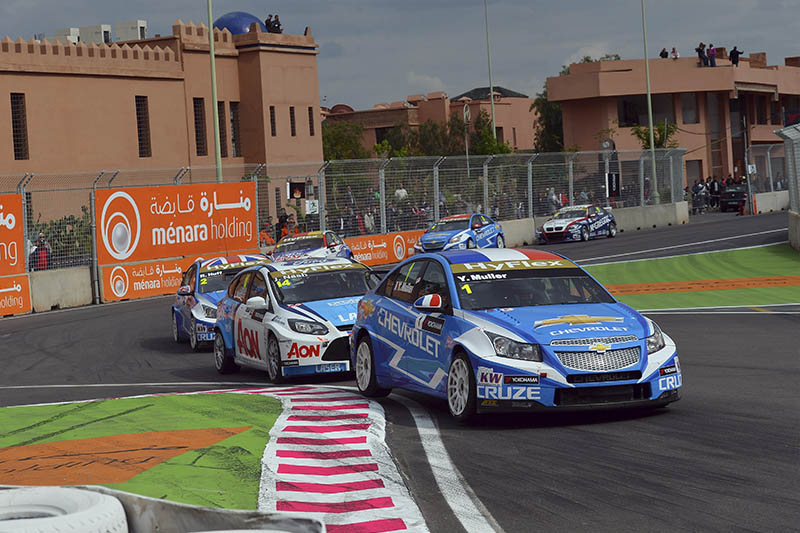 But despite that – and a predictable Chevy whitewash in the races – it still made for entertaining, panel-bashing racing. There's no run-off, the walls are completely enclosing and the chicanes are vicious, requiring plenty of great two-wheel saves on the exits.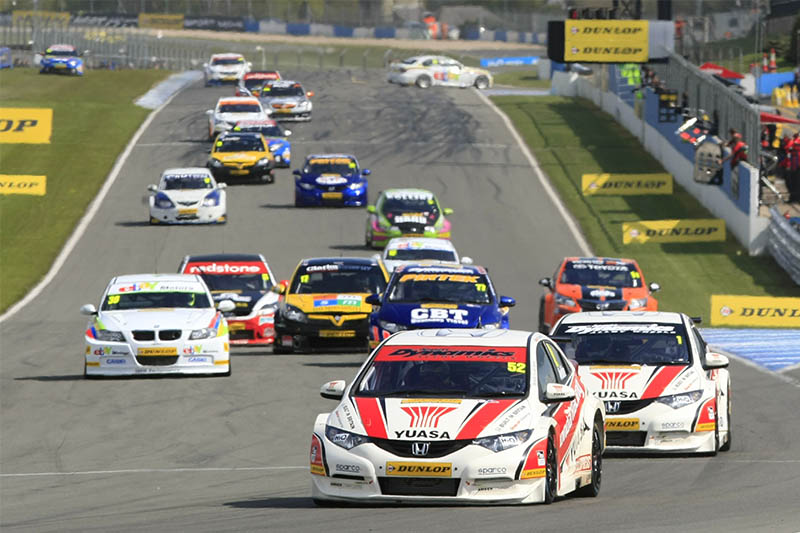 In the UK, the British Touring Car Championship moved up to the Donington track in the Midlands. Honda won two and Ford one race; five drivers are within 15 points of each other at the top of the table, with old rivals Jason Plato and Matt Neal leading.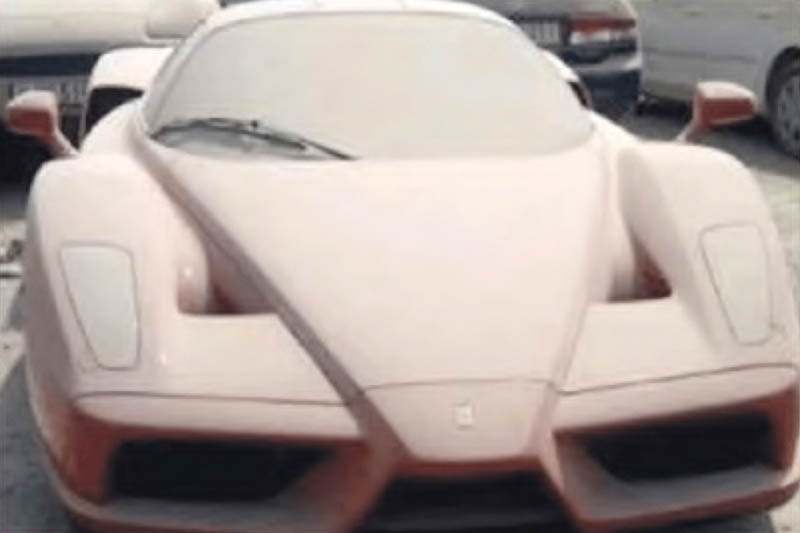 Finally, this Enzo was abandoned in Dubai and after gathering dust for a year is now being sold by the local police force as part of an auction of seized, stolen and abandoned cars in the Emirate. 23 supercars are due to go under the police hammer!
Jonathan Moore