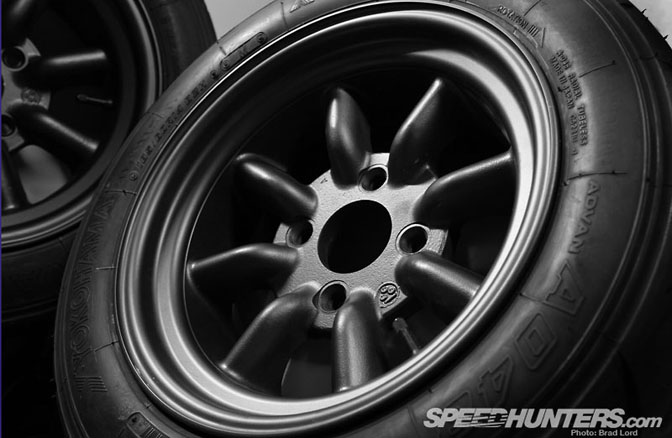 As someone who has followed Speedhunters religiously since the very beginning, being asked to join the 2012 editorial team as New Zealand Editor a little while ago came as a very nice surprise. I jumped at the opportunity and have been counting down the days until my first contribution ever since!
But before I get started with my first proper post Rod thought it would be a good idea for me to briefly introduce myself. Like many of you I'm sure, cars have played a big part in my life ever since I can remember. A box full of seriously beaten-down Matchbox cars from my childhood handed back to me by my parents a few weeks ago is a nice reminder of where some of my initial interest stemmed from. It was all play then, of course, but for the last decade and a bit I've been lucky enough to write about (and photograph) cars and the culture surrounding them, and call it a job at the same time.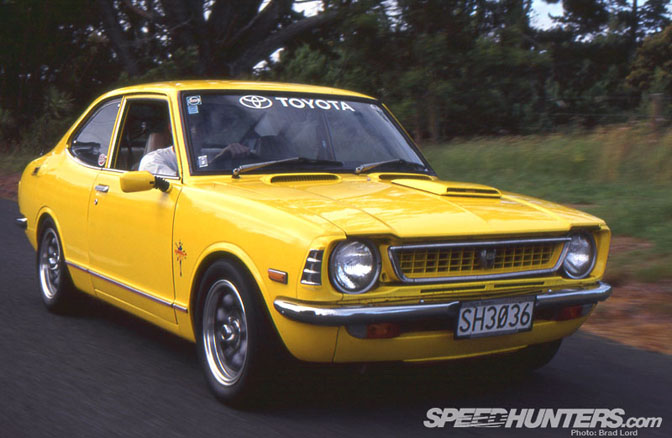 It would have been around the early to mid '90s that I started to become interested in automotive media. This is a photo from my first ever 'shoot' using a friend's Toyota Corolla as the subject. I had no idea what I was doing but I can remember being pretty proud of the results at the time!
(Sorry about the poor quality image here, but like a few more photos in this post, it's a quick scan from film).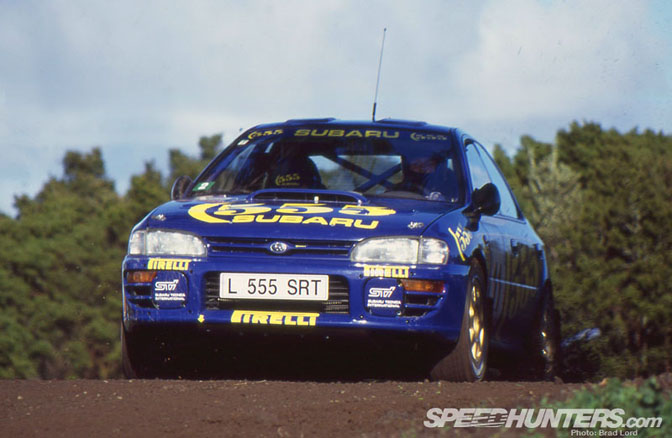 From that moment on whenever I did anything car-related I had my camera with me. The annual World Rally Championship (WRC) stop in New Zealand provided plenty of good shooting opportunities for a newbie. I'm really looking forward to Speedhunting at the 2012 Rally NZ event in late June!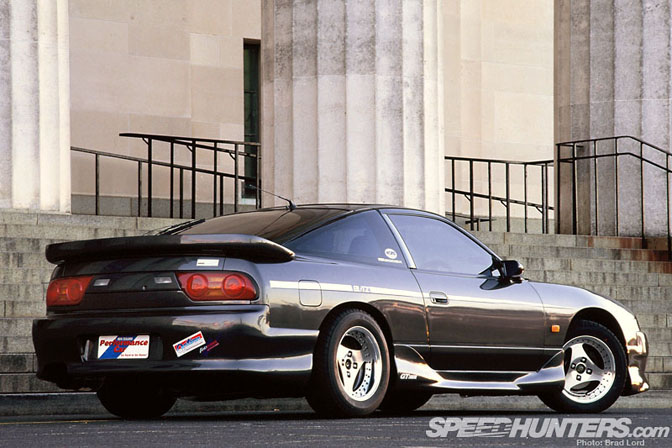 When NZ Performance Car magazine was announced in 1996 I was pretty excited. Up until that point the only way us Kiwis could read about tuner-type cars was to buy imported magazines like Max Power and Fast Fours. I set my sights on contributing to NZPC and managed to land a part-time freelance photographer role straightaway. That soon expanded to the assistant editor role and I was tasked with sourcing cars and writing stories. One of the earliest features I completed was centered on this drift-spec NZDM Nissan 200SX. Considering the year was 1997 this car was definitely the first of its kind in New Zealand.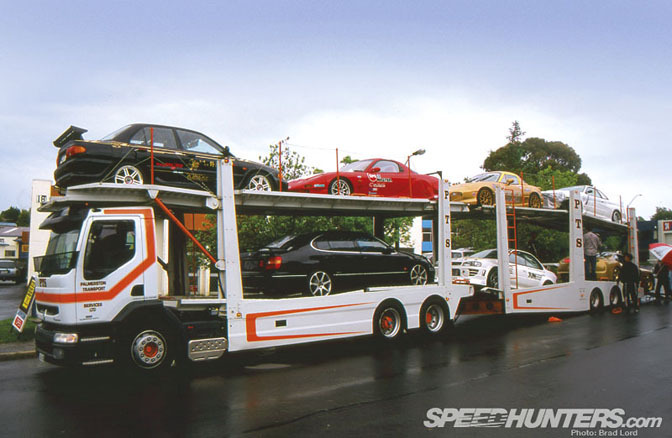 With machines like the 200SX emerging on the local scene I started to become very interested in Japanese tuning style. After witnessing Option magazine's founder, Daijiro Inada, pilot seven cars from famous Japanese tuning houses during a private land speed record attempt event in New Zealand in 1999, I was totally infatuated!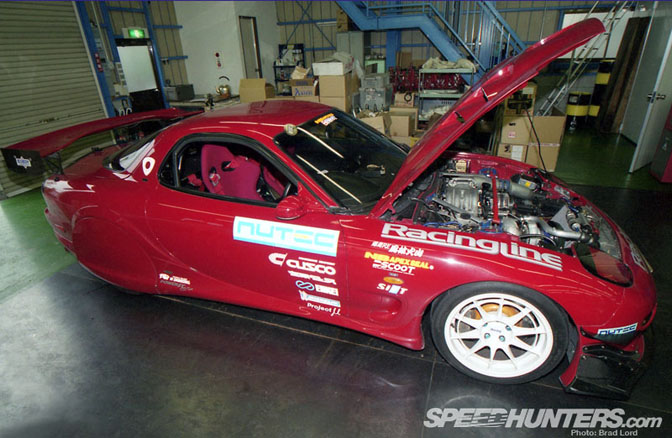 As soon as the 'Option Speed Trial' was over I begun saving up for a trip to Japan. I managed to get there just in time for the 2001 Tokyo Auto Salon – which totally blew my mind. Within in days of returning to New Zealand I had already booked another flight back, but this time I rented a tiny apartment and stayed for a couple of months. I soaked up the culture and visited as many tuning shops around the greater Tokyo area as I could – including Scoot Sports in Yokohama. I had met Scoot's owner, Hidekazu Koseki, in New Zealand at the Option event, but seeing I had visited him at his workshop in Japan he was hell-bent on taking me out for a late night expressway ride in his 710ps 'Wangan 'Special' RX-7. I'd be lying if I said I wasn't just a little bit concerned for my well-being, but I wasn't going to let the opportunity pass me by…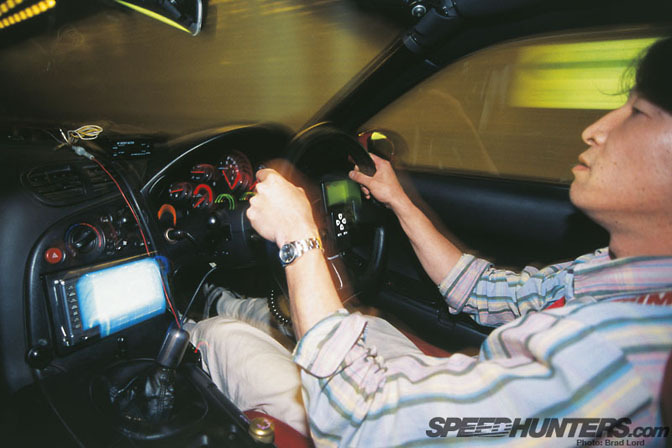 …The 315km/h blast run through the Tokyo Aqua-Line tunnel is something that I'll never forget.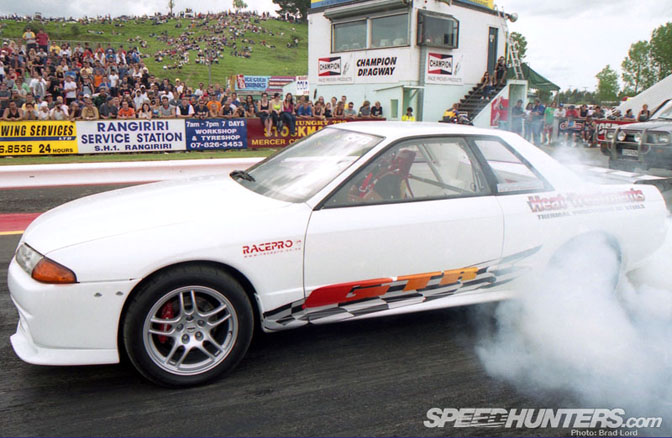 Around the same time the performance and modified import car scene had really begun to blow up in New Zealand and I found myself behind the Editor's desk at NZPC magazine. With the job came a front row seat at all the major events. Here's the famous Heat Treatments Racing GT-R in a very different guise than the world record-setting one it's in today.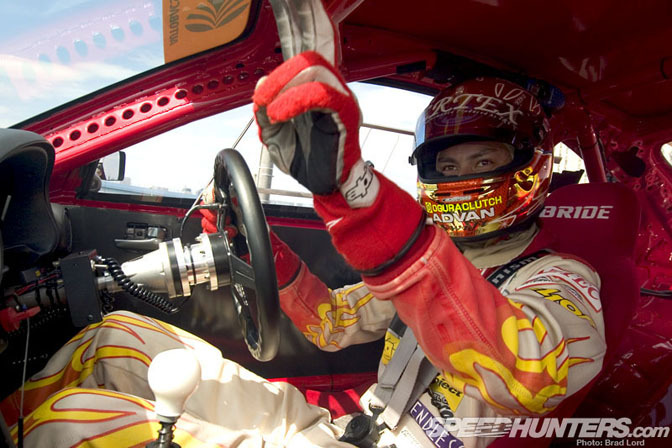 In between monthly magazine deadlines I returned to Japan a few more times over the next five years. Riding shotgun with Nobuteru Taniguchi in the HKS Silvia S15 at the Odaiba round of the 2004 D1 Grand Prix Championship was definitely a highlight.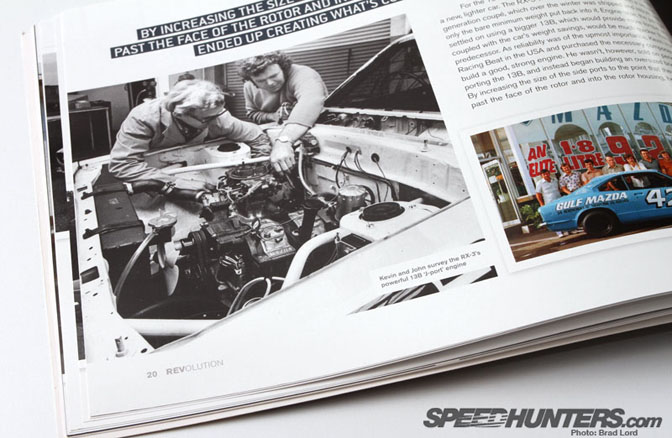 A couple of years ago, after 100 issues as editor of NZPC I decided a change of scenery was well overdue. I began freelancing for a few different magazines and then managed to land myself book deal. Although I only had a short time to compile Revolution: Japanese Performance Car Culture in New Zealand, it was cool to delve back into the history books and tell the story of a motoring movement 40 years in the making.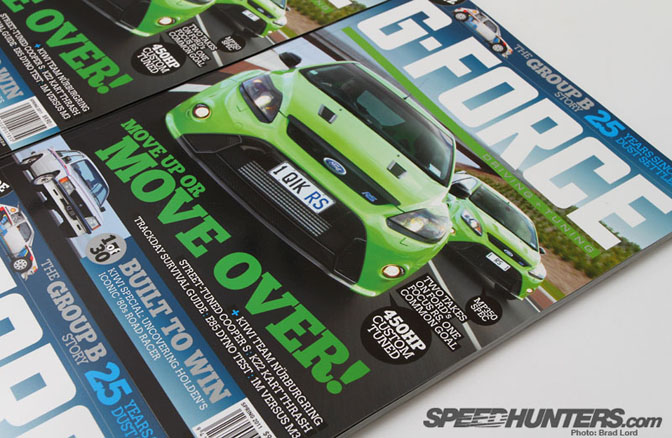 I guess one thing led to another and last year I decided that I'd have a go at publishing my own print magazine: a quarterly release titled, G-Force. The magazine has a wide editorial scope, but it focuses exclusively on local New Zealand-based cars and topics.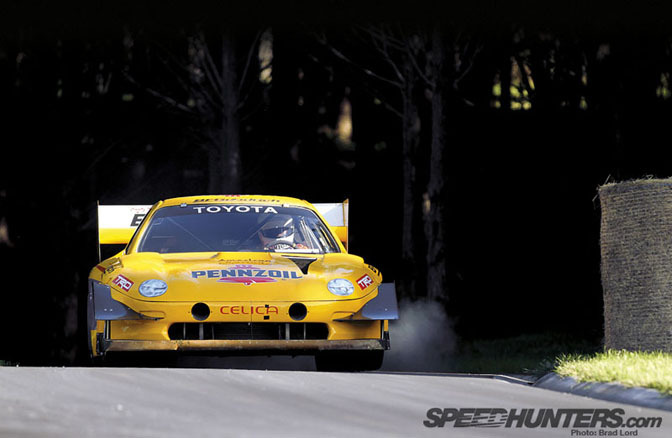 It's also opened a few doors, including an invitation to Rod Millen's 60th birthday bash last year – the prequel to the 2012 Leadfoot Festival which I'll be posting about over the next couple of days.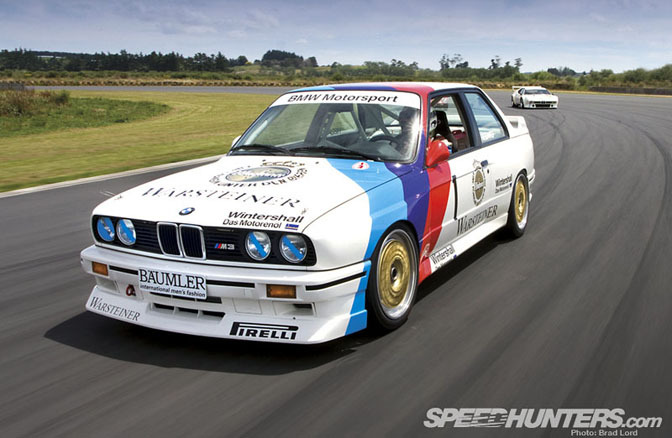 The New Zealand Festival of Motor Racing held earlier this year is a new event on the local calendar. I'll definitely be Speedhunting at the next event in January 2013!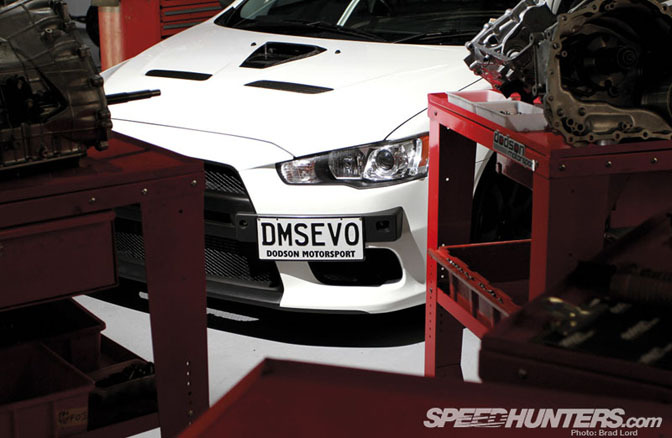 I'm also looking forward to going behind closed doors at a few local car builders…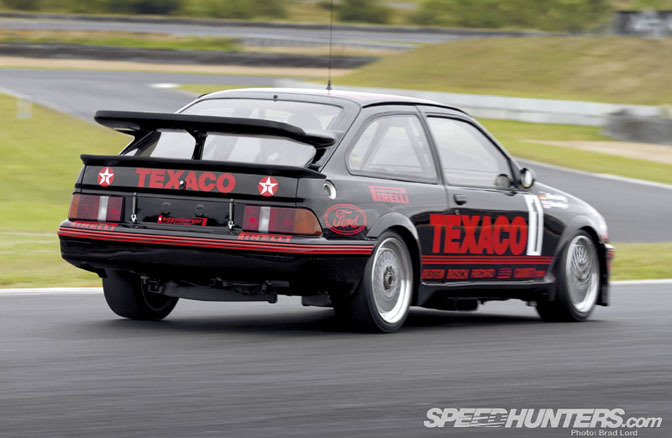 Of course, I'm itching to showcase some of the amazing cars that reside in New Zealand too. Apart from being the actual car that won the '88 European Touring Car Championship, there's a great story behind this genuine Eggenberger-built Texaco Ford Sierra RS500 Group A works machine.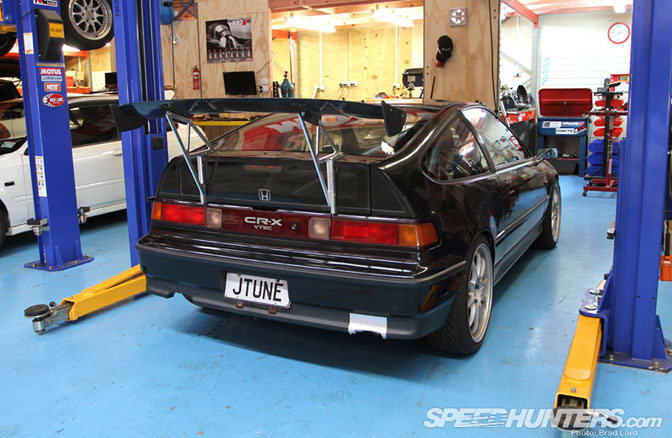 Along with my Speedhunter and magazine duties I'm really hoping I can finally see a couple of my own projects through to completion this year, too. I imported this '91 EF8 Honda CR-X SiR race car from Japan in 2001, but didn't do much with it until a couple of years ago when it was given a low-budget overhaul in NZPC. Ever since then it's been living at a workshop in Auckland called JTune, which now co-owns the car with me. Every time I visit the CR-X seems to have sprouted new additions – like that giant rear wing and the Rays Engineering CE28 wheels – but I'm not complaining.. My other project is an '83 Toyota Trueno GT Apex. I've been sitting on this one for far too long but have finally got to the point where I've collected all the parts required to complete the build (including the Watanabe 8-spoke wheels pictured at the beginning of this post) – so no excuses!
So that's about it from me.. I really hope you enjoy the diverse Kiwi content I'm planning to bring to the collective Speedhunters table over the next while. With a couple of trips to Australia on the cards too (the World Time Attack Challenge and the Jamboree are simply must-attend events!), I can't wait to get stuck in!
– Brad Lord