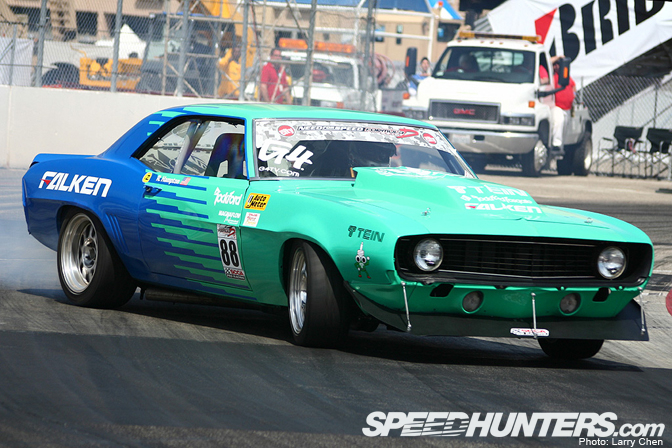 Around this time of year I get all nostalgic about my start as a motorsports photographer in 2006, when I was shooting for a Nissan enthusiast website called "FreshAlloy." Back then, I had a Canon Rebel xt (350d) with a battery grip, a kit lens and a gigantic one gigabyte memory card. Those were the days!
2006 was also the first year Formula Drift held an event on the Streets of Long Beach -who would have known the sport would grow so much in so little time!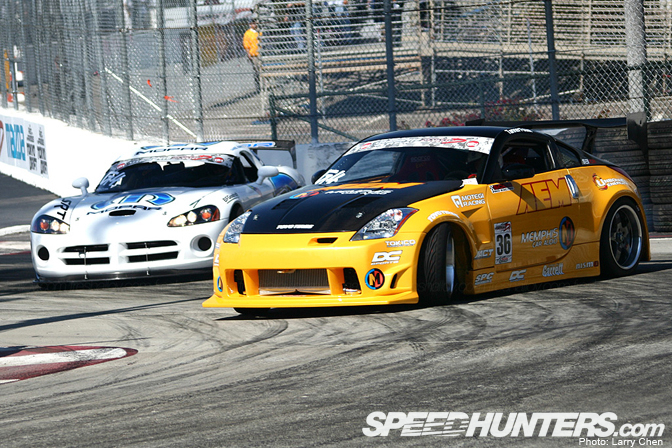 I can honestly say I miss watching Tanner drift after the "Golden Child" left the sport a few years ago.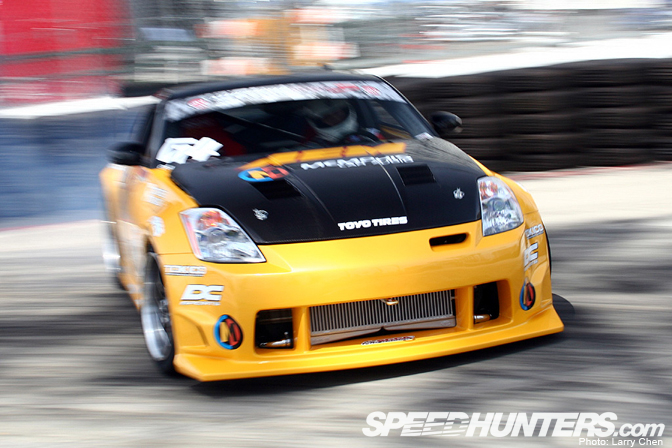 I think he was one of the best drivers to ever grace the Formula Drift podium.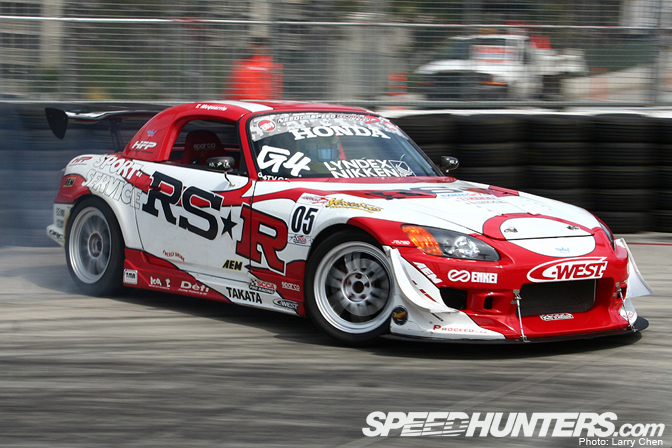 I consider the RSR S2000 one of the pioneer cars for the American drift scene.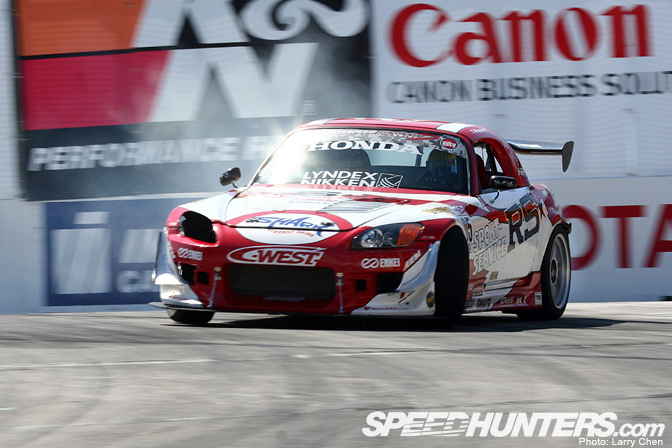 It was originally built by Gary Castillo of Design Craft. Since then it has exchanged many hands.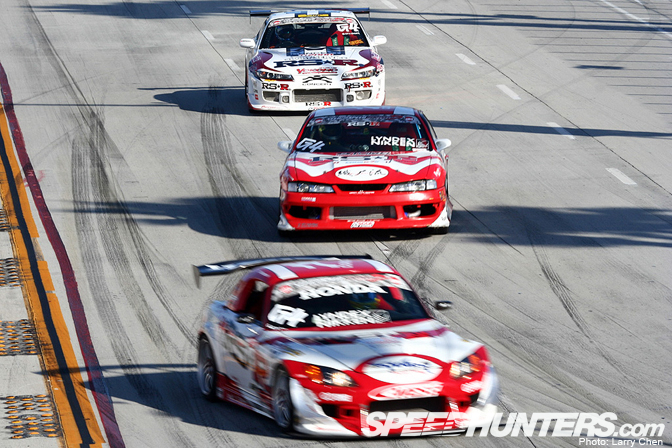 Part of covering the Long Beach Grand Prix is shooting "Team Drift."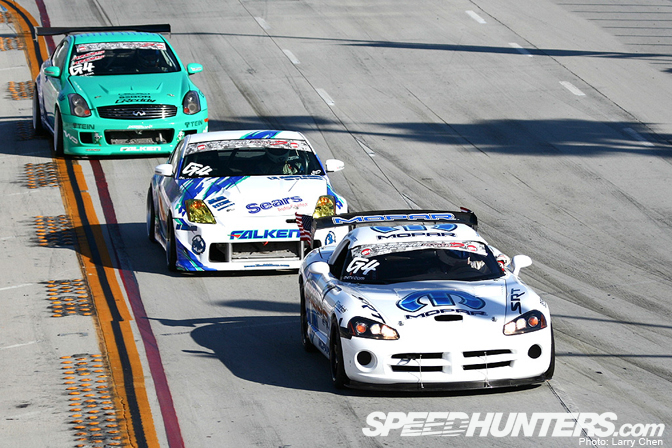 This team consisting of Calvin Wan, Chris Forsberg and Samuel Hubinette.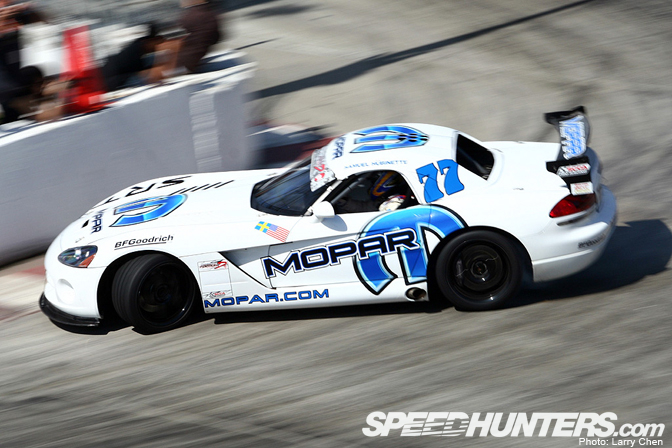 Sam ended up winning the event back in 2006. It's too bad he wont be around this year to put another notch in his belt. At the time, Sam's SRT was the only one loud enough to make the photographers beg for ear plugs.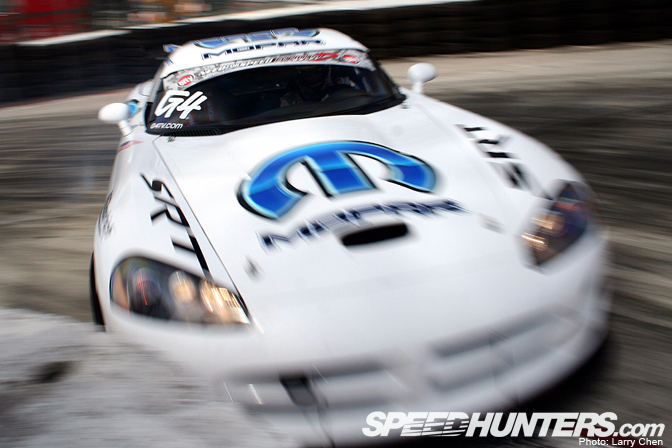 This being one of the first Formula Drift events I ever shot, I felt good about myself for being brave enough to stand on the inside of turn 11. I only peed in my pants a little bit.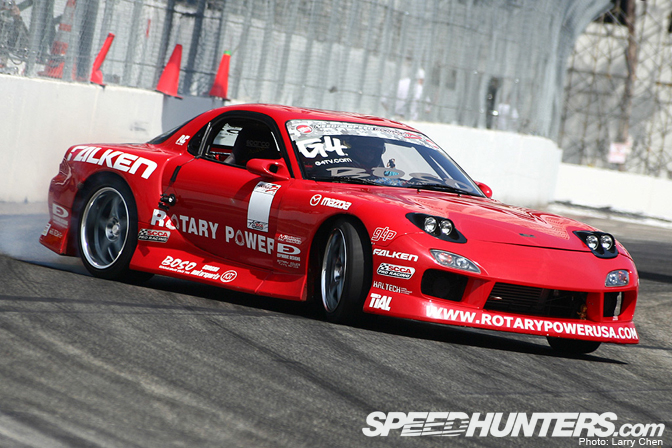 Here's the political drifter Ross Petty in his infancy. The following year he became a full time Falken driver campaigning the same exact chassis that Daijiro Yoshihara won the 2011 championship with last year.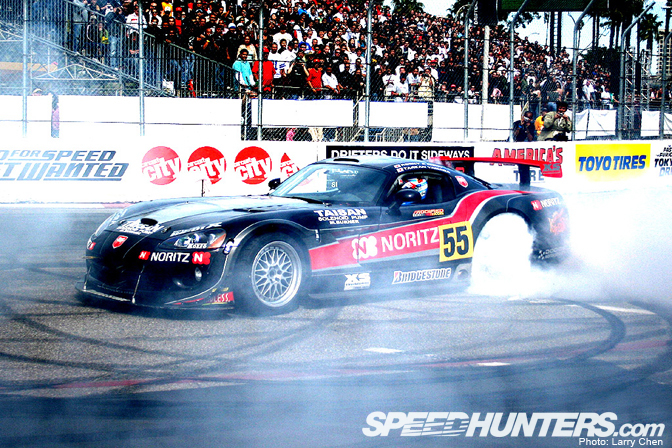 One thing I miss about the old Formula D events was Tarzan Yamada's involvement in the series.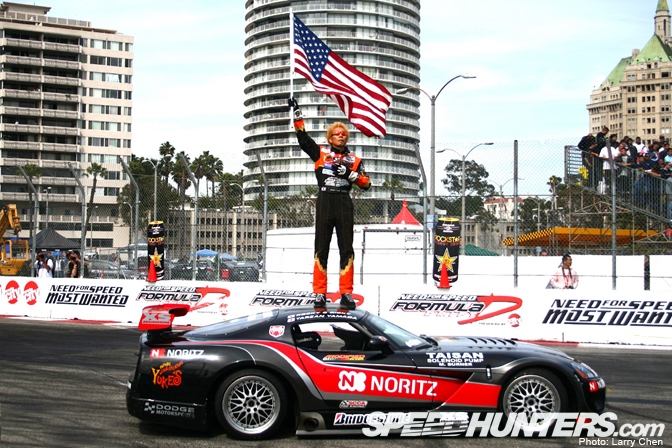 He always did the craziest stuff during the Top 16 introduction. He always teased us with that awesome looking Viper SRT, but he never drifted the full course. Bummer.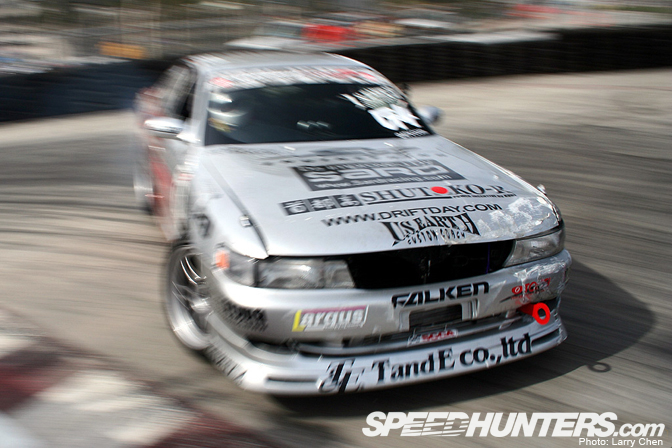 I swear Hiro Sumida's Chaser was held together by duct tape and a prayer by the end of the 2006 season. Eventually Hiro got an IS350, which eventually gets passed on to Daijiro in 2009.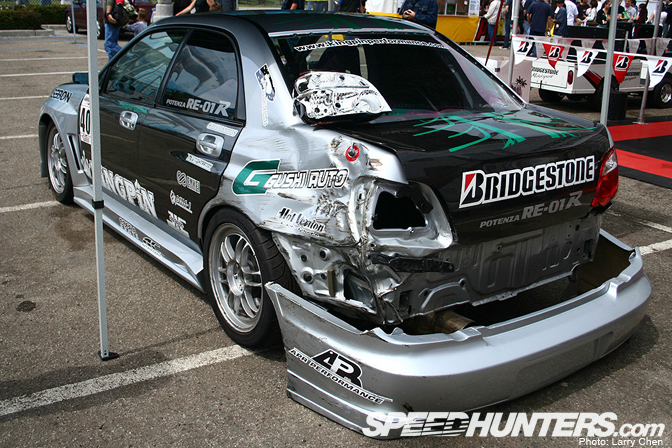 This event was the first and last time I had a chance to see papa Gushi drift his Subaru. It's too bad he does not campaign this any more, after all he is the one who taught his son, Ken Gushi how to drift.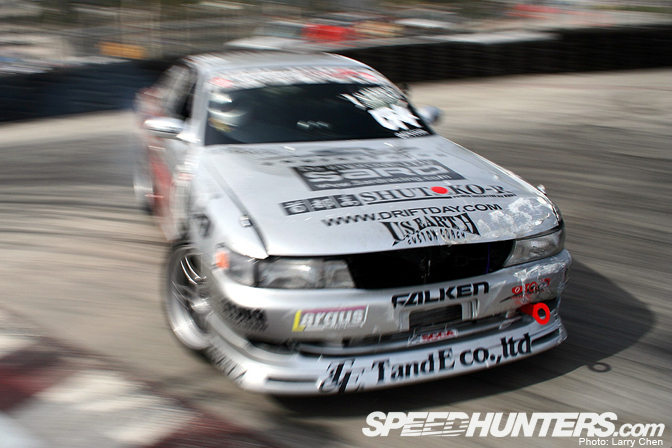 Of course Ken is still alive and kicking, and this year he will be driving the brand new FR-S. It's easy to forget he used to be associated with Mustangs.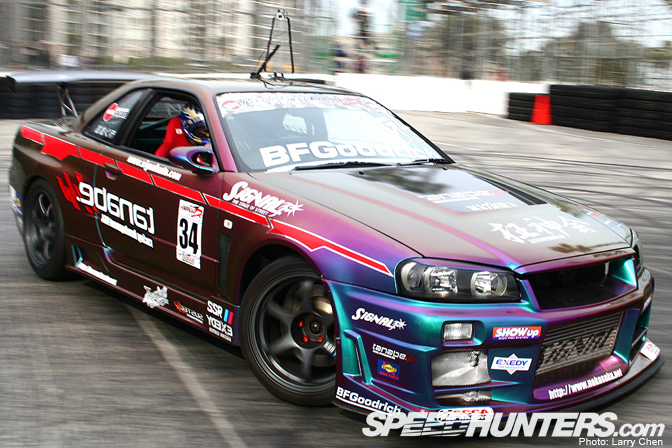 Bridges Racing must have a thing with bringing over awesome Japanese drifters because back in 2006 he was campaigning Michihiro Takatori. This season he will be campaigning both Robbie Nishida and Daigo Saito.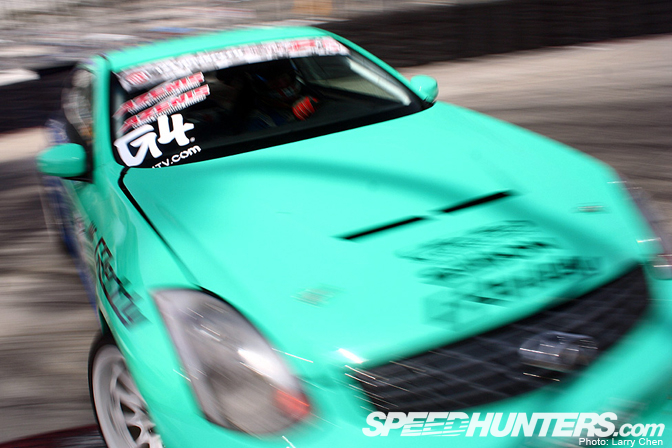 Back then, the clipping point was the K-rail so the boys got as close as they could, which means I got many shots like this one.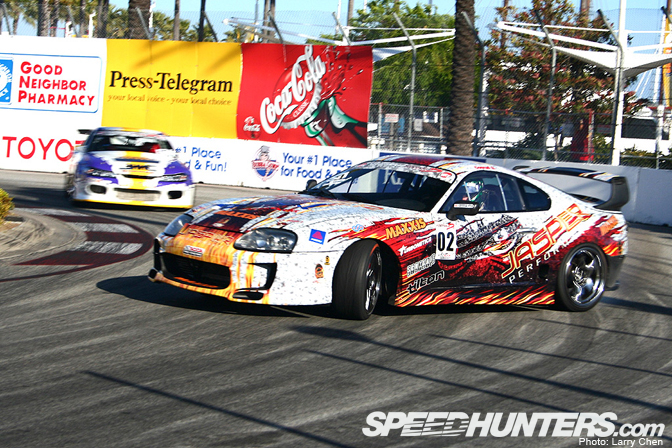 It's too bad the only time these guys get to drift around the famous downtown Long Beach water fountain is during the Grand Prix weekend. It would be so awesome to see a train of ten cars go through that section.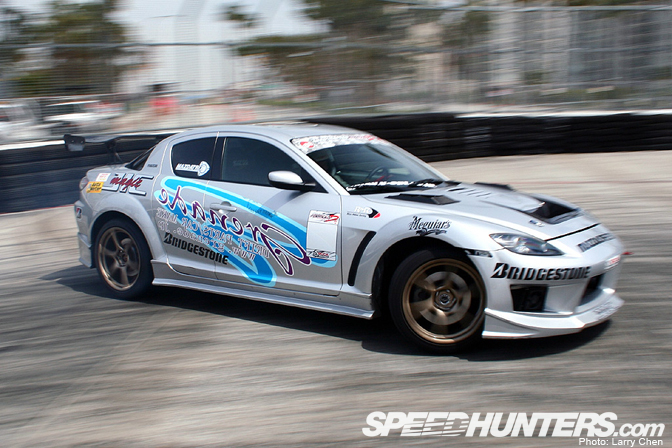 This handsome looking RX-8 was driven by Rod Millen. When he realized he could not beat his son at his own game, he sold the Mazda to Tony Angelo.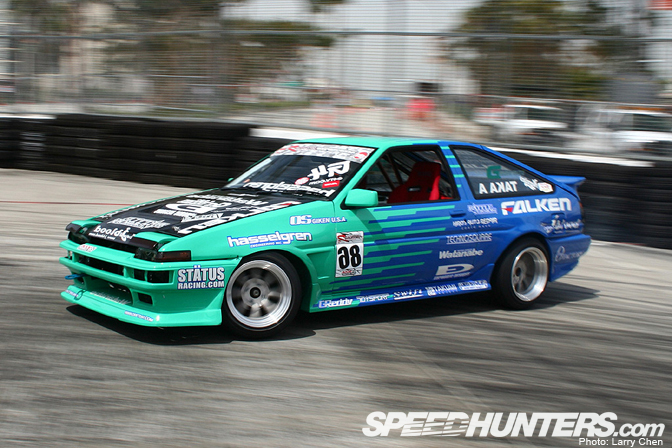 Back then Taka Aono was a full time Falken driver. Now he is a Megan Racing driver. He is one of the few drivers who has never missed a round of Formula Drift.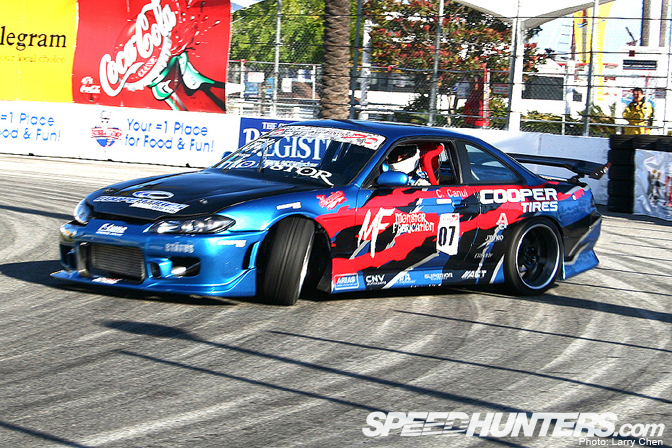 One of the local guys that I got to be-friend was Casper "the friendly drifter" Canul. He started drifting on on and off ramps by my house before it became popular. Eventually he smartened up and kept his drifting to the track.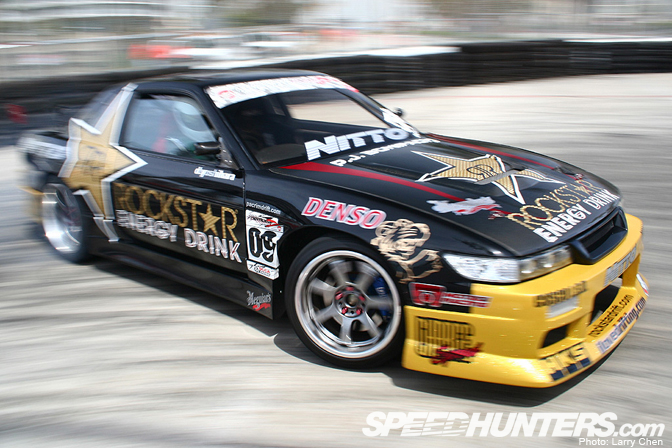 It's crazy to see how much these drivers have progressed. Daijiro Yoshihara has always been a contender for the championship, and last year he finally reached his goal.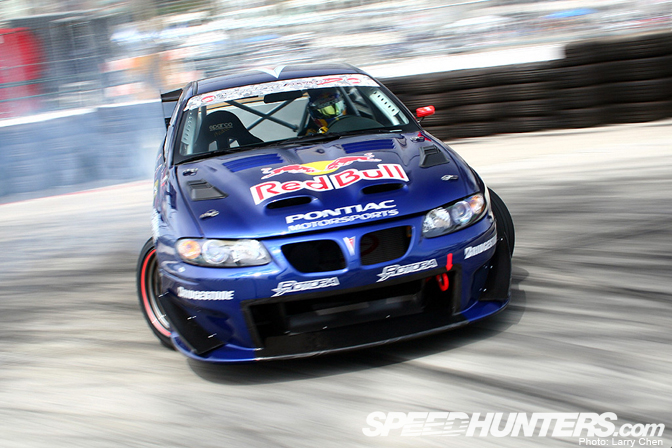 Rhys Millen was the 2nd driver to earn a championship back in 2005. He doesn't drive for Pontiac anymore but he is definitely still running those Red Bull colors.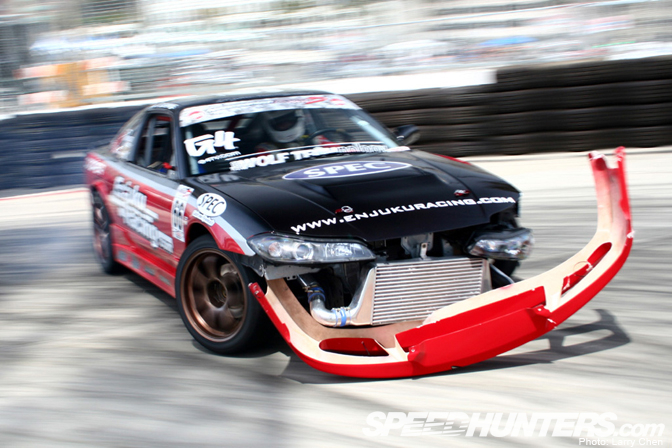 Today is the start of the 9th year of Formula Drift. To think that Professional drifting in North America is almost ten years old! I consider myself very lucky to be there in the beginning. Then again, the Pikes Peak International Hill Climb has been running for 96 years, and racing on the Bonneville salt flats has been going on for 98 years, which makes me think the ten year anniversary of Formula Drift is just the beginning of a drifting legacy. What do you guys think?
More retrospective stories on Speedhunters