Last weekend I headed to Central California to check out the 1st round of the 2012 season of Global Time Attack (GTA) at Buttonwillow Raceway Park.
Global Time Attack is a series designed with one goal in mind; to break track records. They cater to anyone with a NASA membership who wants to take a shot at breaking a track record for a variety of classes.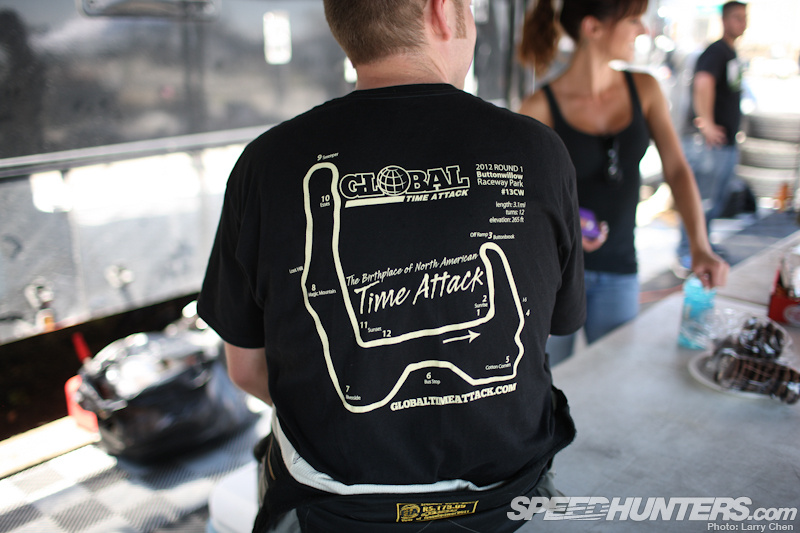 They used the famous the number 13 clockwise configuration which is 3.1 miles in length with 12 turns.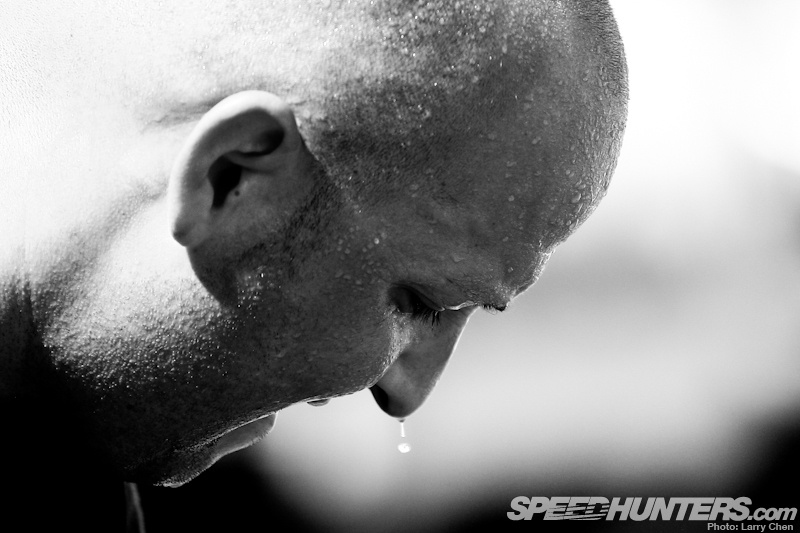 It was a super hot 97 degrees f so none of the 35 cars that attended were running at record pace.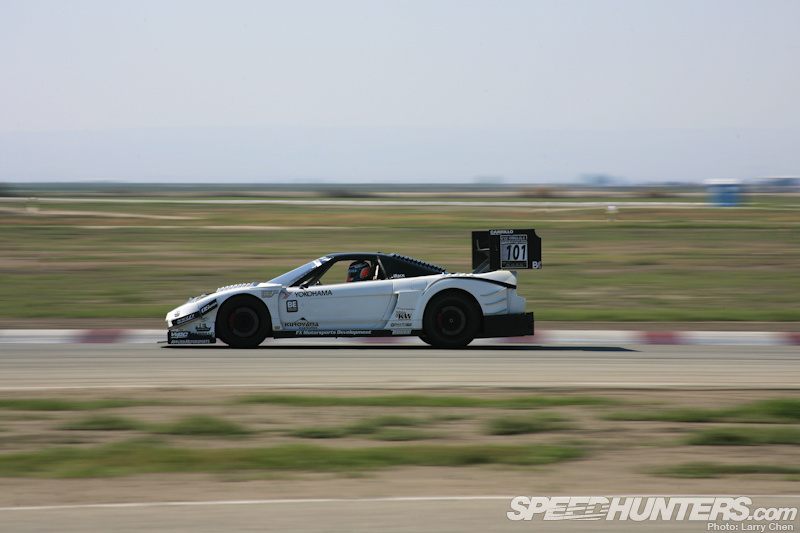 All eyes were on Billy Johnson as he went for a hot lap in the FX Motorsports Acura NSX. Unfortunately, Billy was only able to run one hot lap because the NSX had some fuel system issues.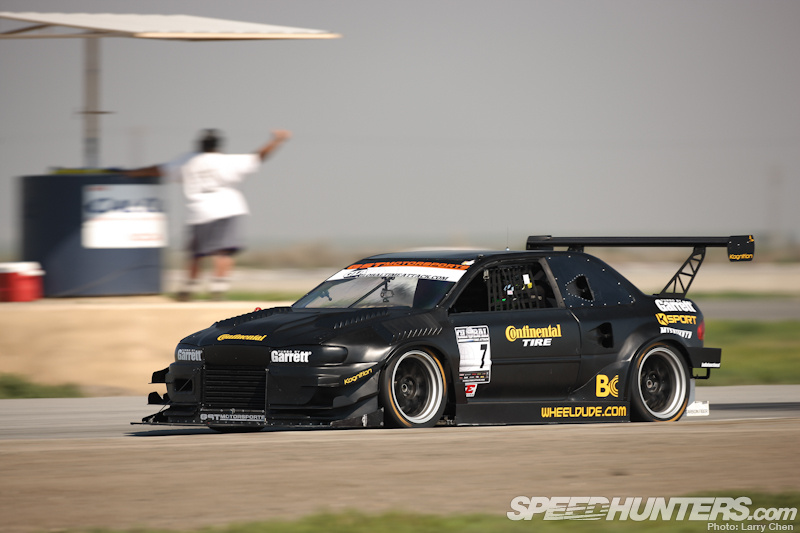 This is one of my favorite Time Attack cars. I just love how mean it looks. Jeff Westphal took the fastest lap of the weekend in the GST Motorsports Subaru Impreza L.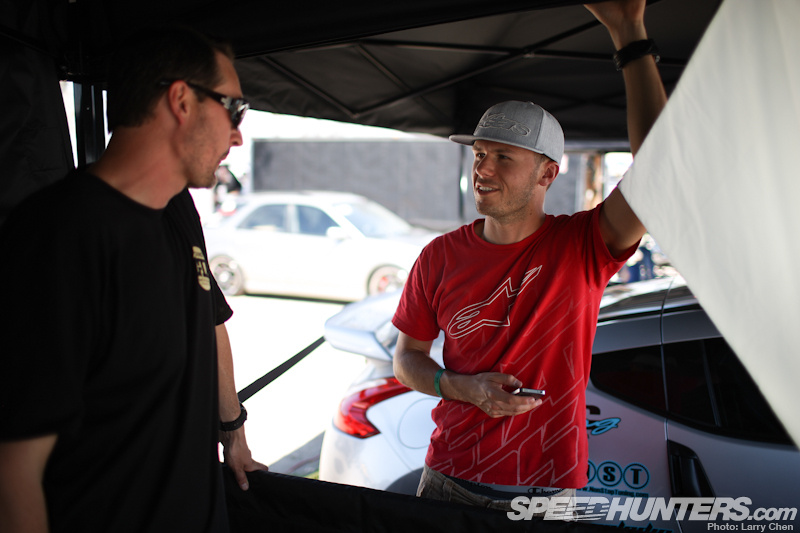 Doesn't Jeff look like David Beckham? Maybe he is David and plays football on the weekdays and then hits the track on the weekends!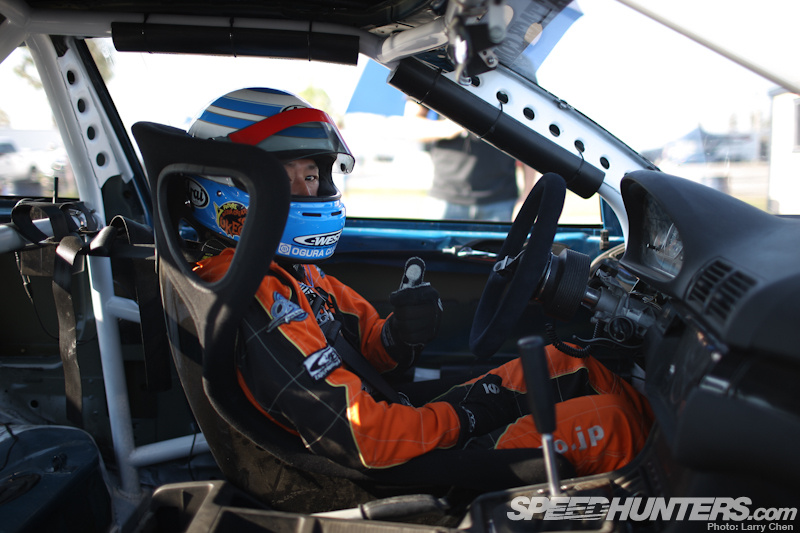 Tarzan Yamada, one of the world's most famous Time Attack drivers, came all the way from Japan to drive this event.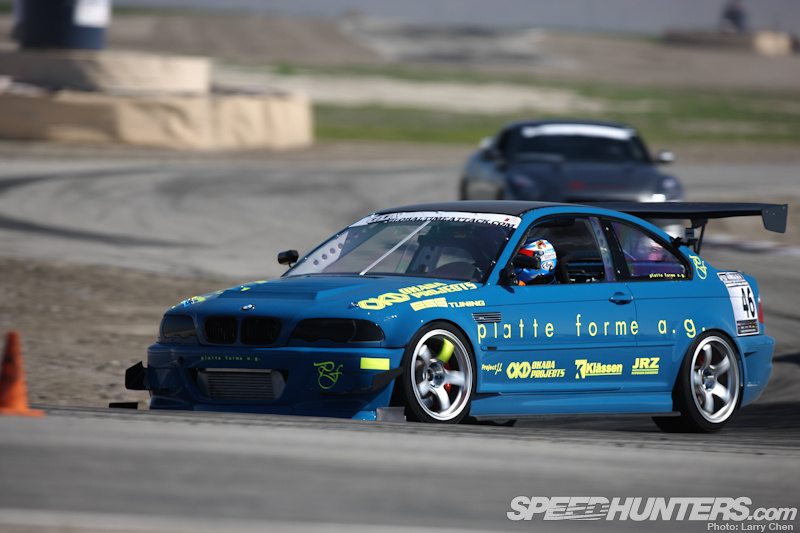 He was piloting the Platte Forme a.g. BMW E46 M3.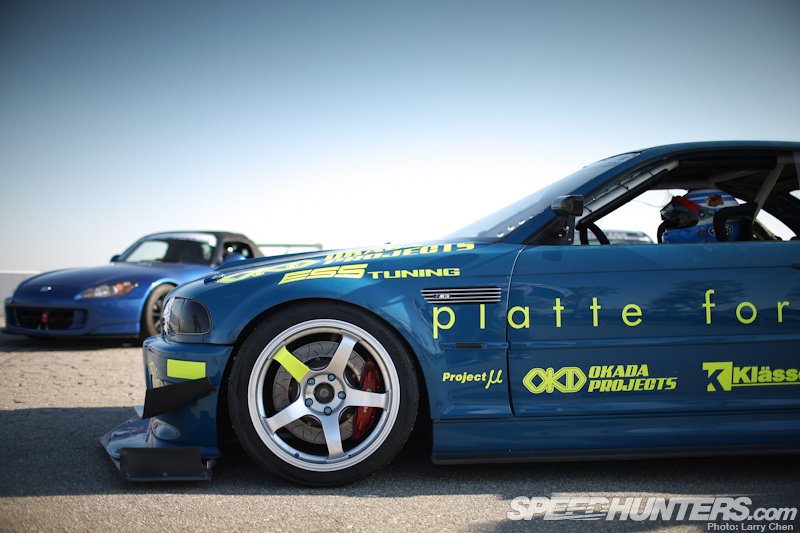 I think the car looked great. It certainly was low enough.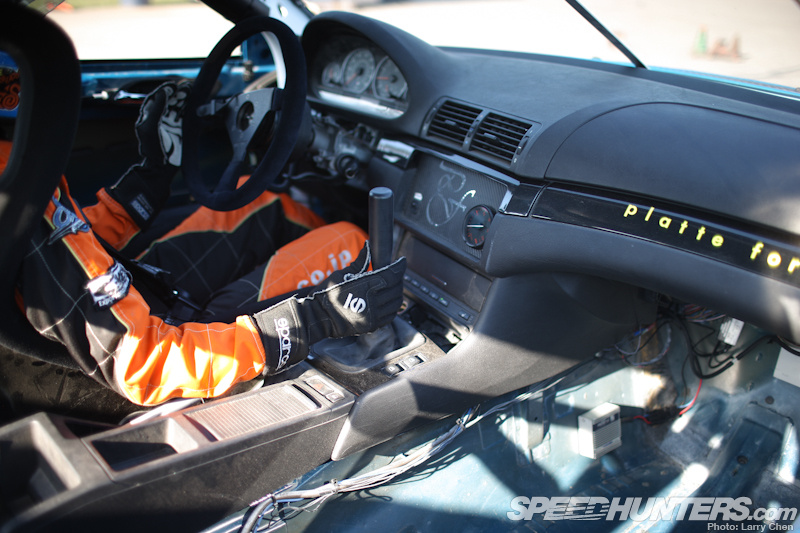 It is pretty interesting to see Tarzan drive a left hand drive car. I guess he's comfortable with both driving positions.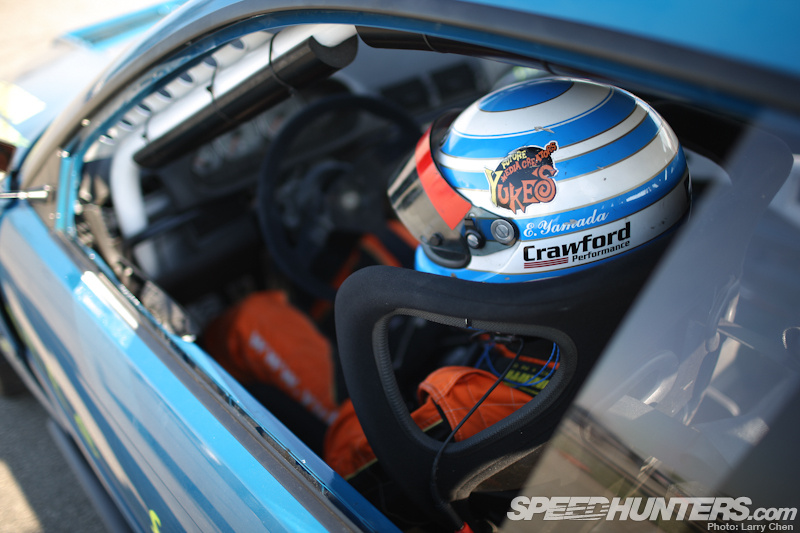 It seems like they never really got the car dialed in because his best time of the weekend was a 1:54.737. This was almost two seconds behind 1st place in the limited RWD class.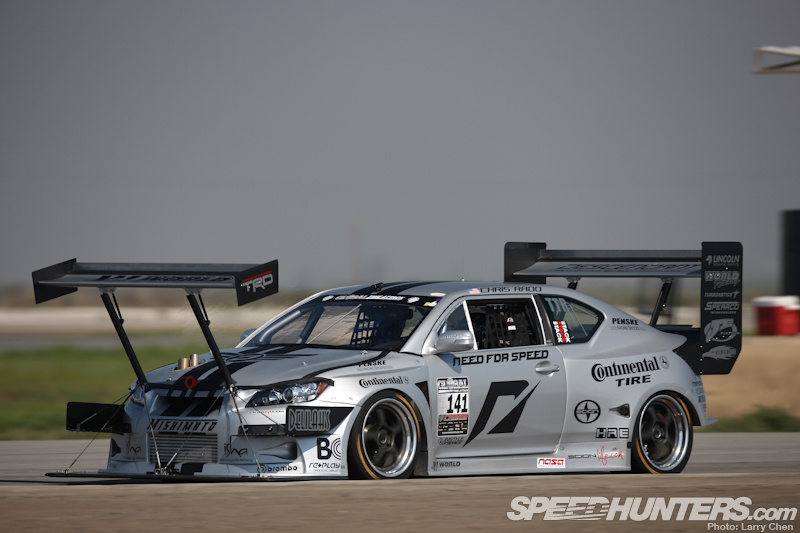 It's never a dull moment with Christian Rado and his World Racing Scion tC2.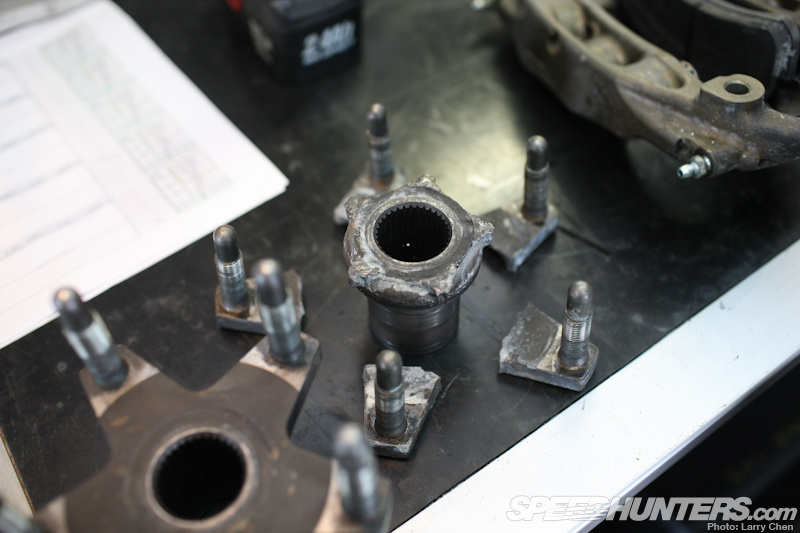 During practice on Friday, the driver side spindle decided to break into six pieces.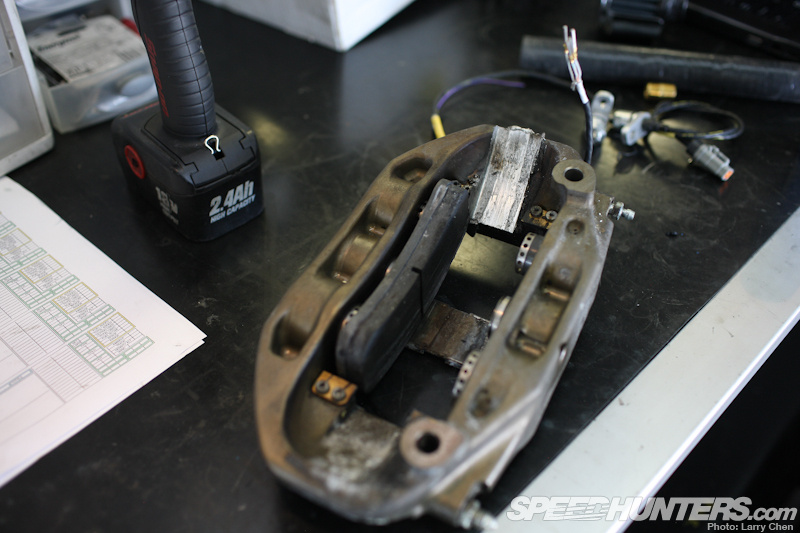 It caused a minor fire as the rotor wore through the brake caliper and ignited the brake fluid.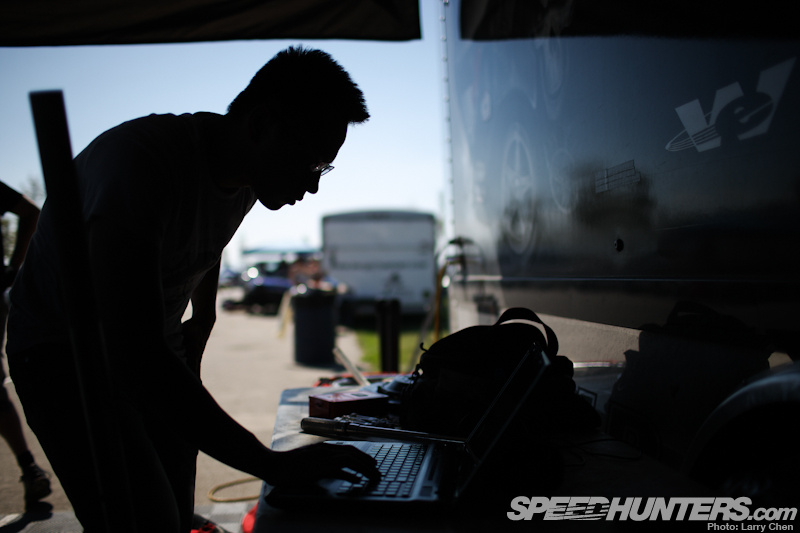 After staying up all night, the crew put the F-wing 2.0 back together in time for the Saturday morning sessions.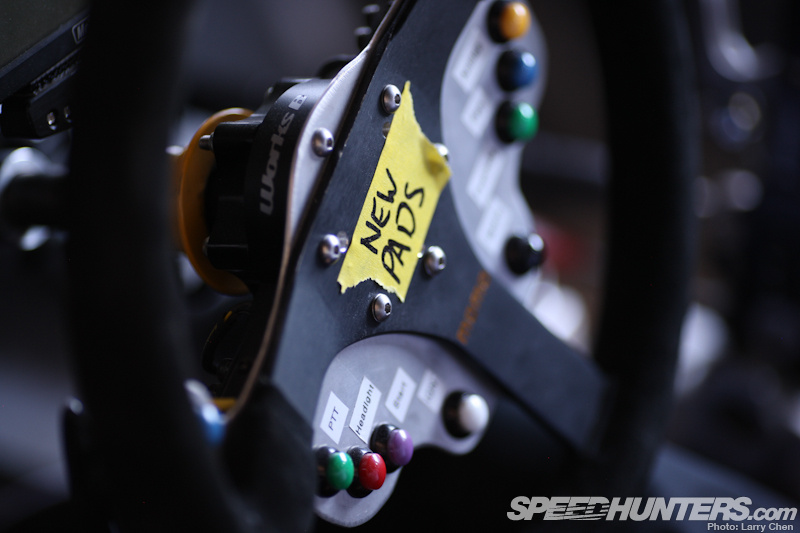 This was just a little note to remind Chris to remember to ease in on the new brakes and not go all out. There is no telling what this mad man is capable of.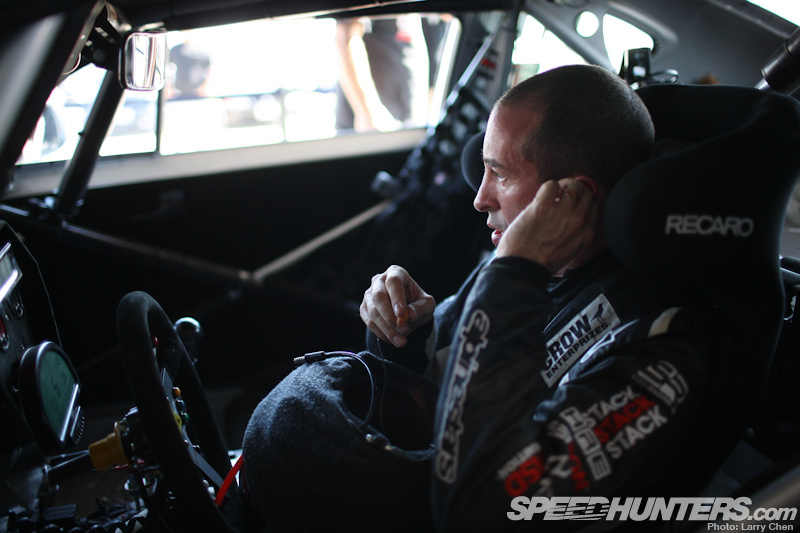 Once everything was in place it was go time. It surprised me that Chris did not wear a cool suit. I had a hard enough time just standing outside in the shade from the sweltering heat. Comfort is the least of the worries for these drivers.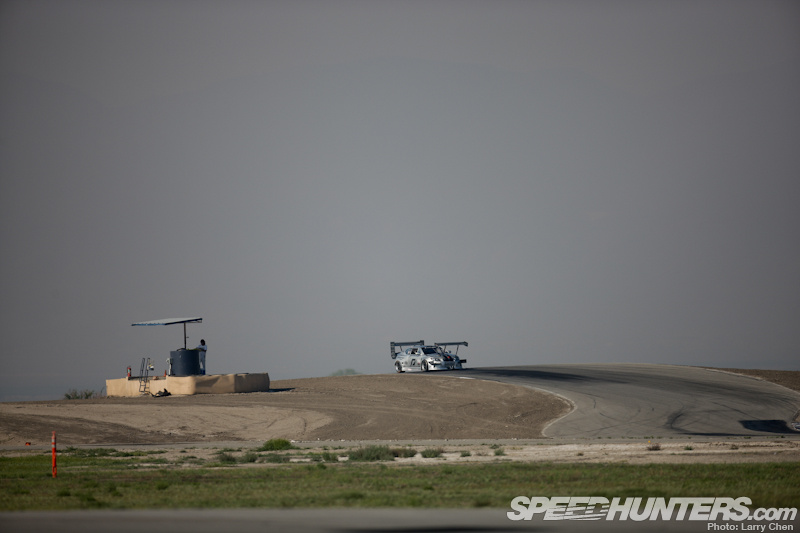 After a few laps, the tires were warm and he was ready to go for the overall front wheel drive track record.  A record which he held in the F-wing 1.0.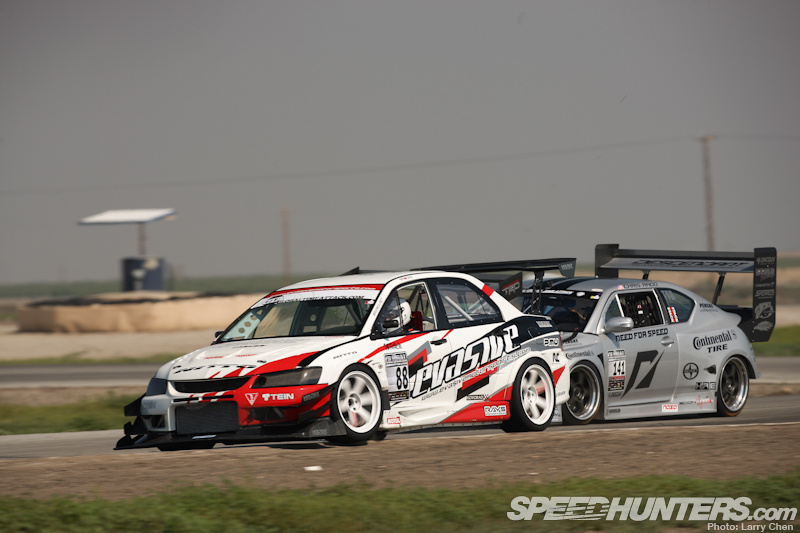 It looked as if he had a good shot at hitting that perfect lap, but traffic slowed him down significantly.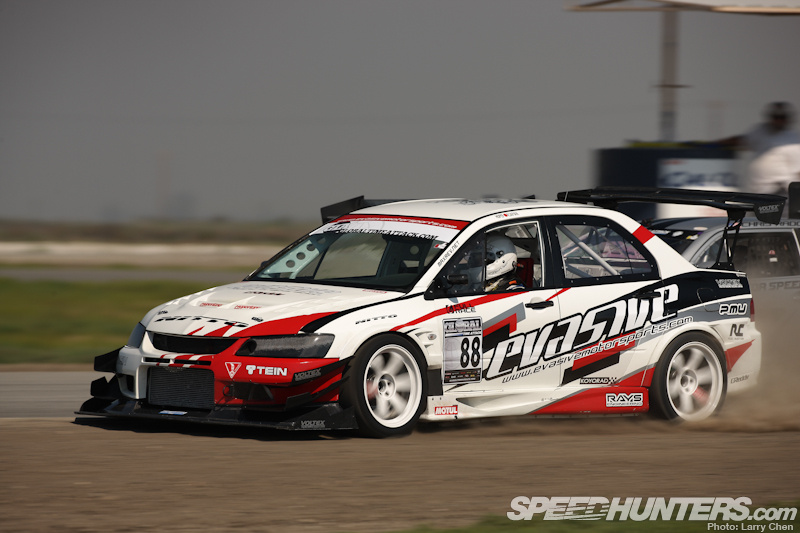 Michael Chang moved out of the way, but it was too late. The next lap Chris would suffer a catastrophic engine failure.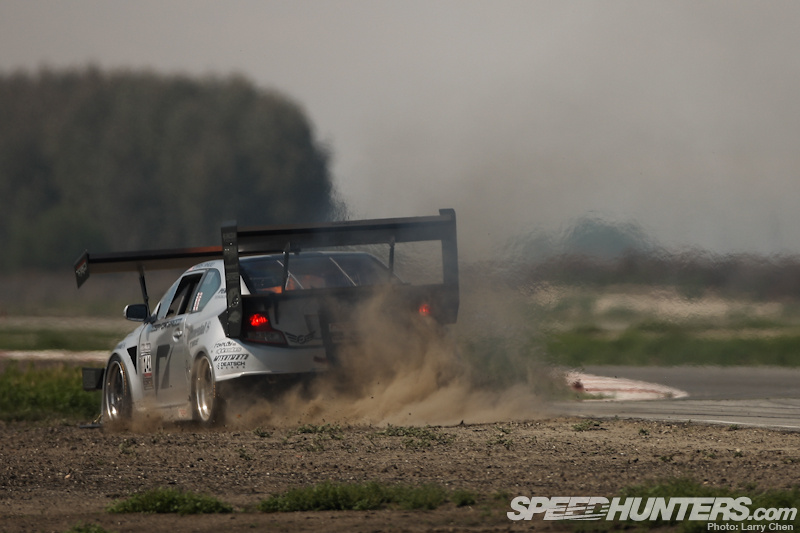 As he came around the corner I noticed he was going much slower than usual. According to World Racing, one of the main cam sensors failed which caused the motor to blow. Once the oil leaked out it caught on fire immediately.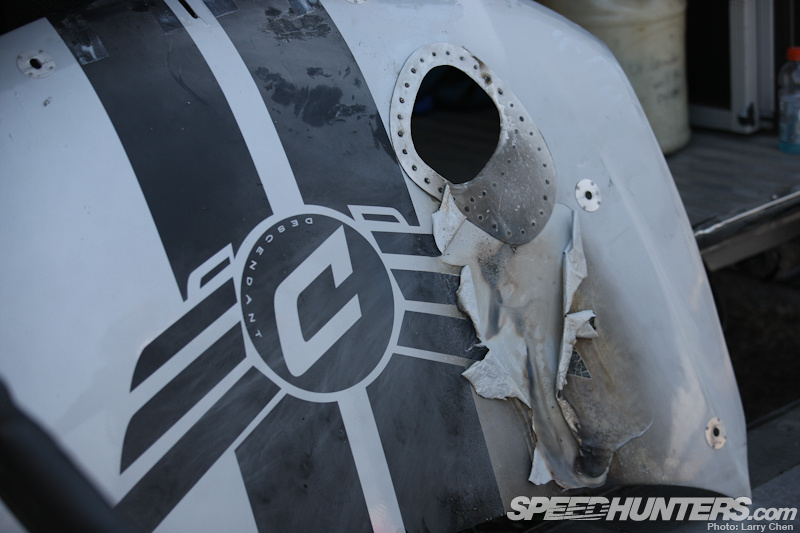 Chris escaped without a singe, but the block and the wiring harness were done for.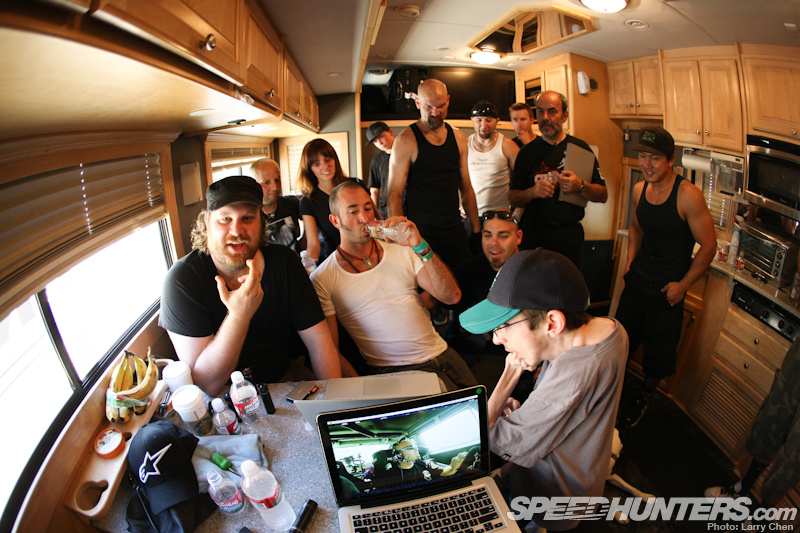 The crew gathered in the trailer to watch a replay of the incident.
It's a good thing Chris had a handy fire extinguisher or they might have lost more than just the motor.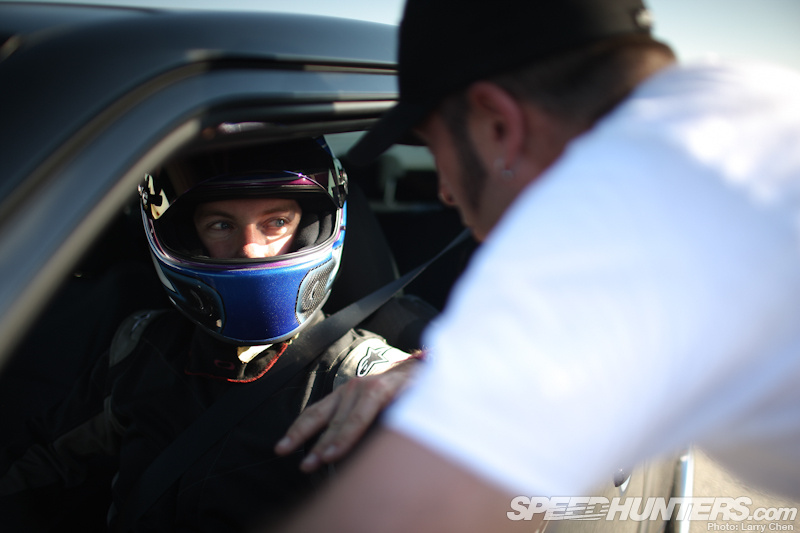 Once you go Time Attack you never go back. One of the pioneers of North American Time Attack is non other than Mike Bonanni.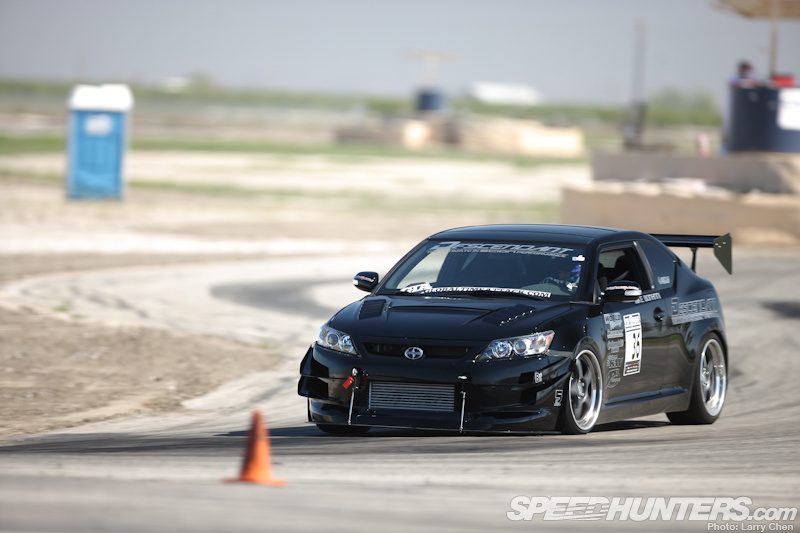 Mike parted ways with Berk Racing this year, but he is still going to drive Time Attack under Chris Rado's program. He will be competing in the FWD Street class with Chris' daily driver.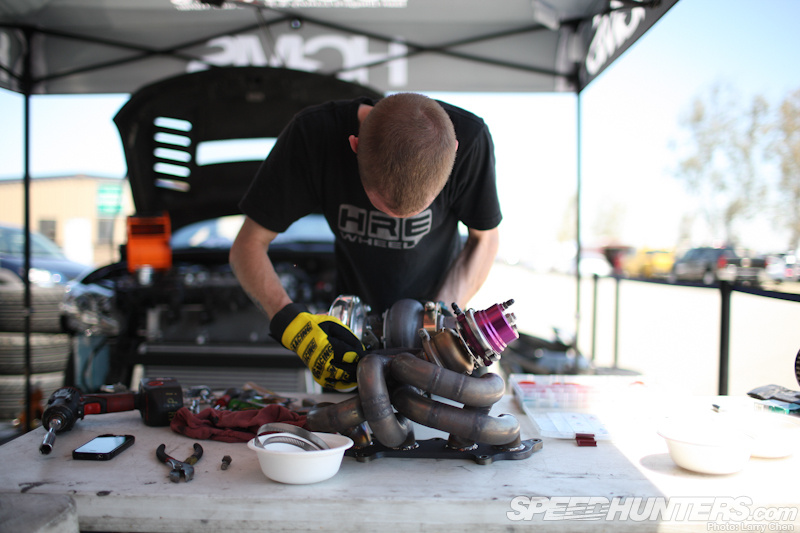 It seems like the heat was everyone's enemy as the car had turbo issues all weekend. I know the car will be fast once they get all the minor issues sorted out.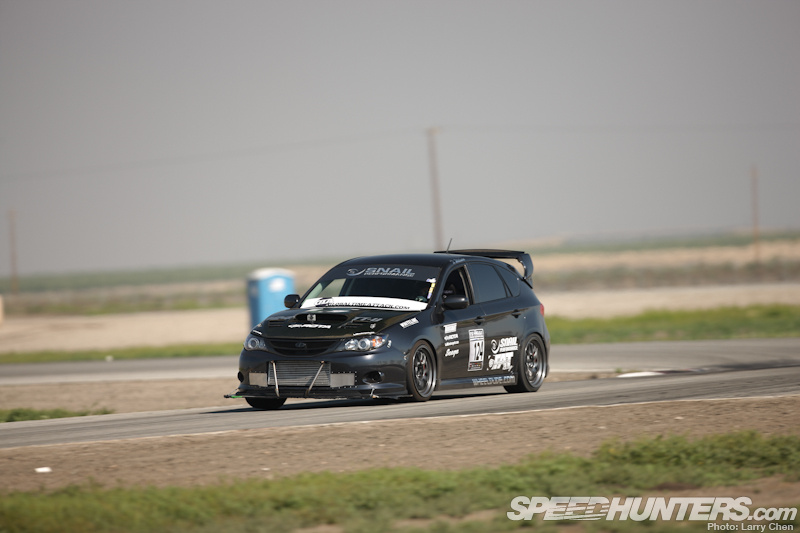 It was just a harsh day in general for the cars and the crew out at Buttonwillow. The air was dense with a thick layer of smog so the sky was a neutral grey color all weekend. I could feel it in my throat after walking around all day.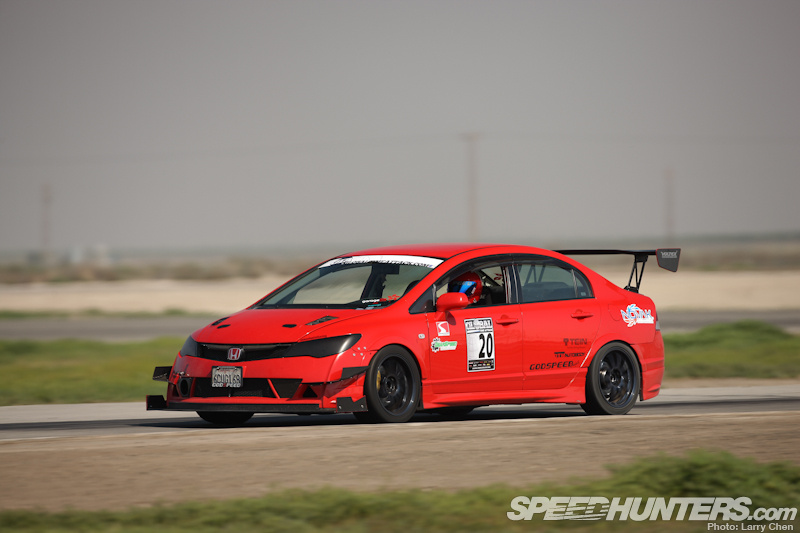 This Honda Civic does not have a giant wing bolted to the front, but it's still very fast. Ken Suen piloted this red rocket to 1st place in FWD Street class with a 2:01.872.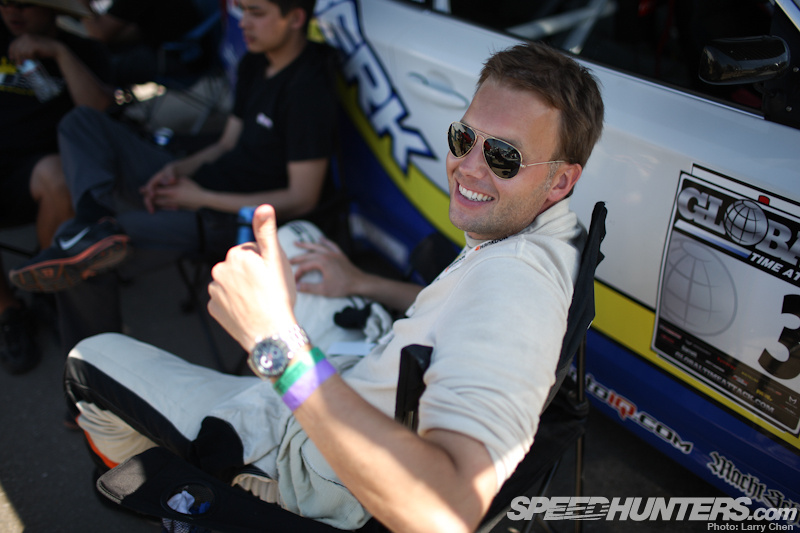 I know exactly why this guy was smiling. I would also be grinning ear to ear if I won two classes with the same car.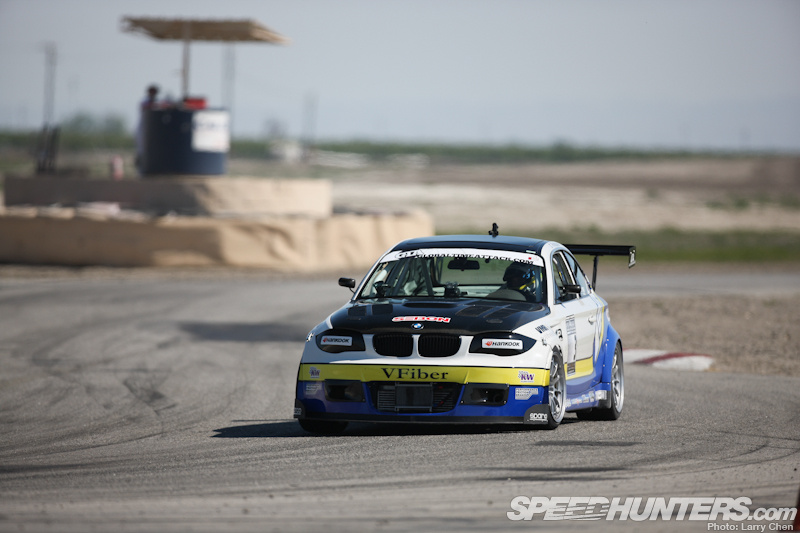 Carl Rydquist set the Street and Limited RWD records with just a change of a tire compound. The team ran 140 tread wear tires for Street class and switched to 80 tread wear tires for Limited class.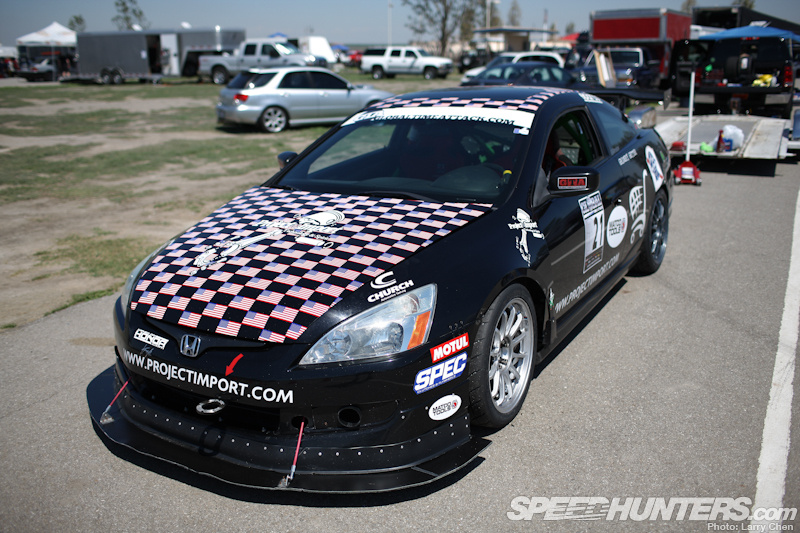 Wouldn't it be fun to flog around your mom's Honda Accord on the race track?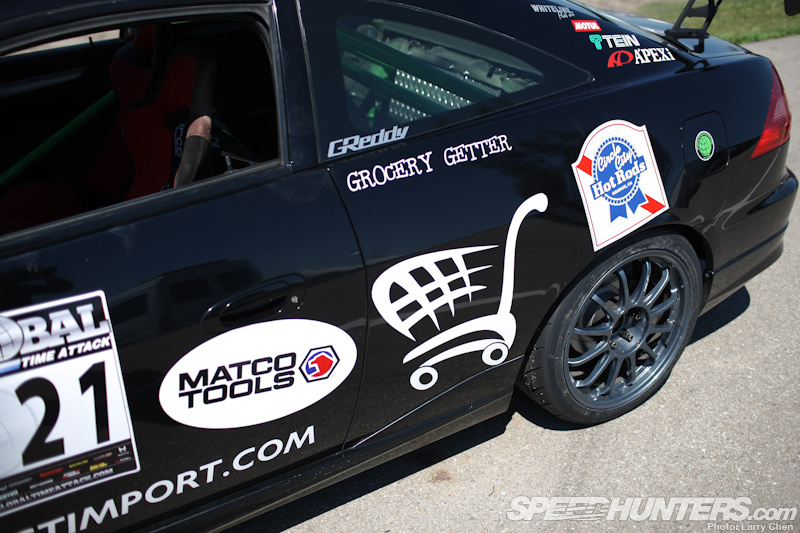 These guys seemed very proud of bringing a grocery getter to time attack.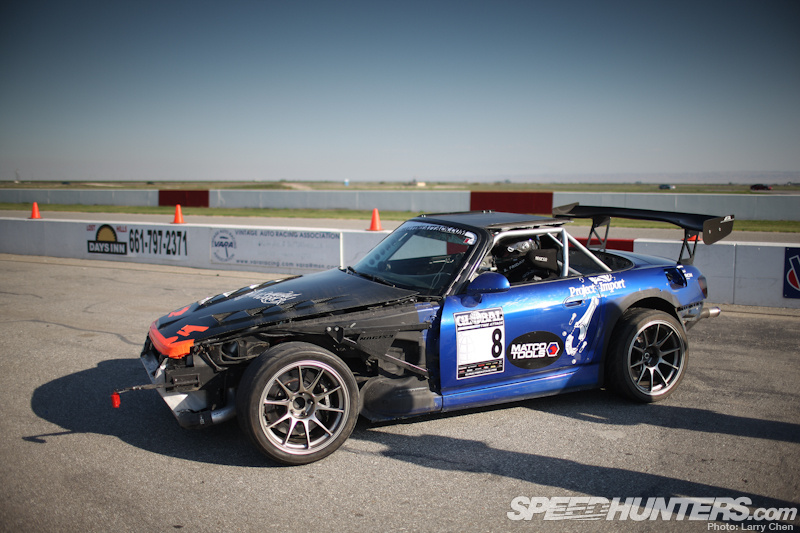 I've never seen an open wheel Honda S2000 until now.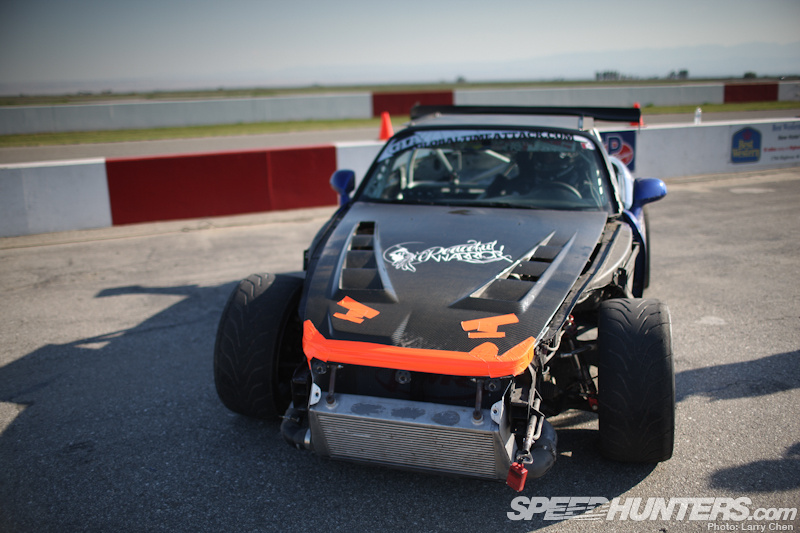 This Plymouth Prowler inspired look was actually pretty cool looking.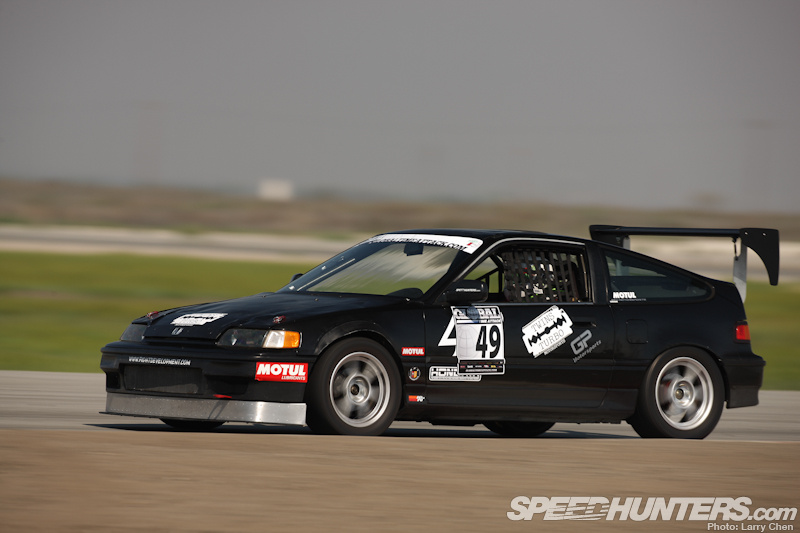 This Honda CRX may have a giant shower door wing and hood pins, but it was definitely not for show. These are always seriously fun to drive and it was decently quick too.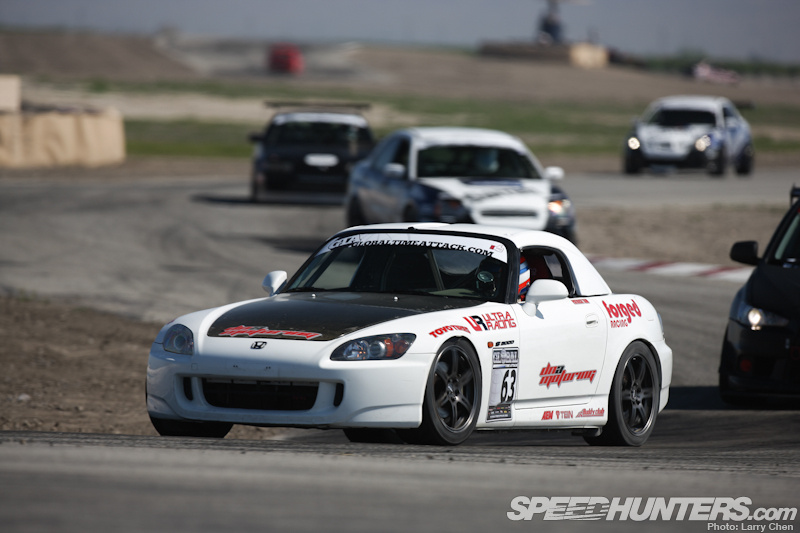 Global Time Attack round 2 is right around the corner and this time they will be running at Road Atlanta the same weekend as Formula Drift. So if you Speedhunters happen to be out there, make sure you go early to catch some hot lapping action.
Larry
More time attack related articles on Speedhunters