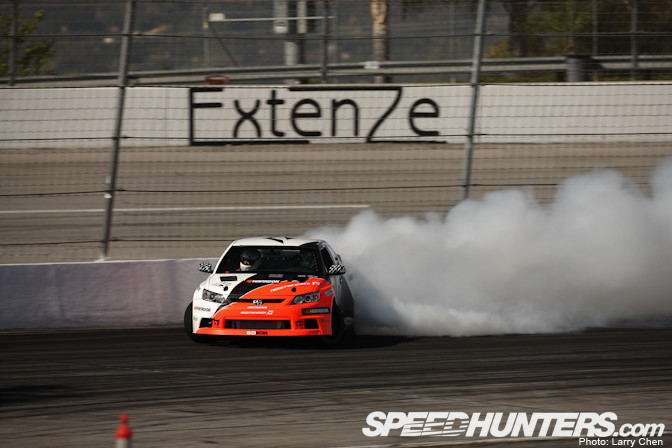 Last week I had a chance to check out the Team Need for Speed Scion tC2, driven by the one and only "Norwegian Hammer" more commonly known as Fredric Aasbo.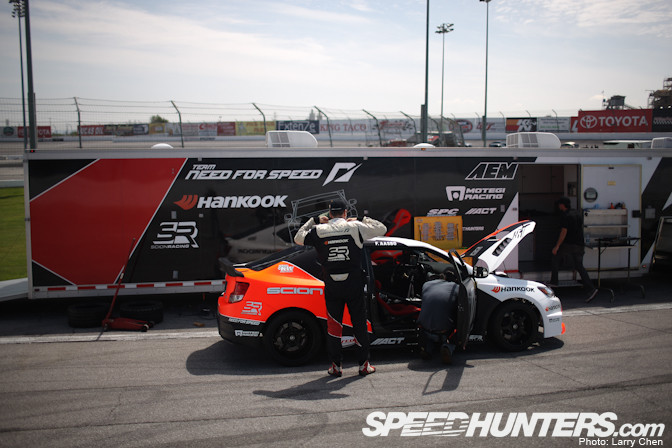 It was a super secret test day and it just happened to be down the way from my house. I had no good reason to miss out on it.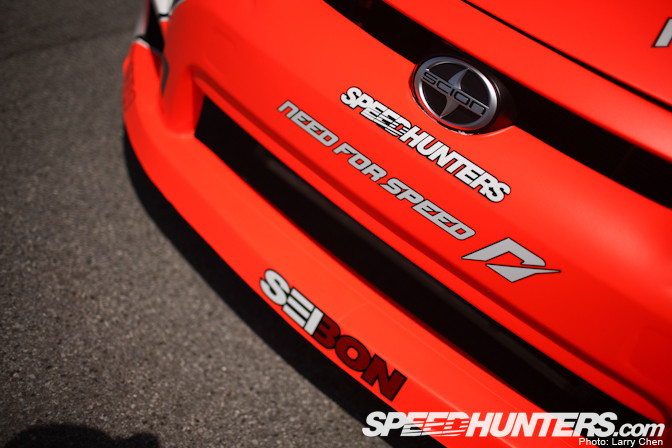 The livery is largely the same minus the super neon orange vinyl that replaces the red parts of the car.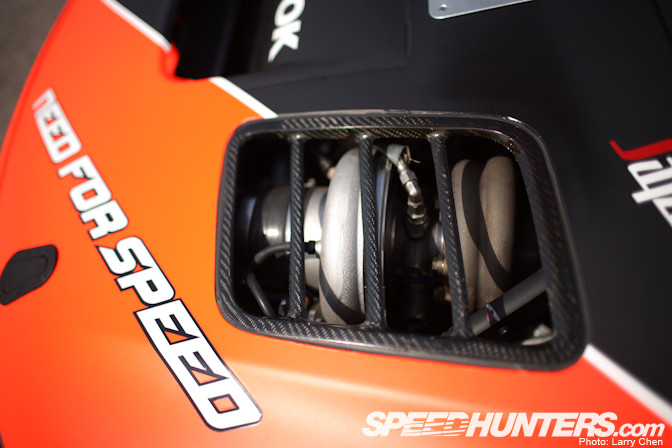 One of the big changes from last year is the amount of power this car is capable of making.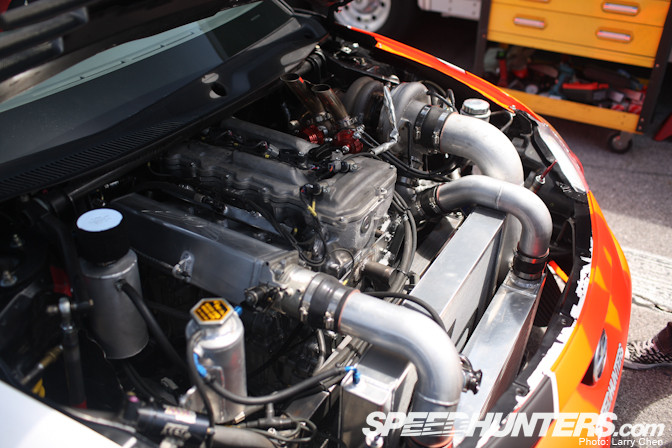 The team added a new Descendant intake manifold and they switched from a V-mount radiator/intercooler setup to a traditional setup. This allowed them to size up the intercooler for more charge air cooling. They do sacrifice radiator cooling, but it was not an issue because the ethanol fuel they run keeps the motor plenty cool. The 2AR-FE engine also has new solid lifters, a roller rocker valve-train and a revised cam grind. Last year Fredric was able to rev to 7000 rpm now he can safely rev up to 8500 rpm. HOLD STUMT!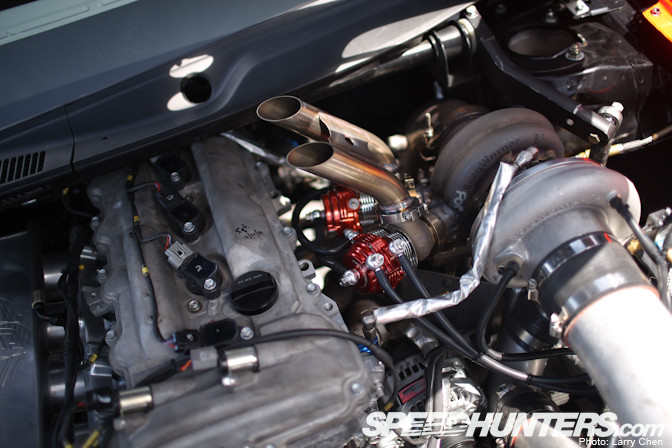 Because the motor revs higher, those crazy fools at Papadakis racing went with a larger turbo. Last year they were running a Borg Warner 7670, this year they are running the monster Borg Warner 8374.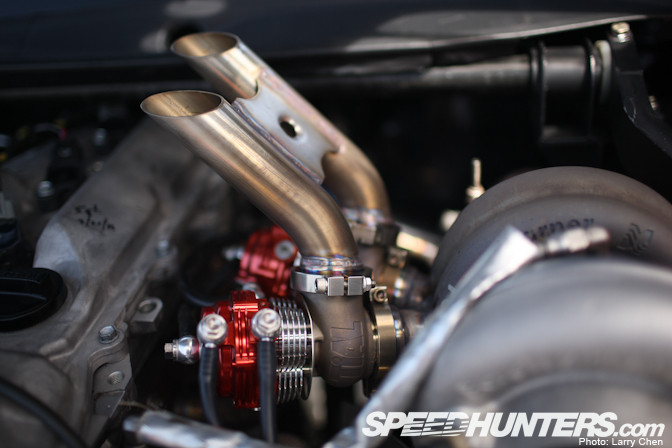 They also went with dual Tial wastegates to manage the boost better.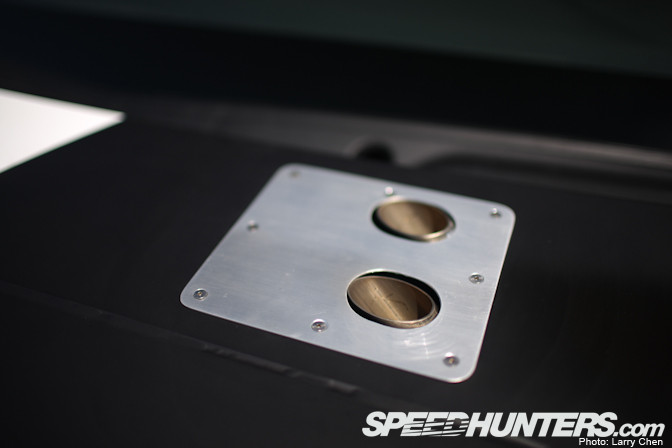 The dump pipes or what Fredric calls, "screamer pipes" are usually pointed downward. Since these are shooting out of the hood, when Fredric hits the rev limiter he sees fireballs pop out right in front of his field of view. How cool is that?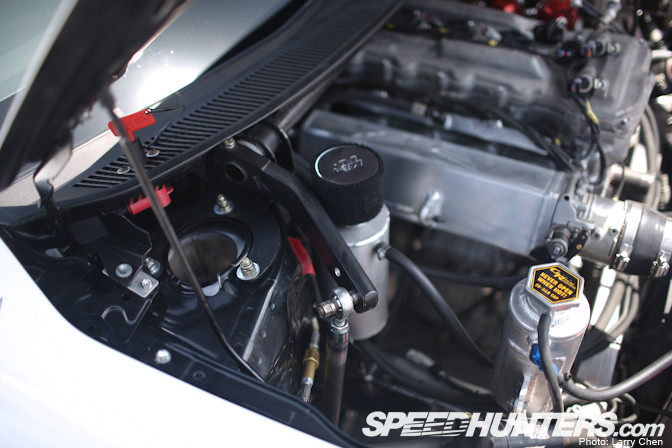 The team also spent quite a bit of time during the off season testing out different spring rates and stiffer sway bars for more rear grip.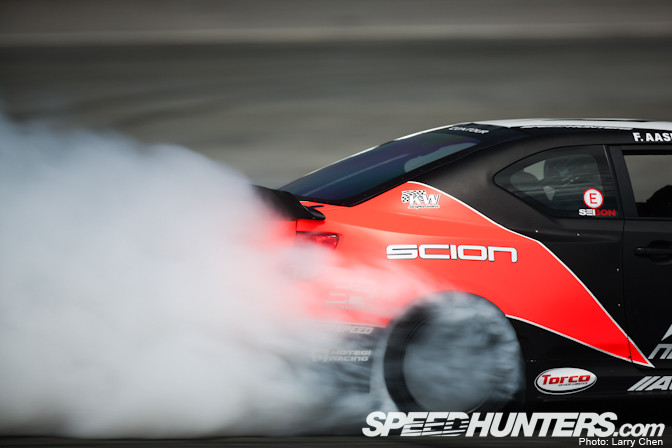 I think it worked because they made more smoke than I have ever seen from this car.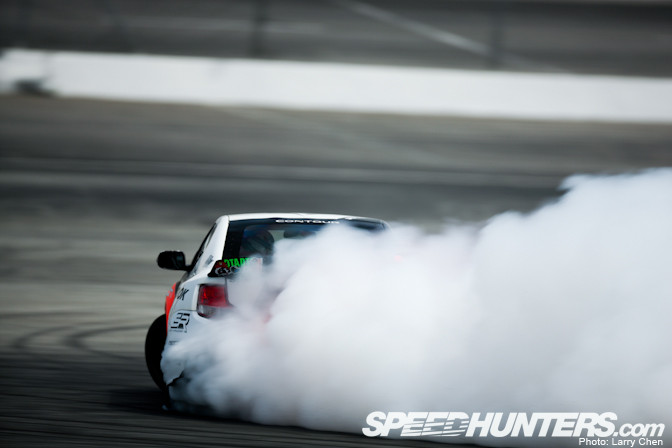 The increased horsepower helped as well I'm sure. Last year they were only running 440hp to the wheels @ 23 lbs of boost. This year they are running 620hp to the wheels @ 30 lbs of boost. A boatload more if you ask me.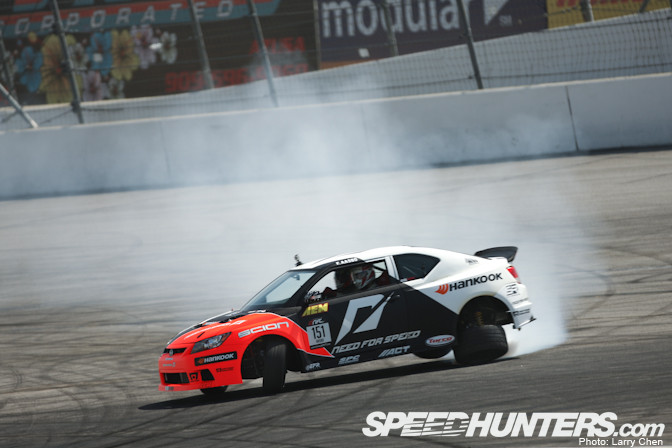 Just when Fredric started to have fun the tC2 went back in time. This is why test days are useful. It's about getting all the bugs out.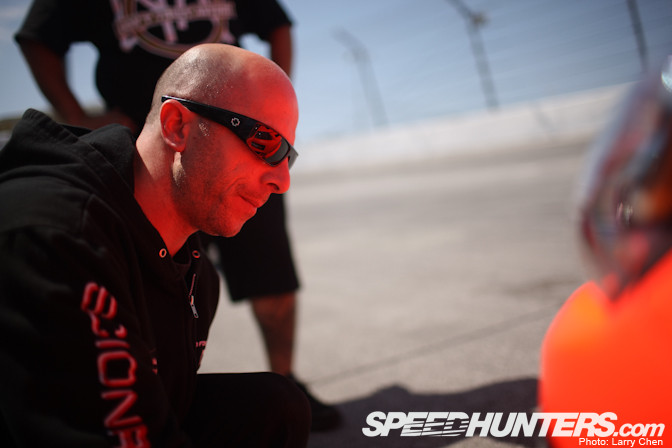 As always, the team quickly patched things back together.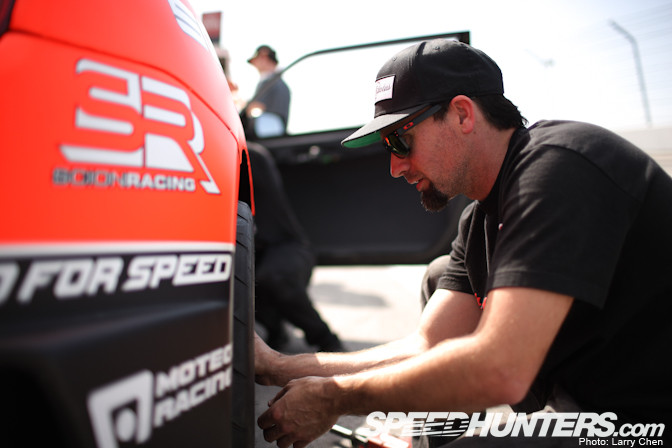 Before we knew it the car was whole again.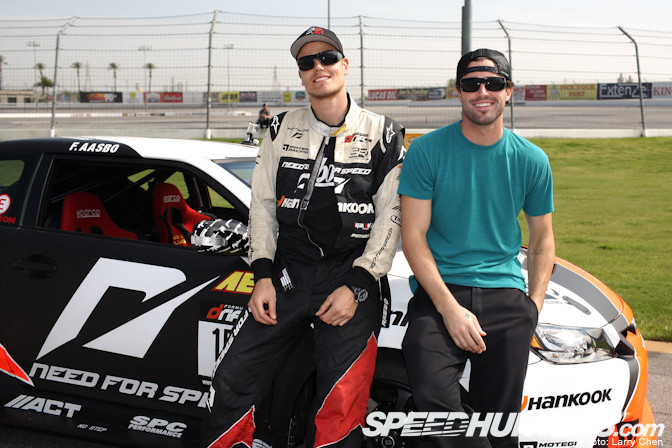 It seems as if Fredric has made a new friend during the off season. Brody Jenner from the MTV show "Bromance," will be driving in the celebrity race at the Long Beach Grand Prix this year.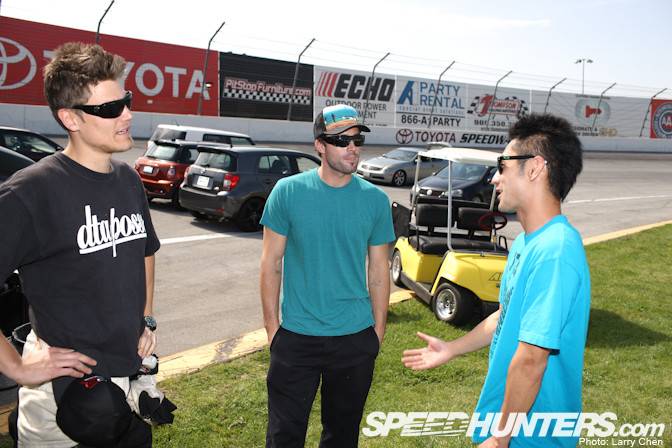 Brody took a liking to Fredric and decided to check out what drifting is all about. Here was Fredric and Ken Gushi giving Brody some tips on the Long Beach street course.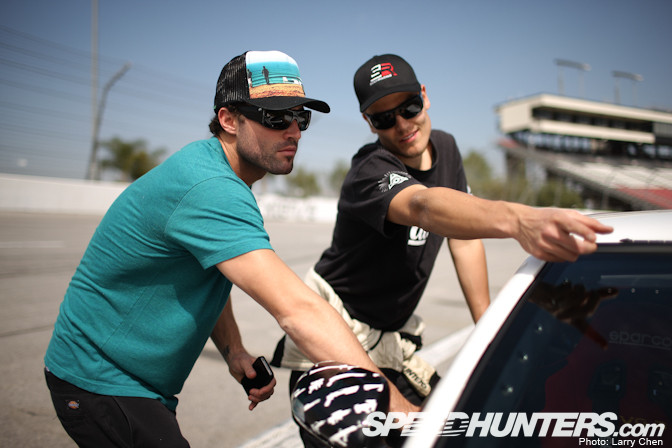 Fredric will also be driving in the Celebrity race, but he gets the green flag 30 seconds after the celebrities because he is a professional driver.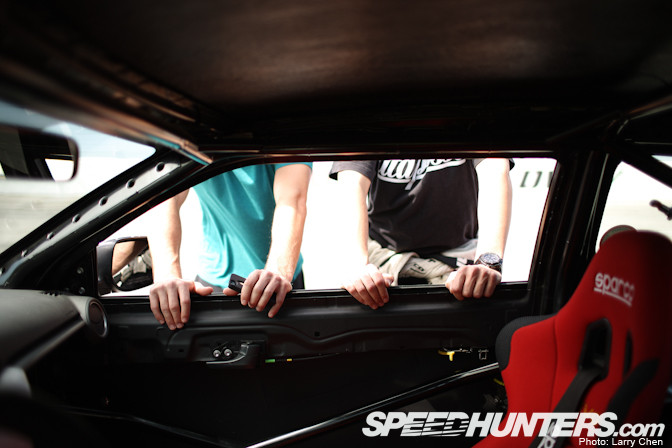 I think these two developed a "bromance" of their own.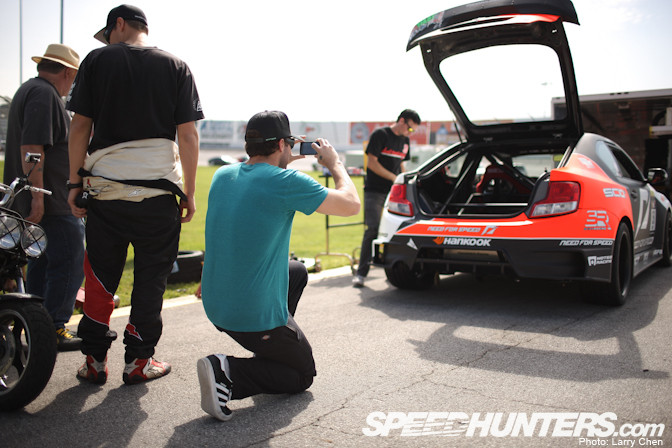 It seems Mr. Jenner is quite the amateur photographer.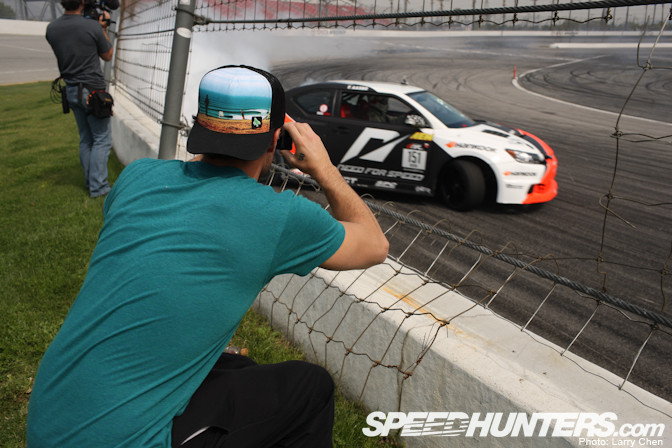 He was brave enough to get right along the K-rail as Fredric came by.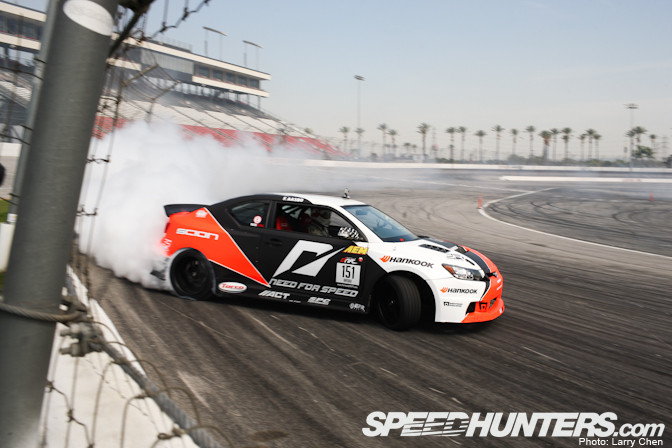 And the resulting shot? It would probably look something like this.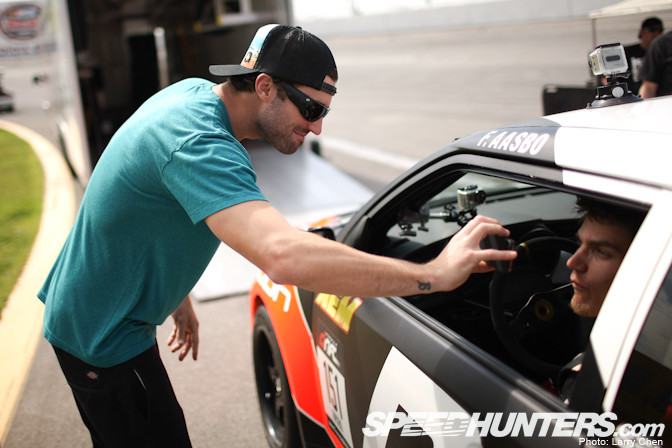 I think I may be out of a job soon.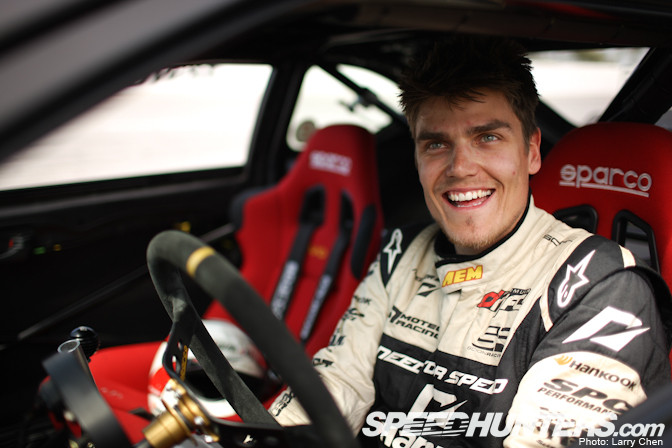 Make sure you Speedhunters out there check out Fredric and Brody's race on TV next week.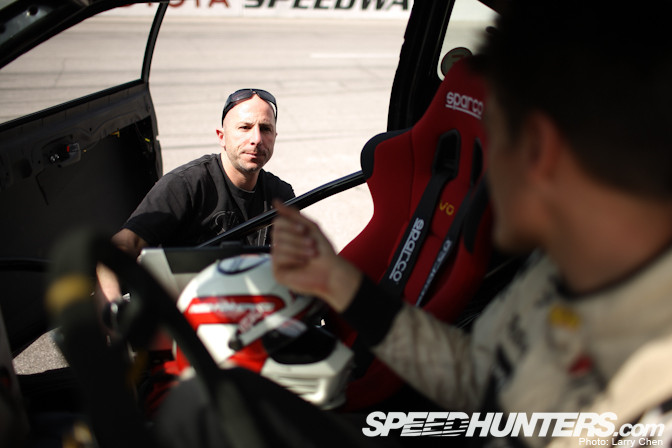 After a few runs Stephan asked his driver if anything needed to be changed.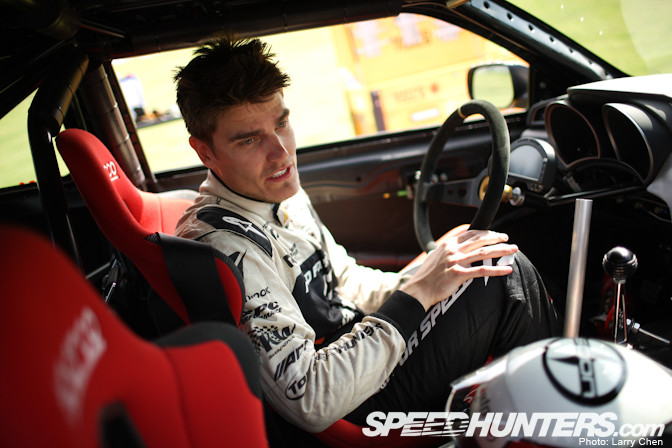 It amazed me to see the hours upon hours of testing needed to sort just a few things out. Drifting is serious business.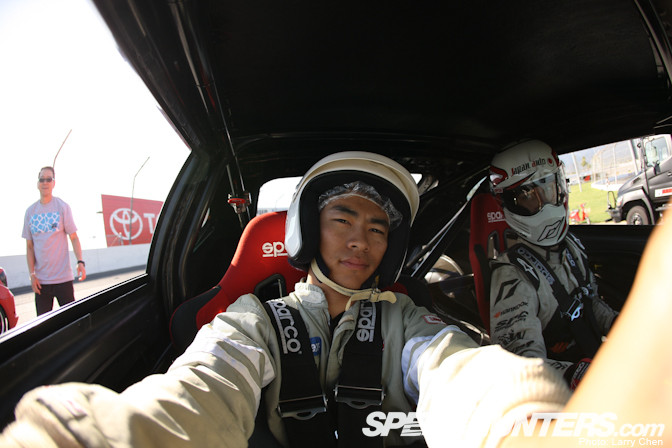 I've already ridden with Fredric's teammate, Matt Powers, but I had not ridden in the Hammer Mobile yet.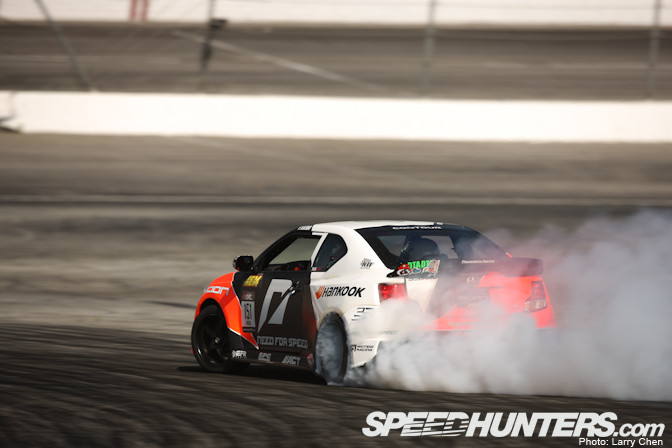 The car is definitely a lot more roomier than Matt's S14.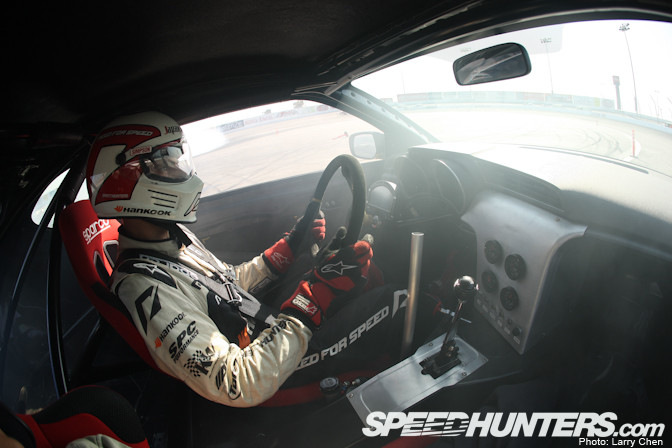 It was also much louder on the inside. It felt more like a race car. It surprised me because from the outside it does not sound very loud.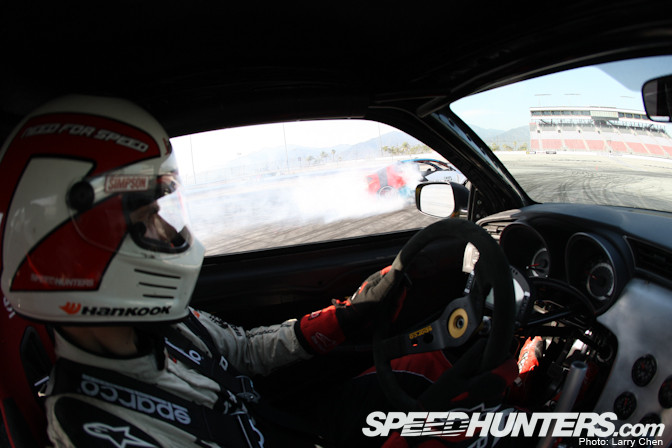 Tony Angelo decided to join us on track for a few sessions of some off season tandem practice.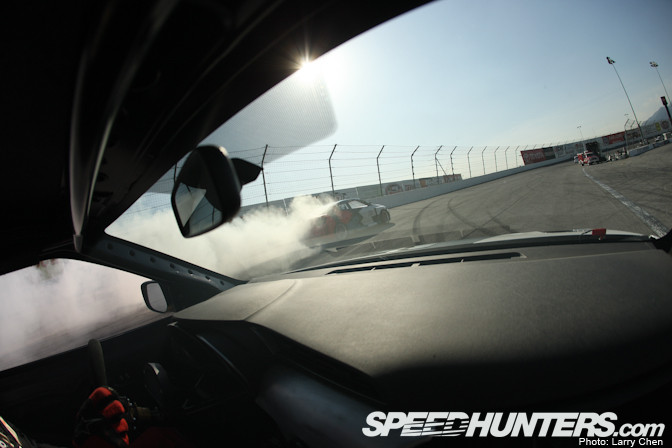 The pair drifted the mock Long Beach course till it was time to pack up.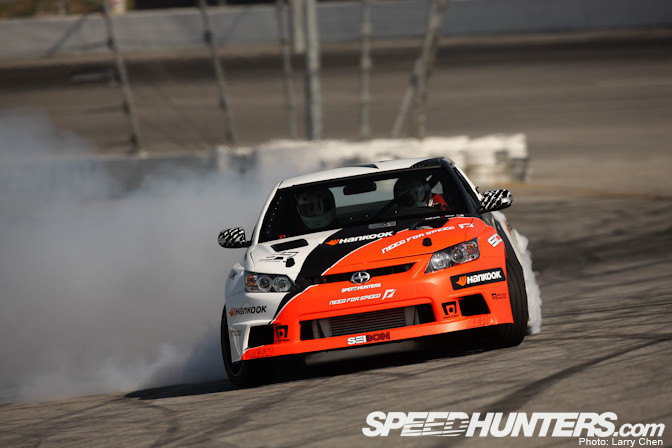 I am really looking forward to seeing how Fredric will do with more power and more grip. I guess we will all just have to wait until later this week to find out.
Larry Chen
More stories about Fredric Aasbo on Speedhunters
More car features on Speedhunters
More from Larry Chen on Speedhunters