The two days of drifting this past weekend in Odaiba couldn't have been more different, from both a spectator's as well as a driver's point of view. The unrelenting rain on Saturday created some very slippery and tricky conditions and the those that had made it through Friday's first qualifying session had no choice but to go out there and do their best. Let's see how the action unfolded…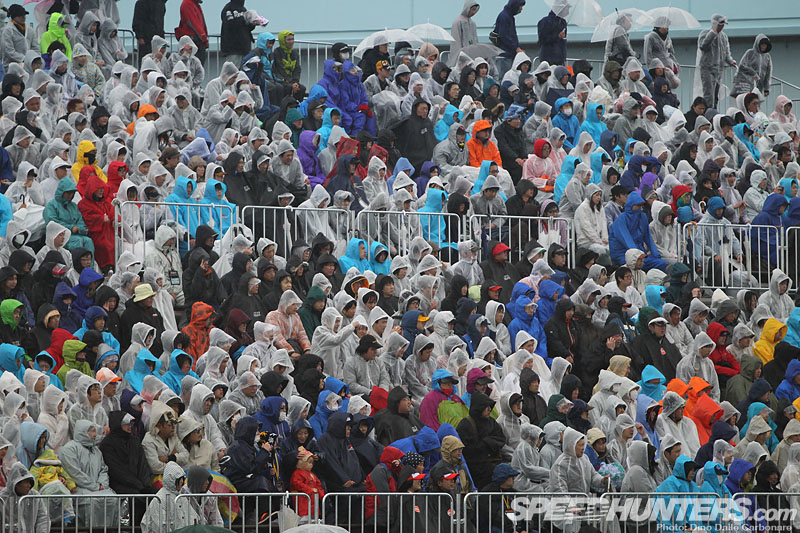 I've got to give it to the Japanese; not even a typhoon will keep drift fans from checking out their favorite drivers do their thing! Everyone was super accessorized with warm clothes, waterproof jackets and anything else that helped them put up with the cold and the rain. It's these enthusiastic supporters of the sport that keep it alive!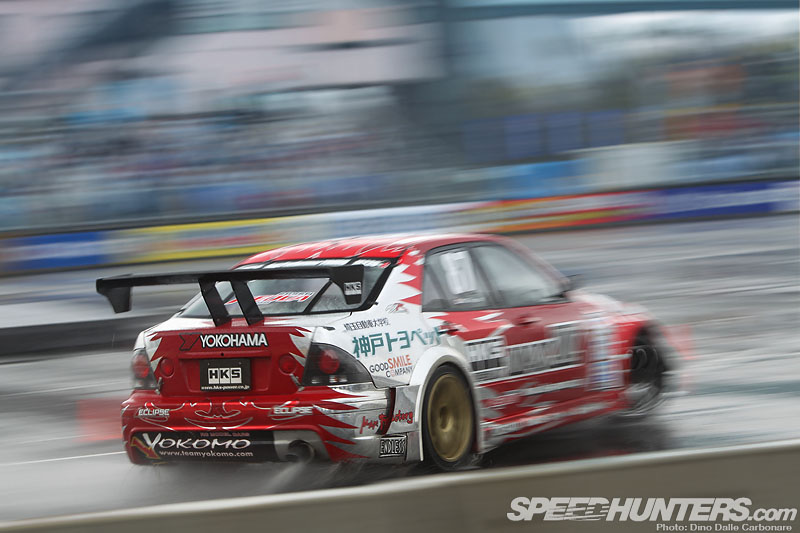 The action started early with a short practice session where drivers had a chance to get accustomed to the slippery track. Here is Taniguchi smoothly drifting his Altezza around. In case you are wondering he hasn't lost his touch; these last few years away from professional drifting hasn't hampered his style in any way! Can't wait to see him on board his supercharged 86, hopefully the car will be ready at the next Round in Suzuka.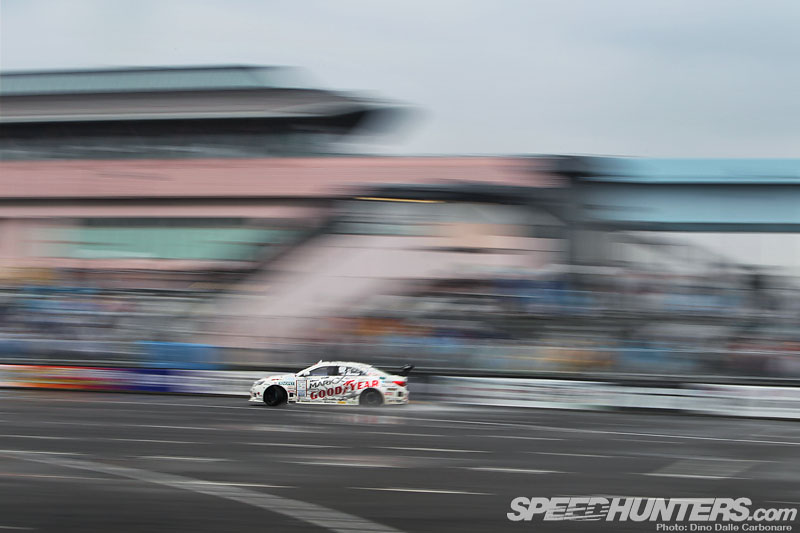 As I mentioned in yesterday's Preview post the layout in Odaiba has changed, the cars now entering on the right hand side of the track (from the driver's perspective) and proceed to take a tight left corner, which calls for them to shave off much more speed than in the old layout.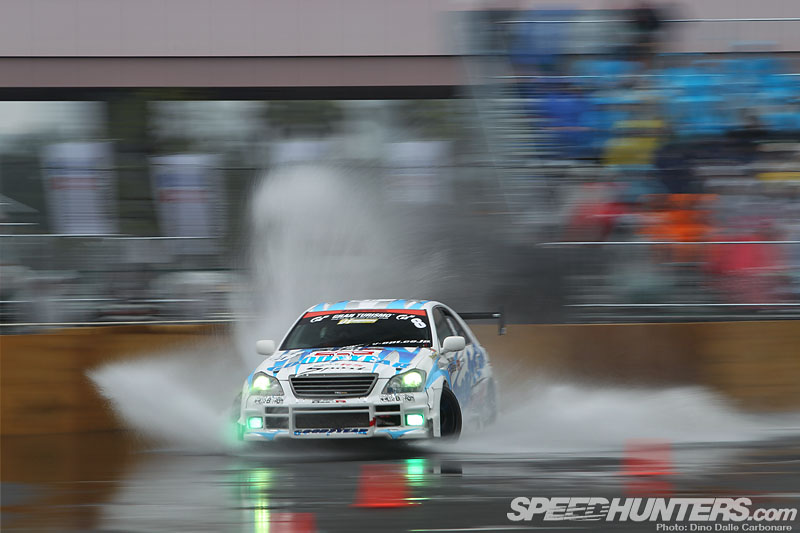 This was especially hard on Saturday due to the massive puddle that had accumulated pretty much on the clipping point of the outside line. From here they would get hard on the power again, clip the apex and swing the car round, setting it up for the tight right hander before powering out once again across the finish line. Very different from what we have been used to seeing in Odaiba, probably more technical and demanding for the drivers but definitely even more of a show as the cars spend more time close to the grandstands than before, where they just used to disappear and finish off the battle in the distance.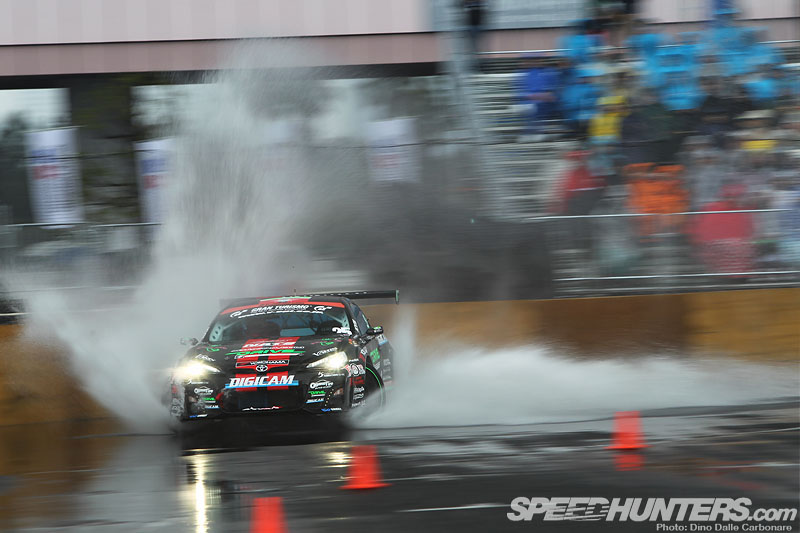 The spectacle of the massive water splash as the cars hit the puddle was one of the coolest things I've seen in all these years that I've been shooting D1.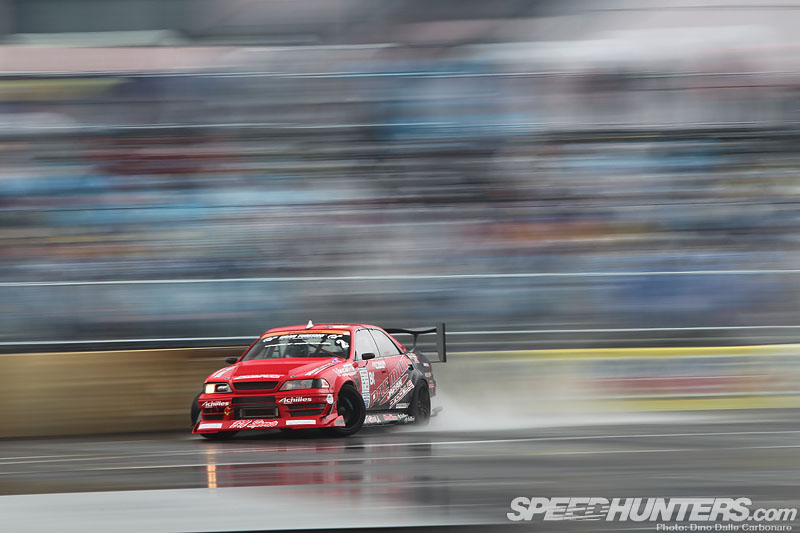 It was actually impressive how much speed some would enter at, like Saito shows us above. It looked like a crash was imminent almost every time! There were a few minor impacts; even Saito had a little soft touch with the barrier at one point!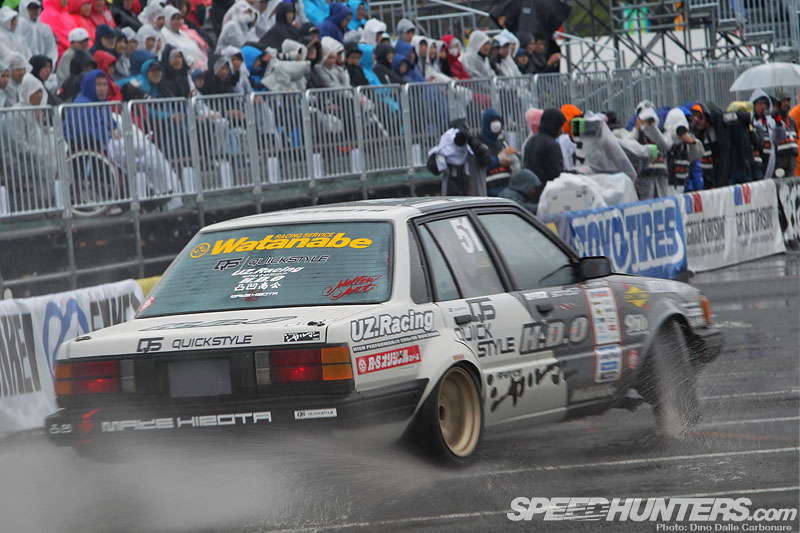 Got squat? Iwai's new ride looked awesome powering out of the last turn, the turbocharged 4AG supplying more than enough grunt for the sub 1-ton Daihatsu to keep up with the big power cars.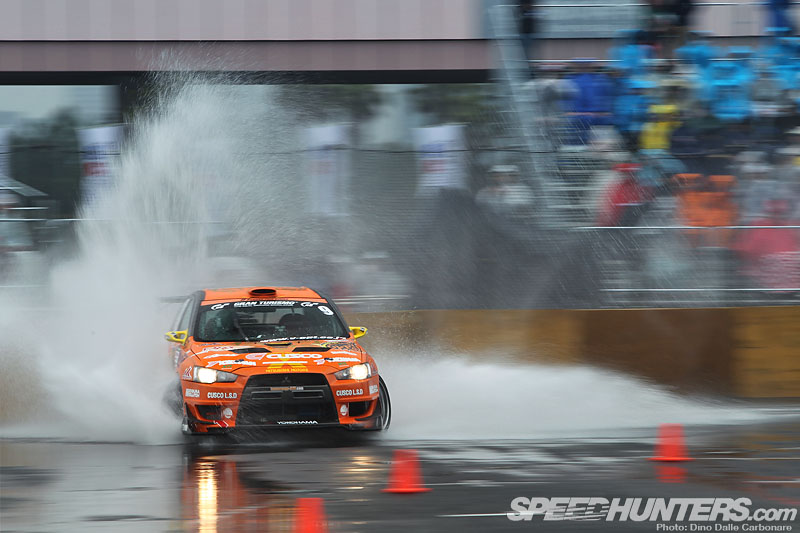 Here is Suenaga going for it on his qualifying round.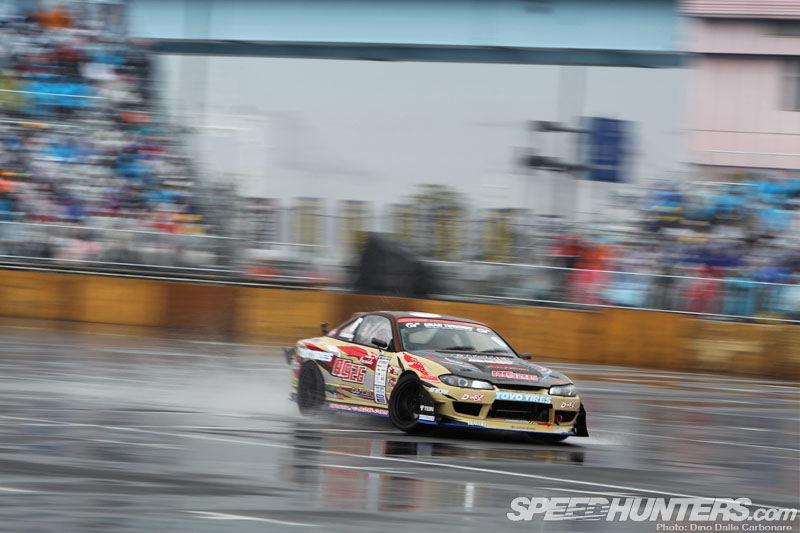 Utsumi in his RC926 S15 lost his spoiler after a slight run in with the sponge barriers.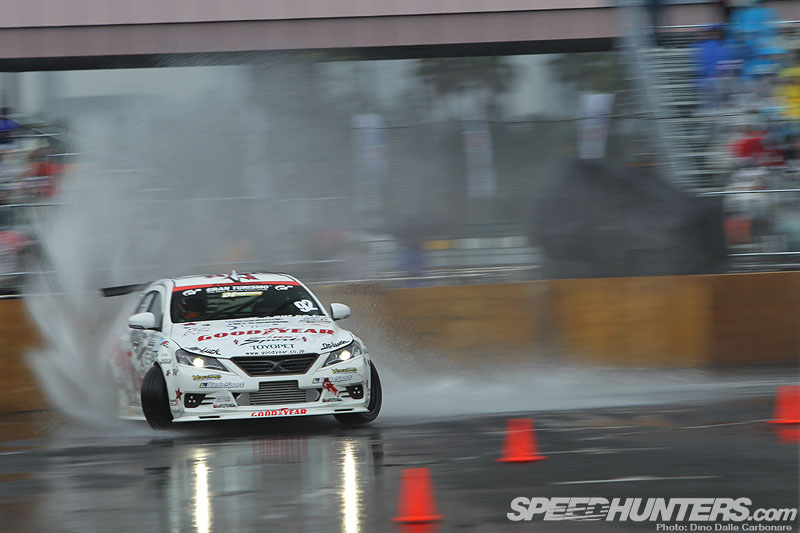 Kunnyz was in top form on the day throwing his Mark X around with pure aggression, just what we like to see!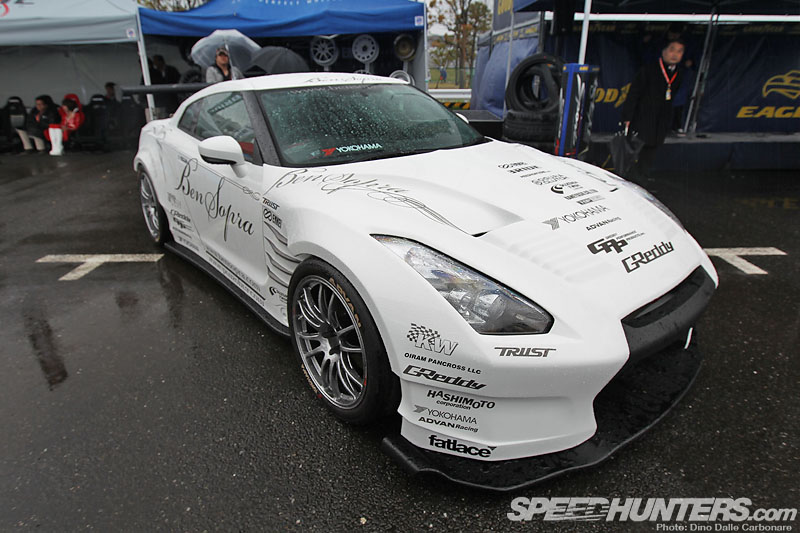 The paddock at D1 had plenty of cars and booths worth checking out, cars like the RWD Ben Sopra GT-R that we saw last week at the Nagoya Exciting Car Showdown. I swear this car is following me around Japan!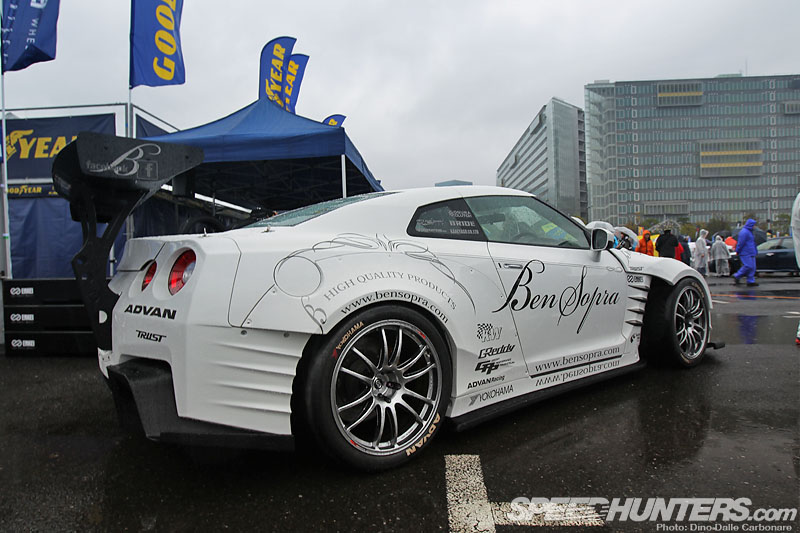 No matter how many times you see it however, it never fails to impress you all over again, I mean how in your face is the styling of the complex aero kit. Now all I want is to see it sideways with tons of smoke poring out from the rear wheel arches!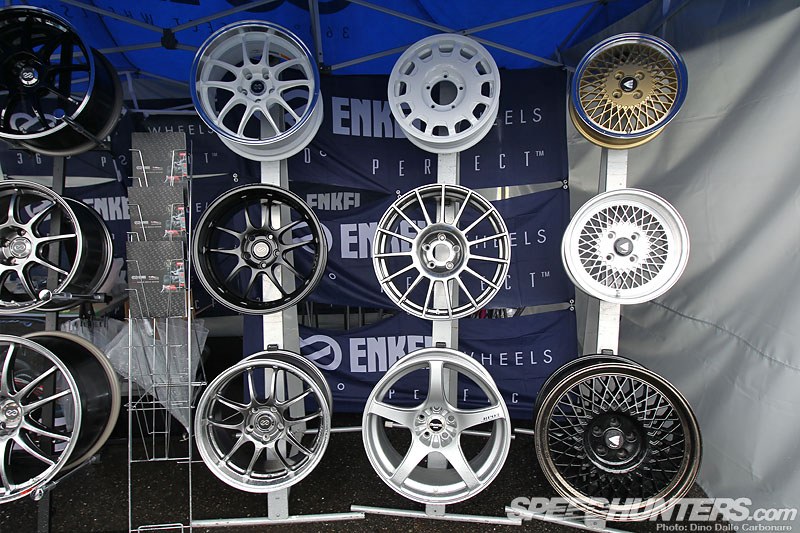 Ben Sopra has collaborated with Enkei on the project and so I took opportunity to check out some of the cool wheels they had on display…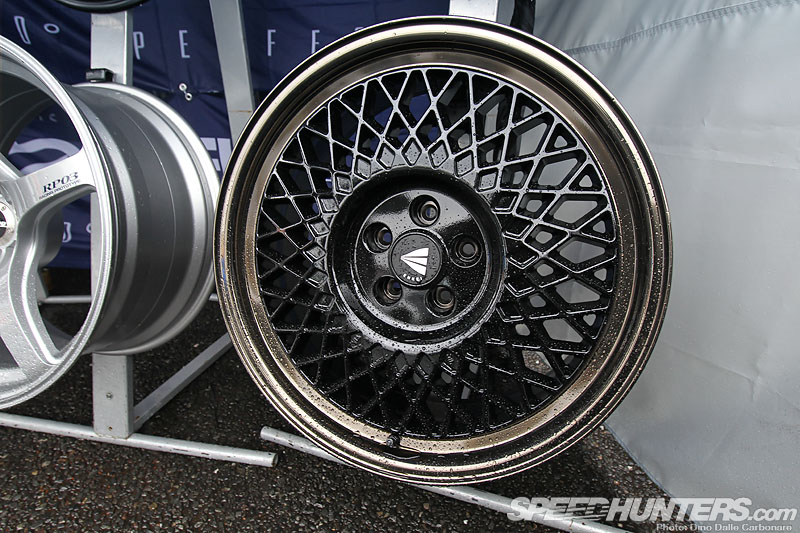 …like this rather larger version of the oldschool-look 92, now available in 20-inch. Can't wait to see this fitted to some cool VIP ride…maybe later in the year at the King of Sedan show!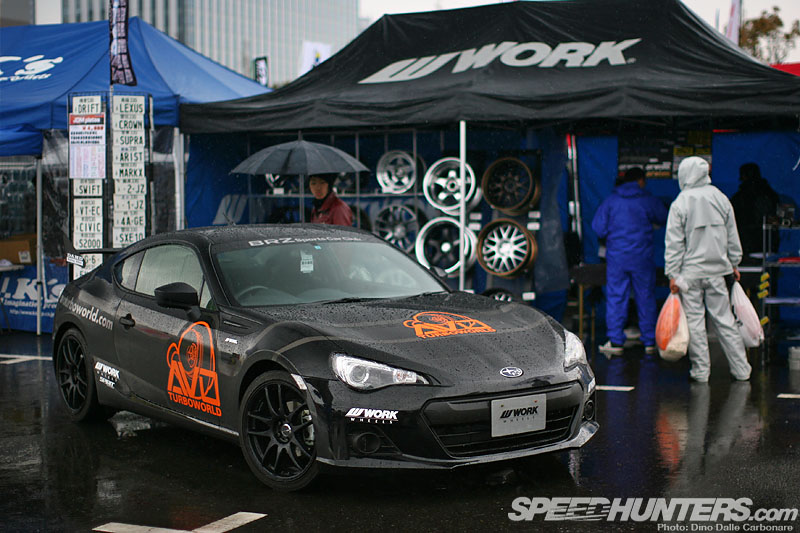 Not too far away was Work Wheels which had AVO Turboworld's brand new BRZ demo car on display, sitting on some Emotion CR Kiwamis.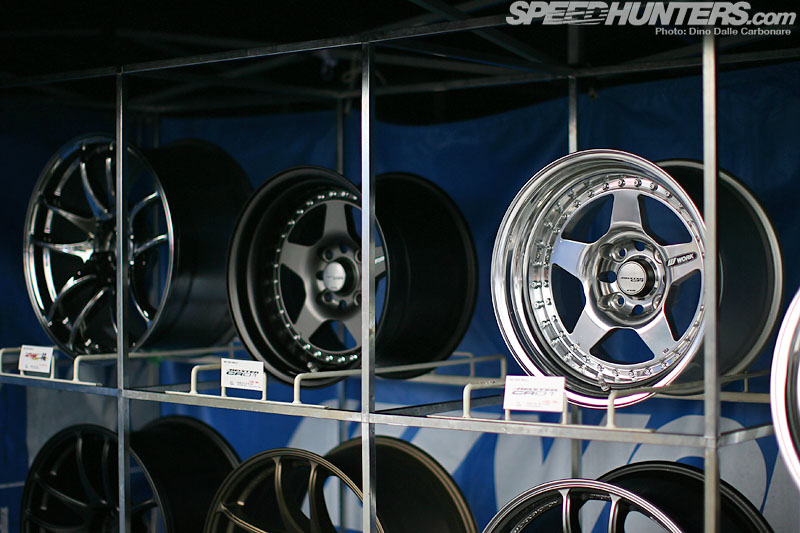 After spending the other day shooting at Osaka JDM I've began to develop a certain unexplainable attraction to the Meister CR01s!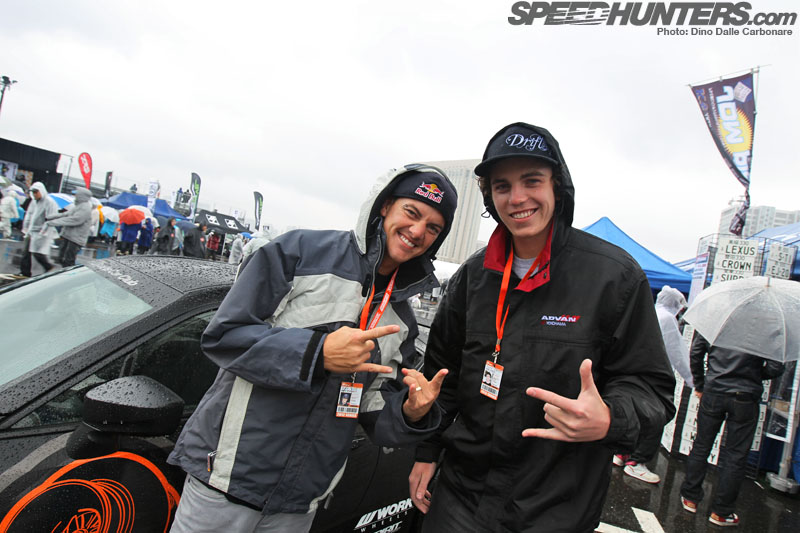 Oh look who I bumped into! It's our very own Mad Mike who flew over from New Zealand to pilot the superb looking Japbull 4-rotor FD, as well as Australian drifter Jake Jones who had Tanaka's old Team Orange Impreza at his disposal at his very first D1 round. They were unable to qualify for Saturday's competition but stay tuned to see them in action at the D1 Champions exhibition that was held on Sunday. More on that soon.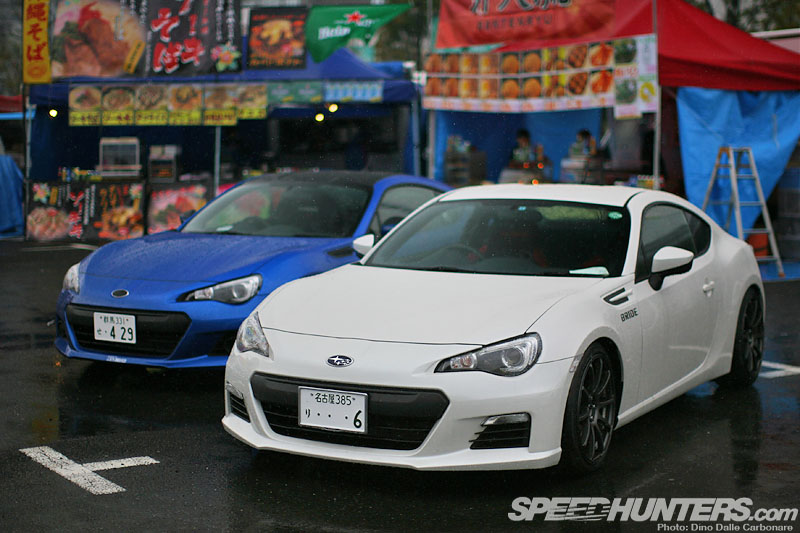 Since the BRZ and 86 are now officially on sale there were an abundance of them on display, these two part of the Bride seats booth. Was a bit too wet to open the doors and have a look inside however.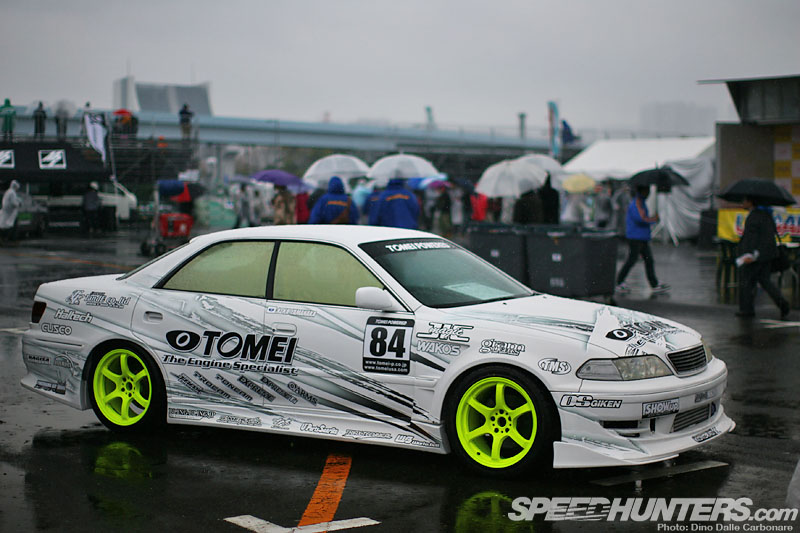 With Tomei having recently released the new M8280 turbocharger for the 1JZ, good for 450 HP, they have also built a new JZX100 demo car which was looking pretty hot sitting in front of their display.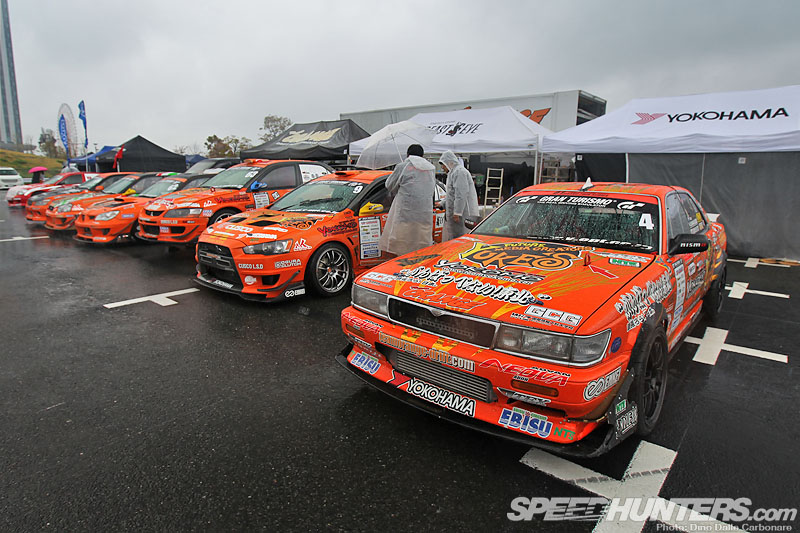 Team Orange can boast the biggest ever team in D1!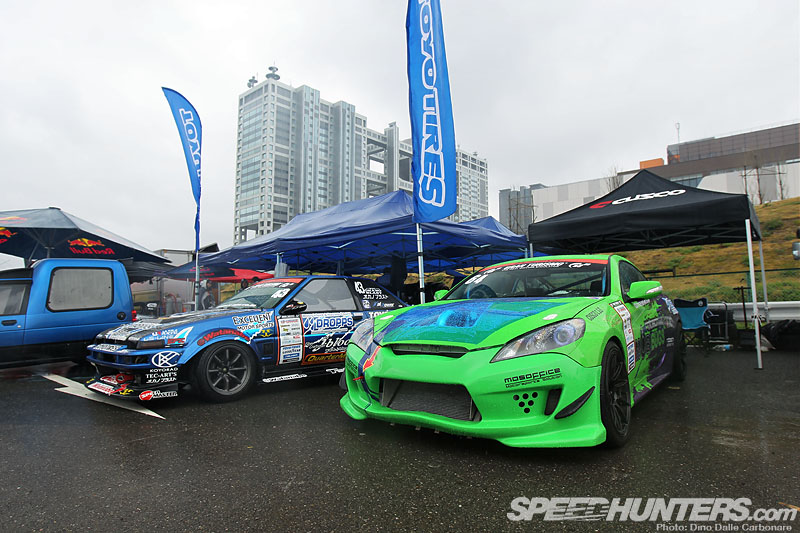 Korean driver Kim Sang Jin brought over his Hyundai Genesis. The Genesis is not sold in Japan so it was quite cool to see such a highly modified one at Odaiba.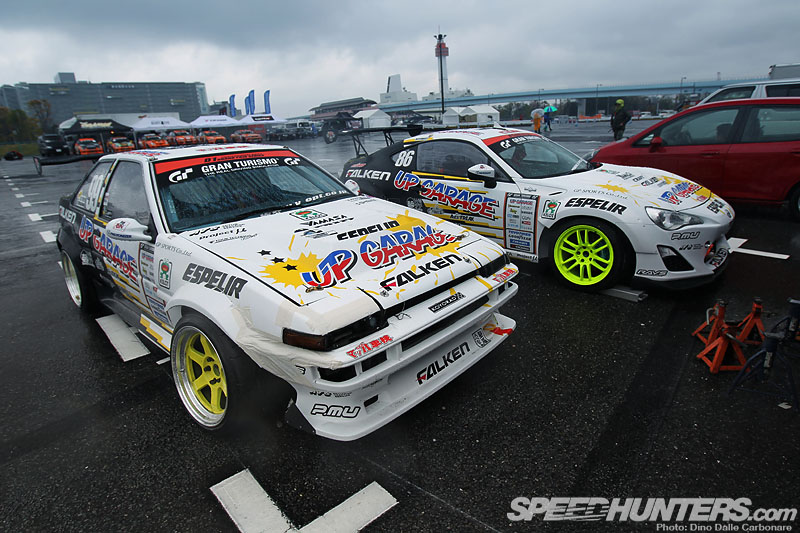 The Up Garage 86s! Old and new side by side looking very hot in their very own different ways!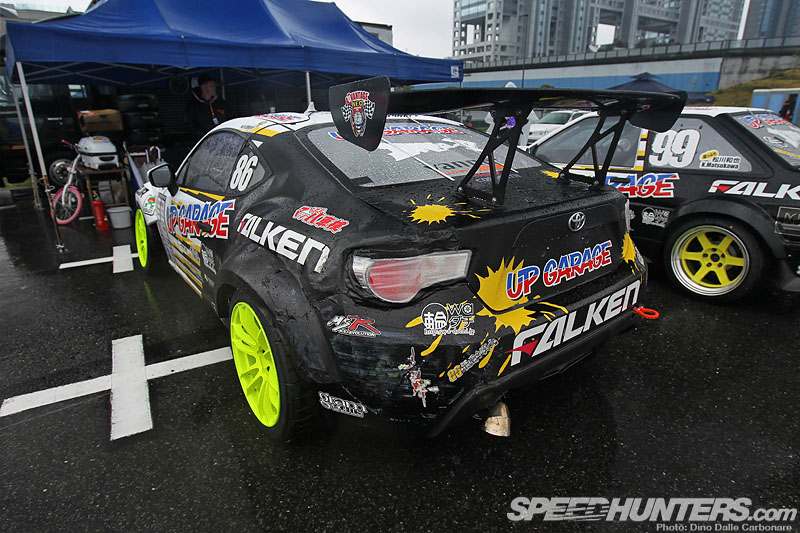 A lot of work went into fixing up the rear end of Hibino's ZN6, (that's the chassis code for the 86 if you are wondering) and he looked a little uneasy out on the wet track. He misjudged his entry speed a few times, coming short of the actual apex and not managing to make it into the Best 16.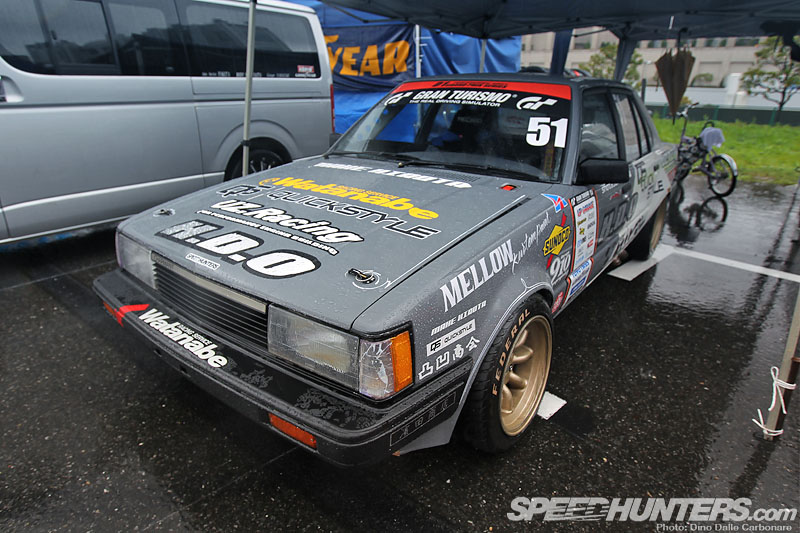 Iwai too didn't manage to qualify for the tsuiso, which was a real pity as I really wanted to see him in action with the little Charmant. Next time I guess!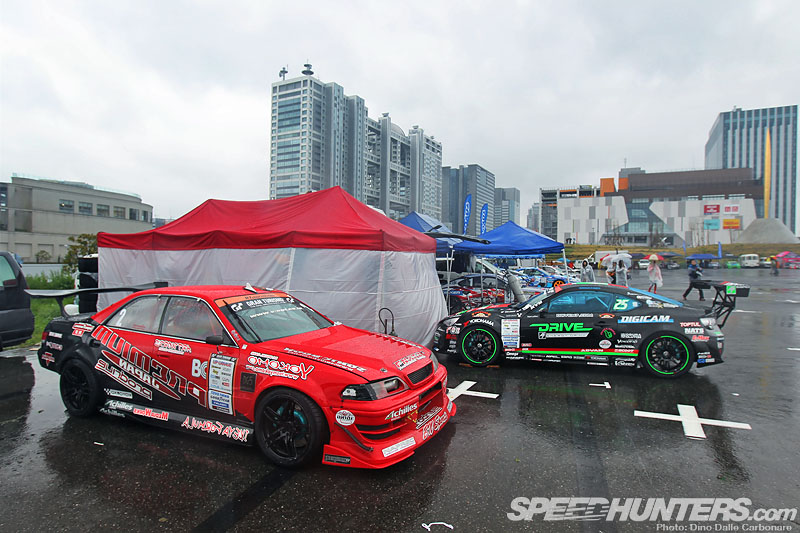 Daigo's mean looking JZX100 next to Orido's equally fierce 2UR-powered ZN6. Odaiba always serves up awesome backdrops, you can see the futuristic Fuji Television building in the background.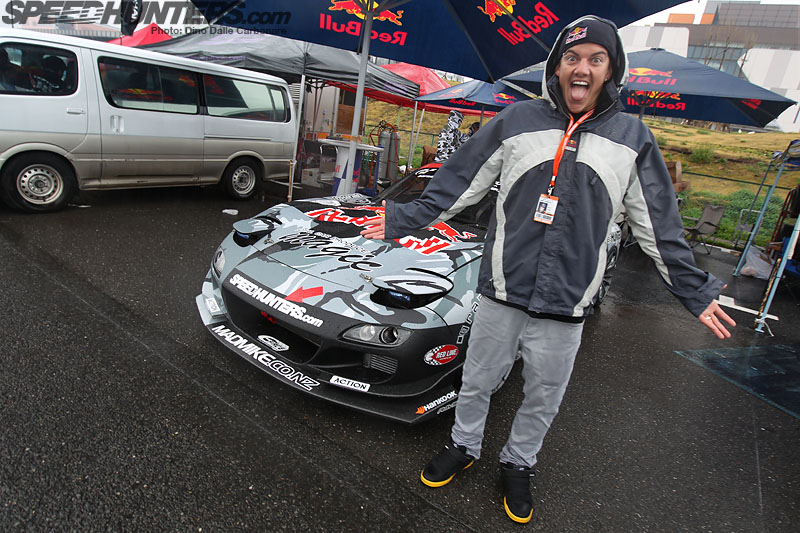 Mad Mike was very happy at how precise and responsive the Japbull felt. A totally different car to the Madbull, which has about 180 HP more thanks to a more extreme version of the 4-rotor motor. He had to do a lot of clutch kicking to get the relatively low-torque rotary to keep the rear tires ablaze and the car at an angle. He was really enjoying his time in Japan and looking forward to Sunday's exhibition.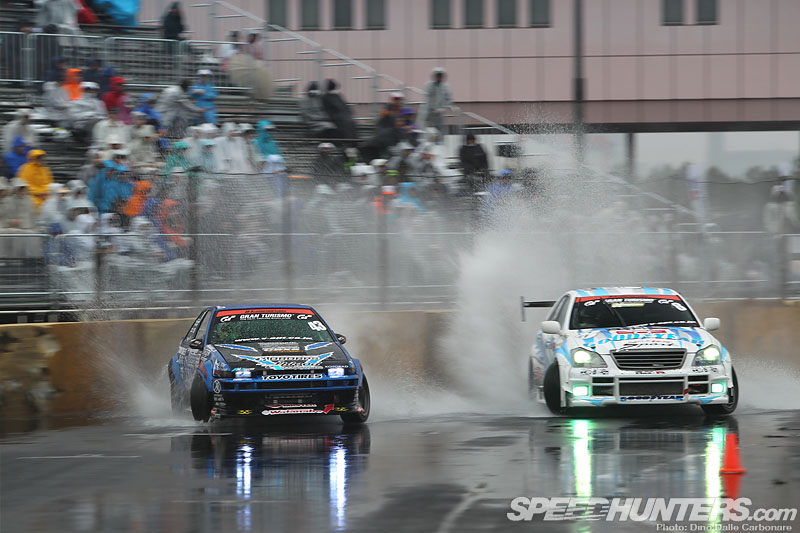 Those that didn't make it through to the Best 16 went into the "Minors", a separate series of 4 tsuiso runs held before the main event. Here is Tokita in the massive Bee-R Zero Crown against Tadokoro's 500 HP 13B-powered AE86. The little Trueno took the win!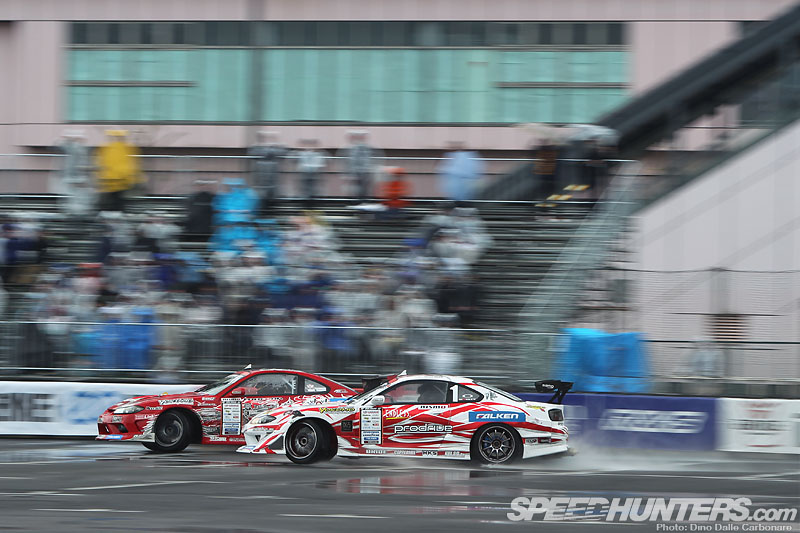 This Best 16 battle must have been a bit awkward for D1 Champion Imamura, who was up against his old Auto Produce Boss S15 now driven by Koguchi. Koguchi had the upper hand and moved on to Best 8 where he met Kumakubo…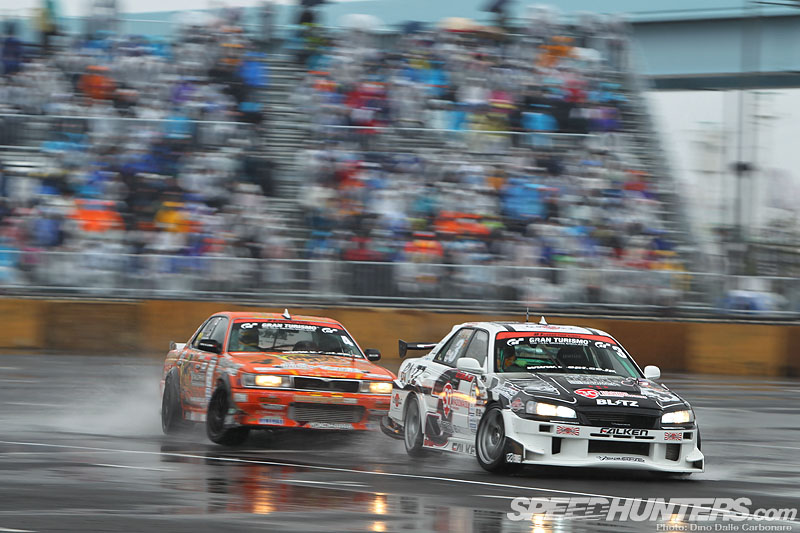 …who had just gone through an amazing series of bouts and won against Ken Nomura in the Blitz ER34. The Team Orange Laurel is by far one of the most powerful cars in the D1 circuit this year, boasting well over 1000 HP!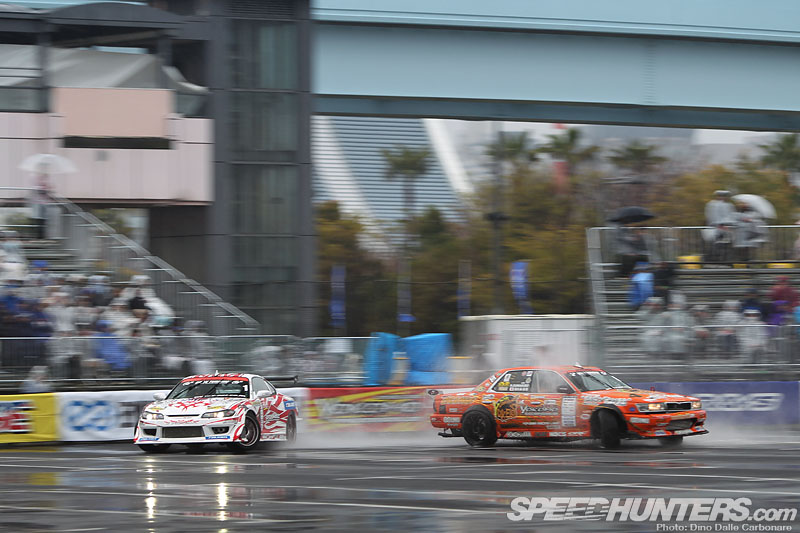 His luck ran out however during his chasing run against Koguchi, spinning the Laurel and ending his chances at more points. He finished the day in sixth position.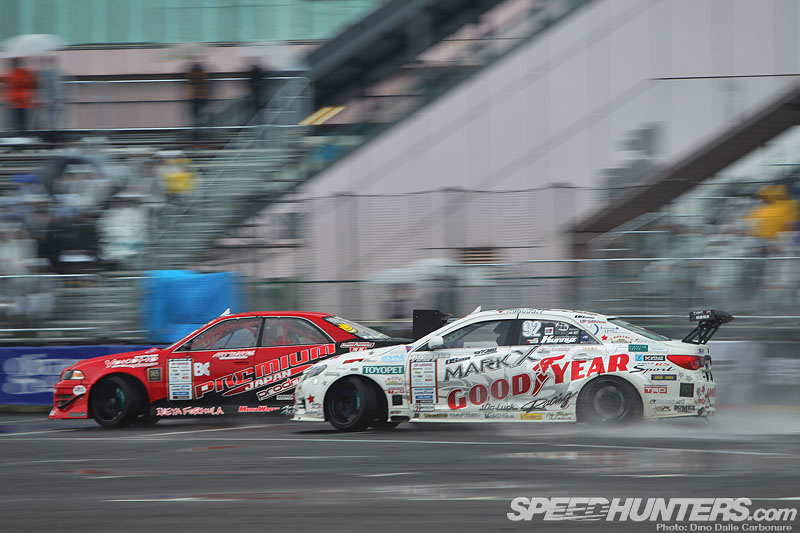 The other road to the final saw Saito climb up by first beating Kunnyz in Best 16…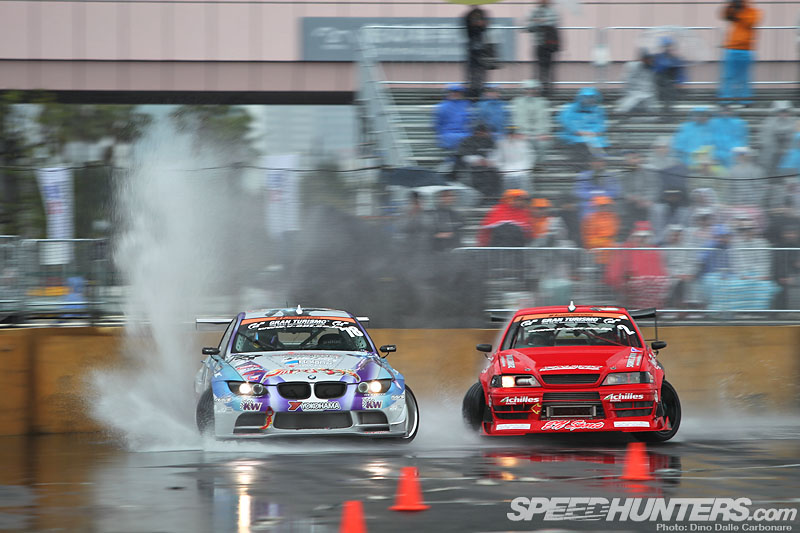 …and then Ueno in the Best 8, moving onto the semi to see it off against Matsukawa in the DRooP Up Garage AE86.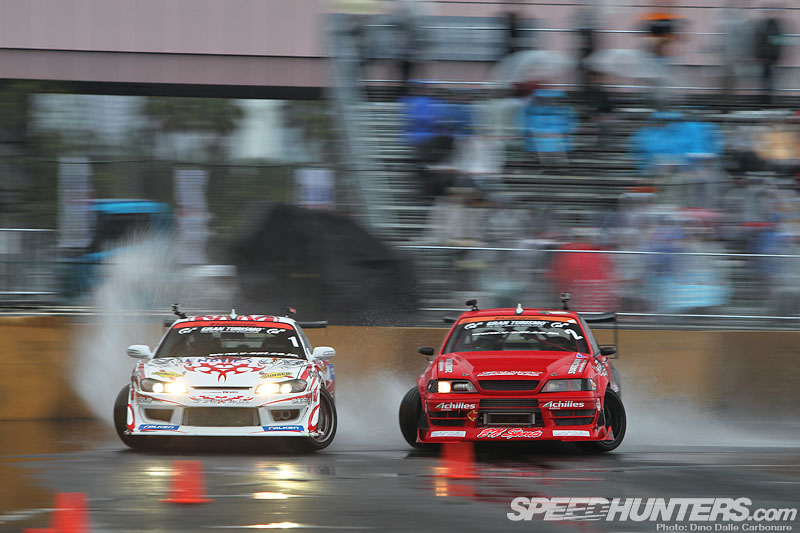 Koguchi and Saito sure put on a stunning display of skills as they battled it out in the final.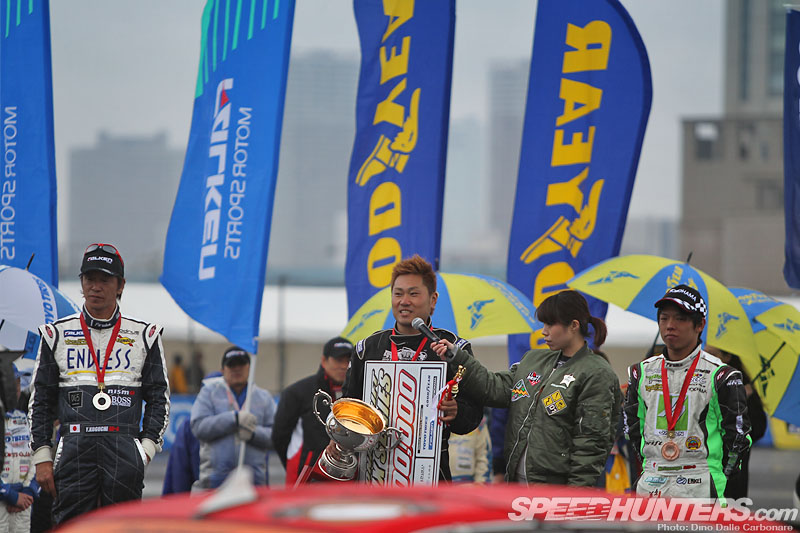 But it was Saito who scored the most points, earning him a win and giving him a great start to the 2012 season. Next up will be a look at Sunday's D1 Champions exhibition, where we will see some of the foreign drivers take on the best Japan has to offer.
D1 2012 coverage on Speedhunters
-Dino Dalle Carbonare