I should preface this feature with a disclosure of sorts – I have no engineering or mechanical background or education. When Rod revealed his plans to me quite some time ago, I was little bit worried about how I would have to adapt to more technical articles. Even as recent as Tuesday night, I e-mailed him looking for advice about how I should go about writing this article. In the mean time, I've been racking my brain for ideas of how I could approach this when it hit me – I love cars. I'm sure you can associate when I say that there's nothing I love more than reading about cars, watching videos about them, photographing them or even better again – driving them.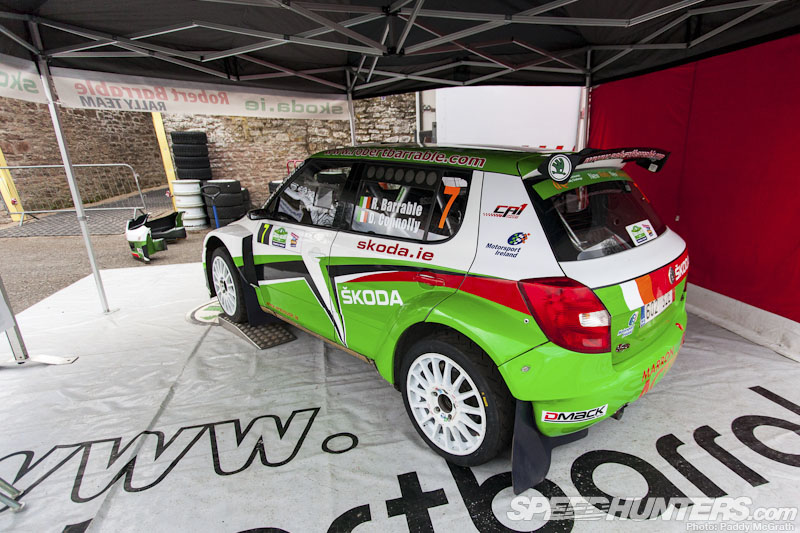 I also love learning about them and usually listen on in awe when someone who knows what they're talking about shares some information. If only there was an automotive class in school.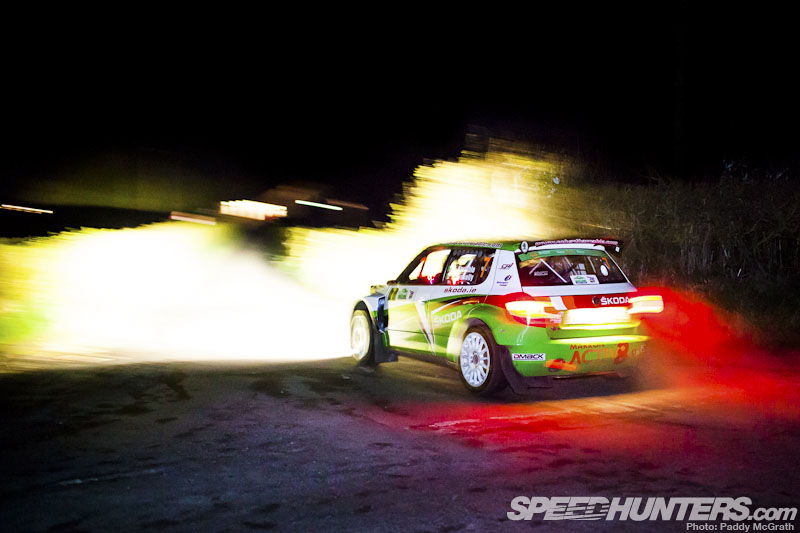 One of my greatest sources of information actually comes from you, the reader. The wealth of knowledge that appears in the comments section is something else. Every time I publish a story, I come back later to read every single comment in an attempt to gain some new information.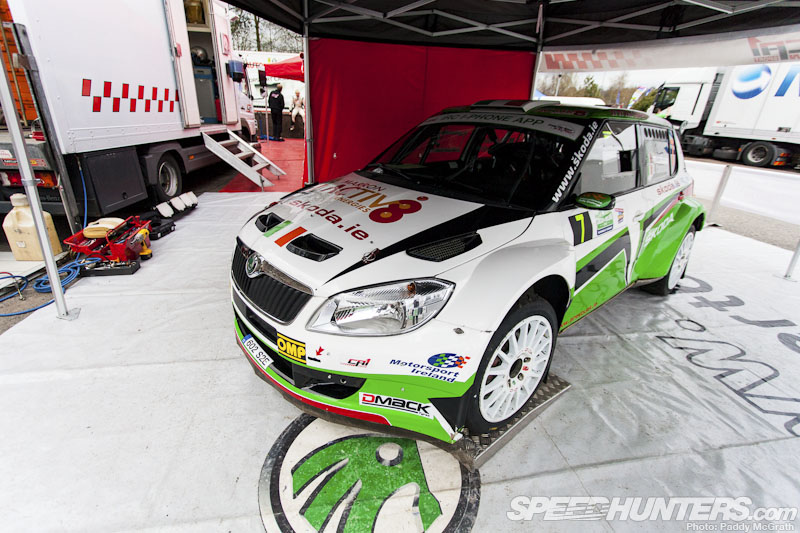 With my inane ramblings over, let's take a closer look at Robert Barrable's Skoda Fabia S2000 in tarmac specification.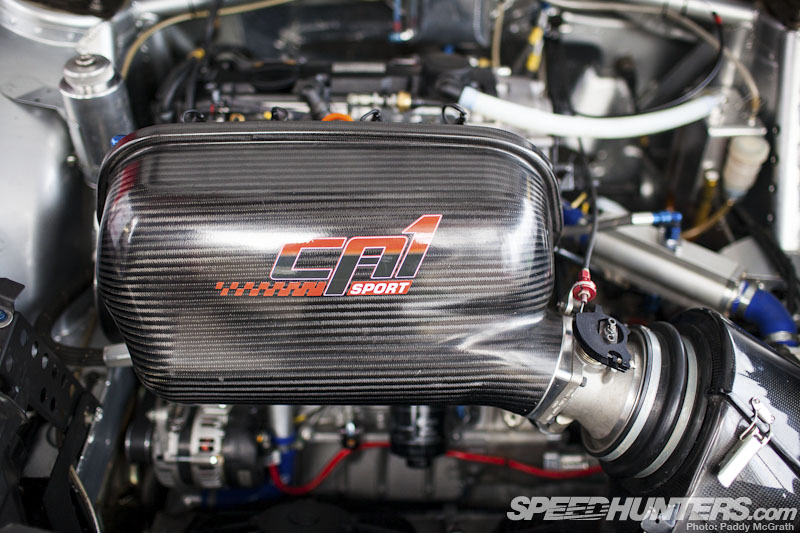 The S2000 Fabias, as the name would suggest, are powered by a two litre twin-cam, naturally aspirated sixteen valve motor.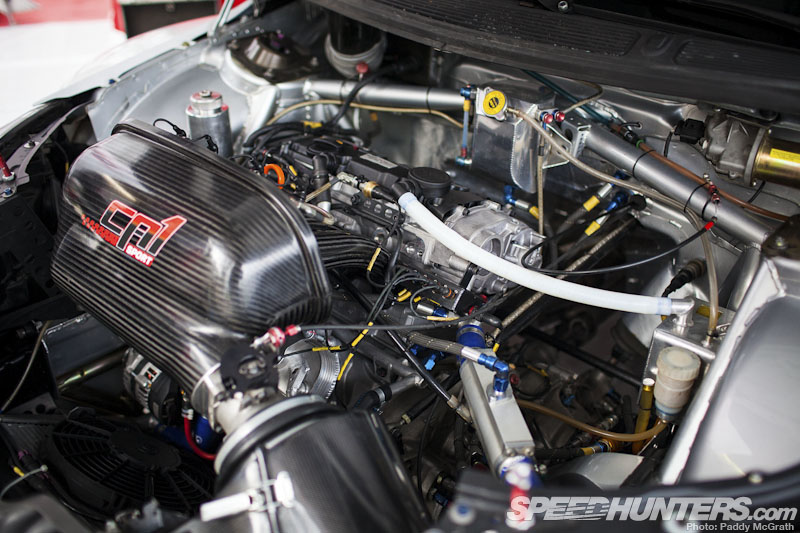 What this translates to in numbers – around 180lbs/ft of torque and a quoted figure of around 265BHP (although I've heard it's probably closer to 290BHP) with a maximum engine speed of around 8,500RPM.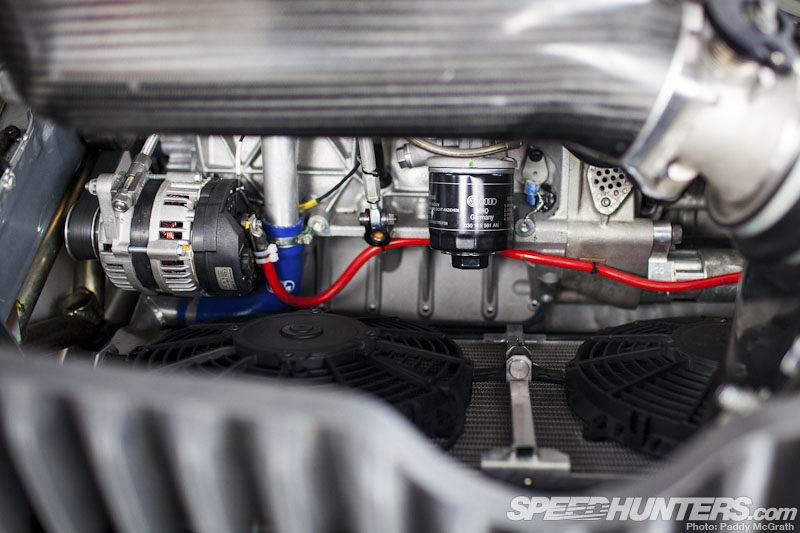 Rallying is not exclusively about power – in fact, it's one of the less important aspects as most classes are restricted to a certain maximum output anyways. It's all about how the power is delivered and how it's transferred to the road. I reckon that oil filter is maybe one of the only parts you could buy from your local main dealer …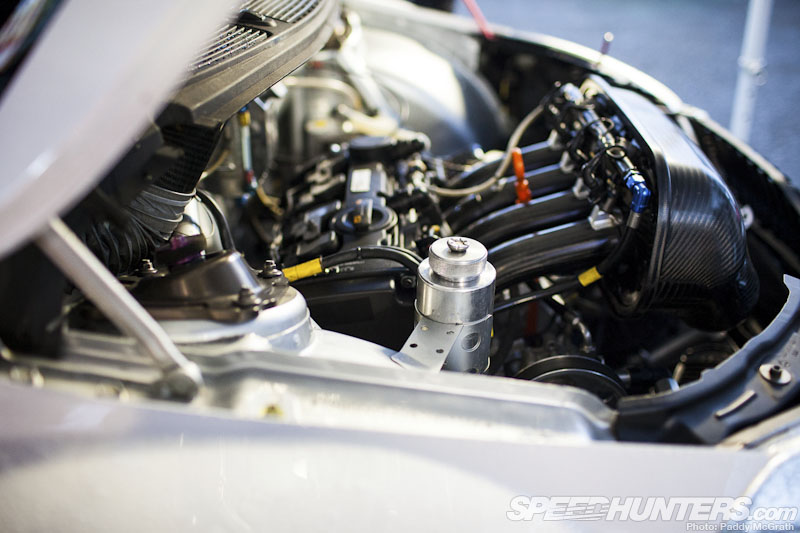 The bulk of the engine sits approximately inline with the front wheels. It's certainly not as far back as I would have expected to be honest (I'm sure there are regulations surrounding this).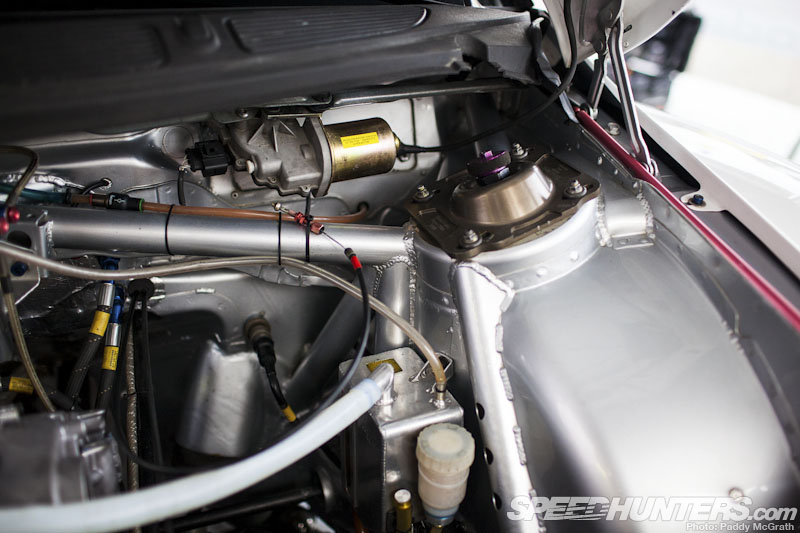 The front and rear arches are tubbed along with some rather impressive looking reinforcement on the suspension towers.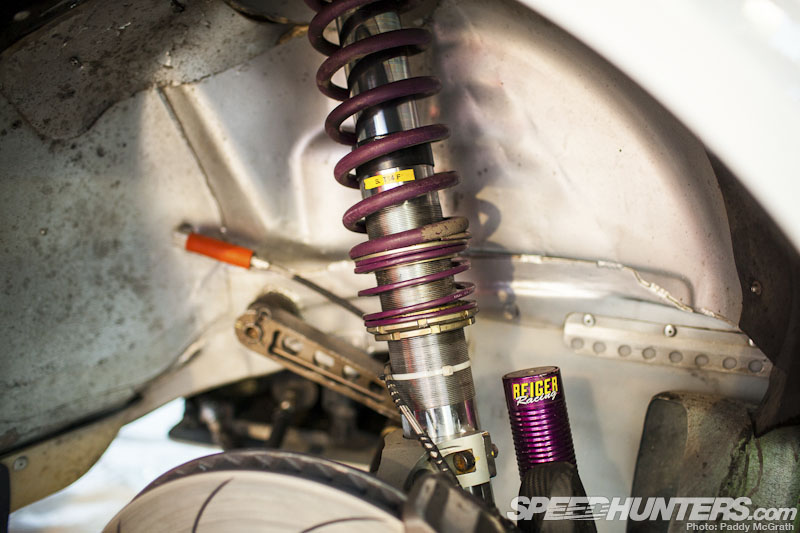 Reiger Racing fully adjustable suspension was being used in any of the Fabias I had a look at over the course of the weekend.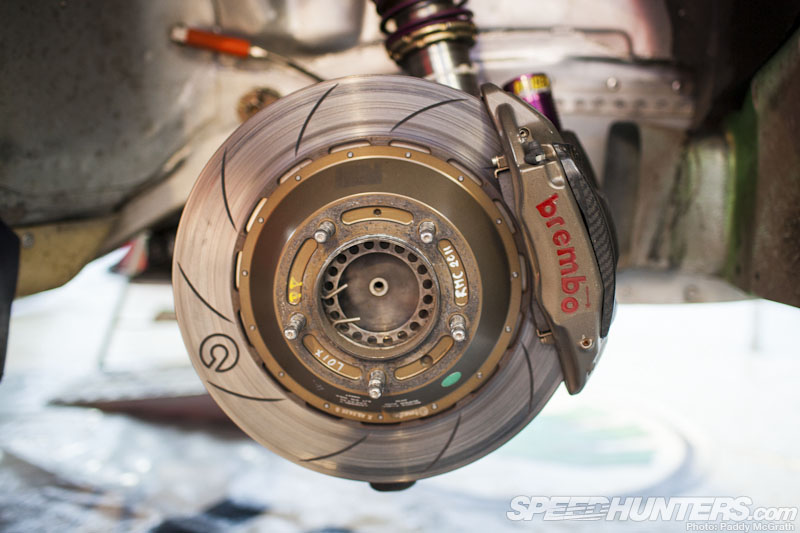 A Brembo braking system is deployed both front and rear with 355mm discs up front (for comparison, in gravel specification the front discs are 300mm).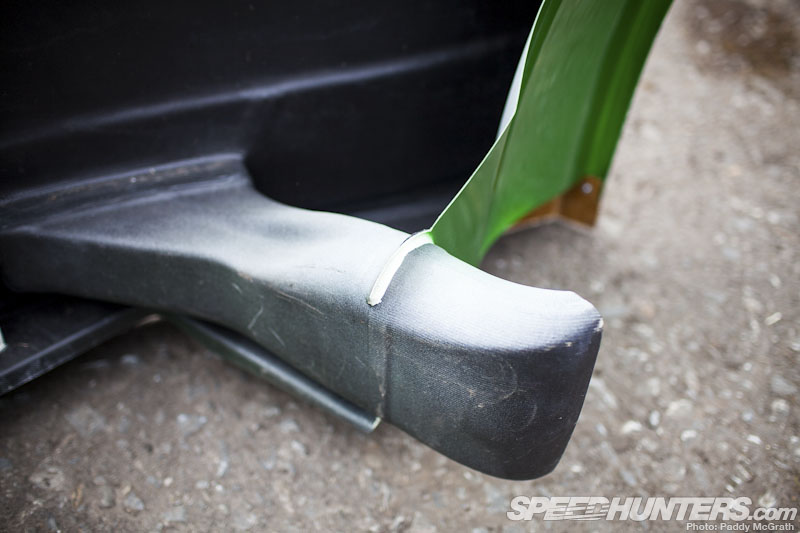 There are cooling ducts moulded into the bumpers which pipe cold air onto the back of the discs and calipers.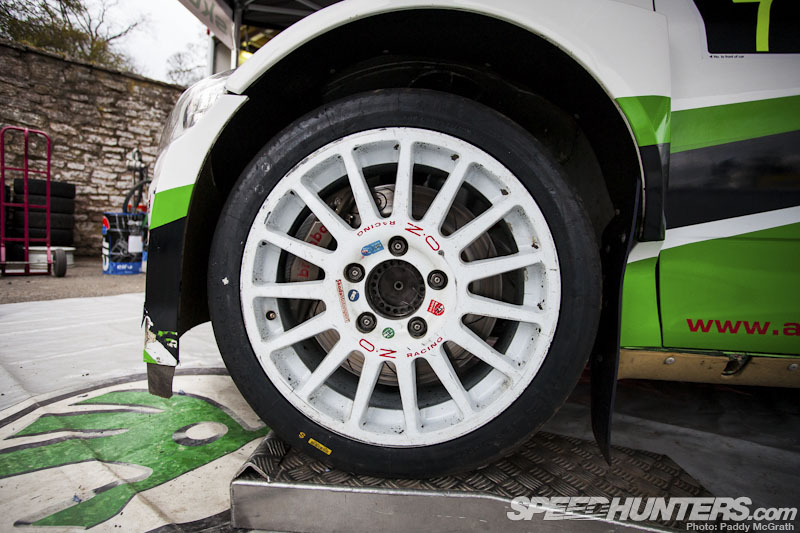 18″x8J OZ Racing Super Turismos are utilised on all four corners.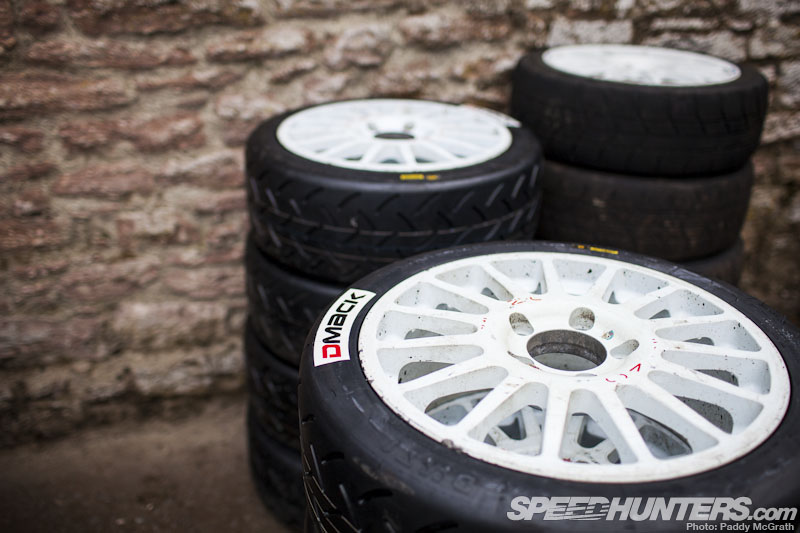 Robert was running DMACK tyres in 225/40/18 on all four for the Circuit of Ireland.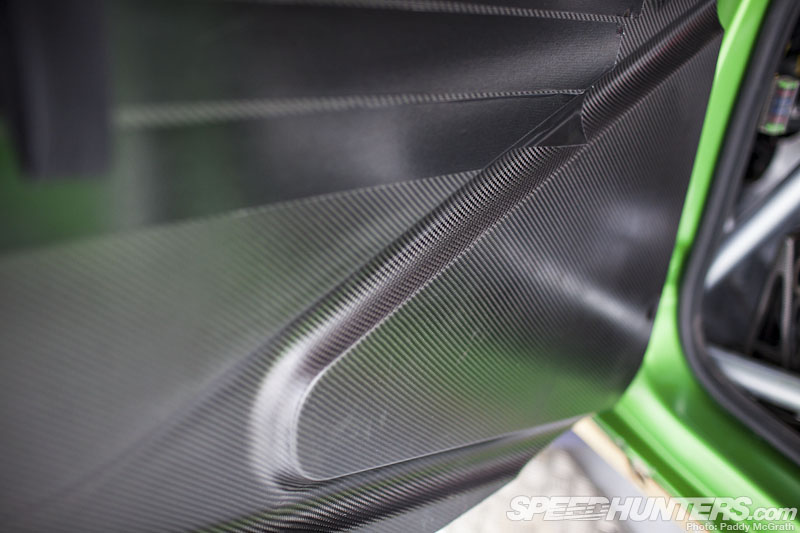 Stepping inside the cockpit, it becomes apparrent how Skoda achieved a minimum weight of 1200KGs (around 2645LBs). Again this is an area which is defined by regulation – I'm sure they could go much lighter if they wanted.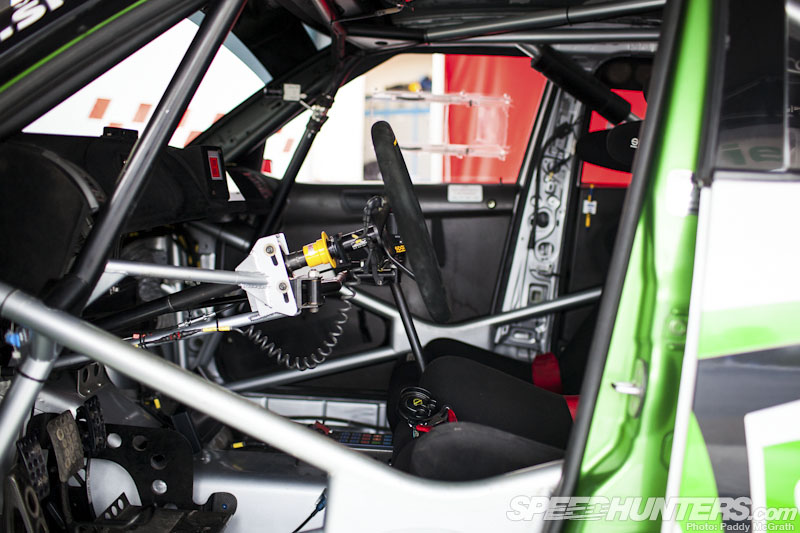 The first thing you notice is how far back both the driver and navigator seats are mounted.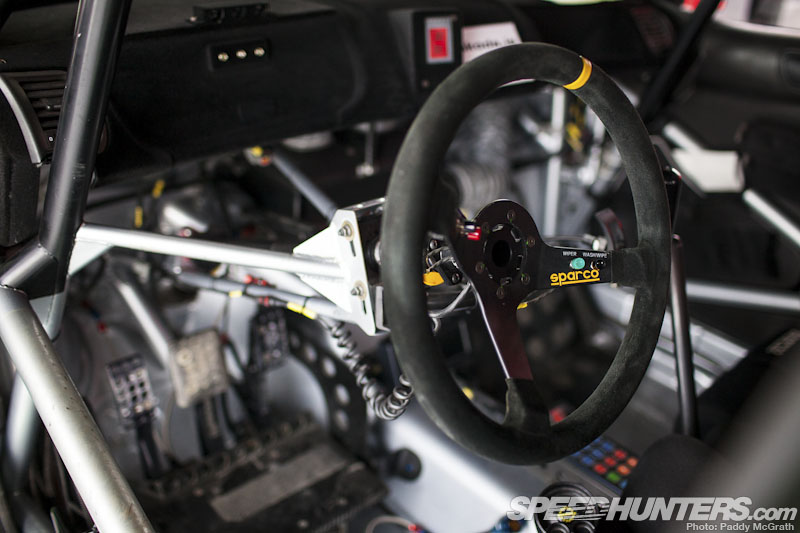 An extended steering colum with a Sparco wheel – complete with quick access controls for the driver – is just one of many parts that keeps weight centralised.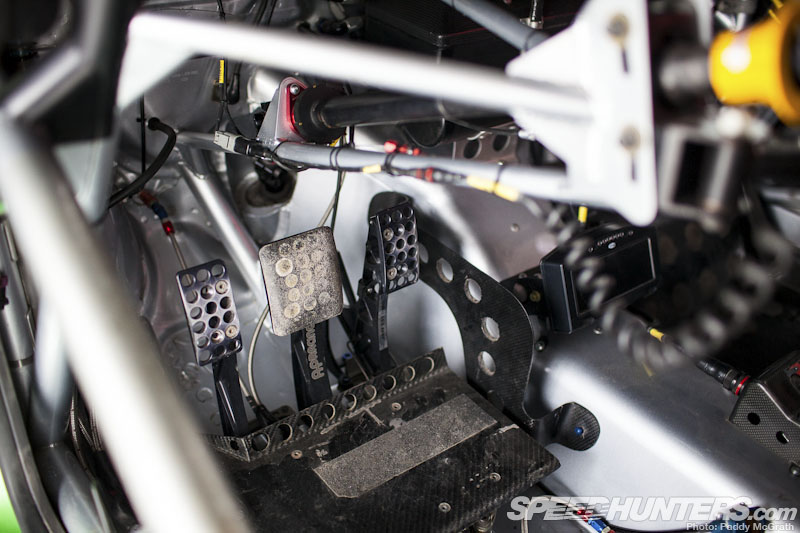 An AP Racing adjustable pedal box allows improved pedal response and control.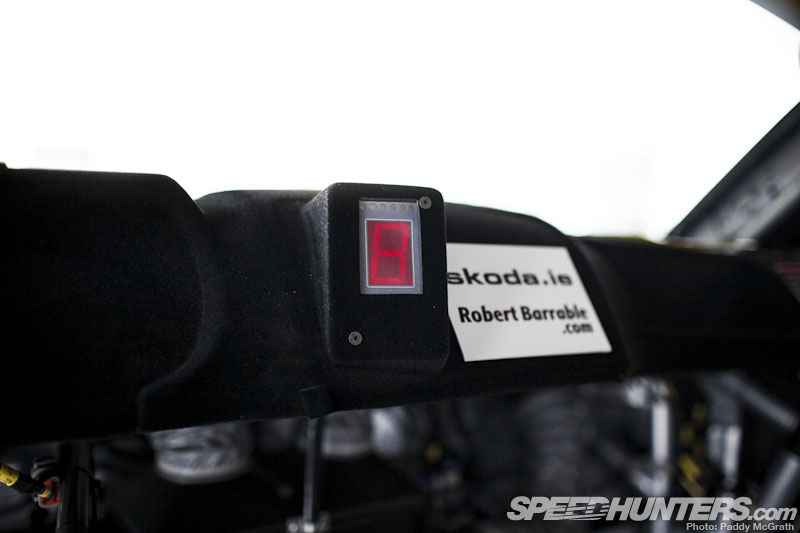 The flocked dash – to reduce glare – has been gutted with only a digital gear indicator and shift up light for the driver.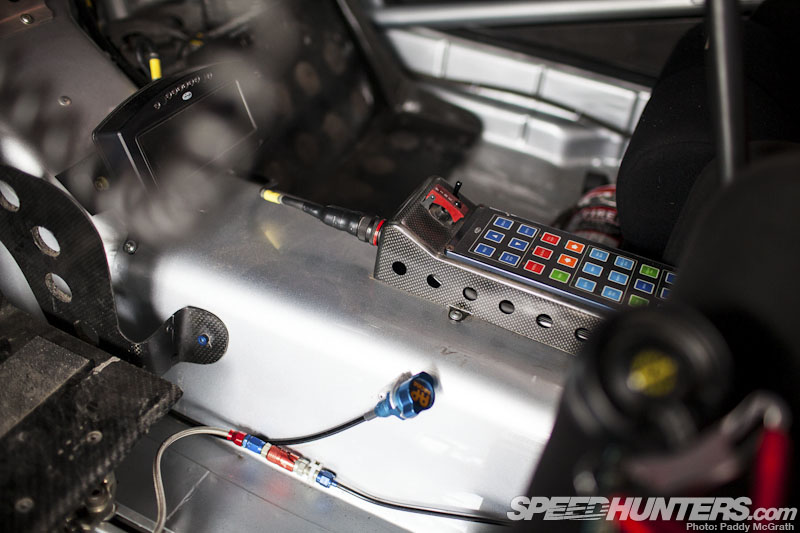 Most controls have been relocated to this control panel between both the driver and navigator. I believe that's a brake bias adjuster mounted on the transmission tunnel?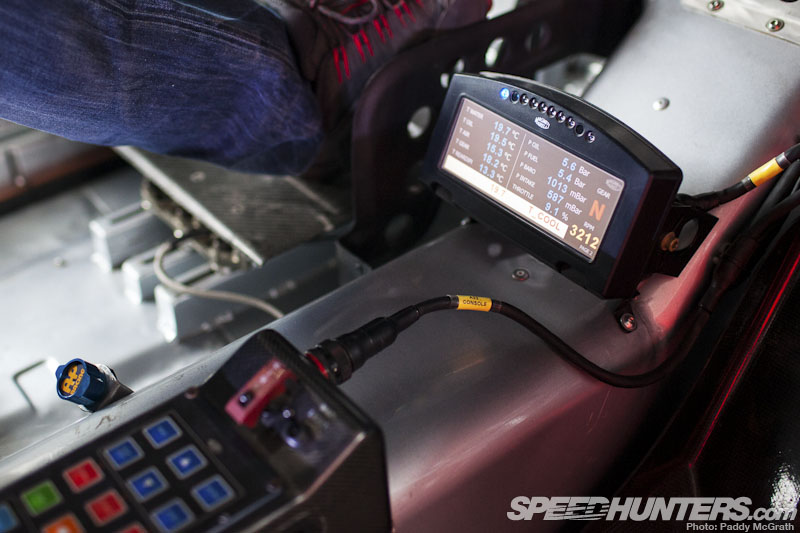 This Magnetti Marelli LCD screen contains everything the crew need to know at glance with reference to temperatures and pressures.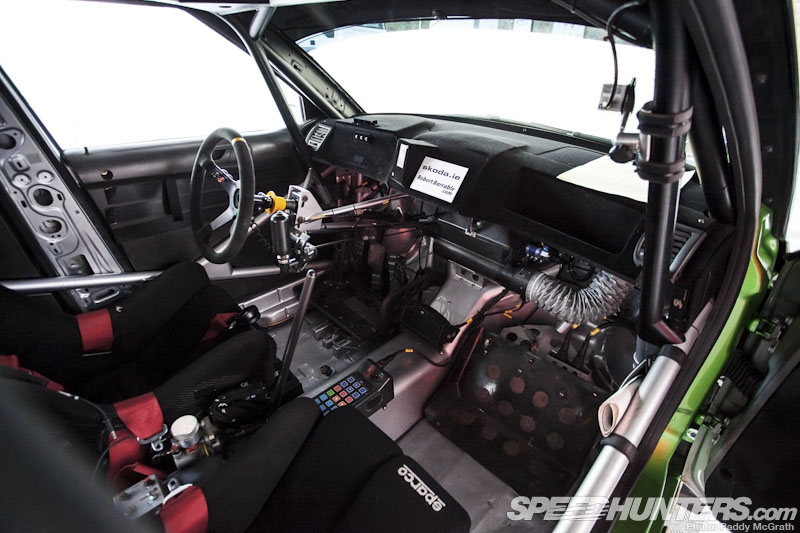 Another view of the cockpit – the navigator's seat is located slightly lower than the driver's. There are also switches at the feet of the navigator for non-essential controls (horn, wipers etc.). You also get a better view from this side of the the floor mounted hydraulic handbrake and steering column mounted gear shifter. The shifter is connected to an Xtrac six speed sequential gearbox which is mated to the engine with an AP Racing clutch. The clutch pedal is only used to move the car off the line, and from there on out is not required for gear shifts. Those of you who have watched my passenger run with Robert will have a good idea of how effective it is.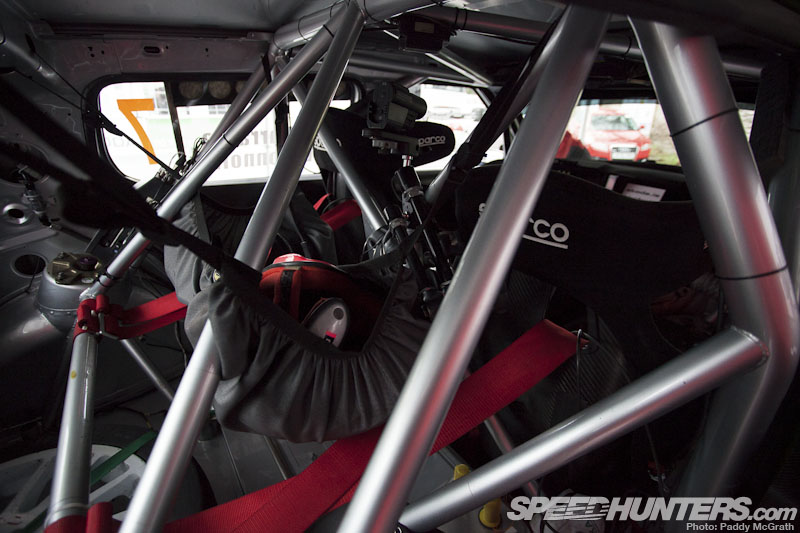 Behind the seats is a rather comprehensive rollcage. There's room to store helmets, gloves and headsets back there along with a spare wheel and some essential tools.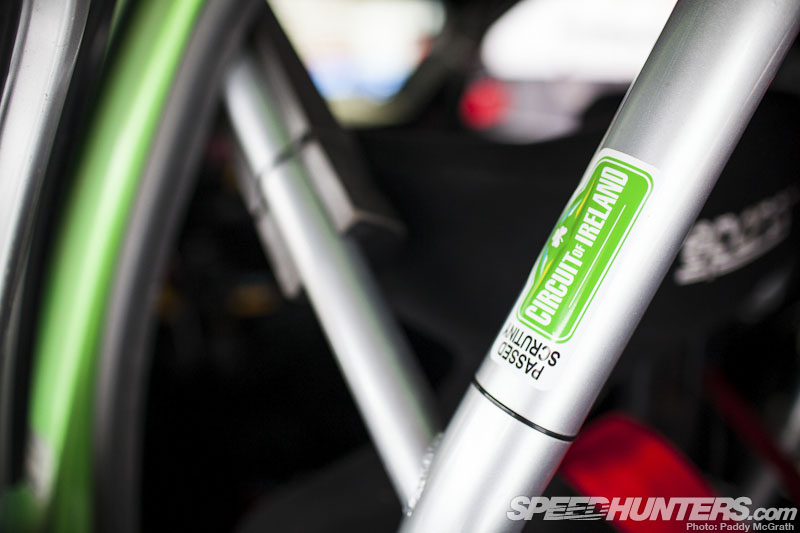 I can imagine it'll be quite sometime before a cage like this would fail a scrutineer's test. I was talking beforehand with one of the mechanics about just how far safety in modern rally cars has come along in the last two decades. There are crews having accidents now that they walk away from that would have killed them outright in the past.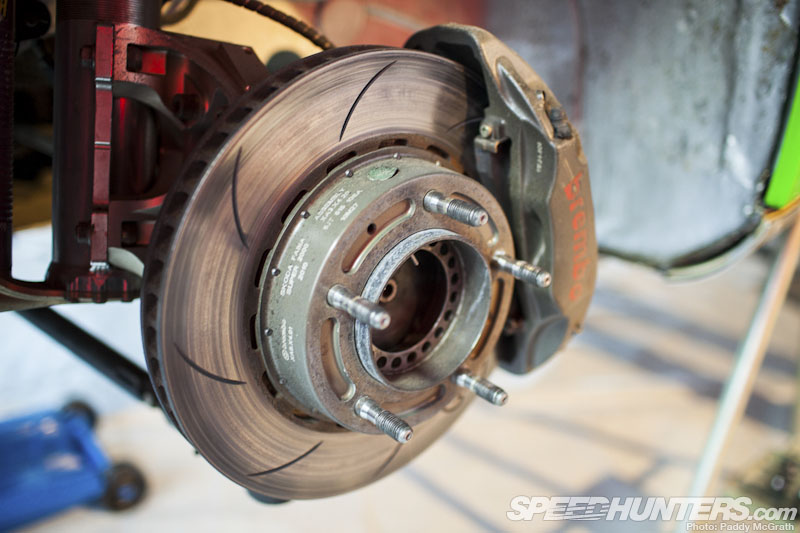 The rear discs measure in at 300mm (which stays the same for a gravel setup) compared to the larger fronts.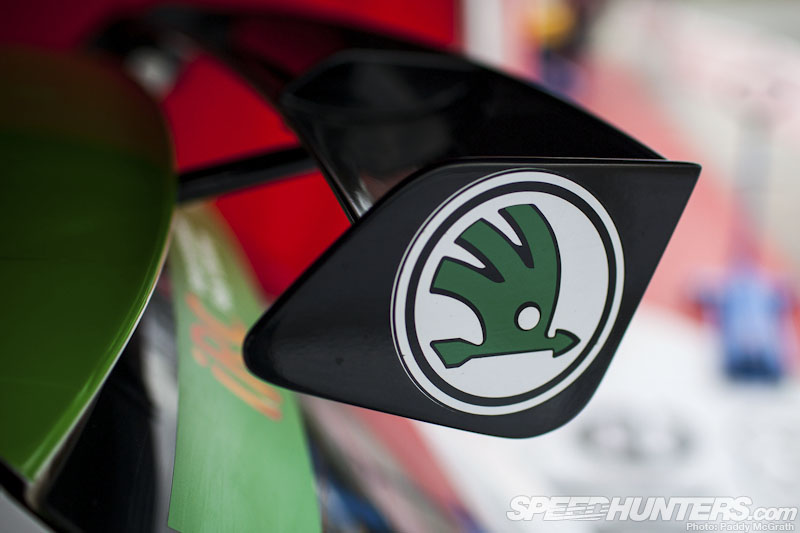 The bodywork of the car is almost entirely bespoke to the S2000 variant. Talking to the team, maybe the only parts the car shares with its road going sibling are the door handles and lights. I suppose the badges too.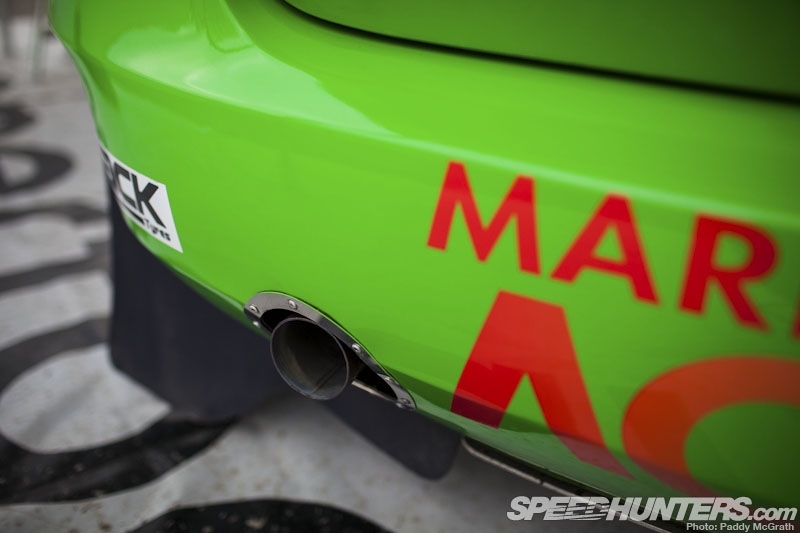 The exhaust may have a discreet exit, but it's by no means discreet when the car is on full throttle. The S2000 cars make a fantastic sound out on the stages, much more impressive in my opinion than their WRC cousins.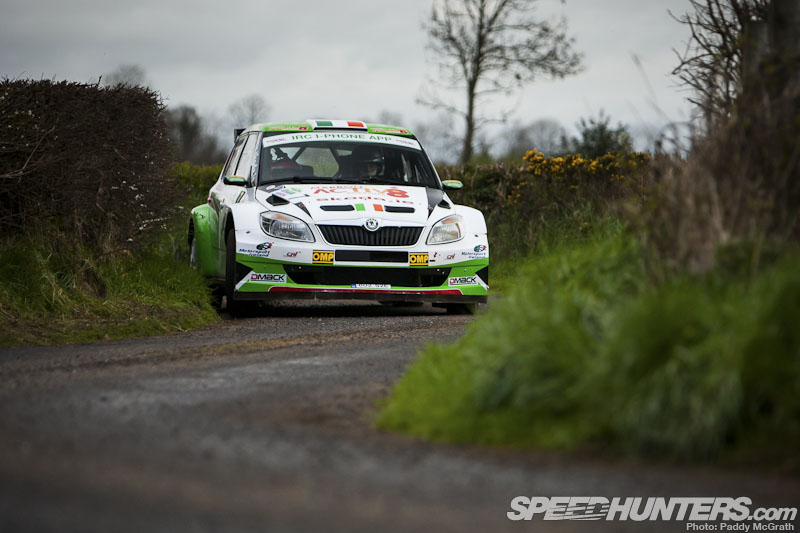 A big thanks to Robert and the team at CA1 Sport for allowing me such an amazing amount of access to their car and especially for the ride of a lifetime through the Northern Irish countryside. This all but wraps up our Circuit of Ireland coverage for this year with the exceptions of some desktops coming over the next day or two. I really hope you enjoyed our coverage and we're hoping to bring you more rallying throughout the course of the year.
–