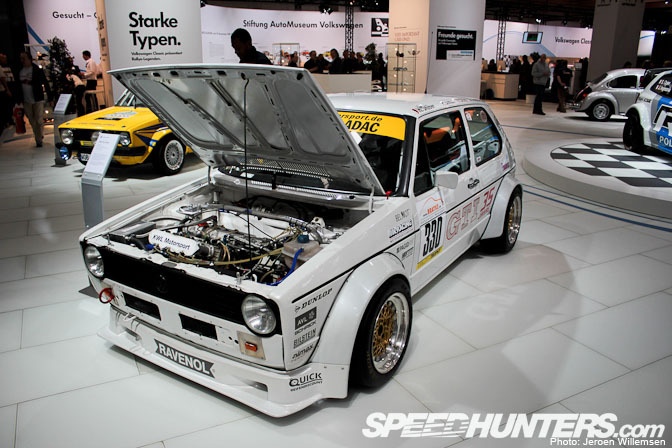 In my second look at
the Techno Classica Essen I'll focus on the cars that are part of the
VW group, such as Lamborghini and Audi. But I'll start with some special Golfs that
were present – like this pristine MkI GTI.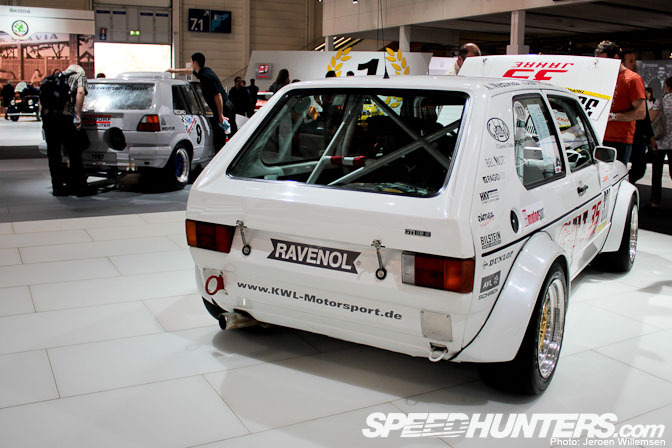 I saw this car last year at the Wörthersee event, where it was part of the 35th anniversary celebrations for the GTI. The car has been built
by KWL-Motorsport and features a powerful 4-cylinder, 16-valve engine with 212bhp. The
car is still used for racing events and even competes in classic 24-hour races.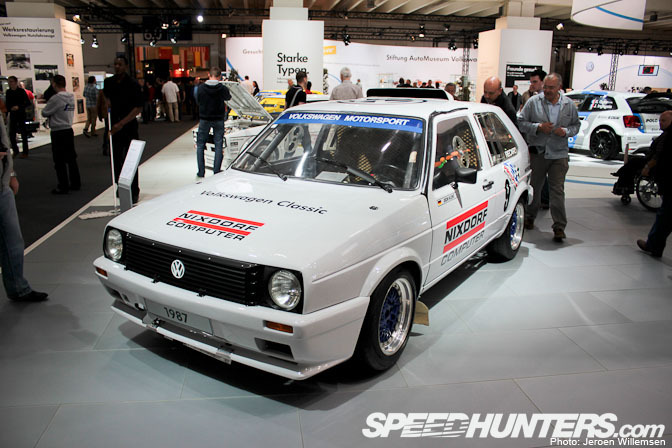 Volkswagen brought some very special cars
like this Golf MkII that saw action during the 1987 Pikes Peak hillclimb. It was built by VW
Motorsport in Hanover and features two engines: one in the front and one in
the back. The engines operate separately, which means that the car can be a
FWD, RWD or AWD at the flick of a switch.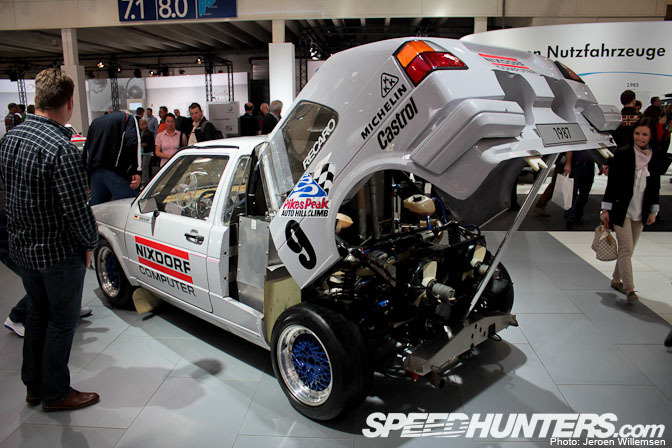 The car utilises two 4-cylinder units, each with a
capacity of 1.8 litres. Both engines are exactly the same and reach their maximum
power of 320bhp at 7,200rpm, producing a combined output of
640bhp when the two are run in tandem.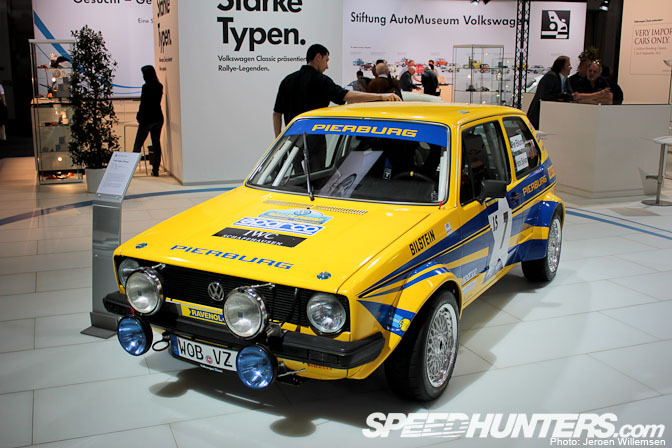 Another cool Golf was this MkI Rally 'Pierburg' recreation, which was built from the ground up by the guys at KWL Motorsport during 2011. The original 'Pierburg'
was built in 1981 and competed in the German Rally Championship. It was one of
the first Golfs that was fitted with the Oettinger 16-valve cylinder head.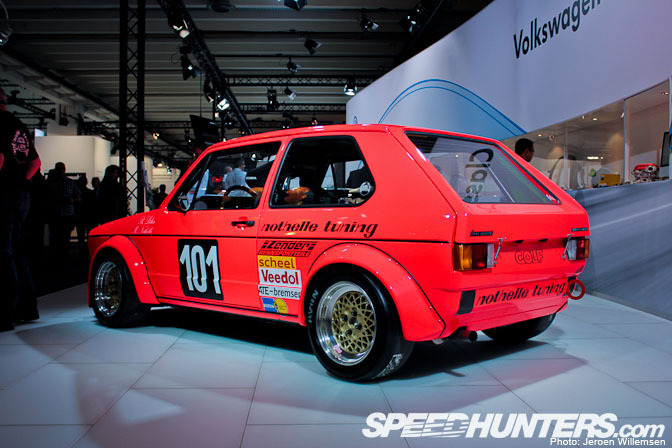 Volkswagen really emphasised its racing
history at Techno Classica. Here is another example of that fact: Nothelle Tuning built this eye-catching
MkI. It was the first racing Golf in the world even before there was a Golf
GTI. It competed against the BMW 1602 in Group 2, the forerunner of the Group A racing
series.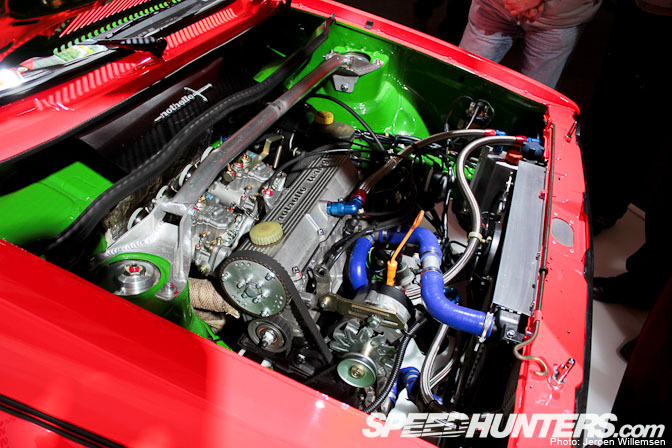 Because the GTI wasn't even born at that
time, Nothelle had to invent a lot of stuff themselves. They worked closely
together with Solex and were able to extract almost 175bhp from this little 1.6-litre engine.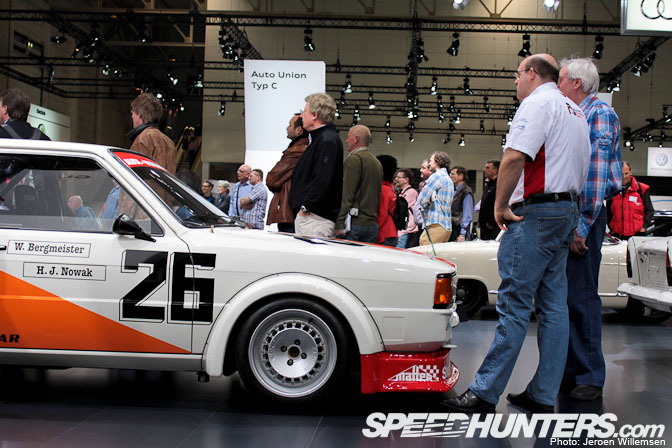 Audi is no stranger to racing and displayed some prime examples of their competition heritage. The audience wasn't really interested in
this Audi 80 GL but were instead mesmerised by a video screen behind another car…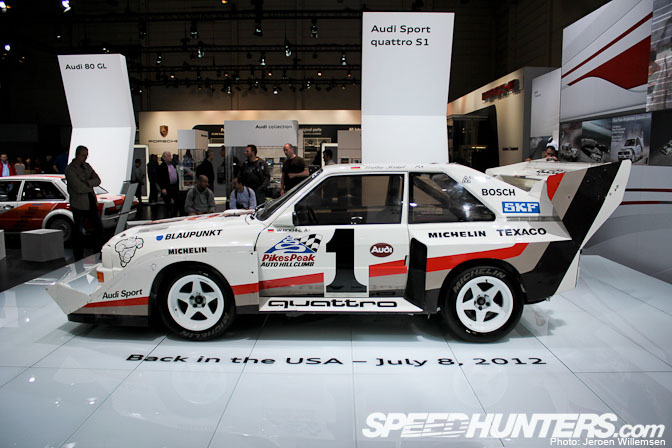 …this Sport Quattro S1. The screen showed the
maiden voyage of this actual car at the Pikes Peak Hillclimb – you can watch the video right HERE. Oh, and don't forget to turn up the volume!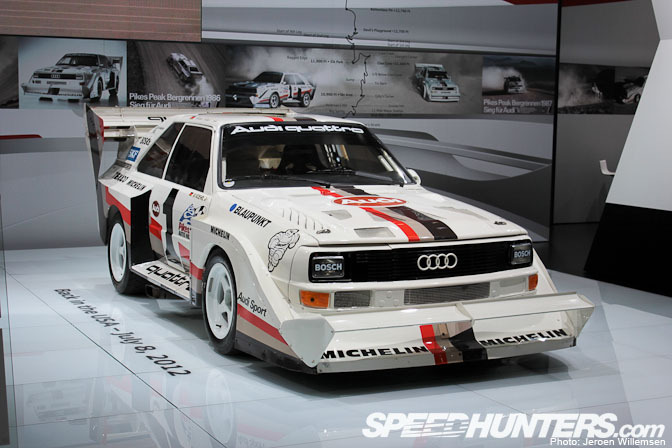 This car won the Pikes Peak Hillclimb in 1987
with Walther Rohrl behind the steering wheel.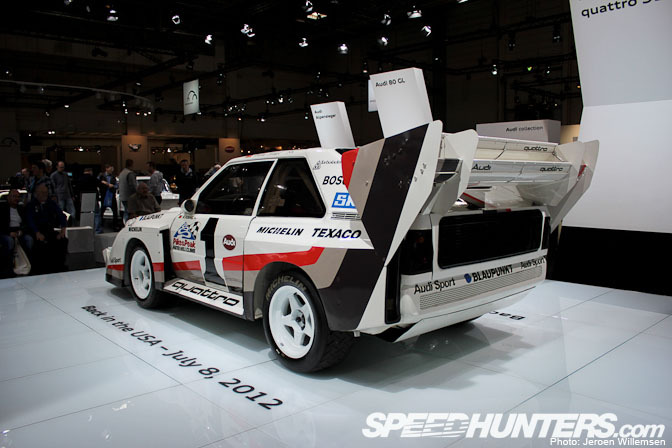 I'm sure you guys noticed the 'Back in the
USA – July 8, 2012′ sign in front of the car. I'm not sure of the specifics, but
it seems that Audi will be returning to Pikes Peak. Will it be with this car or an entirely new build? I guess we will find out soon enough.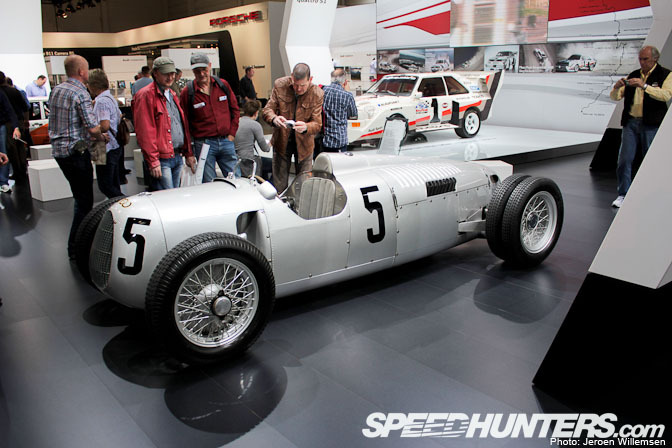 I believe that this Auto Union is a Type C, as it still has the 16-cylinder engine
that would later be replaced with the supercharged
V12 engine in the Type D. Some real automotive history right there.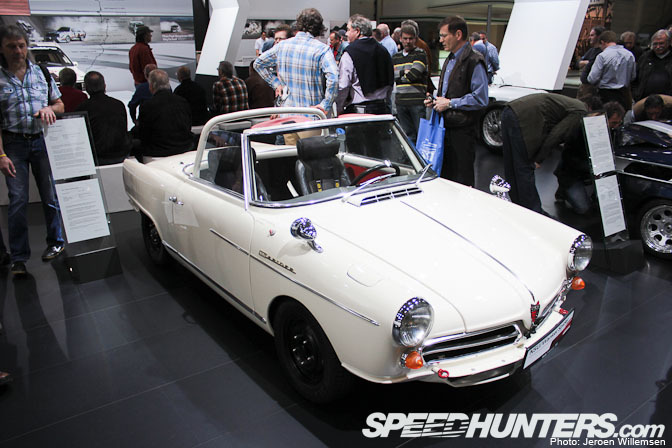 A car I had never seen before was this
NSU/Wankel Spider. It was built between 1964 and 1967 and was the first production
car with a Wankel rotary engine.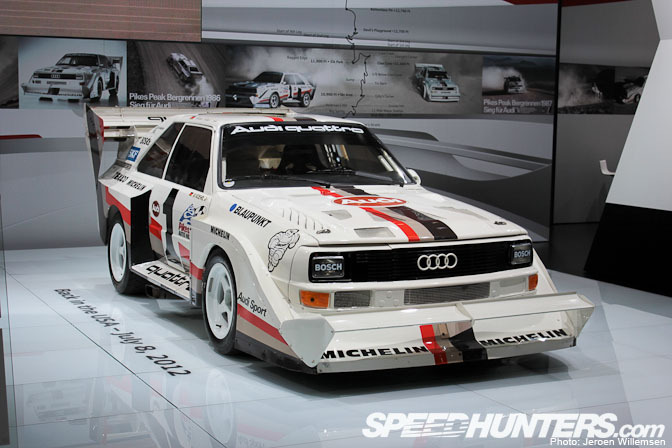 I didn't managed to find a lot of info on
this Audi Quattro except that it was built by Rudiger Noll. It still sees
action at selected events in Germany.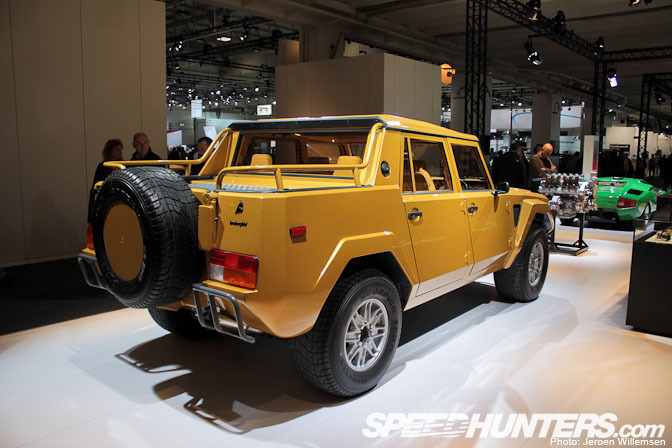 You are probably looking at the most
expensive spare wheel in the world right now.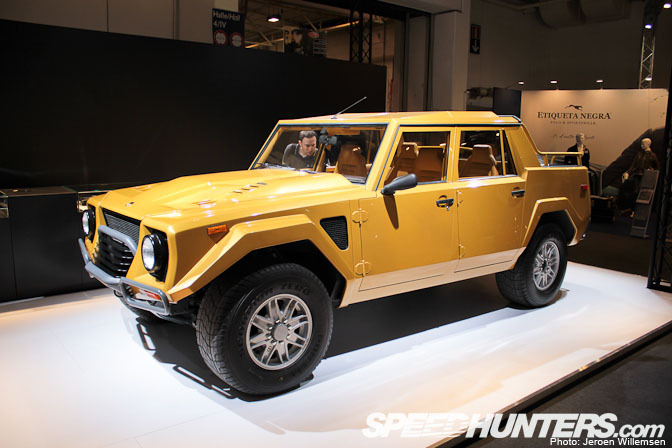 Long before Porsche toyed with the idea of
an SUV, Lamborghini built this LM002. It has a 5.2-litre V12 with 440bhp and a 200kph top speed. Only 301 of these cars were built and most of them were sold to
rich oil sheiks.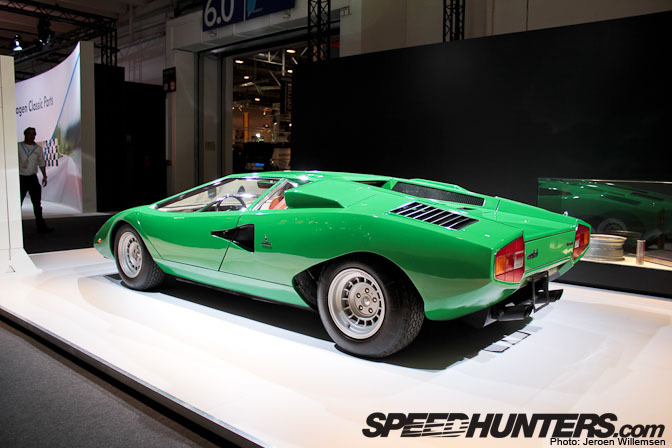 Even in this day and age it still feels
like I'm looking at a prototype concept. This Countach came straight from the Lamborghini
museum floor in Sant'Agata Bolognese.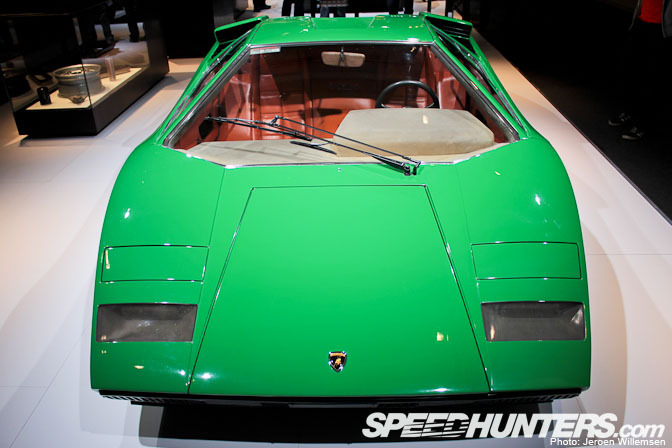 We visited the museum in back 2009. If you want to relive our experience then take a look HERE – you can even catch a glimpse of this exact
same car.
My
next feature will be about Porsche, so don't miss it tomorrow!
Jeroen Willemsen
More Techno Classica Essen coverage on Speedhunters