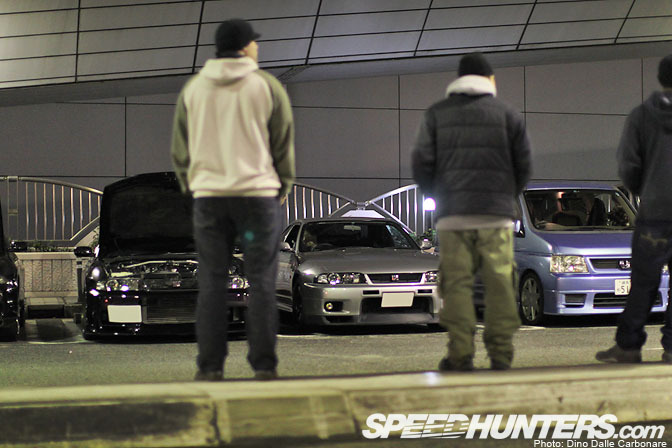 Tonight GT-R enthusiasts were only looking for a quiet place to park up and hang out to chat about all things related to their pride and joys. But upon arrival at Daikoku PA they were greeted with a blocked off entrance, the parking area unexpectedly closed due to some overnight construction work. Nothing was going to spoil a fun night out however, so it was on to check out some of the other smaller rest stops along the Wangan. With nothing happening at Ooi PA, except for a couple of high end cars, we all headed to Shibaura PA where we found the perfect place to spend a few could hours talking about cars.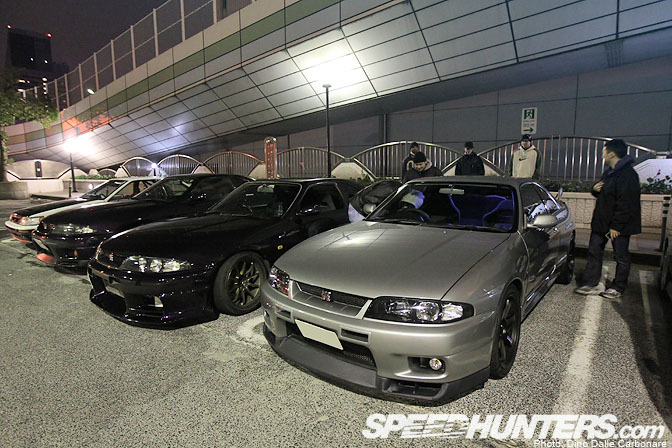 With today being March the third I was of course on the hunt for R33 GT-Rs…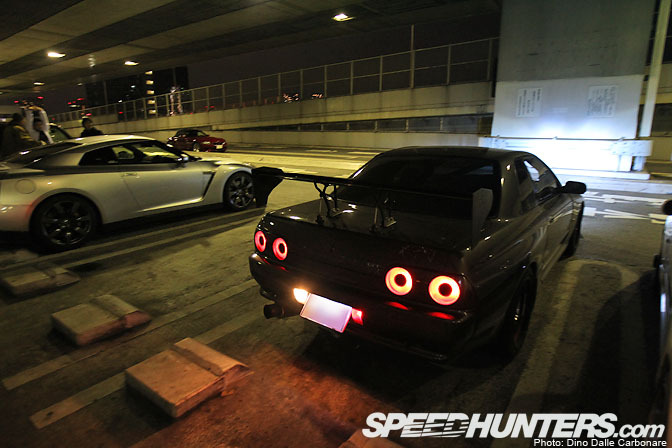 …but wasn't going to pass up the opportunity to shoot away at other generations of the R…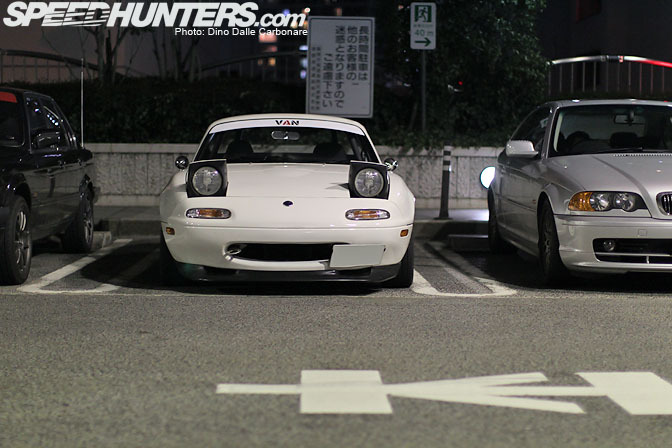 …including some other cool rides which I came across like this appropriately lowered NA Roadster.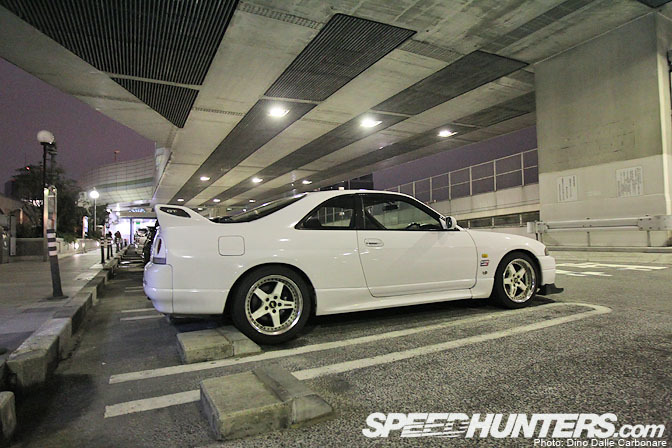 I'm always a bit of a purist when it comes to the aesthetics of cars, so to me nothing looks better than a clean body, with maybe a few details here and there to spice things up a little. This particular R33 threw some period correct split rims into the mix.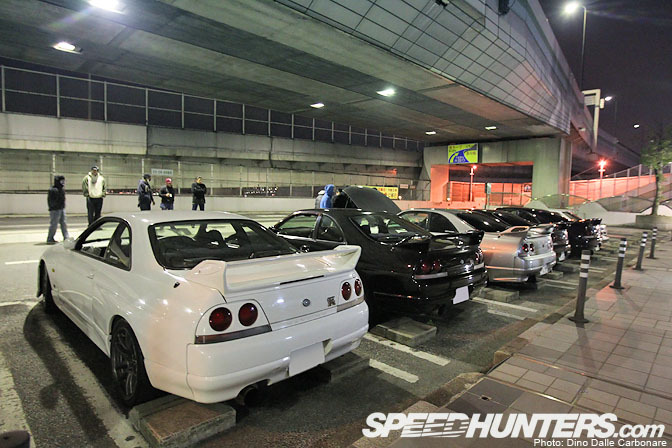 It was once again the guys from the various US military bases that made up the bulk of the meet, these guys have a passion for their cars and aren't going to pass up any opportunity…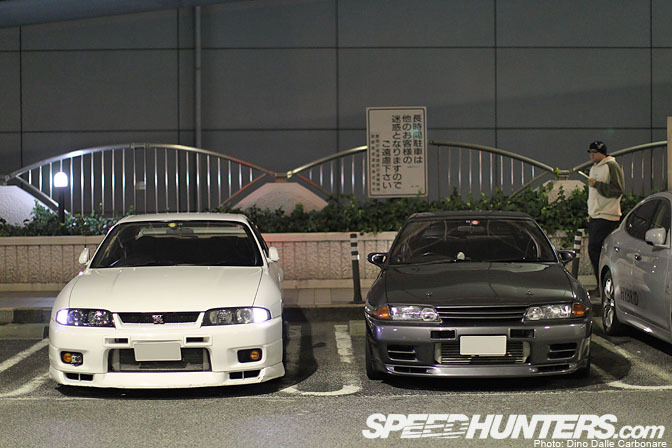 …to enjoy their rides during their limited time in Japan.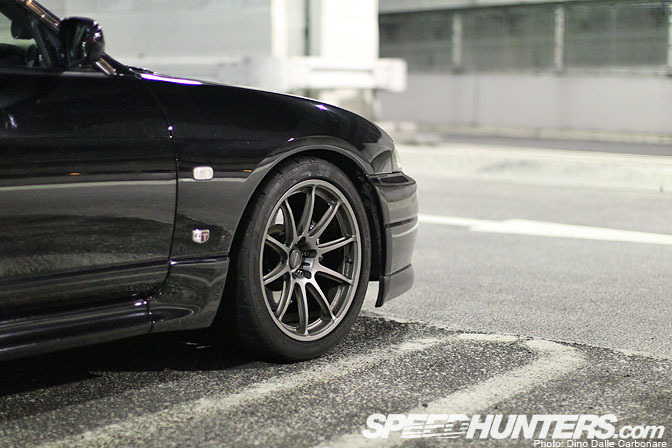 Check out these cool Prodrive GC-010E monobloc forged rims as fitted to one of the Midnight Purple BCNR33s present.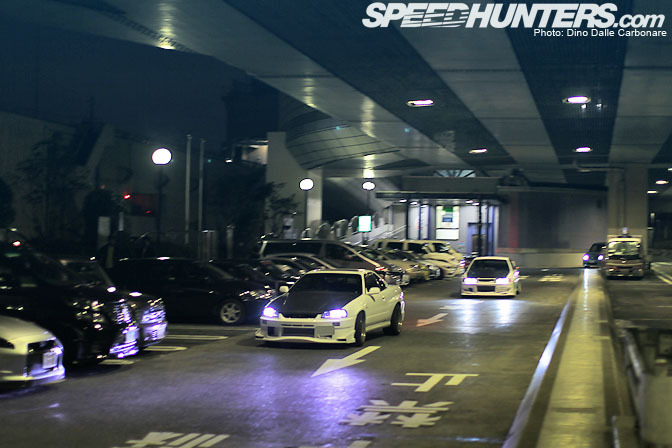 Cars kept rolling in…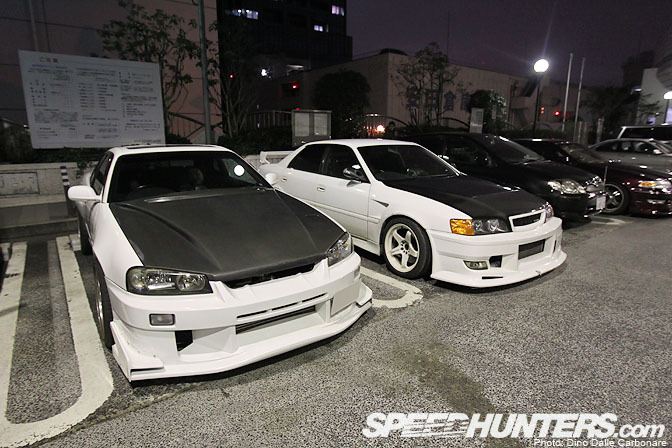 …like this ER34 GT-t and JZX100. The Skyline was sporting a full URAS Monkey Magic aero kit and from the sounds of it some serious mods to its RB25. Likewise the Chaser was sporting mean street drifter looks topped off with Nismo LMGT4 rims! Very cool!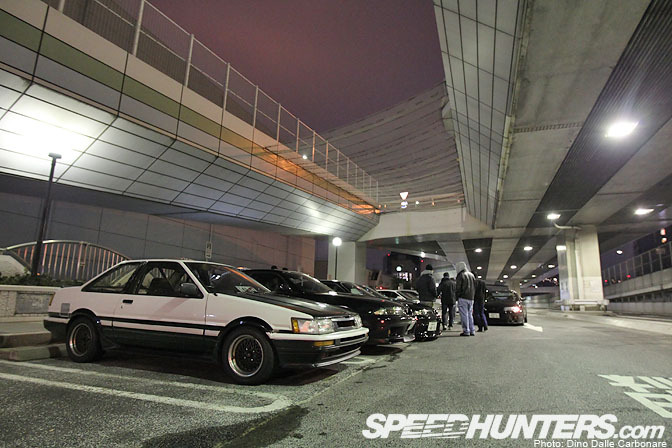 One lonely AE86 Levin coupe joined the GT-R group, a must have addition to any Wangan meet!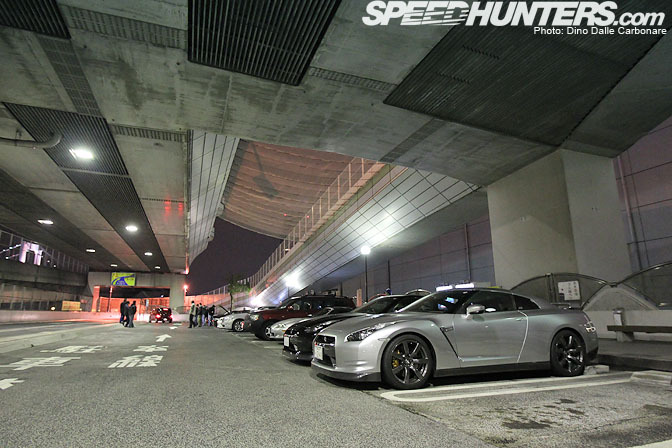 Shibaura PA is perched under one of the many supports of the Rainbow Bridge which connects the rest of Tokyo to Odaiba, an ever-expanding area of the city built on reclaimed land. With four lanes of traffic, on two different levels, zooming by this parking area never stops shaking, it's like a continuously ongoing earthquake! It adds to the experience I guess!  As you can see there were also a couple of R35 GT-Rs…they will get their own day on Monday, but it's yet unclear if a meeting will actually occur!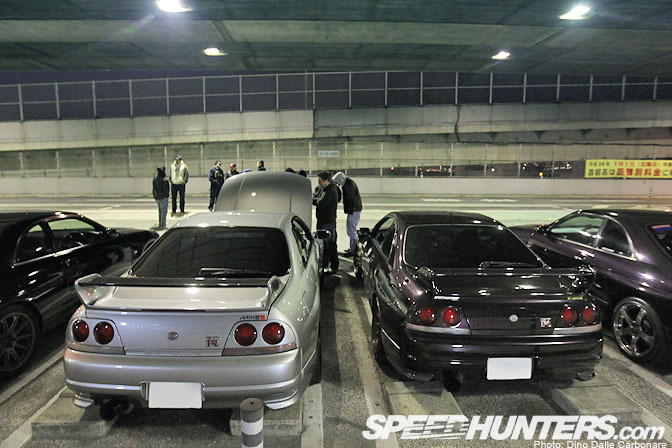 I've been waiting for close to three years to shoot the silver 1997 kouki R33 you see here.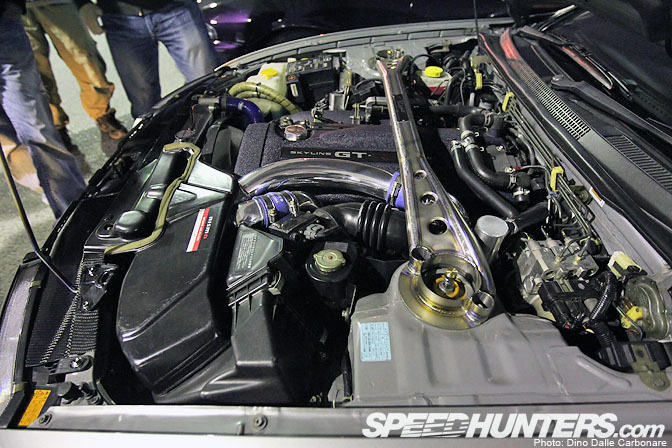 The owner won't let me immortalize it until it's fully complete; when that will be is yet unknown, but probably sometime next year unless yet new parts for the RB26 are released. So, you will have to wait a little longer to see this complete Mine's monster in detail!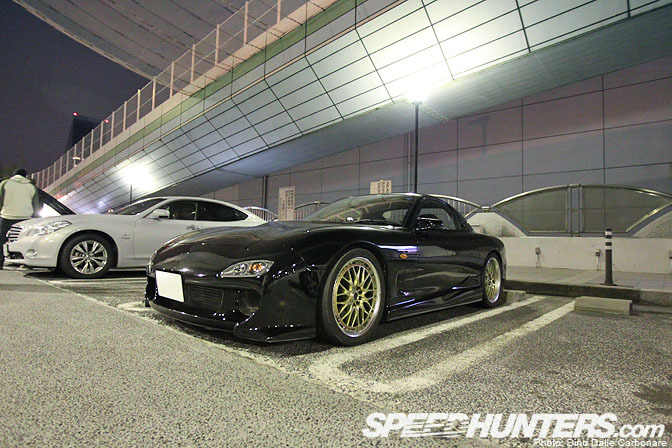 The owner of this wingless FD3S came down all the way from Tsukuba to cruise around the Shutoko and Wangan….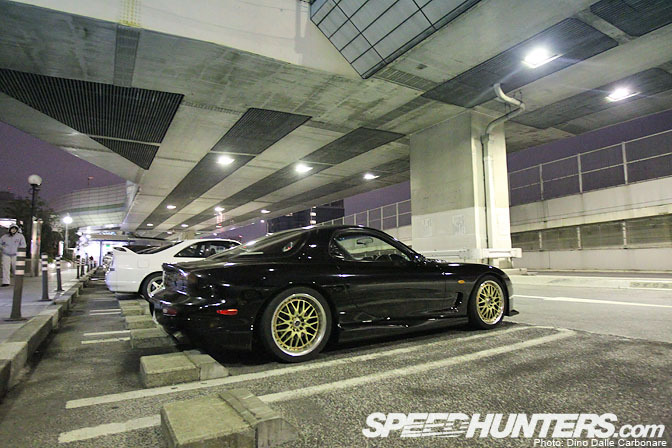 …all within speed limits of course. The good old days of midnight races are well and truly over…for most people anyways.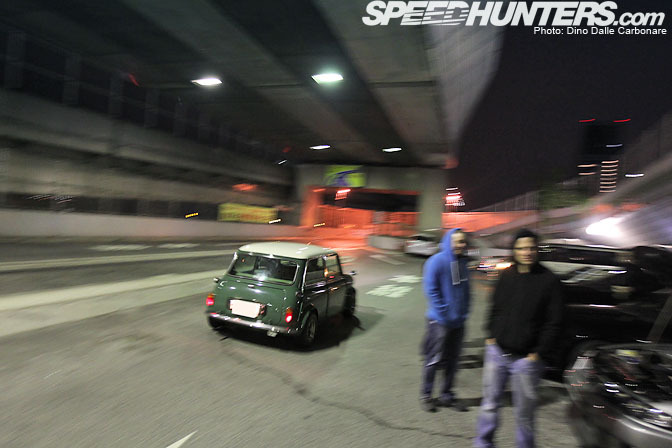 Variety is what makes Japan so special and at any meet, in any of the PAs that dot the metropolitan highway network, you can expect to see a nice mix of cars, rides like fully tuned classic Minis…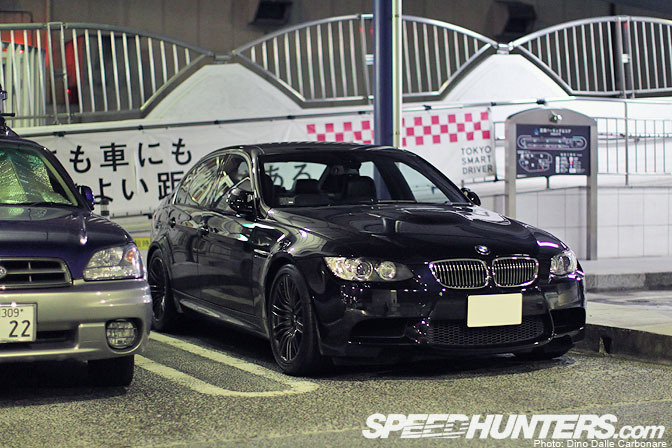 …or cool BMWs like this mean looking E90 M3 Sedan…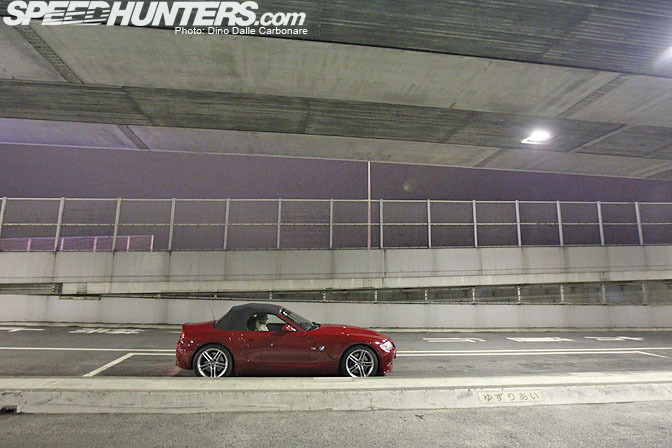 …and Z4.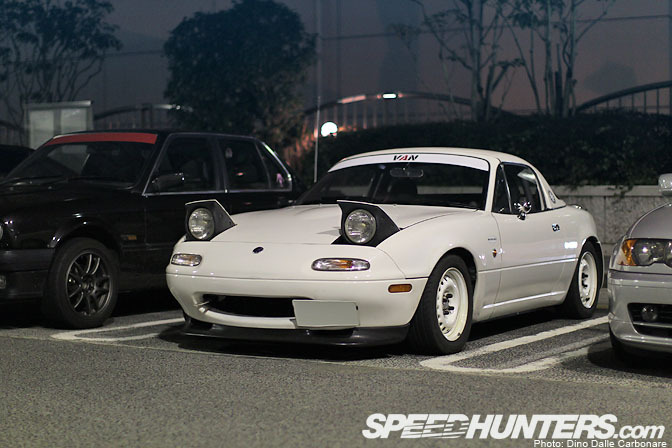 Here is another look at that simple NA, gotta love the white steel rims! Something different!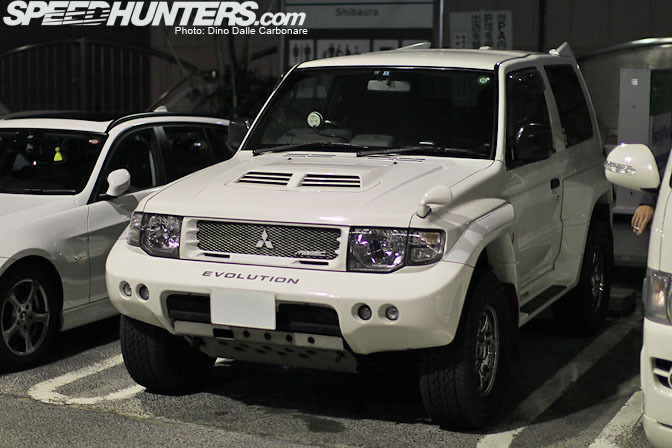 Might not be sports car related, or maybe it is, because this Mitsubishi Pajero Evolution packs a 6G74 3.5L Mivec V6 motor good for almost 300 HP.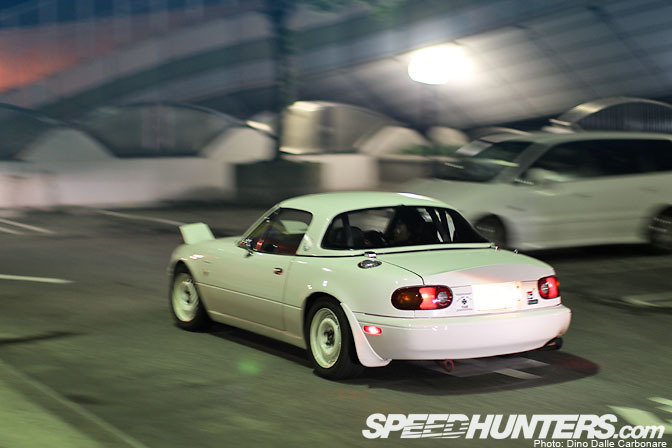 Right after 11pm the Police drove up in a Toyota Crown and started mumbling out of thier megaphone that everyone had to leave as the PA was getting closed. That pretty much ended the night for most people and it was back home…until tomorrow night at least, when it's the turn of the R34!
-Dino Dalle Carbonare