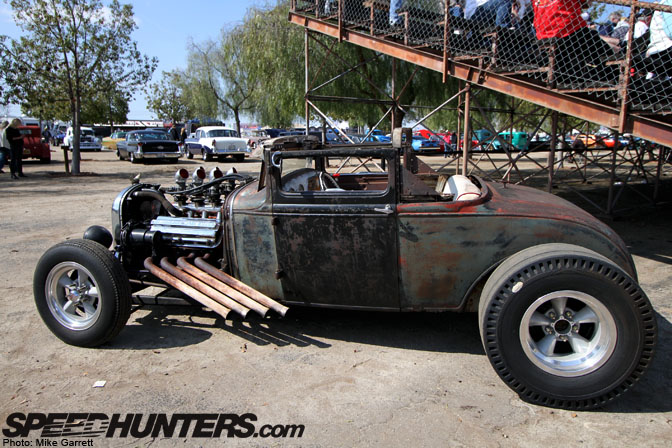 Now that we've seen some of the "static" scenes from the 2012 March Meet, as well as Larry's view of the on-track madness, I want to go through and post one more batch of my own observations from the big event.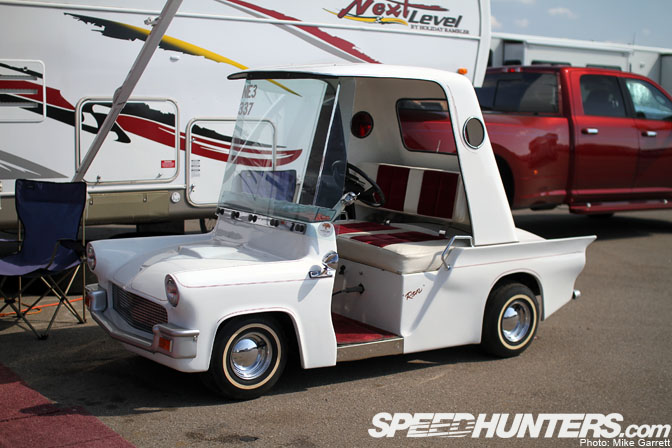 As I mentioned earlier, the pits at the March Meet are filled with all manner of golf carts and support vehicles. Some of these are heavily customized, like this golf cart styled after an early Thunderbird.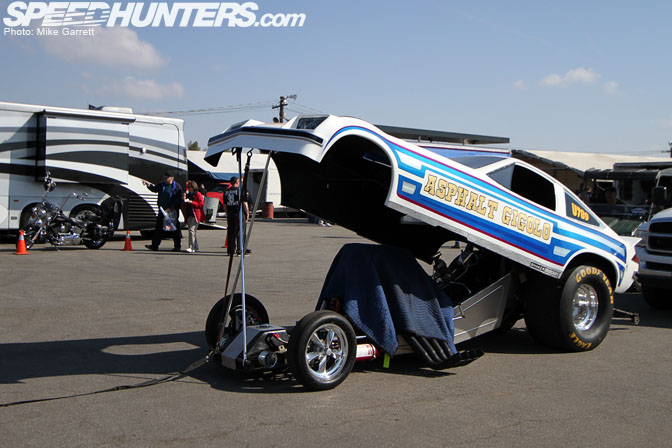 The "Asphalt Gigolo" heads for the staging lanes. It's always nice to see racers that have a sense of humor.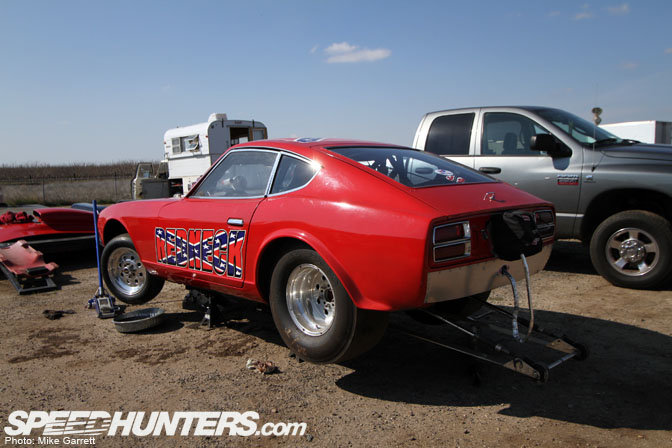 Anything that's light and rear-drive is fair game for drag racers, whether it's a Datsun Z…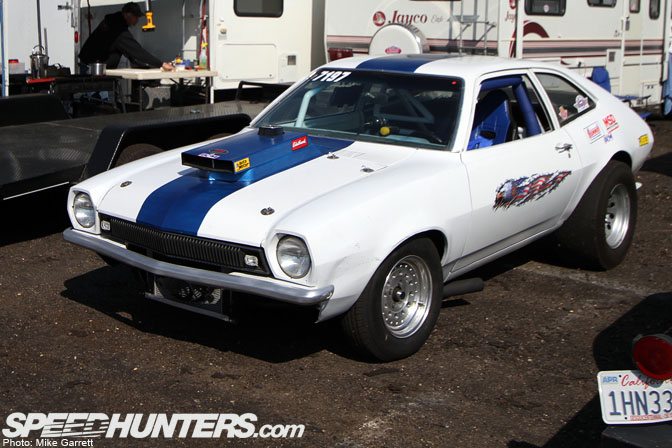 …or a Pinto.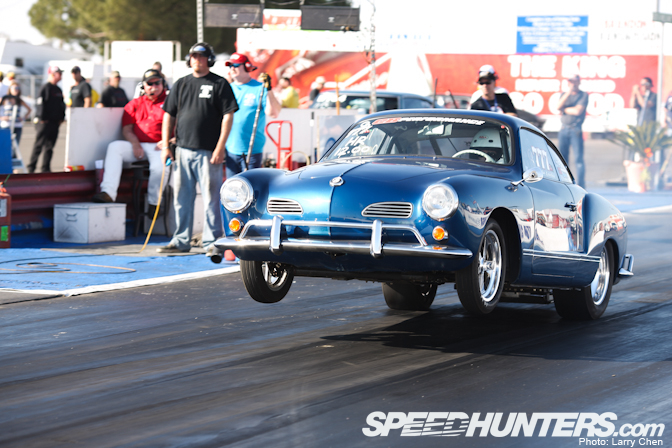 There were even a few Volkswagen drag cars running, like this Karmann Ghia that Larry captured going wheels up.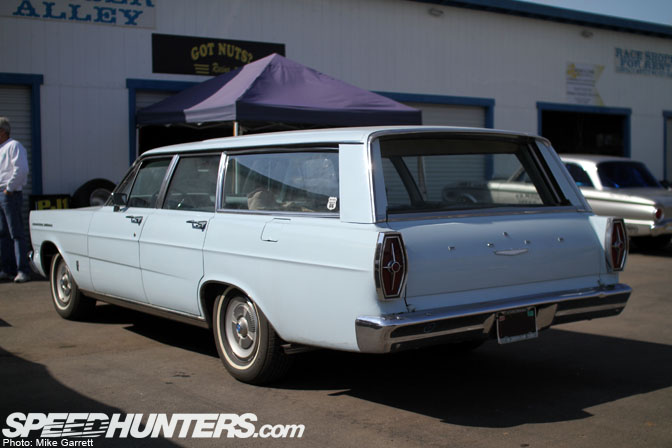 Old wagons are positively great. This Ford looks like something you'd see trackside at Lion's Drag Strip in the '60s. It was all original down to the white walls and black California plates.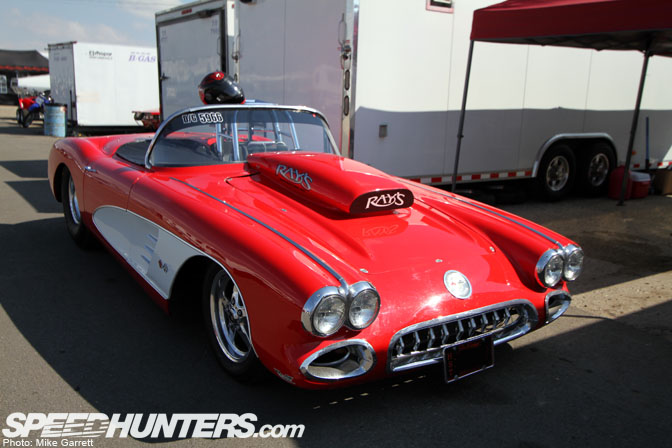 A tubbed 'Vette wearing South Dakota plates and looking like it came from the heyday of the Pro Street movement.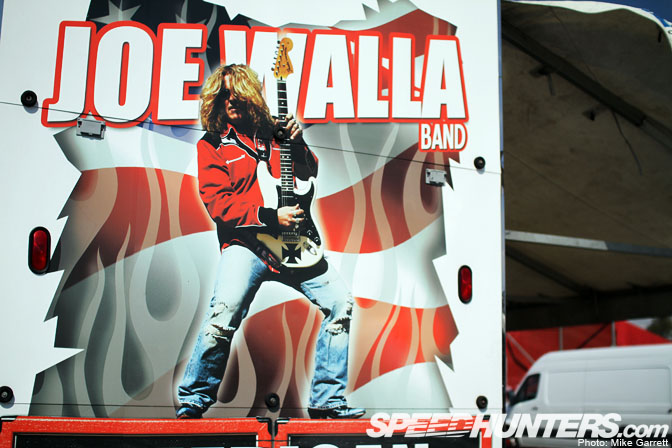 America. What else needs to be said?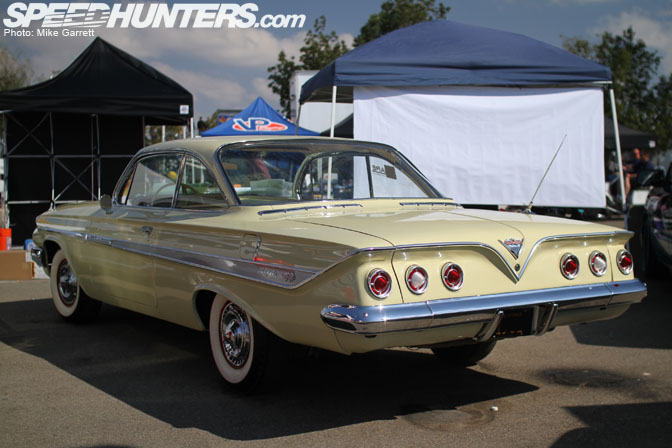 Who else loves '61 Chevys? Here's one in showroom shape.
These early style dragsters might not be the fastest cars at the event, but they are some of the most interesting. This is real home-built grassroots drag style.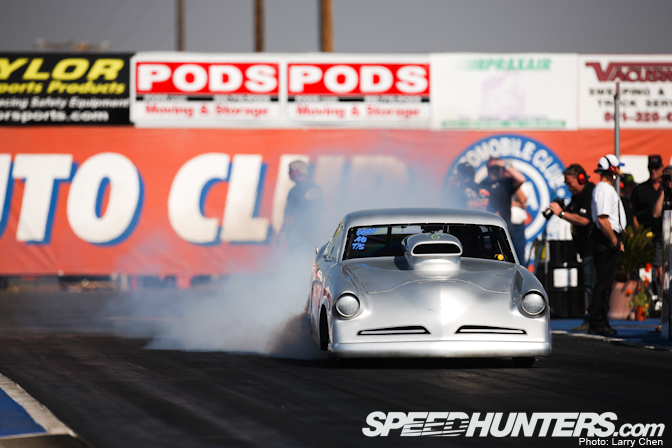 Studebaker? It kind of looks like one at least.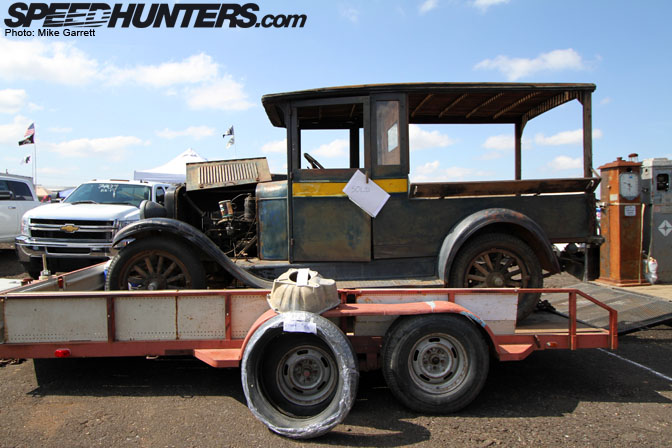 Here's one of the project vehicles that changed hands over the course of the weekend. What will become of it?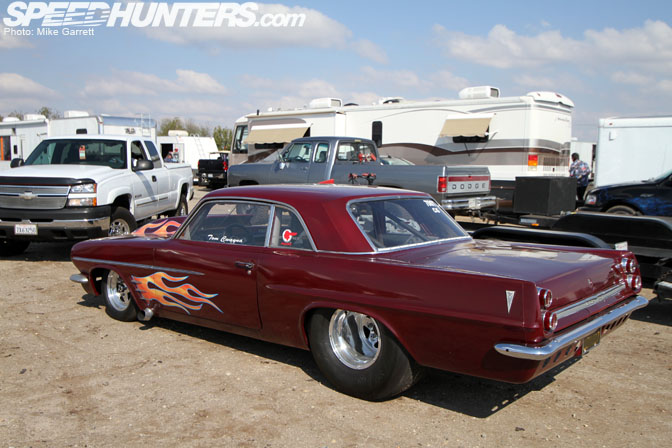 A heavily modified version of the '63 Pontiac Tempest. In many ways this car can be seen as the predeesscor to the groundbreaking 1964 GTO.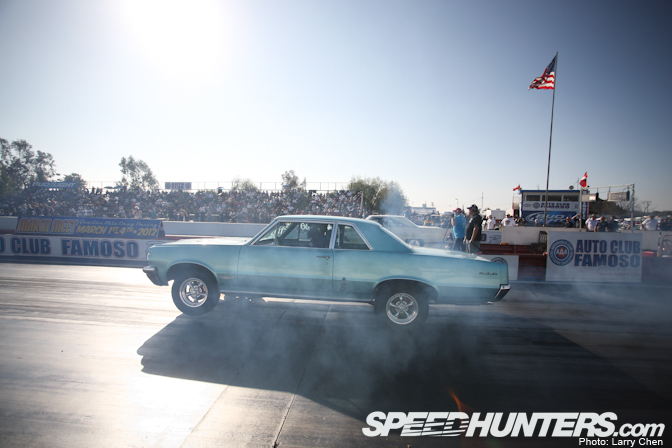 Speak of the devil, there's a '64 GTO right there facing off against one of its Mopar rivals.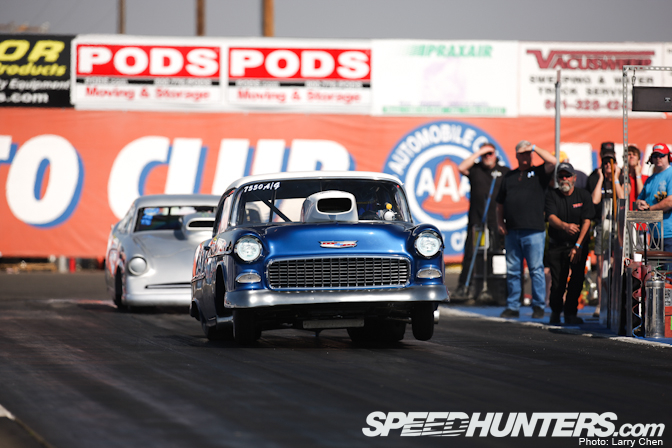 As I walked around the March Meet, I started to note how you could see every form of the iconic "Tri-five" Chevy at this event.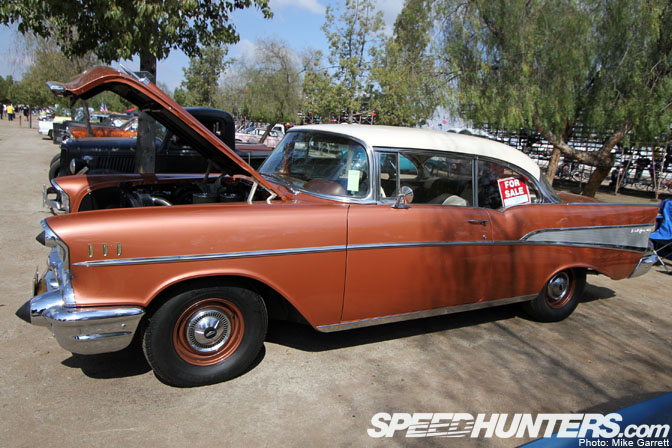 Whether it was this original '57 hardtop in the car show area.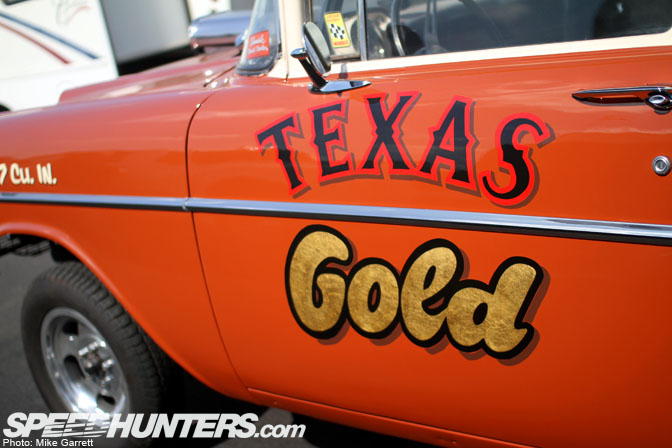 Or "Texas Gold", a retro style '57 drag machine.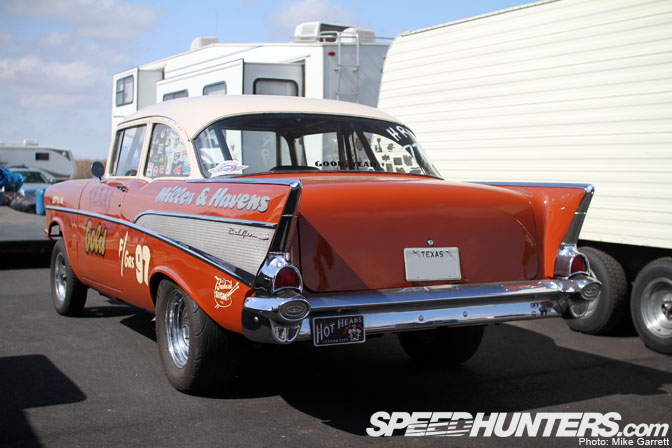 It's a good example of the lightly modifed family cars that populated drag strips in the late '50s and early '60s.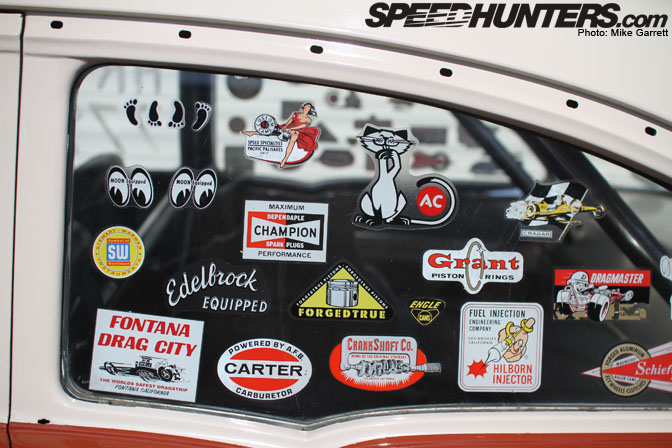 Nice sticker selection.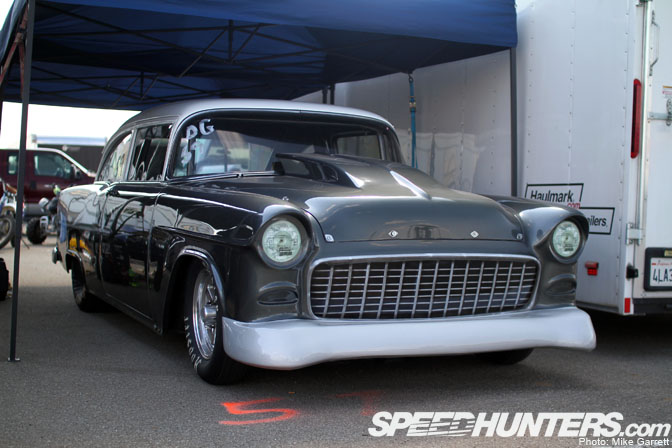 On the other hand, we have a fully built '55 Chevy done in a modern drag style. Low, wide, and fast.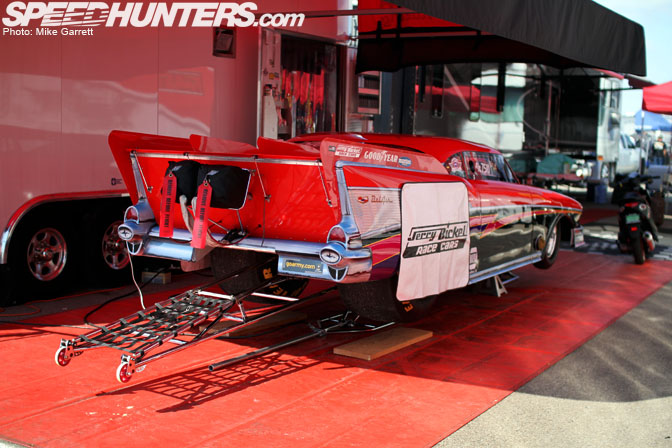 Finally, you have this stretched out monster that has a fiberglass body styled after a '57 Chevy – but otherwise bears no resemblance to the original car.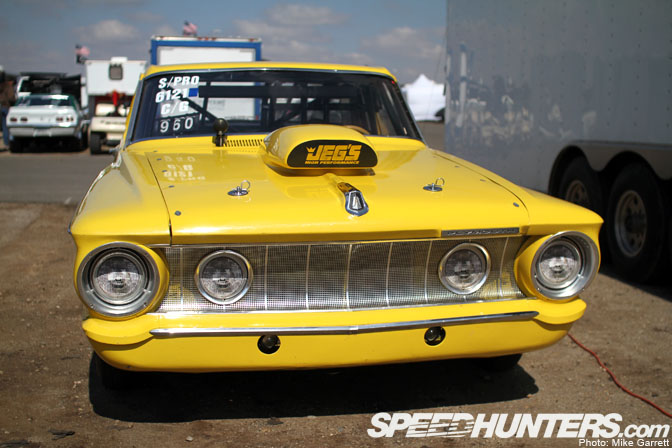 Personally though, my favorite drag cars are the ones built out of normal street cars, like this Plymouth.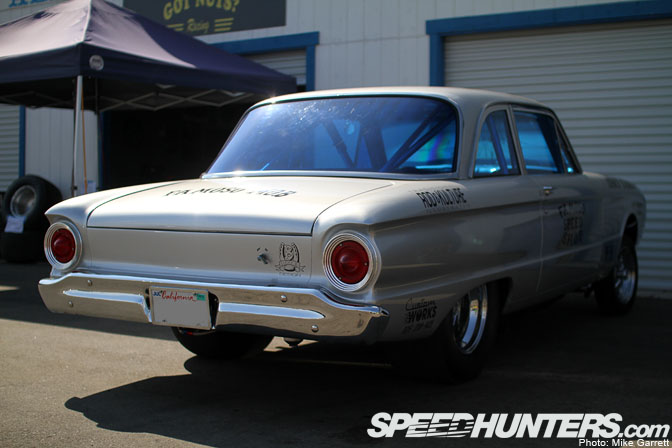 The same goes for the Famoso Speed Shop Falcon. I love that it's still street registered.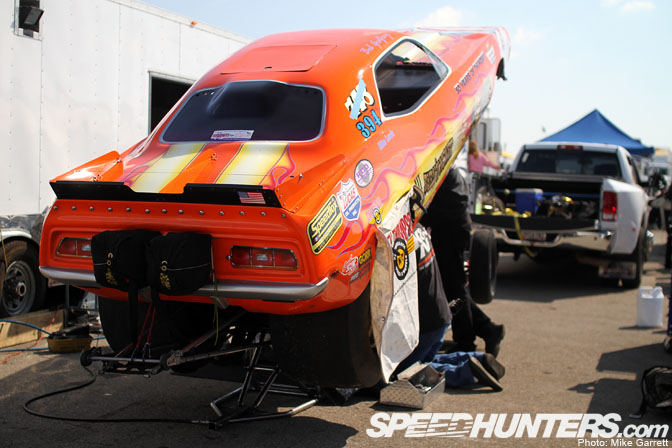 Sometimes I wish you could just pop up the body on any car. How easy would they be to work on?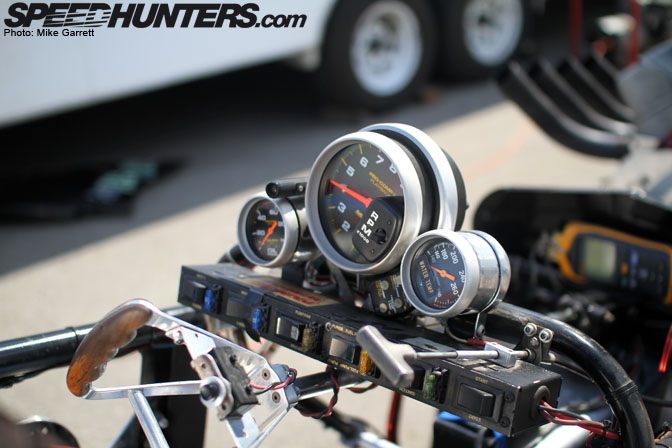 Bare bones, and scary as hell.
If you look in the background of these photos, you'll notice that almost everyone is covering their ears. It's all part of the fun of nostalgia drag racing.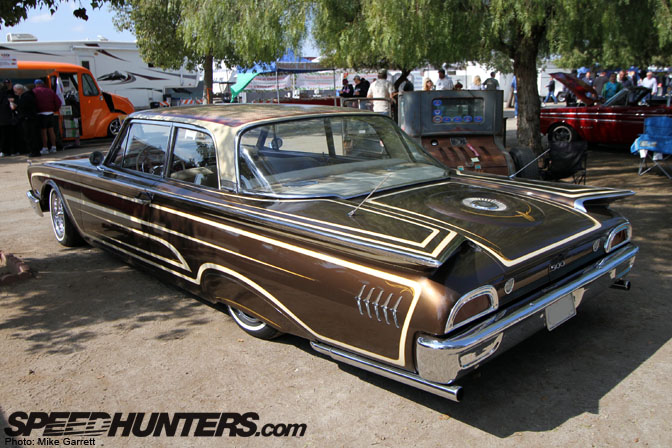 With all the mental race cars at the March Meet, it's sometimes nice to relax with a cruiser like this '60 Ford.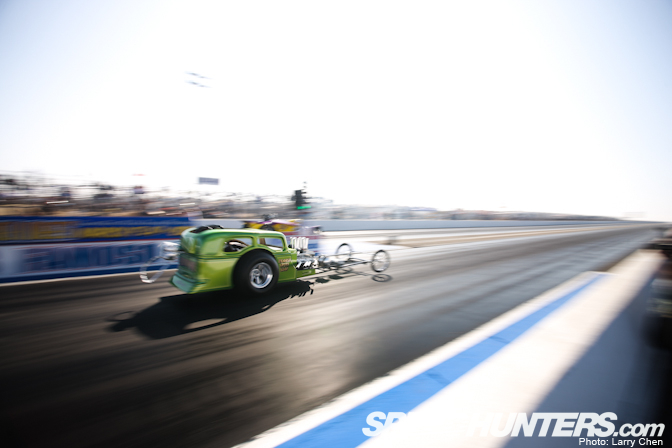 Scenes like this are what draw people from all over the United States and the world to Famoso every year.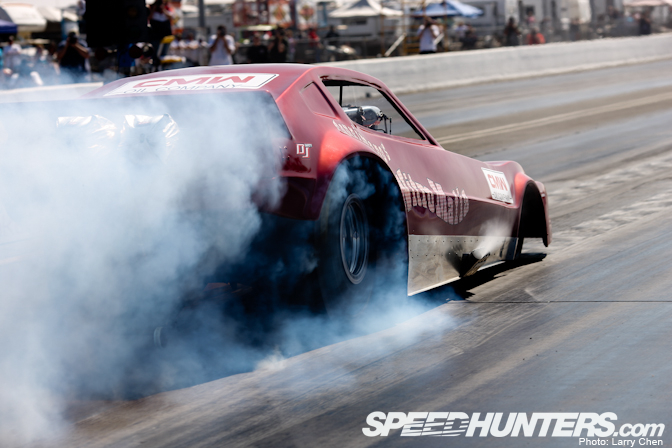 To be honest, of all the events we cover on Speedhunters nostalgia drag racing might be the hardest to convey via photographs. Even video cannot properly portray the violent, body-shaking nature of these cars. It overwhelms the senses and is something that truly needs to be seen in person.
That should pretty much do it for my take on the 2012 March Meet. Keep an eye out for a few car spotlights from the event coming up soon. Some of them you might expect, others you might not…
-Mike Garrett